The only thing that makes this year seem like it was extremely long was the fact that we did the Pow Wow in 2011. I keep thinking it was last year, but it was this year. In February. For that reason alone as I look back at 2011 I realize this might have been the longest year ever. Ever ever.
With that being said, the best WORST has been my commitment to blogging. Every week, every month, each year sort of fizzled to once or twice a month on average after the Pow Wow in 2011. I had to look back through many other mediums to remind myself of those moments that had my head spinning (there were so many!) and definitely worthy of this worthless Best Of 2011 according to Me award.
So without further ado….
In the categories of….
—-Online/Social Media—-
Best Twitterer
This one was so hard, especially since I discovered this guy but I had to make it a three-way (heh!) tie. There's no other way to do this right. Congratulations Matt, Rob and Travis. You guys are by far the best on Twitter. Thank you for zero traffic frustrations, relationship problems, passive-aggressive too chicken-shit to call out one person, i'm hungry, i don't want to work/go to school tweets. LOVE YOU GUYS.




Best Twitpicr
Flash. Only after 2am and/or three cocktails though.


*close second* Danny Punch. for the same reason.
Best NON-R-rated Twitpicr
Dayna
Best Instagramr
Justin Fischer
*not like i'm technically on Instagram yet. i should be getting an iphone soon though, right now i'm sort of half on there.
Justin is my favorite because like Robert, he takes sick pics AND leads the kind of life most of us only wish we could have….. to those of you lucky enough to have and use Instagram, make sure you are following both of these guys.

Best Facebook
Travis Cix. I hope you're friends with him. He's by far the best one on there.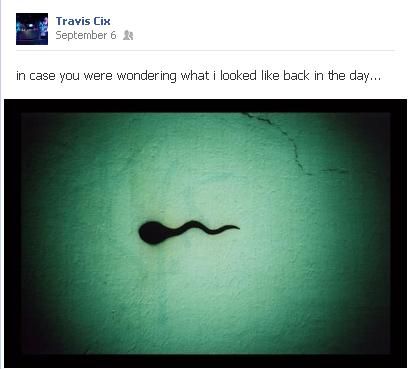 Best Tumblr
GYPSY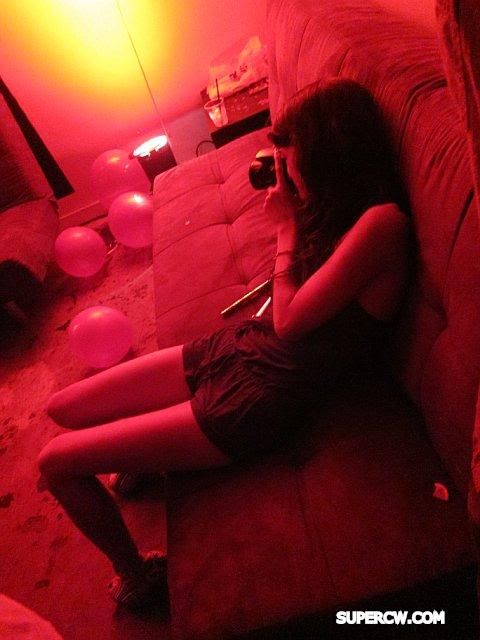 Woah, not just in Hawaii, with 15,000 followers she's pretty much the best in the world. Follow her you may or may not be addicted like I am. Like me and 14,999 other people are, I should say. If you are her friend on fb you will LOVE her Bacardi Pool Party photo albums from all the parties too. Seriously the best everrr.
**close second Best Tumblr goes to Mary Jane.
Looking at their posts in my tumblr feed makes me feel so warm and mushy on the inside. I can't believe I know these girls in person.
Best Blog
Kristen Oshiro.


She selflessly promotes what she believes in, and takes the time to research the events thoroughly, and recaps with pics. A blog is a blog is a blog but I have yet to see anyone more widespread throughout the scene than Kristen is. Nice work Kirsten, please don't ever stop.
**Runner up: AlohaUpdate. Mainly for the Naughty List 2 recap pics, and all your recap pics really. KEEP THIS UP!
Best Nightlife Website
Partyyyface.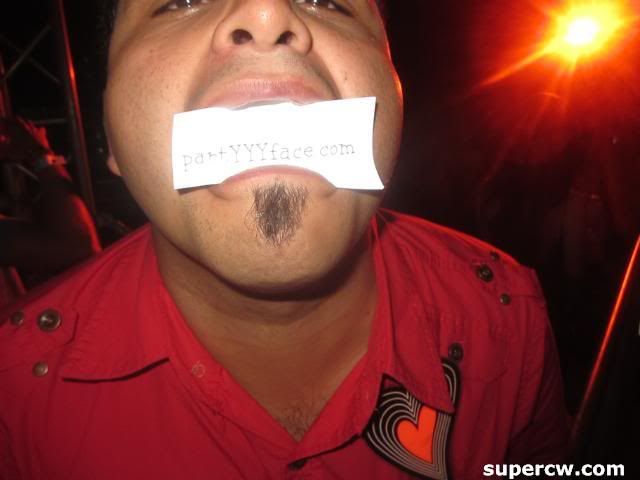 For the second year in a row. Thank you for never taking the time to figure out how to make money off your FCKING AWESOME website because I'm pretty sure that's why it's sofa king great. STILL. Thank you also for staying on top of it and not slacking as much, I notice that you're keeping the updates as current as possible whether it's on your site or on facebook and trust me IT MATTERS. <3
Best Photoblog
Honozooloo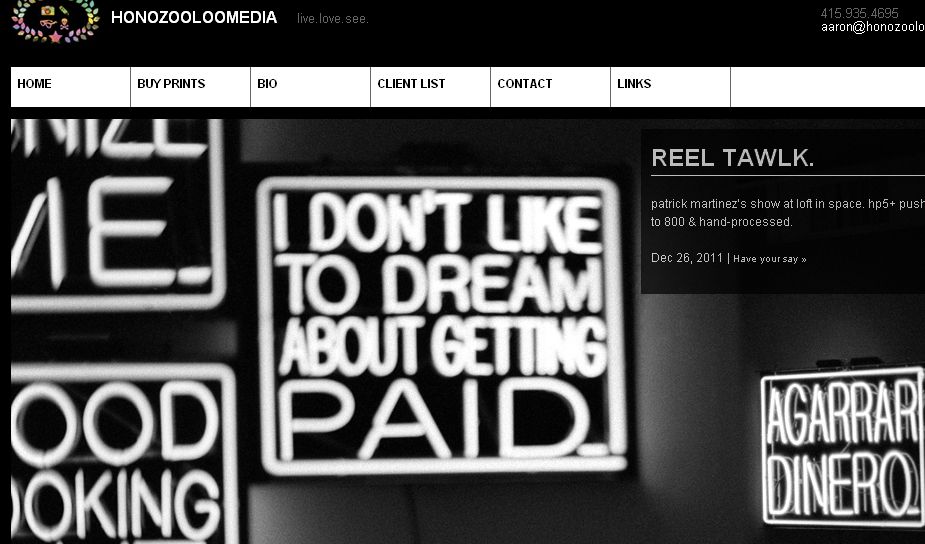 Aaron is one of the few to crossover into the world of paid party pics and still be able to kill it with a photo blog. I am happy for him to be able to make a job out of something he has done for so long. Whether it's with my Google reader, tumblr, twitter or Google+ I'll be looking forward to his new posts for the rest of my life on Honozooloo, where it all started.
**Runner up: Riana
Best Soundcloud
Me. Ha. Only because I uploaded the sickening mix DJ Soundcheck made for me and still can listen to it over and over and love. MAHALOOO
PS: Just kidding, I'm not the best Soundcloud, it's actually this guy.
Best Livestream
Asylum, hands down.
If there's one thing you can count on every single Friday and Saturday night it's the cameras going on in the world's most exclusive electronic music club. With vast improvements since they opened three years ago, including taking the Livestream on the road to their pool party with the infamous Soul Clap and sometimes (if we're lucky) their gatherings at Kaka'ako trust me when I say the other clubs can learn a thing or two from my favorite music snob techie tech dance music enthusiasts.
—-Nightlife—-
Best New Bar
SURFER [the bar]


If you haven't seen this new spot up on the north shore at Turtle Bay yet then it will be hard to understand why they win. They NEEDED this bar. It's fantastic and so versatile. Casual and cool, just like the people that frequent it. You can be dressed up or not. You can be famous or not. No matter what the deal is you pretty much fit in… which sort of encapsulates the entire North Shore. As I see it anyway. Awesome spot.
Best New Club
The Standard


Look, I realize it's not easy to come up with names for parties and clubs and keep it fresh. One word names, cool taglines, something relevant, something that sounds awesome coming out of your mouth, something that sounds sickening as a nickname, something that really sticks in people's heads, etc etc. so I'm not even going to address the name situations we've dealt with this year (or the radio spot promoting a party that pretty much made it sound like the promoters wanted you to go pee), I'm just going to say CONGRATULATIONS to The Standard for changing directions at the last minute and opening up a fcking BAD ASS club. The place is sick, and it's exactly what we need in that area. I'm stoked. I'm beyond it. I already went on and on and on about it but trust me, this place rules.
Best New/Old Club
Addiction
Mainly because they let me spray champagne (encouraged it even), and they never tell us to get down off of there on where ever we happen to be jumping up and down. Also because they are going for it with the daytime parties on Sundays on their top floor pool, and also because (for now, at least) the crowd is definitely more quality than I've seen it in that box in a long time. There's nothing keeping me away from it anymore and for that I have to thank you guys. It's still small, but your staff still kicks ass and it's never been a bad time since you re-opened. Shows you how long people really hold a grudge.
Best Spot for Husbands
Pearl Ultralounge
They've seen it all come and go, and they're still there. Once you get to know the staff they treat you like you're royalty. I remember looking and feeling like crap one time coming out of Tsukiji's before they started going off late this year and Dan saw me and walked my ass inside the club for a shot. I remember when Delve played and we all rallied to see him and I couldn't believe all the husbands that were in the crowd. Gorgeous men that give you their business card. Gorgeous men that want to take you out to dinner instead of having unprotected sex in the parking lot. Seriously. Everyone's goal for 2012 should be to go here more. It's definitely mine.
Best Staff
Apartment3 (again)
If there's a theme party they're all in theme, waaaay in theme. If there's a private party whoever is working comes out to greet you and makes sure you are having the best time ever. If there's ever a night you feel like going out alone, THIS is the spot (this and Manifest). Mars, Jonah, Kala, Jeremy, and of course Flash will always be there and trust me their first priority is to make sure you are doing good. If you aren't, ask for one of them and tell them =)
**Close second: Pearl
Best Cocktail
Nobu – that Watermelon Drink
I don't remember what it is. It's definitely the best. Ask them for it.
**Close second: the supershot. Forever!
Best Place to Drink Whiskey, Scotch or Bourbon
Nobu Waikiki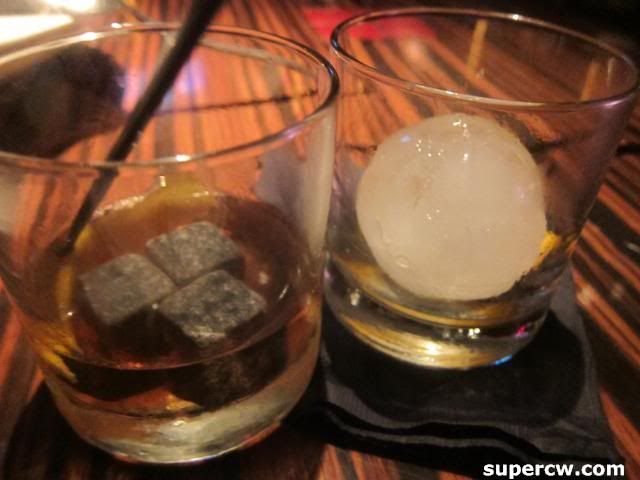 When Dave Newman is working. He has WHISKEY ROCKS.
Best Party
Shake & Pop


The consistency floors me. Seriously. Shake & Pop only wins according to me because of what I consider to be a fun party: good music, good looking people, and dancing. So much fun I'm seriously so glad this party exists. Nice nice nice job, you guys.
Best Renovation
SOHO Mixed Media Bar


This club was pretty much built in 12 weeks, so no shit it wasn't up to code. The fact that they closed and re-opened just in time for another First Friday shows how much hard work they are putting in to the place. Yes, it was built and is operated by my best friend, but just the fact that they could do this is seriously unfckingbelievable. With solid Wednesday, Friday and Saturday nights, I'm over the moon. Thank you for lines around the block, killer one-off shows and special events, for being the place I go when I don't know where else to go, and for just being so lovable. You seriously are the bestbestbest.
Best Bartender
Jess Shedlock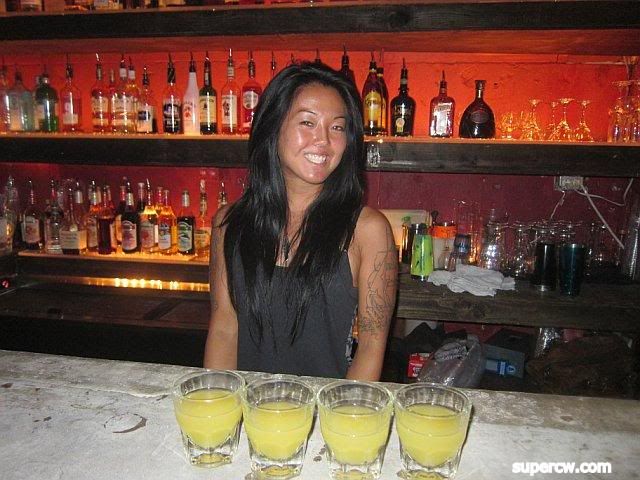 There's NO WAY I can pick just one, especially this year, after working so close with Dave, Christian, Kyle, Maria, Tim, Joey and fcking all of the best bartenders we got. They seriously kick so much ass you don't even knaaaaw. Jessica sticks out in my head though because of her enthusiasm to experiment with spirits and really make an effort, bringing in fresh fruits just because she noticed a bottle of Finlandia Mango on the shelf, or all the ba-zillion ways she thought of to serve the whipped cream Pinnacle when it first came out. I truly love and appreciate you, Jess. Tell me where you're bartending now, and if you're not anywhere, CALL RIVALS!
Best House Party
Aloha Stadium

Best Brunch
This One

Tell me if you ever want to go. I'm down. Forever. (sigh, brunch)
—Live Music—-
DJS
Best Set
DECKO at the Miki Nola fashion show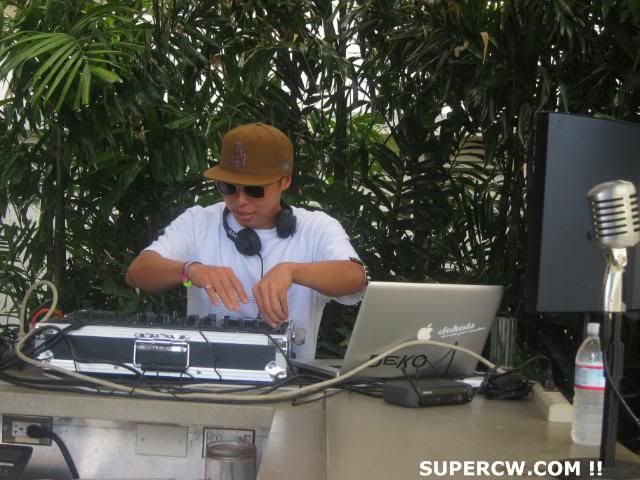 There is no recording. There is no setlist. There is just the resonating ("ho, this guy is meeeen!") overheard over and over again, at one of the best fashion shows I went to this year. Amazing work, and DEKO seriously is one of my favorites (#NoFavorites)
(tie)
DELVE at CLASSIXX
That show was the best show period this year. With all the opening acts and the set Delve did that's STILL being talked about to this day, the CLASSIXX came out to the grooviest Honolulu anyone has probably seen in a while.
(tie)
MNDGAME at SOHO
I was the only one that caught this. But I can tell you it was the fcking best ever.
Best Weekly
Stump at The Manifest


Every Tuesday. Get there early. It still goes off. SO fun. Warning you will feel very very dumb even if you are moderately intelligent. It's a good exercise for your brain and for meeting other intellectuals. Yummy hot dogs too.

Best Show(s)
CLASSIXX
Delve recorded his set, thank god, and the photos from the soundcheck Mark shot are just beautiful. What made this show the best this year according to me wasn't just CLASSIXX (who were both highly anticipated AND amazing) but the entire night, with Jump Offs and Clones of the Queen performing, then Delve. It was just back to back greatness. Everyone in the room was in to it from the minute the doors opened, which believe it or not I hadn't seen too often at a show. There's a lot of prep time needed I think for clubbers that this particular night just wasn't there. I'll never forget this night, and I'm sure whoever else was lucky enough to be there the whole time would totally agree.
Distant Relatives at Kakaako (and Kona)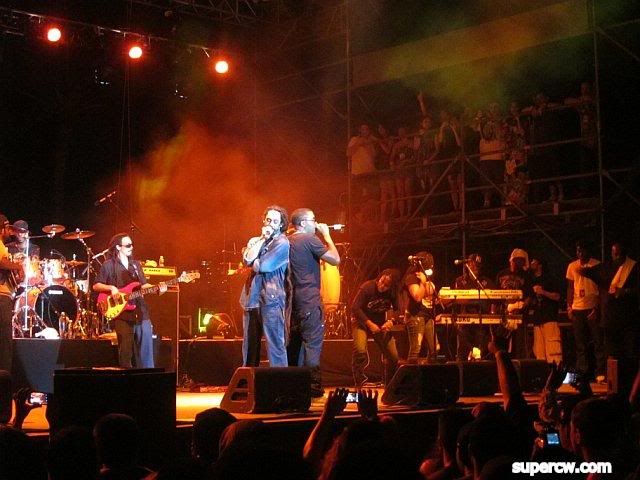 Not like I'm a huge reggae show fan but WOW Damian Marley and NAS. The album is gold, their chemistry was pristine and the SHOW was AMAZING. One of the best, by far, since I've ever lived in Hawaii. I caught them in Kona before Oahu and both were simply divine. If you were one of the 6872985783 people at the Oahu show then I'm pretty sure you're with me on this. They killed it.
Black Star at Hawaii Theater


Black Star playing b-sides would make me sound sooo cool but I'm hyped on this show for three things: auditorium (twice), perfect sound, and Mos Def's dance interlude at the end where he must have met and channeled Ted. The intimate setting with some of my favorite tracks and favorite people in that beautiful theater that reminds me of my youth was unforgettable.
Black Lips at Mercury Bar


All the way back in January I helped Sailor Jerry with a crazy-demanding press junket that had me showing people from Maxim, Vice, Inked, Blackbook, and Filter magazines around Chinatown with The Black Lips. We coordinated a stripped down authentic luau in Waimanalo that's in my personal best top 3 events done ever ever and got to put on a private show at Mercury Bar with The Black Lips with some fans. The night was super secret private special handshake to get inside but oh man what a night for the fans that did make it. Amazing. Thank you to Sailor Jerry (and my day job) for that one.
Best Show That I Didn't Even Get To See
Little Dragon at Nextdoor


Thank God for the Internet. (and this video). I heard the sound was perfect. I heard SHE was perfect. I heard Ara and Clones of the Queen were just as good and maybe even better than Little Dragon. Props to Nextdoor for always pushing forward and booking shows that we want to see so super bad. This was one of them. Classixx was too. Fcking all of them are, really. Can't wait for 2012.
Best Cliche Party That Was Still Such a FUN PARTY
Prom at SOHO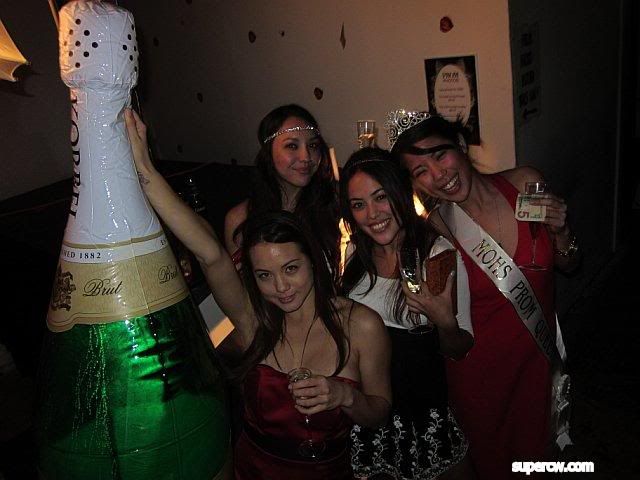 I really don't know what the recipe for this success was. If I knew, I would be throwing fcking parties. Maybe it's because BWARE did it and partnered with everyone important to make it go off. I really don't know. All I know is everyone went. It totally went  off. OMG remember when Grey and Robert sprayed everyone from the stage? Or those giant Korbel bottles? GAHHHH. Please do that again.
Best SWAG
Converse x Aloha Rag Event at Edition


Everyone got a pair of shoes. Shake & Pop is a close second from their event but this one was by far the swag-est event I ever saw at the Edition mainly because of the New York people that flew out. Aloha Rag is super sick, I would shop there all the time if I was rich. The shoes I grabbed were a bit small but I still fcking loved this party.
Best Fancy Party
EUROCINEMA Hawaii Awards Gala at the Moana Surfrider
I dunno, I think it's the arrivals. It's a bit spectacular. Hanging those giant silk banners from the pillars causing a spectacle in Waikiki then hiring all those people to applaud and greet you outside while your photo is being taken. Just gahhhd. The awards themselves are only 2 years old. The Europeans wanted more European representation in the greatest Film Festival in the world. Who wouldn't? Well, now they have it. It's pretty sickening, I must admit. I'm glad I got to see it first hand. I will be there every year infinity.
Best "DJ"
Casey Evans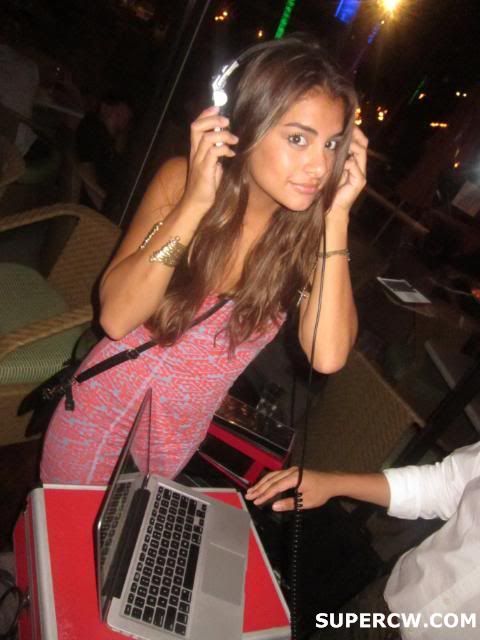 *runner up
Travis Watanabe


*Runner up tie with….
ME!

"DJ Hold it Down While I Run To The Car"
(But only because this was at the Hawaii Five-0 Red Carpet friggin Season 2 World Premiere being broadcast live in 43 countries. Smile.)

—-People—-
Best Crew
The A-Team


They never ask for guestlist, they never fight, they never complain, and when I invite them to a party, they show up in full force, drink, dance, and have the best time ever. Where ever they are, it's MY best night ever <3
Best. Period.
Tracy Chan


Seriously. Like there was any question? Tell me who else has worked so hard for so little other than to continue supporting our scene. Tell me. It's not happening, this girl is single-handedly doing it. I look at her twitter when I'm too tired. I lurk her photos when I didn't get somewhere I wanted to. I read her blog when I didn't do anything the weekend prior. She is out there so widespread it's amazing, and we are truly blessed to have someone hustling as hard as she does. Hire her to take pictures at your event, or just hire her period. Or something. She has proven to everyone that she has what it takes.
Best Work Ethic
Devon DeAngelo
Only from what I've heard again and again. Hire this girl.
Best Birthday Party
Kamea Hadar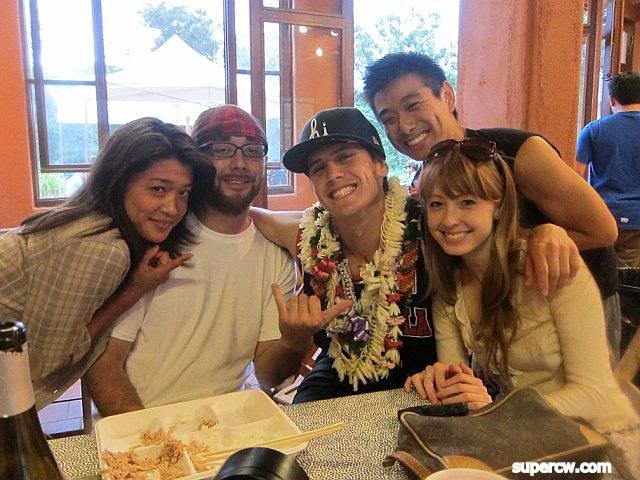 Mostly because of how long it took us to get there. Also because of that group irish car bomb among like a hundred people (you can see it in the pow wow video) and also because pow wow was finally over and we all were breathing the biggest sigh of I CAN'T BELIEVE WE JUST DID THAT. Best ever ever ever.
Best Couple
rice and joe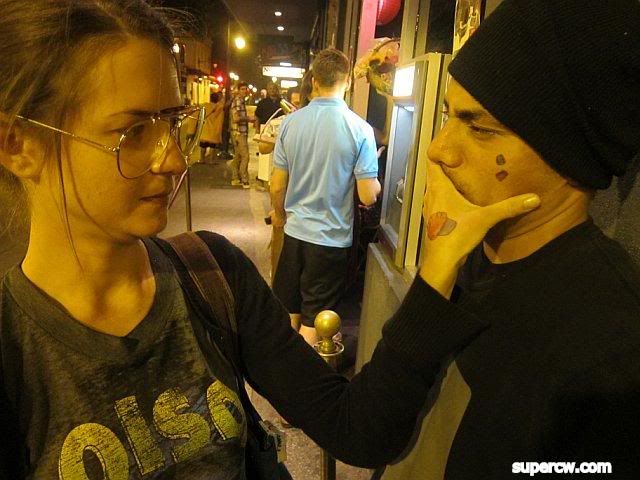 i want their brains. and babies.
(tie)
casey and jason
GAHHHHD could they be the hottest two people on the planet?!? i just want their babies.
(tie)
Kelsey and Dayna


They can't have babies because they are not a couple, but I love being around the two of them more than anything in the world. Anyone that's ever spent time with them totally knows, and I feel lucky that I even get to at all.
Best Conversationalists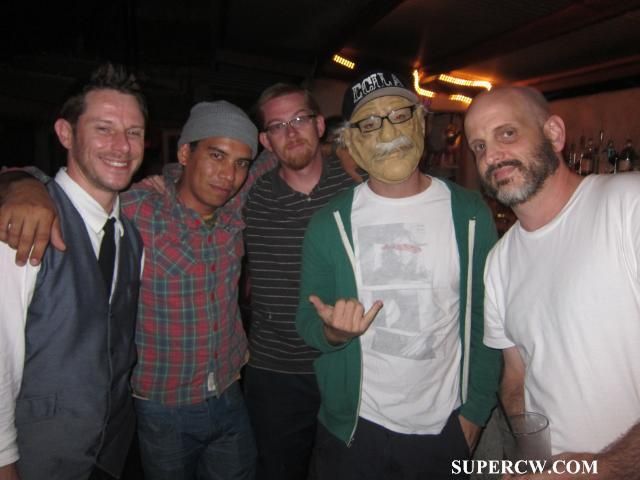 These guys: Christian, Vincent, Mark Chittom (that's Robert Campbell in the mask). Smarter than smarty smart and they remember pretty much everything they read. *swoon*
Most Fun Person to Stalk Ever
Tina DJ Anit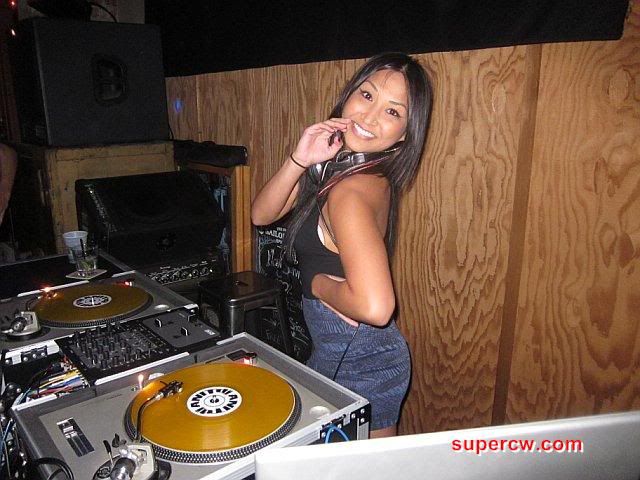 Most fun person to stalk because I always know where to find her. I don't even know about her DJ skills because I'm not one of those technical people that really knows (or cares), I'm just there for her. Really I just love her. The most fun person to see out period. PLAY LEVELS!

Best Promoter
Bryan FURIOUS STYLES Simpson


Ya RIGHT like I can pick just one promoter. That's like picking one bartender. I have to give Bryan props though, he's one of quite a few that I've worked with that runs his own ass so ragged we're both collapsed after the event. He went a step beyond this year with his True Industry night at Soho that he managed to pull off. Bartending for all his friends. Tuesday is NOT an easy night to get ANYONE to Chinatown, and this boy did it. Repeatedly every week. For that, and for every other venue he packs, you got it this year bu. Thank you for all your hard work.
Best Wedding
Willis and Trieu


OMG. So on the beach in Waimanalo is already going to be amazing. Willis and Treu are already amazing too. I have never been to a Hawaii wedding before where it rained tho. I saw the dark cloud, I was hoping it didn't make it's way over but it did, right before the vows. We all huddled together super close under the 3 umbrellas that were there and were pretty much all hugging while they were pronounced man and wife. I get a chill every time I think about it. So beautiful.
Best Dressed
These guys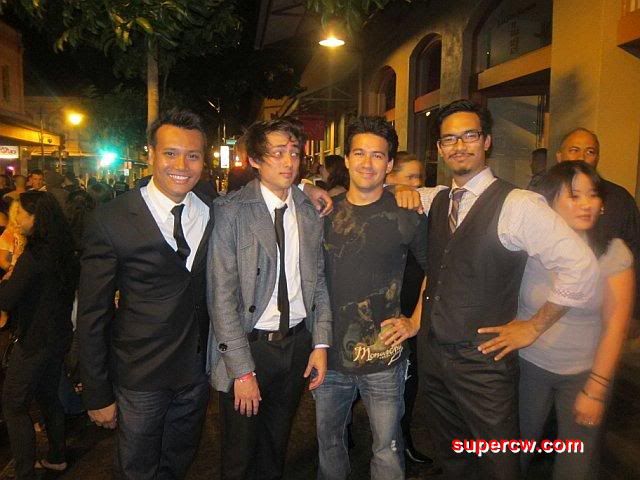 Oz, David and Brandon. All the time. Minus that one in the middle, sorry.
Best Dressed (Female)
Katrina Justiano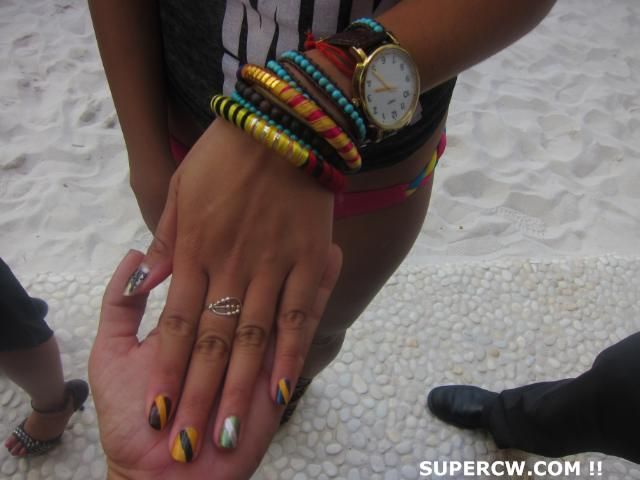 Girrrrrl. I would so totally dress exactly like you if I was rich.
Funniest Accidental Twins (female)
Ashley, Alisa and Alexa at Rumfire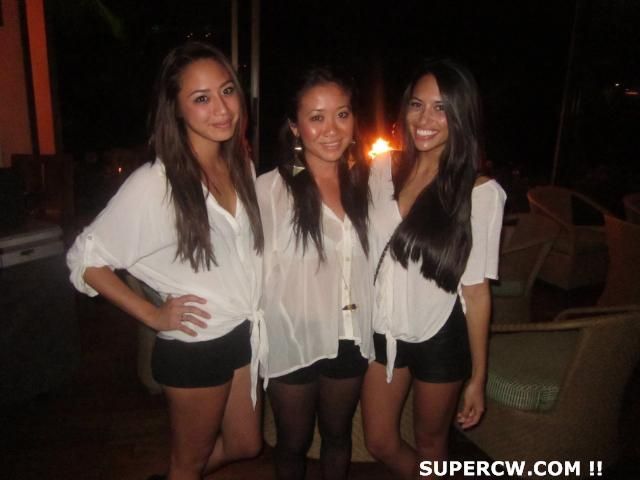 Funniest Accidental Twins (male)
Andrew and Grady at the Bacardi Pool Party

Best IT GIRL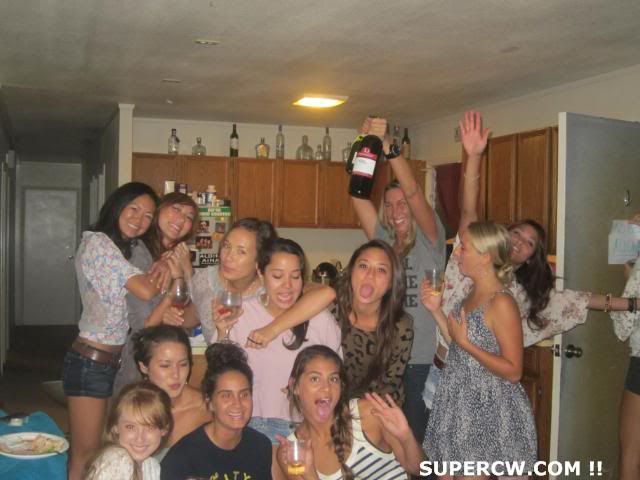 All of you. Tied.
Best IT BOY!!!
Daniel Gray
If you have ever thought Daniel Gray was anything but smart, fun, hard-working, happy-go-lucky and awesome then I'm sorry but you don't know Daniel Gray. The room pretty much lights up as soon as he walks in EVERY time. Is there an age limit on It Boys? If there isn't, then DG is tied with this one. But back to Daniel. Not only is he way too much fun, he's never without an entourage of mostly hot young ladies. Like Scotty, there's no need to question or hate on it, just enjoy it man.
—-Arty Stuff—-
Best Fashion
Suited UP – Issue 5 Flux Magazine (Ara Laylo, Aaron Yoshino)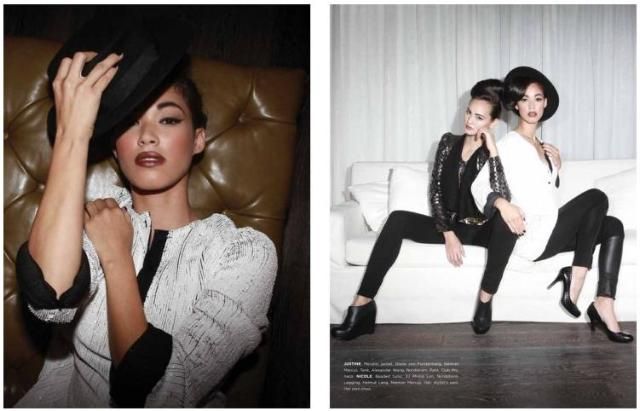 I remember watching them shoot this the morning of my party last year. It looked killer. It turned out SO SICK. Better than some national or even global publications. SO GOOD. Looking through it again I'm still floored by the precision Ara and Aarron have when working together. The looks, the models, the photgraphy the composition and Jesus GOD just the entire spread. The best ever.
Best Idea
The Pop-Up Space – Interisland Terminal


Interisland Terminal with their pop up Jeff Staple space and the ITO and now their R&D are ever the genius with their projects, and in this economy the pop-up space is basically a middle-finger to the economy and its affects on the creative world. They will find a way.

Best New Space
Loft in Space


image thank you to Arrested Motion
How on the map is Honolulu's Art Scene? Pretty on there, I'm sure. How many national and global publications have mentioned shows at Loft in Space in the few short months they have been open? Well, with Hypebeast, Vice, Acclaim, Booooooom, Hi-Fructose, and Arrested Motion just to name a select few Jasper has clearly surpassed any records that I know about for most impressions for a single space in a few short months. Bringing out Krink was fcking legendary. What Aaron did was you already know. Patrick Martinez was also Complex Top 25 worthy, and this is just the start….
Photography Show
"Slow Jams" by the Analog Sunshine Recorders
pinhole photography show – thirtyninehotel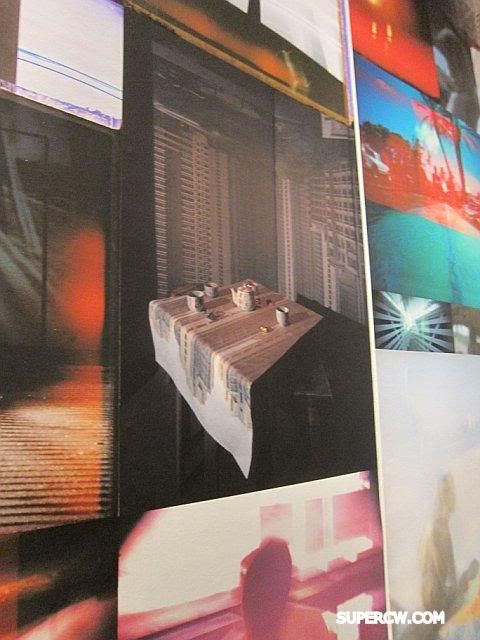 This was for the University of Hawaii students and was the most memorable show that I saw this year mainly because of the guy that used an entire room as his pinhole camera. Did you know that you can make a pinhole camera out of anything? Well, you can.
Mixed Media
Aaron De La Cruz at Loft in Space

Sofa king sick. I heard it's what made Complex Magazine name Aaron as one of their Top 25 Most Important Artists of 2011 this year too. Not to mention (but I HAVE TO MENTION) he painted my boring ass white car for the show and made it the sickest thing I've ever owned in my life. Bestbestbestbestbest.

Best Community Event
Estria Battle at Academy Art Center at Linekona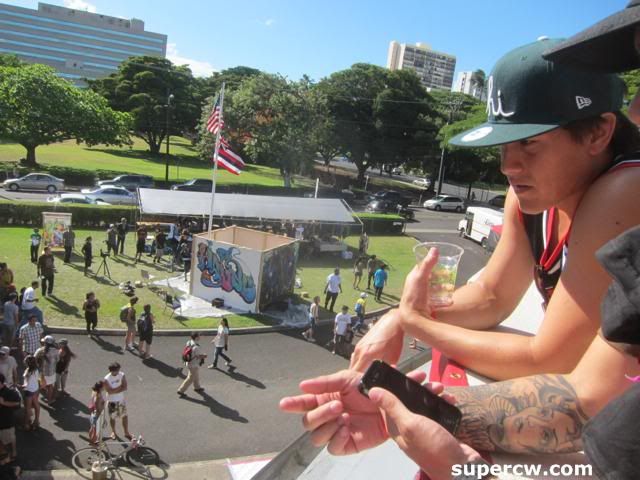 All we kept over hearing all day "this is such a great event, they should do more" personally I was just excited to watch Katch 1 paint and not care who sees him. He's "outed" himself now and we all got to see him completely destroy the theme and win the contest no question. Woes, Dayo and some of the other local artists that I love were painting today too.
**Close Second: Water Writes Mural. The video is worth a quick watch.
Best Art Exhibit I saw in 2011 PERIOD
Art in the Streets at the MOCA


This show? Legendary. Seriously can't describe it better. I only have Chuck to thank for this. Chuck and Sarah. Chuck for getting his film to screen in the Los Angeles International Asian American Film Festival, me for being able to afford flying out there to see it and have one of the best LA trips I've had since the last LA trip for ASR, and Sarah for picking me up and taking me to the show right when it opened so we didn't have to wait in line that long AND saw everything. EVERYTHINGG. You can come over if you didn't catch it. I have the book.
Best Party Video
Sharks & Rays


(tie)
Banzai Media


Best parties to make these videos? Mine. =)
—-Food—-
Best New New
PRIMA!
Drive to Kailua. Do it. Wait! Take me with you when you do it, I want to see your face when you take your first bite. Like V Lounge pizza, it's one of those things that I want to see everyone try for the first time just to get off on their reaction to the best food ever.
Best New
SALT!


I'm actually pretty proud of the column I wrote about this place. I can just link to that, ok?
Best Breakfast
Downbeat Diner
**on a Sunday


Dear GOD their Bloody Marys are seriously the best in town. They use a secret mix that has something in it that makes it taste like there's freshly muddled celery and horseradish or something. The chicken and waffles comes in regular or Cameron and all their Sunday drinks (mimosas, bloodys, Irish coffee, etc) are only $5. Take your scenie social$712874 brunch and throw it out on Hotel street, this is hands down the best.

Best dinner
MUNCH at Apartment3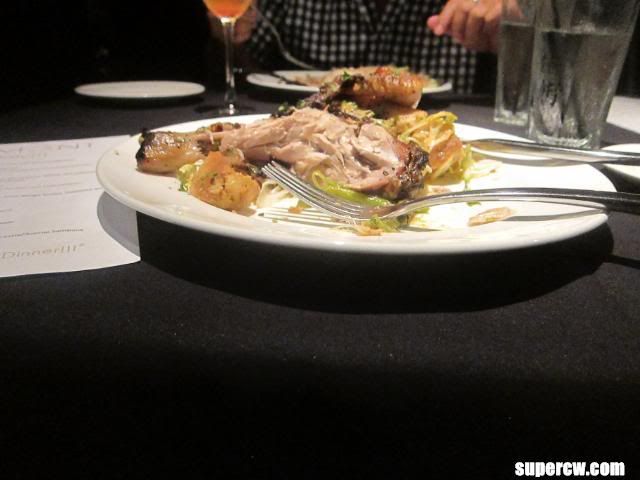 Every third Thursday for $45 you get three (sometimes four) courses each paired with a cocktail. There are different themes every month ranging from the easy things like "Italian" or "Mexican" to crazy creative ones like "TV Dinner." The way it's set up you also usually are seated with people you haven't met before, slowly getting drunk together. It's a must for anyone between the ages of 21-40 that is either a.) new to Honolulu b.) in to food or c.) in to cocktails. You will enjoy this evening to the utmost.
—Misc—
Best Vision
Kaka'ako

They're doing it. It's happening. Those of us who have seen the plans are giddy as all hell. This time next year is going to sprout even more growth, and in five years there's going to be an entire neighborhood just for me just in time for when I'm 40 and over being so scenie.
Best BEST
Pow Wow Hawaii


There aren't even words to describe what happened. I met Jasper Wong over the holidays a couple years ago at The Manifest and he was like "You should come to Hong Kong in February I'm doing this event that's bringing people together from all over the world" and I was like "….ok." So I went. Little did I know the "event" was a street art mind-blow that would have my head spinning for the rest of my life, and me convincing Jasper to come to Hawaii and do it here. It would be SO MUCH BETTER HERE I was telling him. He did it, we got help, and it was. It so was. February 2012 is happening, we have pulled together the most impressive team I've ever seen to make it happen, and now with even more community support, an education component, and some of the biggest names in street art media touching down on Oahu in just a few short months all I can say is be prepared….
If you haven't seen the 3-part series that was on Hypebeast take the time to watch them now, then you won't have any questions aboout "What is Pow Wow?" again:

HBTV: POW WOW Hawai'i 2011 – Part 1 from HBTV on Vimeo.
Personal Best
My Night with P Diddy


I keep going back and forth in to reality and then not with this one. As the night plays out again and again in my head- how I kept it so cool is still beyond me. I am definitely a starfcker. This was seriously just one of those right place at the right time, a good friend finished filming with him on Five-0 and he wanted to kick it sort of things. Going up to his suite that night I remember my heart was pounding but I kept swallowing it and taking deep breaths. GOTTA keep it cool, I was telling myself. I was hiding on his balcony when we first got to his room and we waited for him to come out of the suite's bedroom. He comes out, has huge hugs for the people he had been working with all week, and came at me so pleasant and real that I was immediately back to Christa. "Where you from?" he said. "Seattle, but this is my home I'm never leaving." I said. "I hear you. Where you been tonight?" he asked. Chinatown! We told him about First Friday and why we were so drunk, he loved it, downed our drinks and said "Let's go!!" so we went down to Crazybox to wait for Laura to let us in the side door. Diddy, his security, his assistant, and US. The rest of the night was a blur, DAMN IT why did I have to drink so much that night! Shots came out, champagne came out, he was happy to try a supershot and even cheers'd to First Friday. When we all went out to dance my head couldn't stop spinning and I had to sneak out the back door. Cory eventually told me he found me in the street, they almost hit me with their car. He put me in a cab and I woke up hating/loving myself more than I ever have in my life. THAT WAS FCKING SEAN COMBS one of the greatest producers to ever grace the East coast or the world. Four and a half million followers on twitter. Chilling with me with no sunglasses on. Putting his hand on my shoulder to confide in me. Loving Hawaii as much as I do. IN FRONT OF EVERYONE. Yup. Definitely my personal best this year.
That's it! You know that's not it, there's definitely more, but I want to post this before the year is actually over. Congratulations to the winners, thank you for doing what you do for the rest of us. I have a little something for you to commemorate your award according to me and
Now that the year has been recapped, I'm pretty excited for the next one. What's going to happen in Kaka'ako? What's going to happen in Waikiki? What's going to happen on Hotel Street? In Chinatown? To our nightlife? TO the foodie scene? More pop up restaurants! More Blogs! More Art! More Stuff to Blog About!
See you guys NYE…