beach day! watchu know about it! me? not much. i think the last time i had beach day was the last time i went to red bull rivals. this particular sunday i couldn't wait for it to be 10am to go to sandy's though. super reminded me of when i first moved here. nothing like getting a stall right in front at sandy beach on the weekend too. this is seriously the stuff dreams are made of. especially now with a signature aaron de la cruz friggin car. god, life is good.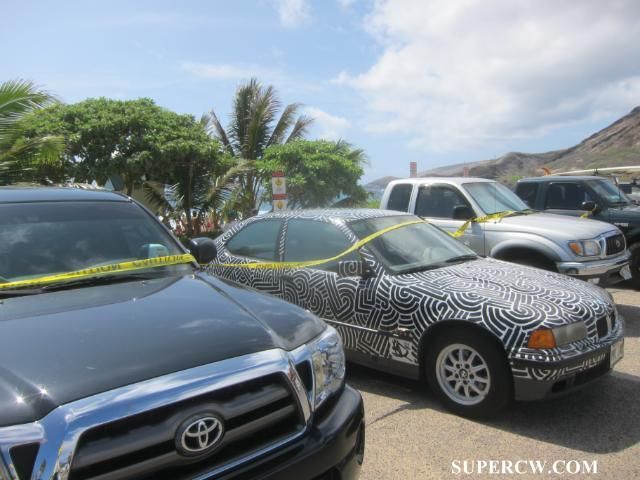 i still have honozooloo in my google reader and am happy to report that even though aaron is just as busy as the next grownup he is still updating.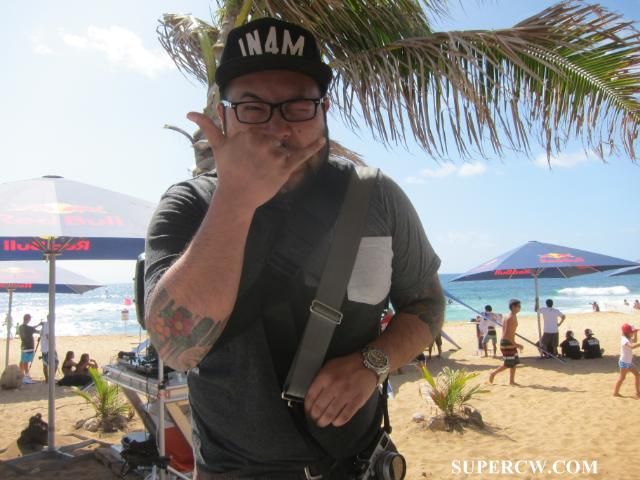 i am always fanning out on aaron's gear. since forever.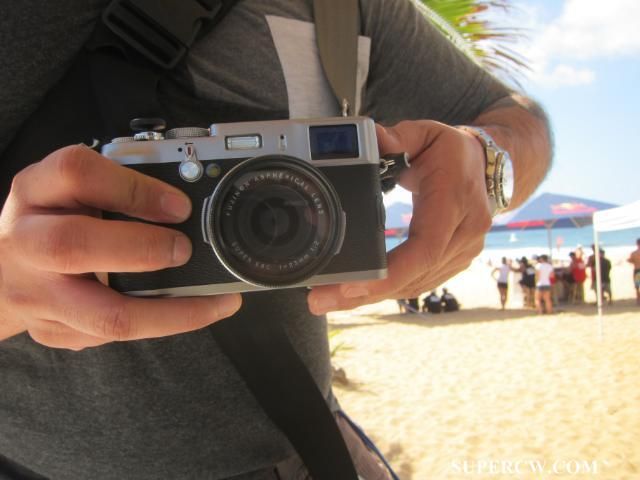 red bull rivals! north shore pros against the townies! we go every year to represent town. well at least i do.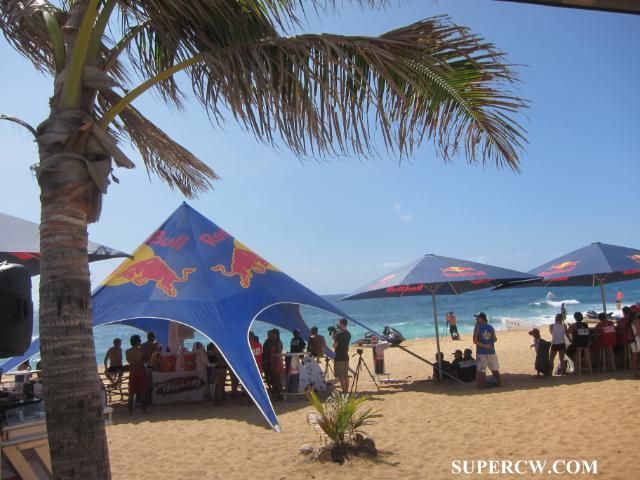 we were spectator city. not sure who in this crew is a townie and who's rooting for north shore. ps: town always wins. probably because they know how to surf temperamental sometimes small most times blown all times bi-polar half point in october.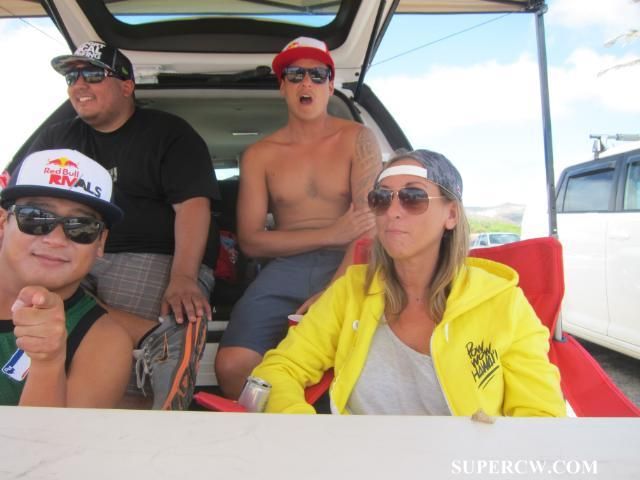 ps: that shaka is from daniel ito from contrast magazine (LOVE contrast) and rob and travis from the world of red bull a.k.a. the world of AWESOME.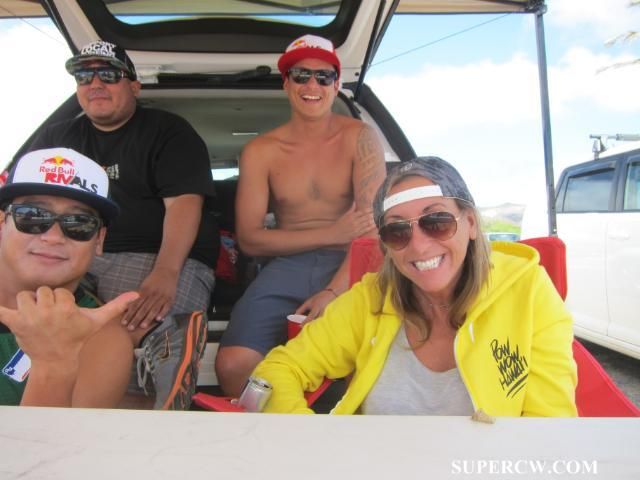 mmmmmmike and mmmmmmmaka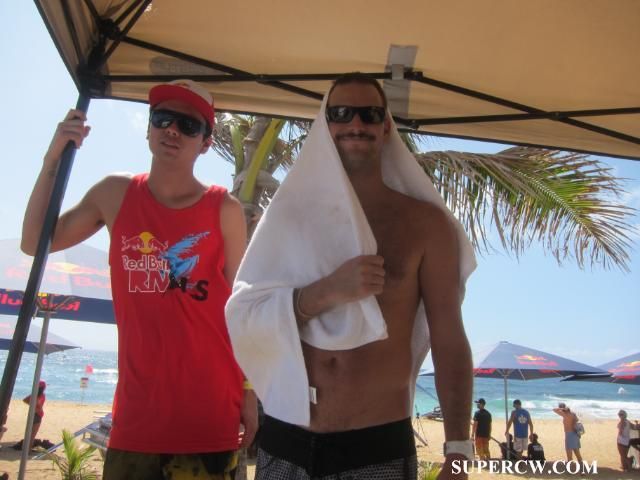 couldn't have done it without…..
then kristen turned 22. god. it seemed like aaaages ago when she turned 21 huh?! look how far everyone's come since then. no really. i love that she did it in chinatown. with all the girls. and aj. and me. :)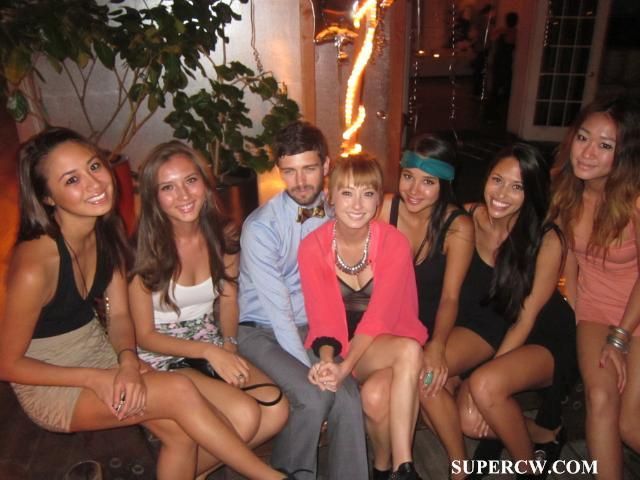 ….and CHEF JAMAL! jeez. seriously. he made us crab claws with an absinthe-pesto dipping sauce.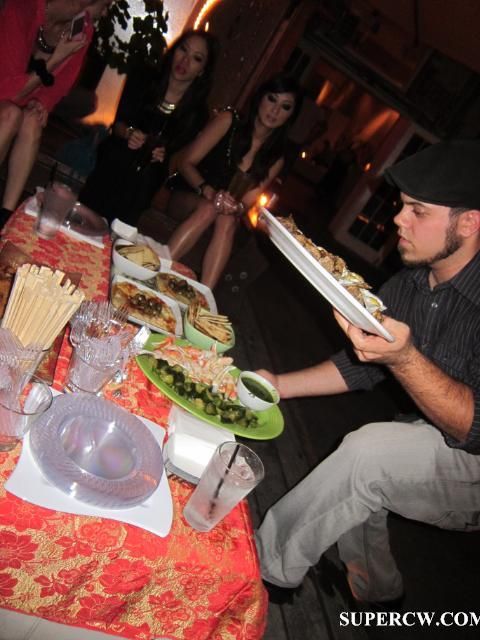 i mean. look at this spread.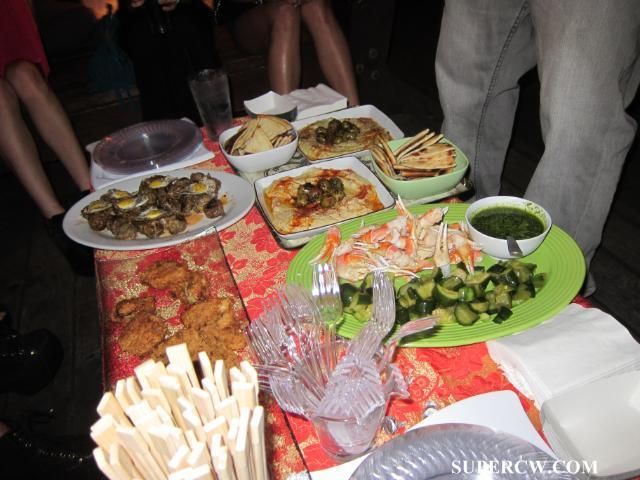 i don't know anyone who has meat balls topped with quail eggs at their 22nd birthday party. i guess now i do.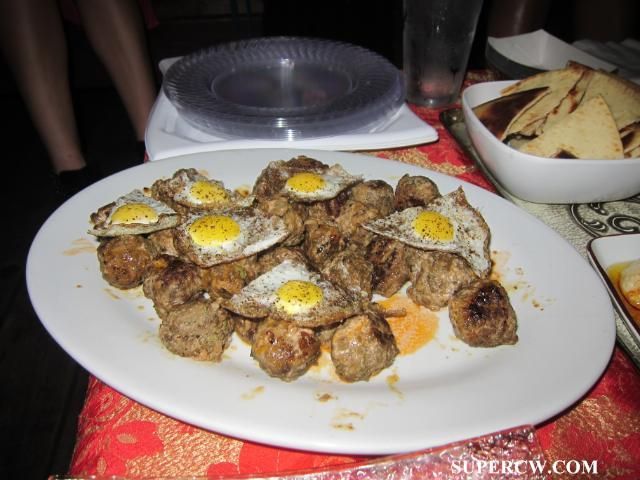 ha ha, the ratio of hot young girls to guys was …. how should i put this… on everyone else's radar. we were there early on a shake & pop night so when the normal shake & pop guests started to arrive and saw what was outside… a patio full of super hot super young highly fashionable giggling It girls…. it just sorta made the night even better. esp cause a lot of them were future husbands like warren and his brother (friend?) brother.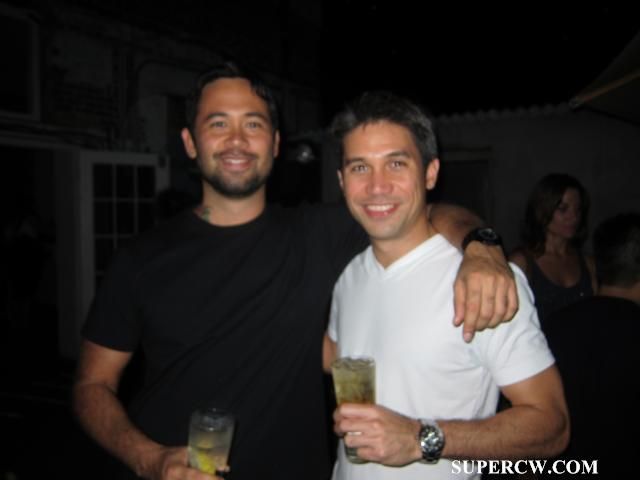 if you read me you know i was beside myself about the job mikey did on kristen's 21st birthday party video. i had it on auto-play on supercw.com for, like, ever. it was sofa king good. i just watched it another 3 times just now even. such a great night.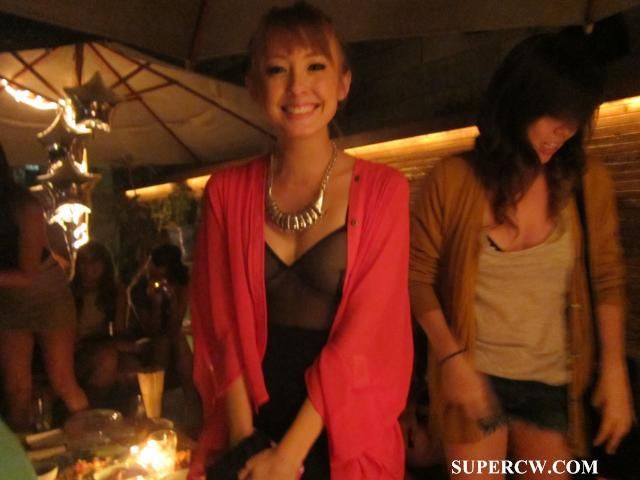 hi hottie, hi hottie, hi hottie, hottie, hottie, hottie, hottie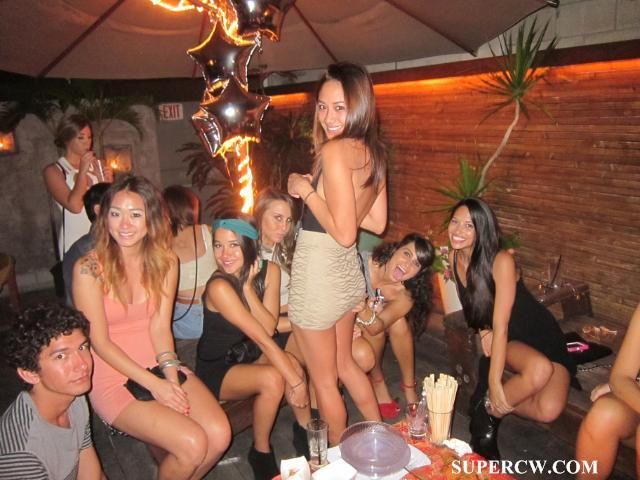 :)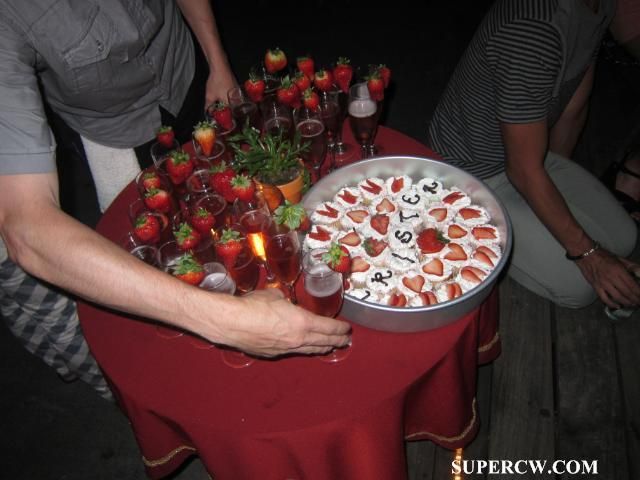 RAHAAAAA
cheers (these pics never work for me anymore)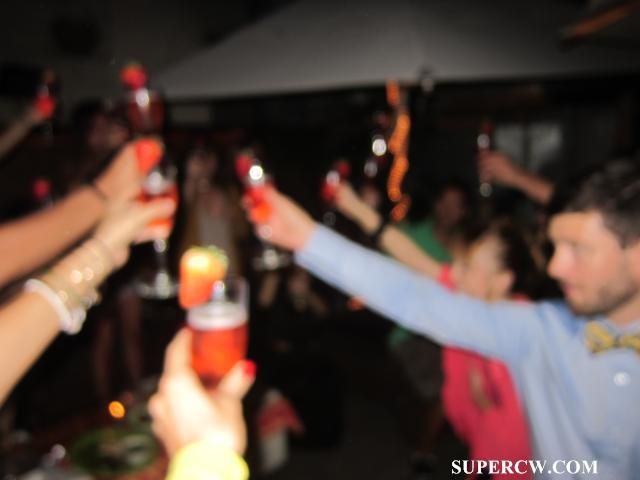 her cupcakes weren't cupcakes, by the way. they were oreo cookies with cheesecake and a strawberry on top. (RIGHT?!?!)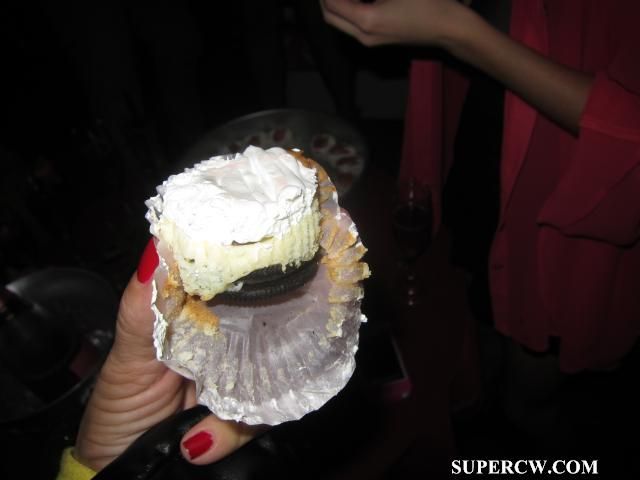 then the night i had been looking forward to since last year. omg. i was finally about to see The Descendants. this is at the film festival, and that's director Alexander Payne introducing Kaui Hemmings. i was dying.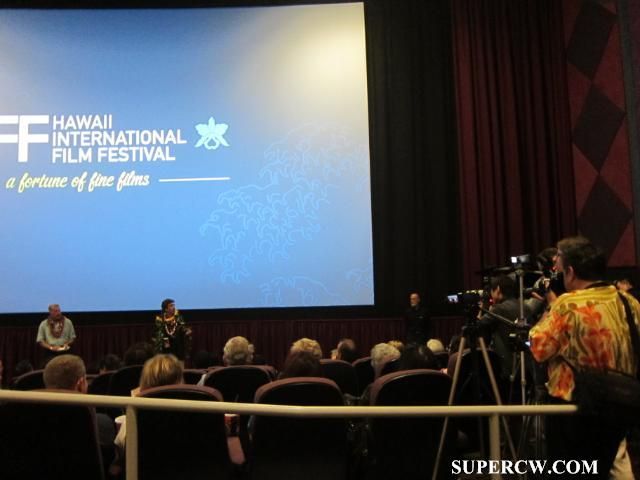 she looked amazing and she said super awesome things and it was just the best night ever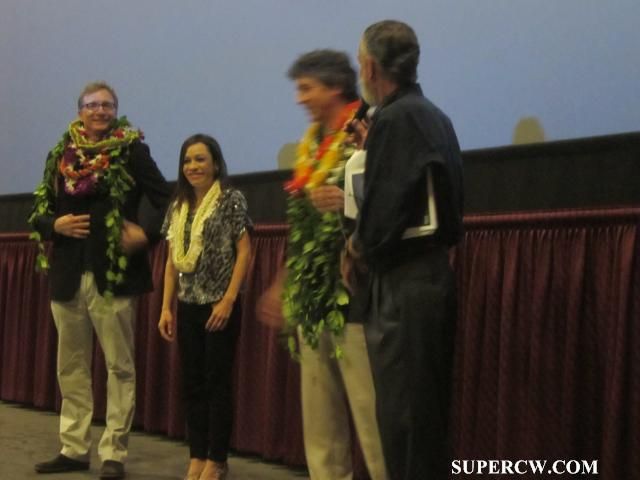 then alexander said some stuff.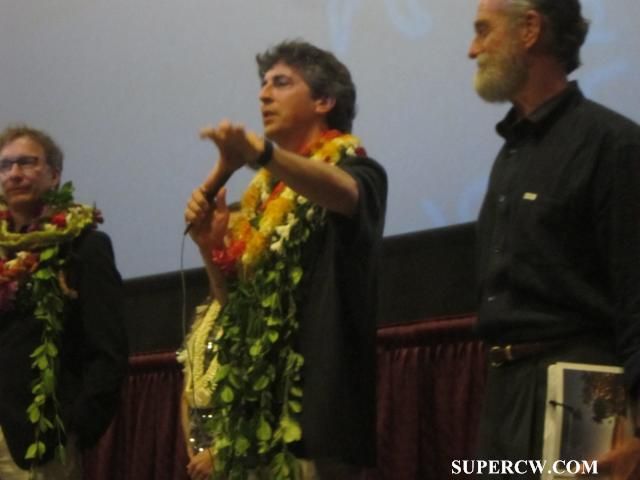 then it was halloween weekend. this past friday, actually. woah look how i just caught up! this was the night i was packing.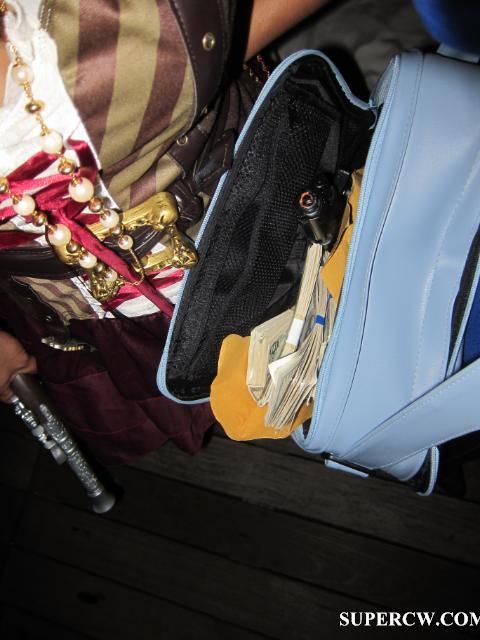 we were at the modern for the Gift event. they did it here last year too. the Gift event? i want to say it's one of the highest grossing charity events that happens in Honolulu, but i could be wrong. ps: i was jackie brown.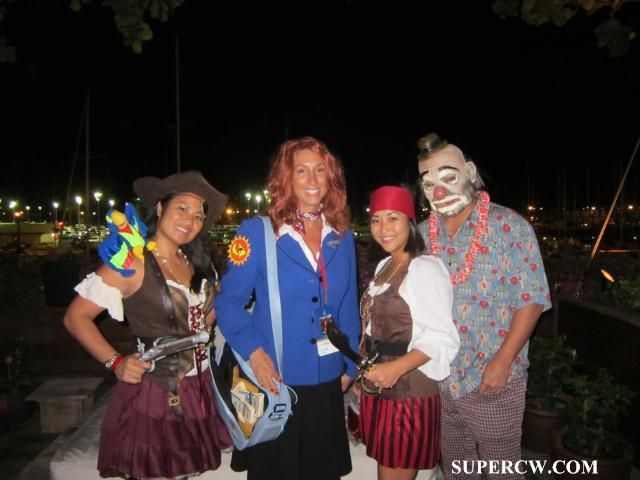 moka and jodi. LOVE them. ja-moka.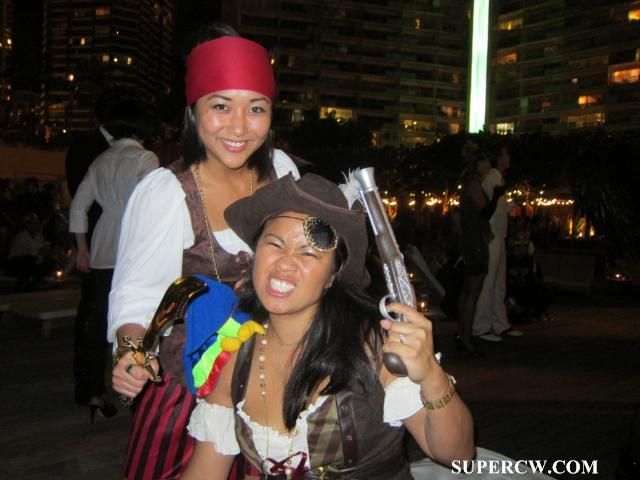 haha i remember joey asking around the day of the event about a good ice cutter. then went and saw that they had this ridiculously intricate satan demon ice sculpture/luge in the gold lounge. guess he found one.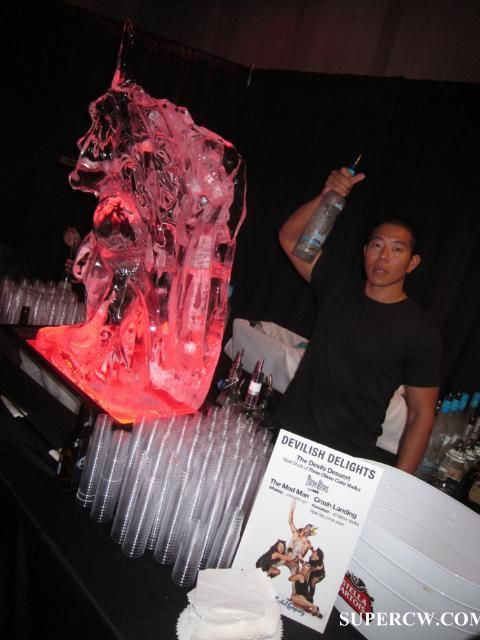 it's hard to see from the pics. it was freakishly satanic and awesome.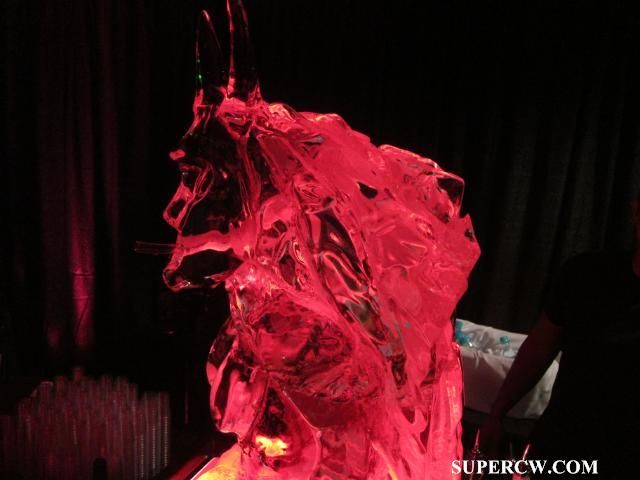 and i love love LOVE how they actually handed out cups this time. so nobody would just put their mouth under it. because if you ever want to see a real life oxymoron then watch someone put their mouth under a $9827348 ice sculpture to do a shot.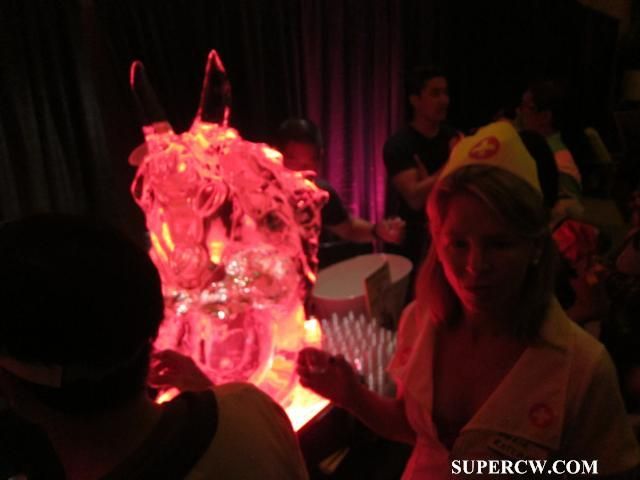 do you want to see what it looks like in the platinum/diamond lounge at an event like this?
ok!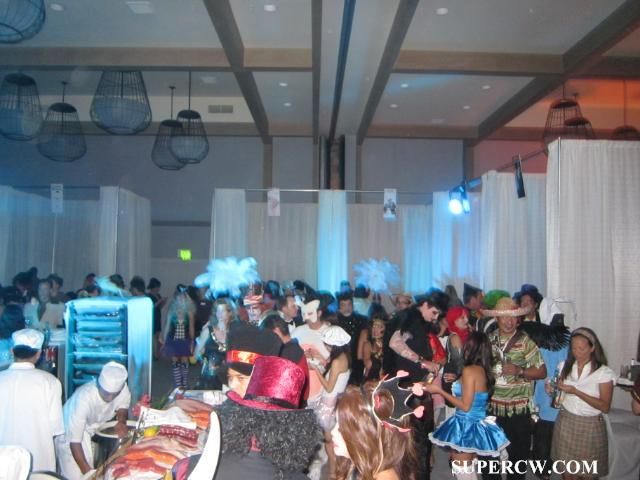 saw the boss-man chad with his lady in there. he's wasting away to nothing these days!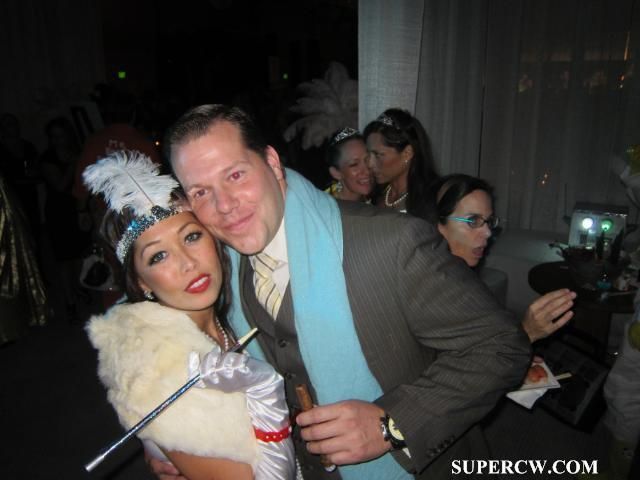 look at us!!!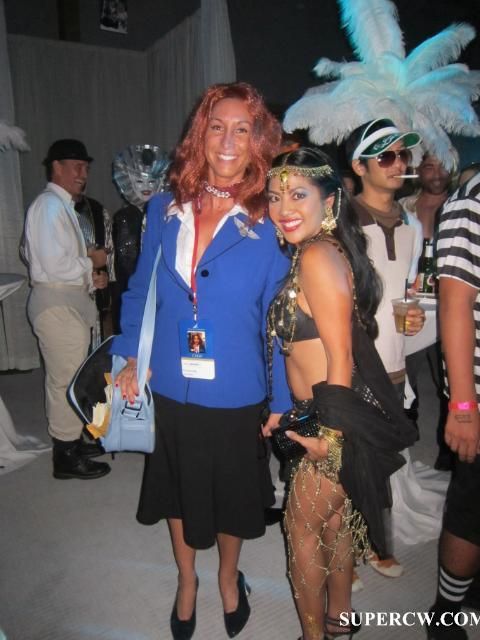 yup. so here it is. the holy grail of events.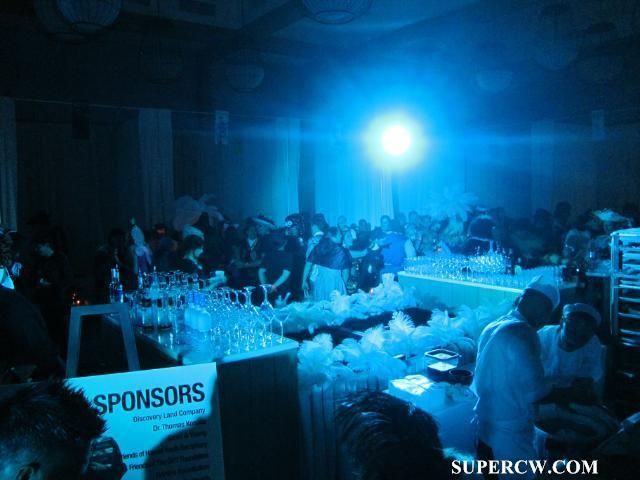 i forgot to tell you the theme of the party. see, the Gift has a different theme every year. they're super on point about it too, their board all gets way behind the theme and usually leaves me feeling like i totally missed my mark. this year was STRANGER THAN FICTION! books! the only thing was this was the same night as the Evening with Tarantino party that i wasn't going to miss. so i figured out that Jackie Brown was the only tarantino movie based on a book (i think?) so there you go. that's why i was that. ps; QUILLS!!
i did the most terrible job ever trying to get a good pic of the party. it sells out every year though. it's one of a kind as far as i'm concerned. and don't forget that i've lived in like three different countries and traveled to a hundred more in my life time. this is a damn good charity event.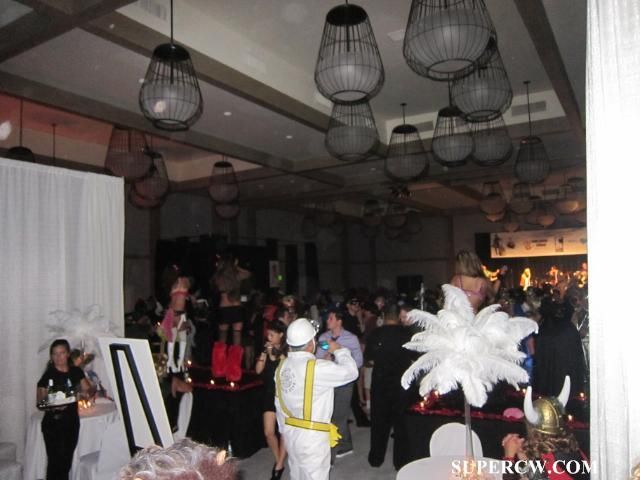 ja-moka in the platinum lounge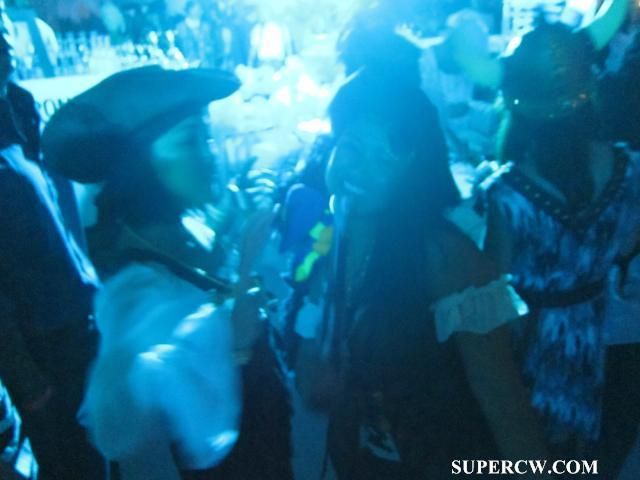 their costume was SOFA KING GOOD! i'll tell you later, but take a guess……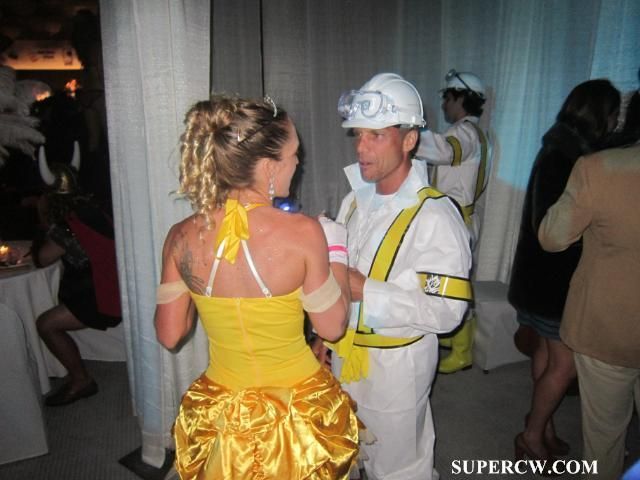 i look super creep-lurker status here, but i was in love with her golfer costume. SO CUTE AALKHFDJKLHFKJH
you can't tell here, but these guys were all like 12 feet tall. they were on stilts. man it was good.
last try getting the platinum lounge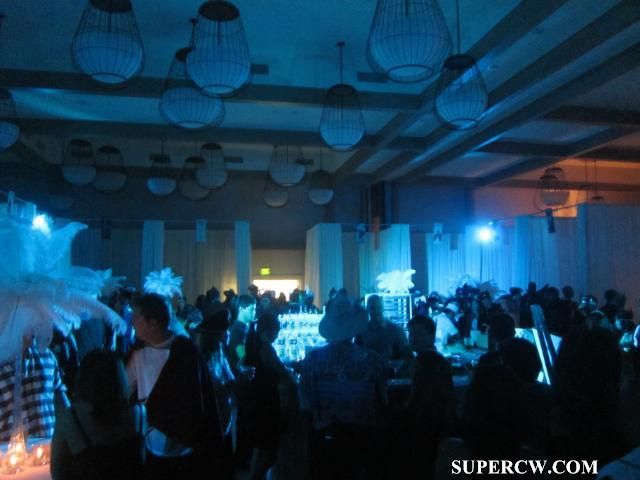 :)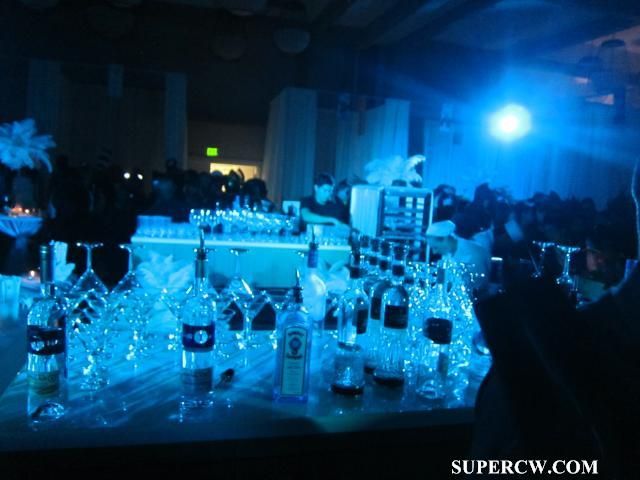 hunter s thompson AND hunter s thompson's sidekick lawyer guy. ps: they didn't plan this or come together or ever meet before this picture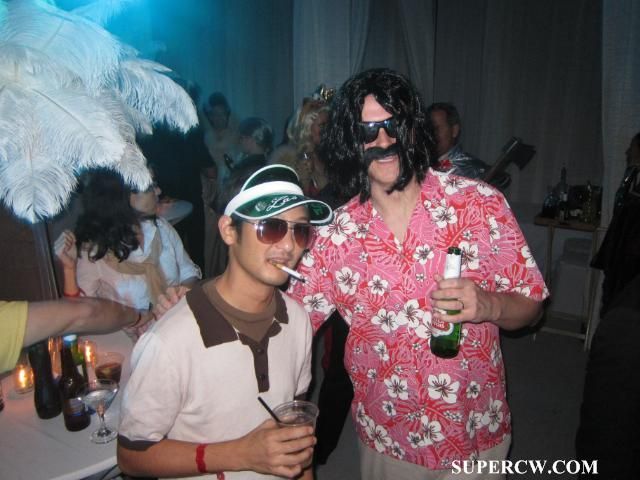 some of the board with derin. there was like a hundred of them. do you know what they are? do you? they were "To Kill a Mockingbird" !!!! get it? get it? soooo good.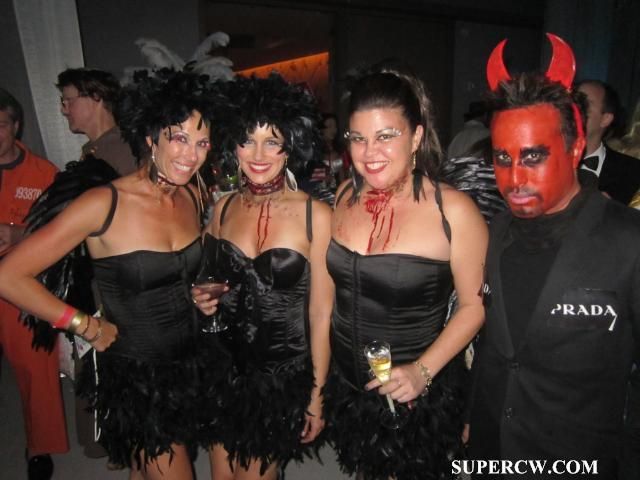 always love this one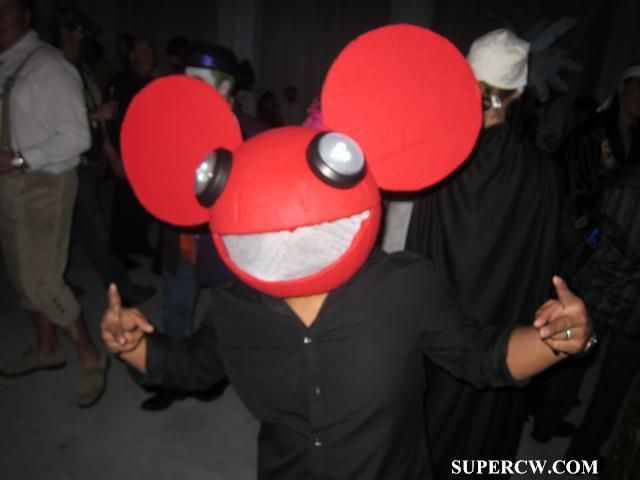 haha he was mesmerizing. like a horse whisperer. like a snake charmer. snake charming robot guy.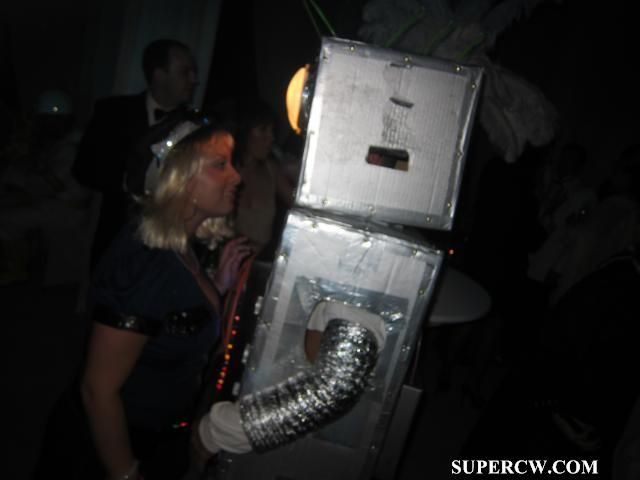 don't think things don't get weird at these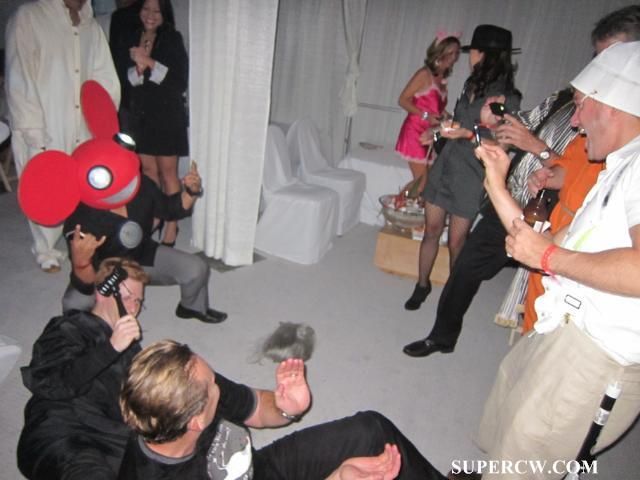 haaaaaaa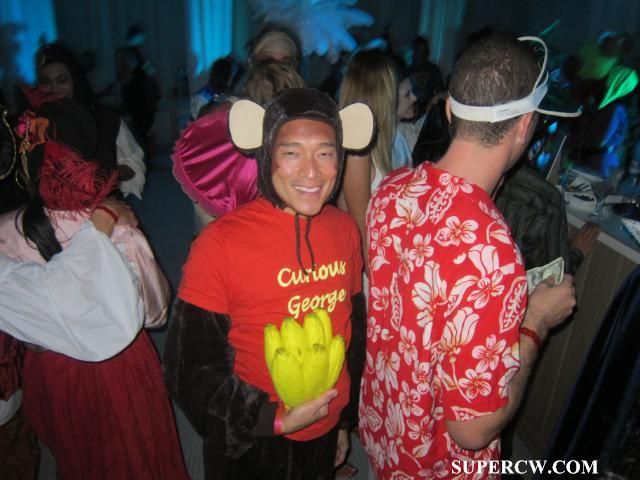 now with a flash it isn't as good. in the dark he looked real.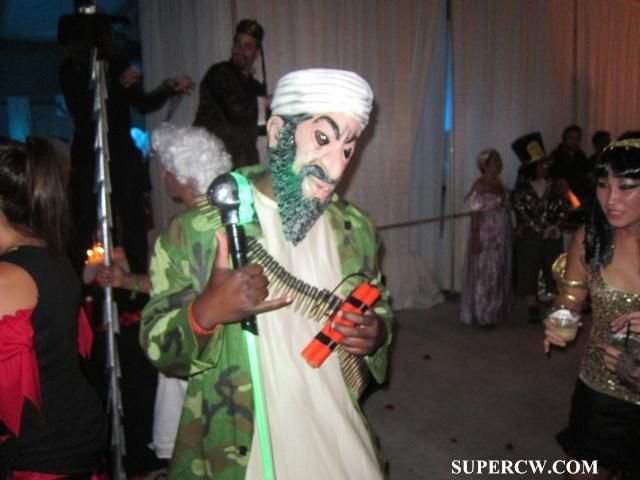 this party was peoplepeoplepeoplepeople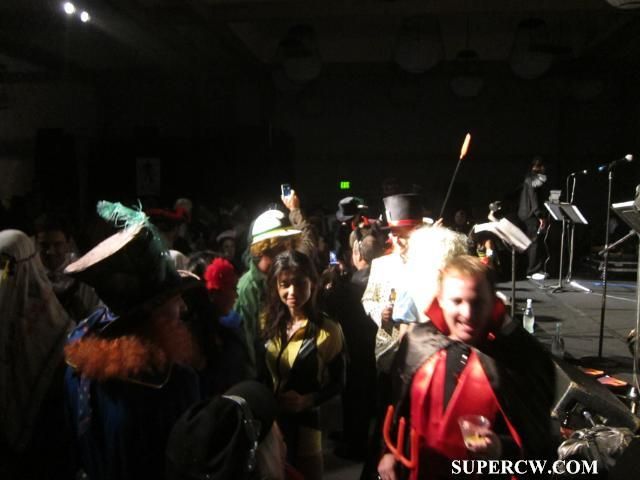 WHO KNOWS CHRISTIAN O'CONNOR!!? that's a man to know right there.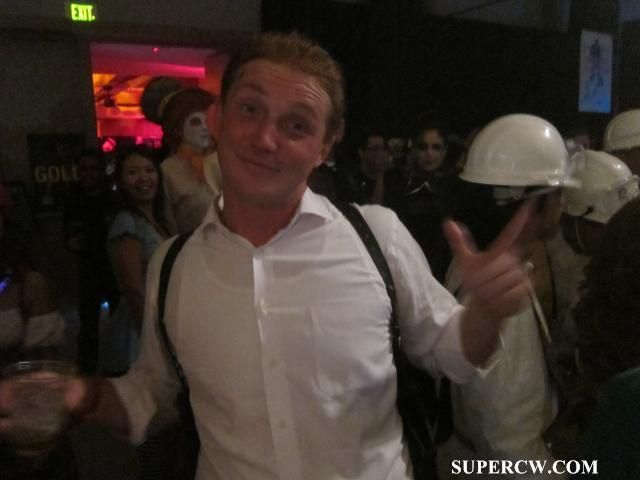 love it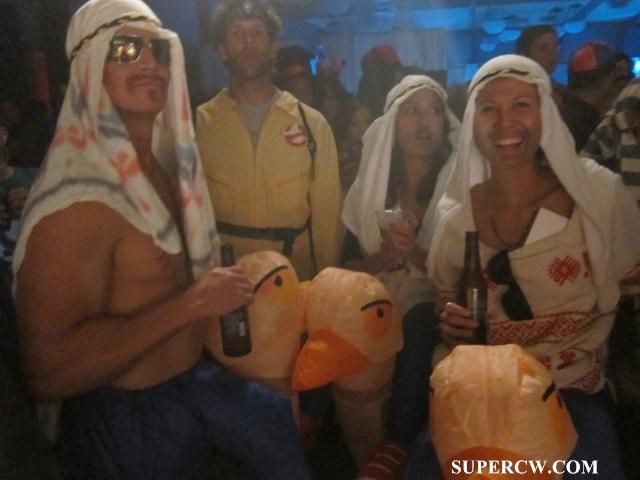 snake charmer drink bot robot was a finalist in the costume contest. probably snake-charm horse whispered one of the board members for a lanyard.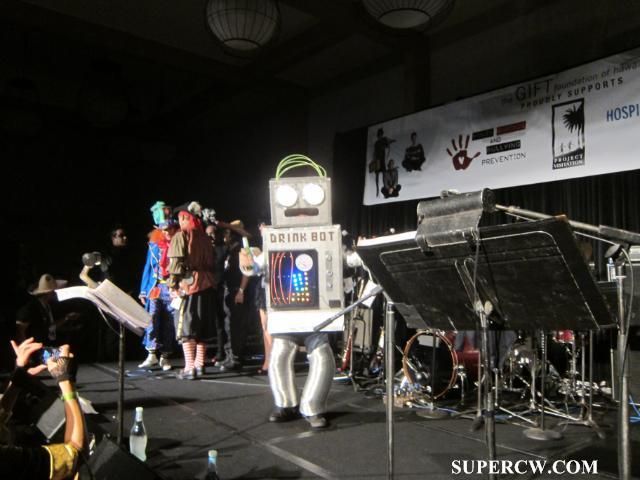 ps: this is the best part of this event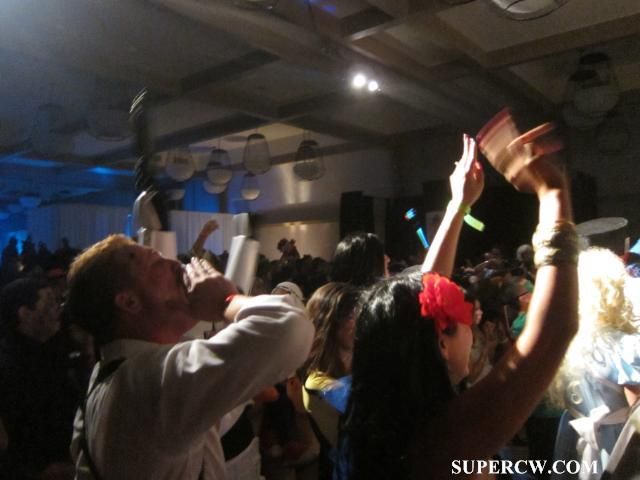 ps ps: thanks for the cash robert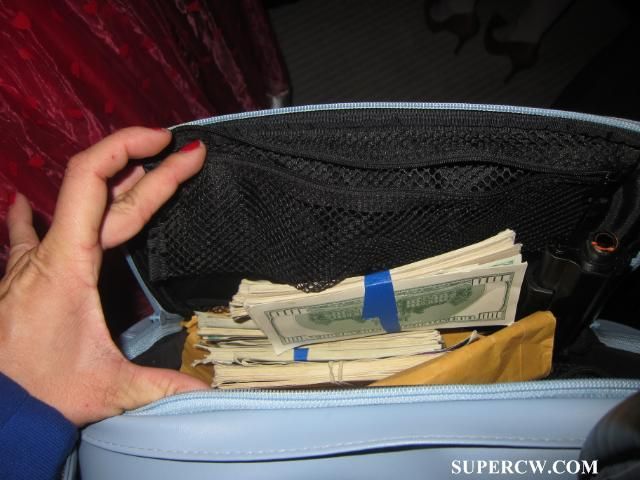 say hello to the easiest funniest costume of 2011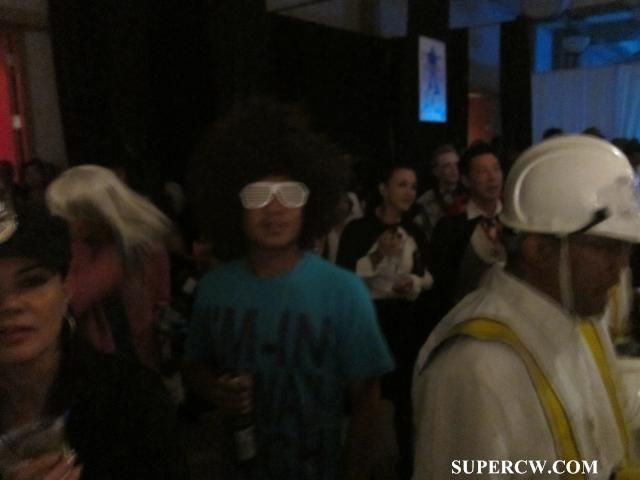 sarah was like "I'm just going to wear a wig" but she looked damn good, i'm super pissed i didn't get a better pic. and mr devil in prada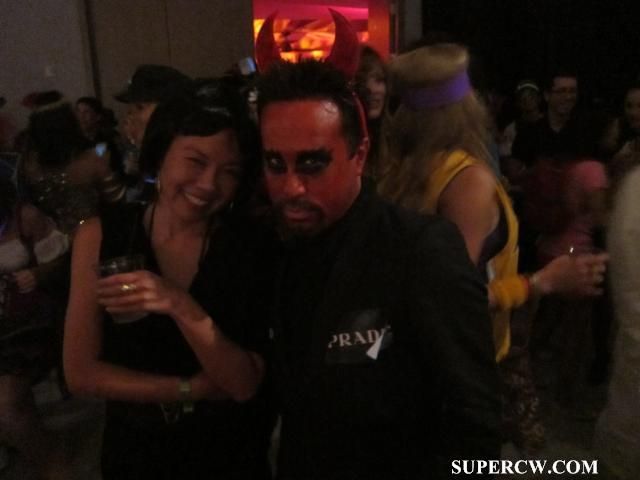 :)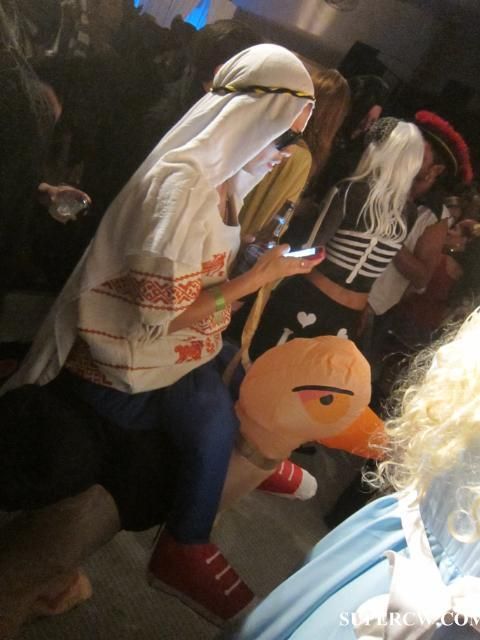 drink bot horse whisperer snake charmer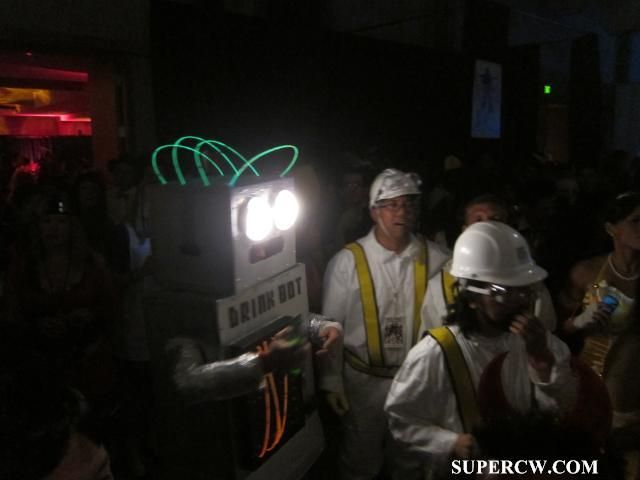 LMFAO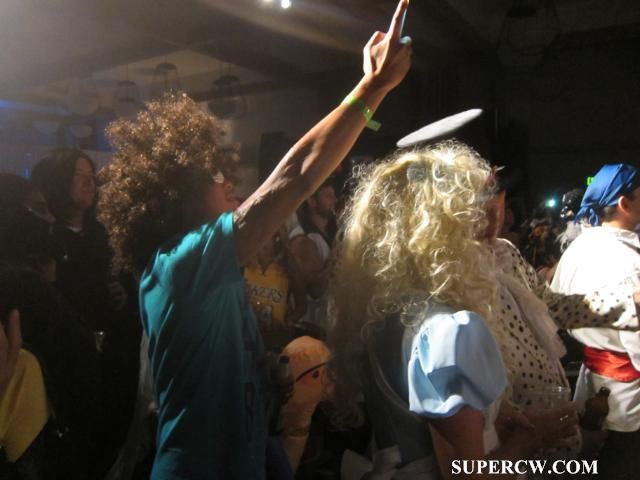 tryina show you the epic size of the thing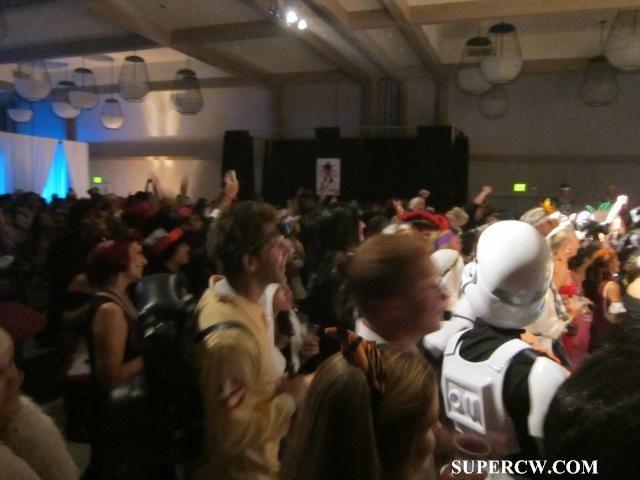 here they are again. can you guess what they are yet?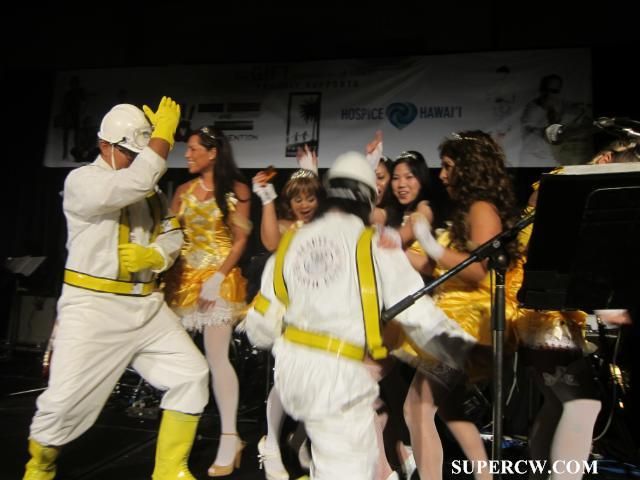 BEAUTY AND THE BEASTIE BOYS!!!!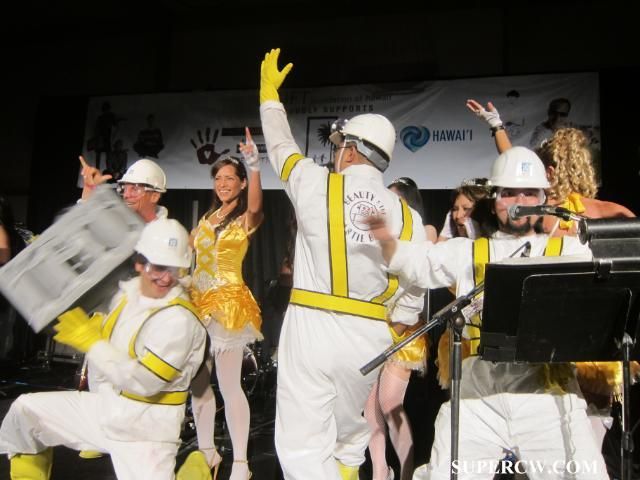 they totally won in my book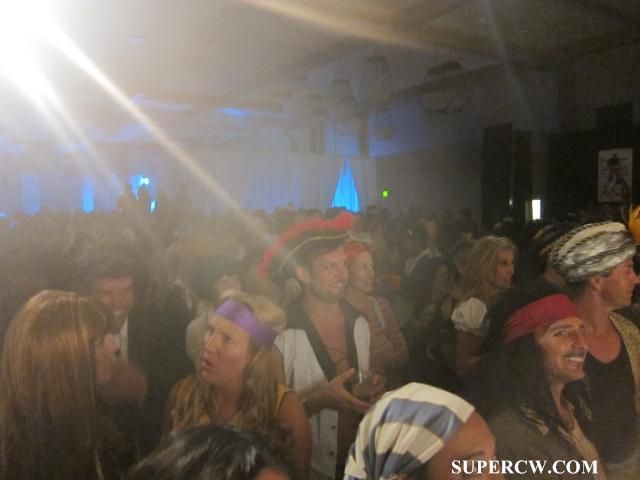 a pretty good black swan and yet another year of stanley kubricks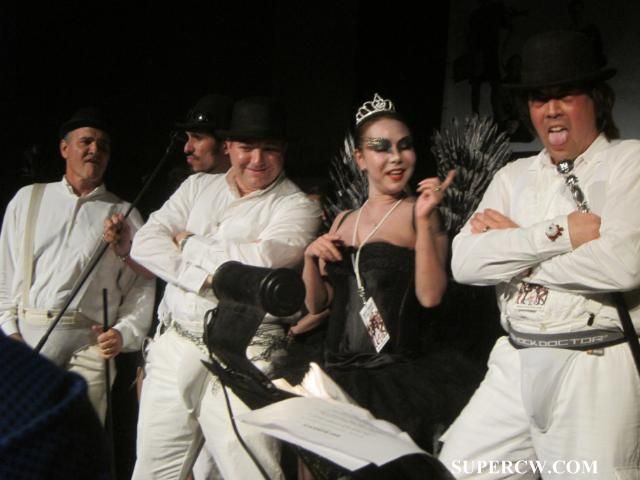 these are all the finalists in the group category, btw. a.k.a. the best category in the history of Gift events (that i've been to).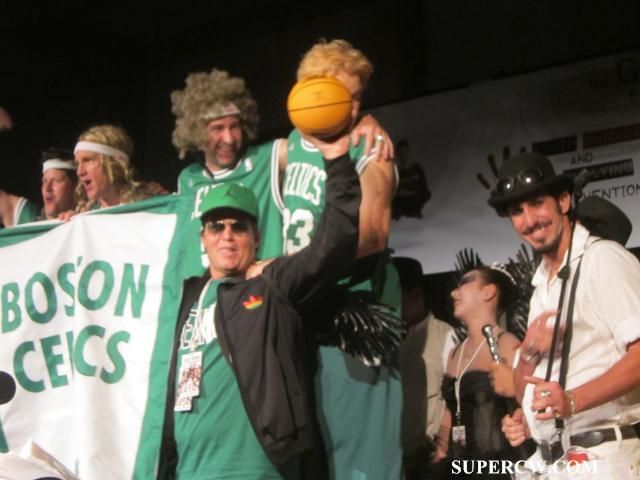 the boston celtics won. they were hilarious. i still thought beauty and the beastie boys was more clever, but you can't deny the silliness that is a group of guys on stilts.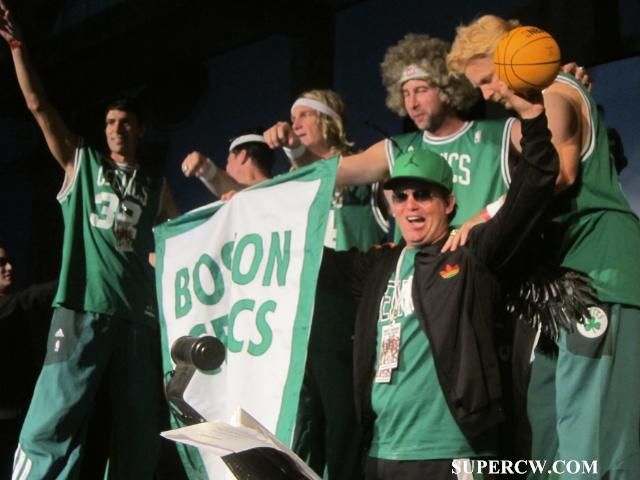 i heard in years past the winners of the costume contest at these events wins a trip to vegas that leaves THAT NIGHT. like, congratulations you won, the limo is outside have fun.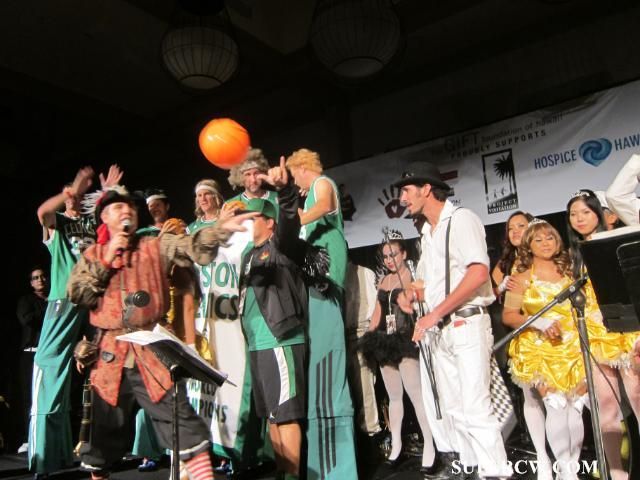 i also heard that one year someone won that didn't have a change of clothes, and totally went to vegas in their costume for a few days. awesome awesome awesome.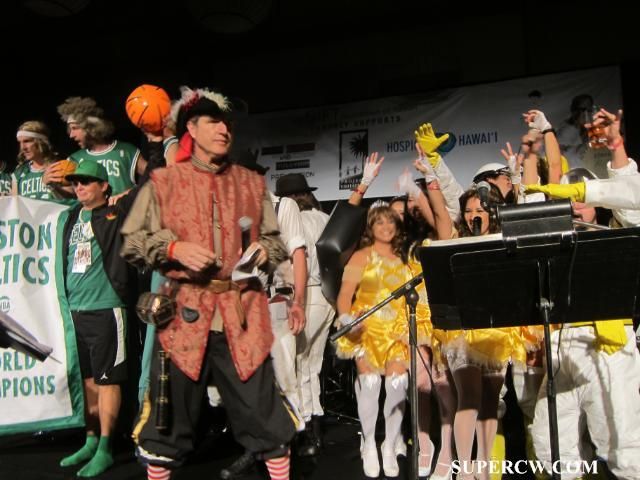 trying to get a perspective so you can see how tall they were
skip ahead 10 minutes and i totally switched it up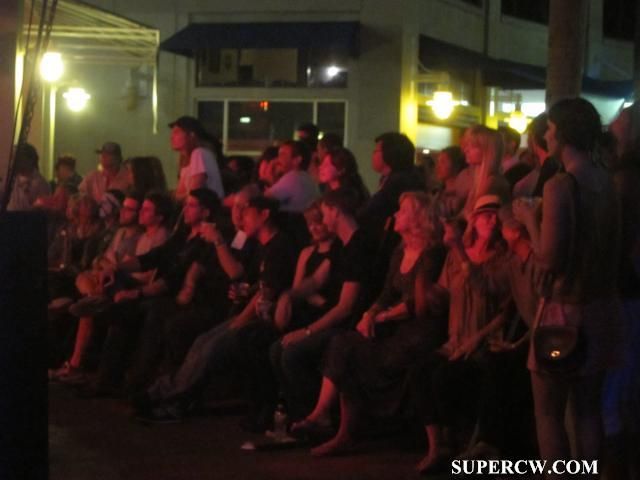 THIS IS WARPAINT!!!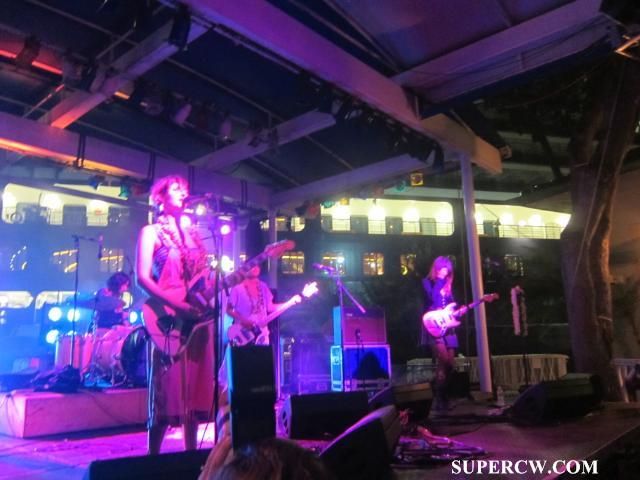 i was going to just trust that hallowbaloo wouldn't just fly out some random band that isn't good. i mean, hellooooo he had HELIO SEQUENCE at the first one. it's just that i really didn't think i was going to have any time in between the Gift and An Evening with Tarantino to really enjoy this show. it just so happened to work out that they were going on right as i was making ninja at the Gift, and i caught ever. single. song.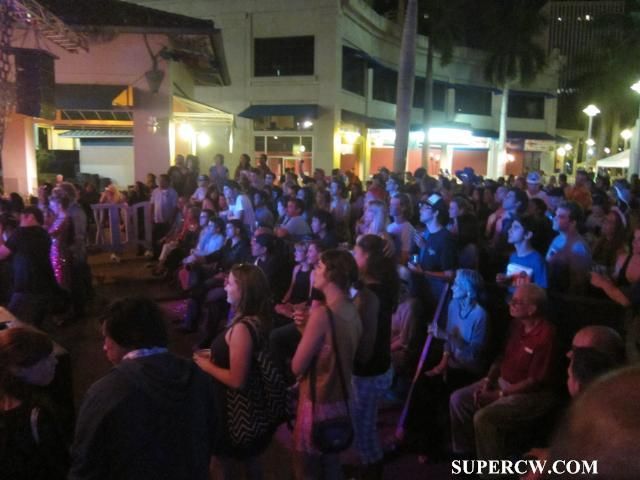 i can't even explain how amazing it was. these girl? frigging rule. sooooo good. the harmonies. the dreamy guitar. the melodies. i was in heaven.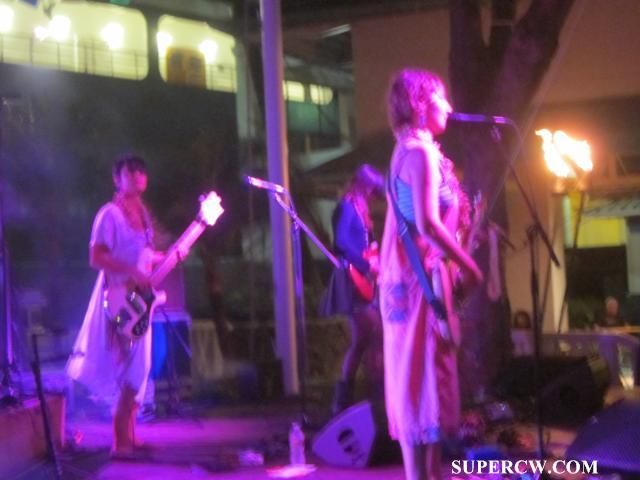 then it was…. THE TARANTINO PARTY! i'm sad i didn't take more pics. i was mostly outside enjoying the film and music and geniusbrain guests. the guys did a really good job with it. they are the new gen fresh from the academy of creative media and regulars at showdown. if that means anything. it's also good to have mark chittom back in hawaii on an extended new york vacation.
do you know what she was?!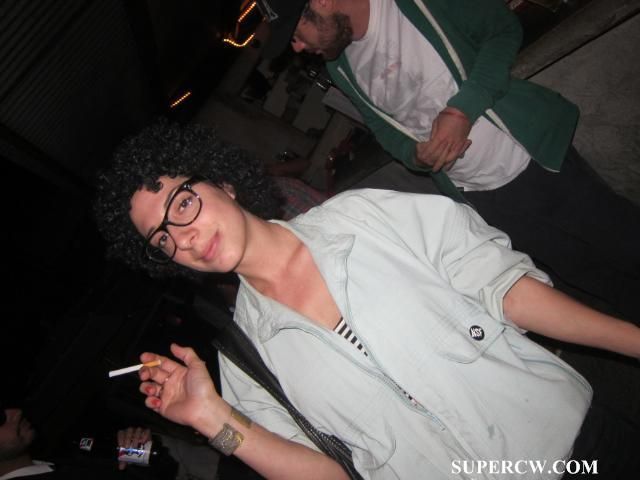 HOW ABOUT NOW?!?!?!?! so good right!!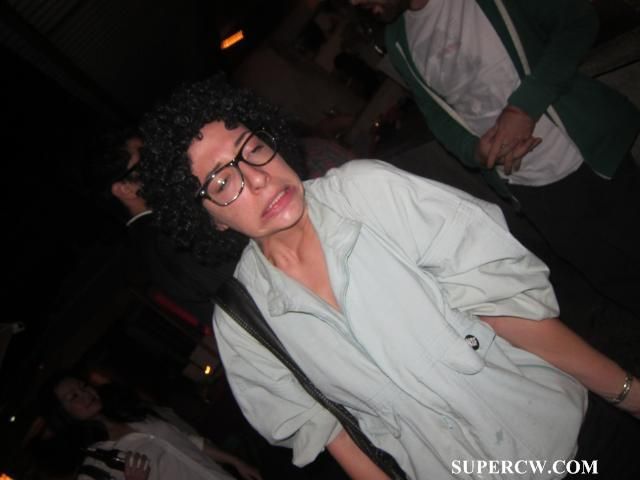 say hello to my half-ass attempt to get DJ Justin Hodge and Ben doing what they were doing. what they were doing was pretty sick, and guess what, not like anything i've seen in the nightlife in a while (ever?). sean silva basically edited a three hour sequence to different sets that DJ Justin Hodge had put together. Each "set" was from every single Tarantino film, starting with Reservoir Dogs. Justin chose his favorite songs from each movie, about 4-5 songs for each set, and then he gave Sean the musical sequence as an mp3 file to edit the visuals to. Like Justin with his choices of songs to use, Sean chose as much of the best scenes that he could from every film, and condensed them into Justin's sets. Then Ben Crepeau friggin played live to them.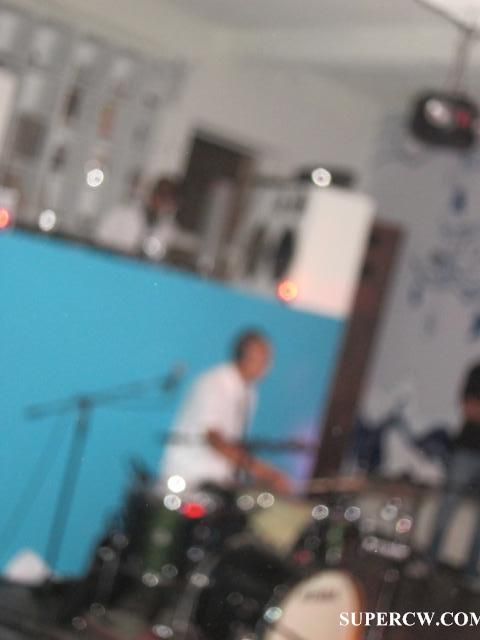 and i faking failed at getting a good pic of it. TWICE.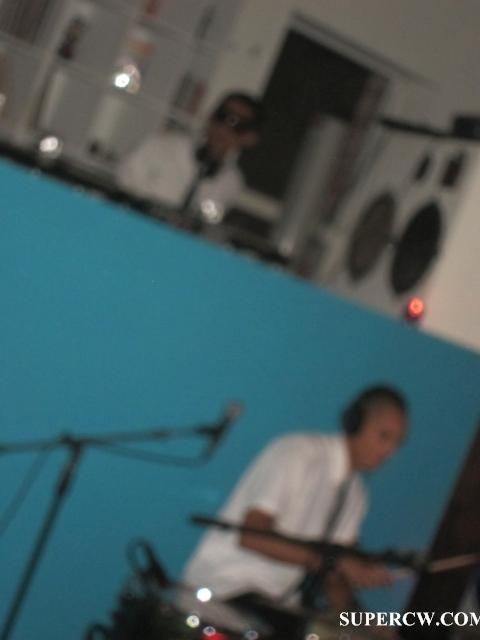 snuck out of the party to get over to davey's new deal tho. Modern Love. the music was brilliant. LIKE I KNEW IT WOULD BE.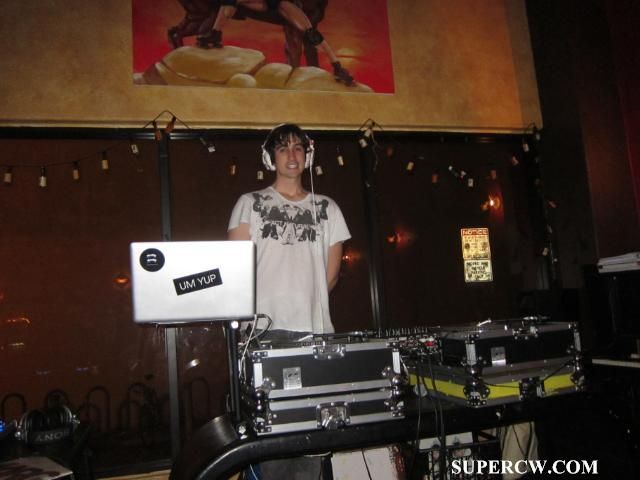 then it was saturday.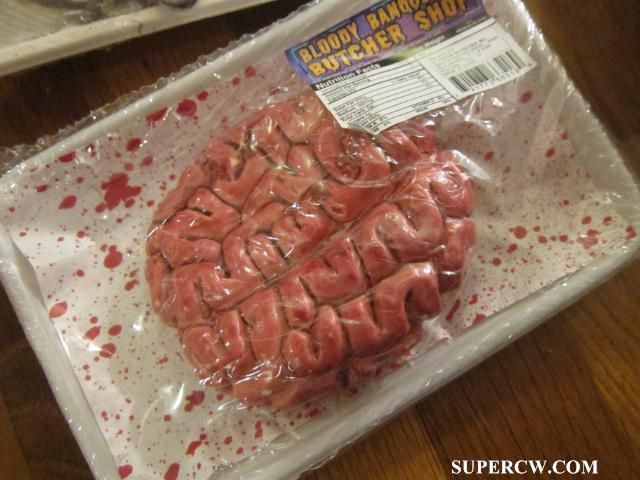 check out the wicked groceries that were on display at the mertmansion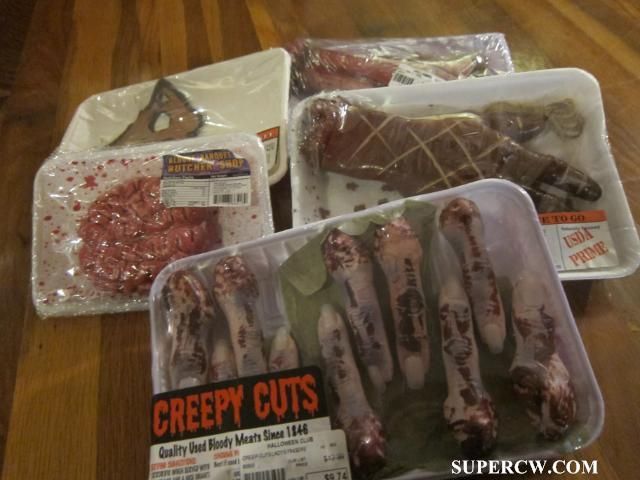 my favorite part about parties like these….
…is that i get to make theeeeeeese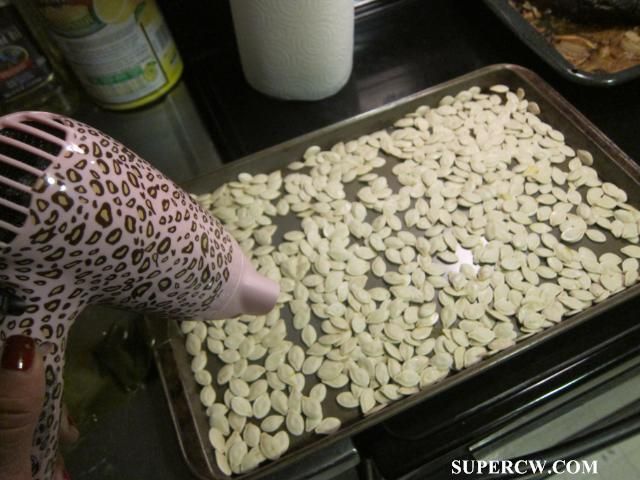 and threes some damn creative individuals up in the mertmansion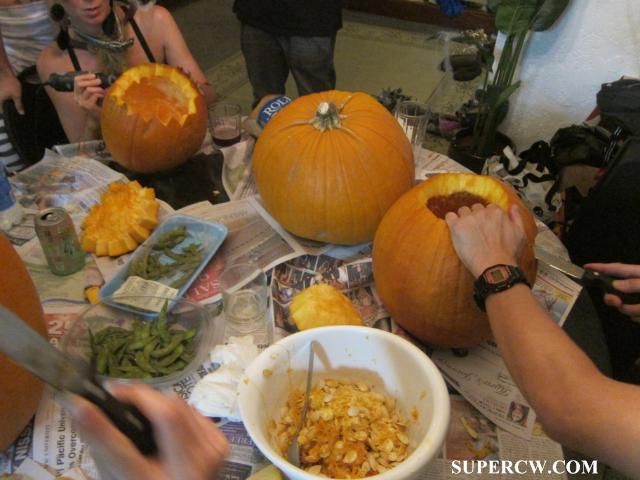 kelsey's alien eyes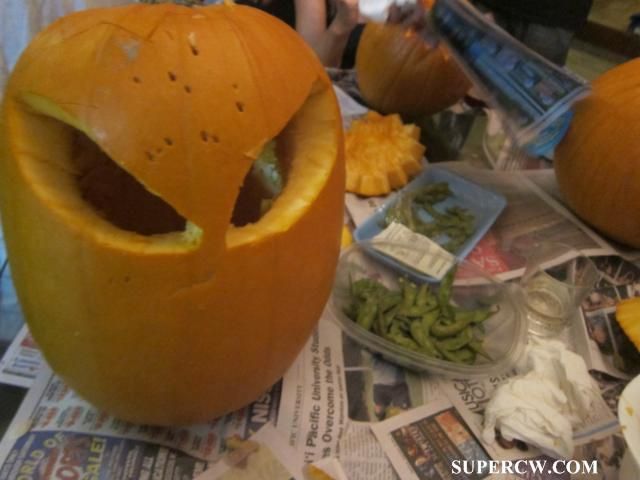 then it was sunday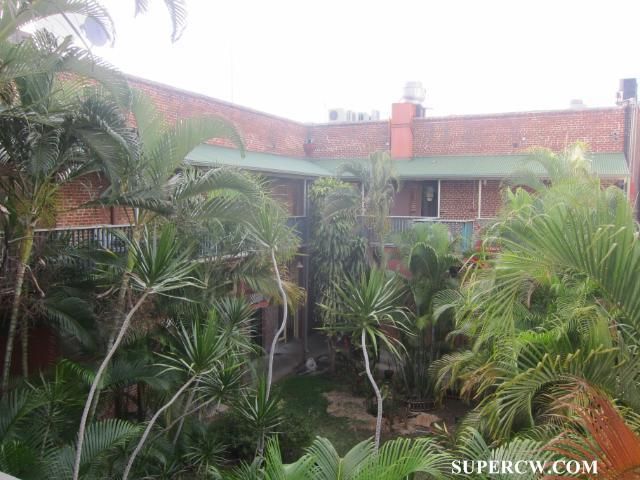 EKUNDAYO!!!!!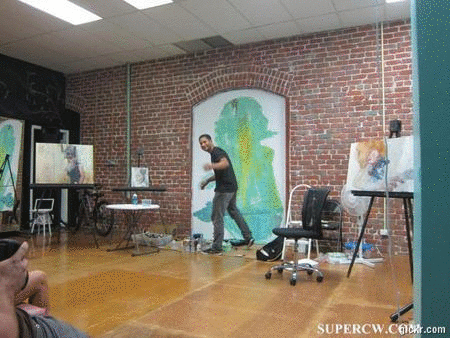 it was the second workshop at the artsmith and i was so excited to watch him paint and learn about his process. i'm sad i missed the q&a but happy i made it down at all.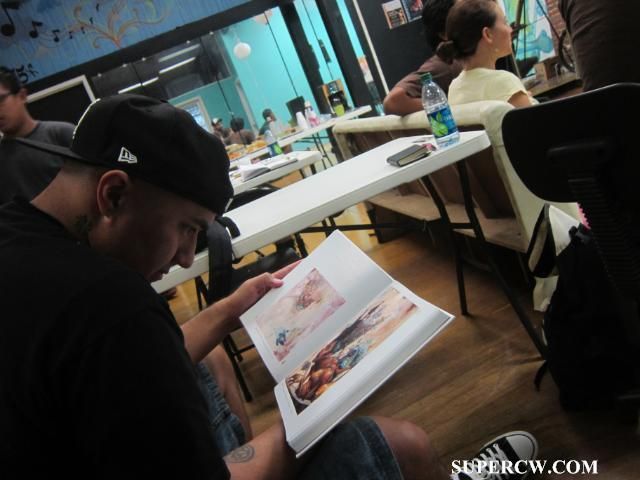 ekundayo is one of our Pow Wow artists, representing Hawaii as a local dude but already sort of blowing up on the mainland and beyond. so excited for february, you guys.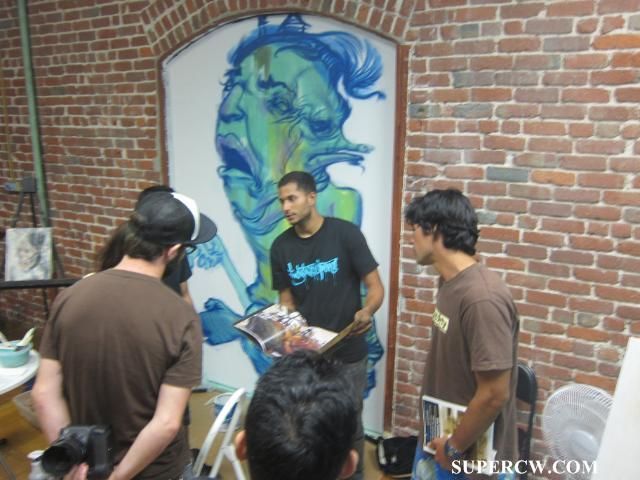 that's it for now. omg last night. that was fun. i got some pics. more soon.
see you guys this weekend.