oops, too small. images are too small. i haven't been posting pics for the last few weeks (months) because i'm still trying to figure out how to use this mac book. give me a sec (week) (month).
this was a tuesday like forever ago. i love flash's ponderous face. i also love how he can totally give me mac lessons. and i SUPER love the steak and eggs at apartment3 right now. it's to dieee for.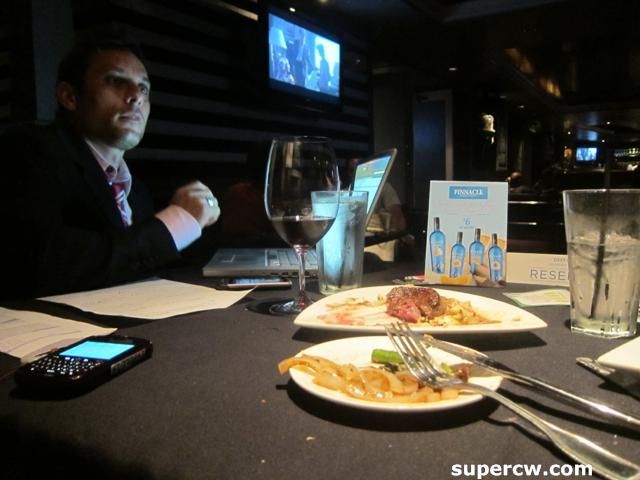 it was a tuesday night before work. work being a bartending gig at soho i did for a few weeks last month. justin could finally eat normal food so we dined there and caught up on scoops.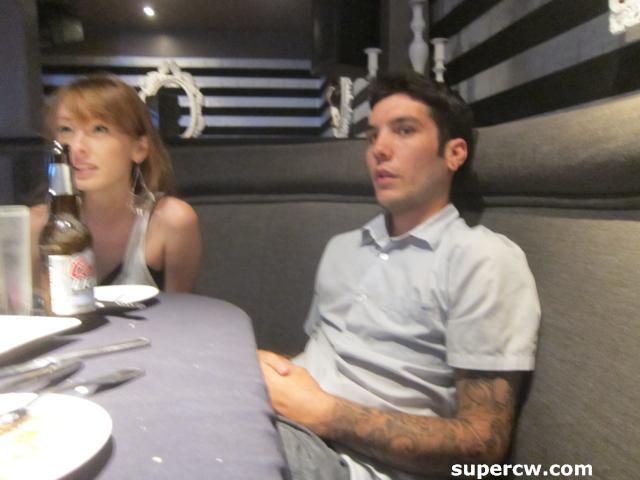 the photos from tiare's big fancy party are still up in there. i really like some of them. tiare and these photos are super boner-inducing.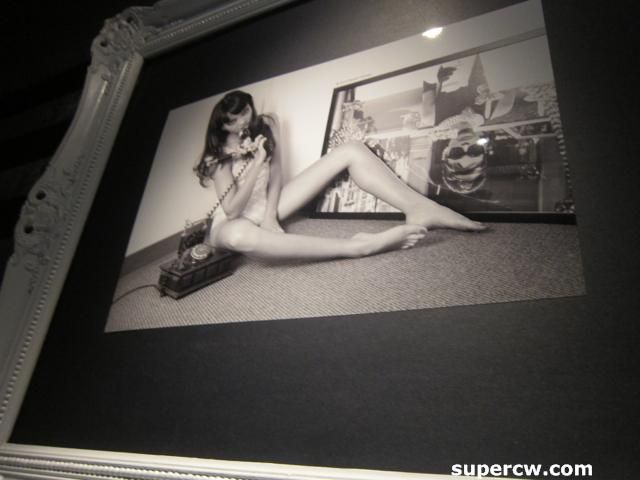 my bill totally called me out. yes i ordered three shots of pinnacle whip cream vodka. i don't know how they do that but i love it. my expense reports love it too.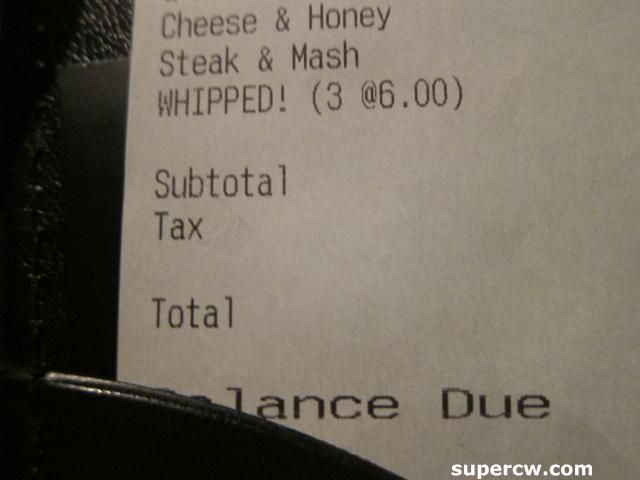 you know what else i loved? BARTENDING AT SOHO.  i was never in the weeds! just making drinks for people i love. fck, i wish i could do it every week. it was just way too hard to do that to myself. working until like 3am then going to real work at 7am. at 25 it was possible. i was working from 5am-5pm then going out til 4am then back to work. now? at 35? nope. nopenopenope.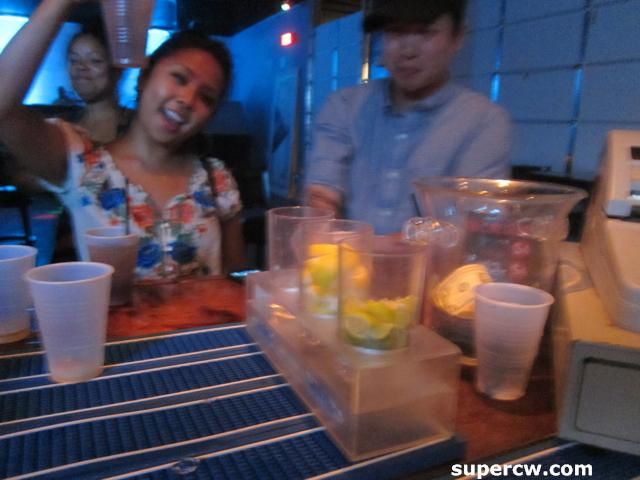 i do have to say thank you to some very awesome people that would come to see me though.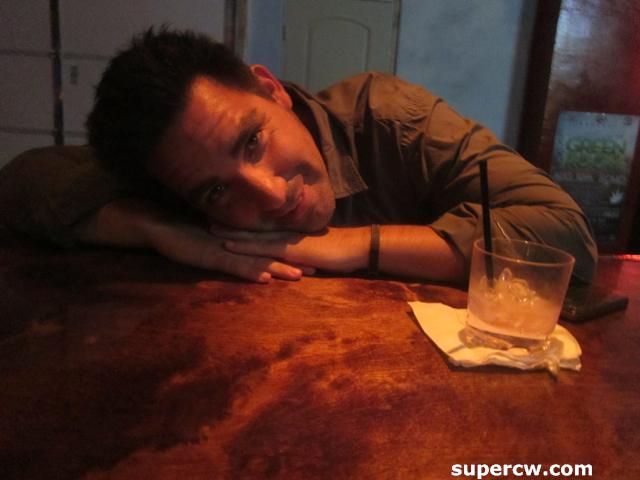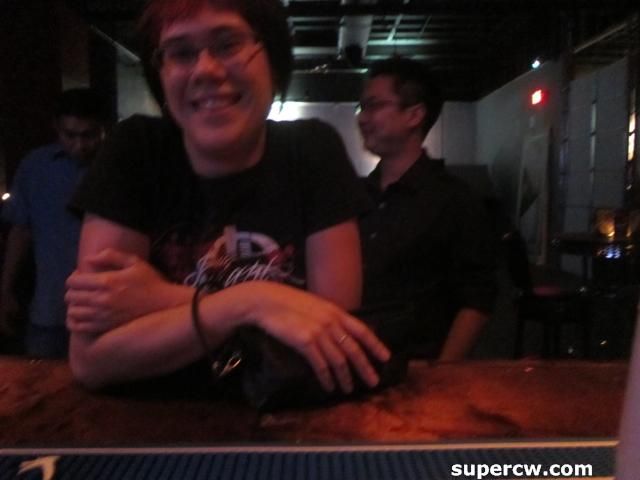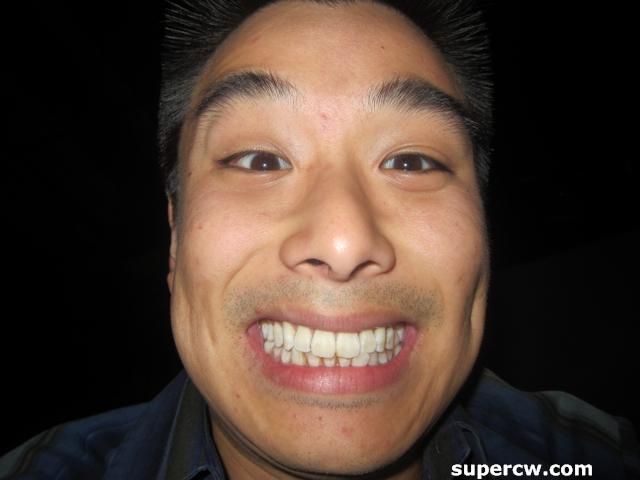 and watching hot ashley and dancing with bryan simpson and tweeting to a white dude in ohio all night and listening to some of the best music ever and such. it was pretty much the best nights ever.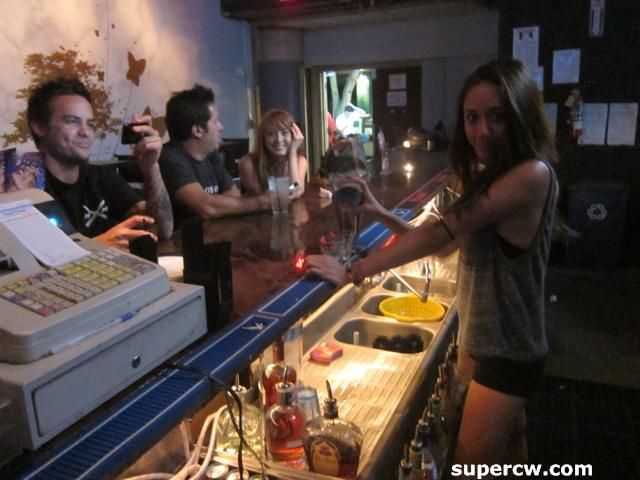 i wasn't too good at making fancy things. just shots and goose/red bulls really.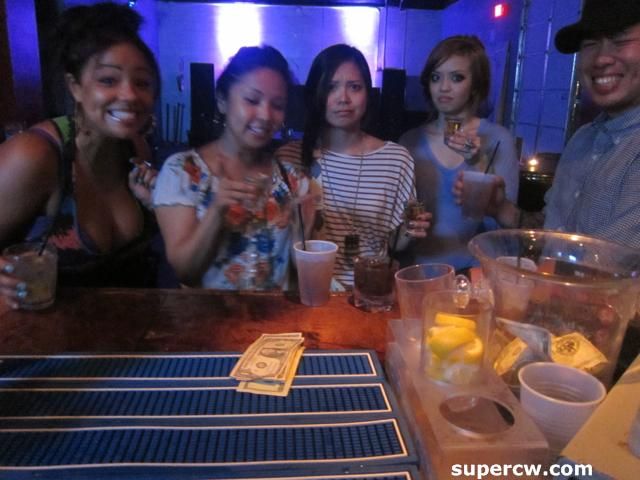 the best/worst part was robert campbell…..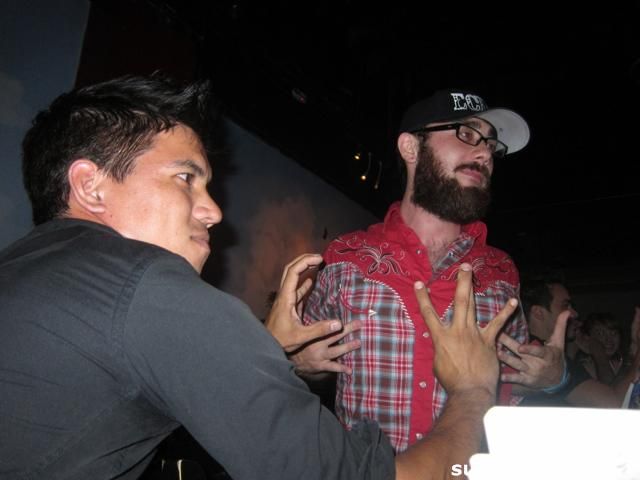 best because it's robert campbell but worst because ughhhh that bearddd.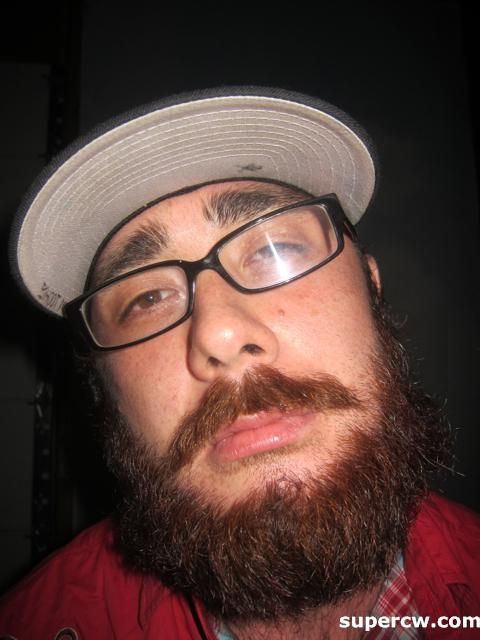 bryan simpson NOT @bryansimpson. this is his night. and people come to see him. and he still can't open a bud light. but everyone loves him.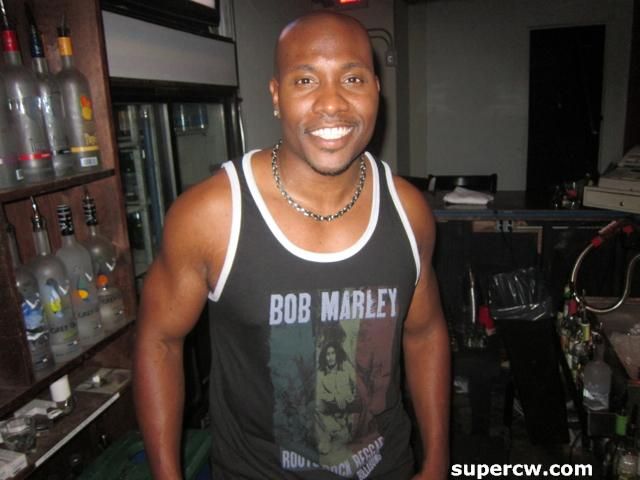 keoni OMFG i had no idea. seriously. i never knew until i bartended on a tuesday just how many grey goose red bulls you can drink in one night. i'm still floored. no wonder you stay out so late.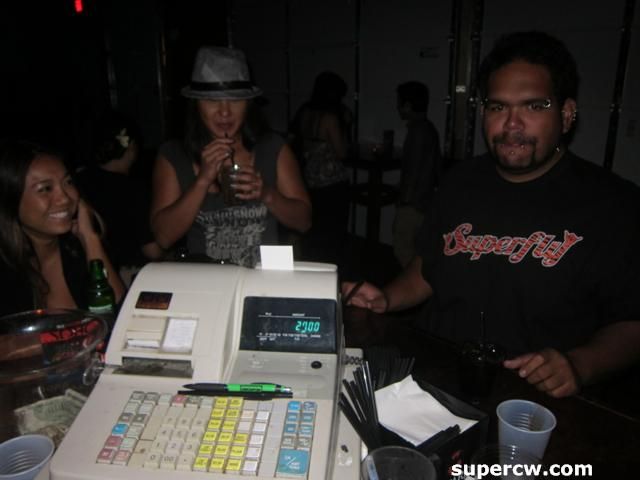 daniel fell in love with brandon udani. he dj'd one night and had raha and daniel going fcking apeshit. i was like…. you didn't know?! i knew.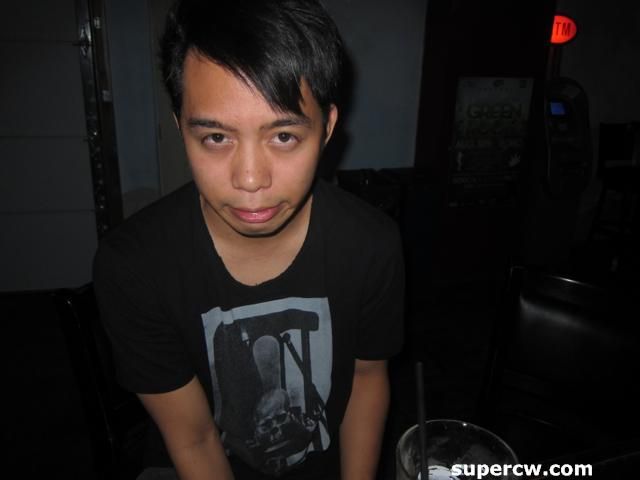 totally random – i found these l.e.d. labels to stick on real bottles of jack honey so i brought one to soho. it was the most killer thing we had seen in a while.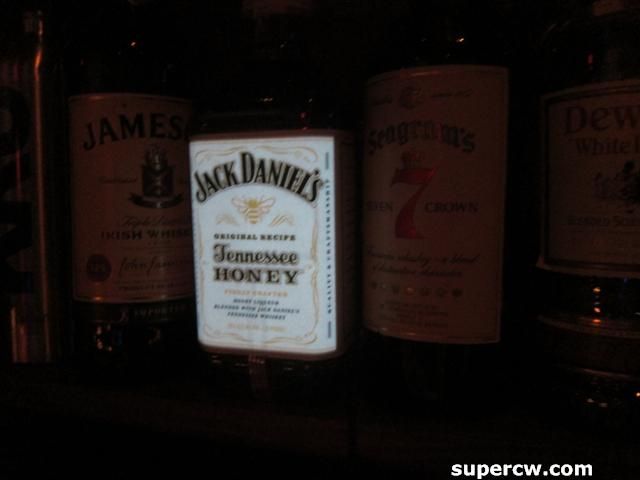 then kristen and riana came to WAIPIO to have lunch with me.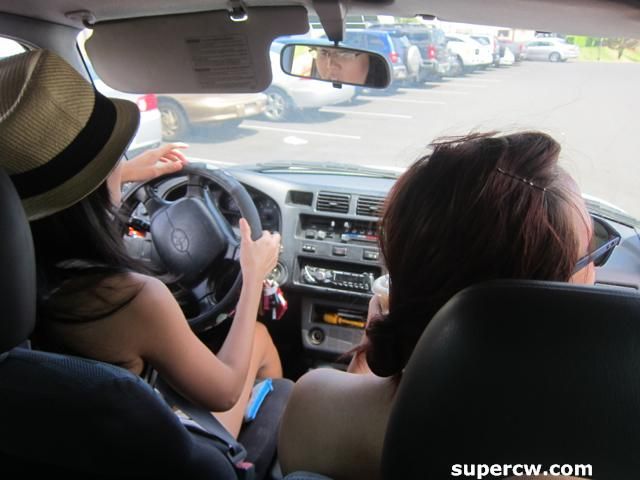 i was tripping on her shoe graveyard in her backseat. i thought mine was epic. she wins.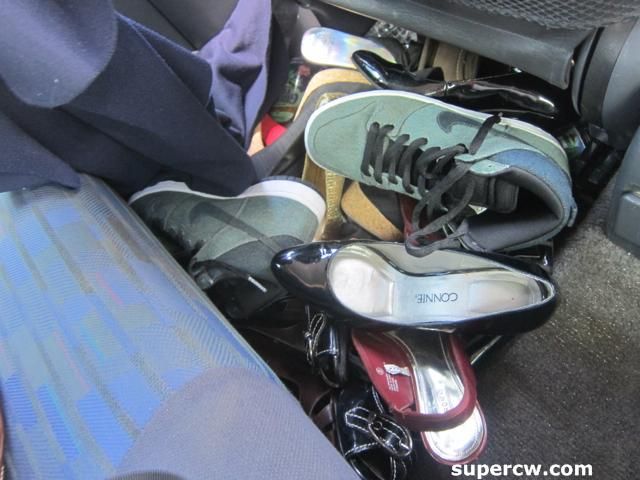 only because mine is all kicks. i need some heels.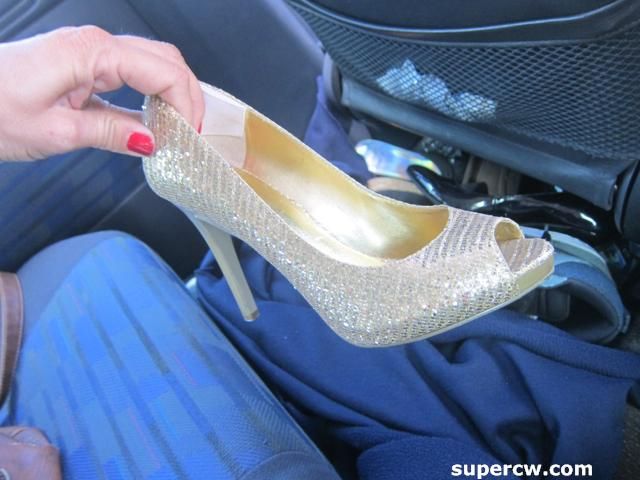 then it was a more recent saturday at the Academy for the huge estria battle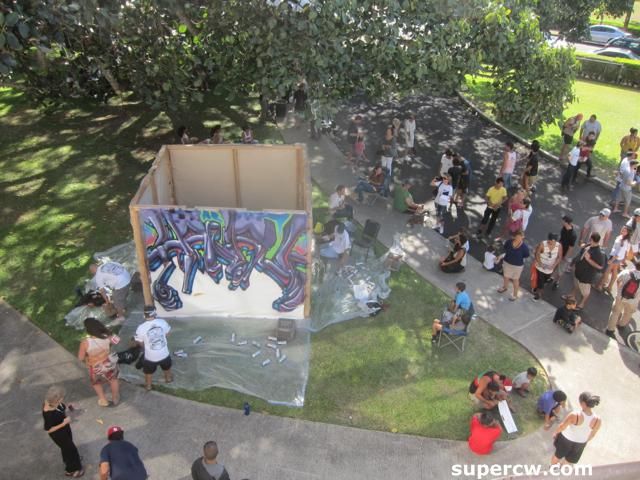 i hit the event with some of the pow wow fam. the feedback all day was the exact same. we need more of these events in hawaii.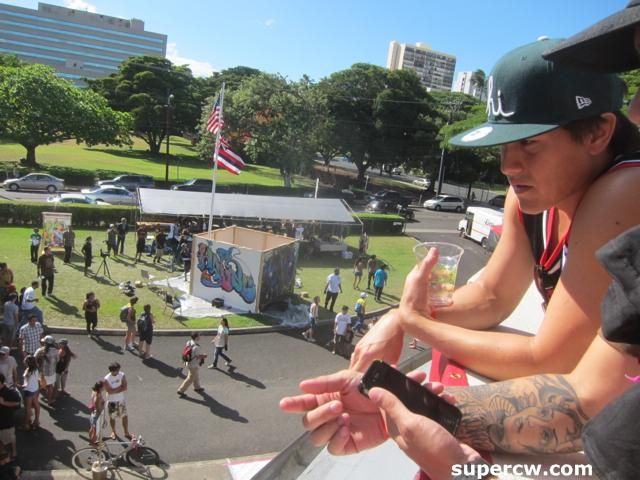 estria is doing these all over the place. i love that he brings them here.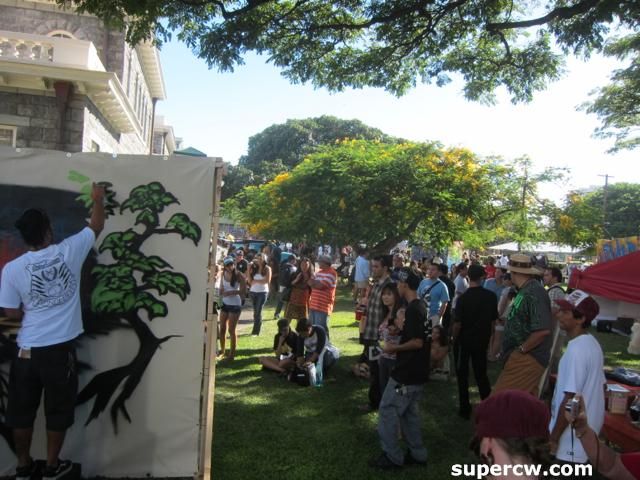 the winner. hands down. and a favorite among many of us.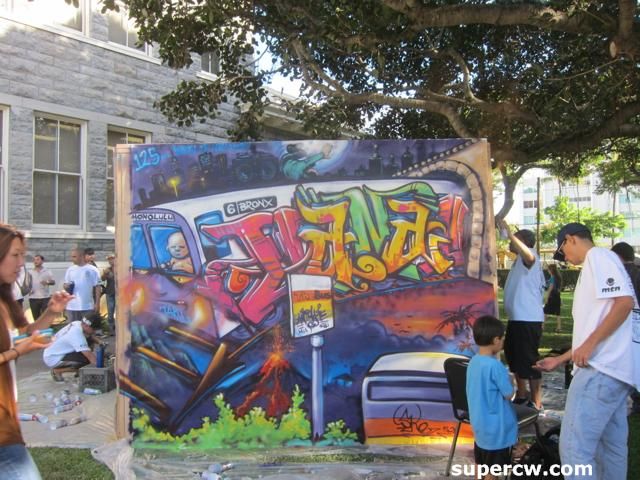 then i was dreading the heat. it was unforgiving. i didn't want to be outside at all. except this was about to be the best day of my life.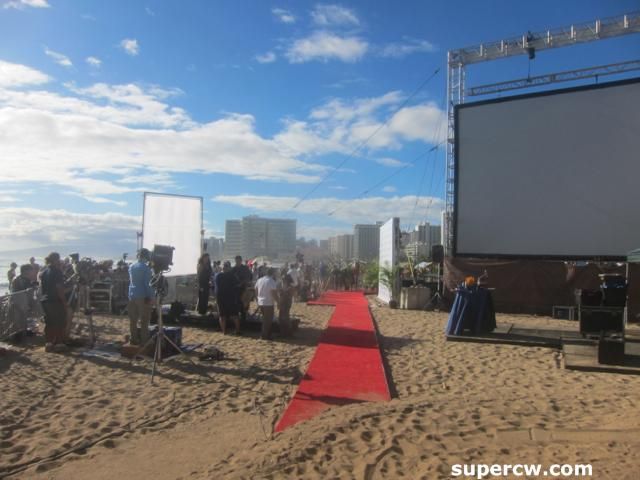 kathy with a k and maleko were my red carpet press neighbors. kathy and i did this together last time too. she is a fcking star. and maleko is AMAZING at pooping out questions on the fly. pros.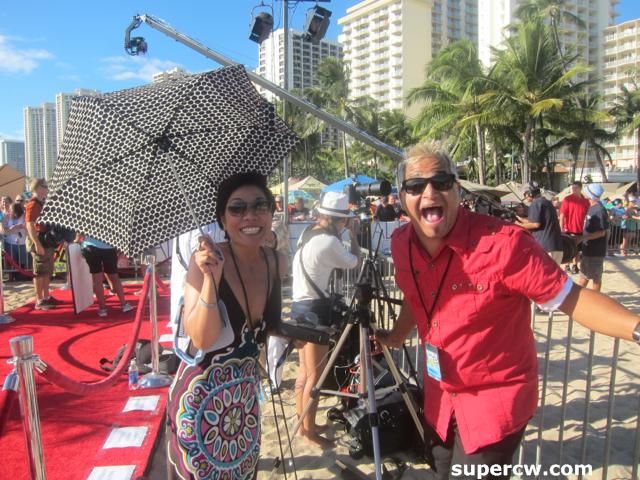 big smile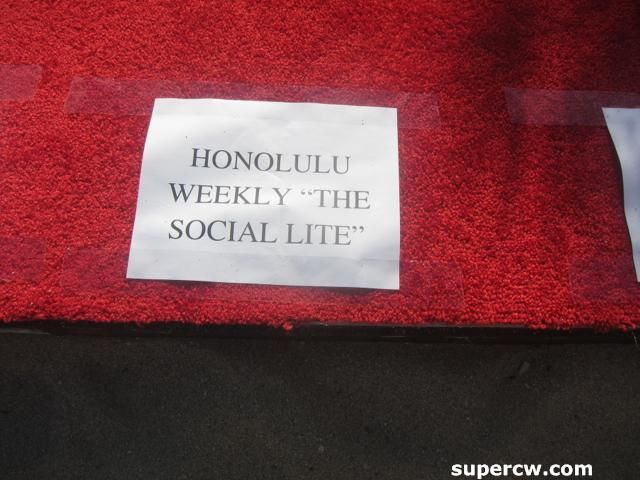 i didn't take one because i didn't think i needed it then i totally needed it.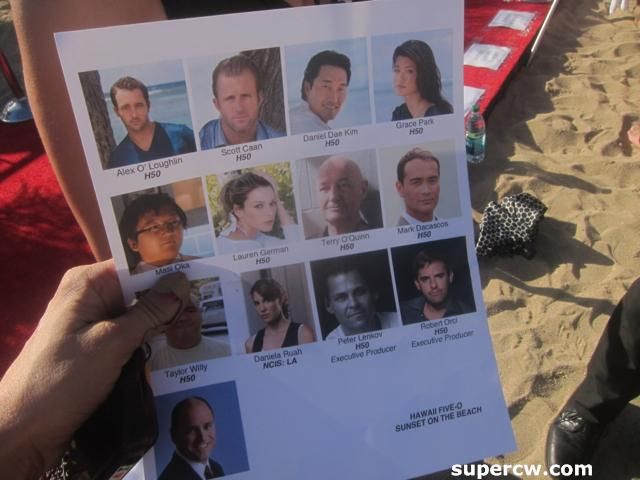 then i went to visit the dj because i needed to charge my phone and he was like "yo christa, put these headphones on real quick while i move my car"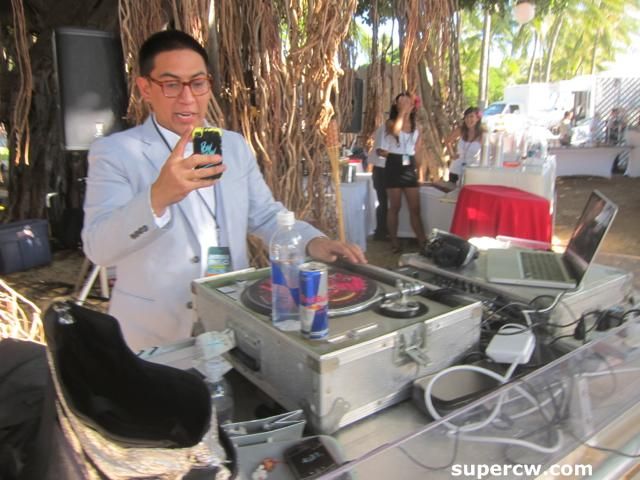 then he put in a mix and i was jamming classixx modcast 77 mix or something while playing minesweeper on his mac. dj supercw dj'd the hawaii five-0 vip party. watch out casey!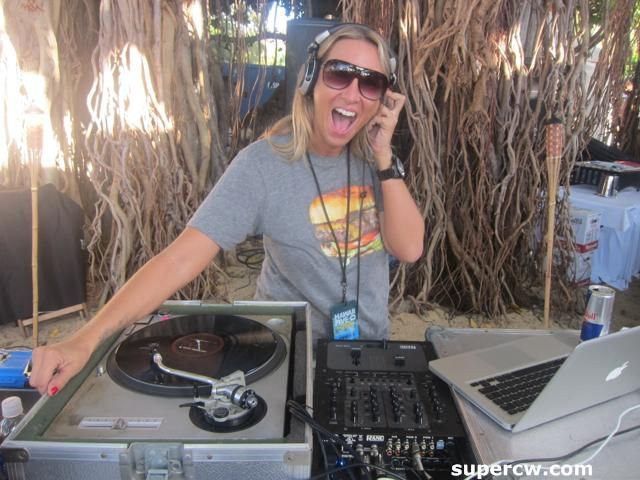 this was my view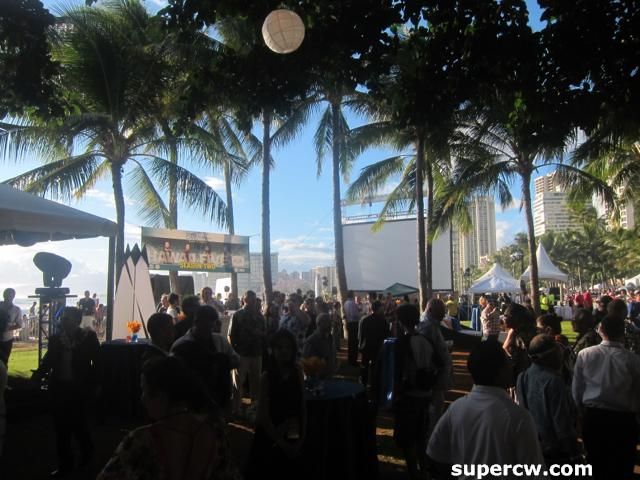 then it was time to work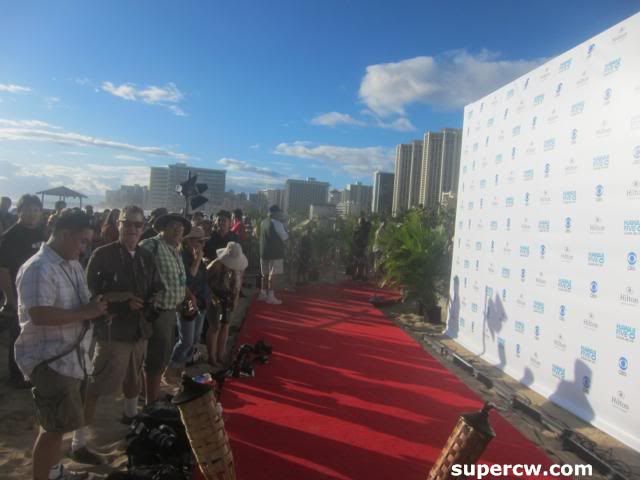 they said there was like 10,000 people on the beach today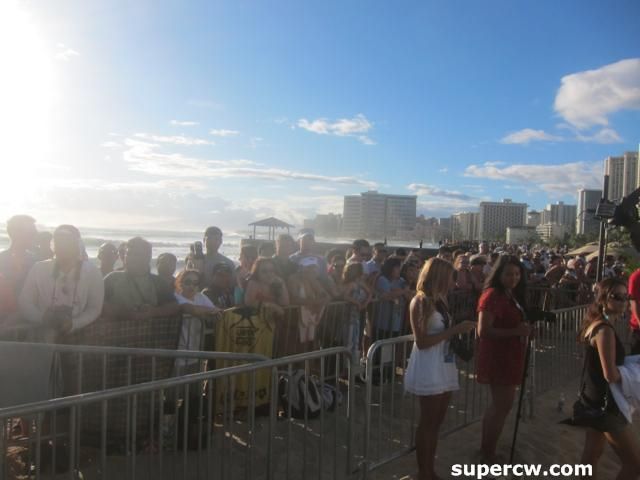 tahiti nui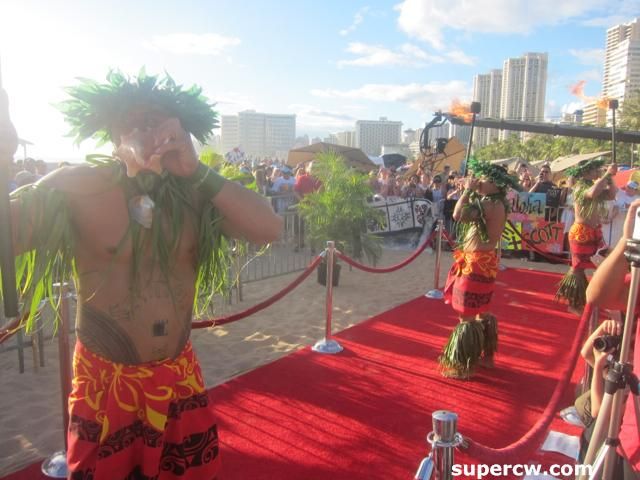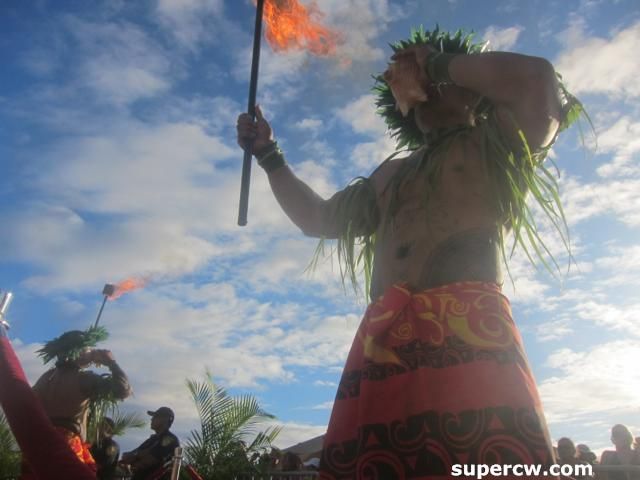 fashion tribe! she's so pro. i've been lurking her blog since the beginning.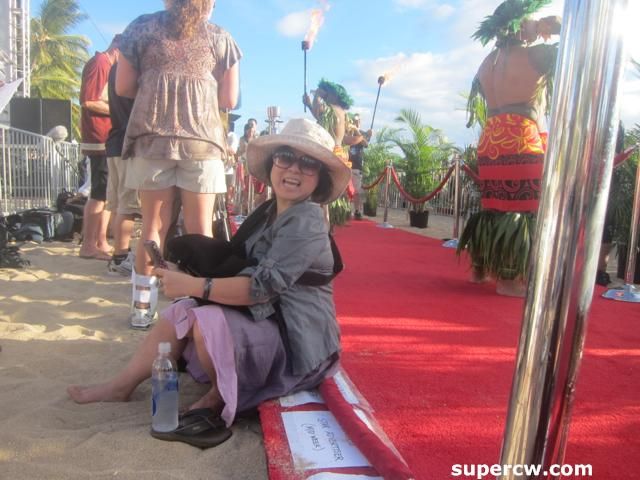 yu shing!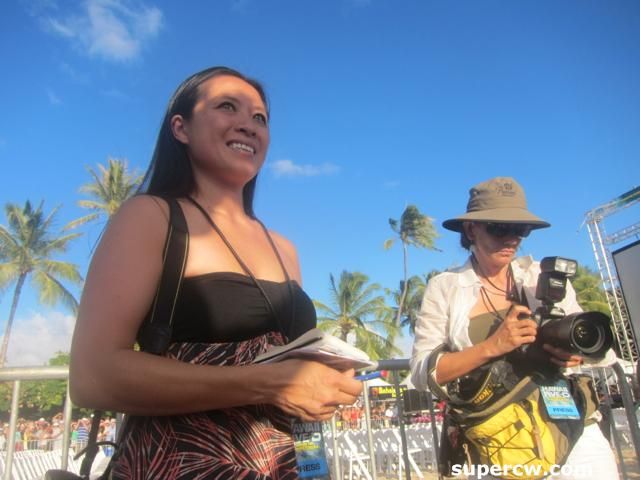 time to get started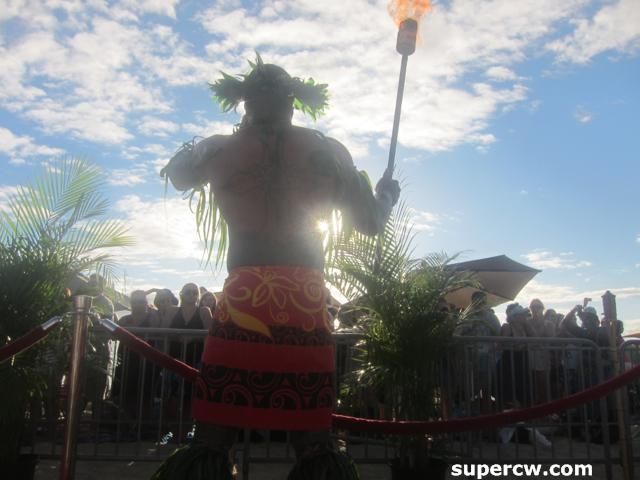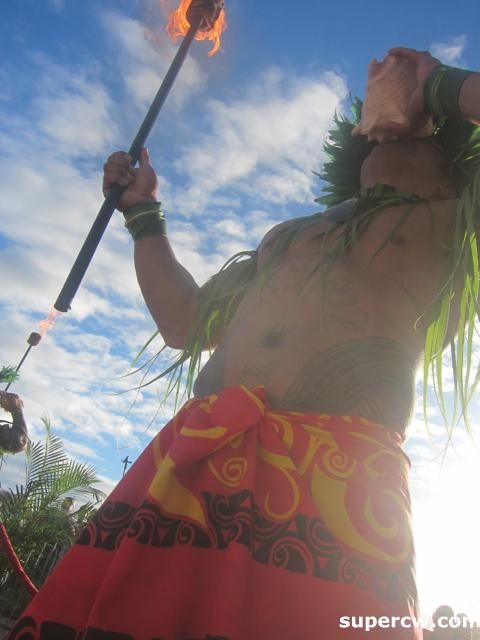 this was my seat for a while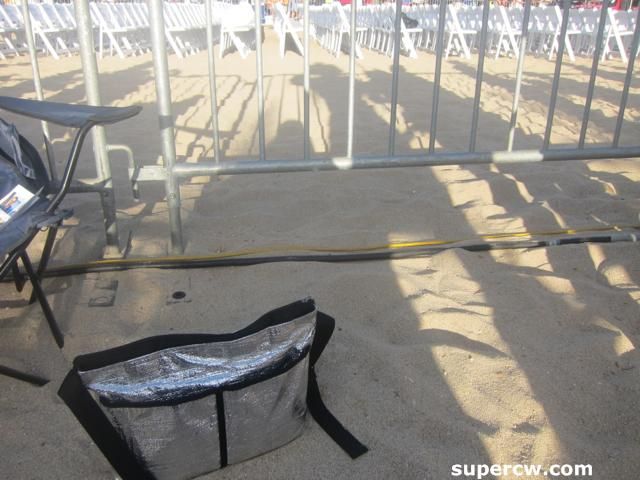 =)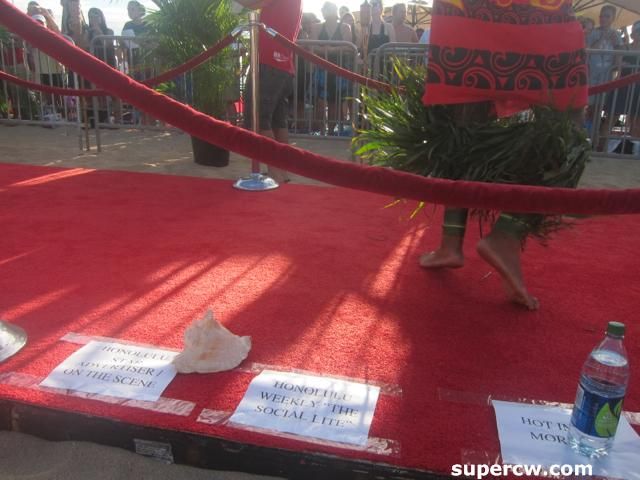 that guy down there had scott caan's photo book. and a LOT of those people were way in to alex.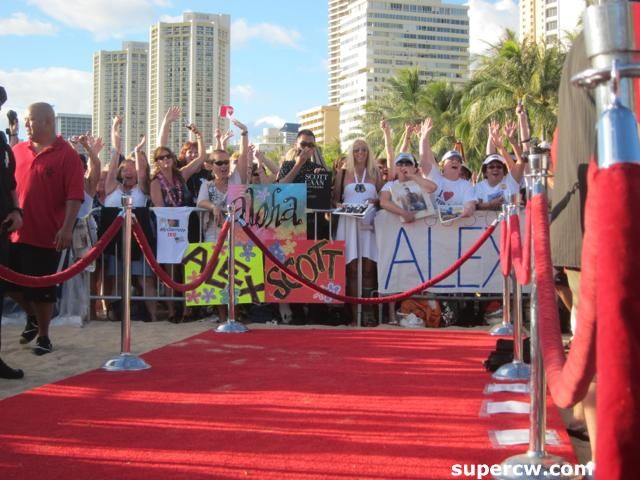 masi oka was the first to arrive. we joked with him about it. you know i loved that about him. he just said he doesn't like to be late.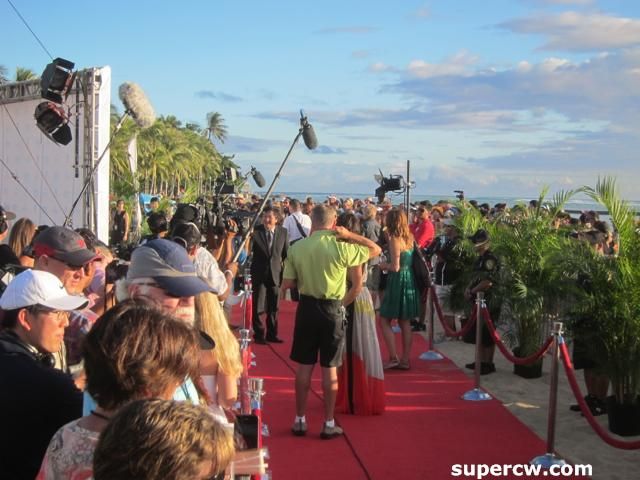 i wonder what people asked him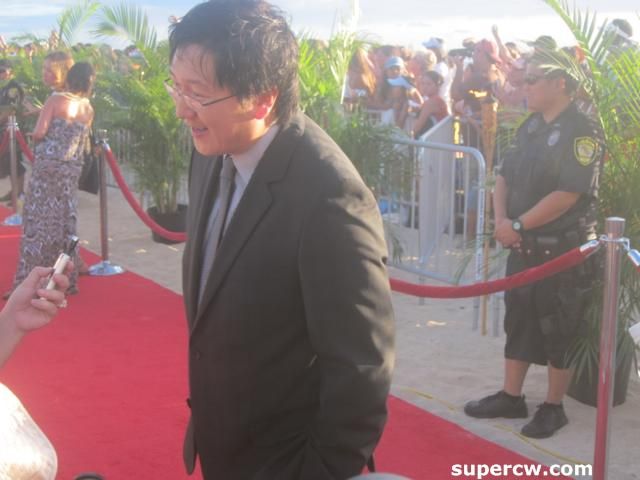 we love him as max on the show. ESPECIALLY in the season 2 premiere! i can't wait for you to see!!! i also loved him more as hiro nakamura in that first season of heros. i only watched that first season.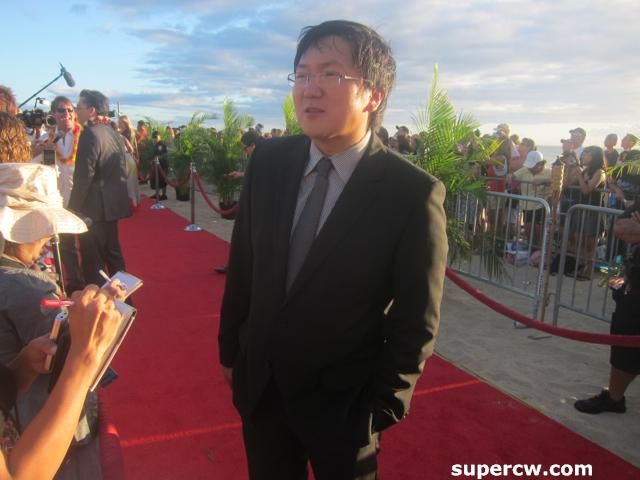 maleko had amazing flow with him. going from the languages he speaks to his writing to what level of world of warcraft he's on. amazing.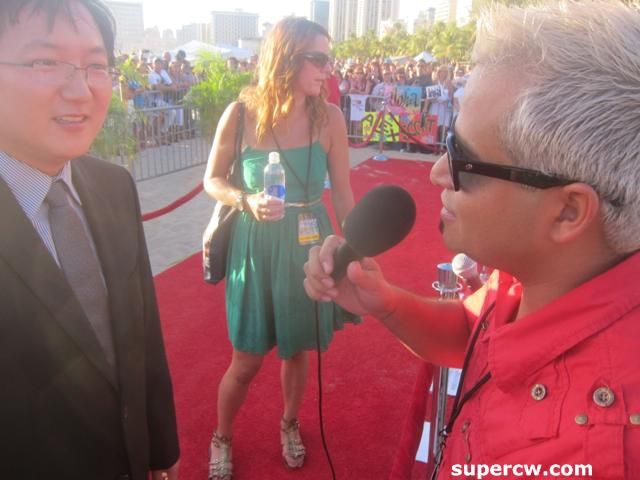 …but i know it's because he google'd him before he came over. SEE?!? SO PRO!!! i was in awe of him pretty much the entire night.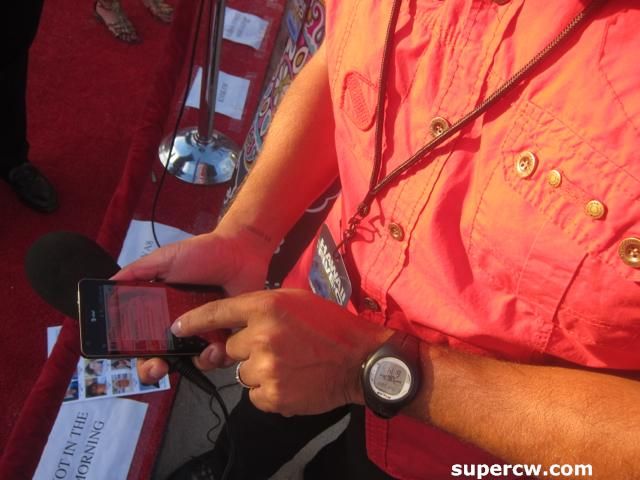 the executive producers. we had a LOT to talk to them about.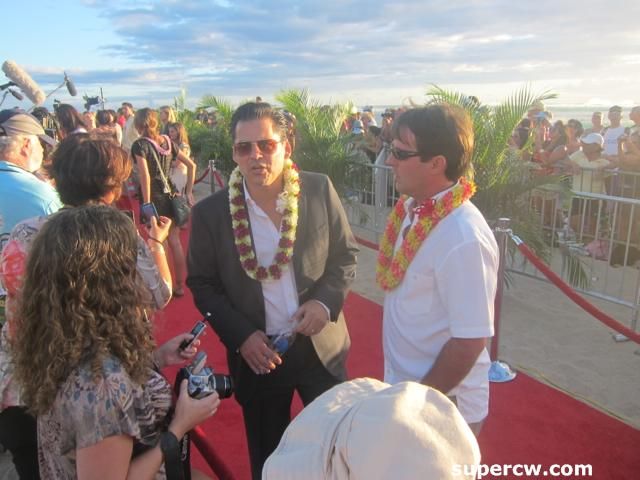 roberto orci and peter lenkov. they both twitter.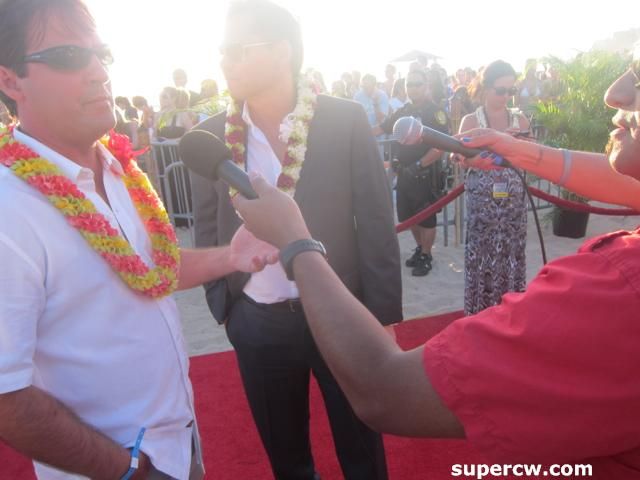 "When do we get P Diddy back? What's his spin off going to be called?"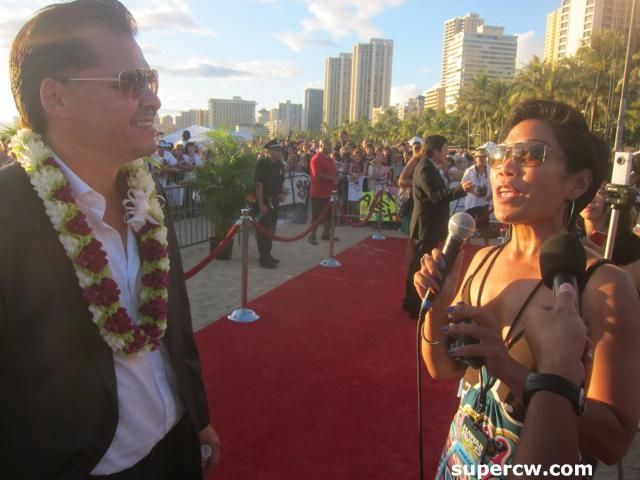 TEAM REGGIE!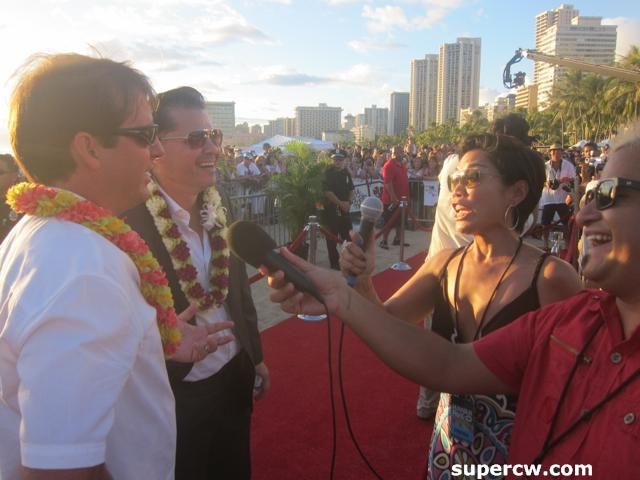 the beautiful daniela ruah, who i now know can speak portuguese.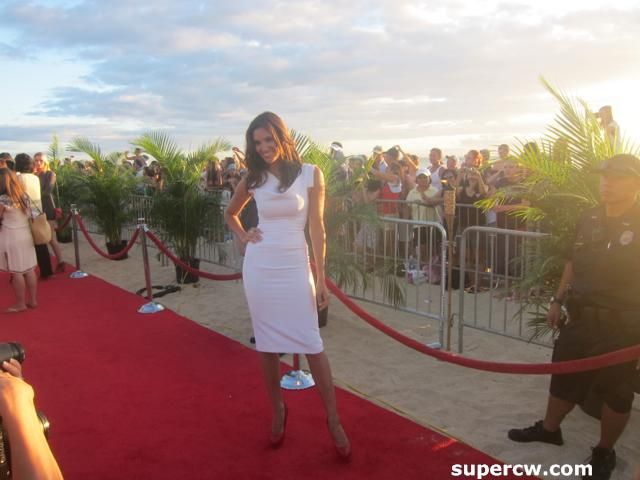 she is on NCIS and is filming with Hawaii Five-0 this week. probably right now even.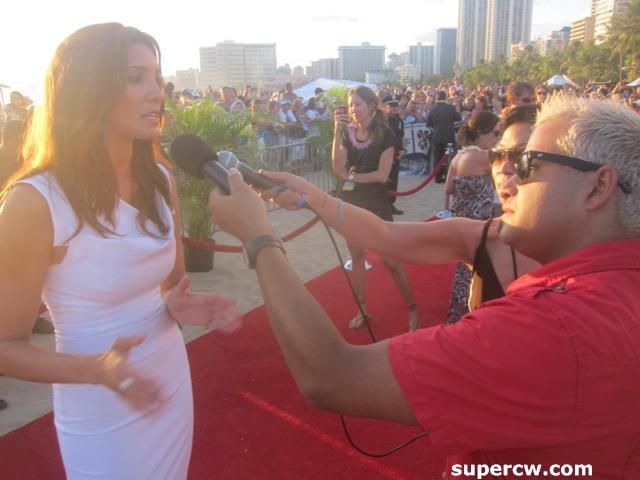 that's lauren german. she plays lori on the show. a regular. a hottie regular. you'll be seeing her soon.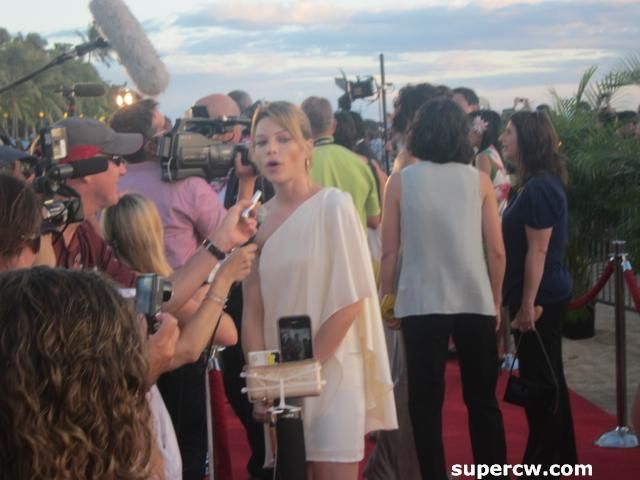 i mentioned that i loved being w/maleko today right? did i? I SO DID!!!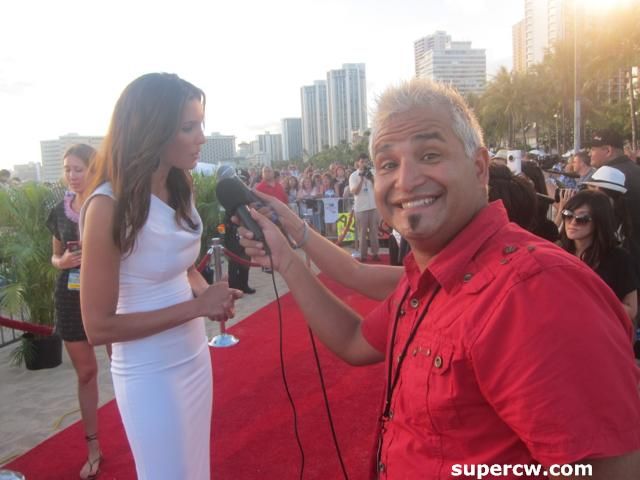 hi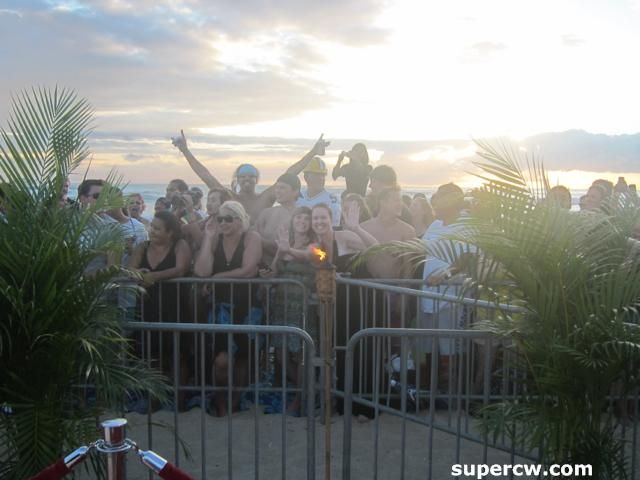 the order on the red carpet is always, like, national/international first, then print, then online/radio. print writing, basically, is where it's at.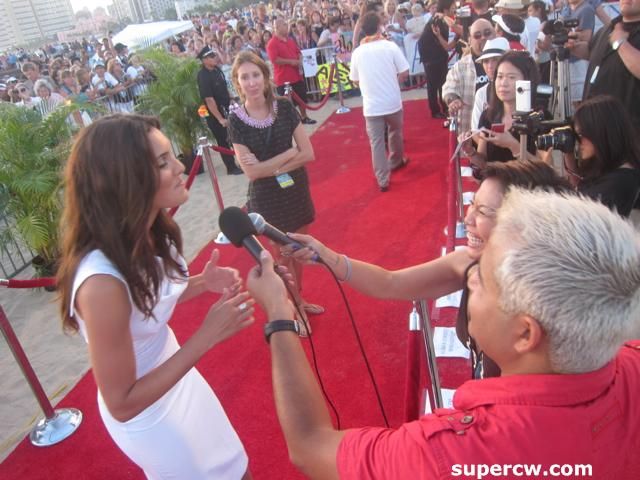 then scott caan and his girlfriend wizzed by us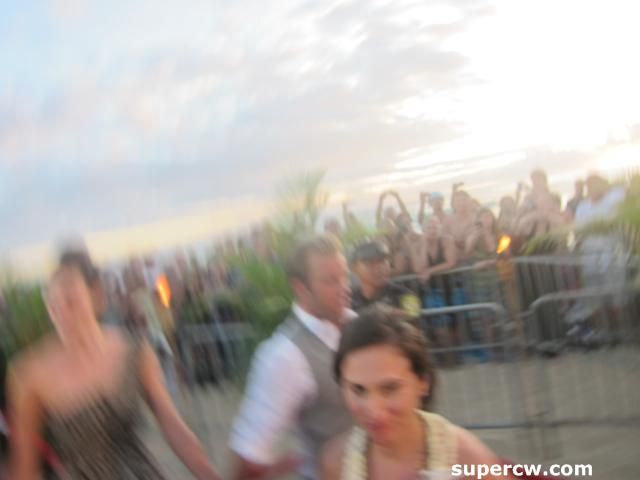 he went straight to the fans. pretty cool.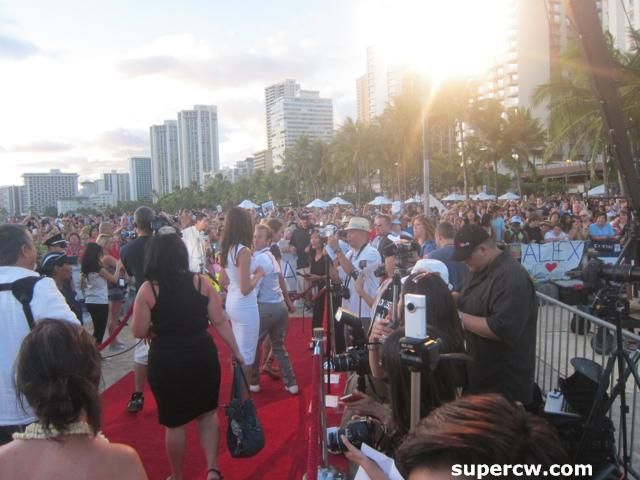 meanwhile…. yu shing and nadine (and me) were loving lauren's ensemble.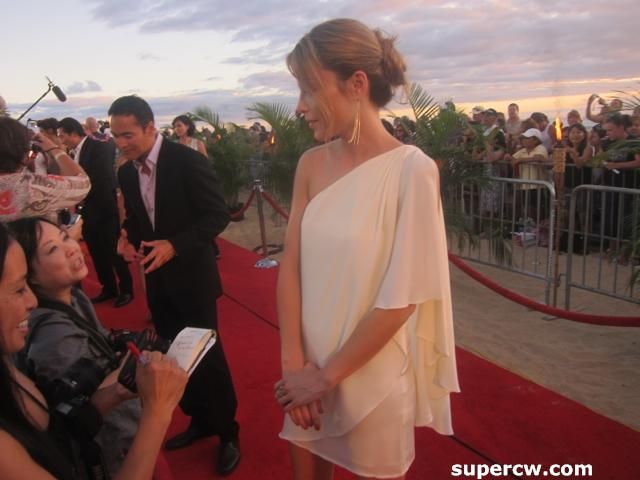 and maleko was just loving her period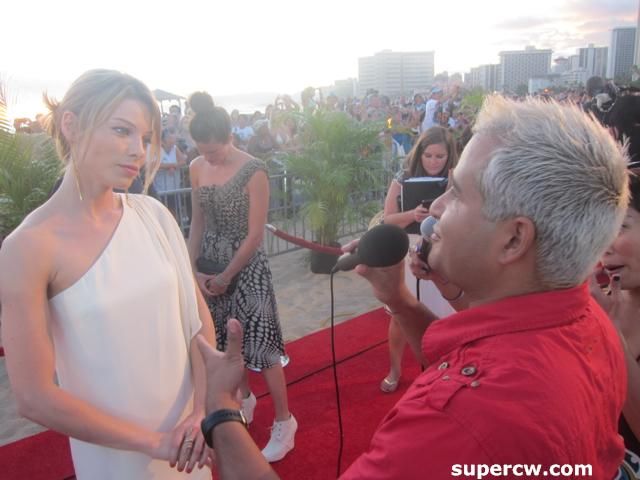 THEN IT WAS MARK!!!!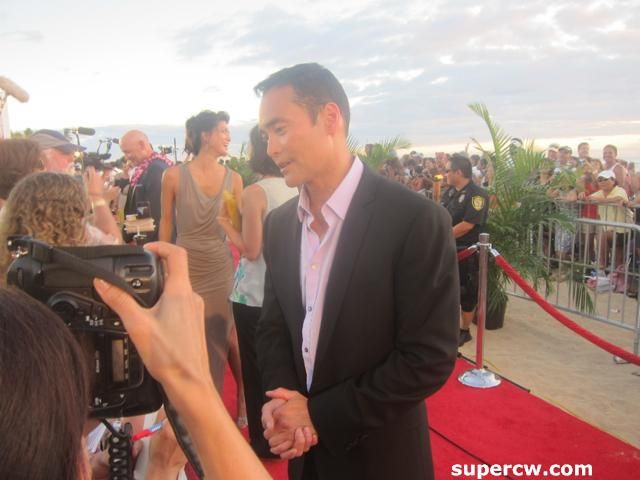 i was like "MARK! MARK! over here! TELL ME why you are so sweet and friendly in real life and then such a mean murderous villian on the show how does that even work how how howww?!?!" and he smiled, giggled even, and said "I love that burger shirt. Let's take a picture!"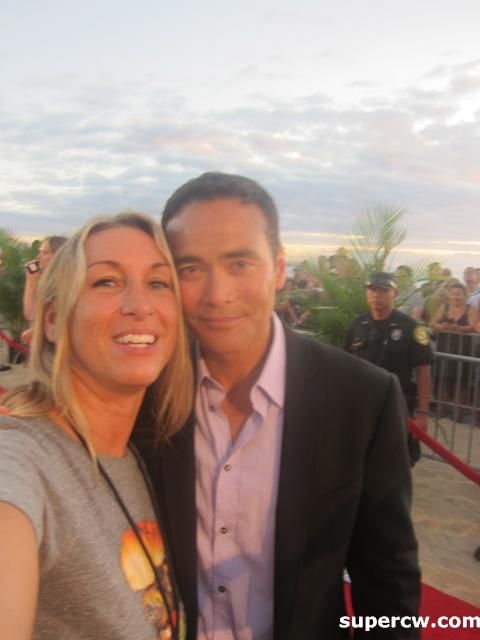 i was like "Ew that one was really bad can we do it again?" and he said yes yes of course. damn it.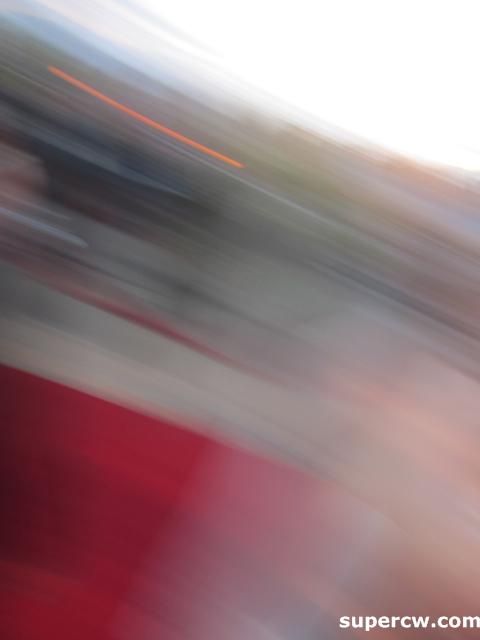 ok try three. STILL bad. ugh ugh ugh.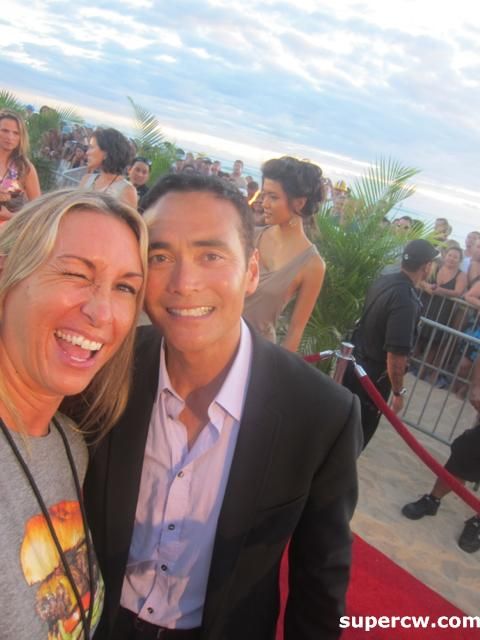 then he made me hand it to someone.  "WAIT! make mean face, Mark!" so he did. eeee!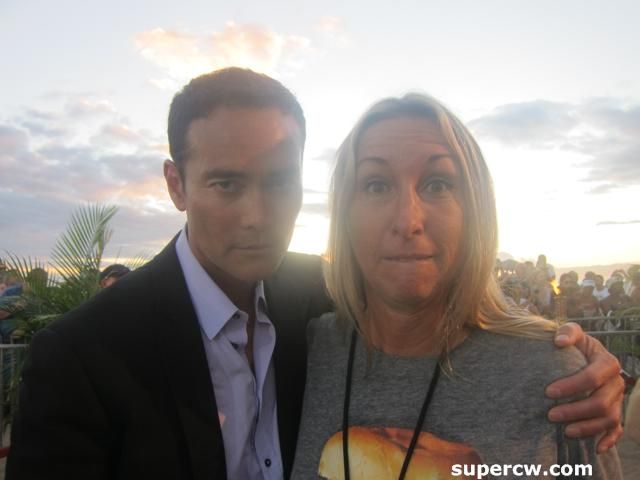 seriously the nicest most awesome celebrity we ever met ever ever. giggly and kind. and so handsome aaaaaaaaadklfjkdjfkdjfhaghhhh.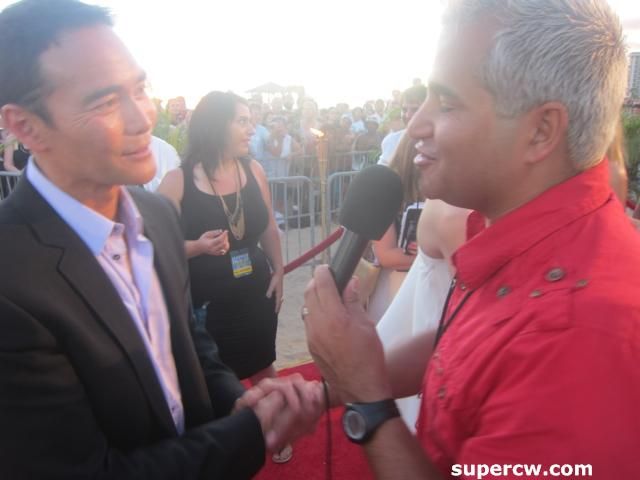 nadine and yu shing loving grace park's dress. we all were.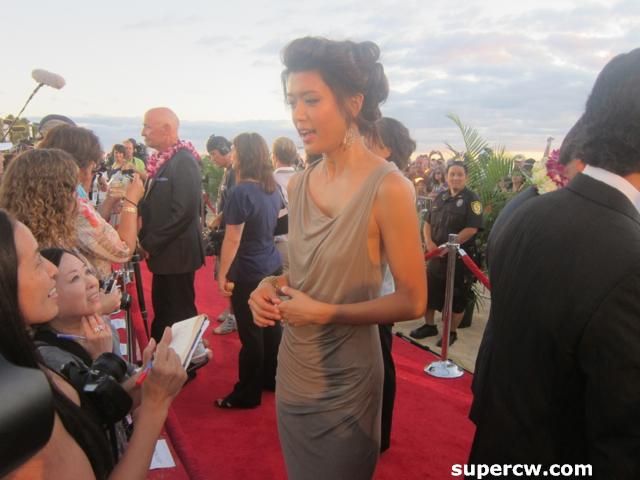 i was like: "helmut wang? what wang? alexander wang? ohhhh, helmut LANG? omg. ok. sorrieeee." then i think i stepped on her toe when i hugged her hello. damn it damn it damn it.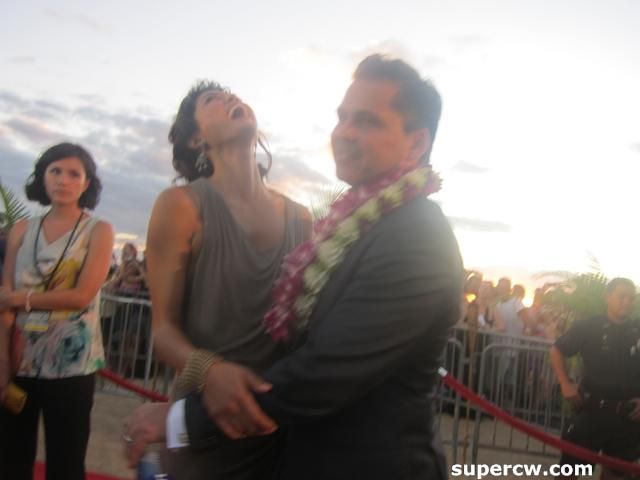 for Kathy :)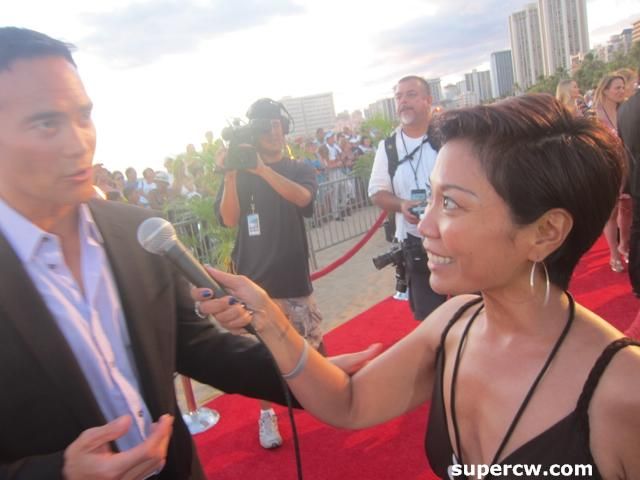 they always do these at the perfect time, by the way. the sun setting in hawaii is the best lighting for this stuff.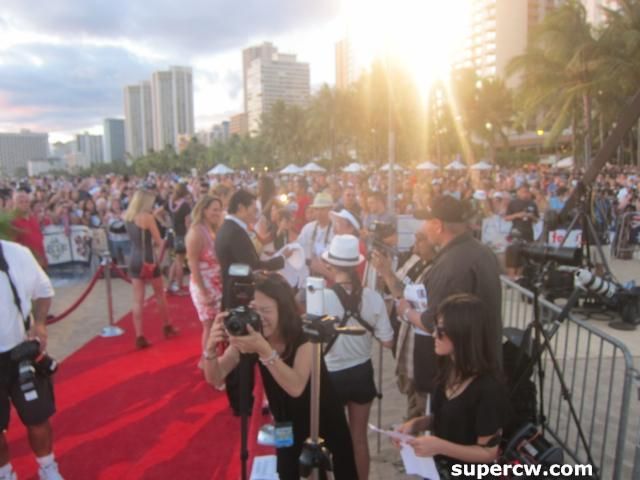 terry o'quinn was being oh so casual today. it was like he was taking a stroll down the beach in his neighborhood and was stopping to say hello to his neighbors and talk about their dogs.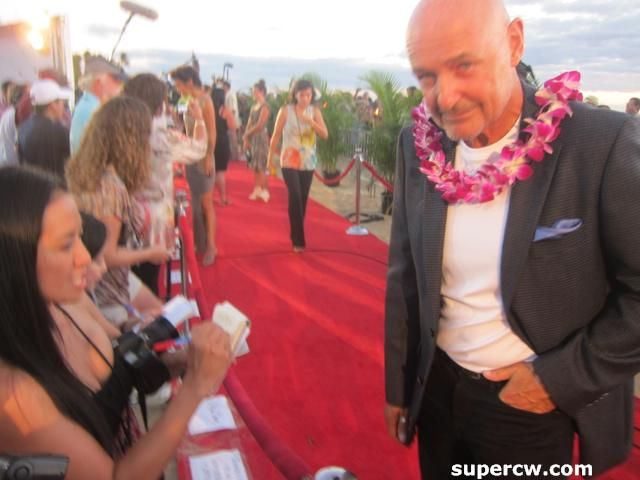 daniel dae kim i can't stop laughing about what ryan said in his video, did you guys see that?!?!!? "He wishes his name was Daniel NIGHT Kim" hawhawahwahahdfldfj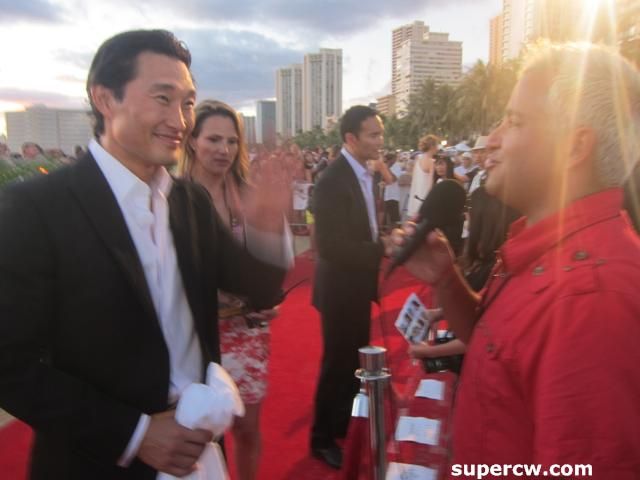 another one for kathy :) and omg terry we love you. we're so happy to have you back.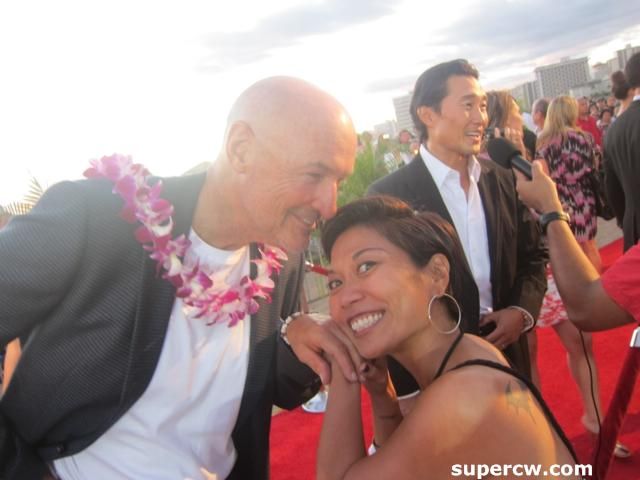 then grace did the most epic thing i've ever heard anyone do ever in any sort of interview. I HOPE YOU GOT THAT KATHY!!! there's no way i can even describe it right now/here. it basically was an example of filming one shot, in a nutshell.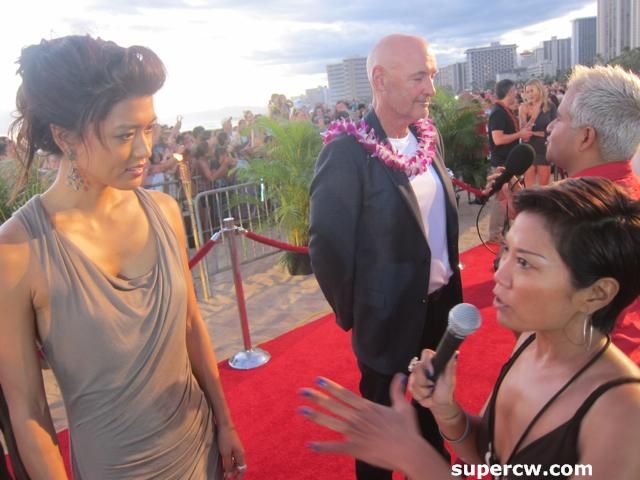 helmut LANG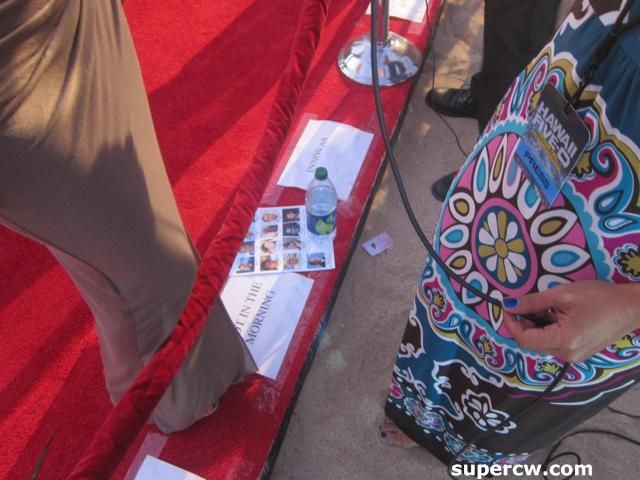 kathy did you get thattttt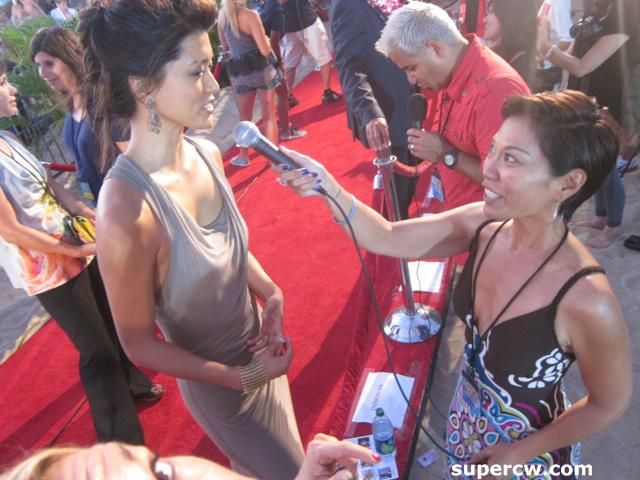 one more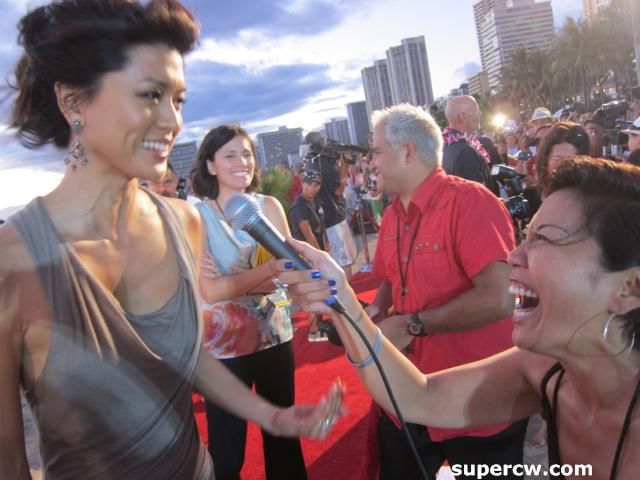 one for maleko too :)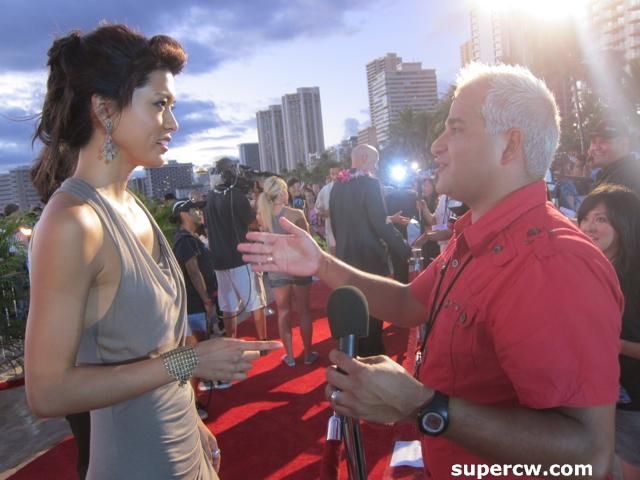 ok two more!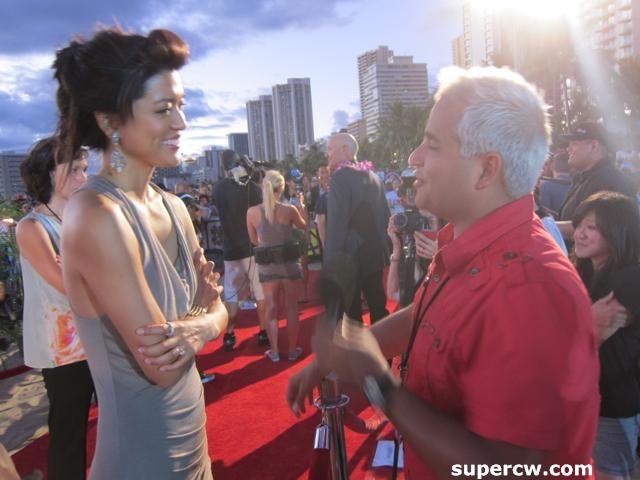 i was watching byron work his ass off all day but he still was just like me, and a lot of people there….. BEYOND STOKED!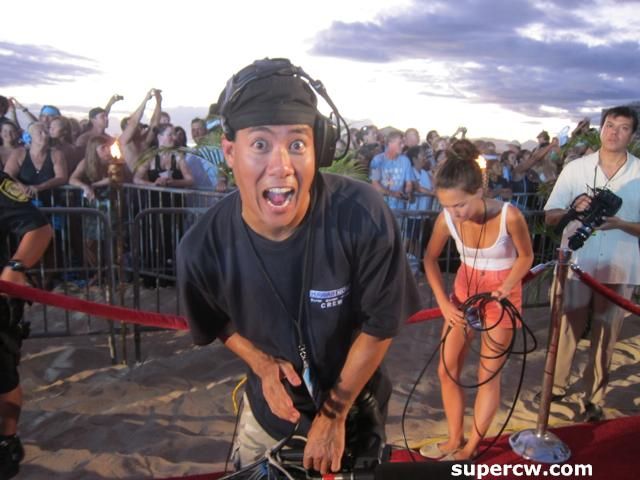 the bray ohana!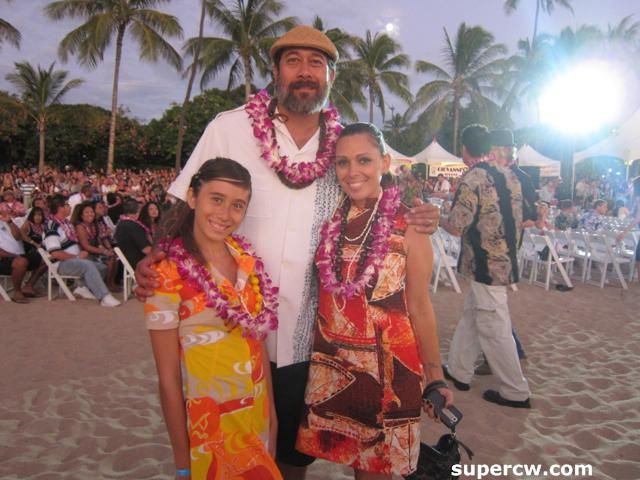 one more for maleko :) :) :)

then it's youknowwho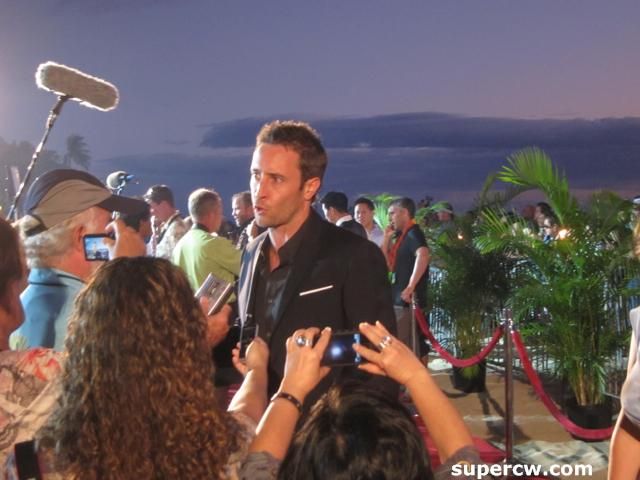 alex o'loughlin. way handosome on the show. wayway handsome in person. we could totally see why hundreds and hundreds and thousands and thousands of people on the beach were screaming their heads off.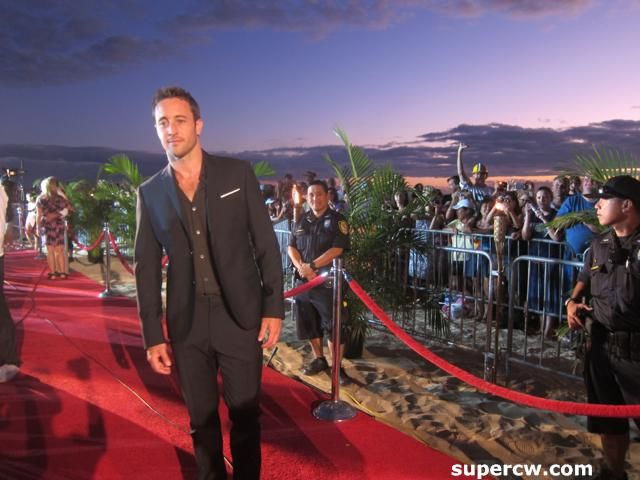 i didn't have time to google him. and i had NO IDEA what to say to him. i just knew i had to ask something. anything.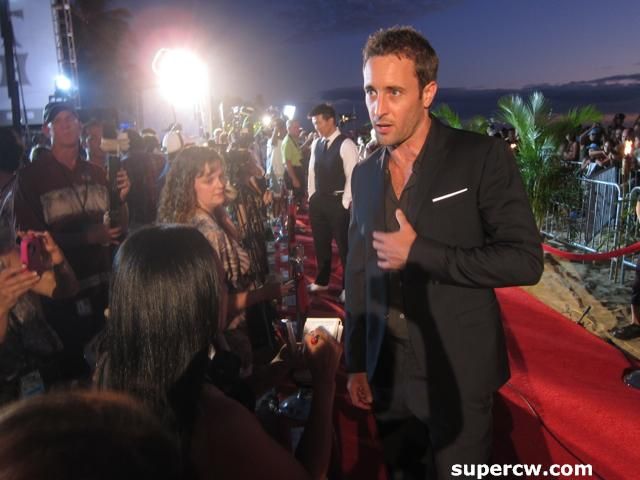 wait wait.. ALEX! it's christa wittmier, the social lite. tell me something…..anything.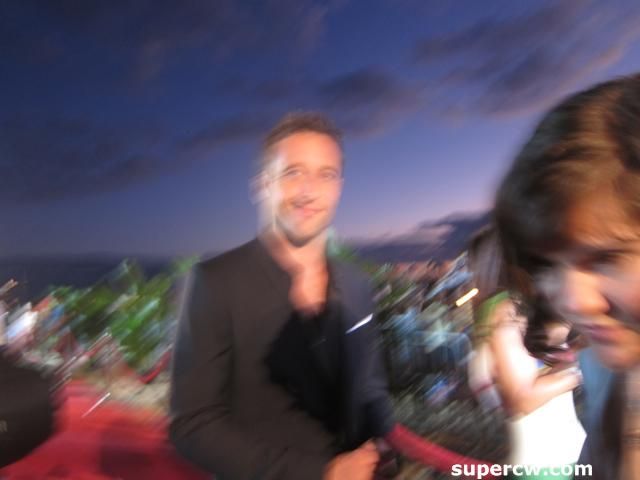 nevermind. maleko's got this :)

nah, we talked. he was amazing. and very sweet. thank you shana for the pic of us! love you girls.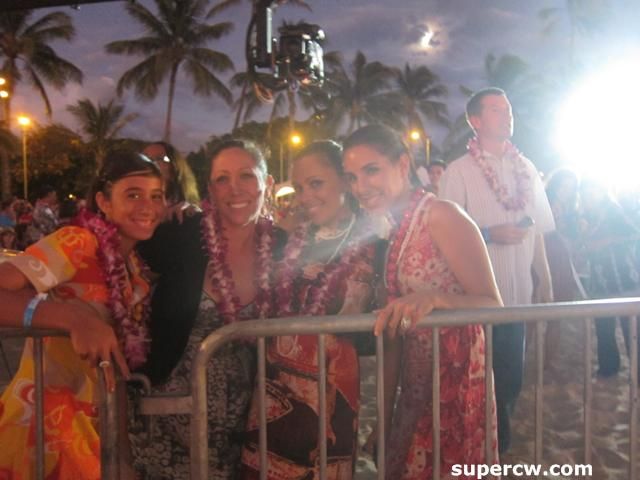 ran out to change then watch the premiere and saw these jokers on the red carpet hollering at lady fans. and finally met duke!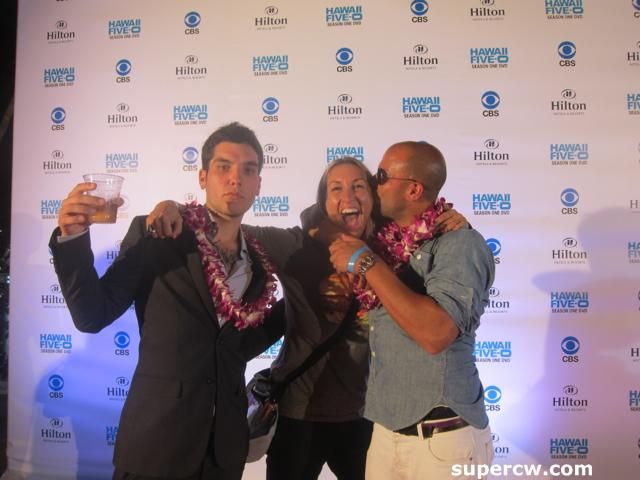 he is, how you say…. there are no words.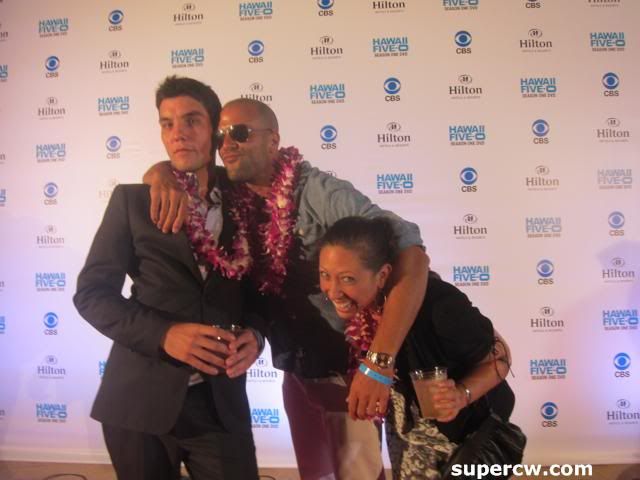 SHANNA'S PARENTS!!!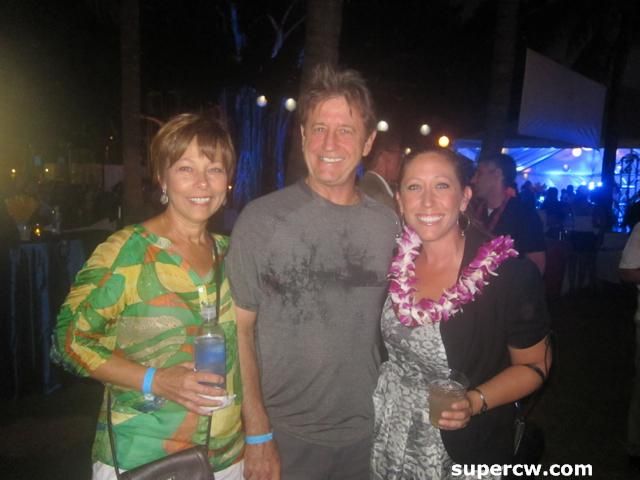 time to watch the episode. i was so excited.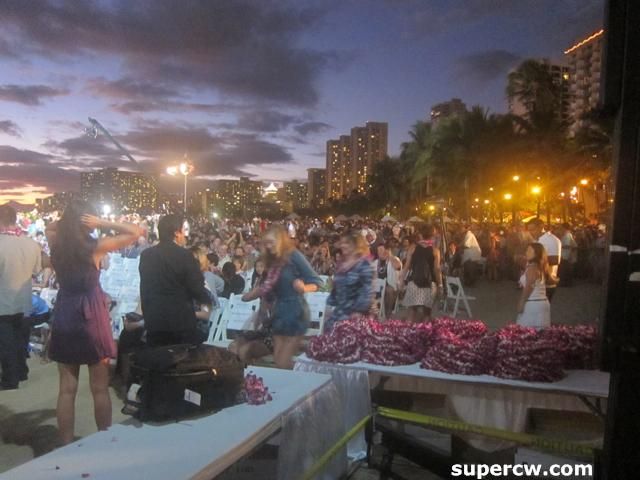 lucky chair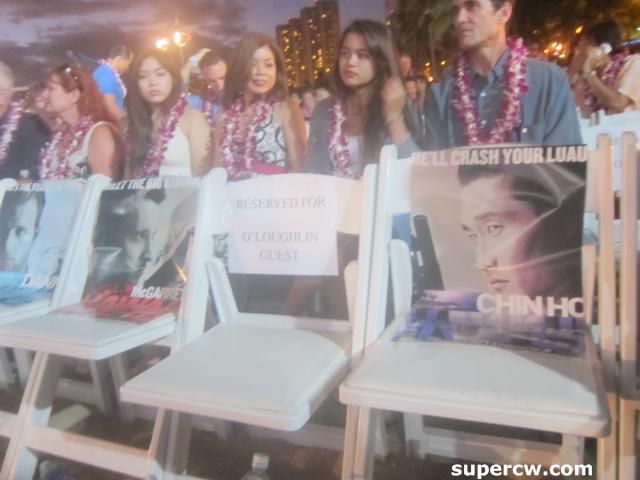 HAY YOU TWO!!!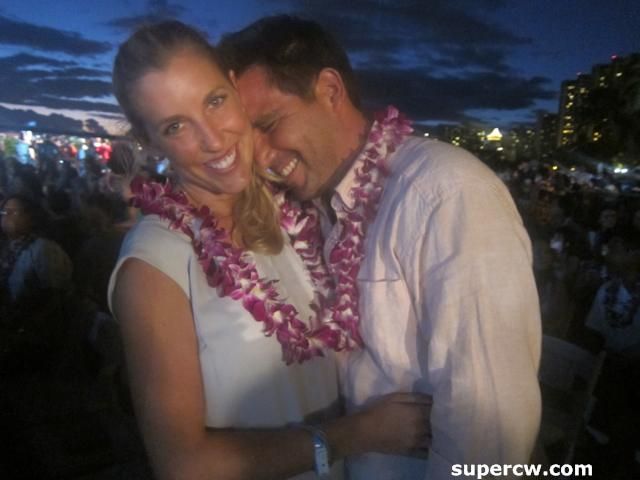 omg JUSTIN!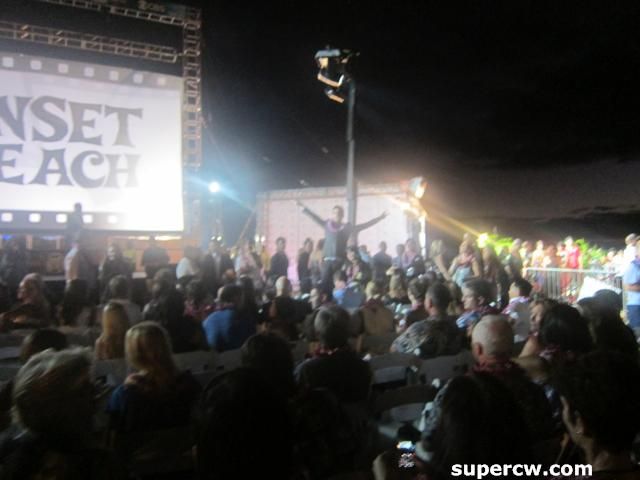 the episode is going to air for everyone on septemnber 19th. that's TOO FAR!!!! i can't wait to see it again. esp that opening scene when ddk is a total BADASS like way more than he's ever been on the show ever.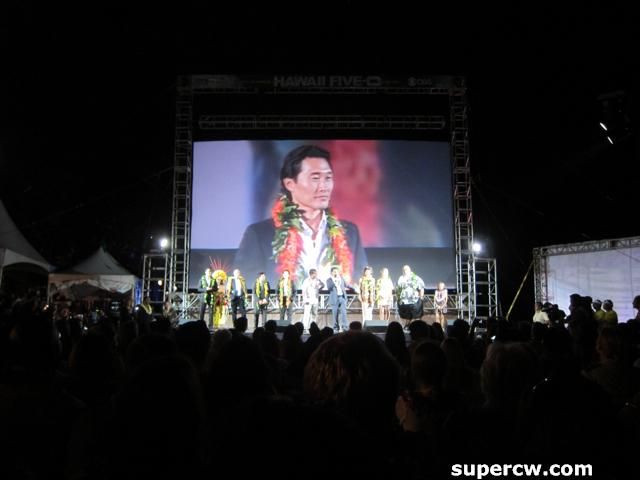 the new guy with wo fat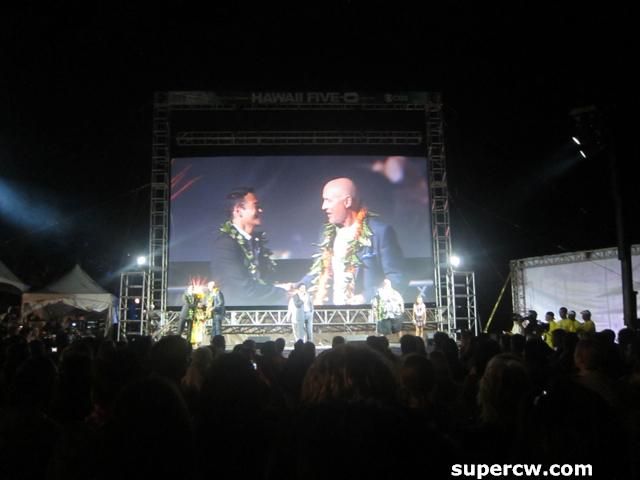 my date =)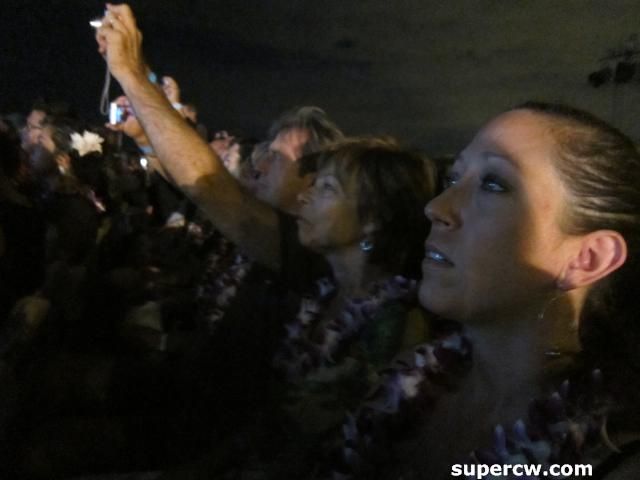 the heart throbs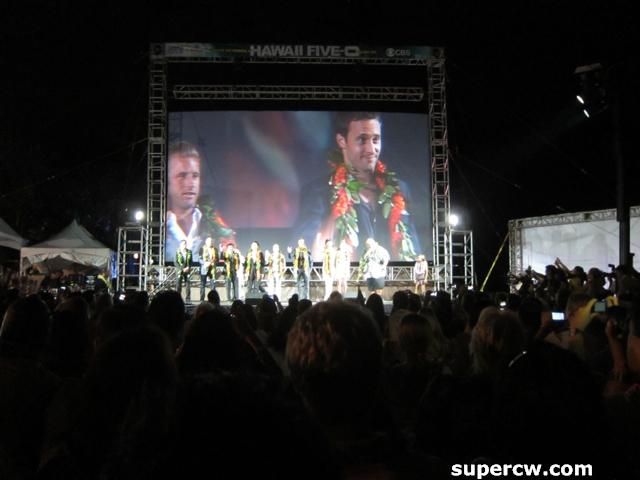 "They handed me this microphone but I don't know what to say" said Alex. Pretty much feeling the exact same way that I was when I asked him to come over to me on the red carpet.

it didn't rain. too much.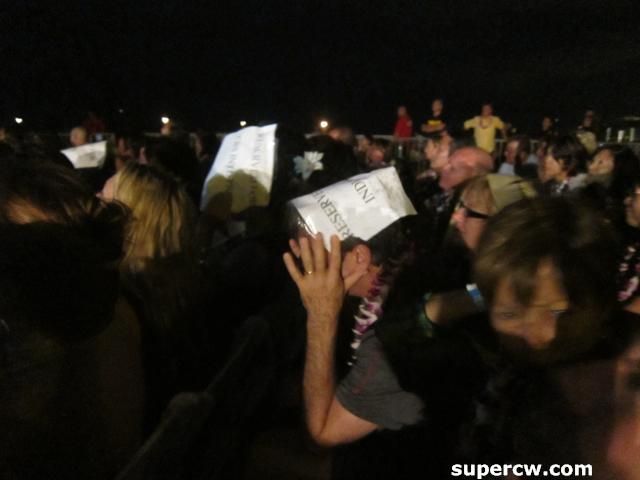 eskae dj'd the after party thing on the beach. and duke mc'd it for a while.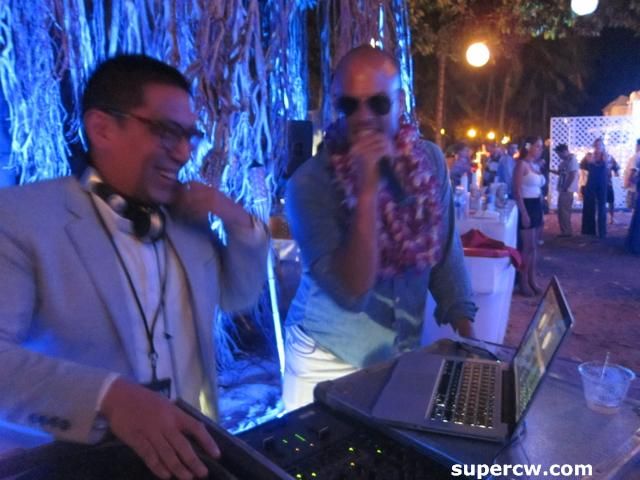 oh, i guess that's all i got. best night of my life. the show is fcking tremendous, it just keeps getting better. i can't wait to see what guest stars (besides the ones we already know about) fly out and i super can't wait to see lauren german's character integrated on the squad. if there is a squad. i mean… from the finale last season….. there is no more Five-0.
SO NOW!! it's wednesday so i'll see you guys downtown tonight.
and it's the third weekend so i'll see you guys at soulgasm, showdown, shake & pop and of course menage a 3 and BRUNCH
aaaaaaaaand i just wanted to let you know… just because i haven't had time to blog does not mean i haven't had time to take photos. i'm doing an event. to show them ALLLLLL. please save the date for me. it will be epic, i promise!
ONE LAST THING! here is a good classixx mix for you to download and keep in case you ever have to emergency "dj" a celebrity-ridden vip party while the real dj moves his car so it won't get towed.
love, cw