i'm back at work. i missed work! working a job like this really makes me appreciate honolulu and what goes on here. but anyway, yeah i also kinda took a vacation from my blog too. no problemo i'll just catch up.
on my first day of vacation a few weeks ago…. i traveled (interisland).
it's nice to get away even if it's on a plane ride that's not even long enough to drink a full beer. i was kind of stoked when i sat down in go!'s unreserved seating and brad from The Green sat down next to me. tell me he doesn't look like a local Daniel Shimizu, and here's a fun Pow Wow Hawaii fact: Kamea Hadar did their album artwork!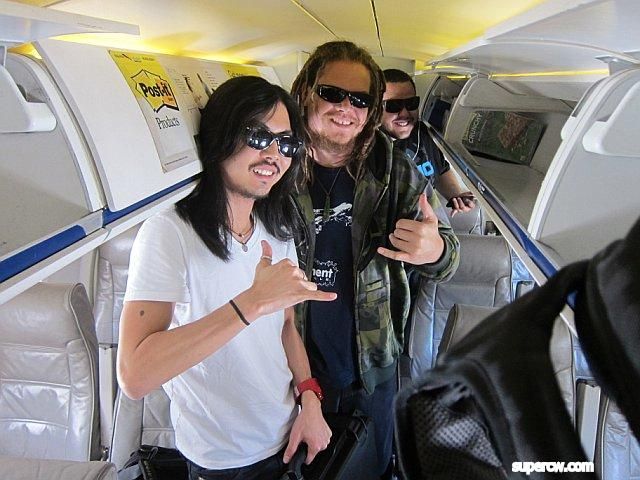 traveling so much when i was in my 20's has made me the most land-locked mutherfcker you ever met. seriously. i have no desire to see anywhere. the only time i will get up in the air anymore is for something specific. a specific event. last year it was china for the first pow wow. this time it was kona for the Nas/Damian Marley concert.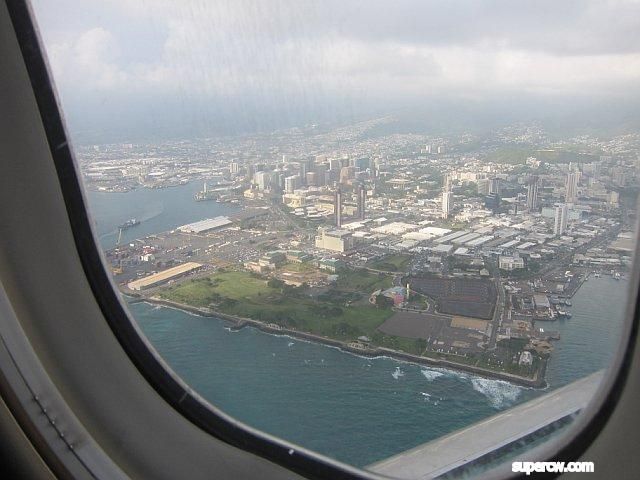 my friends the BAMPers were like "we'll set you up if you come out and blog it" i was like hmmm let me think about that for a sec..OKAY. for the first time in seven YEARS BAMP packaged supercw into their tour. a 12 piece band, a flag waiver, a tour manager, a sound guy, the girlfriends of the band and… a BLOGGER!
they had everyone staying at the royal kona. double bonus.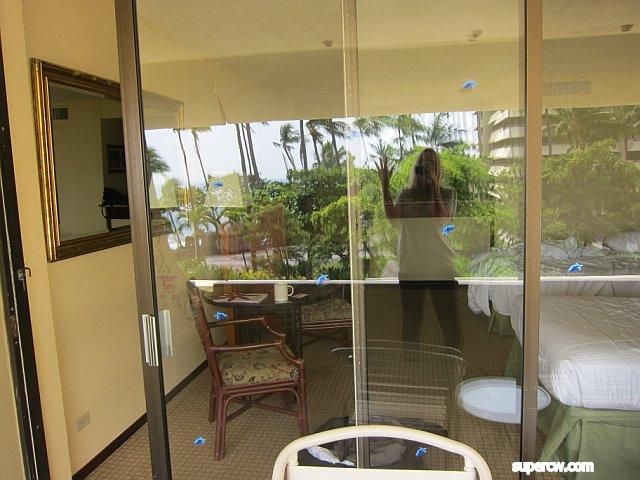 i got settled and called Travis who was also in Kona. actually, Travis, Zak AND Russell were all in Kona, each for work, totally unplanned. he picked me up and took me to visit Zak at work shooting surfers and shit. when we got back in the car he was like "Imma wear this surfer poll hat. guaranteed the chicks will love it"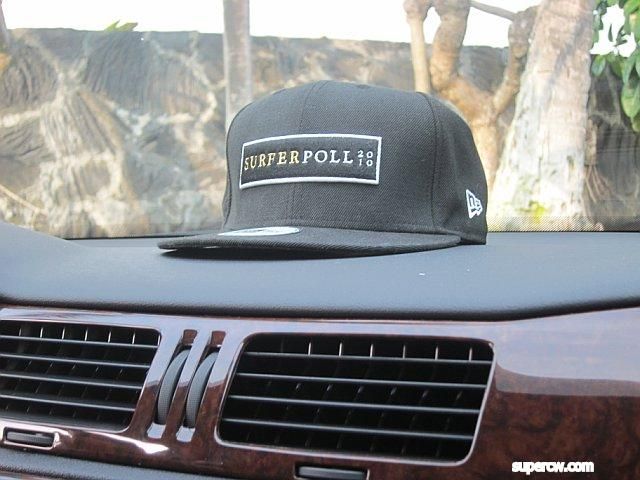 he had been working all day and was only just now checking in to his spot. zak had been shooting all day and was staying in a house that was only a 10 minute drive but was 10 minutes straight up. i swear we felt like we were on top of the zugspitze by the time we got there and it was like 30 degrees colder. the kamehameha hotel? sea level.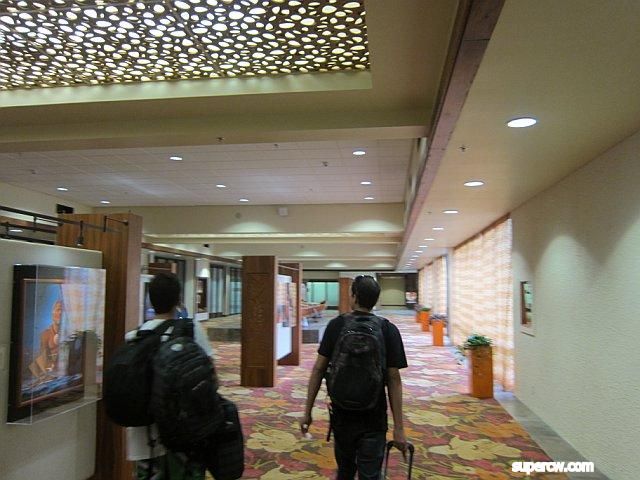 they have some of the sickest hawaiian history artwork for us haoles. it teaches us about things.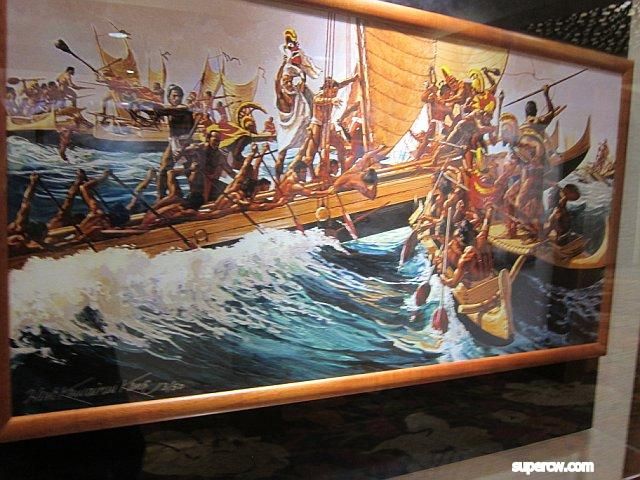 the sunsets in kona are unreal. the sun transforms into this giant flaming bulbous ball hanging in the sky, like a big ball of fire. i know that's what it *actually* is but it only *actually* looks like that when it's setting in kona. of course, the camera has no intention of capturing what the naked eye can see, it's the universe thumbing its nose at our piddly little man-made inventions really.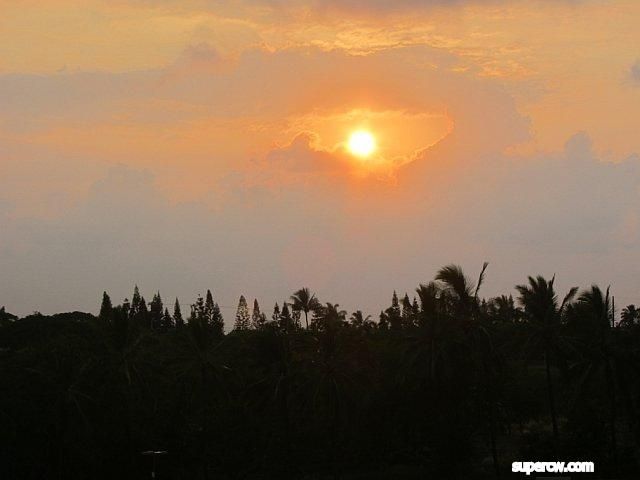 i did try though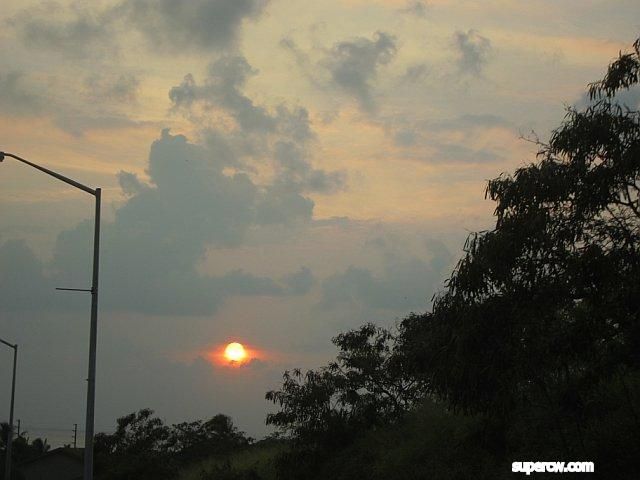 to Kona bowl! it was nice to see some other oahu faces. the rest was all kona faces, which were not bad, not bad at all. beautiful even.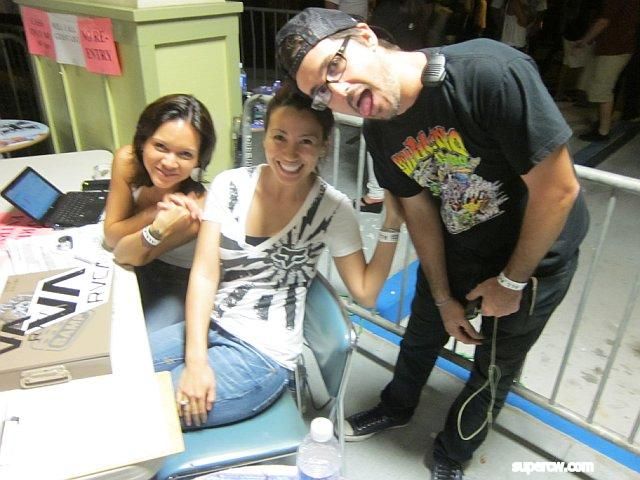 we would alternate between this bar inside the bowling alley…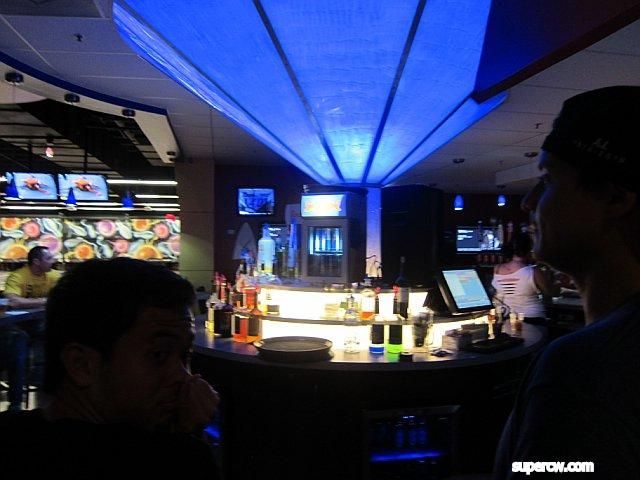 .
..and the show outside in the parking lot behind the bowling alley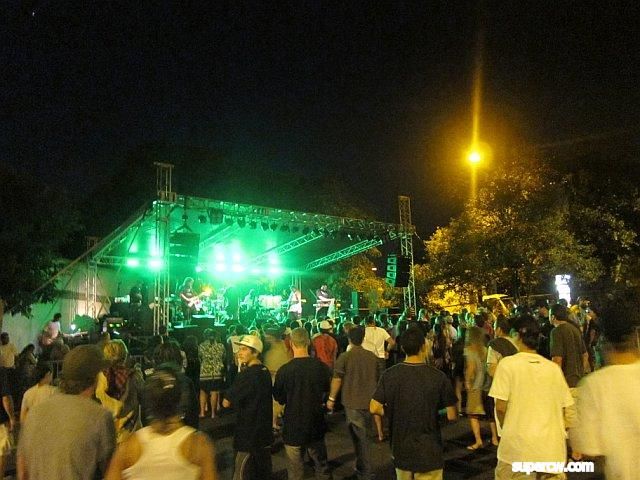 inside…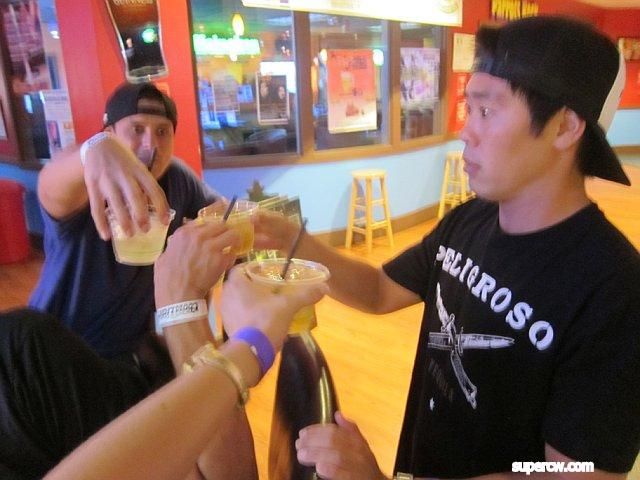 …outside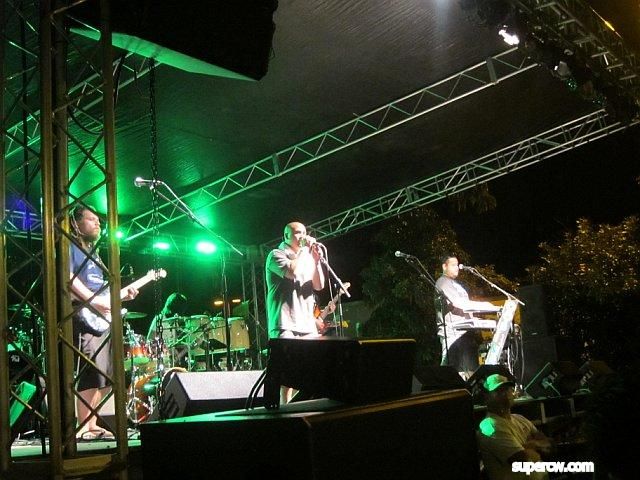 inside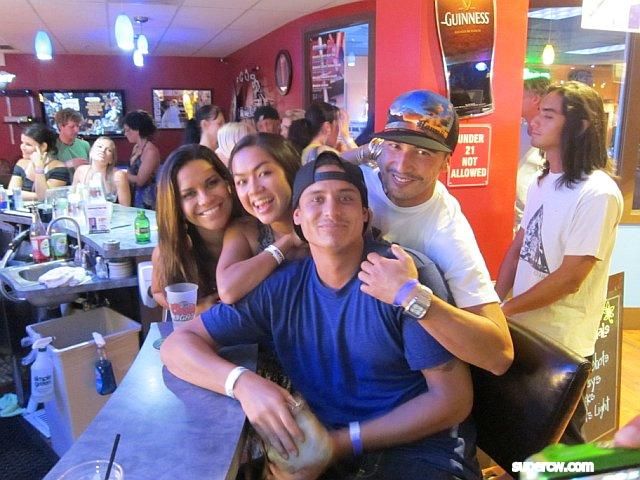 Portuguese horseshoes in the bowling alley. this place was the coolest place ever.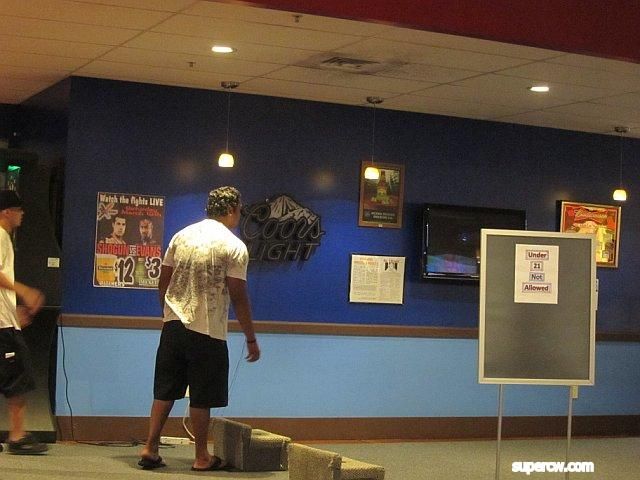 kona even has it's own casey evans/raha hybrid (on the right)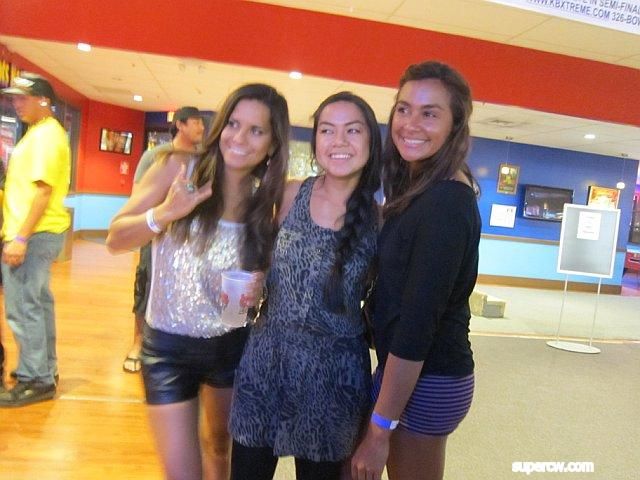 trav got caught up with camera duty for them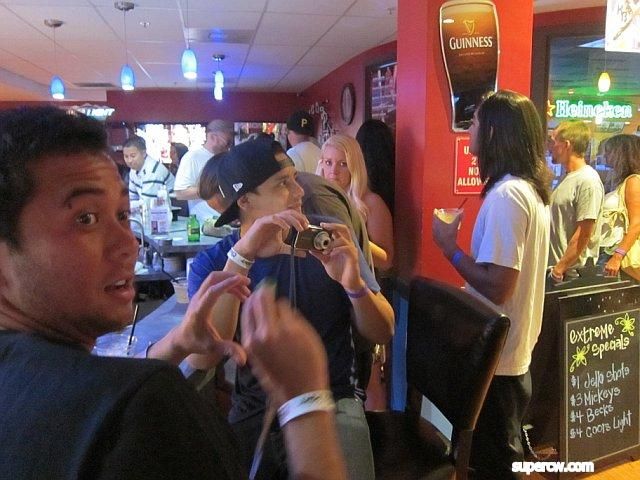 meanwhile outside they were just about set up for Damian Marley and Nas. and i'm not even kidding like 4 or 5 people thought the sound guy was Damian. he actually looked more like Bob Marley than Damian does. sorry i didn't really get the best pic, i didn't want to accentuate the fact that the dude hanging over by the sound board could have been Damian Marley.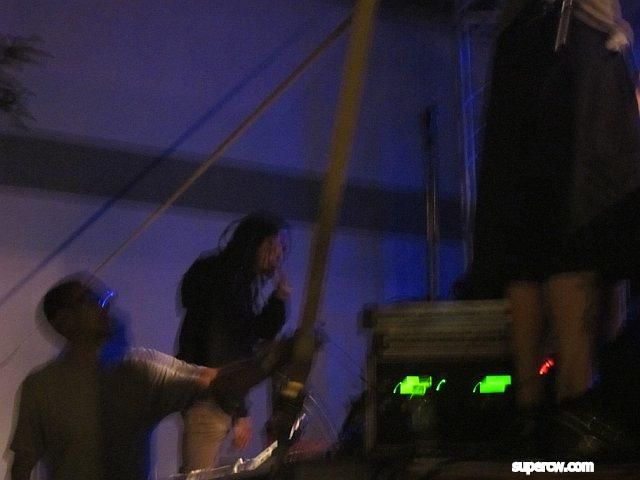 then the women came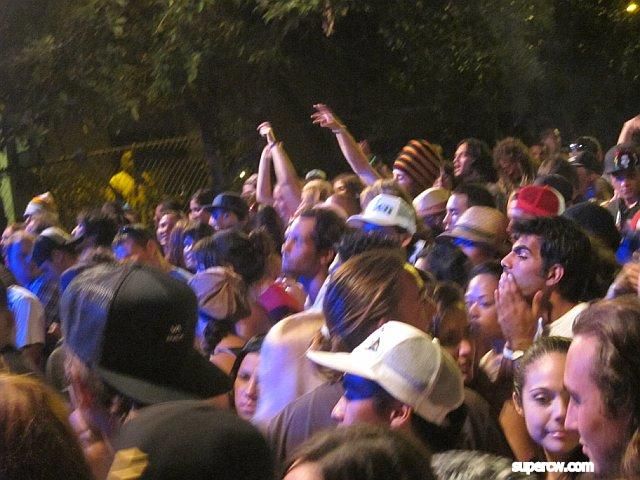 it's hard to tell here but it really made a difference. as soon as all the girls weeded through the crowd everyone got more stoked.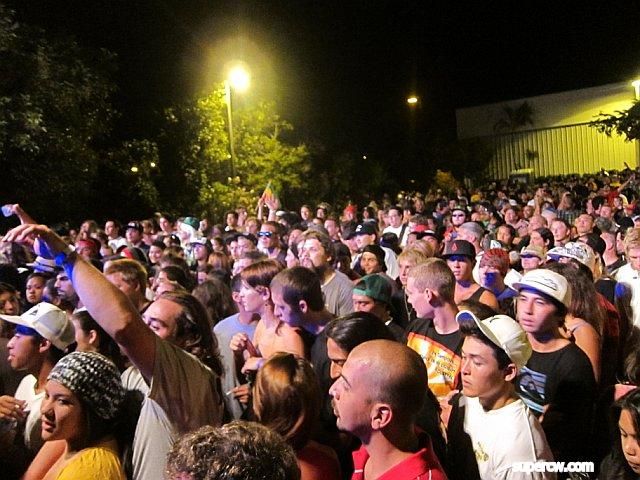 then it was time for the awesome twosome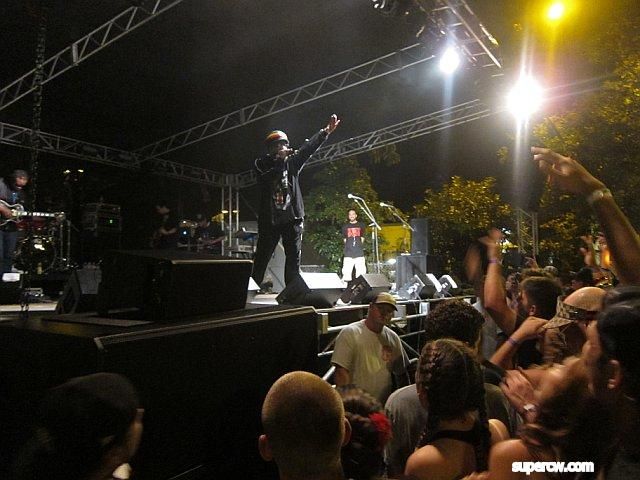 they stormed out with "As we Enter" …funny enough.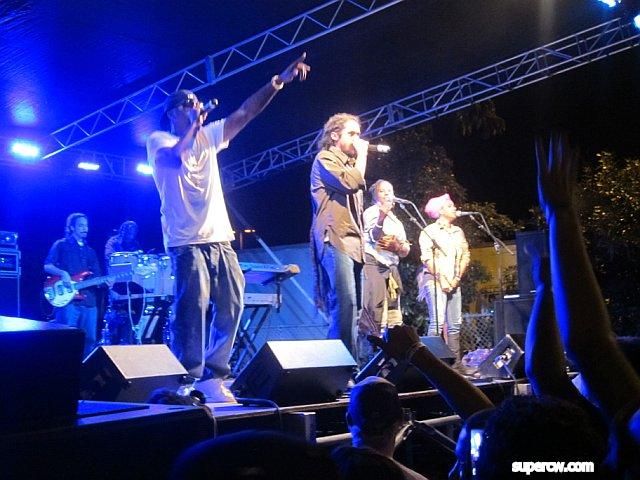 it's a high energy track that is more hop hop than reggae and jesus god were people in to it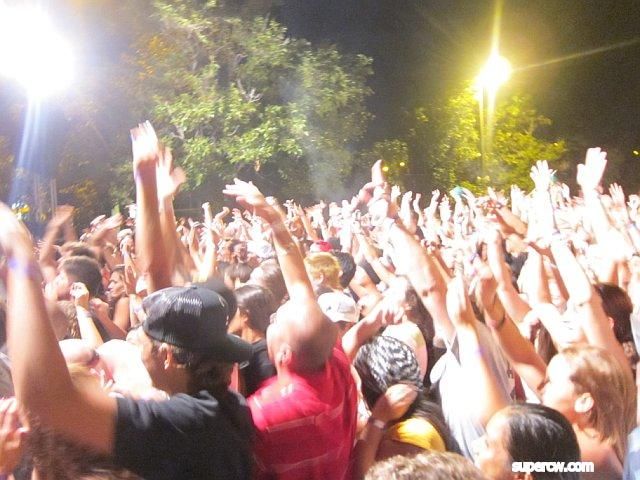 the entire show was sort of like this. they just didn't let up at all.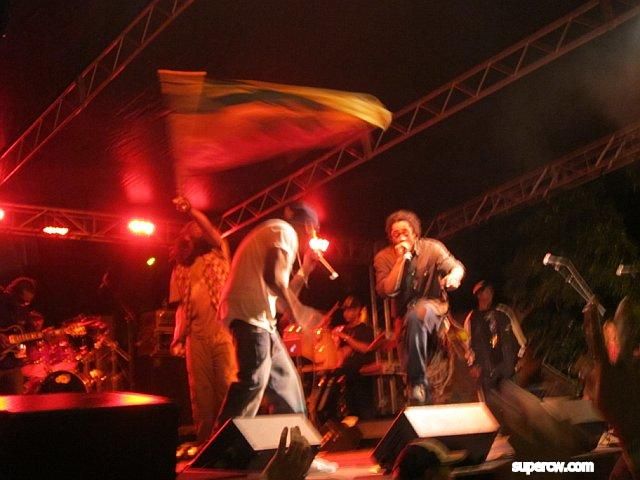 i stuck around the front for a while. it was ridiculously fun to dance and hip-hop-wave and skank to them. it got kinda hot and squishy after a few tracks tho so i went to find travis and zak who i think were now ahead of me in the red bull vodka race.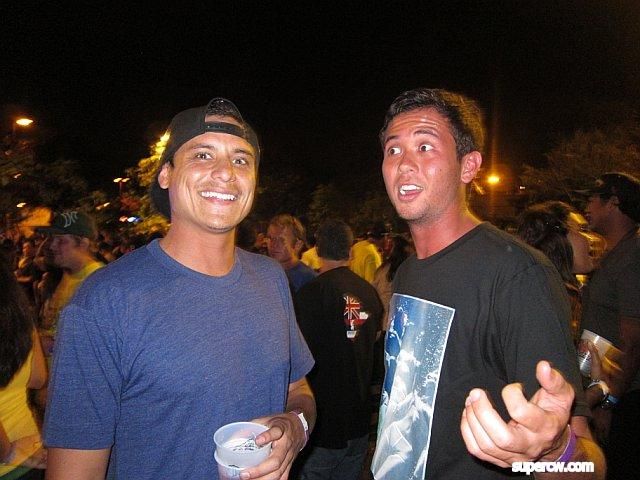 the view from the beer garden was actually pretty good – better than my camera got – so we stuck around here for the rest of the show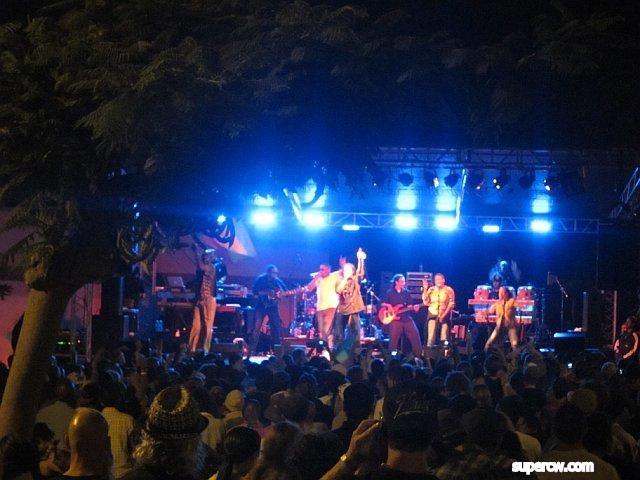 eleven piece band. the backup singers stole the show. they had MOOOVES i tell you. the flag guy too. are you going to the oahu show this saturday? just watch.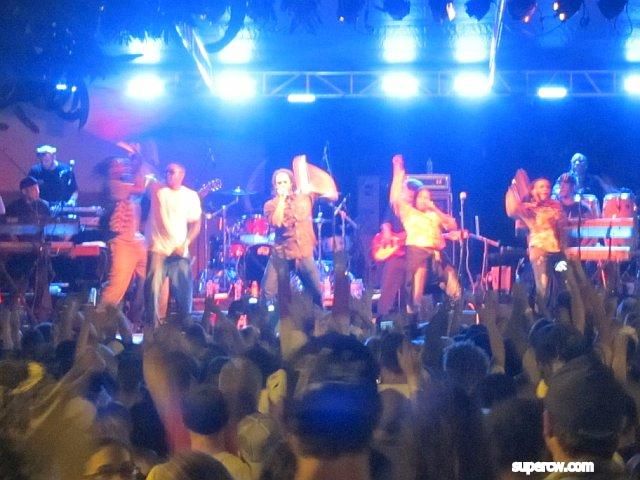 this might be zakcam. he was trying to get a good shot of everyone's hands in the air going bananas but it just wasn't something you can really get on camera. when you go saturday you will see. god i can't wait.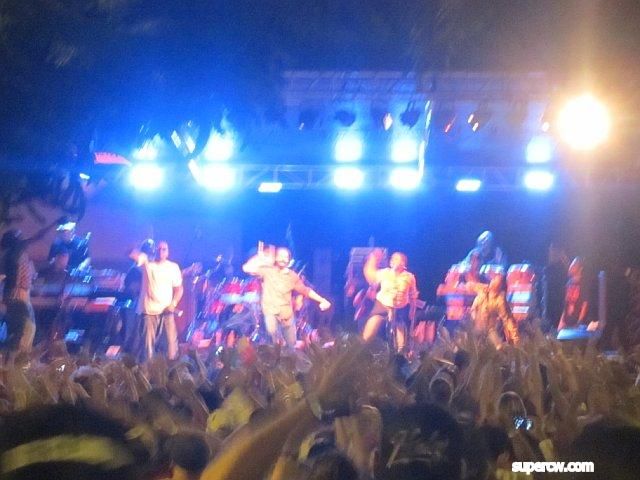 remember cj? my twin brother? ya, he lives kona now with his supermodel wife and surf life. and he knew every word to every song.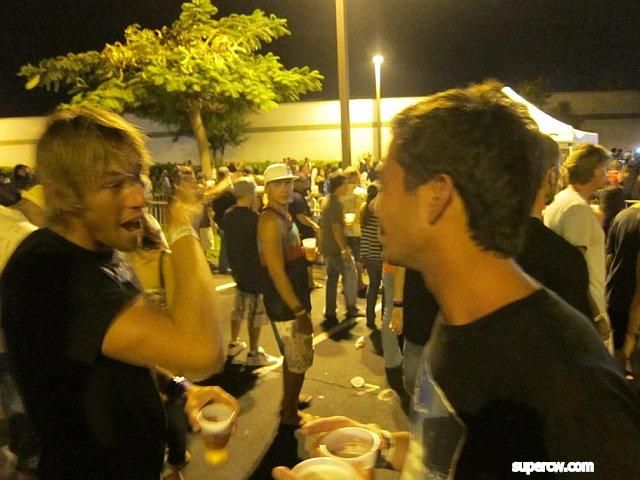 so yup. this was a pretty kickass show.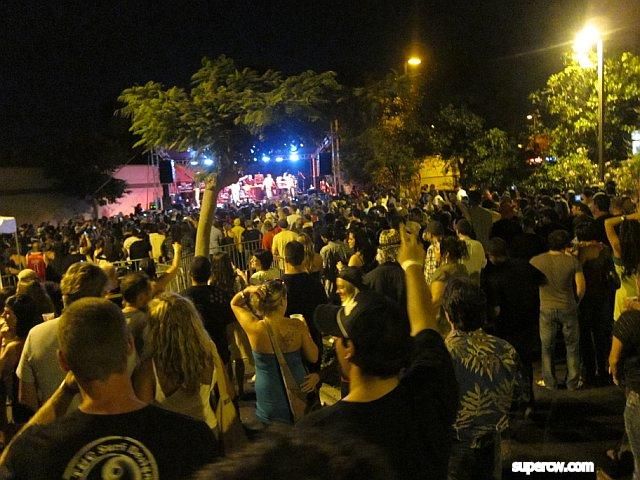 i was PISSED i wasn't up front to get this image of them back to back. oh well. maybe saturday.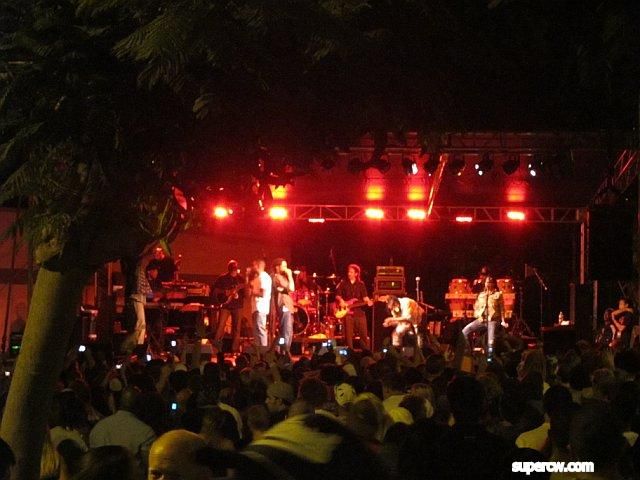 then nas busted out with hate me now and some other tracks while damian refueled off stage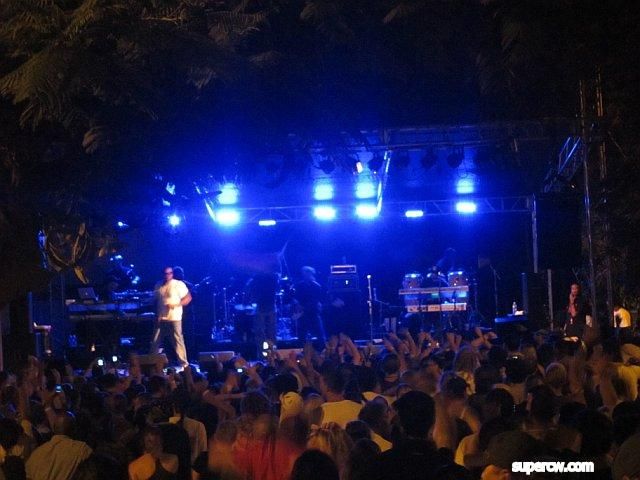 then damian busted out with welcome to jamrock and just about every bob marley song after 1962. i knew he wasn't going to sing my favorite favorite track but it's ok because this was like three fcking concerts tonight. so so very good.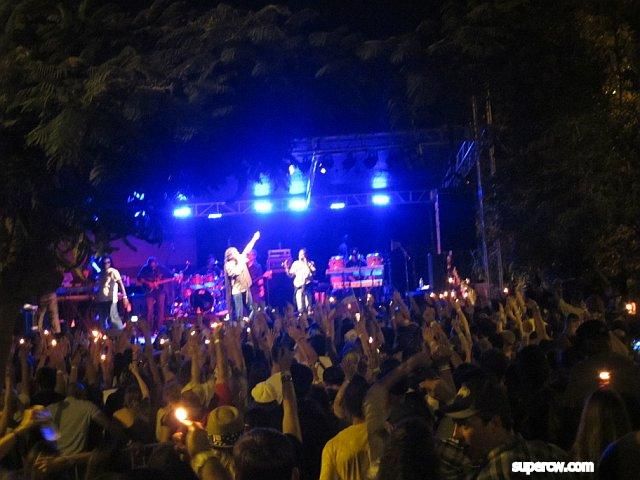 post show with The Green. zak and travis know them. i was on their flight but that's about it.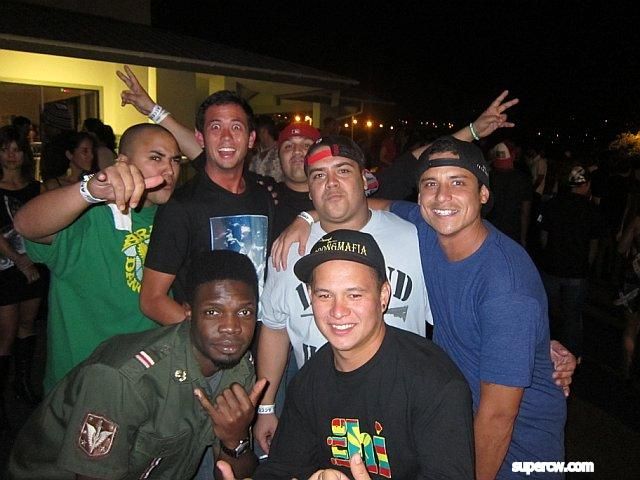 we after partied at oceans. kona oceans.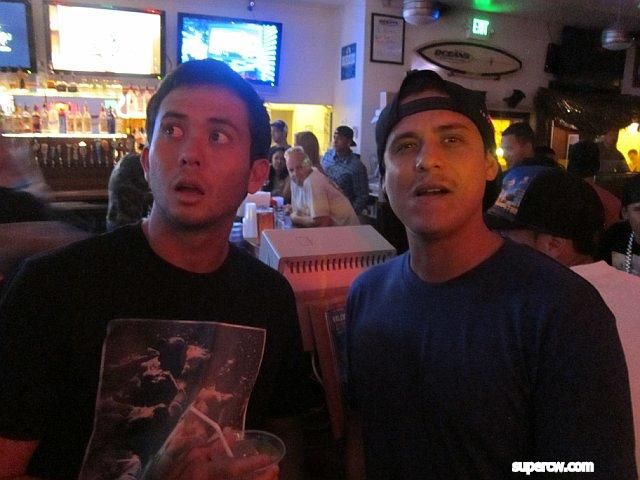 people in kona pretty much rage their faces off.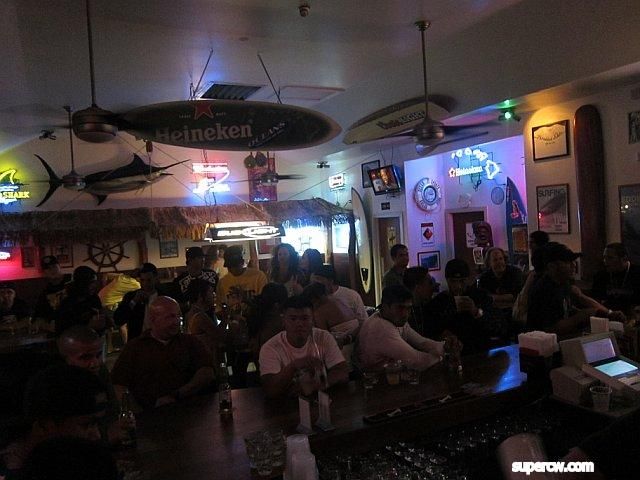 i know this. i was at the bar for a while. all they do is shots. shots shots shots. infinity. and beers in between .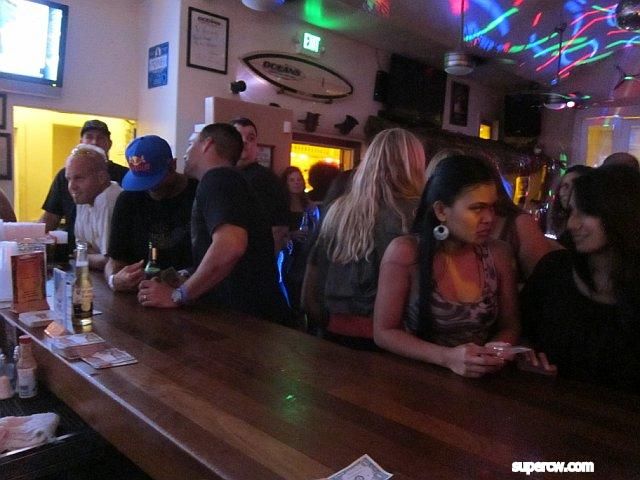 oceans has a nice outside area in the bar for smokers. they were smoking a lot in kona.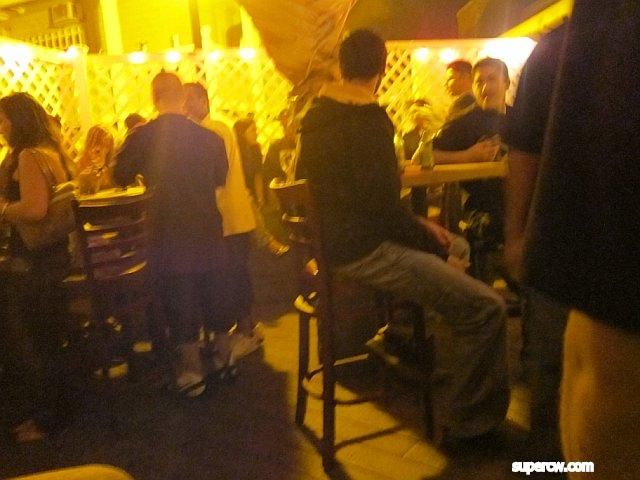 the music is nothing but radio music. the kind that talks about nothing but boning. again, the women took forever to get there, but once they did it lifted the spirits of the entire place.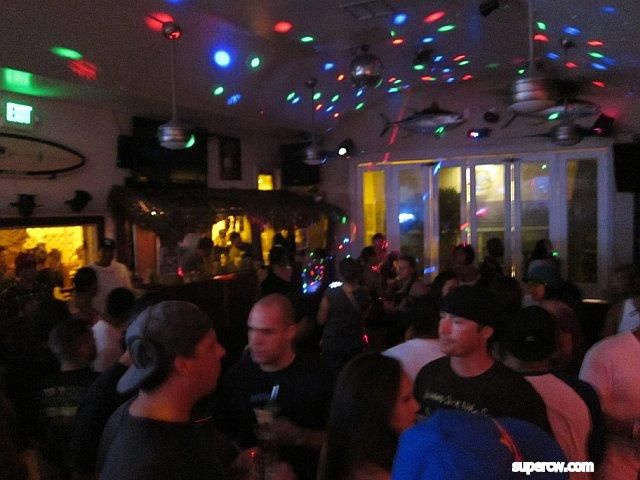 travis and zak are all growns up these days but they are still pretty damn hardcore. i tried to keep up. we were all in vacation mode.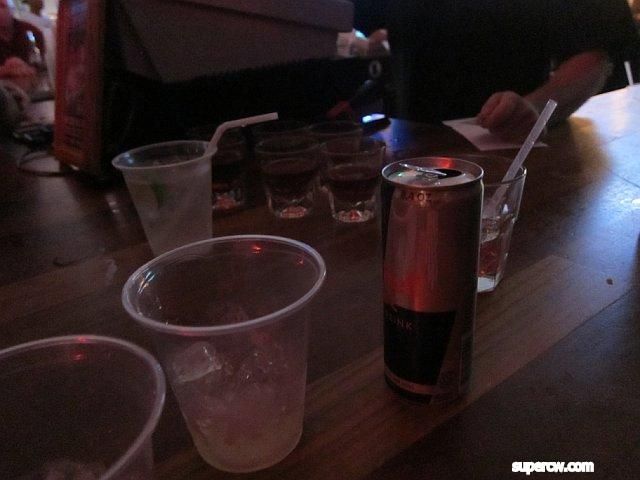 then the girls came. instant party.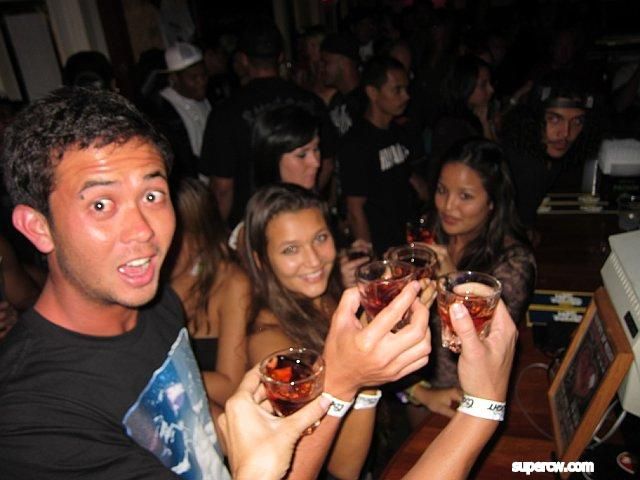 he laughed at me when i asked for robyn
then i noticed tons of people outside that couldn't get in because we were in there. club was full. i felt bad so i slipped out in to the night back to my hotel.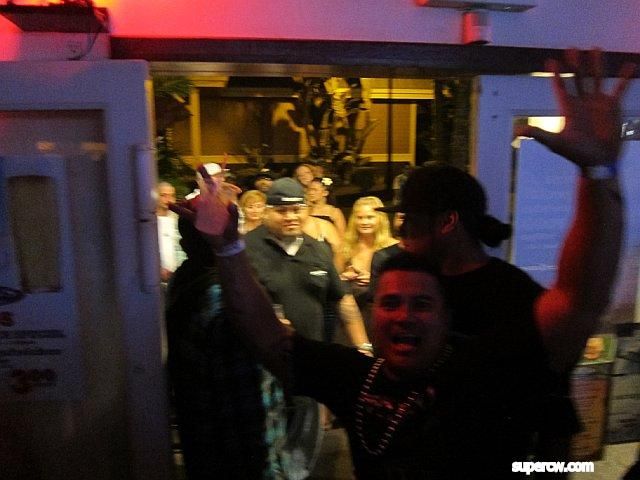 turns out i was in the wrong hotel room. i thought it was weird when i checked in that there was a bag in there but forgot to mention it. i was too tired/drunk to even remember when i got back. so to sleep i went. the next morning the BAMPers grom was laughing at me about it. they all came back with all the hospitality stuff the band didn't touch (champagne, tequila, etc) and were going to party but instead they had to creep around a sleeping christa to get their stuff and go sleep in my (bigger, nicer) room.
side note, i am ALWAYS hungover flying out of kona. why?! probably because that's the airport with no air conditioning.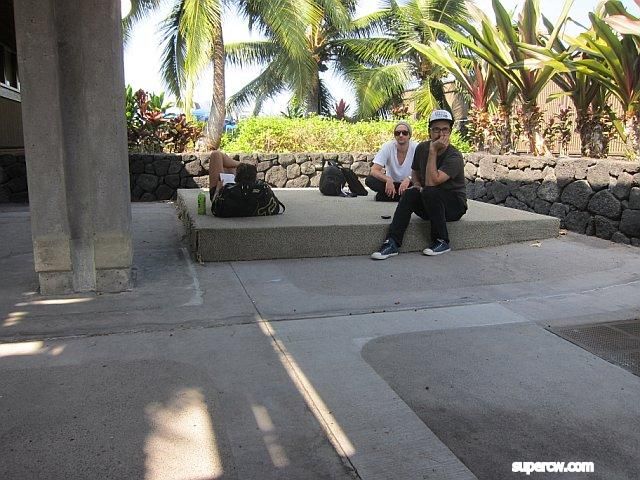 our flight was delayed. then canceled. then delayed. we became one with the kona airport. after about six hours it was affectionately dubbed as National Lampoon's Interisland Vacation.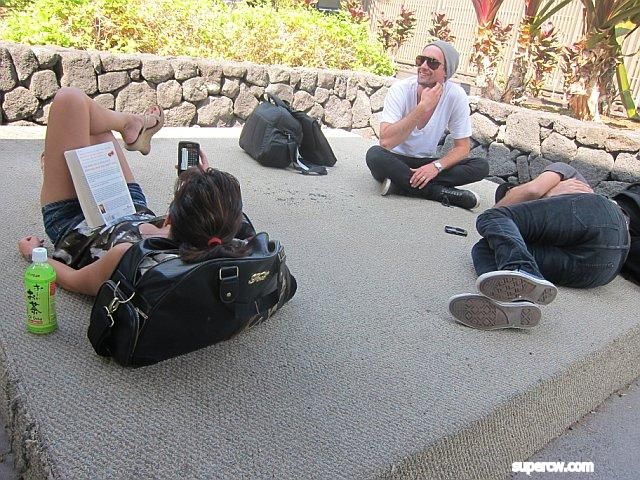 alas. we made it out of there. the BAMPers had matt and kim in oh, an hour after we landed.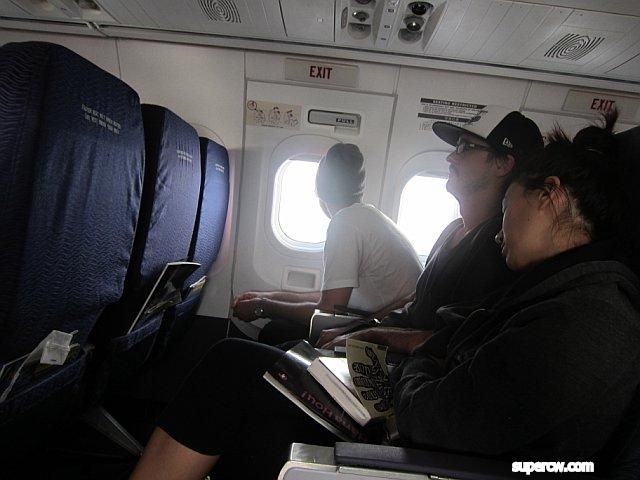 flying back over oahu i was trying to spot the jump offs sound checking but wasn't at a window. matty boy got this for me.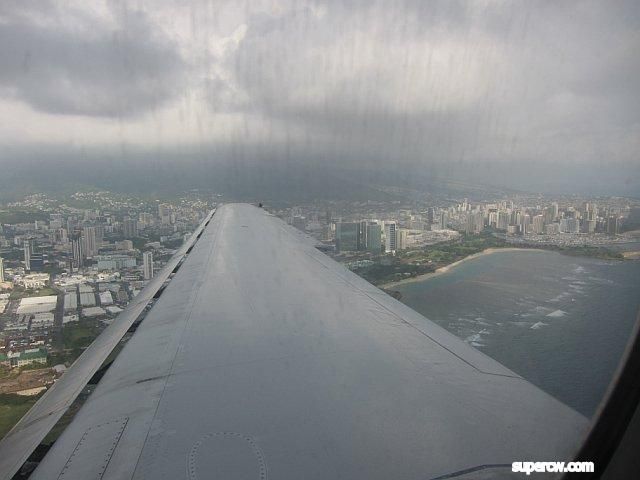 then it was friday but for me it was saturday. a week and a half of saturdays. i decided to check out zana in kailua. chuck as acquired the building that will house the new/old 808skate, and it is just perfect.
hi chris lam!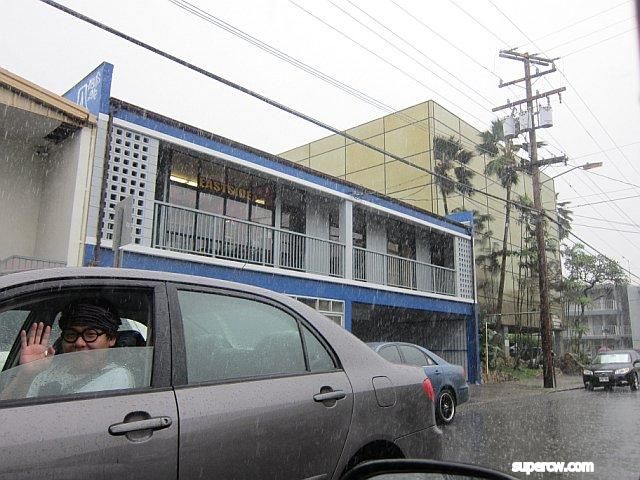 it was that day that it was just dumping down rain but it made it so romantic. something about looking at an empty space when it's raining on the windows. i just love that.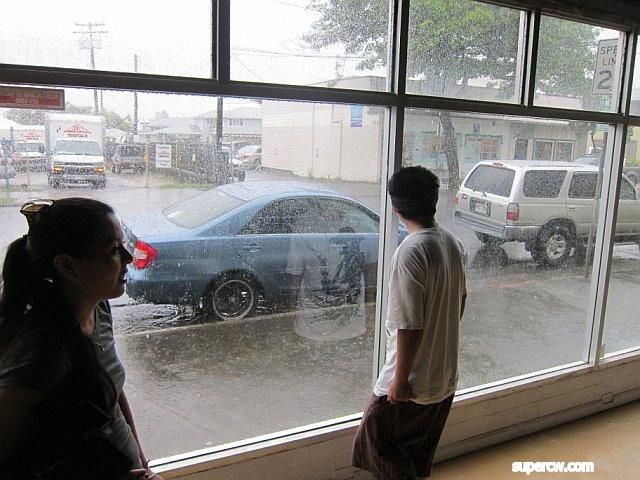 i love taking these sort of things…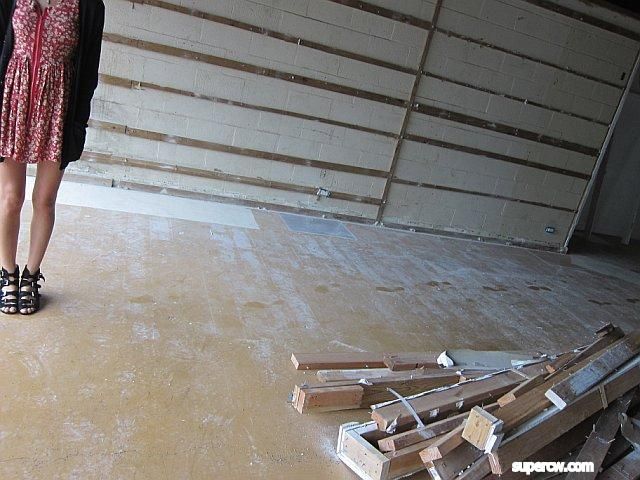 …because it's going to be so rad once they open. 808 Skate!!!!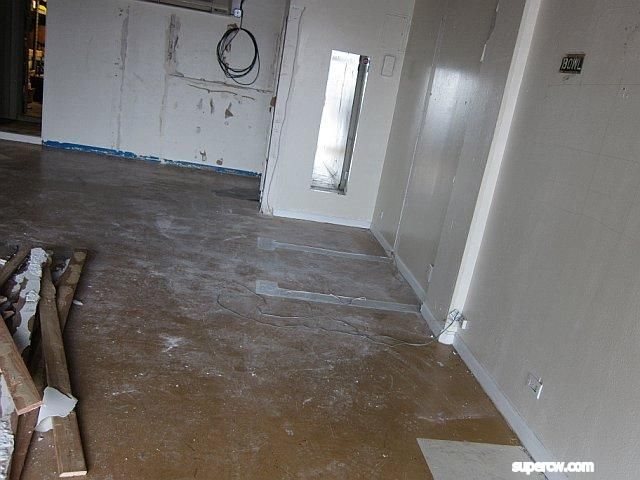 the best part is probably the warehouse in the back that chuck has had for a while now. it's a skater's paradise in there.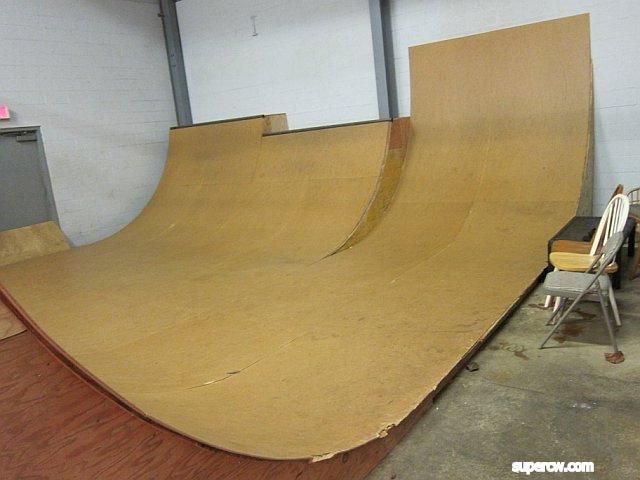 with a nice lofty watching space for us girls to lurk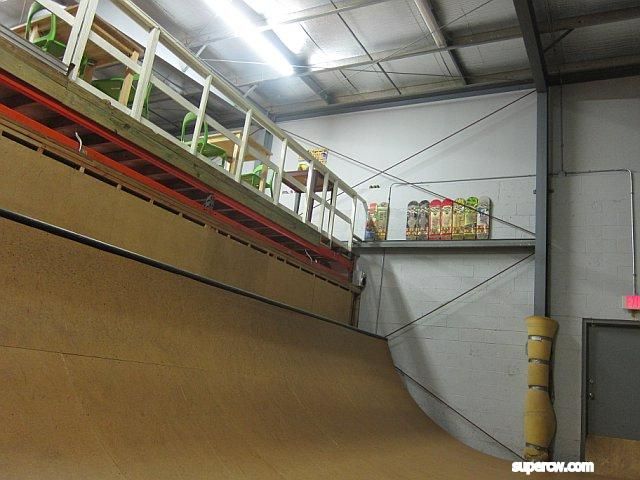 so yeah, that's happening in april. i will tell you more. there will be a party for it. speaking of parties, the prince and i went to PROM over valentine's weekend. you gotta, right? guess where we pre partied. GUESS!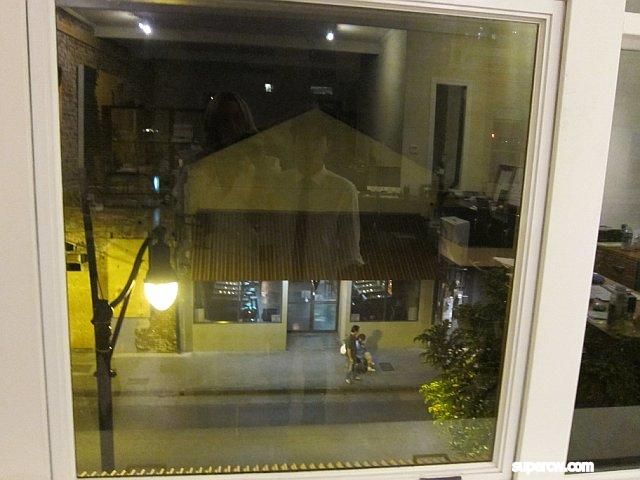 ennnnemmmmgeeeeeee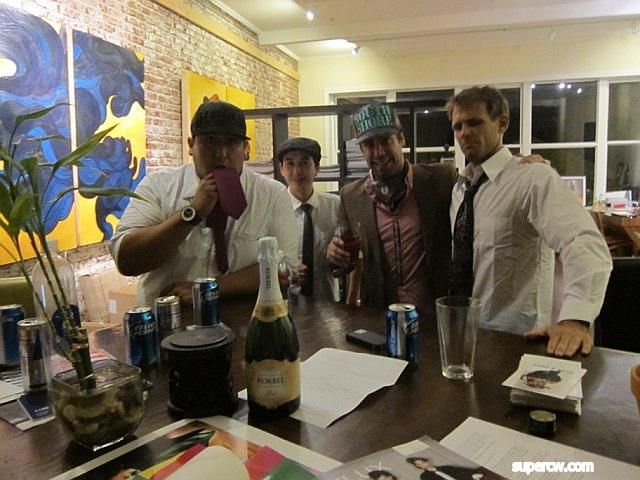 red bull rob. chambull.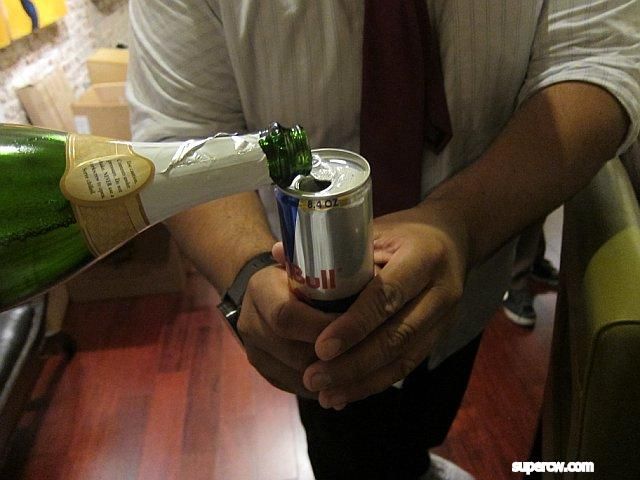 richard's paintings are still in here. i love love love this office.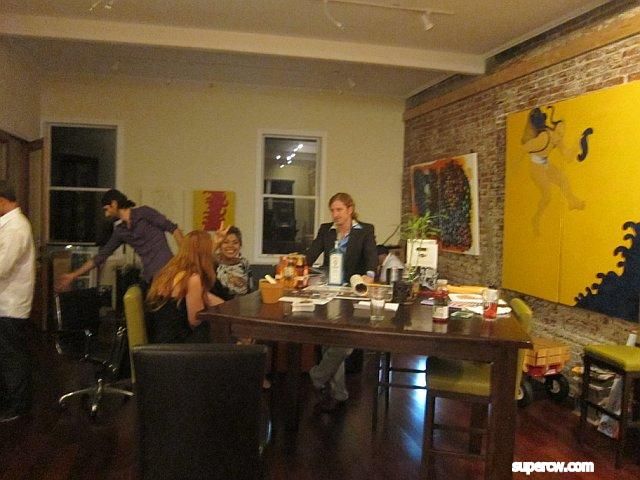 haw haw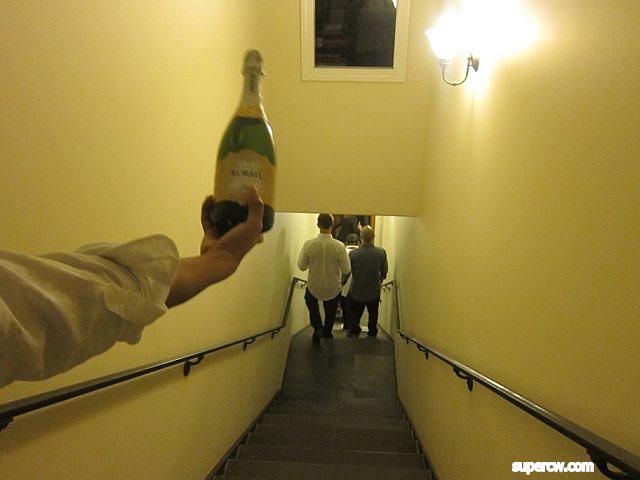 we piled out on to hotel street sort of buzzie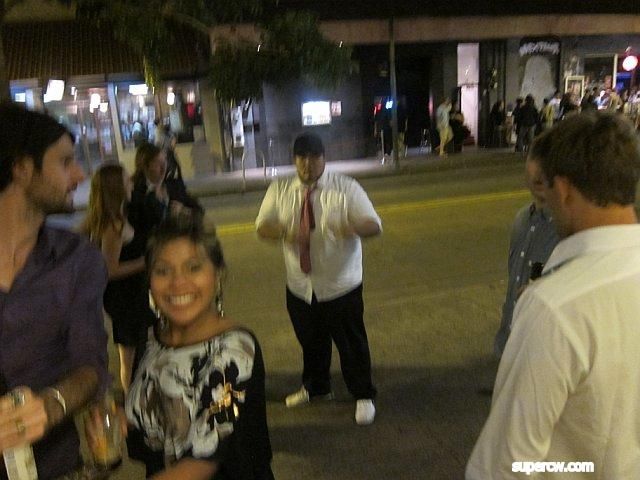 haw haw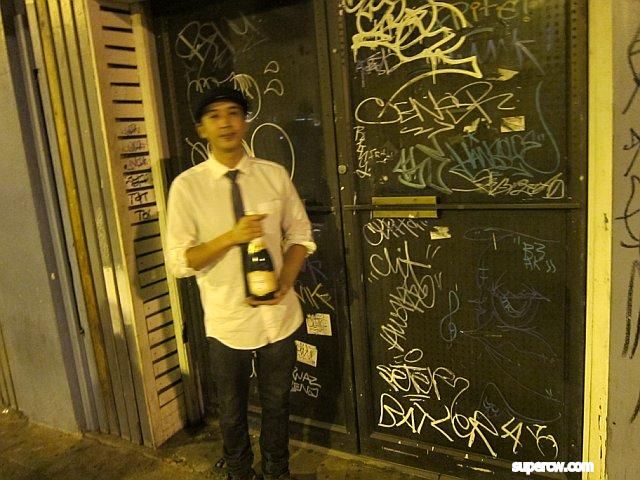 bware came and picked us up from nuuanu to take us over to soho. yes i know it's right around the corner, silly. but who doesn't arrive to PROM in a LIMO.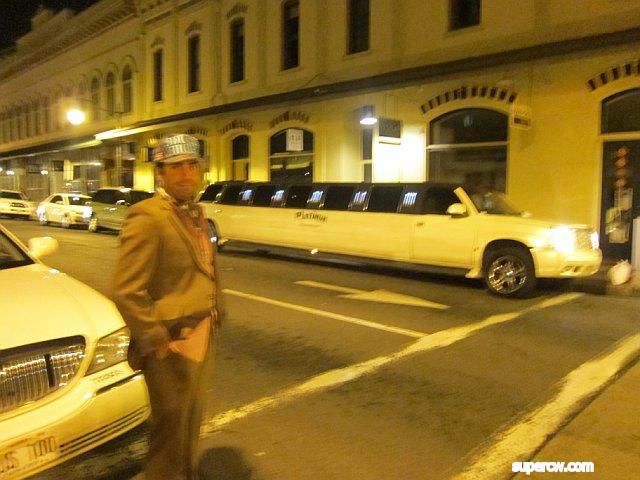 definitely not us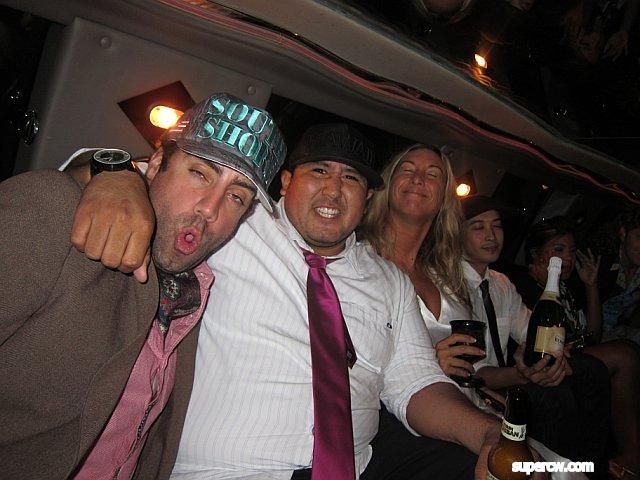 oh shit! jason i still have your goblet. i will bring it back.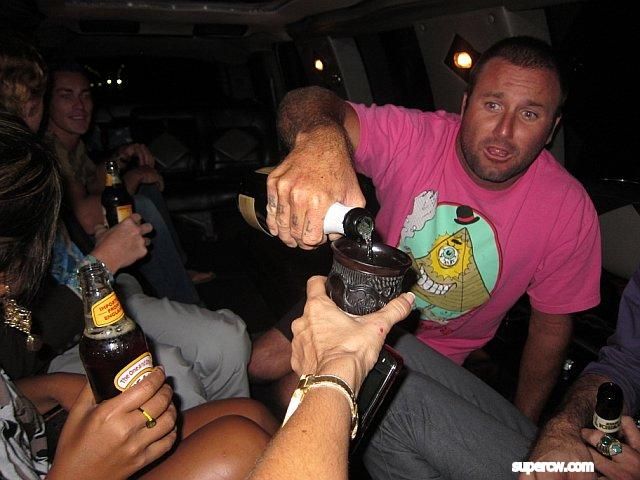 haw haw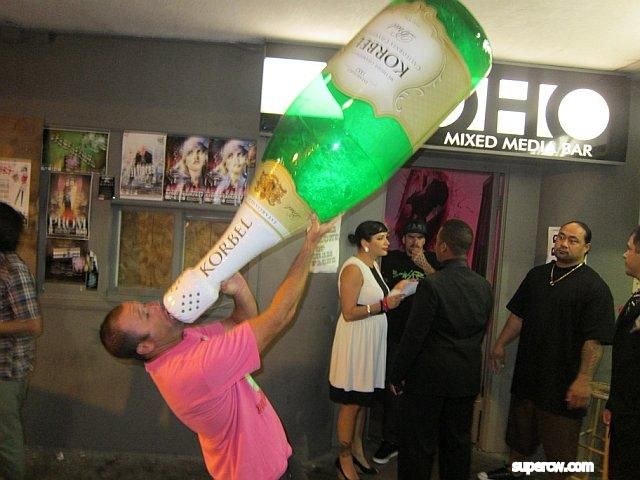 saw aaron there at 10pm sharp. AARON! how many people are you really going to see at a party that early? besides me i mean. cause you know that's my starting time for everything always :)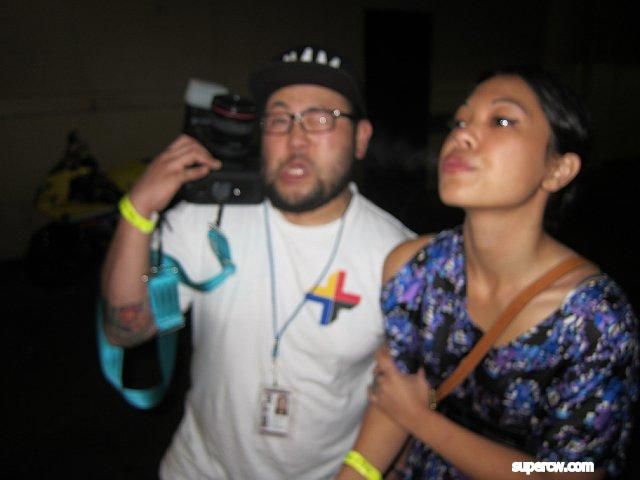 inside looked lovely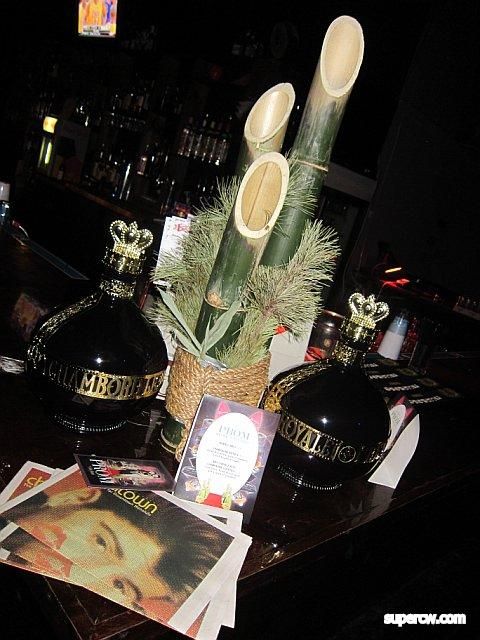 matt keee!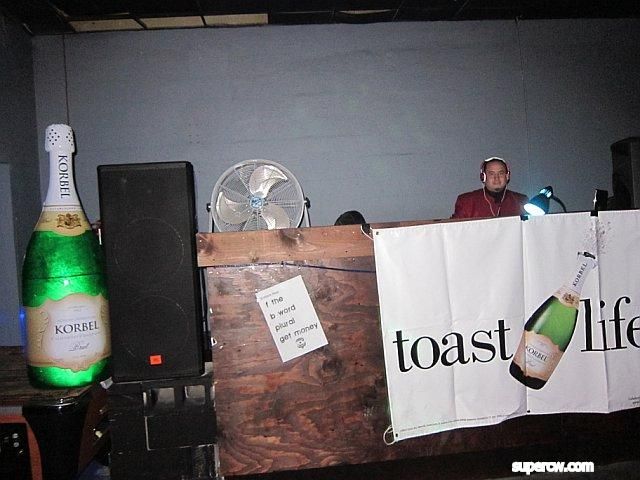 eskaeeeeee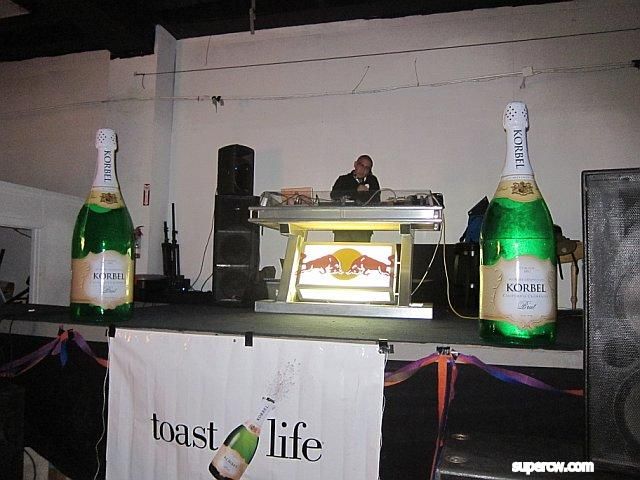 photobooooth!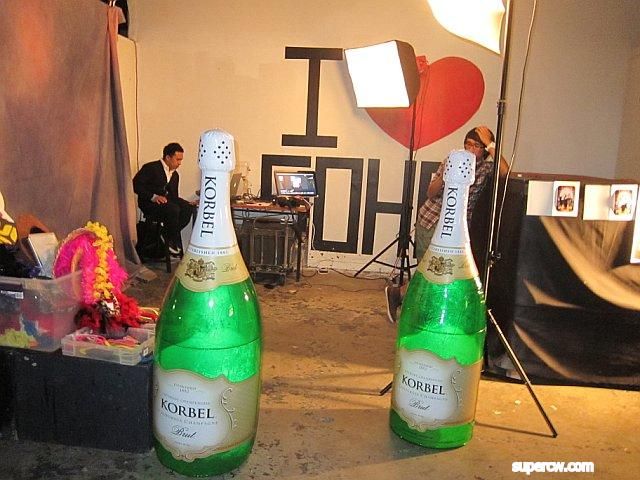 eskae get excited. it's exciting!!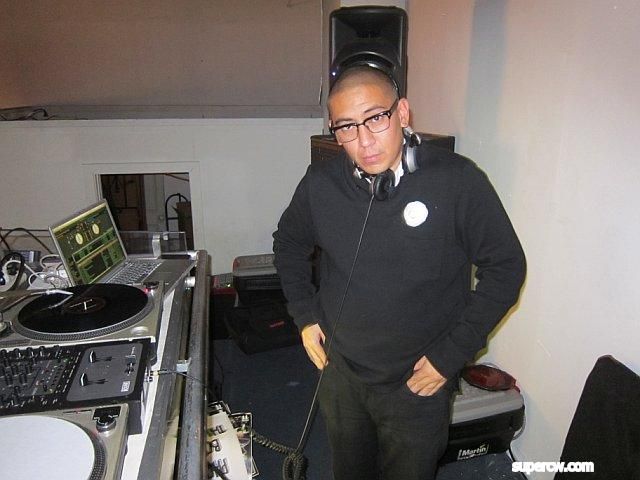 watching people arrive was pretty cool. a lot of people took it seriously which i loved.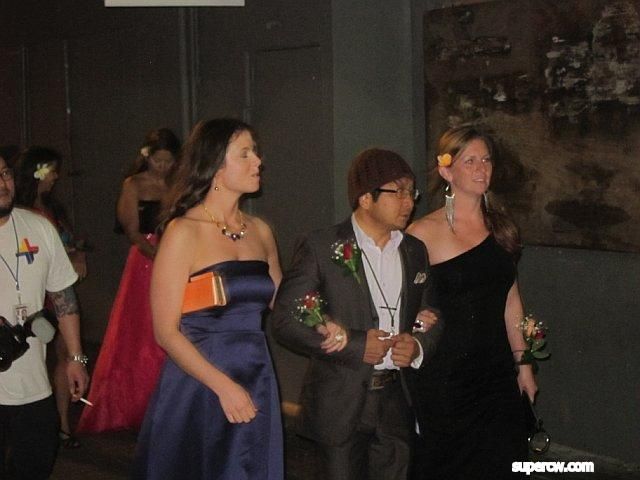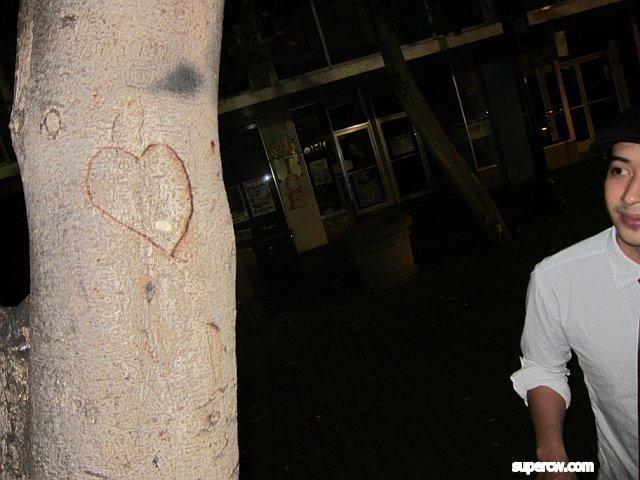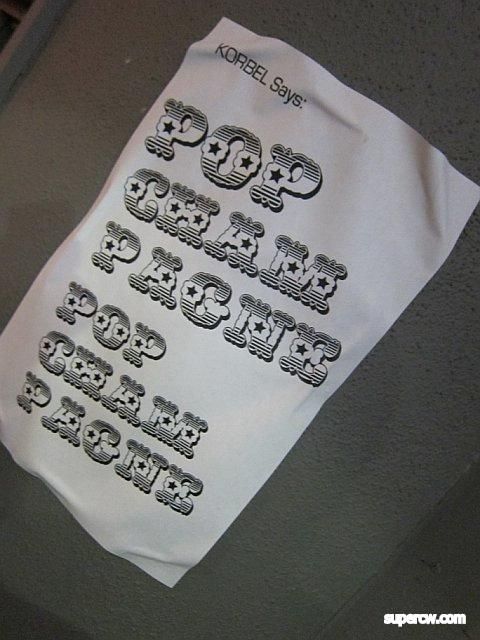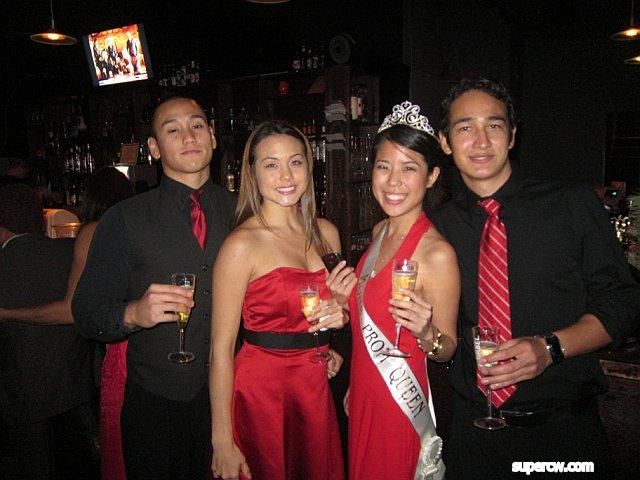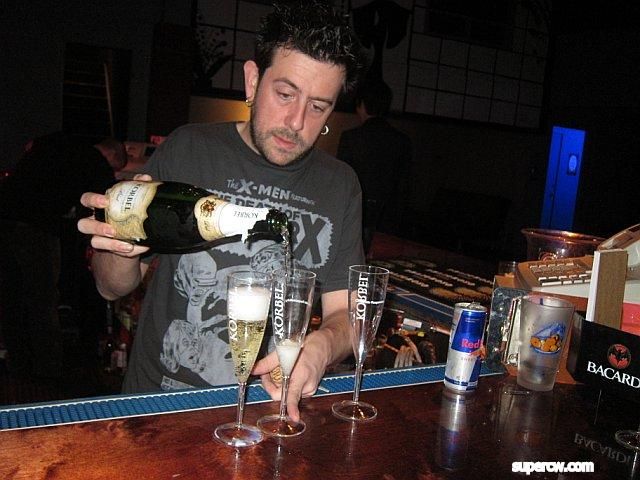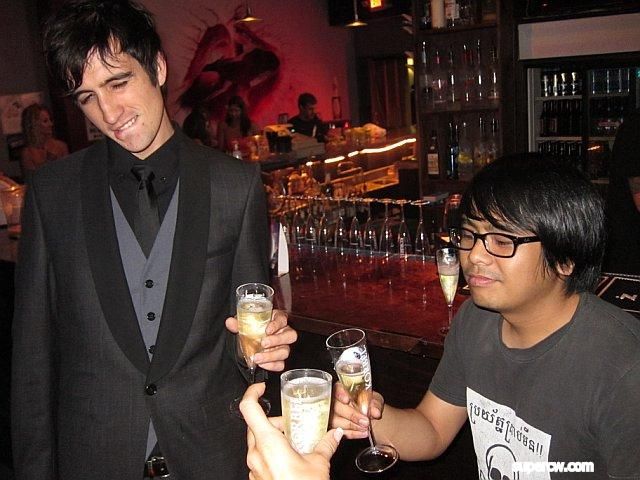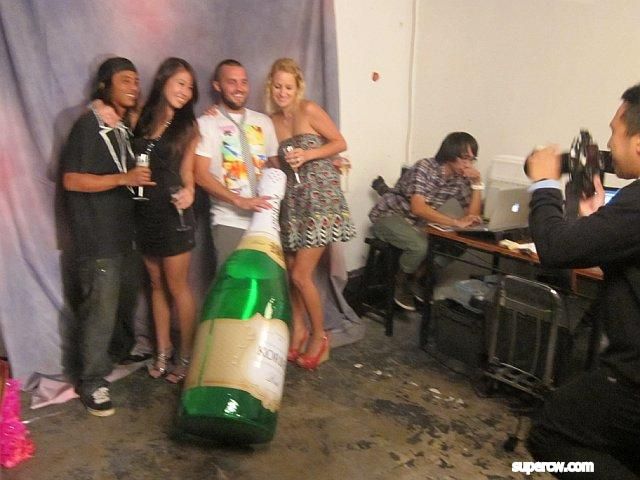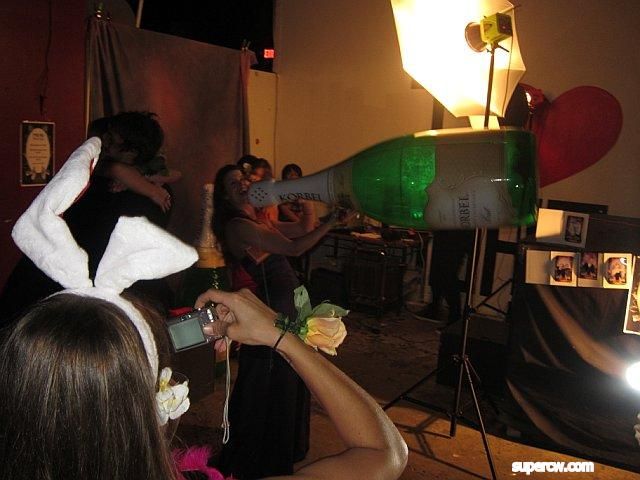 awww!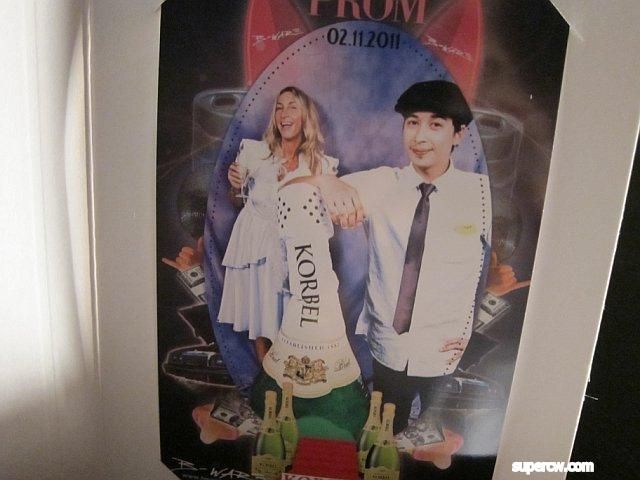 keeping in mind this was the weekend before pow wow i was giddy as fck to see this on matt ratt's laptop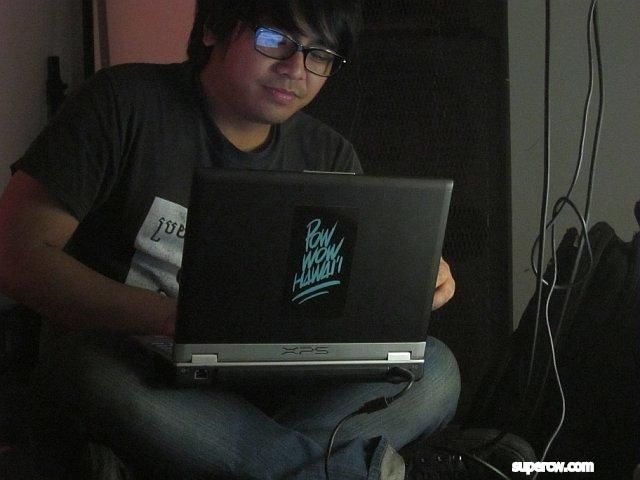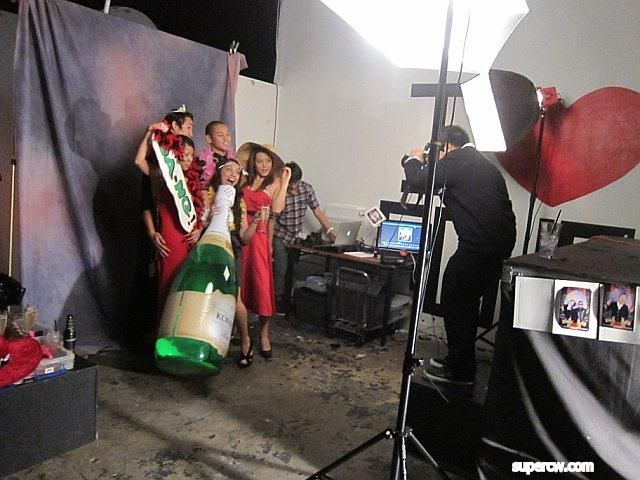 aloha stadium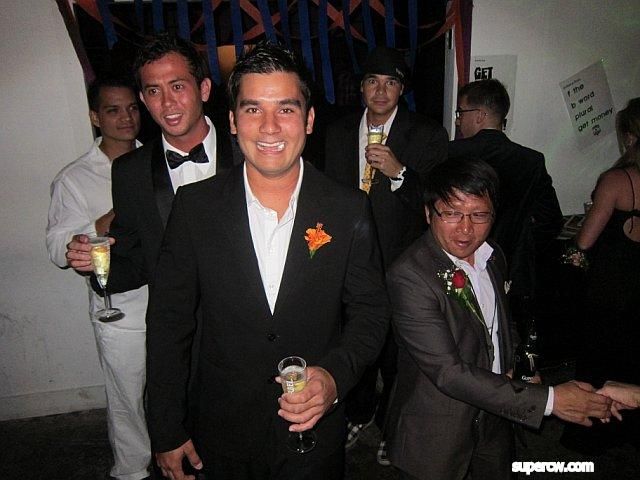 koa EEEEEEE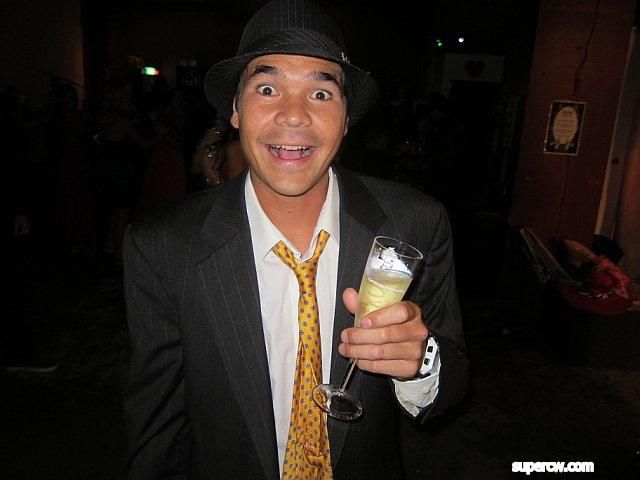 cyrus going for the more sophisticated/gangster look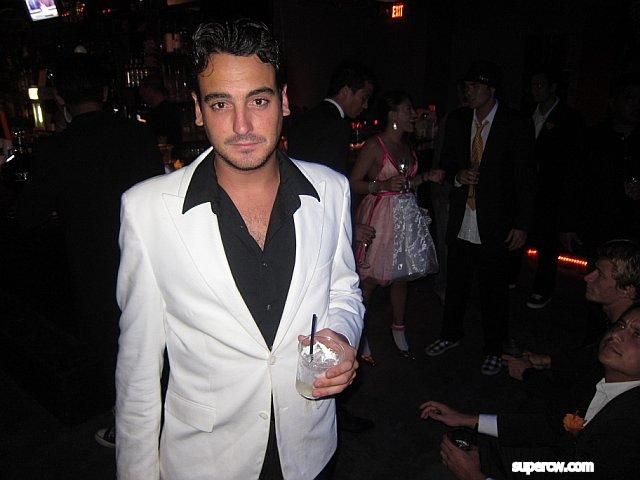 daniel hahahaha omg i walked right past him tonight hahaha omg the glasses.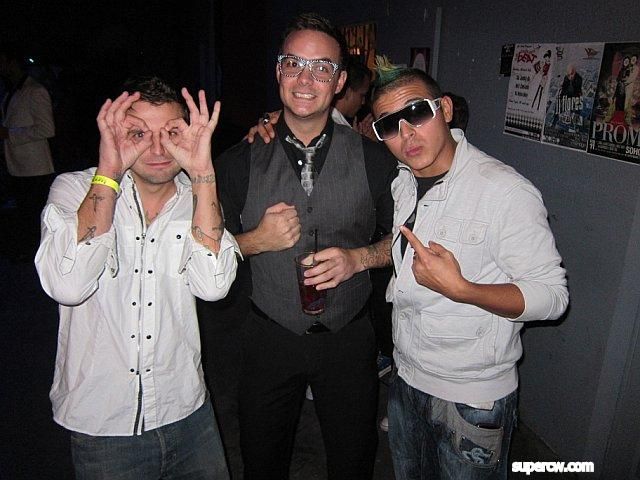 philip going for the "i just got done shooting a wedding" look
my favorite couple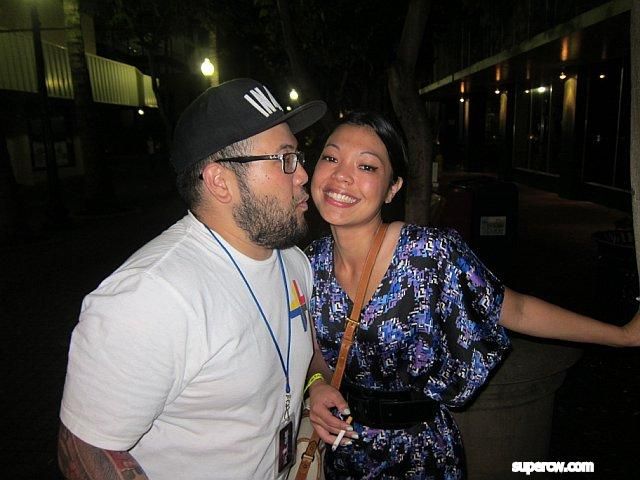 times two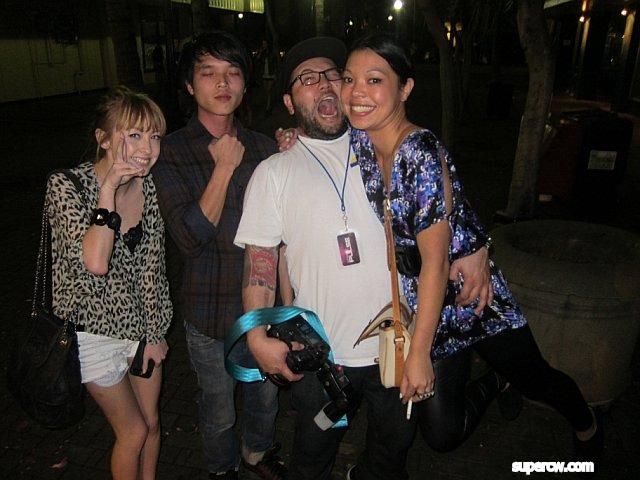 times three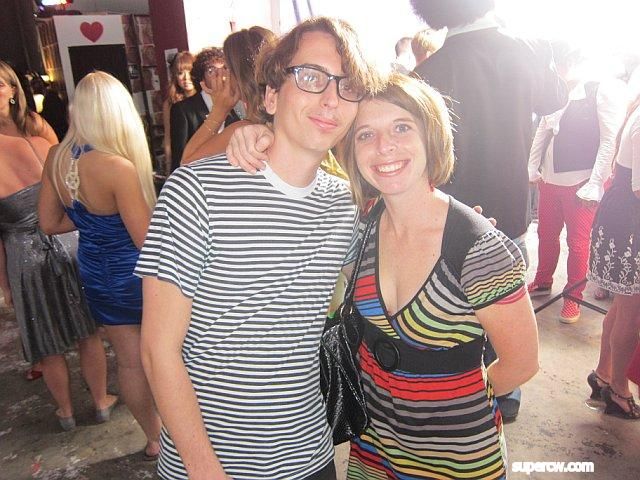 i loved them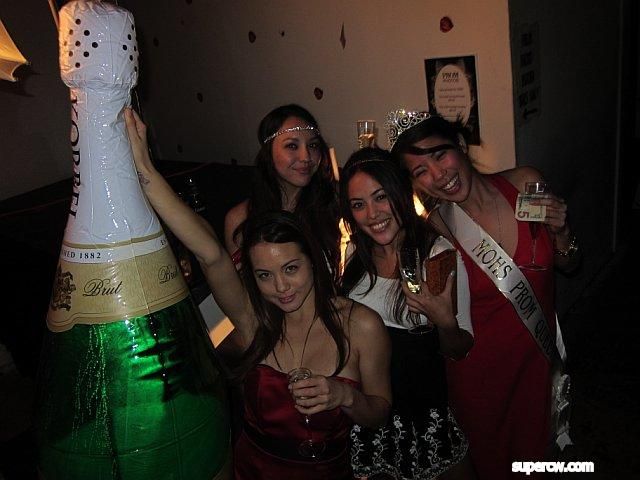 i loved them too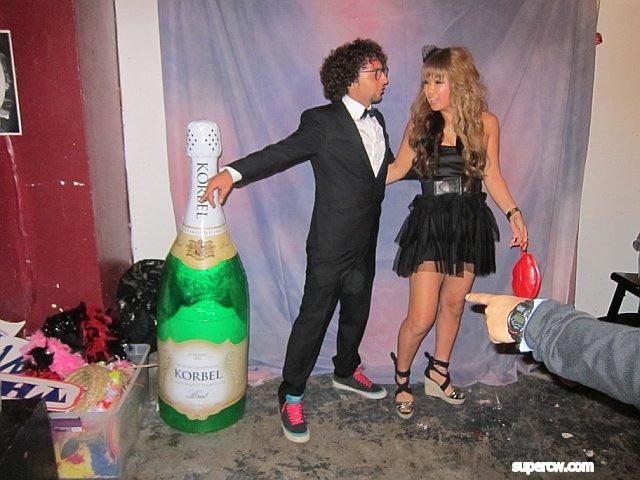 what time is it zak?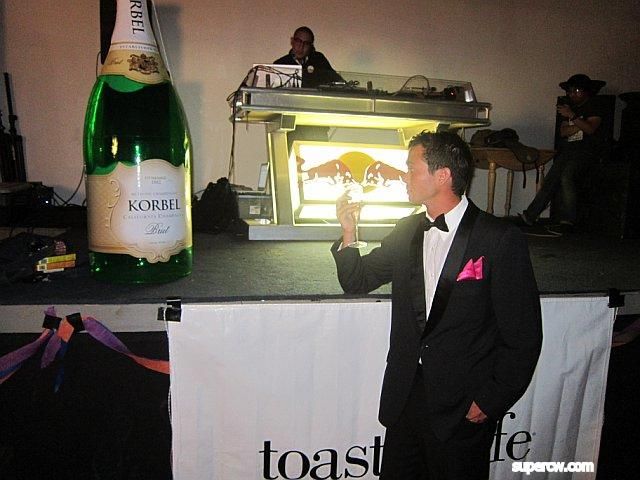 ah yes. suntory time.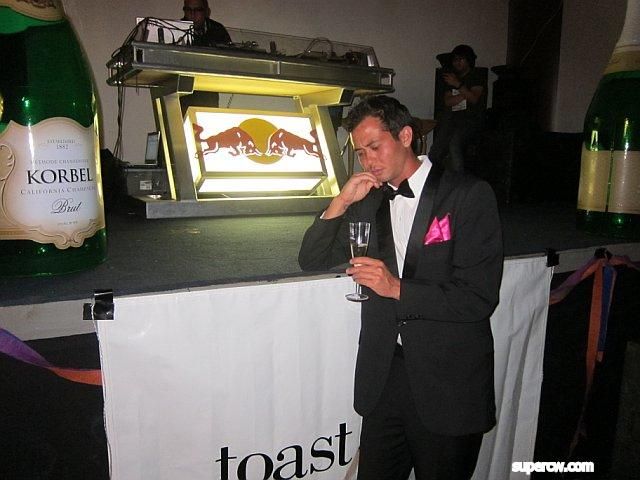 im glad people came.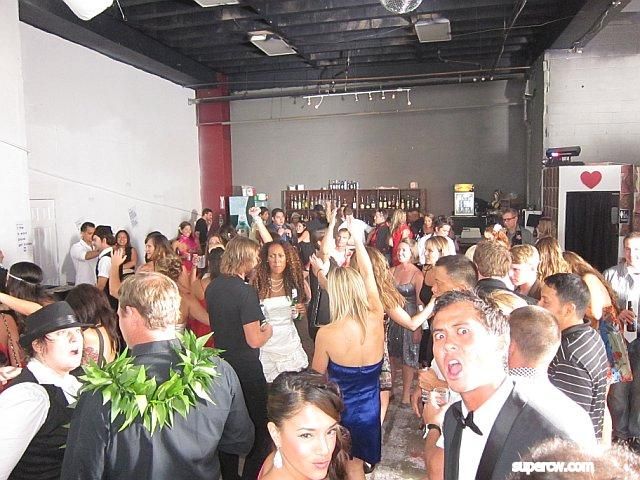 im glad casey evans came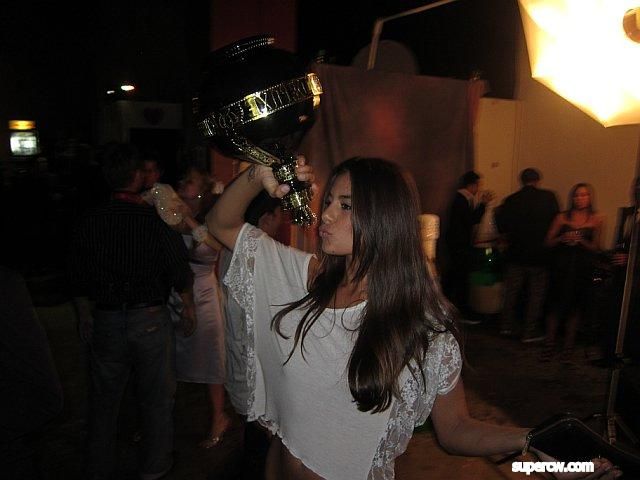 im glad roland and cisco came. i'm NOT GLAD i didn't get this shot! would have been the cutest thing ever. cisco killing bunny roland.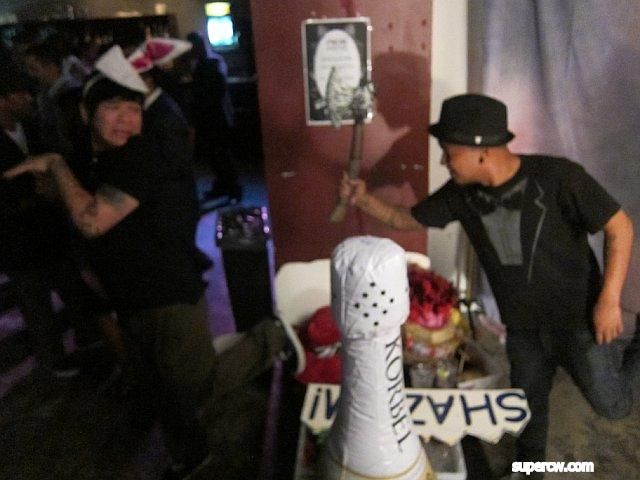 i'm so glad we did this!!! i forgot we did until i saw these. i was bubbly.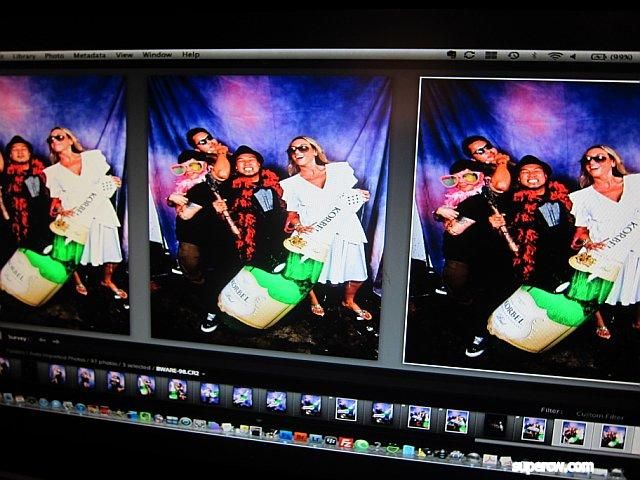 cisco roland and reid. dressed up even! LOVE LOVE LOVE.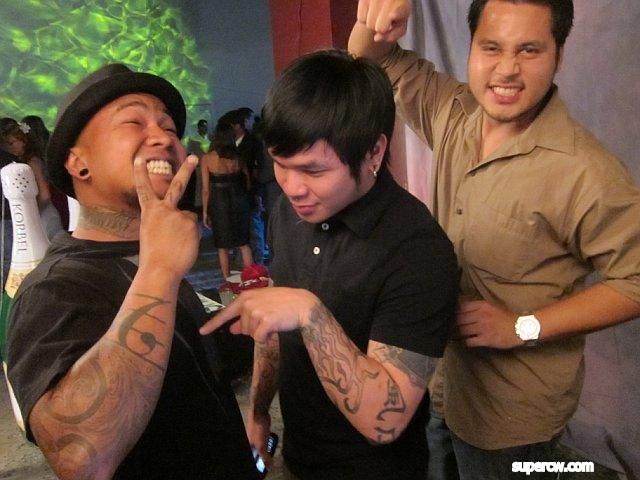 then i was dancing with the hot girls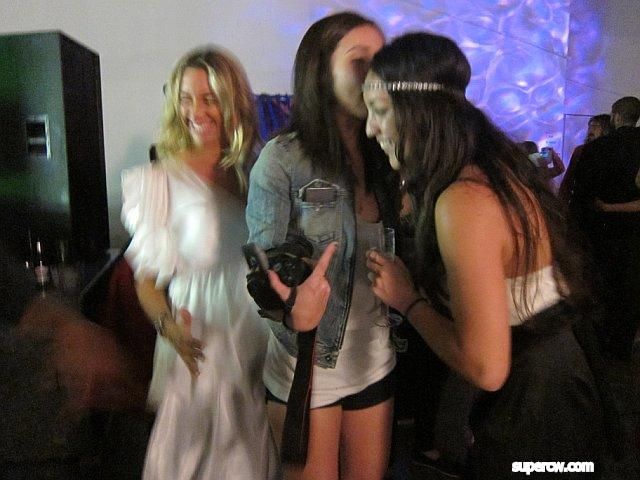 and grady was taking pictures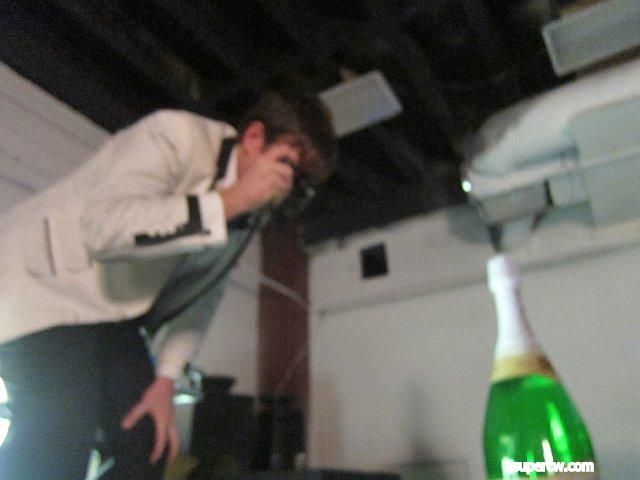 and HAHHAHAHA MATT RATT looking like a little kitty behind the red bull dj stand all you can see are his eyes glowing AWWWWWW
i drank a lot tonight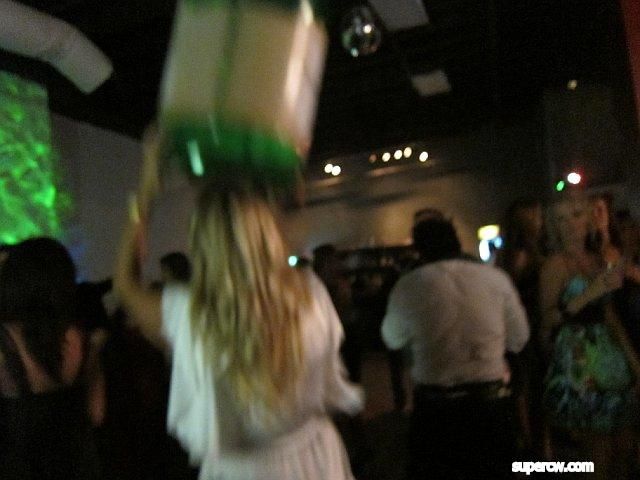 YEAH ZAK!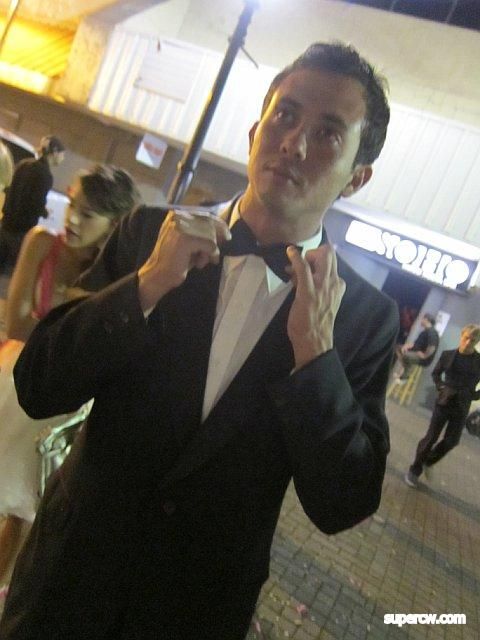 best picture ever. ever ever ever!!!!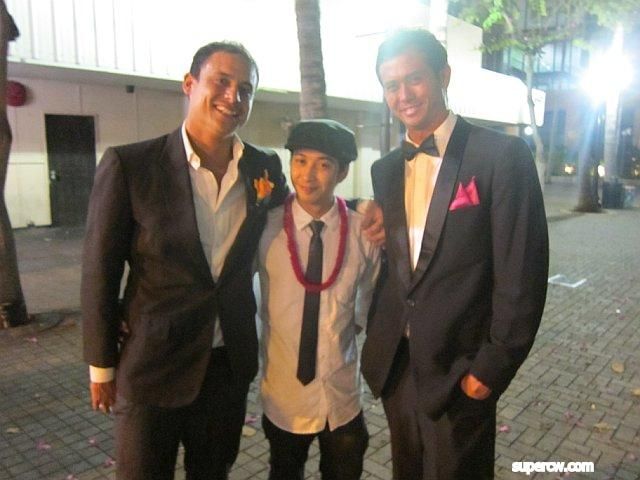 or maybe this one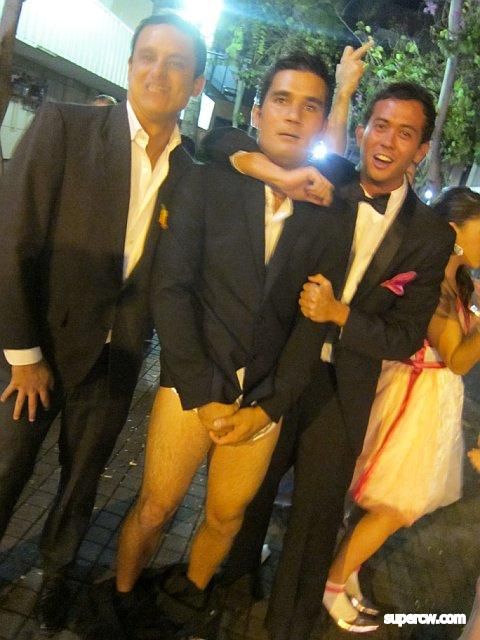 NOOOO! this one!!!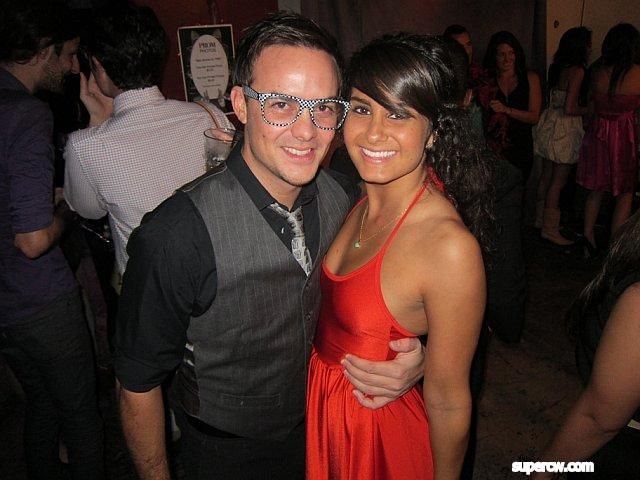 i kept thinking i left but realized that i was there for a while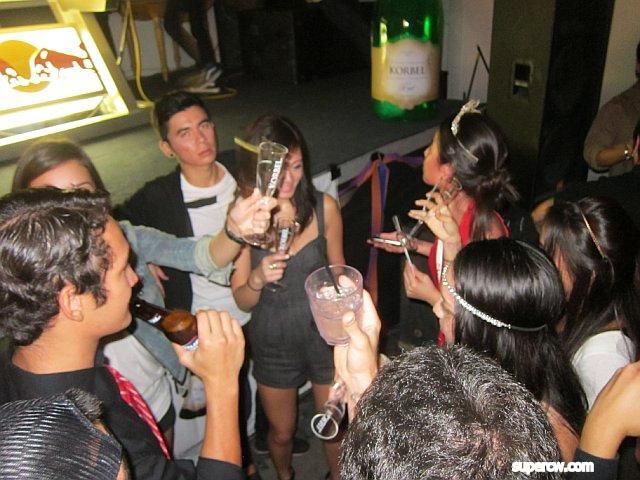 i almost forgot why grey was tossing the plastic glasses in to the crowd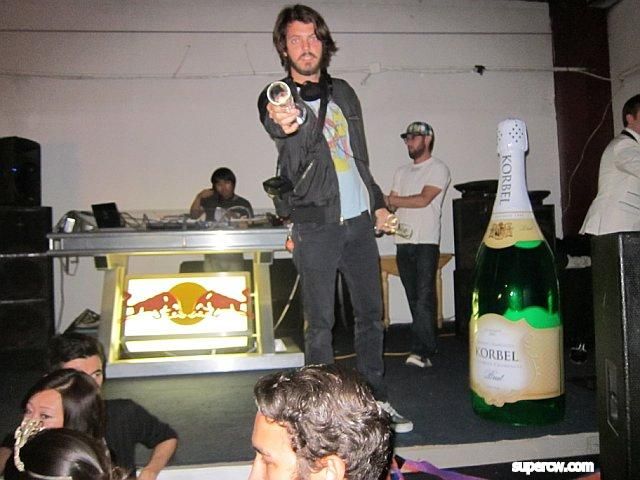 then i saw robert and kind of got it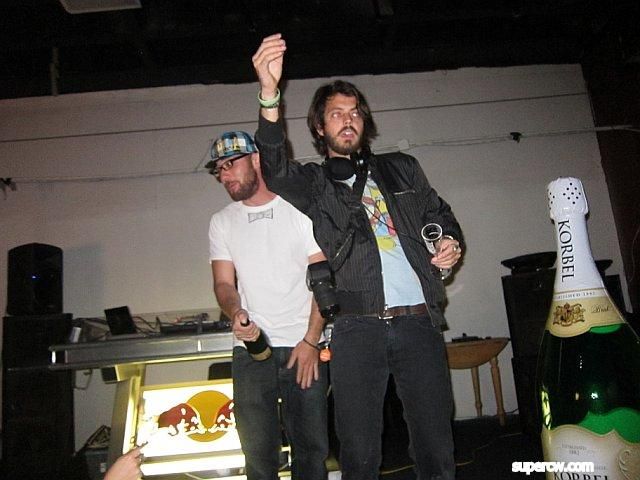 i got it. i mean, i didn't get it. the shot. but i got some champagne that they sprayed.
we all did. nice move dudes.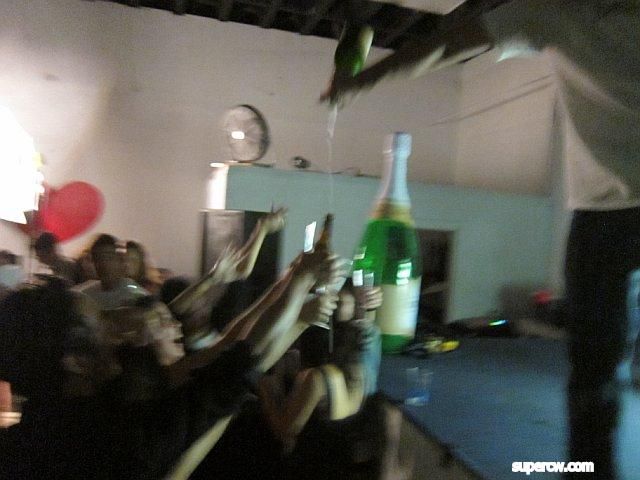 just when i thought the night couldn't get any better. bware mastermind jimmy busts out the mustaches.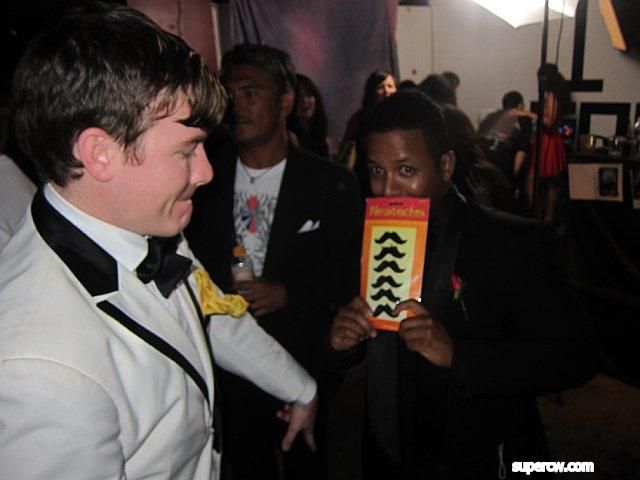 then i don't remember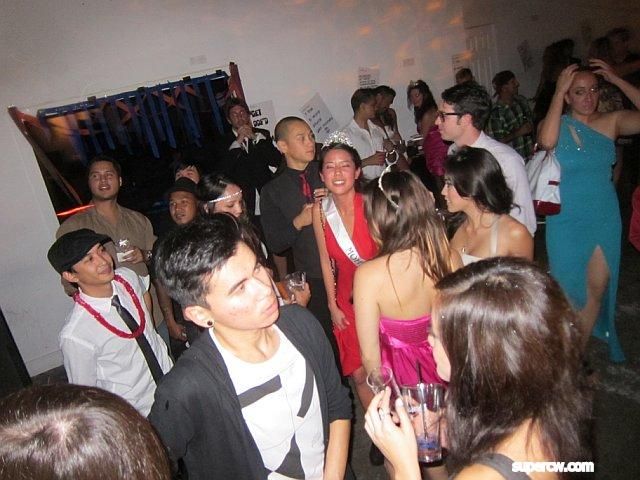 but i'm very glad i didn't dance on the stage. they got that.
yeah, tonight was fun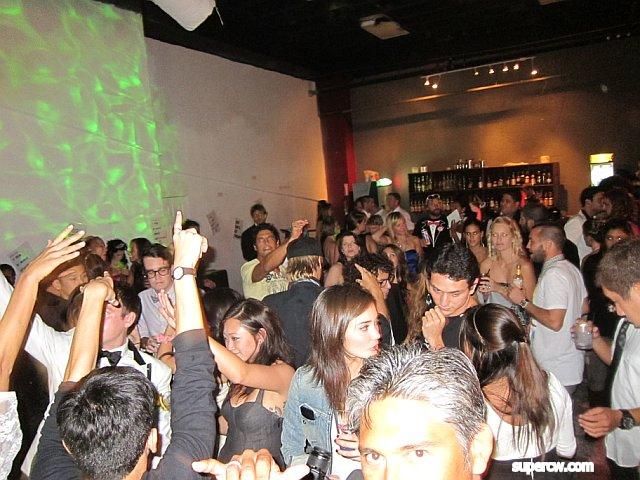 oooook i still have a lot to share, gonna post this and work on the rest. i really didn't have my camera for much of Pow Wow but OMG BRANDON killed it! you have to check out his flicker set it will be like you were there for the entire event. the process, the opening, the afterparty, the luau. ALL OF IT!
i see you soon. cw