so i'm in chinatown (duh) last saturday for the film competition and the first thing i see is this.
duuude, check this out – wtfhawaii entered a film in showdown in chinatown and they made a MOVIE POSTER for it.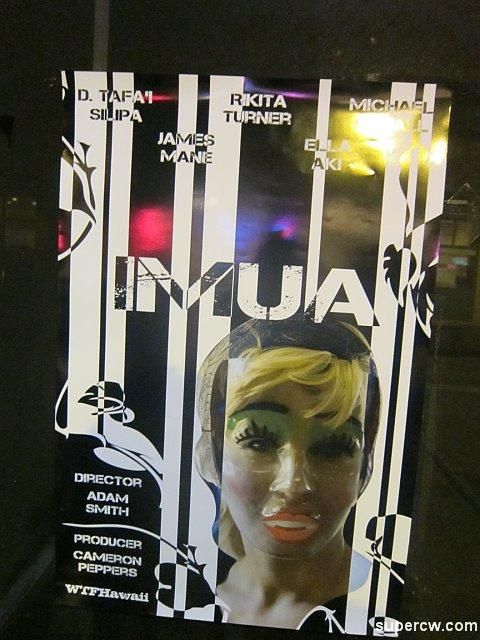 i was showdown-in-chinatown shocked. that's killer, i hope they got extra points for that. ps: this is the line producer for that Princess Kaiulani film that's out right now. and that's chuck mitsui. he made "It's 8:08" and "One Kine Day" (coming soon). film industry people. *fanning out*
i don't know what's funnier at these things. the fact that people use these references or the people who cheer when they see them. that might be a tie.
showdown in chinatown the way it's supposed to be happening – with Torry at the helm.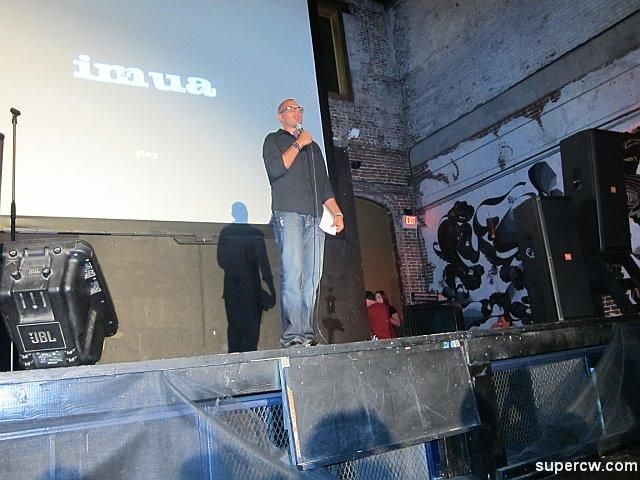 i haven't seen chuck since i don't know when. he never comes town to nightlife. why would he? he lives in KAAAWA. quite possibly the most beautiful spot on oahu. and furthest from town. i haaaate that drive at night.
burke sisters. baby burke got in to berkeley. burke sisters = geniusbrains.
i got pretty excited when i realized we could get a pretty well-framed shot of all of us if i put s90 on timer. i didn't realize i needed to do something additional to get us all in focus.
kept trying. oh, hi darieus legg. welcome to our blurry but perfectly framed group shot.
THEN we got it. and oooo selena. hot.
darieus was gushing about something brilliant or awesome to the burke sisters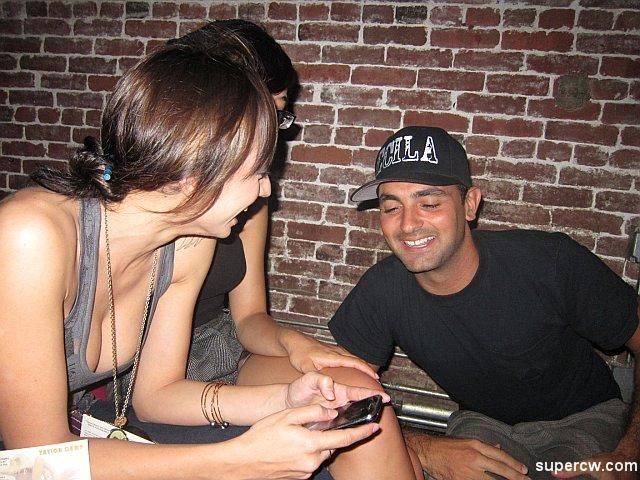 it was actually something about the hole in his t-shirt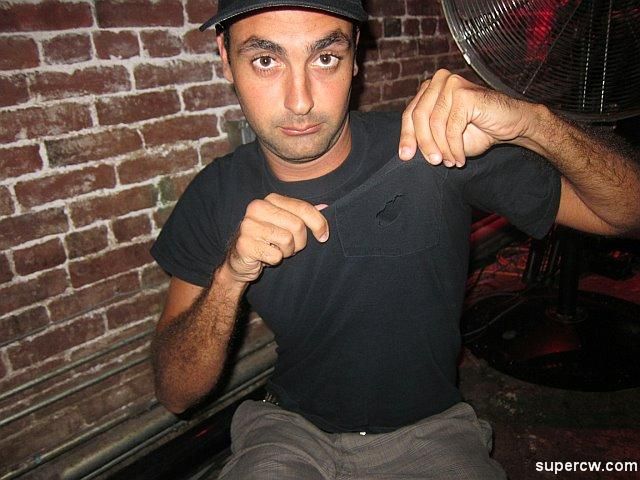 this is the shirt he will be wearing when he does his hidden camera shots, he was saying.
meanwhile, congrats to OUTLAW AGENCY!! they won tonight with their film chocolate gold. my favorite part was everybody got gold/chocolate coins. zana said they tasted like that plasticy kind of chocolate you love when you're a kid. she was right. i ate two.
geniusbrains brandon and torry. favorites.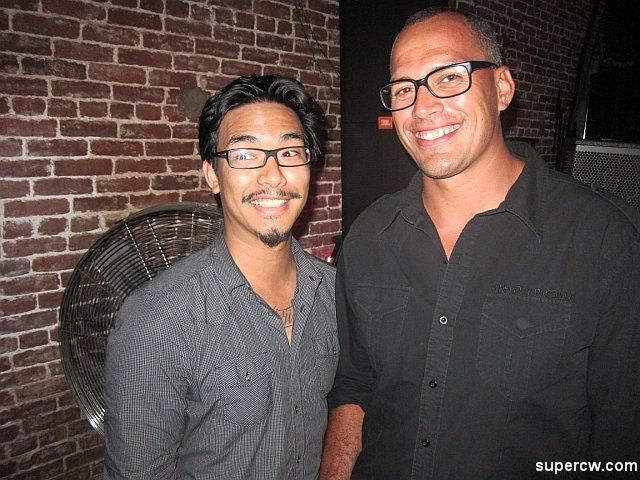 geniusCOMEDICbrains cameron and michael hall. good stuff tonight guys.
geniusHIPHAWWWPbrains. guess where i am now!
yup. shake & pop. LOVE this party.
i love this party mainly because i am in a room with pretty much all of my favorite people to see. i don't really know all of them per se… but they are all super awesome and wear killer clothing and act really nice and dance a lot. that is just the shit if you ask me. these two i definitely know/love: alisa and christen.
these two i'm LUCKY to know: brandi and maria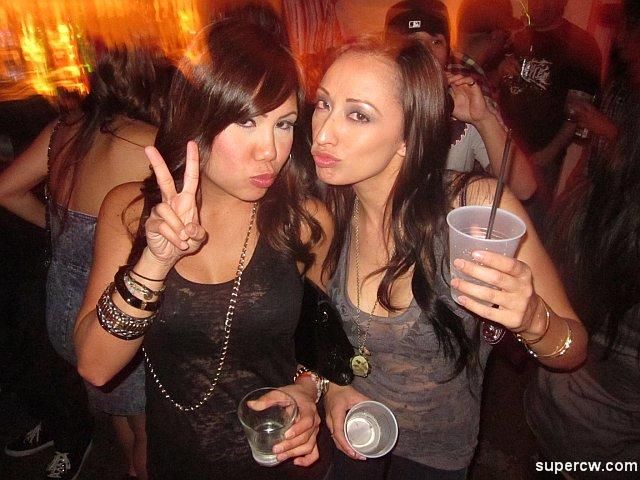 as much as i love maria it is fairly dangerous to go out with her. "honey, you want a shot?" "here, have a shot" "want another shot?" "hey, let's do a shot!"
but i will deal with hangovers galore to dance with her even once
i had all this red lipstick on my face tonight…
mahina the culprit? i wish….
nah, it was these two. which is still just fine with me.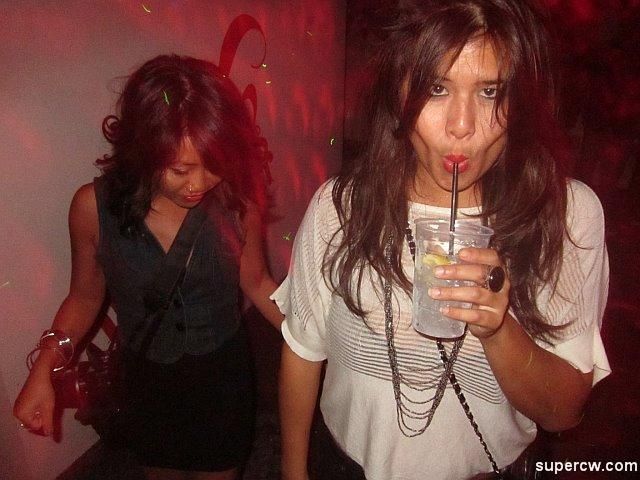 stylie shake & pop homie
musicy arty shake & pop homies. side note: do you guys know john hook? i hope so, guy is like CRAZY talented photog guy.
i was like "duuuude where did you get that awesome bag" and he said somewhere awesome like england or something. of course.
"honey you want another shot? here have a shot. it's shot time. shotttttt"
jackie's super shot shot. not as good as ryan'sbut better than ryan's…. cause it's JACKIEEE.
in other news, dave wilkie is officially back in Hawaii after months abroad. this is chris kalima's favorite DJ. he is also my favorite dance partner. thanks for being tall, kid.
chris kam a.k.a. DJ Delve PLAYED PASSION PIT tonight. this party is fun because these dudes kind of stretch the boundaries of what sort of music people hear when they're out. it's cool because the crowd is mostly their homeys that are used to (and love) hip hop but they are still stoked when they creep out there with the crazy (a.k.a. stuff christa likes) music. if you haven't been to shake & pop yet (and you're not a dickhead) you really should check out this party.
if anything, do it for the stylie dudes and supermodel looking women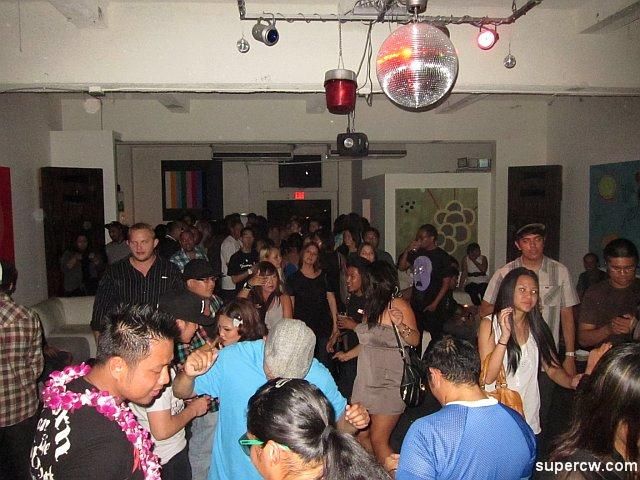 sebastian. stylie dude.
kiani. supermodel looking woman.
momoko. supermodel looking woman.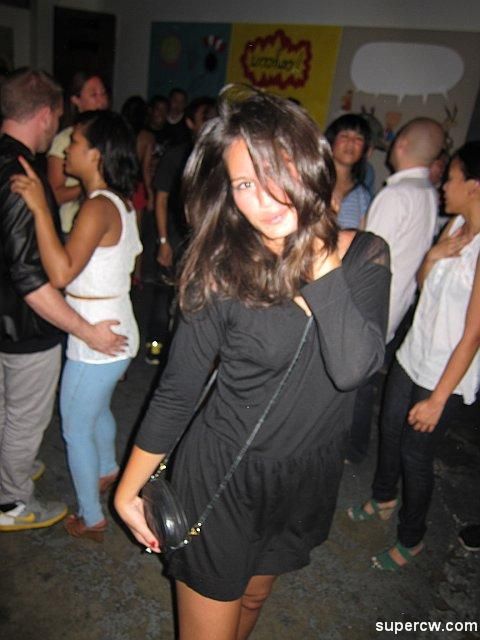 ooo now that i see this i'm digging maria's bar style. shots at the bar, red bull in a can on the dancefloor. this works. this WORKS!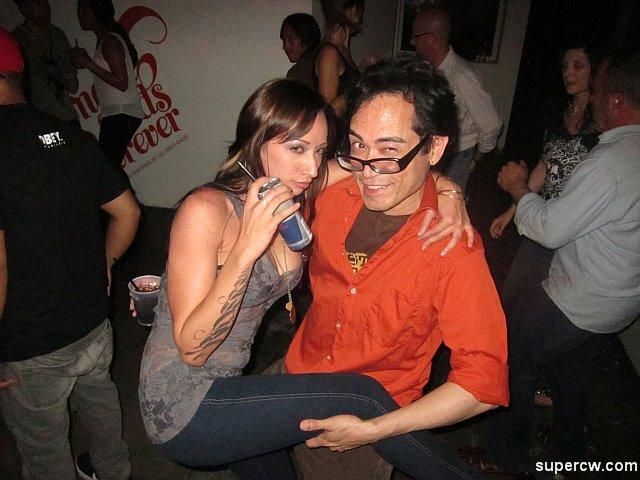 oh yeah, i got one of all the shake & pop people: delve, compose and ssssolution. LOVE YOU GUYS.
i only just recentely learned that chris kam can dance. MAN can he dance. have you seen it? dude gets DEEEEEOOOOOWN.
if this post had a BANGER SHOT it would be this one. SO classic!!
it got heated after a while, which was awesome since when i walked in at 11pm there was like 15 people there. i was like WHAT THE! thank god they all piled in within the next 30 minutes or so… but really guys? can we please get out just a little bit earlier? please? you're only giving yourself like an hour to dance and drink. this critical mass at midnight stuff is seriously starting to make me sad. and it's kind of making the bars broke.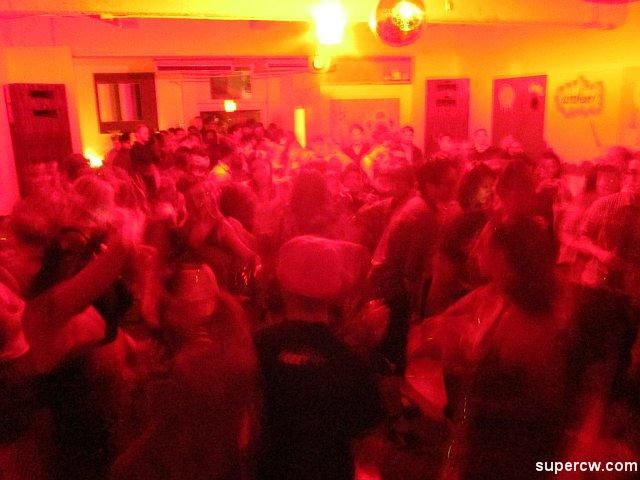 naaaaaah, it's fine. do whatever you want actually. christa loves yoouuu.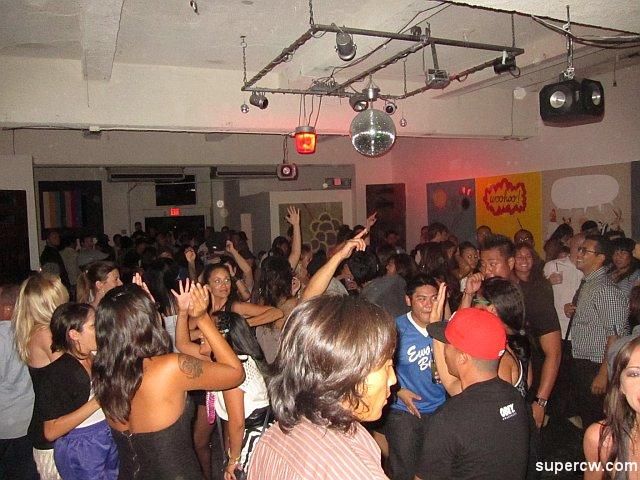 god tonight ruled.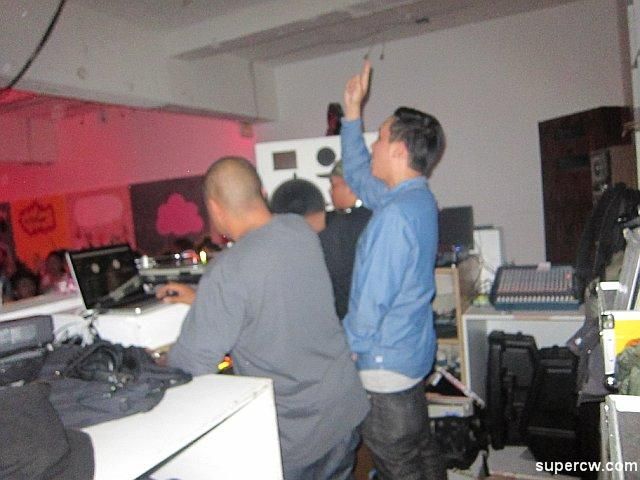 if you see becker make sure to congratulate him on his new job with Armand de Brignac…. it's only the best friggin champagne in the world. the WORLD. case in point? when the yankees won the world series it was the gold Ace of Spade magnums they were pouring on each other.
wait brandon where'd your glasses go
oh. HAW! dude… those actually make people look pretty official
and OMGWTFOMFGROTFLOLBBQ it's alex! he's BACK! look at this faaaaaaace. such a handsome young thing. honolulu's own jake gyllenhaal (i bet he NEVER gets that!). he's done with his second round of training and well on his way to being a highly intelligent highly sophisticated well trained properly attired warrior. keep us posted babe.
this one gets just as much over-reaction as alex kolo's. it's BLAINE and HOLLY actually OUT TOGETHER! this happens never. someone is usually home with baby blaise, which is also awesome. <3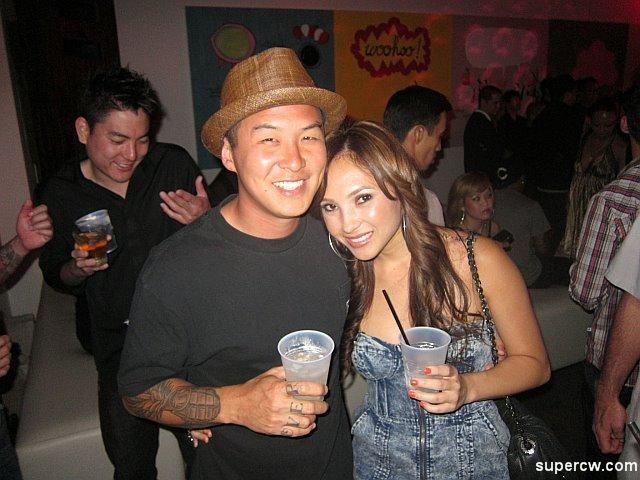 then it got late. and weird things started to happen.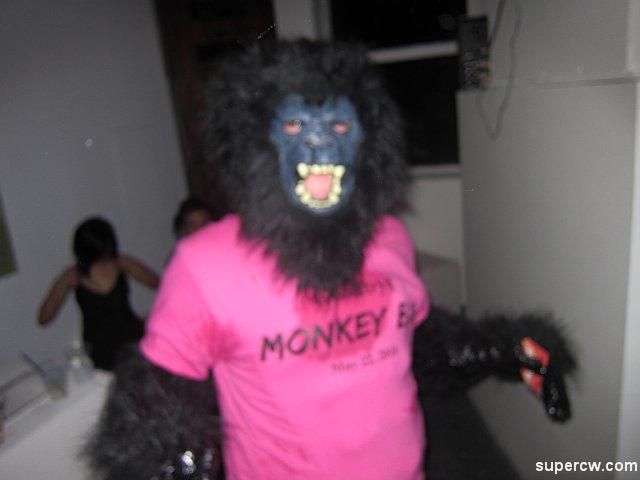 right before last call i'm thinking is the perfect time to send the grom in dressed like this, by the way….
…people were loving it
justin you monkey. i mean justin you lucky ASS.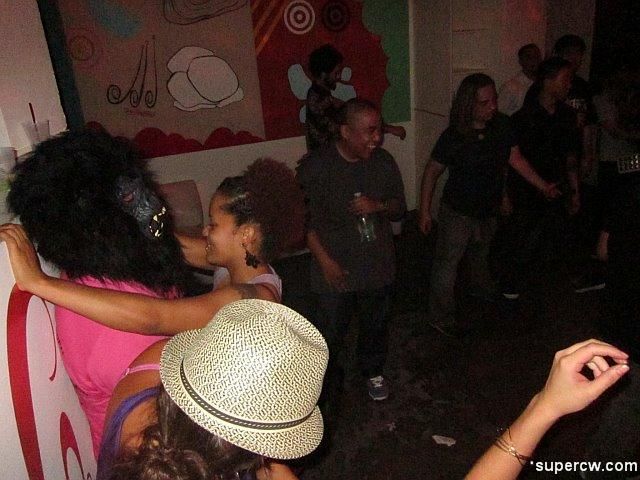 so yeah, the island's biggest promoter crews ever are all getting together again to do their last ever monkey bar at the hyatt saturday. i'm scared. it's going to be nutso.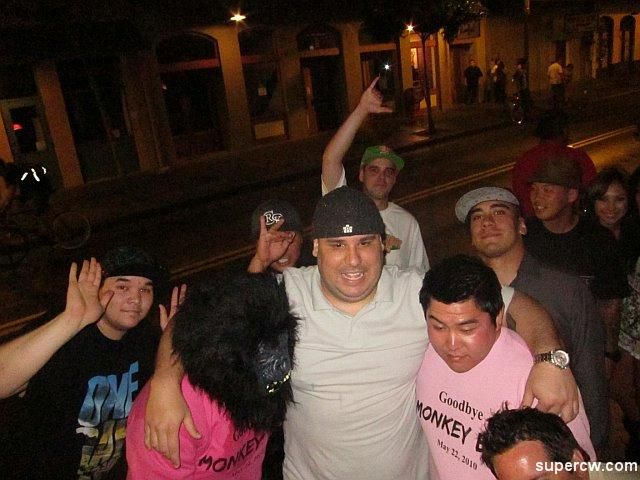 you guys get two. cause blaine and holly look too cute for words in this one.
then everyone went to v lounge. i was like two blocks away but before crossing over pensacola like seven cops sped through the intersection doing that crazy-cop manuver where two of them block the intersection while the rest speed through. we were totally looking up the road expecting to see a limo with flags on it and the president inside or like an emergency plane landing. nope. they all turned left down the alley Ginza is. for some reason we were like GINZA! let's go there! we figured if the cops where going to Ginza then they would probably clear out a bunch of people and we could slide right in.
um. ya right. they were actually busting up the rave next door in some warehouse. and we were stuck with the usual Ginza-massssssive usual saturday scene.

thank god we got in. seriously. i think if you read my column today you might get the wrong idea. i LOVE this place. seriously. i will endure anything to be inside this room. so what if the security is mean, the servers are mean, everyone is mean. it's fine. the fact that they allow me to even be in here, let alone a member is totally worth it. inside is nothing but dime pieces and future husbands.
i brought my own dime piece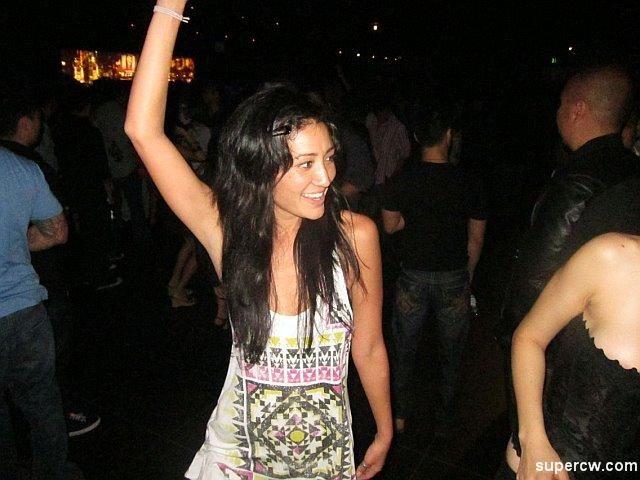 hellooooo ginzaaaaa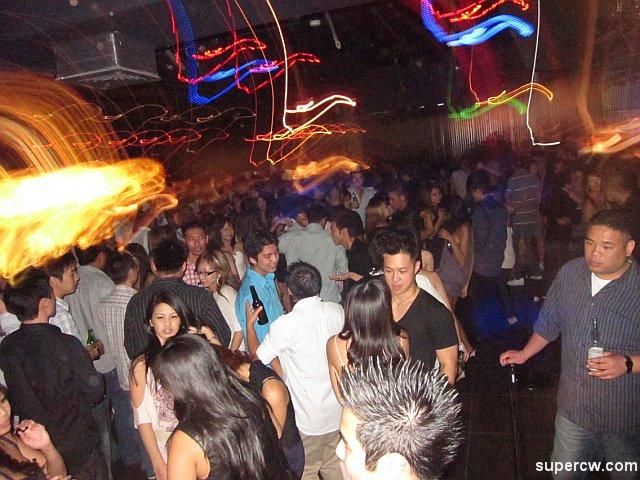 i tipped the server like 40% ahead of time so i wouldn't have to deal with trying to find her when i wanted to leave. after that i think we saw her again like once. no, really, it's cool. i'll make my own drinks. i'm in GINZAAAAA.
i really do love this place. and hopefully all my silly and petty little run-ins are because i am a white girl that isn't really dressed up much. it would be super sad if they treat the members that pay $2,000 to be here that way. it really should be like stellar world class service to them.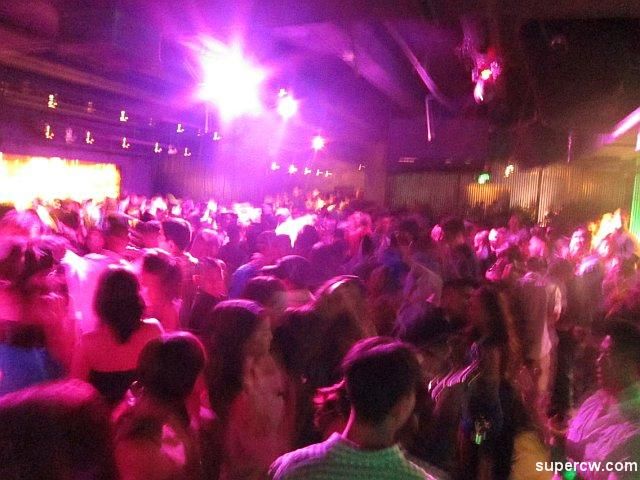 then again, members probably aren't here for world class service
i know i had fun
kiani danced for me pretty much the entire time. it was like my own tv channel in the club. the american apparel channel. i was in club-heaven.
god i love this place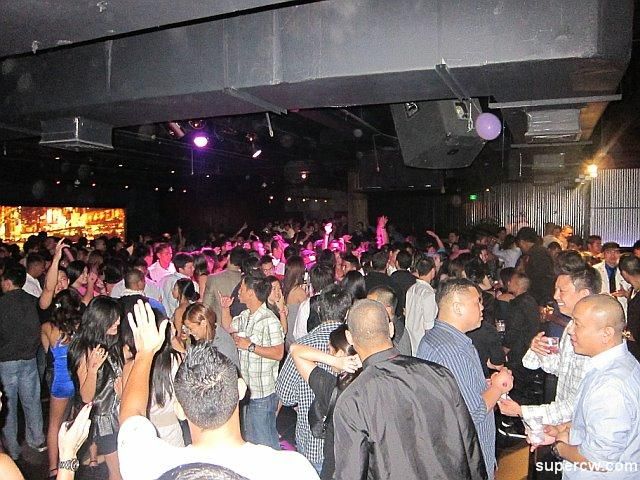 can you see my shoes. zen sent me a a pic on my bbm of them and i was there within an hour to pick them up. i really love sb classics. i don't think Ginza likes them but hey. whatareyagonnado.
i know people here, by the way.
don't worry, you're all invited to the wedding.
breakfast was pretty awesome
i got to check out all the pics from evi's party too. finally aaaaaaa!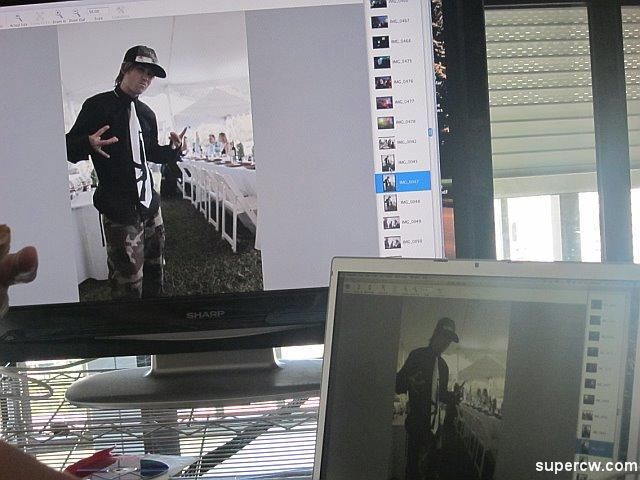 i was staring at this for a long time before i finally passed out:
it's from this blow-your-mind book about motion graphics called "Motion Blur" i think this is the 2nd volume. omg, there's two of these.
i have to get this book
it's like only available in europe or something, jeannie the world-traveler found it. last night it was my boyfriend.
then i went and saw matt'sletter forms irl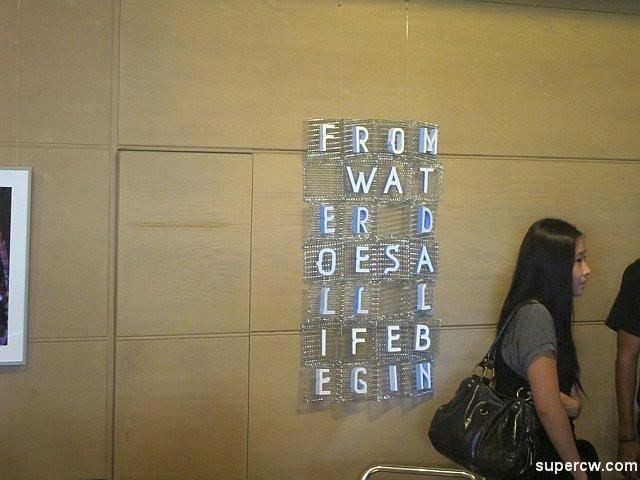 the contemporary museum cafe! they been putting out some great events and artwork lately. this was the department of public works, their show runs til May 30th then the next show, "While you were sleeping" will have stuff from……..me.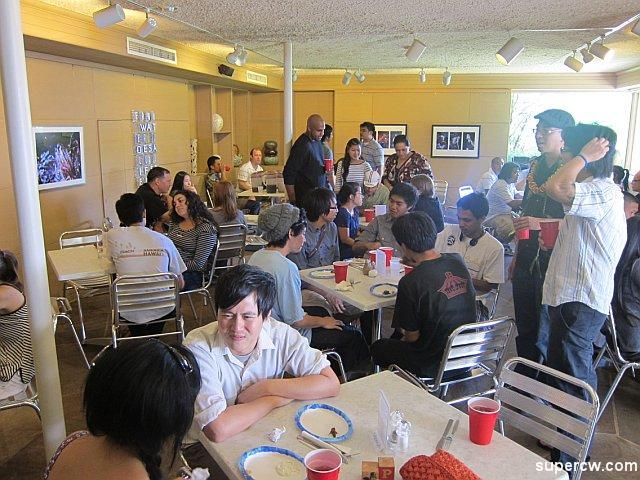 it was what you might call a geniusbrain sunday. with geniusbrain faces: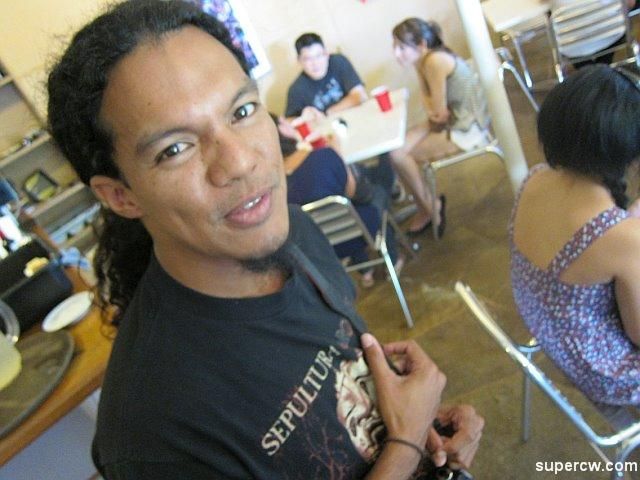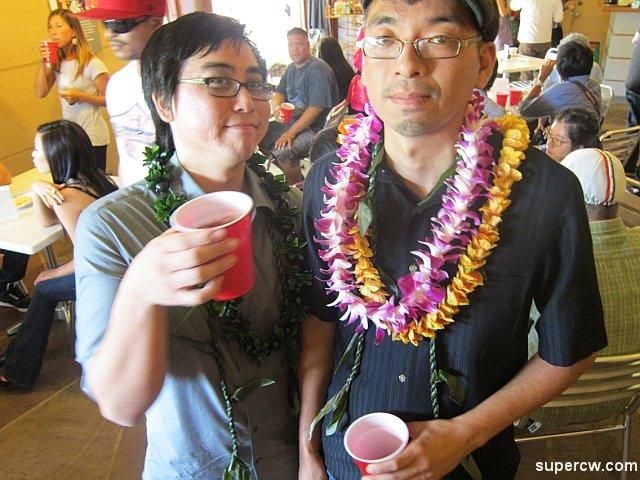 geniusSANGRIA. everyone's favorite summer drink. joey has a killer recipe for this, it's like merlot, pineapple juice, brown/white sugar and some cinnamon. winners.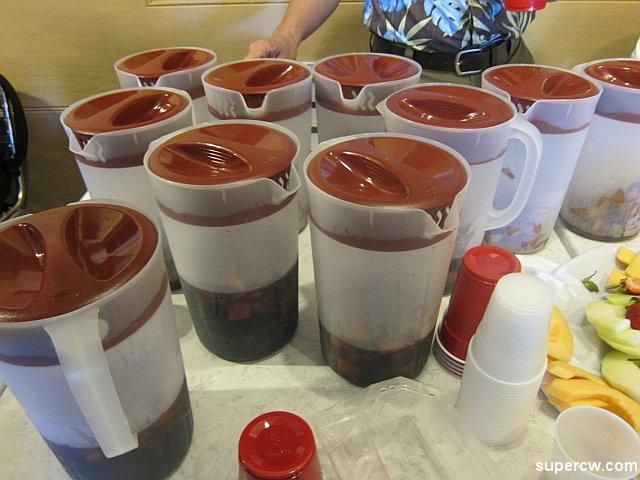 this is chris who made this video that i must have watched like 30 times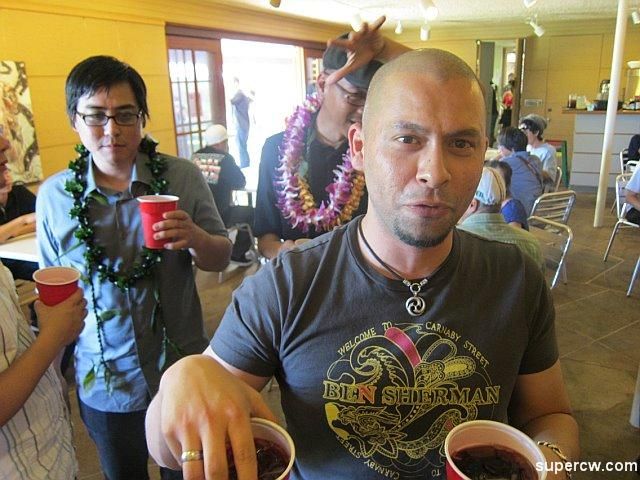 and that's joseph telling torry about how he fell off the balcony at thirtyninehotel (and survived)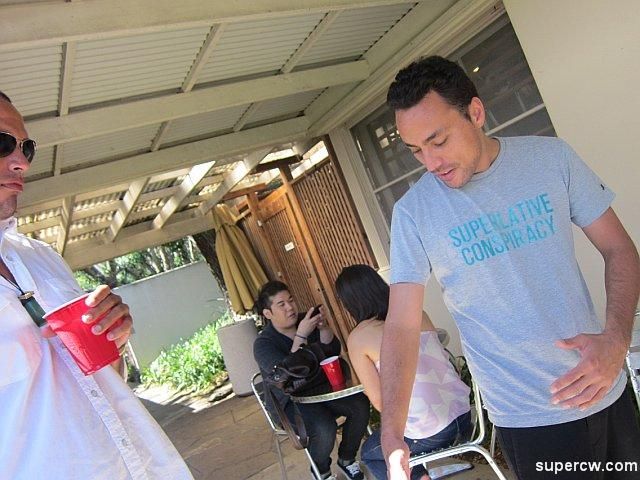 ps: when is the last time you went up to the contemporary museum anyway. me? definitely not as much as i would like, or as much as i used to. man i forgot how rad this place is.
<3
figured i would go for a round two with the supershots at the royal hawaiian…
juaaaaskiddn. it's mai tai time.
these are the kinds of drinks you get in waikiki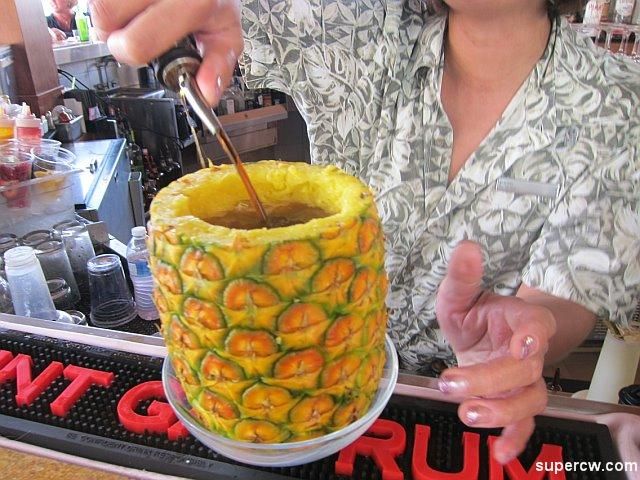 torrycam.
we pretty much went everwhere. we were bored. waikiki is AAAAWESOME when you're bored. we went to pretty much everywhere and wound up here. this is as close as you can get to heaven in waikiki – BLT's popover, oysters and a glass of prosecco.
wait no. THIS is as close as you can get to heaven at BLT. corzo silver. we were blind tasting it against patron. guess who came out on top. i'll give you a hint it ain't made by no shampoo company….
mai tai tour on a hangover, blind tasting tequilas, art overload, supermodel looking women, stylie dudes, future husbands….. dude, last weekend ruled.
see you soon, cw