aw man this size thing might be starting to get to me. maybe. not enough for me to really sit down and dive in to it though. so i'll continue sizing down the first image then leaving the rest. hey guys! look! it's the UH Fashion show…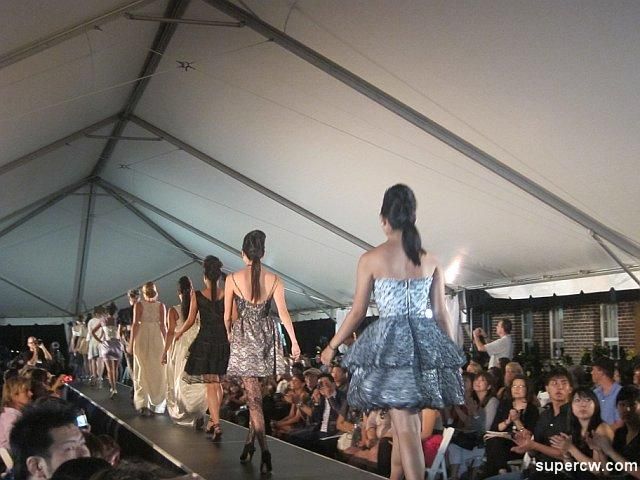 i accidentally deleted almost all of the pics before realizing what i was doing so that was the only one i have. i have some video too but just wait a second for that. i'm going to get a mac and teach myself how to like stich little video clips together. ha! wait too! cause i have some bangers. you'll see. meanwhile, THIS is the signal that v lounge is going to be wicked. the ma'o farms van is parked outside….
but it's not what you think. yes, they source their pizza toppings from the organic farm and even spend time working there, but today is monday. csa monday. do you know what that even means? you might not, it's ok. it MEANS that if you pay like $32/week and bring your re-usable box like Nina here does they give you…..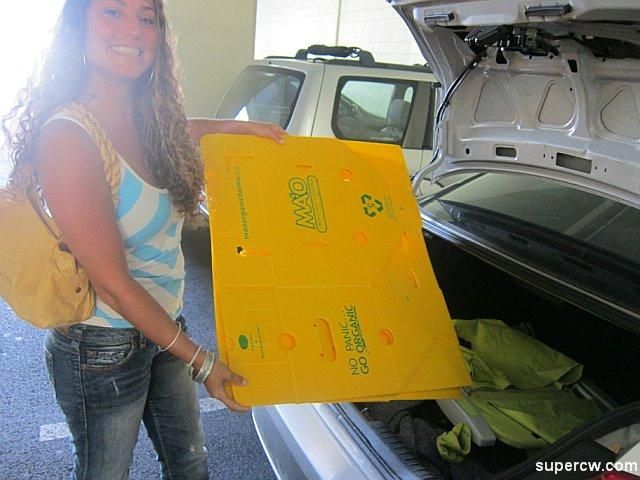 and ENTIRE BOX OF STUFF!!!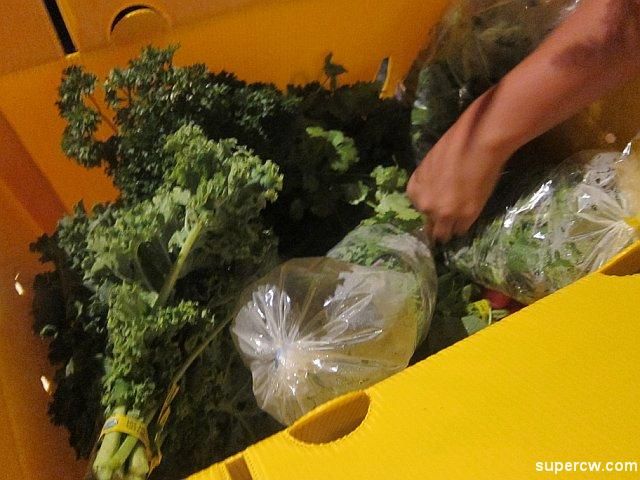 no i'm totally serious. 32 bucks a week. and you get a big box of stuff. ORGANIC stuff. fresh from the farm. think about that if you shop organic. hell, it's like $20 for one bag of beets. now you also get a bunch of other stuff.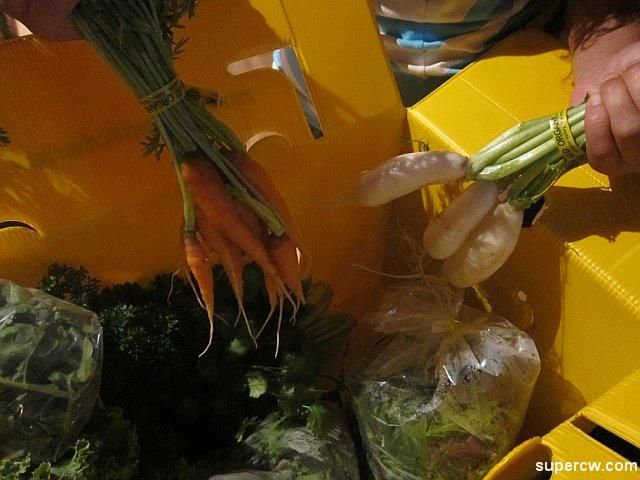 AND you get to pick it up every monday at v lounge. and see this faaaaace.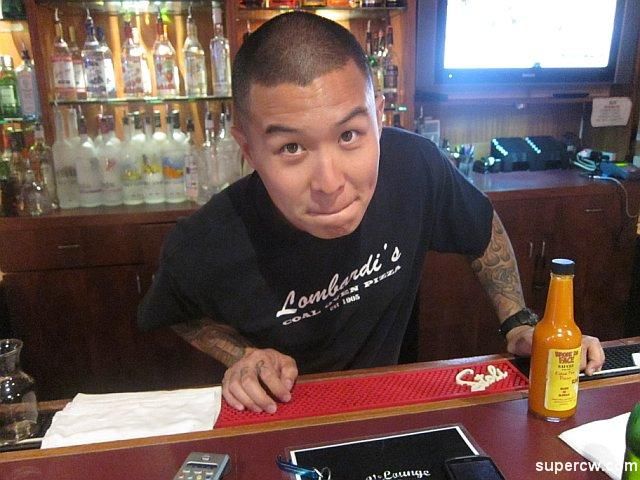 kawika comes here after work if he doesn't surf.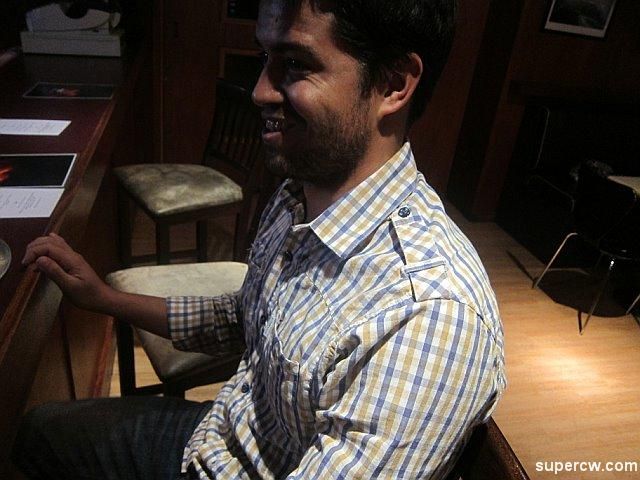 and did i mention the beets? look! organic beets.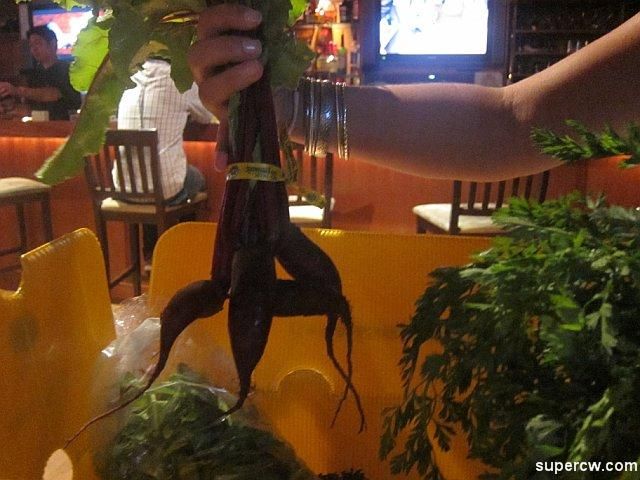 and pizza… the v lounge pizza that we're all addicted to. that costs extra tho.
i'm seriously this program's groupie. no i haven't signed up yet but it's only because even the stuff my friends with boxes gave me went bad in my fridge after i zoned out on it. i'm not what you would call a refrigerator-opener.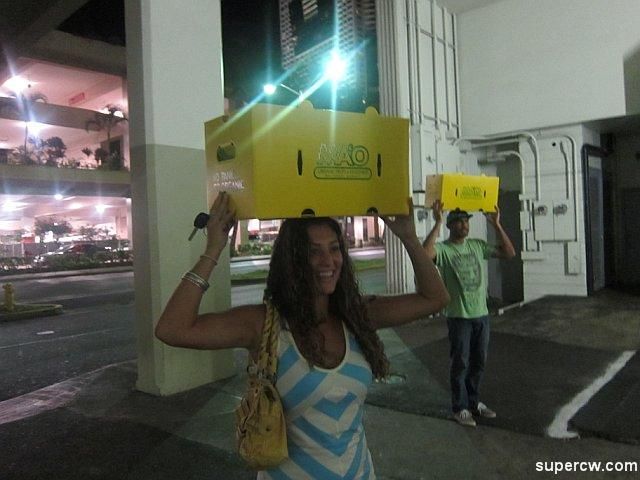 ps: kalima won the walk-with-csa-box-on-head thing. people who live on the north shore AND eat organic will beat you in anything tho.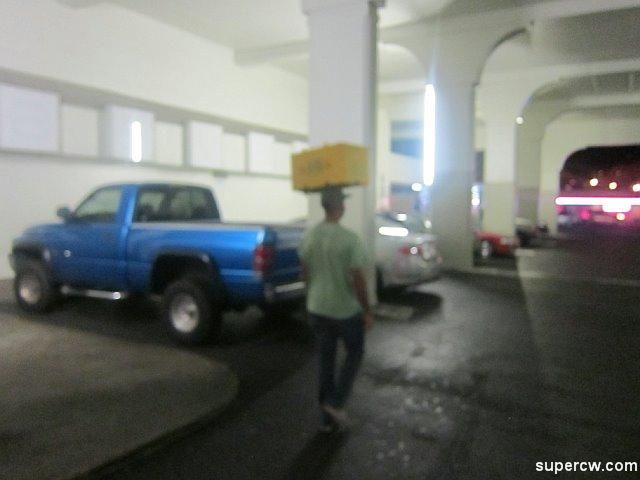 ps: do you not totally love the new sign at v lounge for the pizza? with the photo of all the vertical junkies and their hunky groms working at the organic farm? personally pulling that organic arugula out of the ground to eventually place on top of your pizza that you're going to devour? mmmm.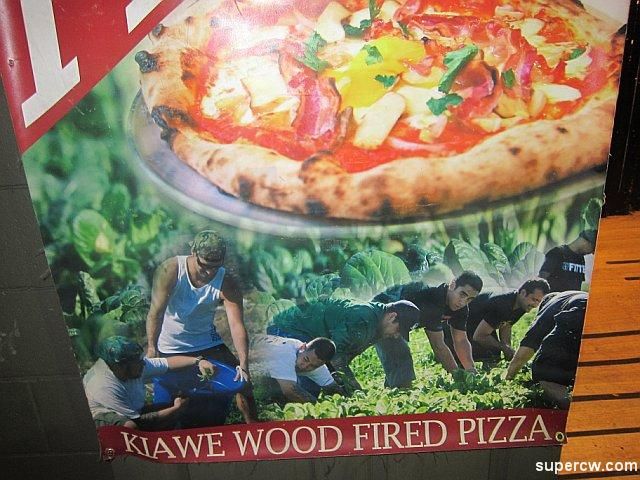 speaking of pirates of the caribbean, who signed up to be on the film? anyone? say hello to one of the pirates! now who's gonna do sound at nextdoor?? arrrrrrrr.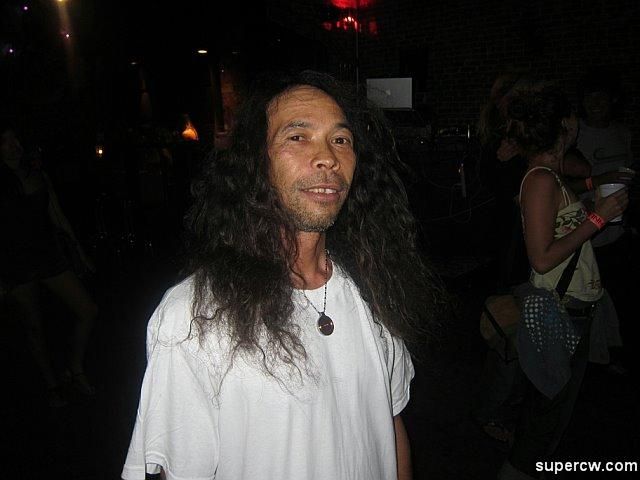 that's right. i'm at nextdoor. it's wednesday and wednesdays are getting good there. i'll be there. other artybrain sort of people will be there too. this time i didn't really give darieus and torry and kaboe a chance to do it for the camera…..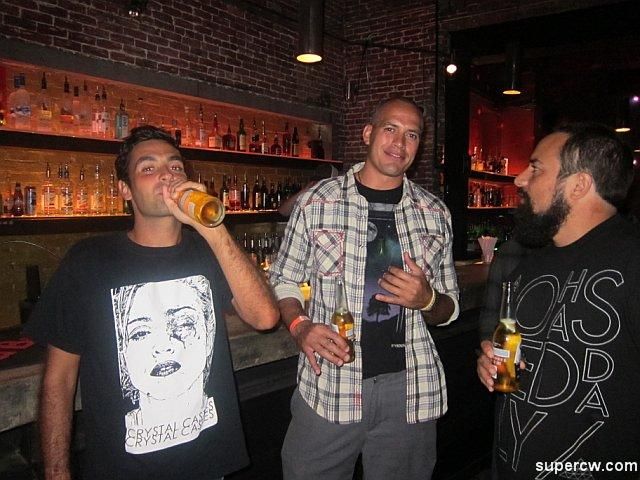 so HERE YOU GO. arrrrrrr….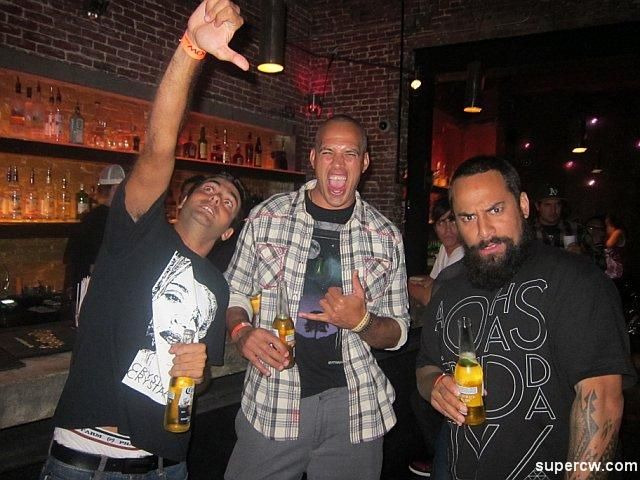 the prolific unknownswith the bentos. this is probably my favorite musical act right now. i love love LOVE k-luv's style like crazy. i'm not the only one. i see hearts breaking every time he gets on the mic. he totally sounds like zack de la rocha from rage against the machine but way more gangster. and hawaiian. and mox SINGS sometimes! you hear him? they get backup from the jazz of the bentos to pretty much destroy it on stage. every time i've seen them open for a major act they been kind of stealing the show….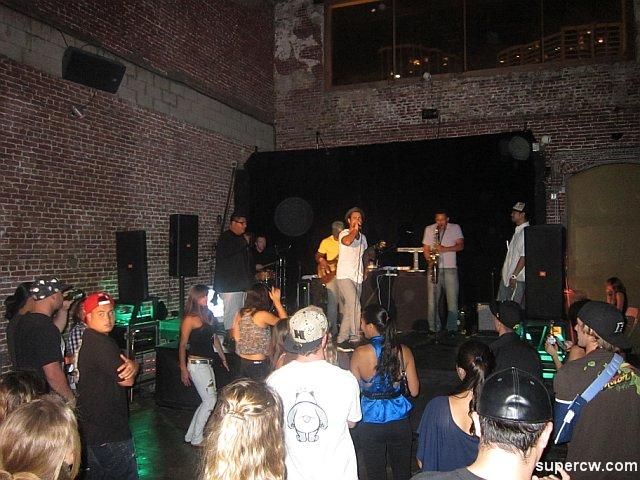 guess who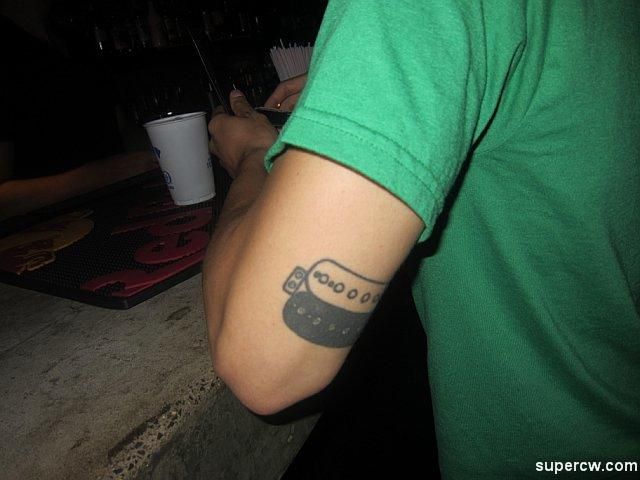 landon tom aaaaaaaaaaaaaaaaa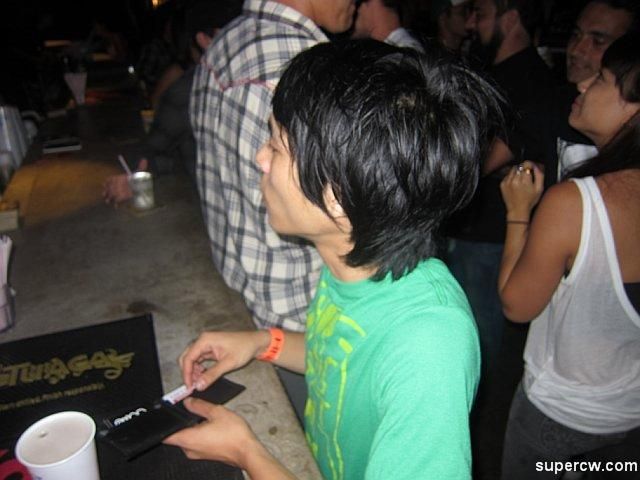 guess who. actually, i don't even know who this is. looking at this shirt and that bracelet and stuff i'm liking it. stylie dude. who are you mystery stylie dude?!! k-luv??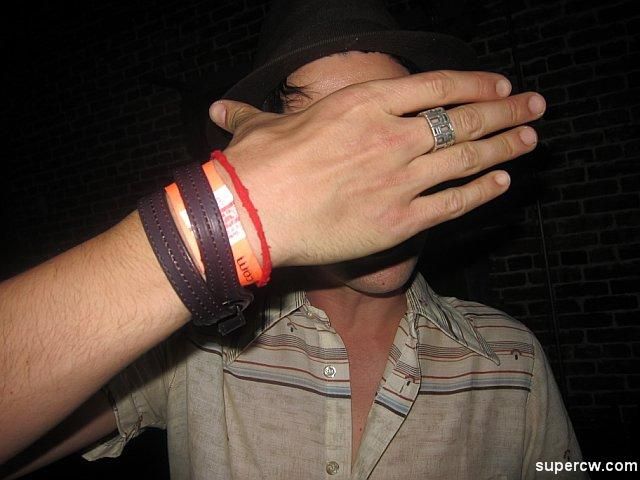 still can't find lina on facebook. if a person doesn't have a facebook, do they make noise when they fall in the forest?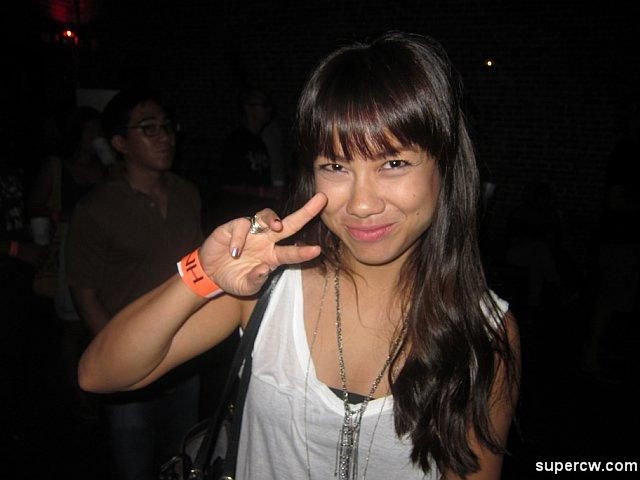 let's ask LANDON TOM arrrrrrrr. as of right now he's deleted both his fbook and twitter. i'm still bummed about this. thank god i have a blog to lurk you on kiddo. honolulu needs this face.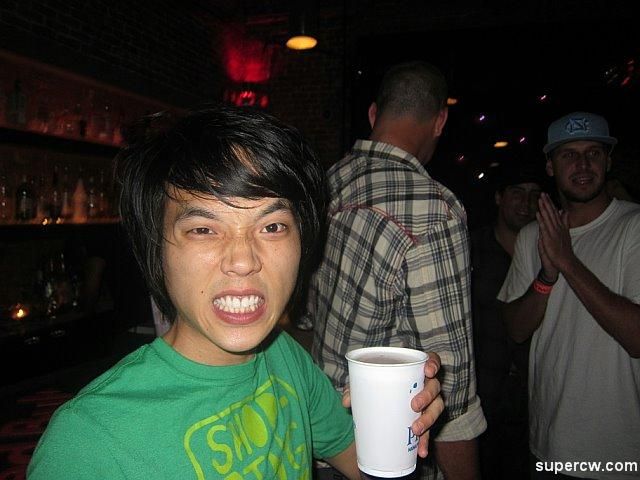 HAW ! i remember this – i had writtenabout getting the bat call from torry to go celebrate with him and whoever was left on the lot at LOST and wrote about it in the weekly. i saw him that night and was like "dude, sorry. i couldn't not talk about it. are you mad? you're mad huh. sorryyyyy."
he hadn't read it yet so he ran outside to see.
turns out he wasn't mad. thank god.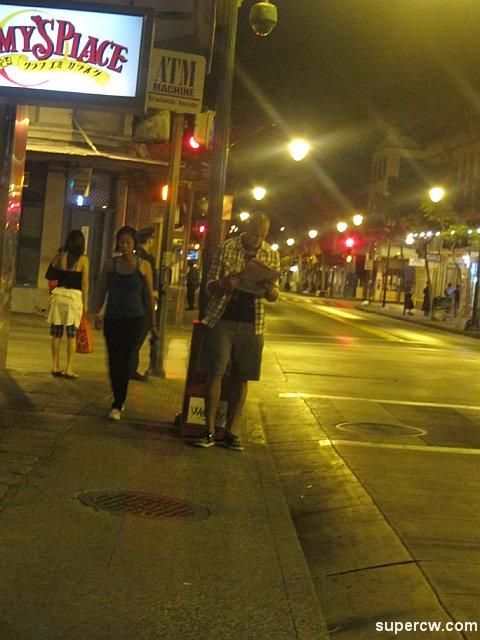 saw jason tomthe human beatboxer! famous!! congrats on the na hoku hanohano nod kiddo, sounds like they are understanding the contemporary categories a bit better these days.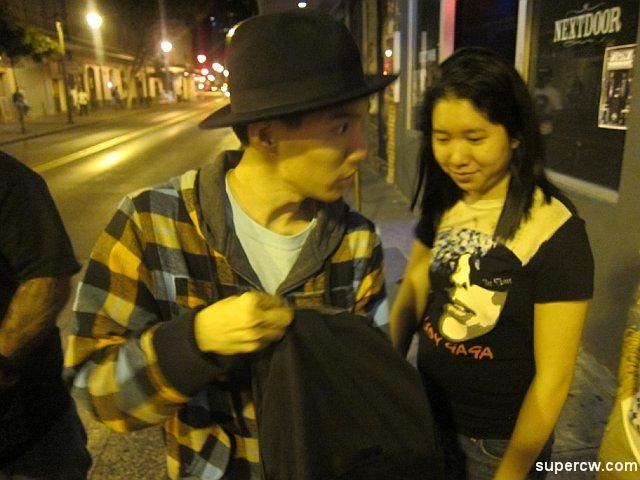 so wednesdays. so good. check their schedule tho because it's all different kinds of genres. tonight was probably my favorite. hip hop. i love indie rock too but hip hop generally has more energy. the fun kind. the kind where everyone is dancing or has their hands in the air. and don't get me started on the lyrical geniusness that is k-luv and mox are again. cause i will…..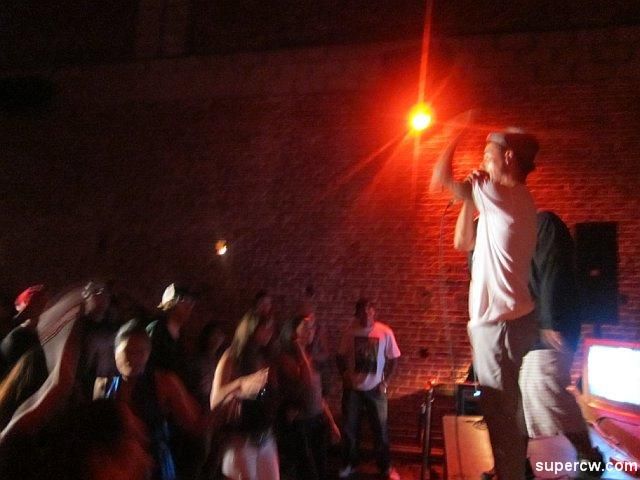 oh wait – forgot to show you what happened outside. someone got a full tongan.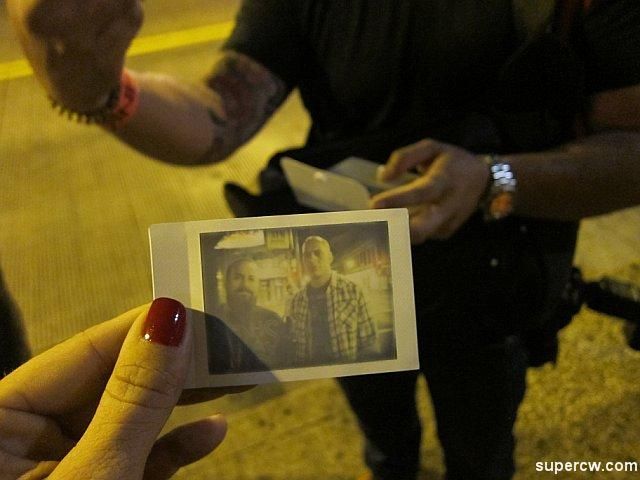 yep. genius.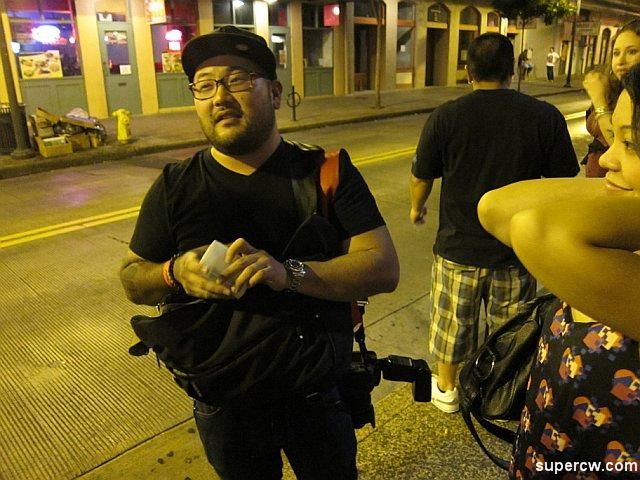 meanwhile inside. hotness.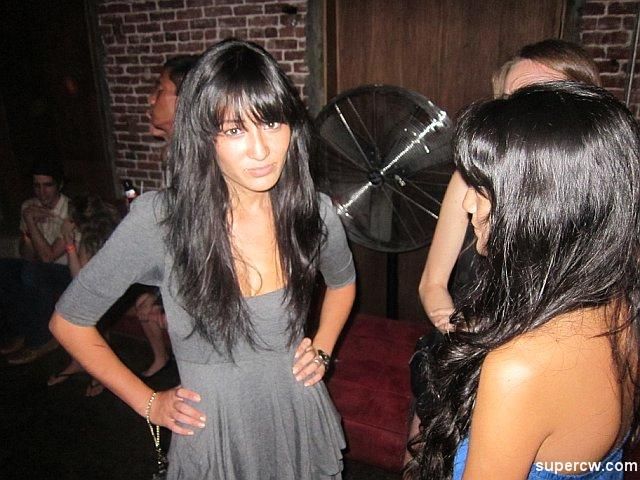 and cuteness.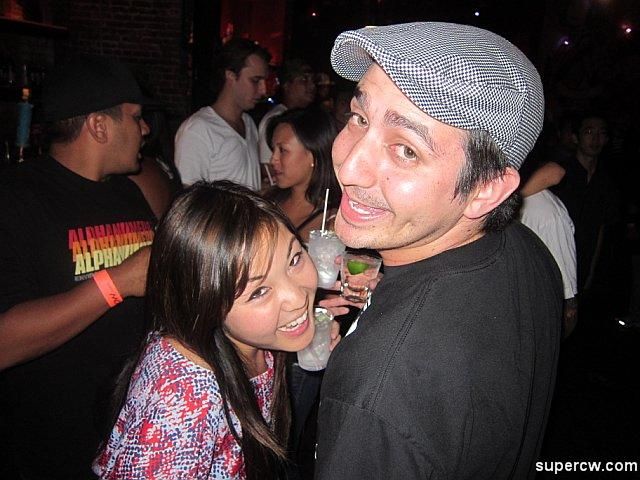 and stylies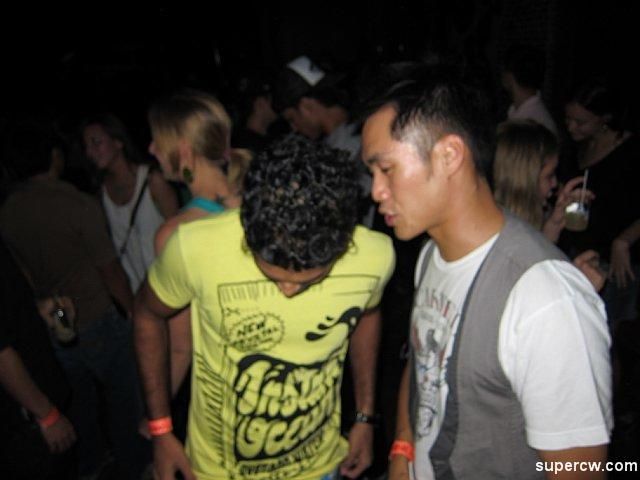 and HIM. (hi…..)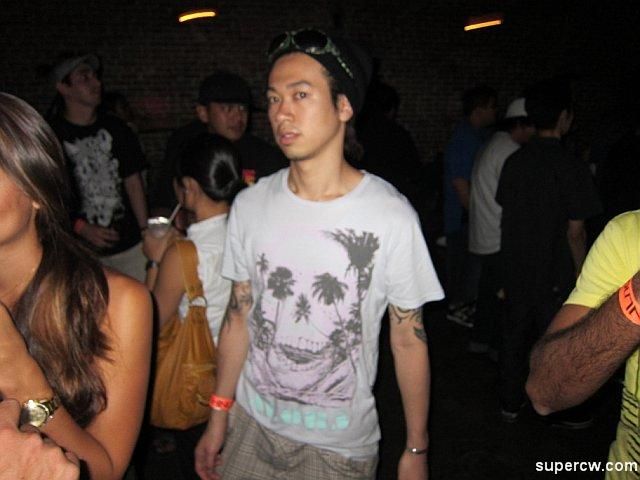 hiye maka v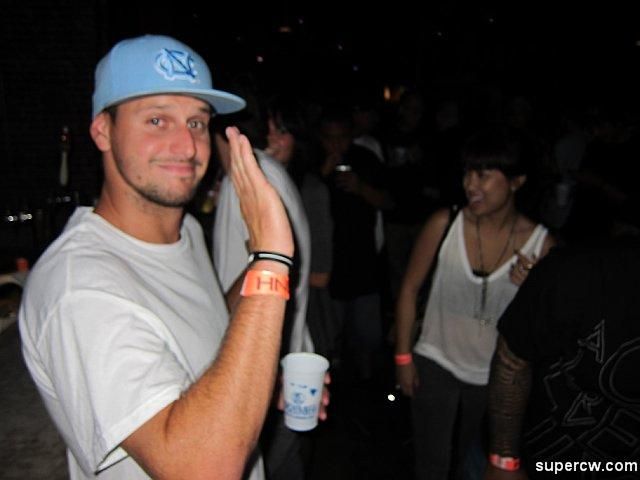 rowrrrr travis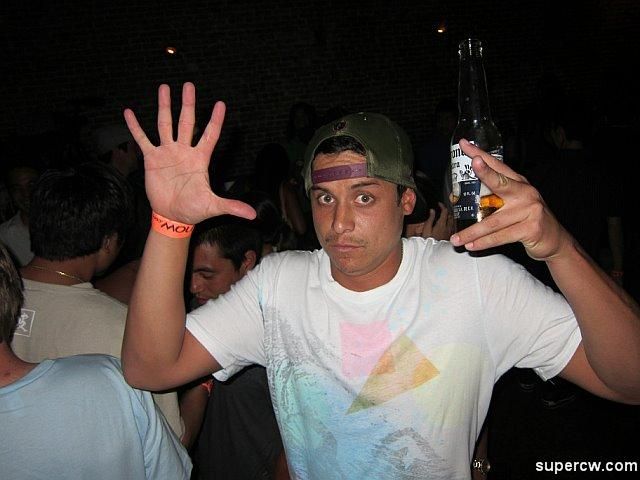 helloooo tuaca on the rocks (and you, fellow white girl at a hip hop show)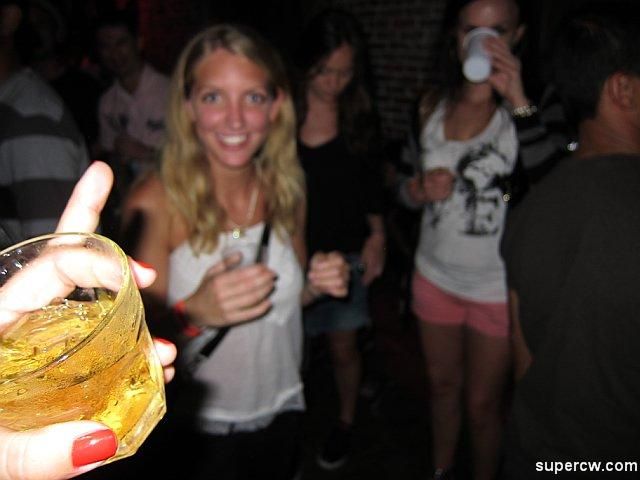 still rocking these jump shoes larry gave me in hong kong. i can't not.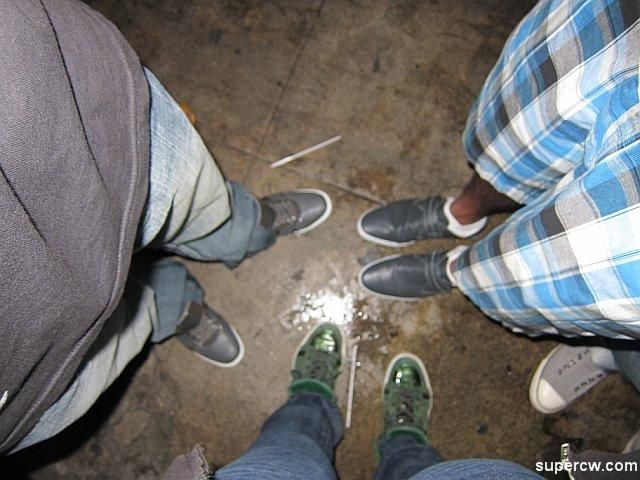 more hotness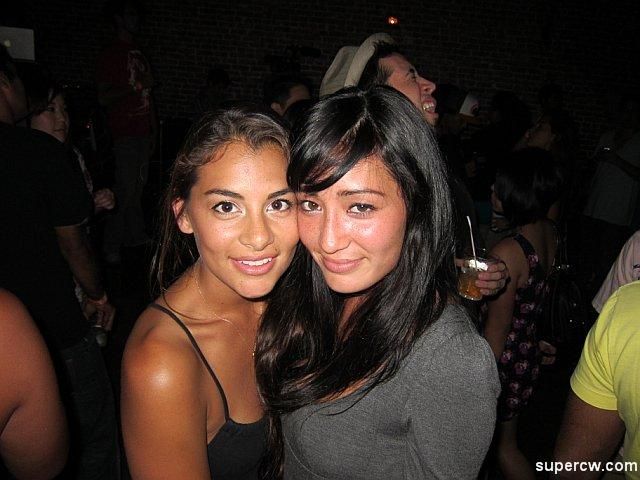 more hooray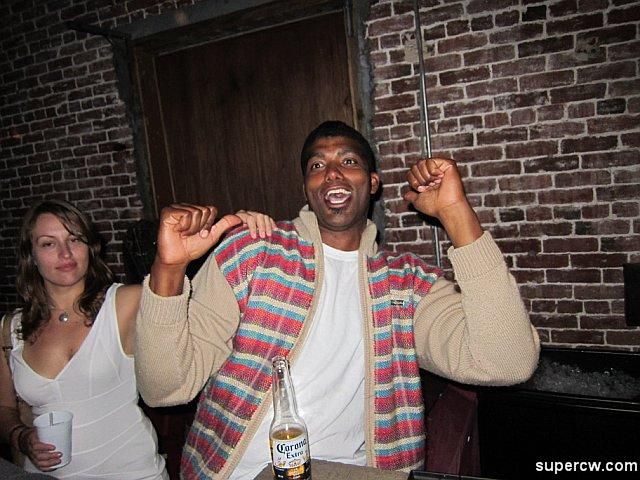 oop. there i go again. ps: HOW do they wind up blurry when it's on auto is my question.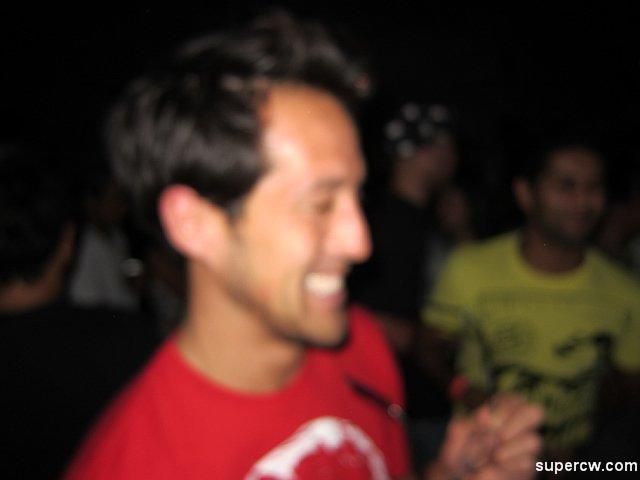 and oh hmm, i guess that mystery stylie dude earlier wasn't k-luv. WHO WAS THAT?!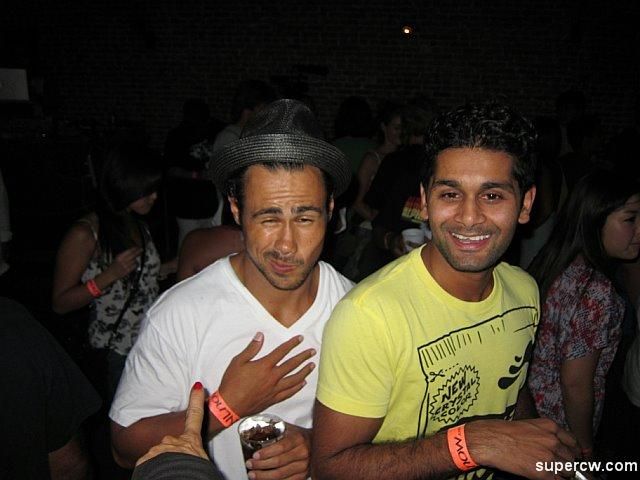 wait shhhh, it's the main act. it's ZION I!!!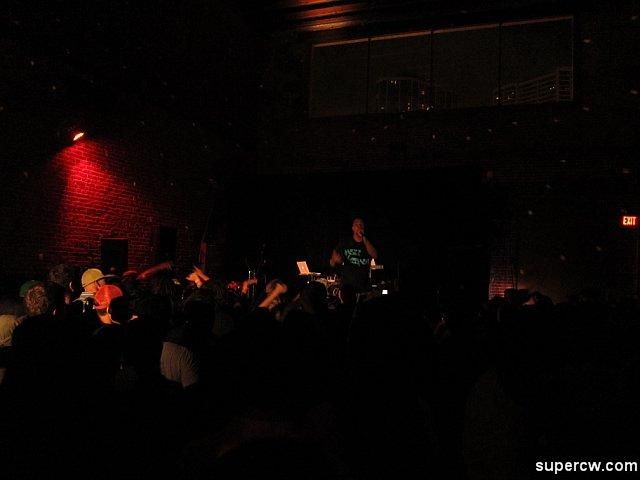 you may or not remember the last time him and amp were here. they had the grouch with them too. it was just as hype. just as hot. just as crowded. just as AWESOME. i can't tell you how stoked i was to be able to be there again.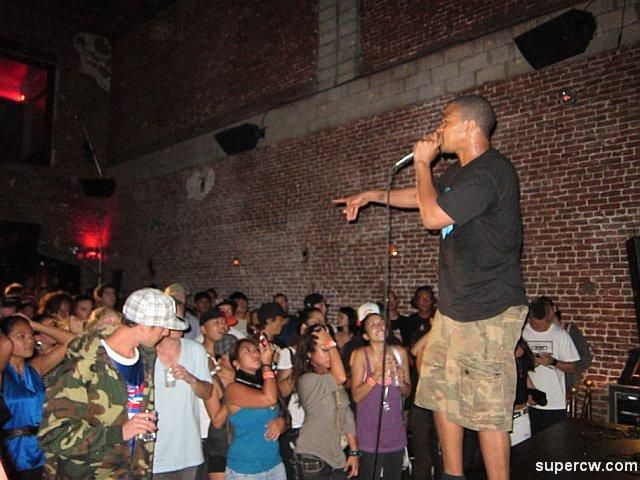 maria almost MISSED IT too. she fell asleep and rolled in RIGHT when he got on stage. so glad, cause it's kind of hard to explain how amazing this show was with pictures and words.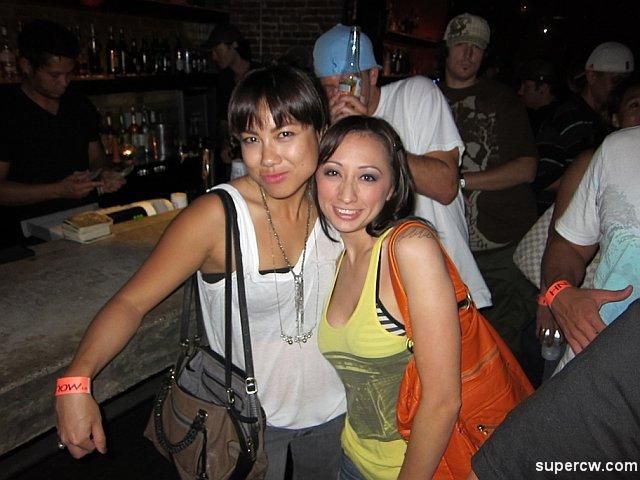 you definitely had to be there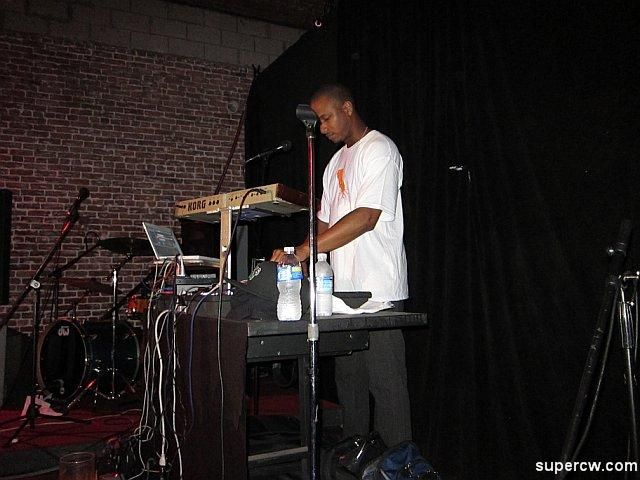 actually, wait. chris kahunahana got a cool little flip video of it. but i think he only put it on facebook. so landon? lina? ya'll don't get to see.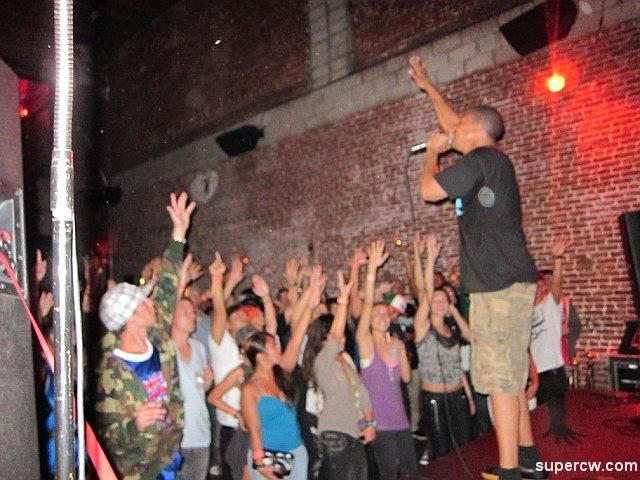 love you man. thanks for coming back. we love you love you both.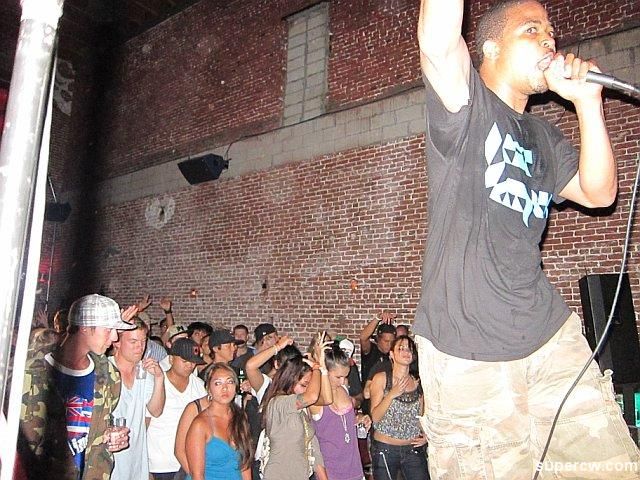 one more. for the ladies.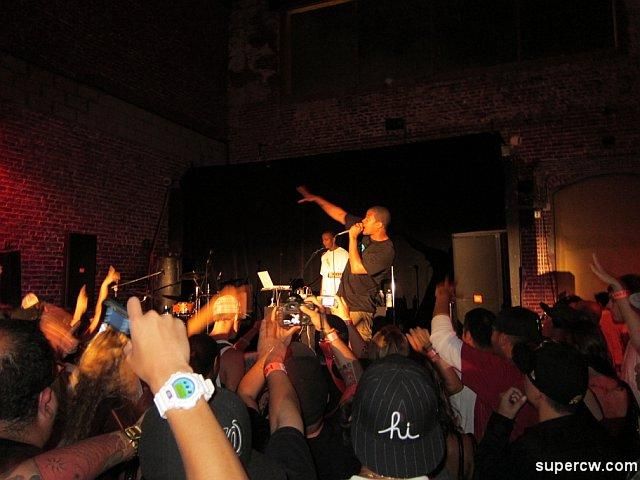 and one more. for me.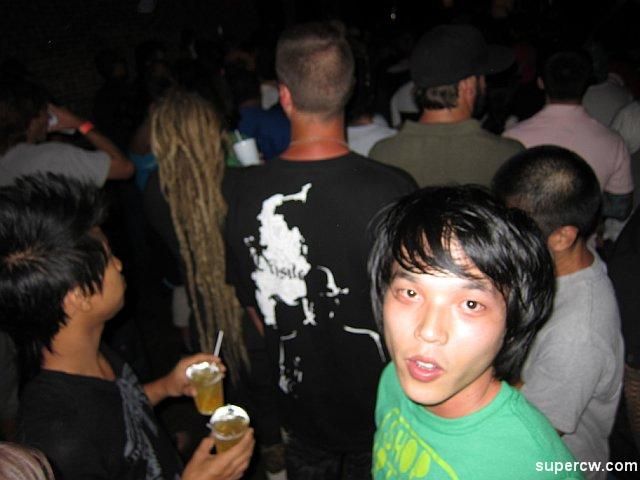 then i saw the Throwdownsat a private show. THESE GUYS are super about to blow the efff up. we're all gonna be able to say we knew them when. seriously. have you been to one of their shows yet? i think they are playing a wednesday at next door soon. wait, that's not this week is it? no, next week. the 19th. ok, cool. SEE THIS BAND. they rock it. they rock the EFF out of it.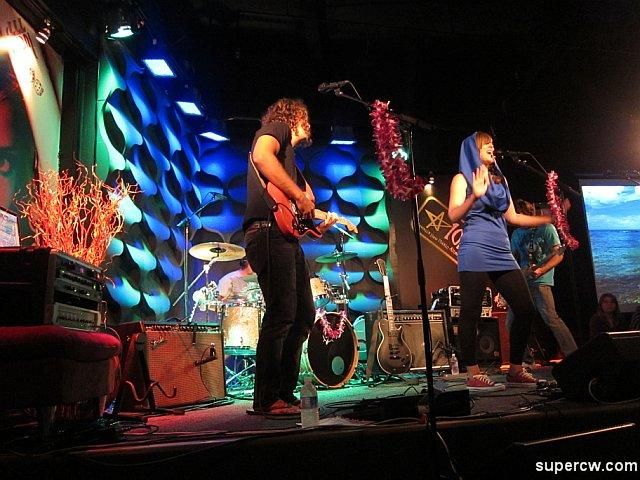 you get two. you're FAMOUS.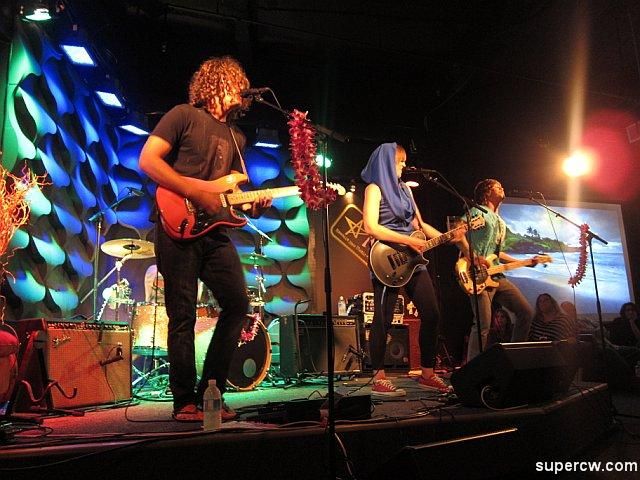 then what did i do… oh. i saw david spade. he was just ok. i think he was on a lot of painkillers, actually. just sorta funny. the guy who opened was funnier. thanks tho, bamp. comedy.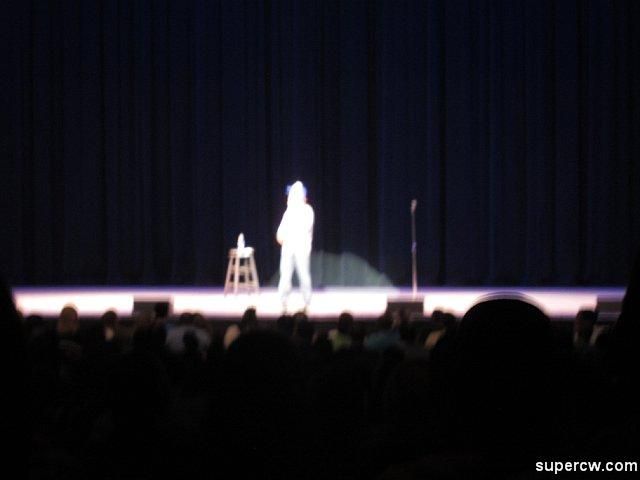 then it was a tuaca prohibition. christian and kyle are lovelovelovelove.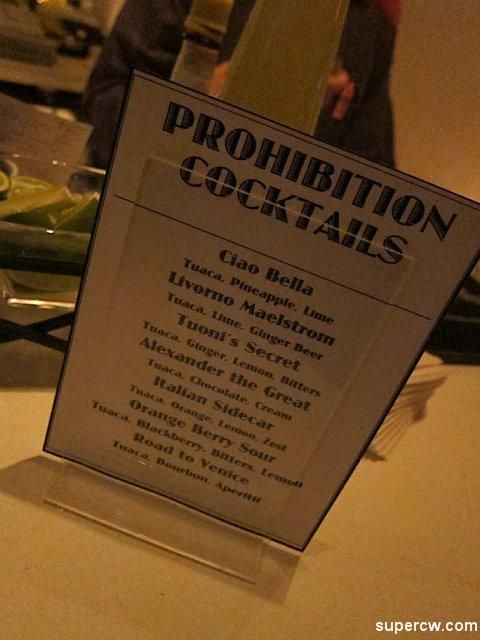 seriously. do you see the back bar? LOVE THEM.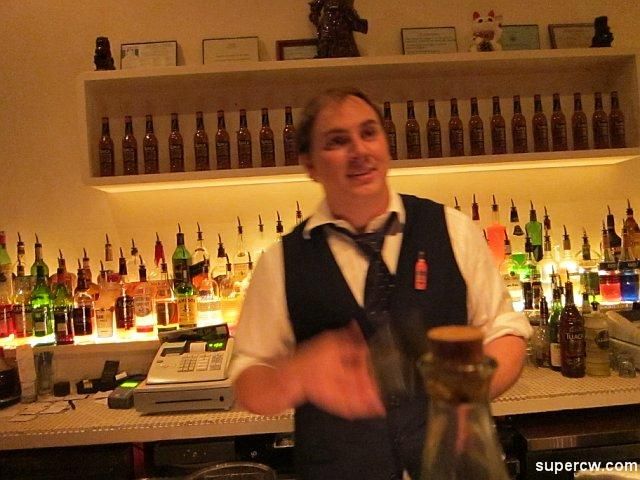 see how excited terence is about it? that's what i looked like too.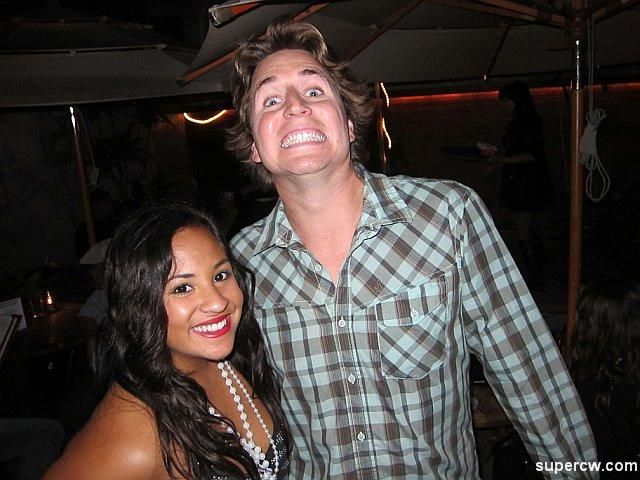 see how sexy mish looks about it? um… that's what i looked like too.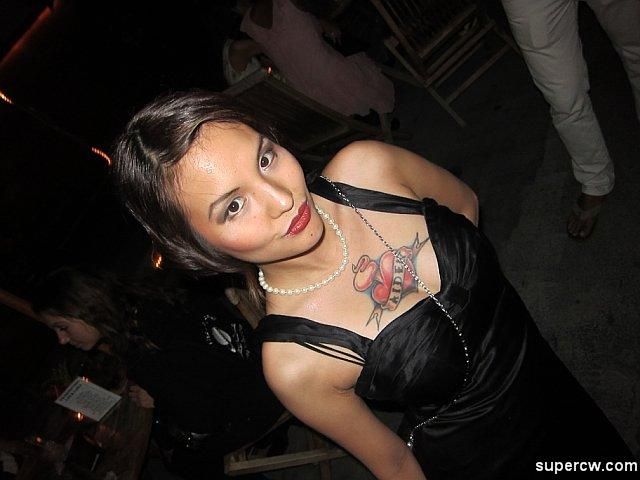 okay okay okay, i probably looked more like this.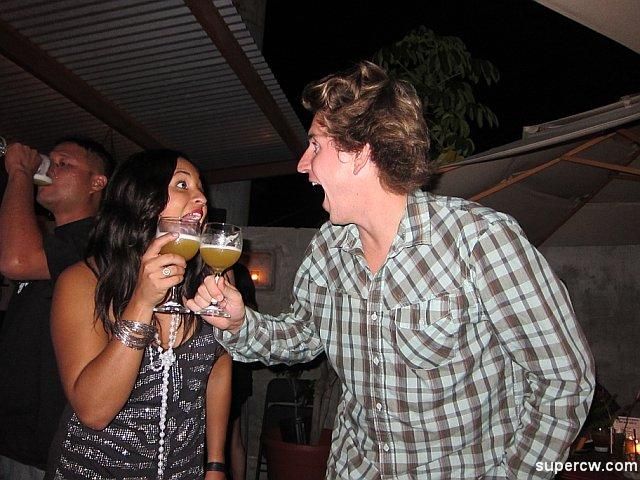 then what. oh! this was the aloha stadium tuesday night pizza party. this is dipping back a bit. but HEY! KOA E!!
i was with a stylie that night.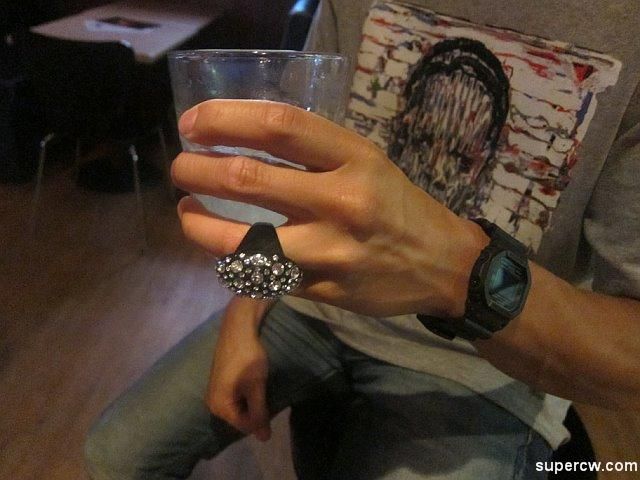 and woahhi. have you been to Ka since they started doing their wednesday night happy hours? five dollar pizzas? have you TRIED their pizza? i mentioned that it would make jj dolan's proud, it totally would. and, um, look at travis here who makes them. tell me he's not white-hot hot hot burning up hot sexy hot.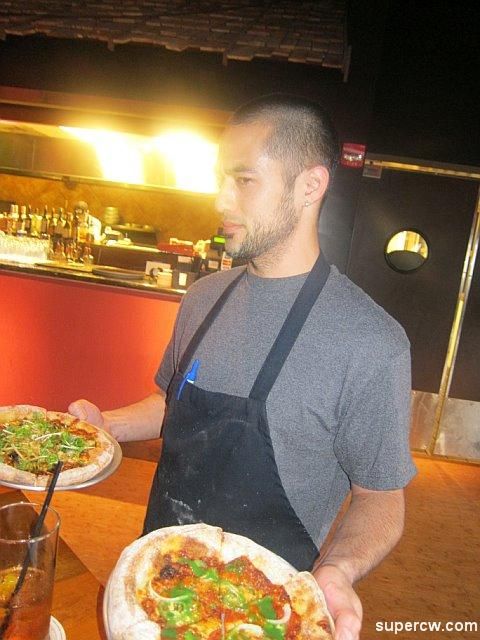 in other news: they have a height chart in the kitchen at Ka.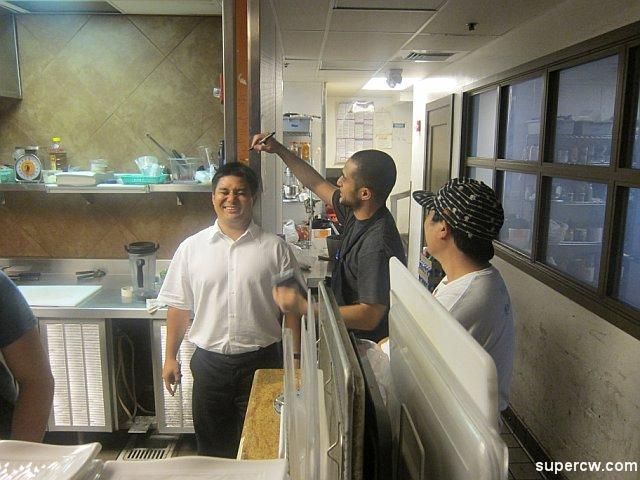 we were comparing myself with patrick sato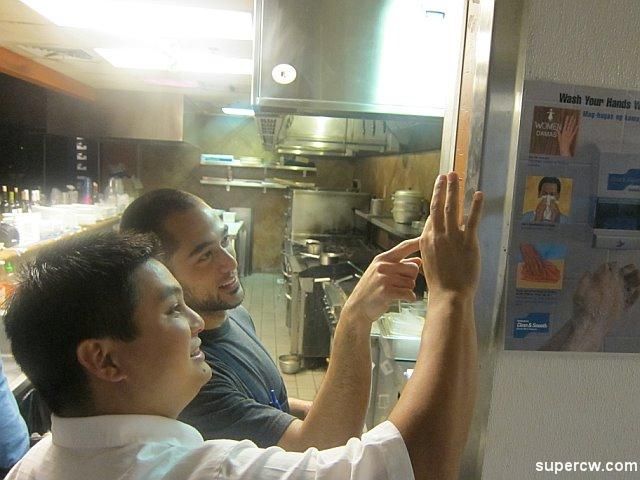 um. guess who is taller. by like a foot and a half.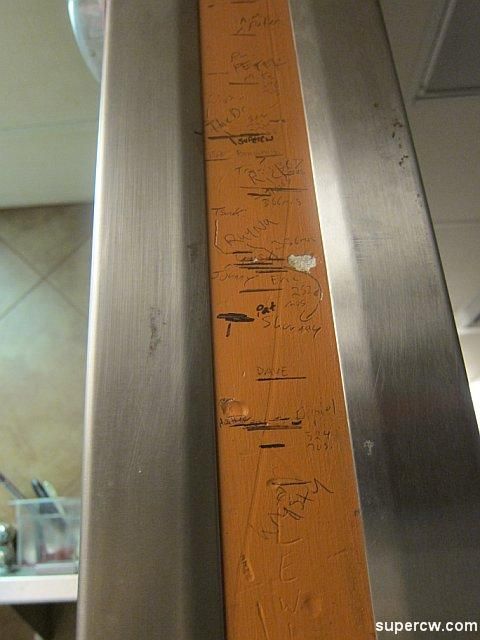 then what. oh. i saw the jump offs play at nextdoor. told you i'm here a lot.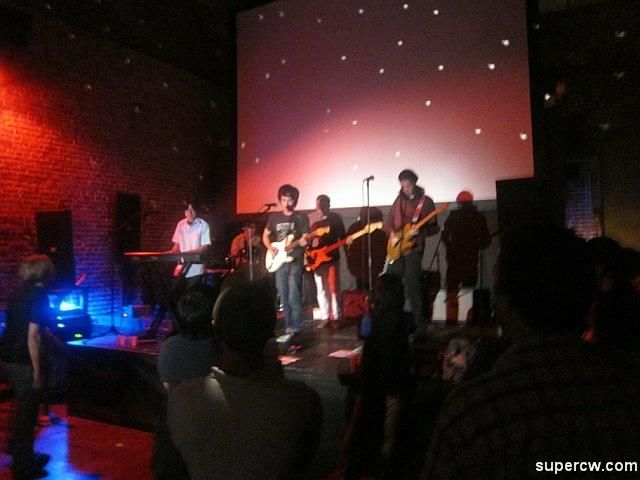 i think this was like first friday tho. or something? you know, these are all blending together now. but duuuuude – davey shindig is back. remember DJ Davey? he kills it. he was the one that had everyone going all nutso after cinco de mayo. remember? duuuuuude. welcome back man.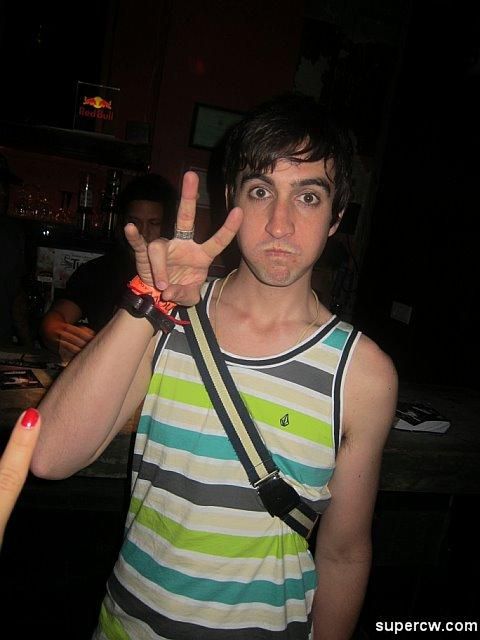 more landon.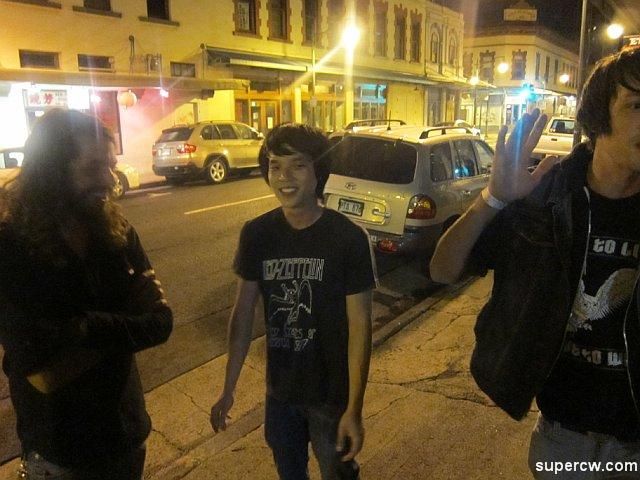 and more mariaaaaaaaaaaaaaaa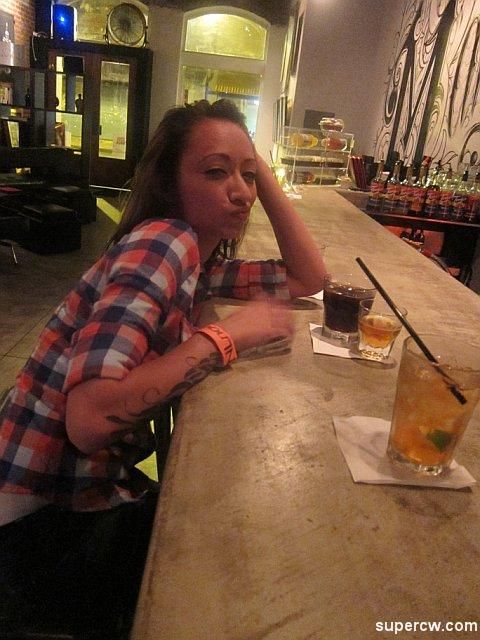 ah! then it was kokua festival. the first person i saw that day when i was setting up the wine tent was miss paula fuga cruising around on her cruiser. she was the surprise guest. but i can tell you about it now since it was like 2 weeks ago.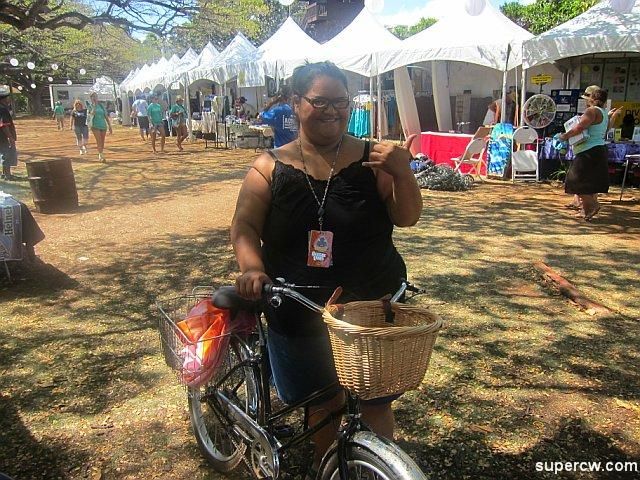 i ate a garden burger on a wheat bun and drank organic beer out of a biodegradable cup.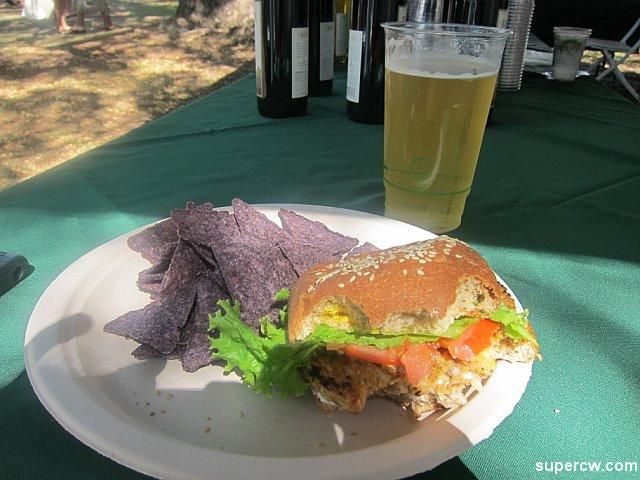 and watched jack johnson play on the keiki stage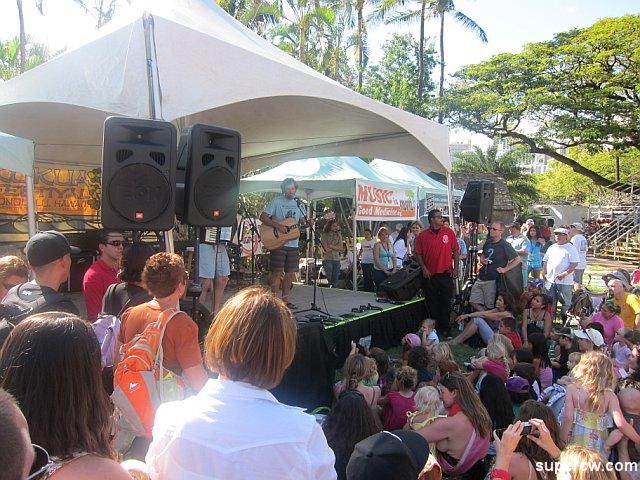 then i met jack johnson. this is me meeting jack johnson. haw.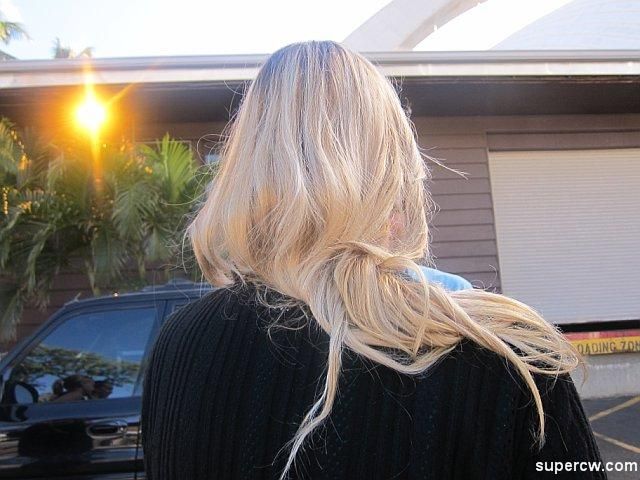 it wasn't remarkable. but he did grow out his hair.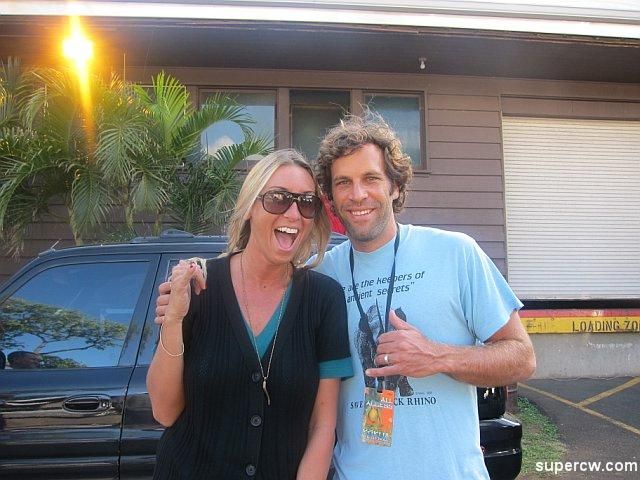 and he did sign brown forman's ukulele. this is really cool actually. jack rules.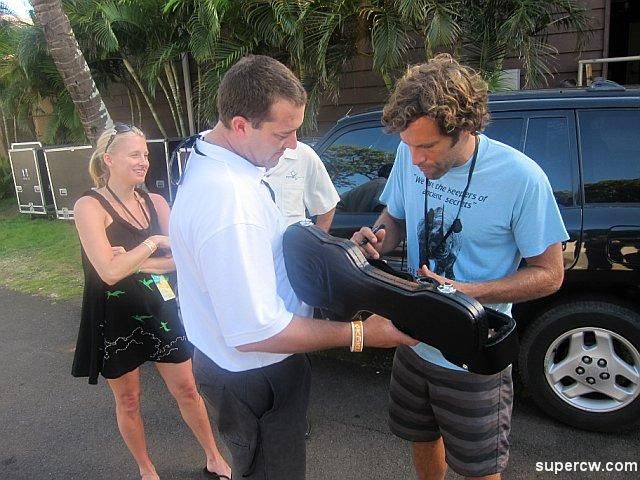 our tent neighbor at the festival was guess who!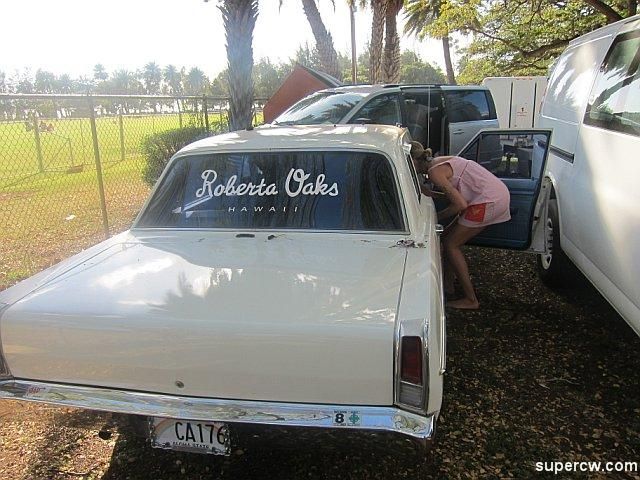 that's right, roberta oaks the most fun person to know or be around ever. guess what she's doing here. i'll give you a hint, it's fun!
(she's making me a gin and tonic)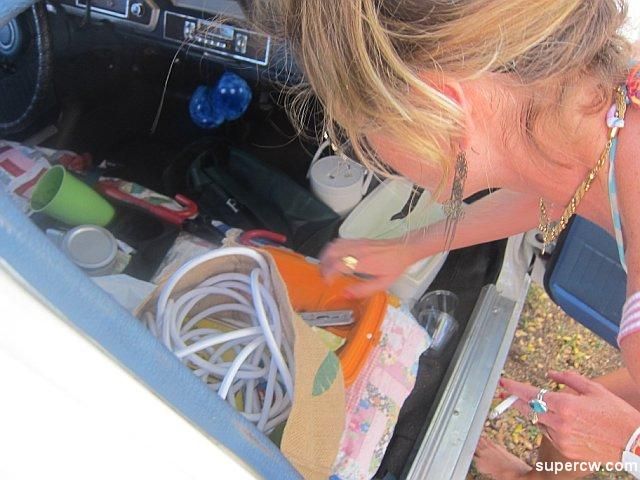 saw crystal thornberg too. these two pretty much made my afternoon.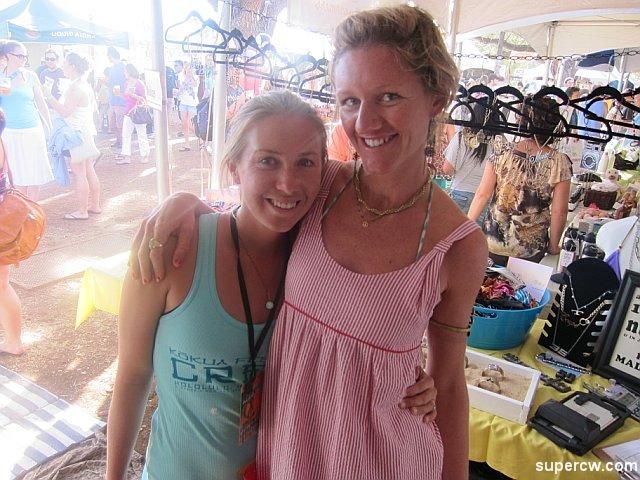 then i saw ziggy marley. it was REMARKABLE.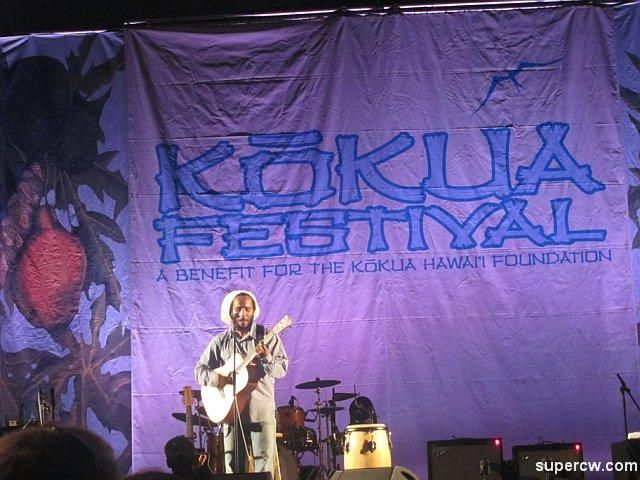 then i saw woody harrelson. actually, kamu pointed it out. i DID upload the video i took of that. because it was pretty fcking hilarious. here, if you like see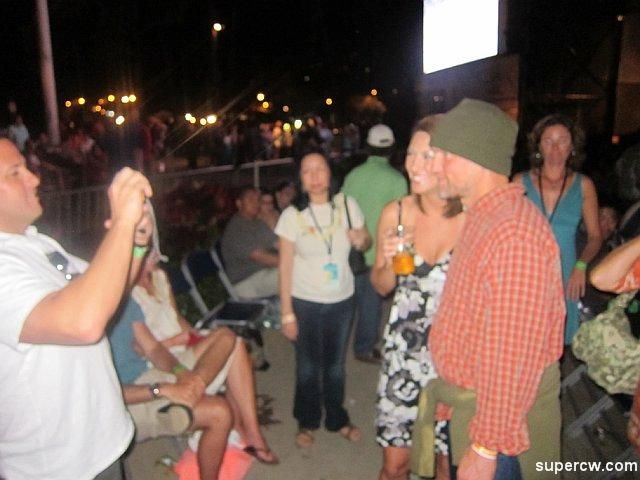 always nice to bump in to kamu, by the way. and i think this might be the closest i've ever had tickets for a show at the shell. thank you brown forman. actually no, thank me for all the legwork. it was, how you say, remarkable.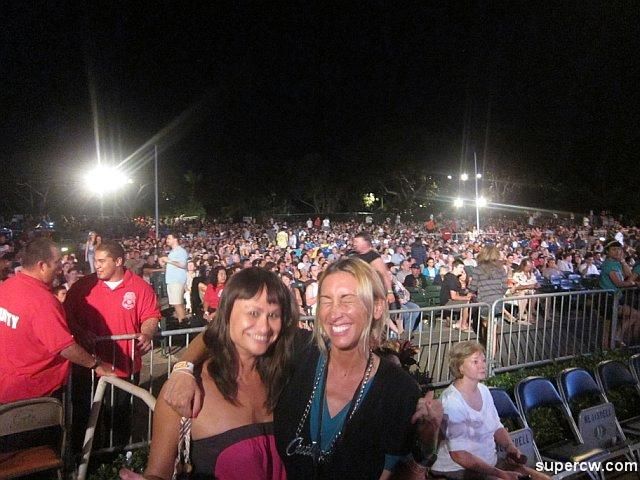 got to kick it with becker and katie, who have been waiting patiently for me to post this photo for like a month. they probably thought it would be….. less blurry. yipe.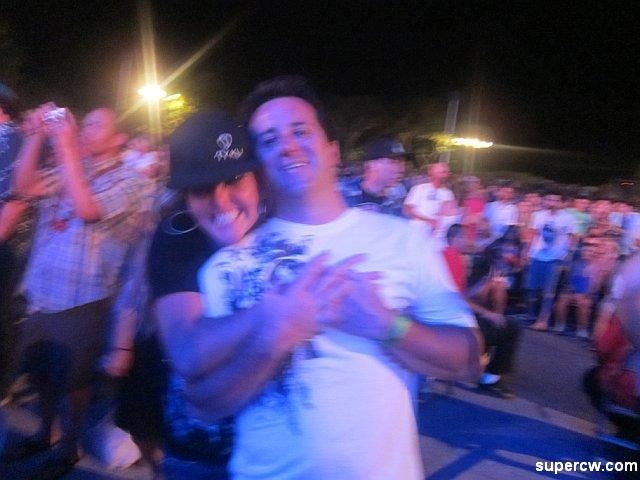 hi….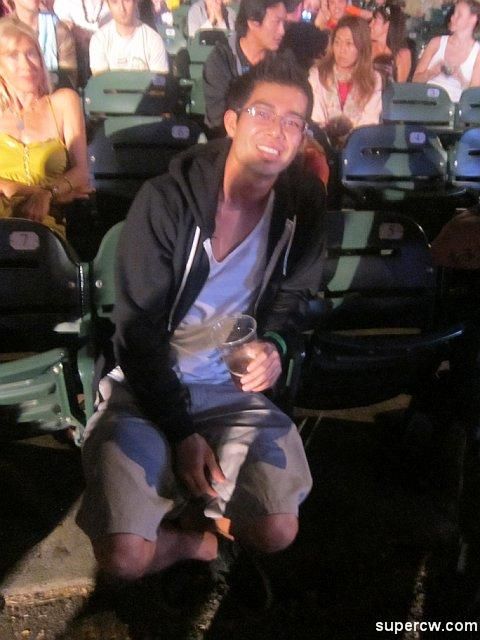 so the show was pretty nice. i used to say that watching jack johnson play live is like listening to his cd. unremarkable. tonight i changed my mind. i'm allowed to do that. there was a lot more going on at this show. the music sounded a lot better than past years even though it was the same songs, and he moved around a little bit. plus he brought up all the other artists which is really my favorite part of the entire kokua festival. i was too hyped at that point to shoot it for you, but you know what i mean anyway right?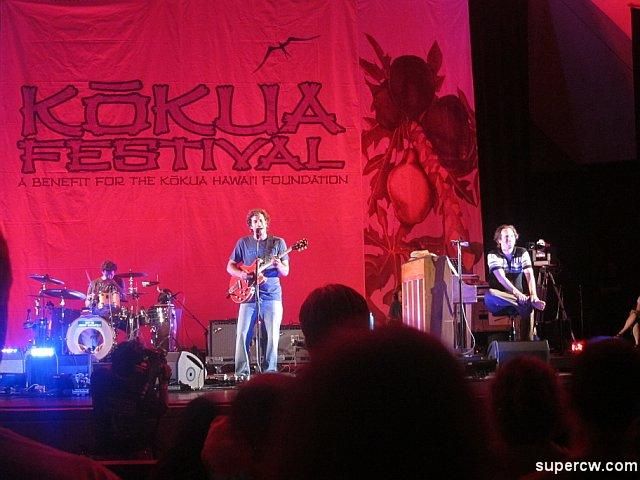 whoever this hat dude is probably got that footage for ya anyway.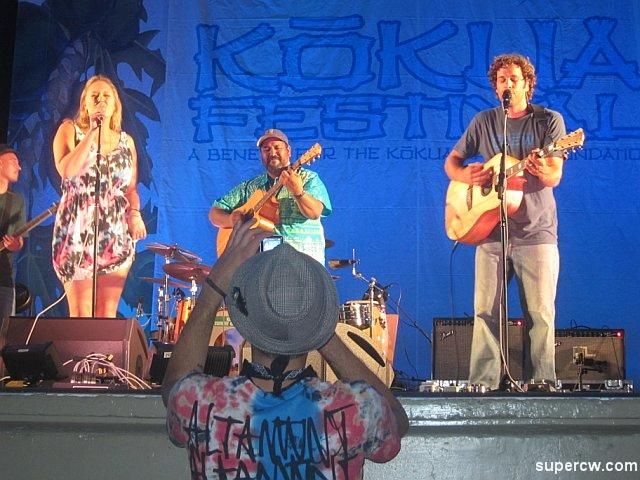 meanwhile. i'm at stage!
not stage the restaurant. stage the STAGE! where torry gave me the bat call to come to. where brian got some cool shots but i still feel weird about posting them on my blog. i guess there's a certain level of respect you start to have for people when they let you in to their world. so here. the feet. it's all i got for you right now.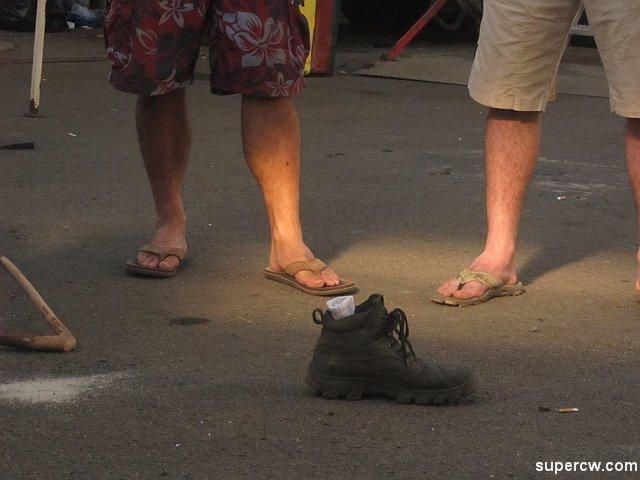 actually, wait, i can't not do the group shot. THIS, ladies and gentlemen, is what you could call the last men standing. the very very very last people standing after the final wrap of shooting the final season of LOST. the last people standing that laughted and drank and talked story and drank and laughed and danced and sang and other stuff until the very very end. 20+ hours. i will never forget this morning! and yes, there's video. the funniest kind of video where brian was filming and we didn't realize it. then when we did we all started doing silly things. my favorite is the end when i am holding up aina's leg with that stick. GOD i love you torry.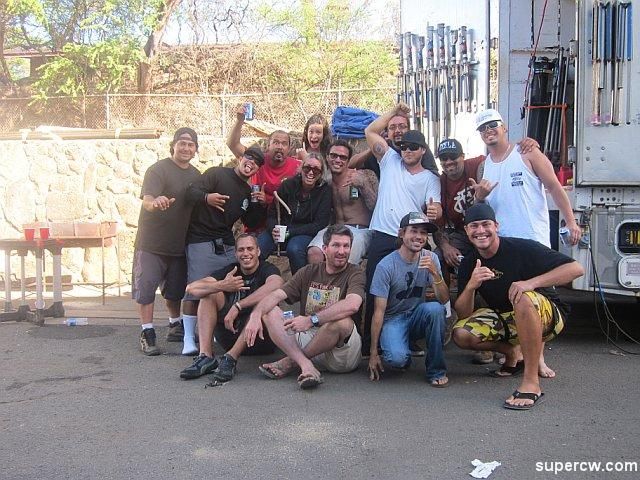 oh this? this is the "official" wrap party that abc threw for the crew and cast. unremarkable.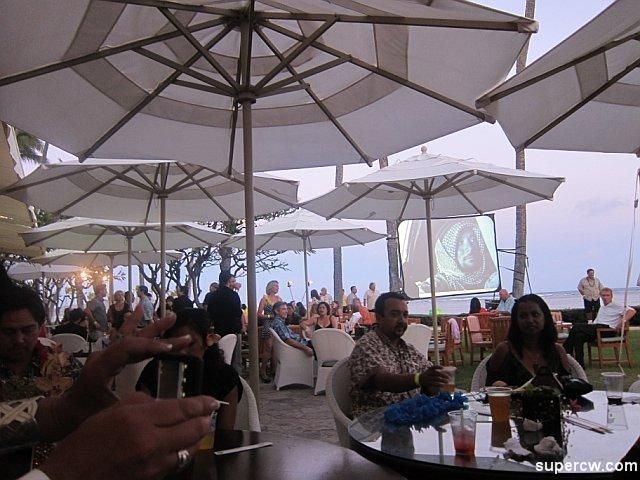 the crew? remarkable.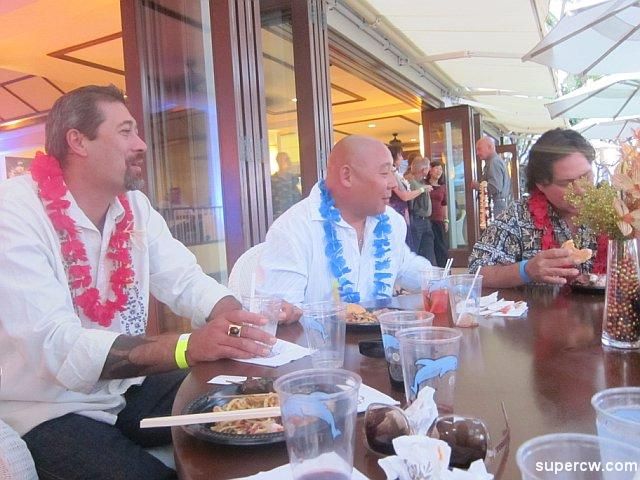 the wine? REMARKABLE!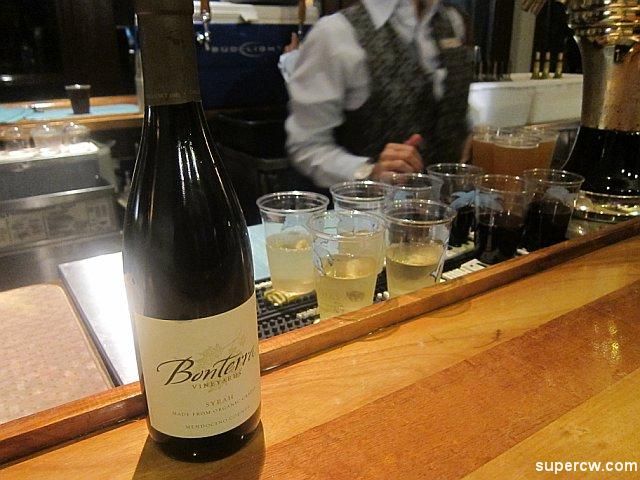 and look who got a shot of ashley and her boyfriend daniel gray together. waaaaay better than marty mcfly and his photos with every single member of the cast.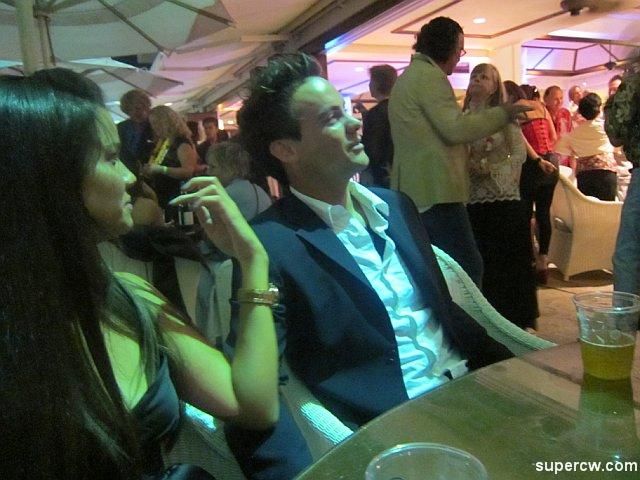 ok, there's josh holloway. but only because it's with the CREW! seriously the heart and soul of that entire production.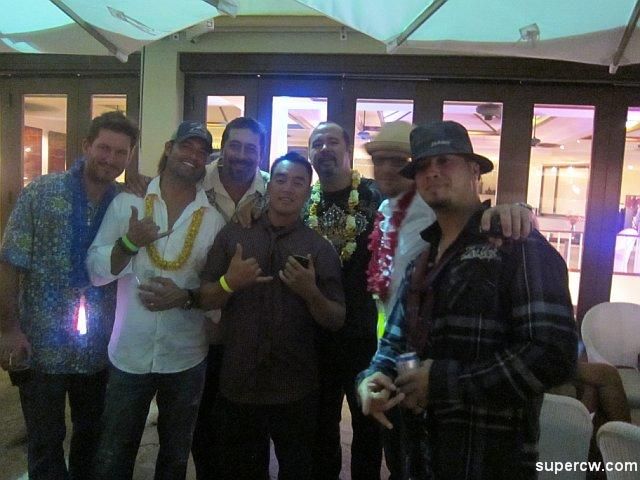 lisa knows.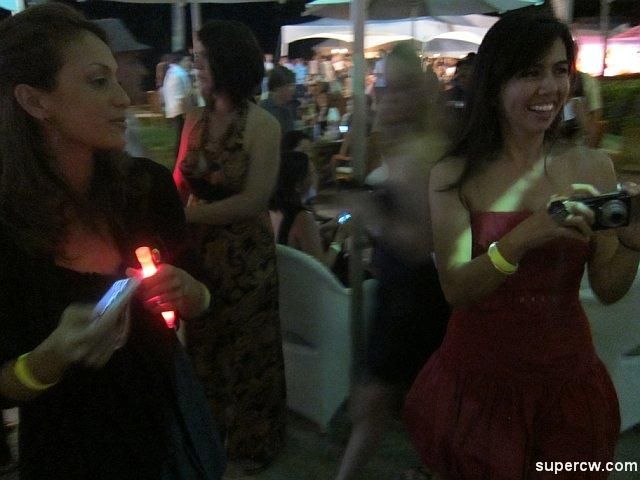 meanwhile.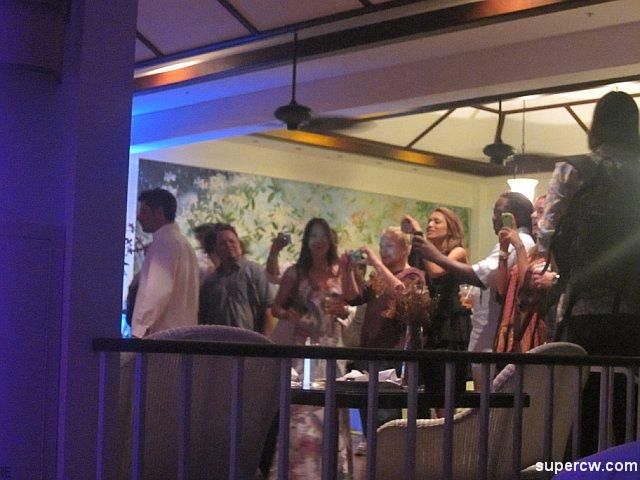 i got a table dance.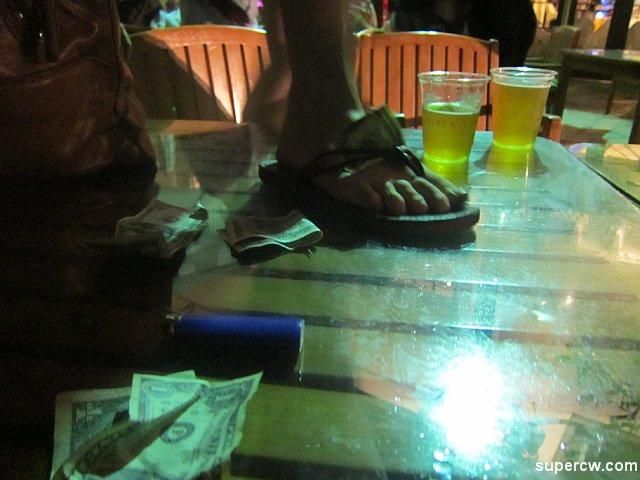 sorry. ever since that big thing it's been hard for me to be all bloggy about certain things. if you like the show and stuff come over tho, i'll show you the photos and you will JUST DIE! so amazing. sooooo amazing.
see you soon, cw