god DAMN it's been slowing down guys. like, to a screeching halt. i would sit here and piss and moan about it but it feels sofa king good. in fact, i'm feeling pretty amazing….

first off.
i'm a little caught up right now. this is us after realizing we made one month. god that's the best time ever in these things. the attraction is so fierce and your chemistry is gnaaah and you're not really planning ahead and certainly not thinking about the past. just. killer.
and oh, i made him eat the pizza. him and that made everything else going on tonight just seem…. same ol.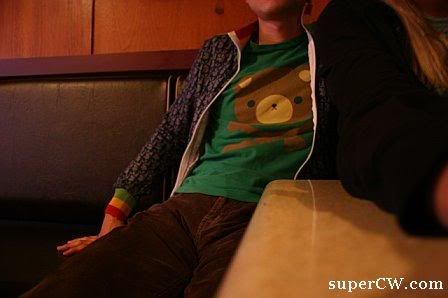 AND. what else is so good about right now. i can drink a latte for pau hana.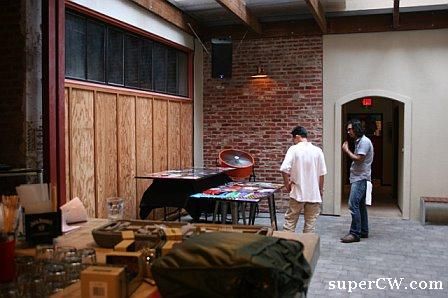 and OMGWTFLOLBBQ. the film festival is starting. this is us last week at the premiere of the HIFF Trailer for 2009.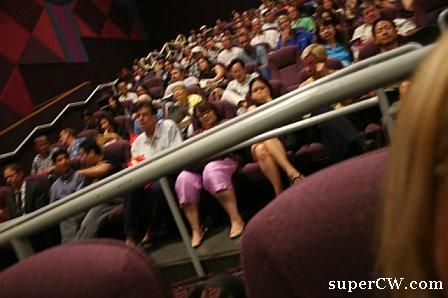 todd robertson brought OrangeRoc's vision to life….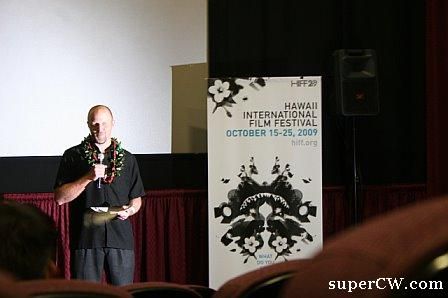 …..and he used DANIEL DAE KIM's mug to do it. hey pal!
he actually didn't even think he was going to make it tonight. as you know, they are vigorously filming the last season (tear). but after was done he was like "oh, and someone else wants to say hi" and here comes a freshly scrubbed ddk after a crazy long day of shooting. what a guy. what a night. after this we all got to watch IP Man. holy kung fu. the photo at the end of the real ip man with bruce lee gave me chills.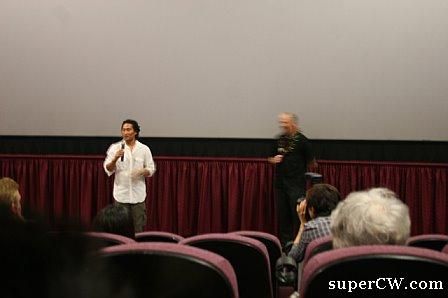 one more. always so rad to see him.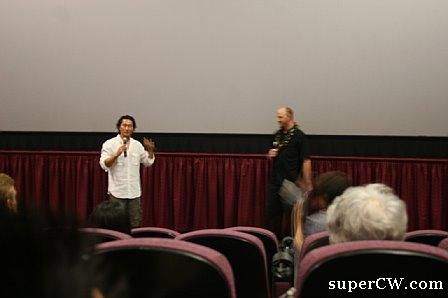 so yup. THIS is the face we get to see over and over and over again throughout the festival. this and some pretty cool vfx.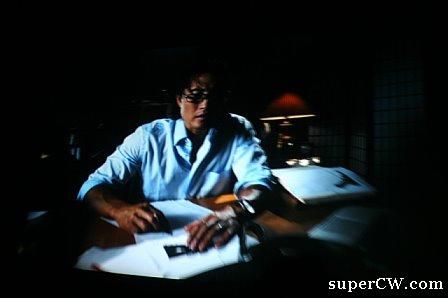 eskae and i had a drink at tsunamis about it after. he was all hype on the film (ip man) and i was all de-clenching after all the violence in it. ugh. poke ball was as tasty as ever…. but damn it if it didn't keep reminding me of the kung fu. this would be someone's head. after.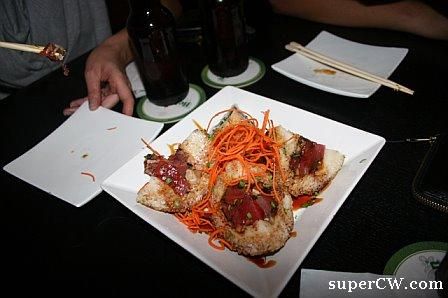 speaking of tsunamis. SEE, i told you. i DID! remember, i was saying the earth is going nuts right now. ok, i might not have been the only one saying it but seriously it was craze.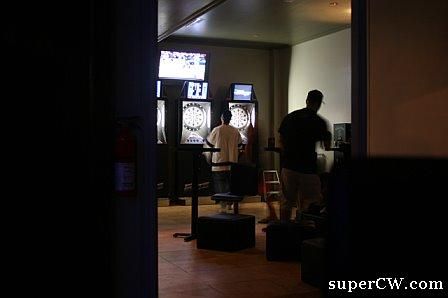 the only tsunamis i want to see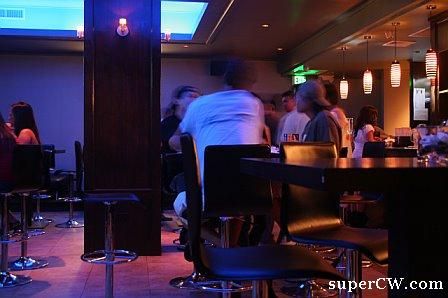 oh no eskae your HEAD! shoot. sit still….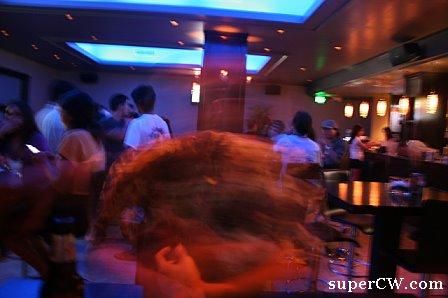 aaaaaaaa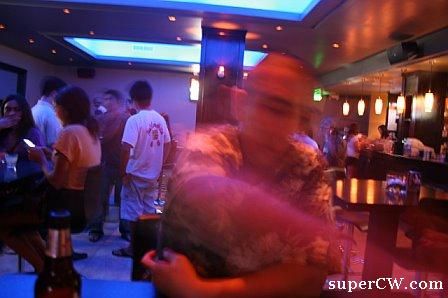 bumped in to chip from 2004. he was having a birthday tonight. last time i saw chip he was being rushed to the hospital after jumping weird off the boat at the sandbar and getting his leg all bloody and broken. i remember riding the entire way to the dock doing whatever i could to NOT LOOK AT HIS LEG. he was all drunk and thought it was funny at first but on the ride back he was getting really pale. glad to see you made it buddy.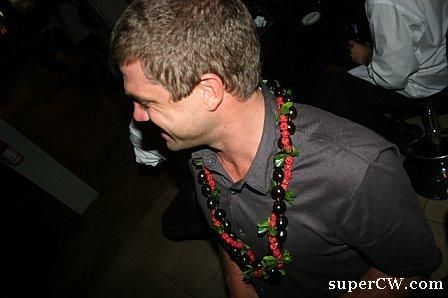 eskae and sk. definitely the  illest couple i know.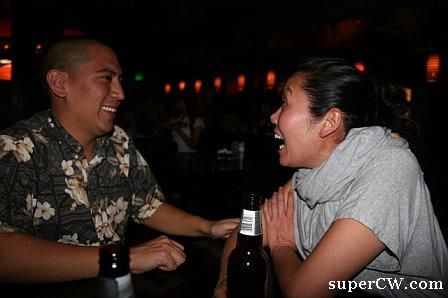 thursdays for pau hana are usually chinatown, and usually peeking at what's happening later at prohibition. i like to drink and watch them prep. it's not like any kind of bar prep i've ever seen. everything is hand written on scrolls and ingredients are brought in in like smoldering pots and jars.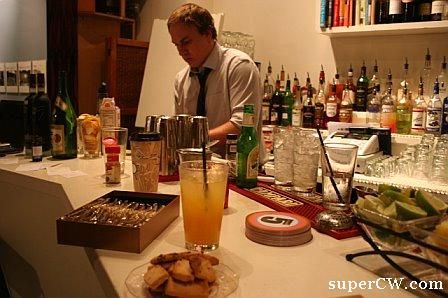 titus was the guest bartender tonight. he's in to the sweeter cocktails, and he makes them sofa king good. balanced so you're not like puckering your mouth after you take a sip.
oh, and such a cutie.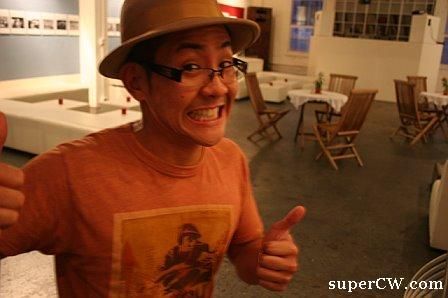 pre-prohibition lurking meant i got to taste test. reason #879375894 why this week ruled even though it was slow.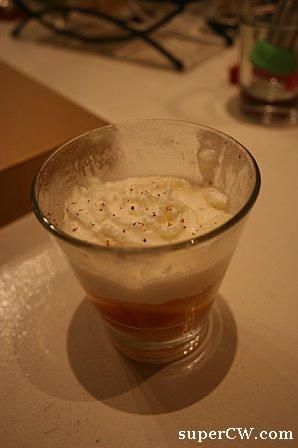 also loved watching them work before the lights went down to the candle-lit usual.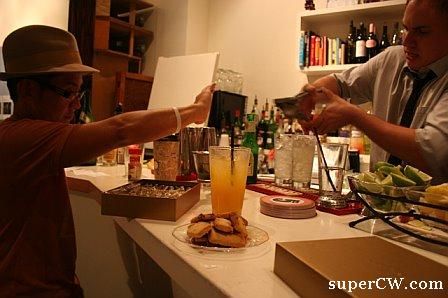 saturday. SATURDAY. gelareh making all of us feel damnnnnn old. can't wait tho.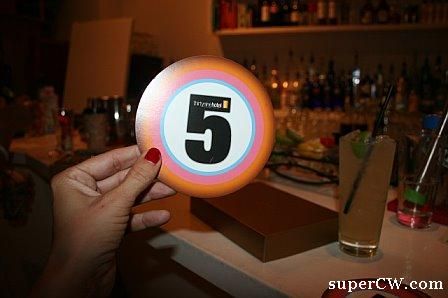 meanwhile, those are cookies he's gonna use to rim the glass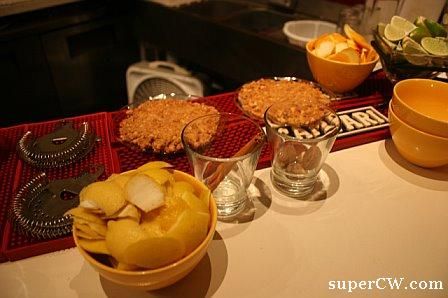 later that night i went next door to… next door. i had seen kealoha earlier in the street when i was getting pho and he mentioned the slam was back in chinatown tonight. holy woah blast from the past. i remember studio one on a thursday was the first time i ever felt cool in honolulu. before that i only knew university ave (magoos) and kaimuki (zana's house). those places were beyond cool, but i had no idea there was more out there.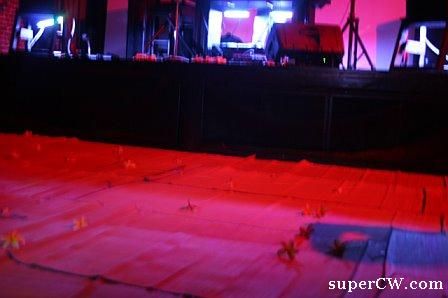 doug upp with the guest poets from out of town (two warriors?). i wonder what they thought about his thing. i personally loved it. he was the first to go up and he totally made a lot of us stop breathing. all the emotions that get pulled out of you at these things…. i mean…. embarrasment isn't usually one of them, which was why i liked it. switch it up a bit. yes love, yes pain, yes anger and such… but discomfort is pretty cool too.
i tried to write about it but am not sure i got my point across this week. anyway. you really really had to be there.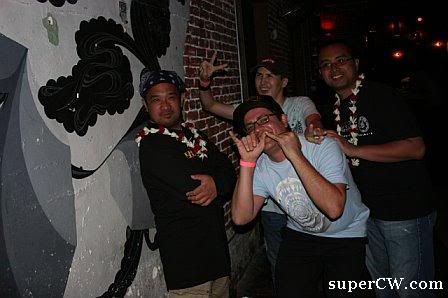 they were super smooshed in there, by the way. the first thursday has moved to pipeline now and they totally pack the place. next door was hot and smooshy. but it was right by where i was so i got to watch, so i'm happy about that. i guess it was cause of 3oh!3 concert (which i had meant to go to. sorry…)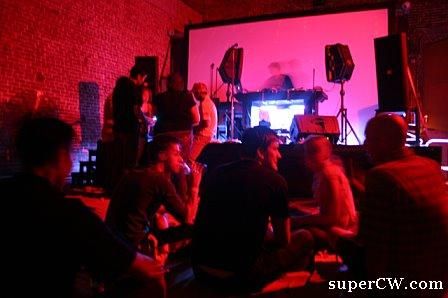 then more work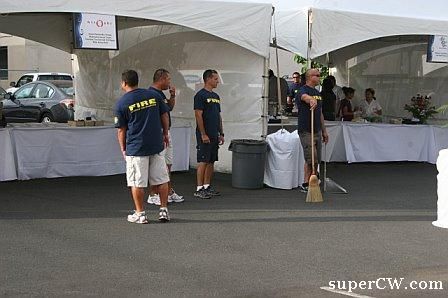 it was an event for the honolulu fire dept. tho, which made our reps pouring pretty stoked. they gave us our very own firemen as bar backs.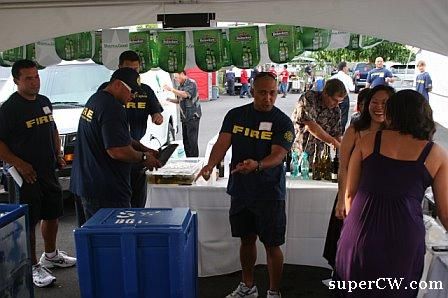 one for the christmas card. smiles!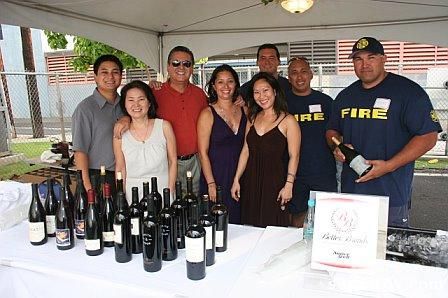 always nice to support…. you folks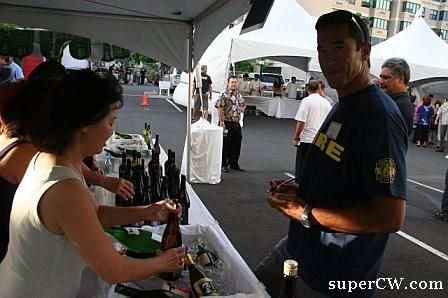 prez came too. he bought all of us HFD shirts.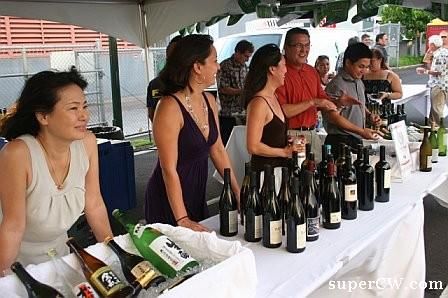 behind the scenes look. this is what it usually looks like when we do a wine table for an event. tons of wine/food plates/soda/water.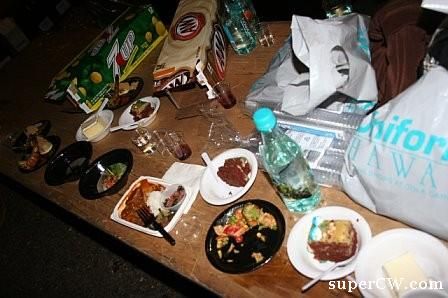 then it was the uber uber richie rich zoo party on saturday. yup. working a lot starting now.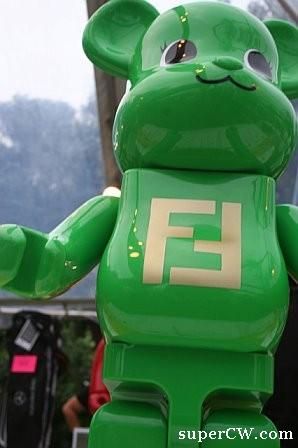 our drink station was looking pretty killer though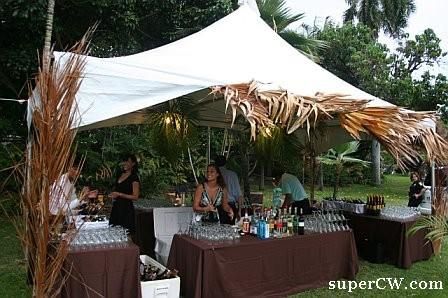 nina was supposed to make everyone martinis tonight with hangar one (triple yum) but she was in the weeds after like 40 seconds so i jumped in and helped. the second time in my life i've ever made martinis. you can't really see but our hands were wrinkle city. like the bath when you're 8 yrs old status. my palm was all swollen too the next day from trying to bump the glass out of my boston shaker tin thing. bartenders? RESPECT!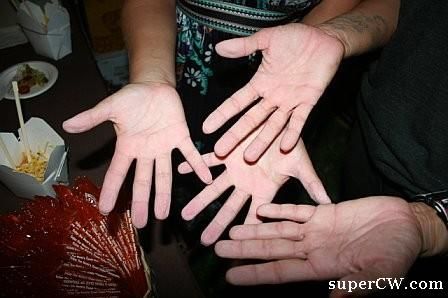 cool thing about tonight was guy hagi being there. we love this guy. why? um, cause he *actually* reads my blog. anyone who does that is gnah.
wink twins.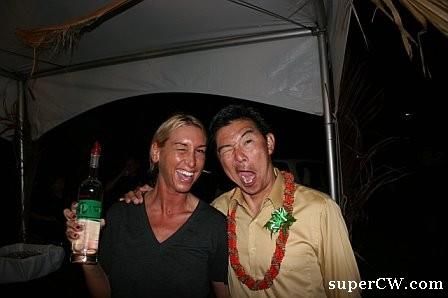 then howard finally came and saved me from martini-making hell and i got to lurk them as usual. hiyeeee.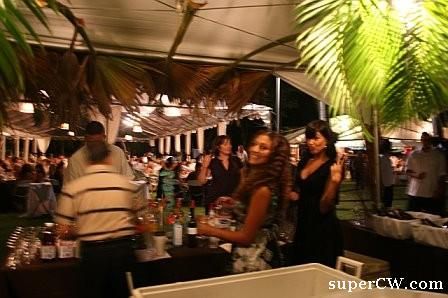 we made shanna hulme make drinks later. ha ha you can't really see but this is a LOAD of dudes crowding her. they were like "……………………………….." watching her make them martinis.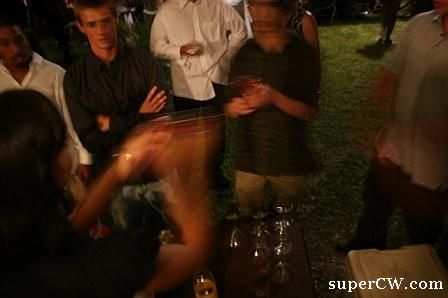 then i went to apt3 with hank. and kayko and jamie. this is our shoes. with landon.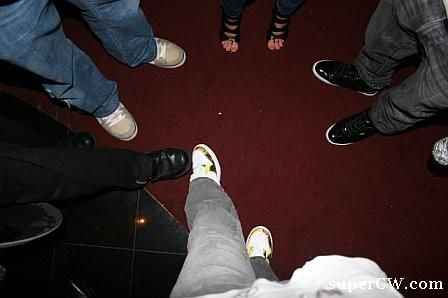 apartm3nt is like way crowded on weekends.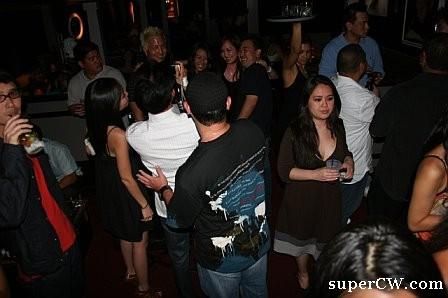 ali. nightlife royalty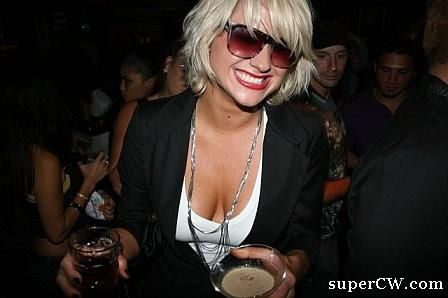 flash. touching the ceiling.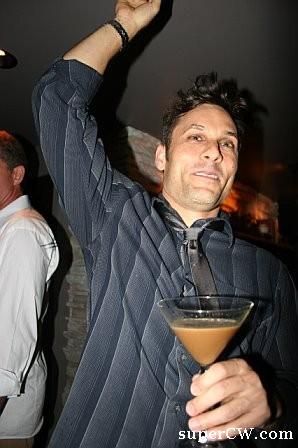 so yeah. ap3 on weekends. gnah.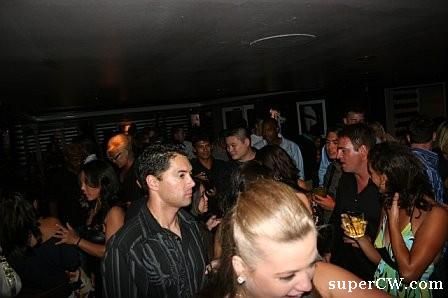 FLASHCAM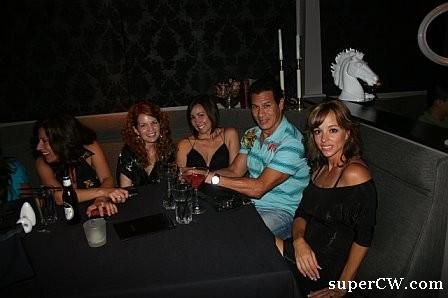 FLASHCAM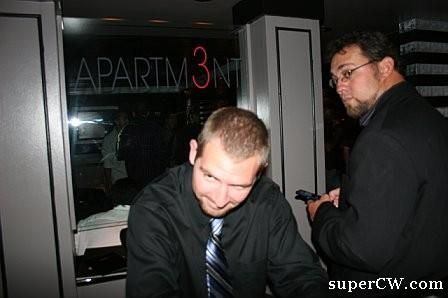 FLASHCAM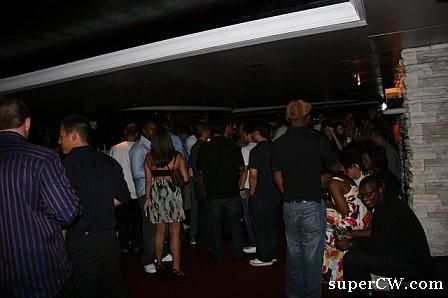 FLASHCAM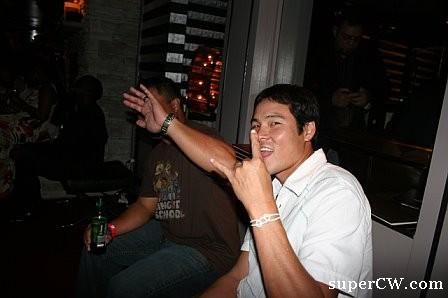 FLASHCAM (hi sylvia!)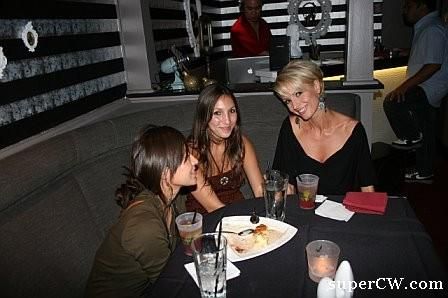 FLASHCAM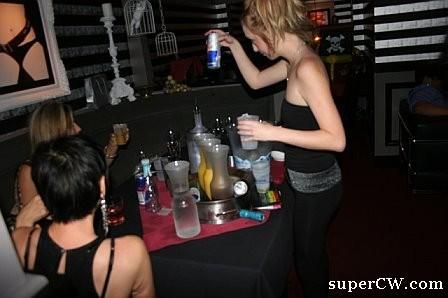 couldn't take much of the crowd and wound up around the corner in the back. saw jack law!! he's like the don of nightlife. was rad to see him,.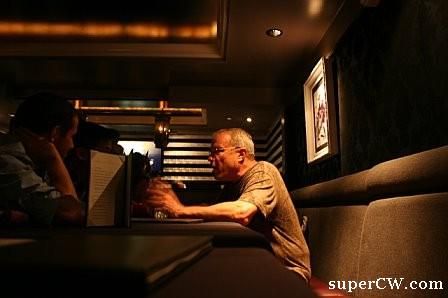 yup, when i said kayko i meant THAT kayko. she was in town visiting from her starlit world in los angeles. that's her girl. hey you two… over here!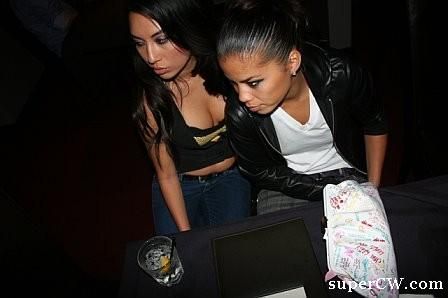 ah. better :)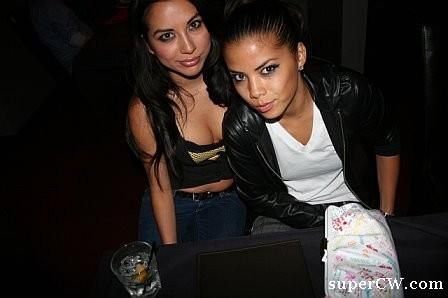 guy hagi was doing his best to get his iphone operational. then he tweeted. go out more man!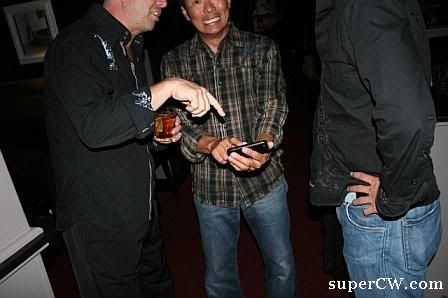 seewhatimean? nightlife royalty….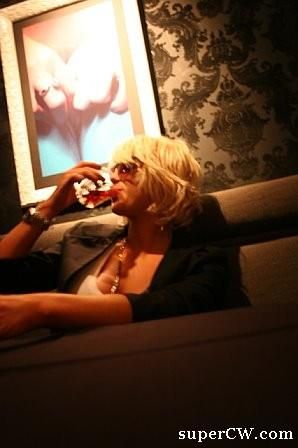 we decided to stay a while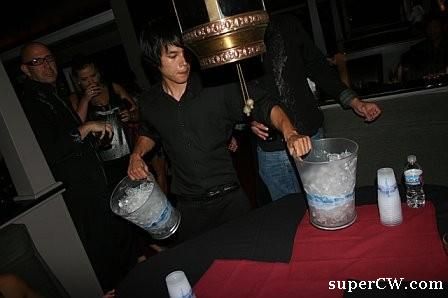 hahahah chip in the background!! i just had a dream about him, by the way. i was in his kitchen digging around in his cupboards for snacks and he was like "try the pineapple with saffron."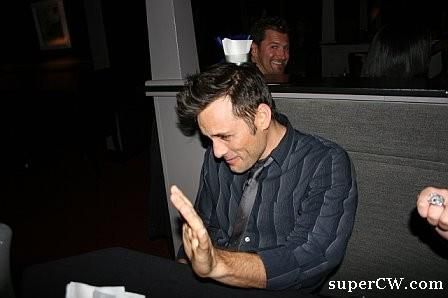 nightliferoyalty.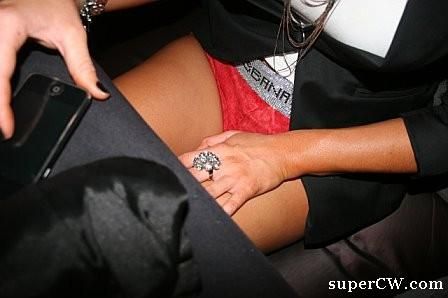 ryan goldenchild's birthday is coming up. it's a libra and scorpio party at sergio's. aaaaa!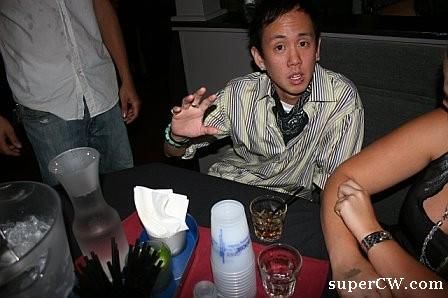 i started drinking vodka pineapples. woah those are pretty good.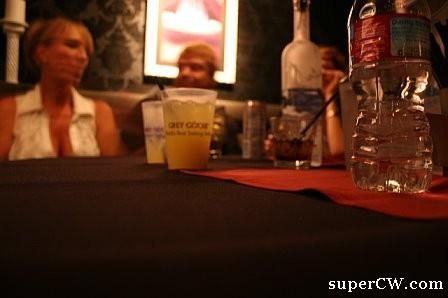 i think i gave them my card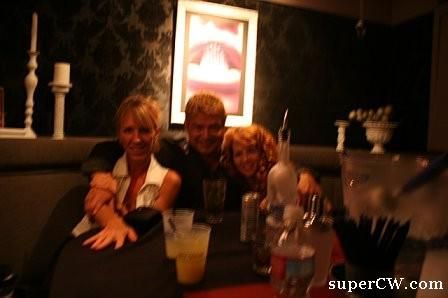 pretty sure this is after last call. kristen finally had a chance to kick it w/me. if i had thought about it i would have made her wear my hoodie with dinosaurs on it for this pic. blew it.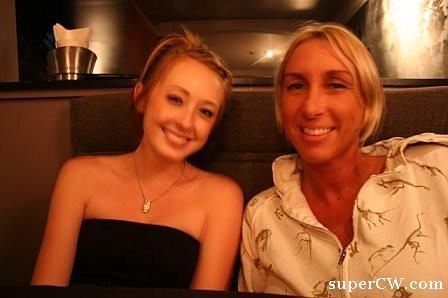 landon has something amazing coming soon. i have some of it. i guess the version i have isn't the final cut. but yeah…. oct 17th. THE JUMP OFFS CD RELEASE PARTY AAAAAAAA!!!!!!!!!!
take a good look at this face now. before they go on tour and get discovered and get famous and never come BACK. aaaa.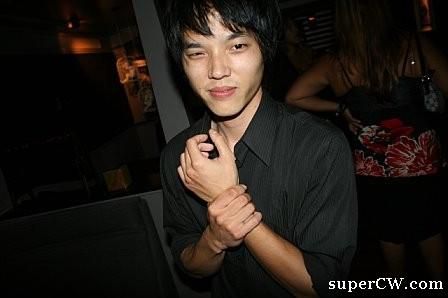 monica. monica ivey.
someone had brought me a lei (kristen?) and i was wearing it telling everyone it was my birthday. monica, who i've known for years and who should *totally* know by now that my birthday is a few days before christmas (hello! you were at my party) was like "oh! it's your BIRTHDAY?? happy birthday!!!!!"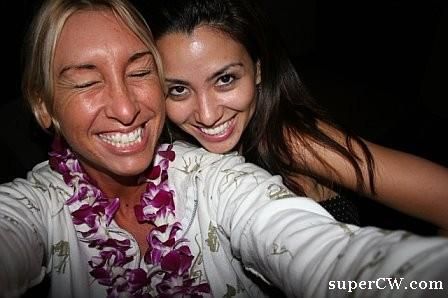 and i was like "more boob!"
then sunday i was on a bus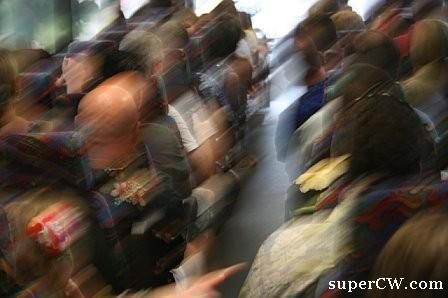 with the blackwells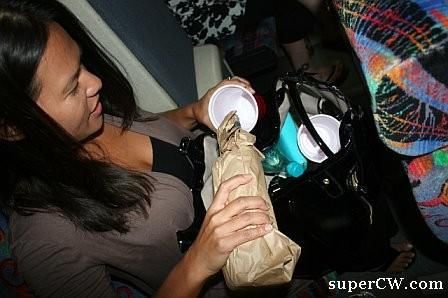 who rule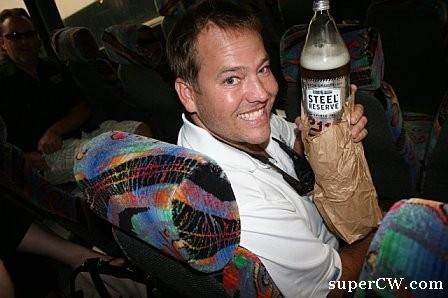 we are in the midst of a luau hop. it's my/their goal to do every luau on oahu.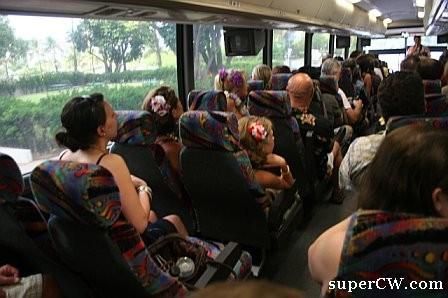 for them, it's because they are island adventures. for me, it's because i write. and drink. that's me writing down what bus i am on. after drinking. so i'll remember.
and that's alika. he's from kauai so we asked him if he knows daniel. and yup, totally his classmate. smallllllllll island(s).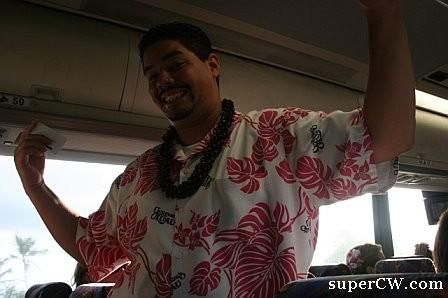 it was nice to go on a touristy tour tour. put things back in perspective.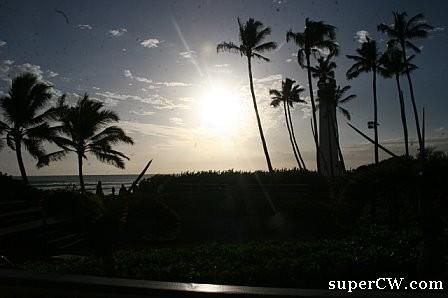 but slightly more what we're used to now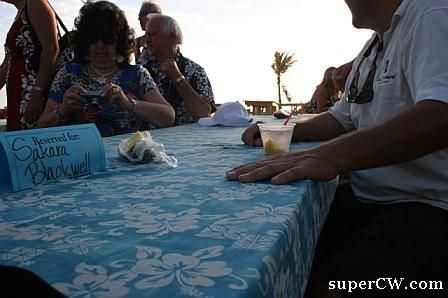 i just got home from a tweet up and am kinda tired/drunk, so i'll just let you scroll. but hey! just know……… luau is best way to be brought-ed back to reality..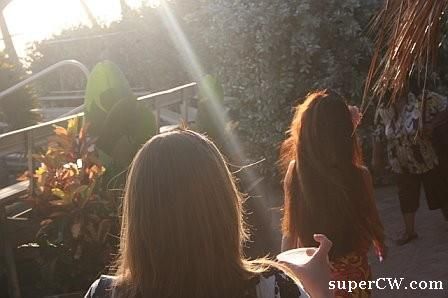 and the reality is…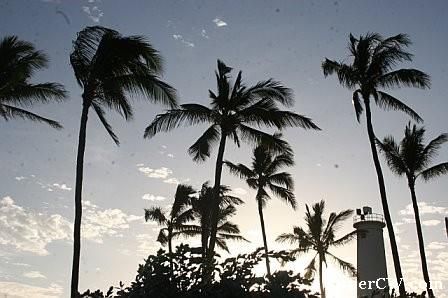 this is my/our hooommmeeee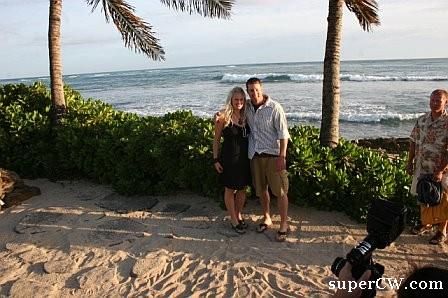 aaaaaaaa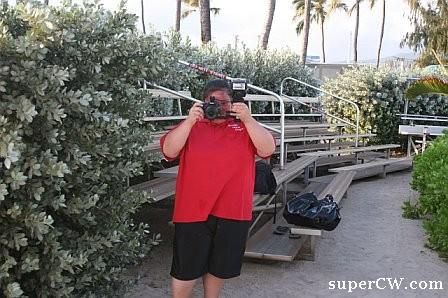 love the blackwells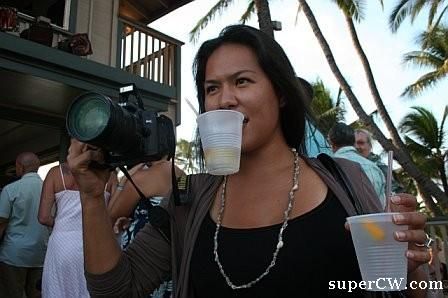 love living here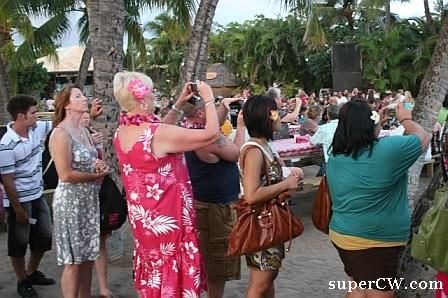 love where i've come since the last time i was here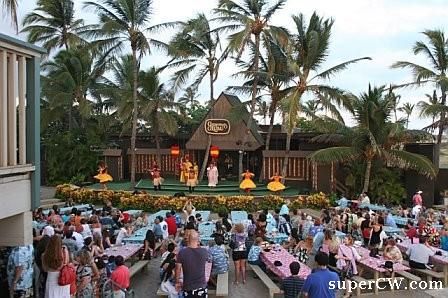 love knowing all it takes to get here…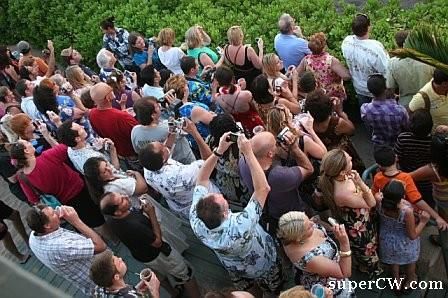 is to respect and adore people….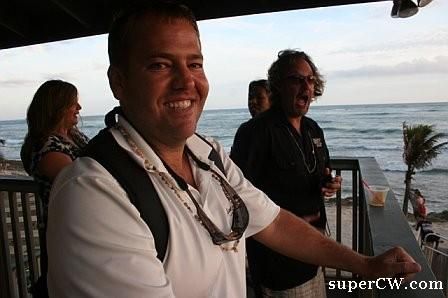 (love our view from up there)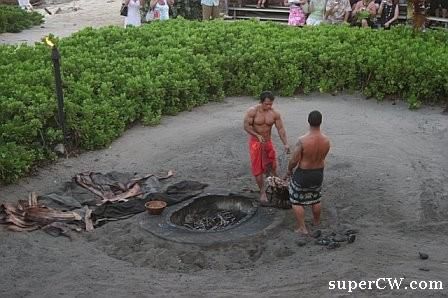 love hawaii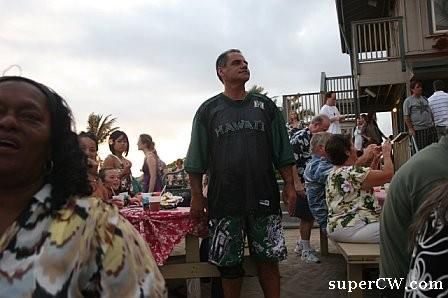 love the blackwells (pt 2)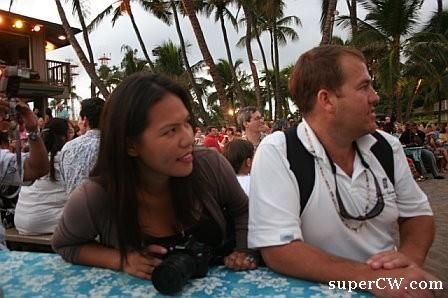 love love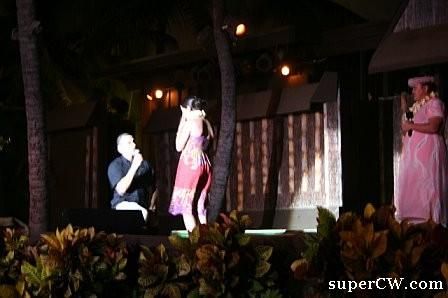 germaine's was the first luau i ever went on. i think i was with my parents too. at the time i thought the food was amazing. this time i was like "um… where's the laulau?"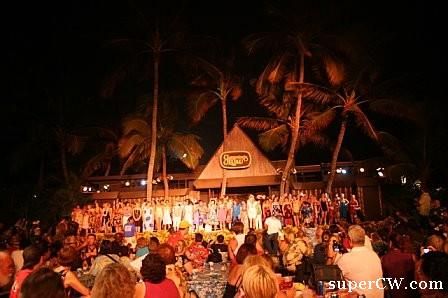 then the moon came up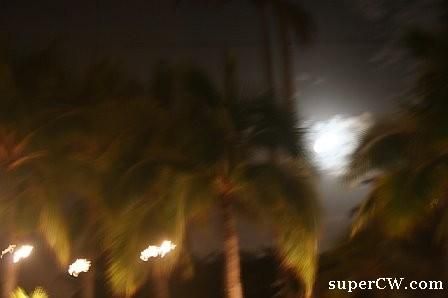 and it was all i could think about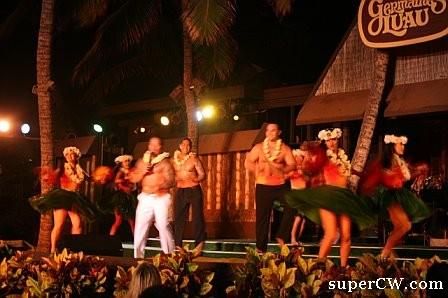 we are finally out of that mercury-retrograde period thing. if you belive that planet conflict thing to have indeed affected this earth, our world, our lives… well that shit's over now.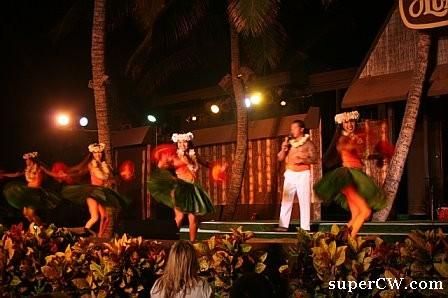 so we can get back to our usual.
so ya. maybe i just needed to put everything in perspective. maybe i'm really at a crossroads.
maybe i've had arcade fire's funerals on repeat again all week since seeing the where the wild things are trailer and it's making my brain all loopy. maybe you and i should get a drink. maybe we all should just live like they do in tibet. maybe i have to remove everything i own out of my apartment i've bonded with after 4 years of living in it and move it 8 blocks over the day after halloween and it's making me feel like i'm going through a divorce. maybe i should be glad i never got married. maybe tweet ups ARE a good way to "get to know" people. maybe it's tough to realize that the comfort level of adulthood that you always kinda think is gonna happen some day gets scary when it doesn't ever come.
all i know is, thirtyninehotel is turning 5. there's nowhere else in the world i'm going to be saturday night. that place is heaven. let's go.