well. that was a tough week. these pics have been sitting here in my draft queue for a bit long, sorry. i didn't want to really do this when we were all grieving our friend. it's still so very sad, and definitely not real. gotta keep moving i guess.
this time of year is definitely my favorite. october. where i grew up in tacoma that's when the leaves on all the trees are amazing fall colors, and i remember mom taking me and lisa to wright park and letting us run through the leaves while she drove slowly along side us. i would always be scared that she would drive away if i didn't keep my eye on her car the whole time, so i sort of missed out on jumping on some pretty epic piles of leaves.
anyway, october now means the Hawaii International Film Festival, which is like nothing else in this world to me. i love you guys. thanks for working so hard.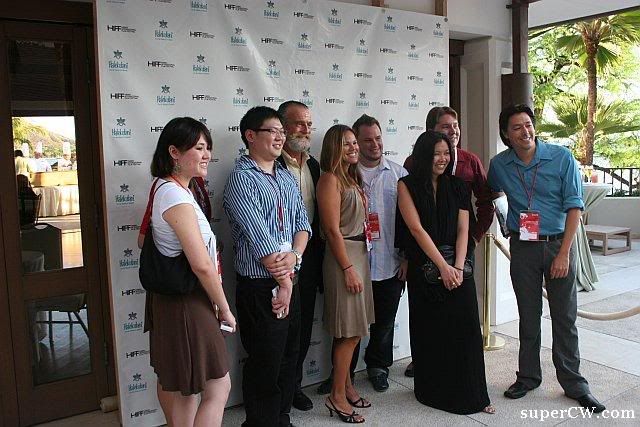 this was the welcome event at the halekulani. a lovely kick off – with the sun setting on a nice group of filmmakers, international people, media and hiff staffers. oceanfront. with as much as we wanted to drink.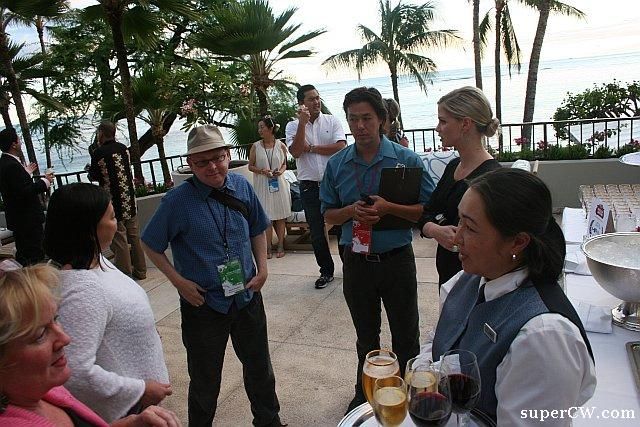 there was a new press delegate among us this year. a name i've been seeing on fb for months and finally got to meet in person. yeah michi!!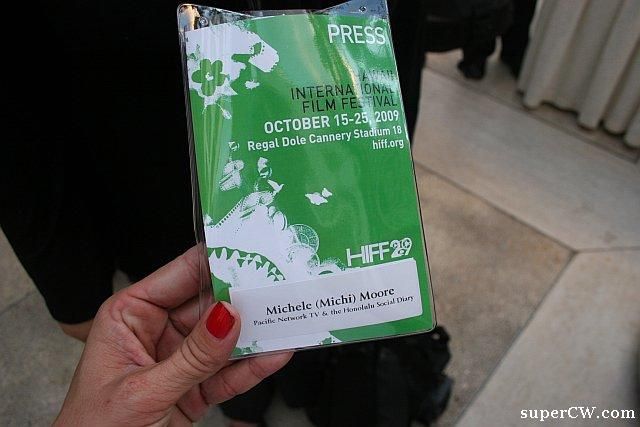 she humbly calls herself a house wife with an interest in photography. i was so hyped she was around.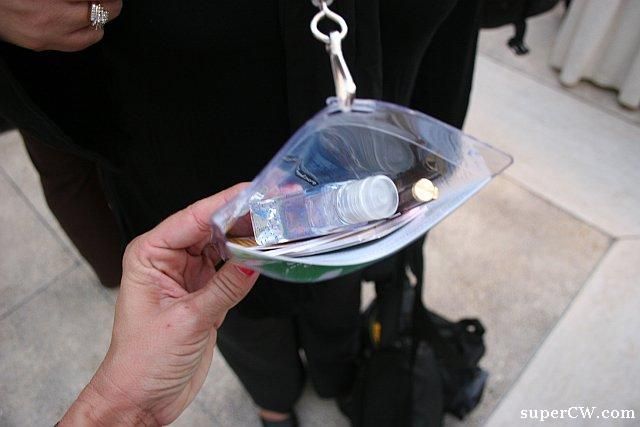 oh shoot, this reminds me i gotta upload my pac edge mag column this weekend too. can. it's easy when lauren here is lenient on the deadlines. i swear she tells us it's like 2 months before it really is, because she's too nice about giving me extensions.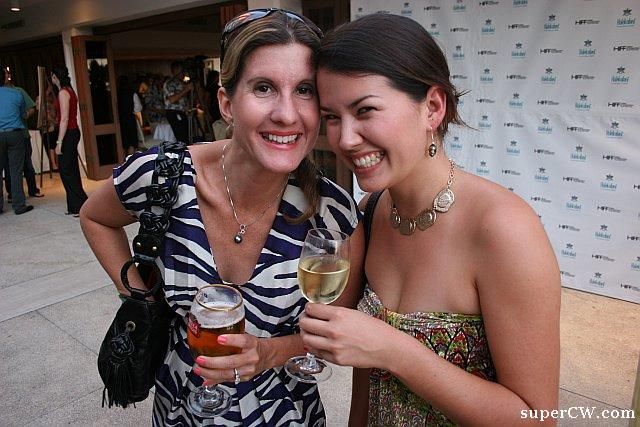 anyway, it's time for the film festival. who's ready…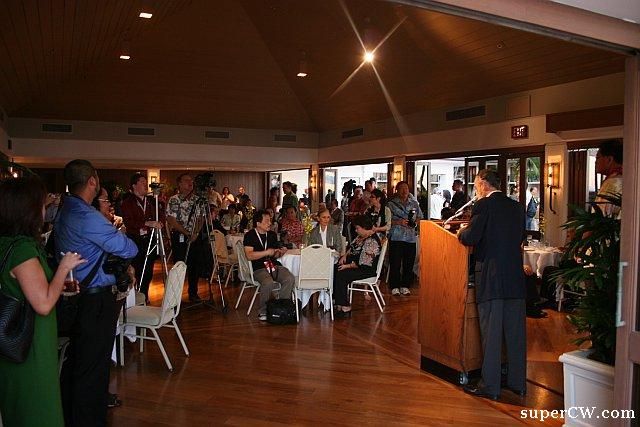 i was almost in tears seeing mufi give them twenty thousand dollars. notice it's not called the louis vuitton film festival anymore right? yup. thank goodness that even in this economical wtf they made it happen, and it was better than ever.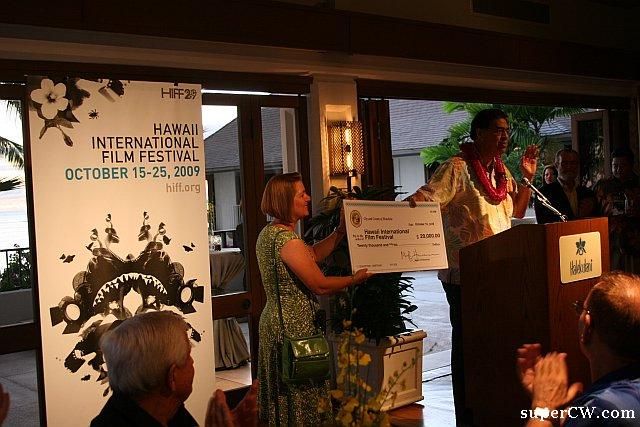 blah do i sound emotional? i might. i might. this is qorianka kilcher saying thanks to everyone for giving her an opportunity to be there, etc. she was incredibly soft spoken. i was trying to place the accent but realized it's just a 19 year old talking slowly. which i hear never.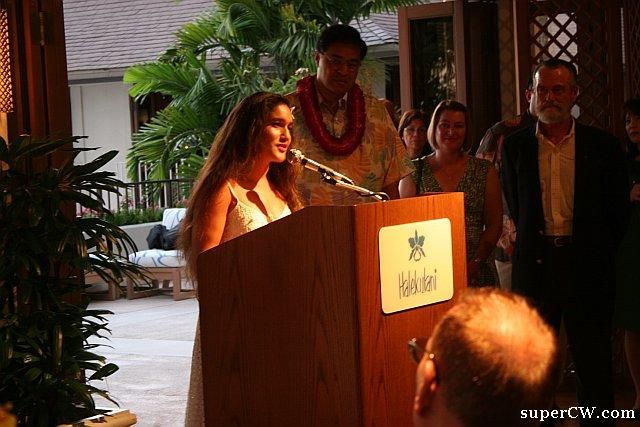 qoriankawith mayor. photo op photo op.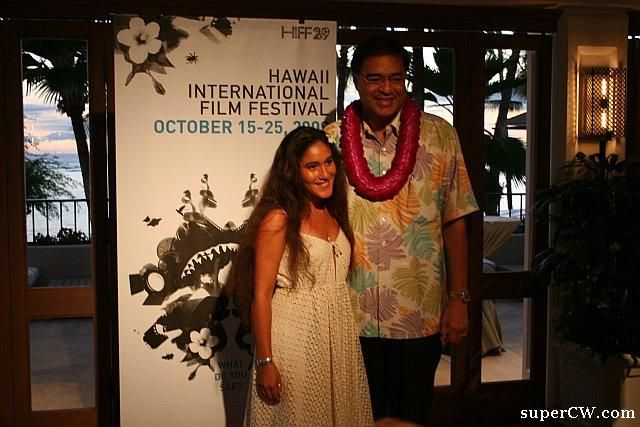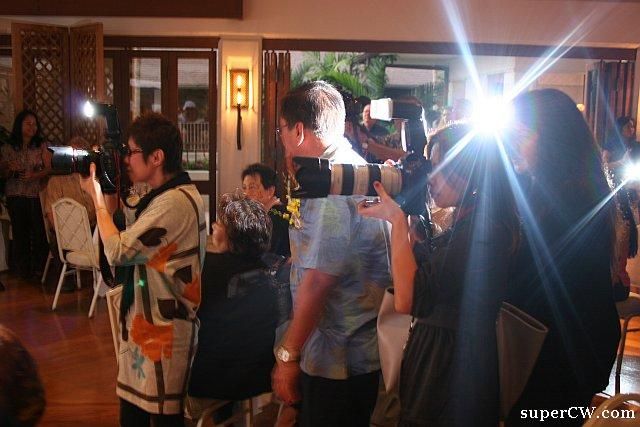 jed was around. hi!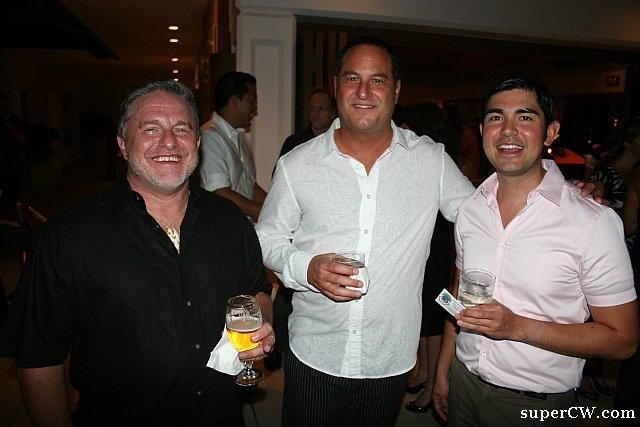 it was a nice evening. i should have slowed down on the wine but i got shuttled over here which gave me this fun loving free sort of feeling. i could drink whatever i wanted because i didn't drive. blaaaaaaah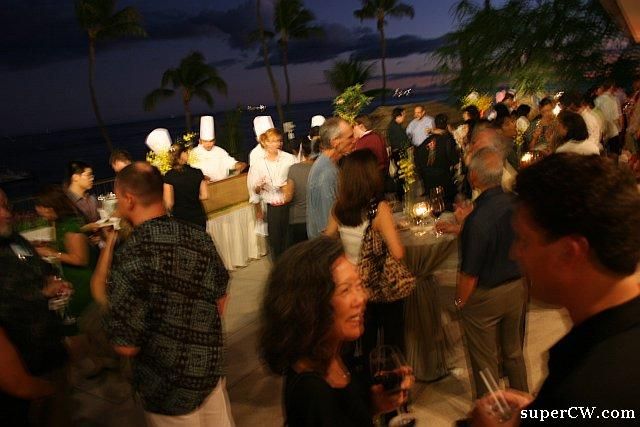 it was lovely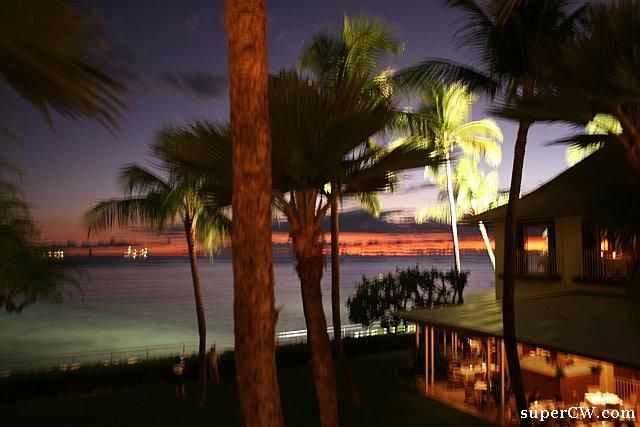 lance rae i have your lens cap! don't let me forget to give it to you.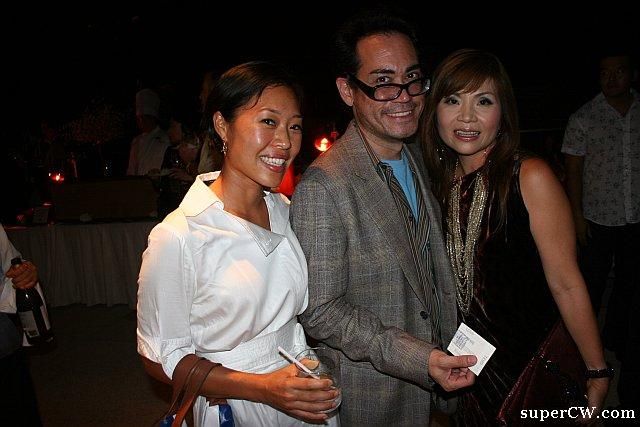 HIFF powercouple sk and eskae. sarah is the director of development. i'm bowing before you girlfriend. you pulled this together like woah.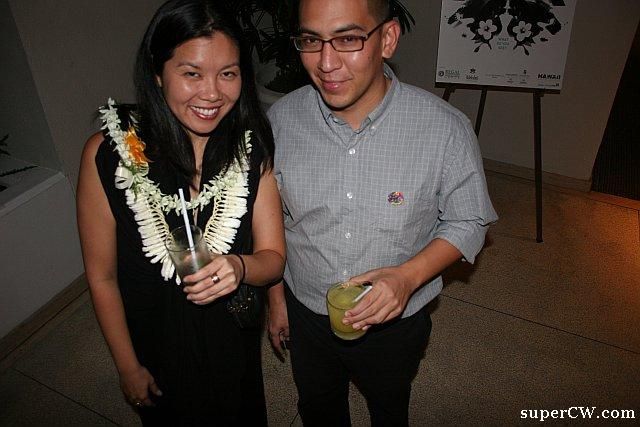 meet the filmmakers: omg brent had THE funniest short in the festival. it was about ajummas which is like the korean word for tutus. it was about these tutus that are obsessed with k-dramas and this k-drama actor who visits hawaii. very nice work man.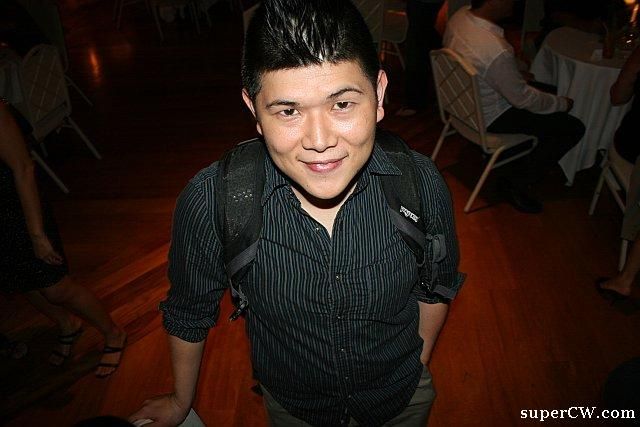 this is robert parks-valletta from young and the restless. that's hannah cornett. they're celebs. and i was on my 3rd glass of chardonnay. lightweight. sorry you two, i blew it.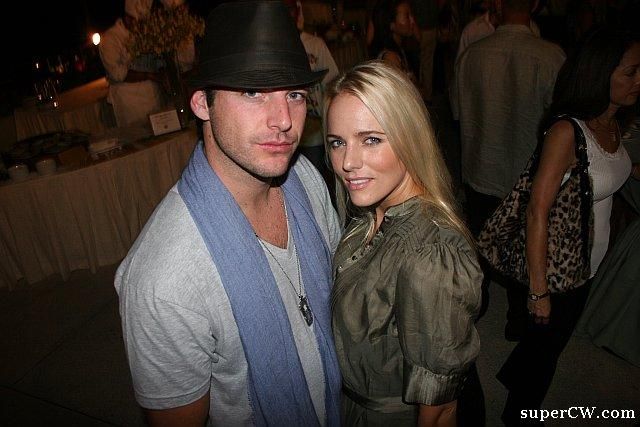 media darlings. international even. hi. i'm sitting here because i drank too much.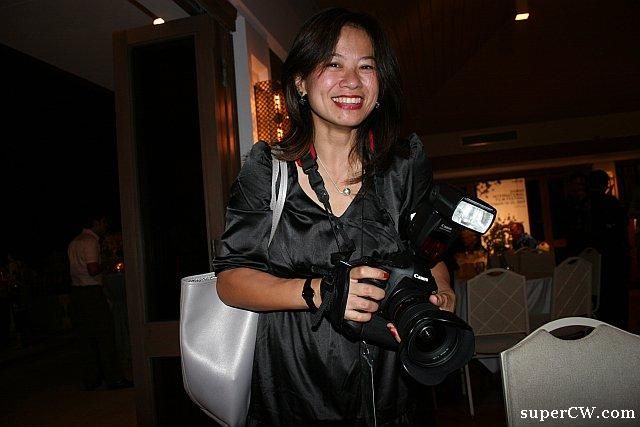 she was a HUGE deal. people were freaking out in the lobby of the halekulani. i was standing there waiting for the shuttle back to dole when a big black suv pulled up. the bounty hunter on date night. beth was driving. "hi you two!" i slurred. "blah" they kept walking. blew it blew it blew it.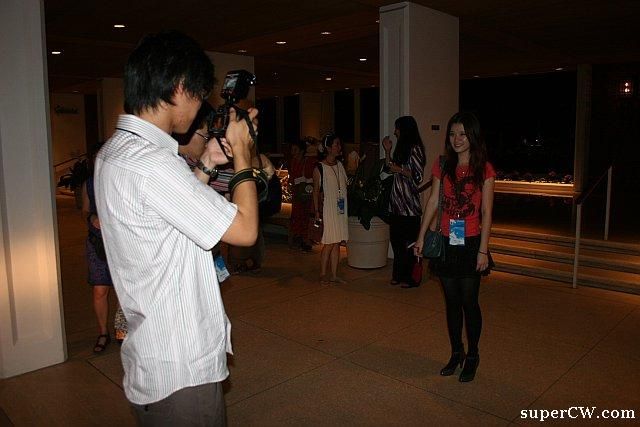 skip to friday. they were playing the film about Princess Ka'iulani at hawaii theater. there was only a slight amount of tension outside. for the most part it was pretty exciting stuff.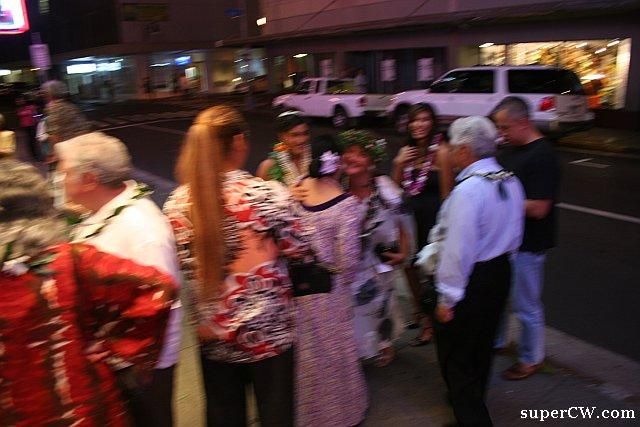 and i really really love seeing things in this theater.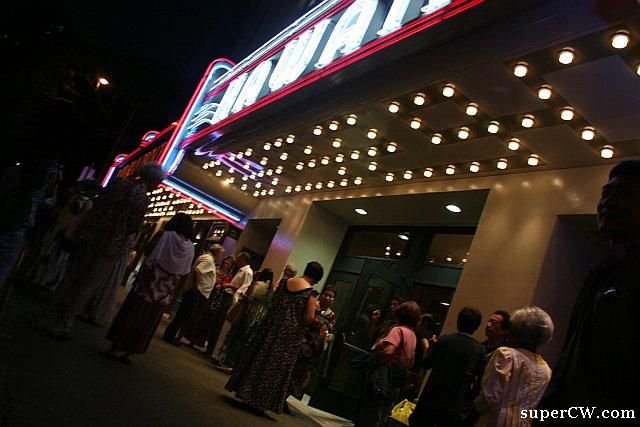 there was a nice reception upstairs for the filmmakers and actors. it was very nice.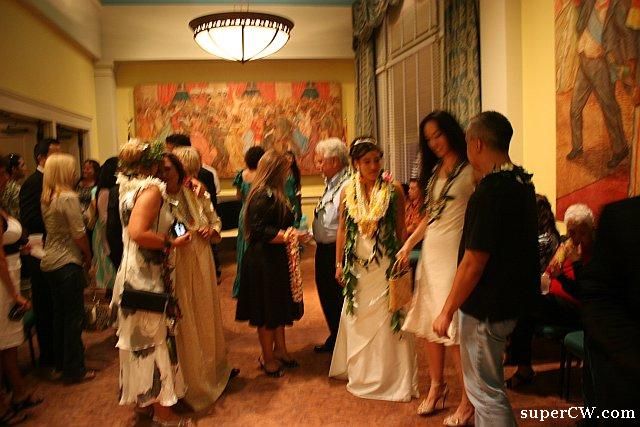 qorianka has said over and over that she will never refer to the film by its title. she is lobbying to have it changed. it's ultimately up to these guys.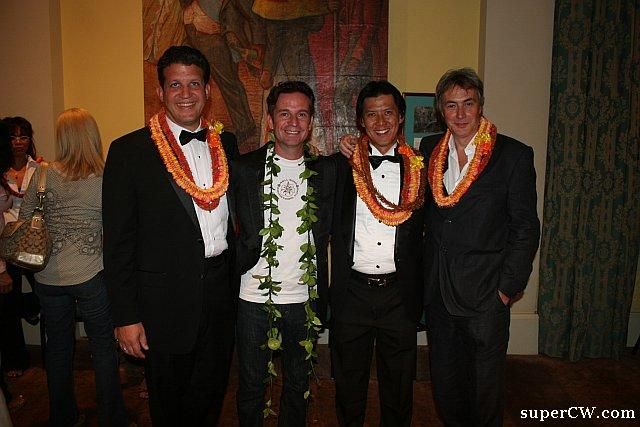 ps: she is so so so beautiful. i was drooling.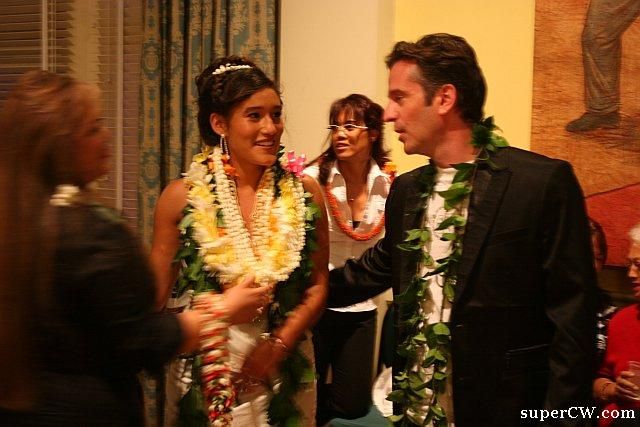 her speech and mannerisms are gentle and humble yet very strong. it was so rad to see her.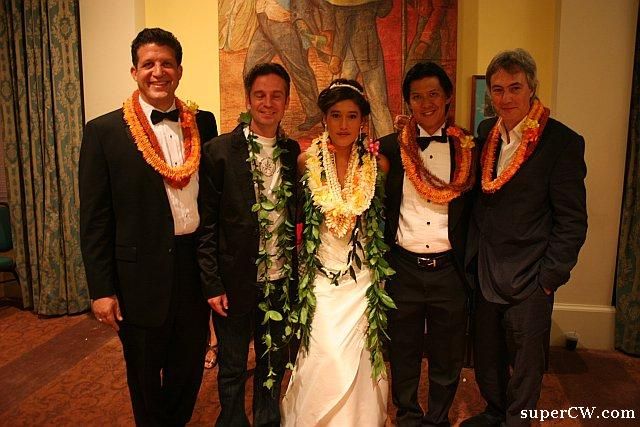 there were some awesome moments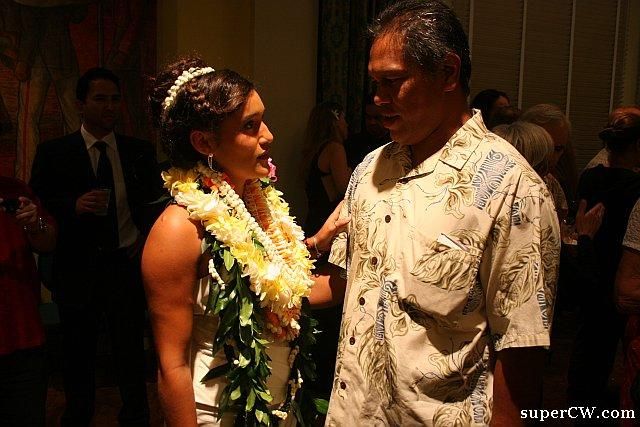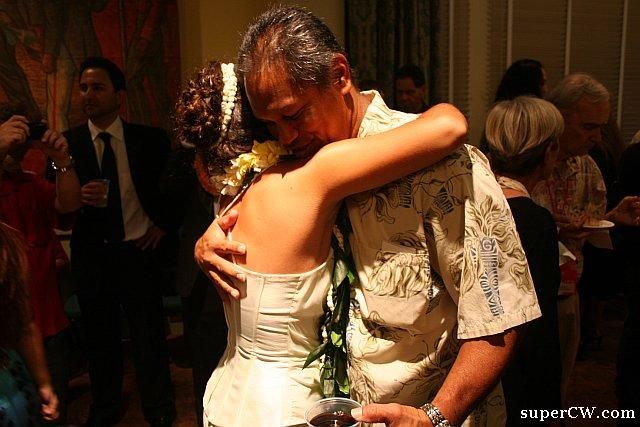 like seeing rae. she's so rad.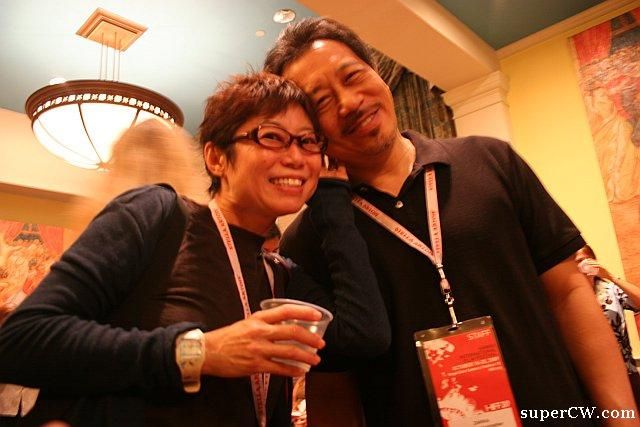 she brought me sake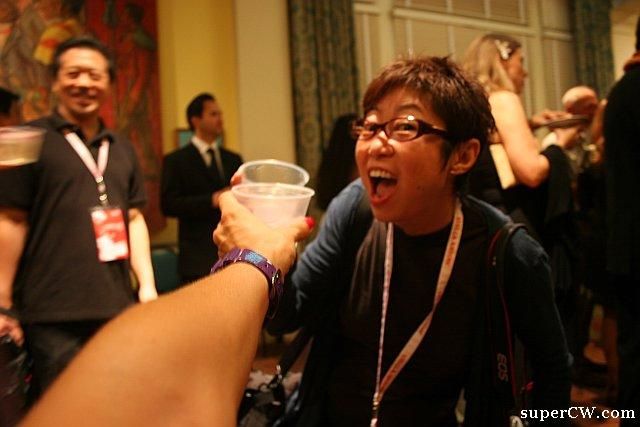 little homey was in the film. i think he liked my sparkle camera.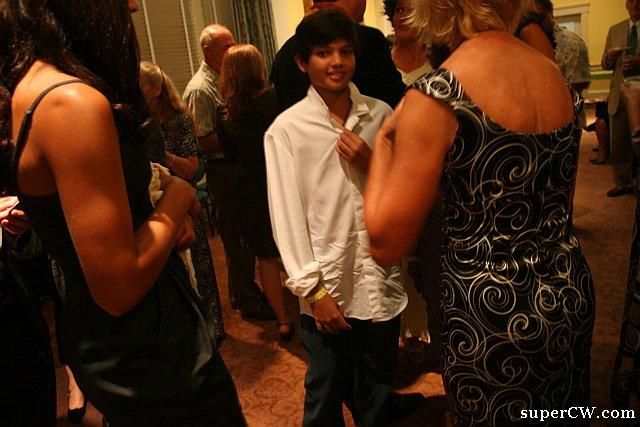 anderson le, HIFF's program director who gets to travel everywhere and pick out all the good movies for us to see. that's sean with him – you guys know him, he works like crazy. and ha ha that girl on the end probably has a pic with every LOST actor on her fb, i saw her making Jay take her pic over and over again at the media event (that you'll see a little bit of in a sec).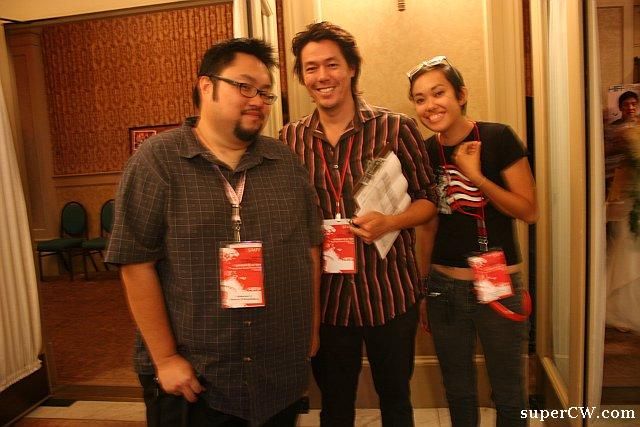 anderson le was gimpy. i forgot to ask him how he broke his toe.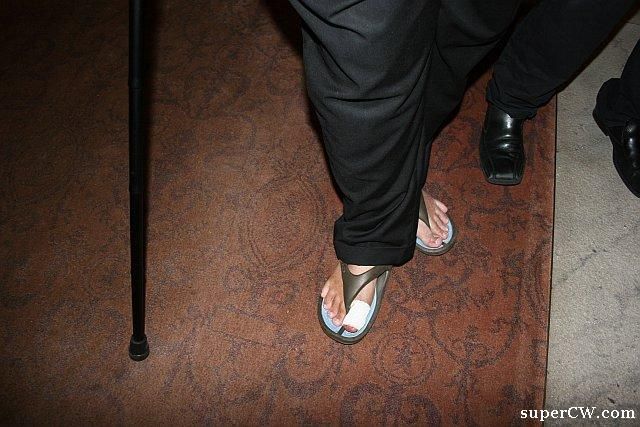 i stuck around for the q&a. it was positive despite some obvious questions/objections. their reasons and defense may or may not be acceptable to everyone, but i liked hearing where they were coming from.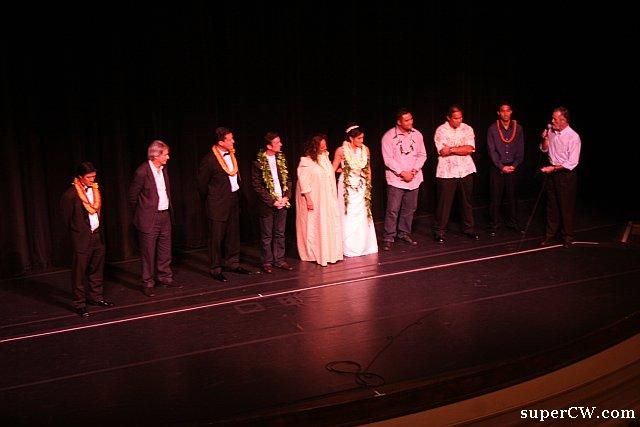 you can bet Ito was there to see the film. hello, Hawaiian.
we debriefed after at manifest with brooke, who was being understandably camera-shy.
yes, this will end up on the internet. yes yes yes.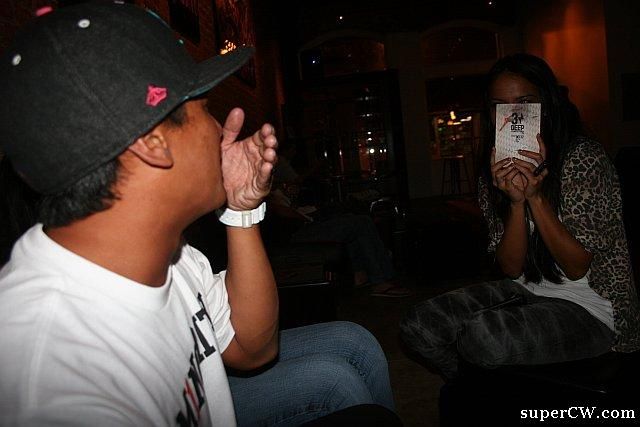 someone forgot to brief kaimana. KAIMANA!!!! hi hi hi hi.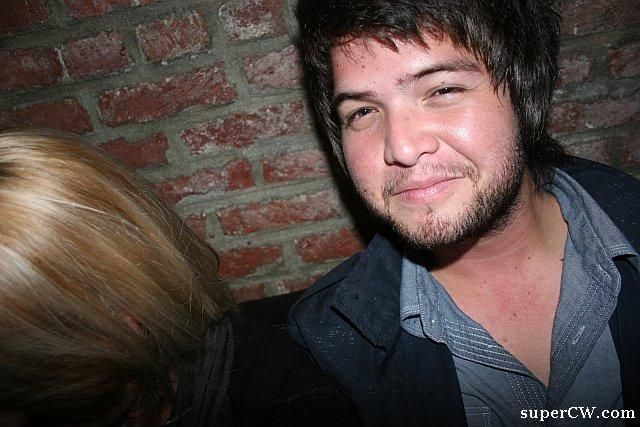 ps: the manifest. coolest friggin spot everrrrr.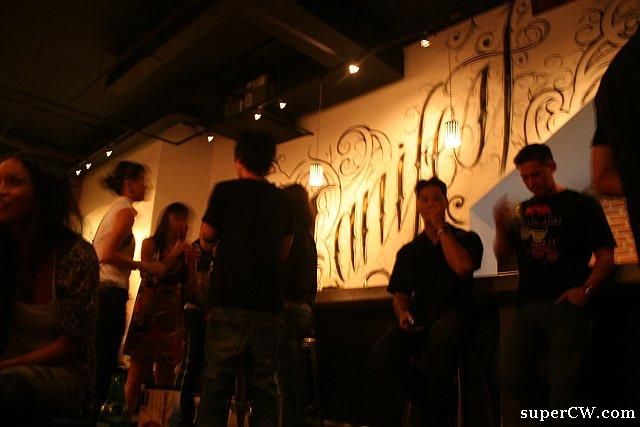 made it to v lounge for late night pizza. thank god they serve this stuff at a decent adult hour of 5pm now. cause holy crap it's hard to stay out so late just to get a bite of this italian heaven.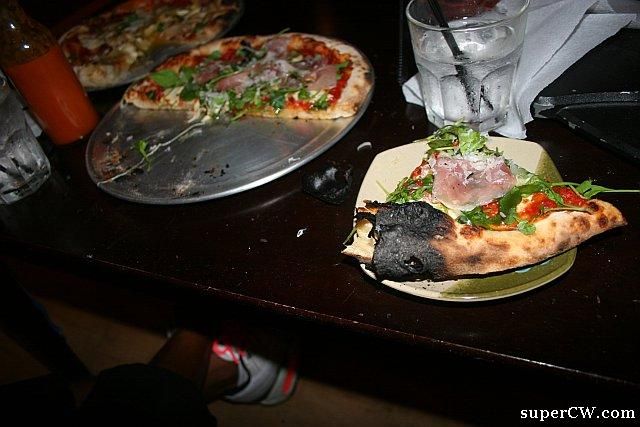 @tweet_toe has been on there more, have you noticed? it's cause of his iphone i think. or maybe his new bachelorhood. whatever man. it's fun to keep up with your pals.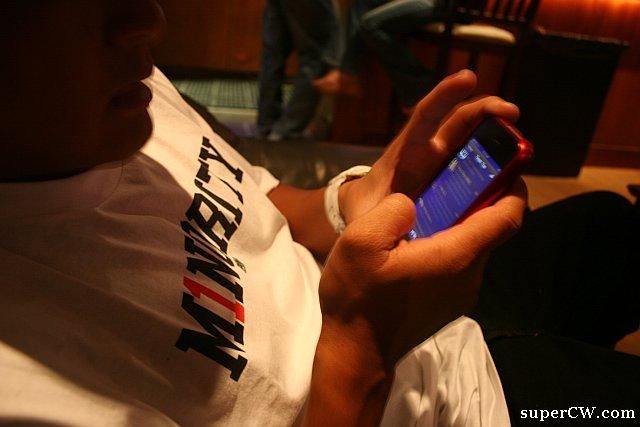 the next day i was back at the halekulani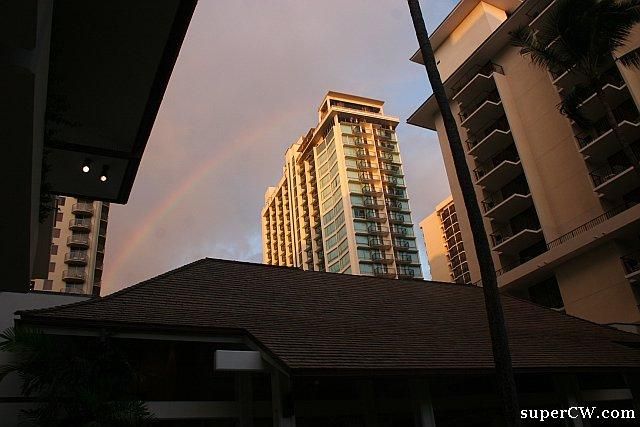 fancy this one. i'm pretty sure that vase is full of kim chee.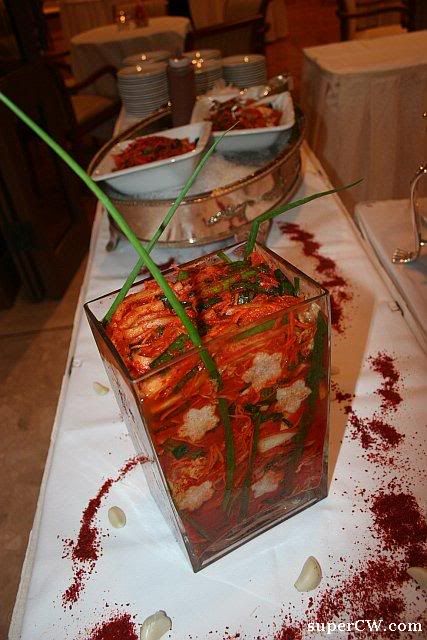 so ya, i was the first one in the door at the private media event for ABC executives and LOST cast & crew. michael emerson was right behind me tho. rad! you're an early type like me. so cool. hi hi hi. let's talk about what else we have in common…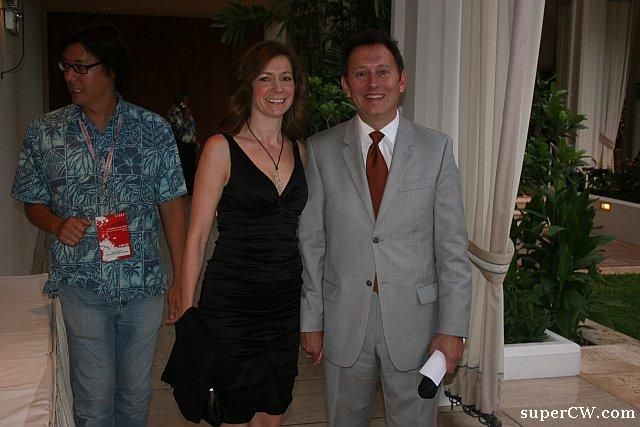 tim ryan was early too. it's always so awesome to meet guys like this in person. we had a lot to chat about.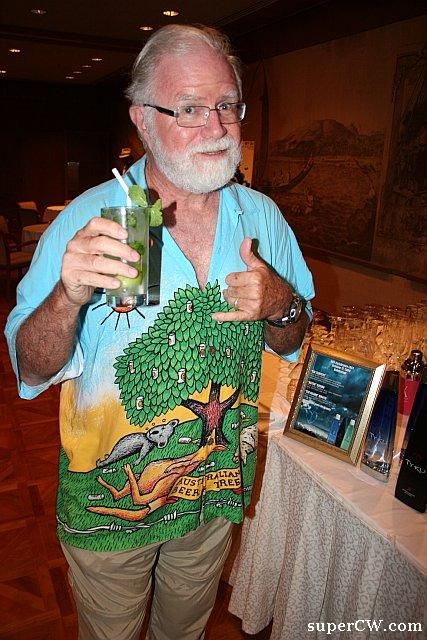 he's friends with mario perez. i was fanning out at this point.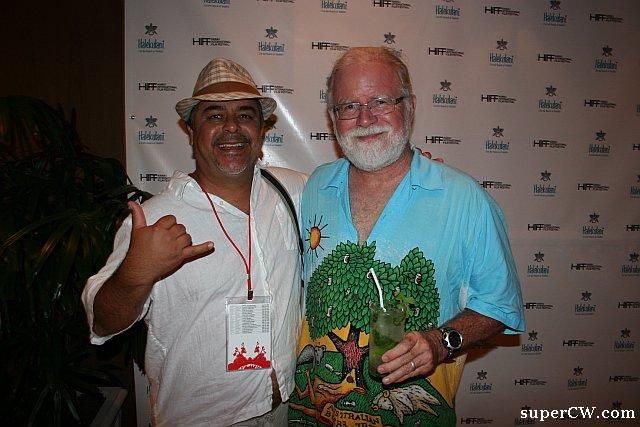 dana was there! in the world of PAs she is hawaii's sweetheart. i saw her doing her thing on the set of ecila but yeah, she does LOST too. and probably every other production out here. they all kinda stick together.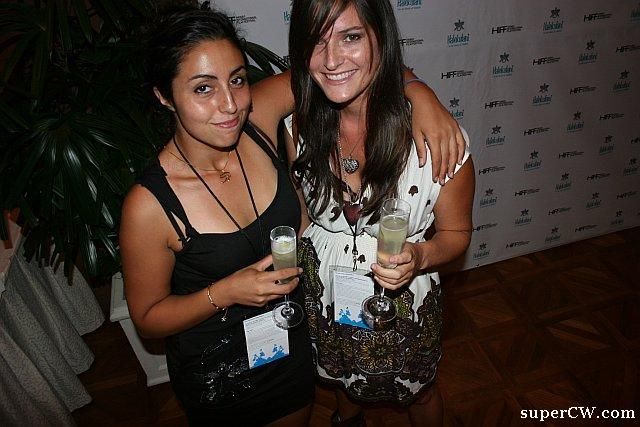 so here was our little private event. i was shaking it was so amazing.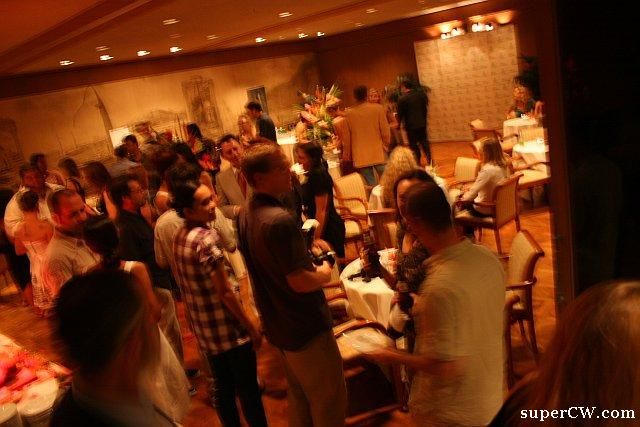 i was kind of being a chickenshit about talking to the stars and getting pics. pretty much just lurked and drank. and ha ha that guy with the shaka. that was his default pose all night.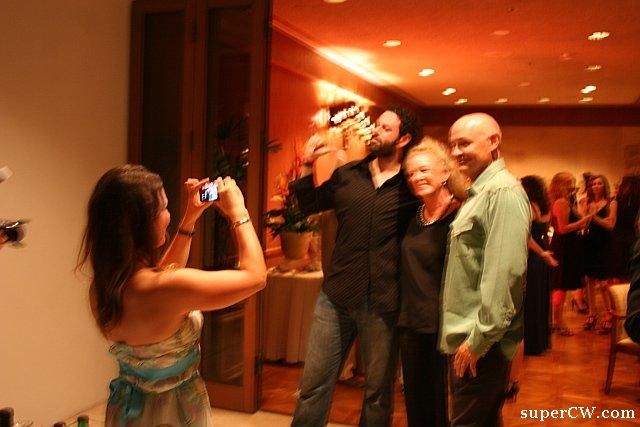 just oh my god. if you like LOST you would have died to be in this room tonight. everyone important for making the show happen was here and totally accessible. a once in a lifetime sort of night. don't think i wasn't crapping my pants.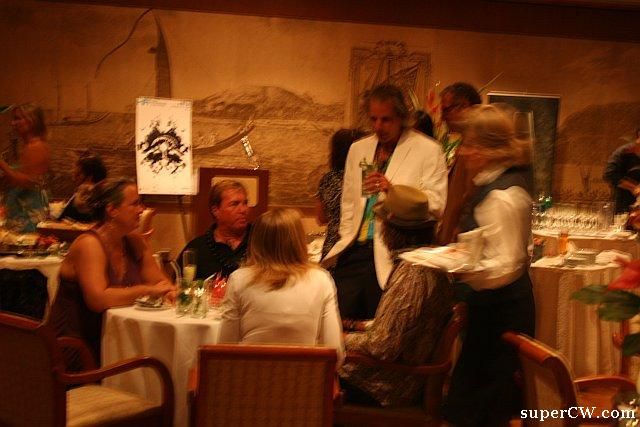 that's john bartley, the director of photography with torry.
and that's screen writer carlton cuse's killer shoes. damon linderhoff wanted to battle but i just wanted you to see that carlton was wearing kicks. it was so awesome.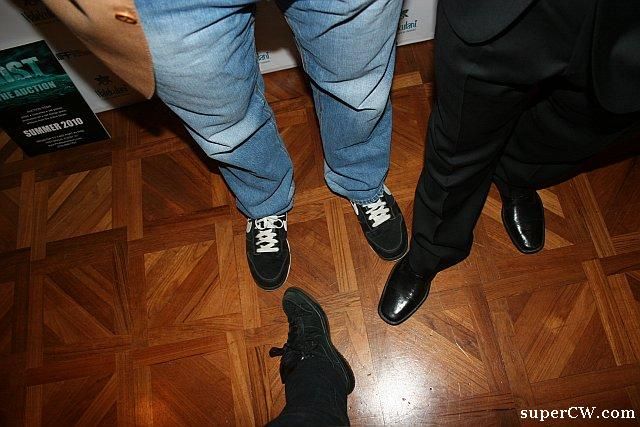 thanks for being so normal, you guys.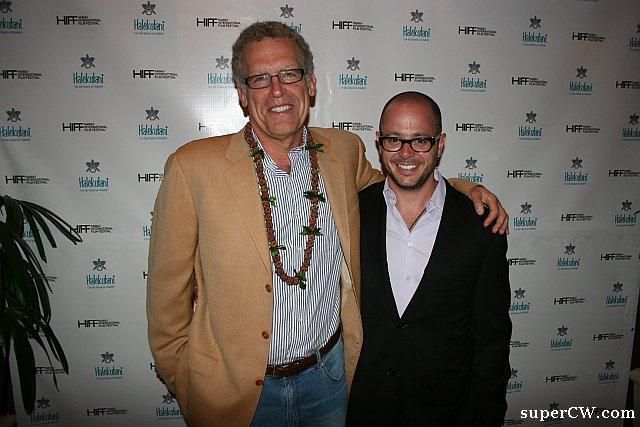 ps: the ty ku bar. !!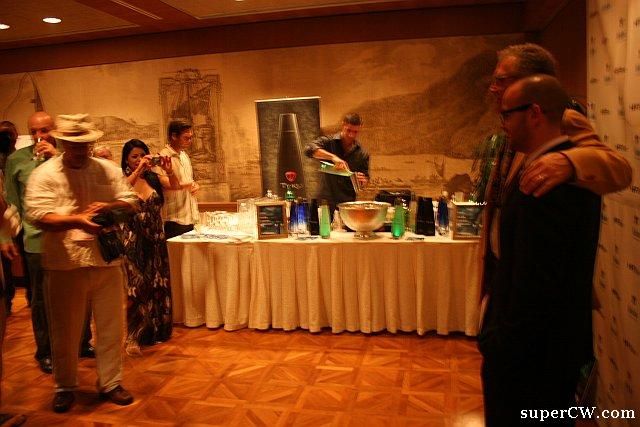 ps: locke!!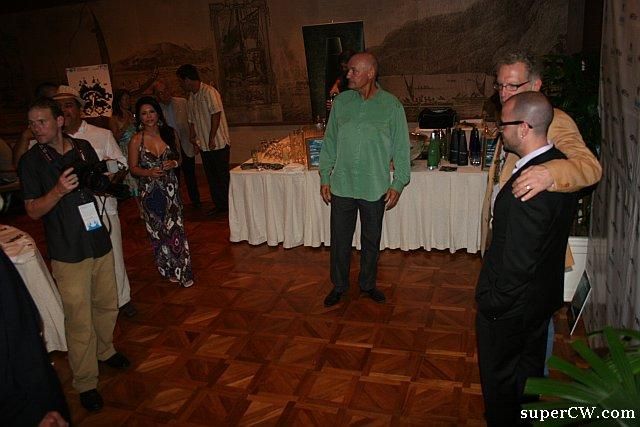 ps: michael emerson is SCARY when he looks right at you. aaaaaa.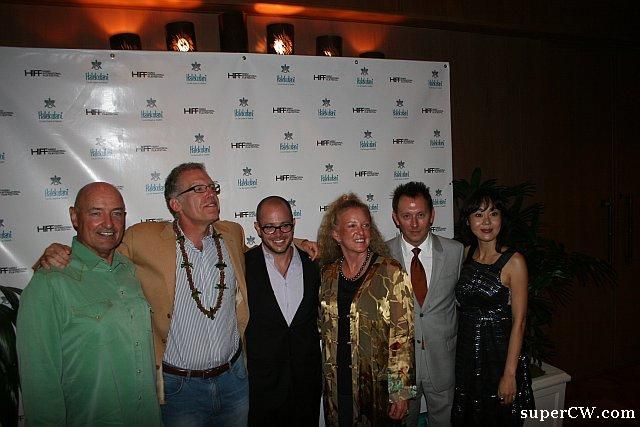 smiling is nicer. aa.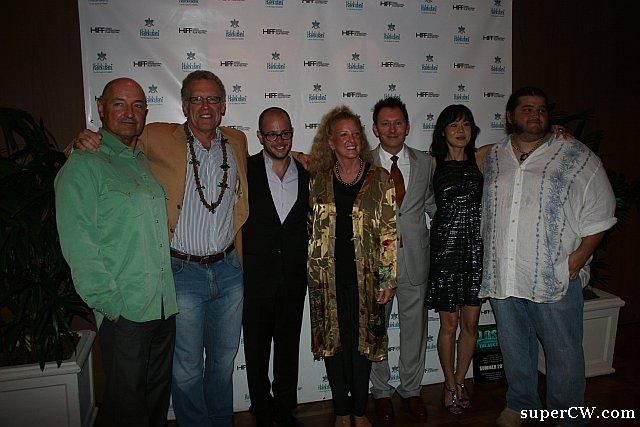 ps: the ty ku bar !!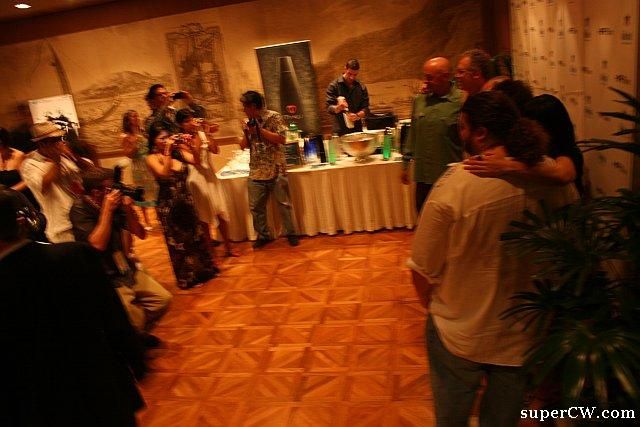 ha ha there's shaka guy. i don't know who he is yet. maybe in the next season? or am i just not paying enough attention in the show. is he already on the show? he was foreign.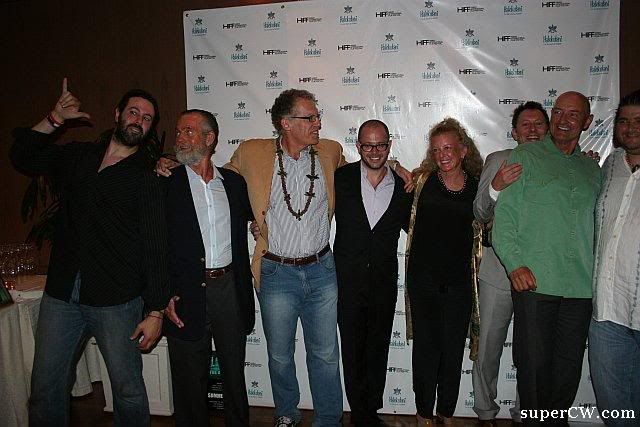 ps: the ty ku bar :)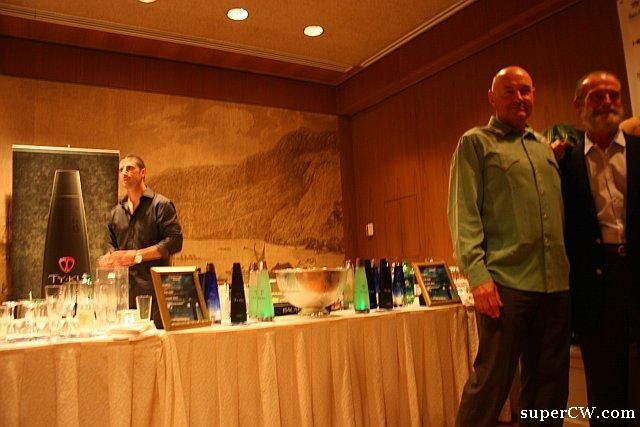 ps: THERE! you can see carlton's shoes. nice huh.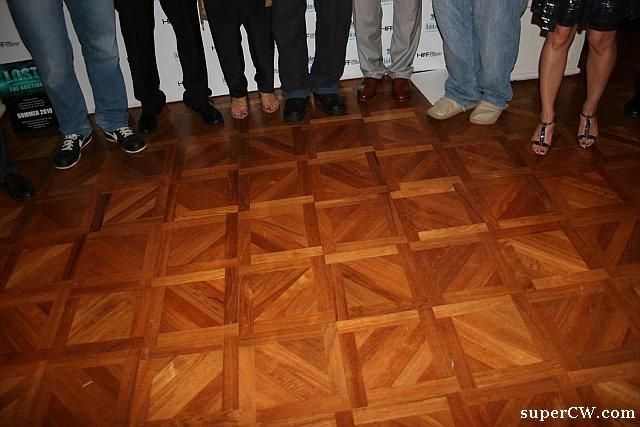 oh, THERE'S jack bender. fashionably late but whatevs. it's jack bender.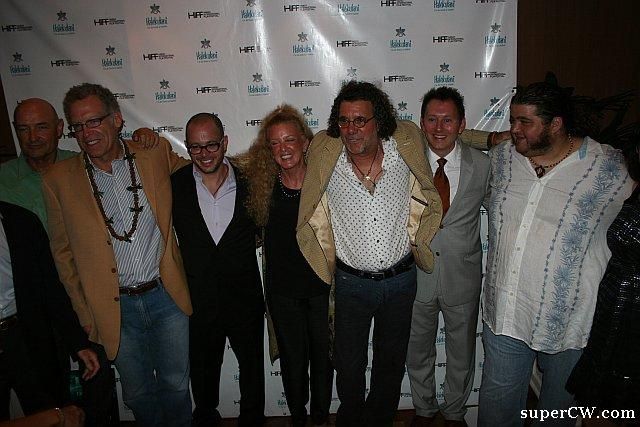 woooooo famous LOST people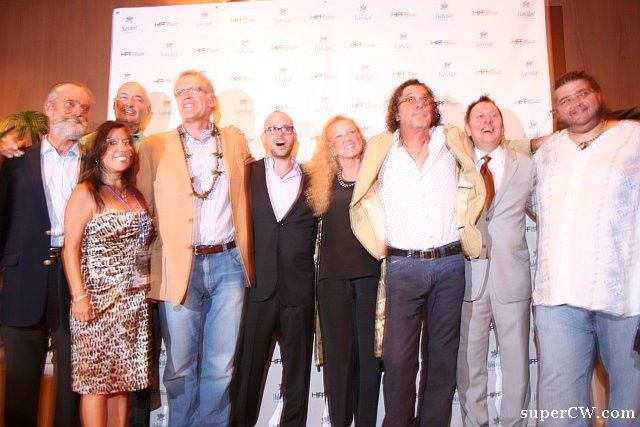 after the nice reception everyone did a nice procession over to level 4 for the big HIFF event at the new royal hawaiian theater.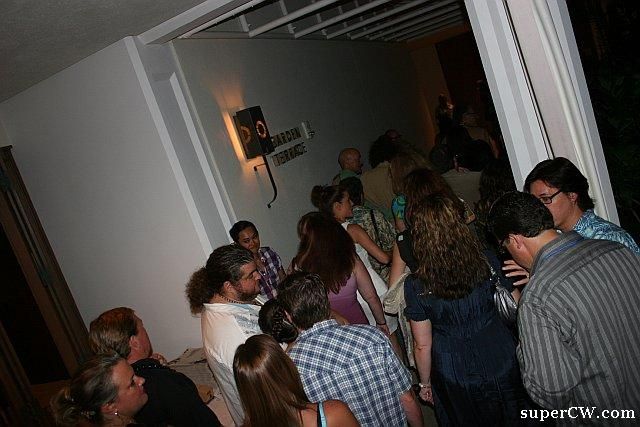 they had set up the lobby with all kinds of interesting factoids and props from the show.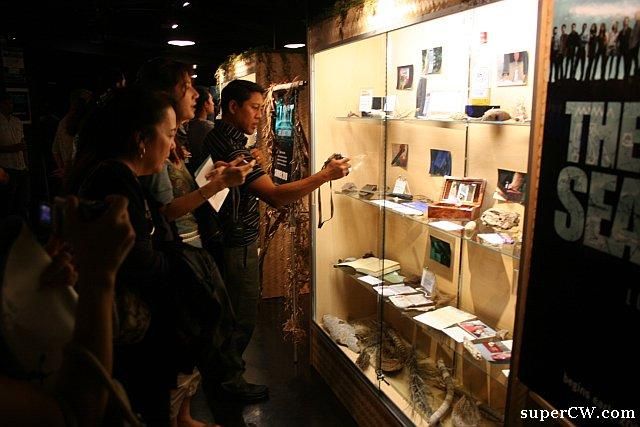 people were going nuts. it was rad.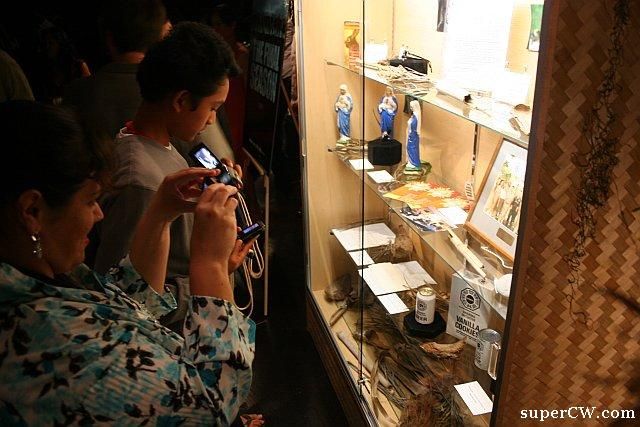 oop. i forgot to send this to you :( HERE!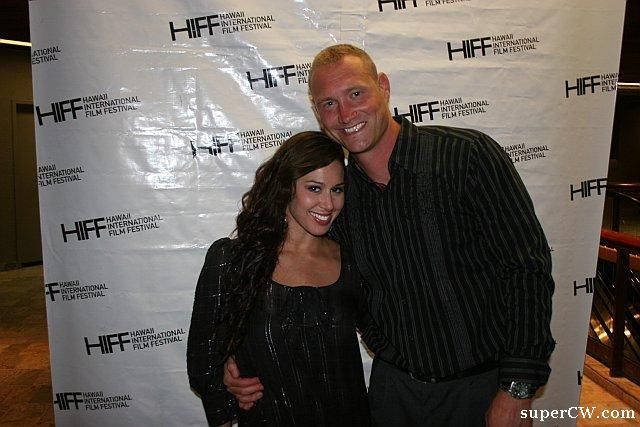 of COURSE ryan was there. RYAN!!!! his coverage is always ace. especially of all things LOST.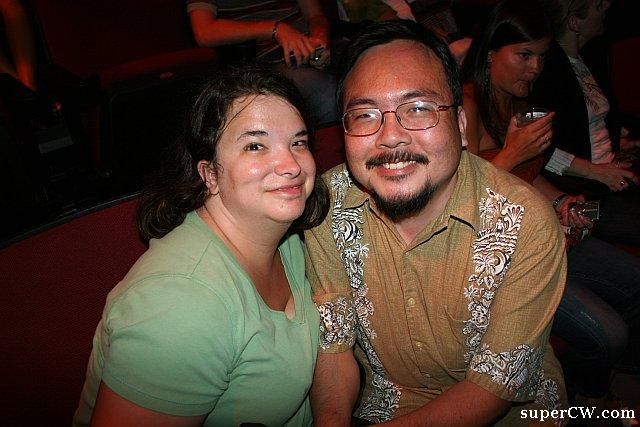 then jack bender said a few words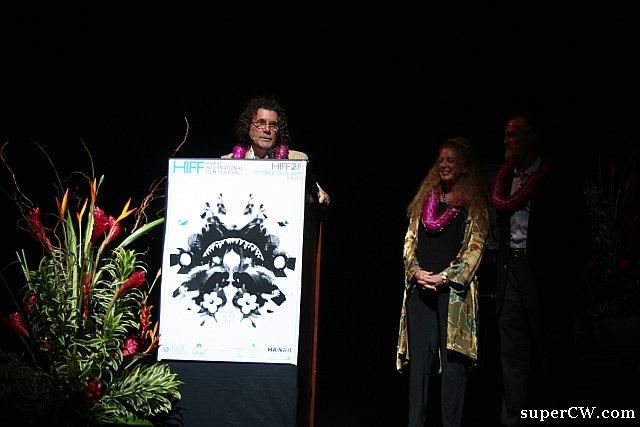 ps: i really liked this plant. it went well with jack. and the HIFF ink blot. awesome awesome awesome.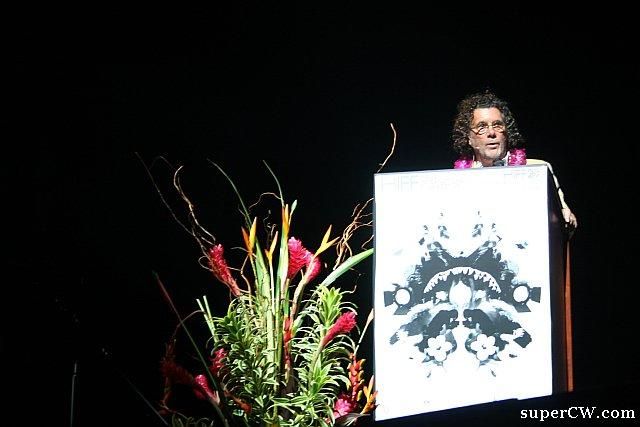 then mayor gave damon and carlton an award. i'm kind of sad this show is gonna be over. it was cool to have them around.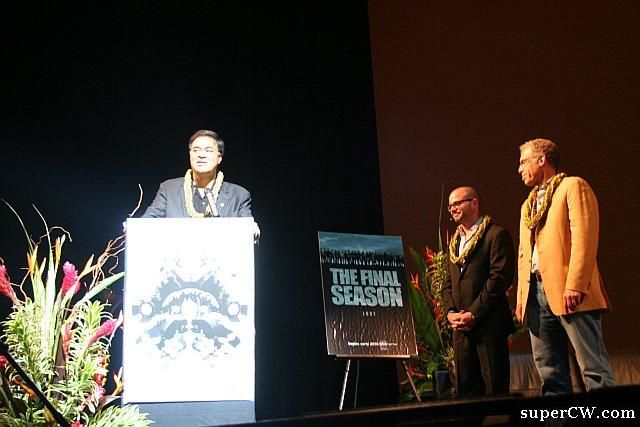 then brian lowrey asked them a bunch of questions about the show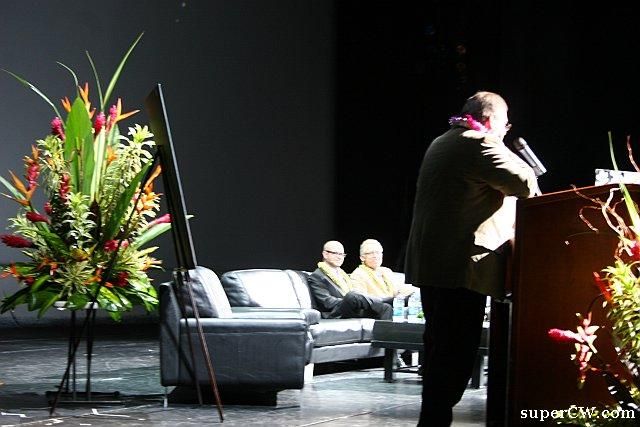 then the cast members who were there came up to the stage. ben, sun, locke and hurley.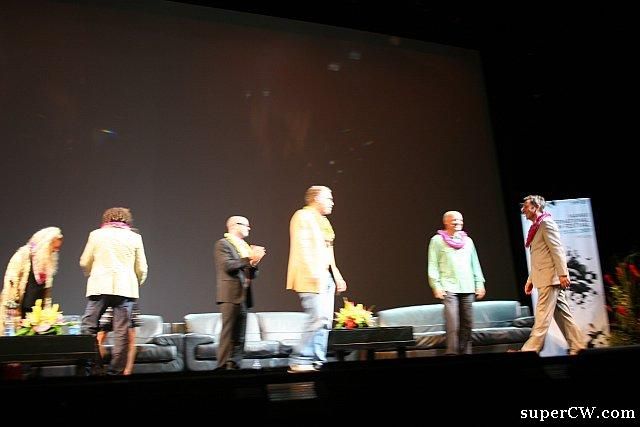 i liked that part. everyone embracing like they weren't all just drinking together about 10 minutes prior. hawhaw.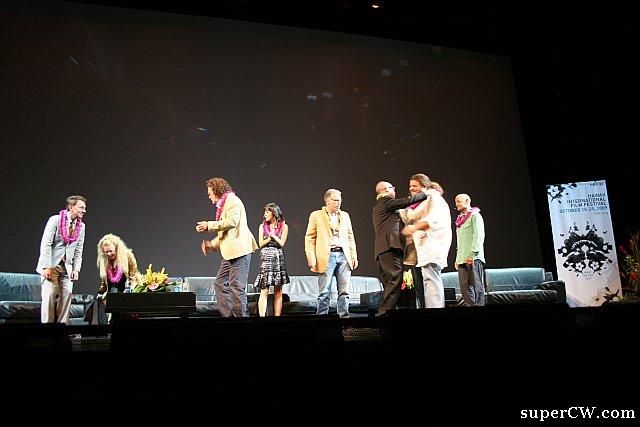 then there were more questions and stuff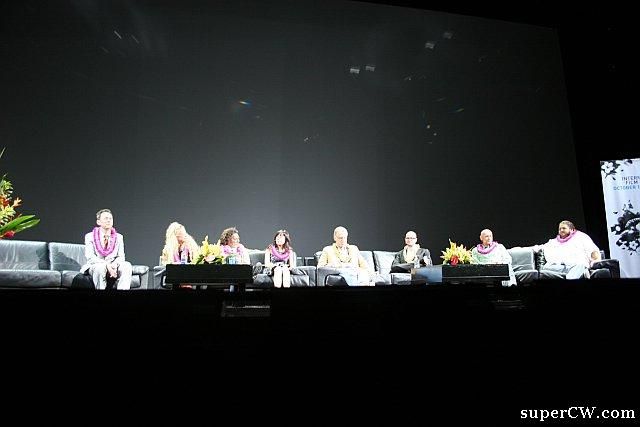 wish jorge got to talk more. he's sofa king funny in real life. funnier than you would think.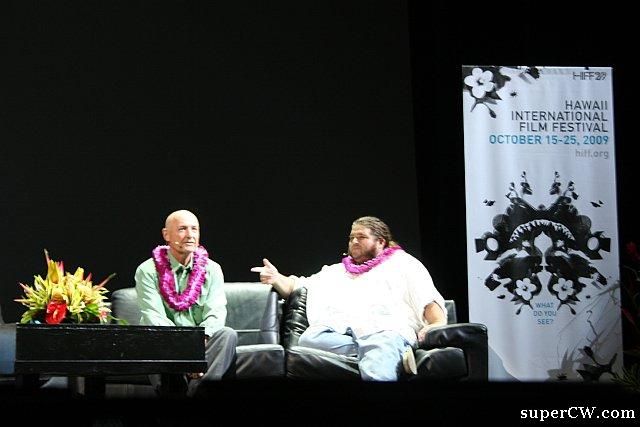 it was a nice event, but i had to dig out……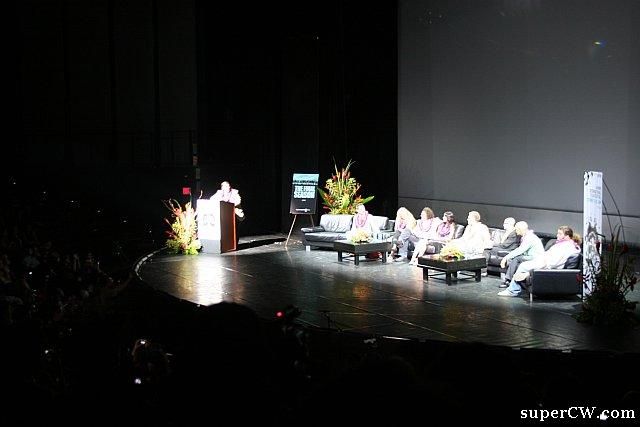 …..there was a huge halloween party reaching its peak at aloha tower. hi kyle!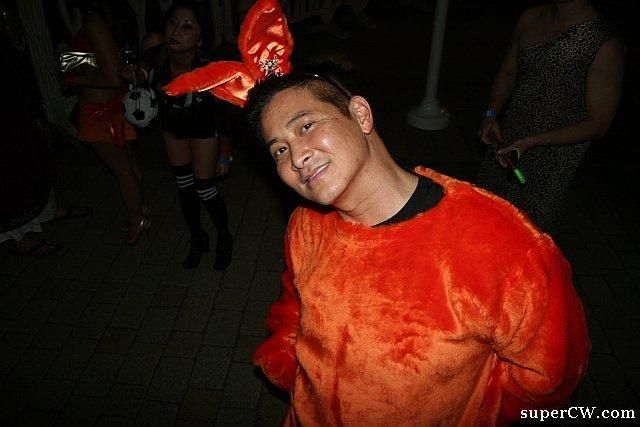 the slopes of diamondhead hui crowd is an early crowd like me. i was bummed for being so late. like i was going to miss that LOST event though. hi guys! i'm here!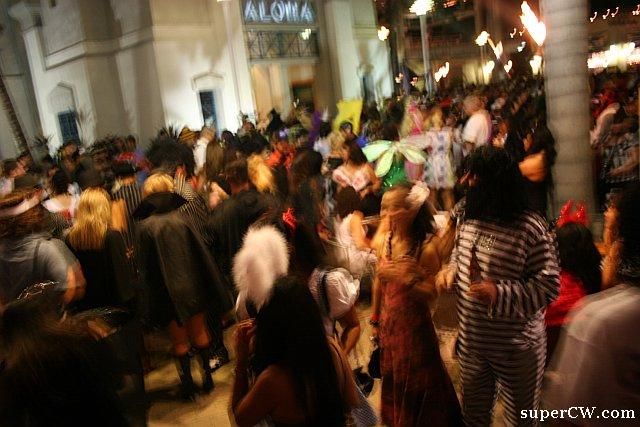 haw haw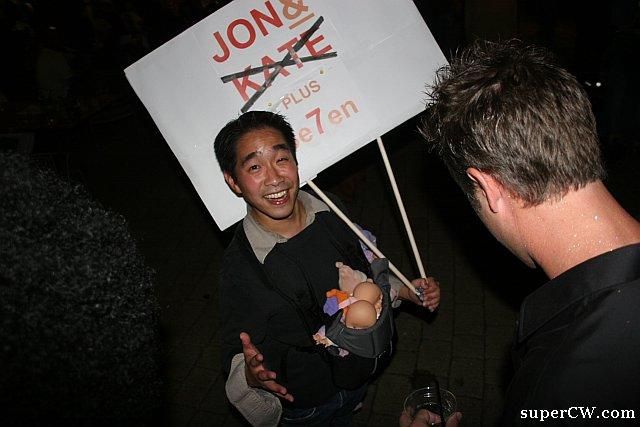 made my way straight to the stage. that's where all the fun was happening.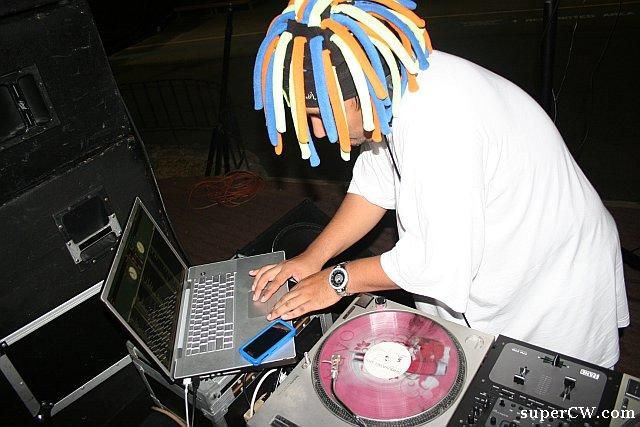 haw haw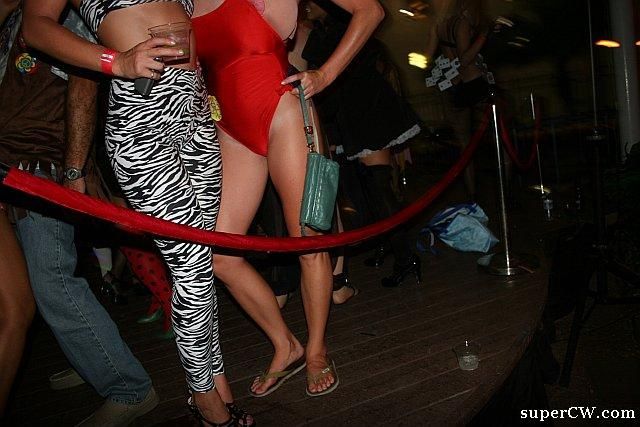 yeah! i love seeing one of these every year.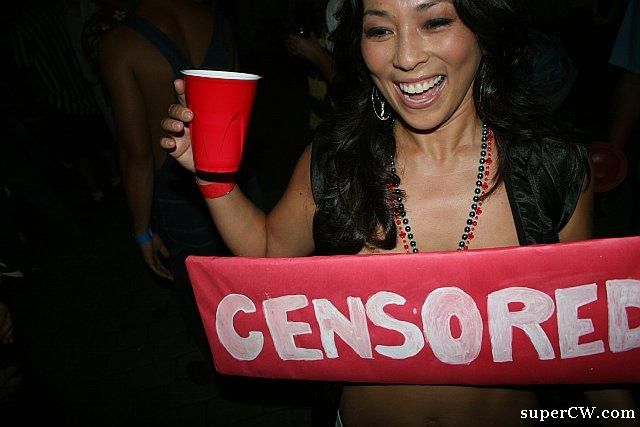 these too. dan!!! *hugs*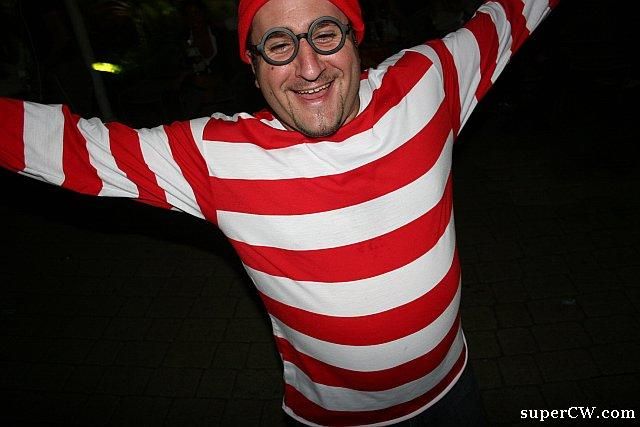 omg this was by far the best that night. hahahhahahahaw.
i found him on twitter too.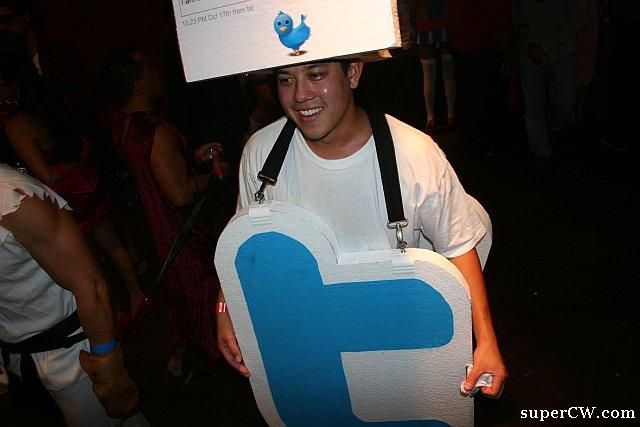 brian!!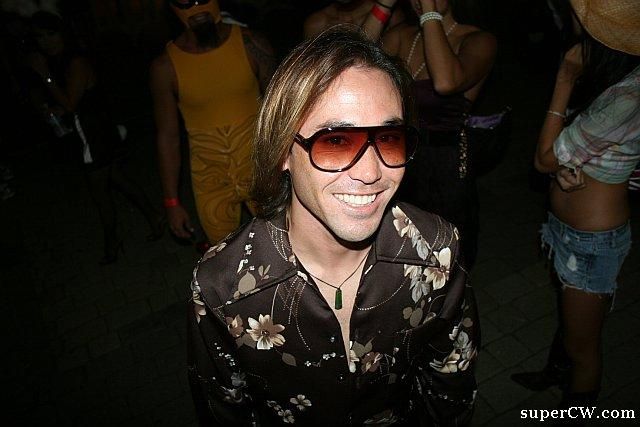 edward!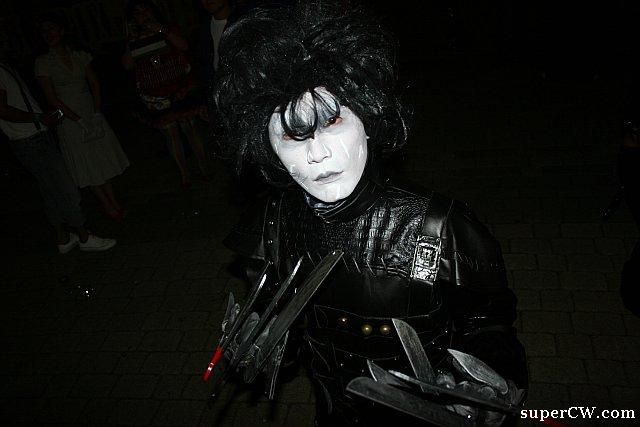 lance rae! wait a second. just in an afro wig? that is SO NOT a costume. penalty.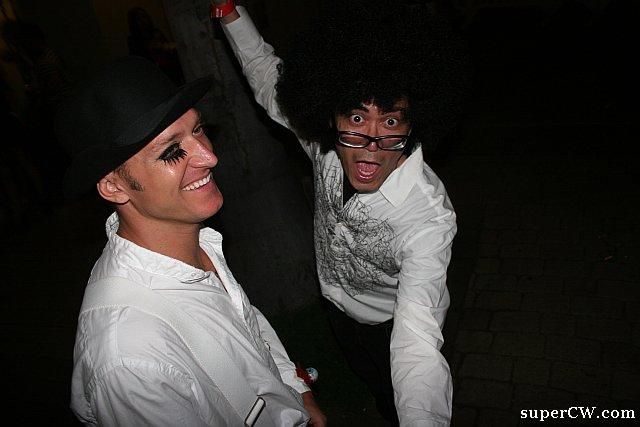 now THIS is a costume! after this i was like "ok, i'm out. i saw a dude dressed like twitter and yasmin dar as a wild thing. night's over."
sal made their costumes. love sal!!!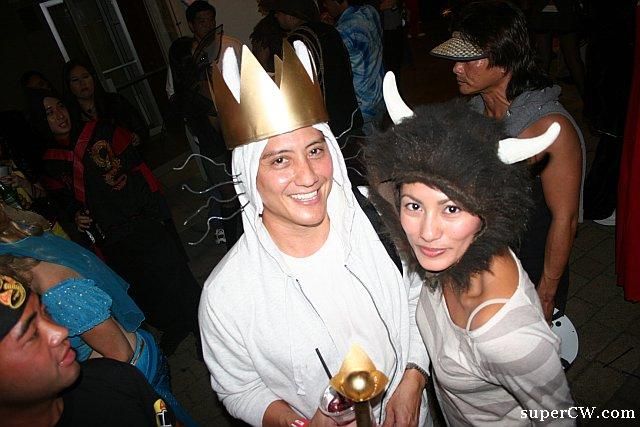 seriously the bees knees man. please wear it again this weekend! and do you mind if i copy? cause AWAWAAWWWAWAW!!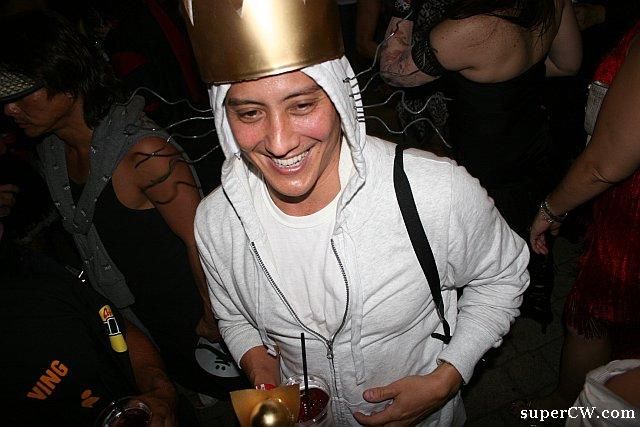 media darlings. hi!!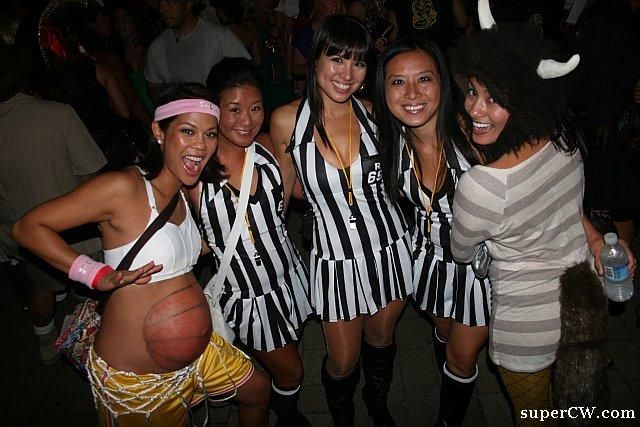 ivan cruz really went for it. i was picturing him the next morning with makeup in his eyes like how us girls usually wake up.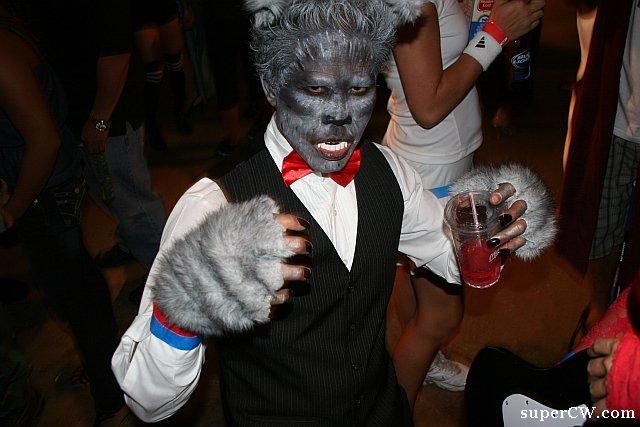 i wanted to make these ninja turtles my wife. they were having the best night ever.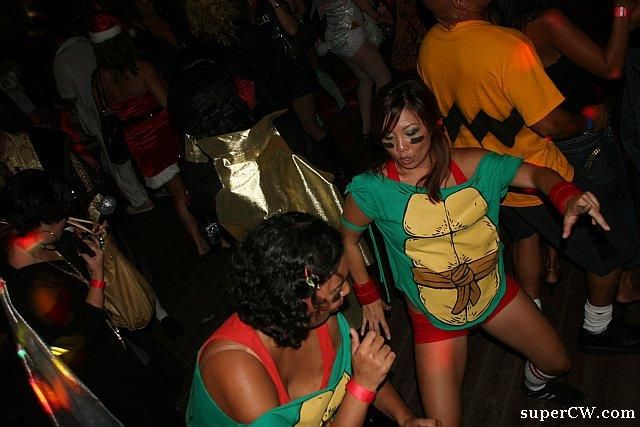 hi. i'm christa. marry me?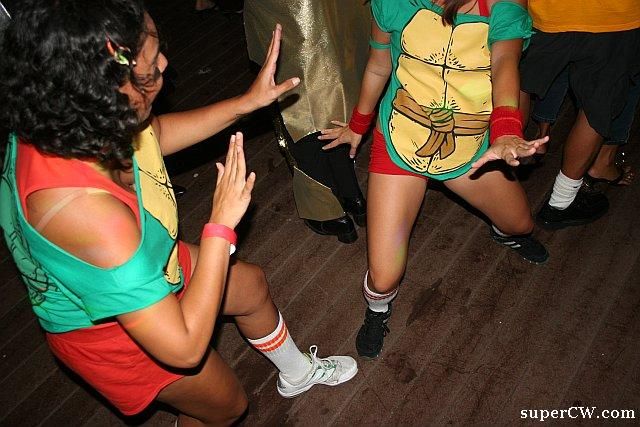 please?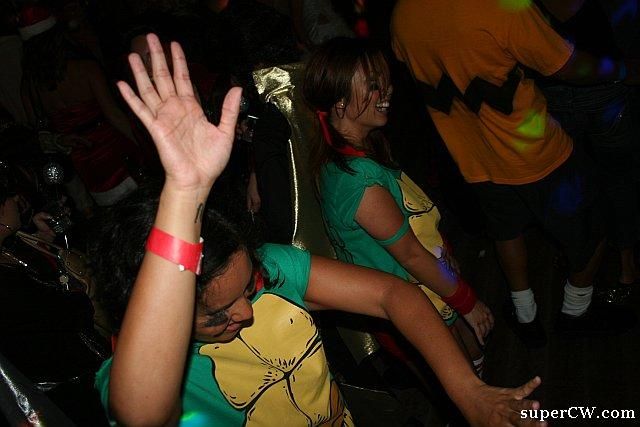 everyone was actually having a pretty damn good time. it's the costumes. brings you out of your shell. i was stoked.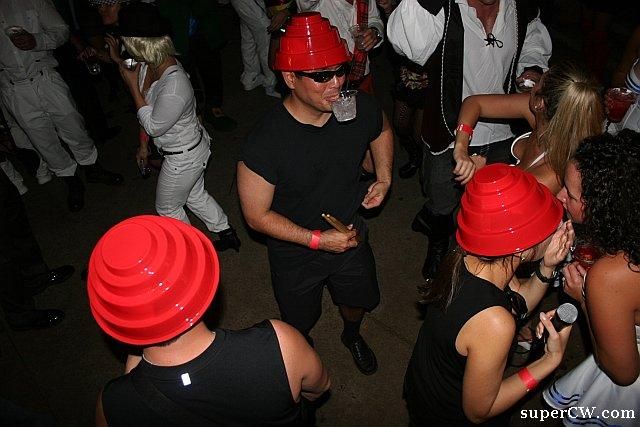 hi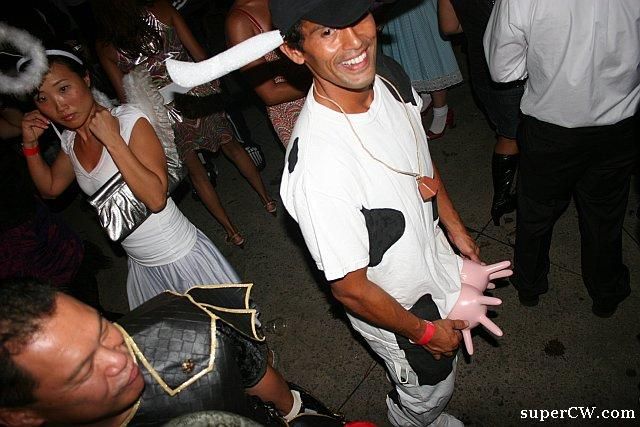 didn't stay too long. i couldn't. it was contrast magazine's 3rd issue launch party in chinatown. 3Deep. they kind of took over everywhere to do it too. manifest is usually full of hipster arty dudes but tonight was like overflowing.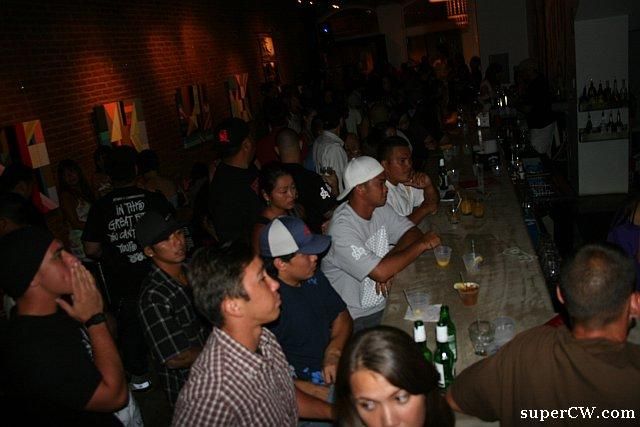 arty tee shirt guys and supermodel looking girls, as i like to call it. HI!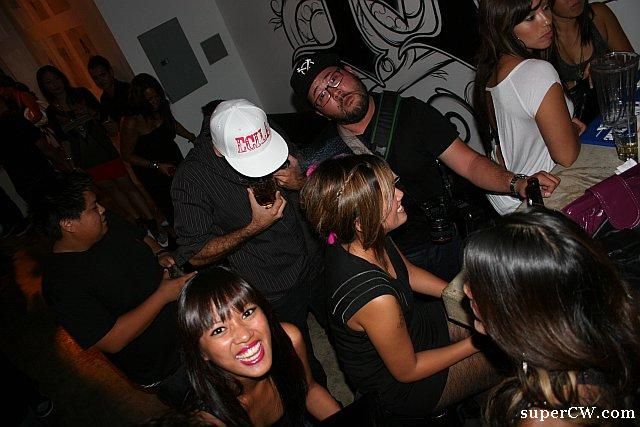 speaking of arty dudes. director darieus legg with a very alcohol-consumed-looking honozooloo.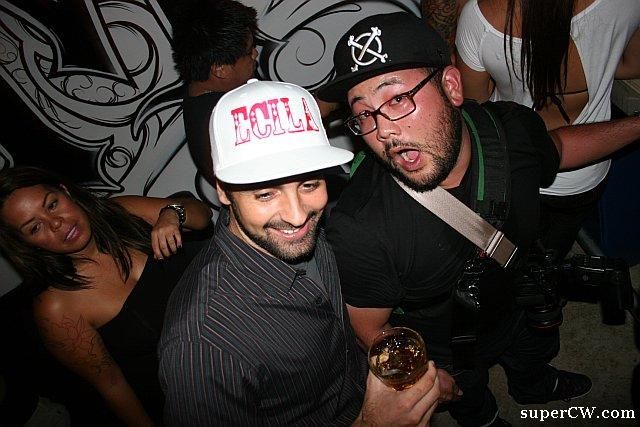 LOVE this place. love these parties.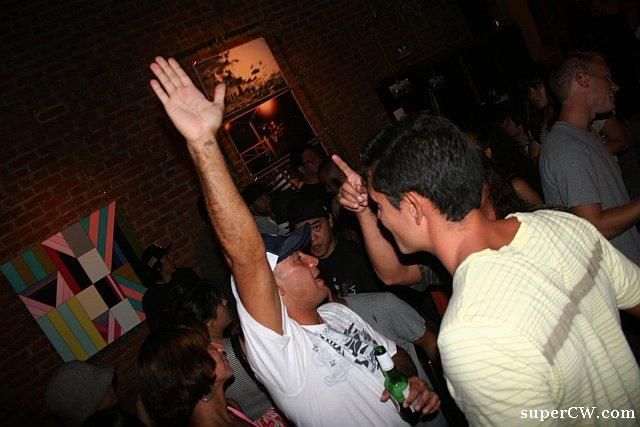 arty tee shirt dudes.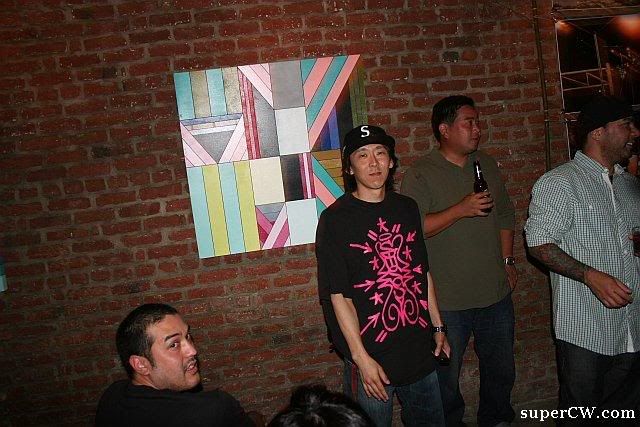 ps: in4mants. HI!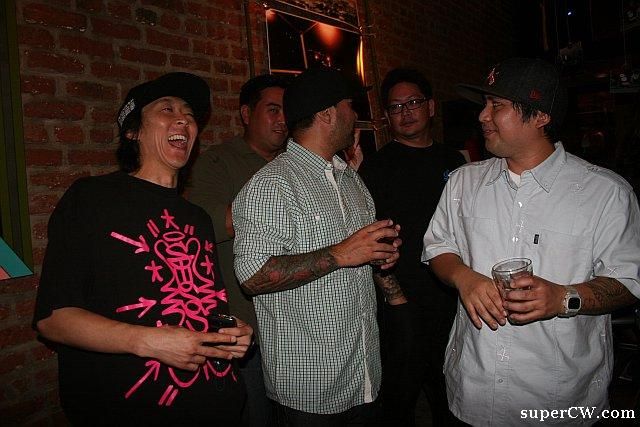 haw haw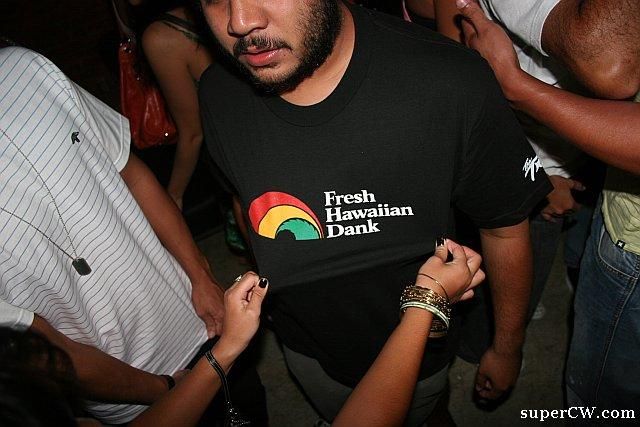 arty tee shirt wearing dudes and supermodel looking girls. that's contrast magazine parties. forever.
i had one or two conversations with editor daniel ito over the past week that revealed how intelligent and kind he really is. passionate about what he's doing and stoked to be doing it. kind of loving this dude right now. ps: ladies, he's single. get there.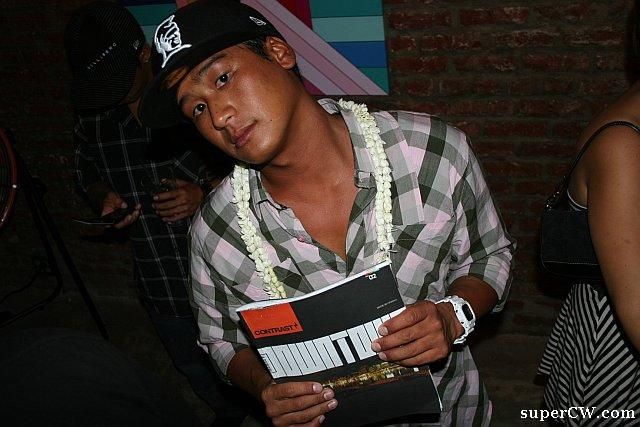 sigh. rooms full of arty tee shirt wearing dudes and supermodel lookings girls FOR LIFE.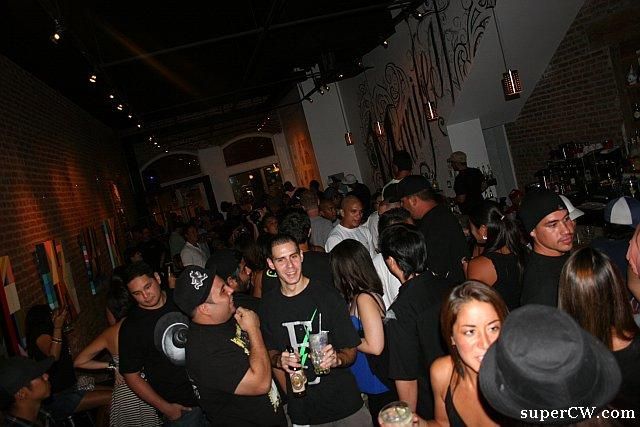 robert campbell was around. witness to my earlier statement by wearing an arty tee, and bringing a supermodel looking girl.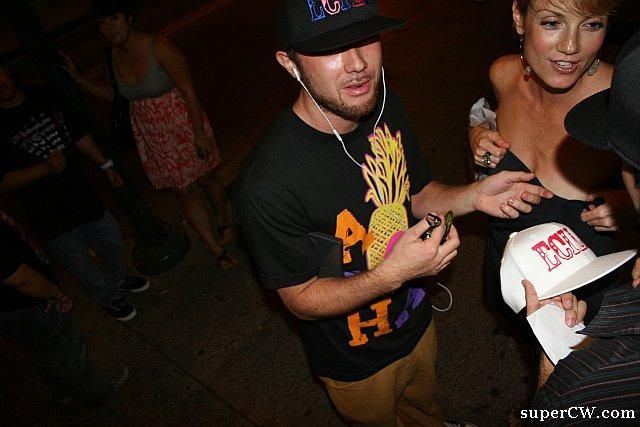 kristi was around. looking like a supermodel.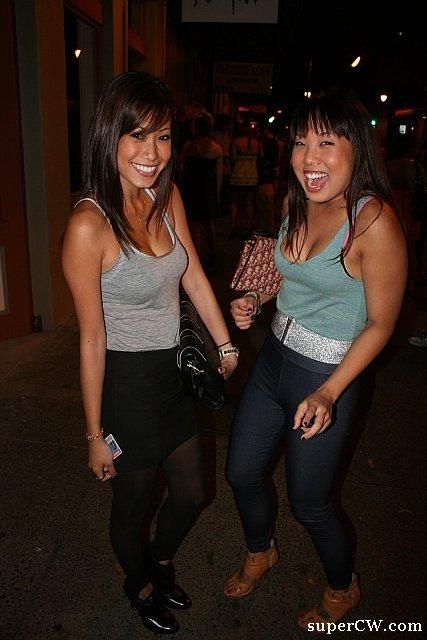 aloha stadium was around. but they were across the street. this is the best i got guys.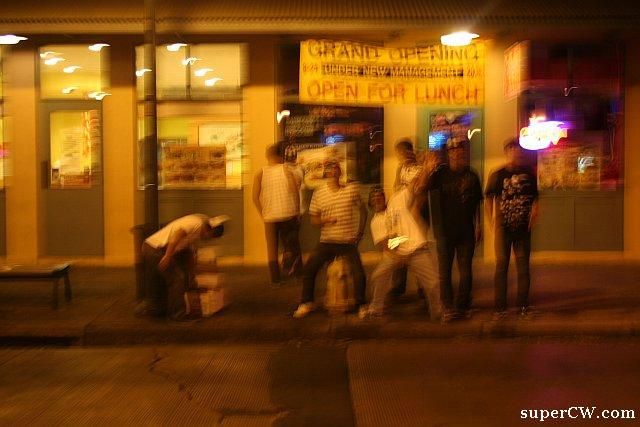 lina has a BOYFRIEND?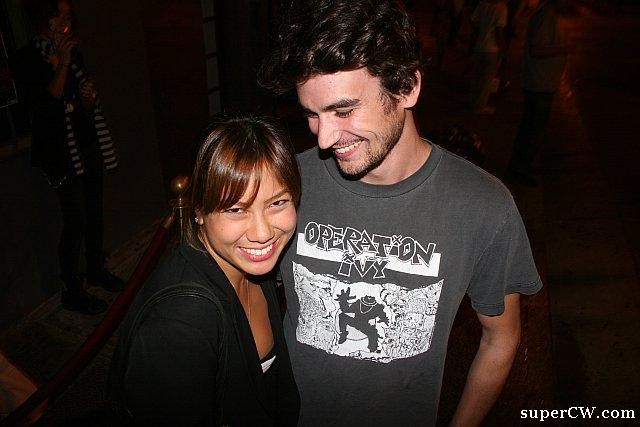 OH! there she is! THERE! that's contrast's new intern that i am obsessed with. i want to marry contrast. and her.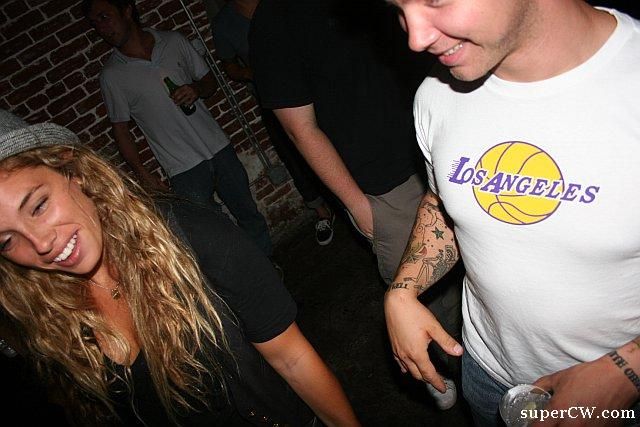 and the girlfriends.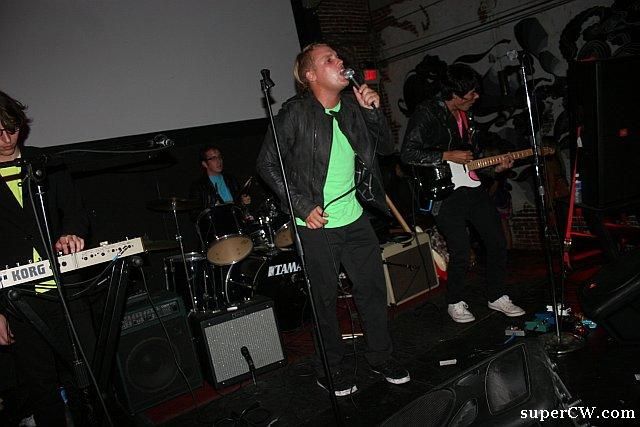 and this crowd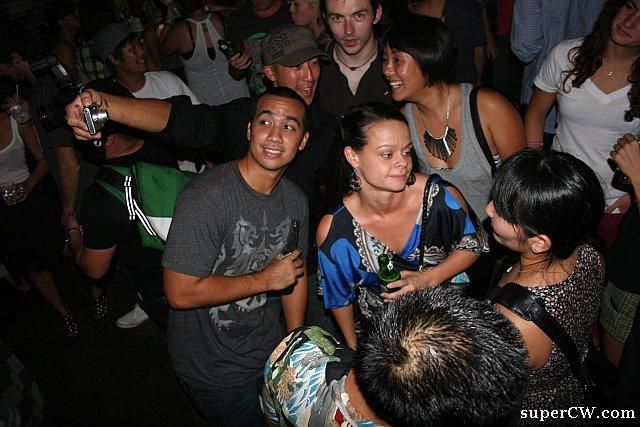 the ecila cast and crew were raging in the back. what's funny is before all of ya'll got there, when i was sitting in the front with torry and he leaned over and was like "if i get a bottle do you think anyone would drink it?" and i was like "um… YES. the answer to that is ALWAYS yes." hawhaw.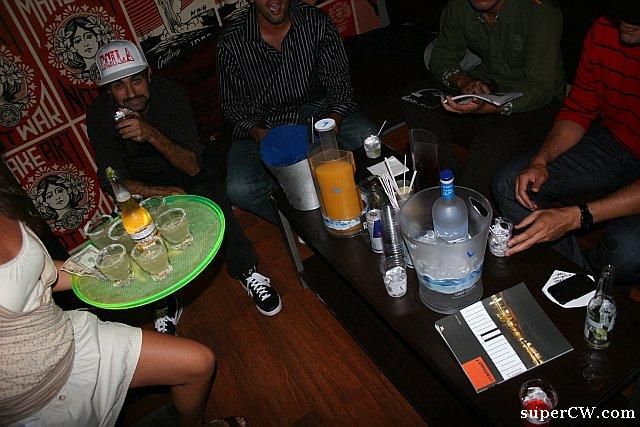 robert had brought a huge bag full of ecila hats for everyone. it was all the rage.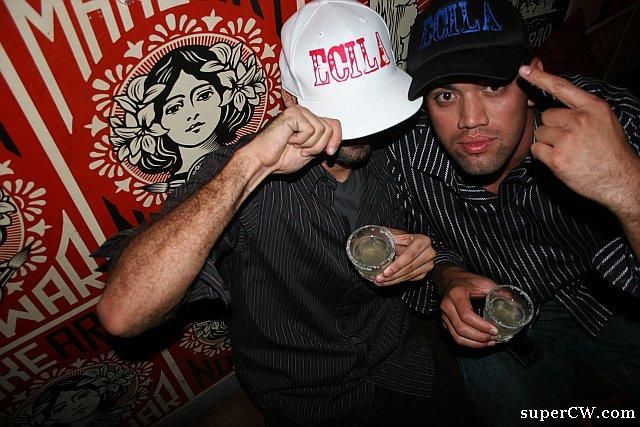 these guys were all the rage. raging.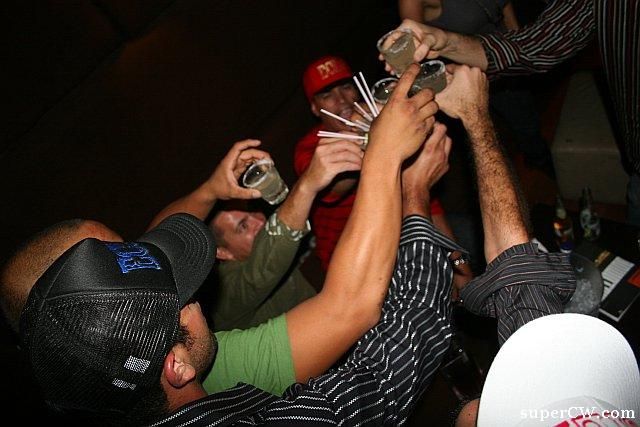 cyrus legg just blew me away in "the branch will not break" at HIFF. he's like for real actor dude. *fanning out*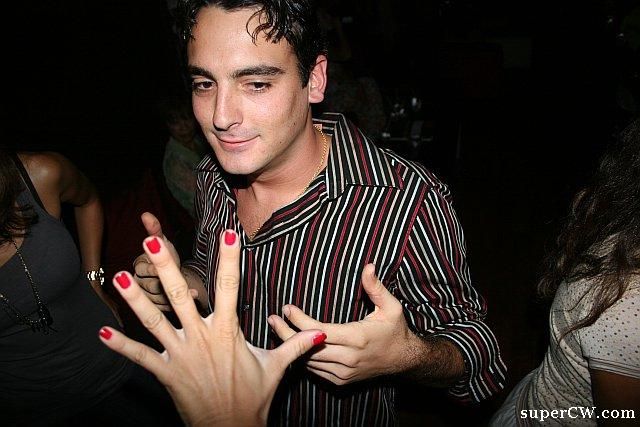 kristen lee lim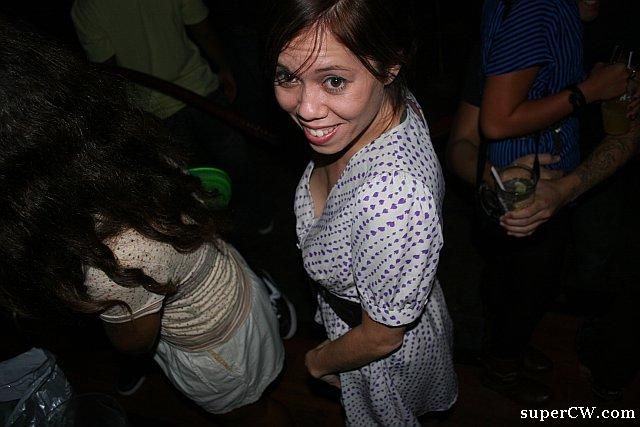 <3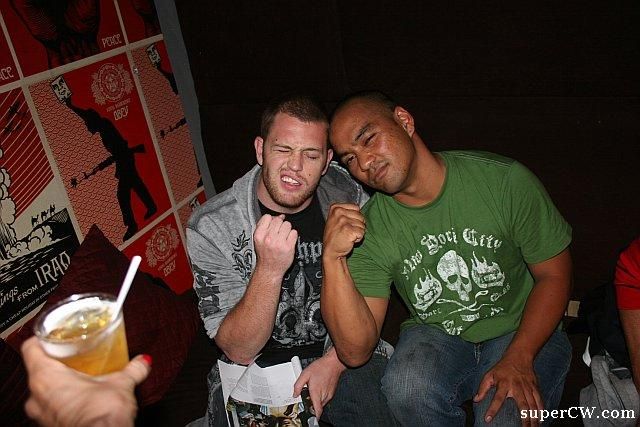 haw haw robert…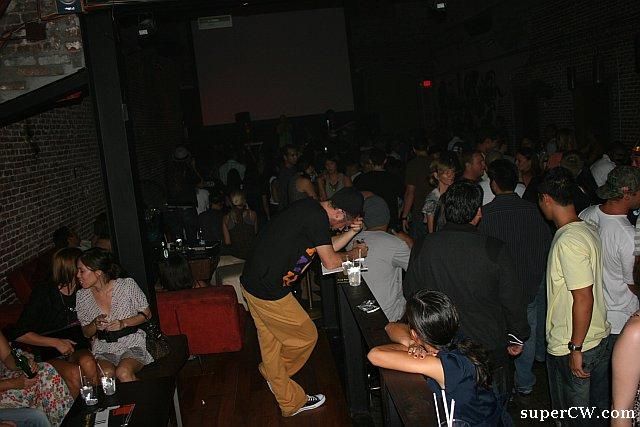 …it was the first time he'd seen the piece on him in the latest issue.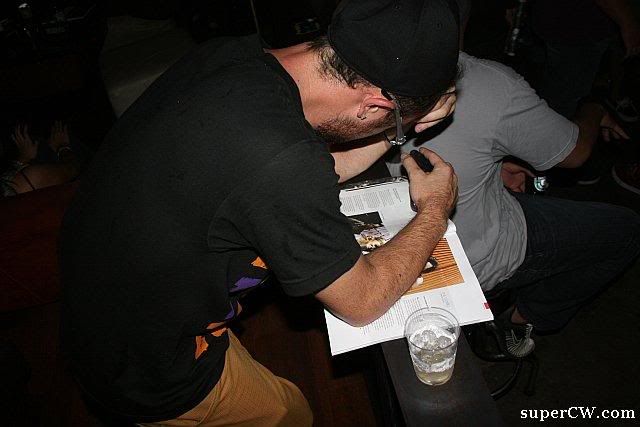 nice work torry. tonight raged. nice work darieus. where's your HAT.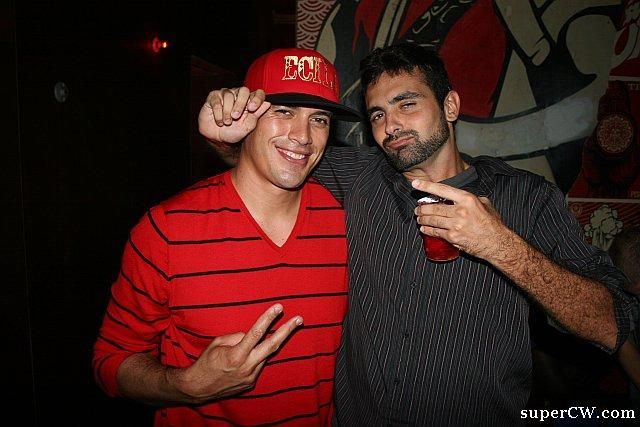 landonface. aw.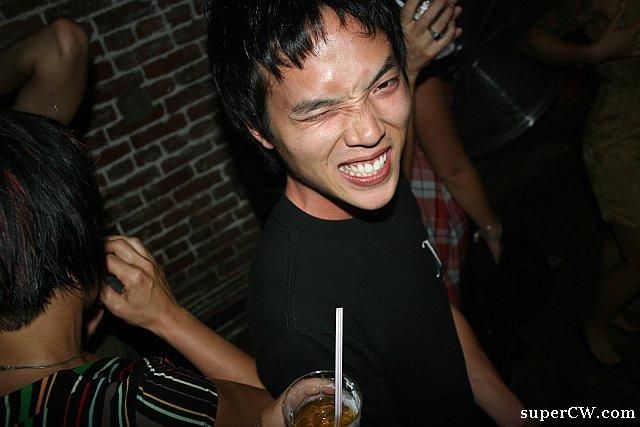 john hook and family.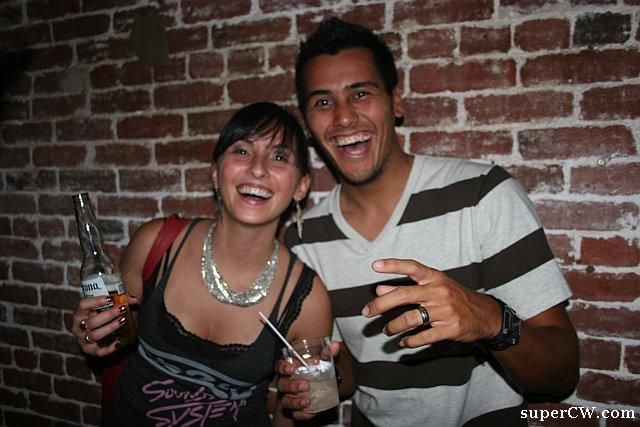 and WOAH the girlfriends. girlfriends girlfriends girlfriends. they are so the newest big thing right now. pretty much thrown together only a few months ago, they've already opened for Modest Mouse, played a Contrast Party and are about to drop an EP. seriously, only a few months ago. and they're GOOD.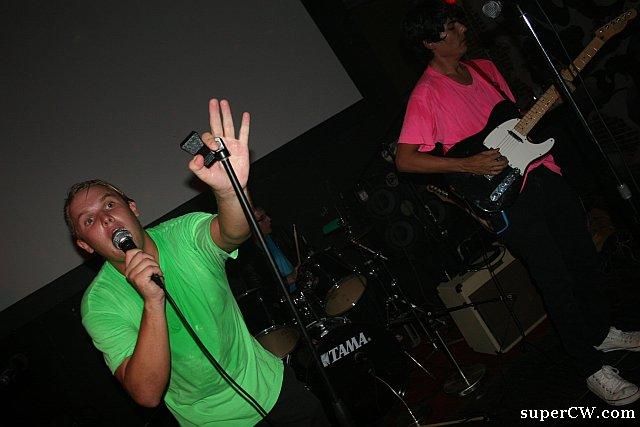 speaking of amazing actors, i also saw mike pooley, who just killed it in that same film with cyrus. those two are totally the hiff-academy-cw-given award winners for best actor. yup. in my award system it goes to two people, not just one.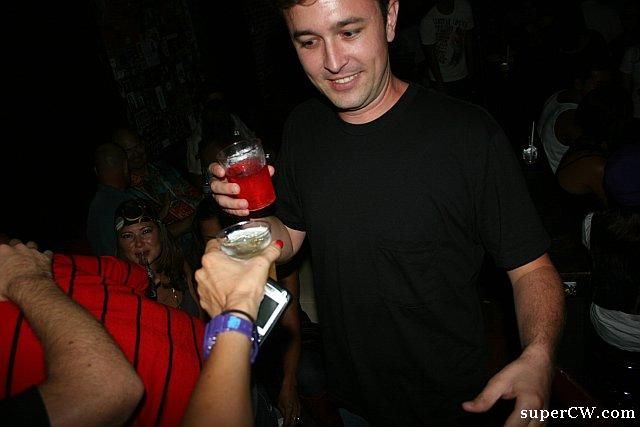 and now travis is a musketeer. no really! congratulations honey. we'll be seeing a lot more of you.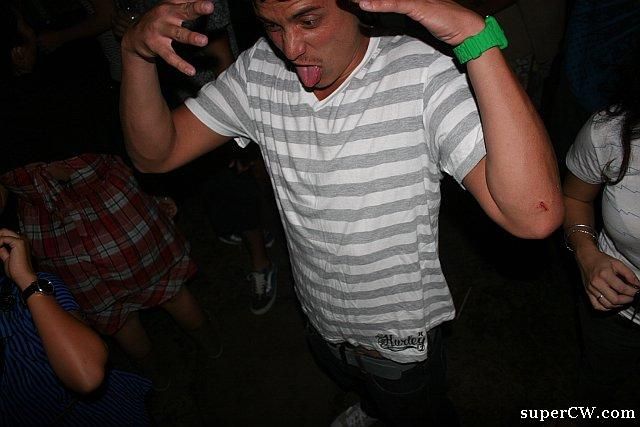 in the dark i thought they were twins. nope. but hi! hi hi hi.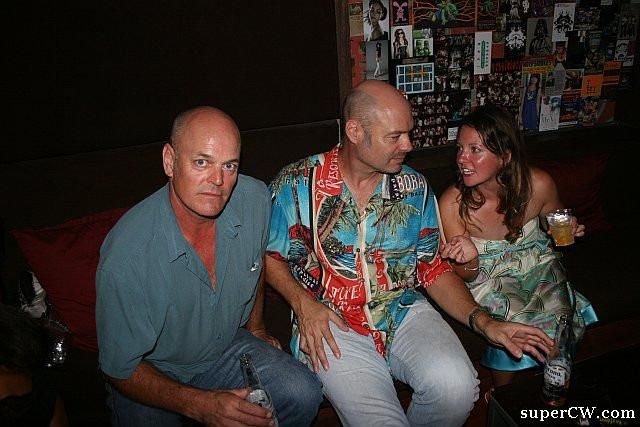 ps: mike pooley only wasn't getting on the ecila hat train because none of them fit.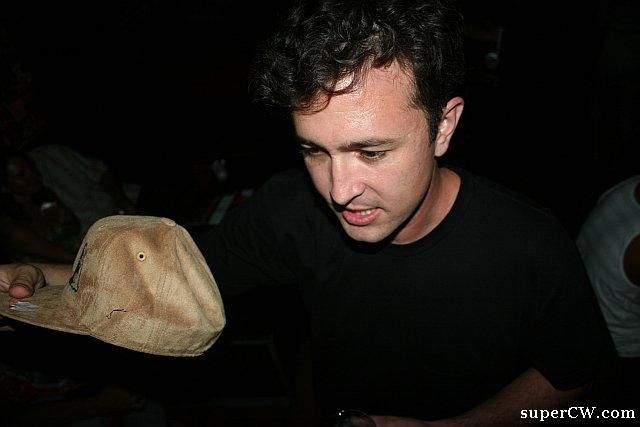 they were cool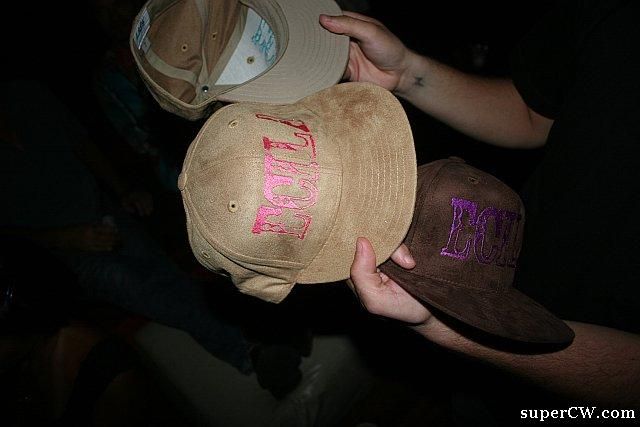 thirtyninehotel girls making them look gooooood.
brandon spencer. where's your HAT.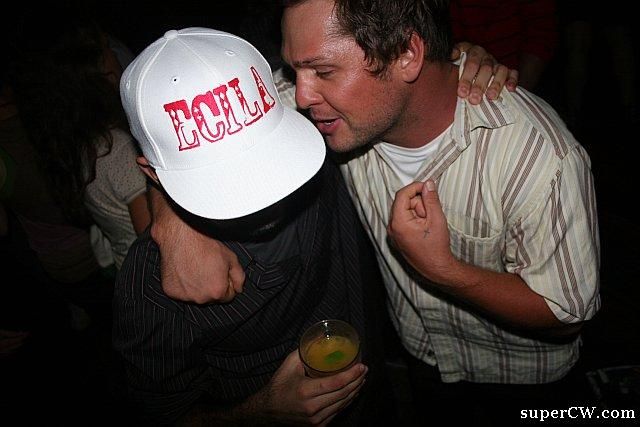 so yeah, these guys. tonight. loved it. tonight was killer at next door. i missed that place. like i'm gonna miss LOST. damn. can't you just do like ONE more season…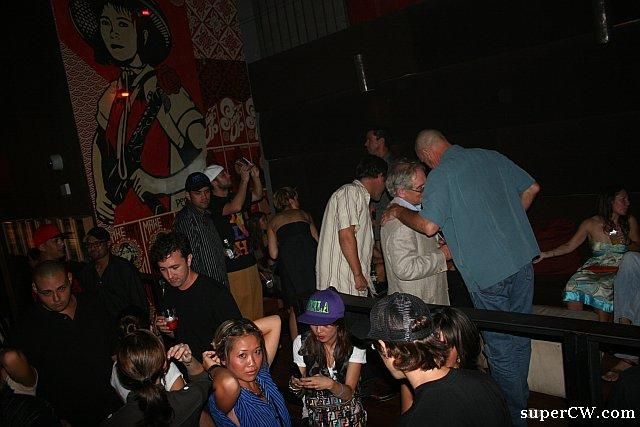 surfahs. russsssell and ssssam.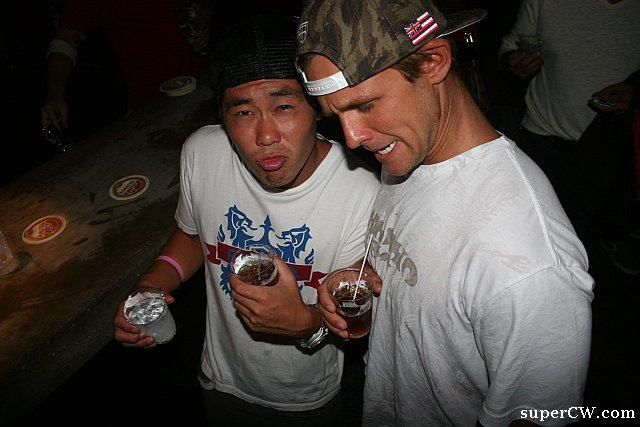 arty tee shirt wearing guys and supermodel looking girls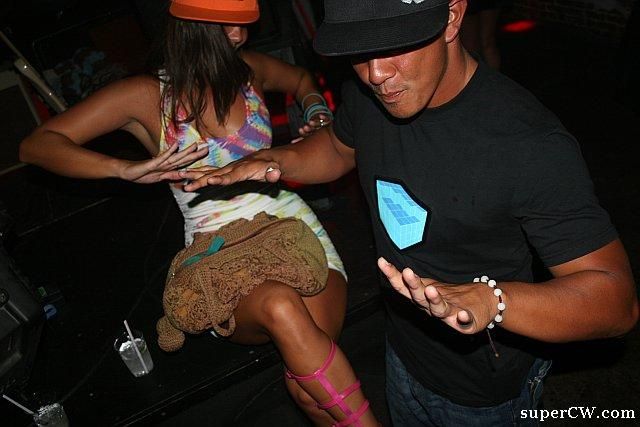 i gave away both of my jump offs cds and now i need another one. landon where can we get?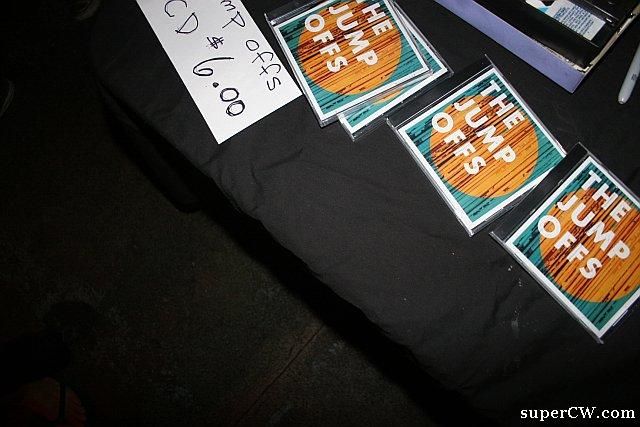 badnewsrapdudes!!!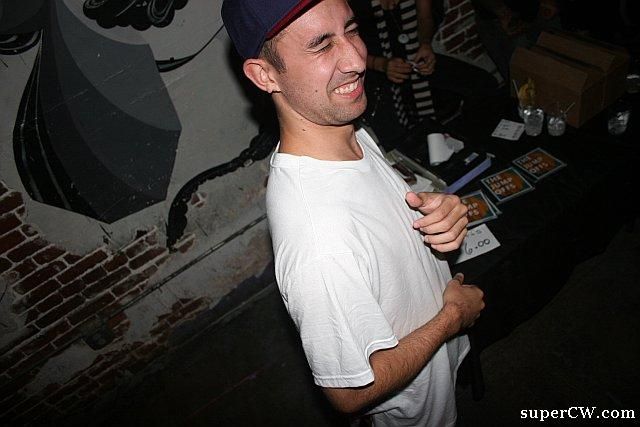 @d_gray!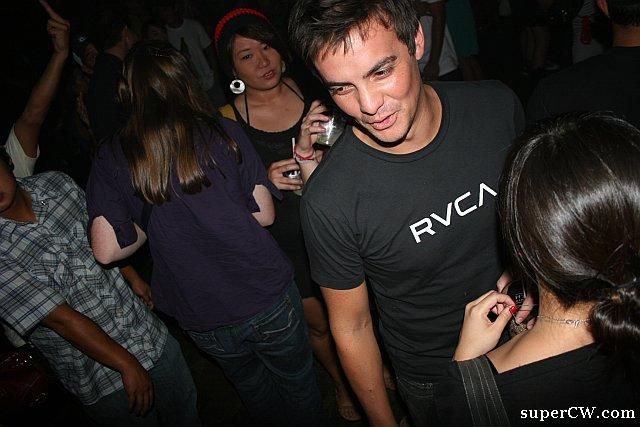 the drink menus shana made special for tonight with contrast mag. i heard next door sold out of the sweet tea in like 10 minutes. hm.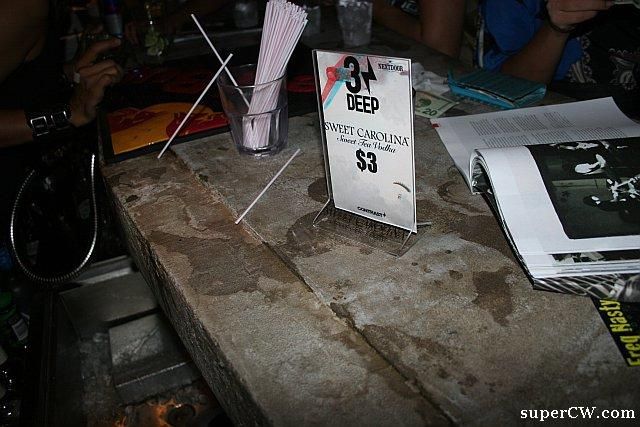 she's our golden child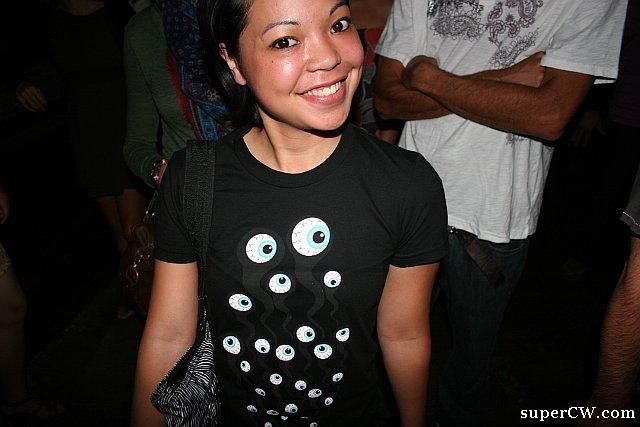 i got a hat too.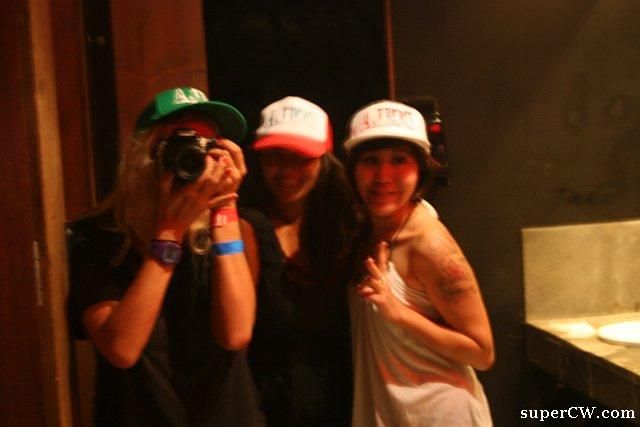 christopher yogi was in town to screen his film Layover, On the Shore. he's geniusbrain.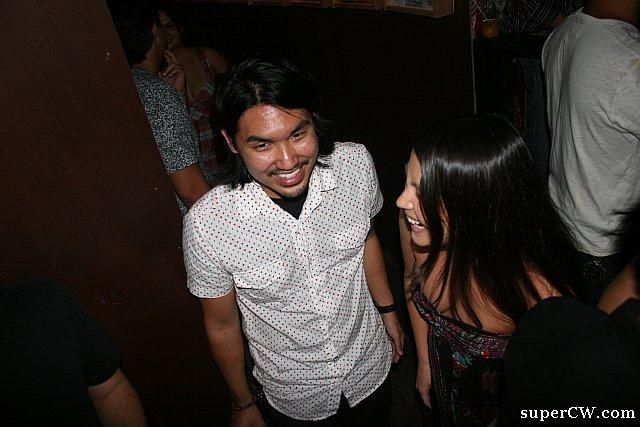 torry made me get in this one. i really didn't want to. i was rageface.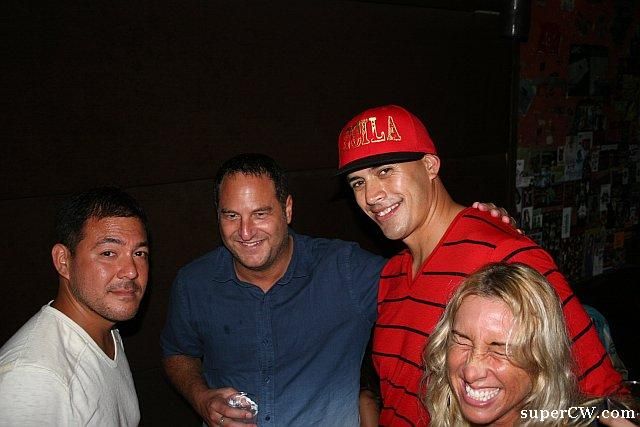 then darieus and robert got on stage and talked about ecila i think. i actually don't remember what they said. i was bumming that robert was hiding and giving the finger.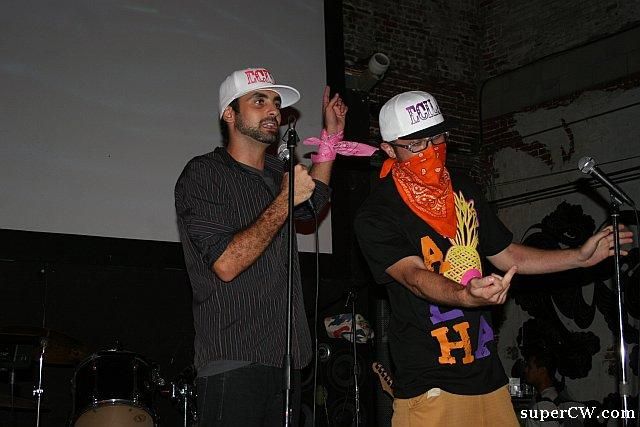 oh. maybe that's why? camera shy too?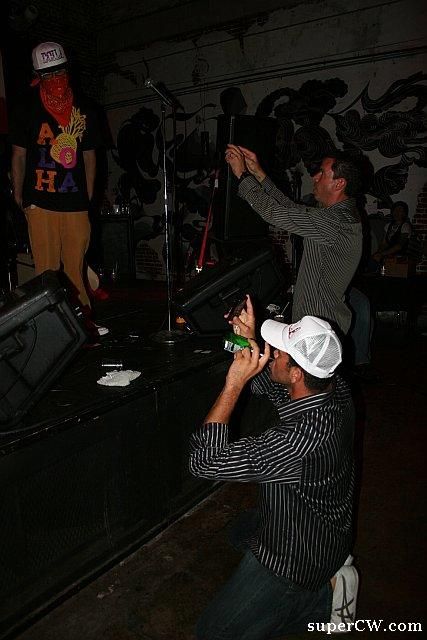 i liked the new trailer. it was dreamy and beautiful.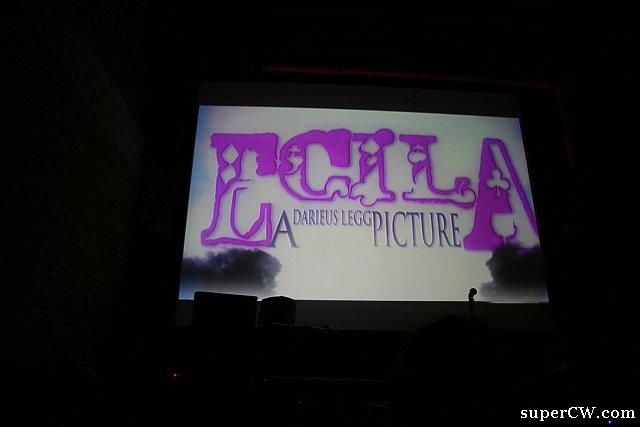 ooo ooo there's the new contrast intern again. LANCE! introduce! i love her.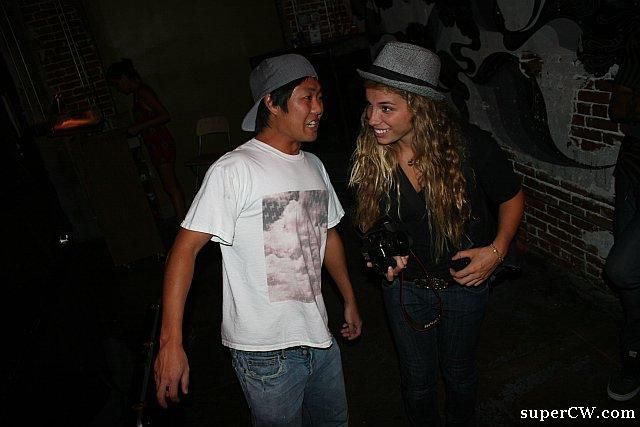 then the Jump Offs got on stage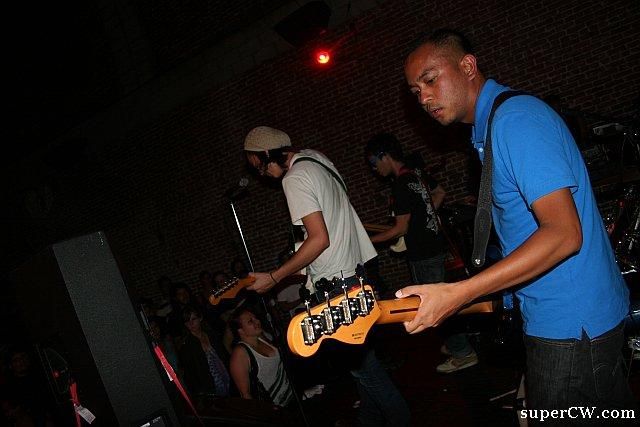 and people were like "huh? there's music like this here? WOAH"
at least that's what i did the first time i saw them.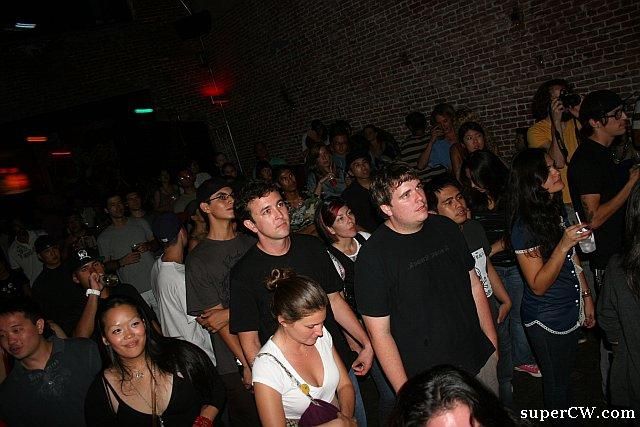 pretty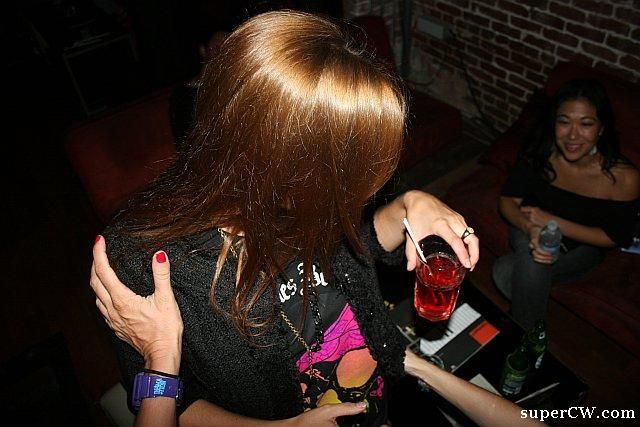 kristen who was that! pretty…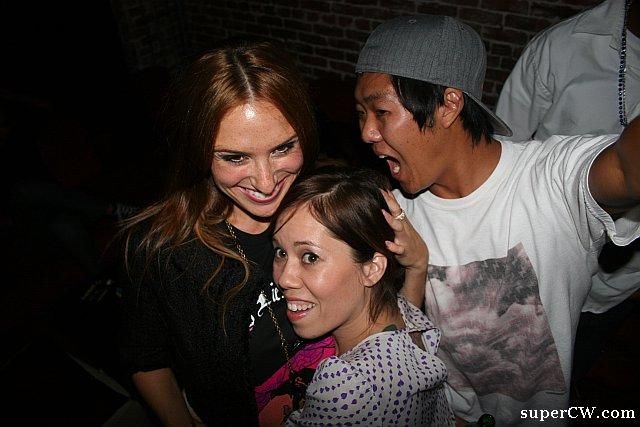 alisa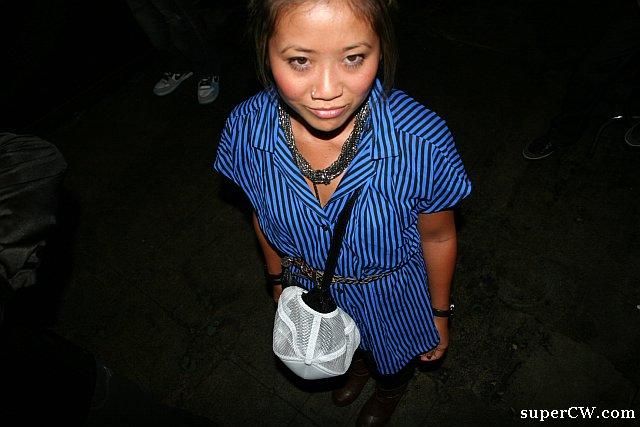 the Jump Offs. they murdered it. i really love them.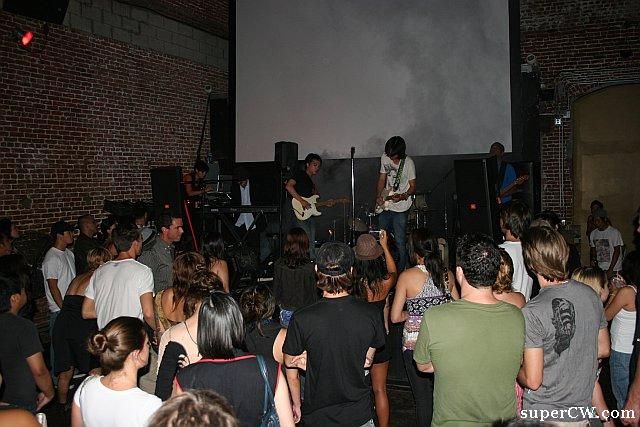 omg. that's tyler our wine expert. HE WAS THERE! i never see him out, this was a huge deal.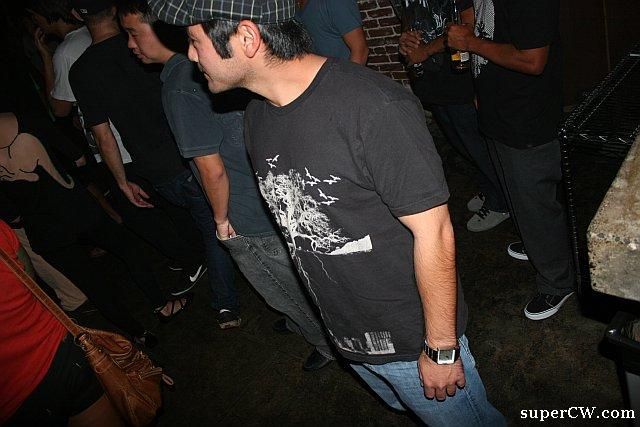 oh this reminds me, olde ivory's blog is one of my favorite reads in my google reader right now. and it's LOCAL. awesome awesome awesome.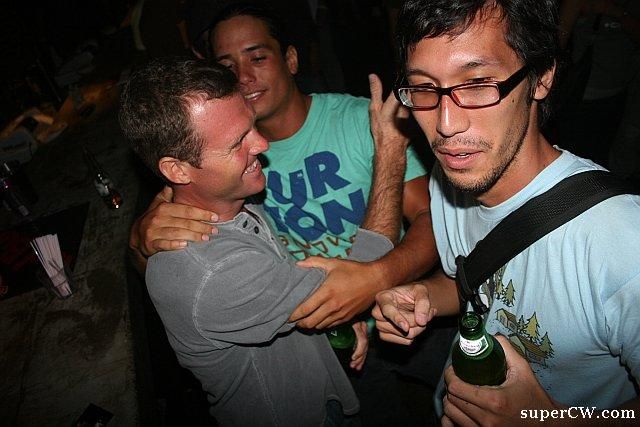 GAWD the jump offs. just damn. damn damn damn. it's been a year but they are very much reminding me of how the Girlfriends just sort of exploded out of nowhere. now they're the scene explosion veterans, and tonight was their CD release party. at 3Deep. wasamazing.
simply amazing.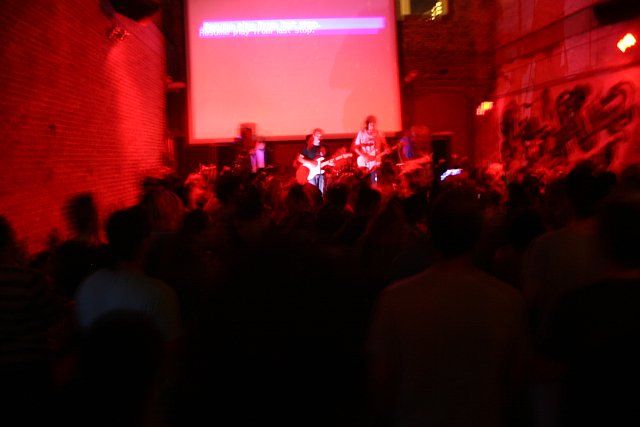 here's to the talented ass family of christopher and landon. salut.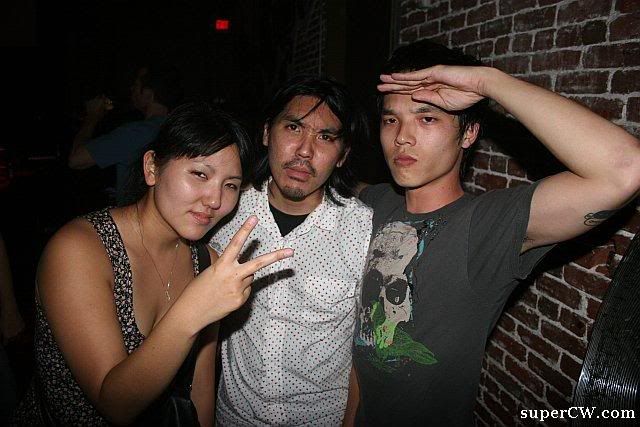 the jump offs were nice enough to finish before last call so i had time to say goodbye to Jami and Boogz. they are so in New York right now. with Yayoi. and Francis. and Chittom. and Anton. damn, can't wait to see what you get up to.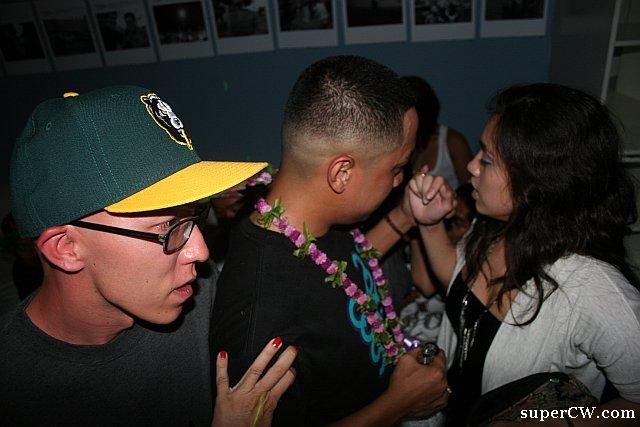 it was sad but happysad. they're gonna do amazing things. and now every time i hear empire state i think of them. happysad.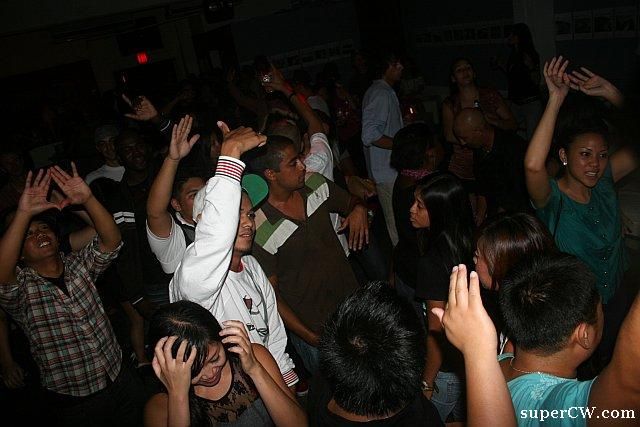 tonight was amazing. nice one, Contrast. you guys are easily the best party around. nothing beats this crowd in my opinion. marry meeee.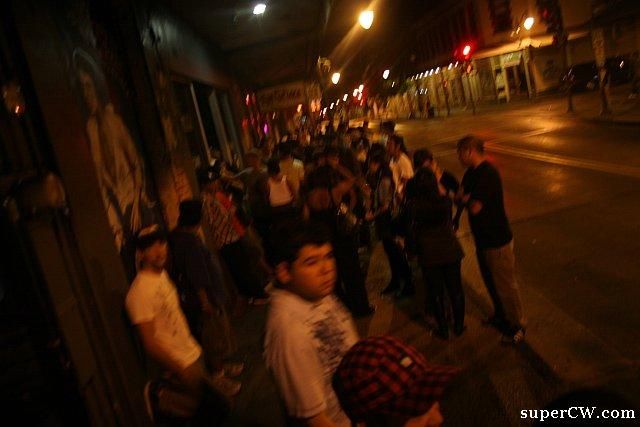 that's it. i know, there was a lot. this week will be nothing though. canon is dead. shibata told me i could take it to Canon and get a new one for cheap cause of some deal they're doing, but i gotta move this week and there's no spare change for something like that.
maybe soon. see you, cw