i  still don't believe maria is only 23. no, really. have you ever talked to her? she's like one of those people that totally gets it and pretty much always says the most logical thing without even heming and hawing. even after like 8 shots, as depicted here.
it was her birthday, see. and we were celebrating, see. there was no 50's theme i tell ya. titus is just hot on cardigans right now.
oh look! it's the cake jonah made that sat on my living room table in pieces for about two days after. did you know the secret to pound cake is a pound of butter a pound of sugar and a pound of everything else? yup. it's so rich that it takes about three days before it doesn't taste good anymore when left out. trust me. i know.
awwww happy birthday young chile.
i had a guinness. most of it landed in daniel's lap.
beckerbeckerbecker
girlface
jessica face
travis watanabe i wanna marry a watanabe face
lindsey face.
the brothers security. on an off night.
eddie is the king of whisperin sweet nothings to make you blush as a hello. maria is half filipino so this blush is more from the shots.
zak noyle about to get epic
lan and moani too
it's always fun to yell "oh shit! BUSTED!" when ernest comes through. it's also very fun/good to know ernest.
so yeah, we all started at bar 35. i think it was a tuesday or something too. kinda took over the place. kinda had a lot of shots. that's like maria's middle name. maria SHOTS! burke.  i was suffering through them in the name of her.
if you know me you know i'm not exactly the best shot person. half usually gets given away, hidden, or sipped slowly. my dream is to one day slam the empty glass down right away on the table with the rest of you. ps: hah maria is SO RED! aaaaa!
those plum things start off so poufy, i extracted one and unwrapped it for what seemed like ever. it turned out to be this tiny little thing. tasted yum tho.
yeaaaaaaa happy bday princess
i missed the cake part. it was cool tho.
we saved jonah's cake for v lounge
where we go to dieeeee
oh shit. BUSTED!!!
awwwww happy bday princess with the fam
it was late now.
had some good tv on.
they heard what happened at bar 35 before we got there too.
justin drove all the way to the north shore to get these. and they were cut by nobu's executive chef. she deserves it.
don't forget it was late. i was all about mars's stripey jeans at this point.
i mean come on. aaaaaaaaa hothothot
also wasn't so good at getting people in frame anymore
but i kept trying
aaaaaaa
aaaaaaaaaaaaa
oh. there.
chino was doing flair. is this what always happens this late on a tuesday?
i'm pretty sure this is mariacam. we were probably talking about the back bar.
can't believe we made it this late
more maria bday just scroll scroll scroll so i can get the mgmt show:
haven't seen chanel in a long time. she doing good.
saw ed and ed too.  damn i miss living up laukahi.
so, woah pipeline the other night
mgmt came to hawaii. it was like our dream come true
they got new furniture in the vip  and totally moved the green room over to the other building across the way. that means you don't get to see the acts come out of that back room to the stage anymore when you're up there. BUT! you get a really rad couch to cruise on….
i met maria's baby sister, who is the EPITOME of hip! is there a burke out there that doesn't rule?
figured she should meet lando
ooo nice selection for tonight homey
these things were all the rage
see?
see see?
flash was there but i think he only caught the jump offs. early morning dude.
the jump offs? oh ya… they killed it. KILLED IT. did you heat that crazy person going "YEAAAAAUHHHHH JUMP OFFS YEAUUH WOOOOO!" the whole time? me.
monica i gave maria your sparkle bracelet to give back to you. sorry i've had it since this show. stoli red bulls were only $5 tonight. we decided to drink, like, ALL of them.
lance and daeja who almost got me kicked out for sniping with her camera. there were ABSOLUTELY NO PROFESSIONAL camera allowed tonight. a lot of us didn't know what to do with ourselves.
i sure as hell didn't want to get kicked out. the show was AMAZING! and this little point and shoot i have with video? got AMAZING fun shots! er, i just don't have the right card reader for it. one day. meanwhile. sea of hot. indie kid overload.
aaaaaaaa
it was the first time i ever really, like really really got drunk at a show. and i'm sorry, i was definitely one of those  in the "only know 3 songs" category of mgmt fans there that night. i'm not in to that newer sound, sorry sorry. electro is reminiscent of my childhood days and that's what i'm in to damn it. meanwhile i got a mike pooley pickup to find landon in kalihi the next day. ha ha he was like "don't pull in to any driveways just call me when you get to my street"
mike pooley alley head
we went and checked out the first of the mercury risings.
the BAND was NUTS! haberdashery they are called… from the north shore
i heard this isn't everyone in the band up there tonight too
she was playing that with rubber slippers
they were sofa king fun. there were instruments everywhere. i wanted to be drunk immediately when i saw them.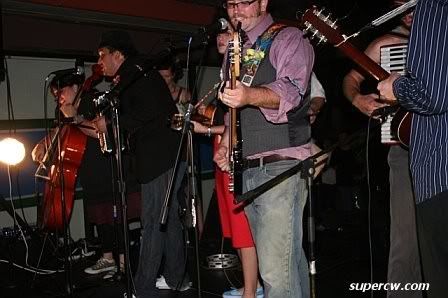 agwa shots and tons of beer was doing the trick tho. wooooooo haberdashery yeauhhhh.
this was really fun. party in the alley. the first one everrrrrr!
i didn't really get a good shot of anything really aaaaa, but there's shelby. and… landon?
YEAUUUHHHH LANOONNNN WOOOOO!
the alley party came complete with alley party window lurker too. so new york!
i mean, not like i've ever been to an alley/block party in new york.
but i would expect they go a little something like this.
can't wait for the next one
peeked at apartment 3 later that week. wait wait wait, i mean APARTM3NT
it was the super secret peep show soft opening. saw lancey poo
the place is rad
all sophisticated and hip
sexy even
saw kristenkitten too. look for her on asianposes.com
justin and i reminisced about that episode of blind date that neither of us ever saw.
and russell appeared to be taking some very important calls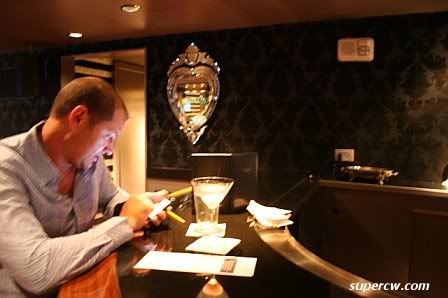 i was like ok! smile! wait! but not with that bottle!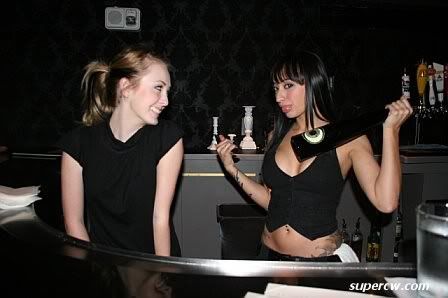 ah there!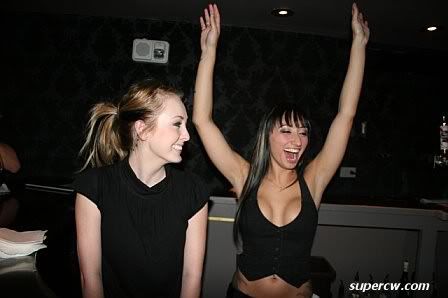 ah, THAT bottle! shooooots, sommer.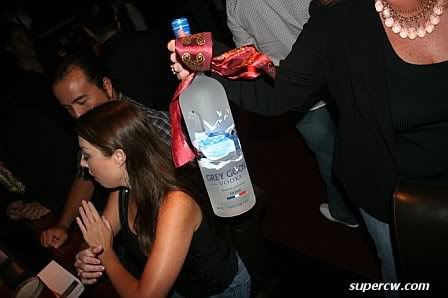 haha i was talking to someone i can't remember who and they were bumming on the cups of darts and no dart boards. i was like "did you open the closet doors in the game room" and they were like "………………………..AAAAAAAAAAA!'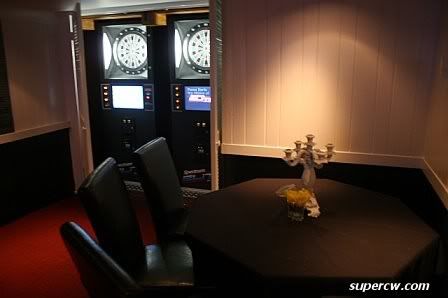 sosupersexy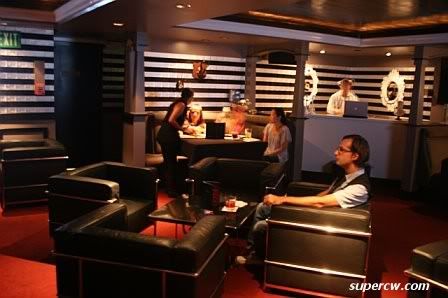 charles a.k.a. chip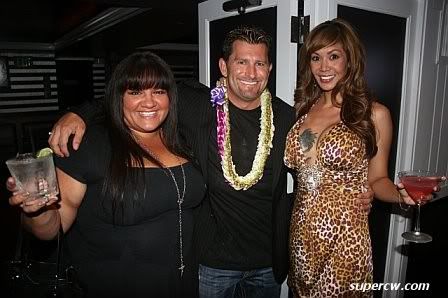 just making sure you see the ceiling. ALIGATOR skin….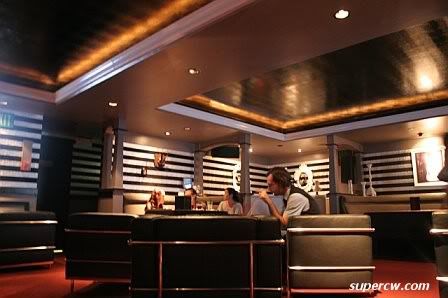 flash your favorite morning show host/party thrower/club owner/on the phone talker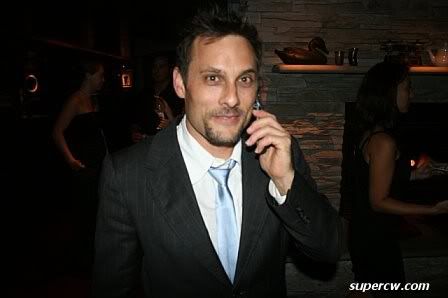 sosupersexysexy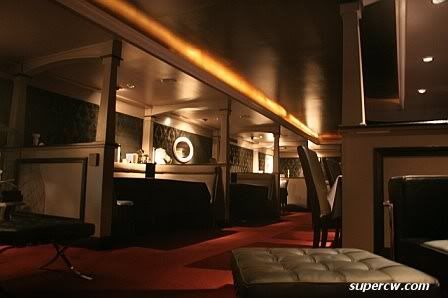 i kinda went nutso in the bathroom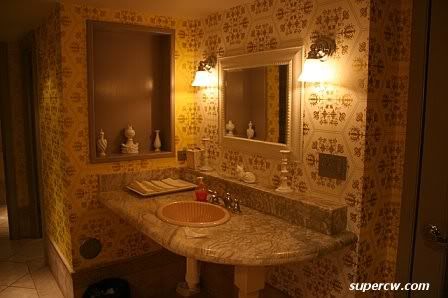 there's…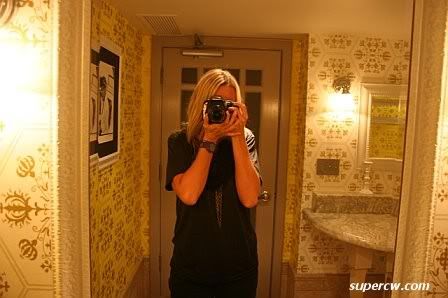 …so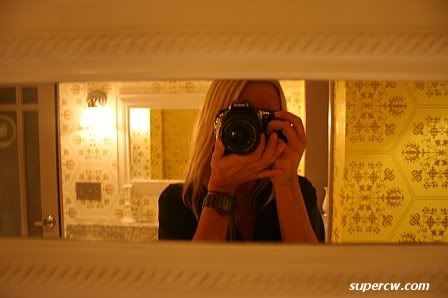 ….many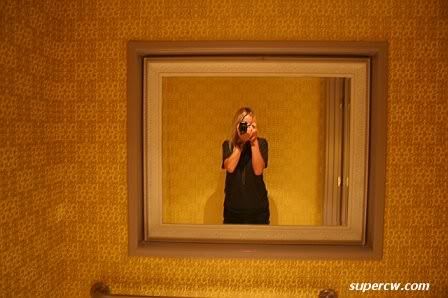 ….mirrors aaaaa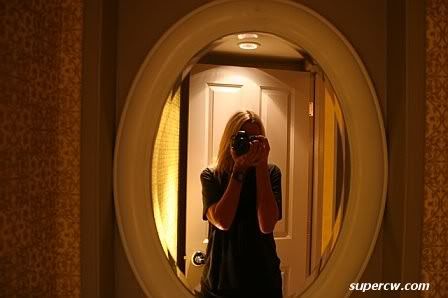 saw candee and kristi earlier that day. where i got that v-neck that you will probably see me wearing repeatedly for the next few months. thanks ladies.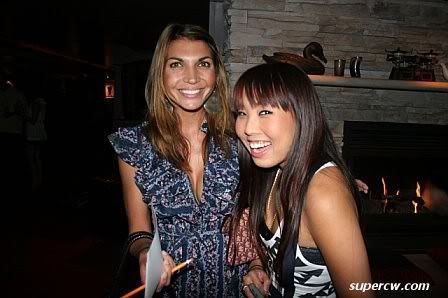 joe bock bock  bock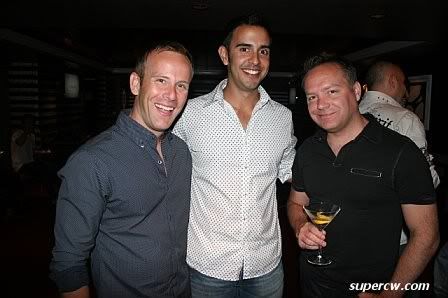 later that week i found out what a wu tang shot is thanks to ana. everything after this?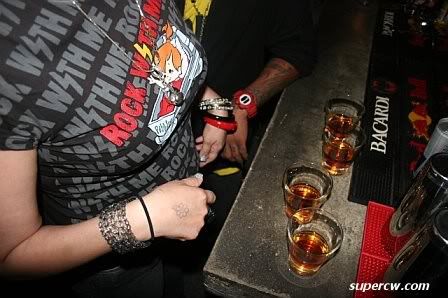 i dunno. but it was RAGEFACE. this is at shake and pop! by the way…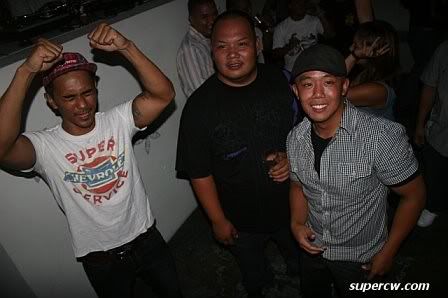 jami was killing it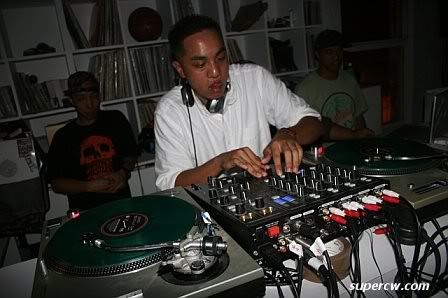 we shook. we popped.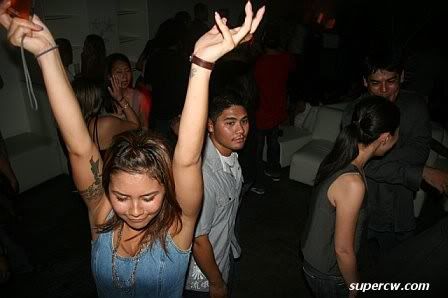 love them. HEY WAIT! that's the p-rod lows guy from acid wash the other night… that guy dances his face off.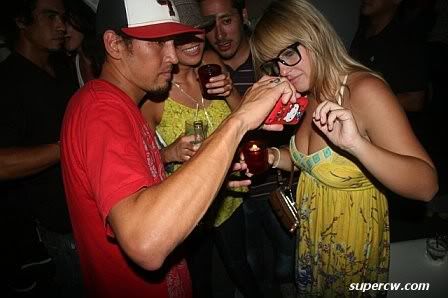 shake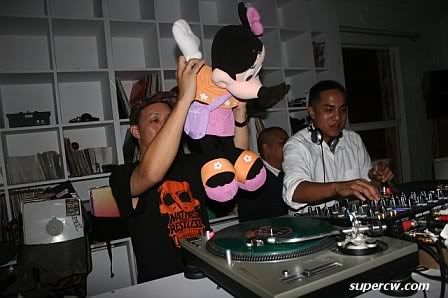 pop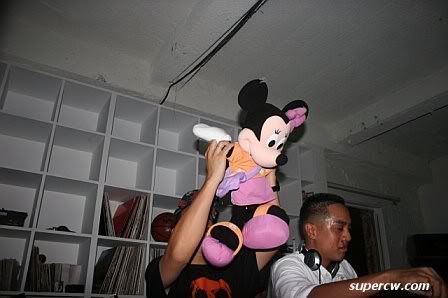 stuck around for most of the night. wu tang shots are magic.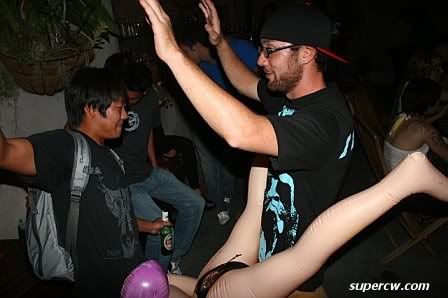 saw stan still. er, not standing still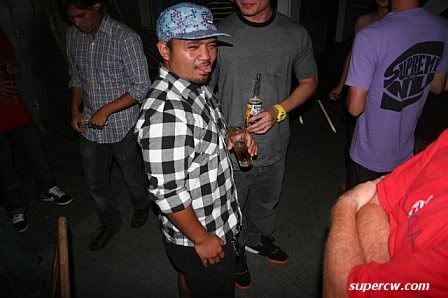 robert campbell had this thing with him the entire night. i got a picture of her youknowwhat all burned and disgusting kinda like how her mouth is but way worse. photobucket wouldn't even let me keep it. it said "this photo violated our terms of service" it was a PLASTIC DOLL… but ya it was that bad.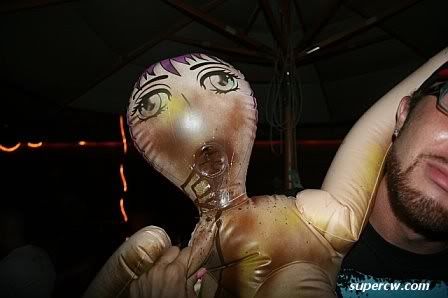 i think i did that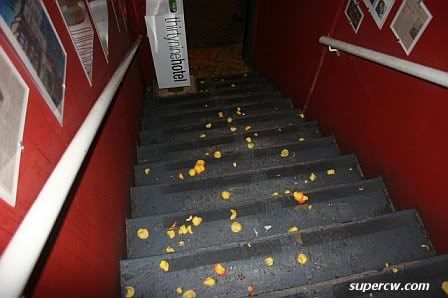 oh yeah – i totally did. sorry to whoever's flower i took. it looked nice to walk through it tho.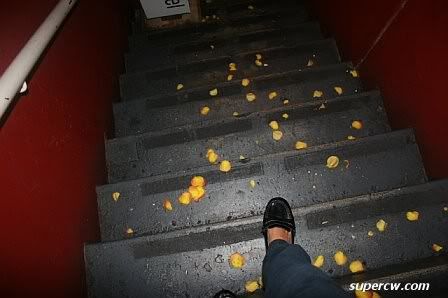 gotta leave that 9 to 5 up on the shelf…..
oh what! same night even! and back where i go to dieeeee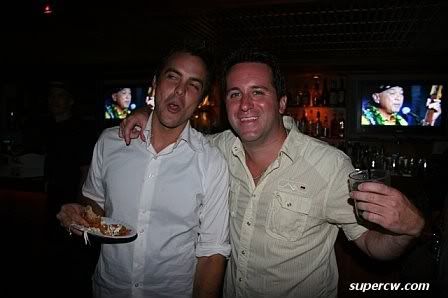 v louge had food and stuff. i was so not hungry. wu tang shots.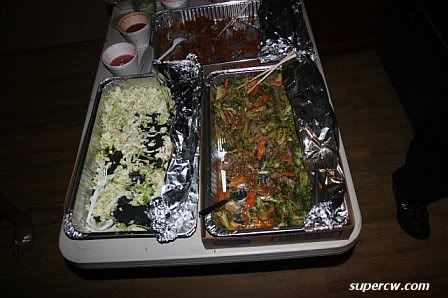 hi!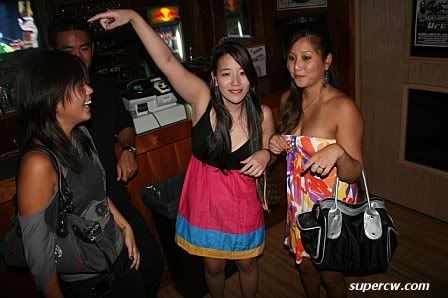 haha lindsey's shirt. those are spoons and forks. chefs.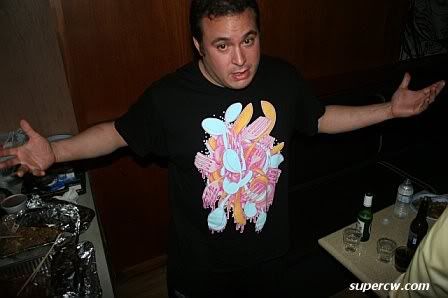 i think i tried to get people hip to the wu tang stuff. not sure what i was doing, actually.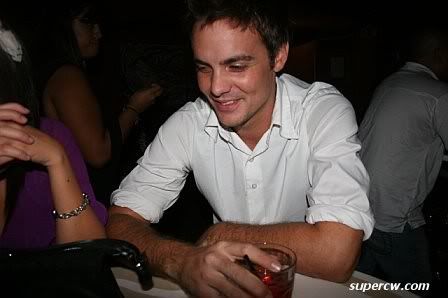 lancifer and stuart miyashiro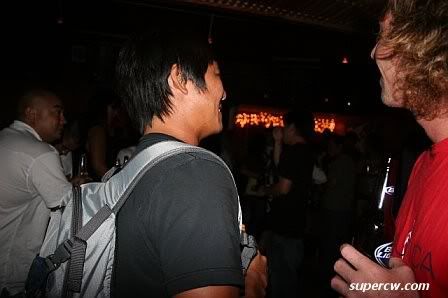 wound up at soho after after after party. did this in one go. after becker had played the thing all day. wu tang, see? MAGIC.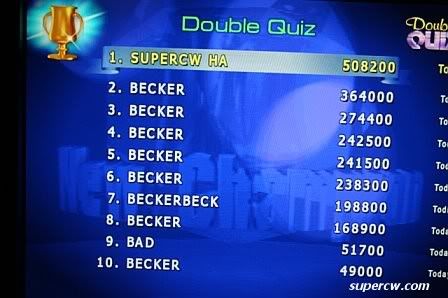 shoot, i REALLY need to get these mgmt videos and pics off this little point and shoot. and catch up on my pics. there's some good ones from these past few weeks. i'll do it. i can. i can dooooo eeeeeeitt.
mroe soon, cw