just a sec – look at this faaaace. can life ever do you wrong when you're in the company of one maka? no? right that's what i'm saying. and that's what i said last week….

…when i was cruising with daniel at the mall
no. we were going to say hello to miu miu. like, the grand opening of it.
yaaaaa. welcome to the moana of ala.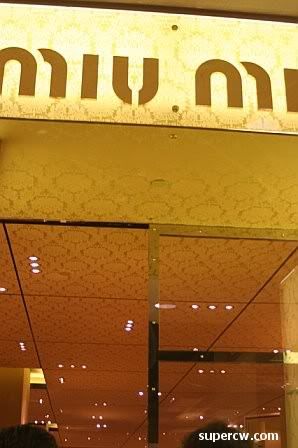 oh, and don't think it wasn't a fancy sort of thing.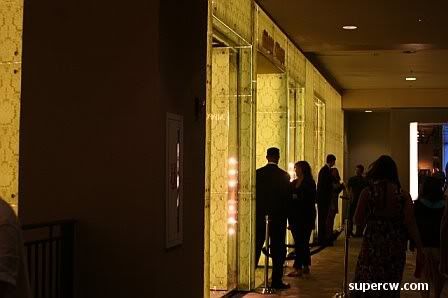 my favorite part was disclosing both daniel and maka as "my date"
greeted by media darlings three steps in. this is what i love to see.
seriously
it's like my relaxation point. where i realize that i can just chill and say hellos with out flashing up the place. speaking of hellos… helloo world champion dj guys..
it was most lovely
and when i say lovely, i'm talking tia carrere and catherine mcphee lovely. they were both around filming a film with my friend scott. tia told me not to tell anyone that she absolutely loves CWs (coconut willy's) until after she leaves. i think she's gone now so i can tell you that. see? there IS something good about the blog delay i been having as of late.
ps: their shoes :)
leandro was in the house. sorry i didn't get this in focus darling. should have turned the flash on…
kevin aoki and his lady always look so lovely. all of you do, actually. hi guys!
i was kind of fanning out over the nocturnal sound krew. i'm seriously their biggest fan. the things they can do with music always has me floored.
ah there! flash on! man, it's actually pretty good huh! saw crystal pancipanci and jessica hoffman. living dolls they are. very sweet girls.
saw lina too. luxury lina.
what an amazing party! thanks so much guys. you done good. so excited to shop at miu miu now. i just gotta save up a smidge, but i WILL be back!
went downstairs to see what was hopping at diesel.
it was definitely hopping
saw dan weaver doing one of this things. (photog) (the other thing is fashion)
and the fashion is something he's very serious about. i'm not sure if you've ever had a conversation with him about it – but if you have then you know. i got all excited and inspired listening to him tell me about his spring line. this kid has good brain.
we had a watch duel too. i'm going to miss you dan, but i'm stoked you're going to the big city. you're going to kill it in new york.
travis is moving too. japan gets him. i'm sad but  it's fine, i understand. move on and do great things you guys – just come back one day ok?
they always have the best wine at the diesel parties. they actually go out and buy the products and choose bonterra every time, which makes christa a very happy person
danielfacephonestance. standard.
later i regrouped with the miu miu and prada people after-partying at du vin. what a coincidence that my friends jessica and crystal had all these glam shots in front of prada that night! prada loved it.
haha crystal was like "i can't wait to go home and make this my facebook default!"
after partied even more at bar 35. didn't really get the best images in here but OMG!! the deadbeats are playing there thursdays now. for free. by far one of my favorite jazz bands on oahu and i get to see them for free every week again! so happy about this.
scooted next door to thirtyninehotel too. mister christain self the bar master mixologist extrordinarre was celebrating being alive, which is what all of us as his bar patrons kinda do every day…
wait, what! making drinks on your birthday?!?! wait… yes, please.
what a night what a night. oh wait! it's still thursday. never a better time to say hellos at Level 4…
daniel's 3am face
my 3am face
but yay! level 4! they were doing a special event tonight for delta thompson. we couldn't not go.
can't do level 4 without lurking kamakoa
looked for kristi too but couldn't find her. :(
we had just missed paula fuga. and arena productions. and the raffle. and the special drink hour. darn!
didn't miss ill valley though. and since i'm up on the north shore pretty much never, it was cool to have the country in town.
later that week i was working working working…
and at a very moving lunch honoring ceo mark dunkerly of hawaiian airlines as the smei salesman of the year.
seriously. it was so rad. the video they showed of his career and like the interviews with his employees had us all very inspired. that is a man who leads with his heart for sure.
the lunch wasn't bad either
congratulations mark! i have to say your determination to always bring out the best in people is what truly makes you shine bro.
speaking of shining. this new lens with the close-up range is taking my lurking to the next level. this was last friday and i was just about to get my passport to luxury from leslie.
did you shop a lea last week? i hope so. they had so many rad deals and such. probably the best time to do it.
hi, luxury friends!
it was pretty fun. you got a passport and a map and they let you go. off to the selected luxury retails to shop and drink and shop some more.
my first stop was loree rodkin
checkin in on the sake2me
oooooo fancy!
loree rodkin is a bit of a non conformist, yet still amazingly fancy. it's quite inspirational how she manages to blur the lines that other people try to define. my hero.
oh, and the sake2me is kind of the same sort of brand. we're working to expose more people to this product at work and it was rad to see the two of them together.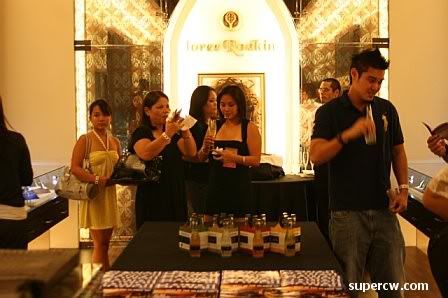 met some lovlies tonight. hi!
oh ps: you guys had the best set up. it was almost like they were the guards for the sake2me. love it!
sorry, one more. it's my job people!
moving along. dkny time.
my traveling buddies. we were on the same route. hi!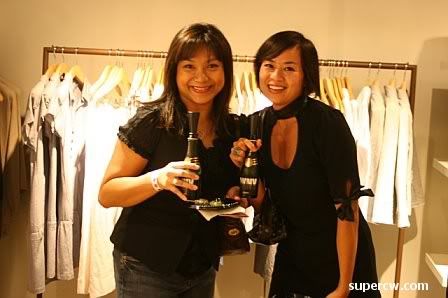 the funnel for champagne is > the straw i think. you don't get a mouth full of bubbles at all and it doesn't float out on to the floor like a straw. this is the best invention ever. props.
shopping shopping. sipping champagne. take that, economy!
luxury shops means seeing neve. remember neve? if you read me you do. we dated last year a little. it was rad. everyone needs to meet a neve.
since i am boycotting credit cards right now i don't own either of these dresses….
or this watch. but COME ON!! i would KILL it in watch duels if i scooped this one up…
nibbles from the one and only chef mavro at salvatore ferragamo.
*back, christa, back!* (i wanted to take a whole tray and eat it)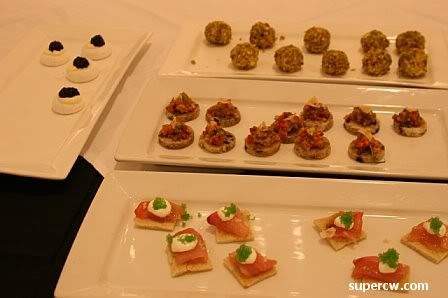 CHEF RODNEY!! you guys, this guy is the coolest ever. if you are ever at the beachhouse ask to say hi to him. he's so epic!! whatchoo makin chef?!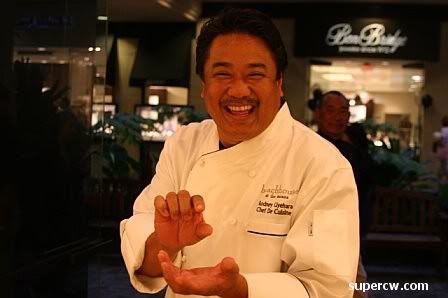 oooo a little eggplant souffle on a bed of goat cheese with a dollop of pesto and pine nuts? ok!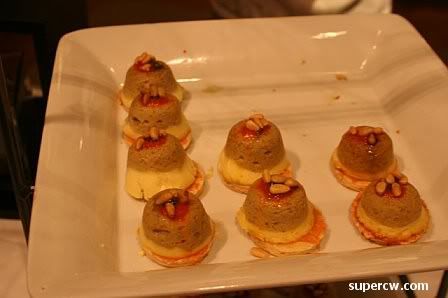 needed a break from all the drinks and treats at louis vuitton. water please!
ps: this is the first time i've seen anything but this view of the place
luxury means bumping in to her majesty grace and her crew tho. wicked! HI!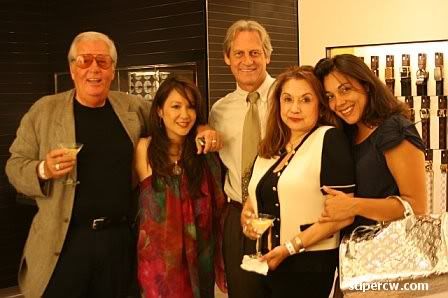 grey goose martinis and sunglasses with travis at louis vuitton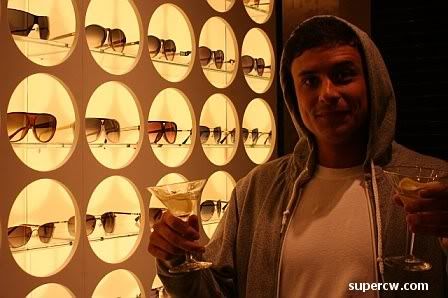 resting with travis at miu miu
saying hi to twan at prada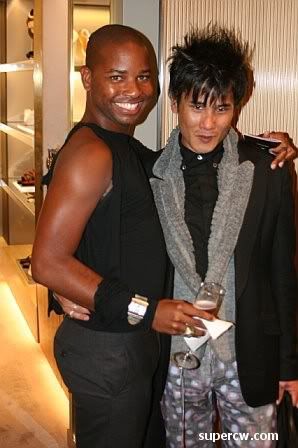 and decompressing with sjon at lulus. unplugged! have you checked it out yet? totally free and great music.
and the poke is probably the best i've had in a long time.
saw shana peete and johnny out and about looking for somewhere to chill out for a drink. nice choice!
nice pants too!
it's nice to unplug sometimes.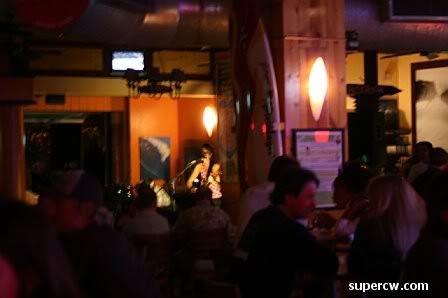 waikiki on a friday means pink tiki time too. PINK TIKKKKKKIIII!!!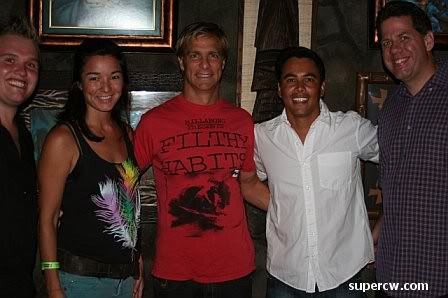 pink tiki time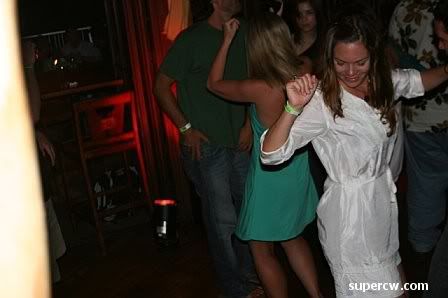 having a hard time getting a good view, but dance dance dance tiki!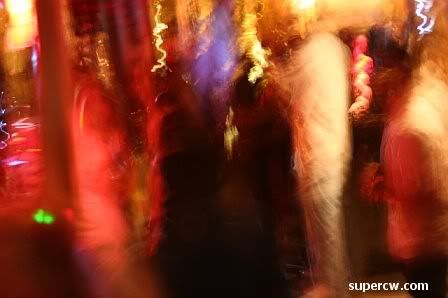 i had bumped in to my old friend scott meehan at lulus and made him come with me. we bumped in to amber at the bar. lotsa good bumpin going on tonight.
pppppinkkkkkk tikkkkkkiiiiiiii!
can't wait to see the vid sam!
pink
tiki
oh phew! no need me getting all uptight about not getting great shots. see, this is what i love about our town. ps: jason dow is like hypertalented at everything he does. not sure if you've seen his studioyet but it's where i was tripping out on the other night before lafa taylor.
back to lulus to see lost at sea. the main reason i'm in waikiki tonight. lost at sea unplugged was a beautiful thing.
easiest way to explain how good lost at sea is? the deadbeats are their number one fan. (ps: don't think i didn't notice that you switched to red stripe harumi! hearthearhatheaharthart!!)
i've never really been tied down to a certain genre of music. but i definitely go ga-ga over the ones that can effortlessly improv and cross genres. lost at sea and the deadbeats are both super good at this. it's great to hear them no matter what you like.
i mean dammmmnn.
oh, and just a side note: nick rules!
saturday night i was guess where! guess!!!
i'll give you a hint…. burgers!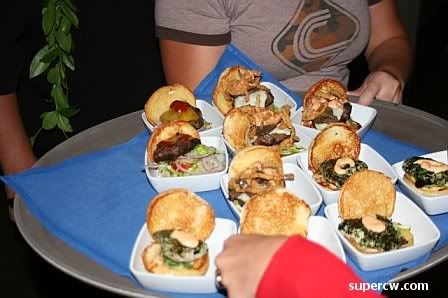 ok, here's another hint: media darlings!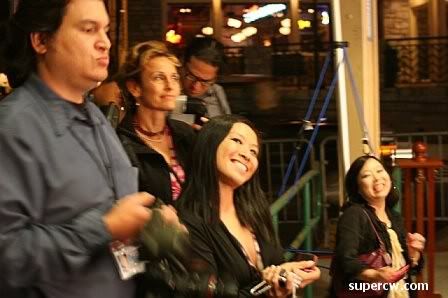 ok you should get it from this one. THE COUNTER!!! grand opening party time. congratulations you guys!!
oh for the record i am NOT a media darling, ha ha. i was like "over here guys!" and the only one that looked was daniel dae kim. but that's cause he's my friend, and i'm totally serious. everyone else was like "mmm yes yes yes let's check out this party"
that's totally fine too. let's check out this party!
the counter is at kahala mall, by the way. kahala mall means miss jennifer lieu. do you love her! she's the darling of hawaii tweeple. melissa is too but for some reason i don't have her photo. *sobs* oh well you can see her perspective from the evening here.
and torry is the darling of LOST. he makes a lot of that show happen. and richard is the darling of art and cinema. together they make showdown in chinatown happen. *fanning out*
mia is the darling of the daniel dae kims.
and this ahi burger was the darling of the entire night. soooooo ono.
shoe battled with nina's boyfriend. who loved my classics. which made me love him. in a plutonic way tho, nina.
had a nice chat with keala kennelly, who i didn't even realize lives here. actually, that shouldn't be a surprise. cw don't surf. it's not like we travel in the same circles. funny enough – my non-bf sees her all the time. surfers.
also got to meet ken leung, who RULES!!! ha ha nina's boyfriend eric was like "i love you on the sporanos. sorry bro, but i don't watch LOST" and he was like "that's ok, neither do I"
event darling miss erika. i was laughing with ddk about how we were at at burger place at the mall. cause we all pretty much totally forgot we were at a burger place at the mall tonight. nice job!
bumped in to michael emerson. literally.
i'm scared to see the photos. hopefully you can't tell.
everyone who always says ben is such a nice guy in real life? ya, they're totally telling the truth. i got proof tonight. nina's brother tony got the BEST photo. he's fake-punching "ben" and it's hilarious. he's seriously the nicest guy ever. i remember when he used to go to the hanohano room alone to eat dinner and watch maria sing. we would see him there like every week. lova ya, mike!
ddk too but you know this already. do i really have to gush every time i have this guy in my blog? wait, let me gush a little. we were chatting about joejoe's art (the skateboards) and the whole counter culture behind the counter burger tonight. and you guys, he truly believes in it. as do i. he is also super stoked to plant roots in hawaii and give back to such an amazing place. daniel dae kim. just woah. we love you man.
and DAMN we also loved these sweet potato fries.
the place is lovely too.
except for the part where they were showing when jin "died" on LOST. hope i'm not spoiling it for anyone….
lovlies at the counter at The Counter. joy and pamela. HI!
hahahah nina and eric with ken. he was so rad. my favorite character on LOST too. dude, you should watch your show! you would love you.
keala with a hottie. that's how she rolls.
had to rush out so i missed sawyer's fashionably late appearance. AND the goodie box since i snuck out the back door (party ninja. i should have that maneuver trademarked). but i couldn't miss the Kid Cudi show – and the guest list was closing at 11. and WOAH i'm soooo glad i didn't miss it. it was a show that was not to be missed. You know this though, I mentioned it yesterday. Just make sure you check Lancifer's shots. Simply amazing.
here's a few:

SO glad lance brought in his camera. i was scared mine would get taken and i couldn't let that happen after all the great stuff from this week.
so ya. week and weekend was on some next level for sure. thanks to everyone that makes this kind of stuff happen. i love you.