so how was your superbowl? ufc? did you watch both? i did. and i hate sports. kinda better when there's cazadores around tho.

poor redbullrob got suckered in to thinking tequila shots for superbowl is the hot new thing. i mean, it SO is, but i'm not sure either of us really know what else happened today…. besides tequila shots for superbowl.
and HAW how's the local shirt cuz. fitted made it kinda hard to read but this is making me hungry.
so anyway, let's see. tequila shots for superbowl. oh, i DO remember that after a bunch of work i settled in to v lounge for ohana style potlucking in a bar style chill ass chill style superbowl watching. better than anywhere, really.
i also remember blaine's baby blaise which i thought was the cutest thing ever. everrrrr. aw look! baby blaise is watching tv. awwwawawawaw . aw look! baby blaise is dancing. awwwawawawaw. aw look! baby blaise is holding a red bull. awawawaawaw.
i sort of remember ola winning one of those rounds of the squares that everyone chooses and pays money for. shoot, and i just now remember i paid for one of those stupid squares. i might as well have just walked in and given $5 to ola as like a cover charge.
kind of remember seeing zak. the look on his face is telling me i was doing a pretty good job convincing people to do tequila shots for superbowl. yup. that's definitely a "hawwww, christa's doing shots" face.
definitely remember making everyone do shots
a lot of them. what sucks is this blanco goes down like water. so smooth. you think you can drink it forever. all day. then you realize… that's not the best idea.
ps: i'm on shot probation until further notice. mixed drinks with muddled fruit and lots of ice or guinness til i say so.
sorry guys. it made that halftime show pretty epic tho. and hoooo that was a nice afternoon nap!
anyway, i gotta get back to work.
the hawaii foodbank kick off! haw haw george raised a huge wad of cash for them too. wanna know how? for any meetings that anyone in our company is in ever, if your phone goes off during the meeting you gotta pay $5 to the foodbank. right then and there. it got the foodbank about five grand for 2008. just saying.
this year since everyone is better prepared and trained to turn off their phones we should do, like, pen clickers. or knuckle crackers. guys? can?
friday i was early for first friday. it's been a while. thirtyninehotel is the default first stop forever when i'm down here tho. tonight was tahiti rey on the lanai. golden.
current thirtynine exhibit: aaron WOAH aaron noble
at work in the egg fields. murals from another planet/universe/dimension that take you straight back (forward?) to fantastycomicbookland.
very well done. i have to say murals are my favorite in here. it's so rad to see how different artists interpret the space and create stuff for us to stare at then party in front of.
bravo forever infinity aaron. for real, kiddo. please come back and show us more and trisha please leave this up for at least three months. I'm going to need that long to come up with my own story to accompany these walls. ooo! i think kaleidoscope bands that play while this is up should like design their set lists around these murals. like, lotsa synthesizers and stuff. fun!
art walked over to bethel street to check in on germ and sonny too. artist collab!
they came up with some really interesting things together. it was blowing my mind. they actually displayed it together like every other one which i'm not sure i've seen in a gallery yet.
meanwhile over at the homey's spot, this reminded me of what i was STILL laughing about from the week before. see, blaine from vertical junkies does switch monday. that's the night at v lounge when promoters are behind the bar making your drinks. blaine and flashee and some others got bartender cards to have this fun night and they don't know squat. no, for real. ask them to make anything besides a well and you're done. so anyway, blaine's first order as a bartender was 4 chocolate cakes. he was like "WTF is a chocolate cake?!?!"
tonight was family night and i got to cruise with zana. GOD i miss zana. i was having major prep battles with her and chuck. chuck won like crazy won- he had these socks AND an argyle sweater vest.
ps: god it's nice to be in here. even if it's just the fam. best spot everrrrr.
francis is back from new york for a second. WOAH you guys! he's like totally blowing up over there. the only people i know in new york are like famous, and they all know francis. stand by while he makes me famous…
howdoilook howdoilook. great i'm sure considering that's a leica…
and this is some serious gear. like, serious serious. new york serious.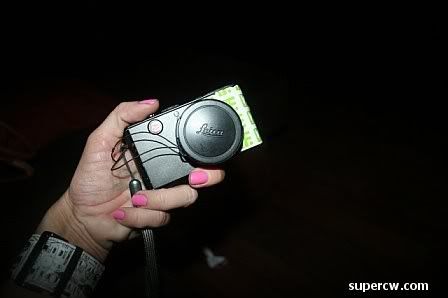 i mean come on. where is a better bathroom. WHERE.
so ya. pizza, chocolate cakes, and some of  my favorite people. kind of the best night i've had in a while.
talking stories with friends like this is the funest thing ever too. everything is so damn interesting. especially when they go away to a huge city.
pause for group shot. HI!
omg. then we DANCED. yup. i pretty much danced my face off. summer is back and she brought the cutest cuteygirl friend ever. dance we did. OH WAIT! i just remembered aaron was here too. i like what he said about tonight a lot. he pretty much nailed it. nights like tonight is what it should be about.

i scooted over to loft to catch rocket powered cadiallac too. there was a lot going on when i got there.
saw MOE
saw RED BULL
saw HIFF
saw ZENNY
saw LOST and ANGIE!!
saw DANIEL! haaaaa! in the weeeeeds tonight he was. have you ever hung out at the bar and watched him bartend on a super busy night? you gotta. it's funny. he's like a friggin bar genius.
saw RUSSELL! wait.
there
angie was having the best night ever
zenny was there cruising with the biggest bachelor party ever. i was taking pictures and one of them actually asked me if i work for us weekly. super serious like. i was like…. um… HERE ZEN! take my camera!
zencam
zencam
zencam
zencam
zencam. i'm guessing this is the happy couple. aw! congrats you guys!! hi! i'm christa…
and this right here, in one photograph, is why i love loft.
more work. work work nonwork work. it's pro bowl. and we're havin a tailgate. and my camera is REFUSING to work so i gotta just do no focus for a sec…
DAMN it i can't believe i couldn't focus for piikea. he's been my favorite worklurk subject ever since obama. because now all of a sudden i see the resemblance and the more you look the MORE he looks like him. it's like they're twins.
but oh well. this was my sunday. game watchin beer drinkin.
food eatin
work friends with the president piikea
just a hint for you: if you want to crash a work party don't say you're "on the list" cause that's automatic fail. you can say "i was invited by…." but corporate events have ….no…..LIST.
work friends
work hotties
work friends kauai friends blurry friends
work friends
yup, sunday was definitely bangin. and our little tailgate thing turned out to be the place to be. i'm going to miss pro bowl next year… and i hate sports.
hello!
poynter and i are having office photo wars. i'm trying to beat his collage that has stuff i didn't get to go to like vegas trips and wine trips. he's winning so far but just wait til next year man.
the big boss gave me some tickets to see that game. i hate sports, but it was the last one ever. who would say no?
and i haven't been to aloha stadium since u2.
it's kinda fun, the sports
it was kinda exciting actually
walked in just in time for half time, which i was about to nap for then enrique iglasias hit the stage and i was like !!!!!!!!!!!
(YES i like him. YES i think he's one of the sexiest pop entertainers i've ever seen. WHAT.)
there was all kinda of like pyrotechnics and little dancers and flowey things and fireworks and…. ENRIQE IGLASIAS. i think i like sports now.
later that night i said happy birthday to one of the hardest working dudes in nightlife. love you russ!!
i was having the hardest time understanding his cake….
oh! DUH…
saw the hardest working man in entertaining honolulu too. we both were on some much needed downtime after the busiest week ever. these moments are the ones that are starting to get me all hyped.
and SHUT UP! i will forever be the highest score on erotic photo hunt. mainly because i go there and play it 4 nights a week. and the list gets reset nightly. but still!
more work work nonwork. trying one of every amazing cocktail manny comes up with at beachhouse.
remember when i said i was on shot probation? well, the next drink i had after this one was corzo silver with fresh muddled strawbry, basil, lemon and sugar with a splash of ginger ale… and lots of ice. shot probation violation.

man, i was in the most beautiful pua hana setting around… in the hamptons. of waikiki. the beachhouse.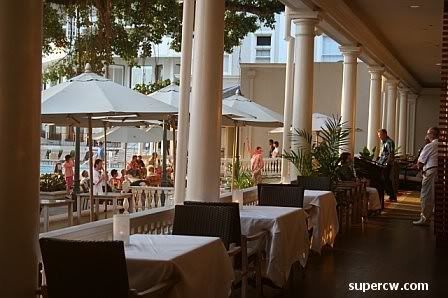 i mean come on
dinner included. man this place is amazing. seriously hamptons.
can't focus but i'm taking a picture of that lovely bottle of sonoma curtrer over there. loveliest thingto ever have while in the hamptons. of waikiki.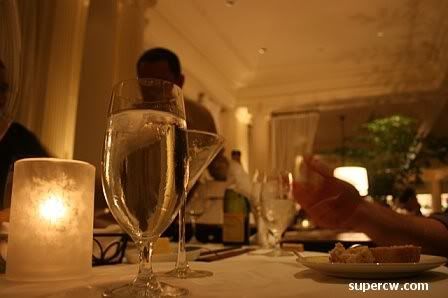 sommer knows the sous chef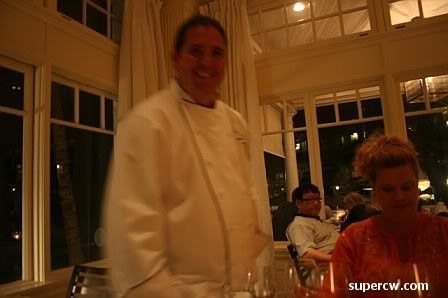 and i ate like a queen. this doesn't always happen folks, so you can be damn sure i'm showing you every single time it does. =)
later that week at work i was bugging poynter for a poster of the 2004 art series kenwood bottle done by shepard fairey that i HEARD we got a couple of. he said nope, all gone. nope, don't have. what i realized after i got back from running around the entire warehouse looking for one was that he was psyching me out to throw me off of our photo wall war. haw! sneaky….
still workin folks… setting up the most awesome tequila seminar hawaii's ever SEEN!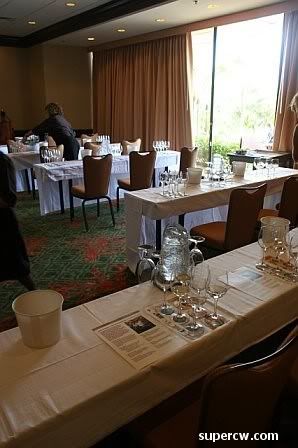 can you think of a better tequila seminar?
i can't
and manny hinojosa ain't no joke. there's a reason why his title says "master bartender". his drinks make tequila taste AMMMMAZZZING. i am one of "those" types that had a tequila "incident" in college and have been completely turned around again. tequila is yummy again. don't believe me? ask your bartender to pour you a blanco or silver with fresh muddled pineapple and jalapeno and sugar. just ask!
don't do it when he's busy tho. and you might want to bring him a jalepenio.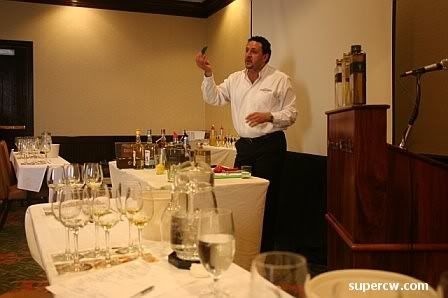 we did a nice flight of the corzo and cazadores tasting. i can NOT believe i don't have a photo of the corzo bottle. i thought i got one. maybe in the next batch. that stuff is money.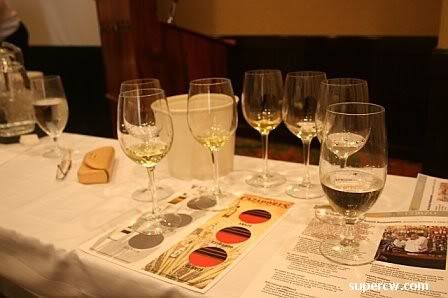 as was this tequila seminar. thankyouverymuch!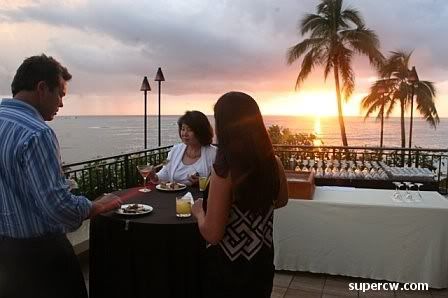 oh what? that's it. there's more, i'm just trying to catch up. OH MAN THERE'S MORE!!!! watch this space. i gotta go out to kaleidoscope – it's bari bar 13 tonite. FUN!