keep telling me the things you tell me when we see each other. because sitting here now going through this process of uploading, renaming, watermarking, saving as, uploading, copying, etc is TOTALLY WORTH IT!!!!
labor day weekend started off nice. i was lurking some goose girls with flash and LA mash up dj bobby -i know your name isn't bobby- cutepie french.

man! how did i used to take such good shots of funny text messages. this was a funny one but i kinda blew it. have no idea what it says actually. but ya, it was funny cause flash was texting maleko what to say even though he was like 2 feet away from him.

later that night…

i saw germ's doppelganger…

…at art after dark

hawaii ink was the theme. tattoos. i went with jasmine. who has real tattoos. we said hello to sara. who fooled me with her tattoo sleeve thing. it looked real at first. !

the guys from hart & hunnington were like drawing on people with sharpees. hum.

it was really hot and crowded. but in a good way. yay, museum! i alternated my time between galleries. got sniped by the new photog intern. woah, wanna intern for me too?

ps: this guy.

speaking of ink

we were kinda having fun with our own painless alternatives

oh! and guess who's arm. guess!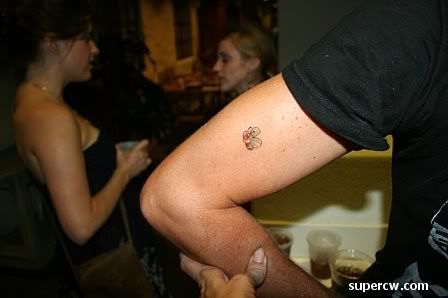 mark howard!!!! man i miss you guys. is todd almost done in australia or what. seriously.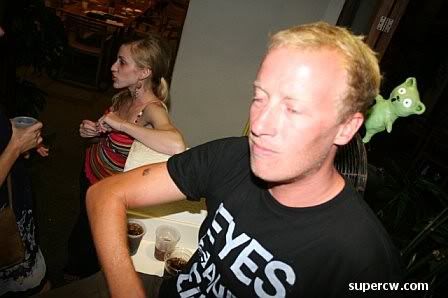 guess which one the easier, cheaper, painless alternative!

saw kamu in the courtyard with randall paulson and luke.  KAMU! boardbreaker kamu.

went to the cupola after party thing. saw pia, the woman that has the cutest german accent that looks like she would have anything but a german accent. that's the soozou bag too. she kind of makes them. loves it.

jasmine did me a huge favor

and popped up on the other side of the table and multiplied

aw! you girls get two. you know, since there's two of you.

made friends

and was poking fun at nathan's scarf until he showed us this. ok! i take it back i take it back.

saw kayko!

every time i'm in this room i want to lay down on the wall up there

oh ps: the cabaret…

i didn't really get anything good this time tho. sorry.

but oh you know it was sosexy

snuck in to the vip. didn't even realize they have a vip here. HI!

whatwho!

oh! duh.

blackberry battling. oh, i have a new number. message me cause it's probably guaranteed i don't have yours.

chris's tequila cologne

i can't remember the first time i took a photo like this. i think it was sometime after i got tired of watch battling. but for right now, i'm really in to it. expect these for a minute.

aw

awwwwwwwwww

the vip room was WOAH! the FENDI table, and assorted other expensive amazing furniture were the bottle service tables. and they had those massive awesome parachute ball things which i love.

this is actually stage restaurant, so a cabaret is fitting. oooo, cabaret. our own private cabaret.

i saw goldenchild. er.

try two. ryan! introduce!

so ya, interesting party! loved that it started promptly at 9:30, which is seriously the art after dark witching hour for me– since i refuse to eat late dinner. one step to the left, and i'm in bed asleep by 10pm on a friday night. parties like this keep me going…….

….to the loft. been seeing more of skye lately. either she's coming out more or i was just in all the wrong places.

the loft's mayor was there

charlie and dave hisaka running for the hills. i loved seeing them on hotel street tho. BUSTED!

saw the loft's crown princess

and its queen.
*drool*

saw dare and tamra with justin nozuka and his girlfriend.

oh SHOOT! i knew there was something i wanted to do between art after dark and now.

ha ha, i'm showing three because i kept taking this picture and looking in the little screen and saying "your eyes are shut! sorry! one more!"

went on full on cameraattack. ryan! your eyes are shut! one more.

lianne was out which meant woah.

ps: happy issue-out, smart mag! lyan rau, so nice to see you could join us.

what ya been up to! me? oh, you know. new job, old hair, same life. how bout you? been in any good mags lately?

i'll just be honest, i can really get used to seeing these guys in chinatown.

i mean, luke IS chinatown. sassy and sophisticated. urban and hip.

matt is chinatown too. indie and uber. musicey and kind.

this necklace is chinatown. dynamic and metal.

paisley is chinatown too. perfect and wise.

oops. looks like nozuka done been spotted.

he was ace tho. top of the world ace.

sef one on the mic. ara on the positive.

what! oh! it appears that my canon has been jacked. someonecam!

someonecam

someonecam

mecam. tyler wolff is back! ooooo start a band start a band!

oh, rad. check out the younger, brighter, indier cross reference!

what's this?

what!

whaaaaat! flash at the loft flash at the loft. tonight ruled.

chris kahunahana at the loft! chris kahunahana at the loft!

matty boy at the loft! matty boy at the loft! lance rae at the loft!

948-buzz at the loft!

swapma zz at the loft! swampa zz at the loft!

thanks for letting us hang, guys.

omg, i remember now it was serious camera battle. ha ha it reminded me of a review i saw on yelp for this place about how everyone here is always taking pictures. i remembred wanting to tone it down after that but not tonight…

…tonight was funnnnn

it was hard to leave

but night, friends. there's like 9028358498 things i wanted to see tonight.

soul clap was one of em!

in wonder if this party could ever get better. favorite place favorite music favorite dj. nope. it's pretty much the best there is.

woah still friday!

ha ha, where i usually never am

oh candy bar. candy bar candy bar candy bar.

candy bar = hotness tho. there's no doubting the obvious.

beautiful brigitte and heidi. growr.

philip

dan

wait a minute! you're in t-shirts. and hats! WHAT!

and look at these shoes! exactly the sort young kays had the other week when he got denied. look, pearl. let's get some consistency in your entrance policies k? no hard feelings but come on. look how cool they make this place!

i went camera-attack crazy after this. woooooooooooooo!

wooooo!

awwwwwww

woooooooo

wooooo woooo

david and flash. oh hey! i heard david is having a party soon…

i heard philip is having a concert soon.

sorry. i will NOT be photographed after 3am.

neither will dan, apparently.

damn talk about an epic friday. how many places was that anyway. one, two… three… FIVE! saturday i needed to chill. like country chill.

that's right. i'm on the north shore at kainoas. did you even know lance lives on the north shore? i know right. he's in town lik every weekend. scott doesn't live on the north shore anymore, but i bet he misses it.

john doesn't live on the north shore but mike does. i think i might want to. like, for a season. like summer. summer on the north shore. how fun! you could still like go to work and stuff but you'd totally be in another world. that's it. i'm putting my hyprid in the shop.

chad lives up here. and don't think i didn't try to get a good shot. he kept making this face, so this is what i got. ps: love the shirt.

btw chad had a sick reel

we watched it like seven times.

swampa zz. he lives up here too. tears up kainoas too. it was fun tonight.

sunday morning

sunday morning at the cream pot

with rita

and brigitte

and jessica and hugette.

all kind of big deal women if you ask me. but we were totally doing it fun like. no reason other than just brunch.

princess kaleihikina

princess alyssa
ps: we all wore purple
and the food here is so delicious. the eggs benedict comes on a bed of crispy rice instead of an english muffin.
i had the crepe. it had cheese and potatoes and some bacon and onions. god it was good. worth every penny of that $15.
you're never too old for a theme party, damn it
ps: i loved hugette's child-like purple manicure. she said it was just old but i mean it's kind of perfect anyway.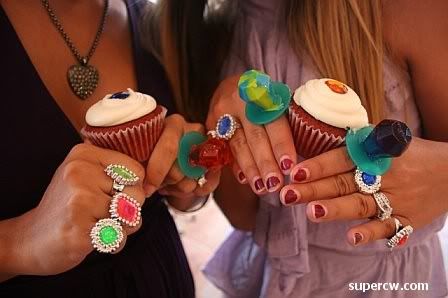 ps: there was a  lot of us. aw, us.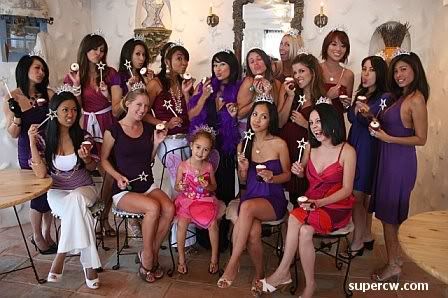 wait i'm done? oh! well. i'll try to spin up a few more soon. this past weekend was bananas!!! i saw you! first friday all night, saturday all night, shack all night! those soon. xoxox.