random party. making friends. there were some super rad people there this night.



meanwhile back on netflix. fell asleep watching the science of sleep. twice. made for strange dreams. DID get through it the other day though. it was actually really good.



thursday chinatown day. was missing thailand so had to get a fix at that new dragon place by hank's.



HEY! it's pretty cool up there! totally the next place i take a date.



said hello to the thirtynine family too. the walls were blank, pre-gallerieh's show. of which i still haven't seen. maybe tonight.



princess of chinatown is back from her world tour! she's totally going to be the tandem surfing world champion this year, people. well, in between touring with makana. ps: jealous!



the shatiki dance movement dot com has been invited to represent hawaii in some massive dancing thing somewhere super far away so there was a benefit held tonight. right on ladies.



before the performance i got to hear the princess of waimanalo sing a bit



the dancing was sofa king epic. i was falling in love over and over again.



there is a thing called cherry blossom burlesque too. have you seen it? heard about it? poor you. this girl was SOFA KING amazing. the song was from the 50s. i felt like it was the 50s. every article of clothing that came off i was like nooooooo! yeeeees! time to let me exploit slash perv a little, please. thank you.



ok. more shatiki belly dance. good stuff here too. and KOALANI!!! holy cow i haven't see her in like 4 years.



snuck back up to thirtyninehotel to see maria sing with dishannon higa. it's their new thing there.



these ladies are gonna make hawaii look gooooooood. i really wish i could go too.



back to next door to see tempo valley. oh my god! i still can't believe this is the first time i've seen them play. i couldn't stop thinking about how lucky we are in this small ass city to have some kick ass groups. tempo valley is amazing. they remind me of an edgier sky cries mary. SO good



and how cute is jen! JEN! i loved hanging with you tonight honeychild!!!



in the spirit of bellydance there was an opportunity to get your hands or feet henna'd.



friday was last minute pau hana in kaimuki.



the ASWS is nothing but an office full of delightfully fun and interesting things. i KNEW it.



we totally had sporatic and well mannered jam sessions.



kalimas magic



THE funnest place to kick it, man. i'll take the workshop over first friday any day.



if anything, it's just a great excuse to get over to kaimuki. the best town we got, man.



dug out to catch up with more sake and supercrew.



and jamie and roxanne. bunnies!



rockin sushi is pretty rockin on the weekends, man.



overdosed on the box sake for pau hana. might as well carry on. shit. shit shit.



it's good to have one of these. and by these i mean manslutmotherwhorebestfriends because they will always drag you out of whatever funk you are in. and introduce you to hot ladies to be your best friends. and hotter boys to kiss on the cheek. and lol at flash's fun bobby eyes. sake.



sooooo loving jamie and roxanne right now. go see them at pipeline tonight! it's like some comedy show. called.......... FUNNY BUNNIES!



flash cam



flash cam. devil sake.



flash cam. *drool*



spilled over to ward warehouse. can't think of a better friday spot than the barely legal party our vertical junkies put on over there. so loving these guys right now.



KAVEEEEEEEEKA! we missed u



well hello there



hi to you too



lance. WHAT? WHO is she. i love her.



seriously dude. have her call me.



well hellooooo ladies.



let me see some id. just kidding! god i love brew moon on fridays.



hey, it's you again. hello.



well hello to you too.



and you



blaine!



god damn. HI!



kaveeka takes super good care of us. i need to come here more, man.



xoxoxo



oh ps: his cousins? um, they rule man. they were SO much fun.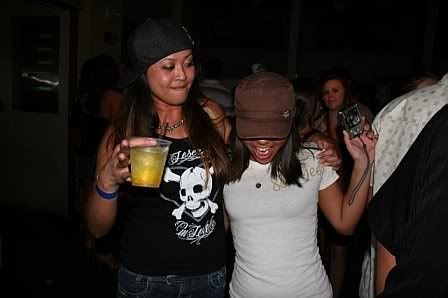 hi ladies!



reluctantly said bye bye to the barely legals and made our way down the way to see what the grown ups were doing at EnO trading co.



sorry. EnO tho.



chris olivera! FOUND!



don't think it wasn't totally packed.



olena rubin! olena olena olena. thanks to devil sake i didn't get to cruise long but i'm pretty sure we danced. loving you!



ha ha i didn't even realize i saw bj until i was uploading these.



and from the looks of their situation in the back he probably doesn't remember seeing me either



MOKA! happy birthday honey



so the ratio is pretty cool here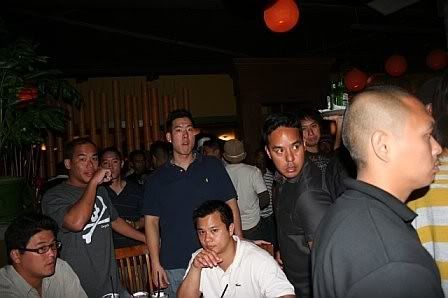 ran back to brew moon to say hi to zana. the ratio there had shifted drastically too. what's up. these guys were doing the craziest bro-dance i've ever seen. i heard there was a massive fight later on afterwards. i'm thinking it was this hormone-raising ritual thing they were doing. seriously. it was intense. ask zana!



thats' it. lovely evening. it's saturday. chinatown! skyline! i'll be coming for you. call me everyone. and if you see yourself in this blog send me your name. i would love to exploit you. because you're pretty. you are too. xoxoxo