well hello again. hi hi hi.

so a little backstory for you in case you are new. a little over a year ago i was approached through a referral (thanks suz!) for my vibrant picturesque portrayal of, um, life. MY life. and nightlife. i was jazzed. and actually about to get paid for doing what i've been doing for evs. skip ahead 5 glossy issues and the 1 year anniversary of the pacific edge magazine. and to this party. where we celebrated.



my column has been eh to me. i mean, it's a lot better when it just comes. not when i'm trying. i think you know what i mean. i've been trying to concentrate on giving accurate descriptions of popular venues around town. take a read. give opinion. stuff like that. because it's a lot harder than you think.



i was straight-woman-crushing on the new intern michelle. it's like she was dropped in pf chang's from heaven on that wonderful wednesday pau hana.



oh, this was also a sort of business networking thing.



HI MICHELLE!



some ladies involved with the mag



a lady involved with my happiness



sarah honda showed up. did you know that jamie and naomi the publishers actually met at her magazine's launch party? they are married now. *sigh* here's to magazines. and networking. and love. and sarah.



noelani was there. thank GOD! noelani is one of the smartest young adults i've met in a long time. her business is hawaiian jewelery and this girl knows what she's talking about. serious.



genegabus showed up too. rad. i've only been looking up to him since the wee hours of myspace when he was posting picture blogs weekly and i was like "hey! that's a rad idea..."



"yes yes yes business business yes yes"



lol i finally met dr stephen gee who's office happens to be below kyle's studio at the academy. we see each other a lot so it's nice to give a friendly hello-wave now instead of a sheepish "no i swear i'm not stalking you from my car i'm waiting for my boyfriend" grin.



THIS girl...



...took this photo. no shit! well, i was holding it for her. she pushed the button. and focused! scooped.



i won a trip to the acupuncturist. finally!



saturday is sailing. like, from now on infinity. but especially during whale season. you have no idea. i didn't have my camera out so i'm not even going to talk about it. ok i will. we totally had a humpback less than 50 yards away from scott's little boat this day. it was... i'm speechless. but don't worry. my ass will be out there every saturday until forever. stay tuned



i've known jimmy beach for years upon years. i'm pretty sure i've never been around him without champagne.



woody was letting heather drive for a bit



oh ps: jimmy has one of the most positive outlooks on everything in the entire world ever ever. ever. the companies he runs might have something to do with it. or the other way around. who knows. but you should be his friend.



jacquie! a rainbow! *evil evil evil evil*



sailing debrief and cocktails at the yacht club....



....turned in to an impromptu for us but planned for others night of celebrating mardi gras a few days too late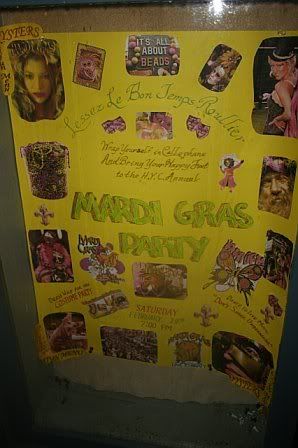 sounds like a plan to us.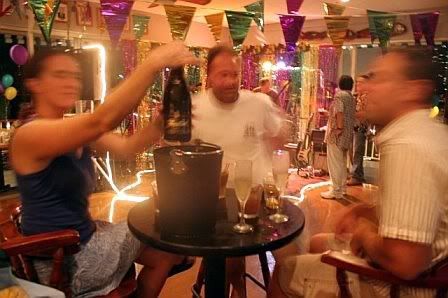 oh we aren't messing around



this is the real sort of deal people.



and it was exciting stuff



i mean... it GOT exciting....



after a few more bottles



this is andrew. and his brother. andrew came out with us and talked "real sailor" story with scott. those two are the only people i've ever met that actually take sailboats across the pacific ocean. andrew had actually sailed from california to fiji then came here from somewhere i can't pronounce. it was crazy. and awesome.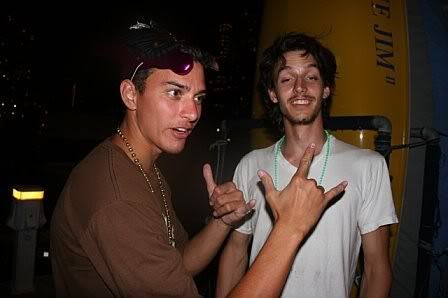 i think they mentioned they are here until july, ladies. so i would say get down to the honolulu yacht club because there aren't a lot of pickings their age over there.



time for the oscars. yikes. i hate it when i startle people. HI!



hawaii international film festival. and the oscars. at the halekulani!



blaineashley dot com was there with rob. so pretty!!



and jackie! it appears that hiff posted all the most lovely ladies out front to get us all excited to be there. bravo hiff!



christa's best dressed goes to will smith for his lovely accessories. his son and wife. who are perfect. tell me his son presenting wasn't the cutest thing you've ever seen.

dana forsberg!


i'm pretty sure everyone at the press table zoned out on using the little disposable they gave every table. i meant to grab it and snap away too but totally forgot until i saw this shot. damn! those can be fun sometimes.....



my table ruled



ok, conan o'brien, listen up. i'm sorry but ellen might just be my new favorite tv personality. she was SOFA KING funny during her monologue. i love her.



THIS guy was all kinds of fabulous. i watched him change from a black jacket into this white one with the help of his assistant/porter/cabana boy before stepping outside to smoke a cigar



that's chuck boller with christina simpkins dot com. you know christina right? she's pretty amazing you know.



mister all kinds of fabulous popping open his LV cigar box for mr boller. JEEZ!



it's about time right? i mean, i was shooting for babel. but you know. i mean. it's marty.


see ya next time!