woah. no, really. WOAH. that's the only way i can describe the past few days. in all seriousness, nothing went normal. it all went like into some parallel vortex world of way-too-awesome-to-be-real.
seriously.
anyway. last week tuesday i leaned over to my chinese artist friend from paris and said "Yue! have you heard the alt/air cd you HAVE TO HEAR ITTTT" so he smooshed it up to his ear. to listen.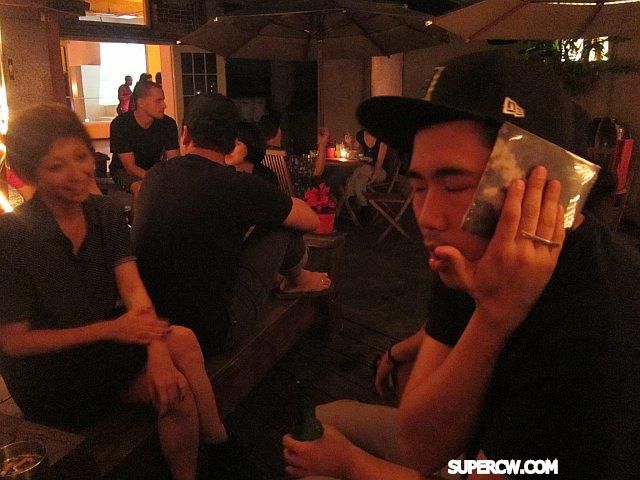 that's just the kind of guy he is (awesome).
kind of like this guy, visiting from los angeles. fakebestfriend <3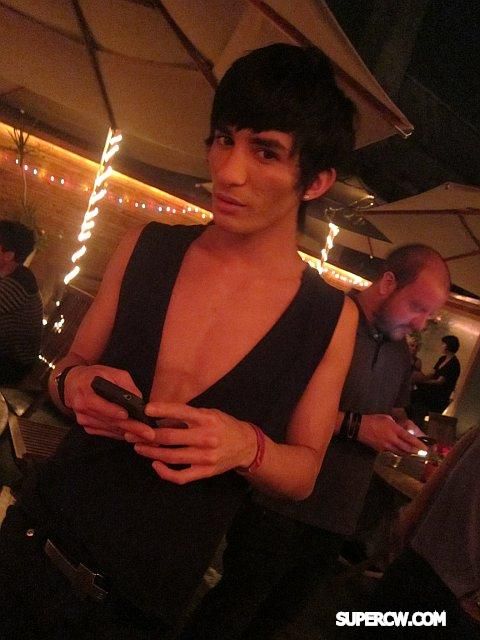 last week we were out on a tuesday. SO NOT LIKE ME anymore. but thank god there's always somewhere to go if you decide to go out on a tuesday (kaleidoscope) and in keeping with the whole WOAH thing it was GRLFRNDS and anton glamb who were playing in between ross jackson sets. it was all just heaven. ps: one of my favorite things about Yue….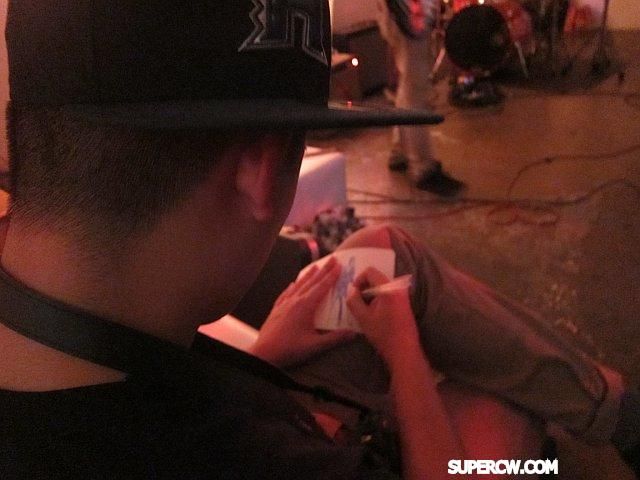 ….are his sketches of what's going on. i'm waiting for a board game one.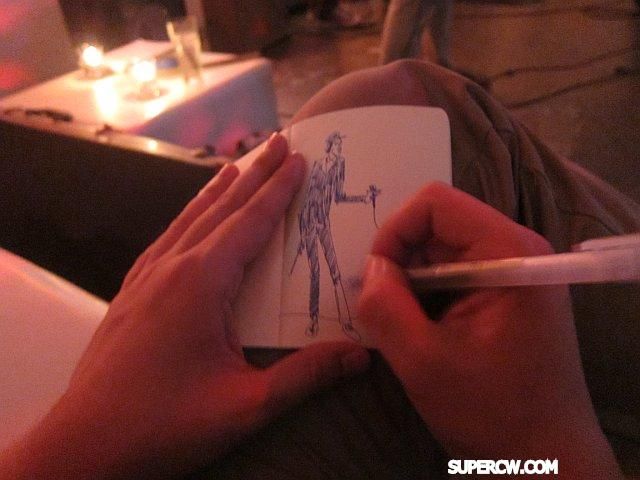 so yayayayyaya lurking the indies at thirtyninehotel on a tuesday. it was WOAH.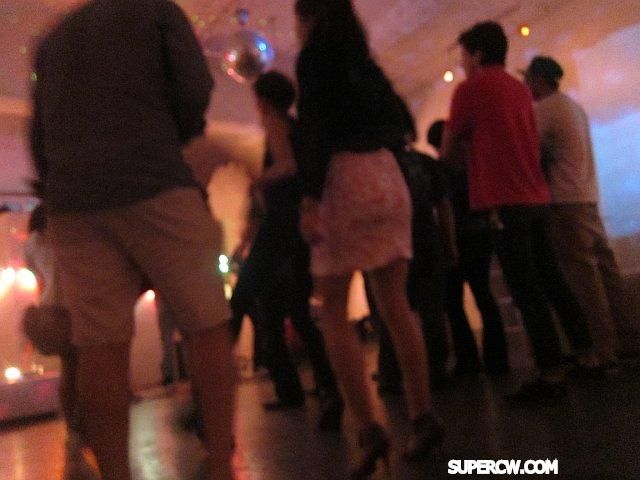 then when we were leaving a SEA of people was pouring inside. swear to god. you really had to be there to see it. they were a wedding or something, but like the COOLEST wedding people ever. everyone looked like they were pulled off the streets of san francisco or brooklyn and i'm not even kidding. (WOAH WEEK).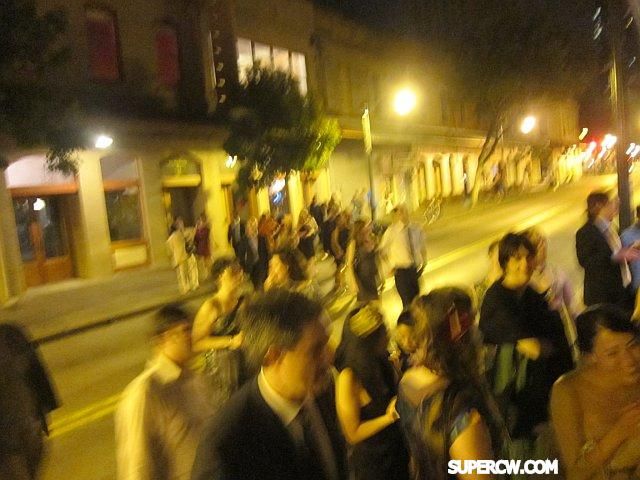 then it was wednesday finally. i had been looking forward to kamea hadar's art show at the Edition for a month. it was even better than i could have imagined. i TOLD YOU you should go!!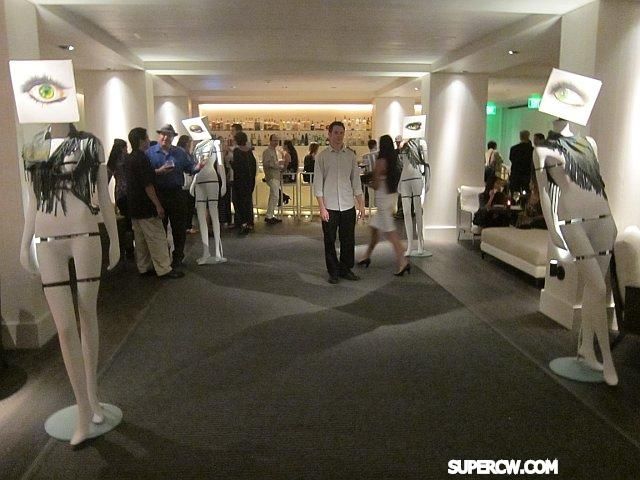 it was also a little party for jcut's new issue of innov8 too. with kamea's art on the cover. tonight he was unveiling this new painting upstairs in the crazybox.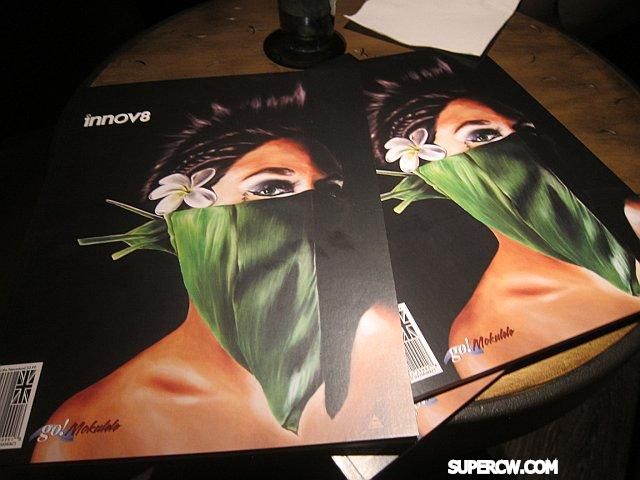 it was also my own little welcome home party for NATASHAAAA too who selfishly decided to spend christmas with her family in los angeles. neverdothatagain.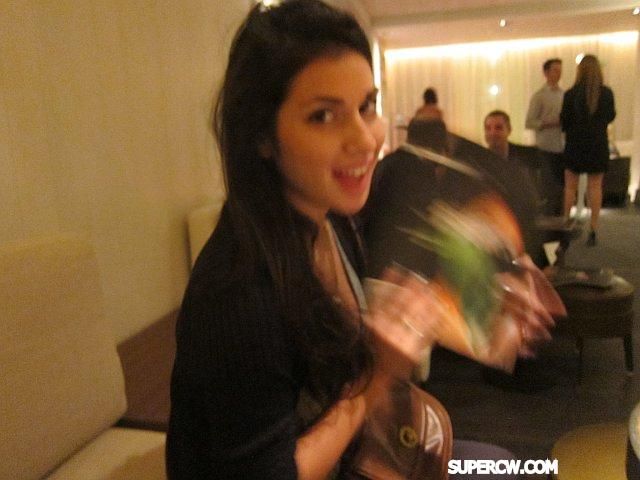 as with most edition parties, we started in the lobby bar with a japanese juelip (a.k.a. WOAH), caught up with david and laura and the gang, made gu-gu eyes at each other and lurked the art lurkers.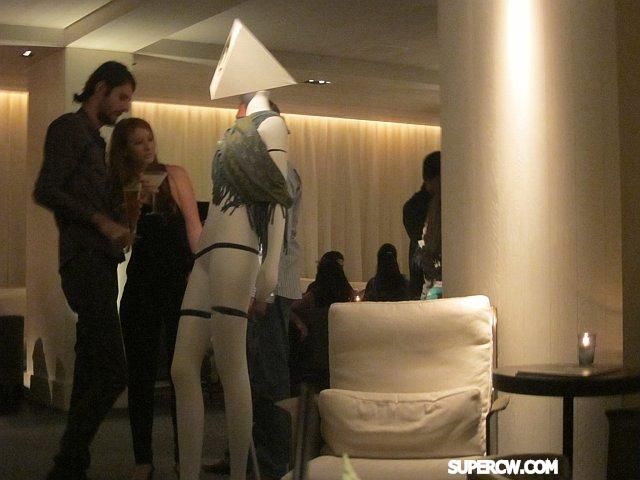 after all that it was crazybox time. vane russo a.k.a the sexiest woman alive had also made some new art in the passageways. we were digging it.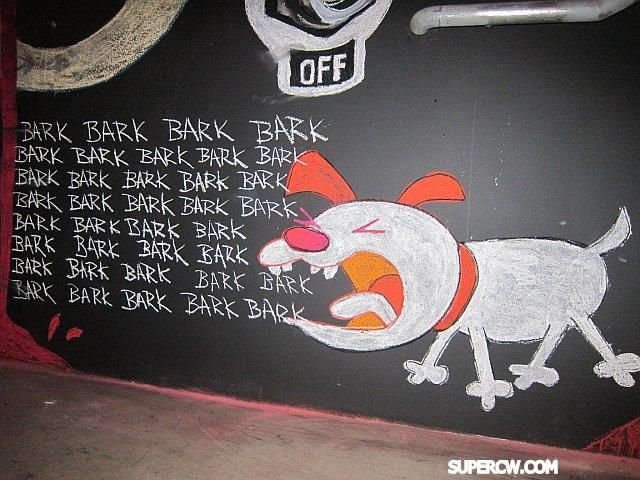 keeping in mind that it's like 8pm….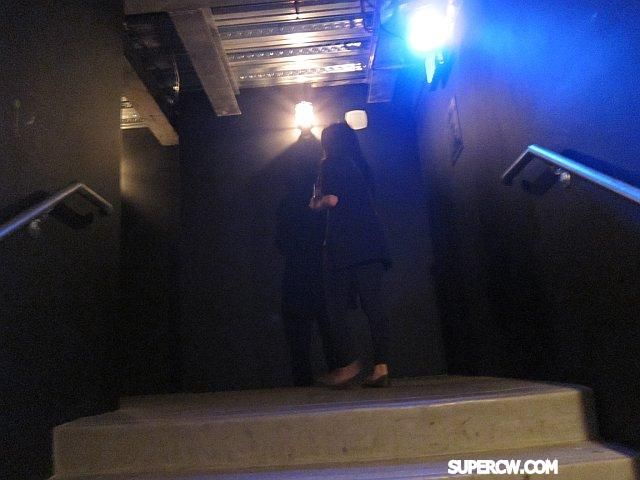 ….we walked inside the spot that's usually a nightclub to THIS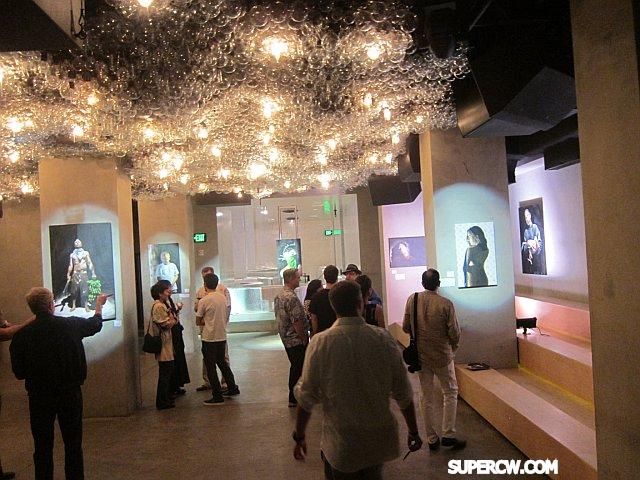 dear god they got it perfect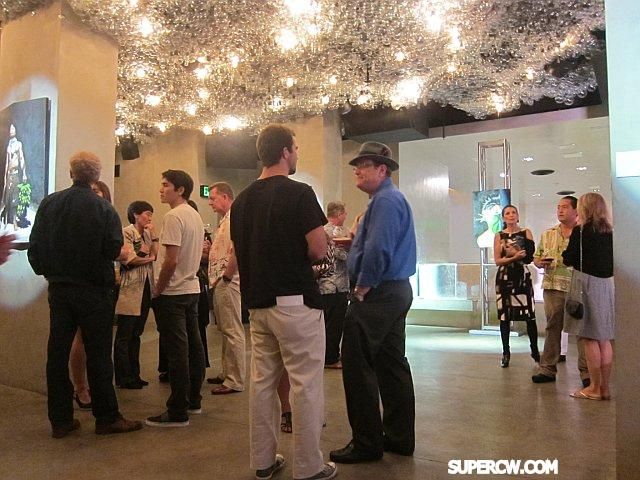 shanna hulme runs the pools. don't fck with her or she'll ban you for life. kiss her ass and you and all your hot friends might be able to sun yourselves amongst people like beyonce.
speaking of art shows, the one and only trisha goldberg brought me a belated birthday gift. TRISHA GOLDBERG! i was fanning out.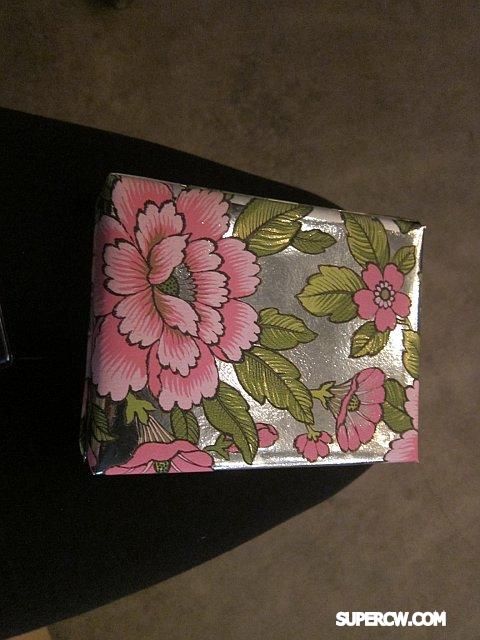 and there it was. in all its glory. kamea's newest painting. with his signature overt shout-out to the most beautiful woman in the world. and nice background props to the vip room. in all it's brightly-lit glory.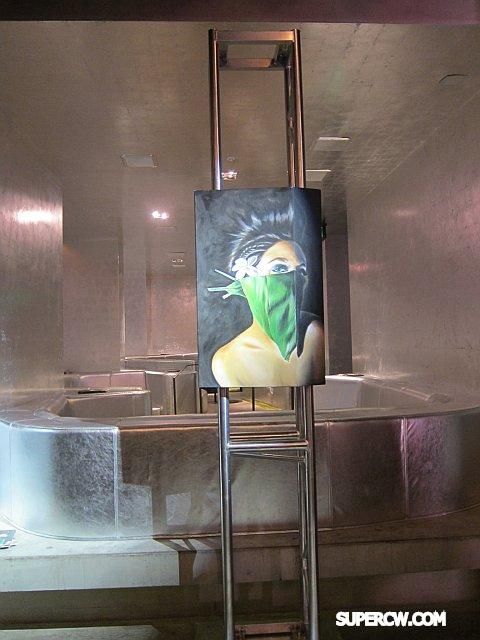 the stunningness of the actual person carries over so brilliantly to kamea's paintings. he's so lucky to be with a girl like her AND know how to paint! or how to paint AND be with a girl like her? forgetaboutit. that man is just the luckiest guy i know.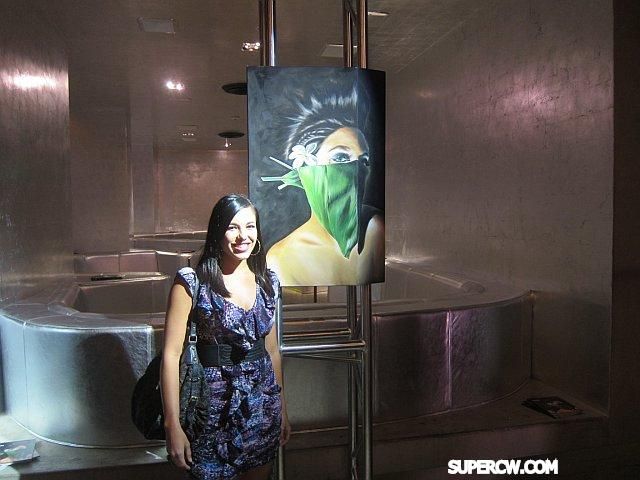 the show? nothing short of spectacular.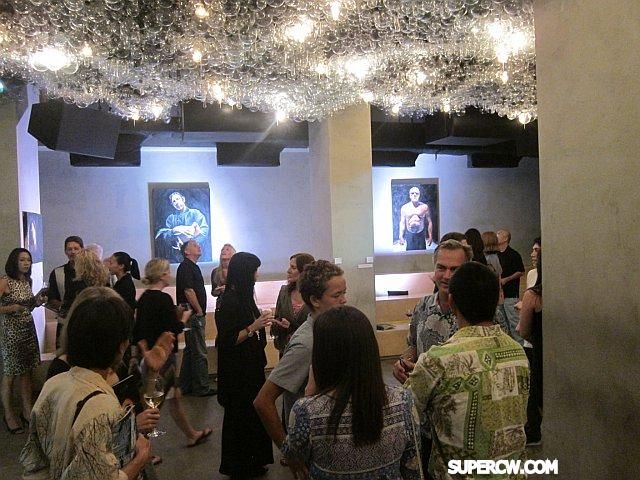 satoru abe's portrait was by far my favorite piece besides shanna's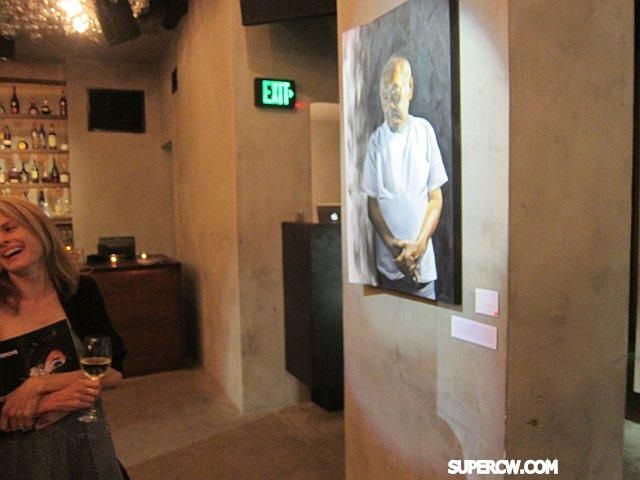 god, they all are pretty fcking epic actually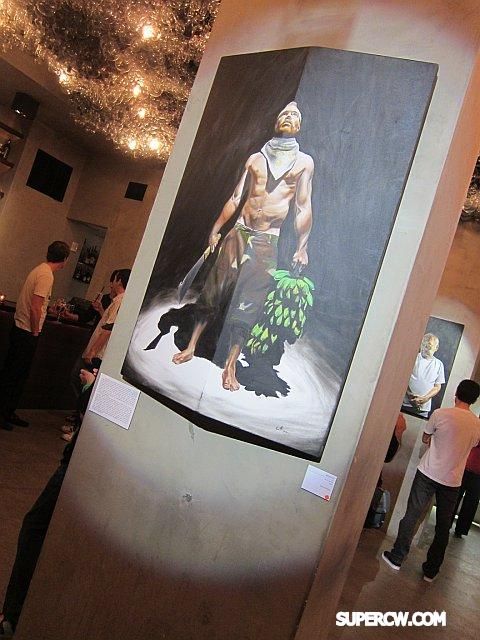 cyrus and satoru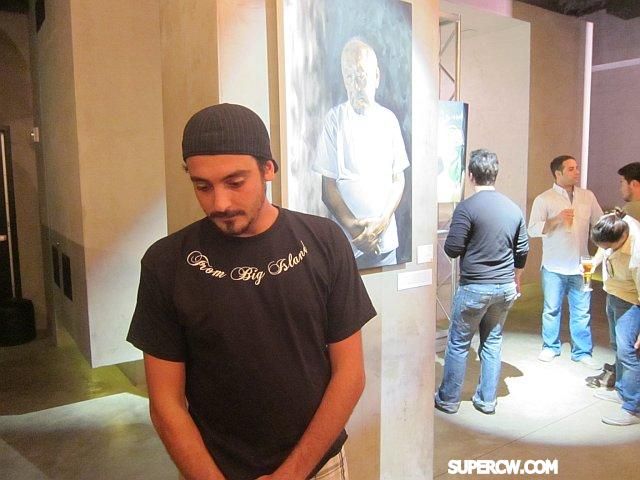 my date tonight. do you see why i am in straightgaylovegaystraightgirl love? i wish i could paint YOU natashaaaaaa.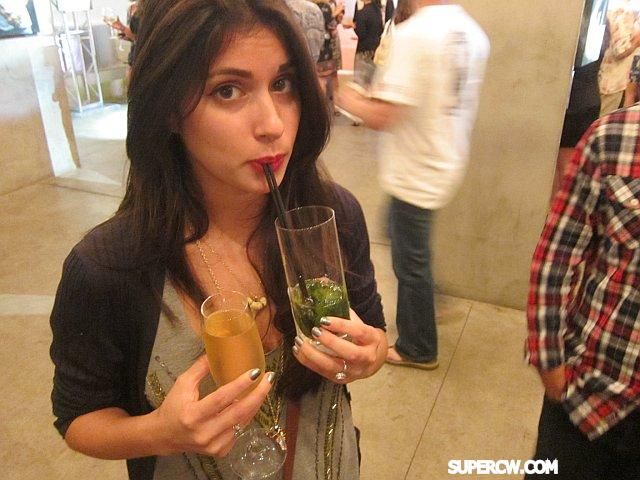 then more boys showed up. which was perfect timing because i was ready to watch battle with my new teva-nixon.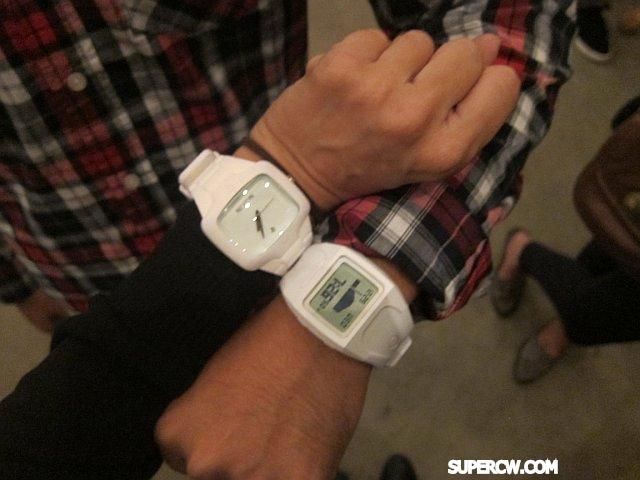 i dunno russell. knowing the tides on your watch is pretty cool. knowing your female cycle on your watch is EVEN COOLER though. (someone invent that).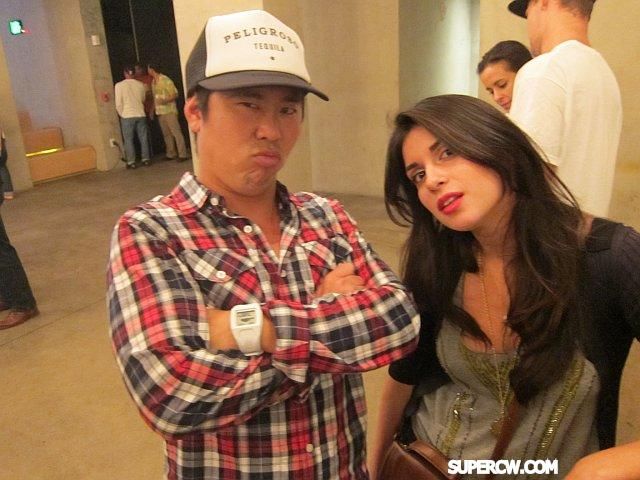 maka wait. we're inside the crazybox. wait. what.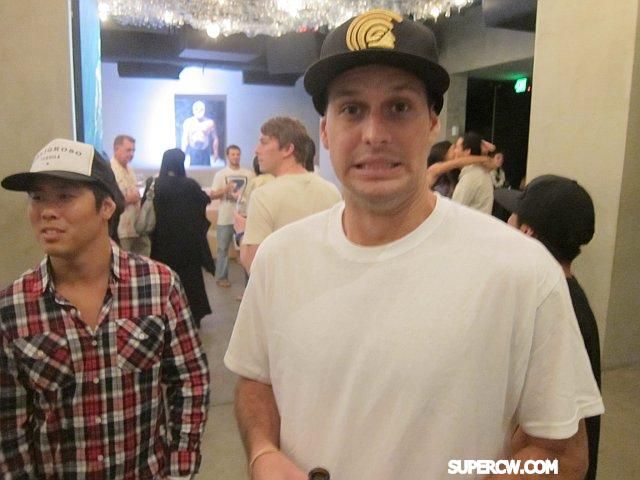 oh.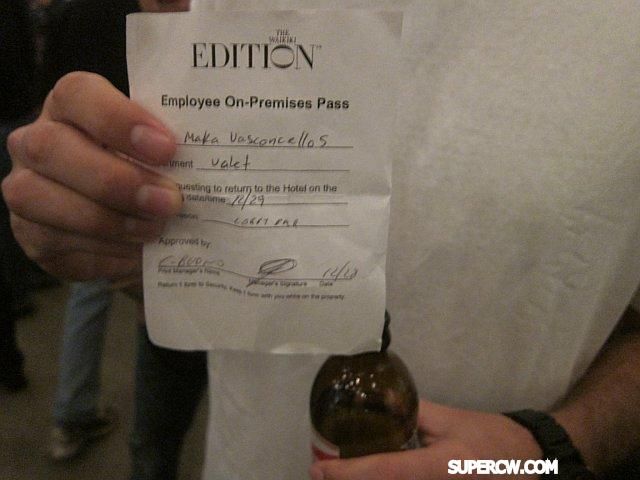 artist kamea hadar and his best ladies. so amazed by your new painting and paintings my friend. can't wait to see more.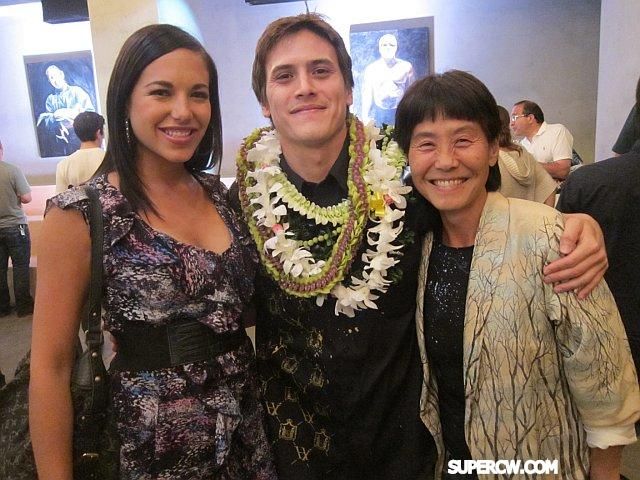 i need to get another of cyrus. the satoru one wasn't quite depicting the guy i know.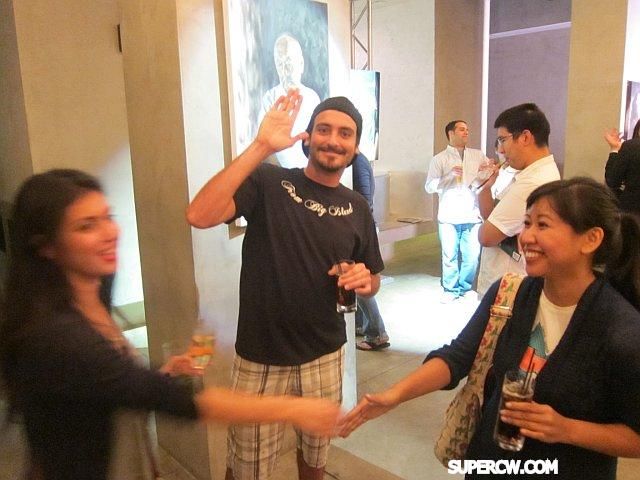 meanwhile, outside smoking, we finally realized that the crazybox smoking area is right by crazyshirt.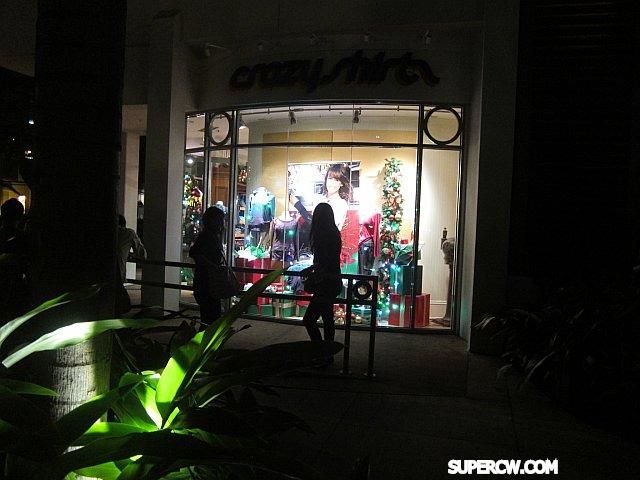 i dunno. just that. then it was wednesday so time for downtown, which was already in a nice, full swing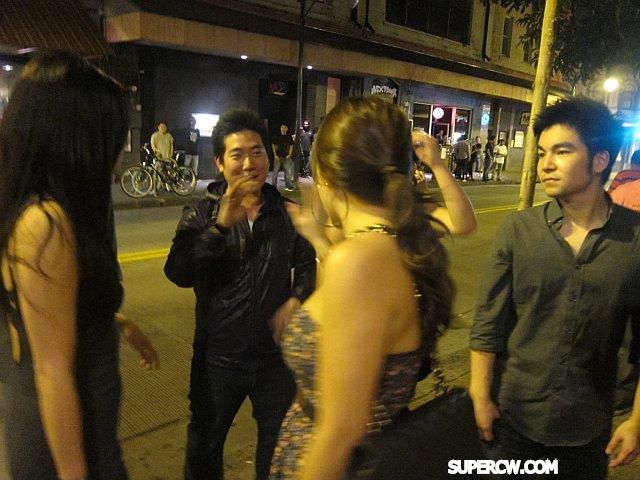 i mean, come on. you gotta hand it to the guys who put together the aloha tower nye party. more on that later. but just damn. love you guys, you worked your butts off.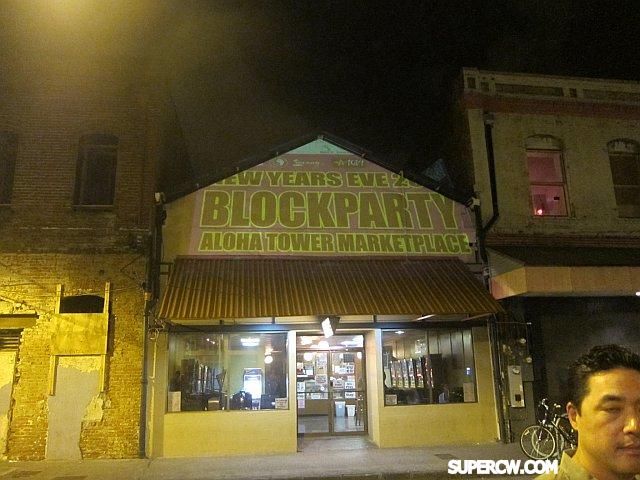 meanwhile, DANGEROUS HOYT'S RAT TAIL!!!!!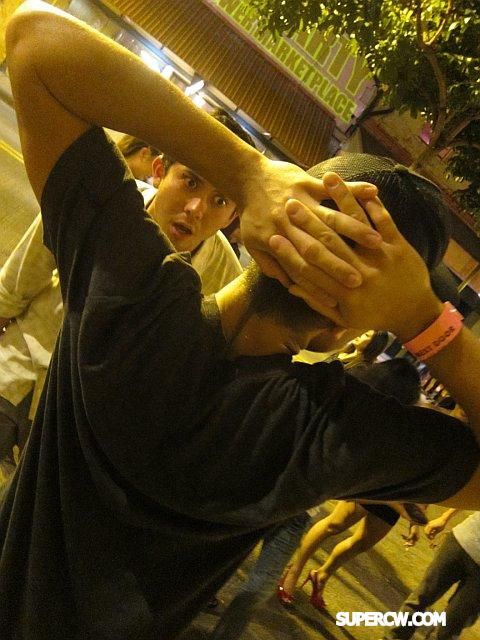 inside nextdoor was a danceparty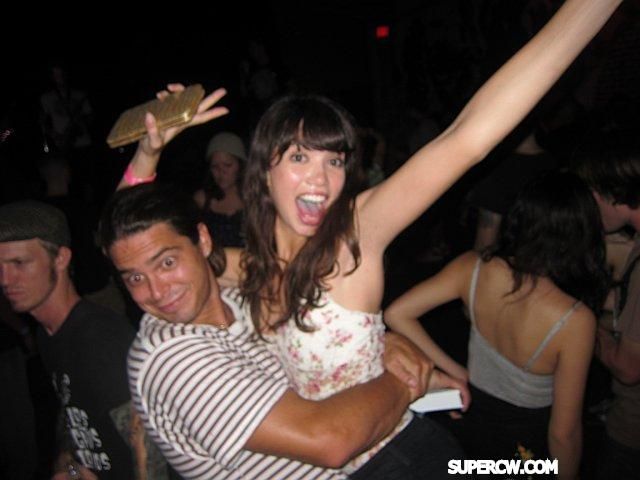 and cool people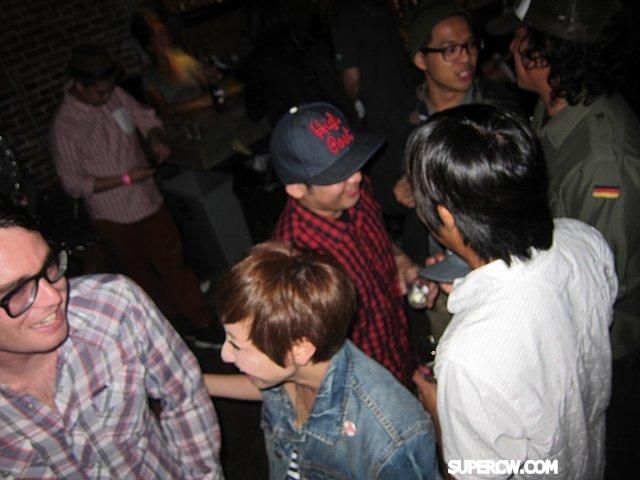 speaking of aly. her cd release for alt/air (omg you HAVE to hear that cd!!!) is sat the 8th at nextdoor too. i highly recommend that.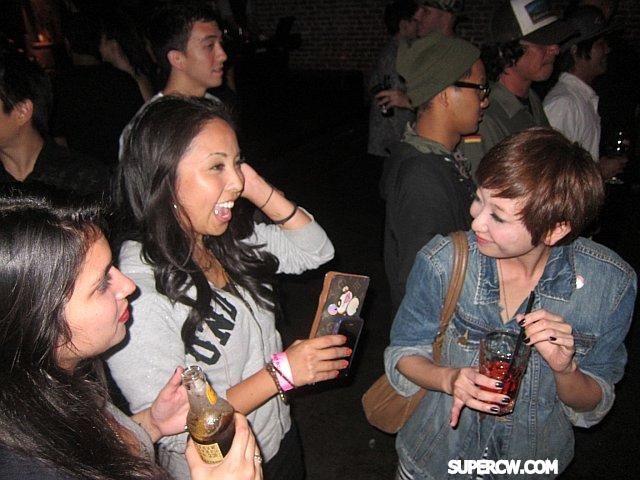 then v lounge? already? damn, i need to remember to take more pictures when i'm out. wednesday nights late night are tough for me. work is just too early.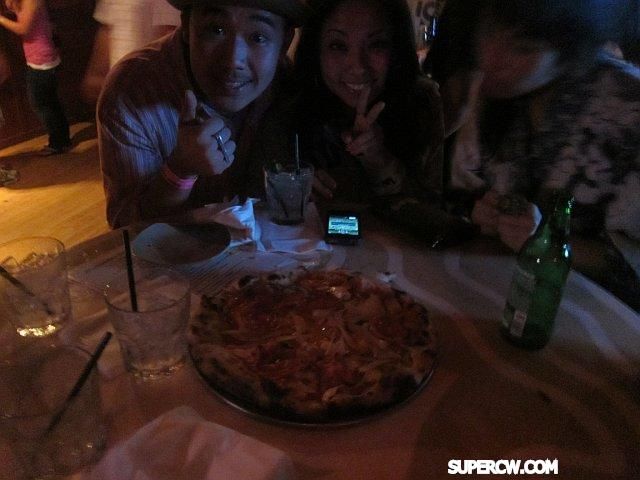 tonight was WOAH though and i'm so serious. the second we walked in there it was woah. don't believe me? the DANCEFLOOR somehow happened on the side over there by the bar. and it started because someone's dad was in there making his own dance circle.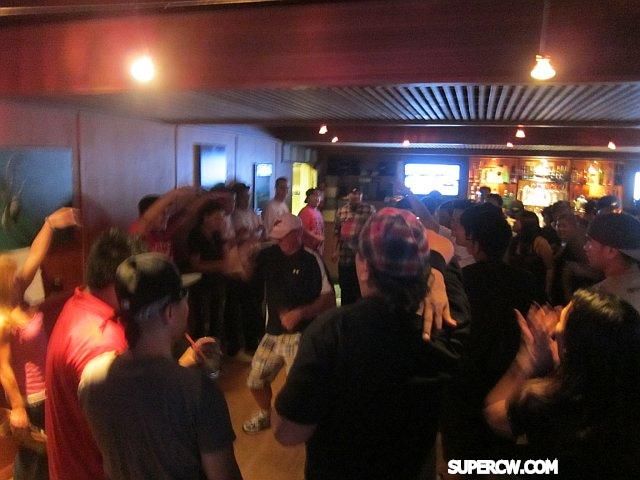 then i was outside smoking debating a ninja when the bamp van drives by and slows down trying to figure out where to park. i go up to say "STAY! cheepizza!" and it's not philip driving… it's DAVID CHOE. he totally remembered me and was like "look in the back!" so i did and it was HARRY!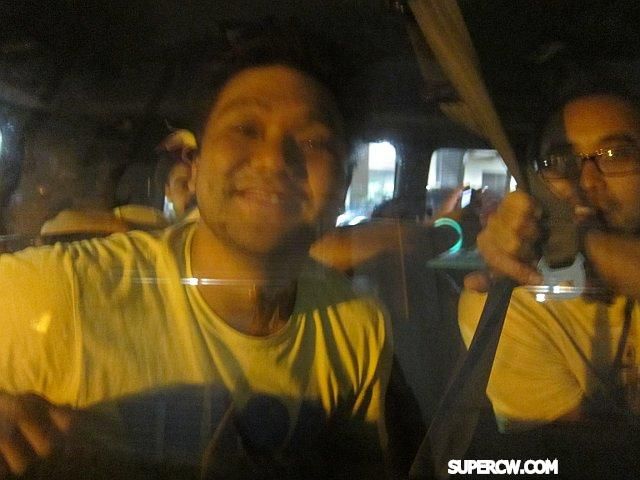 harry kim, in case you don't know, is the guy that filmed david for like 8 years making a documentary about him called "dirty hands the art and crimes of david choe" that screened at hiff a few years ago. he also is david's partner in crime on "thumbs up" if you watch vbs.tv (which you should).
anyway, after a smoke and telling the artists where to park v lounge had hemorrhaged into a place that wasn't even partake-able.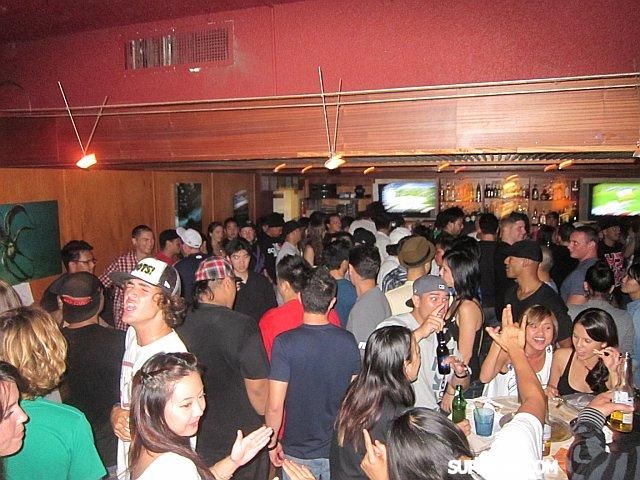 thank god we had that tall boy, cause david choe just happened to be like "hay everyone! let's go to honolulu for new year's!" and had a posse of some of the biggest artists in THE WORLD with him. at our table. and god damn it they HAD to try v lounge pizza.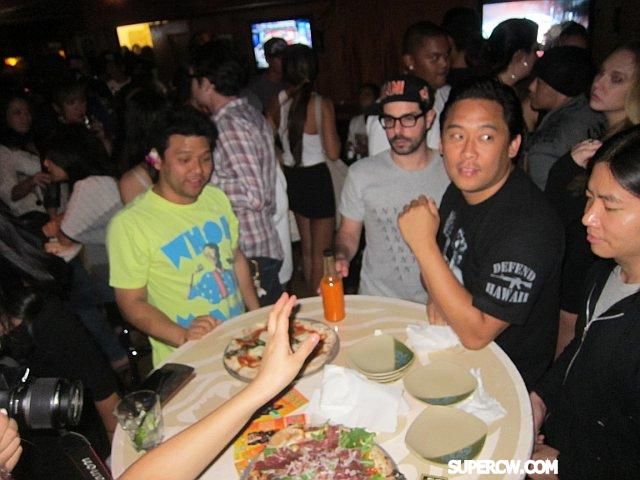 thank god i was with girls. always more fun this late.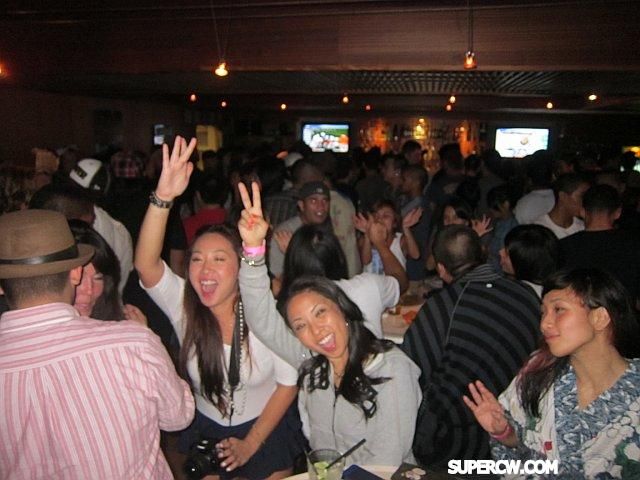 then it was new year's eve. after dinner in kalihi with the prince we parked downtown early to sayhi everywhere before aloha tower. smith street was already going off when we got down there.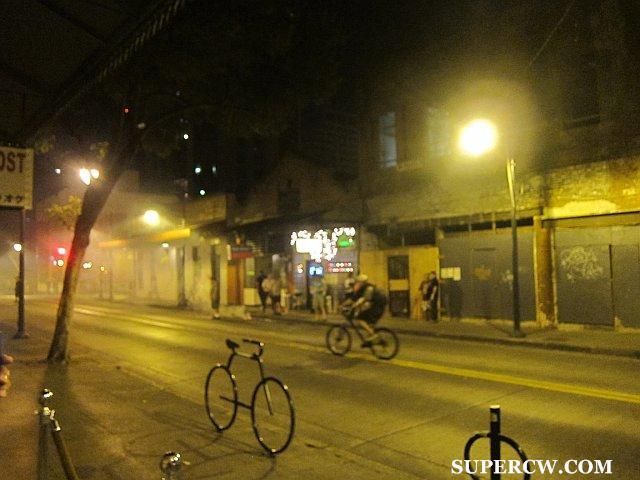 sayhi at the manifest. we love them.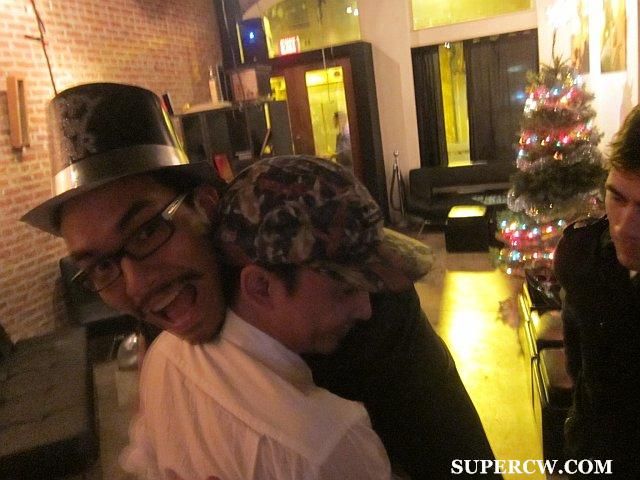 then someone noticed we were all in fancyblack. here is our Vanity Fair shot: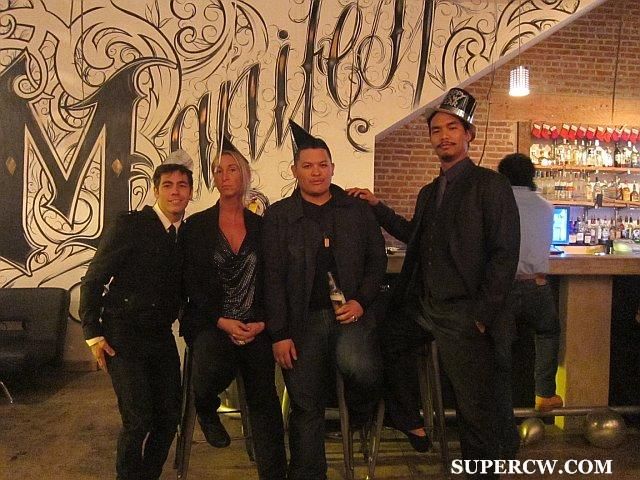 and here is our "just kidding! we don't really so stuff like that!" shot: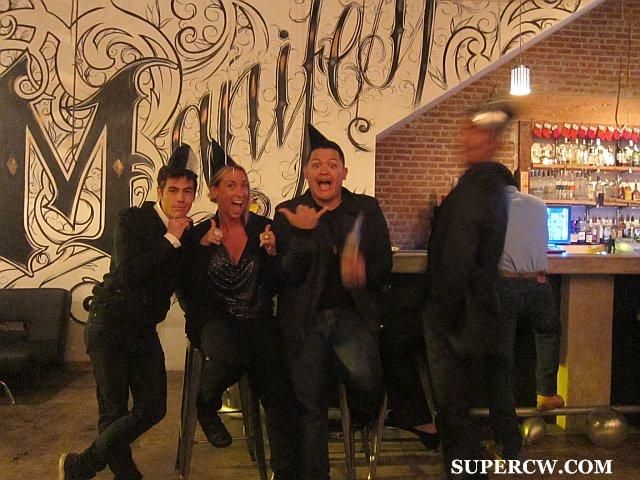 cracked open the innov8 mag that was in there and another WOAH. vincent's article on his big island trip. best part. riceeee.
matt bruening and jake the snake *fanning out*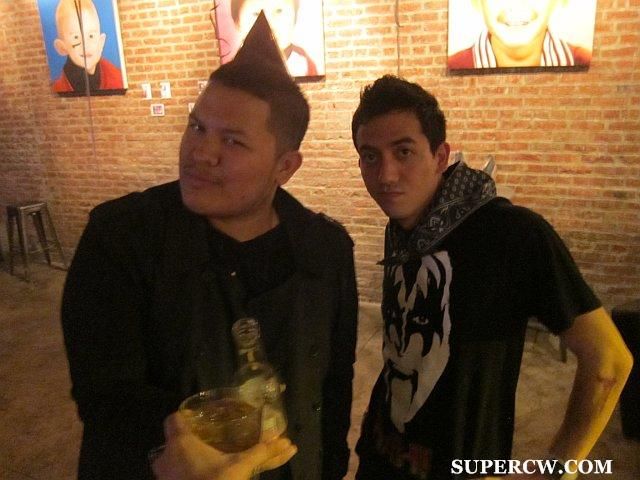 justin was like "best too early to go out spot?"
then he was like "nah nah just kidding i get it"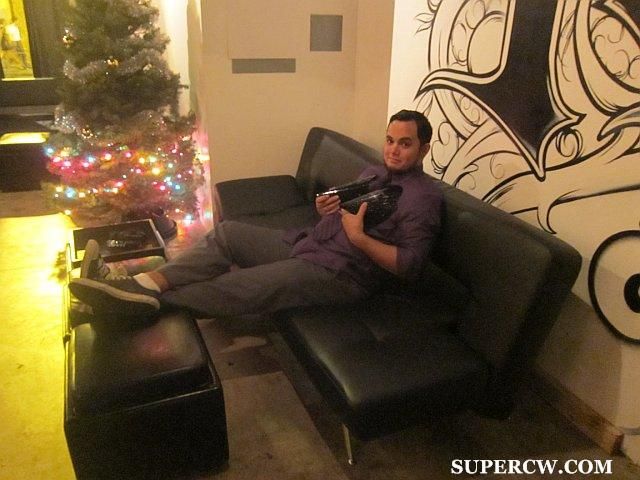 then aloha tower was craze. so many people so many lines so much confusion. we went upstairs by the villa and walked right in. love you guys but you knew there was thousands coming, more check-in check points would have been good. lesson for next year.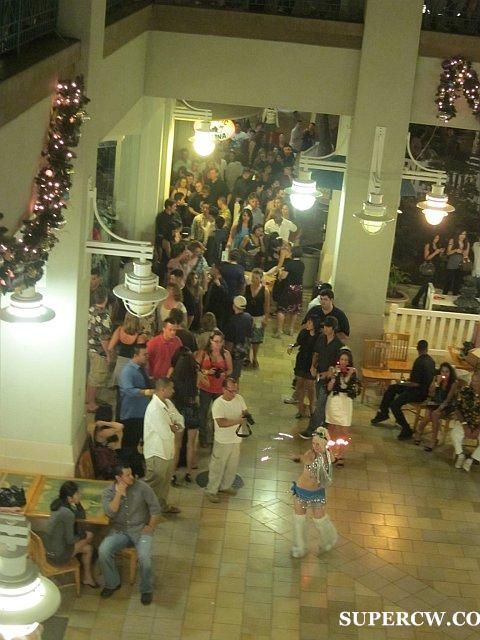 people who give up when there's long lines and mass confusion? amateurs! tonight was SO WORTH IT! sorta goes back to my whole "be early" mantra that i will forever champion. if you're early you seldom deal with that, just being kinda bored until everyone else arrives.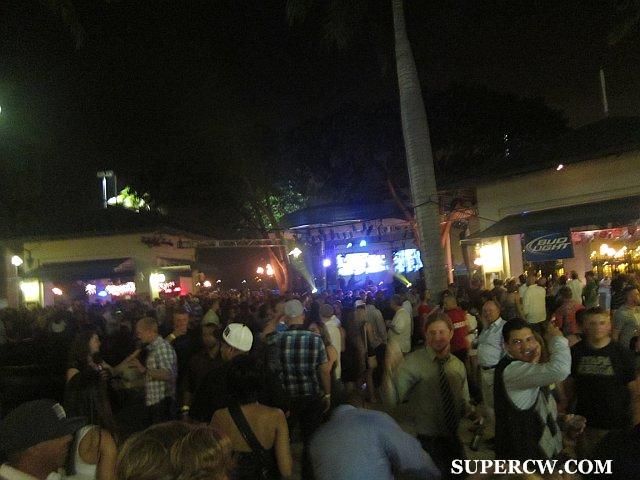 and i mean, we eventually bumped into G spot who, as the seasoned veteran promoter he is, was staying farrrr away from the door.
he probably would have thrown us out realizing we didn't have our wristbands but duh, better brands was a sponsor so instead he gave us vip wristbands and bought us a drink.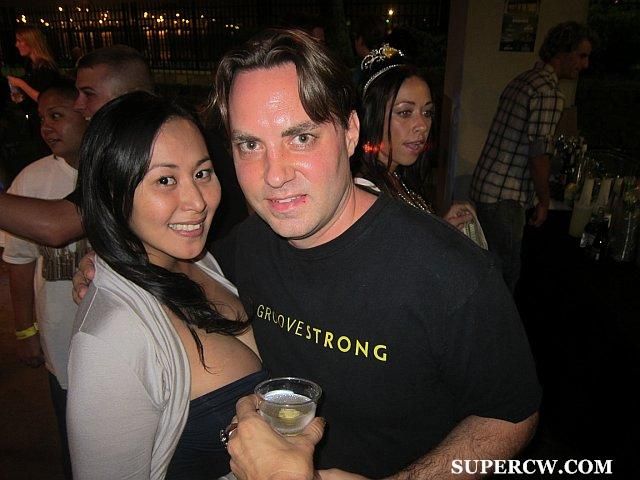 then i tested paul's patience by asking him to come in the foam pit me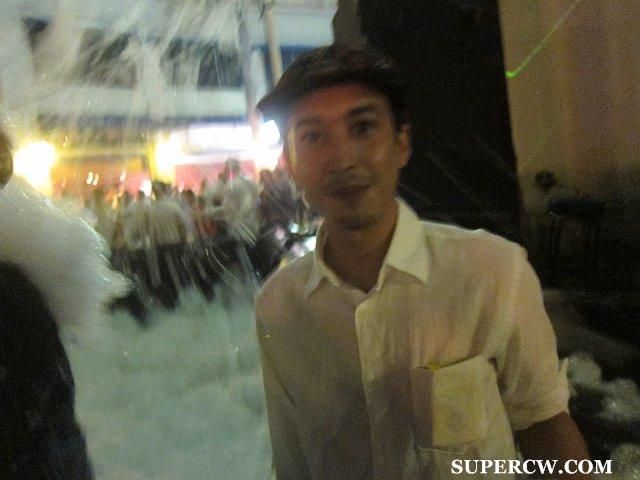 just the fact that he did it made another WOAH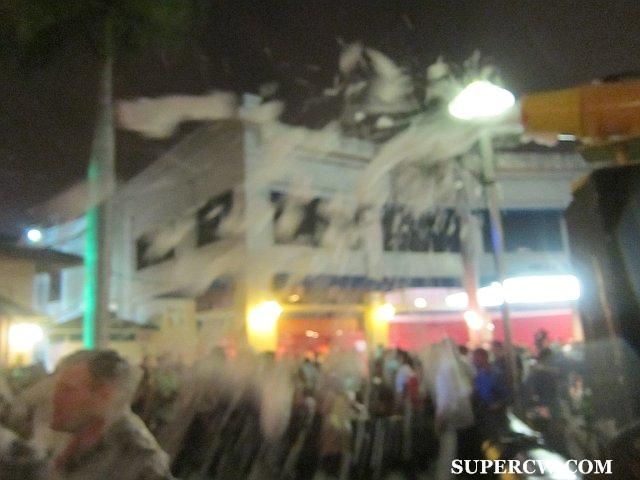 so around now was maybe 10:30 or so. peoplepeoplepeople. dancing everywhere. foam pit. bars were 30-deep (they should have had more).
aloha tower was totally times square.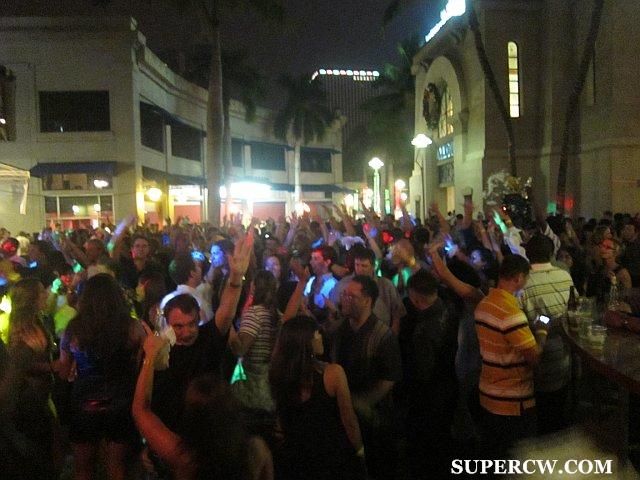 then fun people showed up and taught me how to dance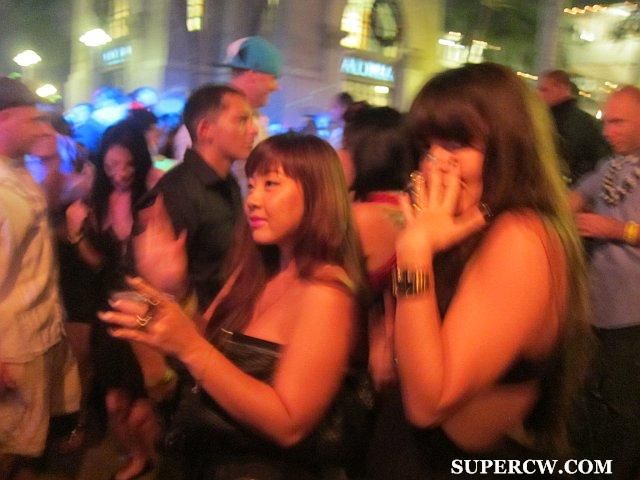 its hard/annoying to dance to top 40 music. everyone seemed to love it. christine and tess made it look easy. i sorta just wiggled around to it.
i totally get that it's what the masses want to hear, so much respect. we were trying to figure out where delve was spinning but moving around/looking for people on nye is the last thing we really wanted to do.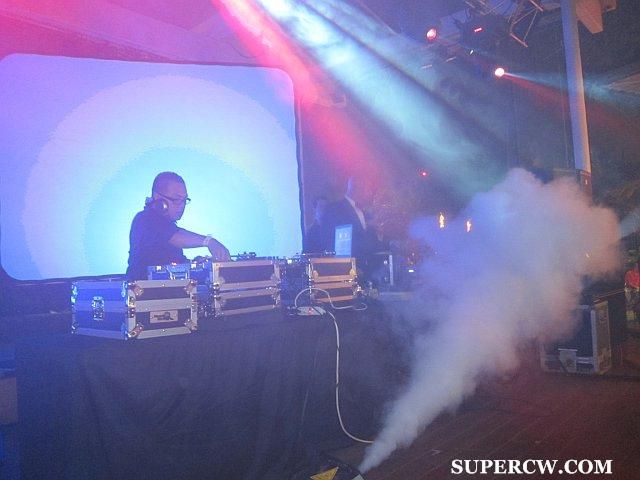 so we danced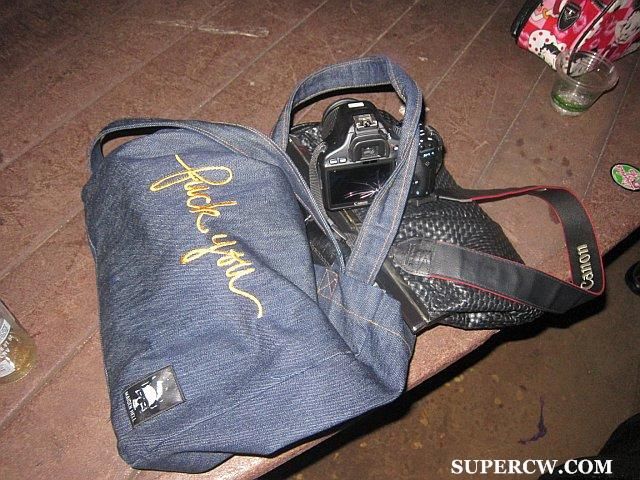 saw jermel-lynn!!! totally blew my shot of her. and of course she completely nailed hers.
then things got hype. so did we.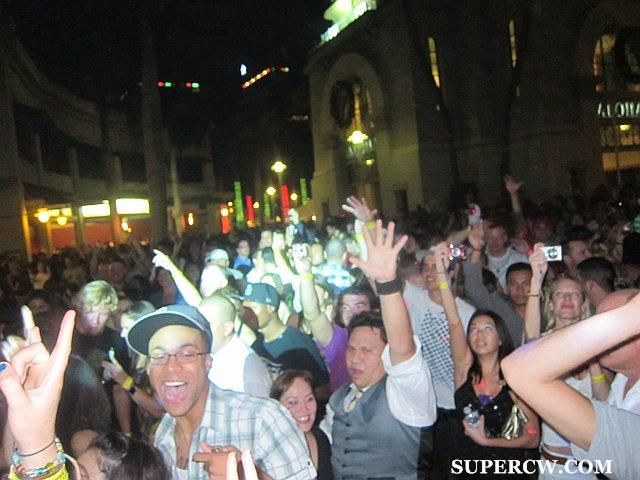 the bars were in the weeeeds. i wish there were more. then we stood behind a guy who ordered a round of beers and chilled shots for his 6 friends and tipped her like a dollar. not like i'm trying to point out bad stuff but are you SERIOUS dude.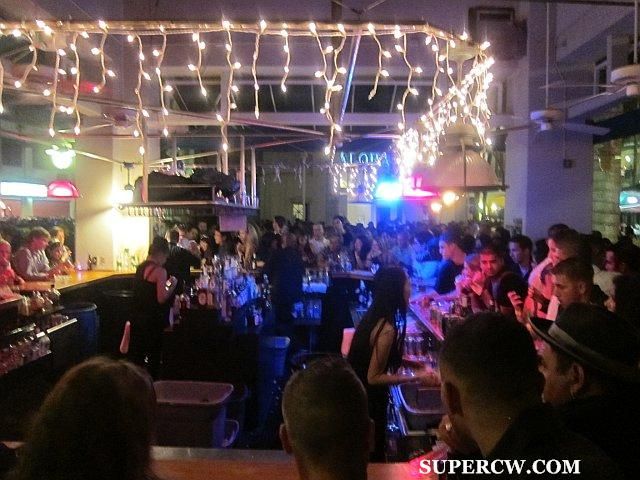 aloha t[imes squeare]ower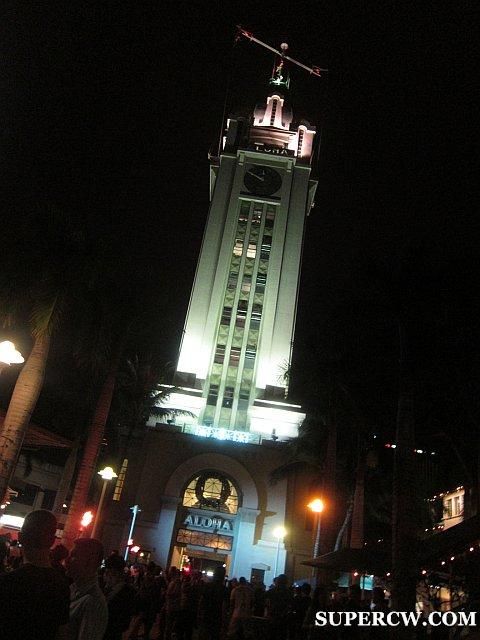 OMG! it's almost time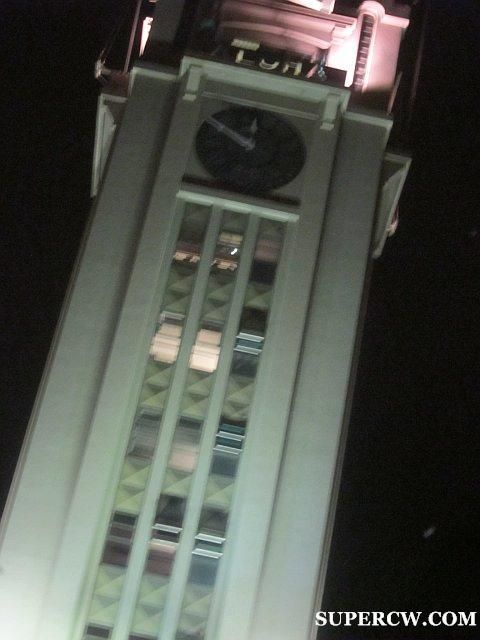 everyone started to scurry around to find their midnight spot. if you were up high looking down we all proobably looked like little bugs.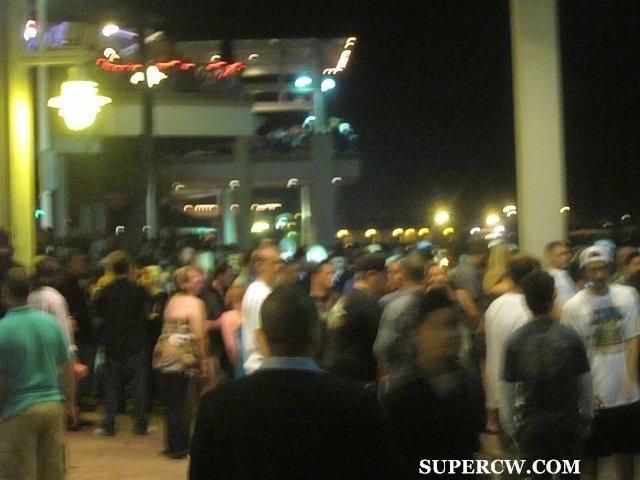 hi! do i look like a bug?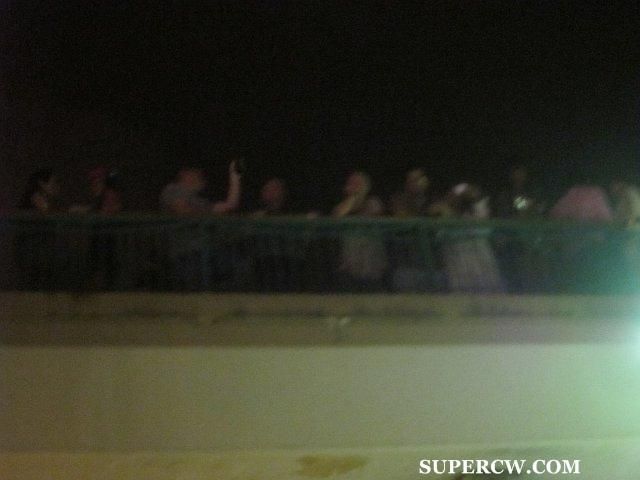 OMG!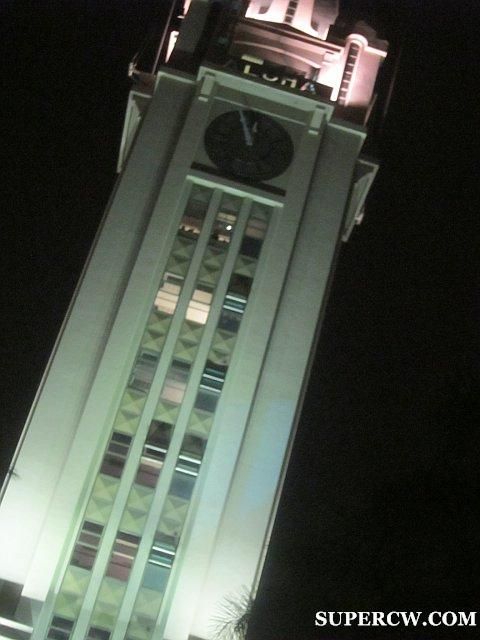 happy new year aaaaaaaaaaaaaaaaaaaaaaa!
there was definitely no need to scurry about. the fireworks were EVERYWHERE!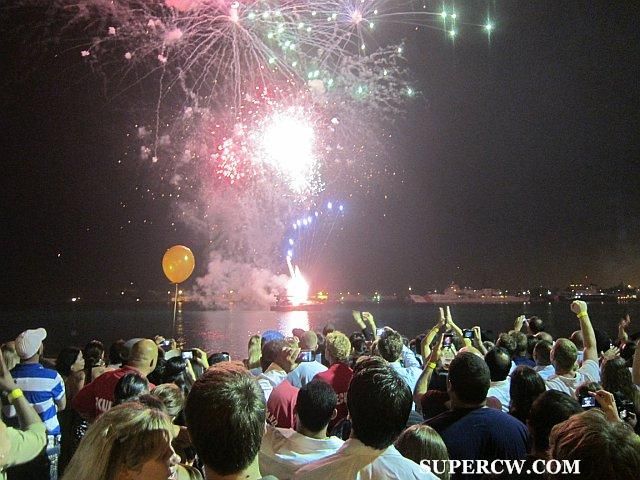 all over our heads all over the water all over our faces. so so so amazing.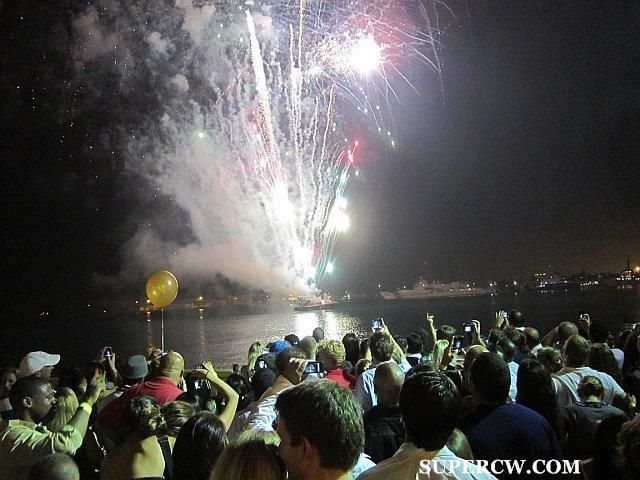 sooooo worth being here tonight.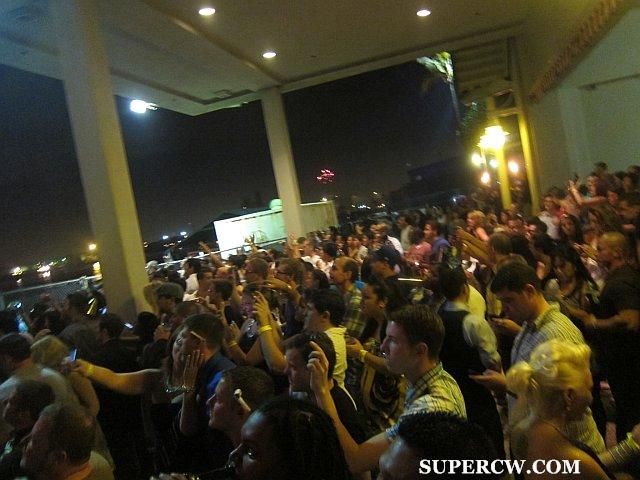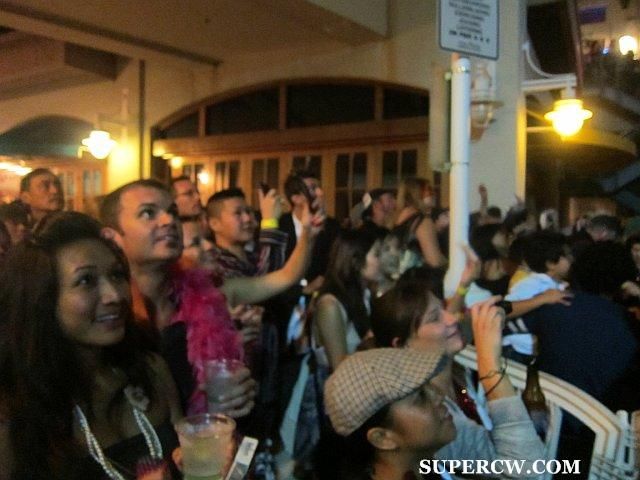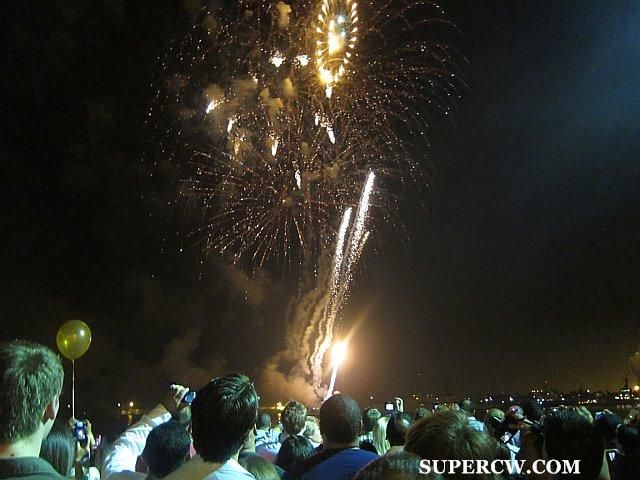 (all of the lights)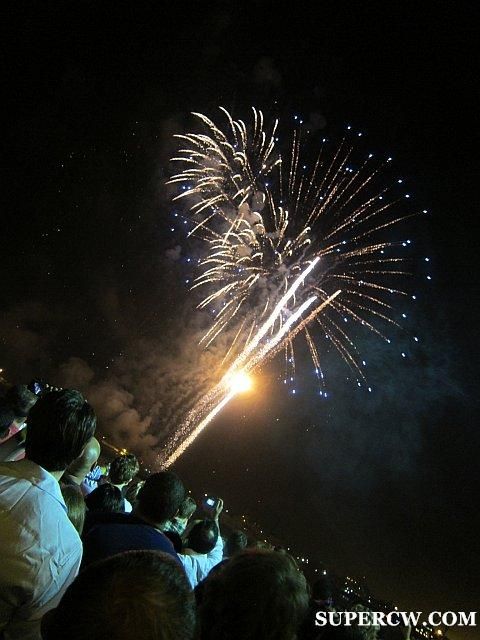 got bored after a while and decided to beat everyone to downtown. walking away the fireworks never stopped.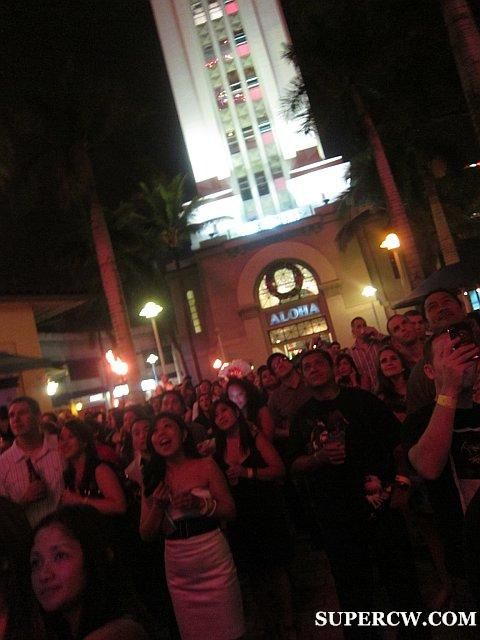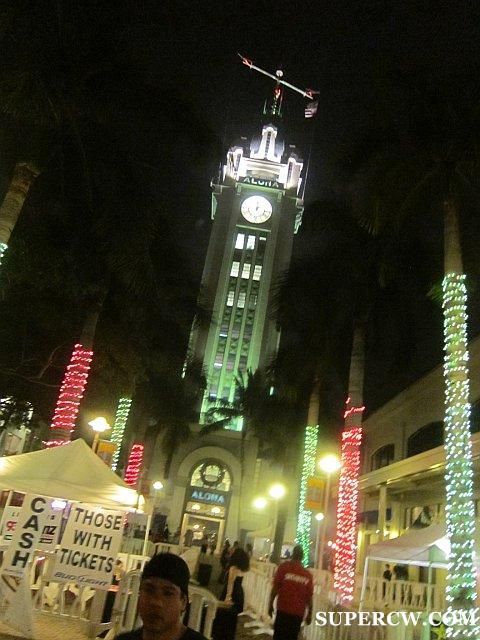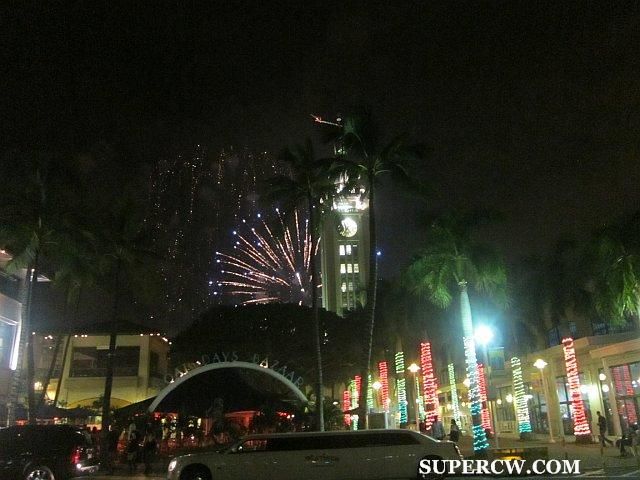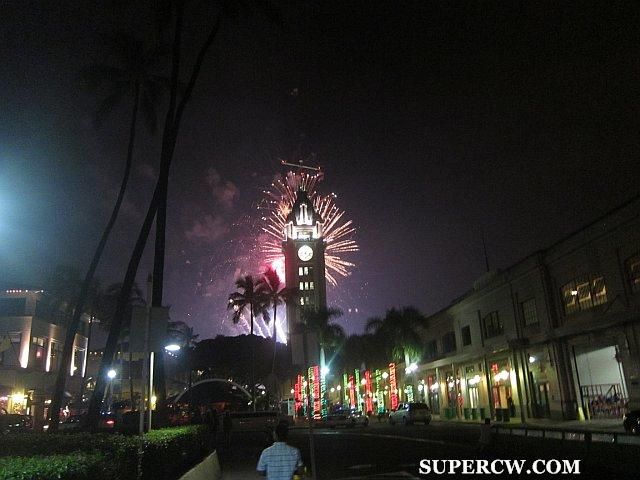 so wicked. i hope they do this next year. and every year. so amazing.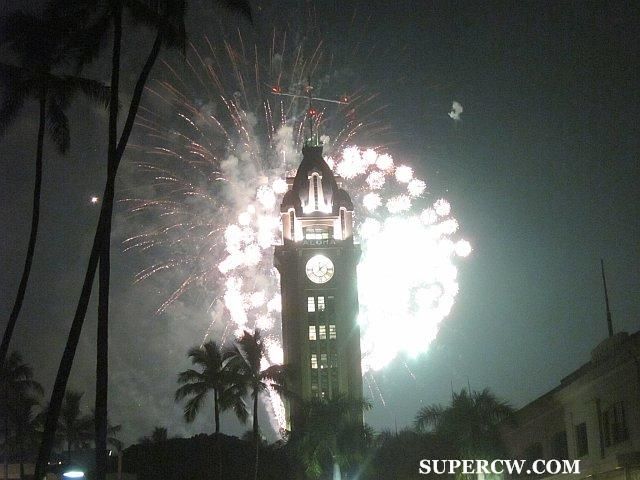 so so so amazing.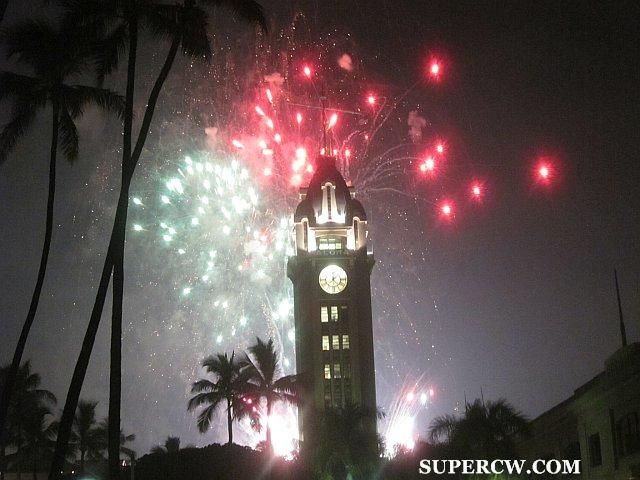 when we got to craze at nextdoor it was already going nutso in there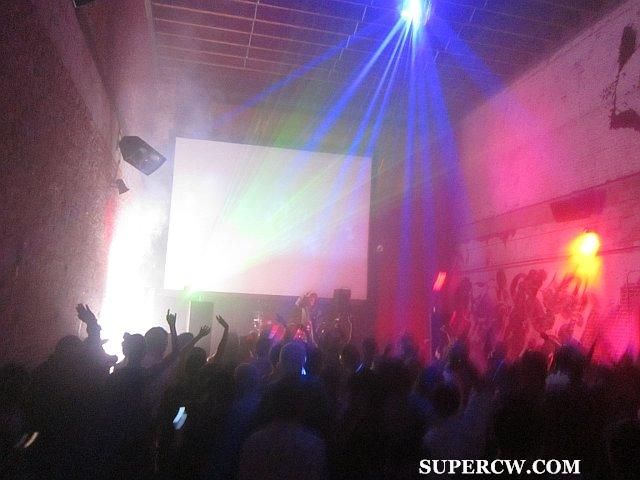 joseph was doing his live projection arty show thing on the screen and there were lazers. the guy was playing music too. going from electro to hip hop to dropping some nutso dubstep. just woah.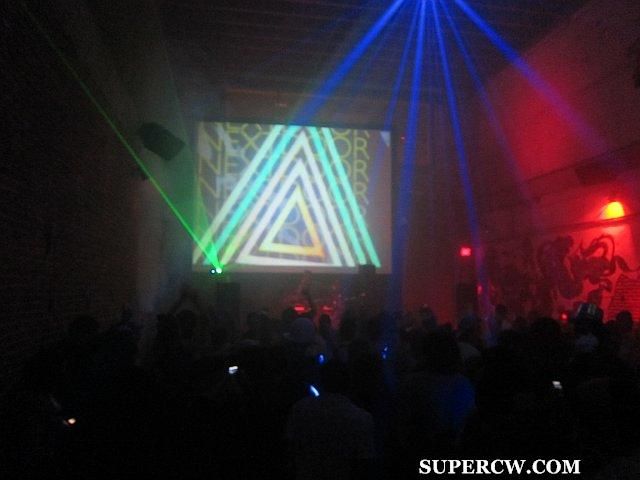 i saw ara kinda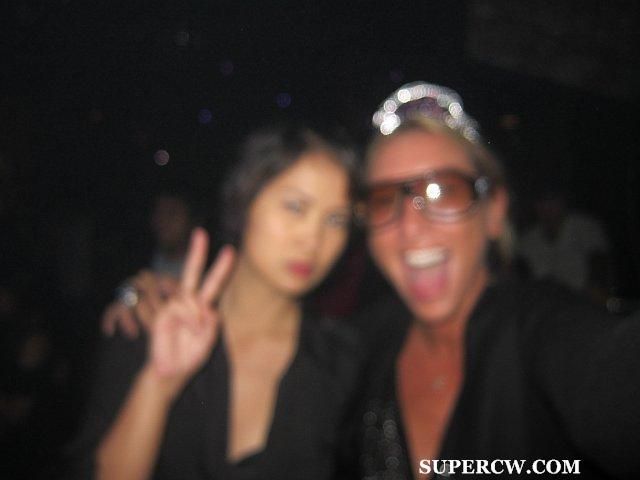 definitely saw sick tyte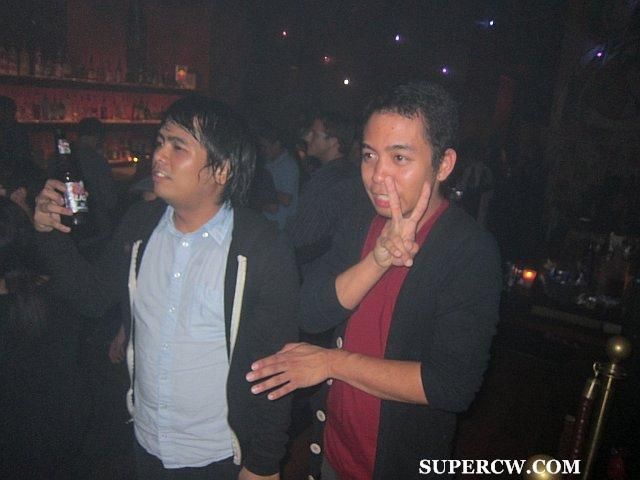 and momoko WOAH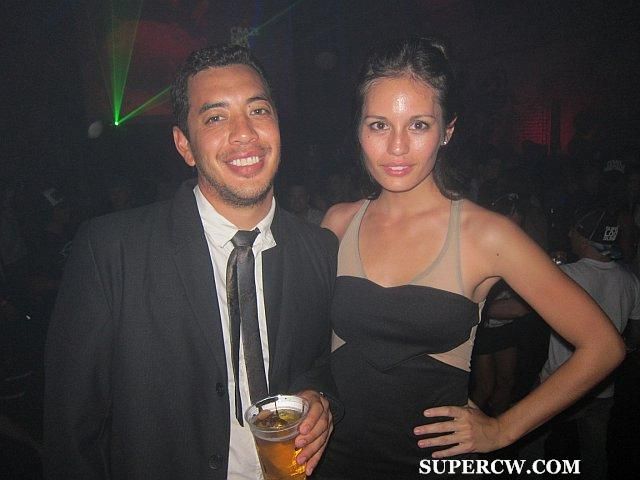 i dunno. tonight just ruled.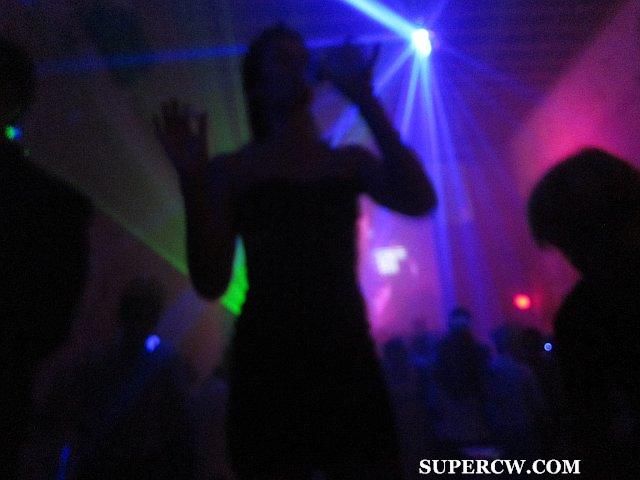 natasha made it thank GOD because being on a cell phone trying to find your loved ones on nye is the last thing i ever want to be doing ever ever everrrr.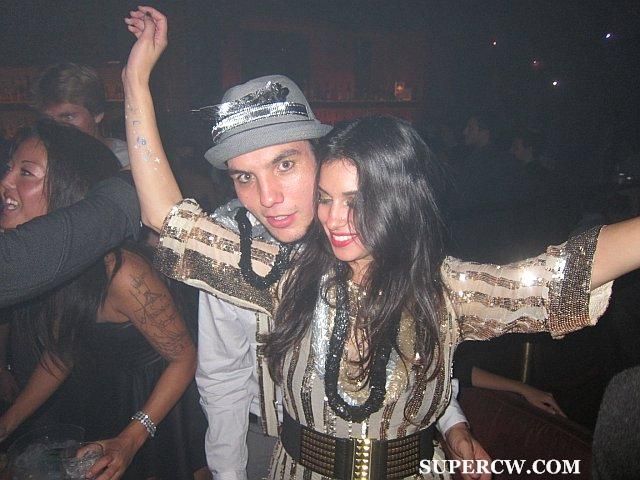 we danced we drank whip cream vodka shots we danced we drank we danced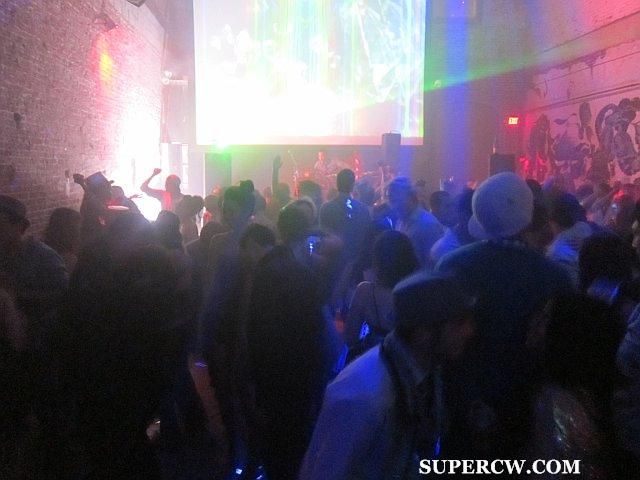 i saw lance and told him that i don't like middle fingers on supercw.com and he said "come on, it's for blair" so i said "FINE"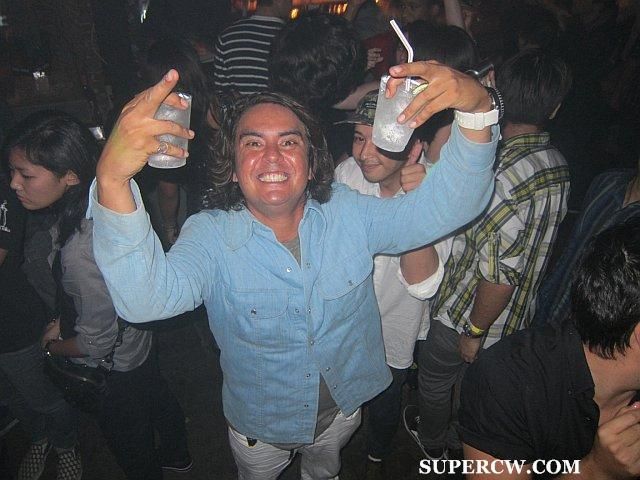 then he kept telling me to get his shoes and i didn't understand why. it was too dark. looking at this pic now i see why, oh my god lance you TAPED your shoes! soooo what i would have done too.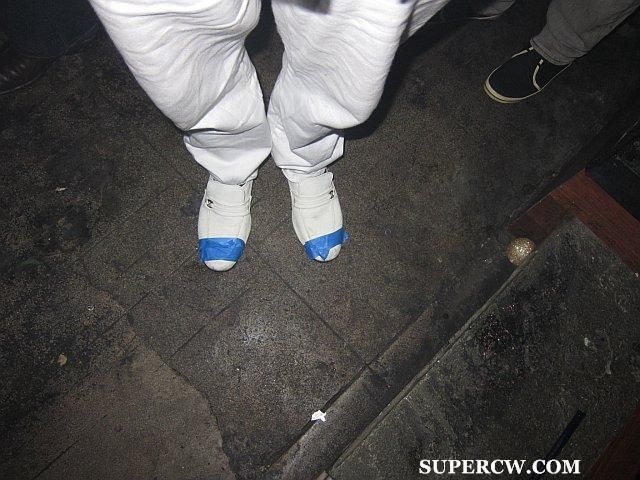 i remember this! hahaa, it was when joe started throwing in the tron video he has on his video-making keyboard of WOAH. people kind of stopped dancing and just stood there watching the screen. it was woah.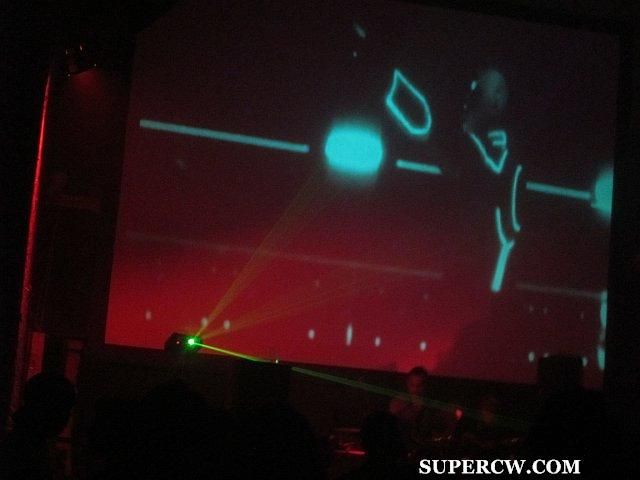 i was trying to get one of everyone standing there watching and not dancing. right at the moment joe flashed back to the NEXTDOR logos. so wicked.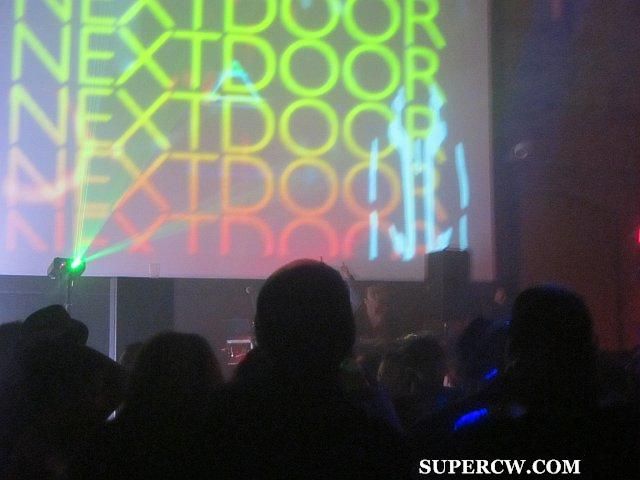 mikey got natasha'd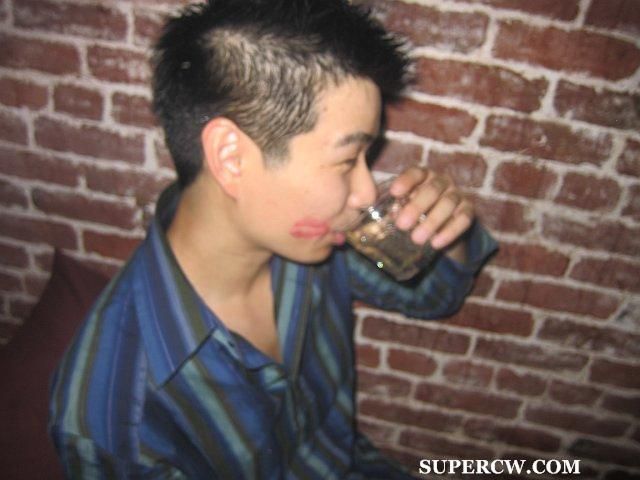 so did justin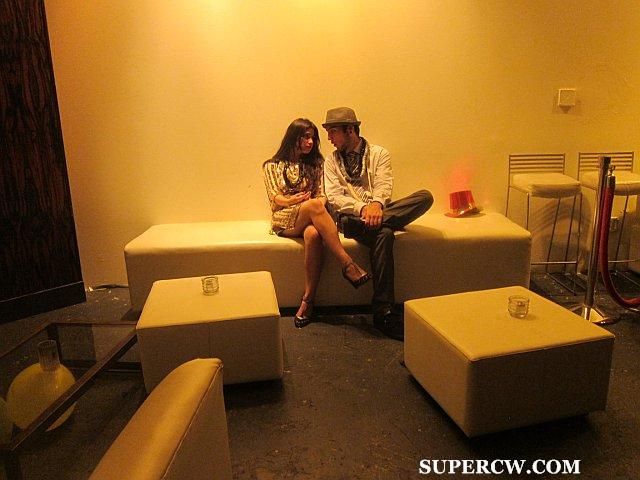 I REMEMBER THIS! we made it to thirtyninehotel just in time for mark chittom to start really going at it with all his new repertoire from new york and the lights came on in the middle of their serious conversation.
ps: natasha and justin win for best new year's outfits!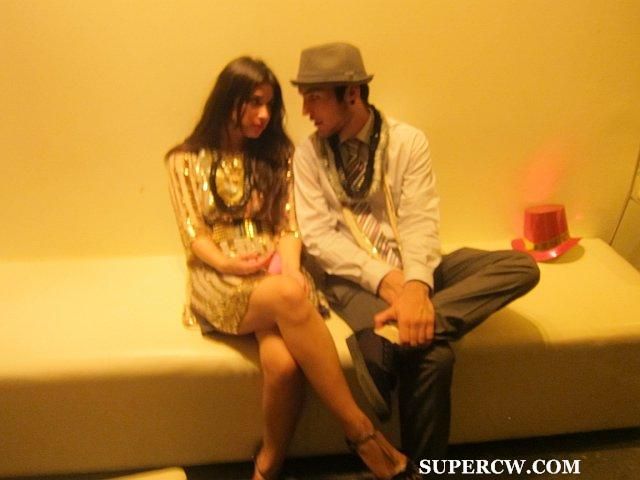 new year's day feast with the prince was at our usual spot. ok, one of three spots.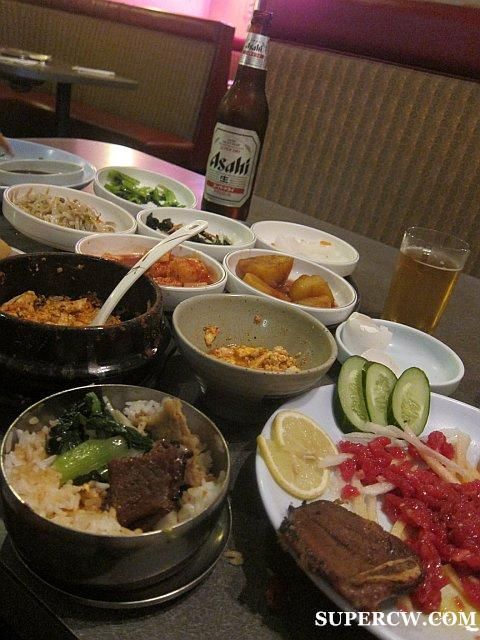 and while we feasted on korean tiffany feasted on the board games section of like 3 different toy stores. JOY!!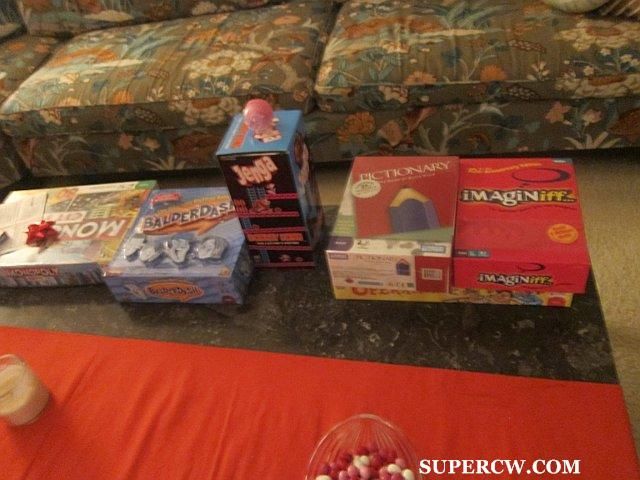 we had a bloody mary buffet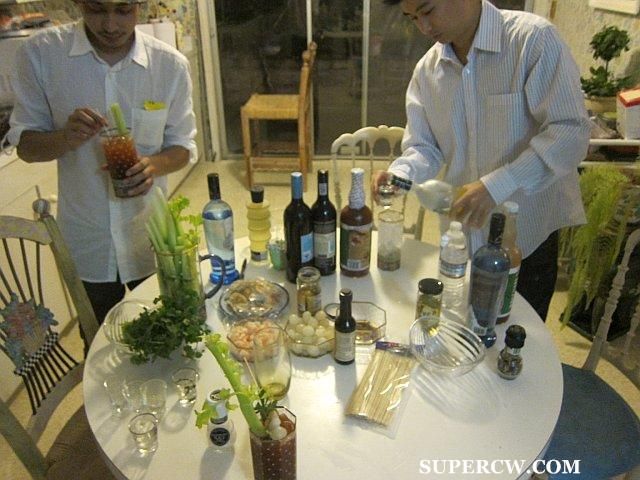 i would make these elaborate fun garnishes then not eat them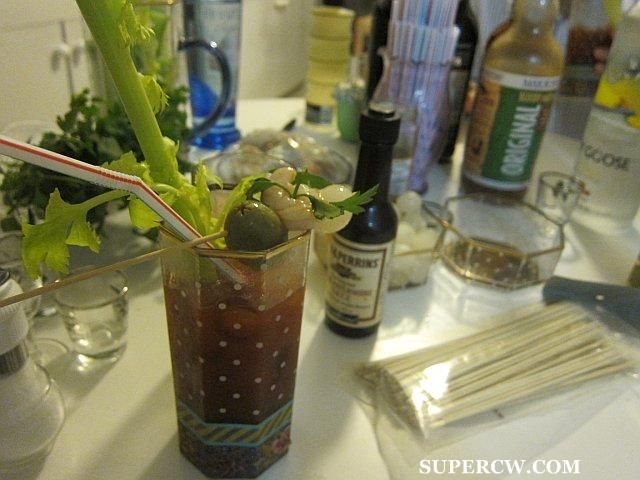 we got tiffany a bottle of the whip cream vodka to do shots in between our bloody marys. to entice our palates with the salty sweet.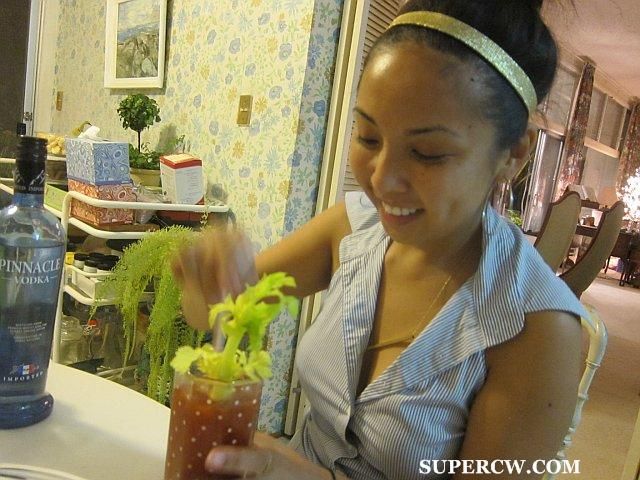 then since when did pictionary get so difficult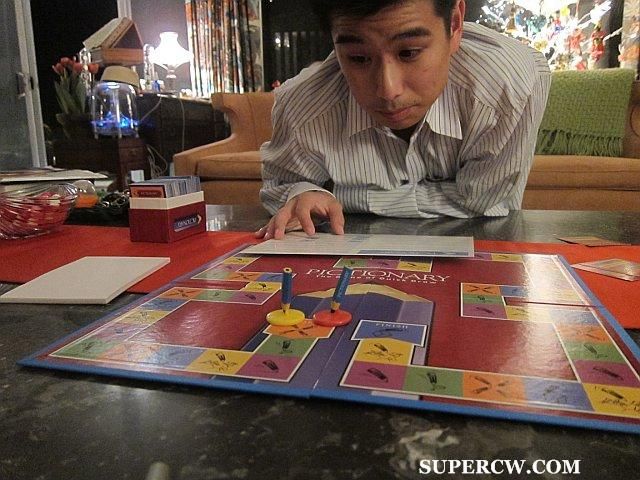 i thought it was more like win lose or draw. but there's, like game pieces and a board and six pages of rules. miley had to translate for us. and it still was like "huh?"
we decided to play with our own rules. ok maybe i championed that idea.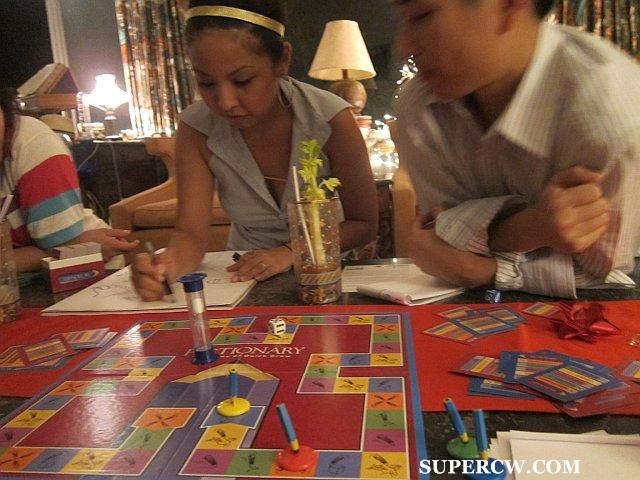 christine nguyen. can you guess what she had? GUESS!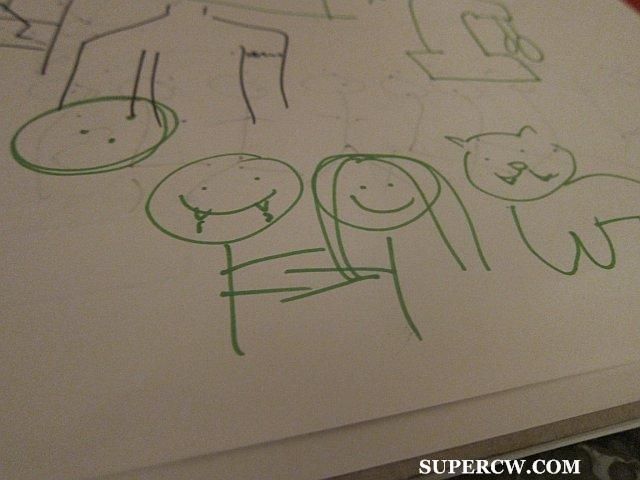 she has "twilight"
so funny.
speaking of funny. play pictionary with, like, REAL artists. once!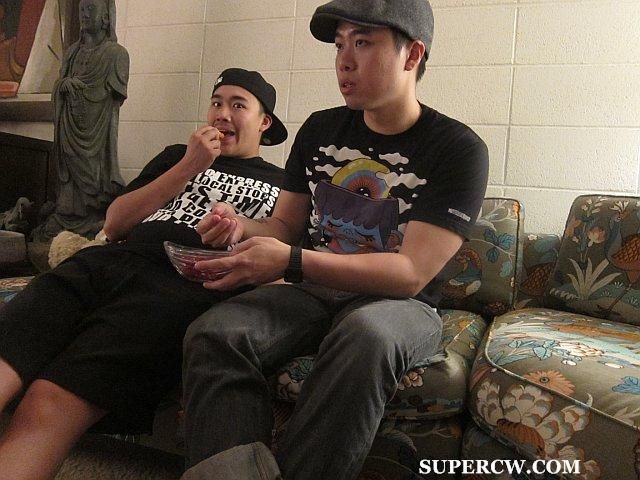 christine i had a dream about your cat :(
then it was sunday and i didn't work monday. fresh cafe was having their fresh market and they added the art & flea in to it. so we got, like vegan cupcakes and grass-fed maui burgers… and vintage torry richards.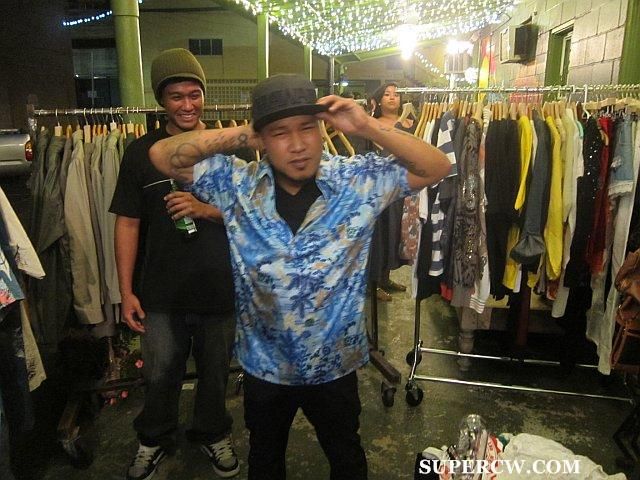 the boys showed up and made it look gooood.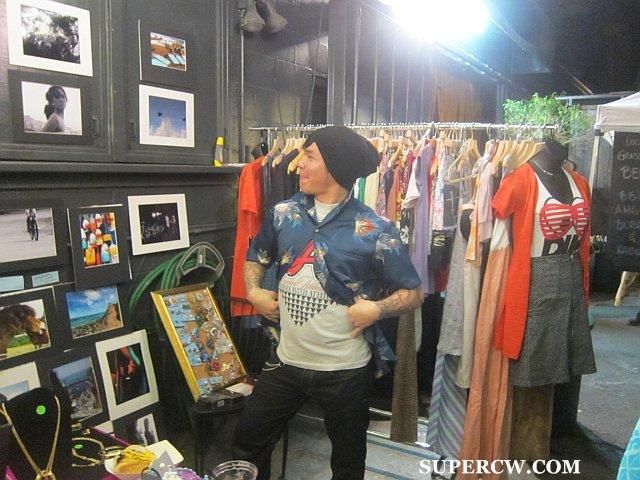 speaking of boys omg kawika you are a real dad now! i was still letting the whole you're a real husband thing marinate. so cutey this guy.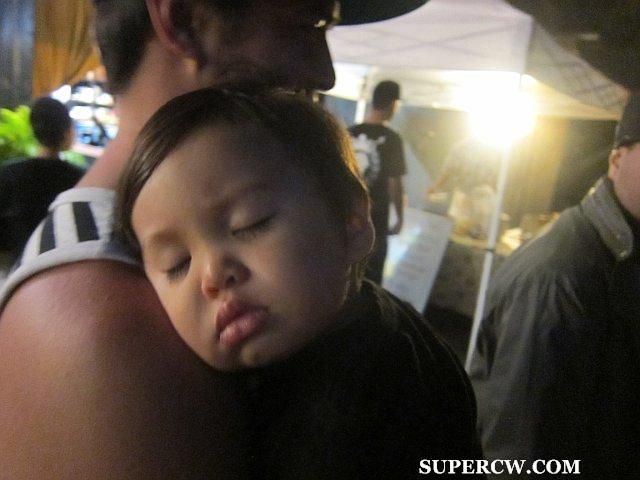 meanwhile. US!
i think the term someone used was 'aloha shirt panthers'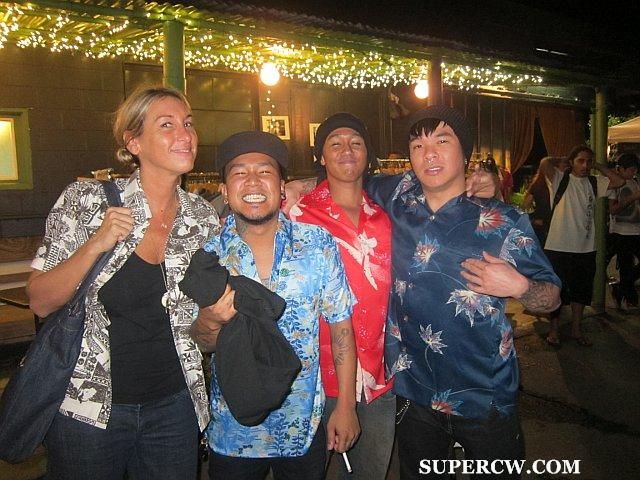 roland just might be the funniest guy i know right now.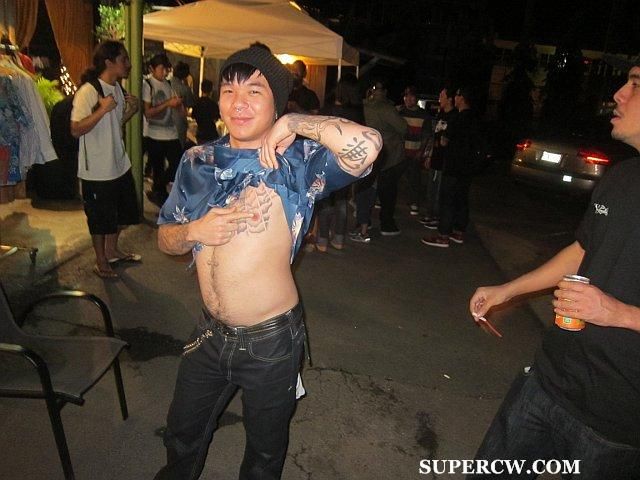 so anyway. what do you do when you bump into cisco guys on a random sunday when you don't have to work the next day after you've talked them all into wearing vintage torry richards aloha shirts?
why, take them to mai tai bar of course!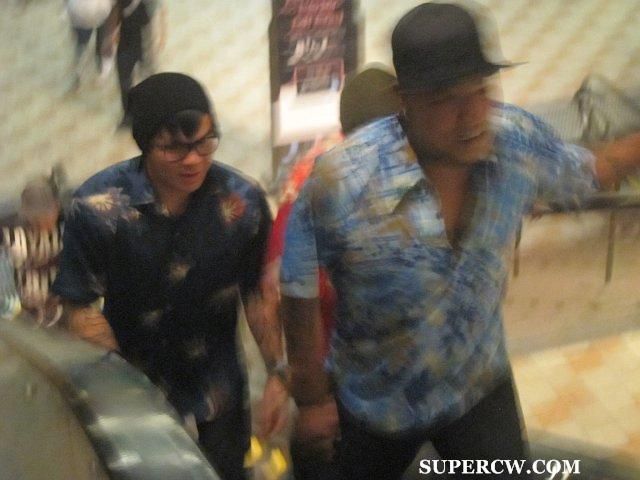 it just so happened to be the DJ Mix-Off/rumble/contest thing going on. and my three favorite people just happened to be judging. nightlife veterans.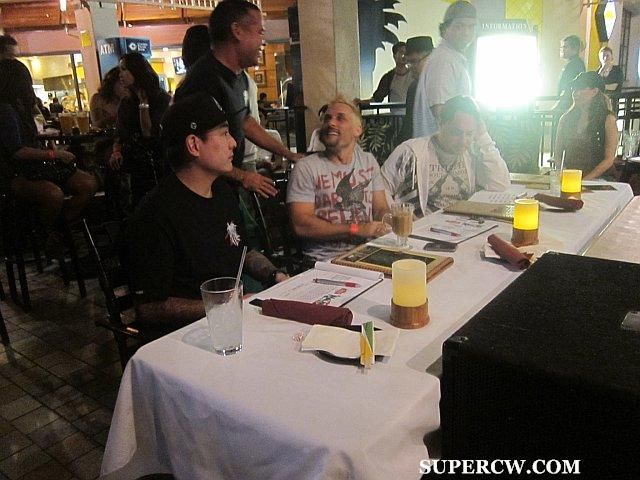 nightlife and dj veterans
i'm glad we came. it's good to hear what sorta music other people have in their computers these days.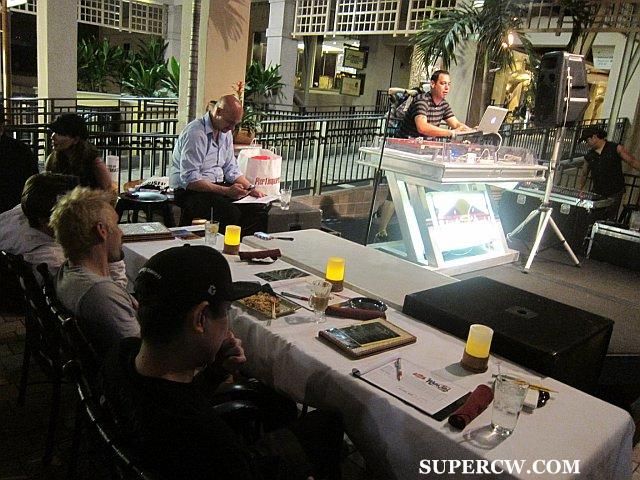 the prince took this. he forgot his wallet and couldn't come in. i was very sad. but also very happy. cause look. aloha shirt pantherrrrrssssss.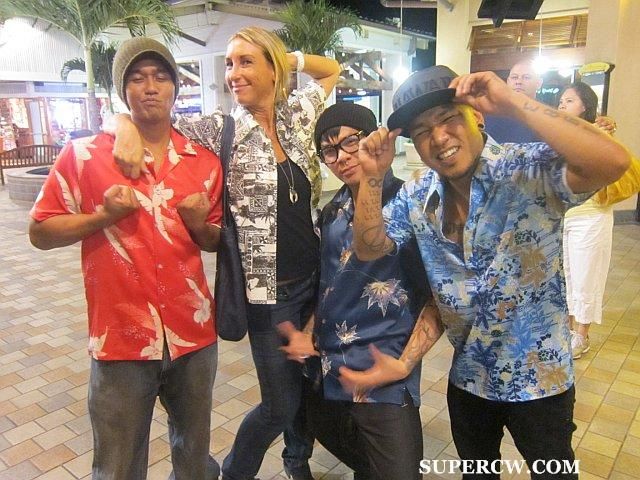 hay wait, the sign….
then packo was up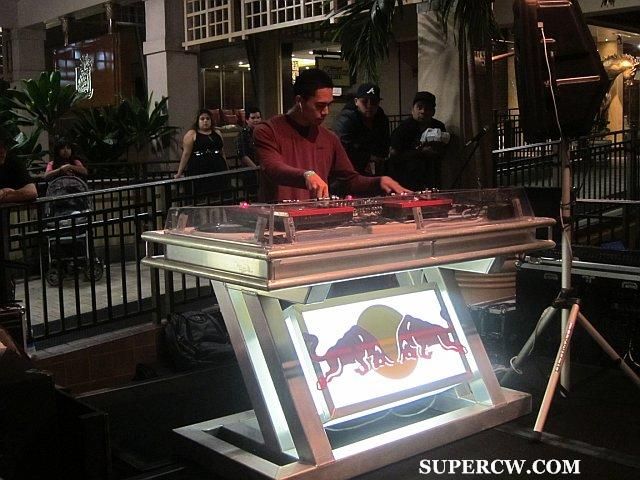 and i was like packo? why are you in a dj mix-off you should be judging the dj mix-off…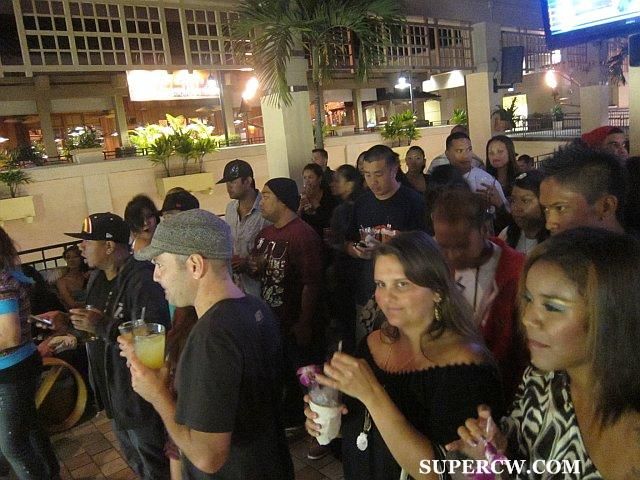 i still gotta talk to flash or blaise or g-spot about that. i mean, he won (of course) (hands down) (pretty much wiped the entire place clean with his all-vinyl set) but what is the criteria for entering i wonder? cause packo is like totally pro. either way, congratulations. we always say you're one of the most underrated dj's on this island. you and kitty lee.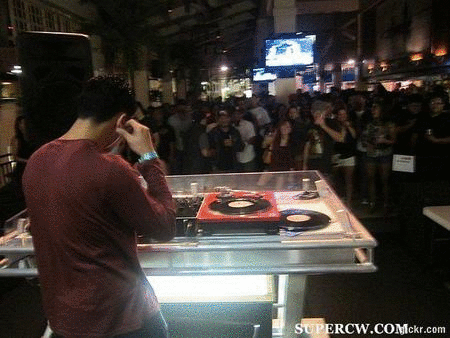 then monday was SOFUN!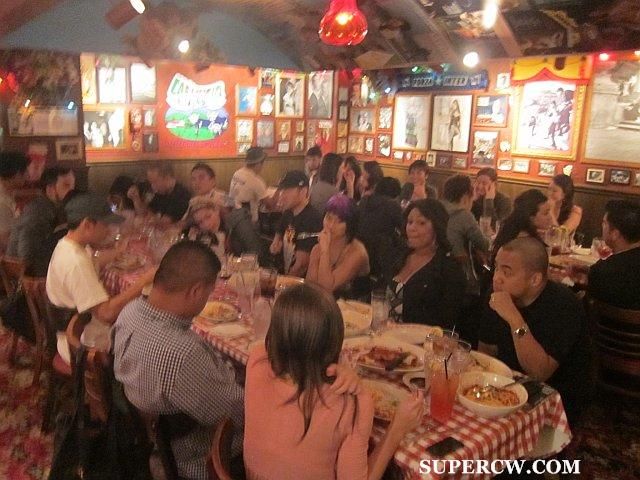 the manifest's christmas party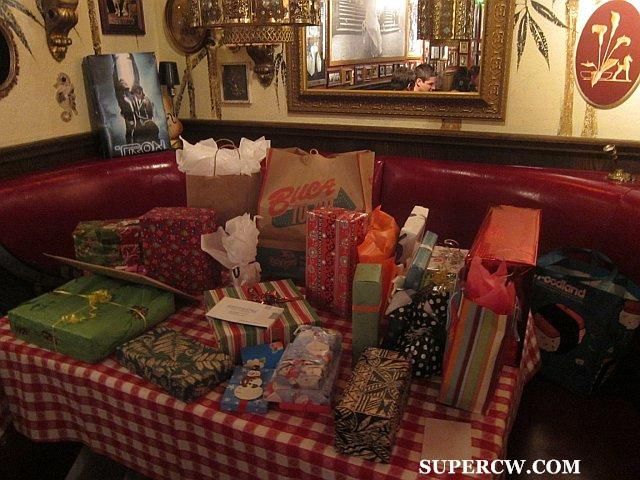 with one of the most epic gift exchanges ever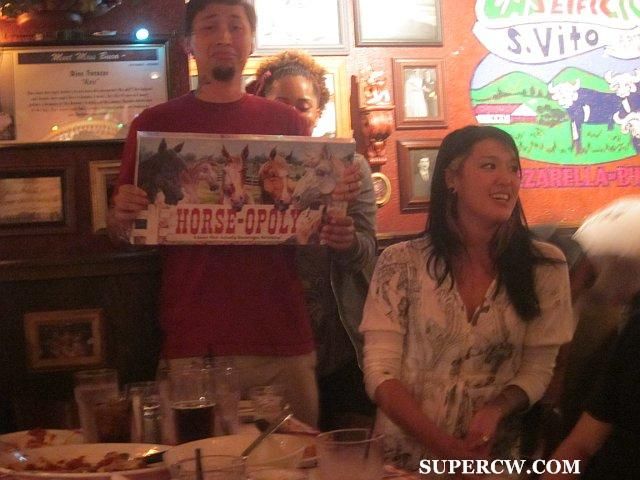 where you can either open one or take one. what is that called again? white elephant right? so fun.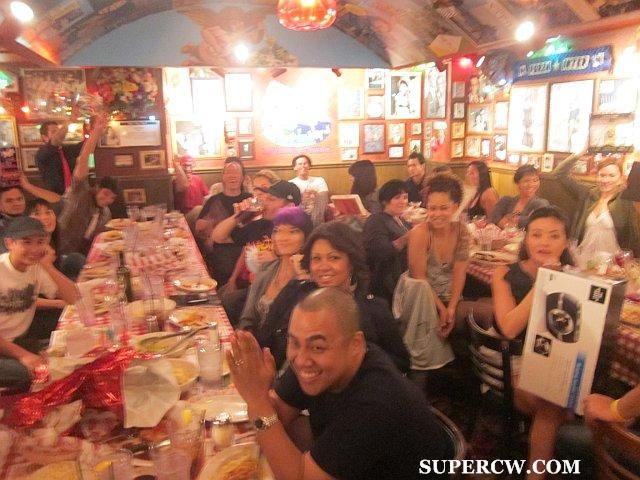 mainly because of the gifts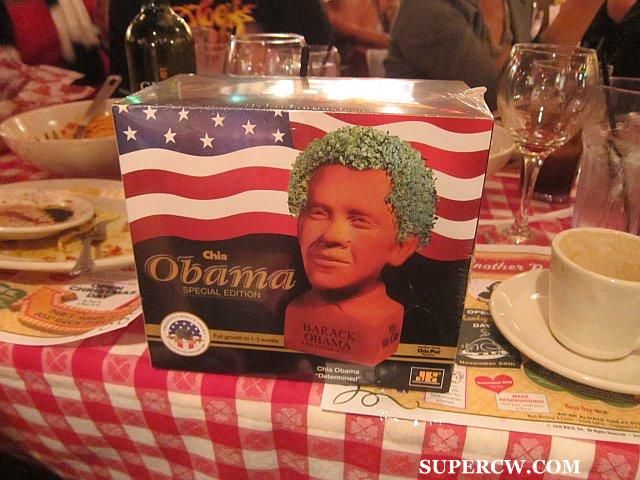 and the people.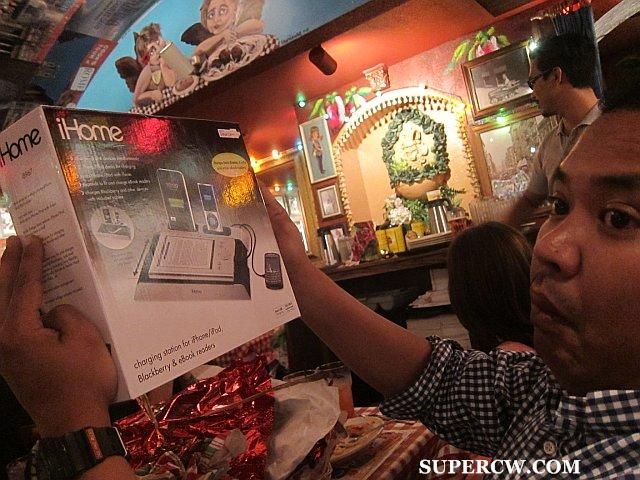 and the gifts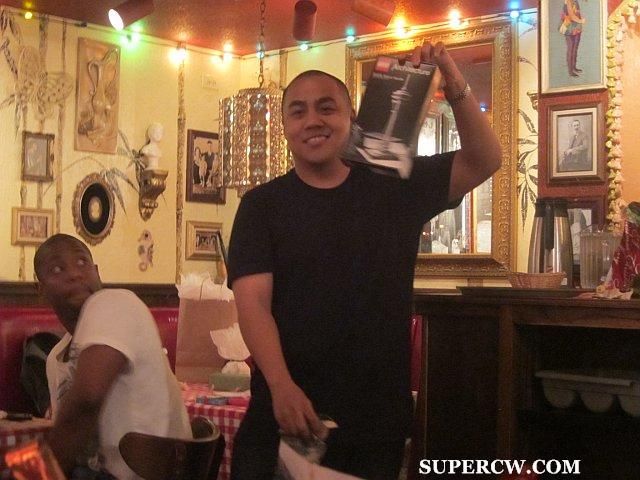 and the people
poor paul got his gifts stolen like three times.
john hook let him keep the gum at least.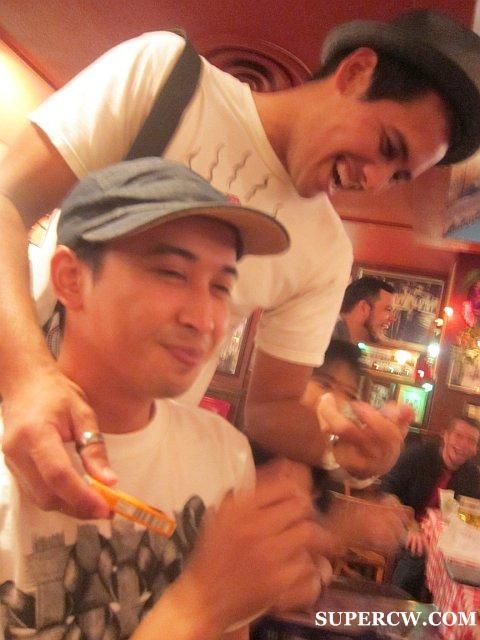 then they made brandon do a weird bird/cape shot thing and we all yelled "hip! hip! HORRAY"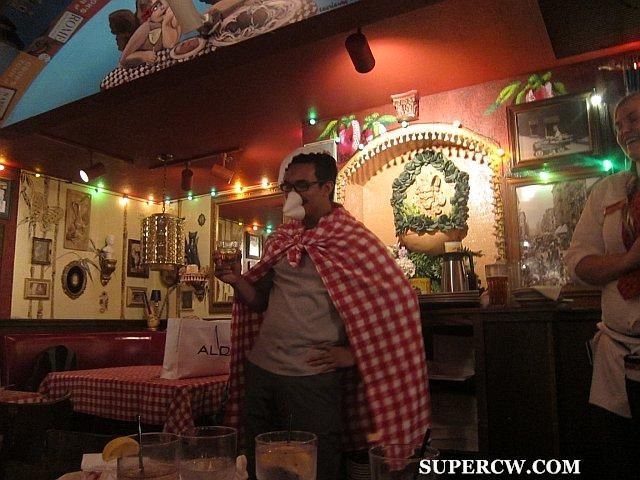 aaaaaaand then the entire holiday season was over.
*like that*
see you guys tonight i hope. giovanni pastrami for eskae and 9 under 9 at 9pm sharp! we drinkeatdrink then dancedrinkdance.
then don't forget next week i will be away (from my social life) for the entire week. HUGE press trip coming for sailor jerry's 100th birthday (!!!!) at the same time as the Sony Open (grey goose). byebye.