i love getting invites to check things out like i'm real media. if i'm not busy, i'm so there. i mean, if a freelancer making like eleven cents per word and posting photos of stuff i do every week online lets me stop by the new hard rock cafe in waikiki then so be it!
the new Hard Rock is over by beackwalk, by the way. i LOVE the guitar wave thing they have going up there…
…it totally runs through the entire place. and the place is huge. HUGE. like thirteen thousand square feet.
and somewhere around 250 guitars in the wave up there. they don't belong to anyone famous in particular, just ones the designer got. i wish one of them was josh hancock's so i could climb up there to pluck it down and deliver it back to him.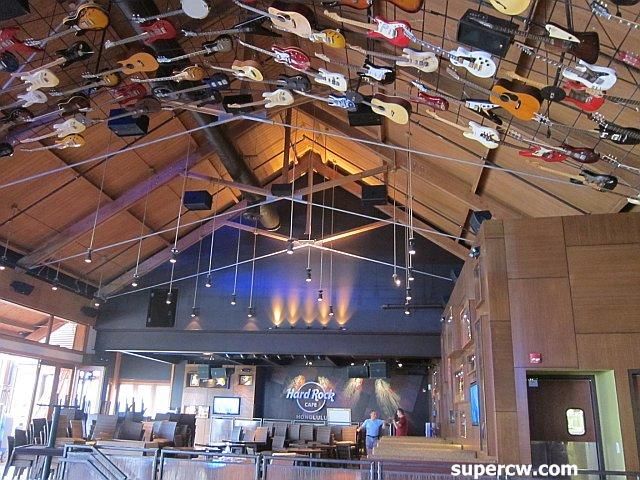 so yeah, they said they are set to open softly this week or next then are working on a big nye opening. don't worry if you can't get it worked out in time, HRC – we all know new year's is like TOMORROW. ps: i love how you can fit over 400 people in there for concerts. my first wish to see there: band of horses. can you make that happen?
meanwhile i was at another munch at apartment3.
FINALLY! i only got to go to the opening one way way long ago that was a vodka pairing dinner. this one was gin. and it was so awesome.
flashee-pink-hair. left over from the hello kitty party they did a while back. that's one thing about flash, he will forever be changing his hair and doing theme parties. for life.
their baby chef explaining the menu. he actually did a really good job with it tonight.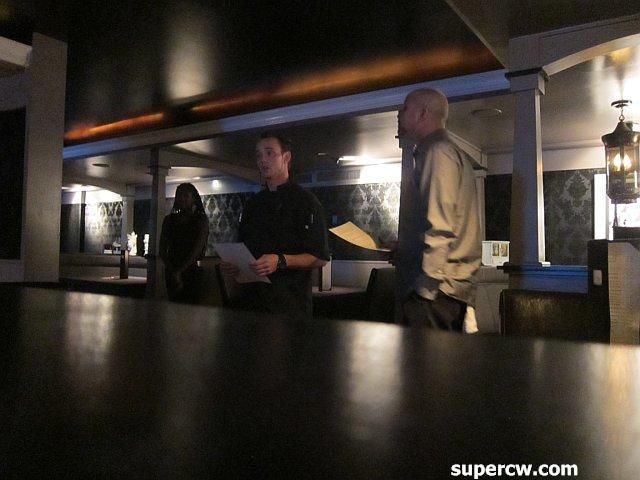 this was a prosciutto wrapped salmon with greens and pumpkin mash. it was explained a bit more elaborately than that, this is from memory. it was perfectly balanced though – the prosciutto was almost crisp around the salmon and GOD DAMN i love me some greens.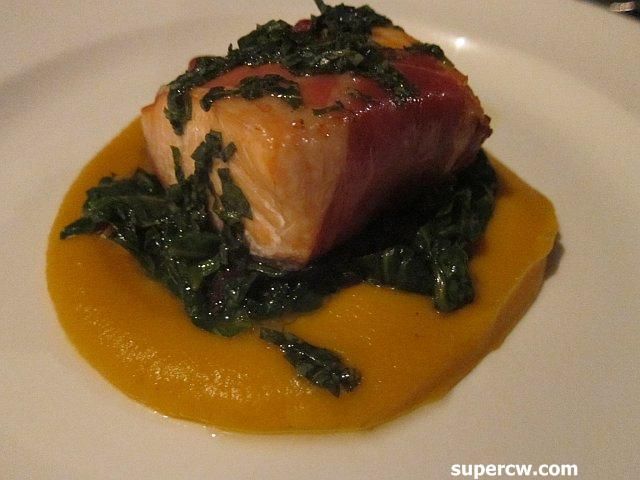 jonahface looking like he was BORN to work here <3
so anyway, joey gottesman is amazing at understanding the human palette. he would try chef's food and then make a cocktail that complimented the dish PERFECTLY. haha, i remember the first one when i was sitting with some uber-foodie food snobs and they wanted to pour their cocktail all over the food and eat it. in fact, i think martha cheng actually did that during the final course. it's like joey is making gravy for the dishes. anyway, these events are the last thursdayof every month, called munch, and definitely un-missable.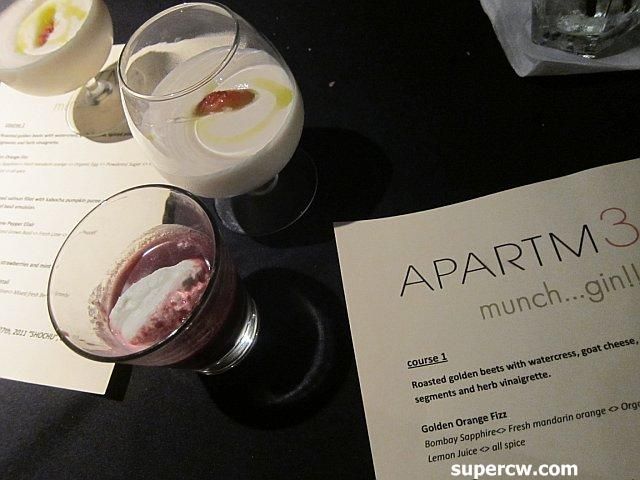 after dinner i made a quick change and managed to be the first one at nextdoor for MURS. actually that's not true a small small bit of people beat me there.
rayray derek and bryan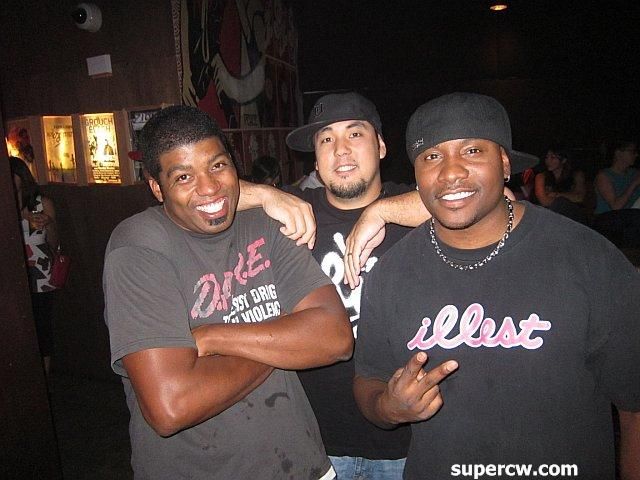 some big deal dudes in hawaii hip hop were right behind me though. everybody loves murs.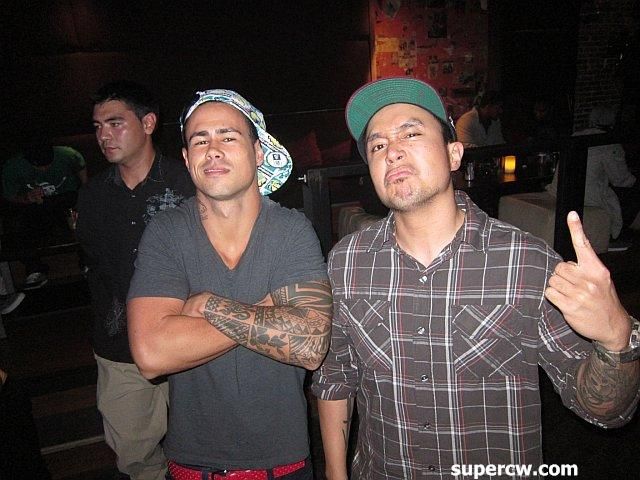 love roxanne drinking champagne in that room. love nextdoor for having champagne glasses in that room. love nextdoor for serving champagne by the glass in that room.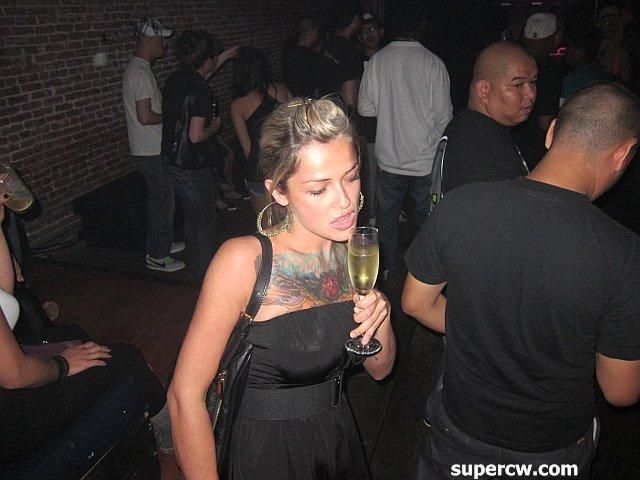 jamal entertaining those of us who got there early.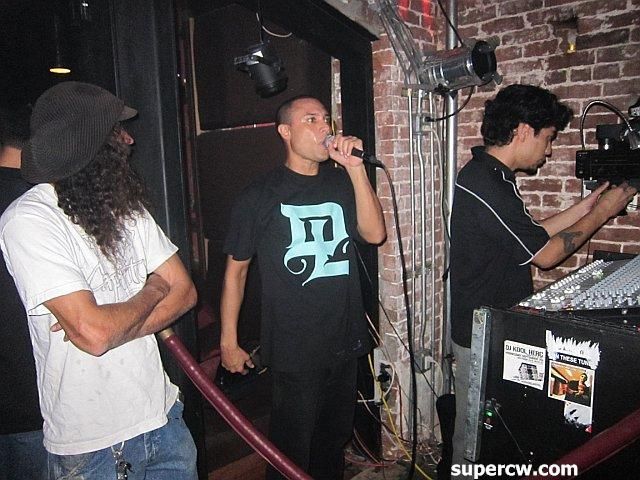 \
love you long time, lightsleepers. lofa we are going to see you on hawaii five-0 i'm sure of it.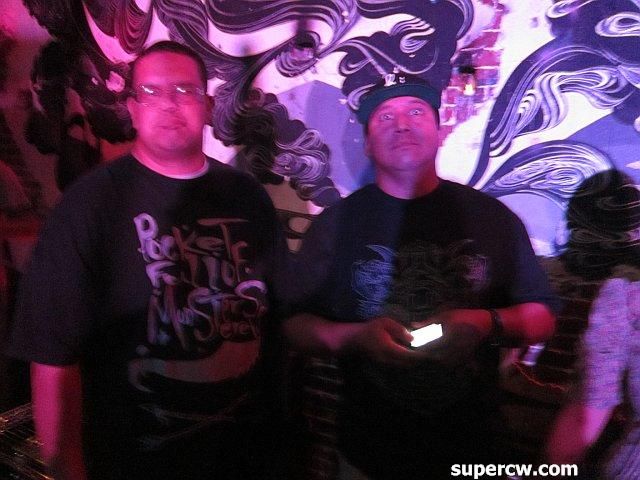 saw ckaweeks outside, forgot to ask him about my bubble monkey painting. maybe he's going to give it to me for my bday this year.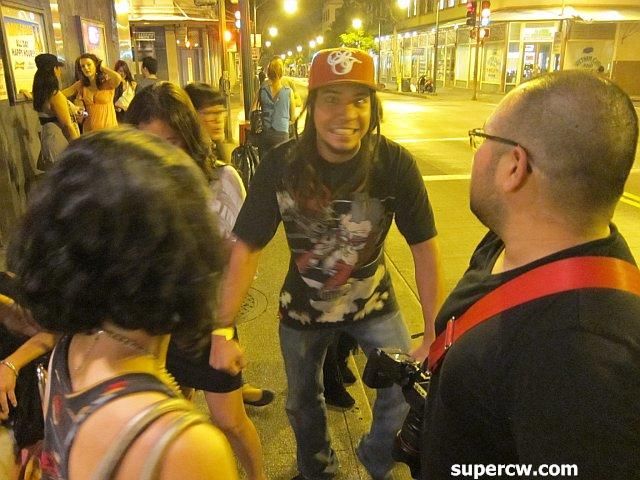 and the ticket prices were steadily rising. they were like $20 presale i think. then $30 at the door. then after they sold like 200 $20 tickets and another 100 $30 tickets they had to make it $40 at the door. they were still letting people in even though it was all sold out, you know why? BECUASE EVERYONE COMES LATE TO HIP HOP SHOWS! coming early is usually better, it keeps the bar where your favorite act is playing open for business. try it.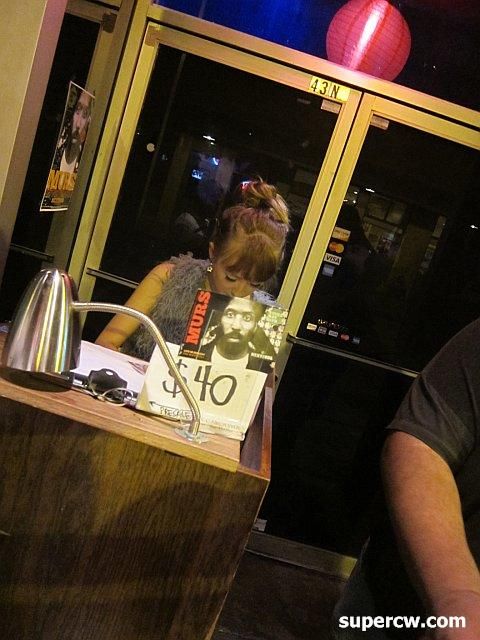 chris was trying to figure out/understand why there were so many hot girls at the show tonight. understanding this would be like having the key to the universe.
then i was at fresh cafe. hey! a deadbeat!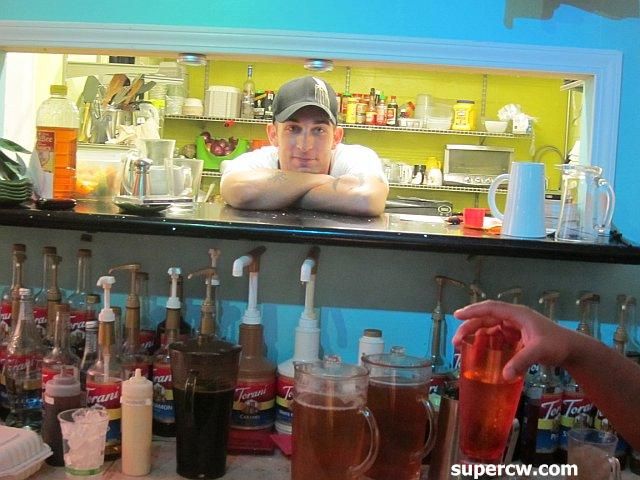 wait huh? OH! that's right. i scooped paul from work so he could see the show. it was still creed on when i dipped out. when i got back he had called up some of my favorites to talk story really fast and with rhyming words.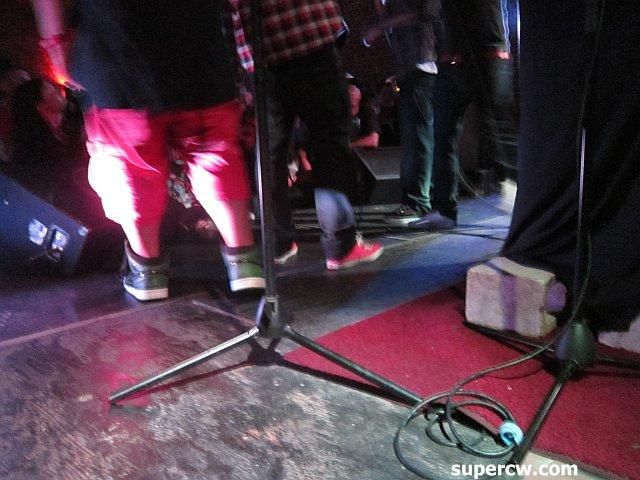 whatchoo know about the kevin arnold ep!
i thought i was seeing things but nope – nalani is back in town! so pretty.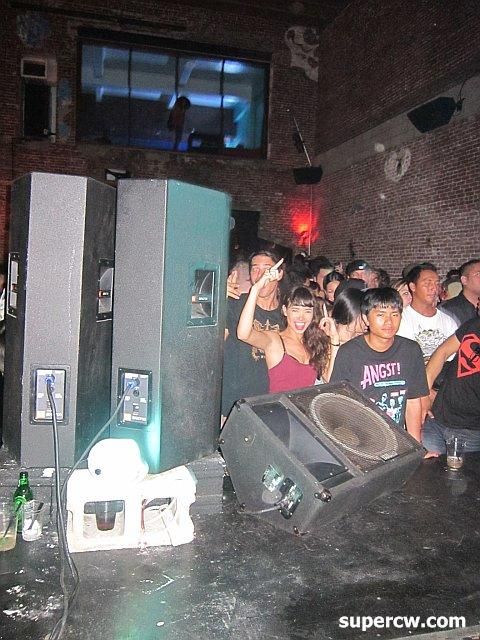 now that i look around, there definitely was a pretty high ratio of really superfly hot girls there
homey slamming the stage in the superman shirt (i want that!) was making hawaii proud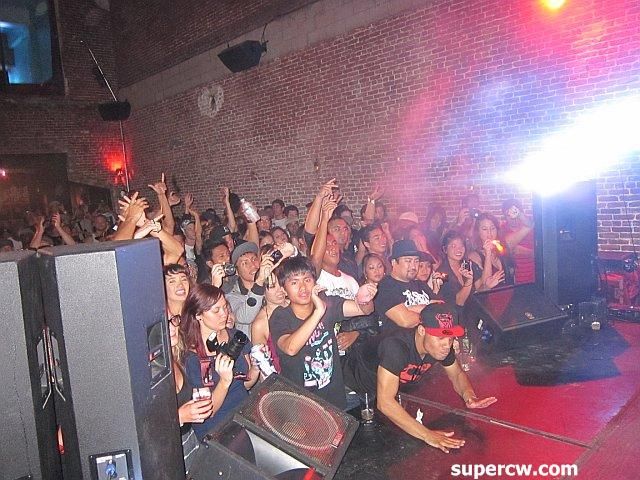 he knew like every word to everything that came out of murs's mouth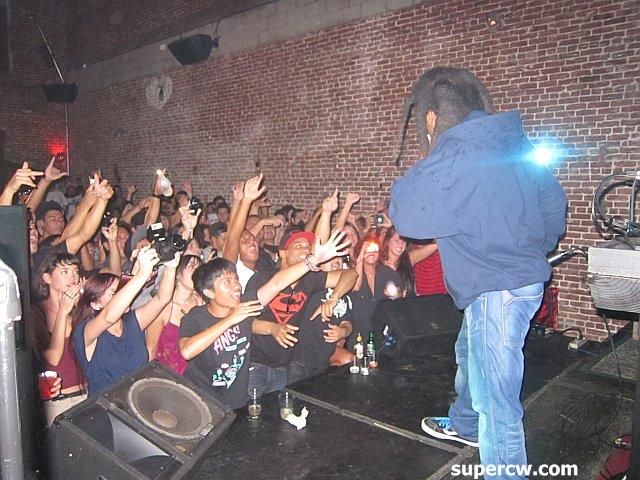 after a while i started tripping. maybe he IS murs.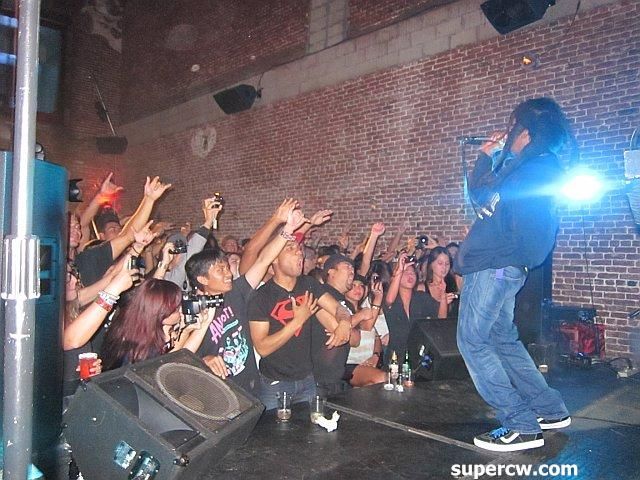 ps: this show was incredibly hype. thank you to chris for never quitting. this place was pretty much built for nights like this.
pretty girls
jus bone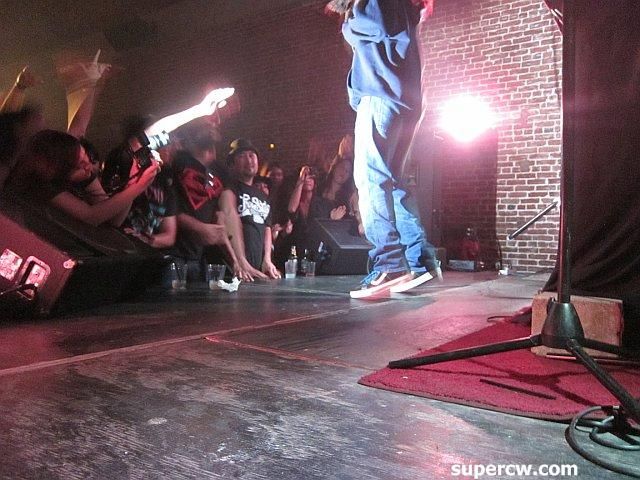 the PERFECT venue to see one of the living legends. seriously.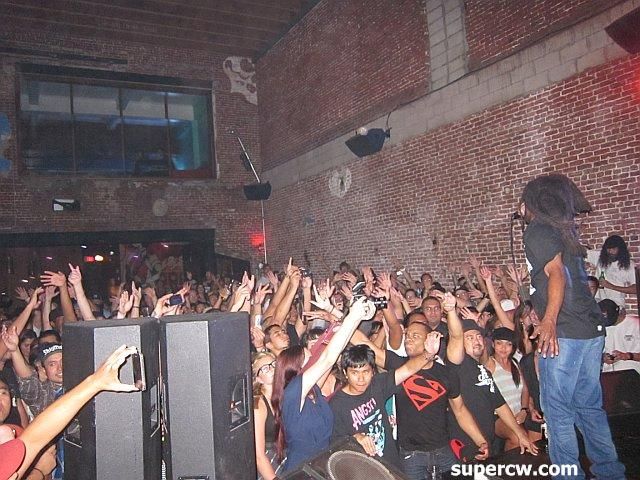 lance arinagahurry up and get the pool party photos up on the contrast magazine blog please. and haha bee still doesn't want to be in the pic back there.
i had made a comment earlier about underground hip hop when chris wassaying it was weird to see so many hot chicks at the show. i hypothesized that perhaps so many girls are in to this art form because their boyfriends/ex-boyfriends were.
i mean, it's definitely a boy thing. we really didn't know the real reason but we definitely weren't complaining.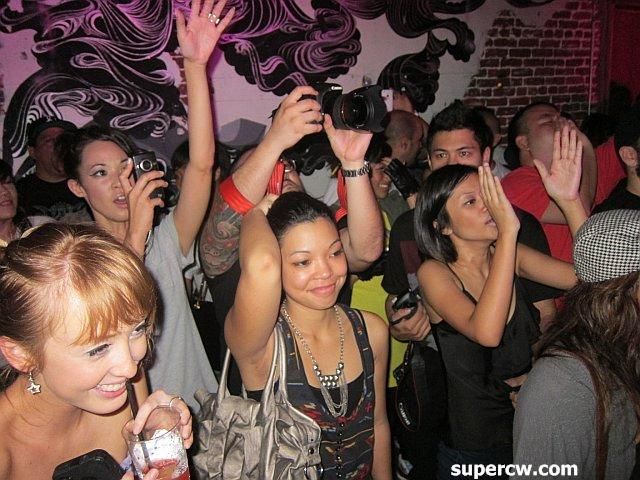 speaking of boys….
…the man challenge thing that they are doing at The Manifest is like a who's who of the hottest boys in hawaii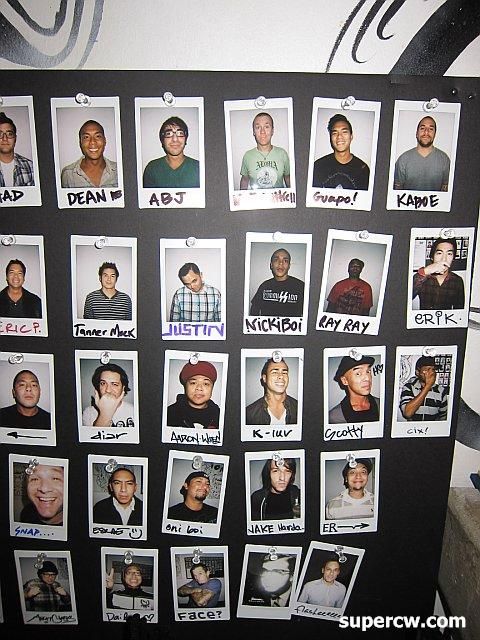 seriously, have you seen it?
all they need to write in that sharpee is their relationship status and their numbers and hang this at an underground hip hop show and BAM.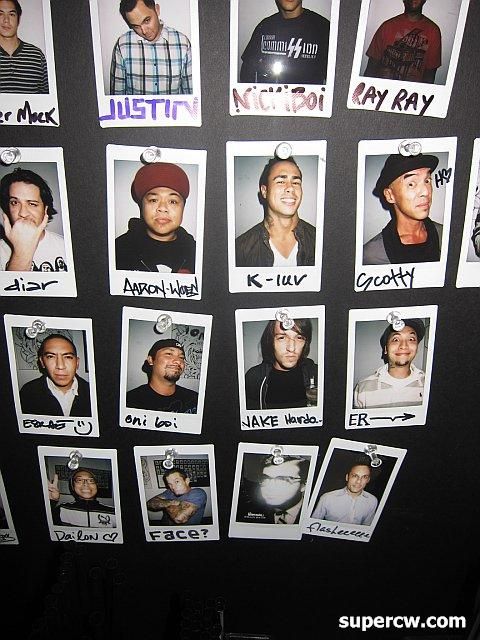 then holy shit
revrend run was in the CRAZYBOX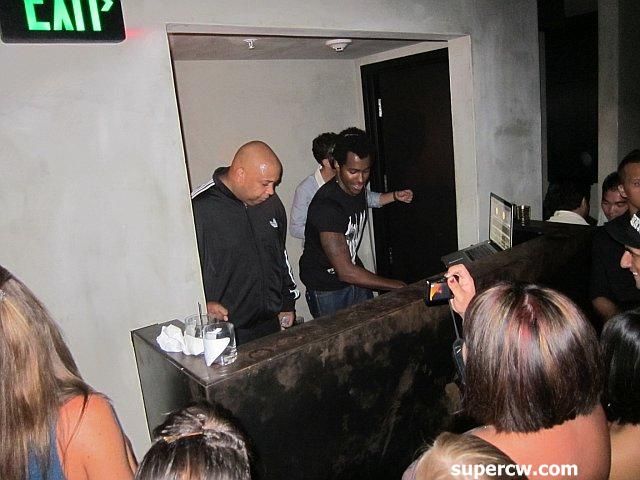 and so were we
the ablans were ALL UP in there as well, with the return of the triumphant baby JAMI
but wait, run wasn't actually spinning. it was his birthday. and he was doing what he does best (preaching).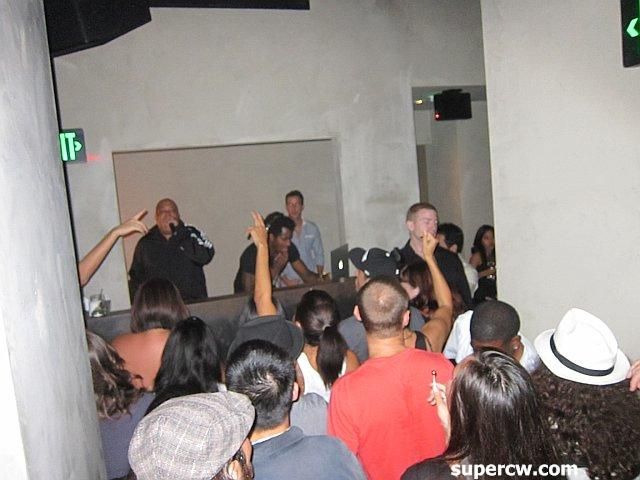 people were pretty way in to it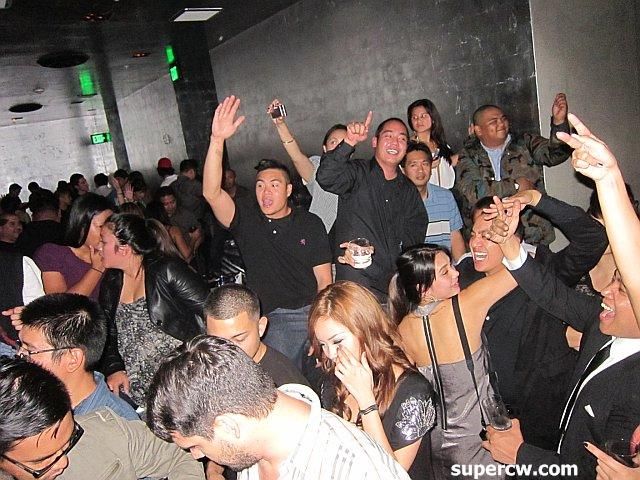 AW BRANDON!!! so so so so what i love to do as well.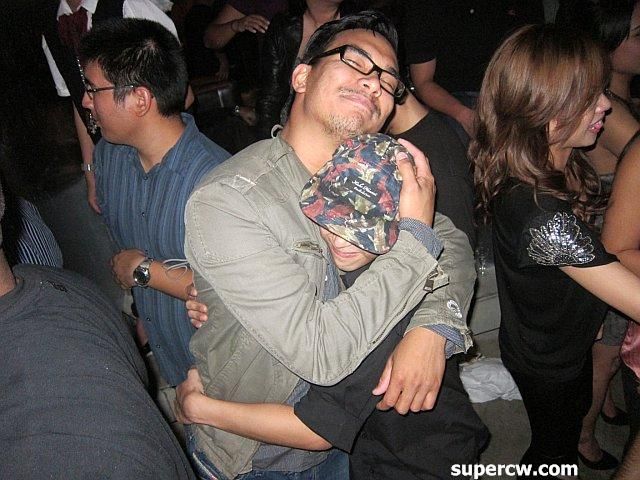 so yeah CRAZYBOX was crazy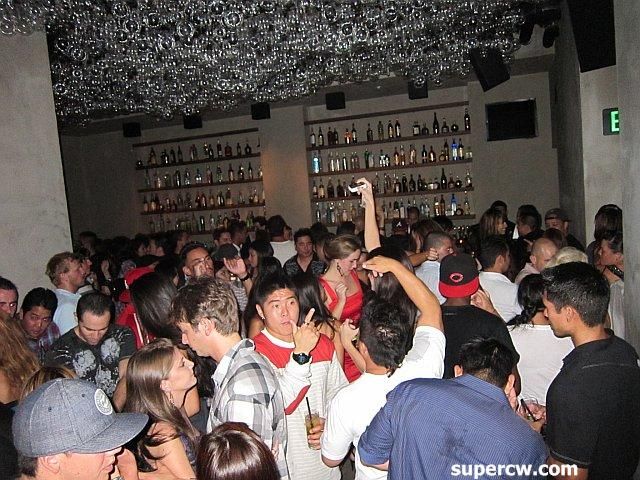 and i believe this was jay's bachelor party. and WOAHBANG boogz was back! i miss that face.
it girl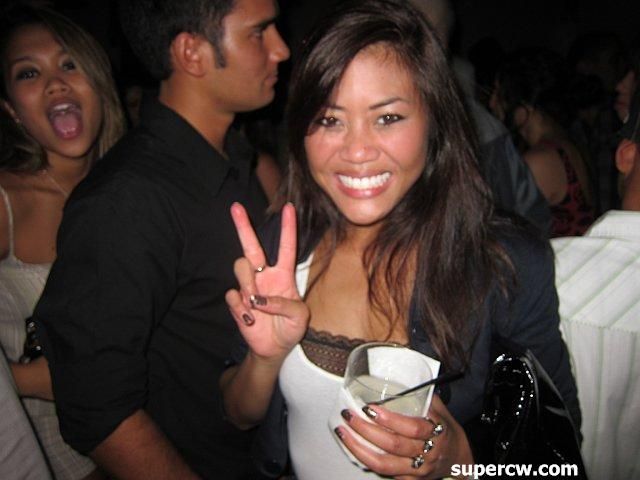 so yeah. thursday was like dinner to club to club to club to PIZZA.
otherwise known as: best night ever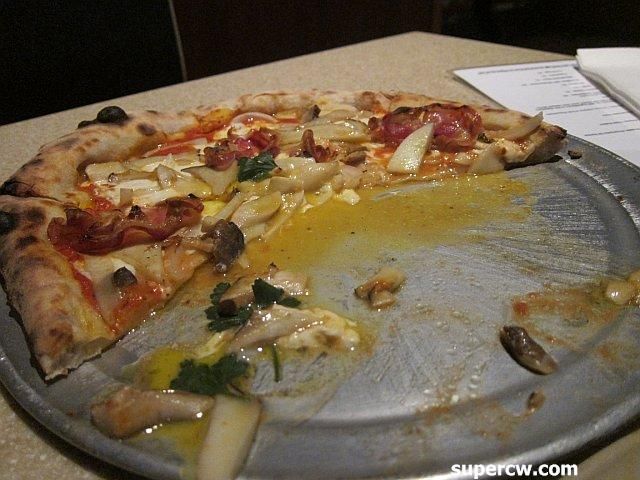 friday was much easier. it was my second date with natasha from LA. she is what i would definitely call a prodigy.
we were the first people in the door at Showdown in Chinatown, along with all the heavy-weights.
first ones in the door to get the higly coveted couch seat and actually be able to see the films.
mr nick gets more freedom at these events i think. he plays some really good music. and i love being able to see all these random cool weird music videos while we're waiting for stuff to start.
the couch seat is awesome cause it's the first thing everyone sees when they arrive. we were doing this whole not-getting-up-to-say-hello thing to people making them lay all over us with hugs. pretty much the best thing ever.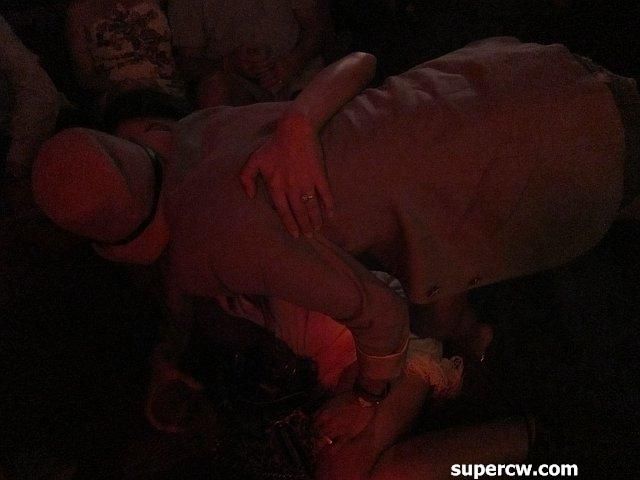 well wait not that's not entirely true. we got up for farley.
jackie pirate jmess is back in town! read her when you get a chance, she is pure wordy brilliance. vane and natashaare quickly becoming my new favorite people. not because they both have only been in hawaii for like 2 months, but more so because of their worldly brains and unique perspective.
(ok ok maybe because they are WAYHOT too)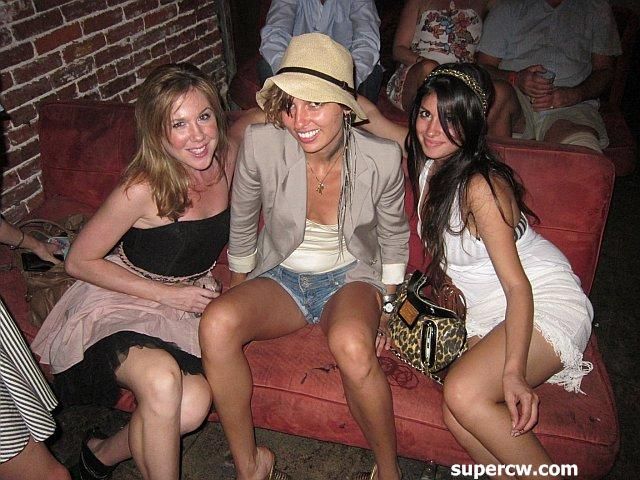 shhhhhh! time for showdown.
ps: cyrus you are going to be famous in three….two…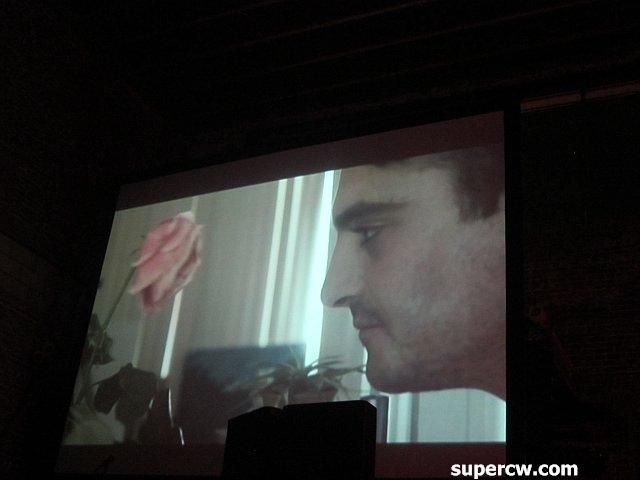 smiley mikey. that's what i'm calling you starting now. well, when my column drops today. CONGRATULATIONS ON WINNING THIS THING! the two times he has ever entered showdown he won. hands down. way to change the game honey.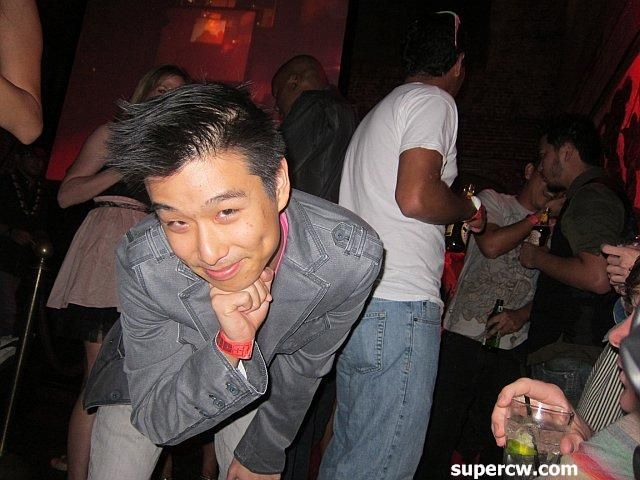 this was when they took a break, RIGHT BEFORE his film was going to show. and it was like 20 minutes until 11pm. 11pm was when i promised flash we would be at apartment3 in time to see the cabaret show. we had 20 minutes to get from downtown to waikiki. and the "break" they took was starting to get too long. and i started to get too impatient.
we wound up bouncing. "we can see it online" i reasoned.
still feel bad we missed out but i told mikey we left for good luck.
right?!?! i mean, if we stayed it would have been lame. but we left and it was awesome. kind of like lighting a cigerette when you're waiting for the bus.
made it to apartment3 by 11:07 sharp.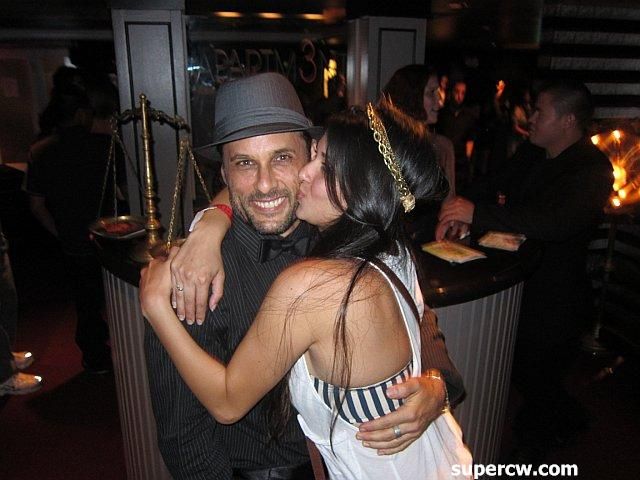 our second date. the first date was ramen that turned in to safeway that turned in to taco night. this. girl. is. amazing.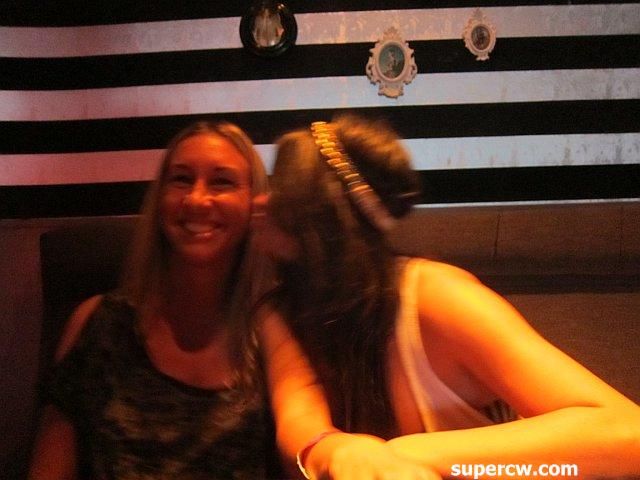 ok ok okthey both are
the o.g. IT GIRL!!! love you monica ivey
kitty lee. daniel gray called her the most underrated dj in hawaii. now i call her that too. she so is. more photoshoots, girlfriend. then you can be like "ooooo i'm a dj oooooooo!" and hustle more gigs.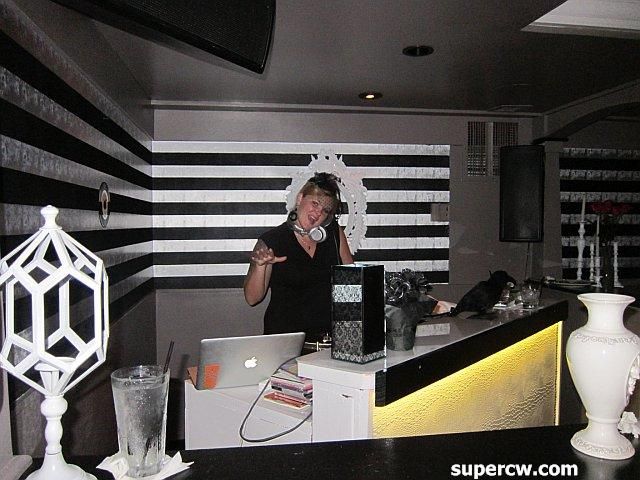 tonight was cabaret night.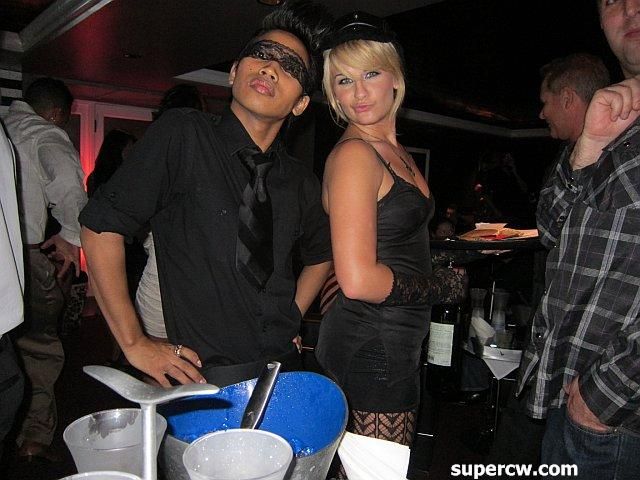 wait, i DID say that jonah looks like he was born to work here right? don't make me scroll up. i'll mention it again just in case….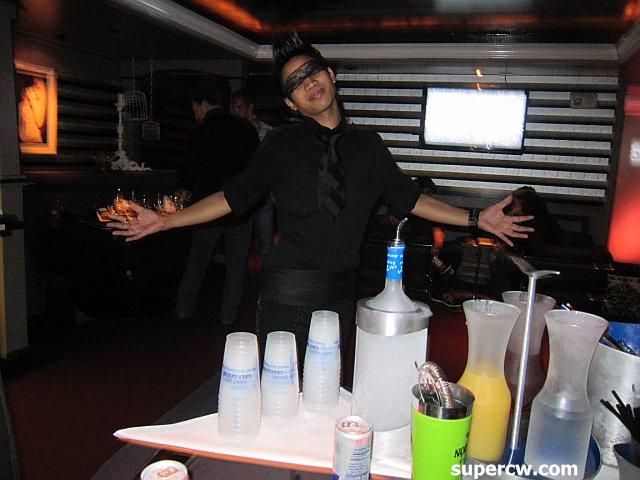 ps: we LOVE jonah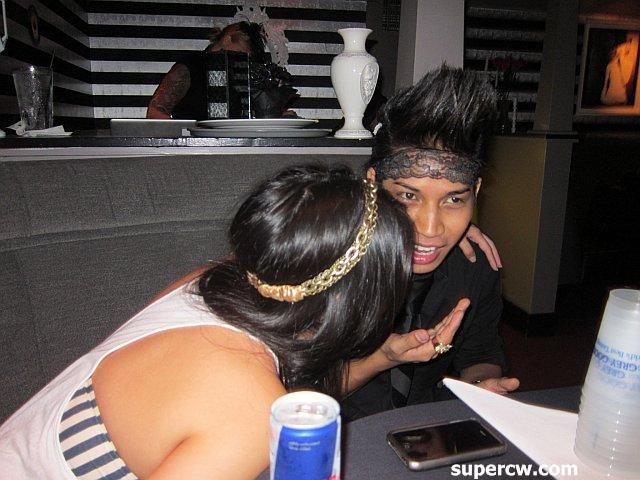 love this place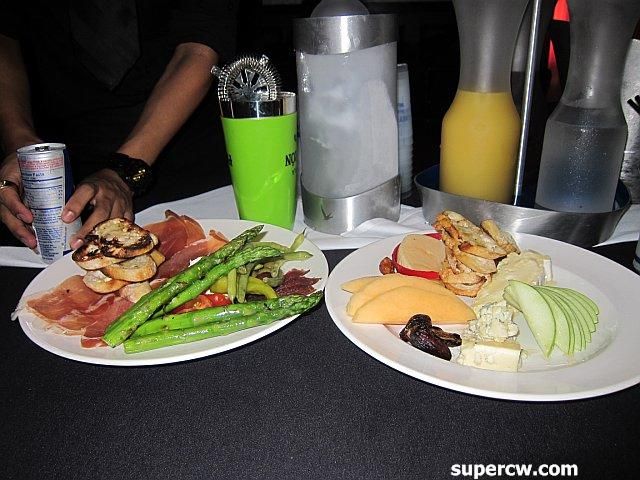 love these two
i was telling everyone where natasha got this headband until i realized that then everyone else would have it. so nevermind. mum's the word starting now.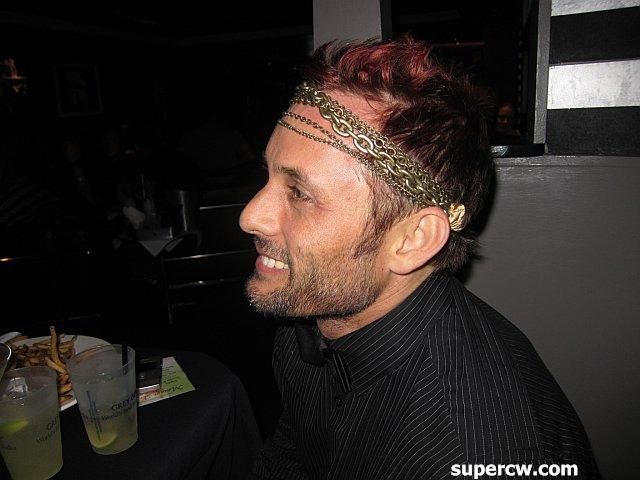 cabaret night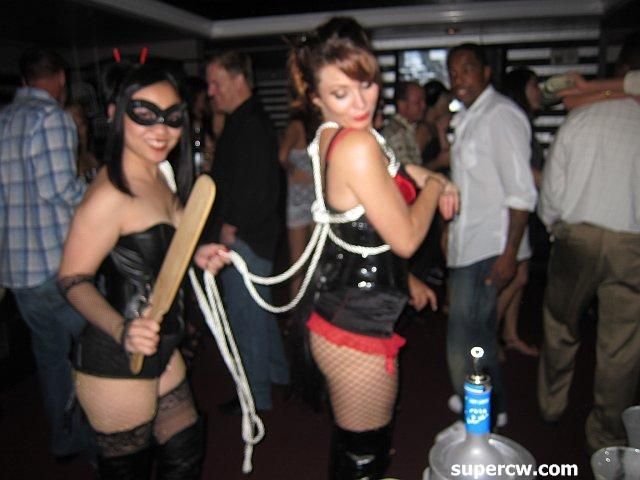 remember him!?!?! he played the queen of hearts in Alice in Chinatown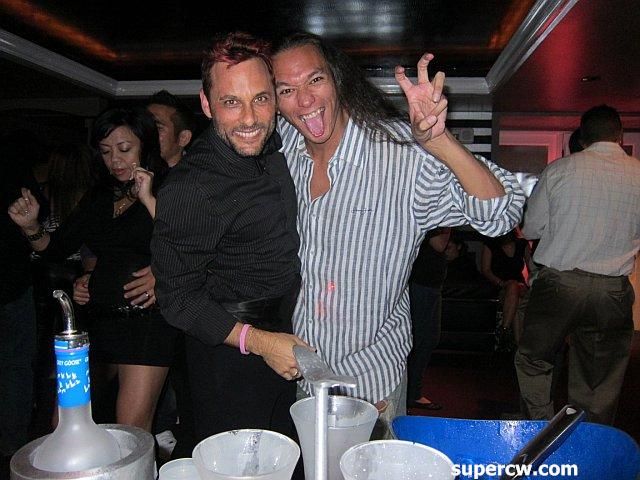 best night ever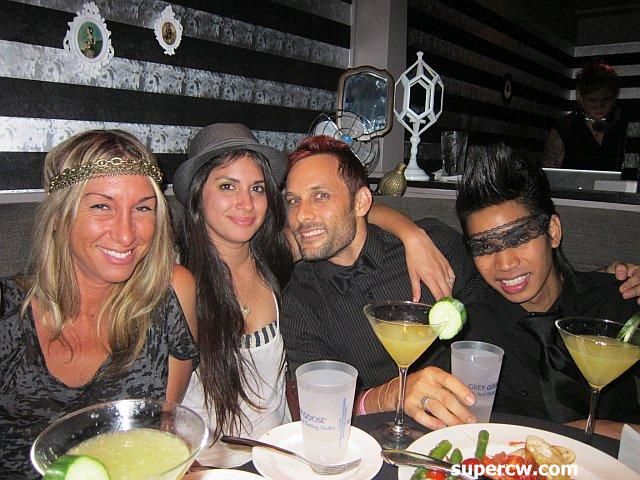 then more cabaret time
the cherry blossom cabaret kind of looks like they were BORN to perform here. this is a really good collab.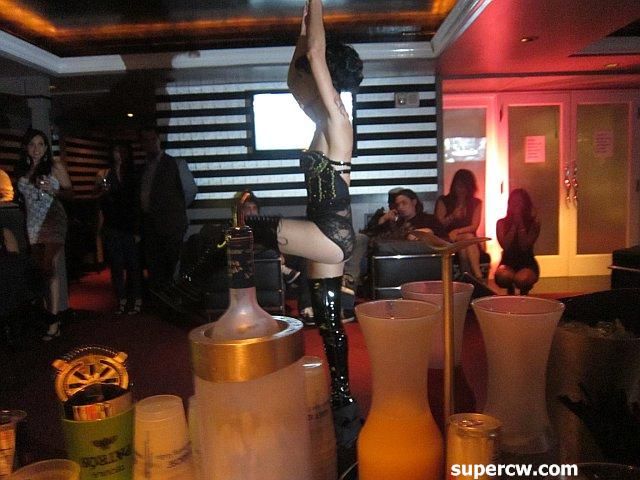 seriously.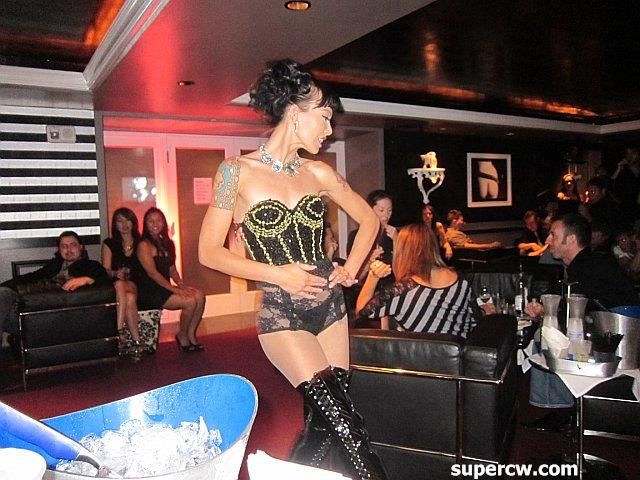 they are looking at kitty chow's butt right now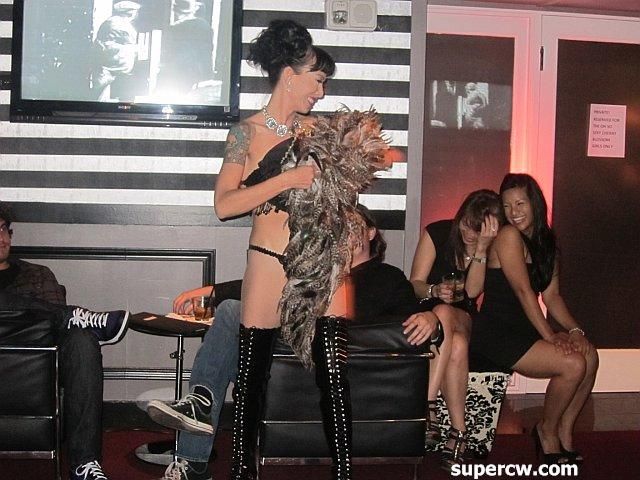 what hey! uh oh…
what's happening! aaaaaaaa!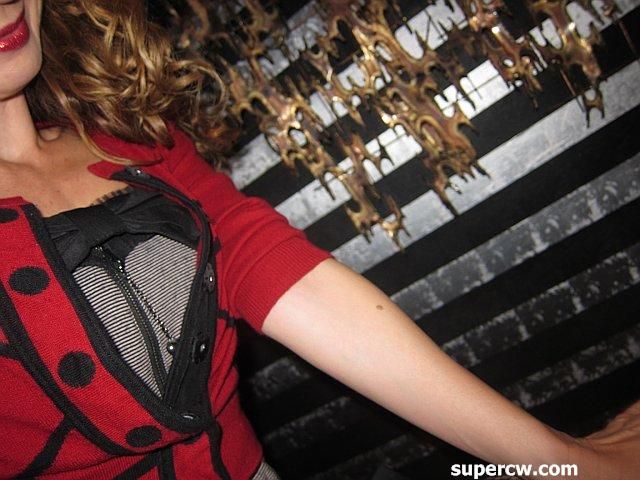 oh! i remember now. picture time! they told me to put my tood on kitty chow's butt. i didn't want to. i love her. they were like "DO IT!!!"
so i had to. sorry kitty chow. (i love you).
then it was back to downtown. it was three years for soulgasm which is like 5 years when you think about the last two. anyone who can make it through that can make it through ANYTHING.
we pretty much came here and stayed here.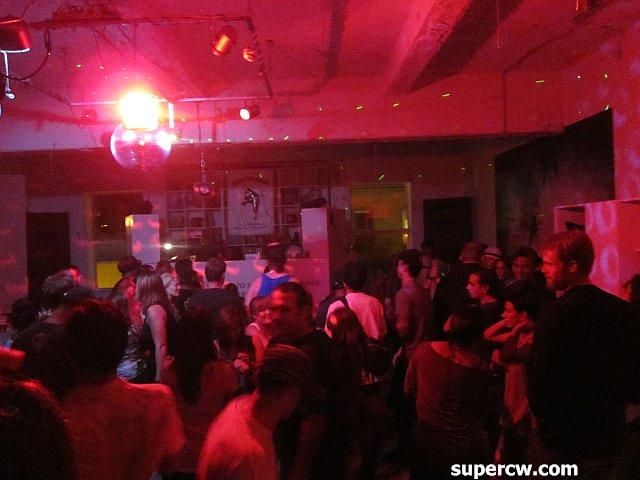 we couldn't not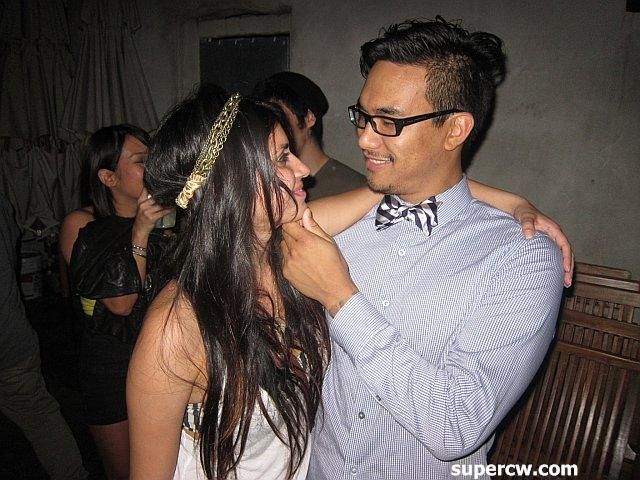 my two favorite AZNs in the world right here. smiley mikey and andrew lee.
made ninja to go check on my sickypaul and got snapped by questhero. this guy is actually pretty killer though. i love your crew, man. this is the new gen.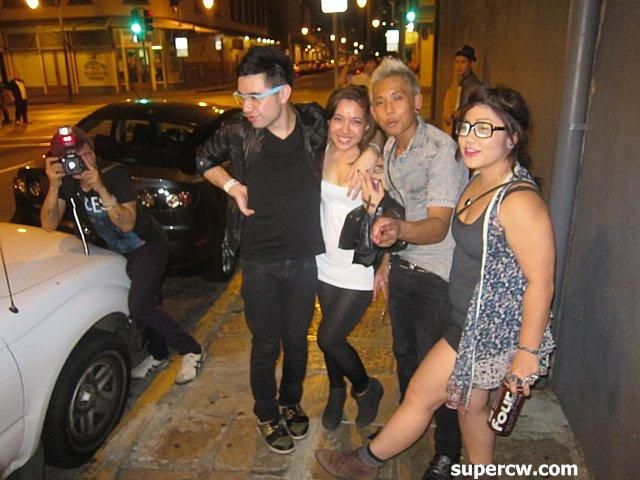 smile! i love you!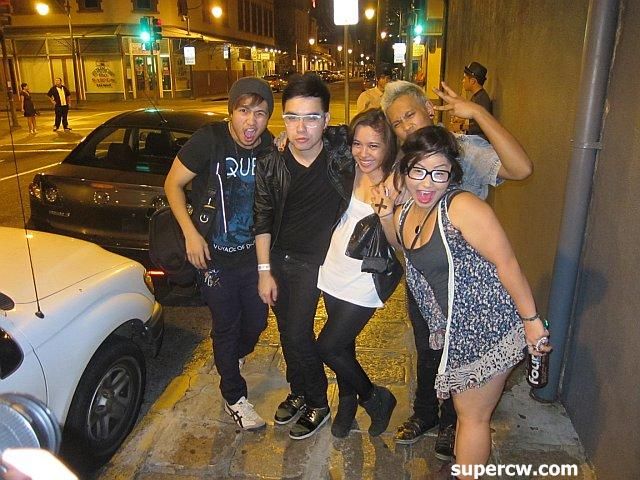 then it was sunday.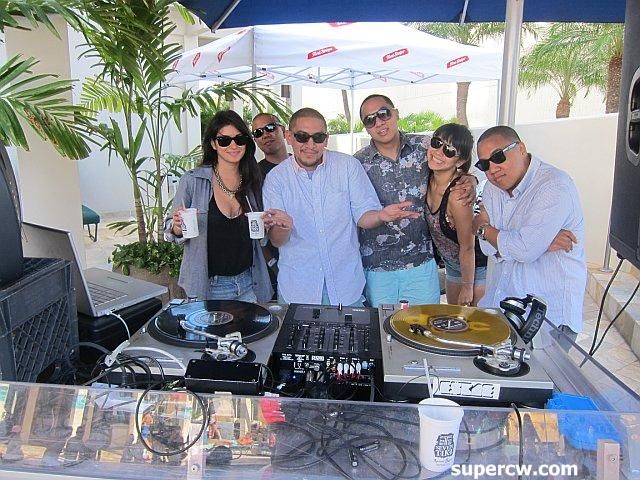 KIMO AND MIN CAME TO MY POOL PARTY! so rad. i hope you guys come to my birthday one though, this one was more for the people. the one on the 12th is for meeeee.
this wasn't mine, actually. it was Contrast Magazine. me and steve put it together for them using our b90x formula. it kind of works.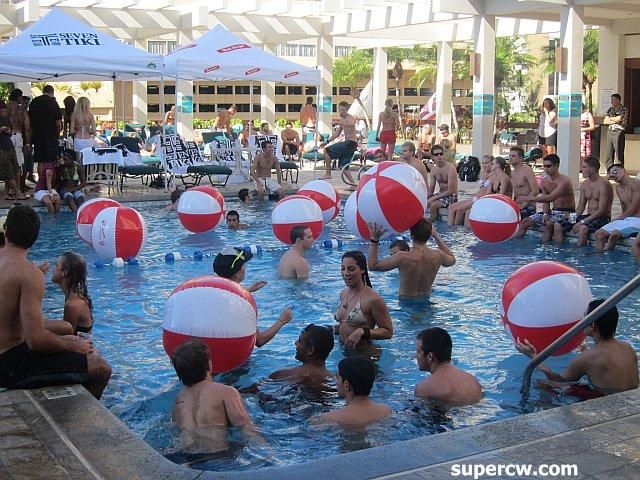 flash i love you and here is reason #47627 why: you made it mandatory for all of apartment3 to come today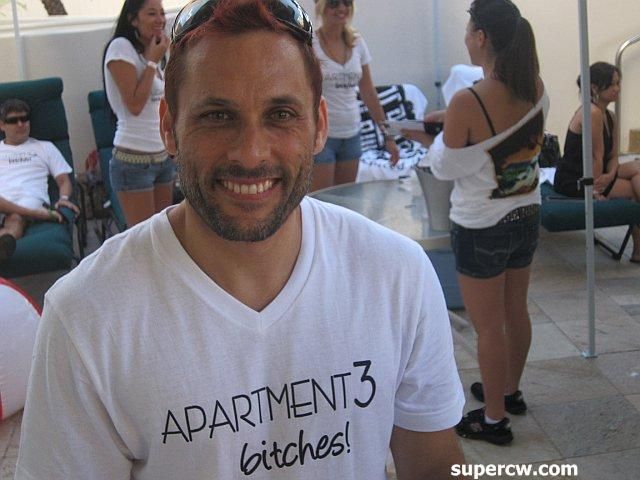 so race and lance totally flyered the crap out of UH and HPU for this one. hence, the hundreds of college kids lurking early. they all came right at 1pm for the free Reef Coasters, then sort of just chilled on the stairs waiting for something to happen.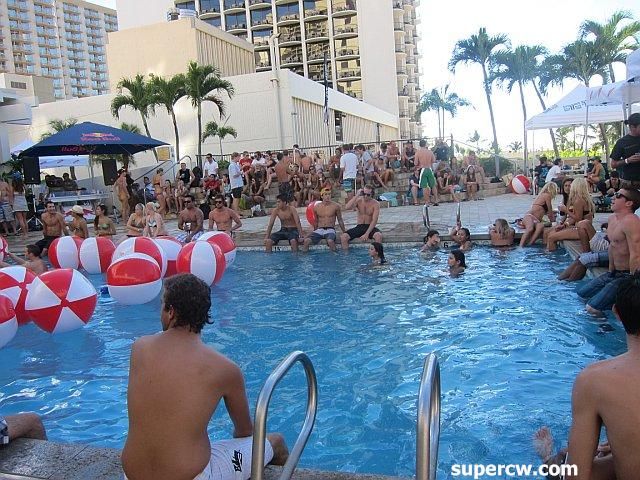 eskae. for LIFE!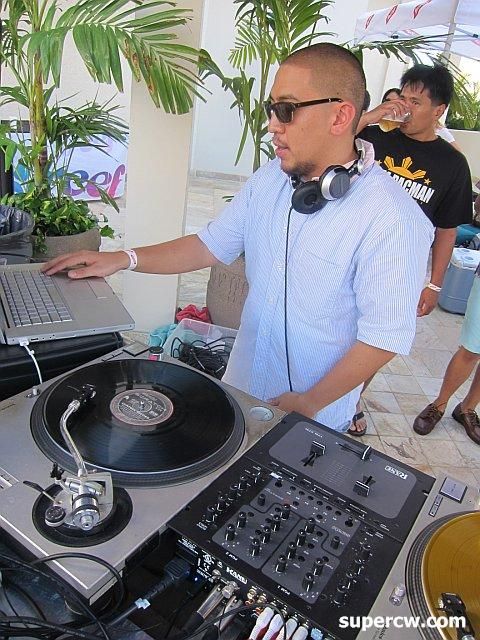 baby JAMI back from New York and casey evans being casey evans <3
stylie guess who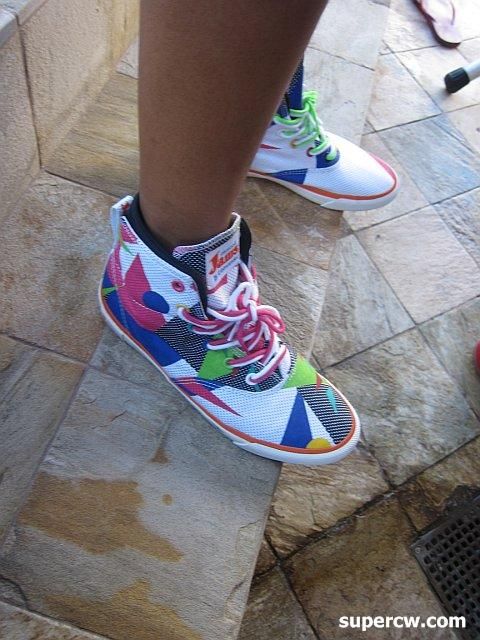 sebastian! ps: boy bloggers are so hot right now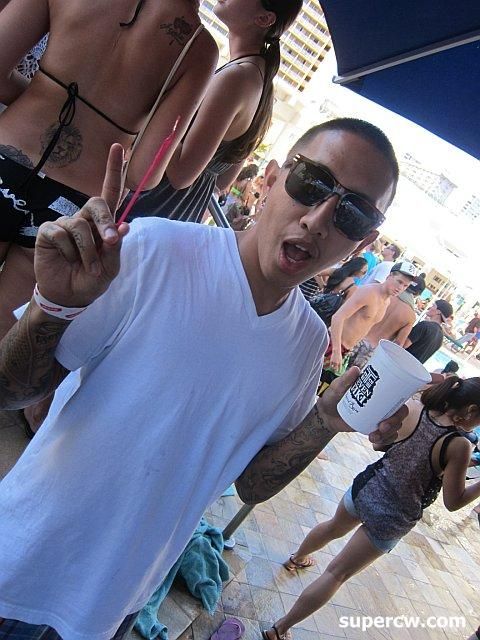 so yeah, this again
there's only so many chairs here so if you're late you gotta make do. which people seem to do just fine.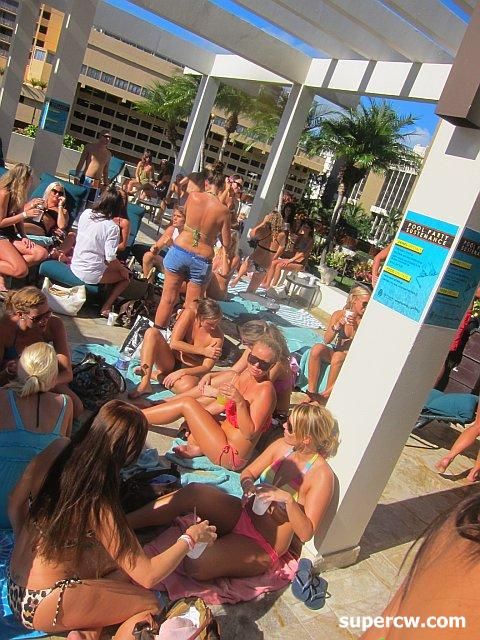 so so so many people were like "you should do MORE of these!" "you should do these like once a MONTH!" "WHEN is the next one!!" not realizing all the stress and work and stress it takes to pull them together. with that being said though, we are totally going to do more of these. i will let you know when.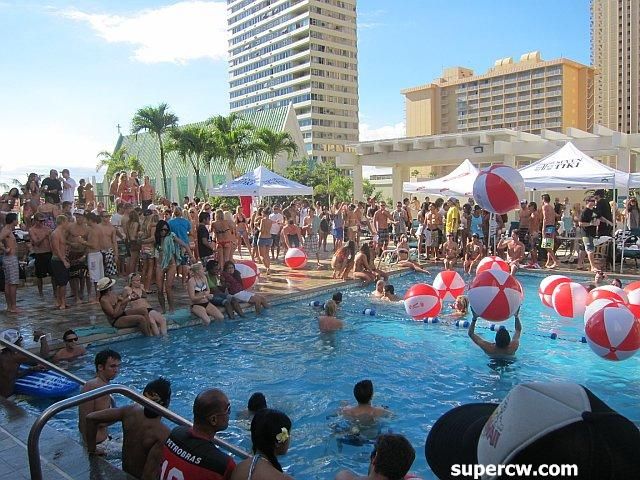 willis and darren and mark came! if you guys ever want to know about good house music talk to these guys.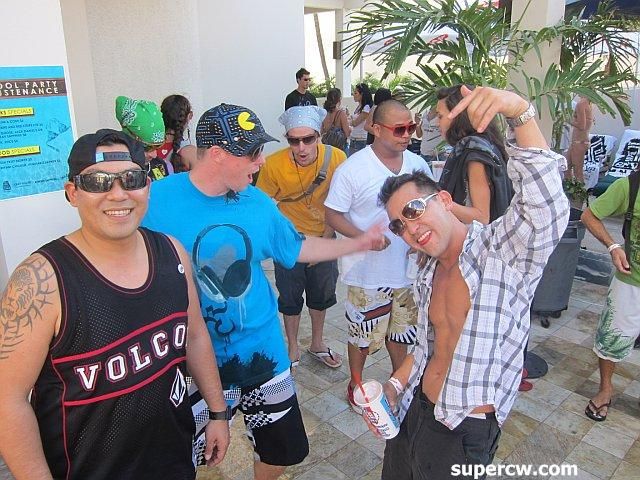 LOVE!!!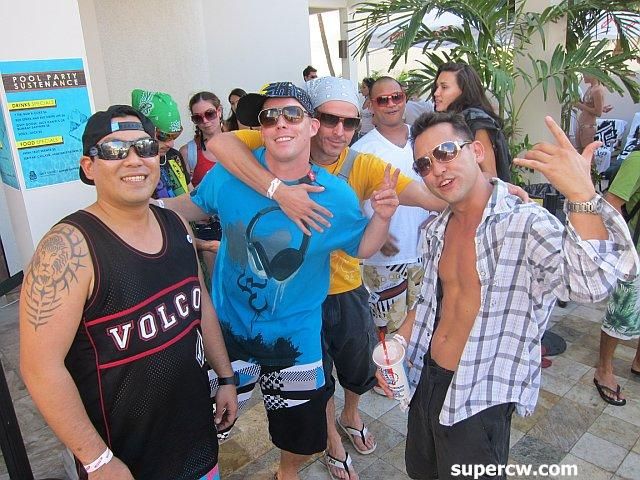 when we were suffering through the inflatable dilemma before we realized we could get custom branded beach balls, race had sent me a picture of one of these from Reef. "How would you like to have a few of these floating around?" he said.  But we didn't get any – that was his own he brought from home.
we didn't get any because Reef didn't come. Reef didn't show up to the Reef Hawaiian Pro pool party because the contest was on today. No Reef surfers, no Miss Reef… only girls that looked like they could be Miss Reef.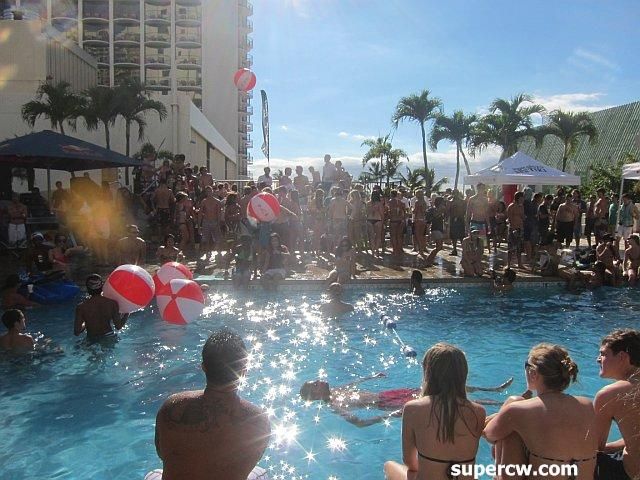 that actually didn't really matter too much, like, at all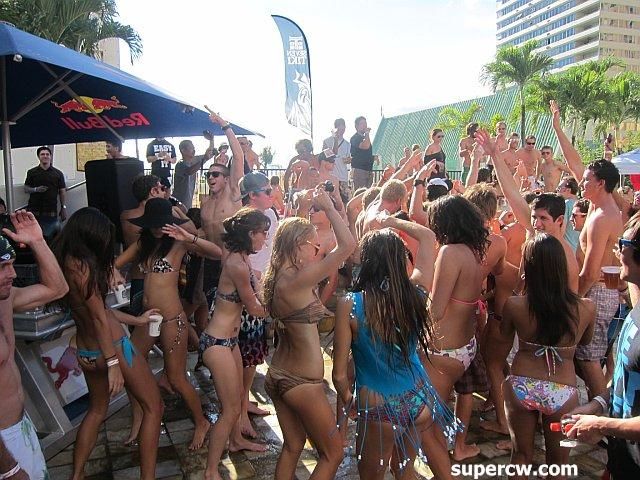 two of my favorites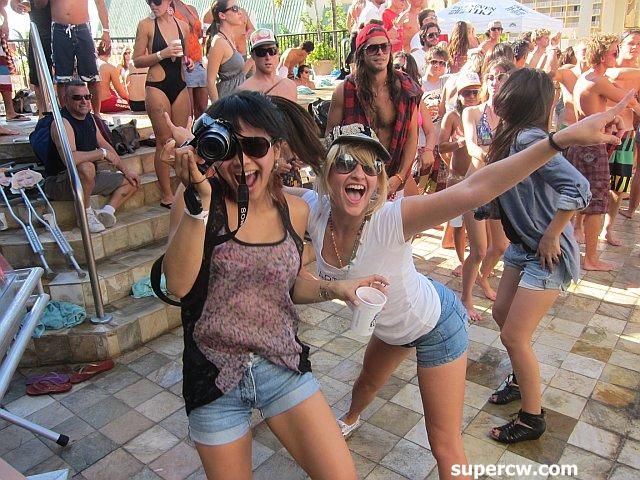 at one point i saw a crazy huddle of dancing half naked people that was mostly girls. then it broke apart a bit and there was HAWAIIAN RYAN right in the middle of them with his camera. dear lord i can't wait to see his footage from today.
TOO MUCH fun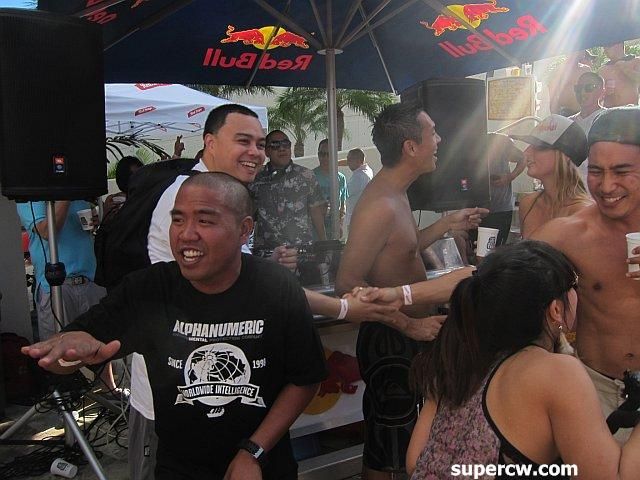 this is the only pic i have of jackie from today WHY!!! :(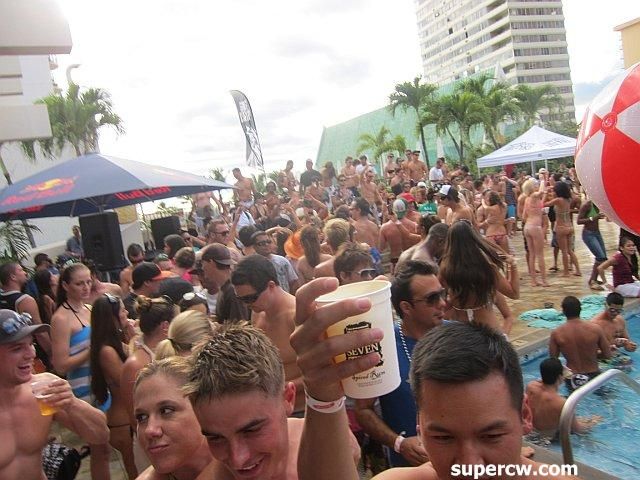 sabrina-so-hot
LOVELOVE!
me and daniel totally remember when these two were first getting together. now i can't imagine them being with anyone but each other.  nicole was totally part of our trifecta for a minute. she isreally a dope ass chick. jami you lucky ASS!
g spot wanted to make sure i got this documented…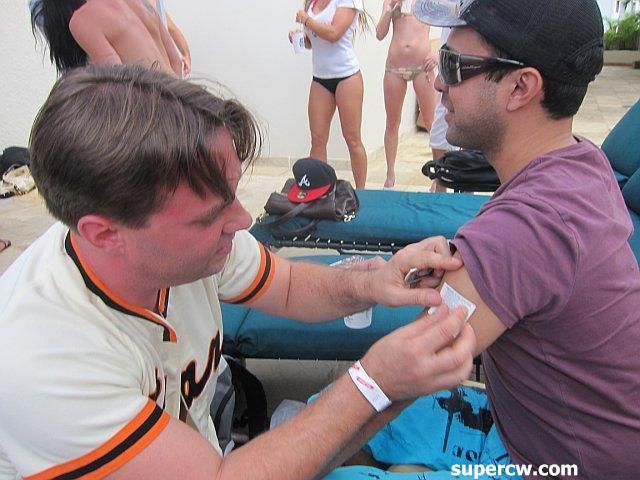 …sure thing buddy
can't wait to see luke's footage either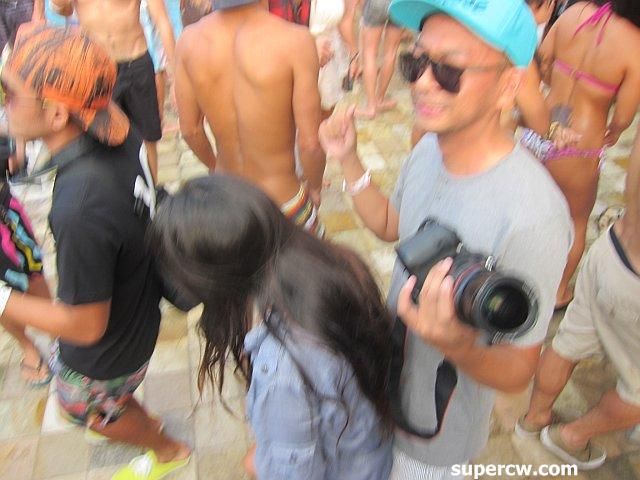 pretty girls and a gooney-bird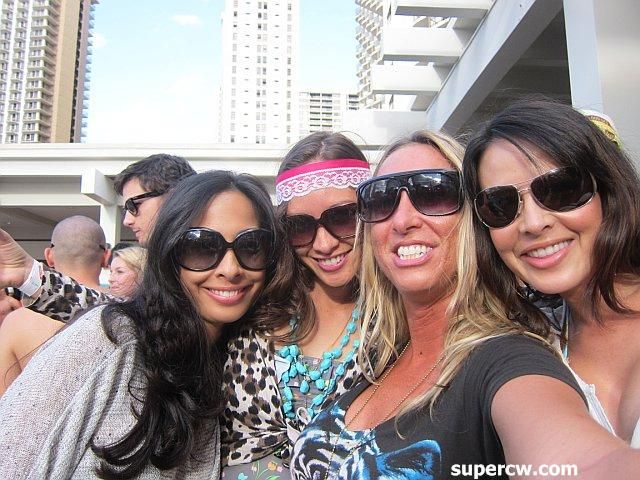 WOAH thanks for coming rkelly!!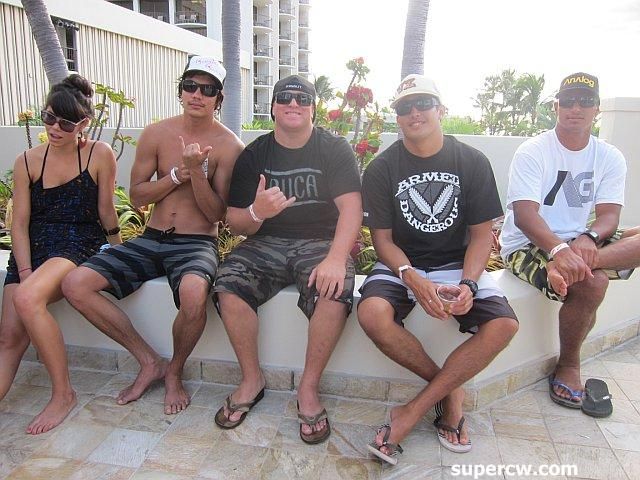 WOAHWOAH thanks for coming bridget gray!! WHO was your friend, by the way?? beauty.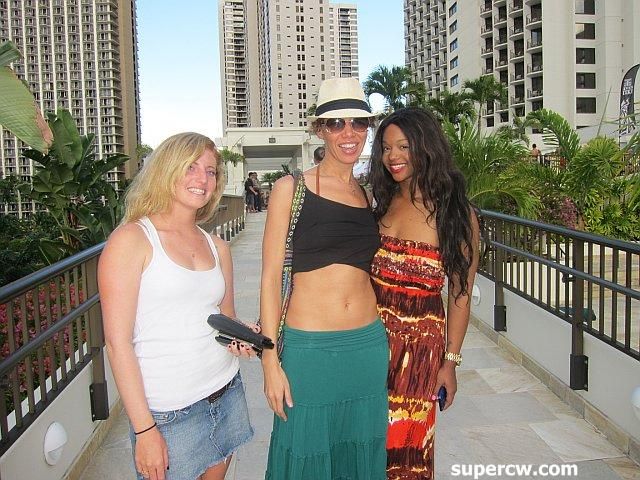 there were points where i wanted to crowd surf then there were other points where i wanted to crawl up under the dj booth and go to sleep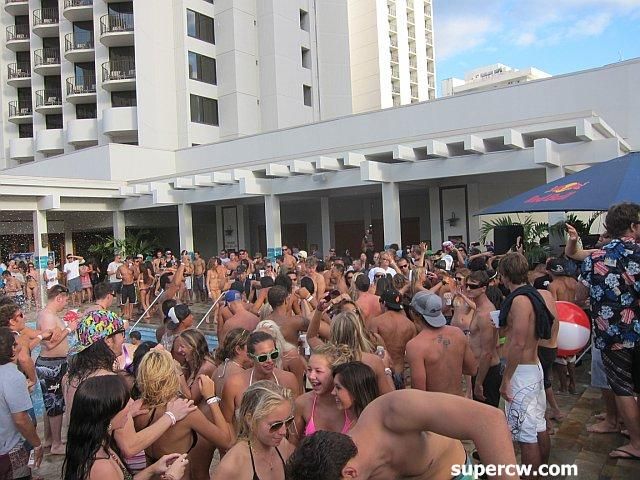 hi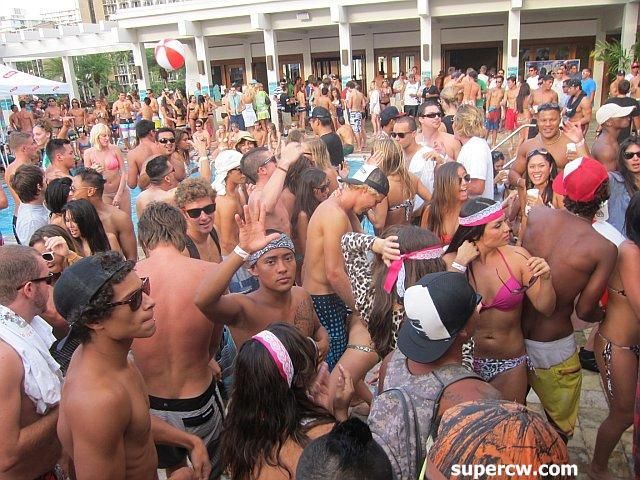 oh and look at that – the same two underage college guys that were making faces complaining about the music when they first got there wound up right in the center of the dancefloor for the rest of the day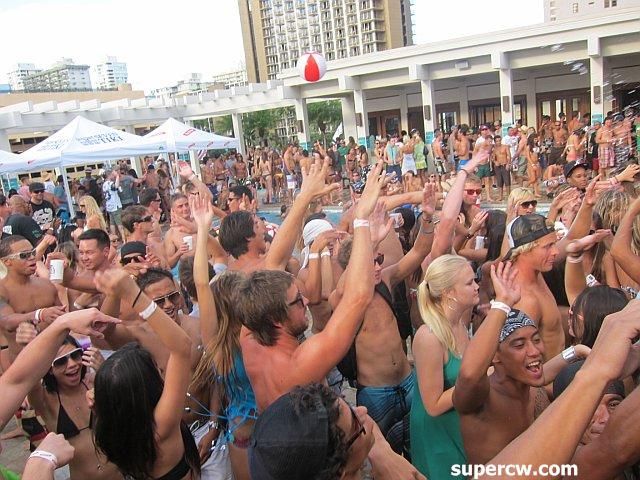 video would capture this moment better. luke and ryan! HURRY UP! at this point everyone on the deck was jumping up and down so hard that i was getting super worried someone would hurt themself
everyone jumping up and down in the dj booth also worried me. there was a lot of expensive equipment in there. be carefulllllllll.
it wasn't until i stood right here that i snapped out of cw-grandma-mode and actually had some fun. just god damn. this was a CRAZY good party.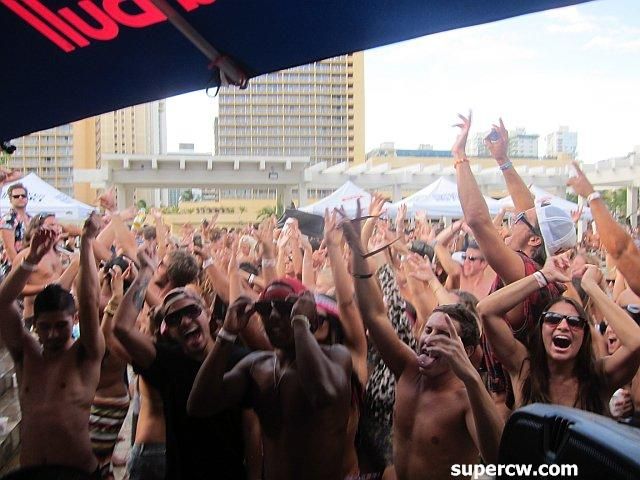 and that's all i got from last week. happy thanksgiving you guys! seriously. let's be thankful and hang out and stuff. rest up too, please. my birthday party is coming up FAST! i really hope you can come.
it's sunday, december 12th at the Waikiki EDITION pool. i'm calling it The Best of 2010. there are some VERY SPECIAL guests that will be performing that if you know me you know is like my favorite shite ever. EVER! so yeah. don't miss it. we decided to do a guestlist after all. to keep the riff-raff out. don't worry though, if you've read this far down then that's none of you. just make sure you RSVP yes on this invite is all. it's totally free. if you want to be glamourous and have a cabanna/bottle service/bed area make sure you buy it online here, we only have a few of these.
i can NOT wait for this party! see you soon, cw