so anyway. back to china. it's the second day of the two-day art event POW WOW and the second part of WOW at garageworks just down the road from above-second. they already have the blank canvas up in the window for the live art part. i'm pretty excited at this point….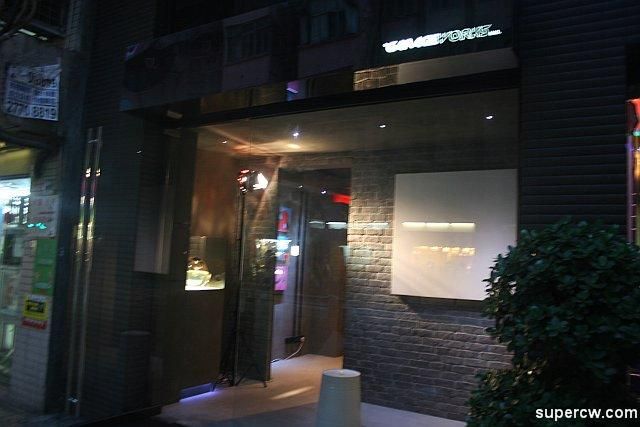 ps: this is will. the artist from the UK. he is just lovely with his painting don't you think?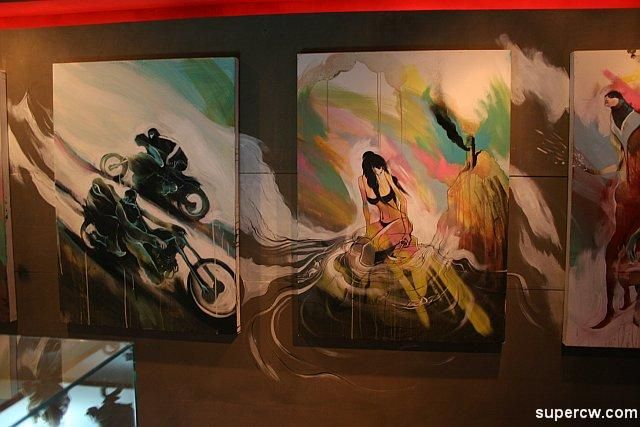 more will, in a collab with pat lee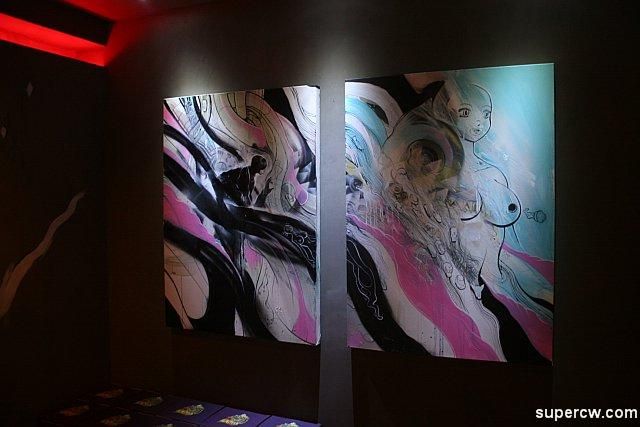 pat lee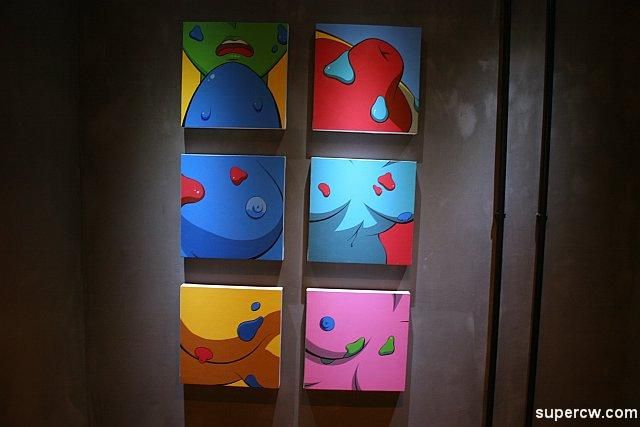 pat lee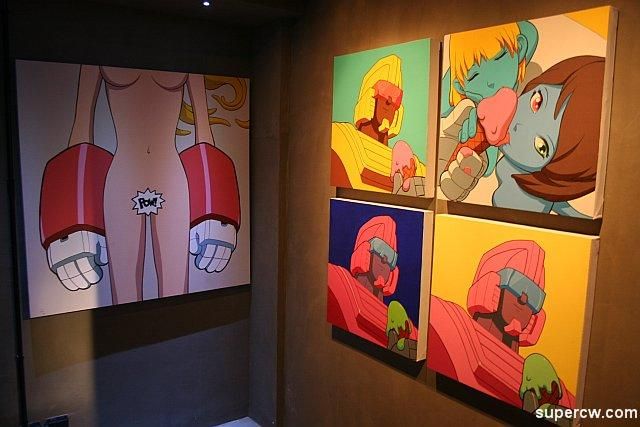 ps: garageworks is rad huh! i loved this spot. super killer, i'm bummed i didn't take a shot of the ceiling. it was really industrial looking and stuff.
this is the back room of garageworks. that's one of their arty cuteyfaces setting everything up.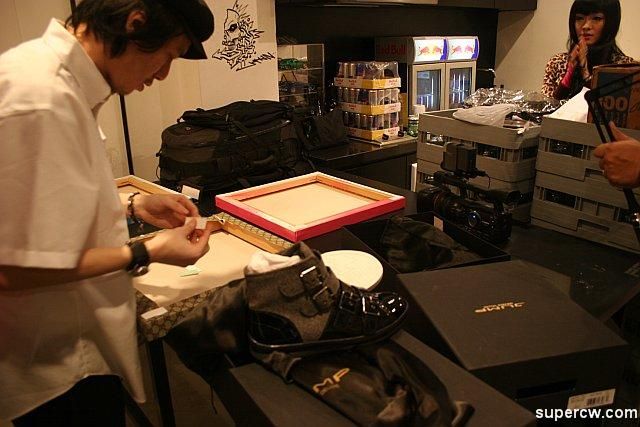 and this is the rest of them getting ready for the show. hi…..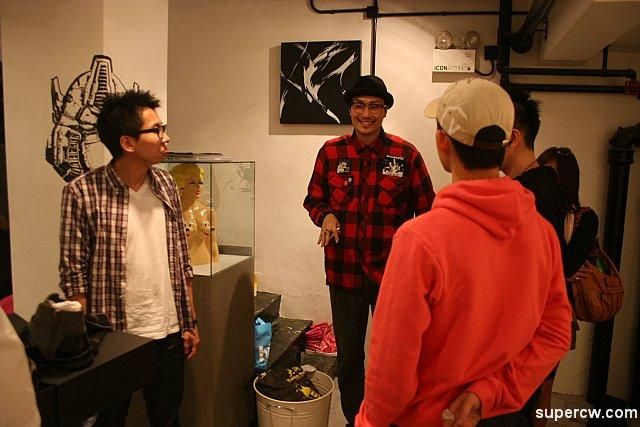 these are the JUMP shoes larry brought for everyone to wear. dammmmmm.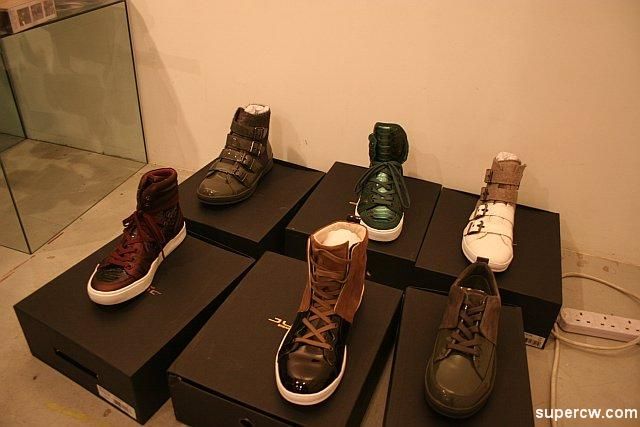 and this is me lurking larry's suite to change into something nice to wear tonight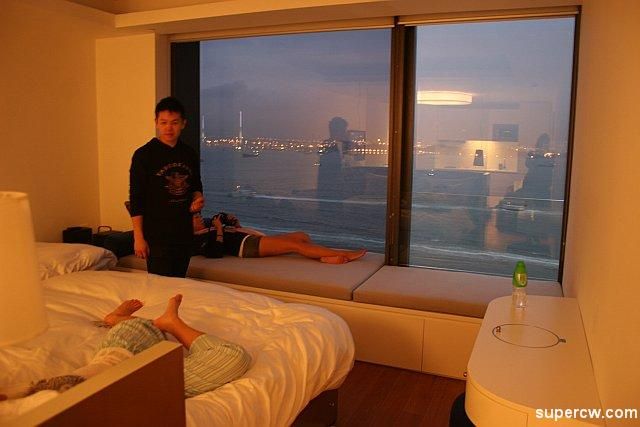 his view of hong kong. ps: next time i go there i'm staying here. it was way cheap. and designed by andrée putman. it matters.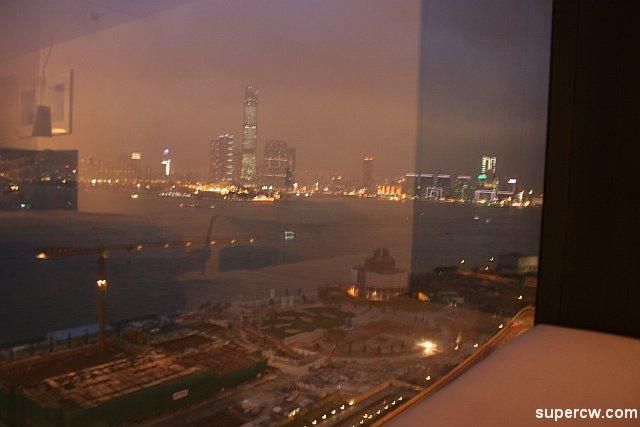 the girls getting ready for tonight. that's cherrie and musee from taipei. cute ya!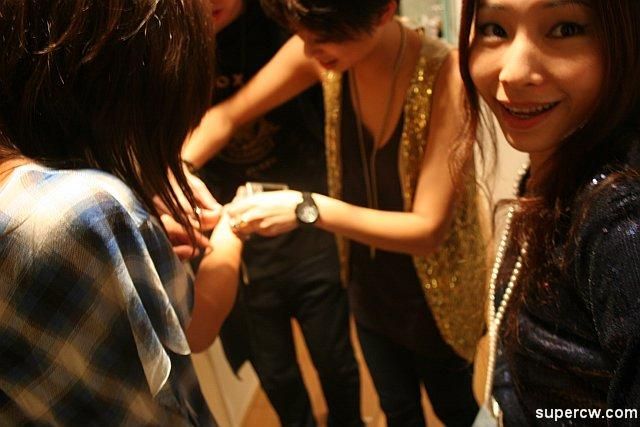 ps: the artists weren't the only ones repping JUMP tonight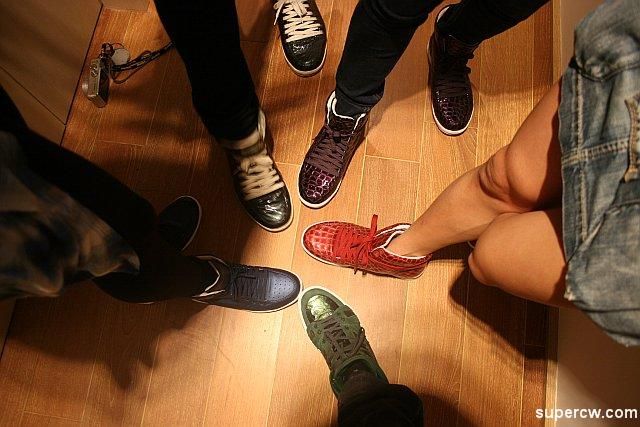 i met rex. he's the red bull guy in hong kong. i was giving his team props out there, red bull was EVERYWHERE! lighted up on the back bars, fridges all over the place, along side all the bottle service, drink specials, everyone drinking it, and duh they supported the POW WOW. <3 red bull….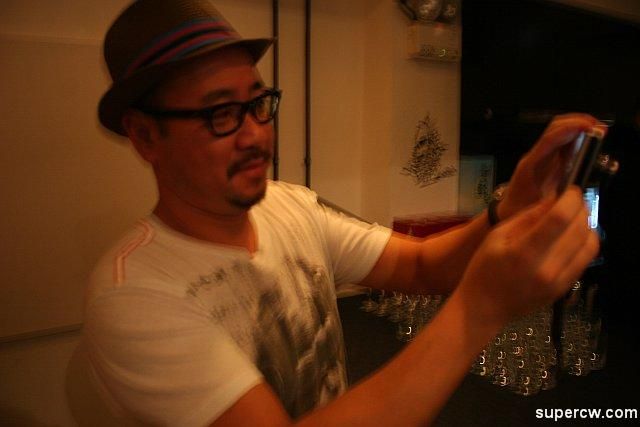 ricken on day 2. of COURSE the sake was there as well. i tought them all what a rice rocket was.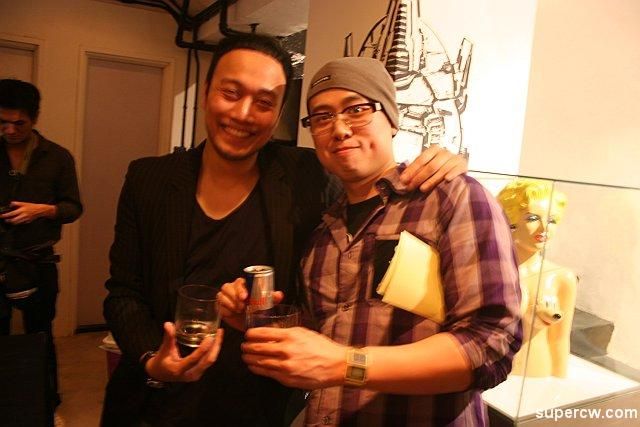 show is on. it's getting crowded.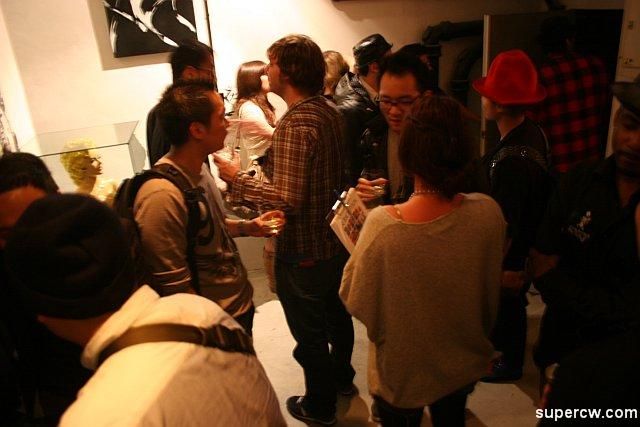 jahan is from singapore but he lives in taipei and um, he's a HUGE deal in asia. doing amazing things in museums and for vans and in the streets and on walls. shhhh, quiet he's about to go….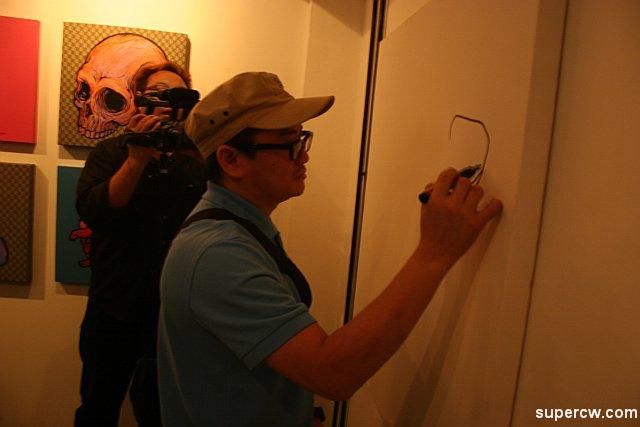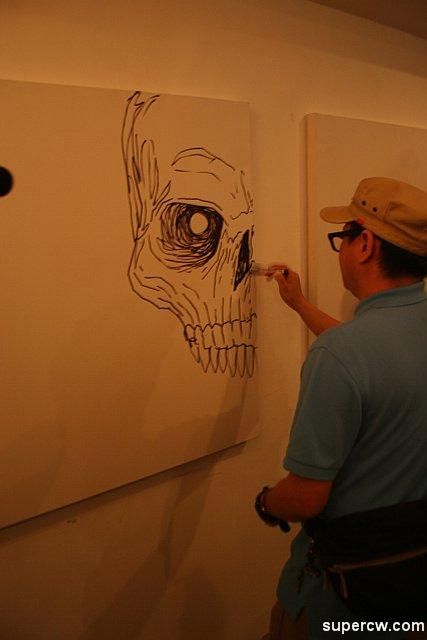 ricken and verbal doing rice rockets. promise i'll work on getting better with taking pics. some day.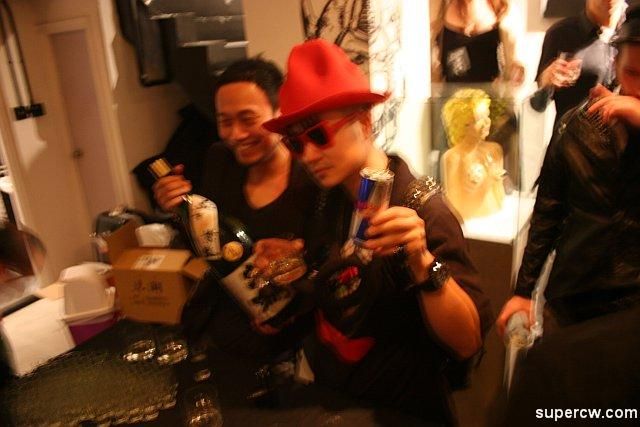 before the show jasper was like "i'm not going to paint, i'm not going to paint, i'm not going to paint" and it looks like he didn't. this pink dude did.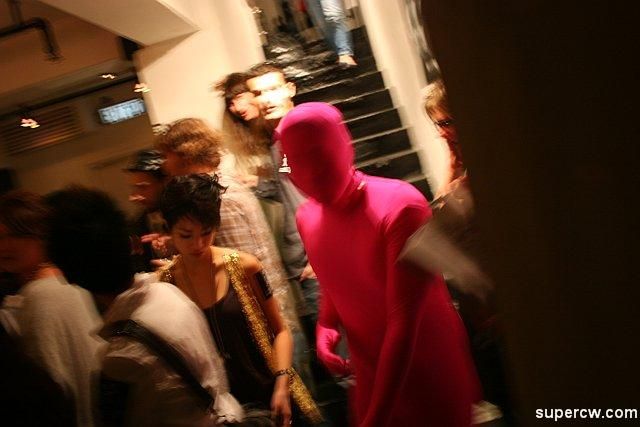 ps: it got crowded
ps: pink dude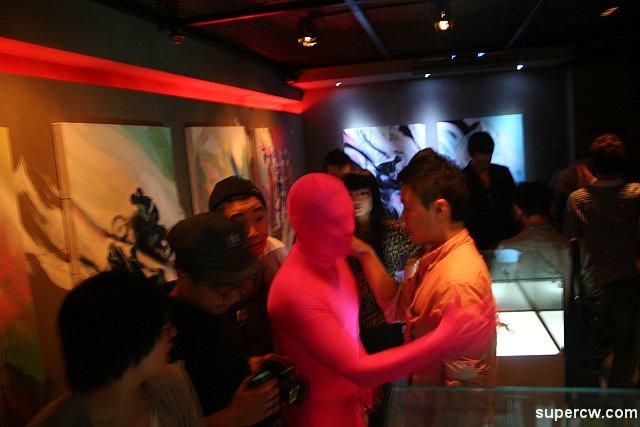 ooooo they're going to get started outside now. pat lee thinking about stuff.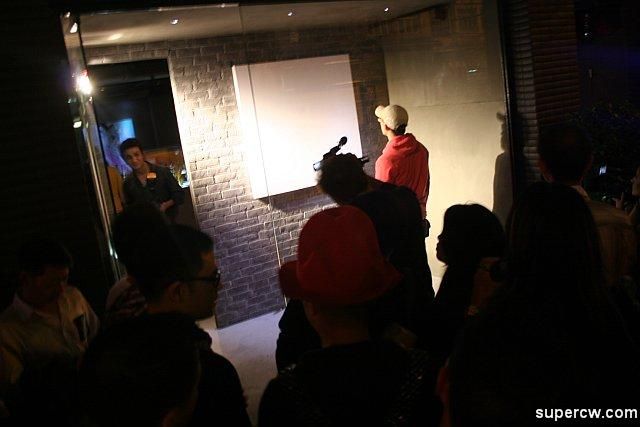 pat lee drawing stuff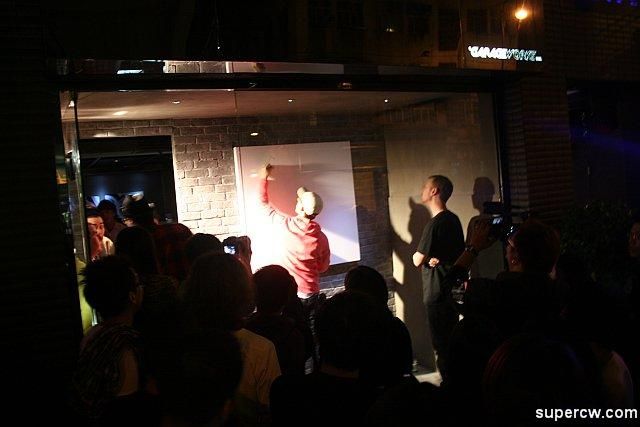 you could say it was a media frenzy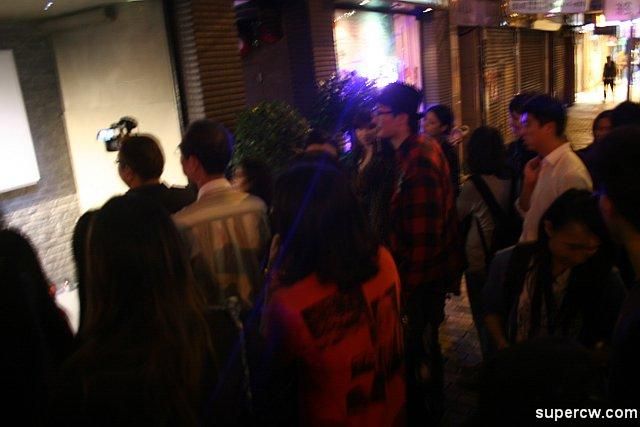 keeping with the optimus prime…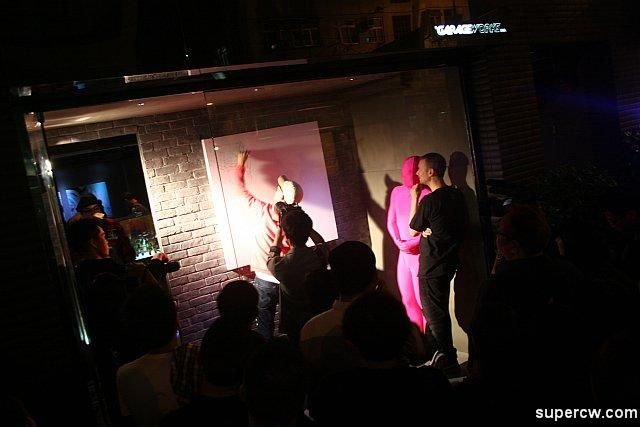 down the street so you can see the craze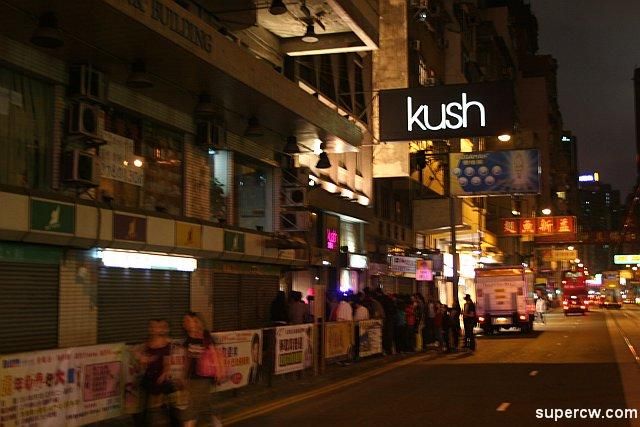 across the street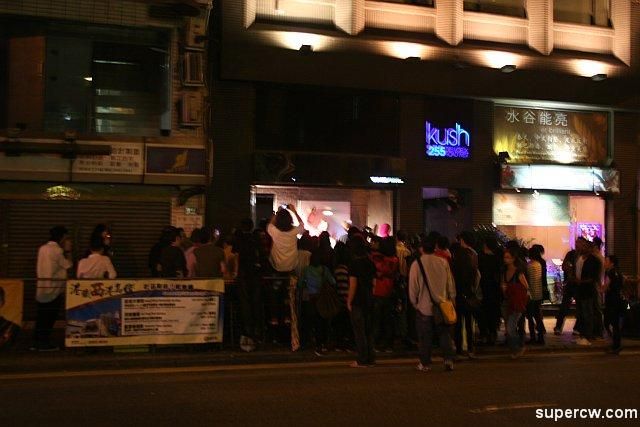 cool huh?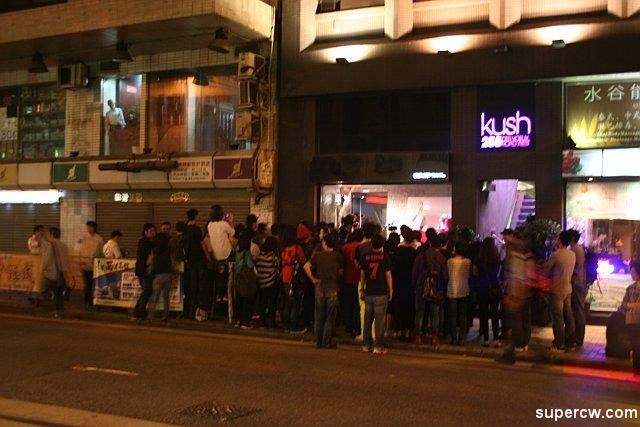 ps: hong kong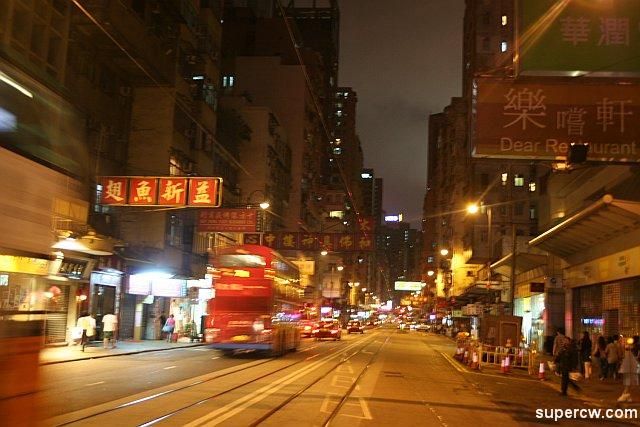 the live art took about an hour or so. maybe two.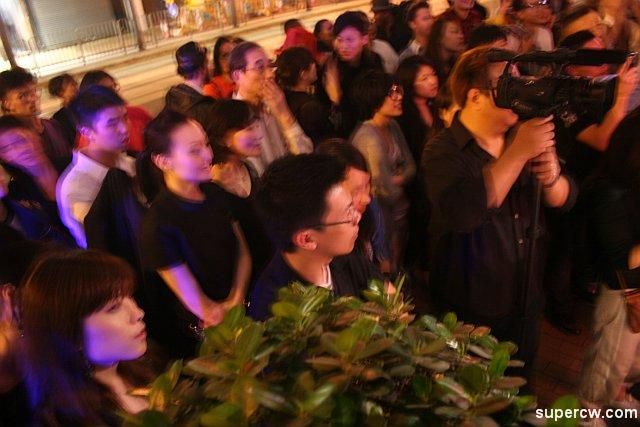 ps: i really did try to get these shots. sorry about that….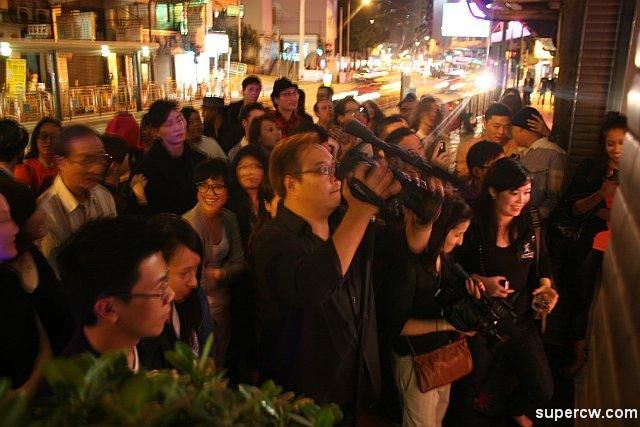 this was only after a few minutes. he was really good at drawing these. ps: pat lee used to do comic books
will barras art. i bet they are thinking about getting a bike like that.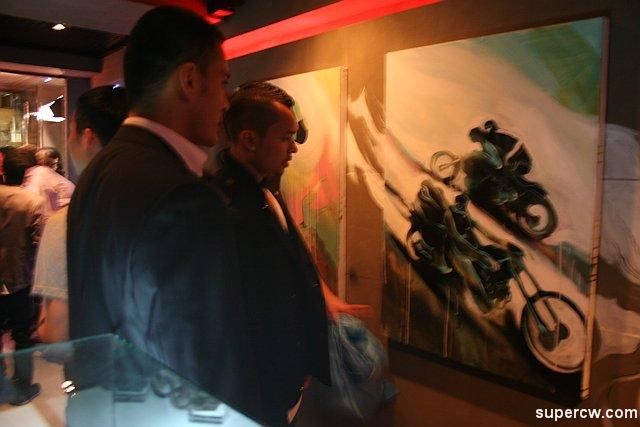 pat lee will barras and jahan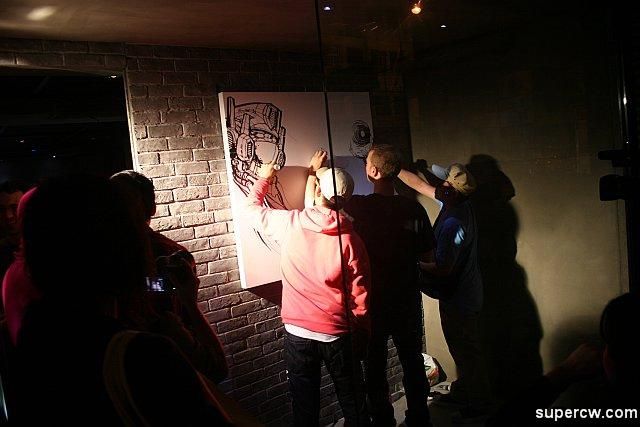 season and jian. my biggest hong kong crushes.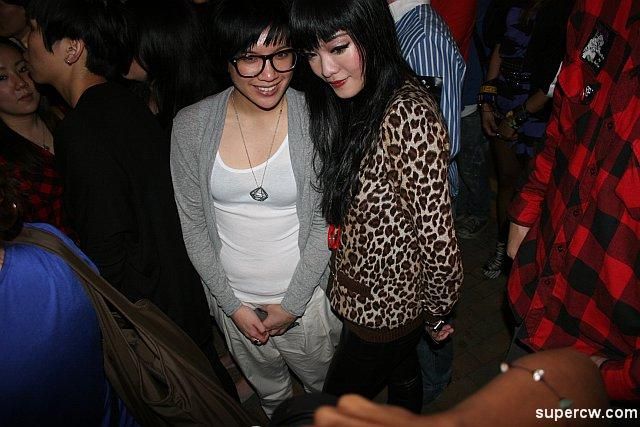 pink guy wondering where/what he's gonna do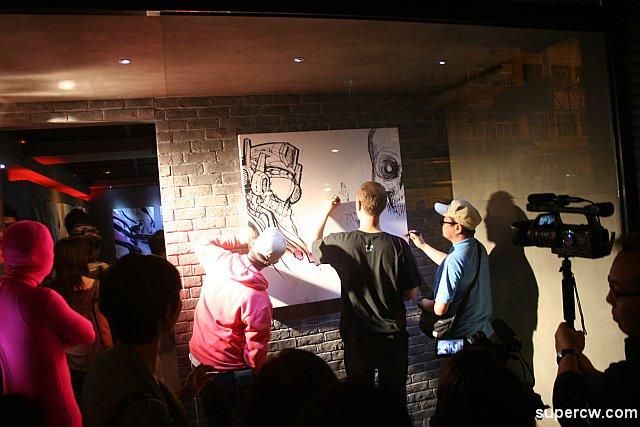 oh, duh. nipples on the optimus prime.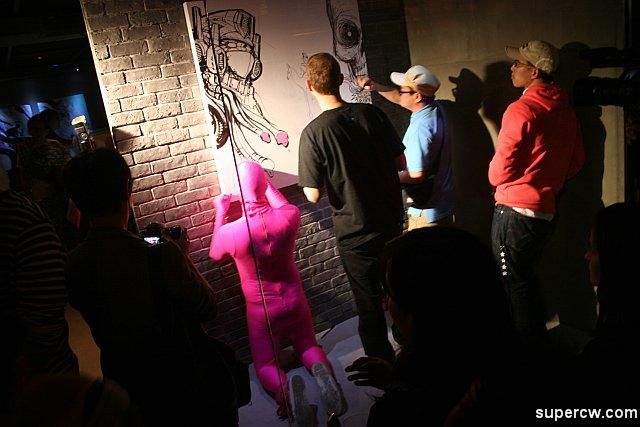 then mr fluid himself will barras was doing these black squiggly lines through the thing. i was wondering if he was making it look like there was a monogram sort of pattern behind the nipple'd optimus prime and jahan-skull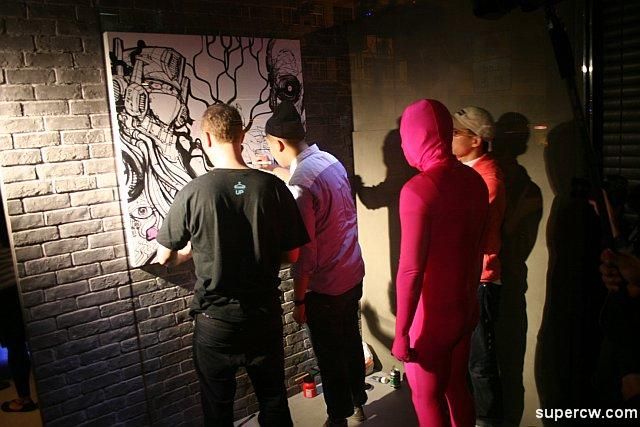 young yue adding his drawrings. the black lines getting thicker. man, i love how black krink looks on a brush. watching someone paint with it is really cool too. it's so… black.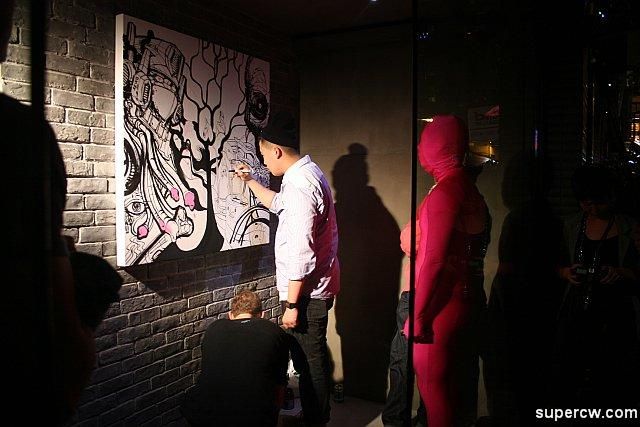 lines getting thicker, optimus getting more detailed.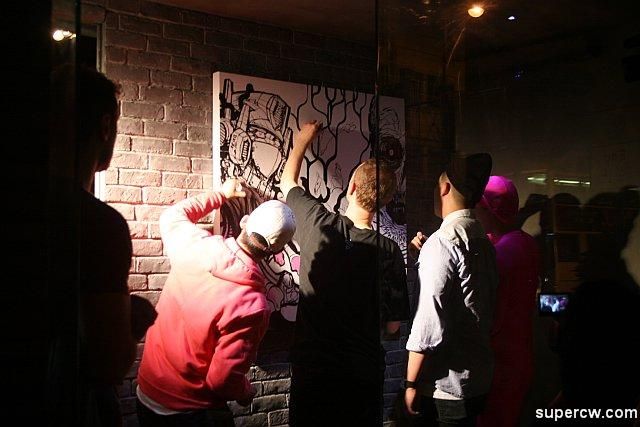 then jasper and yue took over with the black. the lines got even thicker. and the entire thing got even… blacker.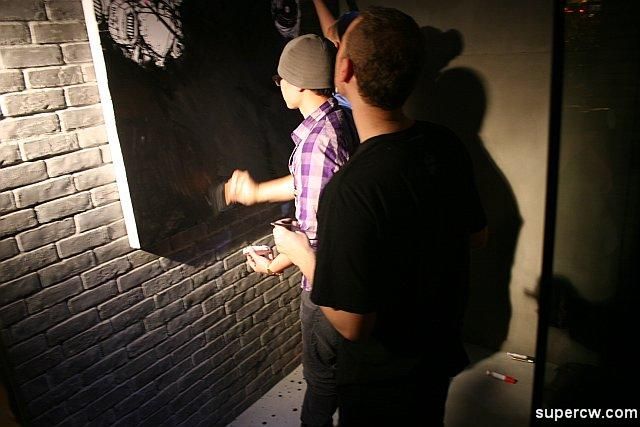 having a hard time pulling the curtain over the skull and optimus. but it had to be done.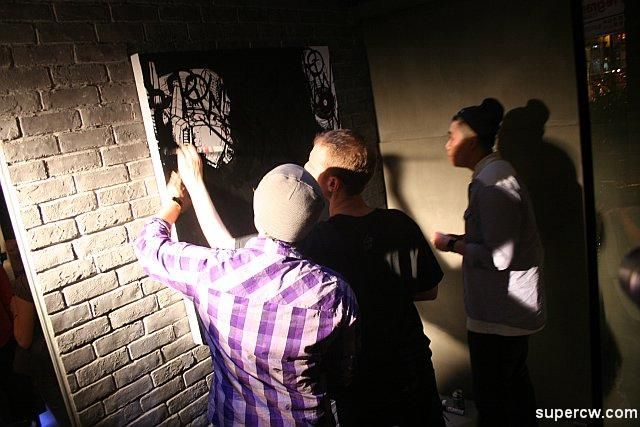 at this point everyone outside was like "murumrmmurur WHAT? mrrmrmrm WHY? mrrmrmrmurmuur NOOOO!"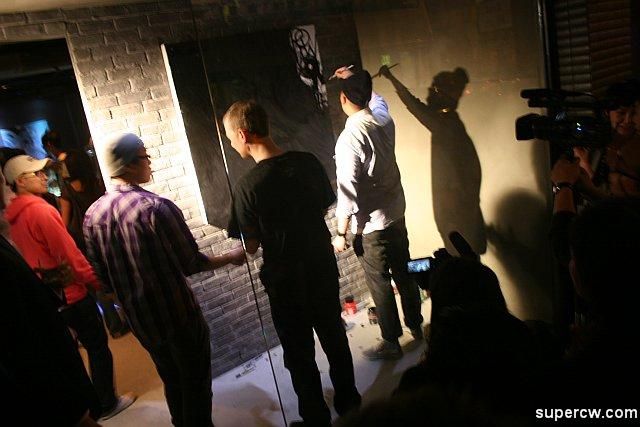 then yue gets the red krink and writes BOOM
then everyone was like "YEAAAAAAAAAHHHH!!!!!"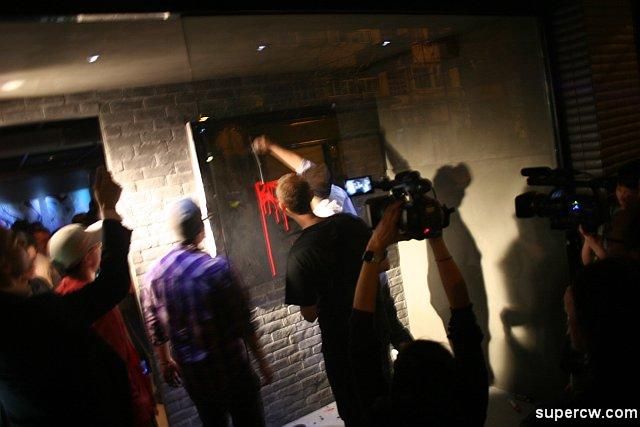 then POW then WOW. then that's all she wrote.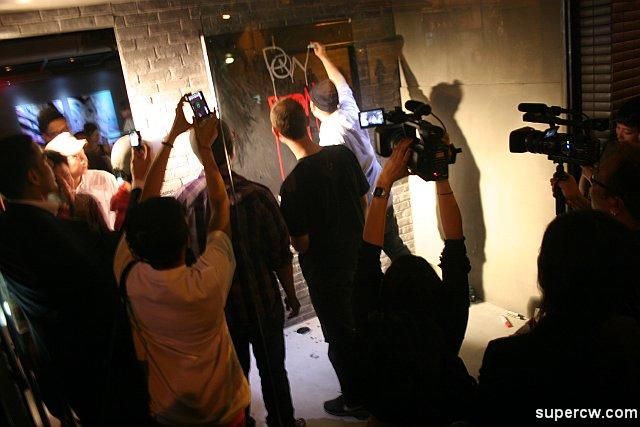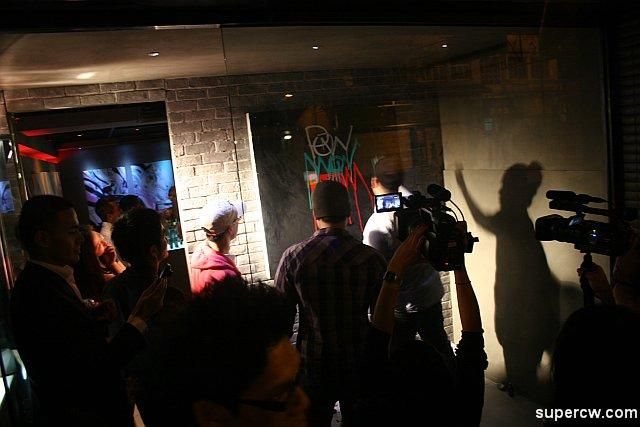 we kinda went nuts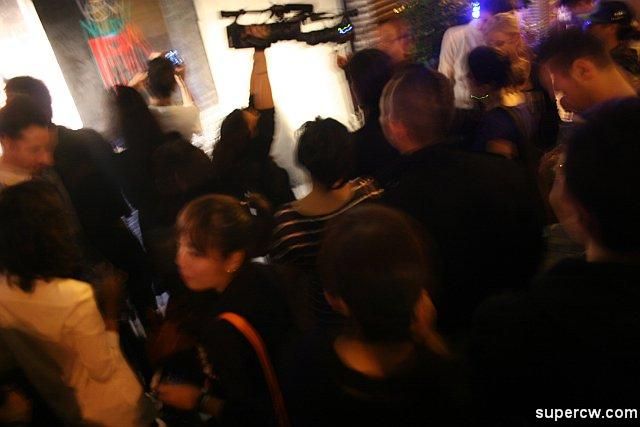 nice work guys. pretty much the first time i ever saw someone do live art like that. i wonder if that's the first time anyone has ever done that period. WAYcool.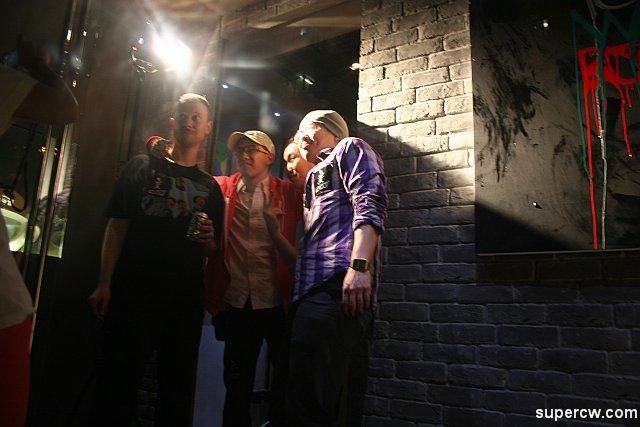 i wonder how long krink takes to dry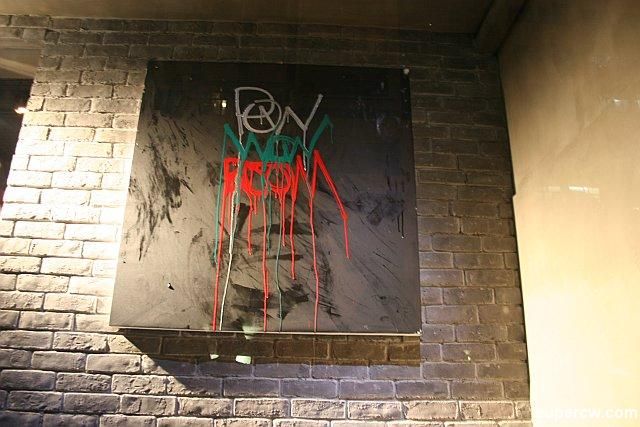 and i wonder how easy it is to clean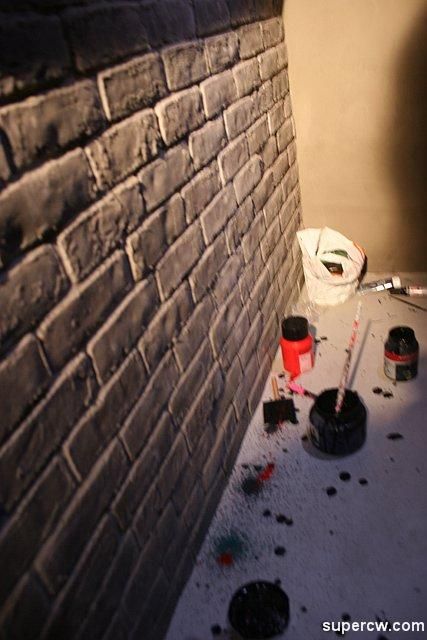 more partypartyparty inside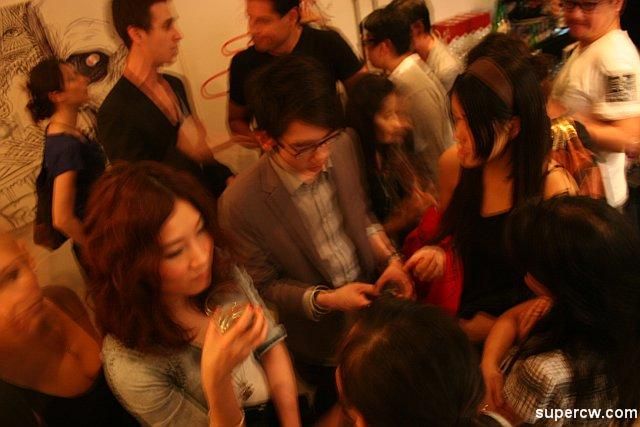 off to volar for part 3 of the three-part event: WOW
me: "matt are you sure we can bring a bottle of sake?"
matt: "yup."
ps: every friday night in the central district is bananas. they shut down the streets and people are everywhere. my canon actually let me pop some shots off so i can show you. barely.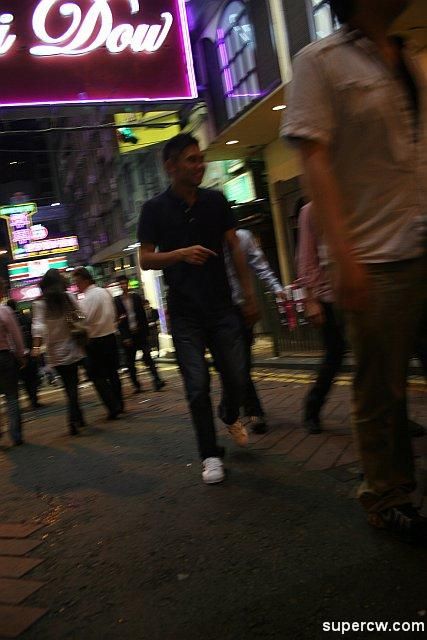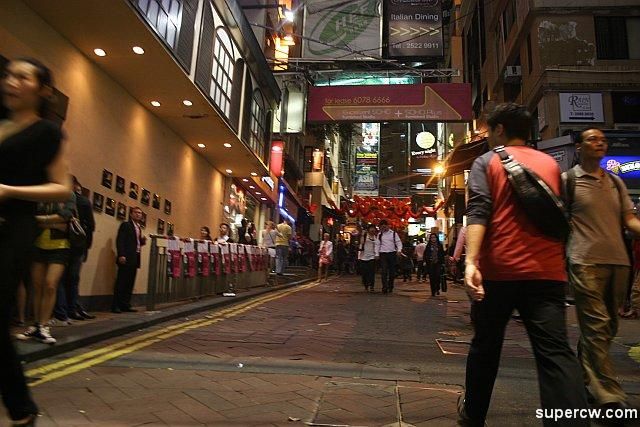 the 7-11 is a popular alternative to the bars. people just get whatever bottle of whatever and drink it in the streets. you can. it's awesome.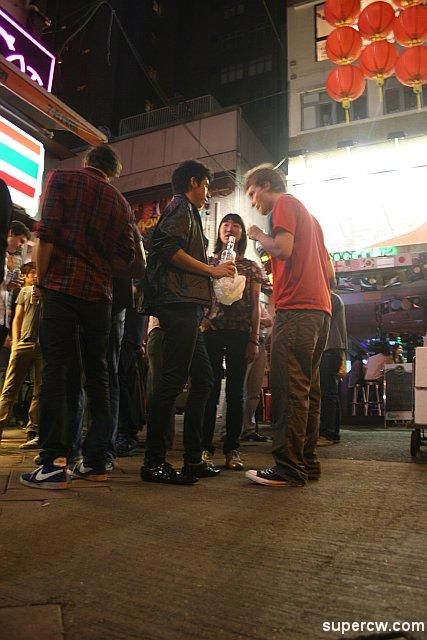 you also don't need to go in to the bars really. you can stand like here or something and they will come out and take your order. how rich would bar35 be if they did this to all those barneys waiting in line all night on first fridays…
matt wasn't ready to go to volar. i was down to do whatever matt wanted to do. so he took me to this building…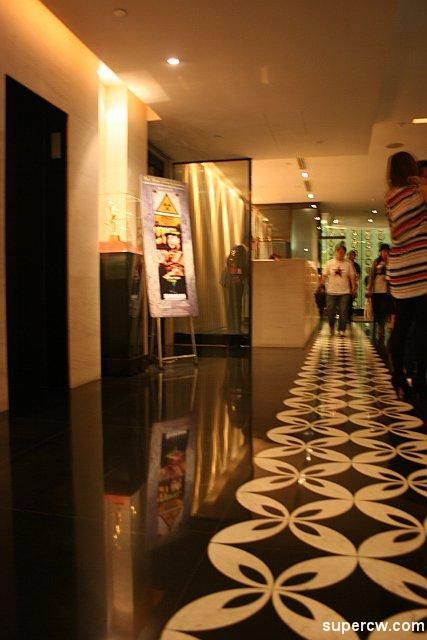 we got in an elevator and went up a bunch of floors to a bar. then went up some more to another bar. everyone… like, EVERYONE in these clubs are like finance people. young and rich. soooo much money that it doesn't even matter. 4 or 5 bottles of wine, a bunch of vodka and some jack on pretty much every table. makeouts in every corner, and maybe one or two chinese dudes in the place. i wasn't that cool with it…..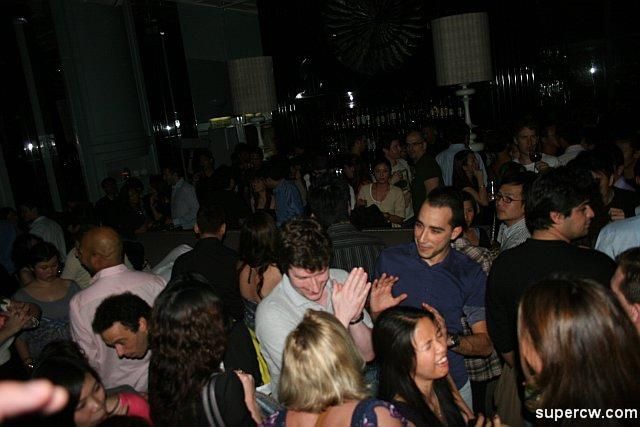 …. until he took me out here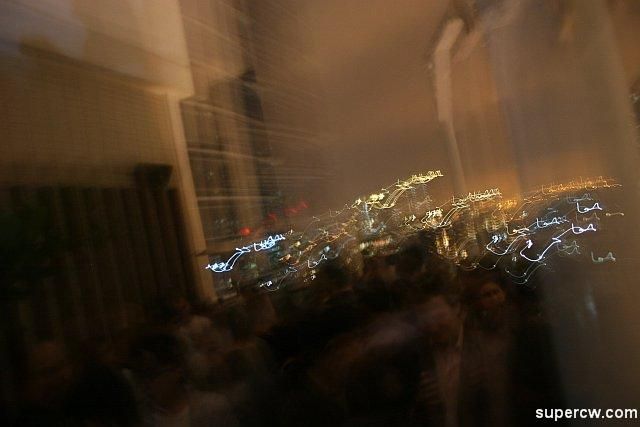 then it was cool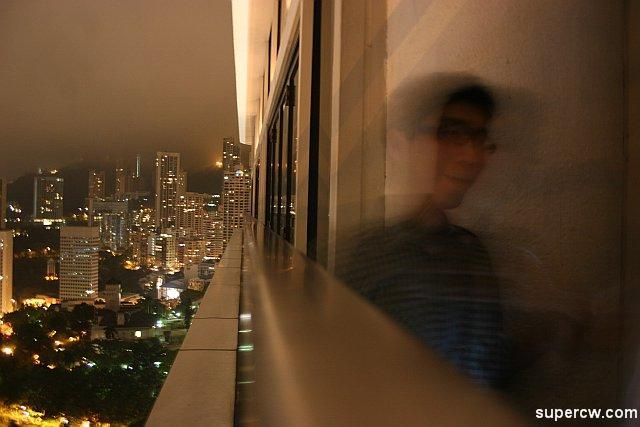 like, super cool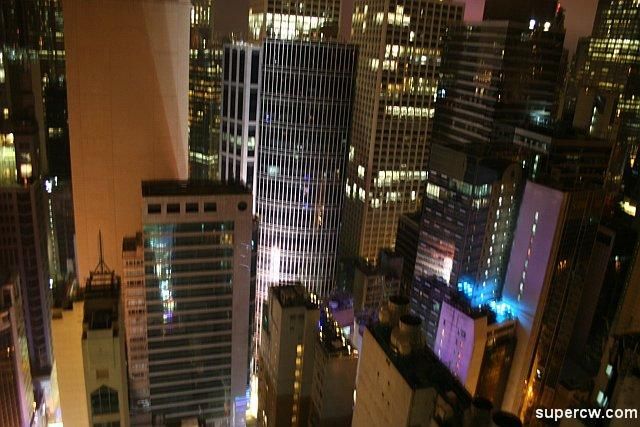 we stayed out here a while. i heart hong kong.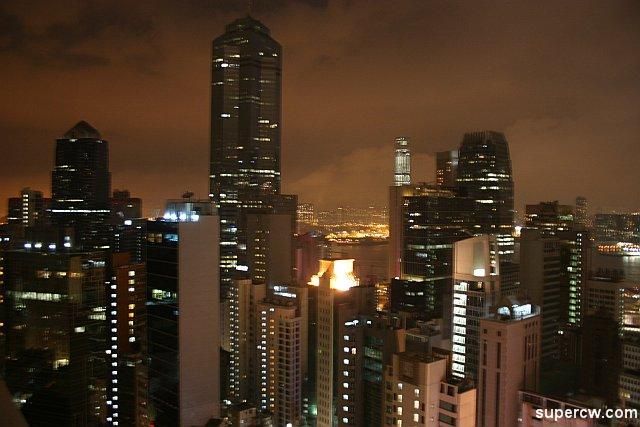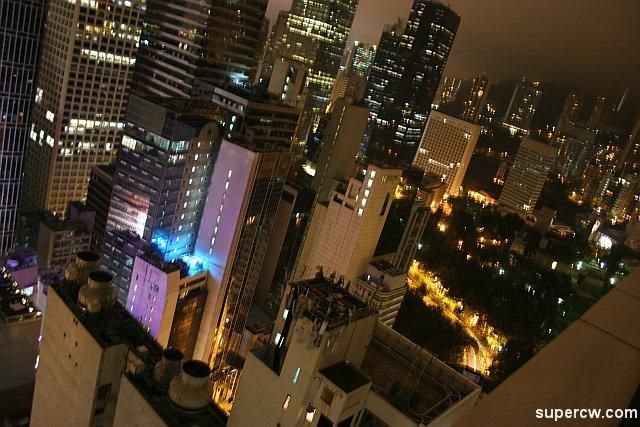 then we went to volar which was already pretty much nuts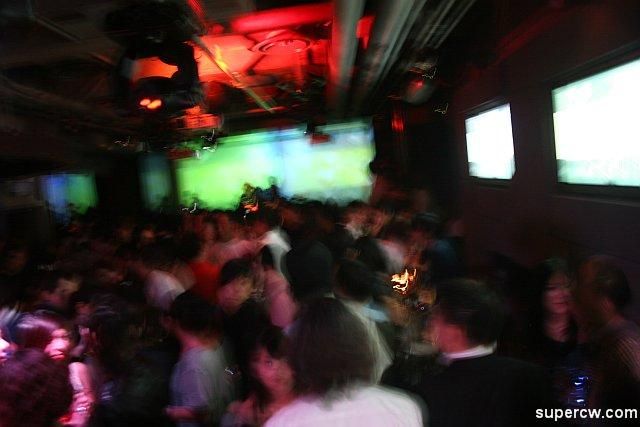 hahah chris where'd your eyes goooo
everyone was already pretty bus when we got there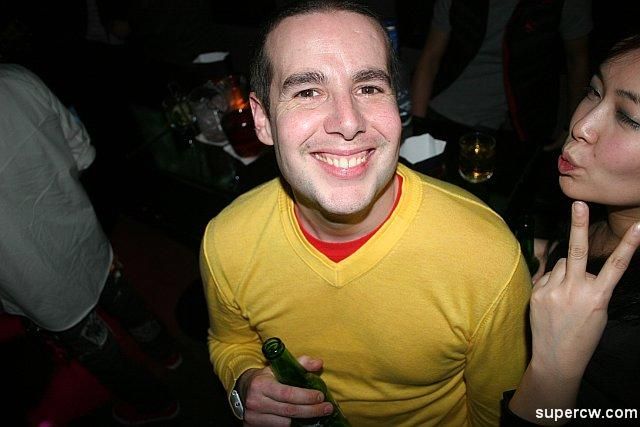 which was GREAT!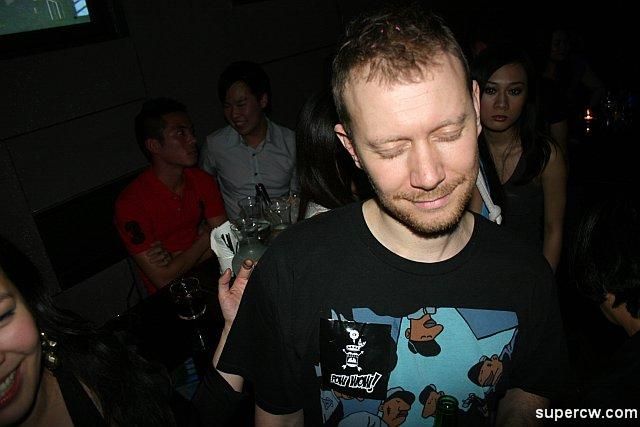 YEAH andy!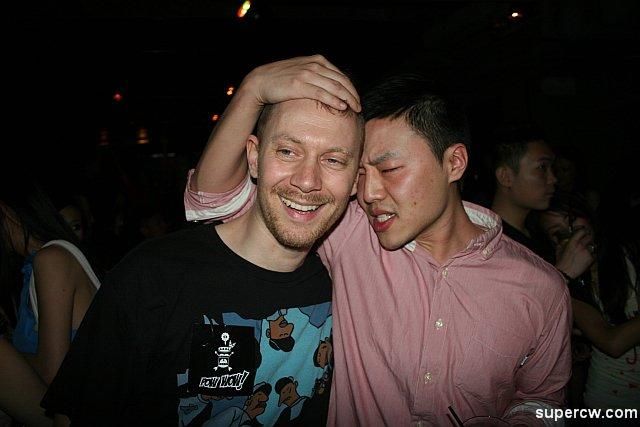 verbal and yoon were already on deck. people were already dancing. we were already drunk. everyone else was too.
musee my biggest crush from the trip (besides season i mean)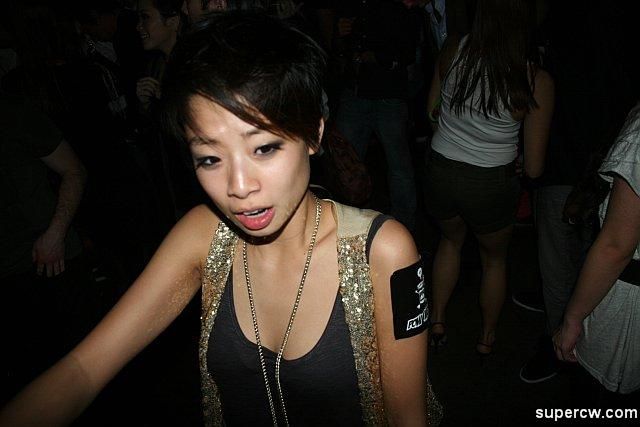 aaaaaaaaa you get two…
after that i got the heavy tap on the shoulder and a man-handled escort to the bag-check by a guy in a really nice suit. ooops. i forgot from the night before. no pictures in volar.
ps: this is the street outside. it was kind of the hot spot that night.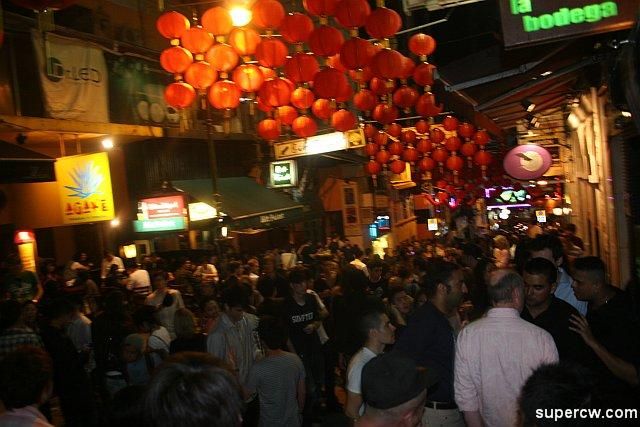 the rest of the night was wow. but ya, no pictures. brunch/recap the next day was mandatory.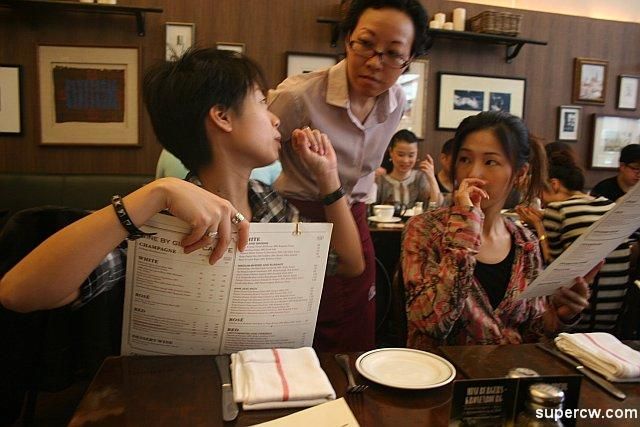 ps: can you see the menu? THIS HAS TO START HAPPENING IN HONOLULU.
they serve bloody marys by the pitcher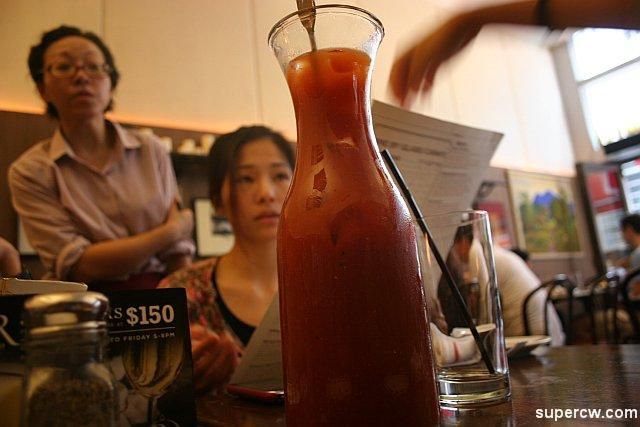 and steak tartare. and oysters with champagne. and fcking french onion soup. in HONG KONG. let's do this you guys.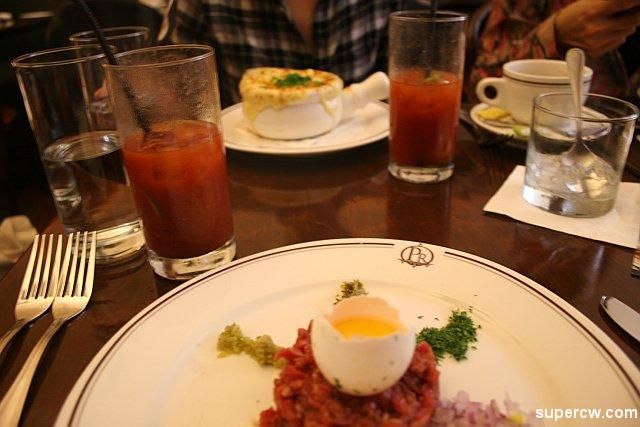 back to the gallery for some post event pr photos.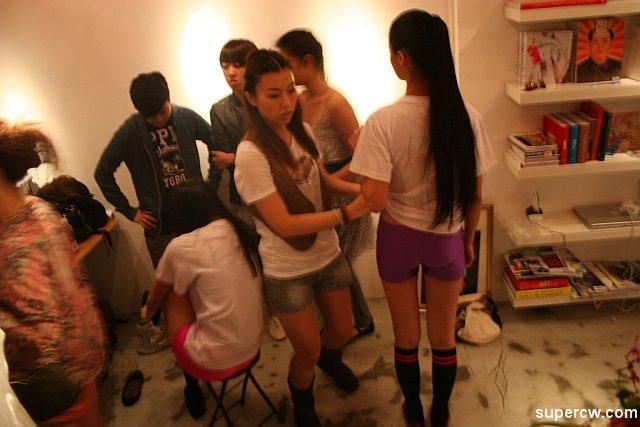 hi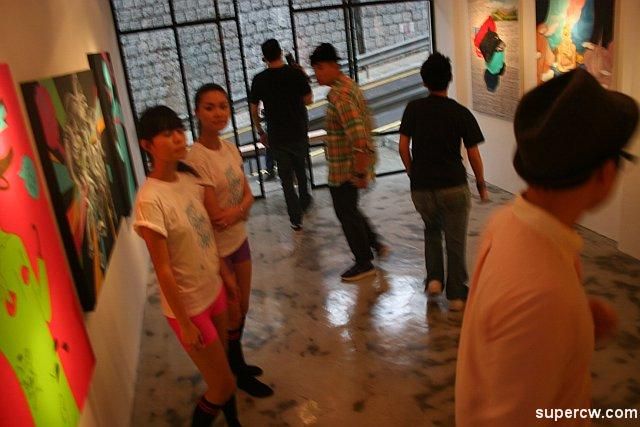 hi hi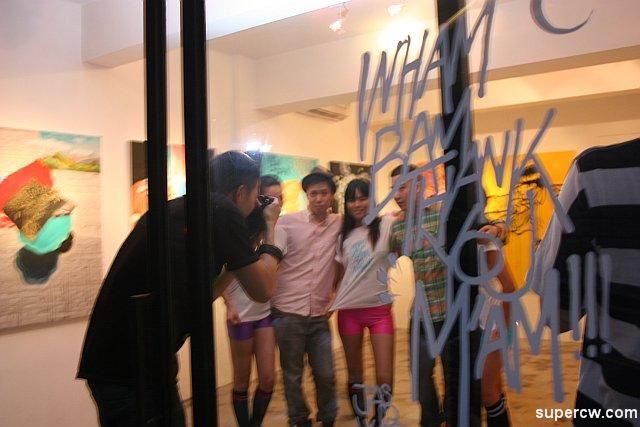 haw haw i'll never get sick of this shot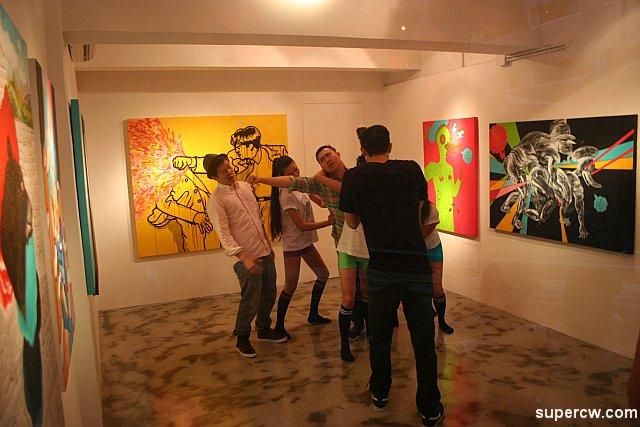 eugene and yue. yue was rapping about penguins and being cold. youhadtobethere.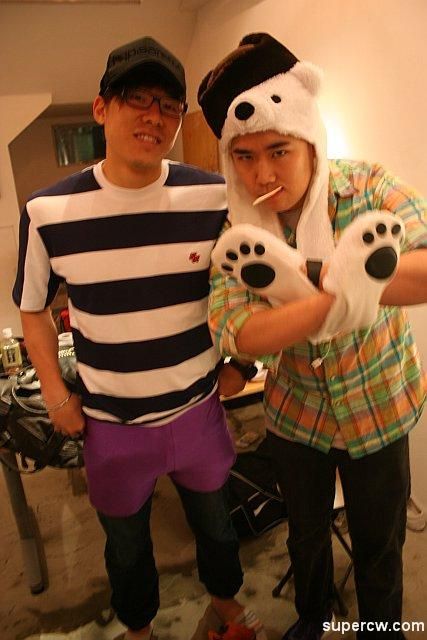 the only thing to do after a killer 3-part two-day art event in hong kong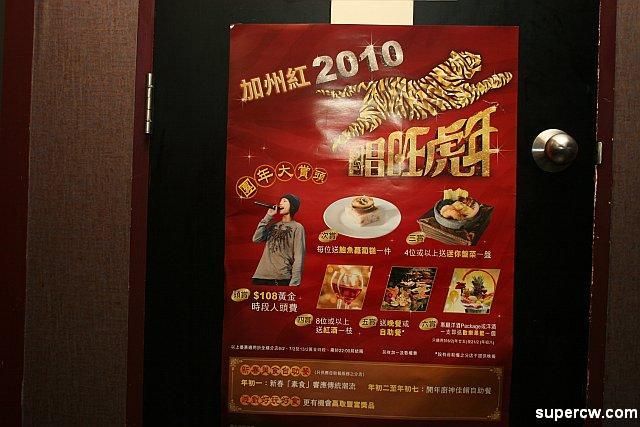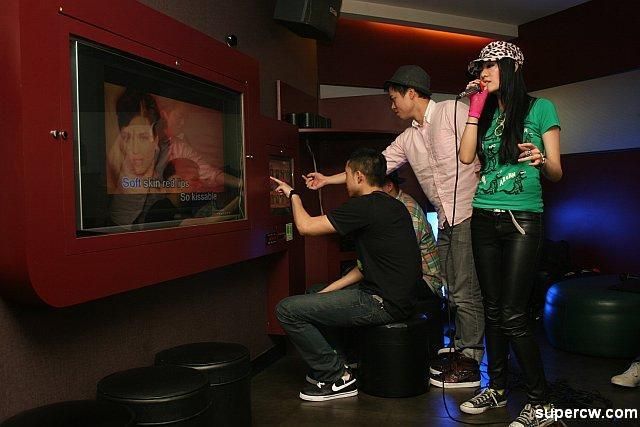 they have buffet karaoke in hong kong. if you get there 10 minutes before the food is pau they let you get as much as you want for free. this might not be the case all the time, but we had the motley crew tonight.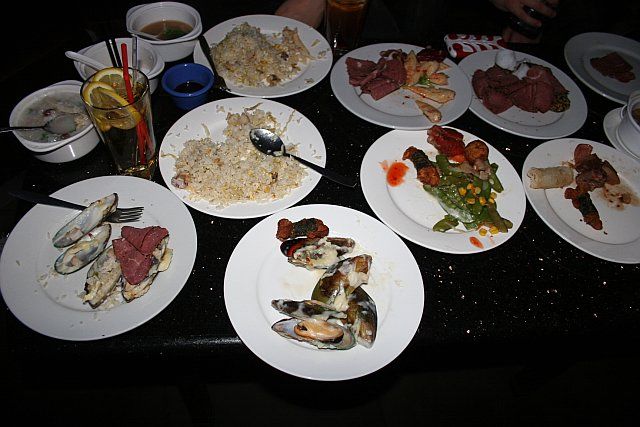 and eugene can eat a LOT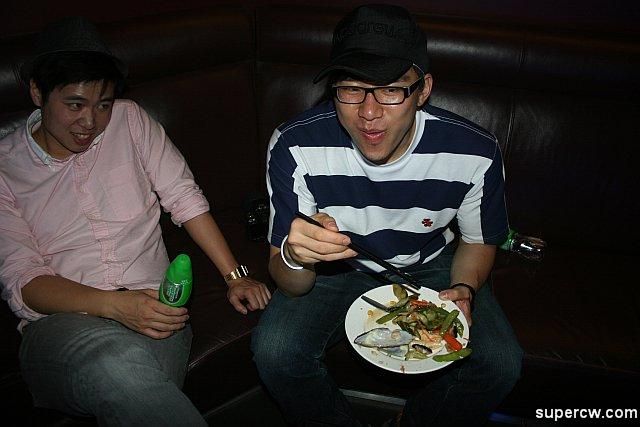 chris and jian <3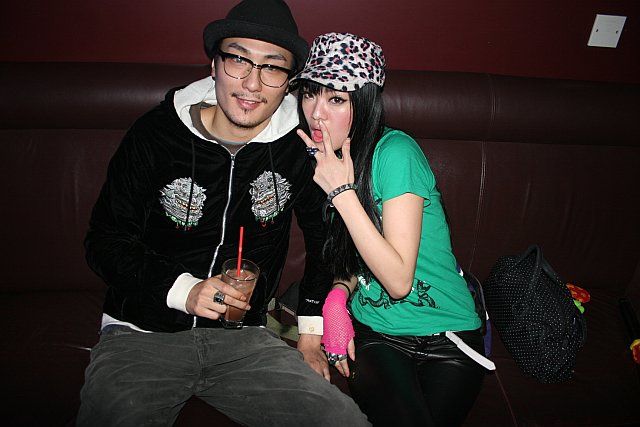 guess who sang this. guess!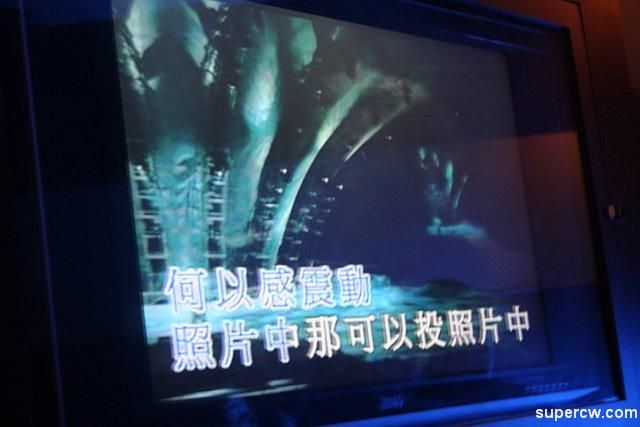 yup. pat lee. made me wonder what the guy can't do. probably nothing.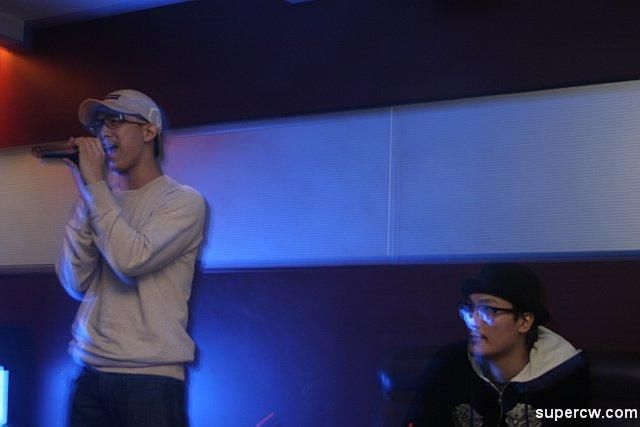 jian knocked our socks off too. what the hell, you guys. do they teach karaoke in school over here?
me and jasper kind of politely sang back up for most of it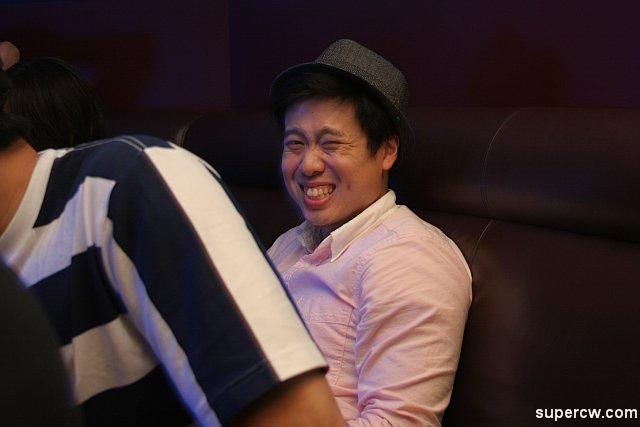 ps: eugene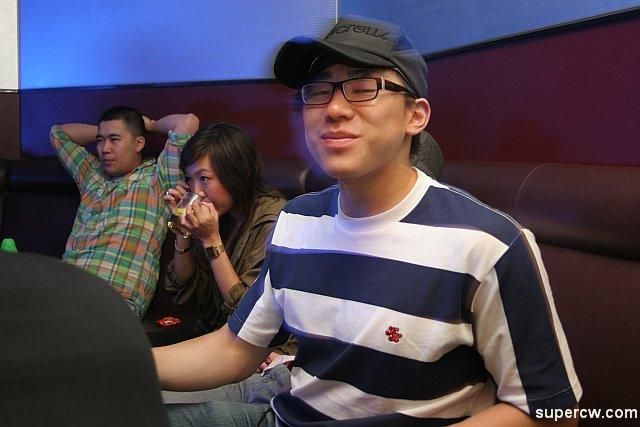 hahaah pat lee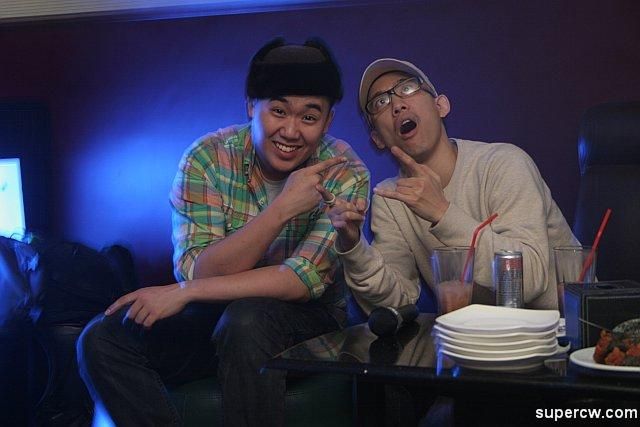 they don't serve alcohol at these places. i wasn't really bothered either way.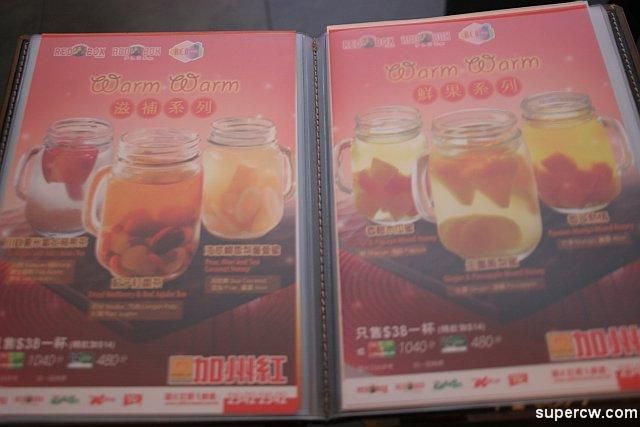 lady gaga was the crowd favorite. i think we made jian sing every one.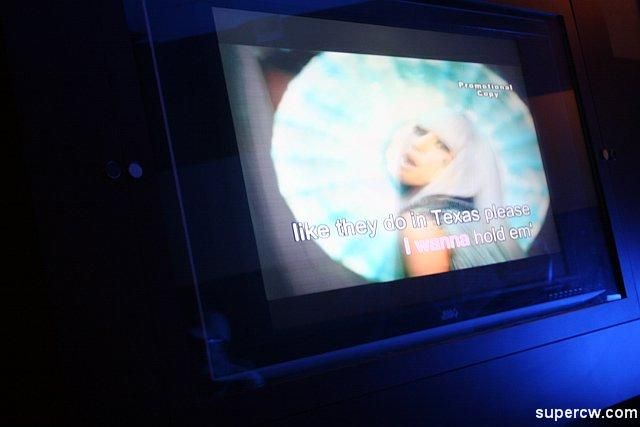 ps: how's the flash i got to borrow from cuteyface pro camera guy! made everything look sooooo rad: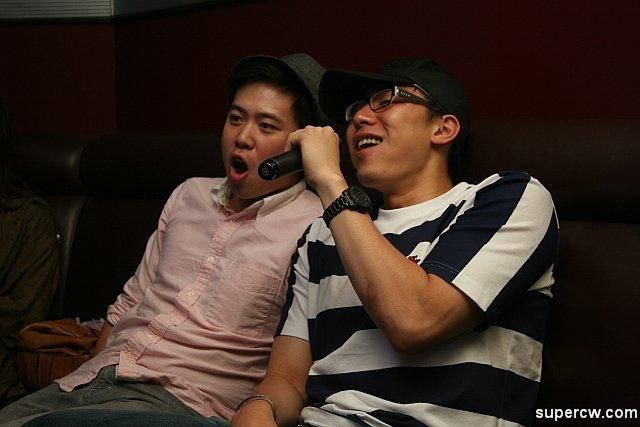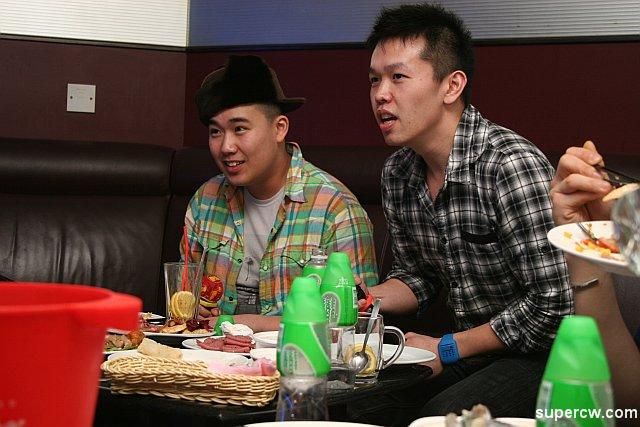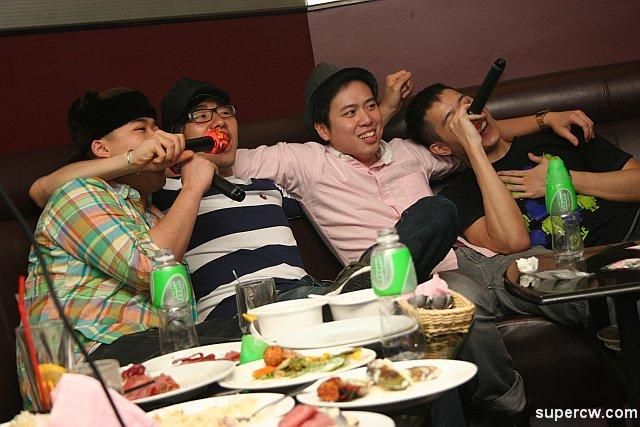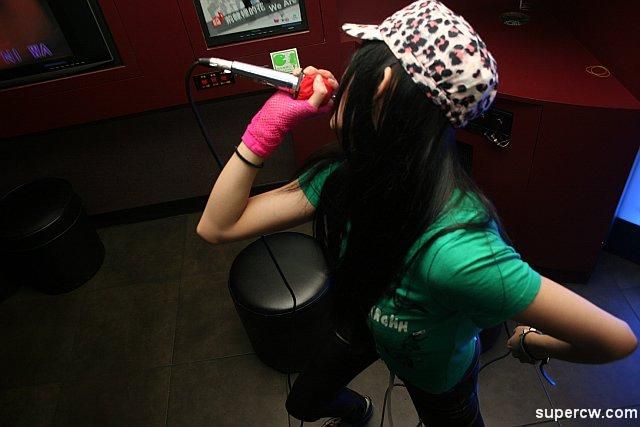 ps: i want to marry jian ko. aaaaaaaaaaaa;djf;lkdsajfkldjfakldsjf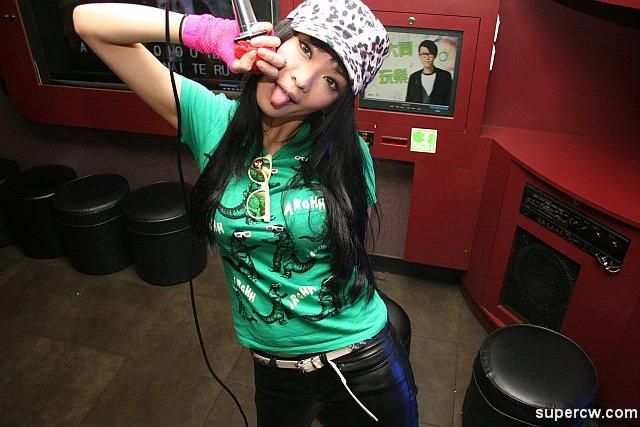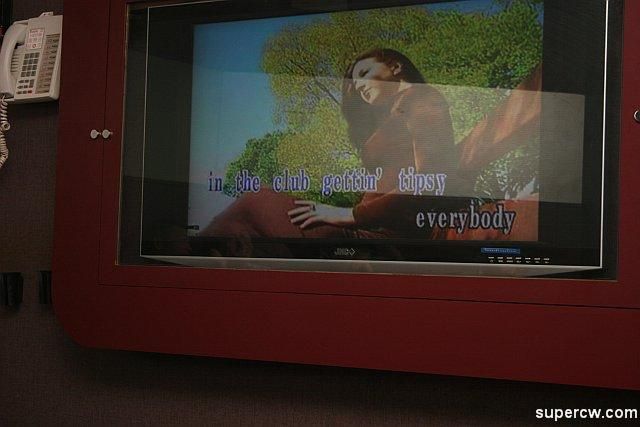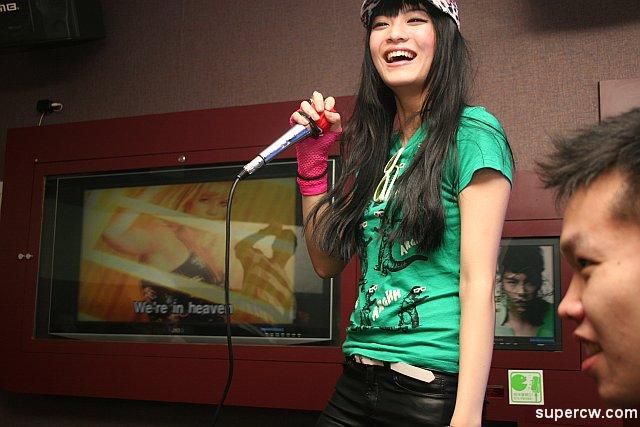 larry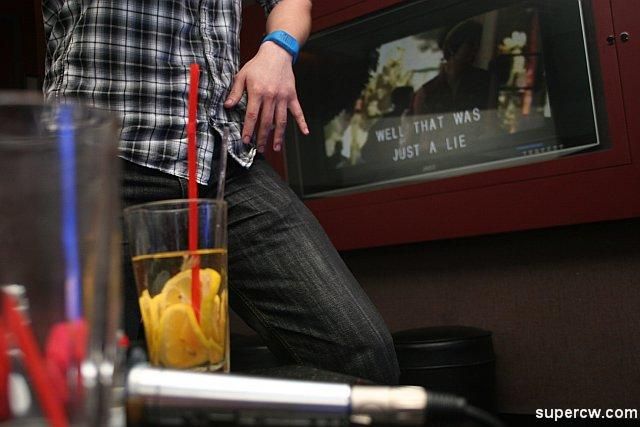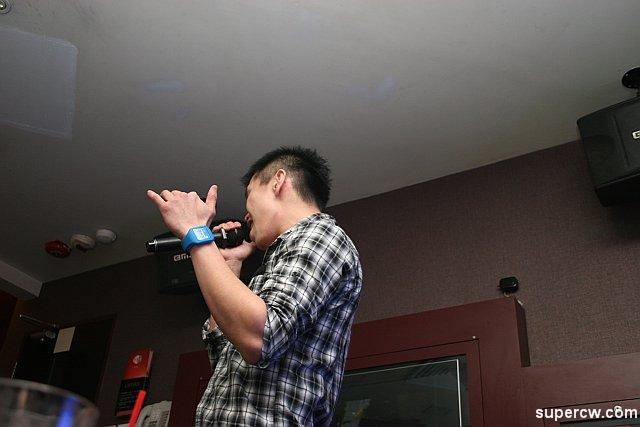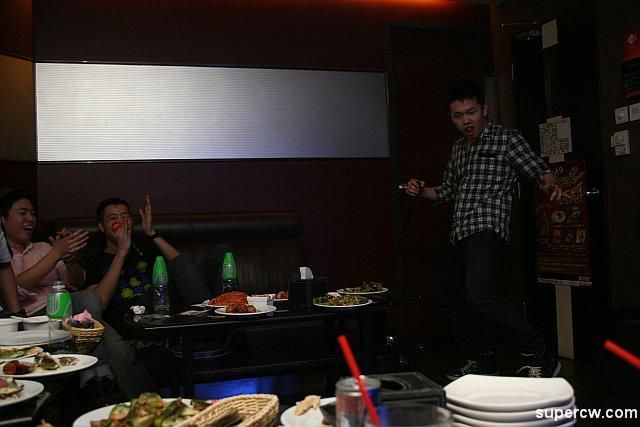 love these two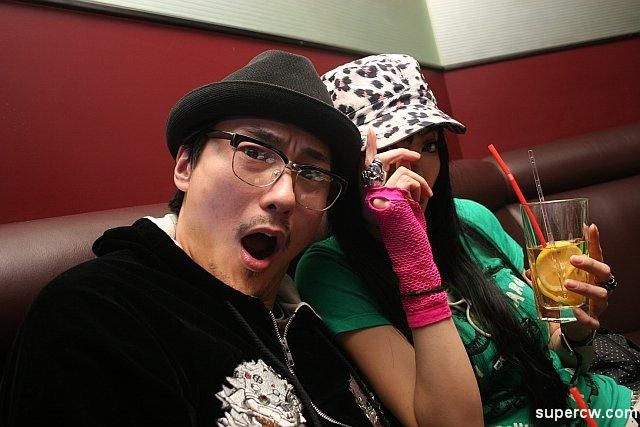 viv la france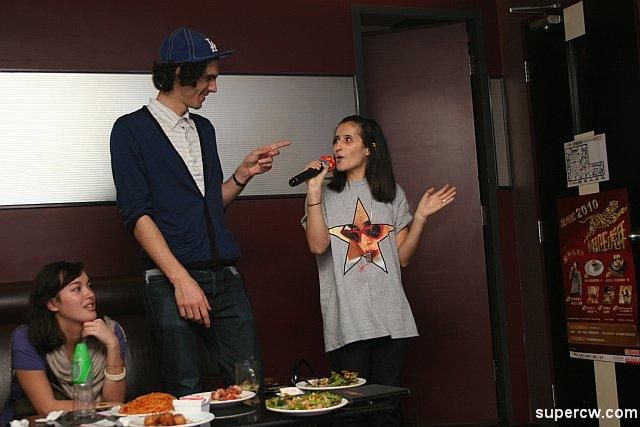 and this. THIS. WHO does this? fabulous french artist guy yue is who. take him to karaoke with you, get a sketch of your entire crew.
(that's me and larry in matching plaid)
so that's all i got. getting new camera as we speak. thank gooooooooddddd.