woah look at that maybe i should clean my lens filter thing. either that or there were some evil black orbs that didn't want me to leave honolulu last week. "don't leave don't leave aaaaaa"….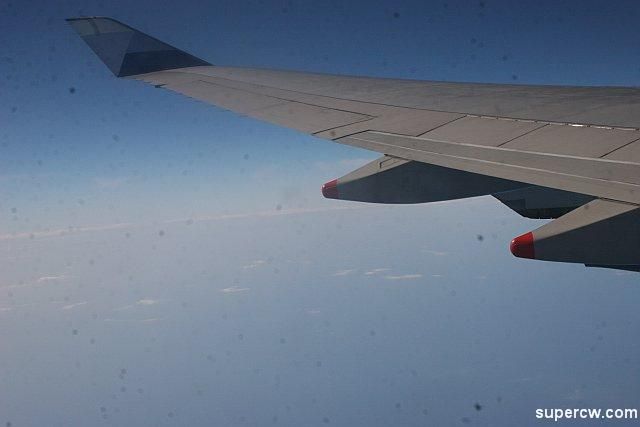 nah nah. i did have to go to hong kong tho. i couldn't not. i was sitting with Race and jasper wong over christmas and jasper was like, "yeah i'm putting together this global 2-day art show thing in hong kong, you guys should come out" and we looked at each other and then back at him and said "TOTALLY!"
skip ahead 4 months and it's 9pm but feels like 3am on eastern street just outside of the central district. race is still in honolulu and i am in china.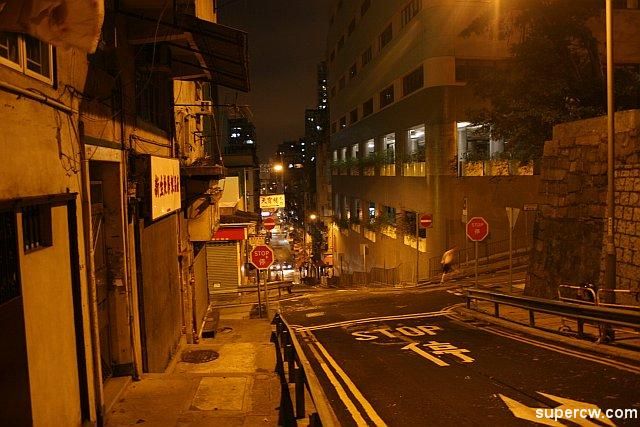 say hello to jasper wong's gallery: above second. it's called that because, well, it's above second street. this matters. it instantly reminded me of chinatown at home in honolulu, where places are named after the street and stuff.
it also made me get one of those chest-pain-pangs of homesickness.
after 40 minutes of being here.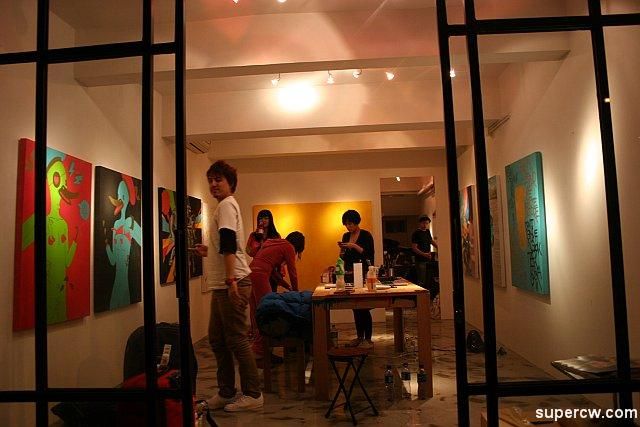 hey jasperbusybusy. thanks for sending a car. we saw a guy standing at the arrivals area in a purple shirt that kind of looked like you and were smiling so big at him at the airport before we saw the other guy in a suit holding a white piece of paper with our names written on them. youhadtobethere.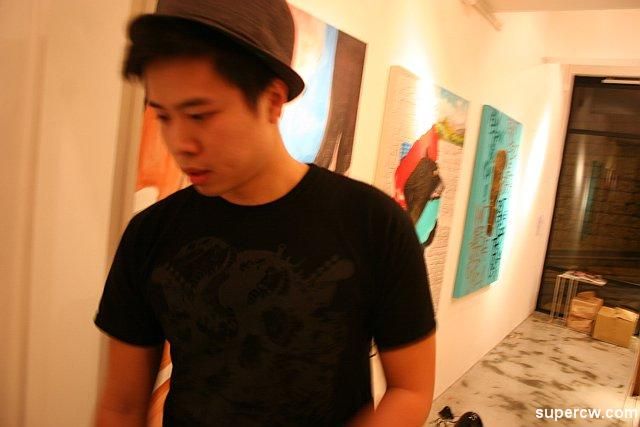 we arrived for the aftermath of their creative process. a lot of Season Chan doodles. see, Yue was very enamoured with her. she is amazing. i might be in love with her too, actually.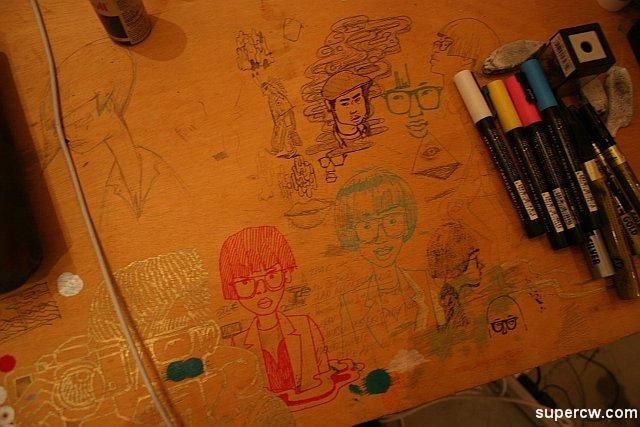 i'm not sure, but i think that's eugene.
actually, i'm pretty sure it is.
that's Season blow-drying the second-to-last piece before they were to create it. at this point they still weren't sure what they were going to do. at all.
i liked being around during this time to see what artists do to be inspired. with jasper and Yue it was actually pretty awesome too. youhadtobethere.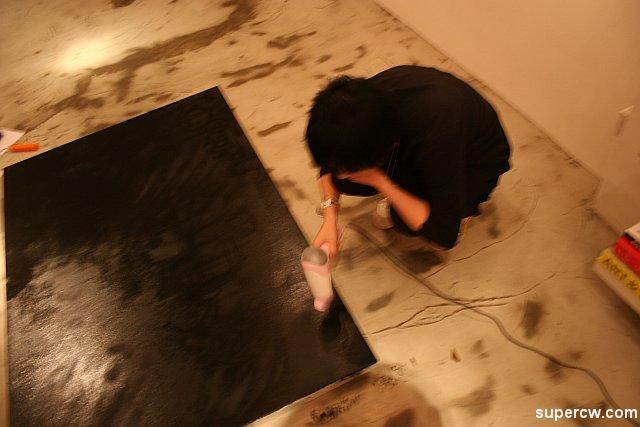 while i was there soaking in the fact that i was in hong kong at jasper's art gallery the folks from garageworks and the other visiting artists rolled through. they all talked about stuff. like, being awesome and flying in from all over the world. or something. i lurked.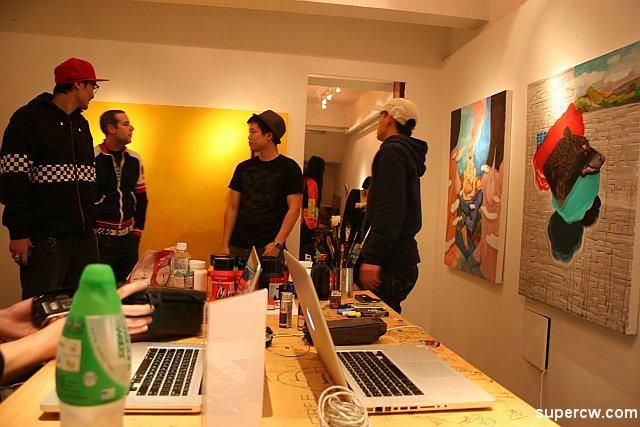 i wasn't the only lurker, by the way. that's yamina. she's from france.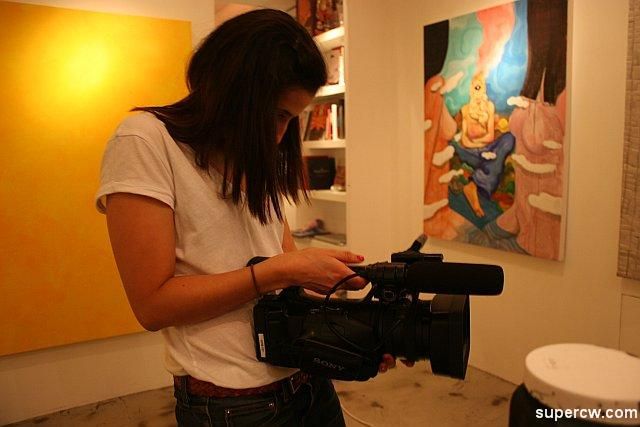 and that's Yue Wu. (Wu Yue?). he is also french. and pretty much the funniest most talented dude i've met in a while. i got to spend pretty much the entire trip with him and jasper and i miss him now the way i was missing hawaii then.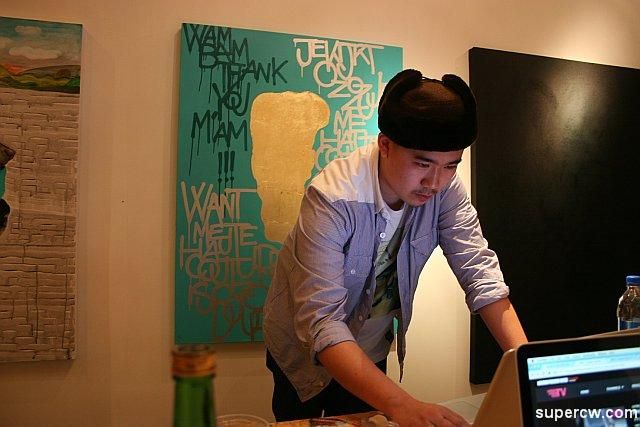 then we went over to see how garageworks was coming along. that's chris kong and the beauty is jian ko. that's their spot. the other guy with glasses is jason from hypebeast. and of course you all (should) know pat lee.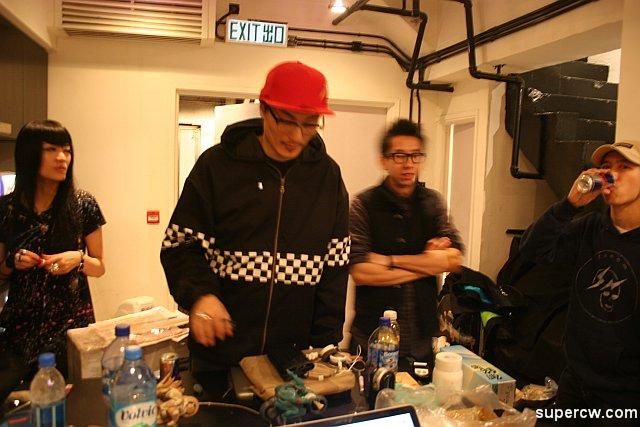 then we decided to go check out the town. i saw this. thought of daniel. missed hawaii even more.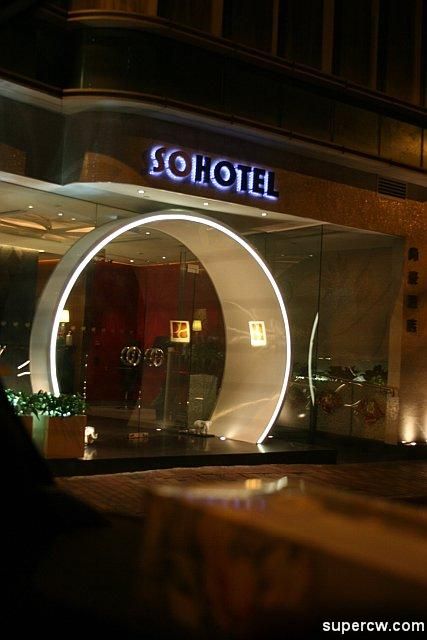 then we wound up in a weird private club. where they made me check my bag. no cameras. no h1n1/fever (we got the laser-in-the-eye check to be sure). just a giant room full of locals drinking bottles of champagne at the bar and girls hustling the men to buy them drinks all night, but not getting paid to do it. everyone was smoking cigarettes. there were places upstairs or in nooks and crannies that you thought only vip people could get in to that we went in to anyway. they had a white girl with a giant camera running around taking everyone's pics, and they even had some being projected on the wall upstairs. i saw a really cute guy with a jacket like mine. the dj had a dim mak sticker on his laptop. all the people who worked there had suit jackets with l.e.d. scrolling nametags embedded in to the lapel. the drinks were about $200 dollars HK per round. that's all i can really remember. and this is the only photo i got.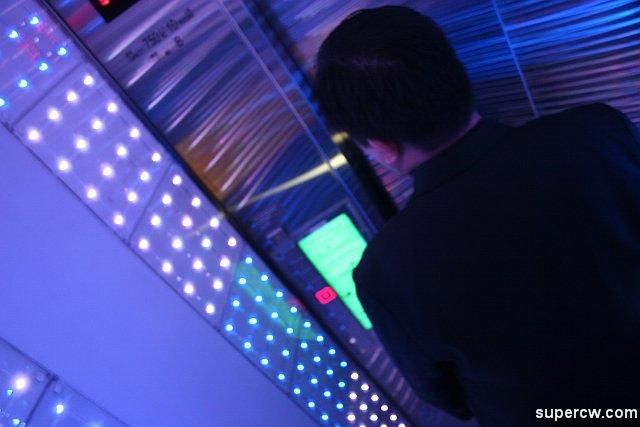 we stayed there until we couldn't stand it any longer. then came back to the gallery to see how their process was going. they had already painted the yellow knock-out canvas while we were gone. they were now trying to stay awake/get inspired to do the black canvas. the. very. last. piece. before tomorrow's opening/show.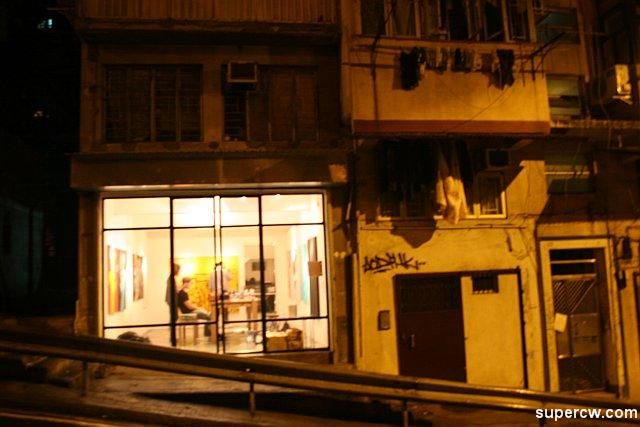 *get inspired get inspired get inspired*
they did it. after quite a few different twists and turns. i was pretty beside myself to be able to see them in action.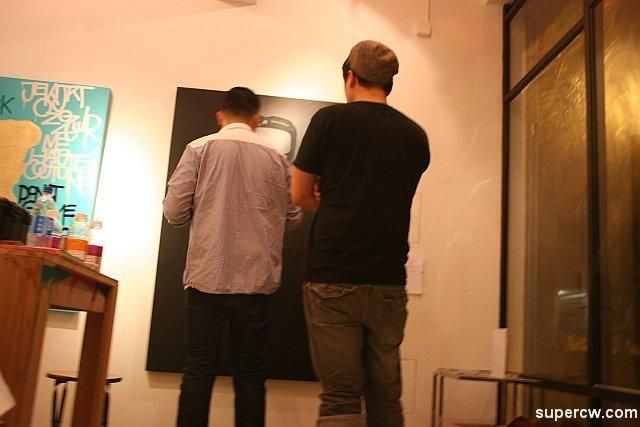 the next morning. morning of the show. and dim sum. it might have just been this spot, but mei sum dim sum is better than hong kong dim sum. sorry jasper :)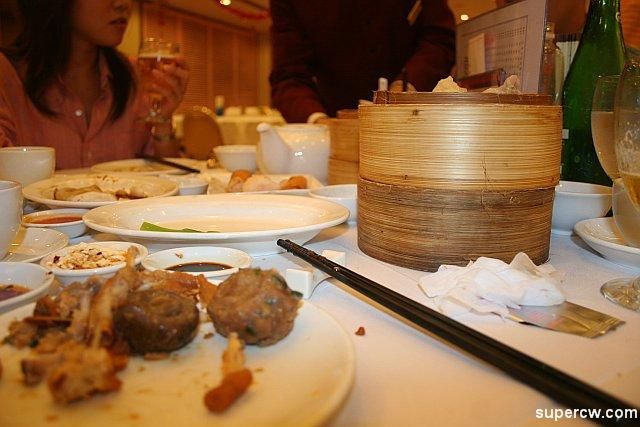 remember yue and how funny/awesome/talented/fun he is? i'm just noticing that i don't really have any photos of him smiling. trust me, he's just kidding in pretty much all of these. like anyone would be this serious about a sea foam green gel pen.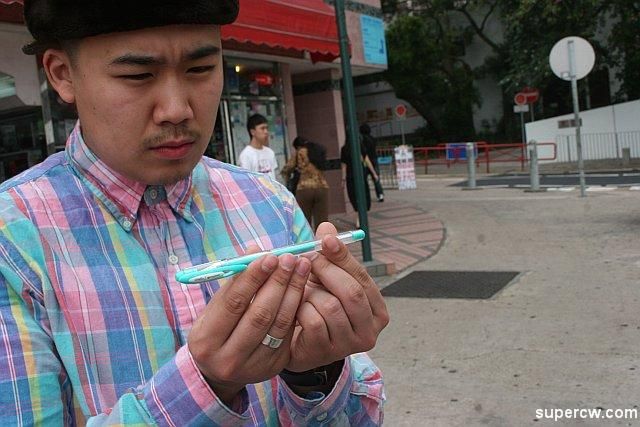 see?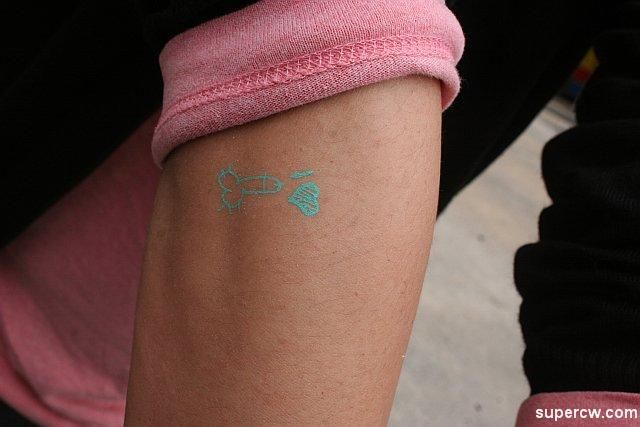 hey, mister serious-guy-on-the-computer… whatcha lookin at?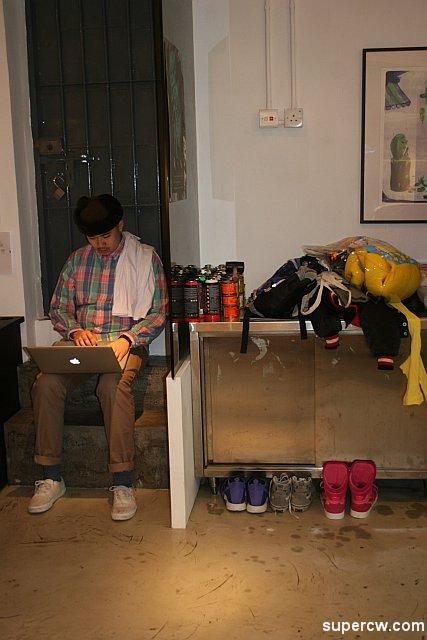 "my twin" (in a french accent)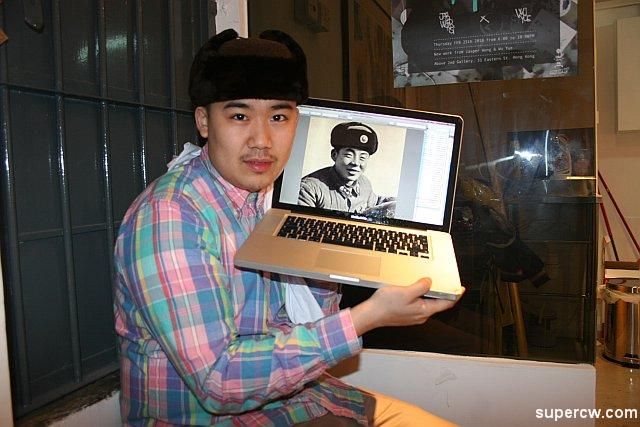 more in-between-the-process doodles.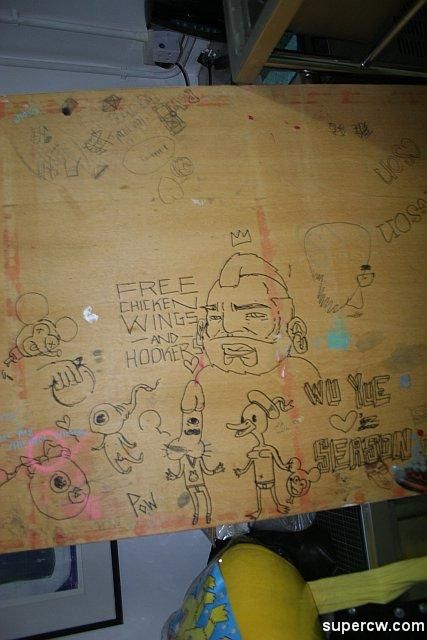 count down to showtime now.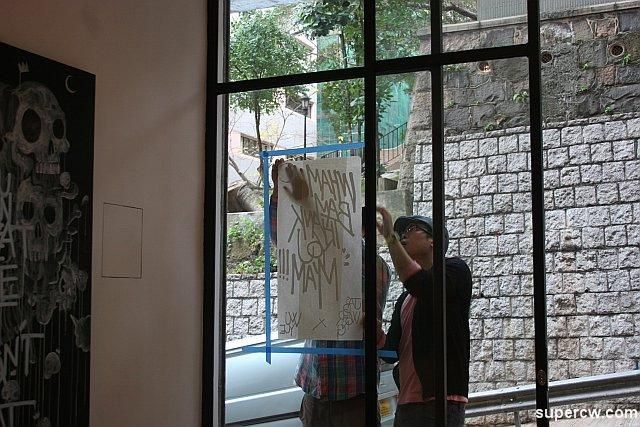 i told jasper's partner at the gallery that i got first dibs on this piece once they price it. if it's not more than my rent, including shipping, it's totally mine. i should know any day now.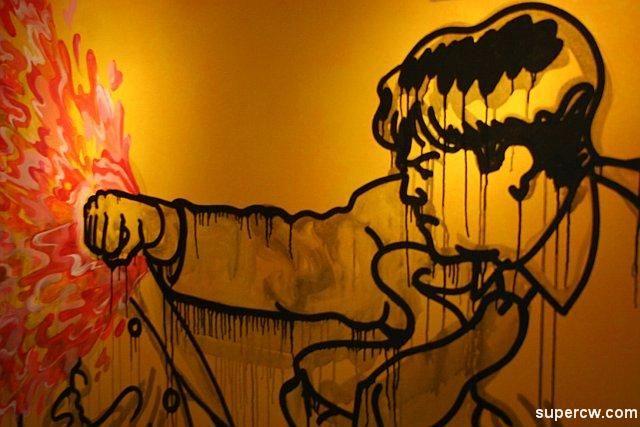 actually, all of the pieces were pretty cool. but the knock out means a lot more to me.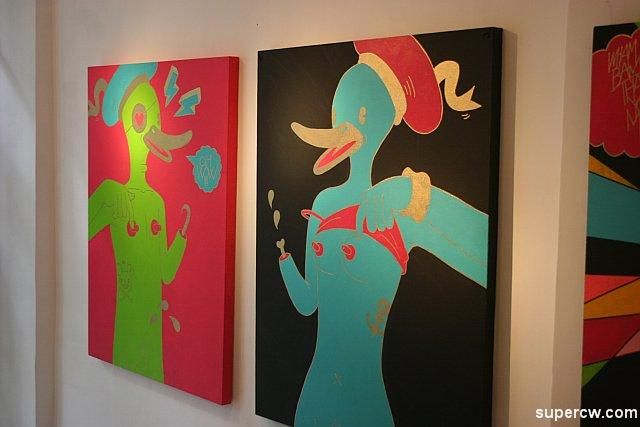 shoot, i blew my shot of ricken. THAT GUY was winners. so fun and crazy. he made it his sole purpose in life to make sure everyone at the show was drunk on the sake.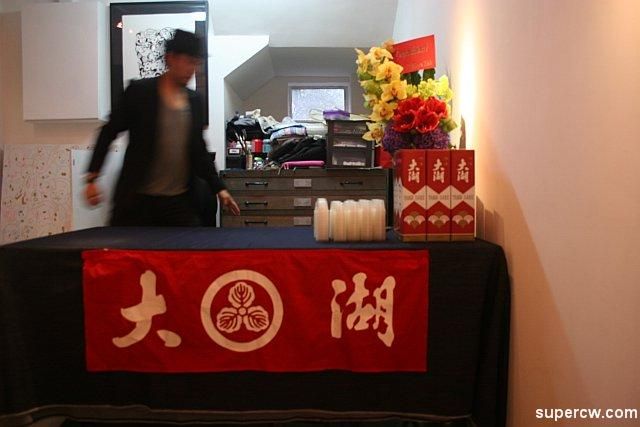 yamina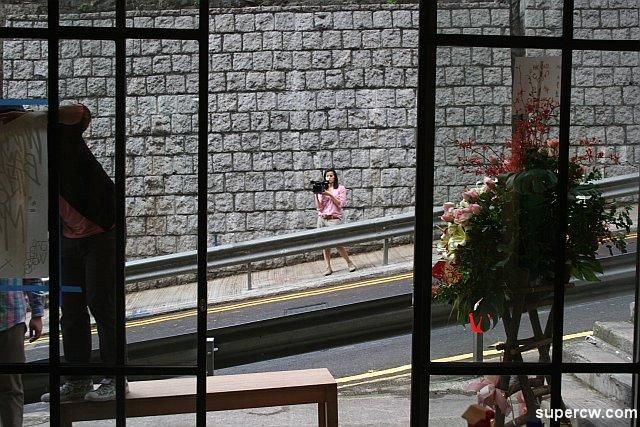 my camera was being super tempermental today. i was lucky to get any shots at all. here's what i got: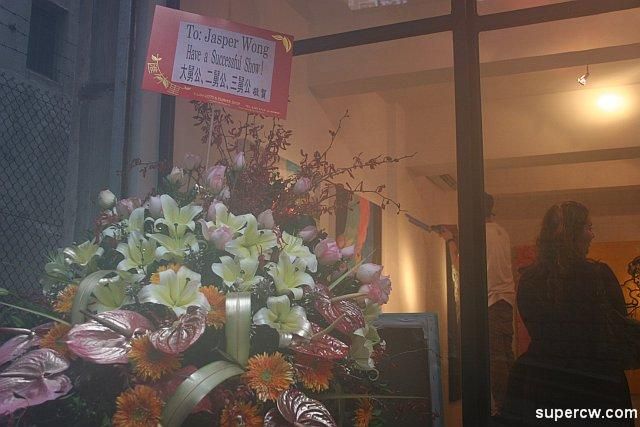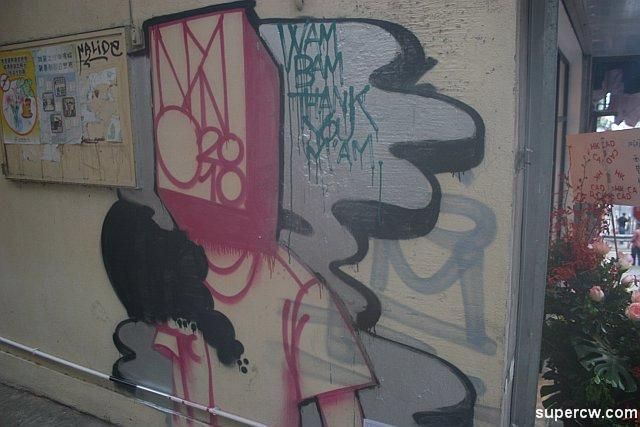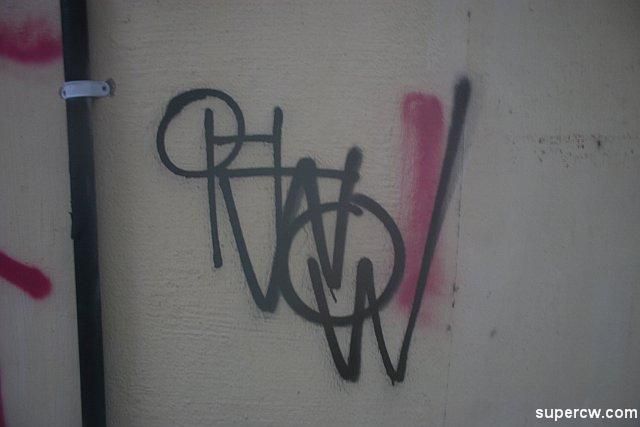 as an event person i totally agree with jasper: lighting is everything dude.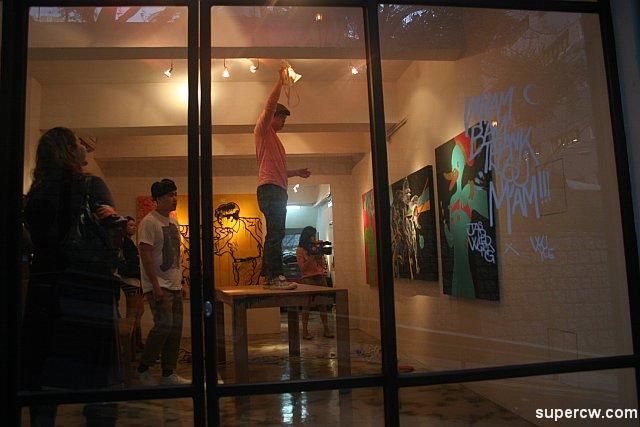 expanding the arts and culture beyond the central district. which is over to the right like a mile.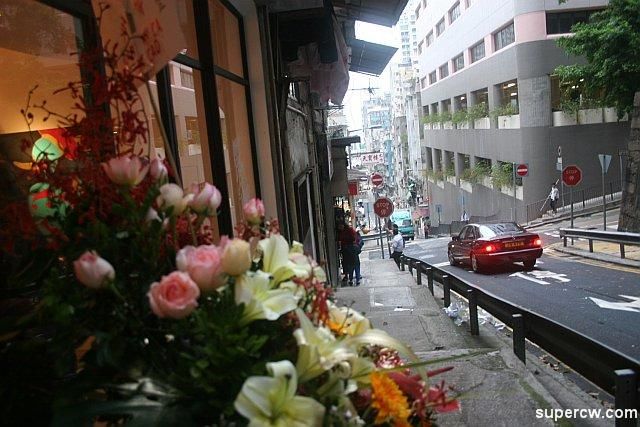 YES the sake bottle was that big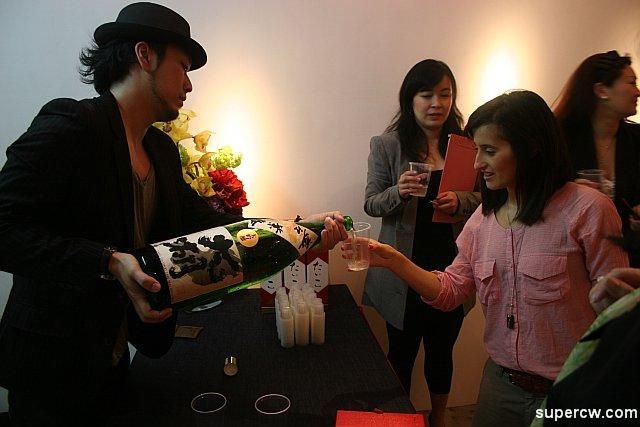 don't worry either, there were backups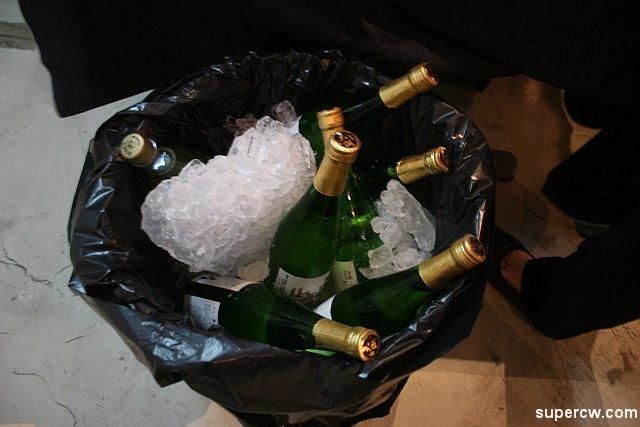 i wish i got more pics of may. she was the cutest.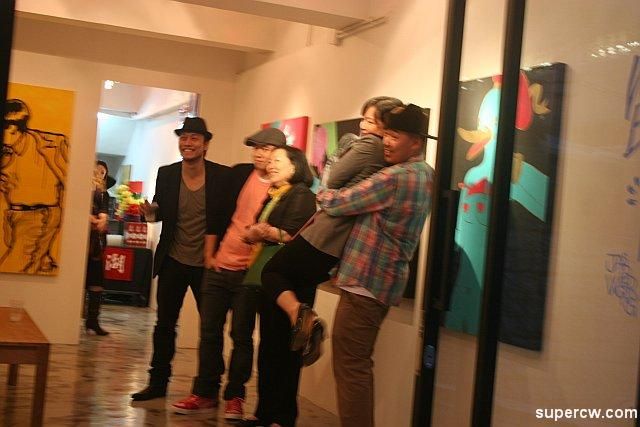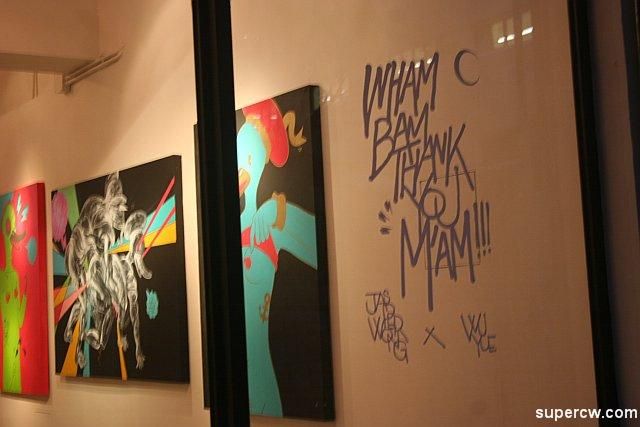 there were gold flakes in the josen sake. yup. it was like that.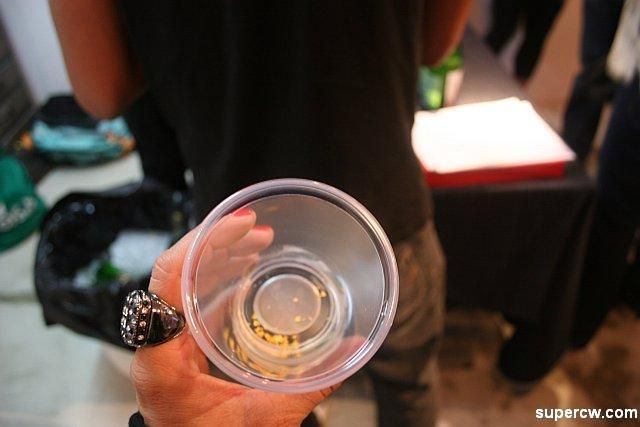 plaid. for life.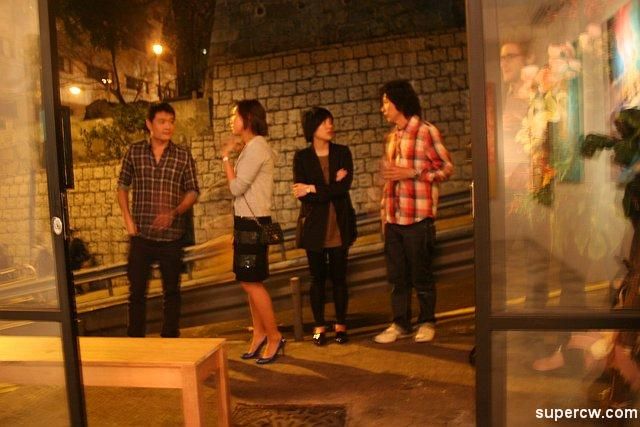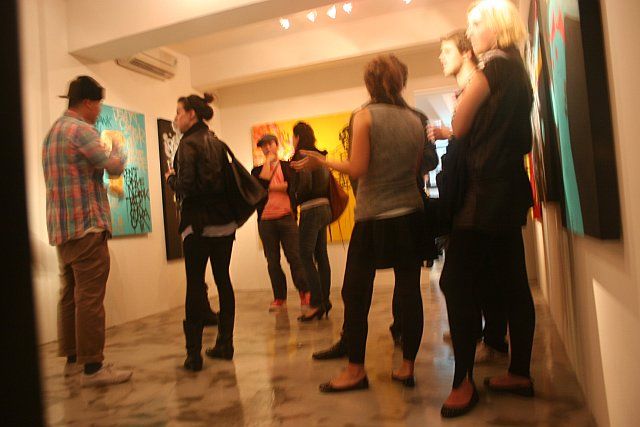 ricken. never not smiling. and never not without sake.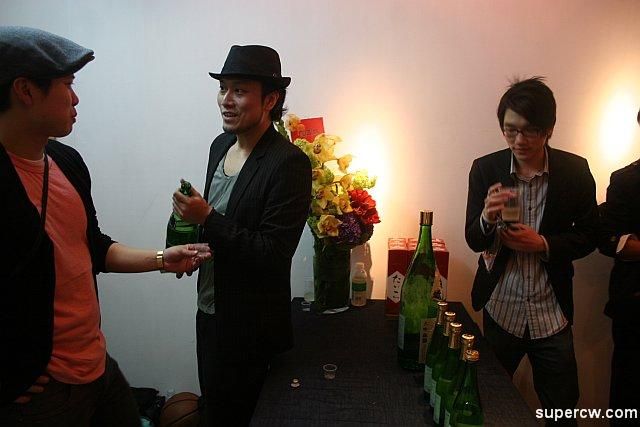 quackquack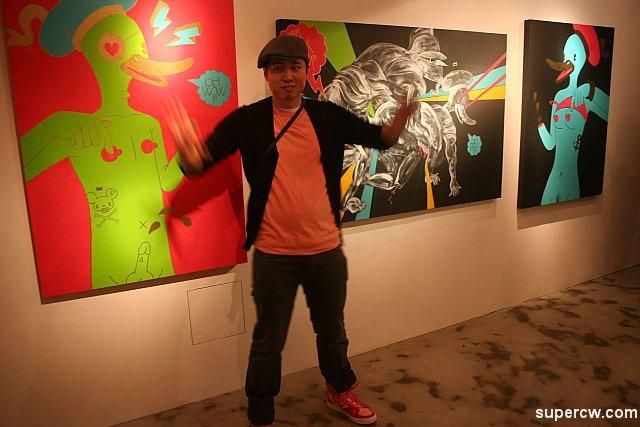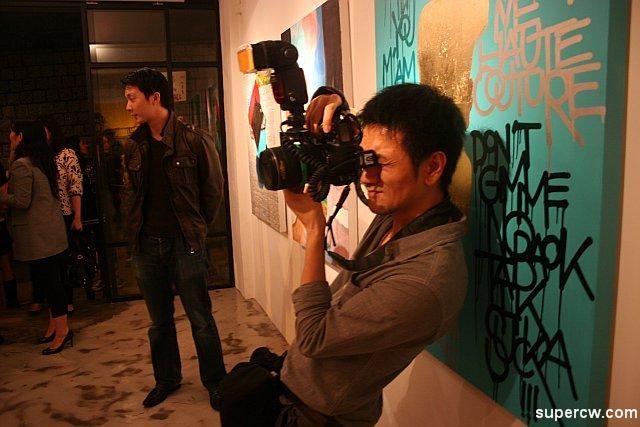 the now infamous shot of yue knocking jasper's head out in front of my future piece of art that's been seen around the world.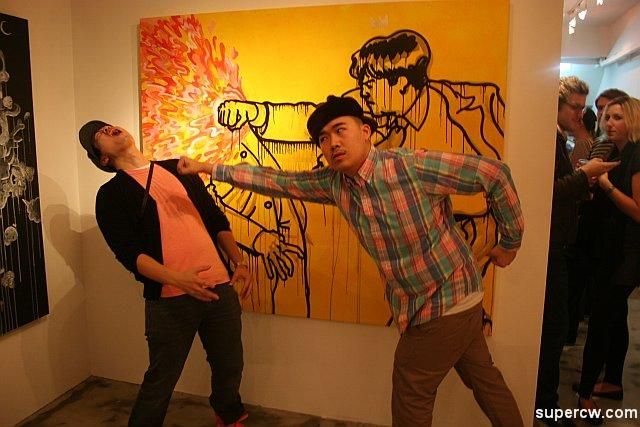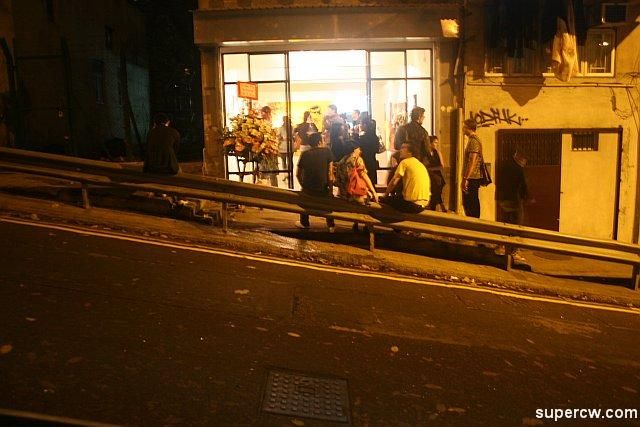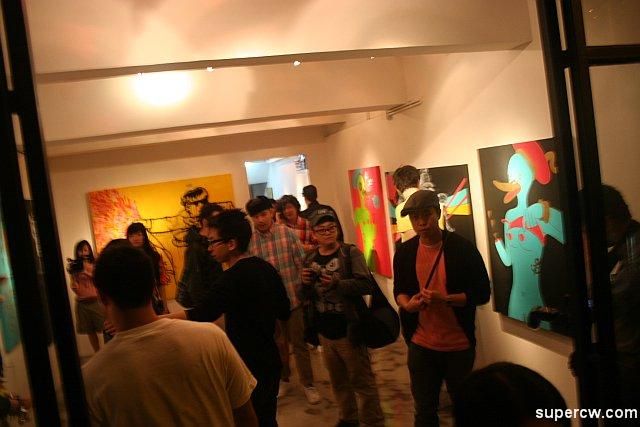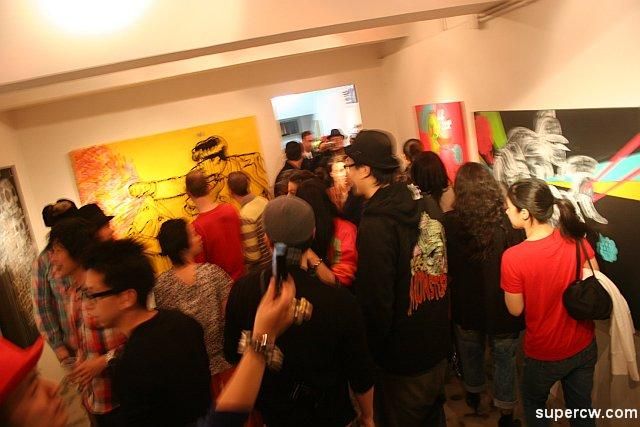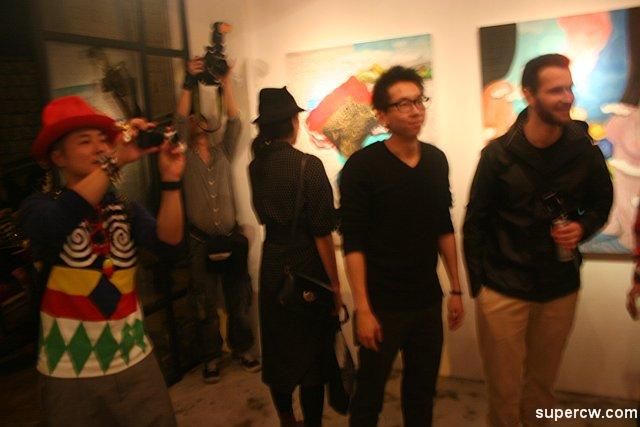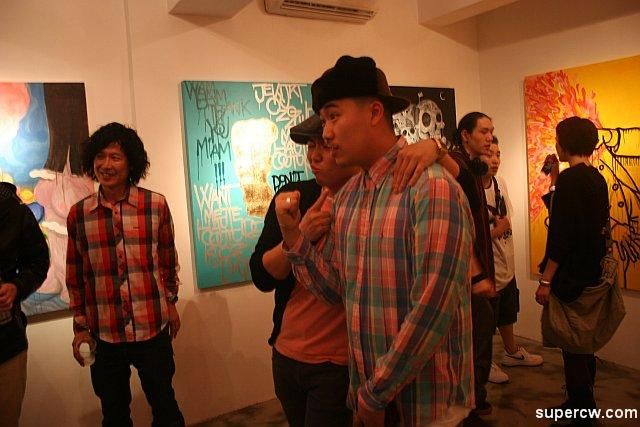 jahan (singapore). chris (hong kong). will (UK). pat (canada).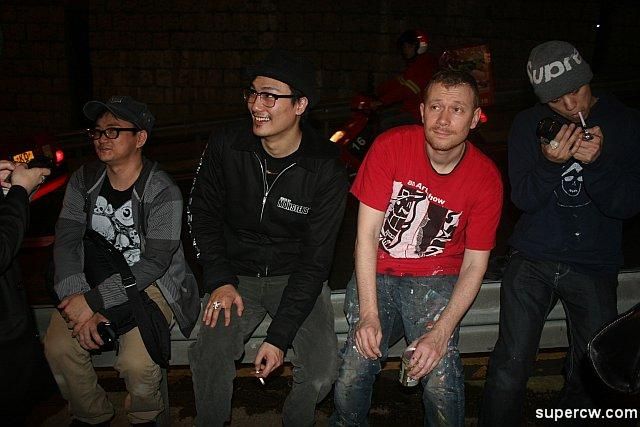 kind of….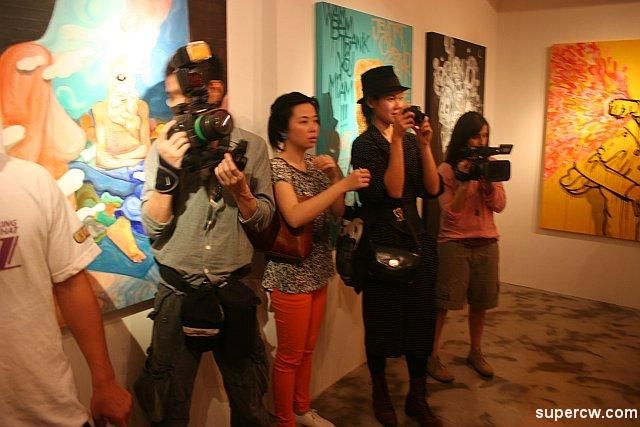 …a big deal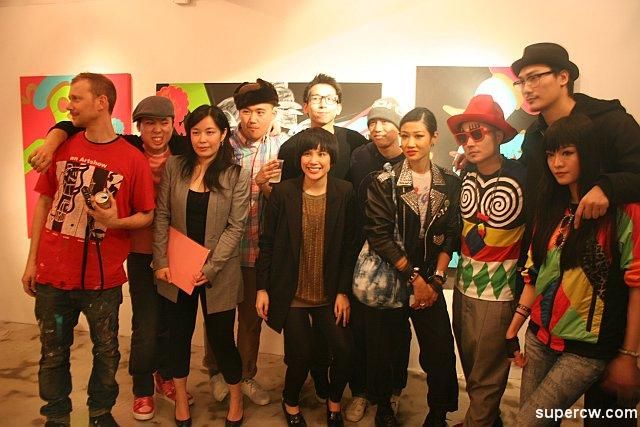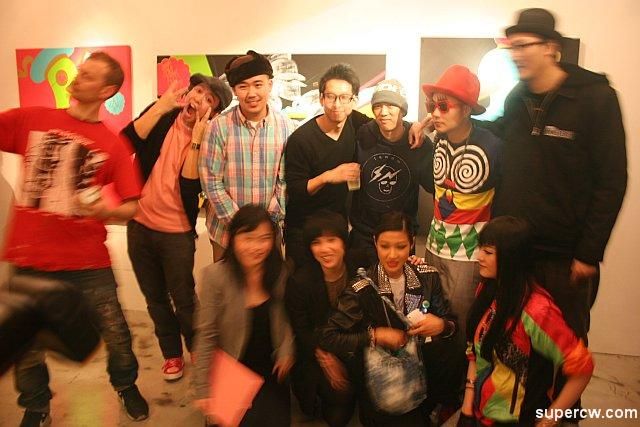 the show was awesome. and packed. and awesome. and packed. jason took verbal and yoon out to dinner after. about twenty of us tagged along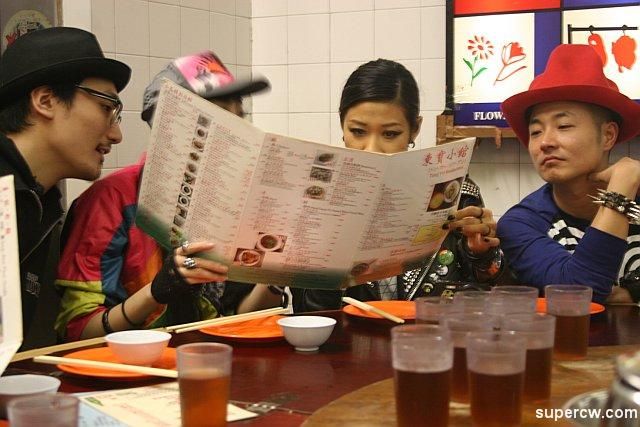 i learned that this is a very o.g. way to drink beer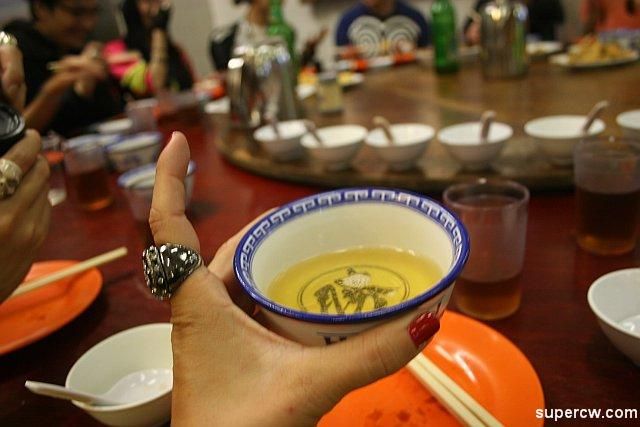 the place we went to was on top of a building somewhere in the central district. it looked like it was equipped to hold up to probably about 3,000 people for dinner. it just kept going and going and going. a lot of the tables were different and most of the chairs were little plastic stools. the food came quickly and tasted out of this world.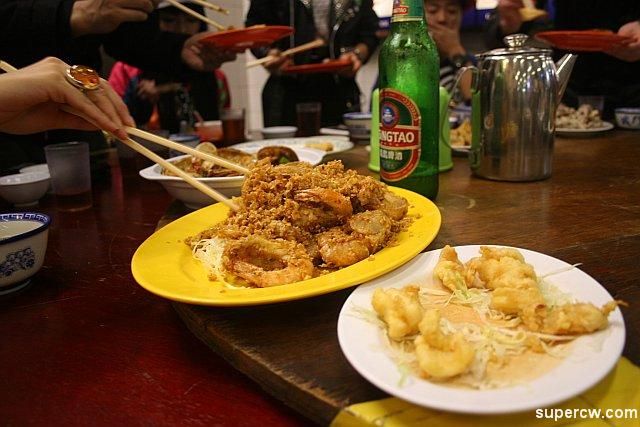 that's squid ink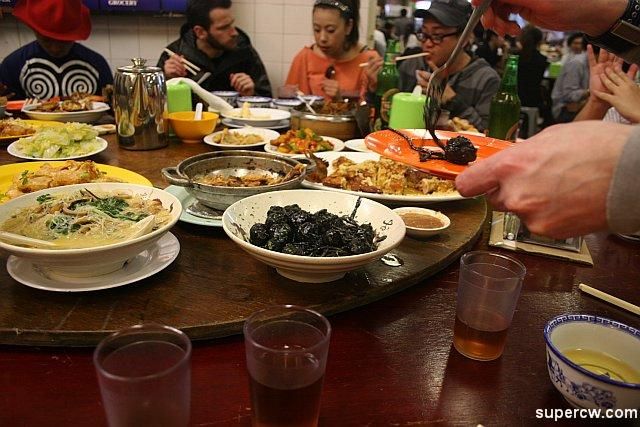 don't believe me?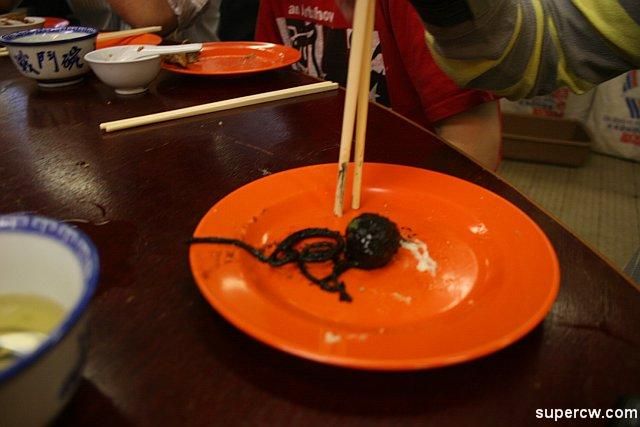 i was scared to try it, actually. the first time since i can't remember when.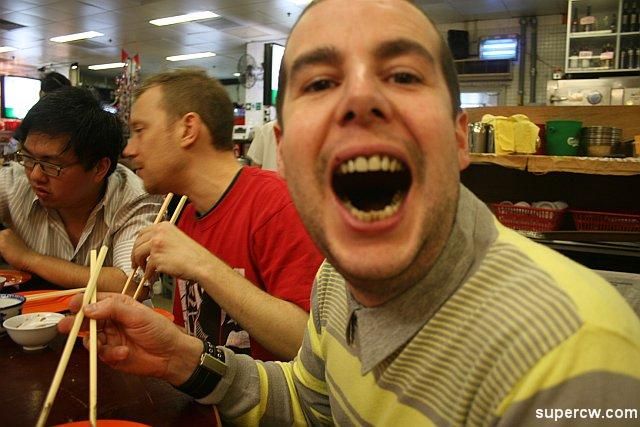 kanpai, verbal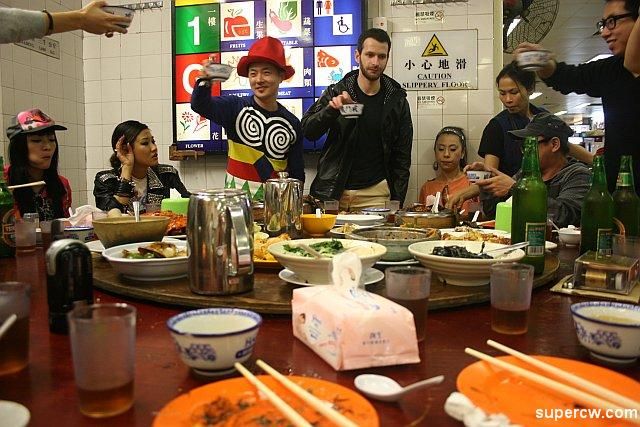 i know it's hard to tell from this photo – but that's the guy who runs the place. and he's moonwalking.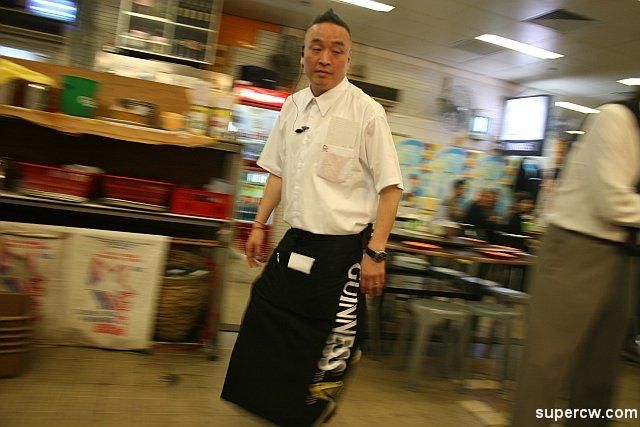 no, serious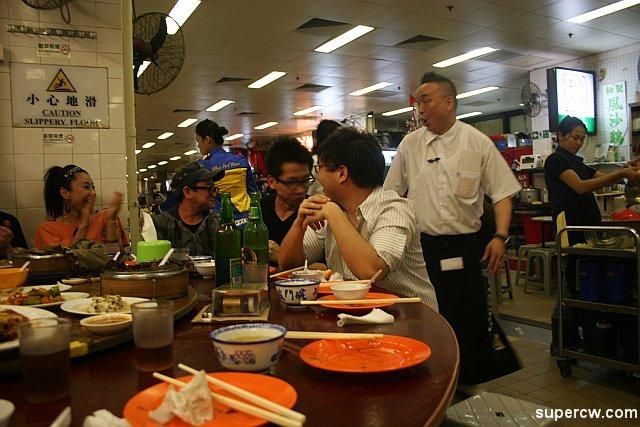 i had a lot more from dinner. it was the most i laughed on the entire trip. super fun. this is me back at garageworks. this is stuff they do. everyone involved in this show was super at the top of their game.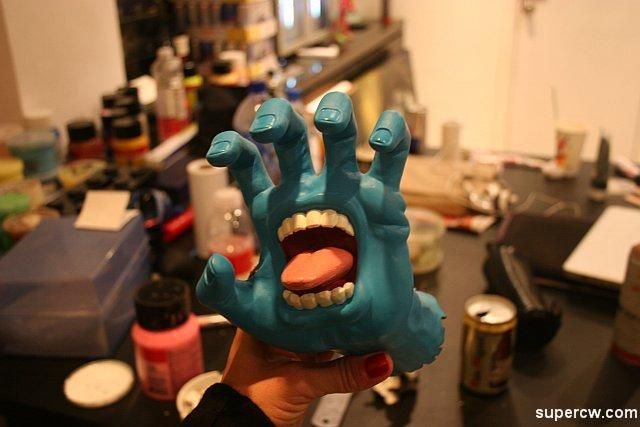 show 1 of 2 was over. tomorrow is the big day for these guys. there was much to discuss. i lurked.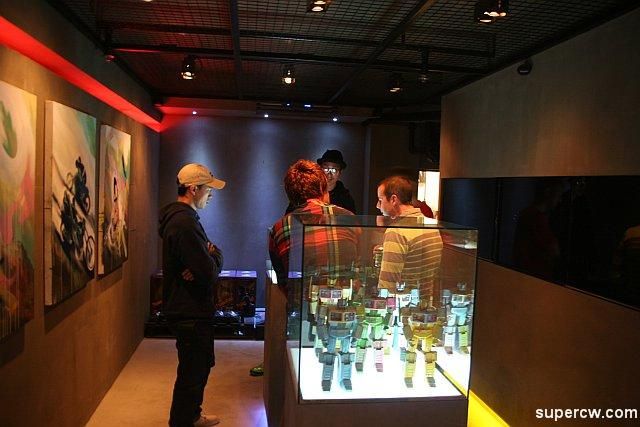 ps: pat lee.
garageworks is right down the road from above-second. right next to kush.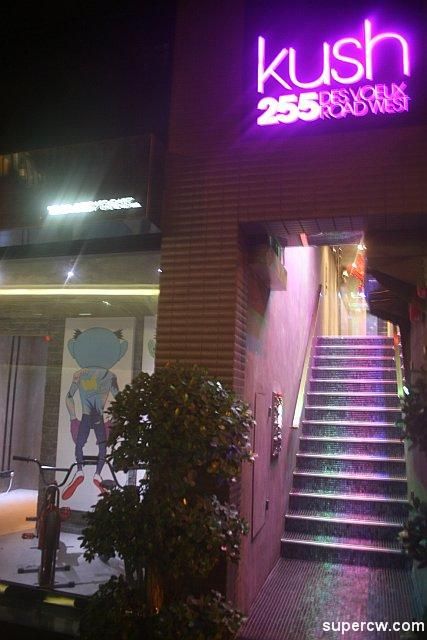 i liked their sign.
ps: there was a lot of humidity in hong kong. that's why a lot of these look this way.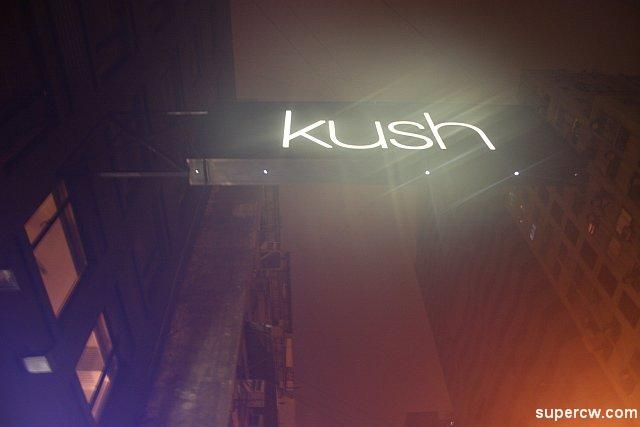 then we went to another uber uber way over the top world-class fancy fancy club for art show debrief and cocktails.
hong kong is nuts like that. they don't mess around. when like 80% of your population is young and rich i guess you gotta keep up with the jones's.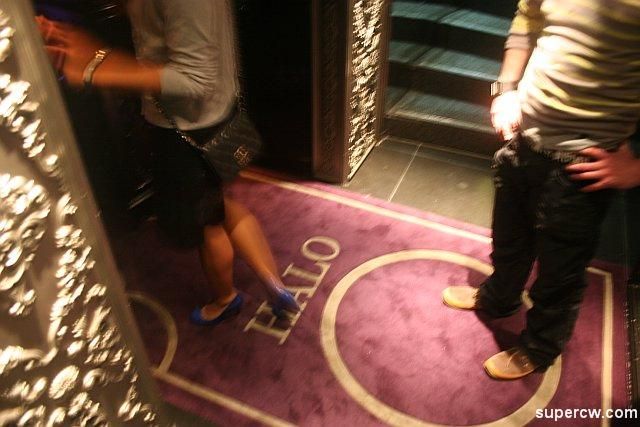 this place, for instance.
this is the wall.
it's fcking roses.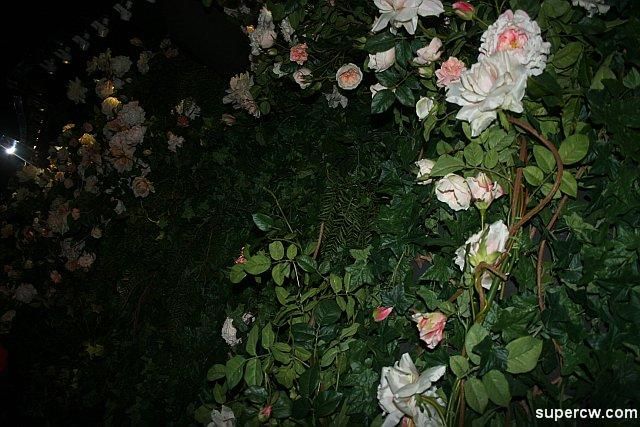 almost got frenchie with a smile. i love this kid.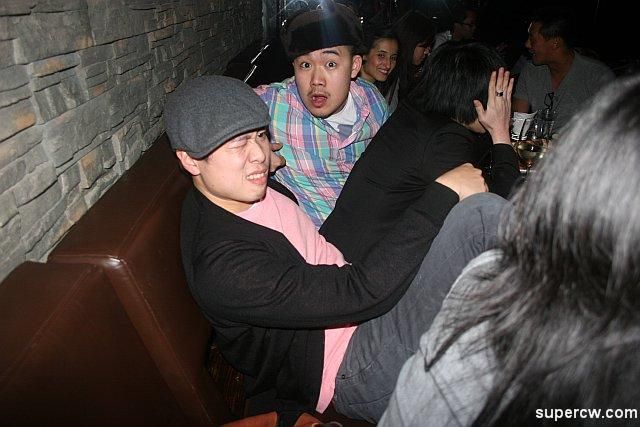 that's eugene, hypebeast writerphotogenius. next to him is larry a.k.a. lawrence chen. jump shoes and really cool photos that were all up on facebook like the next day. i super envy that sort of social networking work ethic. ps: nobody ate those sliders.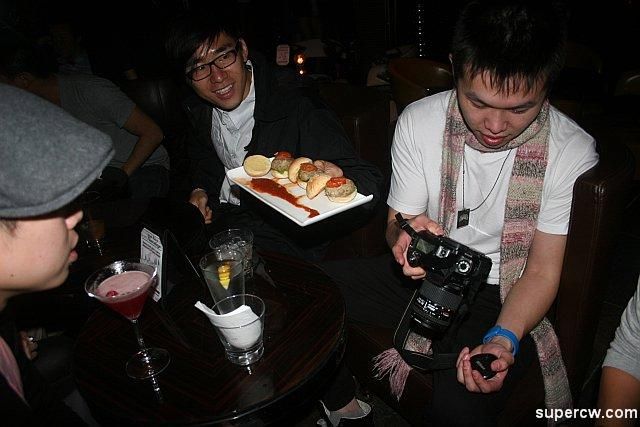 after party conversations. with flash.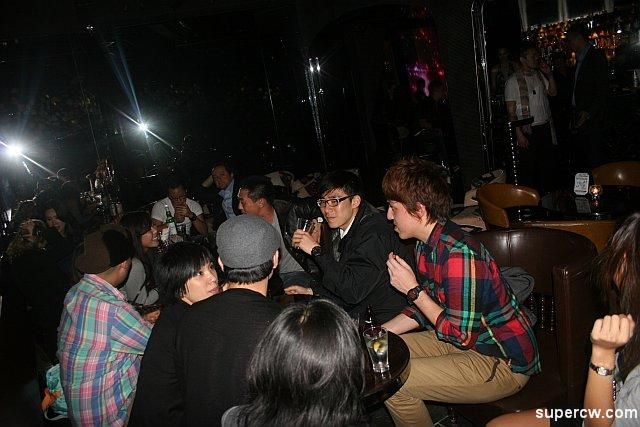 without flash.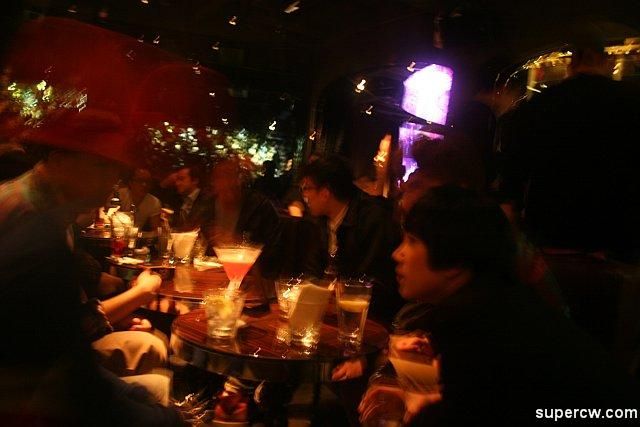 verbal's style is out of this world. he actually has his own sorta stylie company about it. he makes pouring black label look goooooood.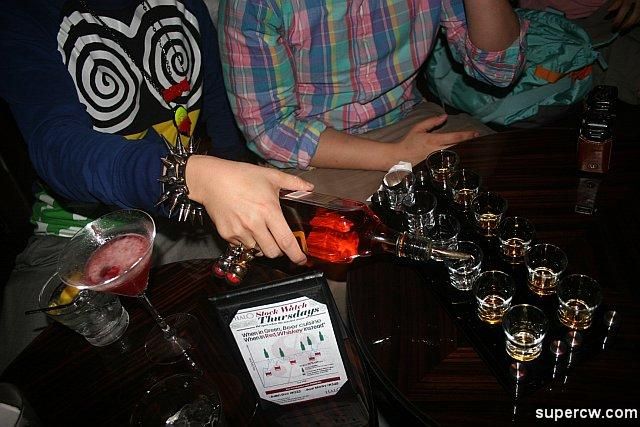 cheers, most awesome/talented/creative/fun/good-looking/international group of people i've ever cheersed to.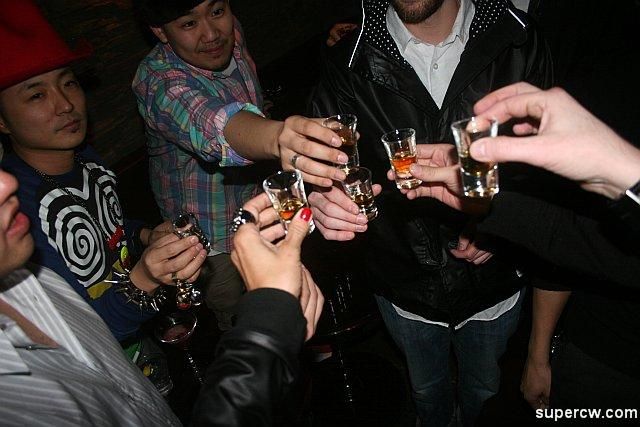 verbal is also a contributor to hypebeast. like our own jules and jun. kind of big deals.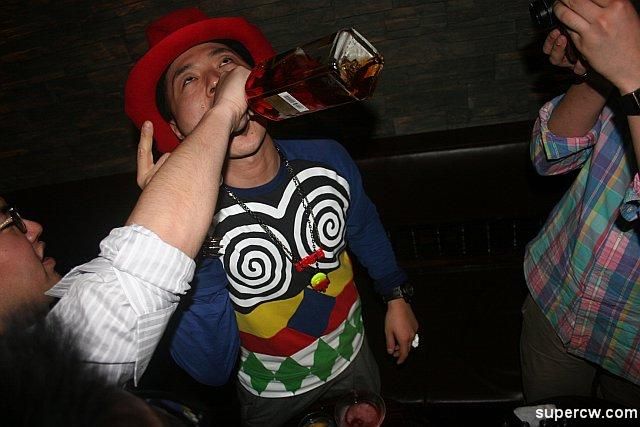 and this guy was the partymonster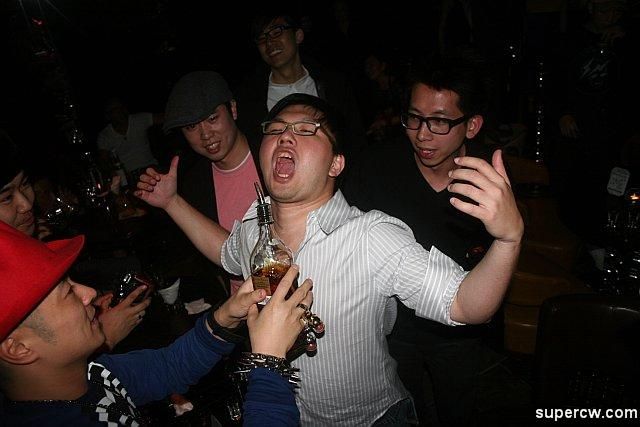 he was the one that walked out of halo with that bottle. that we all had with us for the rest of the night.
at the massage place that didn't have space avavailable for 18 people….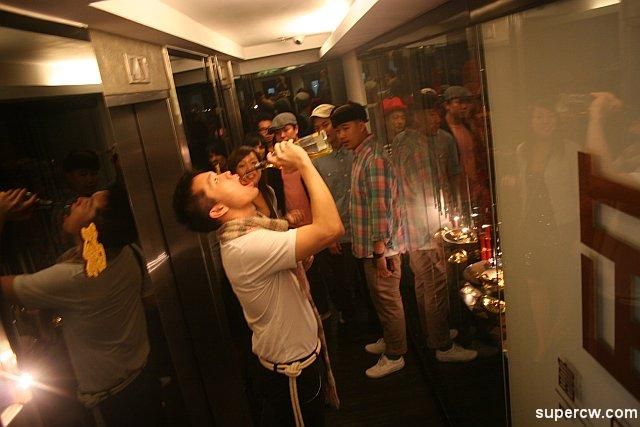 (yue is just kidding obviously)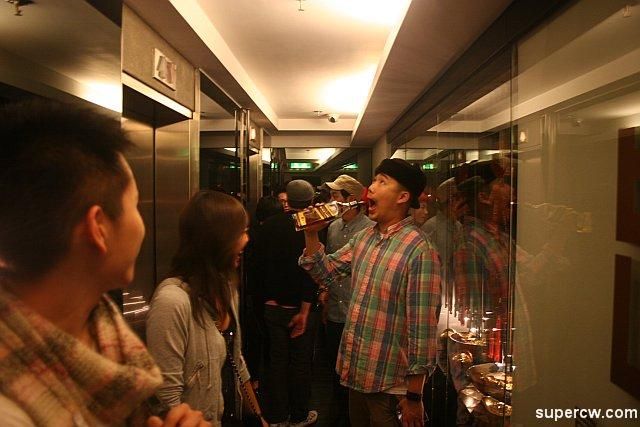 in the elevator with 18 people at the spa place that didn't have room to massage 18 people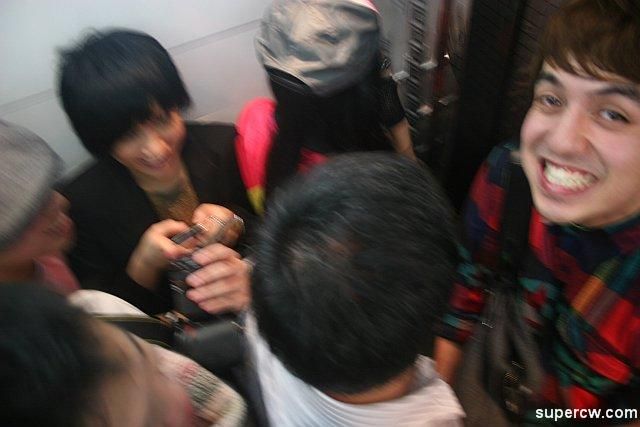 plan b.
it was better with the bottle…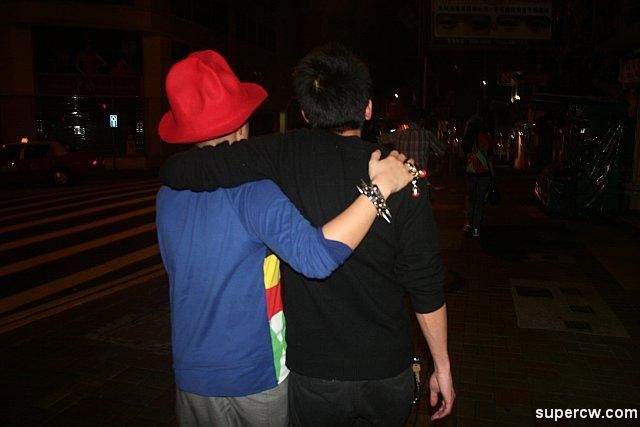 we decided to peep the spot that verbal was doing the next night. it was the POW of POW WOW. i think i got that mixed up in my column this week. WOW was the art, POW was the music….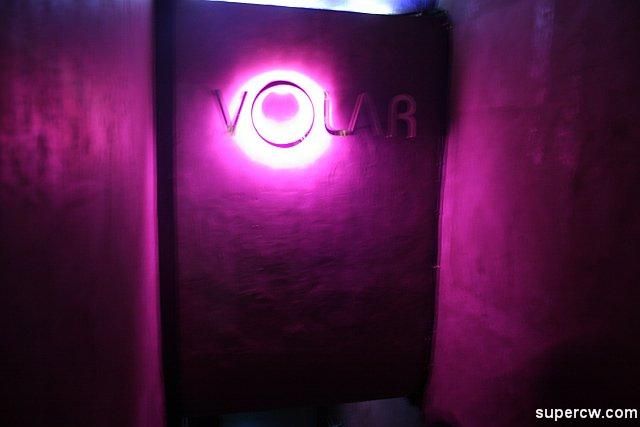 and there were fcking carousel horses inside. i tried to get proof for you but big-dude-in-a-suit came over. "no pictures"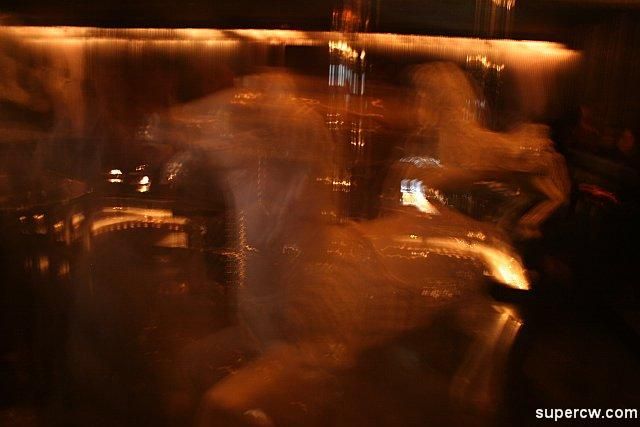 then nothing. like i said, my camera was being super tempermental. one out of every 100 shots i attempted actually took. it was now the end of the first event of the 3-event thing. i will post part two probably tomorrow. right now it's first friday, where honolulu's chinatown will resemble every friday in hong kong. i gotta get down there.
after i finish counting all this booze.
more soon, i really love you guys. and it's really good to be home.
cw