hello, honolulu. man, i missed you. you would think i was gone for a month. don't think i was kidding when i was already homesick after like 40 minutes of being in hong kong. i mean, sure i loved the place (nothing beats that crew that i was rolling with out there. SUPREME status.) just… nothing beats a first friday in chinatown. especially now that next door is back in action on the real. this was first friday – jeannie randall's amazing (subtle) sex show: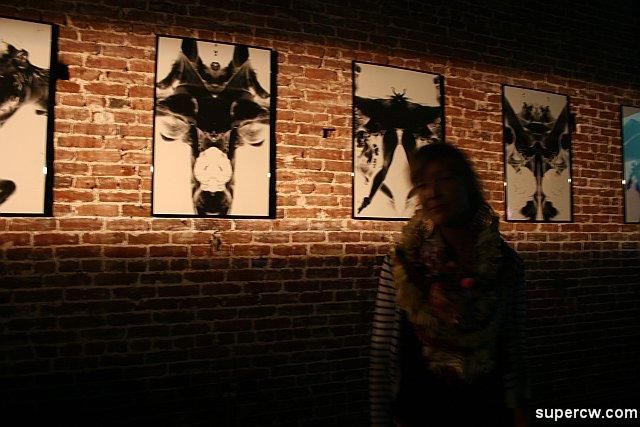 not sure if you were there or not – she had made a giant one too up there. the colors actually changed. they were timed to the average time it takes to have an orgasm.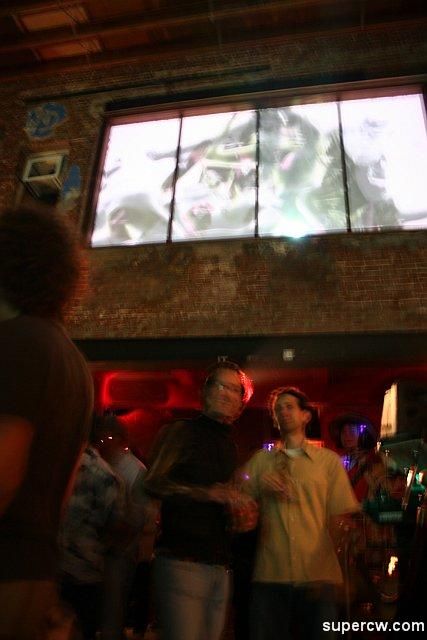 it was a cool night at Nextdoor, that's for sure. bret is bringing killer shows back. francis nishida is in town from New York. (he's kind of a big deal over there i heard. awww. our francis.)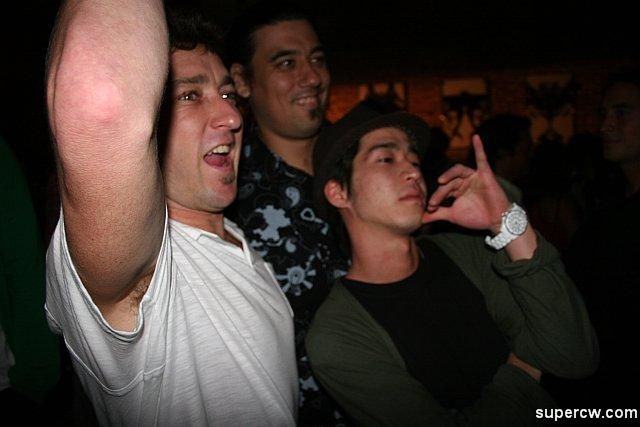 so she also had these amazing screenprints – white paint on white paper. they weren't super easy to see. then when you DID see it was like…… woah.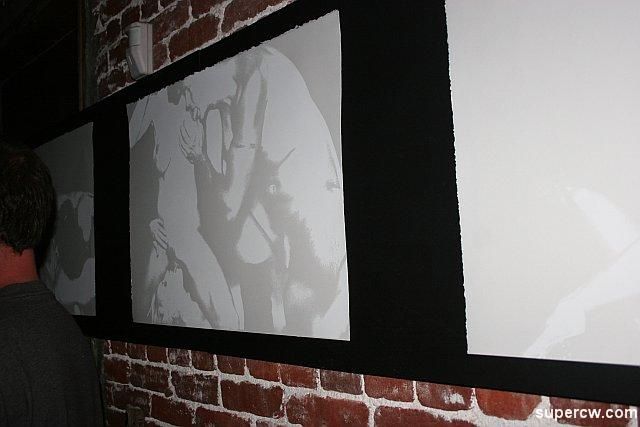 i had the best time ever watching people realize what they were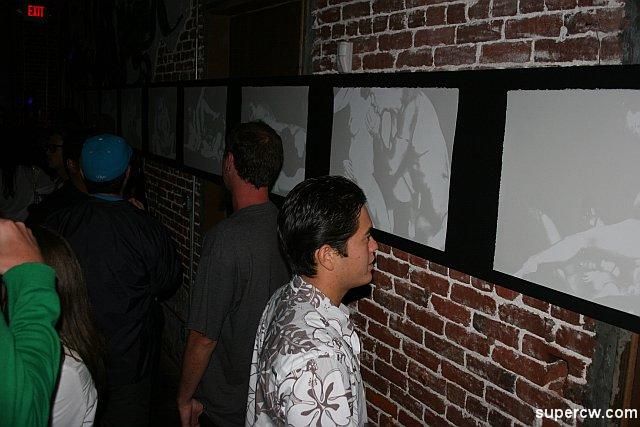 i saw kona who mentioned that i don't give him fbook love. i was like WHAT the. here you go… lovelovelvoelveolveovelove (what's your name on fbook honey?)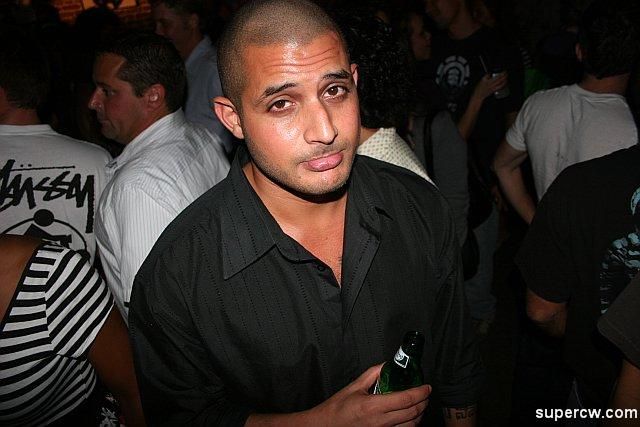 also saw bridget gray (fanning out)
todd oumi had a big show across the street at The Manifest. he totally fashioned the now infamous black panther statue into a killer sculpture too. love this guy. LOVE him.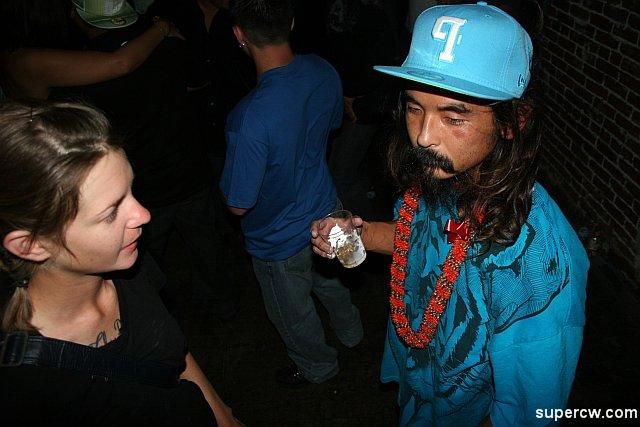 haha, i remember when i took this i was all excited to be standing next to him AND rice at the same time. i was in intellectual overload. these two. actually, never mind. i don't want to put them on blast. more for me. ME.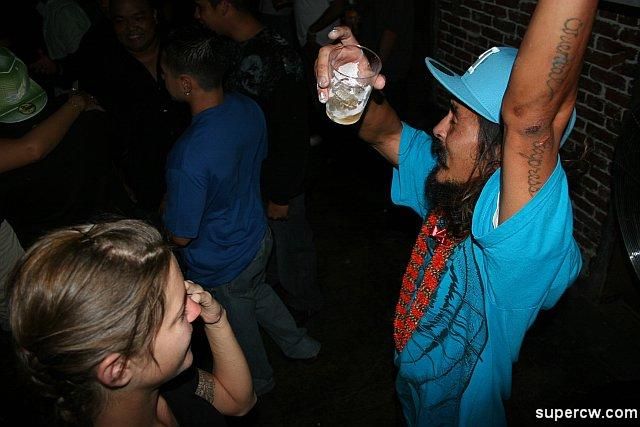 speaking of stealing the show – OMFG the prolific unknowns….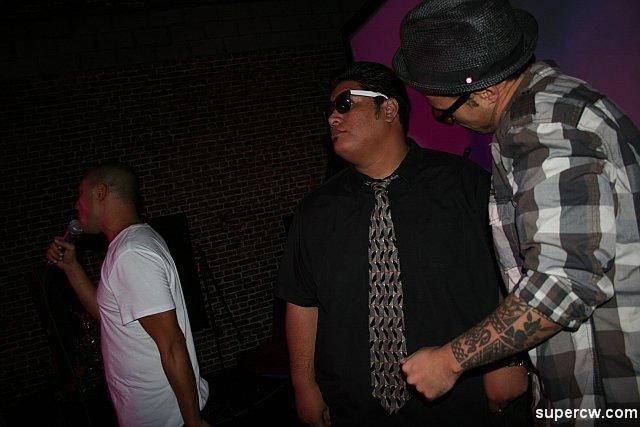 they totally did. K-Luv and Big Mox and their god damn jazz band. they were the openers for tonight's show: MYKA9. underground hip hop superstar…. but these dudes totally made me forget the other guy's name for a while. SO super good. you really need to see them.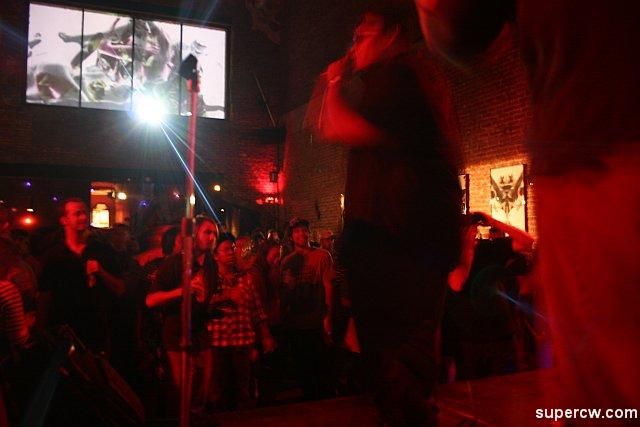 that's jamal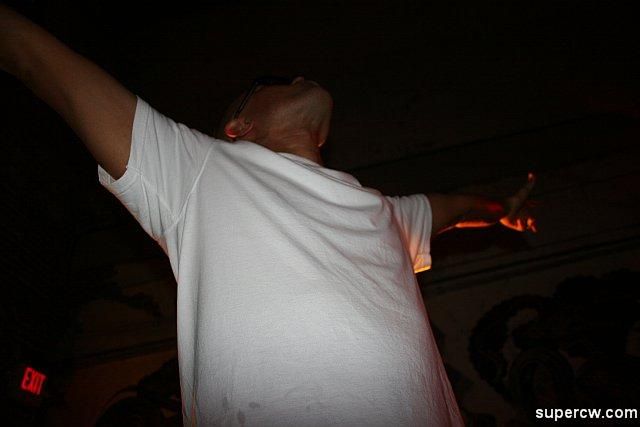 and this is my JUMP shoes. somehow i found myself a nice comfy seat on a couch……. ON THE STAGE.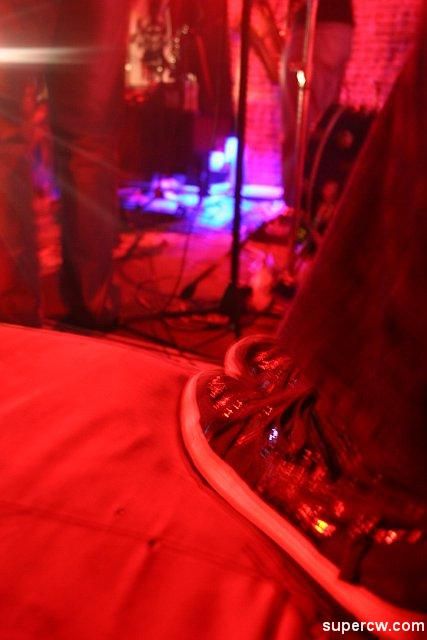 it was, how you say…. amaze.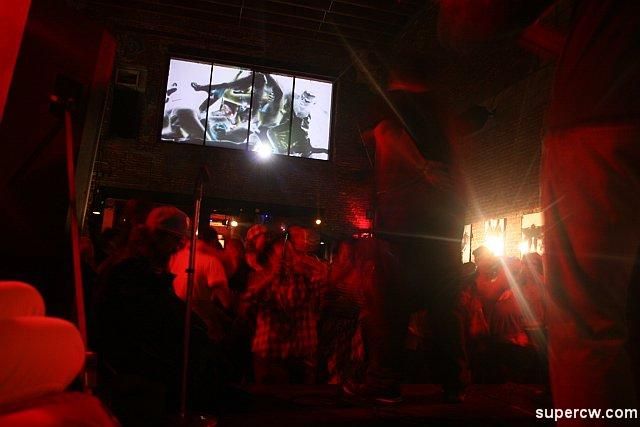 and woah ha, you could totally see the white on white sex from this angle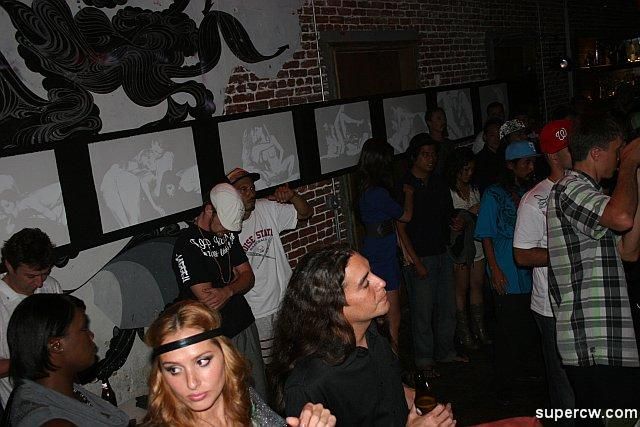 that's artist brian lo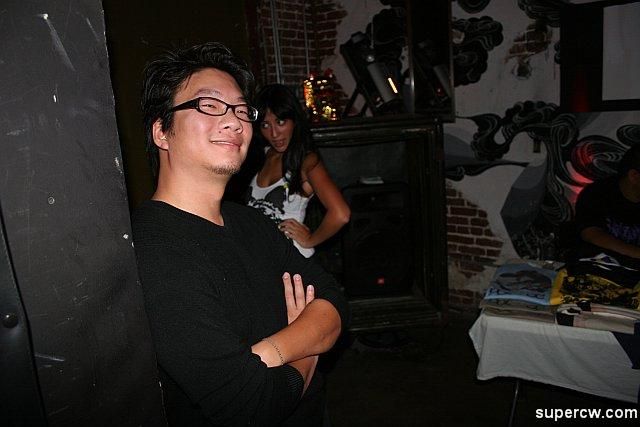 and THIS is why i love hip hop shows. how many dudes do you see in this crowd? and you know what, sisters KNOW how to dance. i was fanning out on the crowd.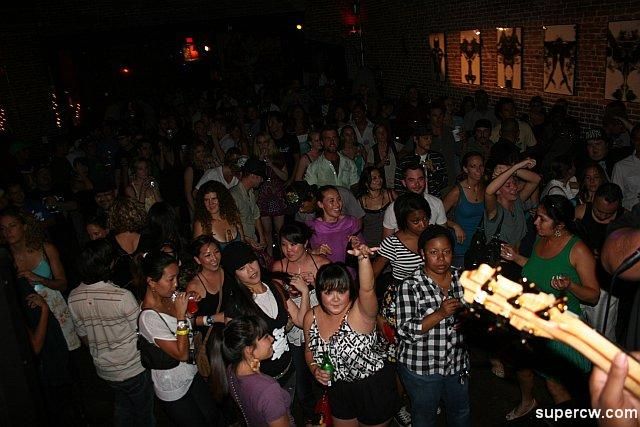 <3 big mox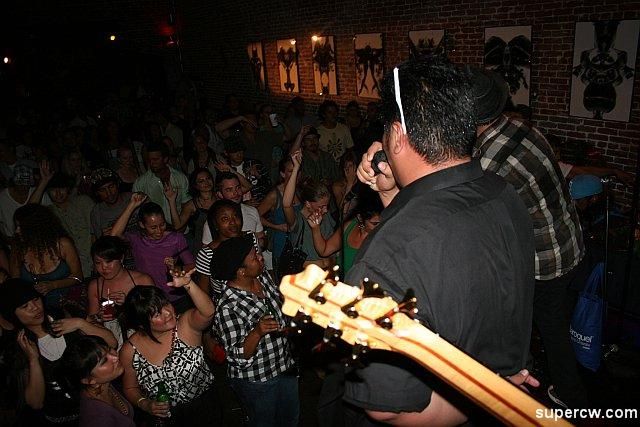 pitt stop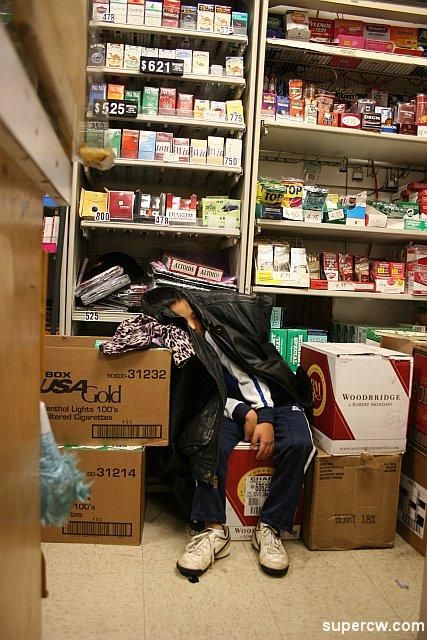 then back to Nextdoor. Creed Chameleon and artist CKaweeks. WOAH HI!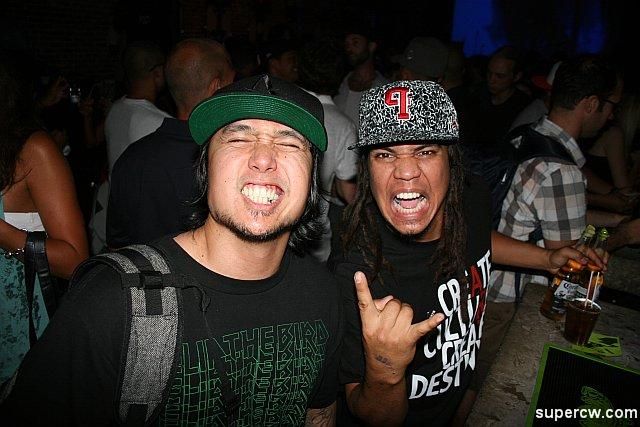 ps: then Creed went and stole the show even more. jeezman. SO proud of the dudes we got here.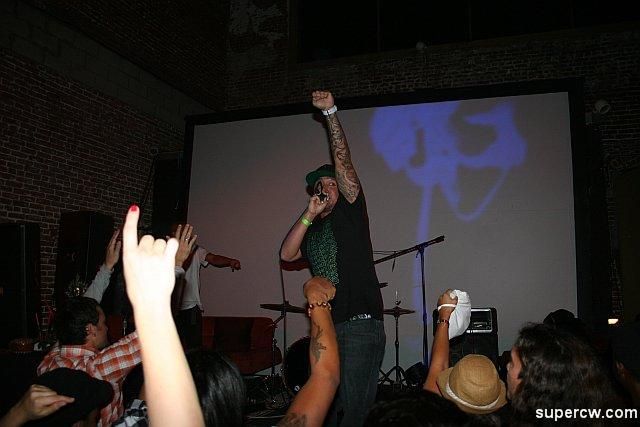 that's Sean Remos.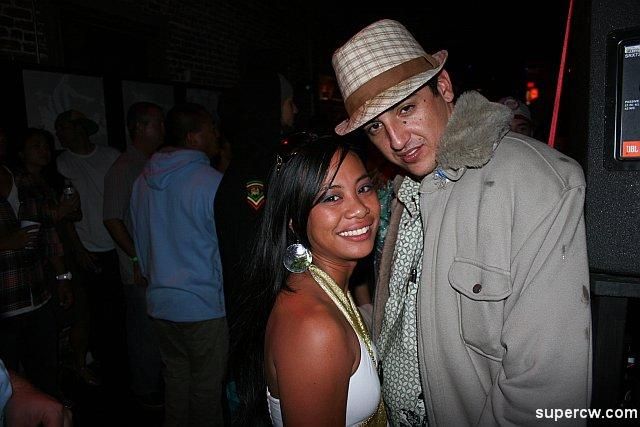 and THAT'S AARON!!!! where you been buddy. oh, duh. making things.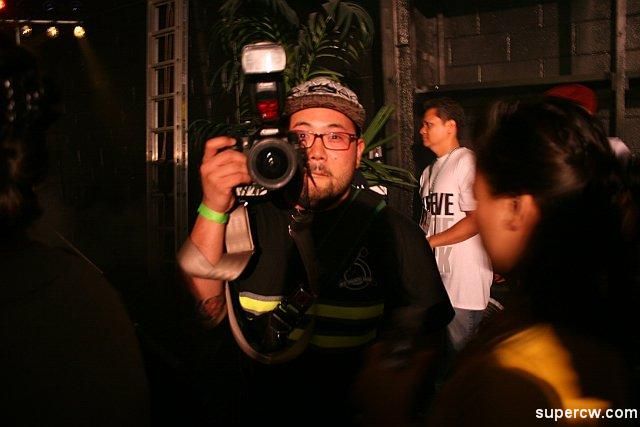 ps: i'm not at Nextdoor anymore. I'm at Fresh Cafe. and that's Rocky Rivera. female recording artist that travels with a pack of stylie-hot music chicks that had even the hardest of homeys wimpering like little puppy dogs.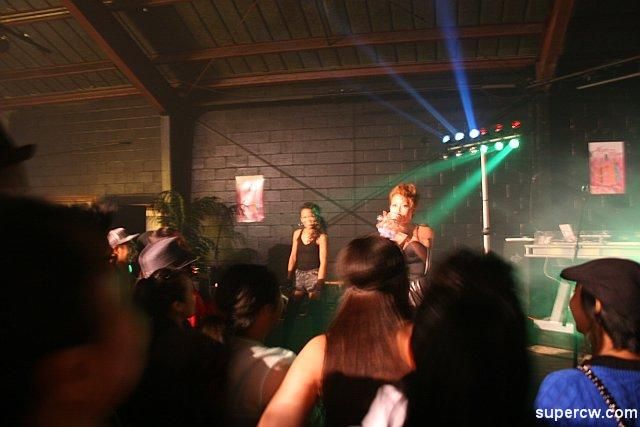 i'm not even kidding. you guys should have seen it. maybe you did??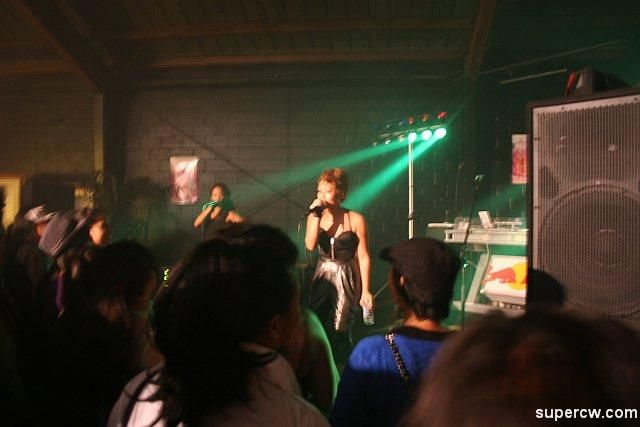 i know there was a lot of you at this show too…..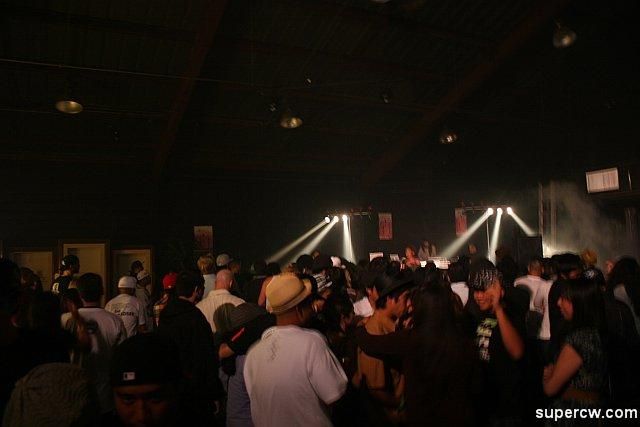 i wandered around a little. tiffany and dae built out a new VIP room and it's siiiiick. more shows here, you guys.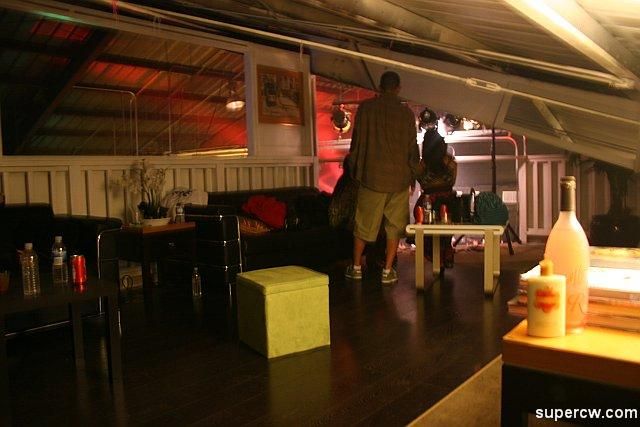 the acoustics in this place are seriously world-class. more. shows. here.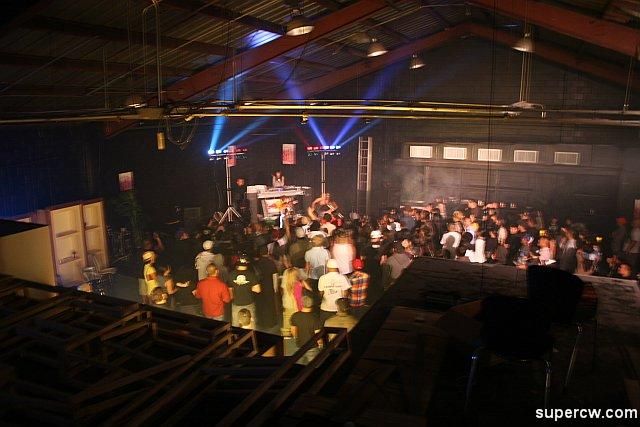 there's also room for everyone. more. shows. here.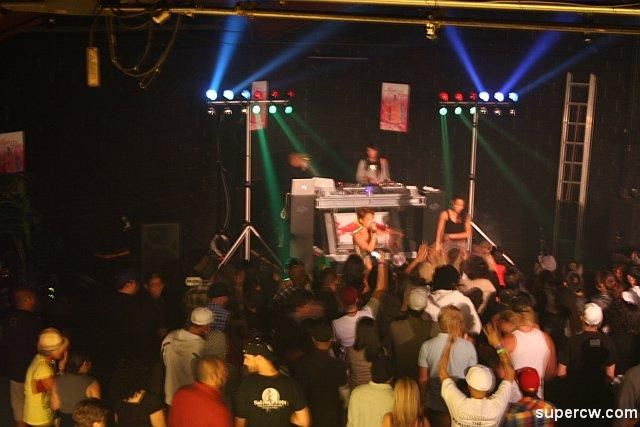 i stuck around for a bit. lurked ESKAE.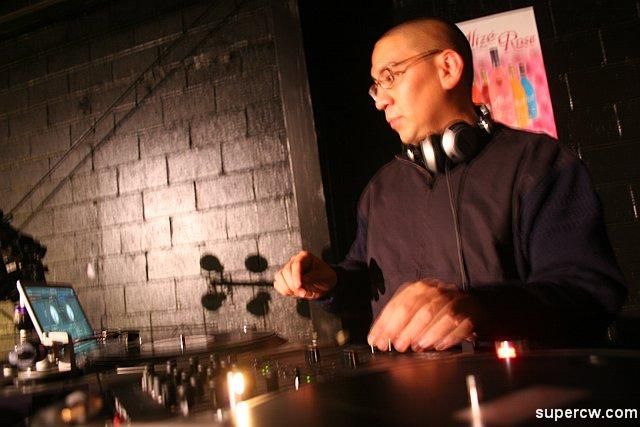 it was late. i needed a rest.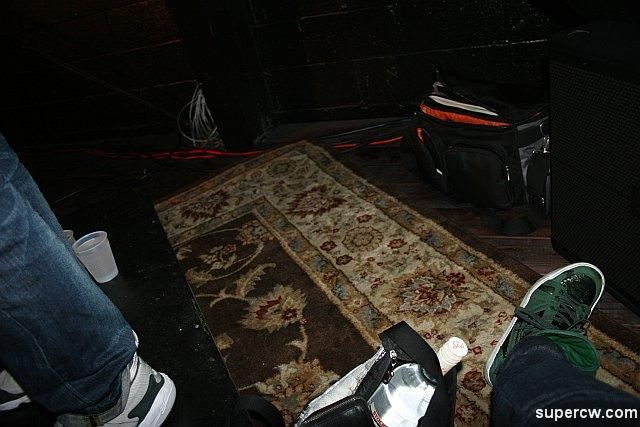 peace to rocky she put a spell on everyone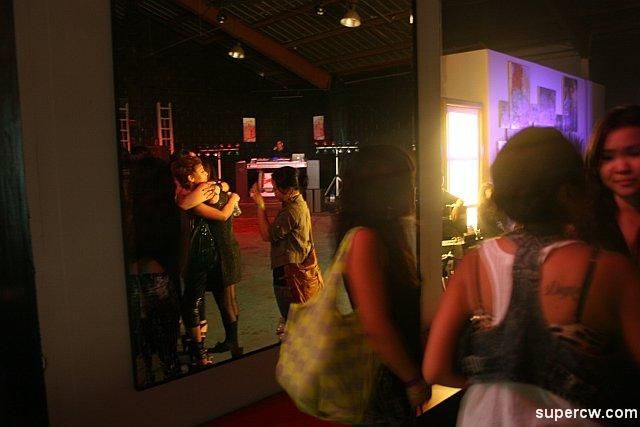 then it was saturday. you better believe i wasn't going to miss this show.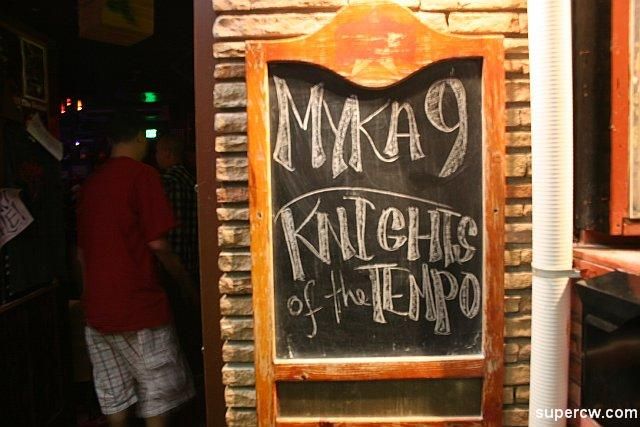 myka9 at Nextdoor, yup. i saw him there 5 years ago. it was actually the first show to sell out Nextdoor after they opened. and it was RIDICULOUSLY good. his second show was on a first friday tho, and the place was jumping after being warmed up by Creed and the Prolific Unknowns. i was hyped but was way more pumped on the jazz minds thing. room to relax, opportunity to cruise with him outside in the smoking area, witness to a killer improv with poet bridget grey…. it was just woah.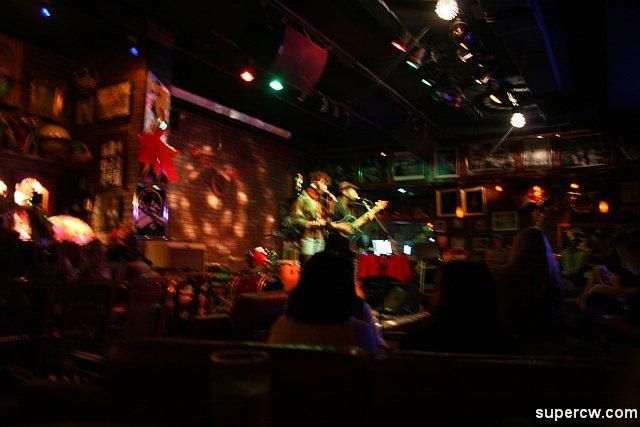 didn't really get the best shots, but just trust me. this was WAYCOOL.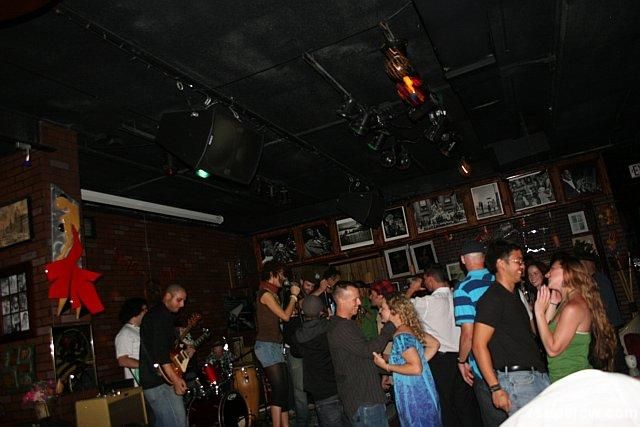 then what. oh, back to Nextdoor. shot time.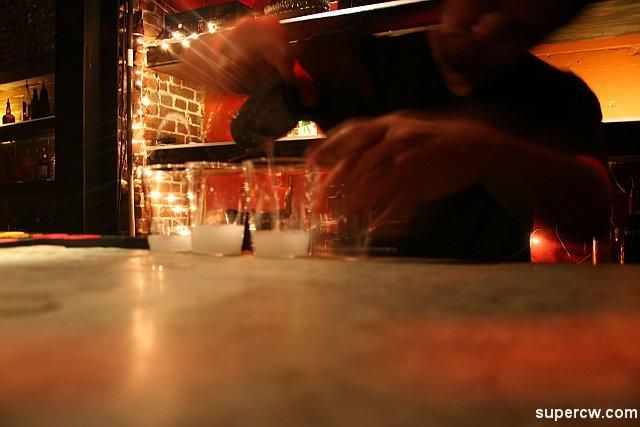 then…. manifest?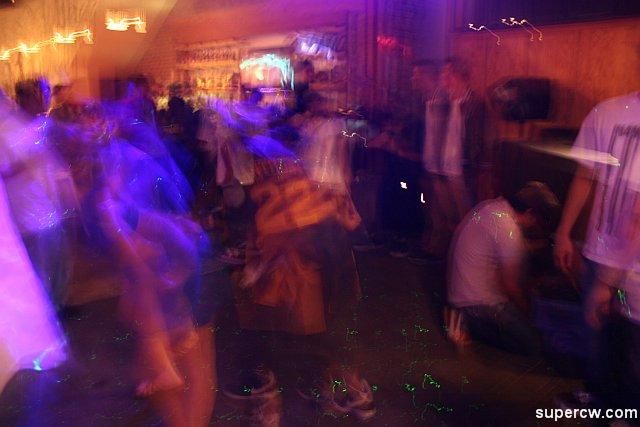 then….. GINZA!!!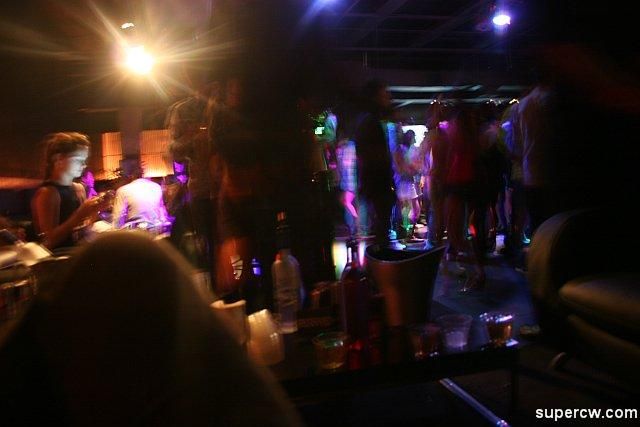 hahah look at these fools. 3am on a saturday night. 3am to us is like noon to the average person. we were only getting started.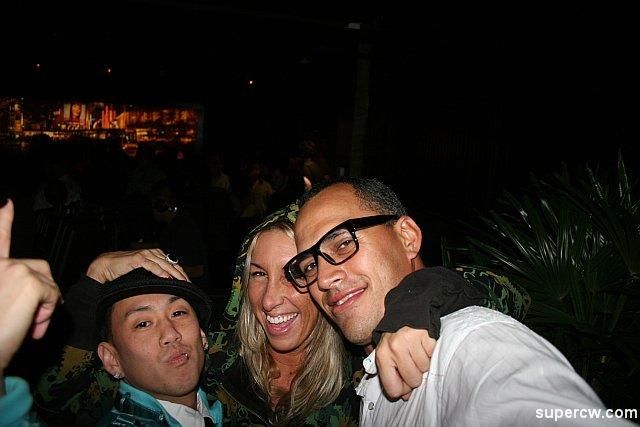 you probably already know this: i am in LOVE with ginza. love it love it. except for one thing – one BIG thing….. the security. dudes, i'm just thinking… people pay whatever price to be a member of this place. they come here, spend tons of money, dress nice, act nice… how about the security guys treat the members like members. instead of yelling at them when they accidentally are walking out of the entrance. i mean seriously, that's not the biggest deal.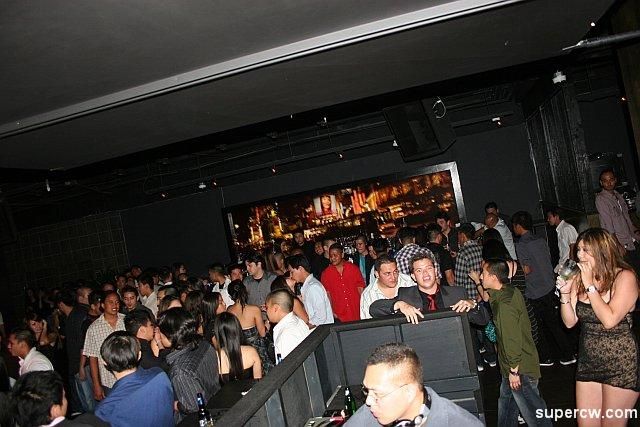 so anyway. back to us. we raged.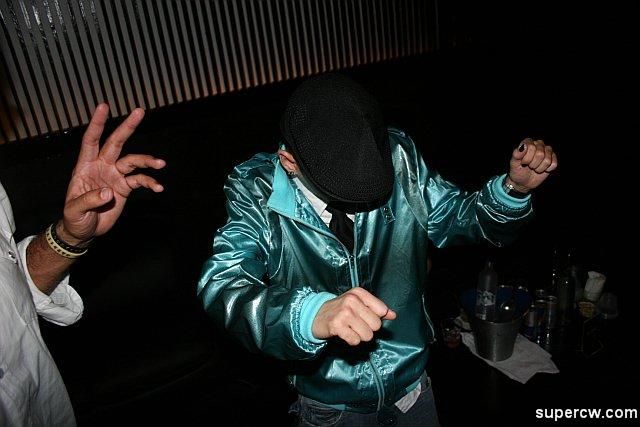 hahah it was totally just me and torry too. then we got a Golden Child interlude that prompted me to get my camera out…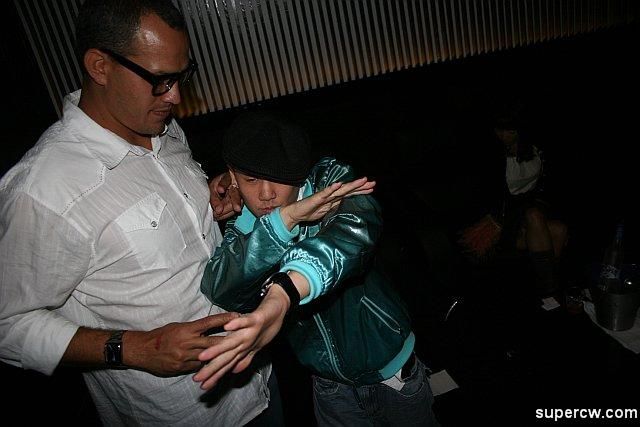 then i don't know. (we raged)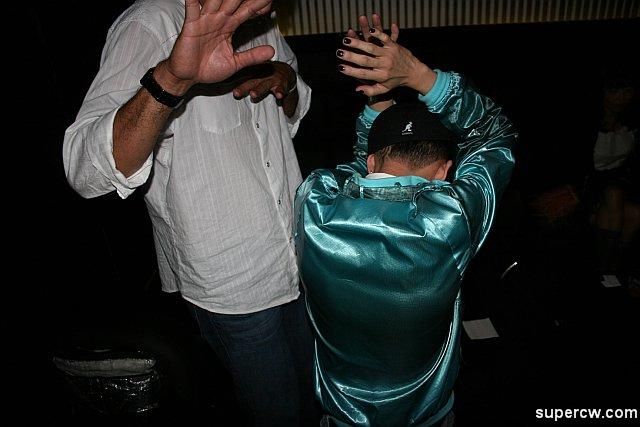 really? people buy these in the club from the flower lady??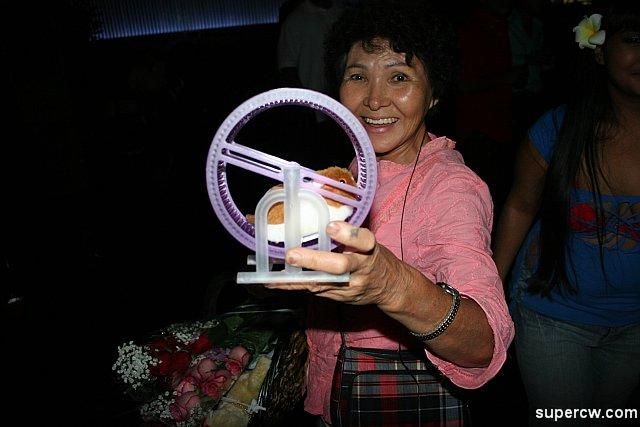 then BAM. it was the next saturday. future paradise!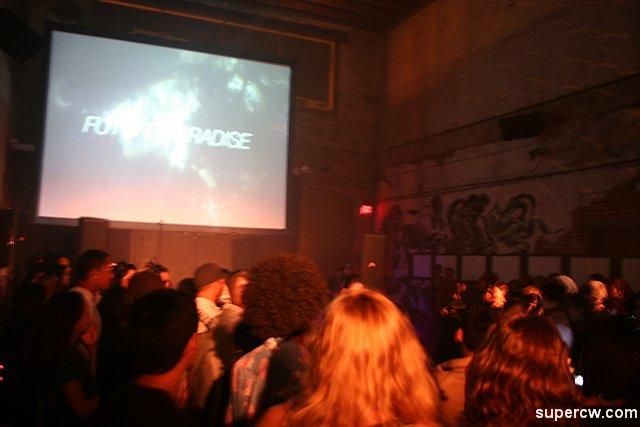 future paradise brought out some FACES too, letmetellyou. i was swoon-swoon-swoon city. future paradiseface mikey.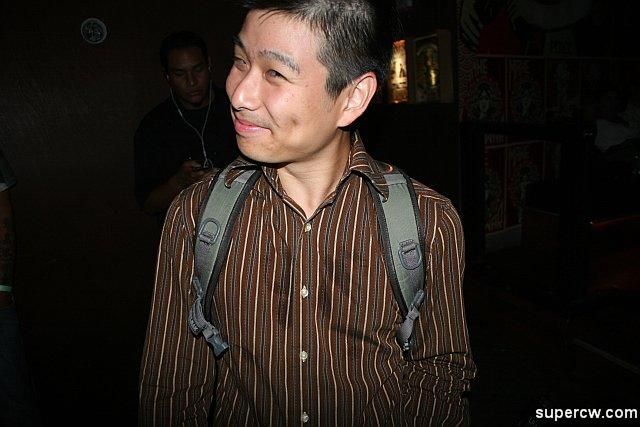 future paradiseface lancey poo
future paradiseface wesley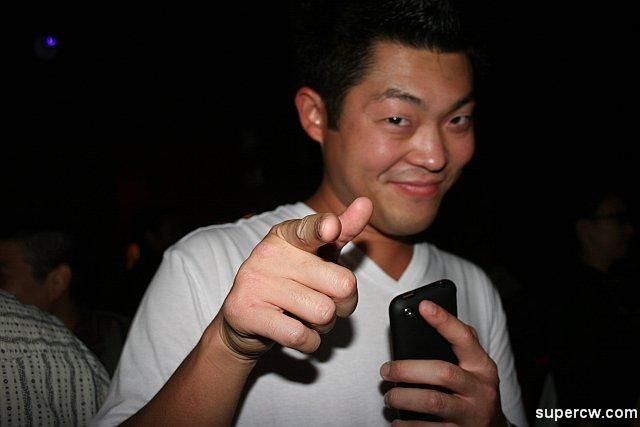 future paradiseface this guy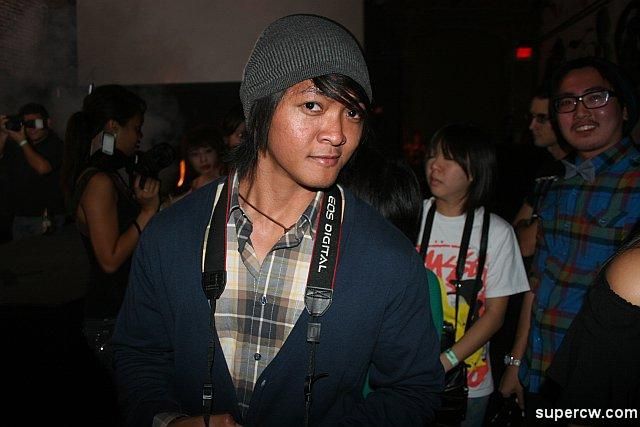 future paradiseface ryan imai. (sorry, i know the flash is bright bruu)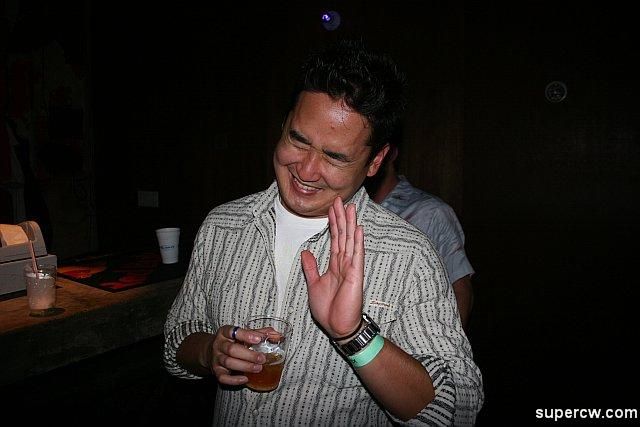 future paradiseface bobby bones kays and joe on their phones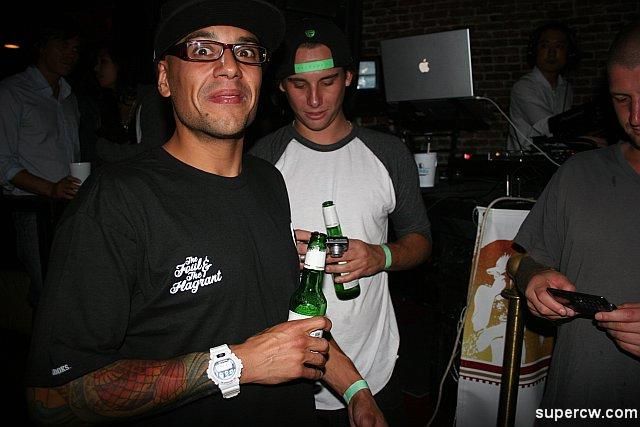 future paradiseface joe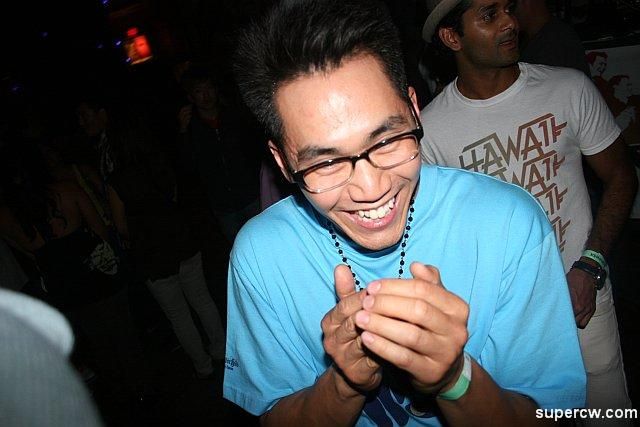 i was on a tuaca trip tonight. TUACA!! have you tried it? tell me about a carmely tasting brandy that's 70 proof. i was drinking it on the rocks and letting people try… they were like "yum. WHAT is this!" and i was like… Tuaca baby. trust me. try it.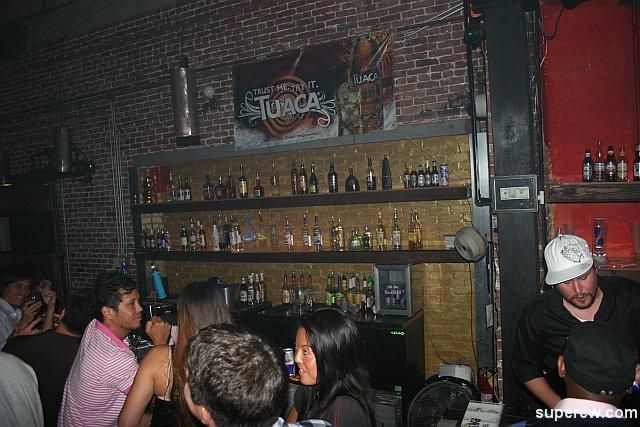 deejay mister nick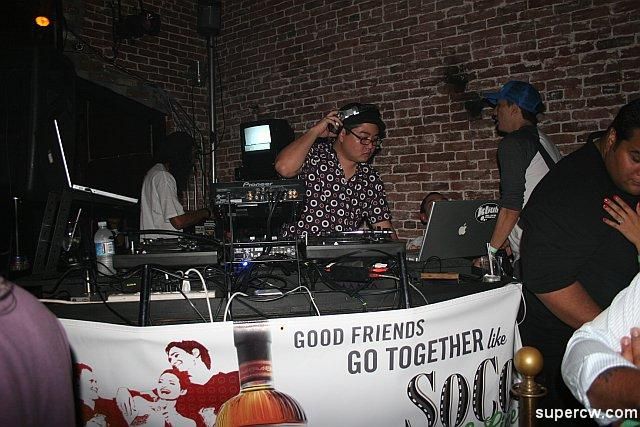 so these guys. do you know them? i LOVE THEM. they were at my birthday party and i totally TOTALLY remember seeing their picture on metromix and being like "who are these dudes. they look so rad."
say hello to my new best friends. the stylies.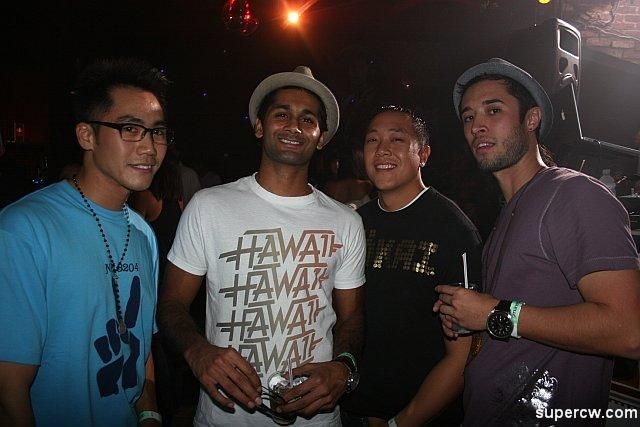 then matt bruening had a fashion show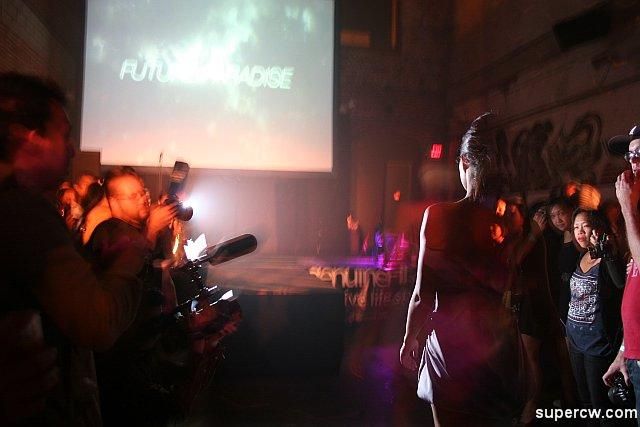 and in the grand tradition of christa, i got the suckiest runway shots ever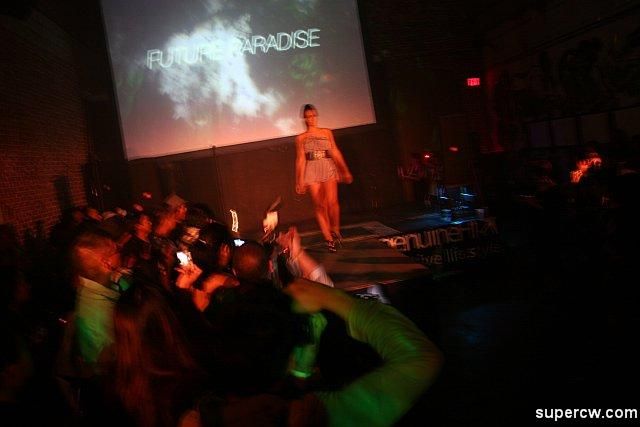 don't worry tho. other people super totally nailed it.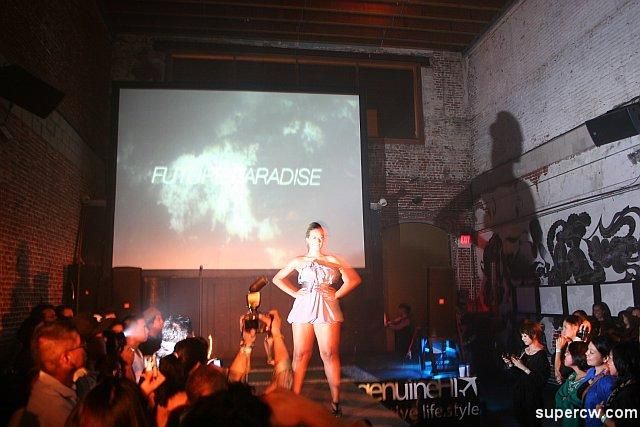 so ignore me. i just wanted you to know that i loved this show. matt is seriously SUCH a talented designer. his wearables are to die for. sexy and innovative. i love his eye and the boy's got amazing taste. i so proud.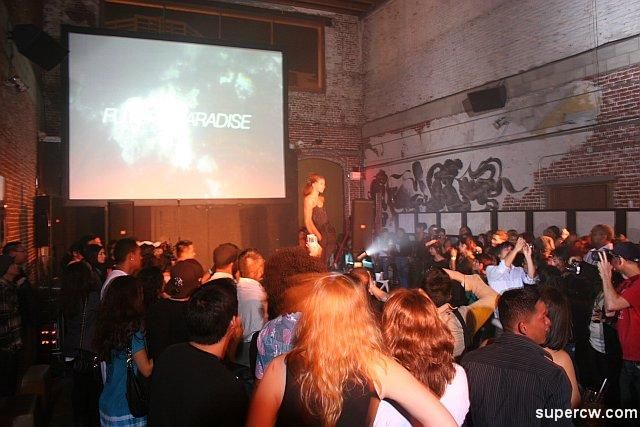 deejay mister nick. HI!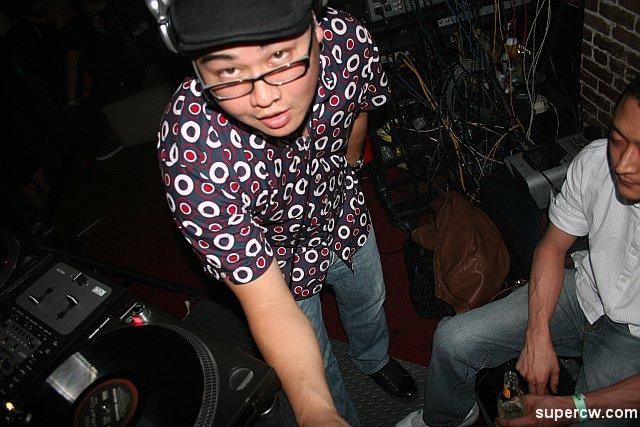 jake, models, matt. so so so proud of you boys.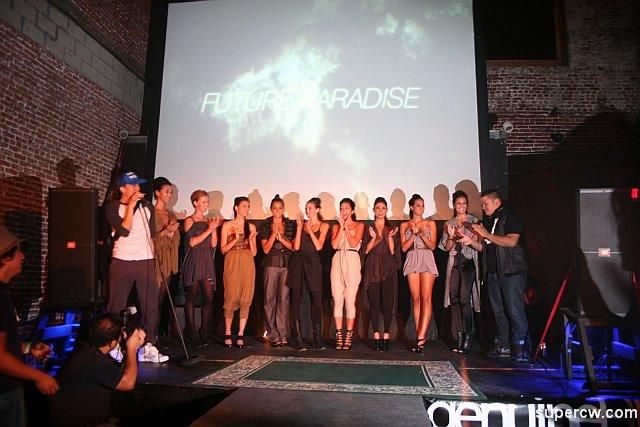 \
yes, you heard right. jake flew from seattle to honolulu to do this show. he wants to do more. i think he is going to. keep May open for him…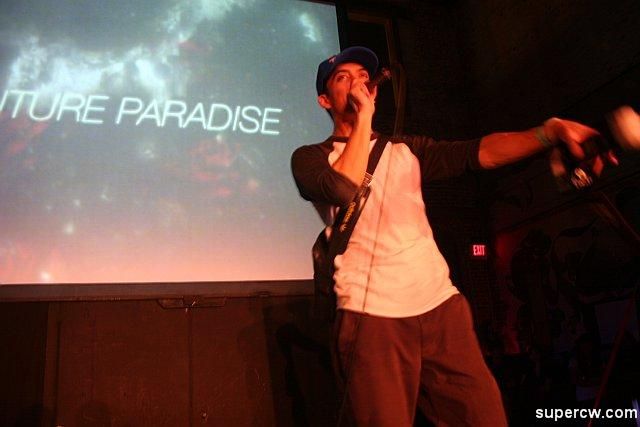 ps: hi!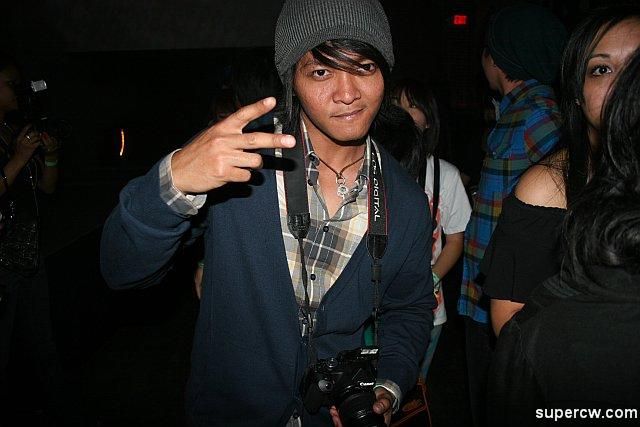 hi hi hi! (seriously the best faces i ever seen all in one room tonight. i <3 future paradise)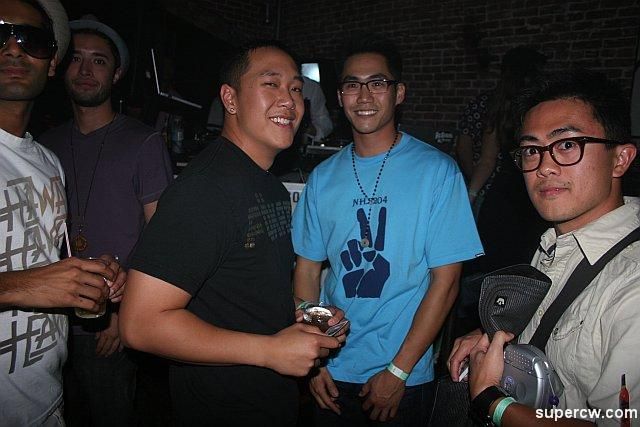 artist faces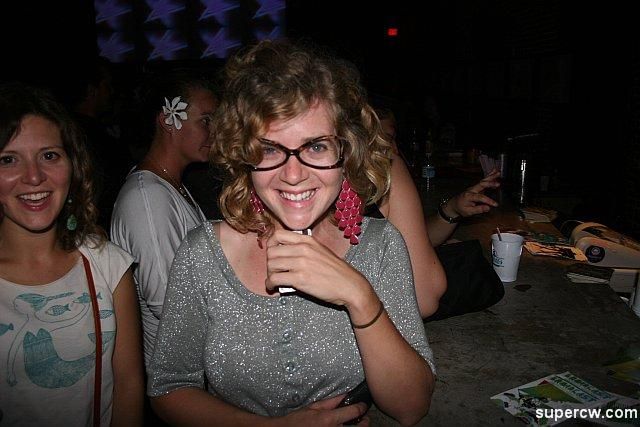 artist/museum people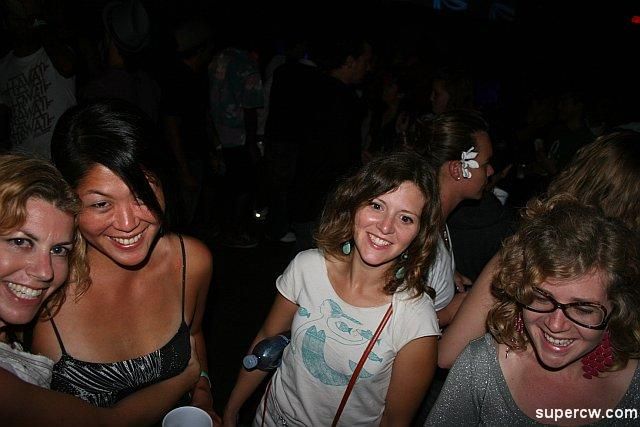 model people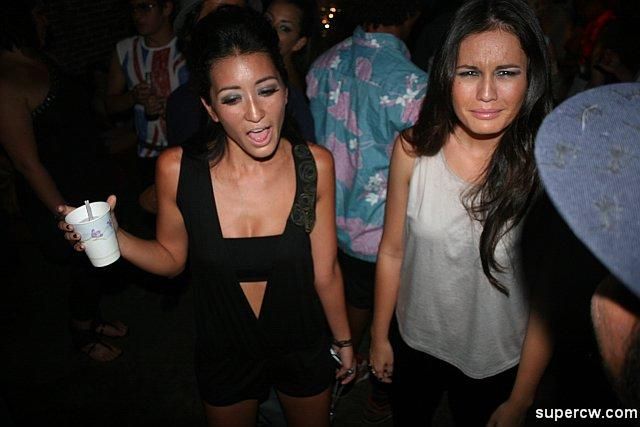 and joe. JOE.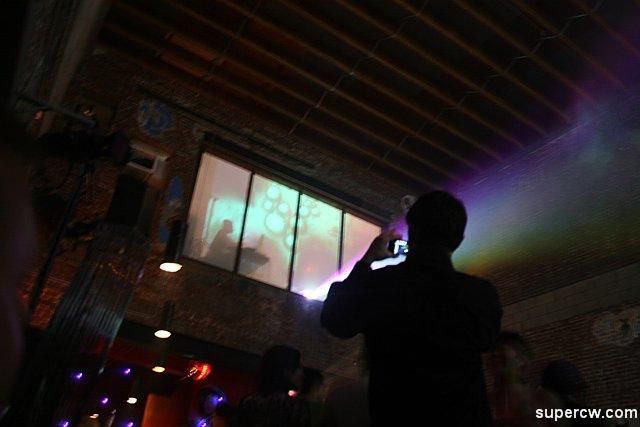 yup. joseph. The Dropshadows. he sat up there and created live visuals on the big screen that was blowing my mind. like the friggin party wizard of oz. i love him.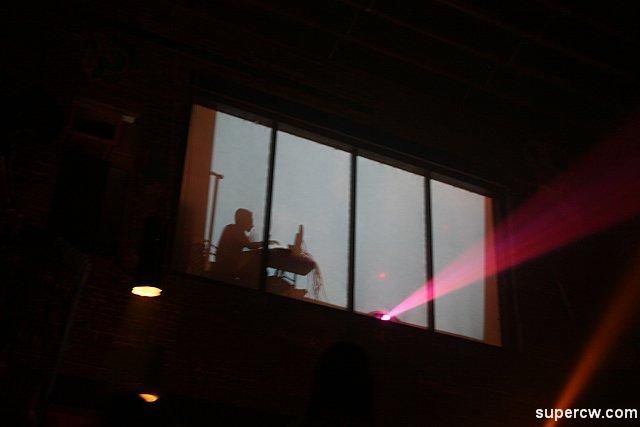 at this point though i was pretty much a goner. tuaca.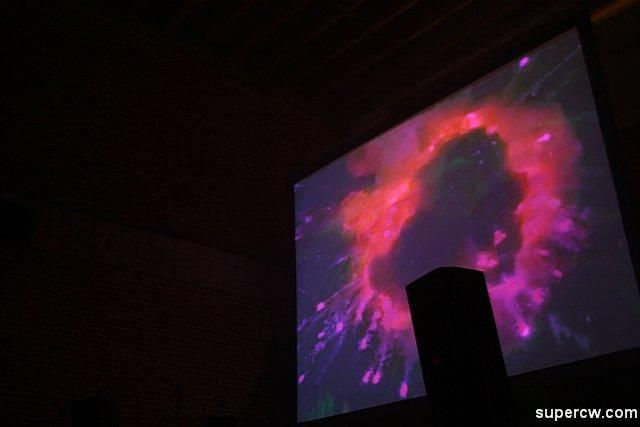 the night didn't end here, but this blog does.
i got work to do.
just wanted to keep you up to date.
cause i love you.
cw