haha, i got so many messages and things about my valentine's day column in the weekly. i guess a lot of people get annoyed with that holiday too (or just like that i used the word "bone").
the truth is i really never cared one way or the other about the holiday. wait, that's not true. when i was in love, it was rad. now that i am not, it's just kind of stupid and trivial. not like i hate love or anything. actually, i love love. and a few weeks ago, i was even lurking love…. (and a martini)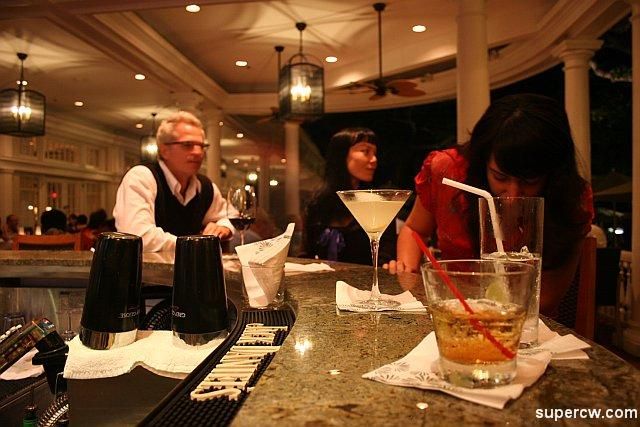 sailor jerry was still in town. she took of my favorite couples out to a nice dinner at the moana surfrider (the place i call the hamptons of waikiki… you gotta eat there. it's beauty). i guess they normally aren't so in to pictures.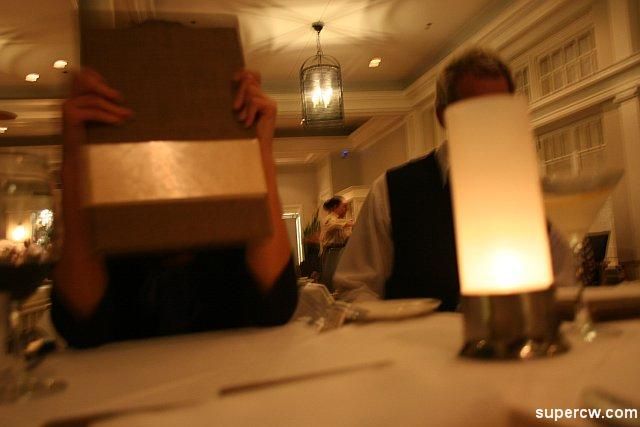 then drew was like "come AAAN. you always say we never have any nice pictures together"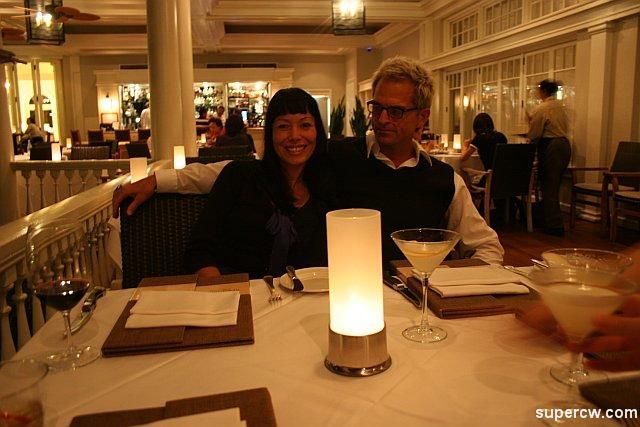 so yup. nice dinner with mercury bar and nice dinner with cherry blossom/soul revival sound system/sailor jerry. we laughed so hard we cried. then we took a nice walk on the beach.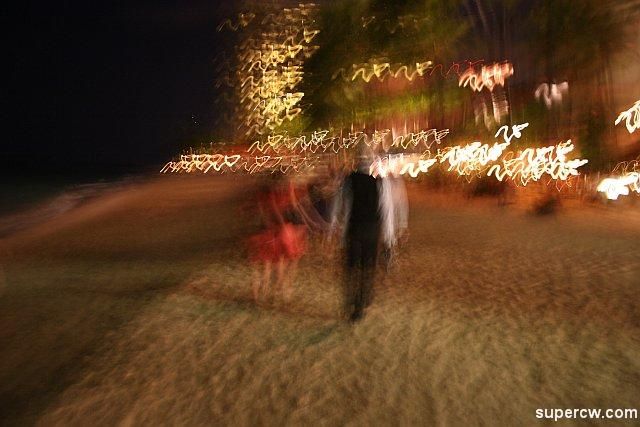 then we moseyed over to see joey at the royal hawaiian since we were right there. i'm telling you now, you haven't lived if you haven't relaxed in one of their oceanfront cabanas with a mai tai when the moon is out.
hello, mai tai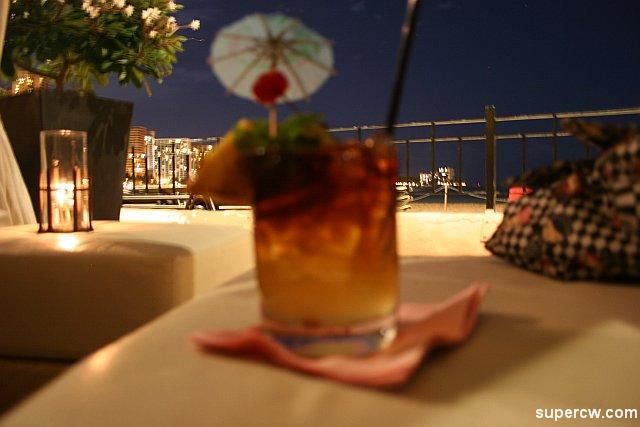 oh, ps: you also haven't lived until joey makes you a mai tai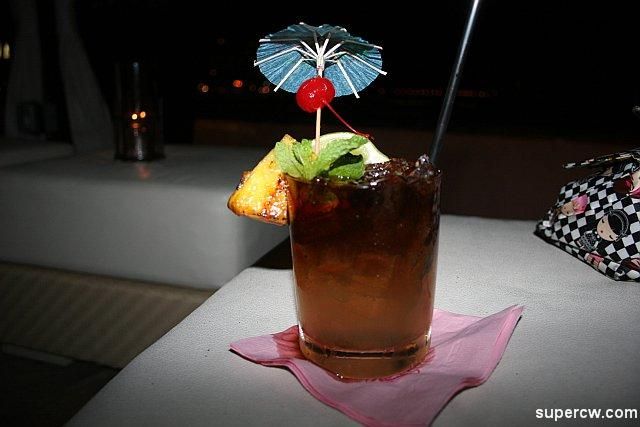 we might have, how you say, overindulged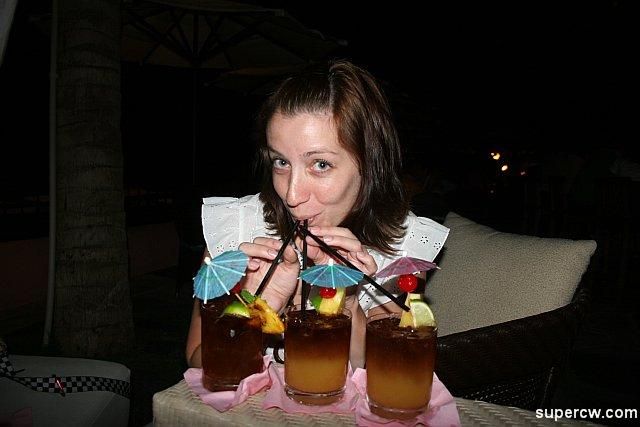 then it was like a week later and i was at the Andrew Bird private show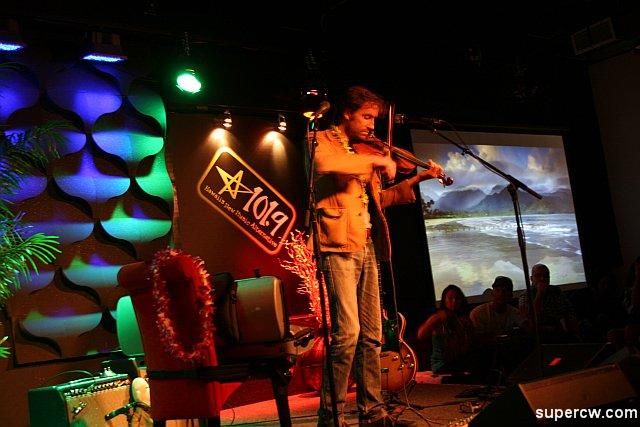 and i'll just tell you, i've never seen Andrew Bird live. ok?
but i learned very quickly that it's a mind altering kind of thing, that's for sure. he plays a few bars on his violin then uses these pedals and like, records it then plays it back and does a few more…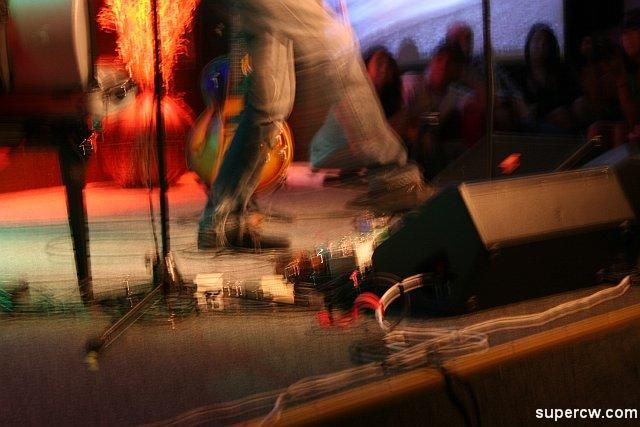 then grabs his guitar and starts playing and singing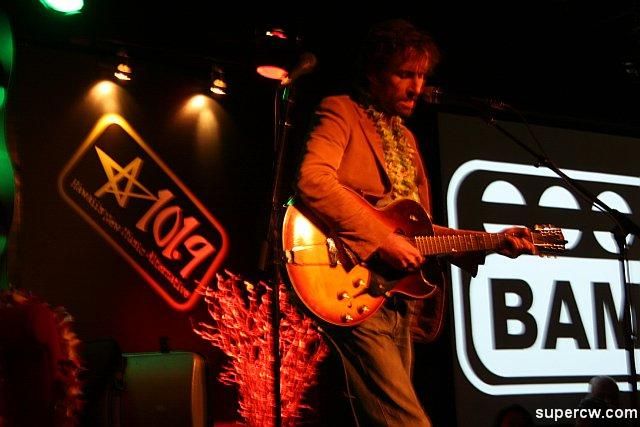 then plays even more violin. i was shuddering with chicken skin.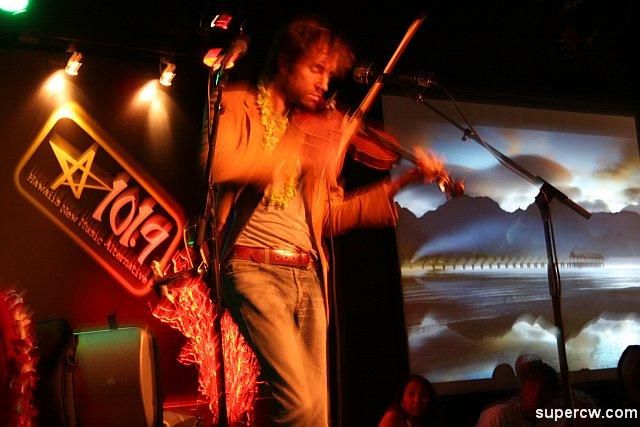 see my foot? that's how intimate the show was. amazing day.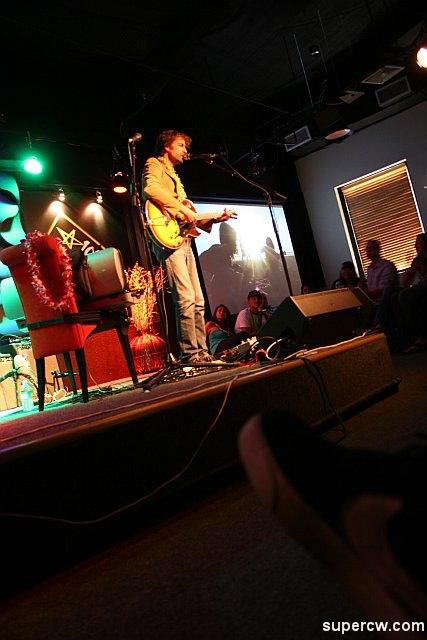 then (as usual) i kind of blew my photo op. FUAAAAAAK this canon. i am so getting another one. someday.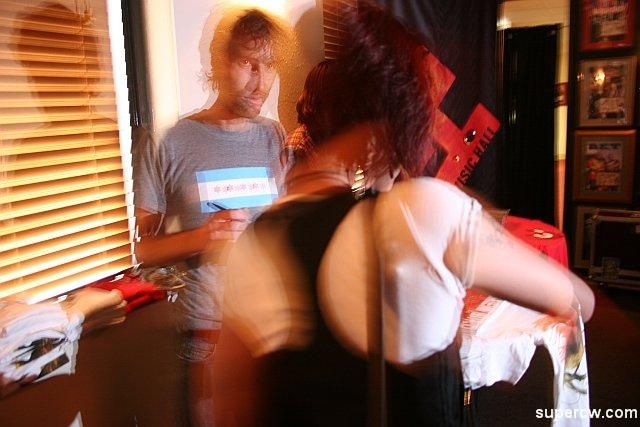 then it was totally working perfectly at manifest later for pau hana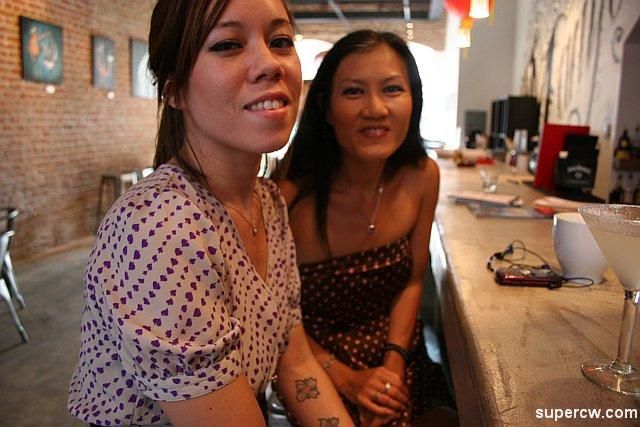 and it was also first friday, chinese new year edition. i was the first person in the door at CLOTH's grand opening/sale where you can shove as much as possible into one bag for $20. then i saw lei chic alyson who cracked me up with her first friday list. i usually keep mine in my head and only make it to about 3 or 4. this woman is a pro you guys.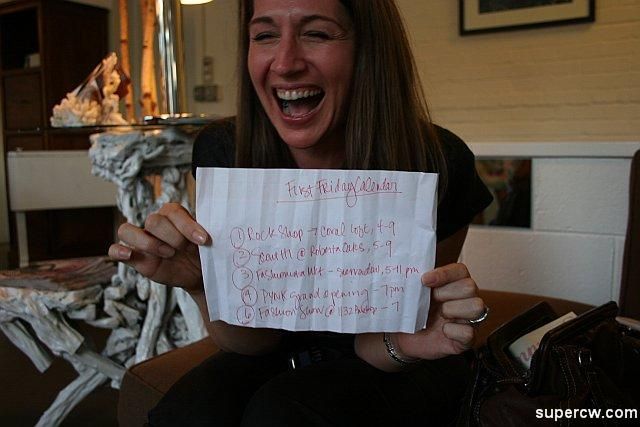 then i was lurking live nude art painting stuff at mark's garage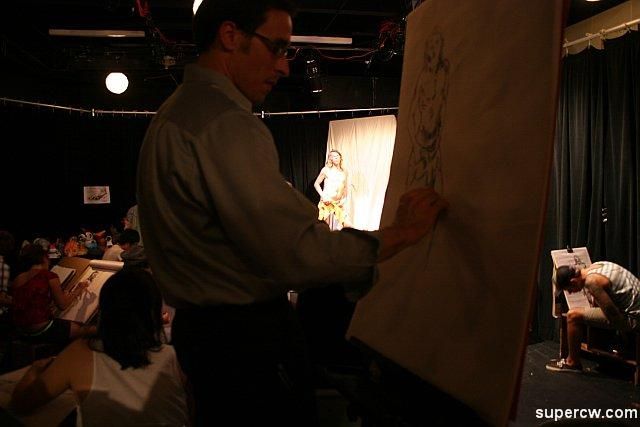 then i lurked the manifest setting up their chinese new year fireworks. their first ever, aw.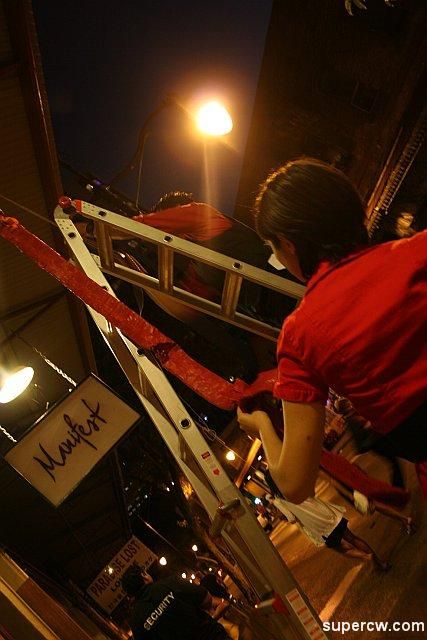 then i noticed the lights on the hubba buba marquee were on. but there were no light bulbs. then i noticed the lights were in fact on AND blinking. wtf???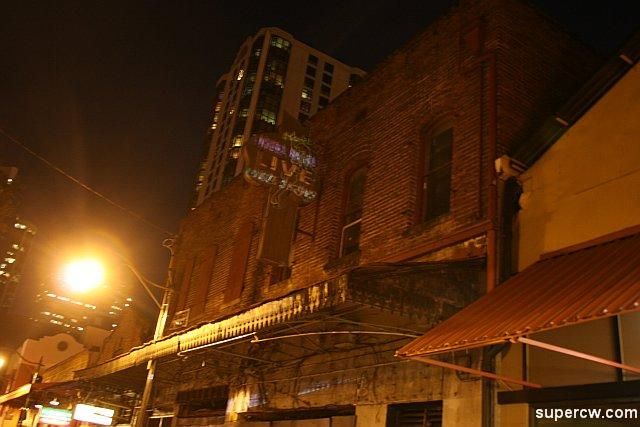 then i noticed ke kai's patiently waiting for the lion dancers before they were about to blow up hotel street.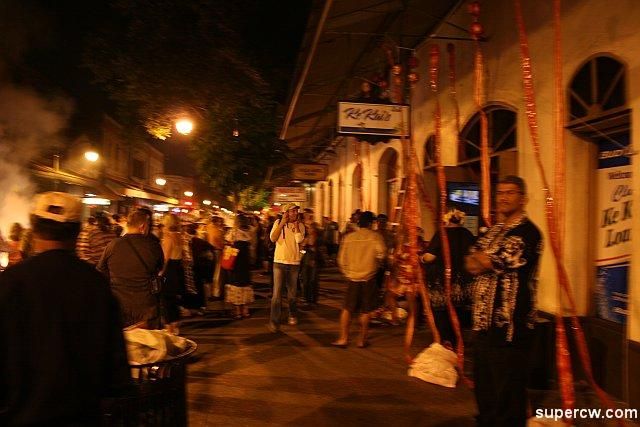 like, for real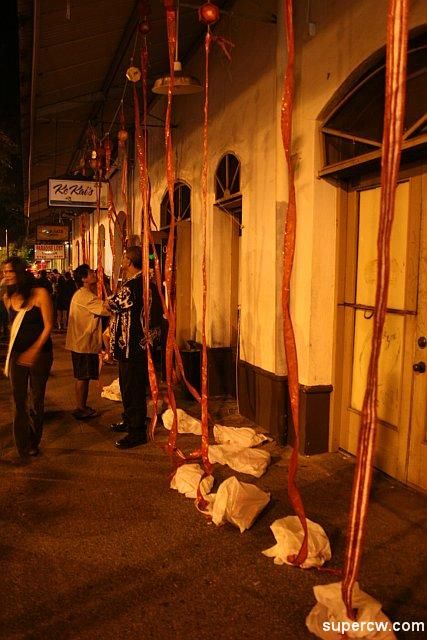 smith's took a long time. they had about seven hundred pounds of fire crackers. at one point there was a huge giant flame cloud that blasted up their awning sending thick black smoke through the entire building and also over to hubba bubba. it was scary. then we all cheered.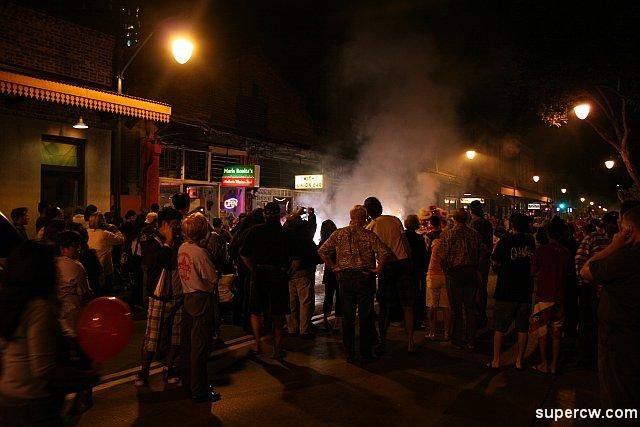 then kamea let shanna and some of her friends (like me) backstage before his big fashion show at that new place where INTO was.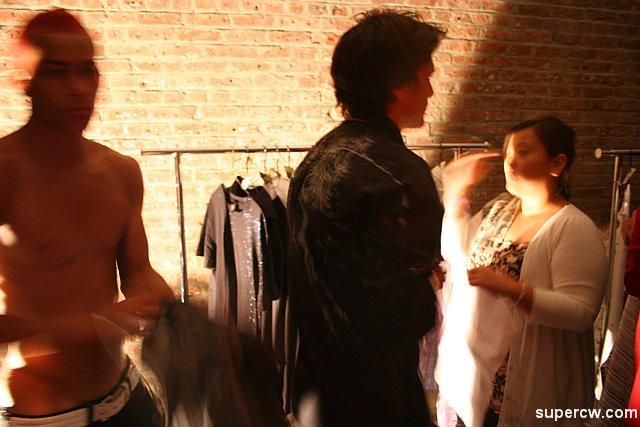 it was nice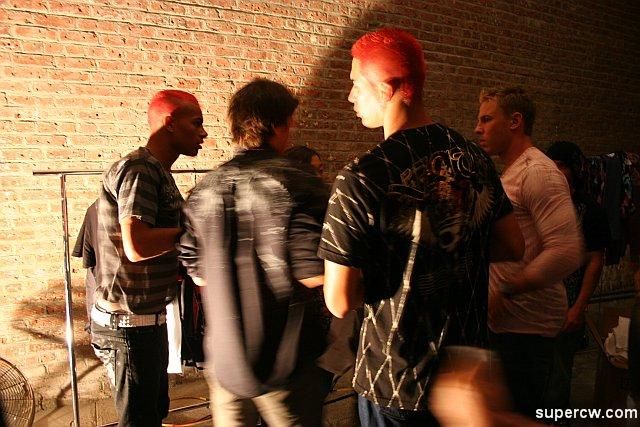 congrats on the new gallery bru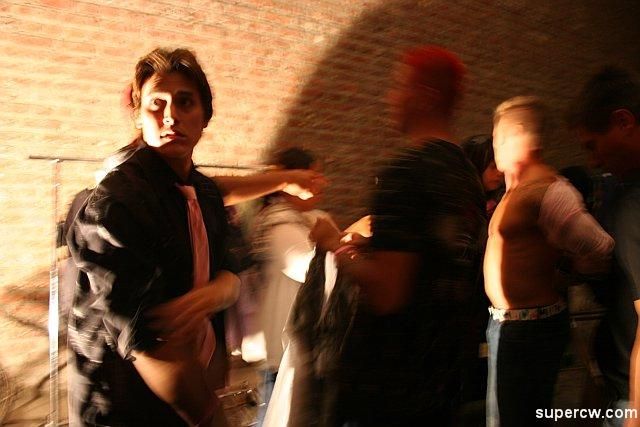 then i followed the lion dancers into manifest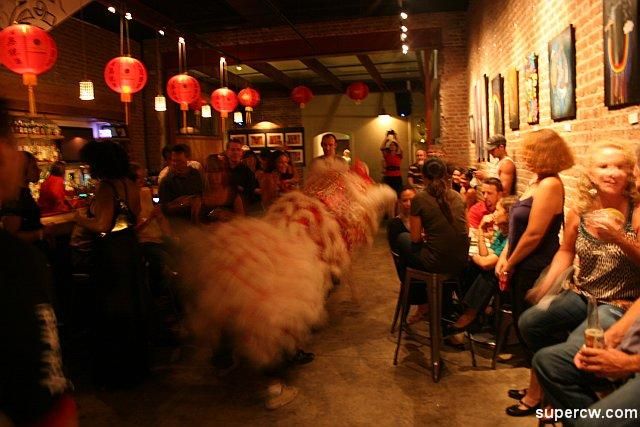 and they almost ate justin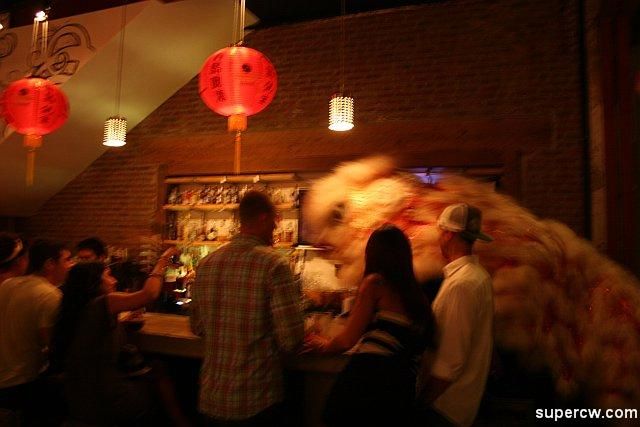 well that's what it looks like anyway. *chomp chomp*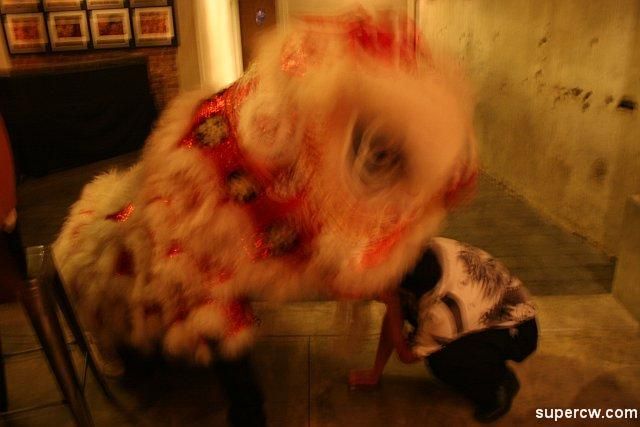 ps: i just learned that it's not just the year of the tiger, but the year of the GOLDEN tiger. this is very special. a year following the ox, where we all worked our asses off. it's supposed to mean it's our year. so cool.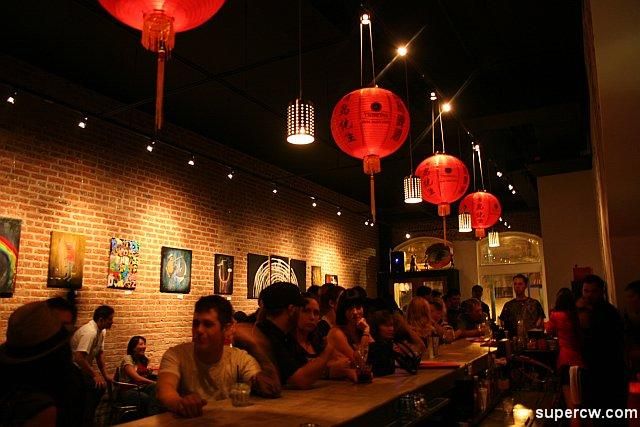 then everyone wanted to wear the mask i bought at arts at marks. ya, they were pretty cool. only $5 and they had every animal. when i got there there weren't any tigers left tho. here's ted.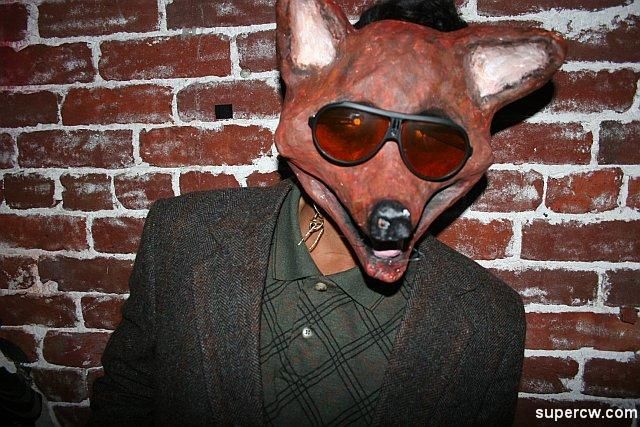 and there's next door. i'm so happy this place is open again.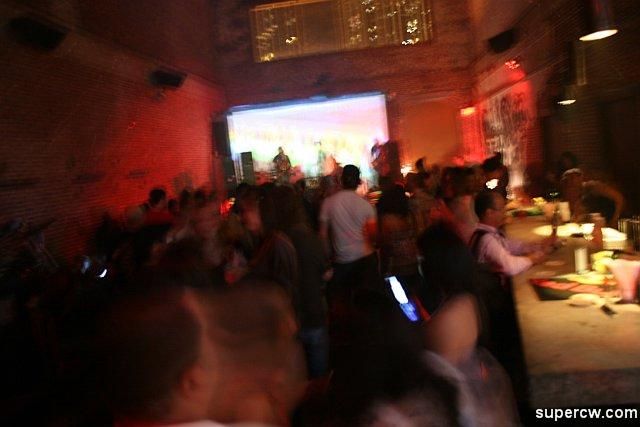 tonight was nutso. first friday and chinese new year AND kool herc's second show.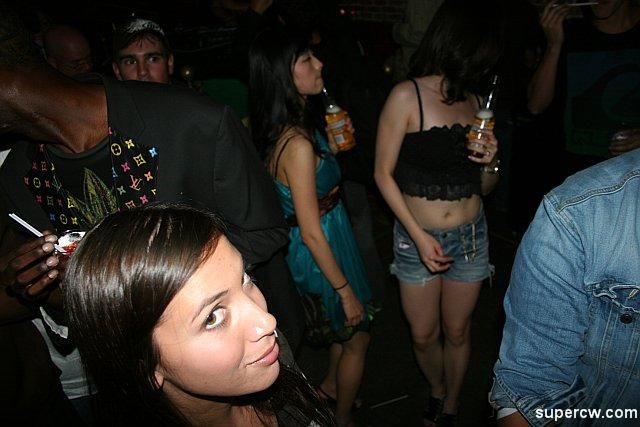 matt breuning and noa. what's up do you guys drink yet.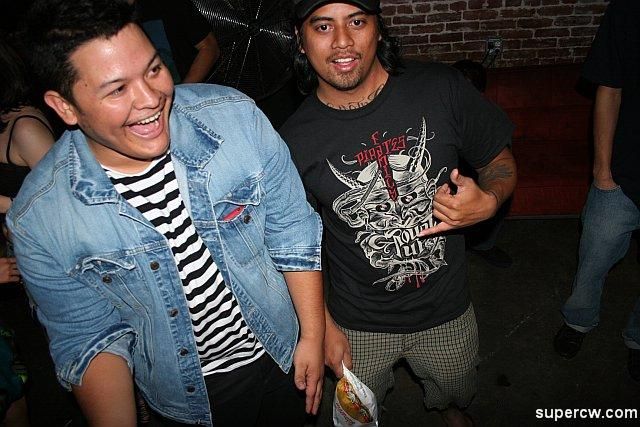 people were in to the new DJ setup with them over on the side. it kind of shifted the entire dynamic of the space.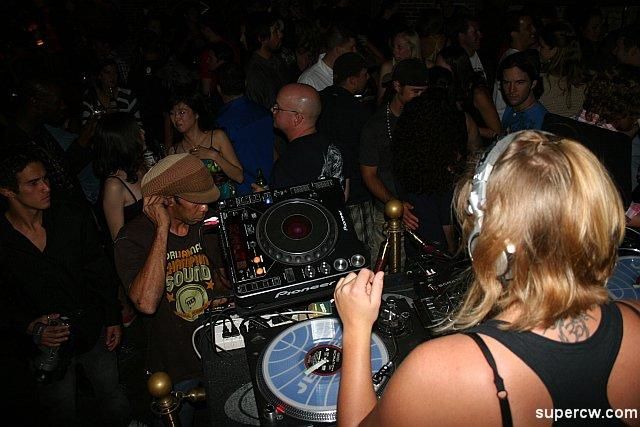 it also made it so that any shots you got of the Herc had him playing with all this brick background. brick makes me think of brooklyn. i betcha chris actually thought of this. he's genius.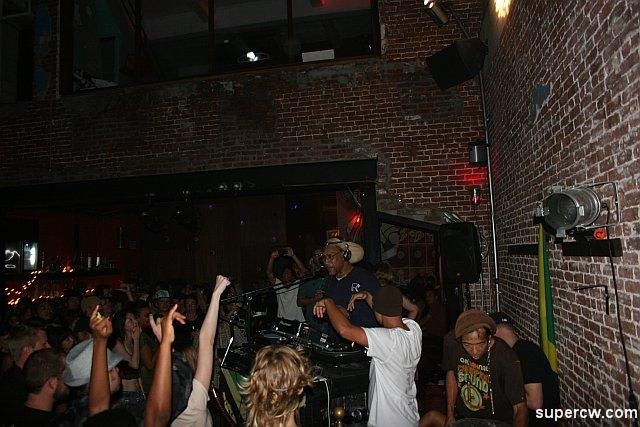 but wait, i'm getting ahead of myself. i forgot to tell you about the rest of tonight. were you there? straight mayhem. street mayhem. also lots of prettys.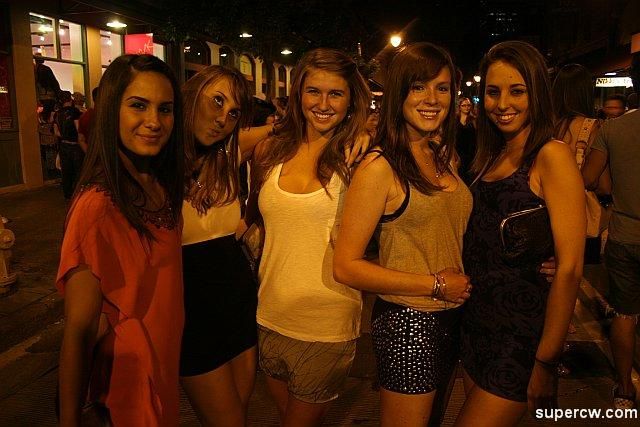 i saw landon tom …. signing autographs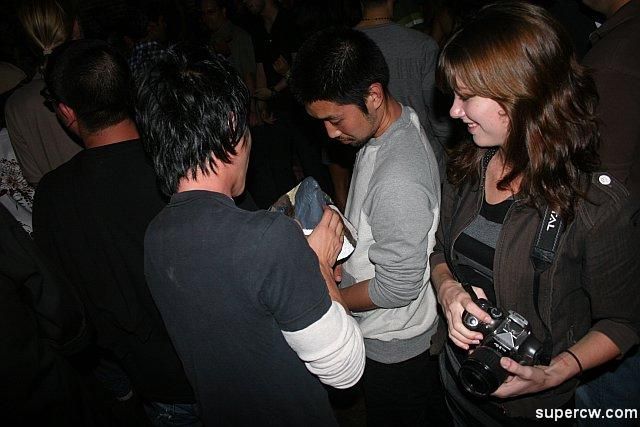 oh wait, no. i mean playing with one of those awesome Arts at Mark's animal mask things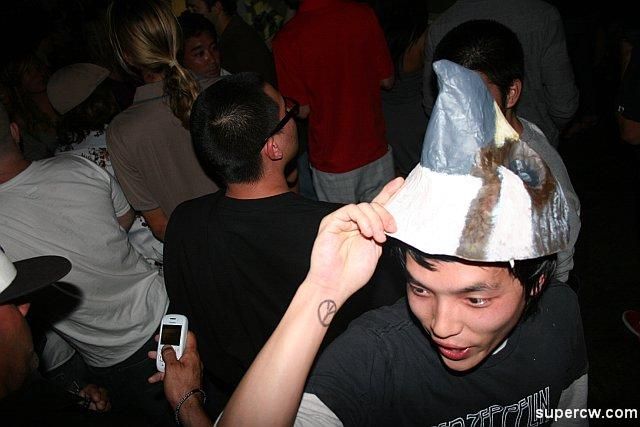 you get two. cuteyface.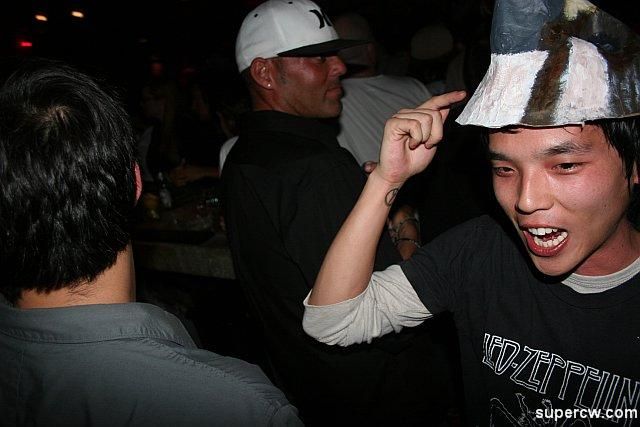 i love seeing the deadbeats play a first friday.  i mean, i love seeing them play anything, but a first friday is like, totally nutso.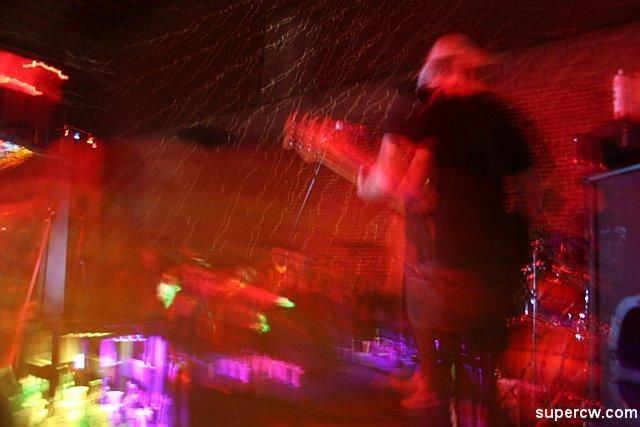 i saw metromix tracy working her ass off (as usual)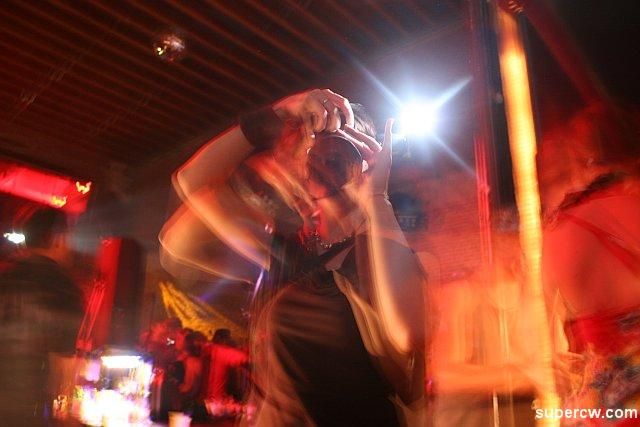 hello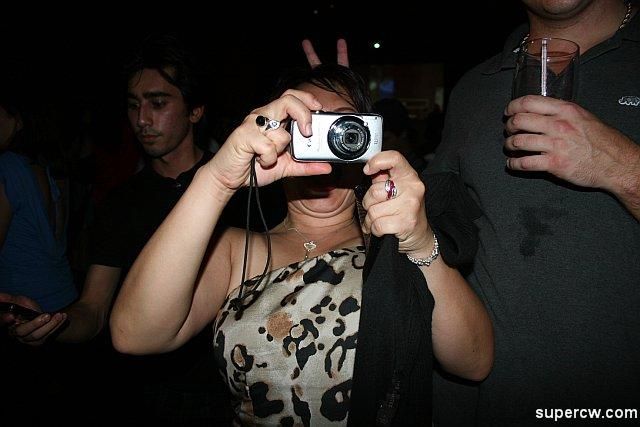 cris perez!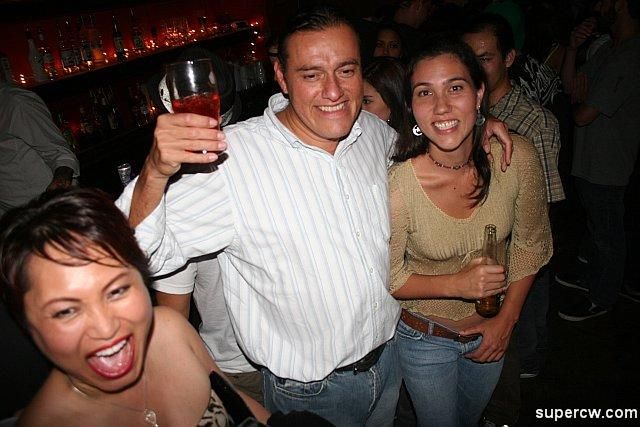 music people you really should know in honolulu: kevin ritchie a.k.a. Kwalified Emcee, bret shimabuku a.k.a. biku and kealoha mahone a.k.a K-LUV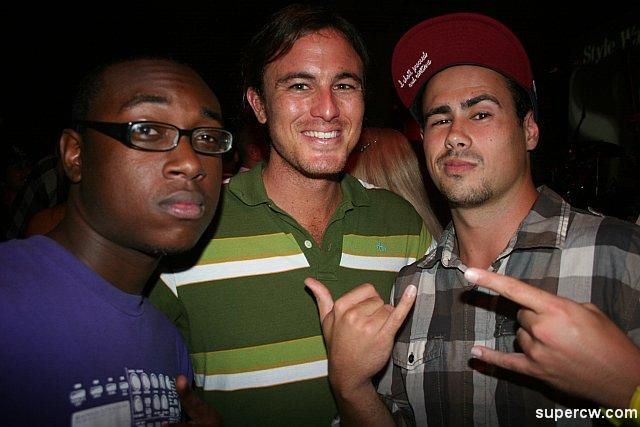 and of course, the deadbeats
i really love next door. ps: shaka.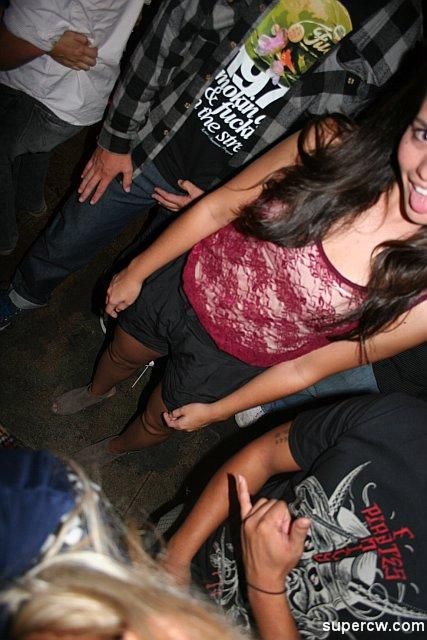 tonight they ROCKED it. (as usual)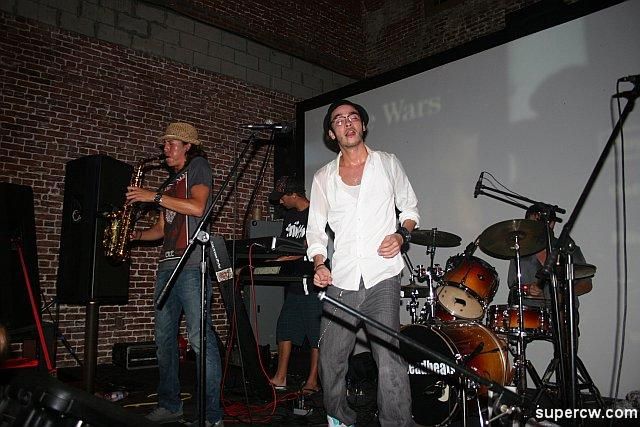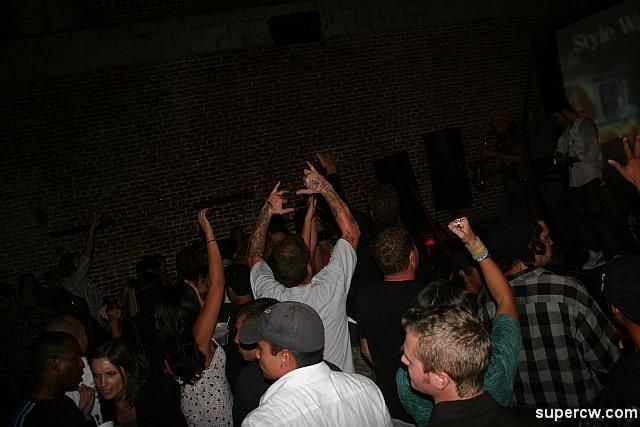 then the godfather of hip hop got on. then we all pretty much went batshit crazy.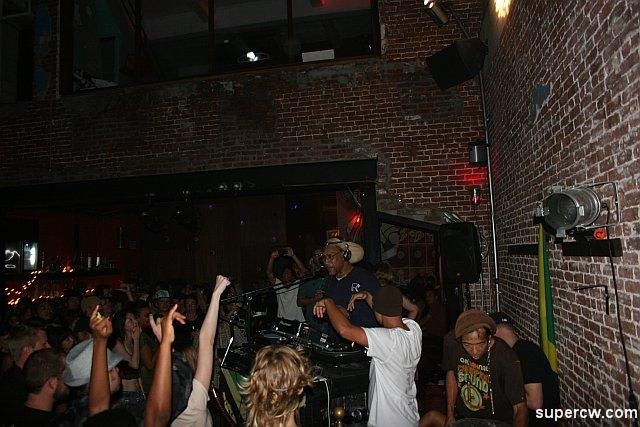 he would play records then get on the mic and just sort of school all of us on the music. i took it like a champ – i don't know shit about any of that stuff.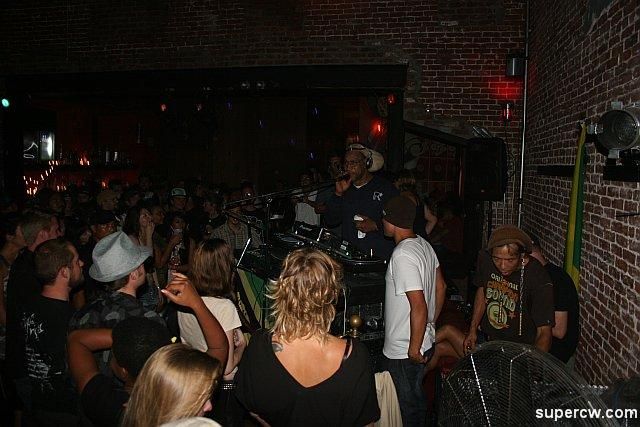 it was, how you say, the best night ever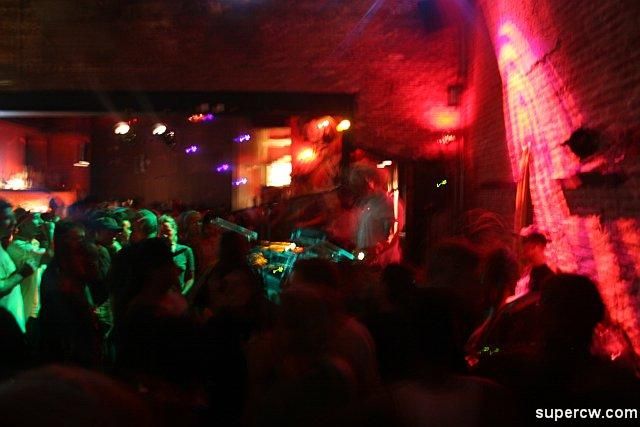 then i don't know. i pretty much lost my brain.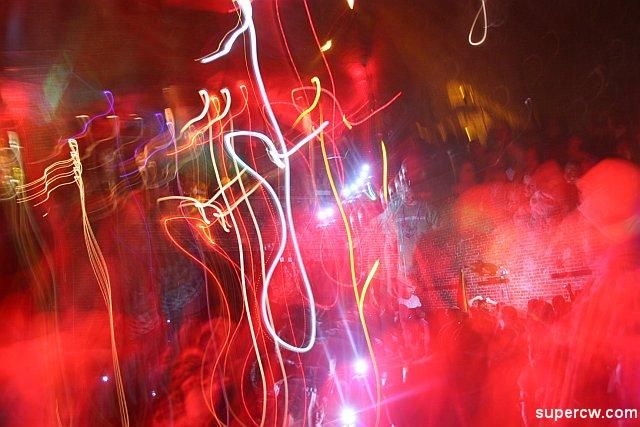 the bboy circle thing didn't work as good on friday as it did at the wednesday show. too many people. they made it happen tho.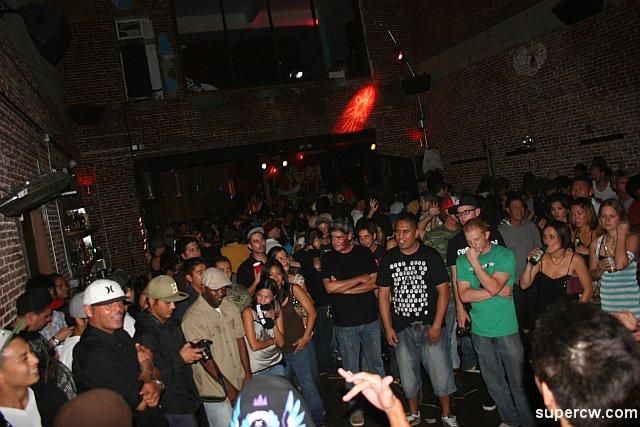 todd's flying coffin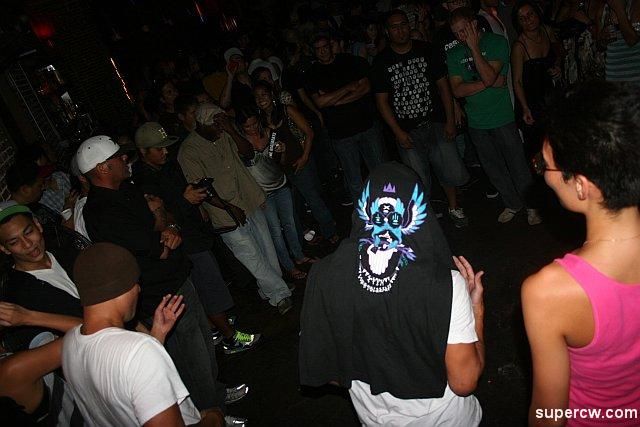 not sure how or when, but it looks like i wound up at thirtynine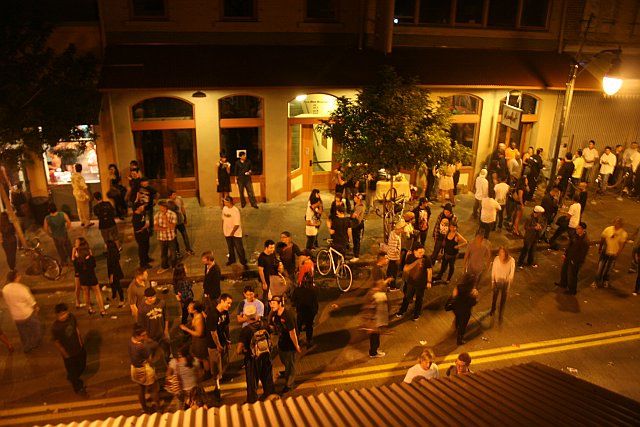 grady was having THE best night of his life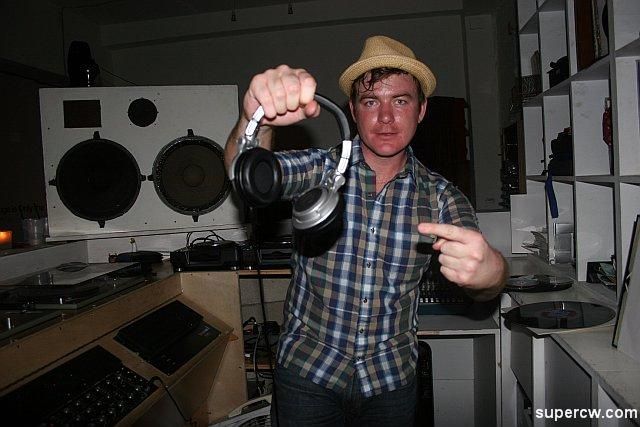 people were super in to his selections, i couldn't even count how many freak outs he got at the dj booth when i was there.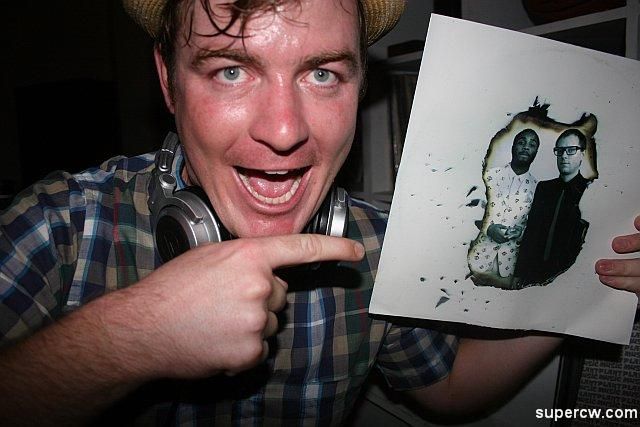 if you were there going nuts, that was me doing the lighting…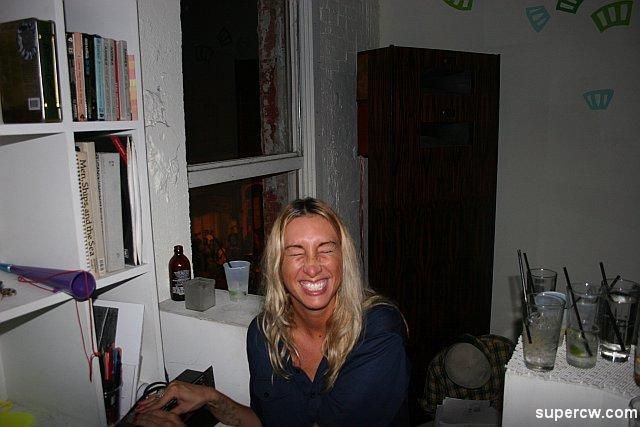 best night ever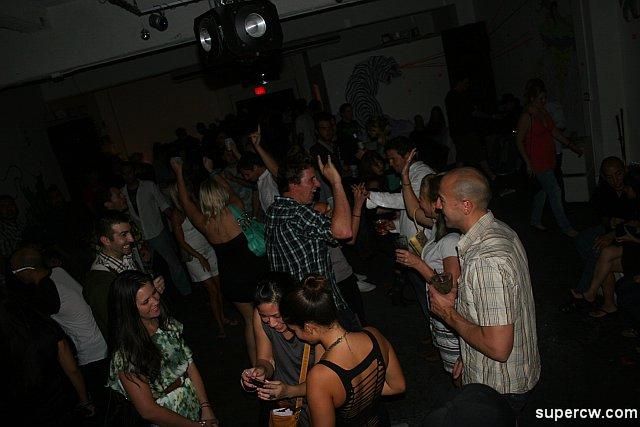 hi there. whatcha drawin….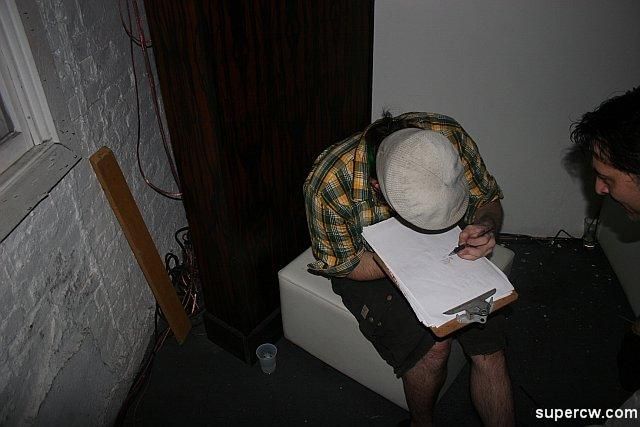 i love this place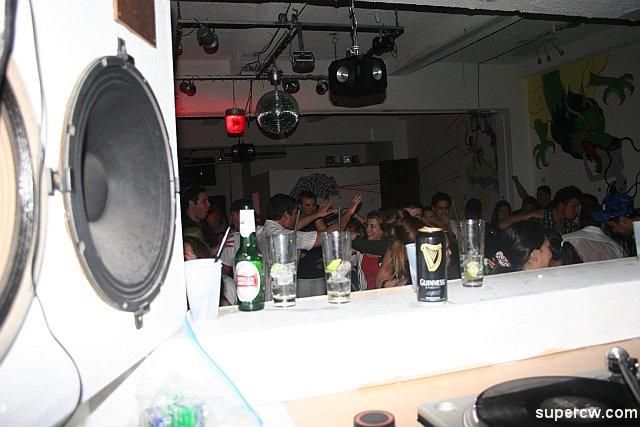 this is what it looked like at last call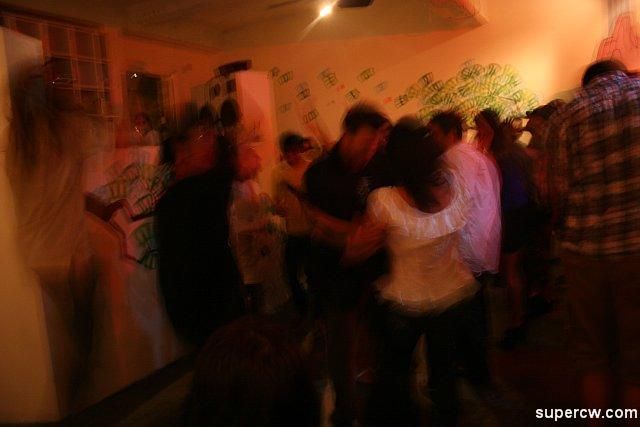 this is what the street looked like at 1:45am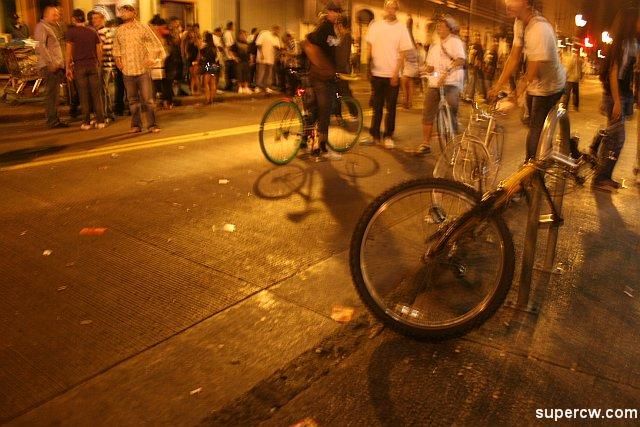 hello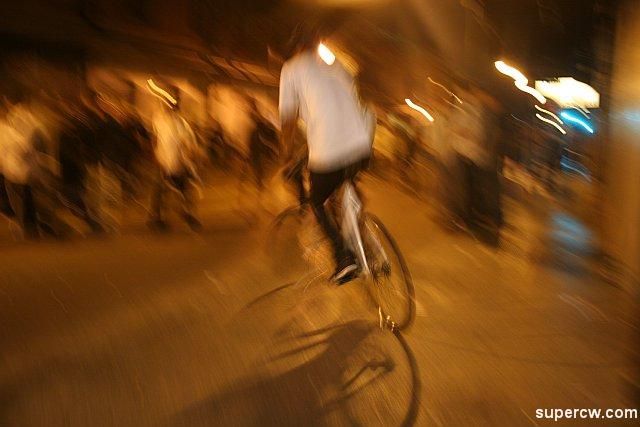 this is what soho looked like at last call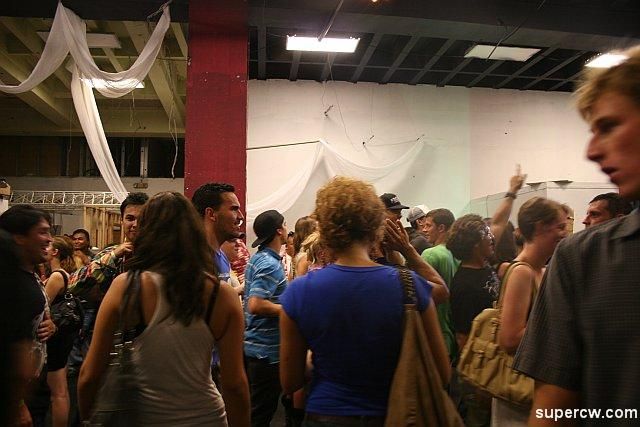 darieus and i talked about tonight a few days later. then we realized we saw each other. hahaa.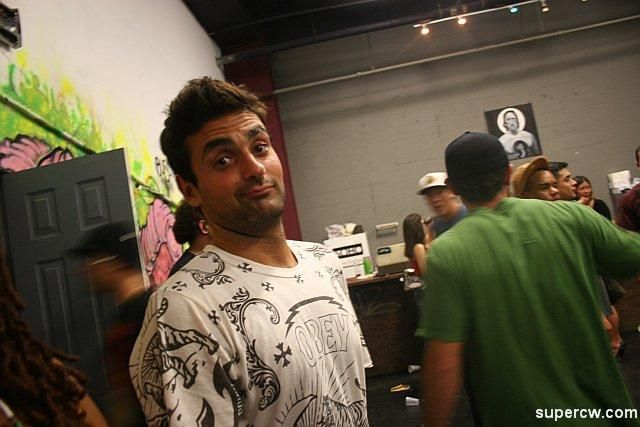 then rice walked all the way over to give me my sunglasses that i forgot (which made my heart melt). the same sunglasses, by the way, that i forgot at the superbowl party. i'm not good at sunglasses.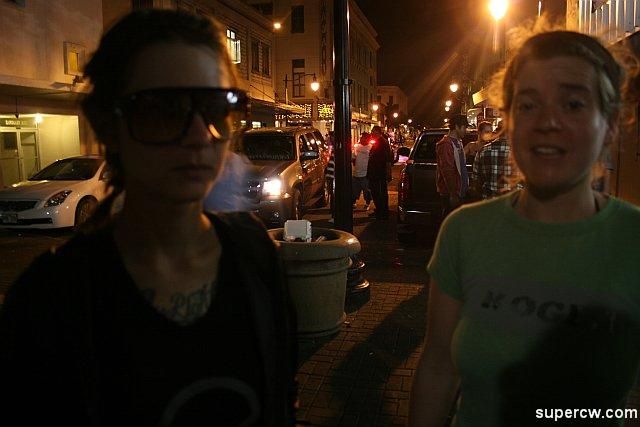 then me and torry thought it was a good idea to start wandering around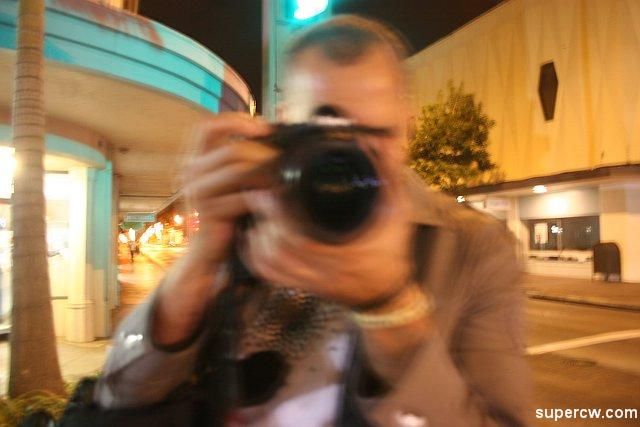 saw cory. this is what you do too?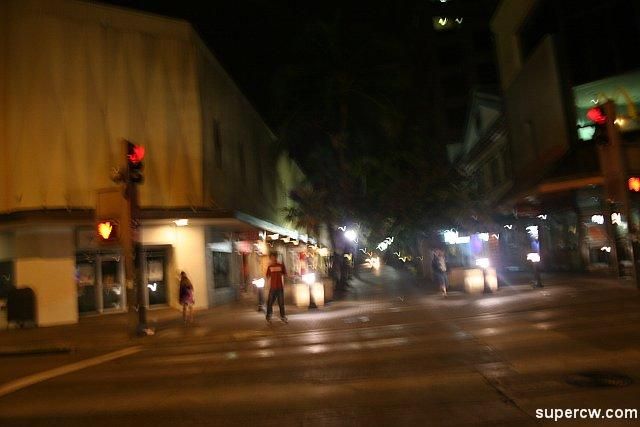 then i don't know. we were all camera battling slash walking.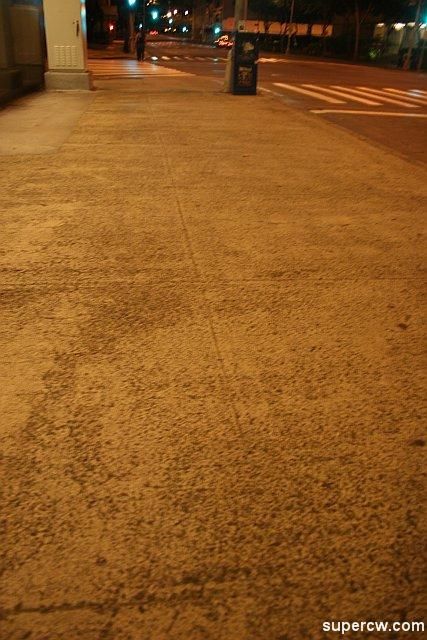 haha, bumped in to farley and brandon too.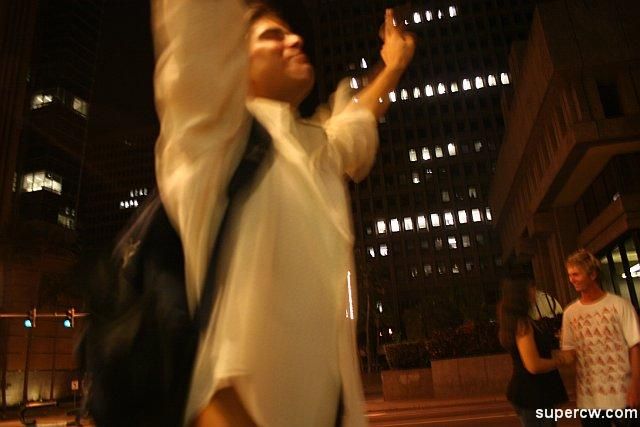 he was definitely having the best night ever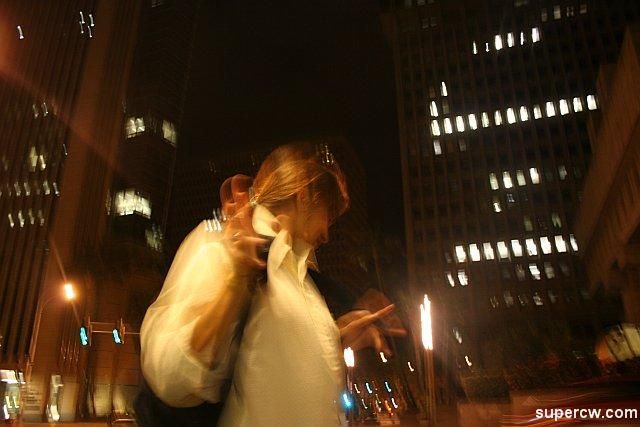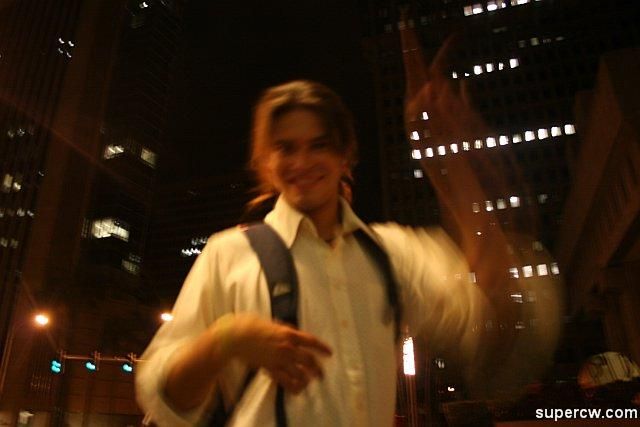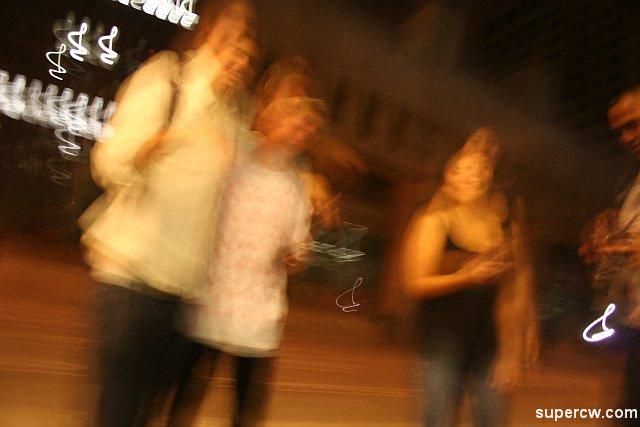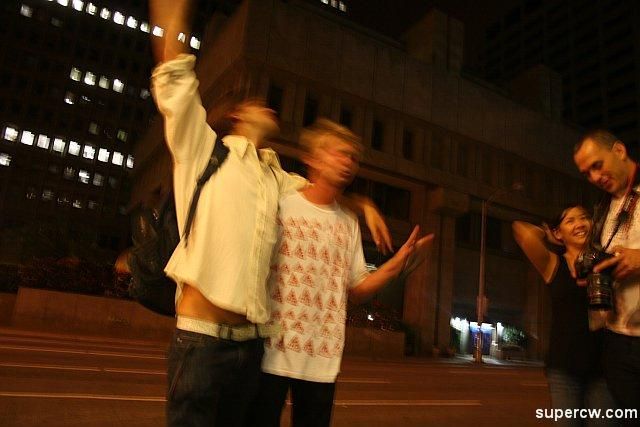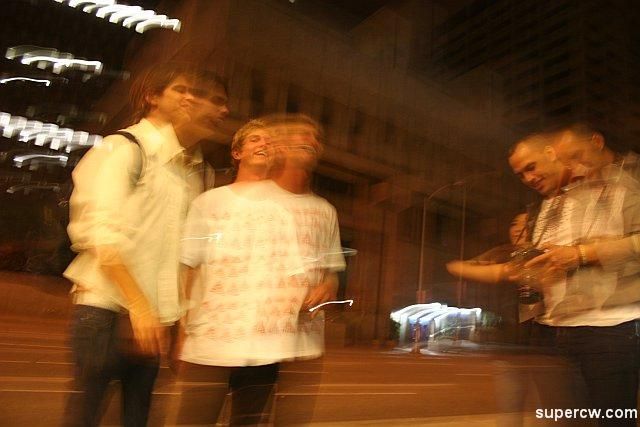 then farley was like "ok you guys! get together. picture picture!"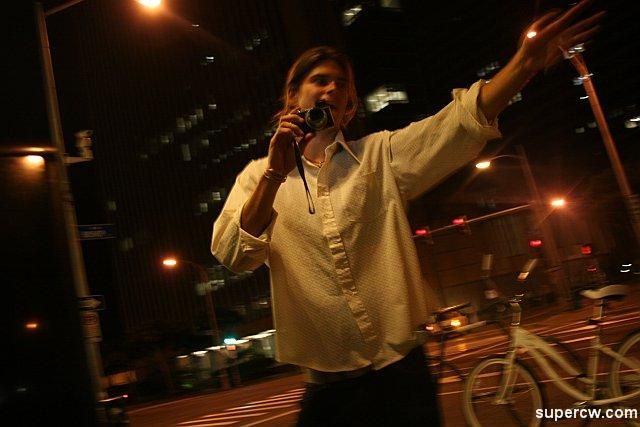 "wait hang on, i didn't get it"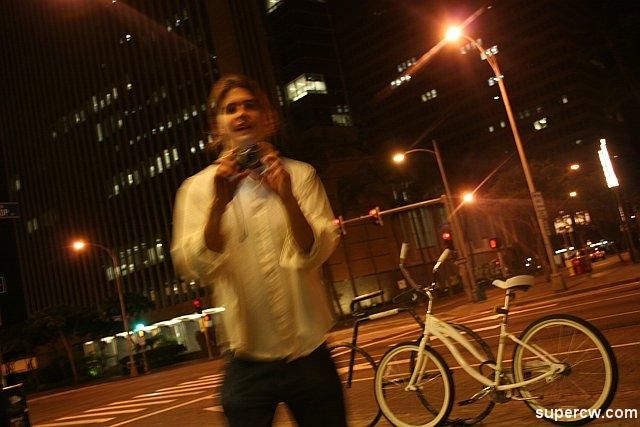 "wait hang on….."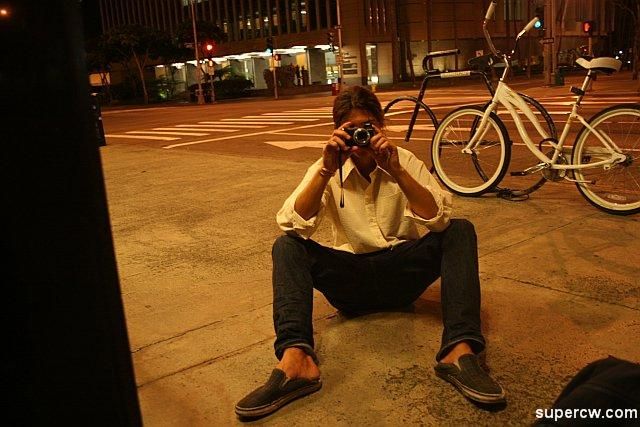 "no wait. hang on"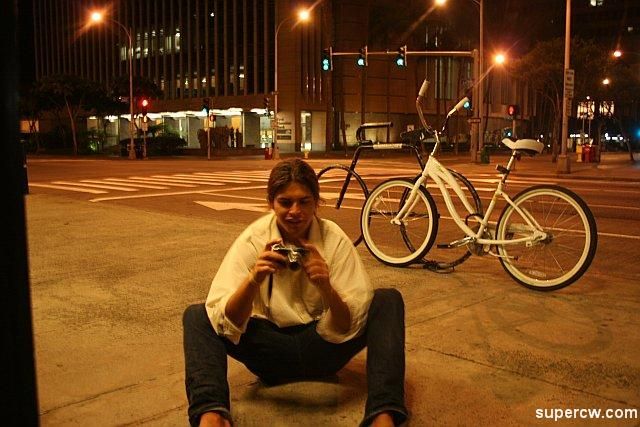 "get TOGETHER you guys. come on."
"wait, hang on"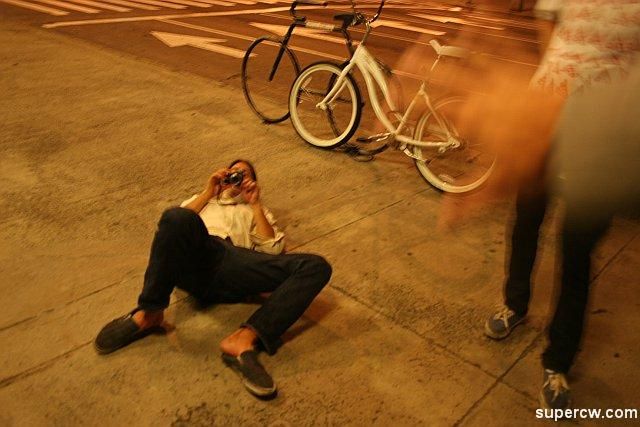 "wait"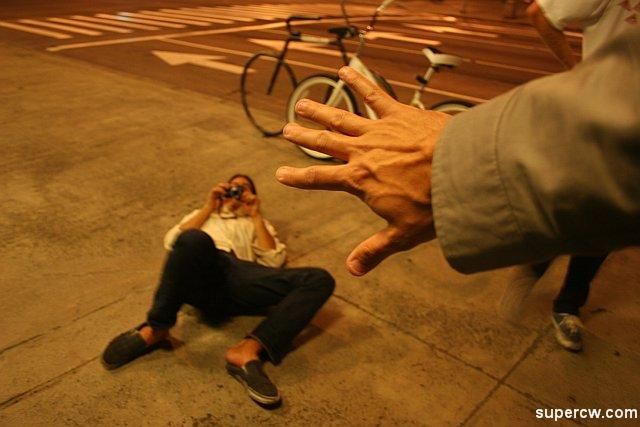 then brandon was like "hhaaa"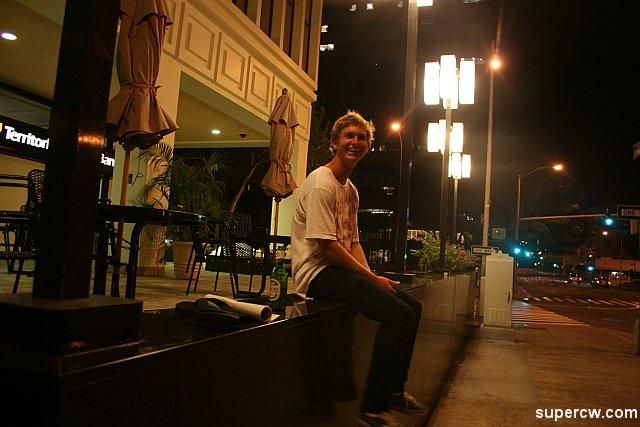 "come ONNN you guys!"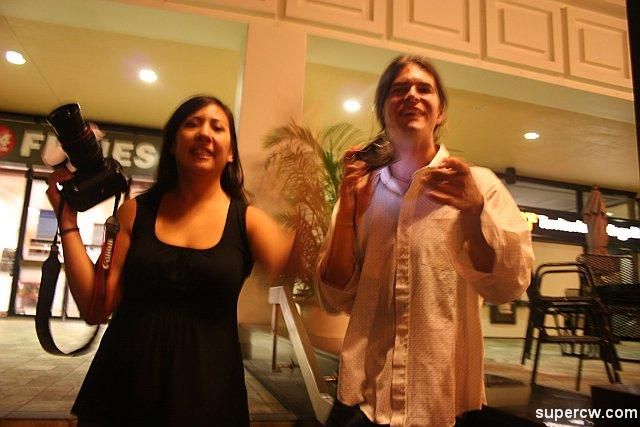 "…….let me try it from here"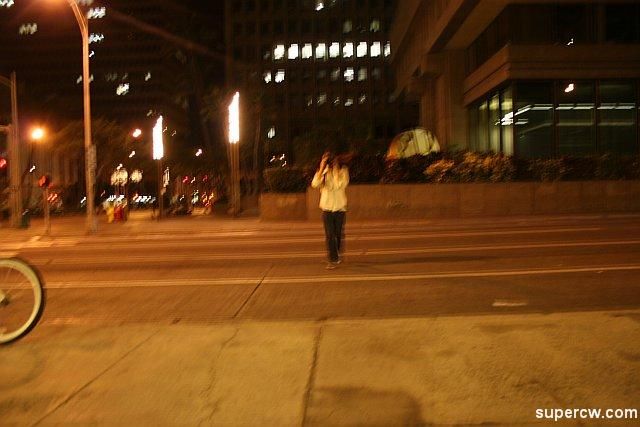 i don't know if they turned out. farley never posts pics.
well i don't care if all this happened a long time ago. cause now it's officially up. being a month behind ain't no thing.
and oh HEY! i'll kind of be out of the country this week. going to probably the coolest 2-day art thing in the world. in hong kong. catch ya'll in march….
love, cw