well happy new year. i kinda was in a swirly-wow after my birthday party and wanted to leave that video up for a while, but here. this is what's been happening in my world the past few weeks of two oh one oh:  i been up to my ears in cuisine and cocktails. eating stuff like shortribs bourgignon braised in burgandy wine with celery root puree, upcountry vegetables and chimichurri sauce and drinking as many grey goose bloody marys and vodka/lemonades as i can.
that's work.
and that's pretty awesome.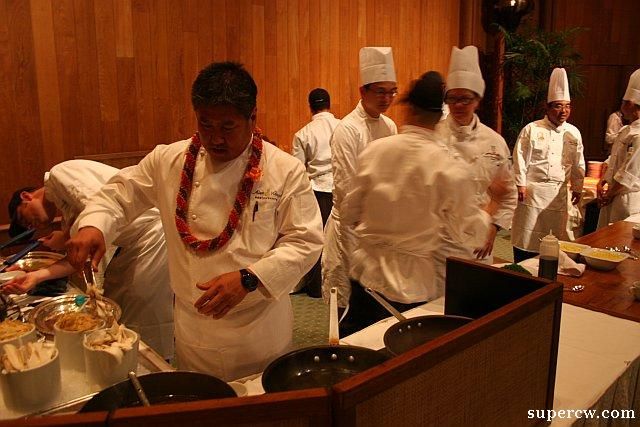 so yeah, hi! i'm gonna catch up this year and go back a few weeks. i was at the halekulani, see. and it was like everything sustainable. growing up in hippietown, washington i'm kinda keen on the sustainable cuisine tip – we always acted global/ate local – so you can imagine i'm pretty stoked to see honolulu's top shelf chefs setting the bar so high. it's how to cook, dudes.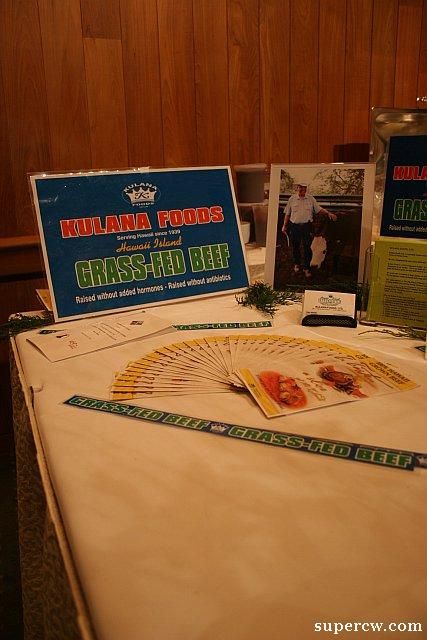 it was a bit of a media frenzie, which made me very happy.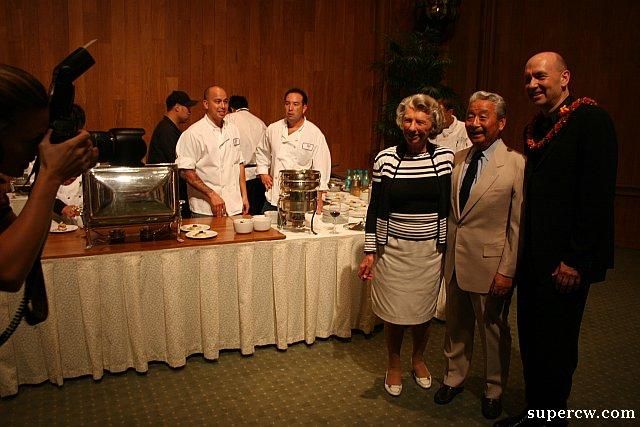 chef roy yamaguchi working his magic on those olive oil poached shutome hanalei taro poi pork bellys. and yep, they were goooood.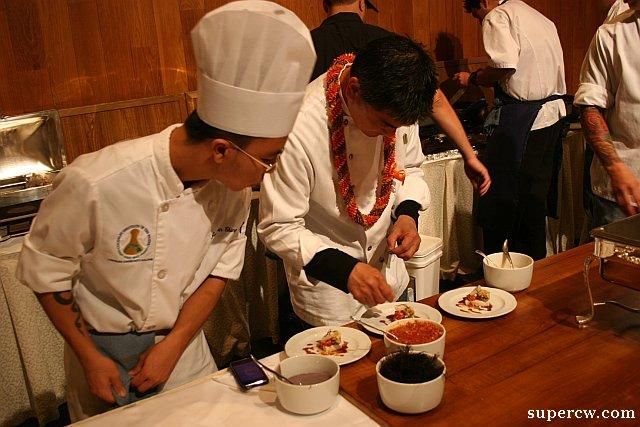 that's kathryn hall's son. we have Hall wines in our grand crew division, they are all environmentally friendly or organic. you actually might not know this, but a lot lot lot of wines are organic now. most are going through the process to be certified. most are just super green.  in their growing practices, not color. er, you knew that tho.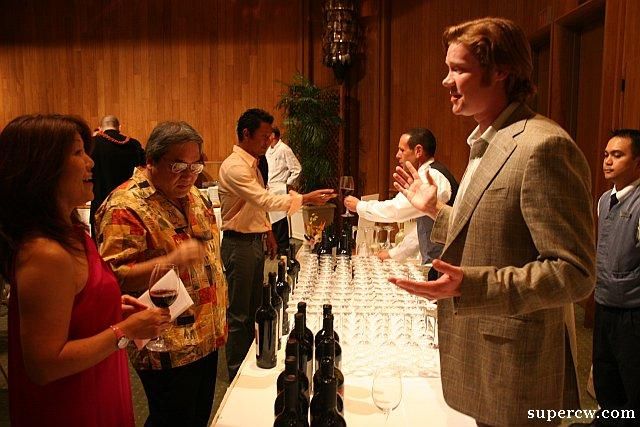 the lovely Kathryn. i tried her signature label cabernet tonight for the first time.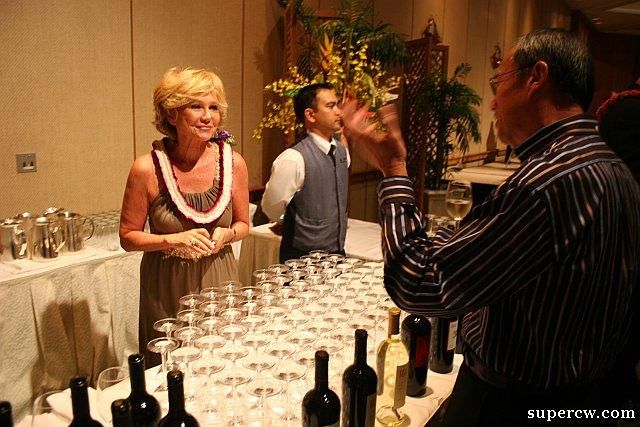 her sauv blanc is just to die for. it went amazing with the north shore raised tilapia alan wong was serving up. god tonight ruled.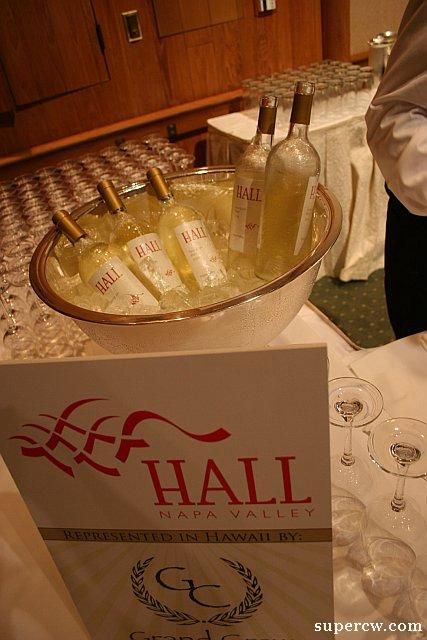 yup. that's big island abalone. don't think i wasn't giggling/drooling like a little school girl.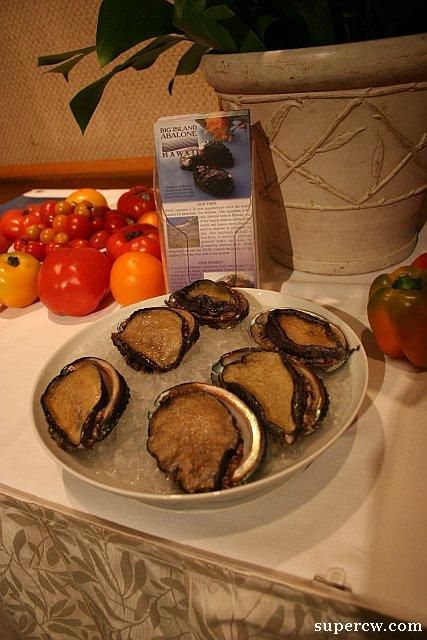 halekulani's chef vikram garg had the most killer set up. in addition to serving the amazing abalone he had a huge display of ingredients to choose from- stuff like kukui nut, mao basil, ogo, sea salts, maui potato chips, friggin sea asparagus and macadamia nuts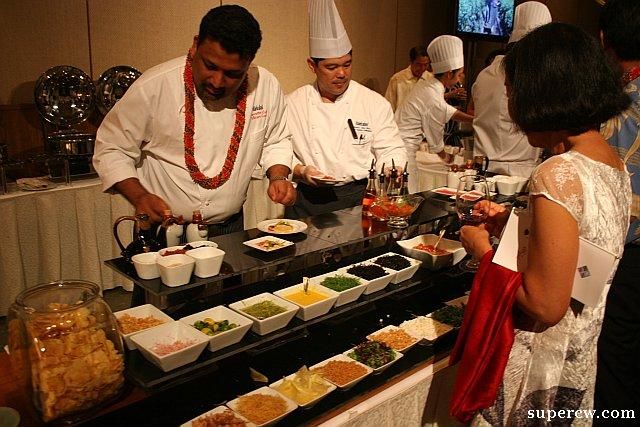 chef alan wong's naked cow butter. snicker.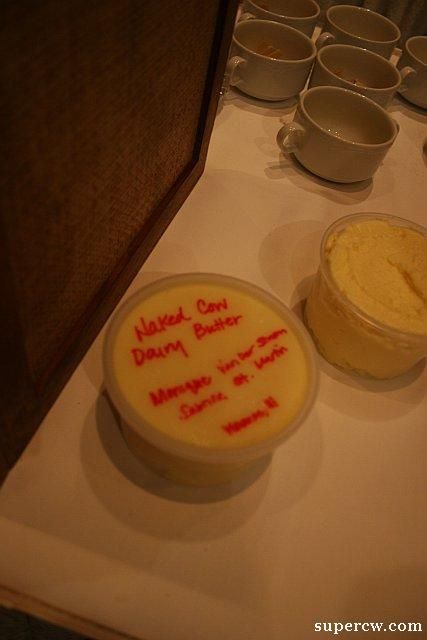 you could say it was foodie heaven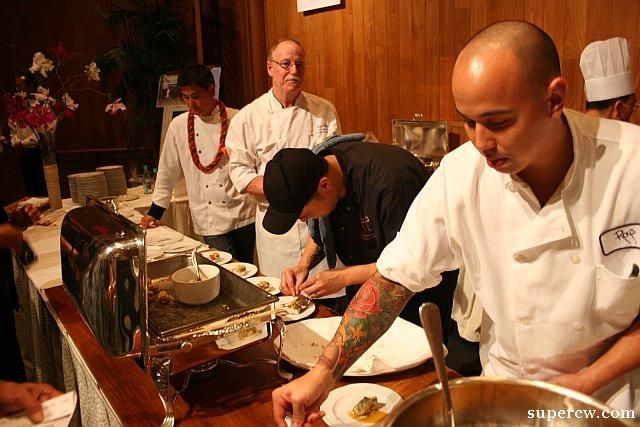 sustainable foodie heaven.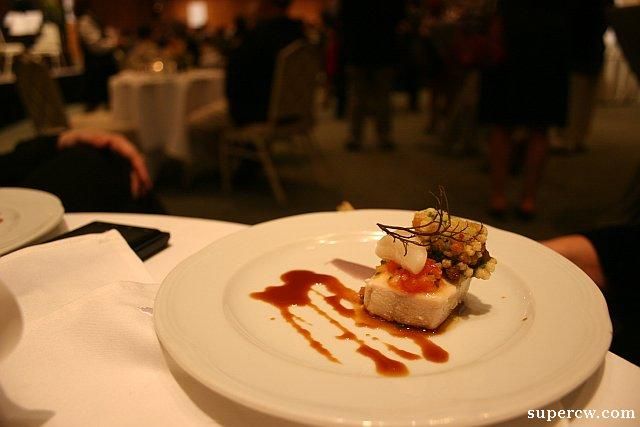 another one of chef vikram's creations… a friggin pineapple cotton candy lollipop…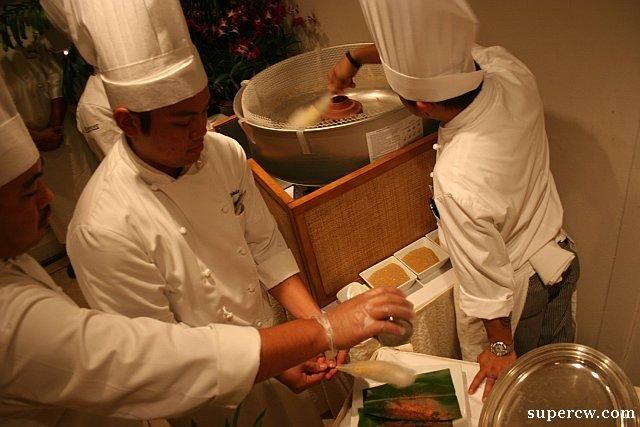 made with maui sugar. topped with a sprinkle of li hing mui.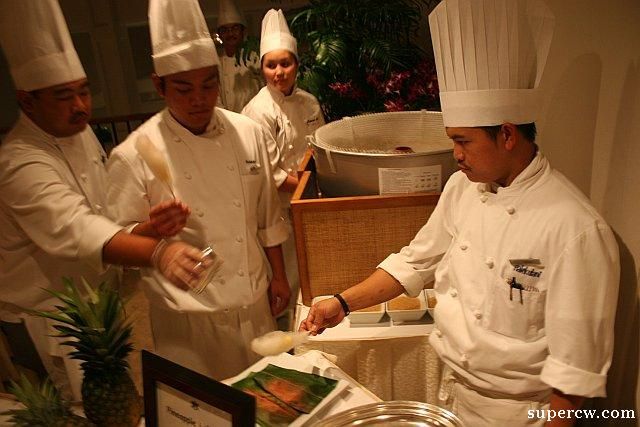 and this is when i died.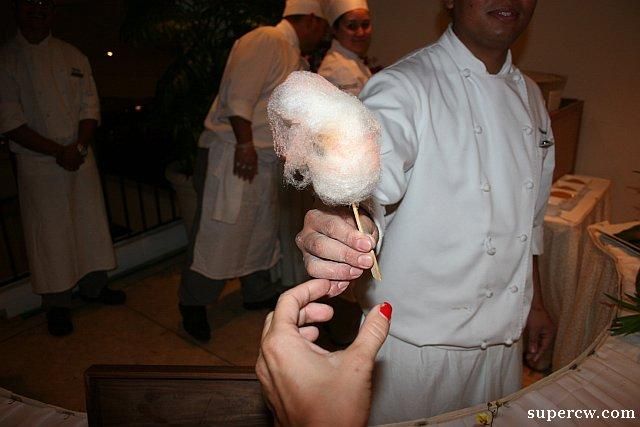 then i was at apartm3nt, totally not getting anything in focus…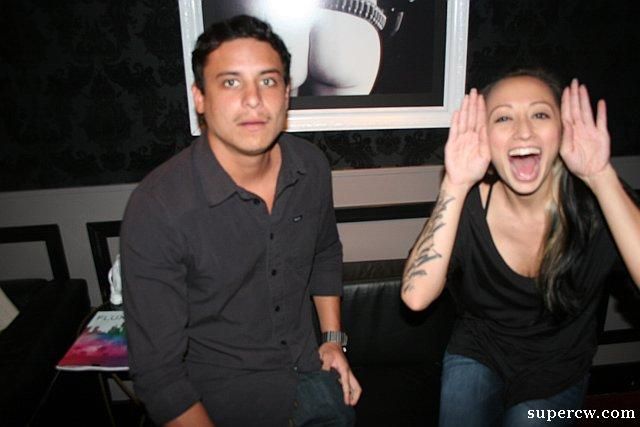 wait, omg. this was like 2 weeks ago. the FLUX magazine preview! it was suppposed to be a quiet little party. awww, all the christmas babies were still around too. aw, man. those were the days…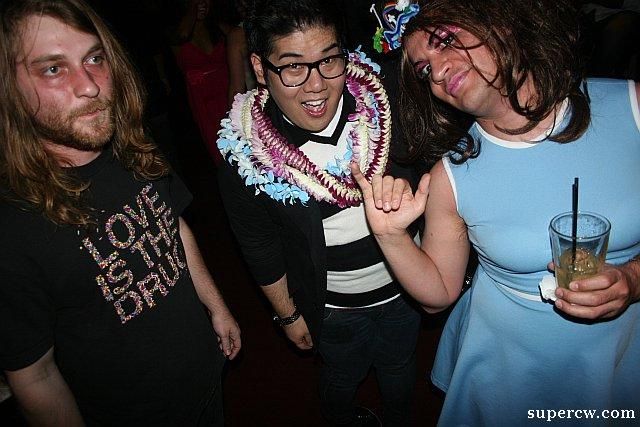 wait sorry, doug gets two. his quips from this night were the best ever.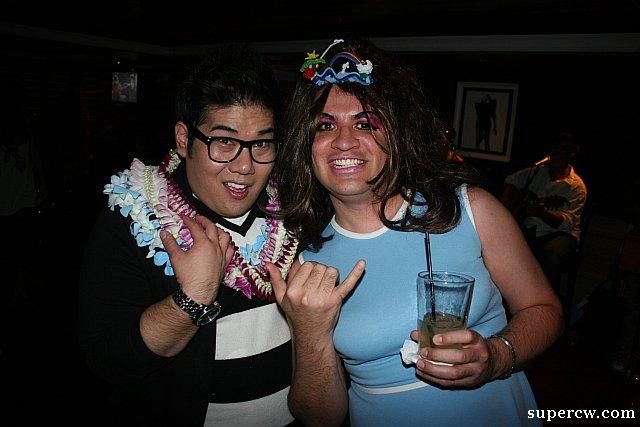 yoza! she always brings THE coolest crowd. i'm officially her groupie now.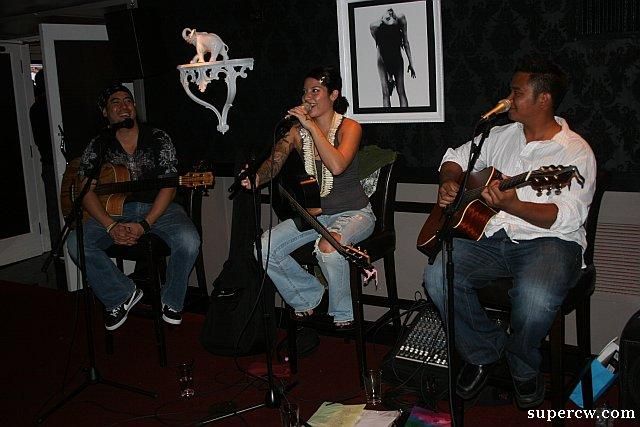 speaking of crowd, tonight was the coolest, most trendy/classy and intelligent crowd i've ever seen in apartm3nt. i was falling in love all over the damn place.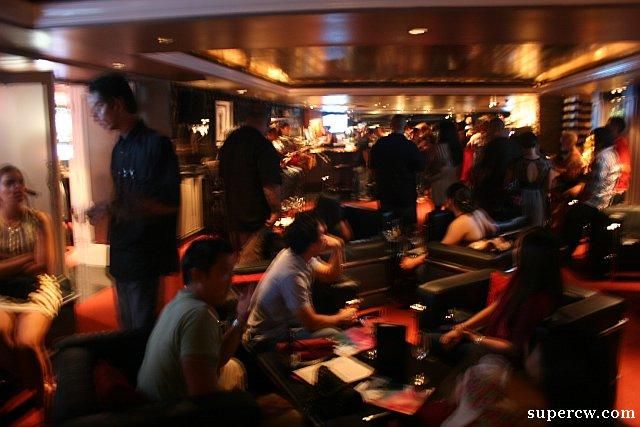 groundUP was there too. totally in full force…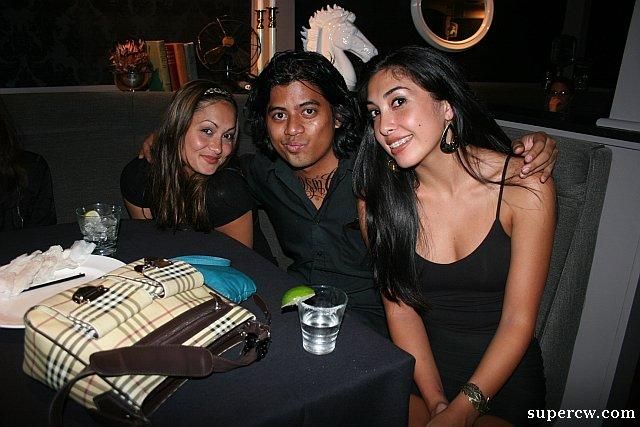 …i remember trying to rally them to come here after our photo shoot at the canon club a few months ago. everyone wore black to the shoot and i could just totally picture them in that room. i was BEGGING them to come and they all wound up going to the food court at the mall. but alas, my dream finally came true. groundUP in apartm3nt….. wasamaze.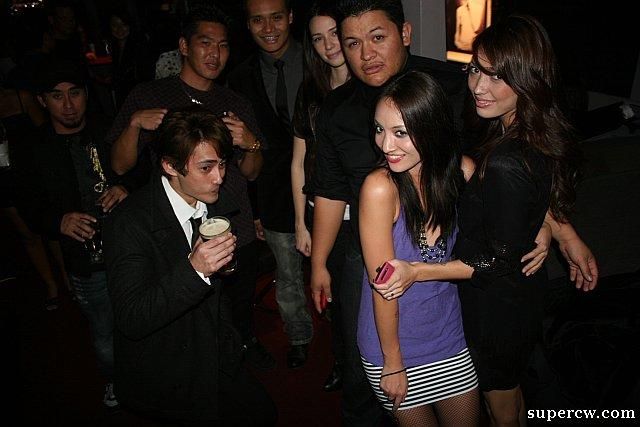 were you there? i was mainly hiding in the back corner table. the sexy table. paul is wincing because i was out of control, which is why jackie looks so proud of me.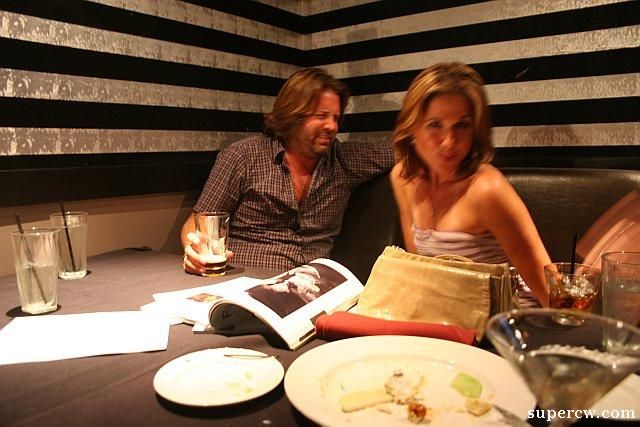 then i borrowed michael keany's camera and struck gold. pure gollllllllld.
we got some rad visits back there. russell kealoha (happy birthday bruu!) monchalee and the lovely landon tom. hi guys. sorry i didn't really move from my seat most of the night. angelface.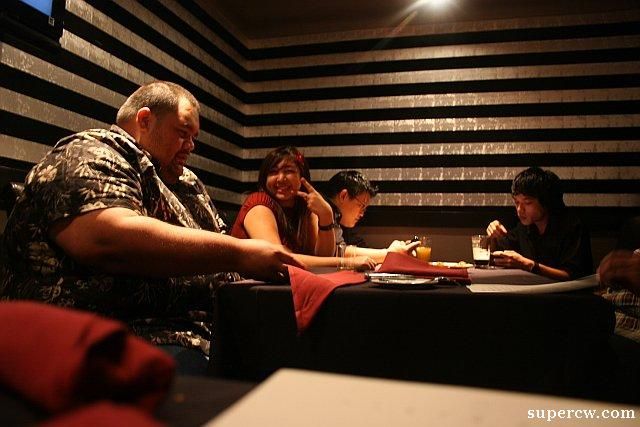 oh, and the menu changed! duh, they are using locally grown products whenever they can too. this is the yardsale. i want one right now.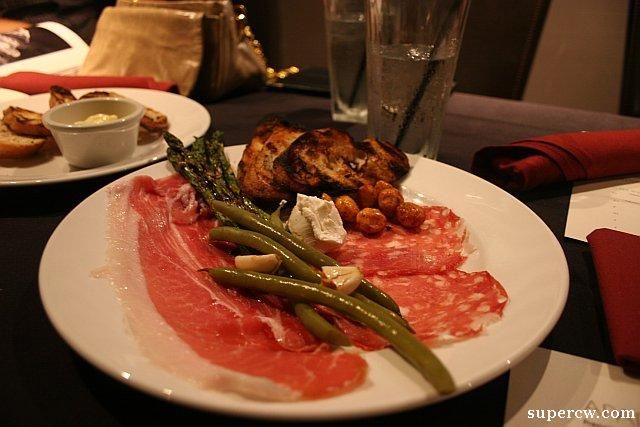 noa making FLUX look goooooood.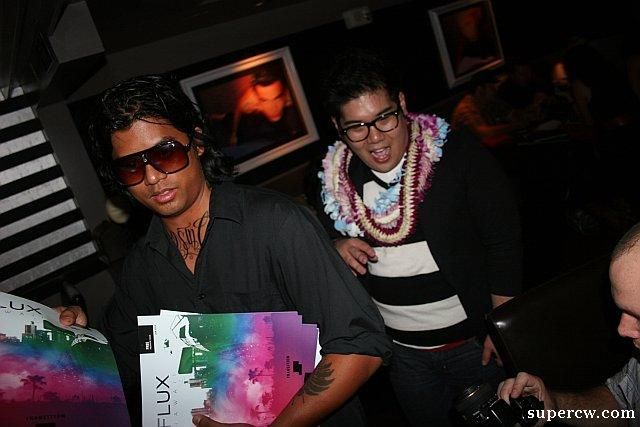 jasper wong and avery yoo (we goin to china)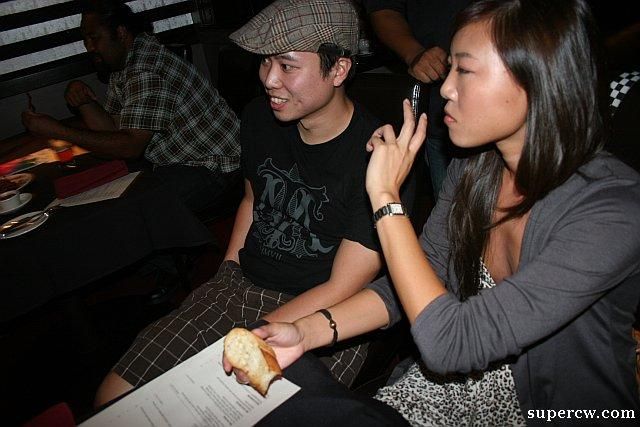 i don't really know much that was going on tonight, to tell you the truth. and damn, i miss anton.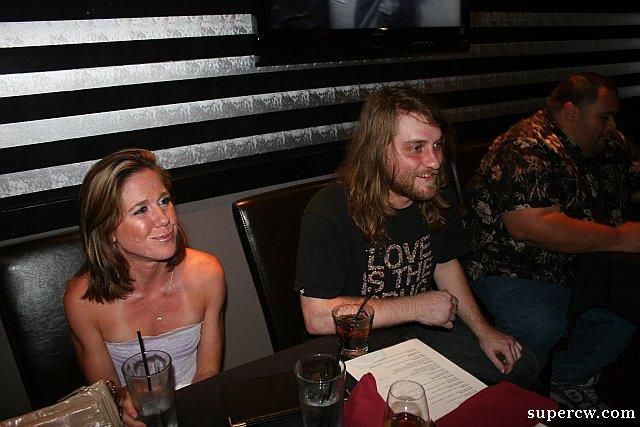 thanks for letting me use your camera keany. thanks for not posting pics of me keany. <3
so i finally finished reading the magazine. it's not what you think. well, i don't know what you think, but definitely pick one up. expect to learn something. i really super love their vision to create a culture of curiosity and intrigue. i'm definitely… that.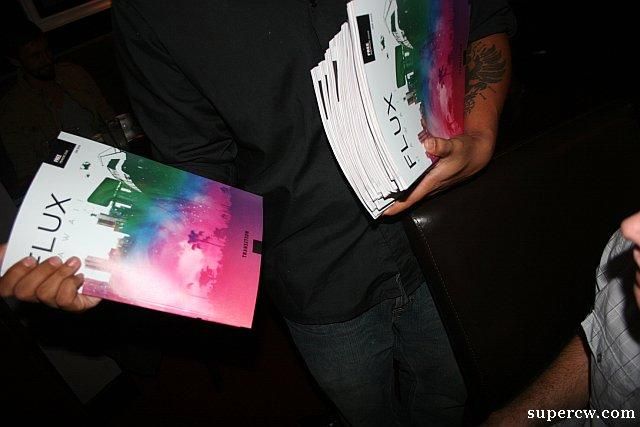 …and i really super duper love these faces. hi! hi hi hi hiiiii.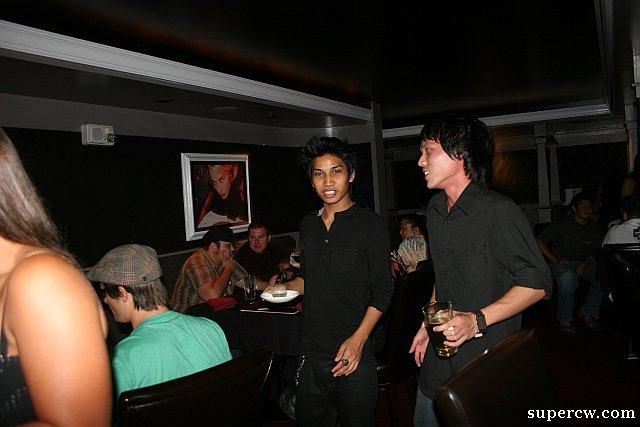 side note: jasper wong's tattoo of hanna barbera. if you saw his art you would understand.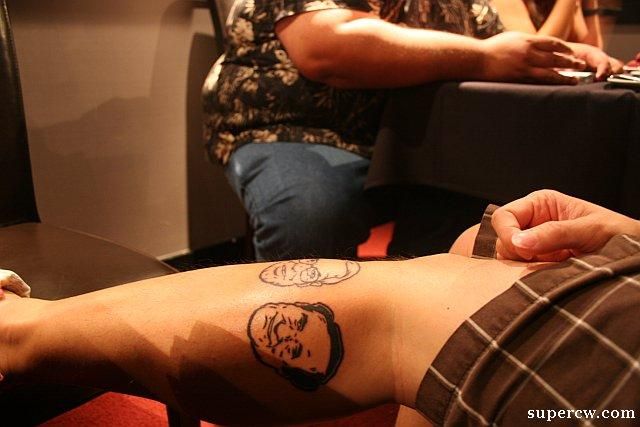 then we all went to next door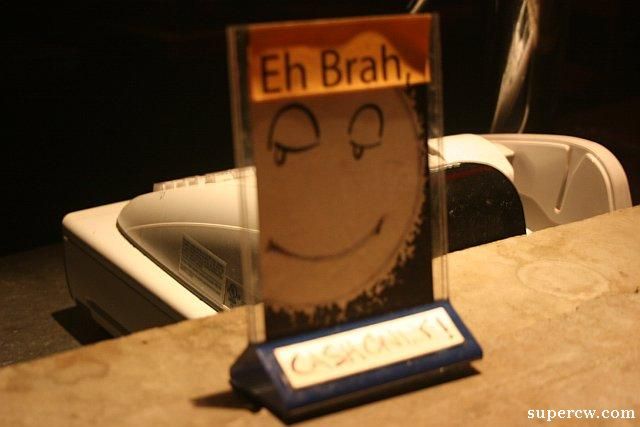 i spent maybe too long trying to get the dance globe beams of light
never really got it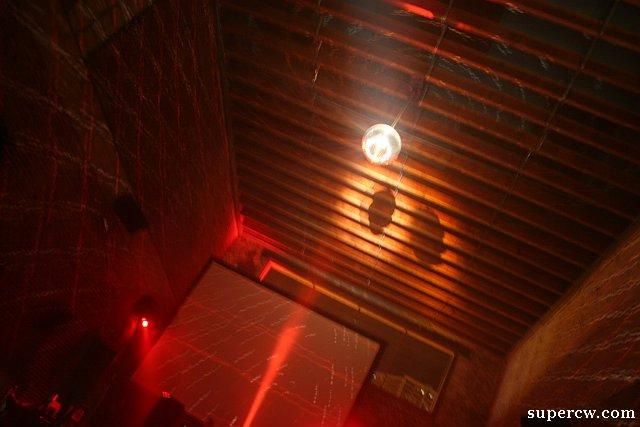 tried to get angelface christmas baby. never really got that either.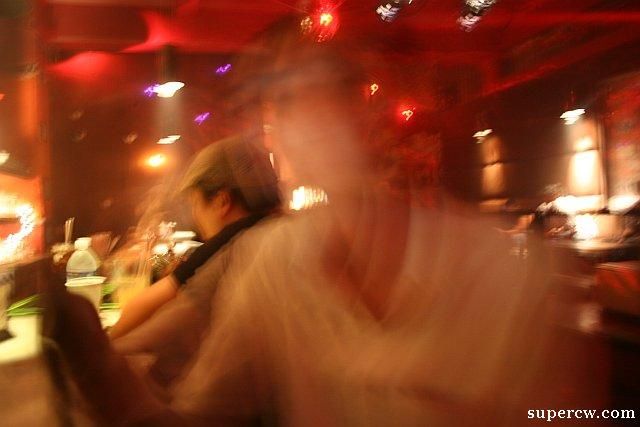 christmas baby jasper with aaron honozooloo. speaking of, aaron what you doing in feb? you should come to hong kong with us dude.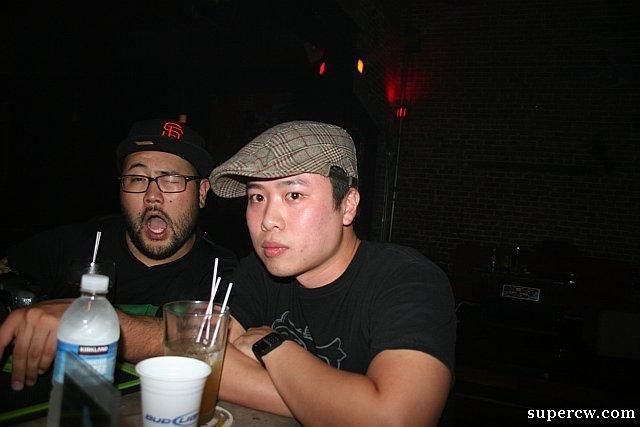 still trying. don't think i didn't try.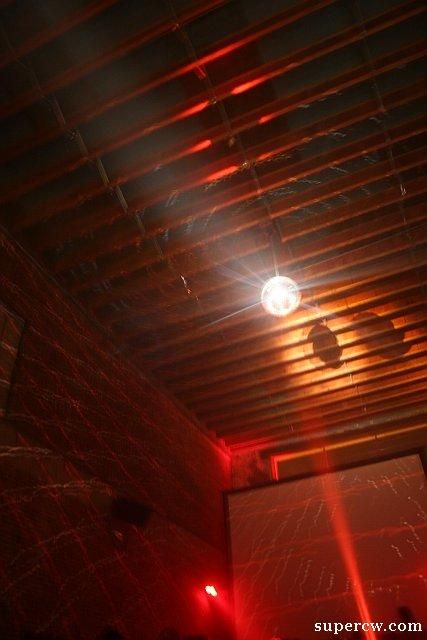 then i saw brock whaley's son, who told me brock whaley still reads me. which is RAD!!! OMG BROCK WHALEY!!! (fanning out). dude, your son is drinking age too. craze.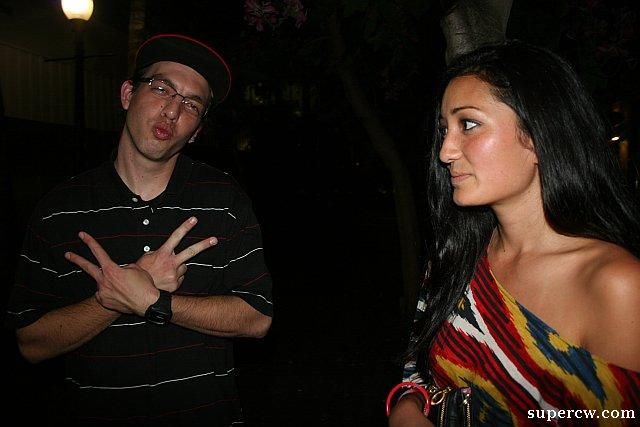 then i saw justin nicholson's brother. another christmas baby. cuteys.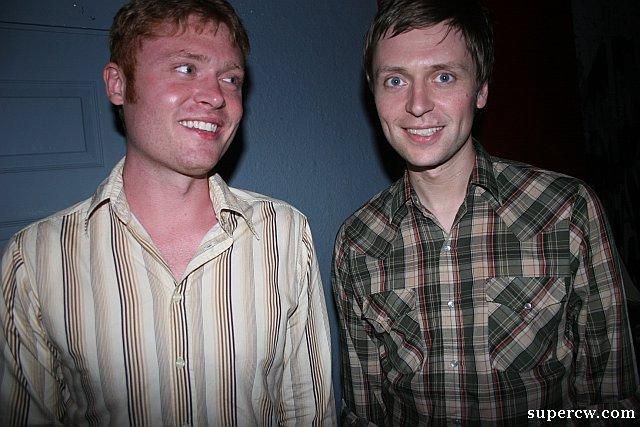 then it was friday. or saturday? i can't remember now. oh wait! saturday. speak easy at mercury, which of course was packed. dude, those girls do burlesque like woah. and they take off their clothes in the way you're supposed to. slowly while dancing. it was also aja's last performance. i was sad.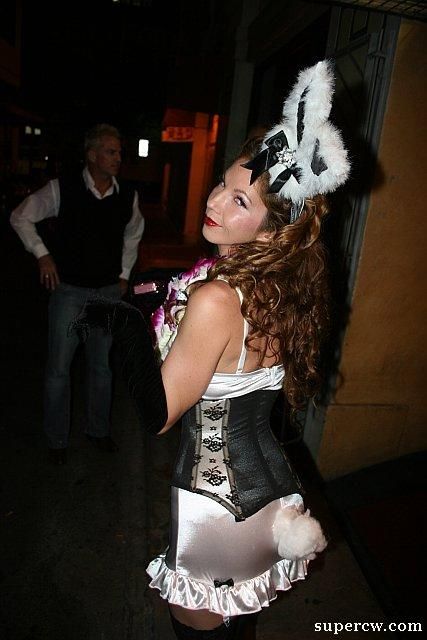 they always have a theme, and tonight was a hat party. i didn't have a hat. aja gave me this to wear. i wanted a little frog to put it on.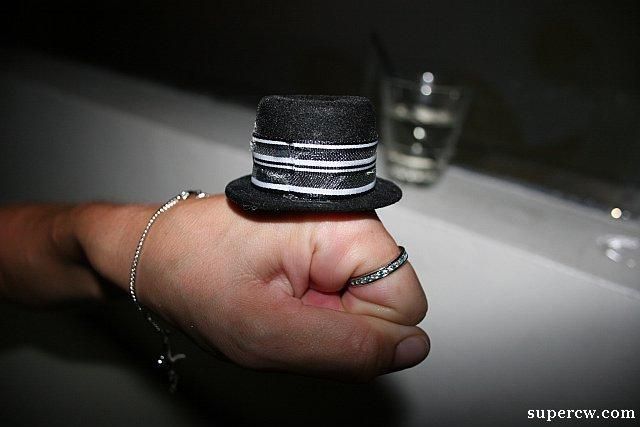 then i bumped in to a bunch of old friends that had a 1.75 liter of jack daniel's. the rest of the night… i don't know.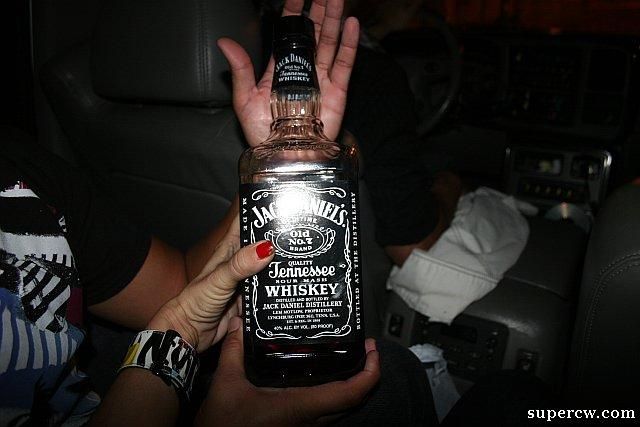 but i DO know if you ever need a date, CALL TRAVIS! dude comes to pick you up with no shirt on.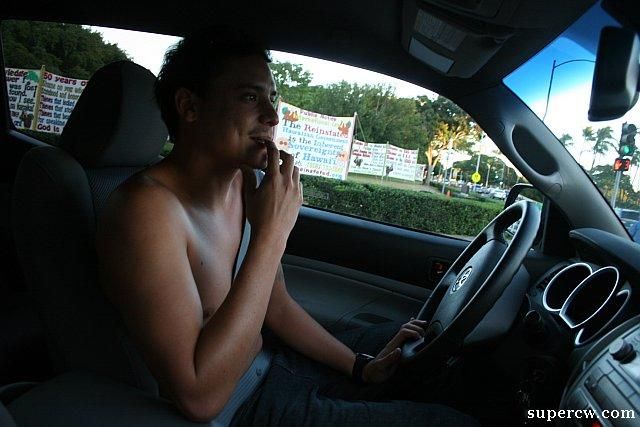 i guess it's so as to not wrinkle your already wrinkled rvca shirt that is the only shirt you have that's clean with a collar. i really don't even care. he is by far the coolest dude to chill with at a fancy party.
and trust me…. this thing was fancy. a choice of hibiscus or strawberry in your champagne fancy.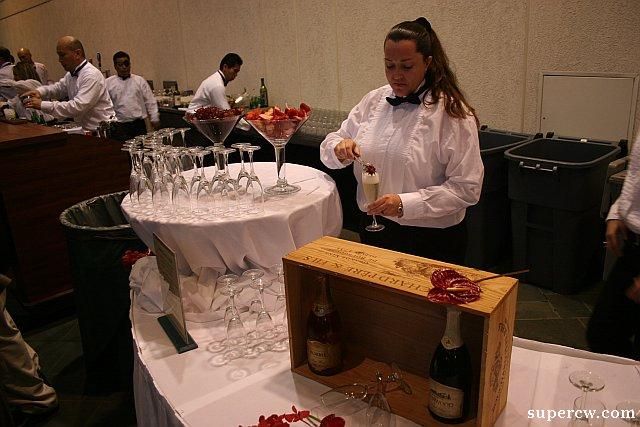 it was for the Sony Open, and all of my big bosses were tied up. so supercw got to go.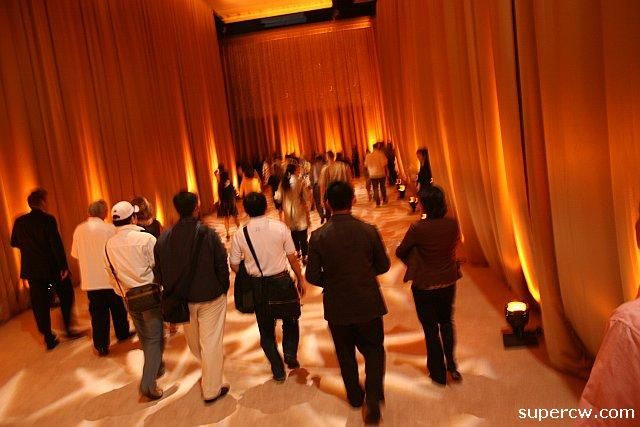 they had glitter curtain things hanging all over the convention center. it was probably the most thrilling part for me. as an event person, i was blown away.  i couldn't stop saying "OMG GLITTER curtains!!" to travis.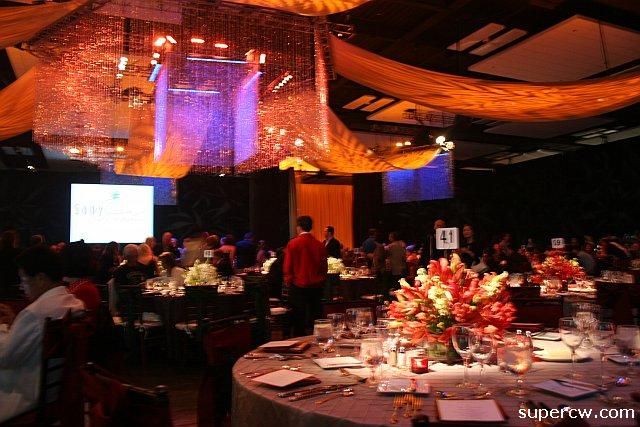 the guest performer this year was chaka khan. the guest chef cooking for all one thousand of us was chef mavro.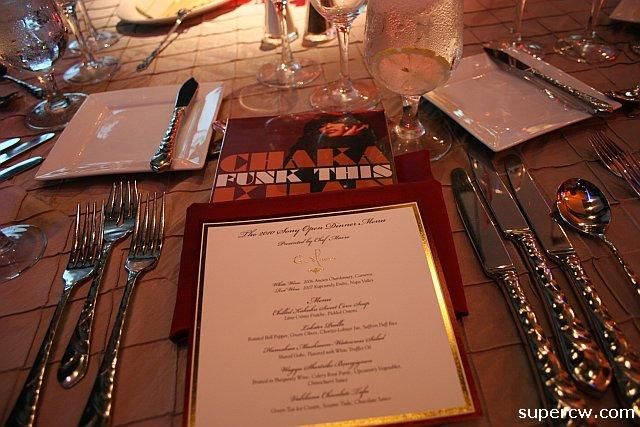 and yup. the shortribs bourgignon braised in burgandy wine with celery root puree, upcountry vegetables and chimichurri sauce that i had mentioned earlier. pretty much fell apart in our mouths.
oh, and here's a fancy dinner secret: do NOT eat the bread!! and if they have tray-passed appetizers before you go in for dinner, only eat ONE of each!! i almost fell asleep from food coma right here at the table. fancydinnernovice.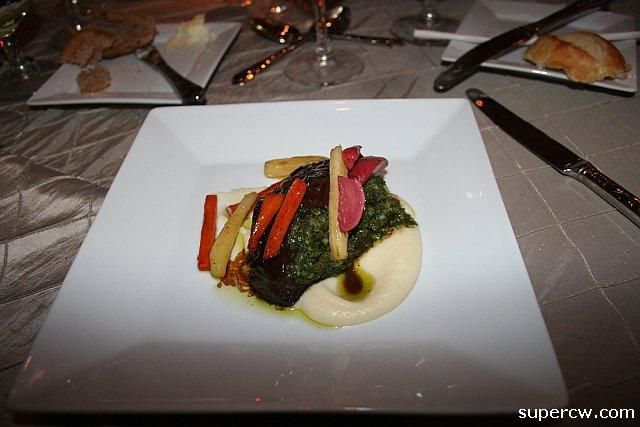 then it was saturday. i was Sony Open Face for the rest of that week and weekend and determined that SATURDAY was my night to rage. thank god it was that all ages show that started at like 6pm or i would have been out like a light at 7:30pm sharp. instead? i had somewhere to gooooooo….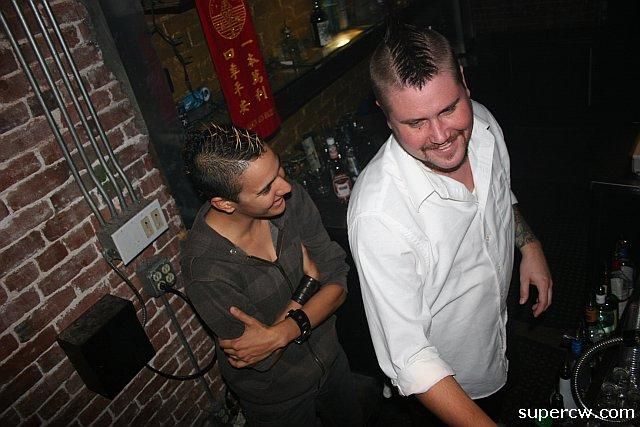 oh wait, sorry. i was trying to show you shanti and rebel girl's matching mohawks.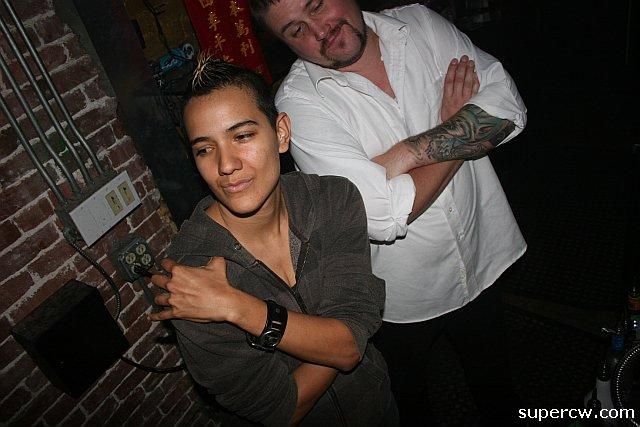 clones of the queen! they are back in action!!! tell me you don't melt when they cover the knife covering jose gonzalez singing heartbeats. if sky cries mary ever went slightly electro it would be these guys. they are really really (REALLY) good.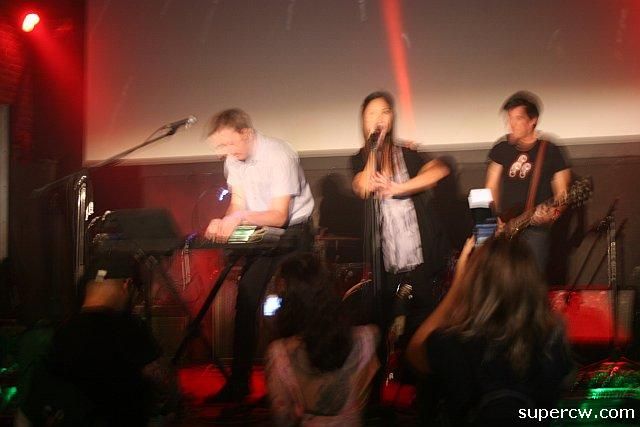 you already know what's NOT good tho (my focus/photo taking abilities)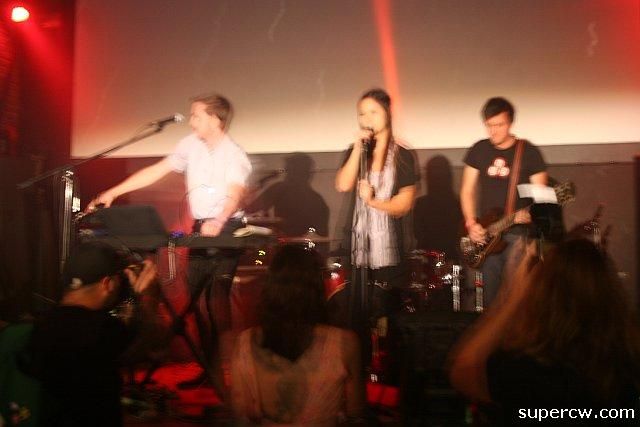 then, duh GRLFRNDS rocked it.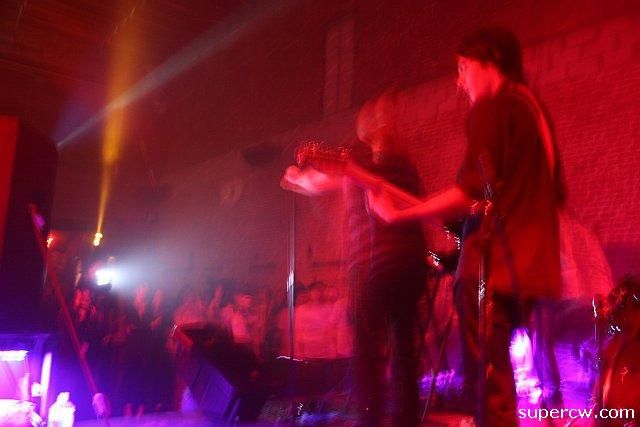 i mean, REALLY rocked it. i didn't get any good shots really. sorry. this night was totally reminiscent of the old kaleidoscope days tho. remember? when it was here? i think ara or someone even said that. it was totally true….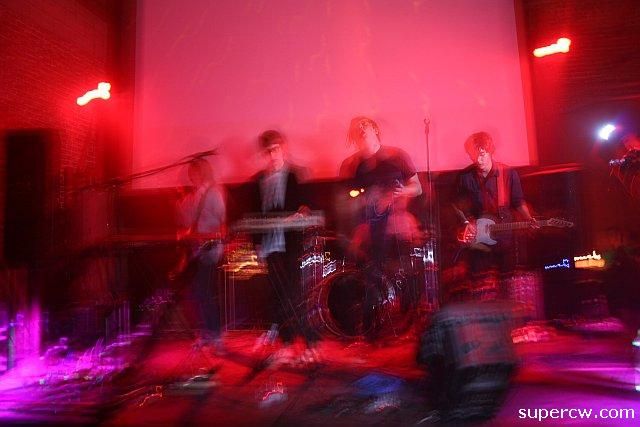 …we even got the barely legals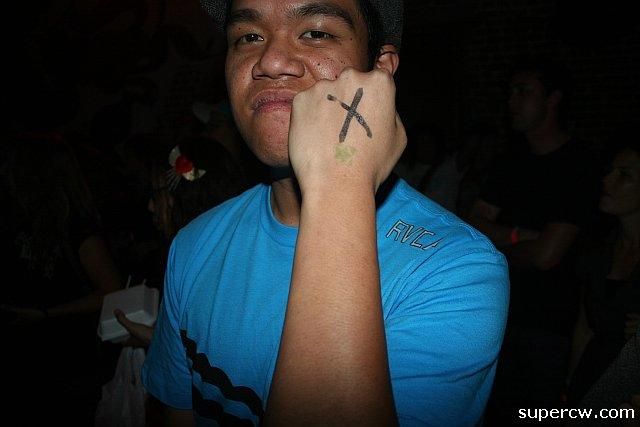 there wasn't as many as i thought there would be though. it wasn't scary at all in fact. the lineup was so good that it mainly brought out all of us. the alternative media was in super full force too. katie, doug upp, me, zooloo. even mikey.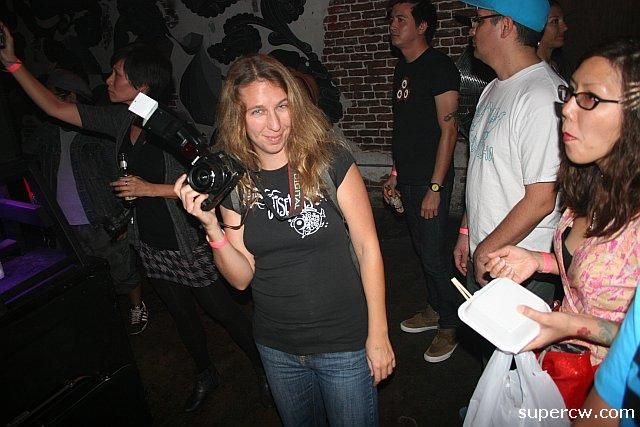 i love love loved these girls. too cool for LIFE.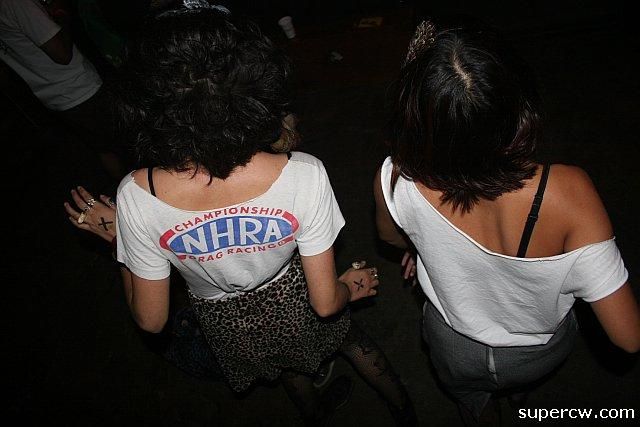 musical geniuses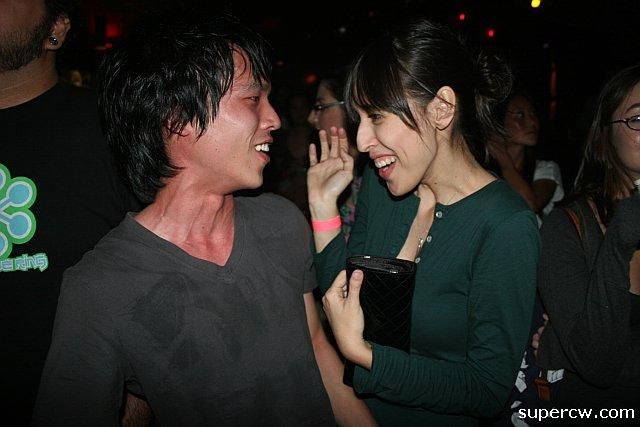 so ya, nice work landon and josh. they said they're gonna do this every month, which is stellar if you ask me…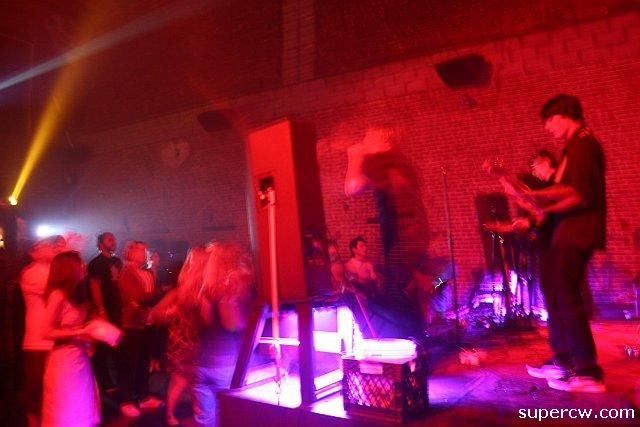 oh hey, i guess i got a non blurry shot of GRLFRNDS. wuuu. god these guys are sofa king good. i'm so their groupie now. more on that in a sec.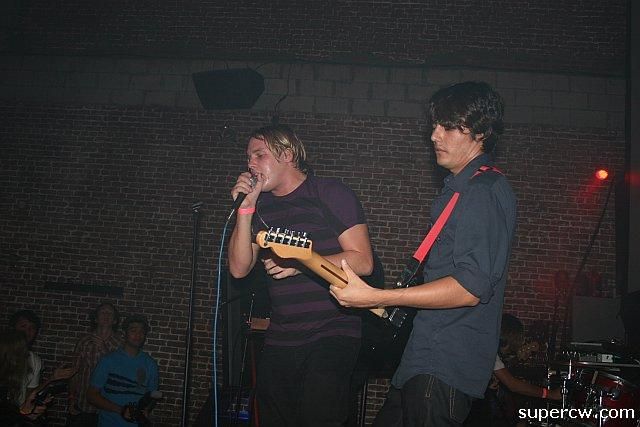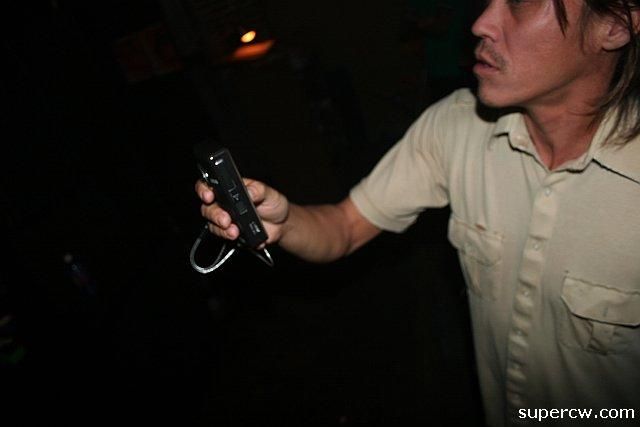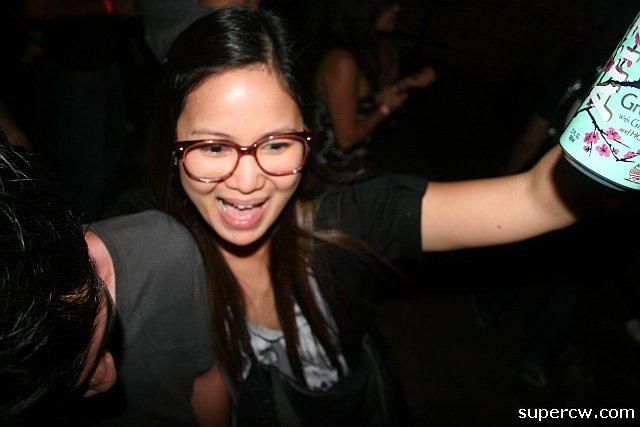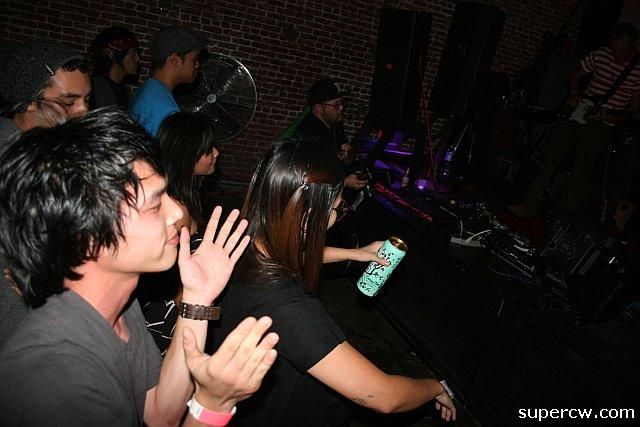 PAINTED HIGHWAYS are you fcking kidding me???? where on earth did you come from? oh wait, i already know: At Sea and Ctrl Alt Del. woah, dude you can totally tell. i was standing there clenching every muscle for some songs, then they would throw us a nice and easy happy song. then BACK TO THE AAAAAAAAAAAAAKJFDLKJFLKJDFK. it was really good. REALLY good.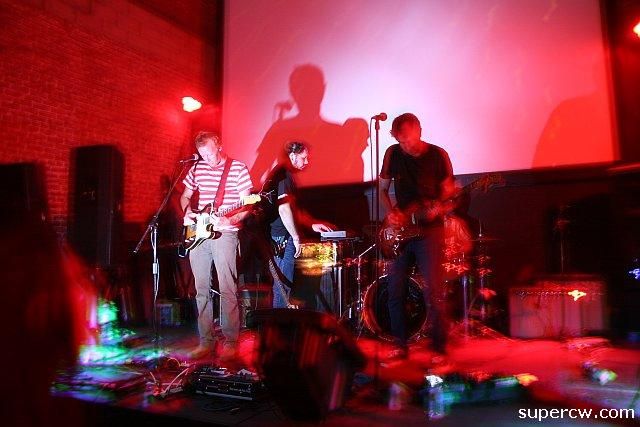 but god DAMN it i missed fittedoar! landon said they are totally like fugazzi. at least i got to meet kenji. (hello).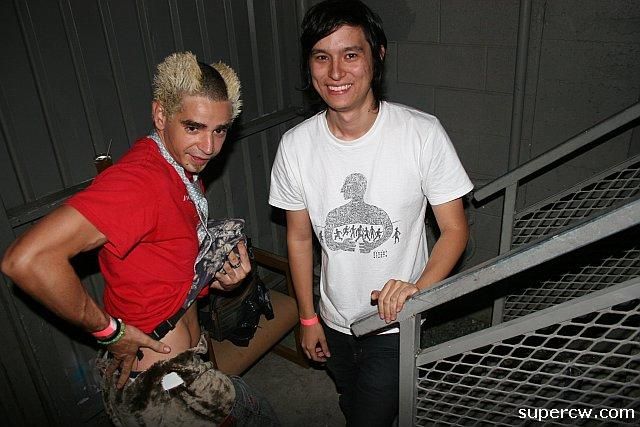 kaboe finally made it to a showdown in chinatown!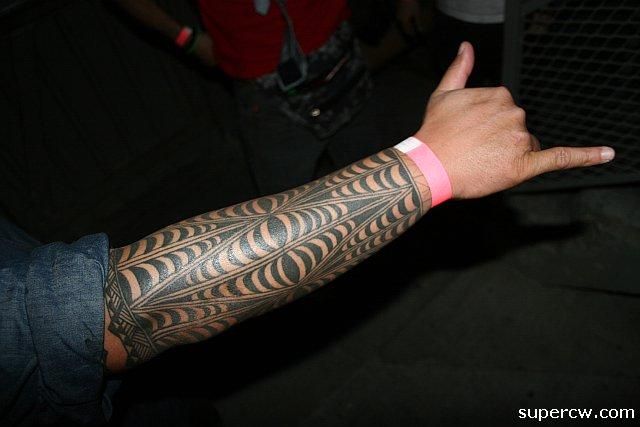 but it was too packed. and my Painted Highways trance meant i forgot to find a good seat so i was outta there. sorry dudes. i heard zac won tho? where can we see it bru? i had to say happy birthday to Russell Kealohaaa!!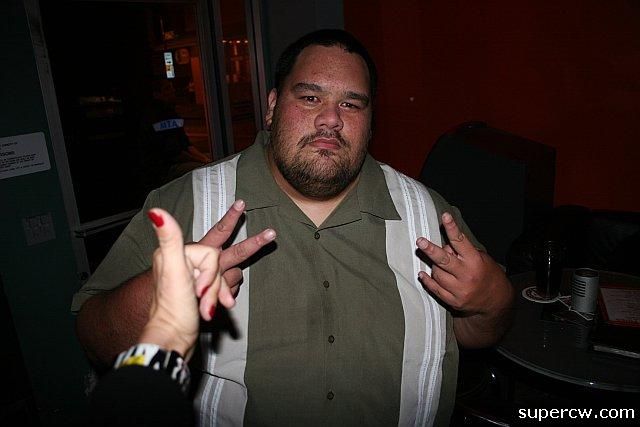 and oooo the cartoon cowboys stuff rich richardson did! i was exhaused thurs night to do anything after that Sony Open WOAHCRAZYFANCY dinner so i missed the opening. this looks super tho. go see themmmm.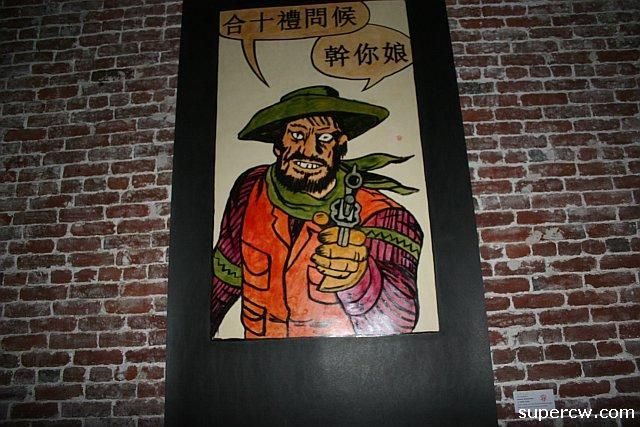 then i saw all kinds of commotion outside next door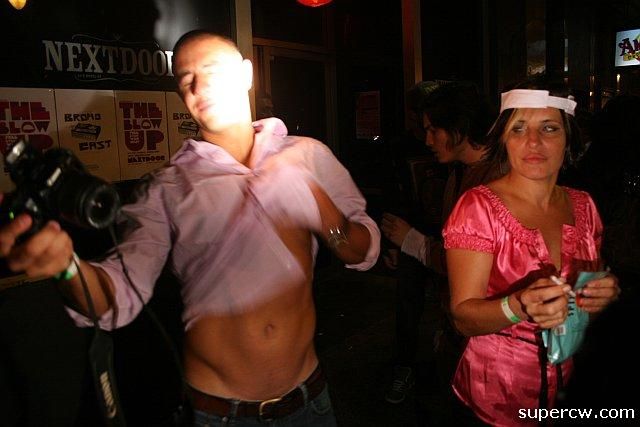 these dudes. they call themselves wtfhawaii. i thought they were a little too cocky (drunk?) when i first met them but am falling in love with their twitter (minus all the 4square tweets. dude. streamclogger.)
but yea, anyone who is on team jmess has stolen my heart. <3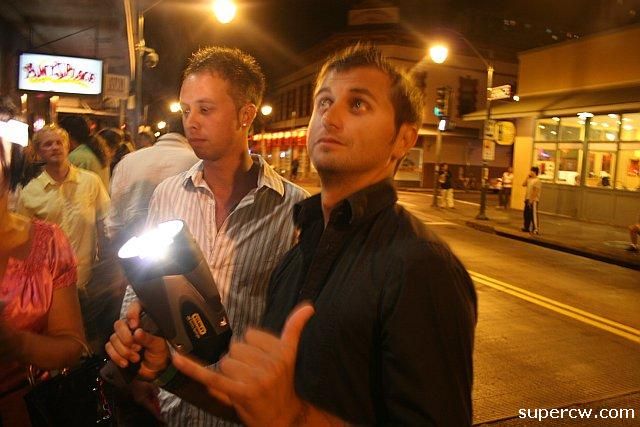 and they LOVE them some jmess. like we all should.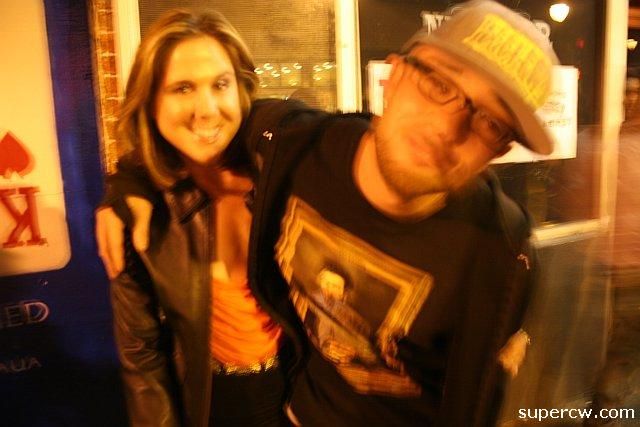 wait, let me try that again. fck. i really need to hold still. ps: hey, robert campbell!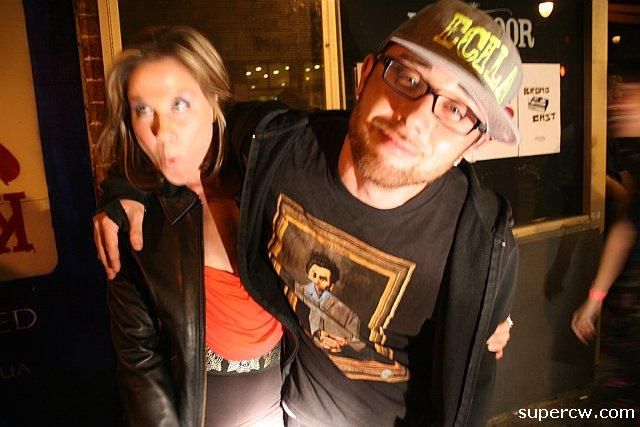 then i got a text from ryan. "dude, we're going on now." it was a half hour before they were supposed to, and i was standing in the street in Chinatown. they were playing in waikiki. CRAP! me and jackie hopped a cab. the worst cab to hop in, actually. do you ever get those push-the-gas-in-intervals instead of just keeping your foot on the gas drivers? by the time we got to the sandbox we were both nauseated as all hell. but we caught their last song…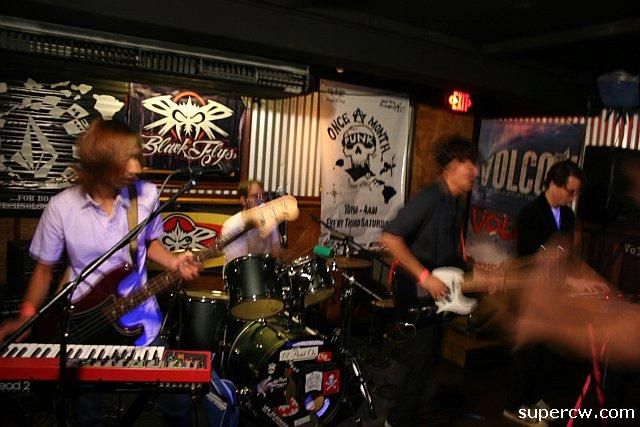 and this is why i am officially their groupie now. for cabbing to waikiki on a saturday night to see them play their second show of the night. yup. they're THAT good people.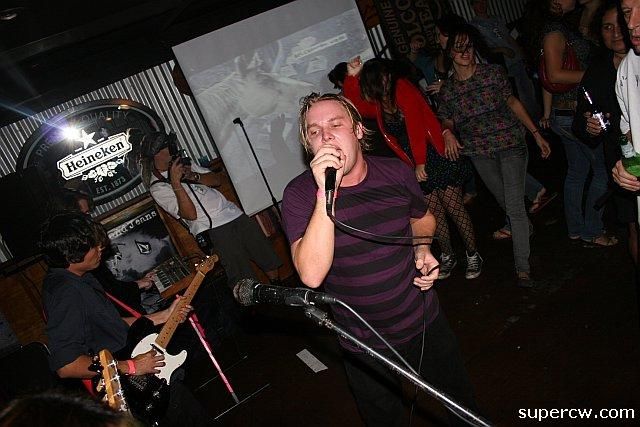 and this spot was the most adorable place to see them. super punk sorta room. low ceiling. no stage. just rah rahrhararahhhhhh.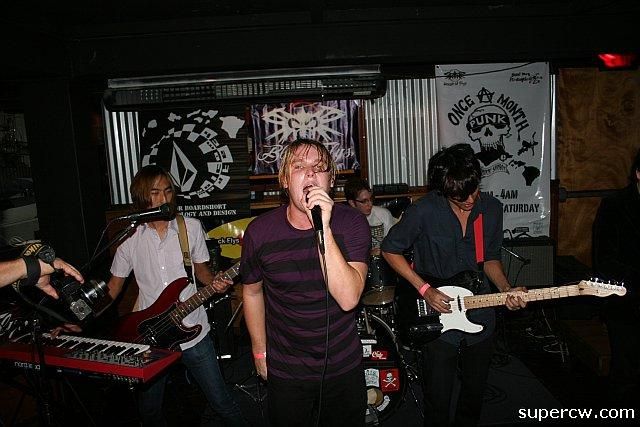 everyone was drinking grolsch. which i actually thought was pretty cool.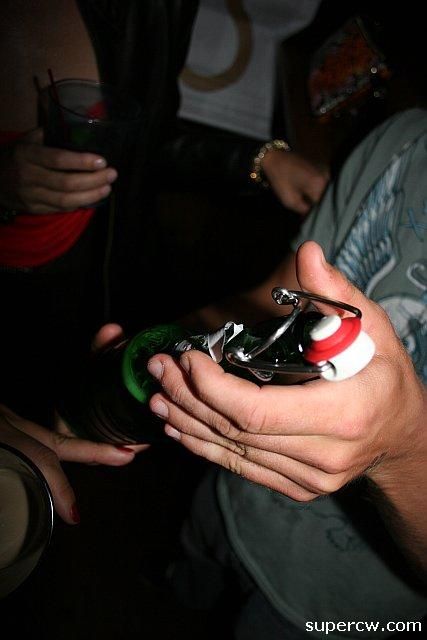 also: definitely some yumfaces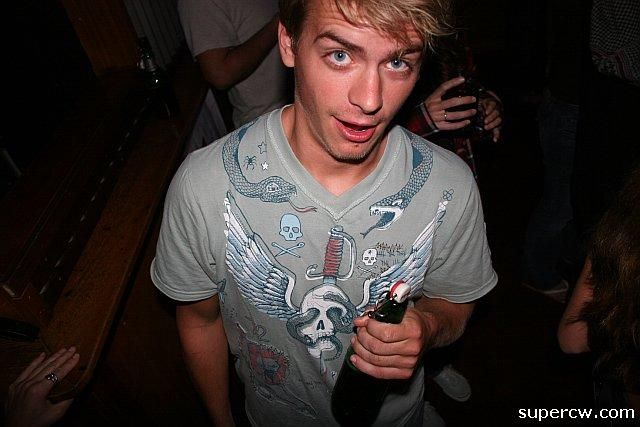 it was the house of flys guy who does the party, so a lot of the old skate dogs were there. i was stoked. and the mosh pit was actually… nice! no, seriously. people were even smiling. look!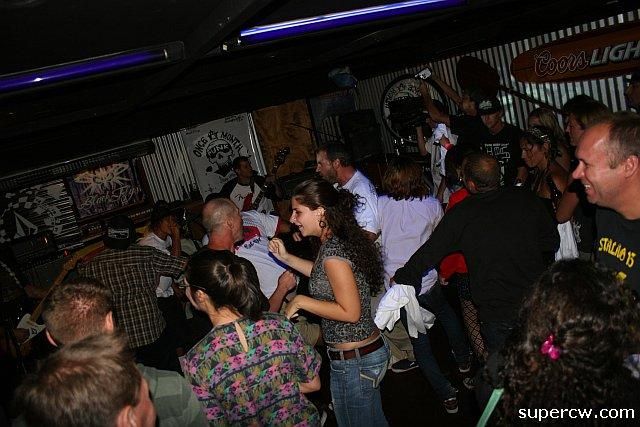 it was almost like the hug pit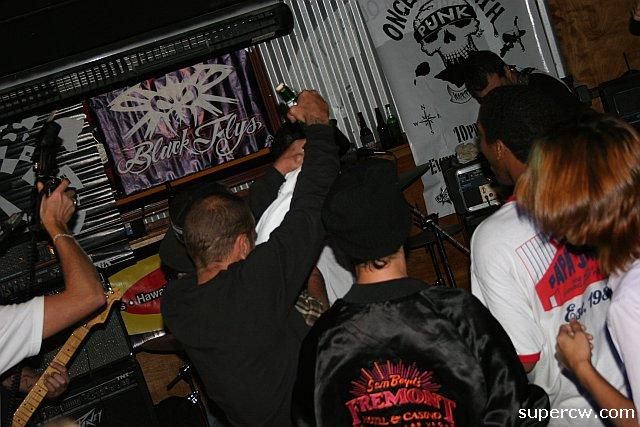 and i wish i could remember who this band was. before they started they were like warming up and walking around kinda fast, pacing back and forth letting the energy get high (and kind of scaring me). it was a standard punk rock sorta thing but it's been a suuuuuuper long time since i've been to a punk show. all these little things were delighting me.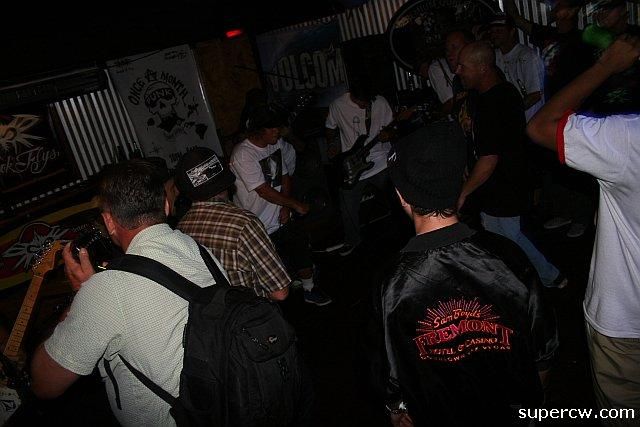 then WOOSH! i was back in chinatown. shake & pop! another room full of nice people, nice music.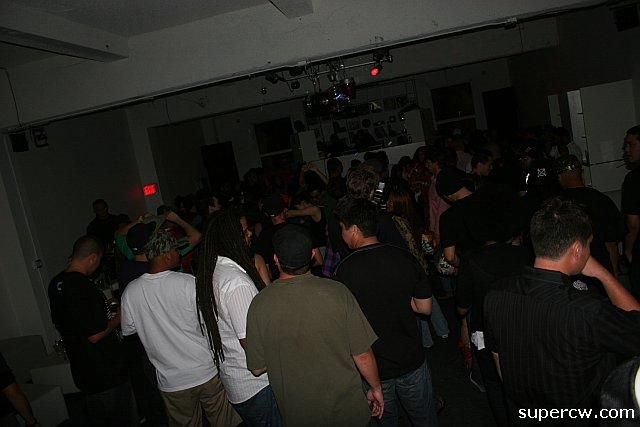 ha ha farley had THE most killer party favor…..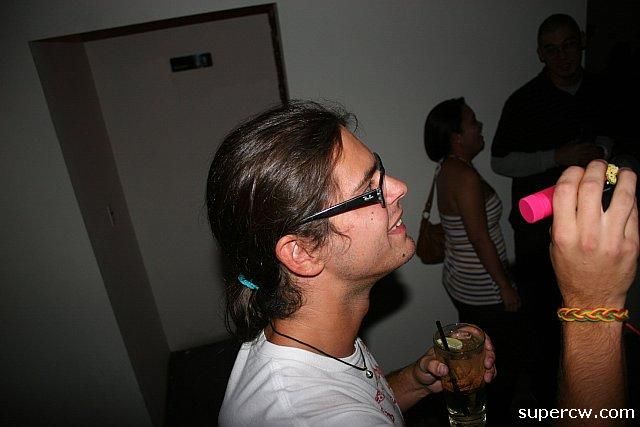 …it was a hello kitty laser. we were making kitty faces all over the dancefloor.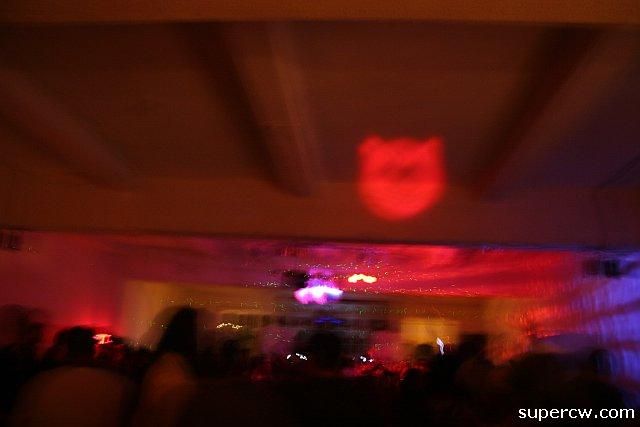 ps: shake & pop!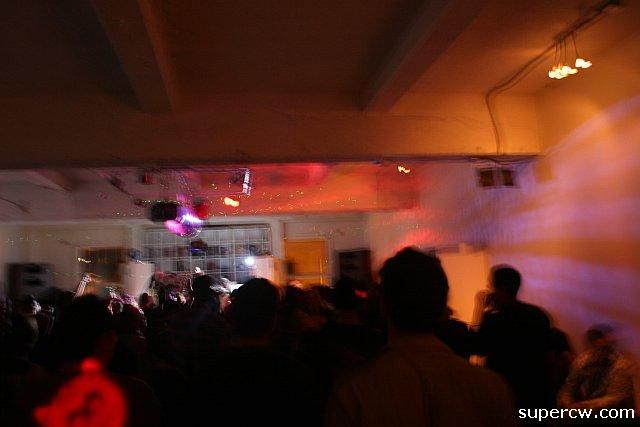 i got there right when tassho pearce went up.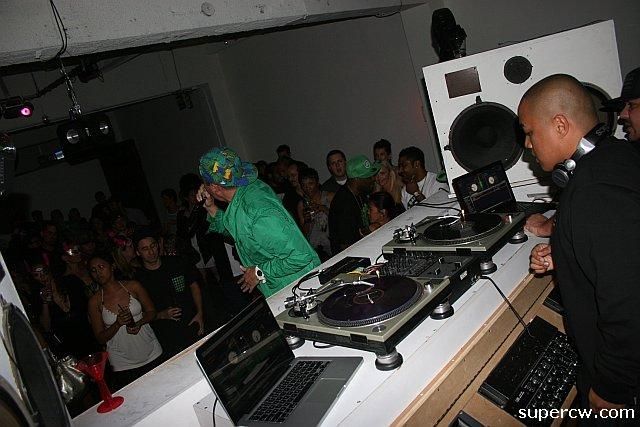 saw ian kai.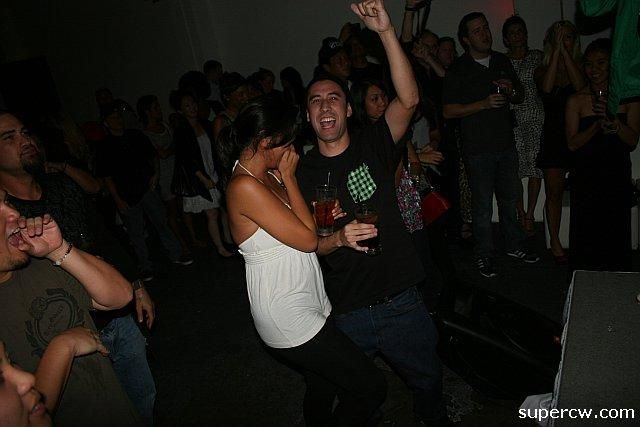 flip the bird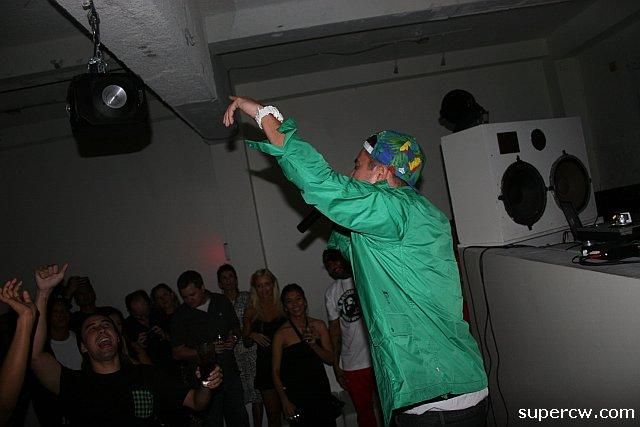 haha chris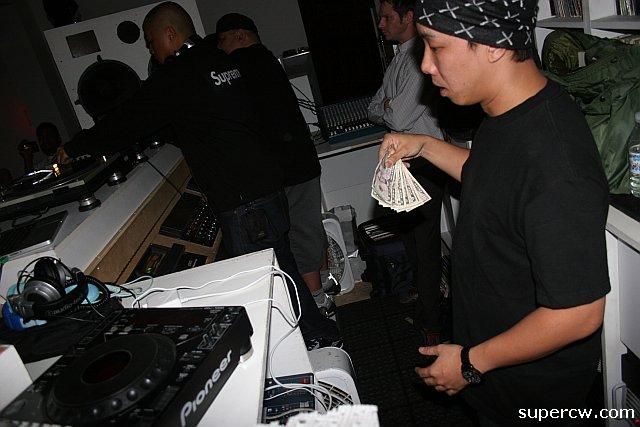 then G.O.O.D. all up in our faces. say hello to GLC….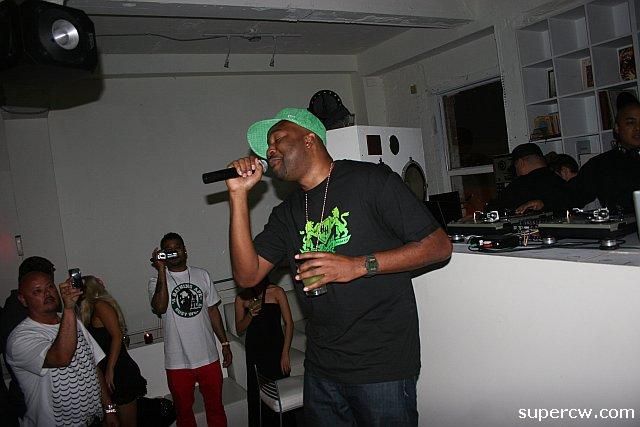 say hello to him EVEN CLOSER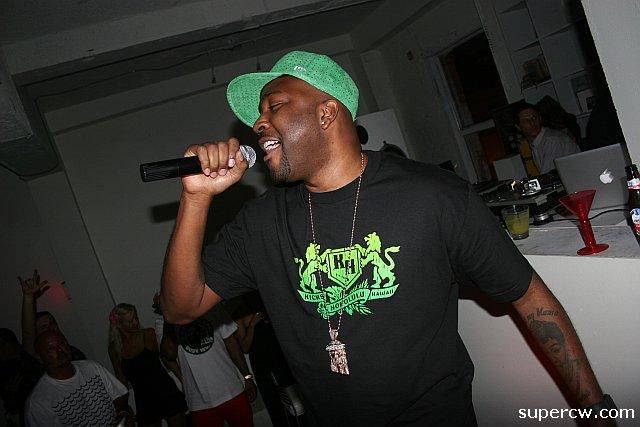 ya, it was dopedopedope. i'm not sure why you weren't there. you really should have been. at least eskae has an excuse, he was in new york. the rest of you? GO TO SHAKE & POP NEXT TIME!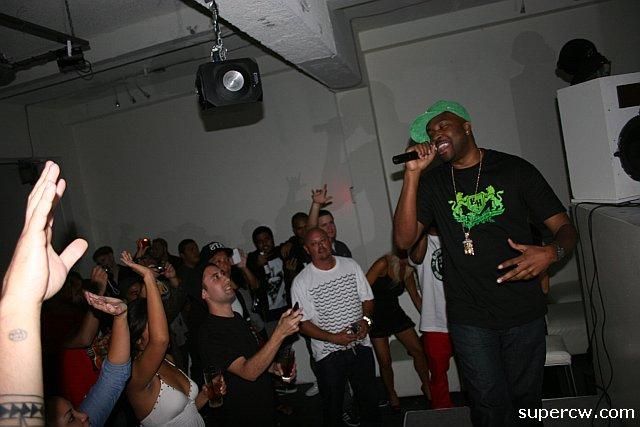 you'll have your face blasted off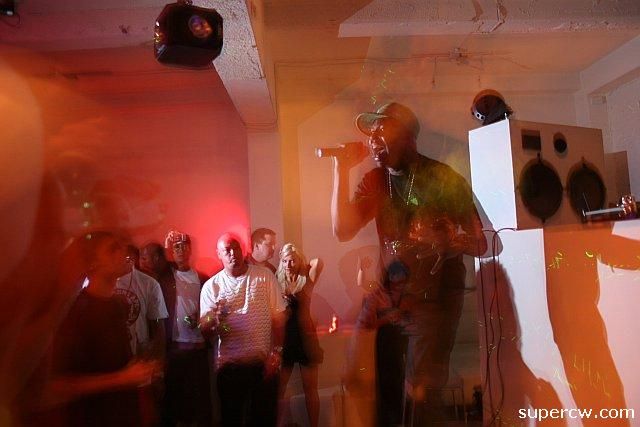 but in a good way.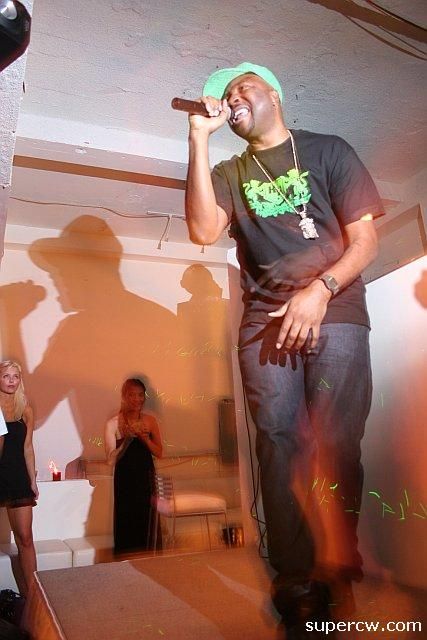 a G.O.O.D. way. ha!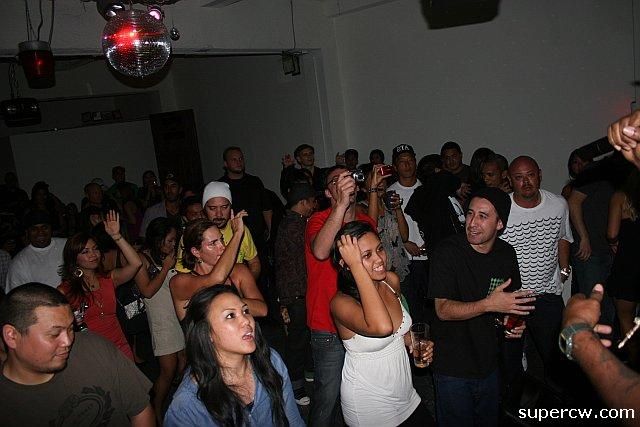 lurked the hipsters at manifest too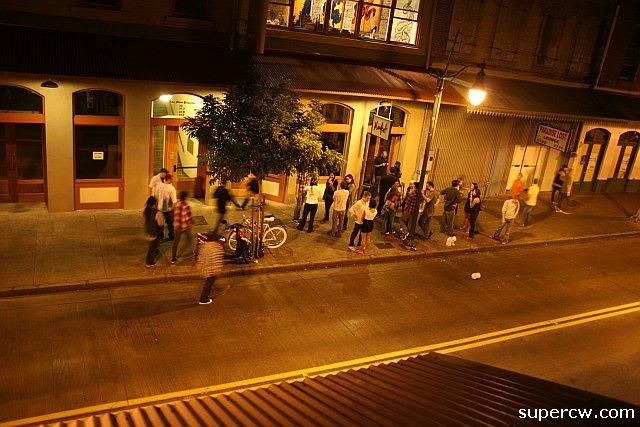 couldn't leave this place tho. it actually happens every time. i only plan to stop by shake & pop to say hellos and always ALWAYS wind up staying.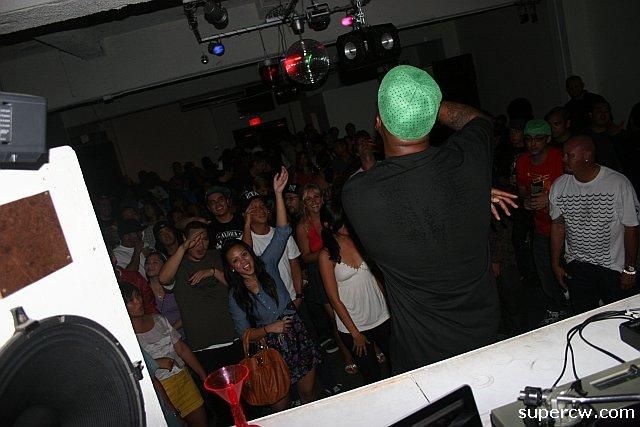 good thing the 1739 reunion went til super late….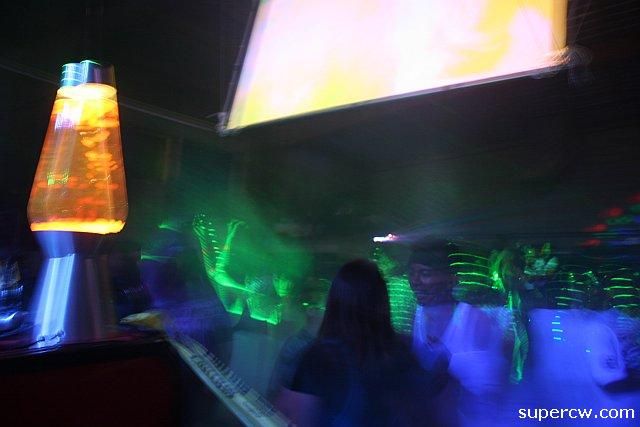 cause i HAD TO SEE MATT GRIM!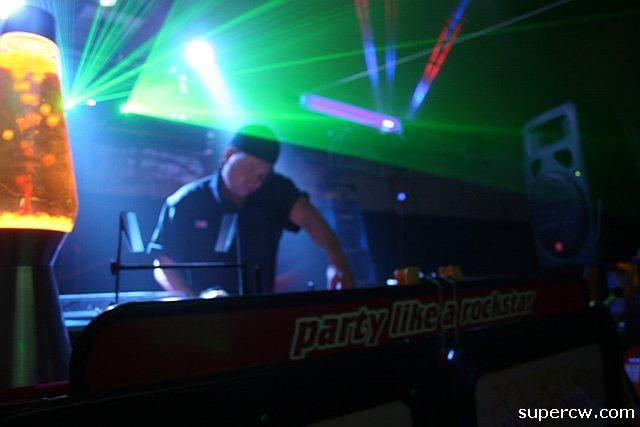 he was killing it but i was tired. and i had the last (busiest) day of Sony Open the next morning. i spent some time with G-Spot for a sec looking at all his old flyers….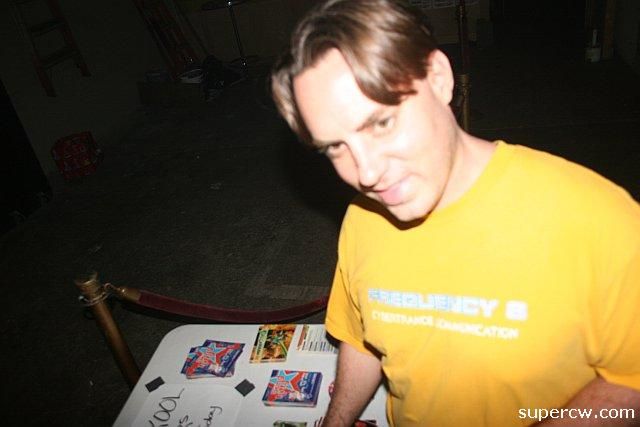 he had ones from like 1998 and stuff.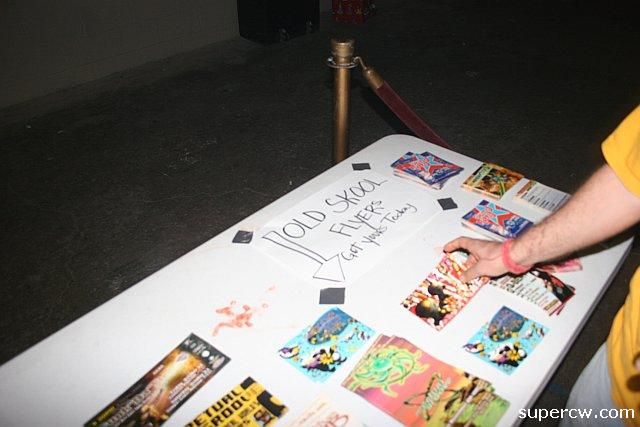 dude had the scene on lock back then. it's cool to see him driving a nice car and doing his own club thing now.
haha, he has this hanging in there. very cool g.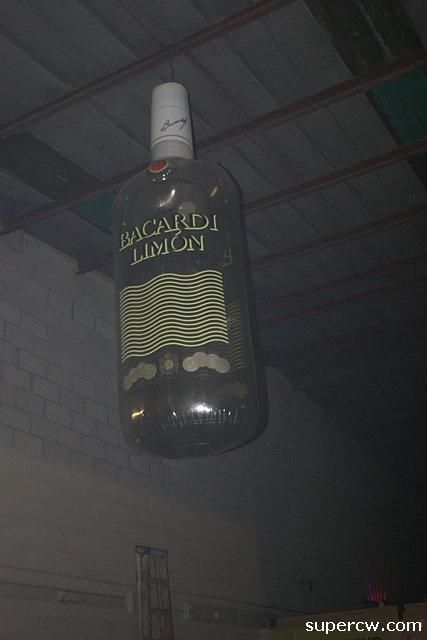 that's all for now. i can't believe i got no sony open for ya! blah, you don't want to see golf anyway right? i need to figure out what's wrong with my canon (i know, story of my life). i might just go for it and get a g9…. watch this space.
love you