if you read me you know i pretty much say no to all the ad inquiries. they're gross and i don't want it interfereing with my … artistic integrity? but at the same time,  if american apparel calls me up a few weeks before my birthday with a SHOPPING SPREE in their waikiki store… well….. i guess just call me Hippie McHypocrite. after creeping through the one at ala moana for pieces to compliment my plain-ass-plain wardrobe i was stoked to see that the waikiki store totally has a whole bunch of different stuff….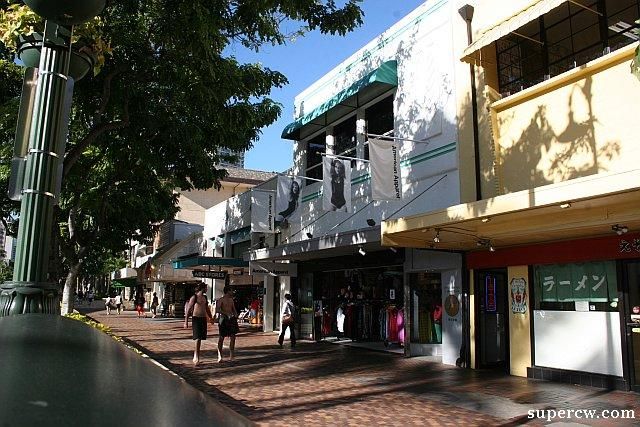 i must have spent at least forty minutes pawing through all their little braided belts and wristbands and headbands and such. and hey! CONTRAST! that's so rad you can get it here.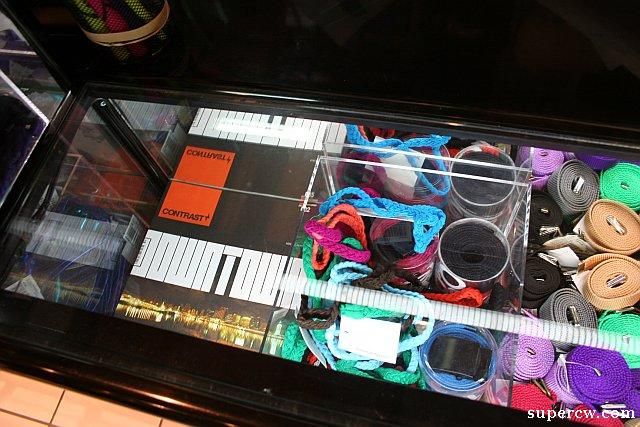 i also fell in love with these helvetica shirts they have right now.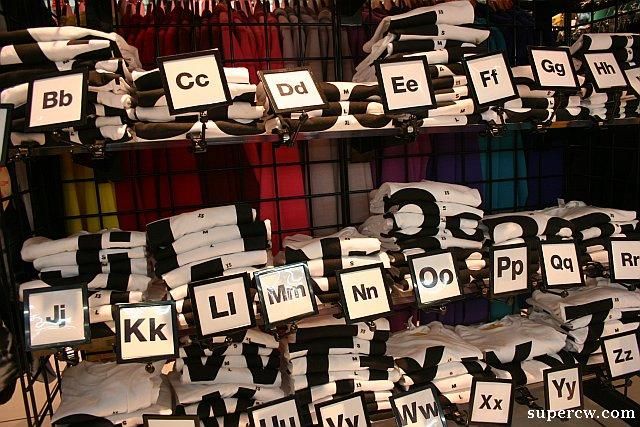 this is so not me but i wanted to get one anyway to just keep at my house for when you guys come over then i could dress you like my very own skipper doll.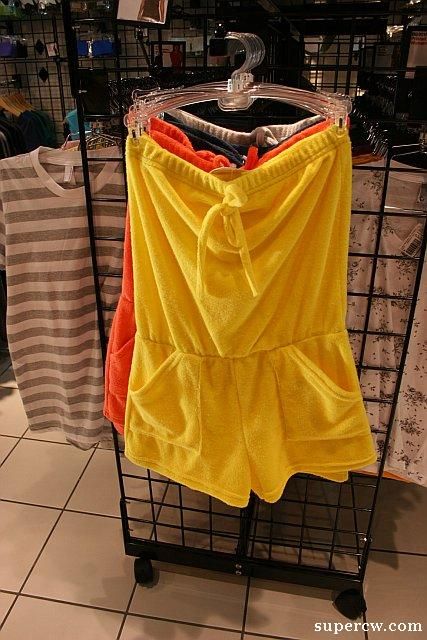 i got that hoodie. say hello to my uniform for the next 6 months or so.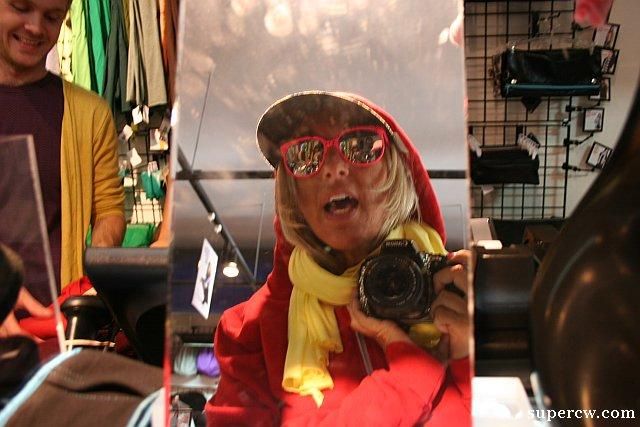 i have to go back for this faux leather hoodie thing. i already used up my entire allowance with t shirts and work sweaters. ps: i LOVE the unisex stuff – i don't understand why it fits so good with my huge boobs, but it just does. unisex for life!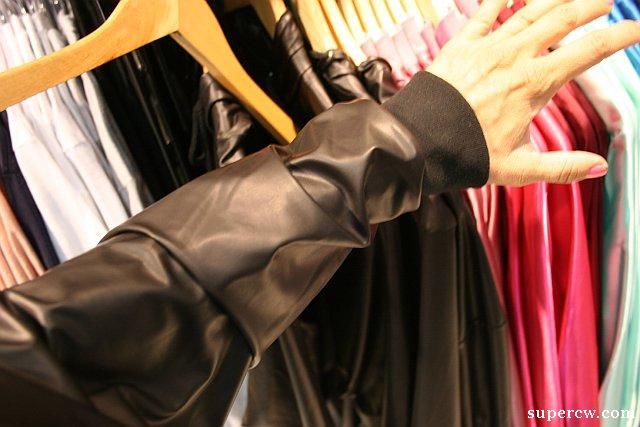 later that week i watched my boyfriend kill it at the Mai Tai rumble
it was an incredible sight, really. The Deadbeats were a wild card entry or something. like an open mic category. they absolutely destroyed it, i was so proud. ask K-Love he was there.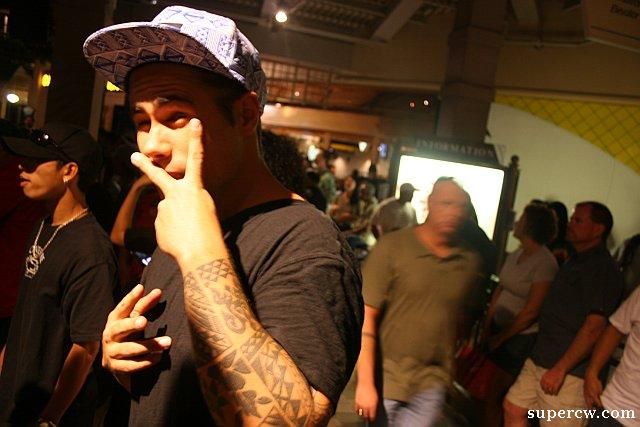 shoot, these are too dark to really see. the place was jam-packed.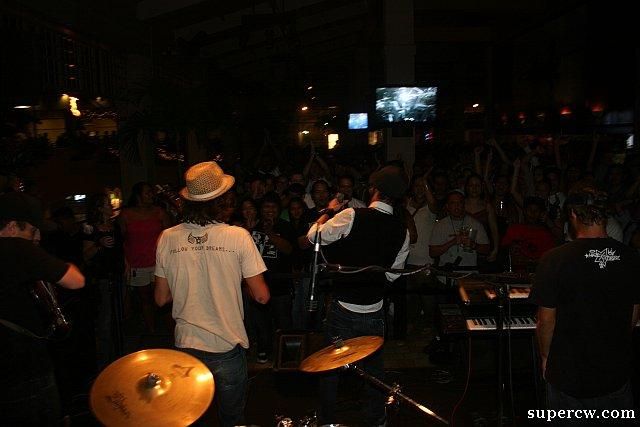 ah! there we go. i love you guys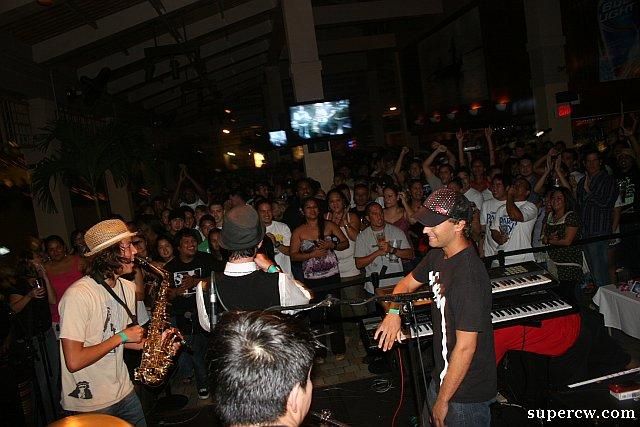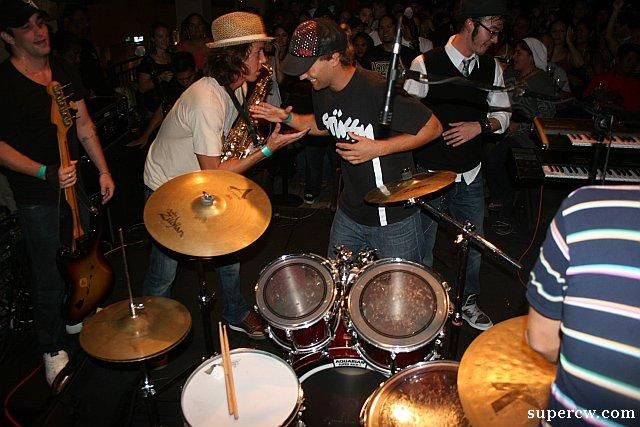 so the Deadbeats were only playing a 15 minute set at ala moana from 9-9:15pm. meanwhile i had yet to see mike pooley's band Painted Highways, who were playing in chinatown at 9pm too. i really wanted to see both and was kind of stressed out about it. you might not realize that i am super neurotic about being on time. what am i saying, you totally know that. anyway, i assumed correctly that Painted Highways would probably start a bit late and made it to thirtyninehotel just as they started their first song. BAM!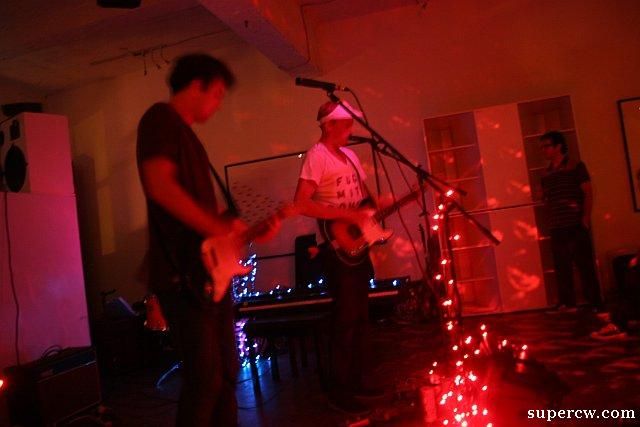 this was my first time seeing them and it was probably the best place to do that. the sound was wicked, THER sound was wicked. i caught myself clenching a few times, reminiscent of the At Sea days. so so so good.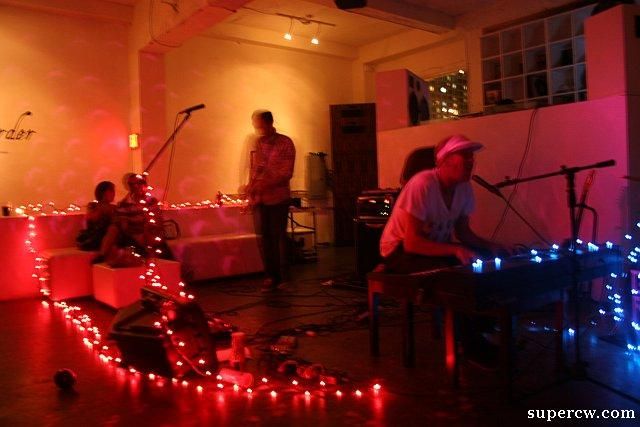 sorry pooley! i didn't want to be all flashy flash in there and destroy the mood. this is the best i got breuu.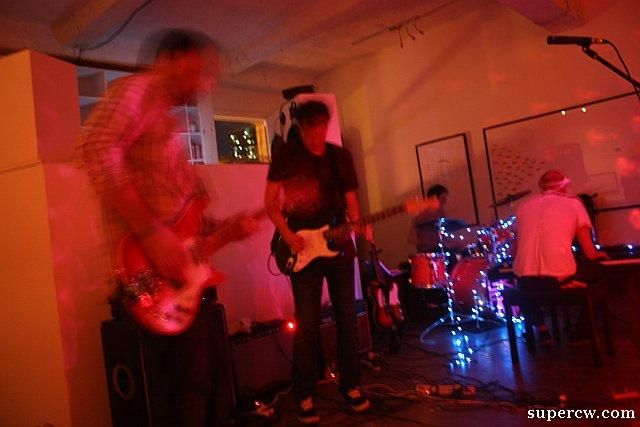 i was able to flash for lapwing tho – he was going NUTS!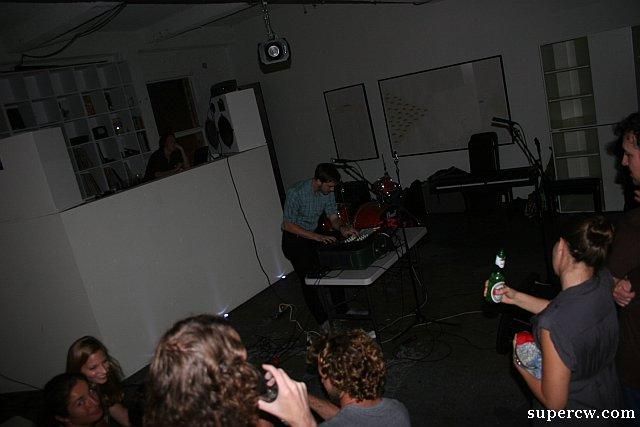 everyone was loving it for real. the room was full of all these indie rock musician people too.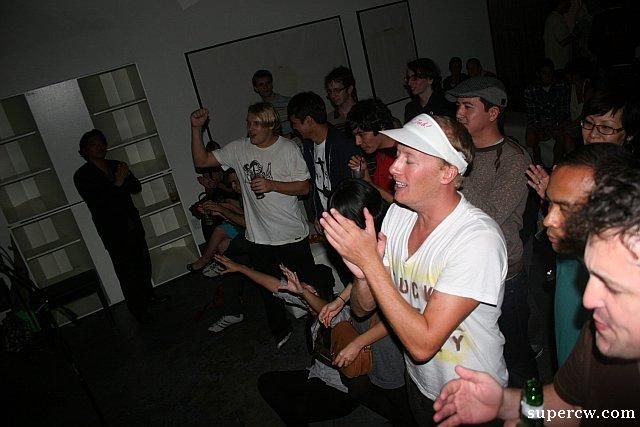 darius legg came out. on a TUESDAY. what's up.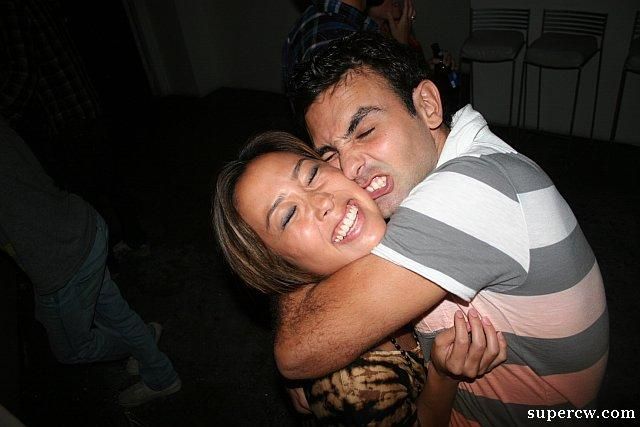 this is what the guys who go to kaleidoscope look like.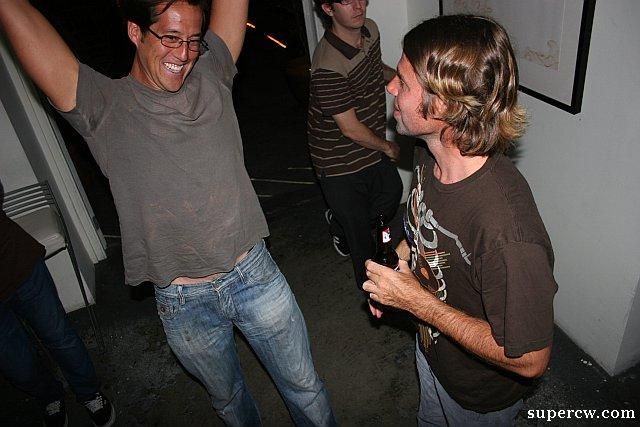 wait, except todd. he kind of lives in australia.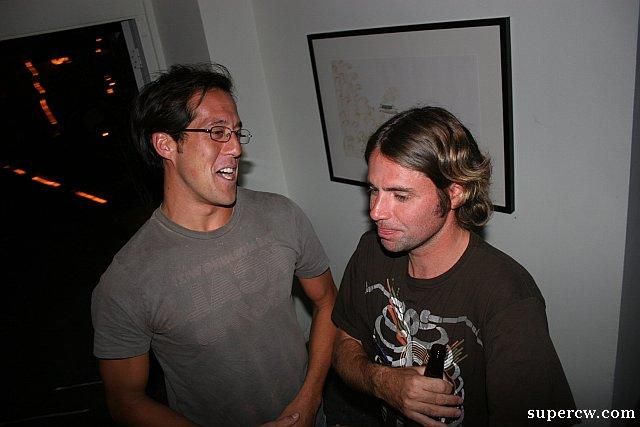 neckface. <3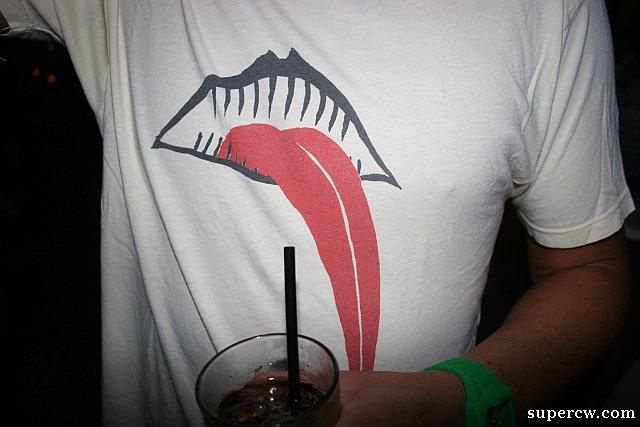 travis watanabeiwannamarryawatanabe. you so indie.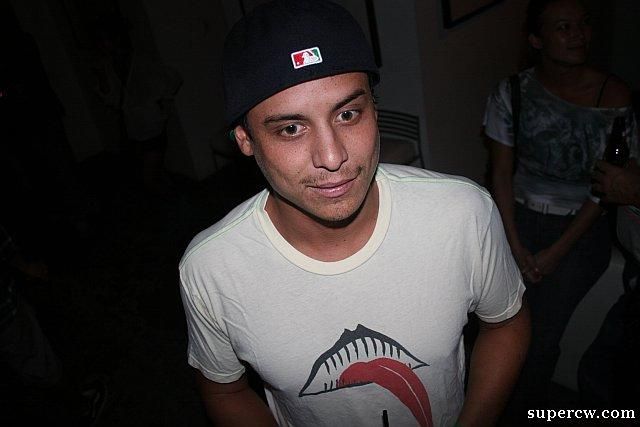 lots of plaid and dancing and fun (and michael paul schultz) at these things. tuesdays at thirtynine for LIFE!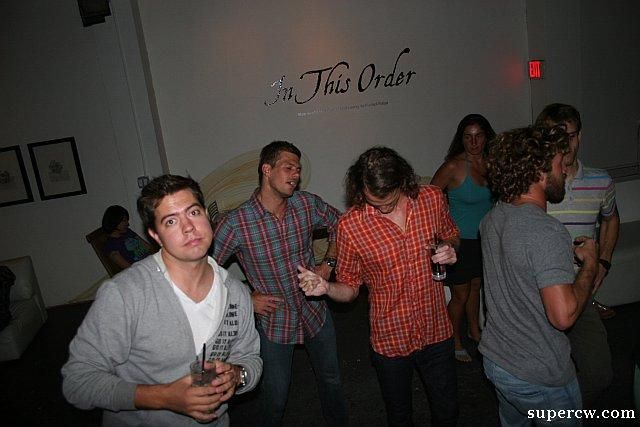 todd and mark are totally kidding. people don't stand around like this at kaleidoscope. ps: remember todd? he used to be in Crtl Alt Del with mark howard here. they were definitely my favorite act of 2007. so amazing.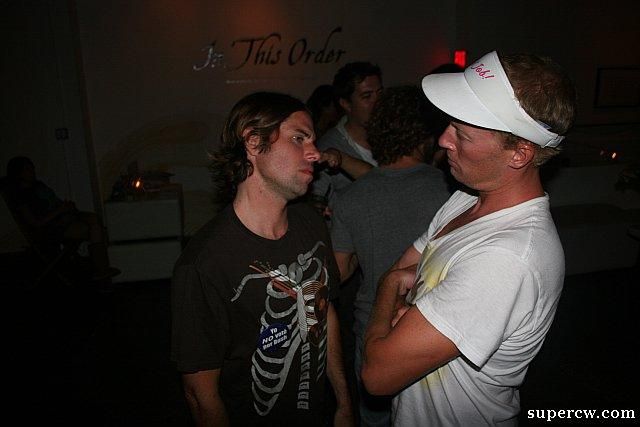 ps: kaleidoscope!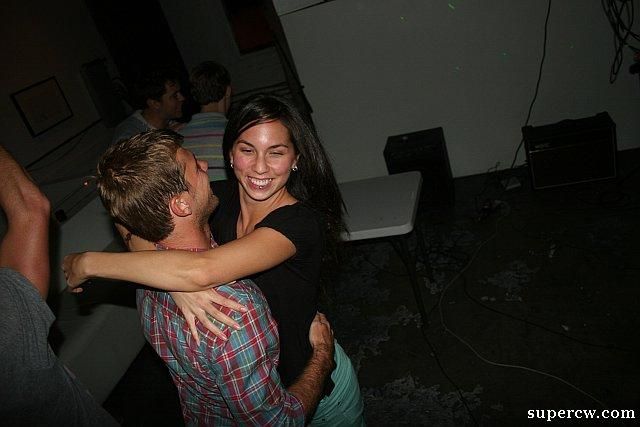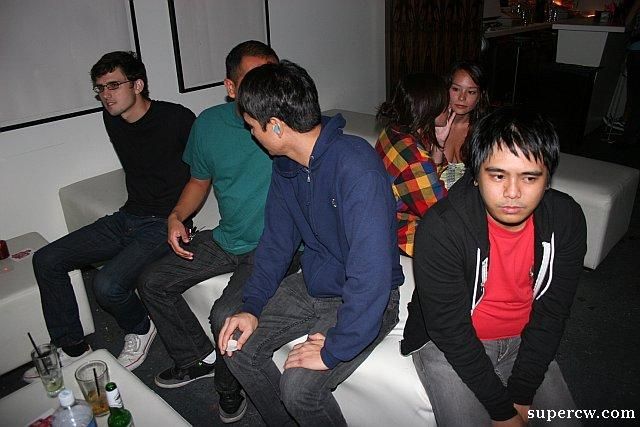 hey guys, that's a speaker. not a drink holder. just a reminder.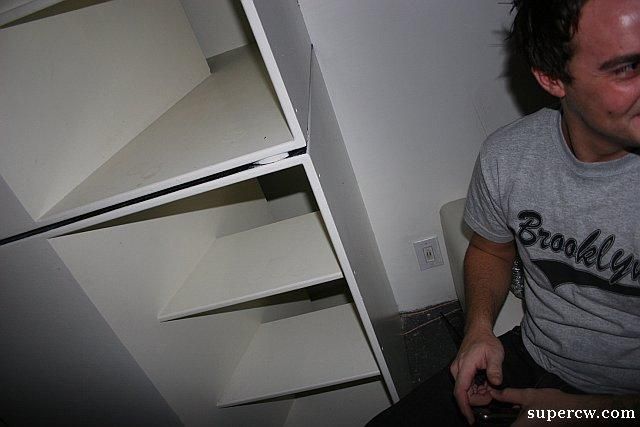 wait shhh! GIRLFRIENDS are onnnnn!!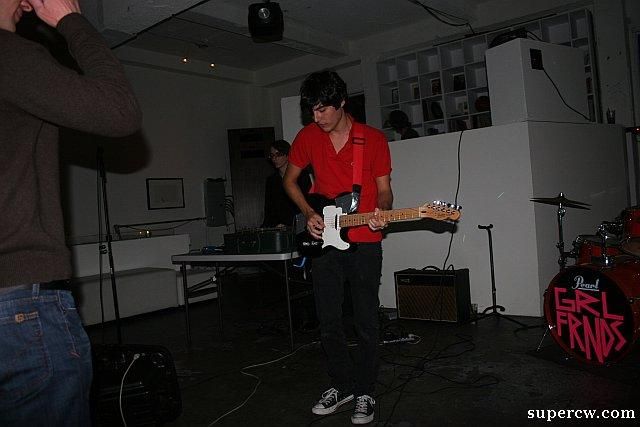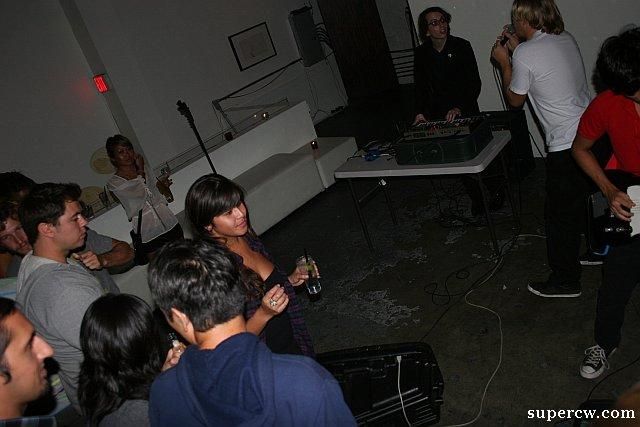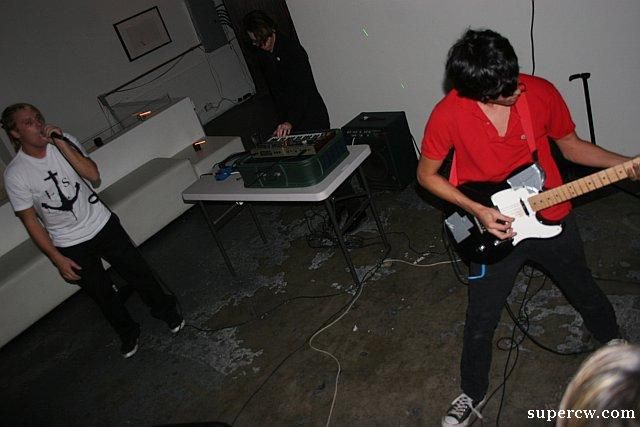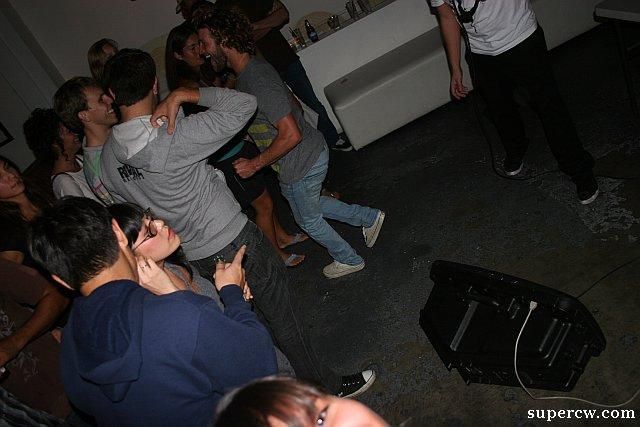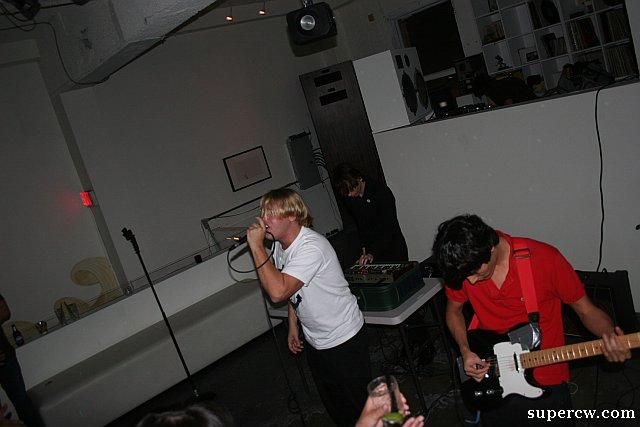 then something happened. i was drinking sailor jerry tonight so i really don't know what was going on, like, at all. but the reactions in my photos say nicholas here was having …..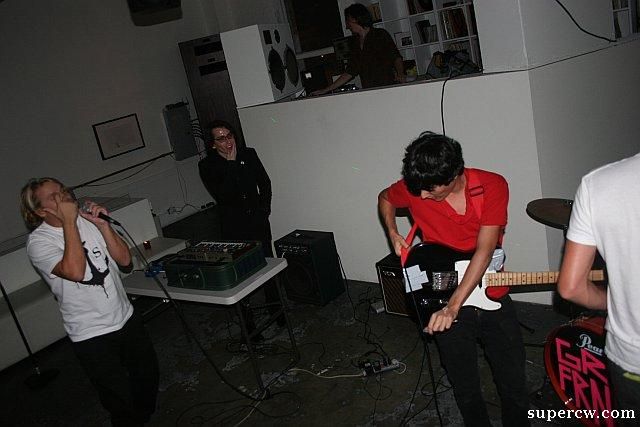 ….some sort of technical difficulty
then all of a sudden he had a different guitar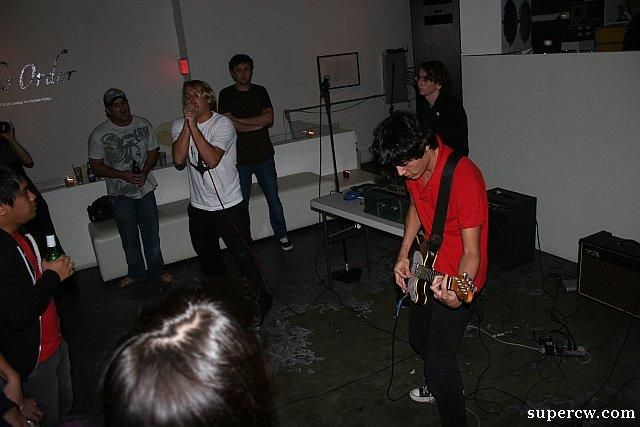 and the show went on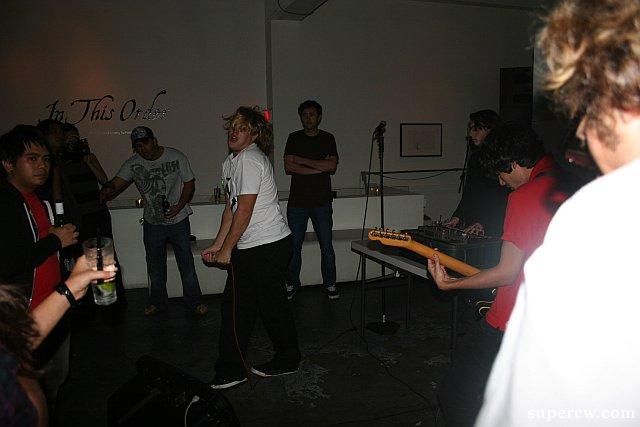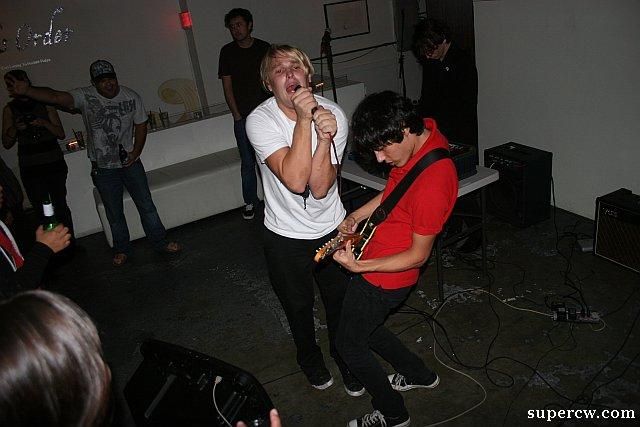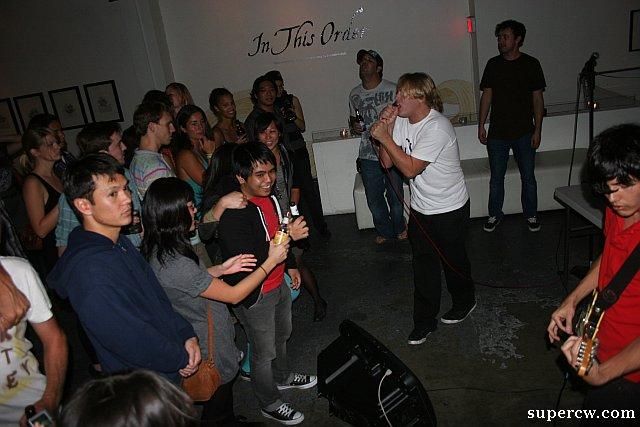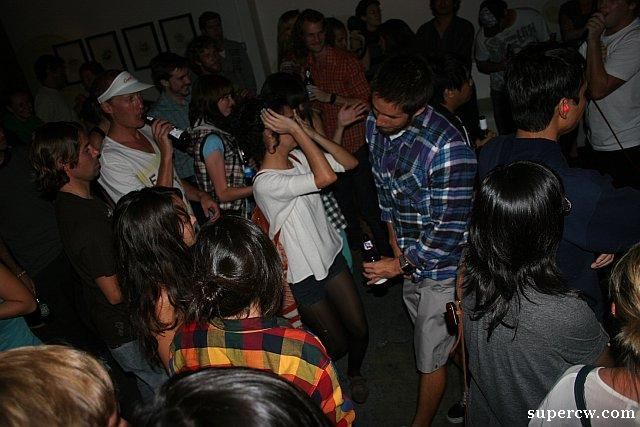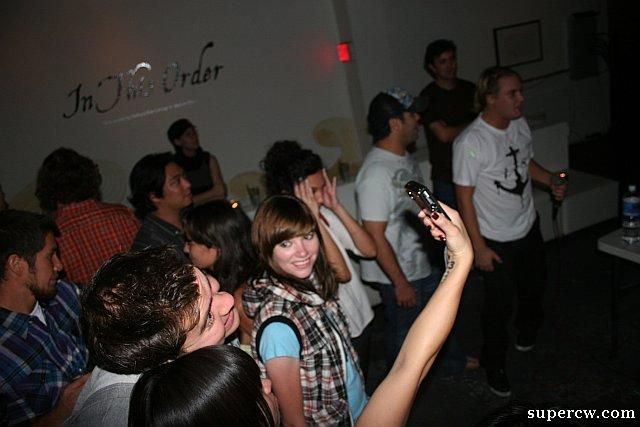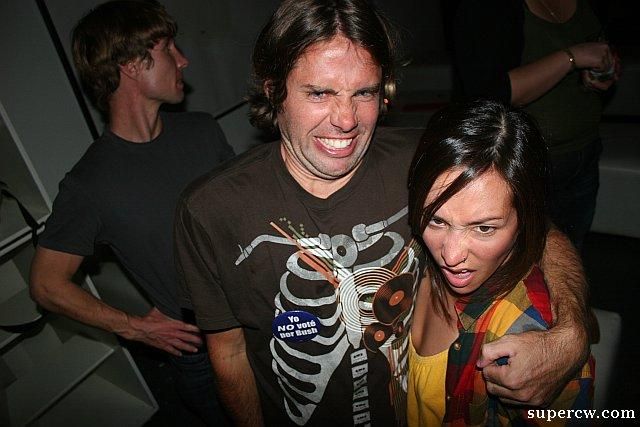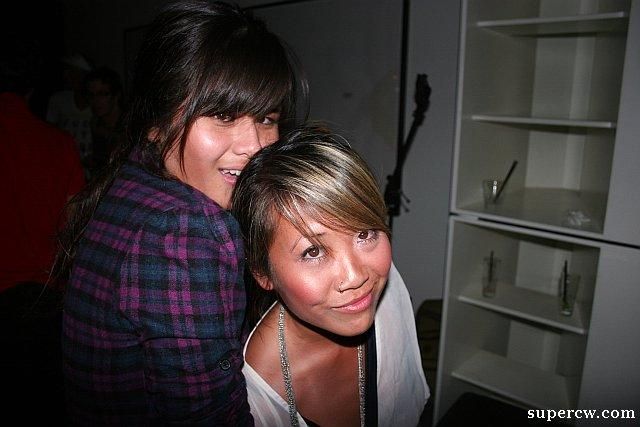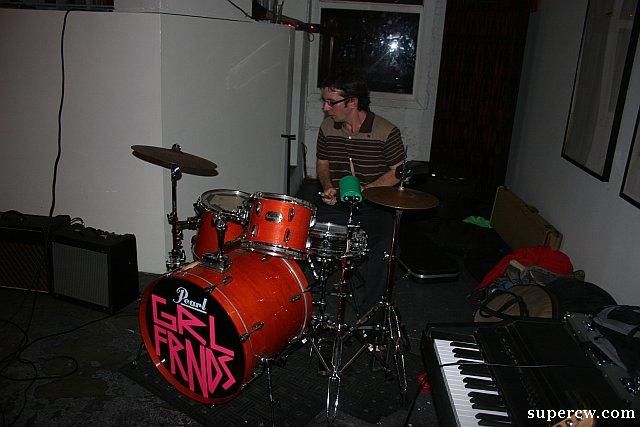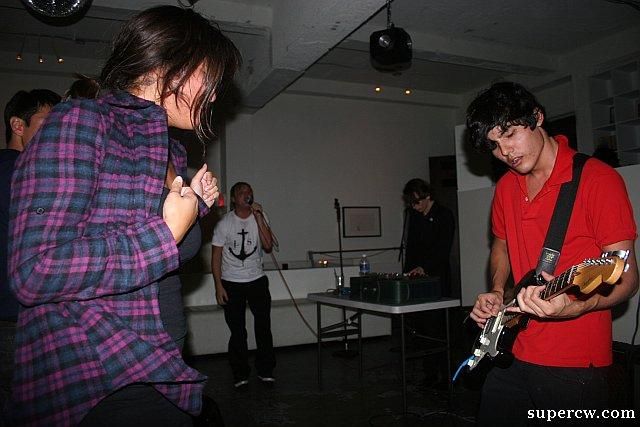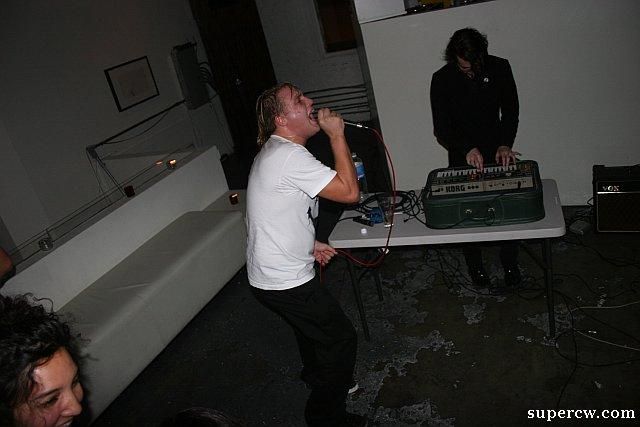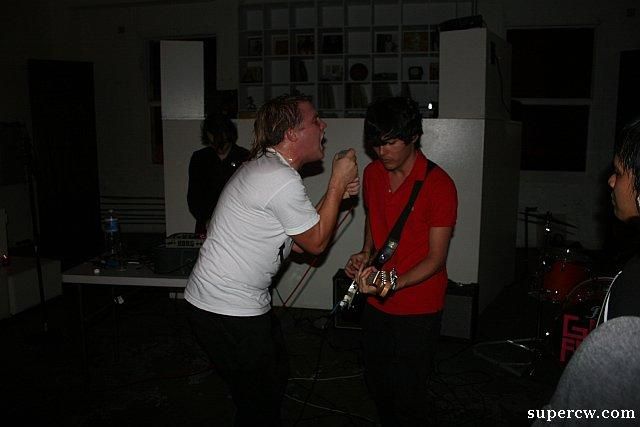 alisa i do not like this. ok? i do not not not not like it.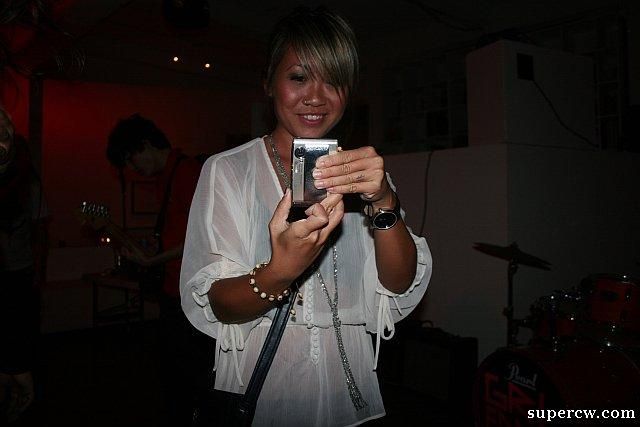 the show rocked. i was sailor jerry'd but remember it being totally wicked. we were outside cruising when we saw all of the Girlfriends piling all of their equipment and each other into nate's car. all of them/it. i was very impressed.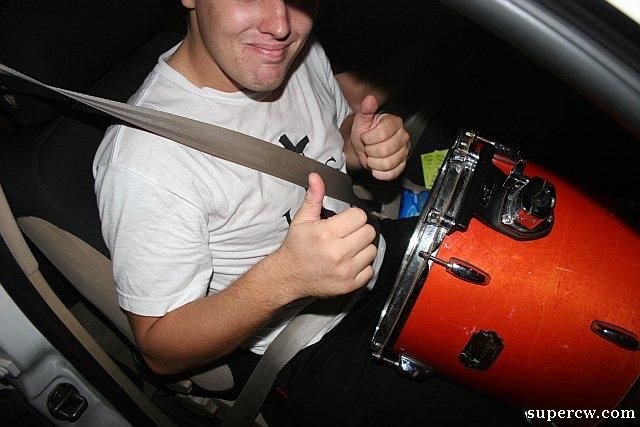 then these girls got me in to more trouble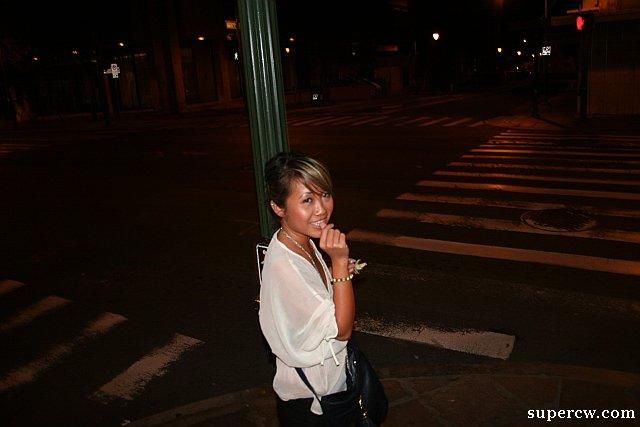 but thankfully got me home too. ps: wednesday morning sucked.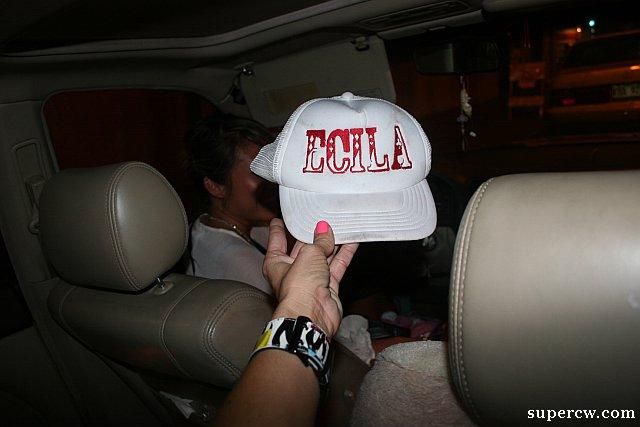 friday pau hana ruled tho. kalima came over and told me all about his trips then took me down to chinatown for another first friday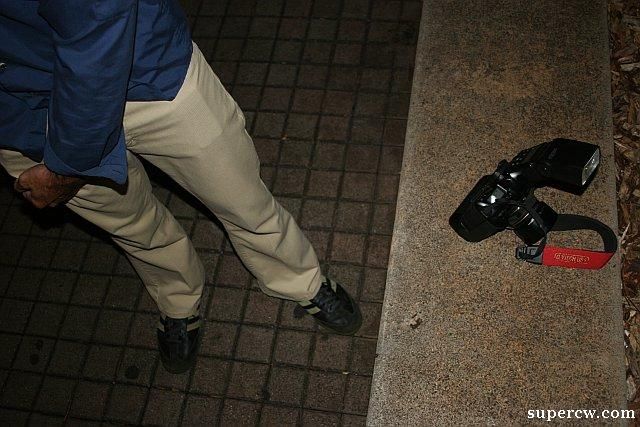 we were pretty excited to see the hurley show – they had all these rad artists design board shorts, then they made the board shorts, then they had them all on display. they called it the Anti-Canvas show. probably the coolest thing i've seen on a first friday in years.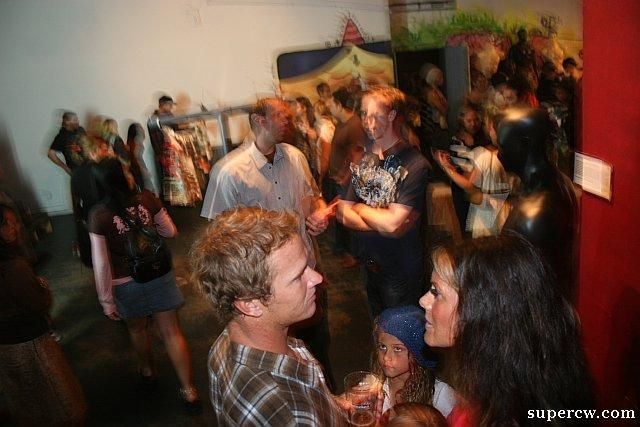 first friday faces. aaron angry woebot martin.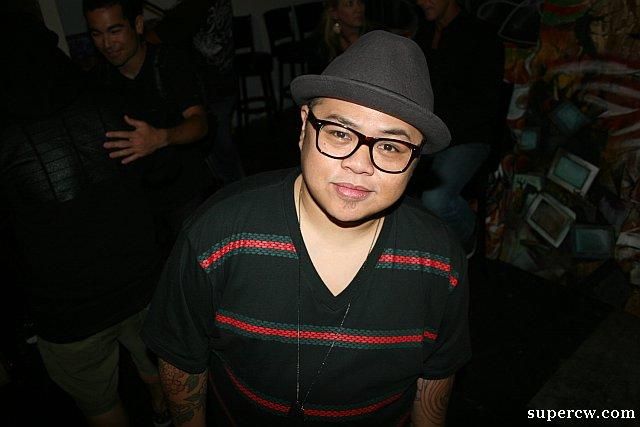 andy my husband ida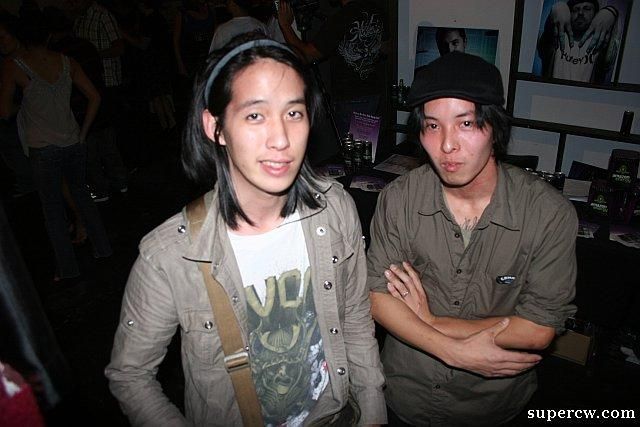 michael wire in his face please wear a helmet keany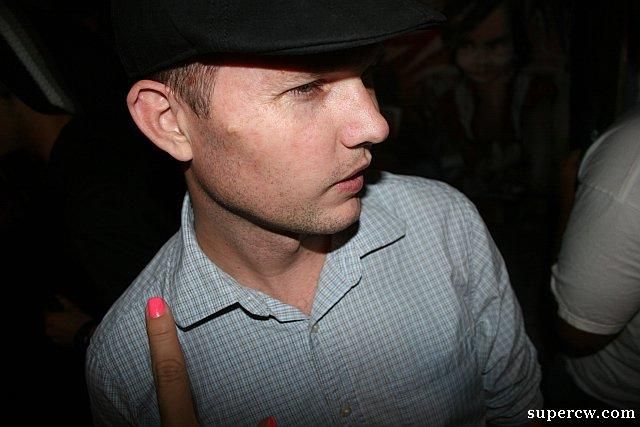 kiani fresh from tokyo yamamoto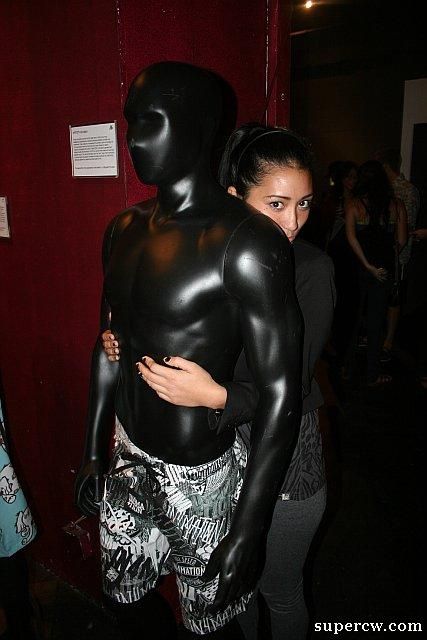 shanna supermodel hulme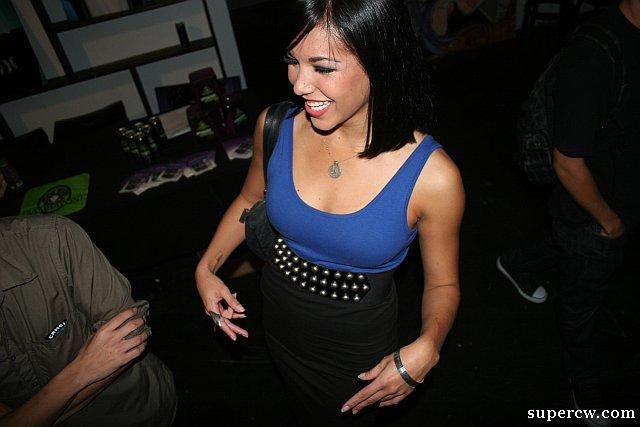 brooke the hurley logistics and planning goddess dombroski
matty can't wait for you to play my bday wong with kekoa you all growns up moustache and all cazimero and the boys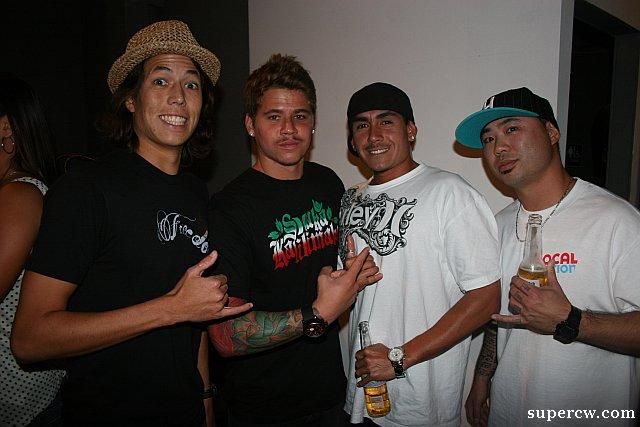 the boardshorts were seriously so ridiculously epic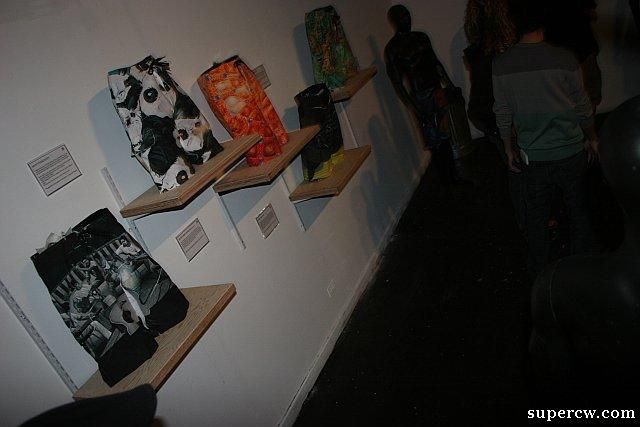 so the hurley thing was by far the coolest thing i'd seen on a first friday in years. room was full of everyone that matters in hawaii surfing, then i go over to Next Door and see The Saints and am like "are you SERIOUS??"
even MORE amazing.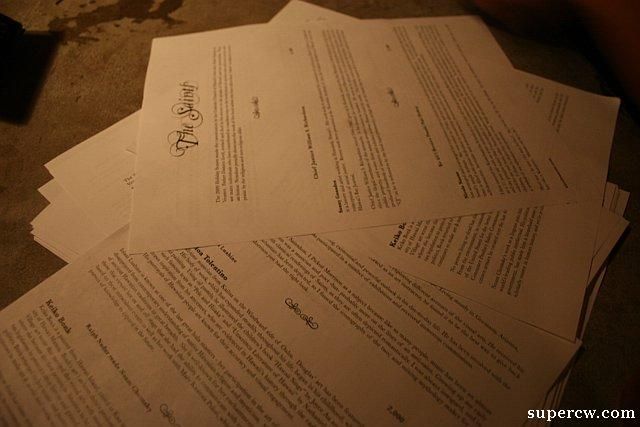 first of all, they had a string quartet playing as you walked in.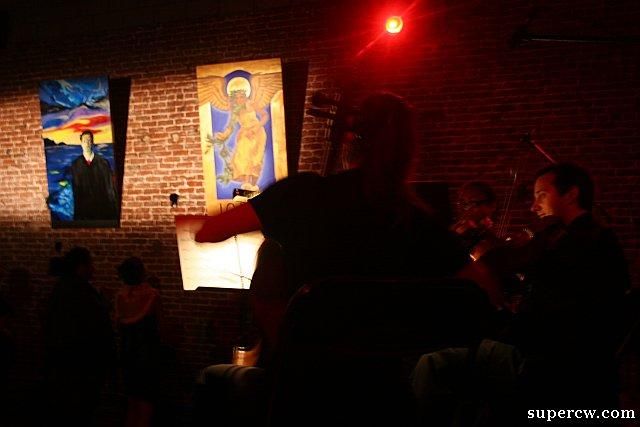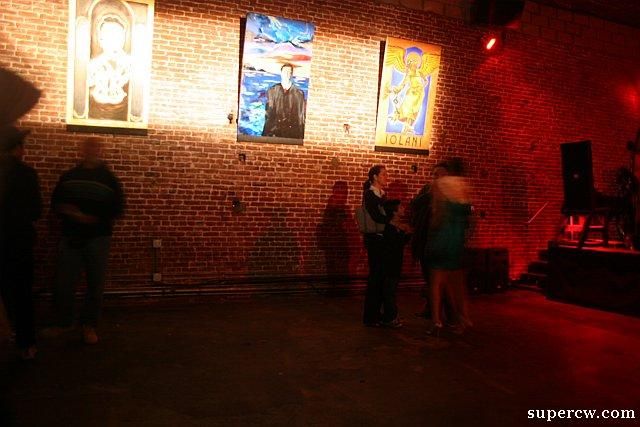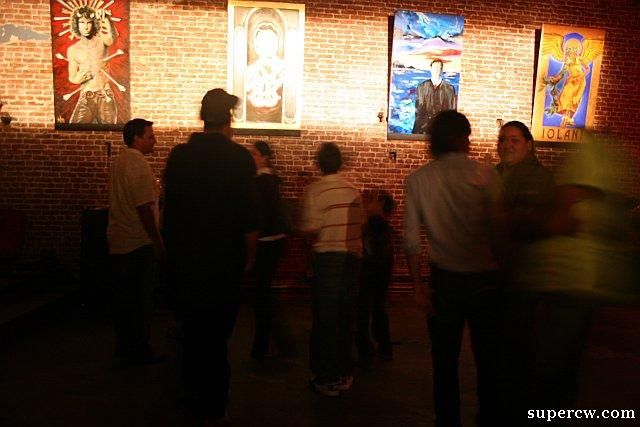 artist nicole naone looking like a college grad tonight. it was cool to finally meet her family.
awawwwwaw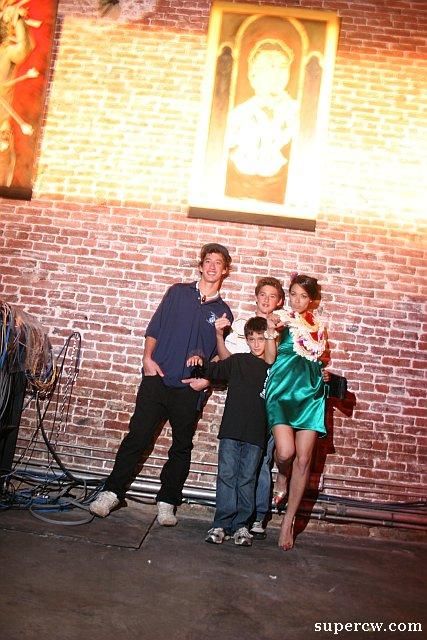 aaron + aaron. artist overload.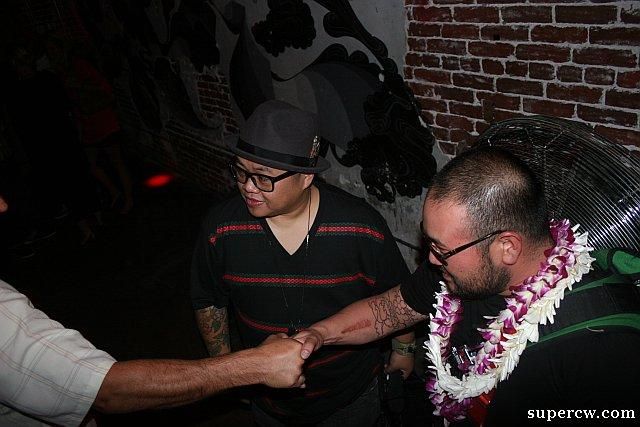 aaron + aaron + sonny.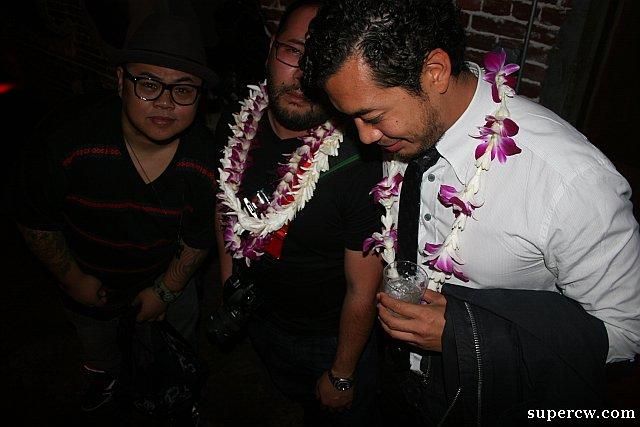 OMG tim jackson on the new wednesday night flyer! hahaha i LOVED this. nice work joseph.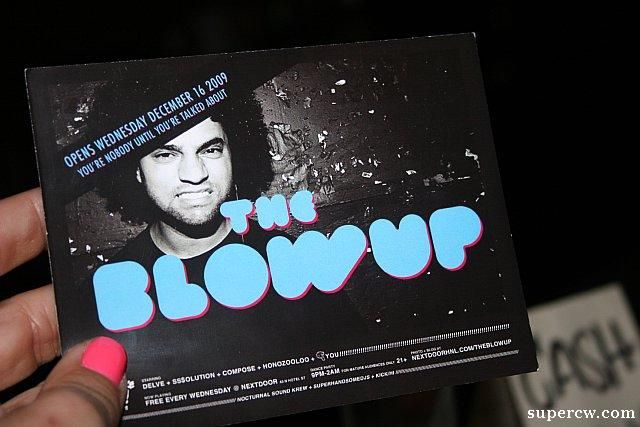 oh wait. this is tonight! i'm so there guys….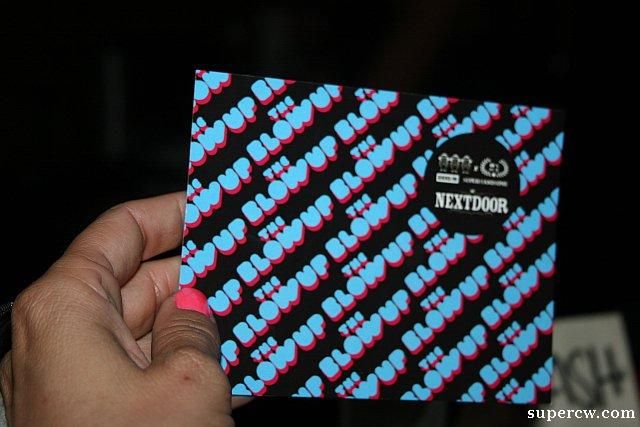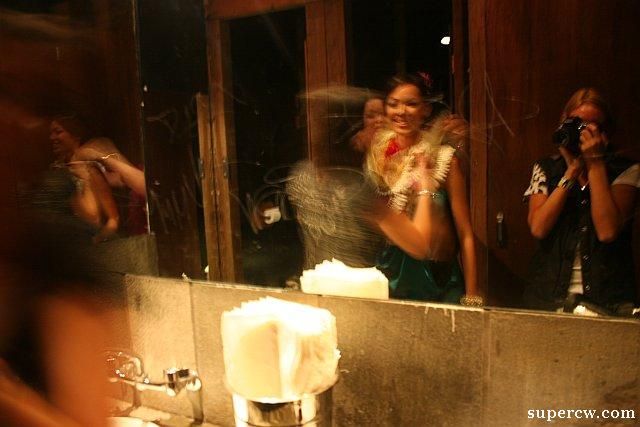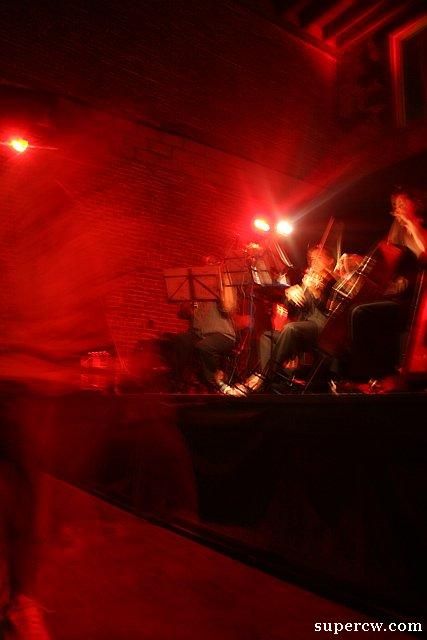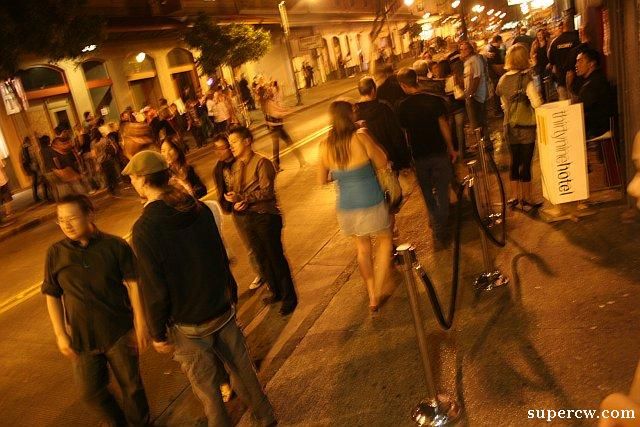 made it to manifest. i was lucky enough to walk by during the 35 second window in which there just happened to be no line. i'm so happy too cause it meant seeing JUSTIN in SUSPENDERS.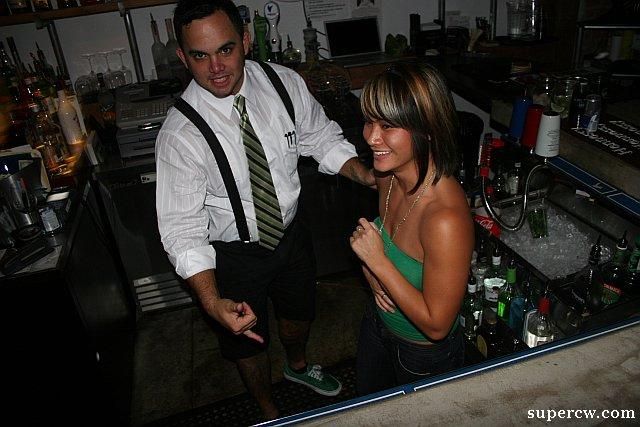 totally blew this shot of chanel boots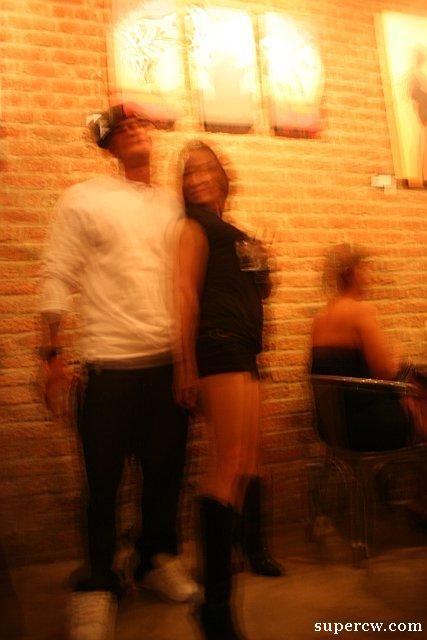 ah! there…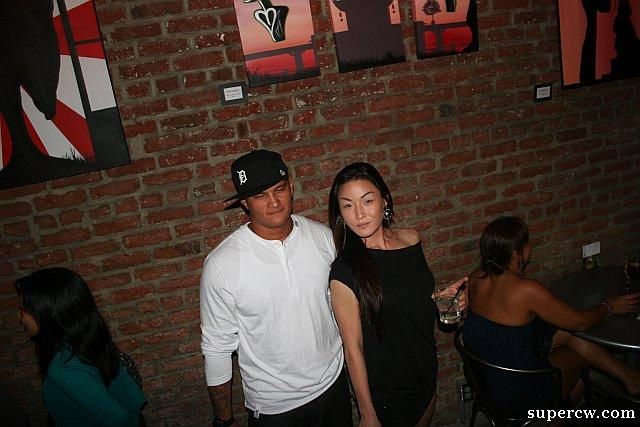 all the apparatus was doing their first friday usual. wait, i think they are gone now. i think they moved to canada? or somewhere. oh well. they were rad while we had them……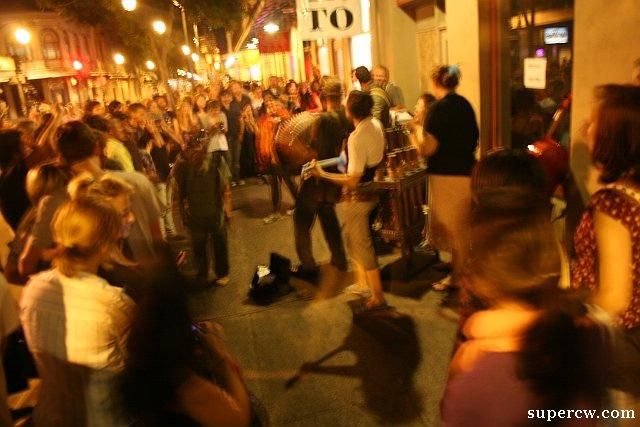 saw teddy and brett playing music. i don't see this as often as i used to.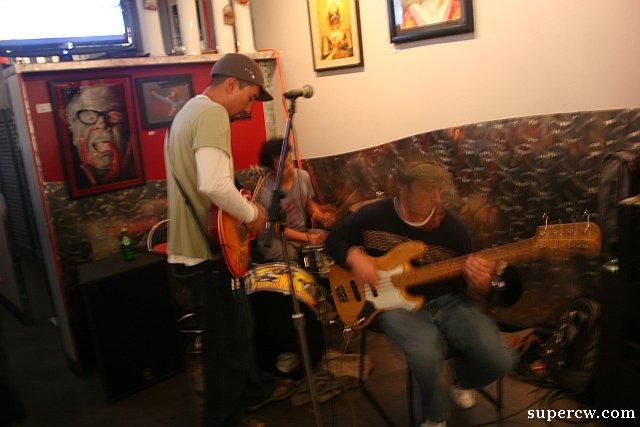 then i went back to the hurley party. saw joel centeio's lady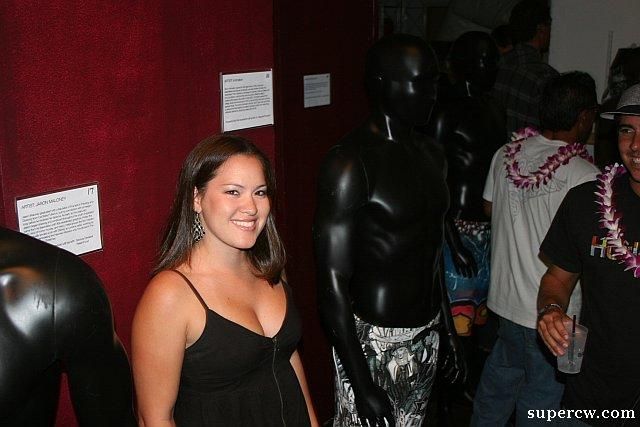 and joel holding her stuff while she was getting lurked. best dude ever.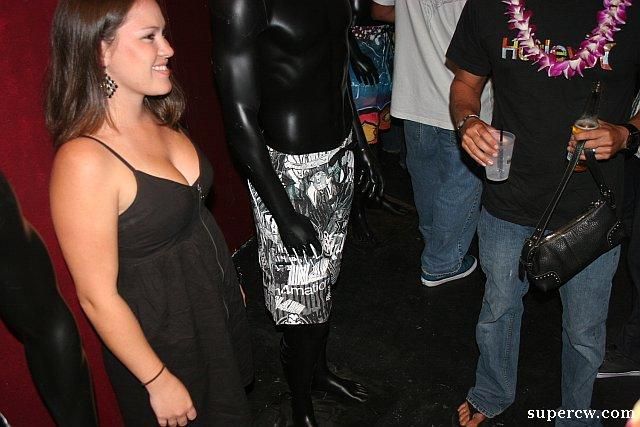 saw a lot of rad dudes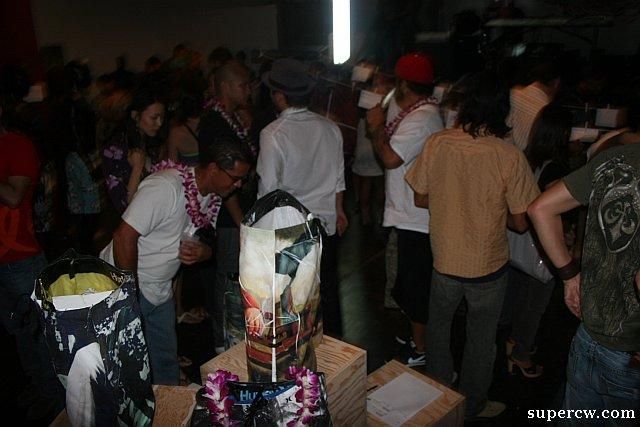 holly's brother is TALLLLLL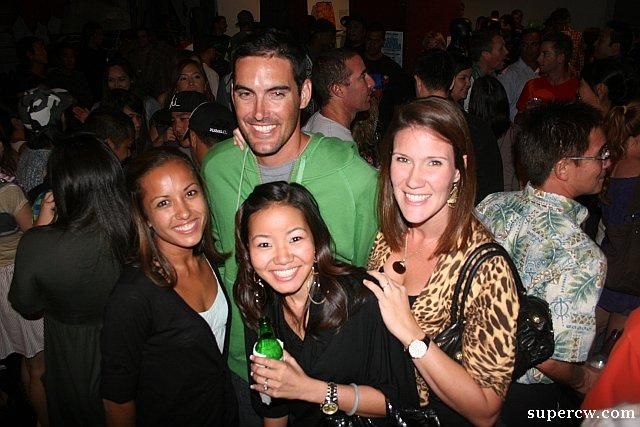 my latest obsession is kate, the contrast mag intern. HI KATE!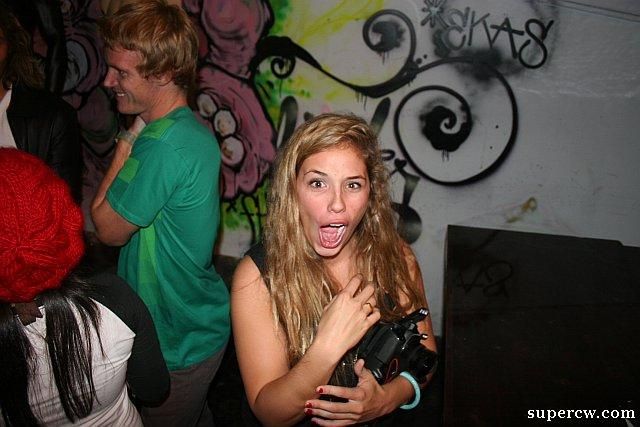 contrast mag editor. HI ITO!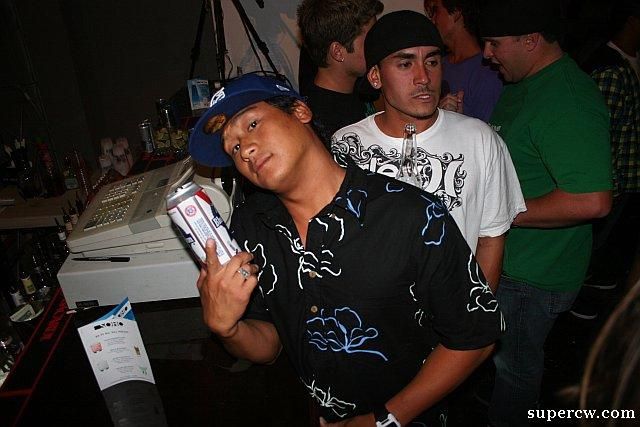 (hi ito's shoes)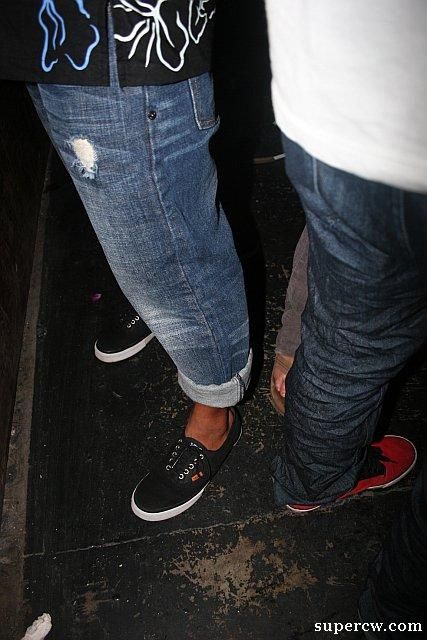 jason shibata is the smiliest smiley dude ever. i love him.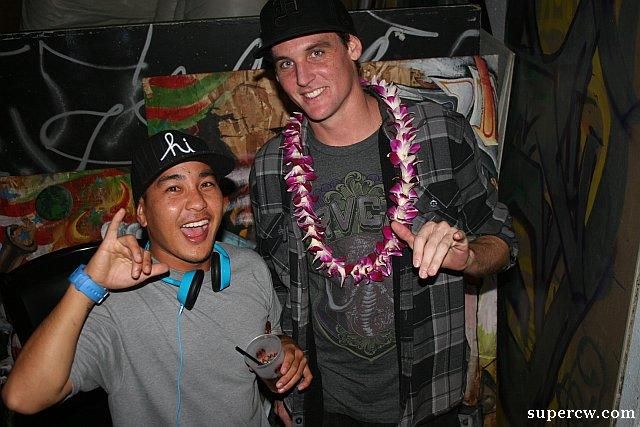 groundUP pirates. HI!!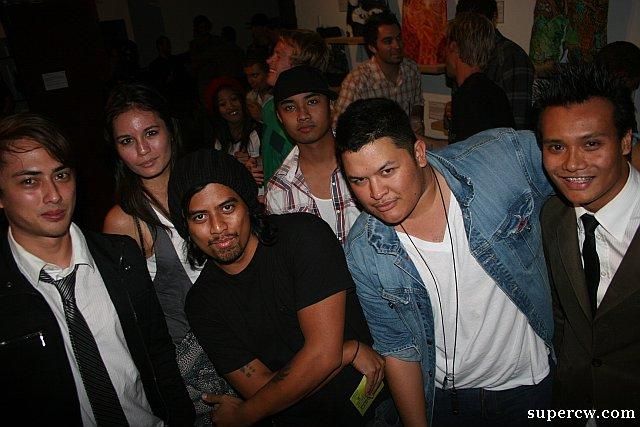 hi joel! you're the nicest guy in the world! ignore that dude scowling next to you. hurley surfers for life!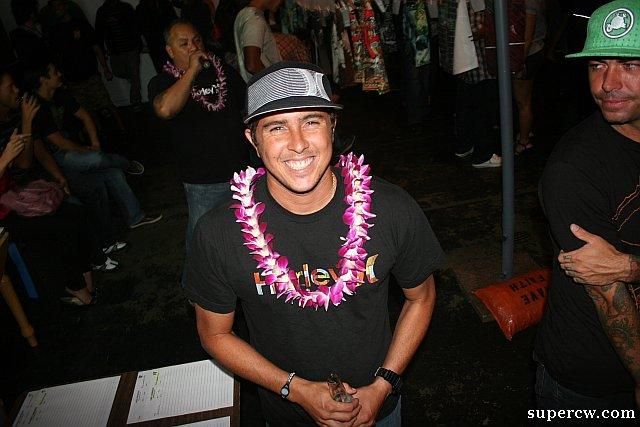 YEAH KATE!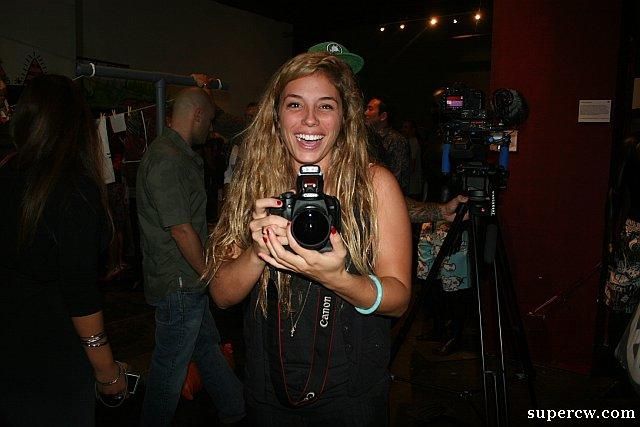 the board shorts were being sold for like nothing. i was bummed this was on a rent payday, they were all in my size :(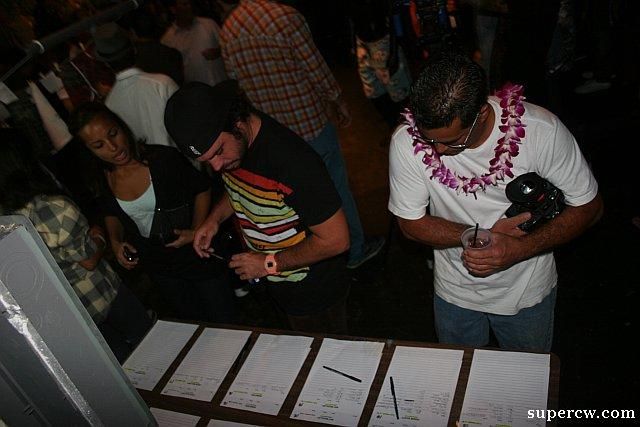 turk is bringing snoop dogg  to soho this saturday. i can't believe it. it was because of this event that he was all stoked on the place. pretty exciting stuff.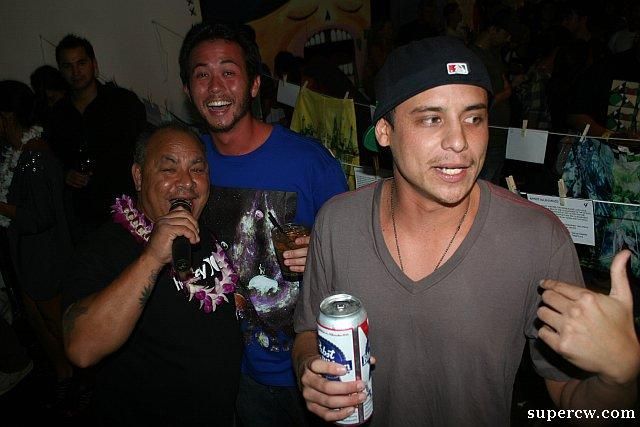 ps: looooove these faces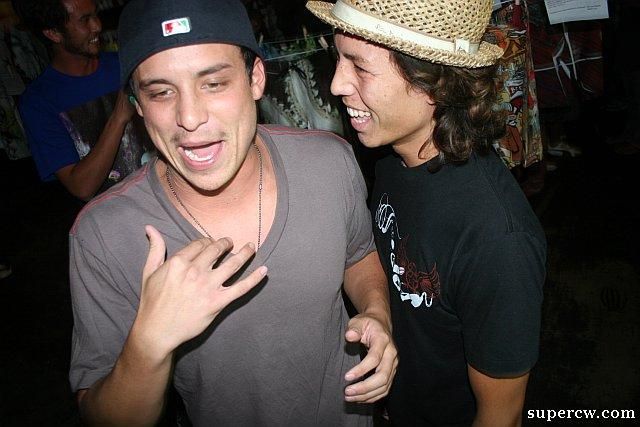 hi!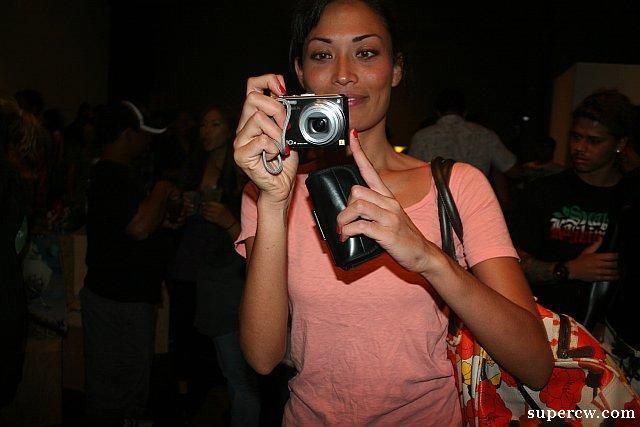 aw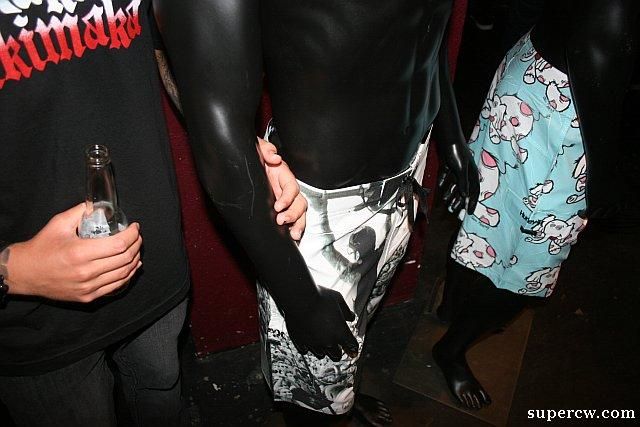 @koa_boi you all growns up!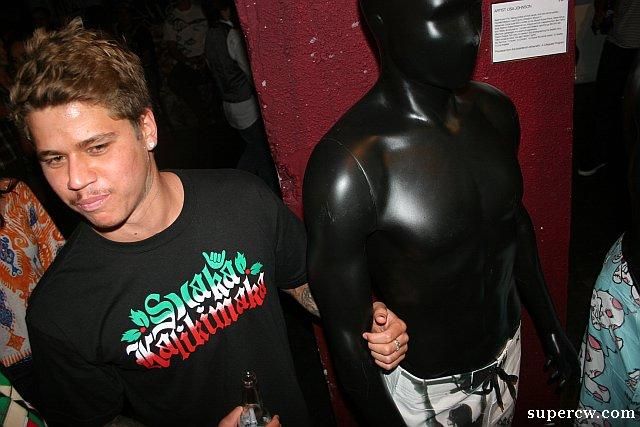 not sure why, but i really liked this pic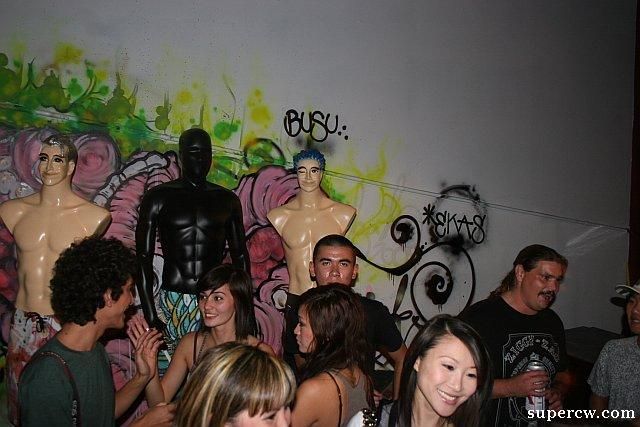 awesomebrain vs. awesomebrain (guess who edition)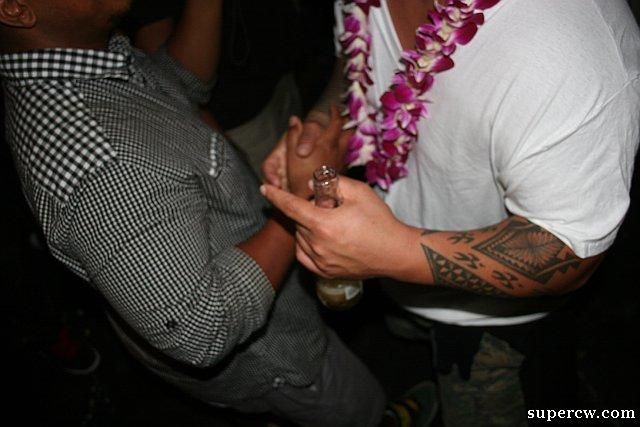 YEP! jimmaaay dicarlo vs. kaboooooe kavapalu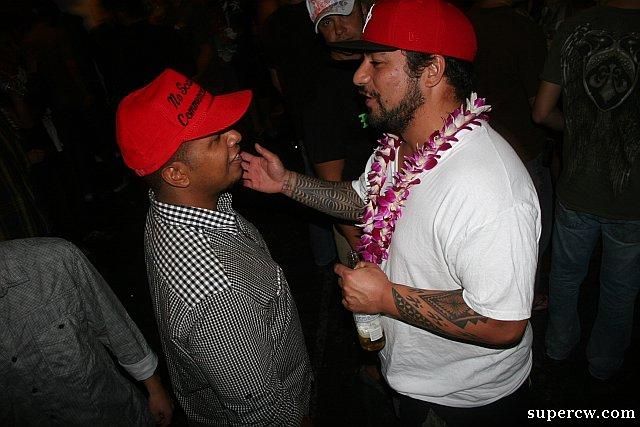 kaboe had shorts for Fitted, and you can bet they were just divine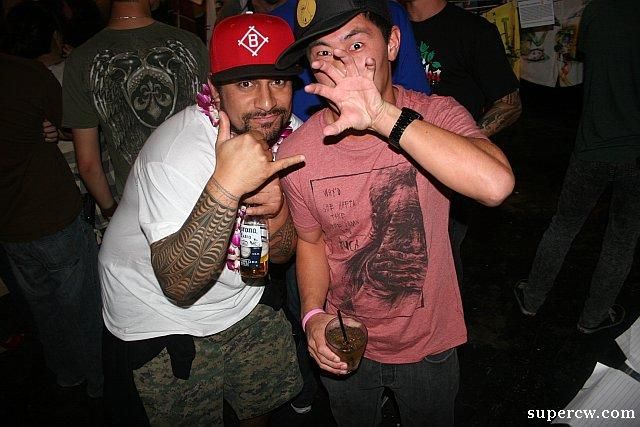 aloha served daily!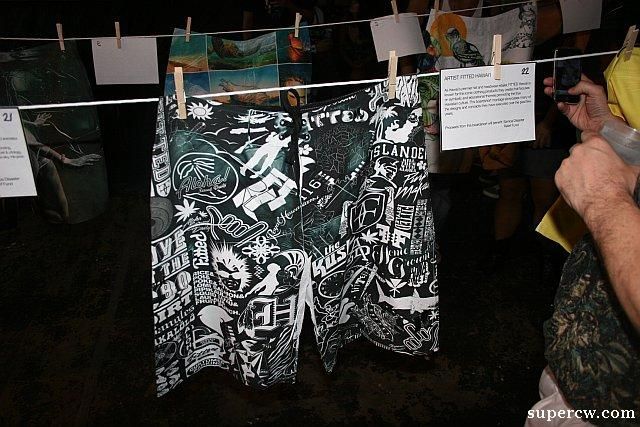 i liked the ones troy gomes did too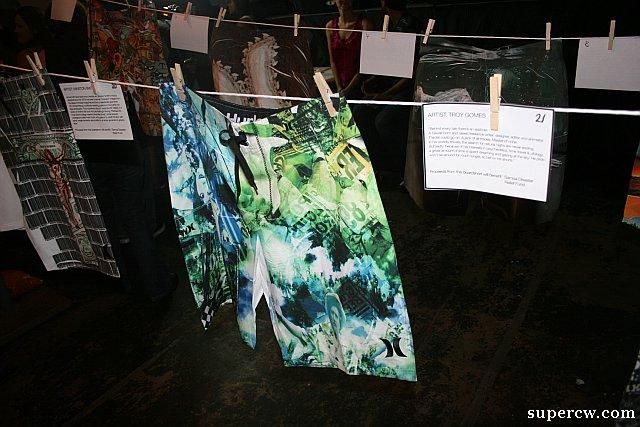 oh look, i made it over to thirtyninehotel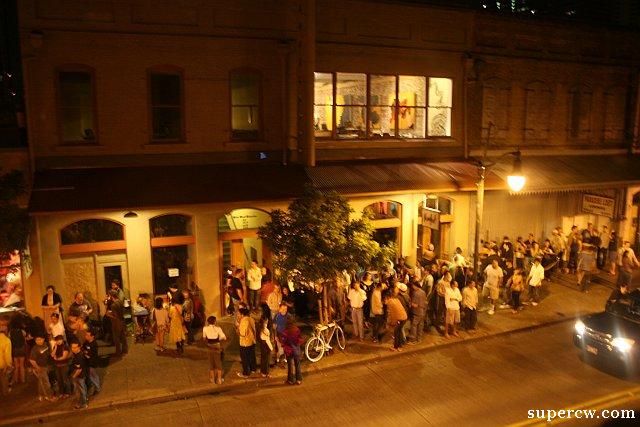 and BACK to next door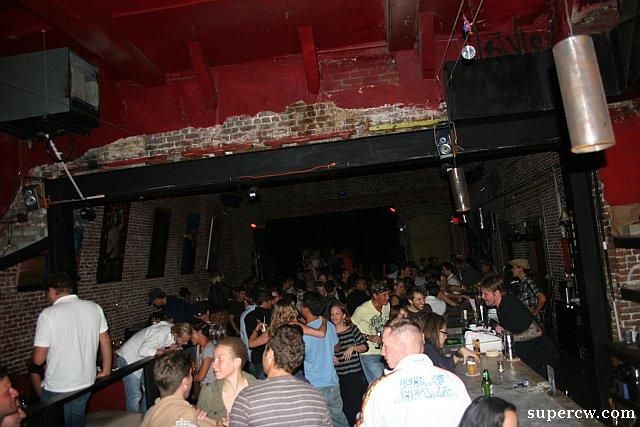 oooo just in time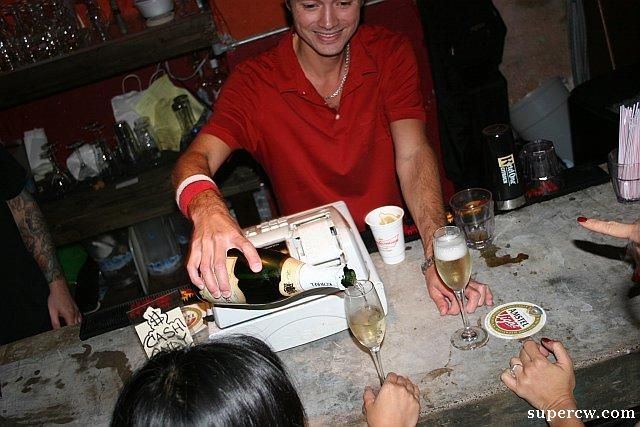 shoooots mamaama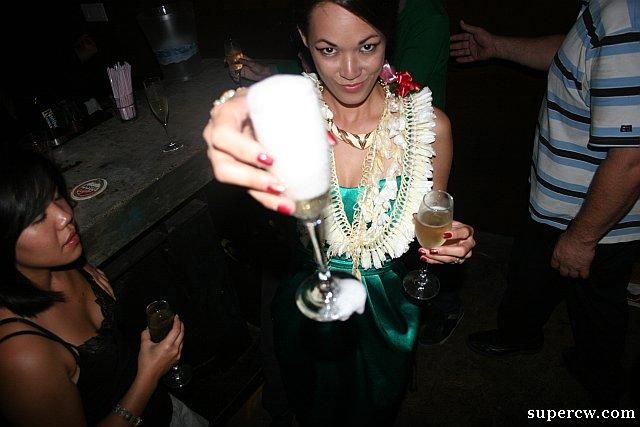 ksm was makin people go kinda nuts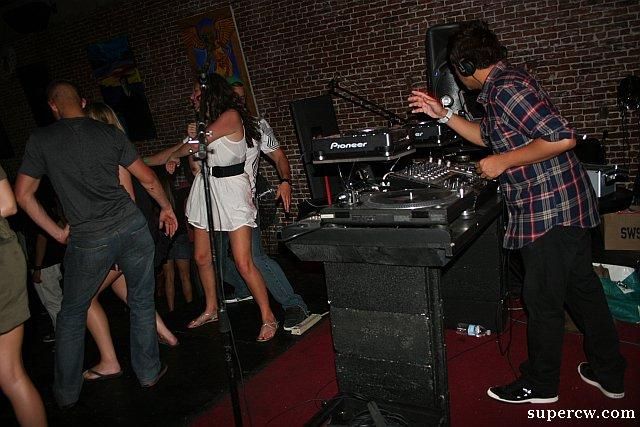 the cool kids
caleb in his usual first friday stance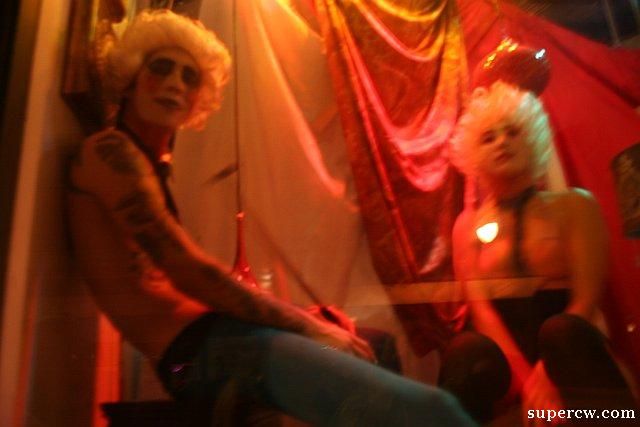 and yep, the streets got packed. as usual. no big deal.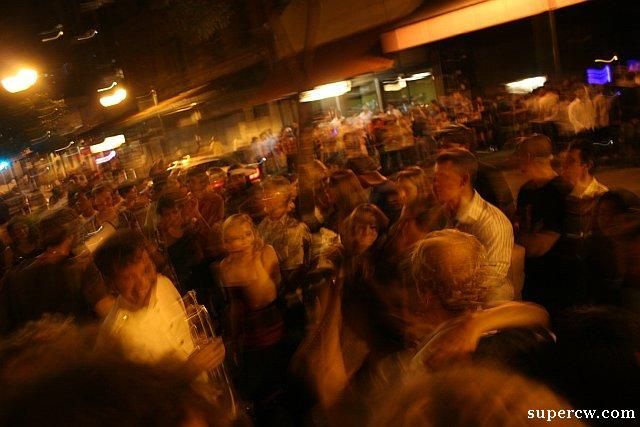 then BACK to the hurley party. sorry. the place was packed solid with ocean faces. the best looking room i've seen in a while.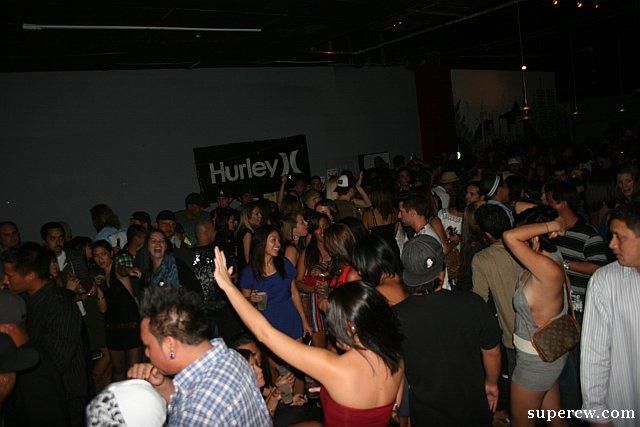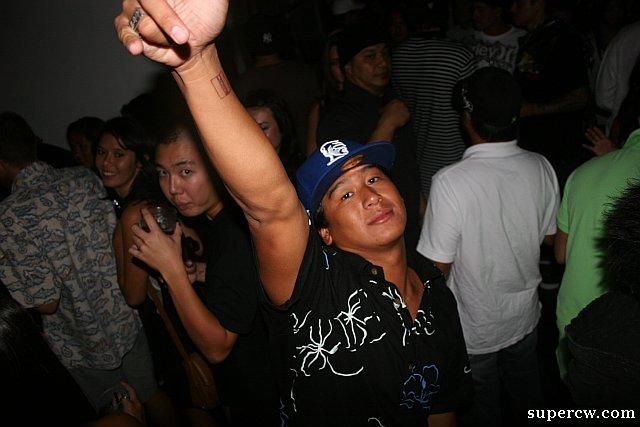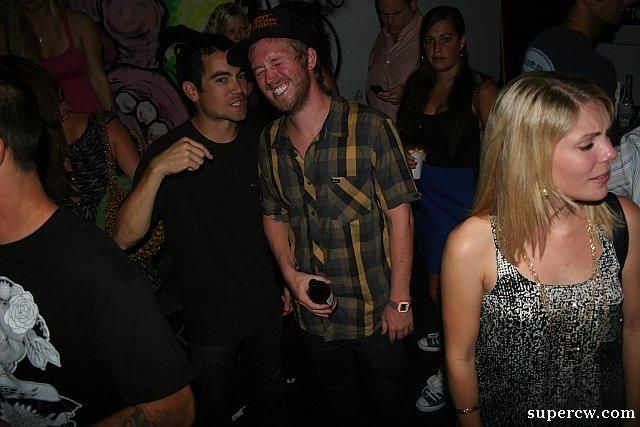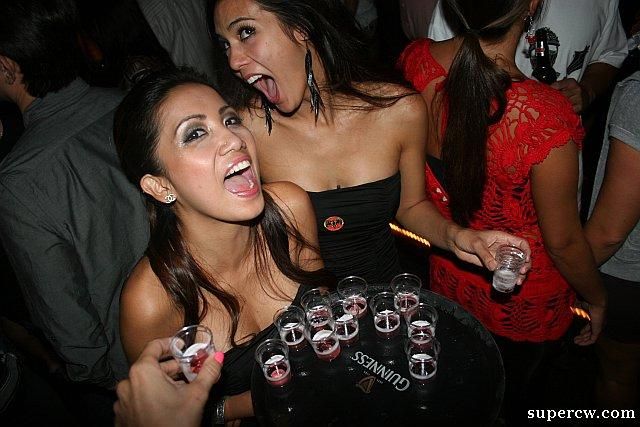 oh rad, looks like someone got video of it. and hey! is that jarold webb's little brother? damn… all growns up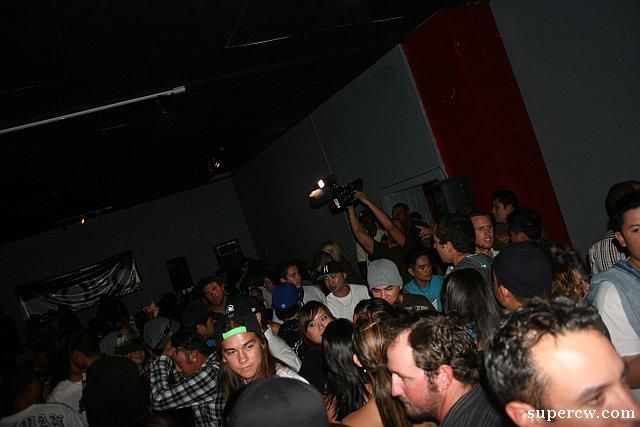 hey, girl on the end, way to show the aloha spirit to the mainland guy making a video about honolulu. aaaaawesome.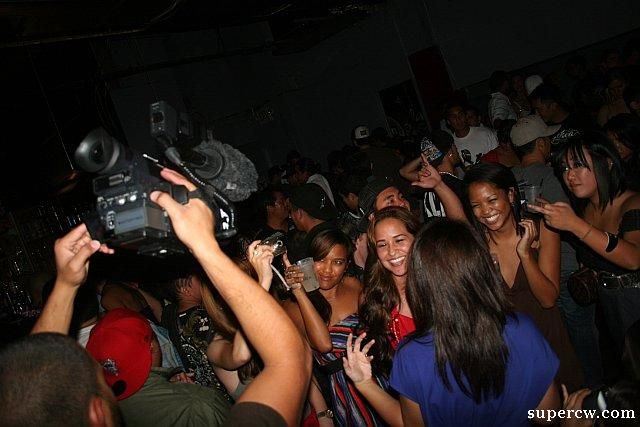 ps: i think this was the guy that made the video that's on hurley's website. so so so so good.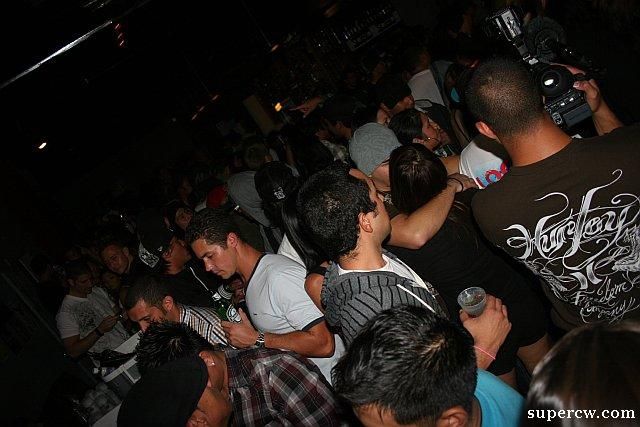 saw Ian! BadNewsRapDudes. seduDpaRsweNdaB.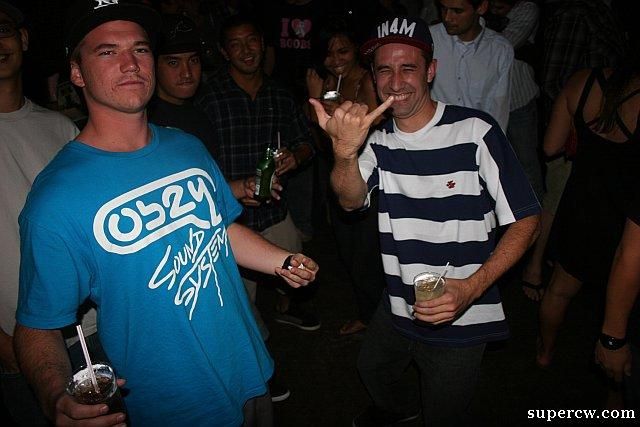 oh what. then i went BACK to Next Door. sammy bananas!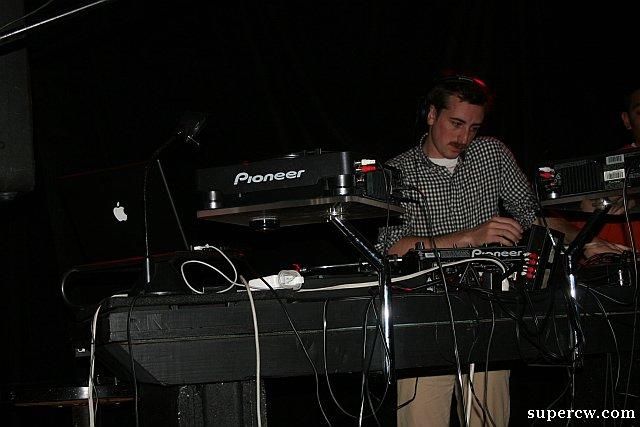 saw luke having the best night ever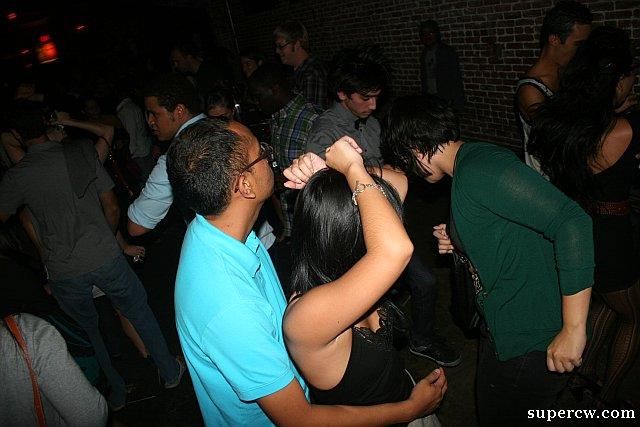 then i saw selena. on her birthday :)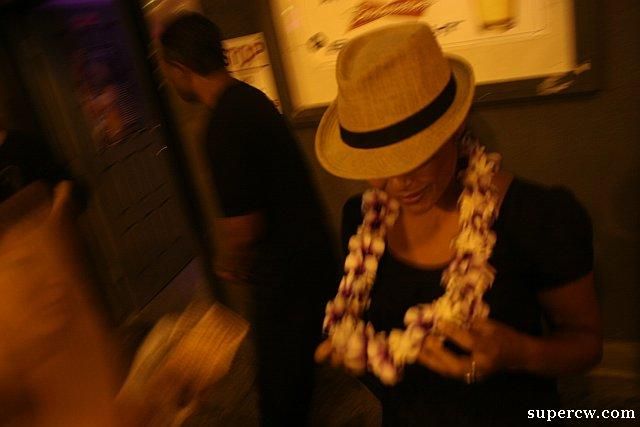 then i saw eskae. and a bunch of dudes.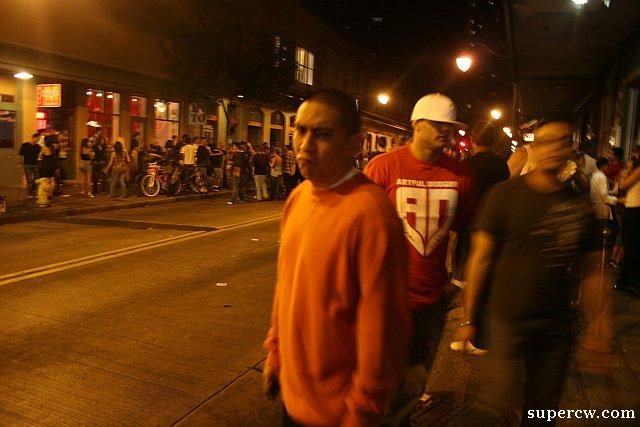 then i parked it outside for a while. HI!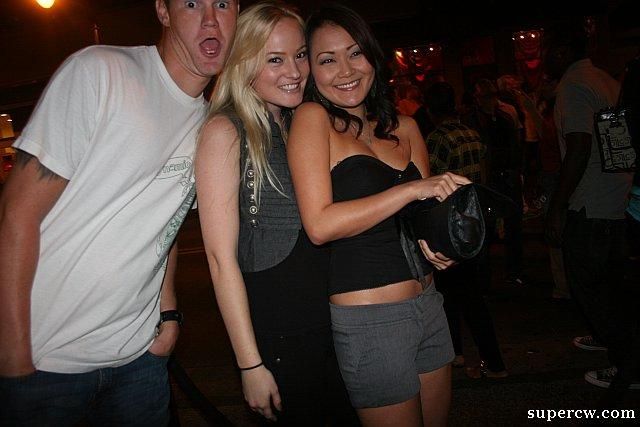 oh. then back to the hurley party.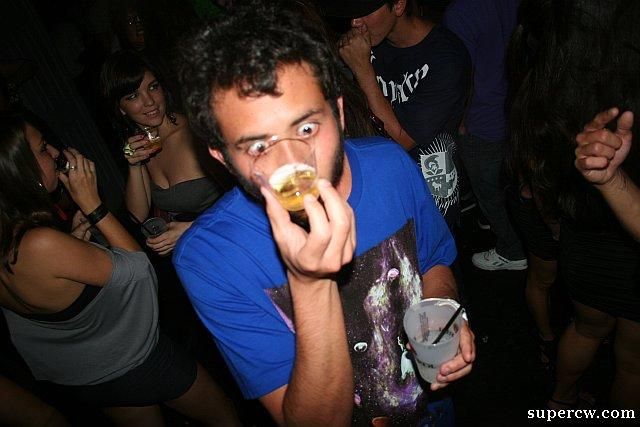 where i danced with V-Ron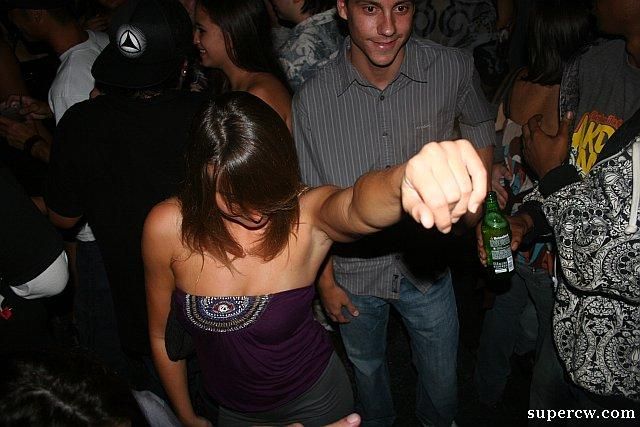 and just about everyone (norm? u ok?)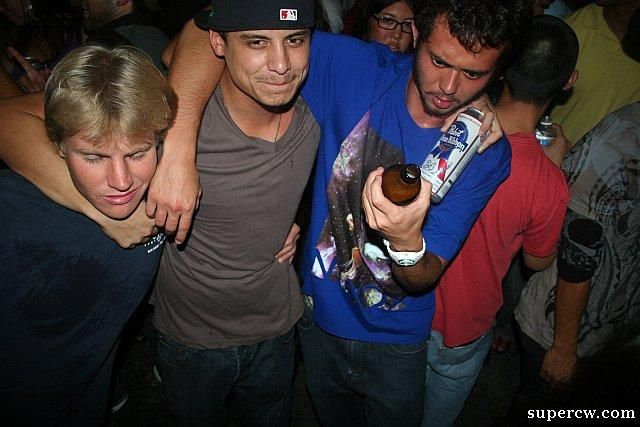 and lurked robert campbell in the vip (TELL ME i didn't look just like him on halloween aaaaa!)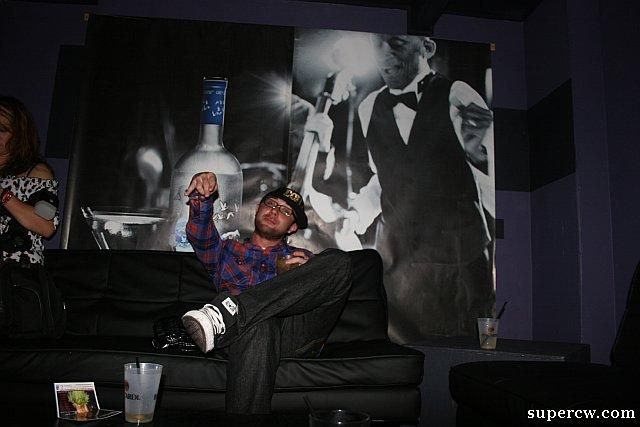 where there's a robert campbell there's a darieus close by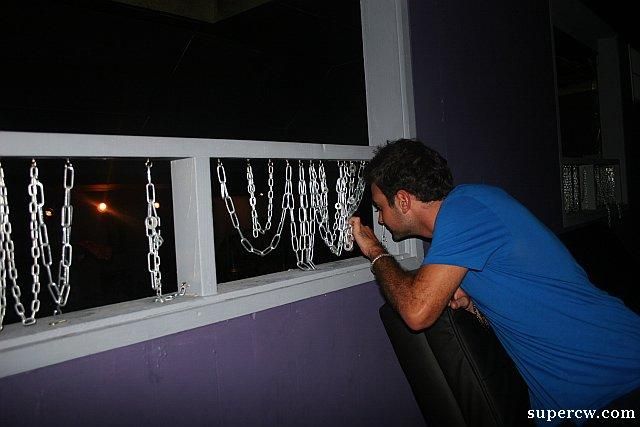 i loved that necklace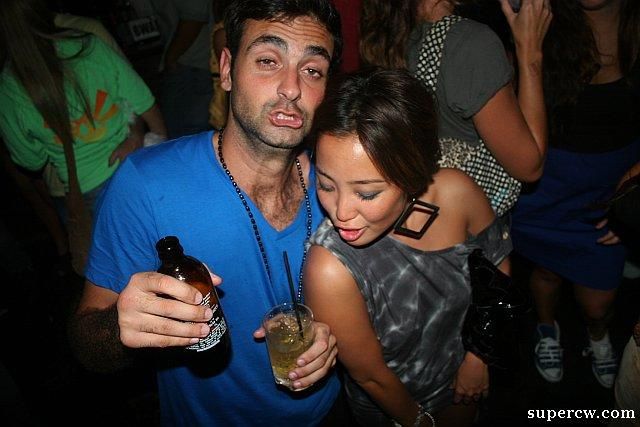 at this point i was wavering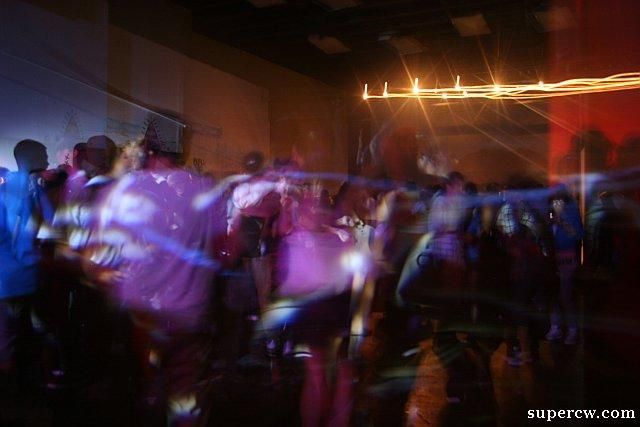 soooo many dudes it was like dude soup. i'm pretty sure every girl that wanted to got a makeout tonight. i might have even been able to. if i didn't run out of there to say happy 10 years to pipeline cafe.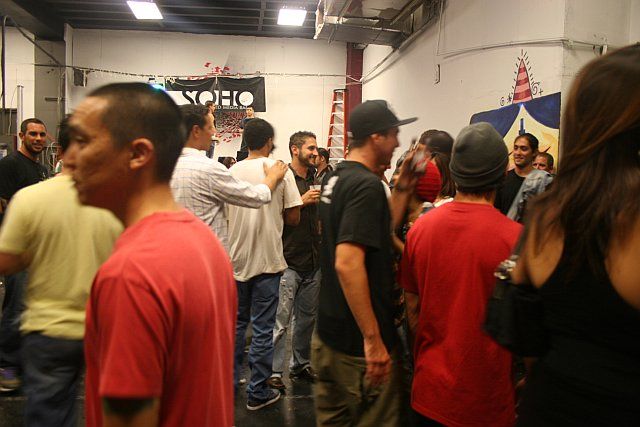 my only shot from pipeline is samuel dressed as a liger :(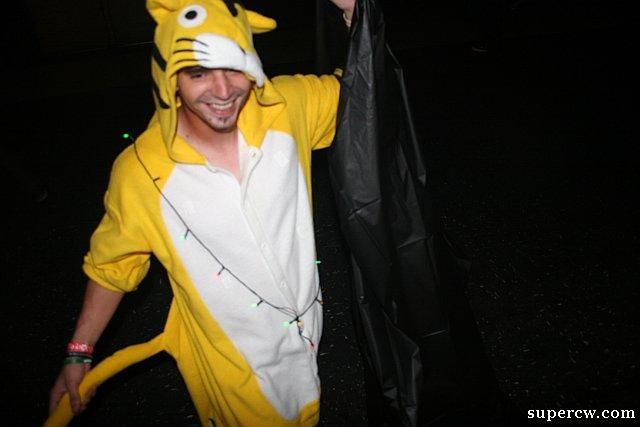 and these ribs that me and brandon were grinding in the street. ribs/cornbread > makeout. the end.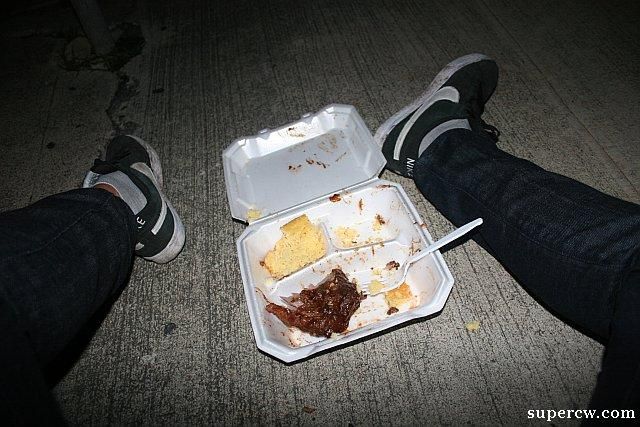 well now. i'm still a couple weeks behind but eh. IT'S MY BIRTHDAY! holy jesusbajiminychrist i'm so excited for Friday.
here's some details for you guys:
1. COME EARLY! deadbeats start at 8:30pm sharp, with or without you. they gotta get on a plane at 10:30pm so we only get them early
2. bring cash! i need $5 from you at the door to pay out all these bands. if you rsvp'd "yes" on the invite you are ok, but you'll still have to pay $10 if you want to drink. and duh, tips. so anyway. let's all help each other dudes.
3. CARPOOL! you can park in front of the buildings on either side of fresh cafe (NOT across the street!) and we will have a valet from 10p-2a, but make sure you're not freaking out about parking. coming early will also alleviate this.
and finally: FRESH CAFE IS ONE BLOCK EWA OF WARD ON QUEEN STREET!
i've had so many people ask. you know where it is. it's RIGHT THERE! here's the map link, take a look. it's smack dab in the middle of everything.
View Larger Map
see you there. soooo excited. love, cw