oh, oops. these are kinda big. they kind of overlap to my links and categories and whatnot over there
—>
sorrriee.
also my bad about getting these up so late. this shot of  el nina at the royal hawaiian is pushing 3 weeks, but just hold on!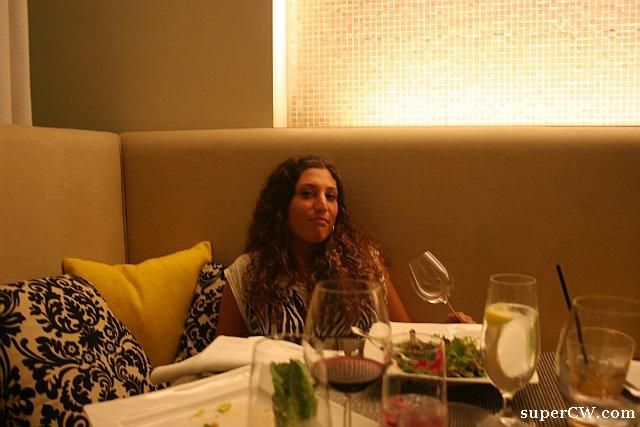 so yes, this is when we were at azure. what an amazing restaurant! jeez. i was SO pissed i had just eaten when we got there, because i wasn't buyin.
oh, and say hello to mister guy fieri and his tv show crew. we kinda crashed their dinner. then Guy buried his producer or technical director chick with pillows. it was that kind of gathering.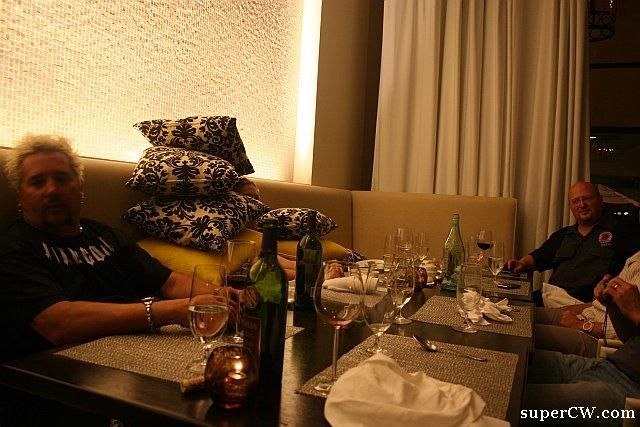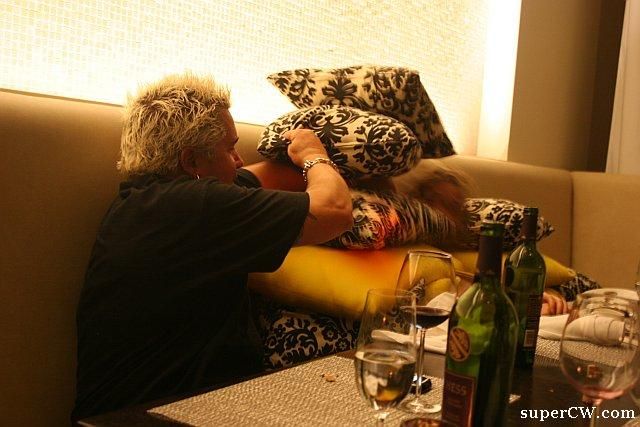 oh, there you are. hi!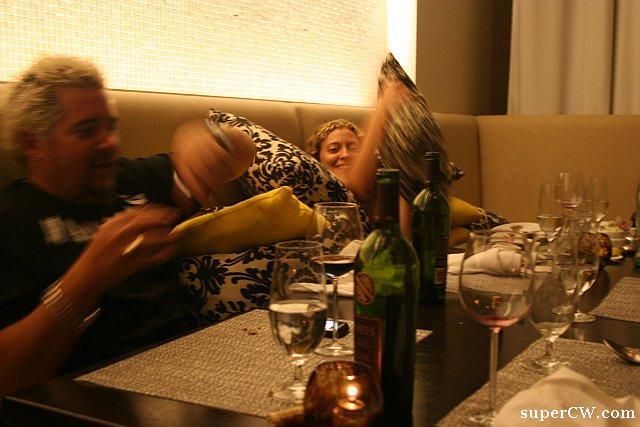 yeah, manny hinojosa is a radical dude that's for sure. he was back in town to do some stuff with corzo and cazadores. Guy was in town to do some stuff with his show that talks about places to eat. i heard his honolulu list of places he ate at and was kind of surprised, kind of not. if you don't really know i guess you just don't know. you know? but yeah, they're buds. they call each other "papi"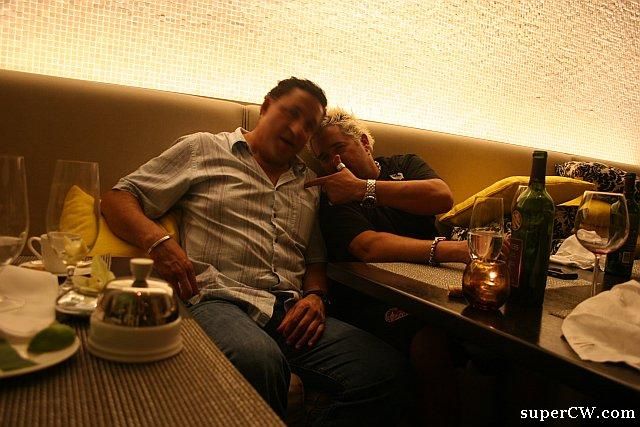 wait, here. let me get an actual non-blurry shot of these dudes. here. famous tequila guy, famous food guy. hello!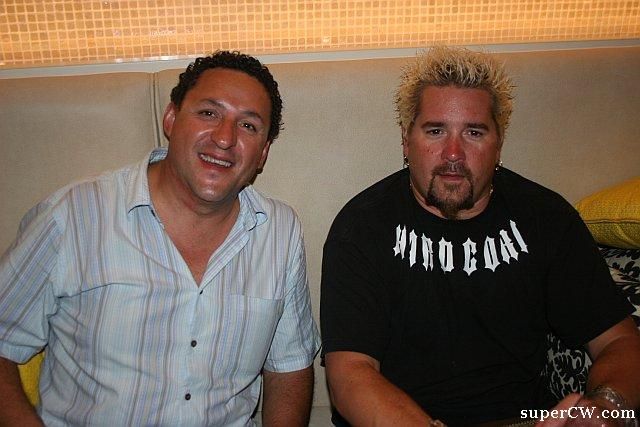 yeah, it's been crazy in my world. just workworkworkwork. and what do you get when you cross a girl with a blog with a girl with a crazydemanding job? a workblog! nah, it's fun, just no time to post. BUT i got to lurk manny make incredible tequila drinks at lewer's lounge. workfun.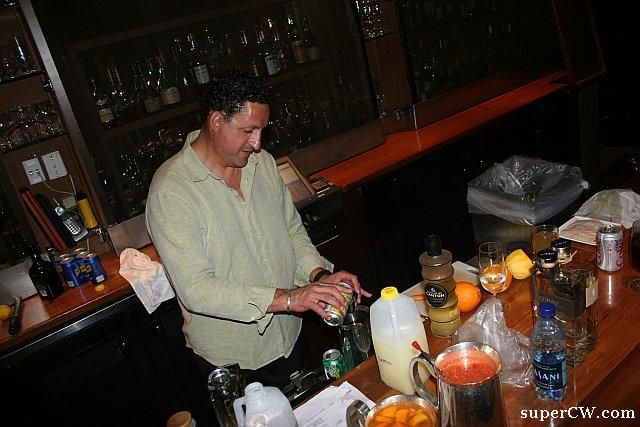 we did a big lunch for the bartenders guild – the hawaii chapter! hey, are you a bartender? a bar enthusiast even? YOU GOTTA JOIN!!! these people are sofa king rad. they do stuff all the time too. talk to tim rita at lewers lounge if you want to join. or any of the members. or me i guess. i'm on the cusp. haven't been jumped in yet.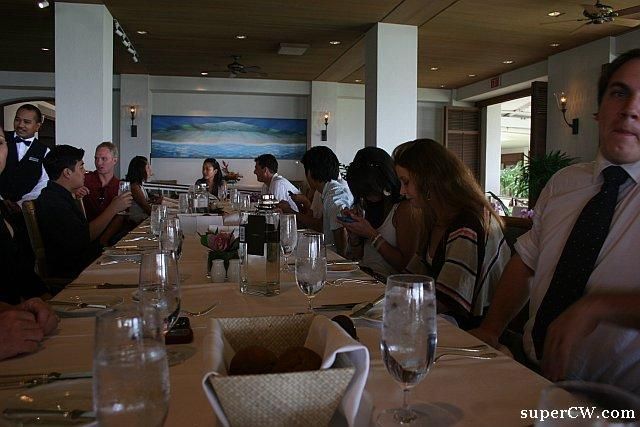 but yeah, reason #8748 to join. amazing lunches paired with cocktails hand crafted by a tequila master. just saying.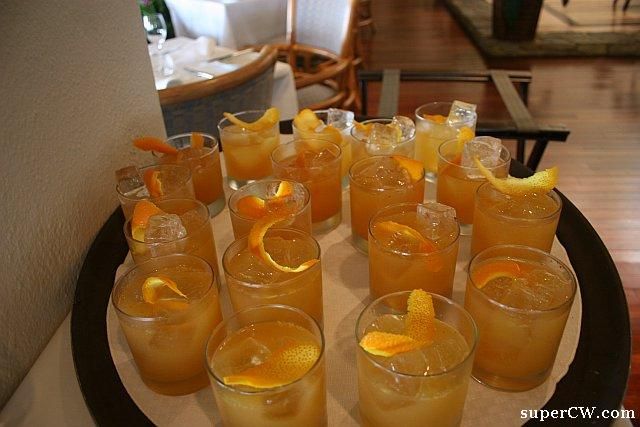 not sure if you can see the spice in there. but this was spicy. i have the recipe somewhere. it was by far my most favorite cocktail. citrus and spice are so amazing together, for real. aaaaaaa.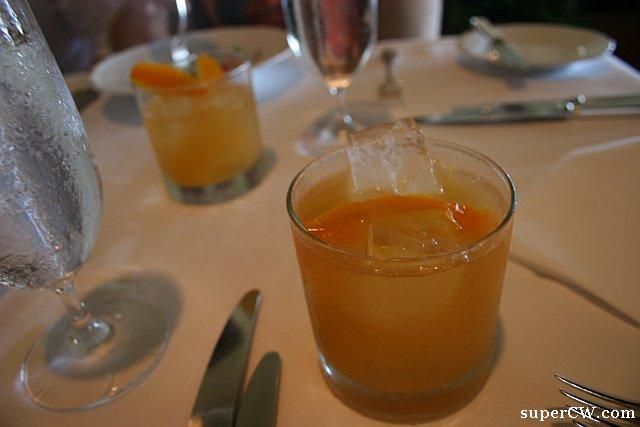 ps: the royal hawaiian. just damn. i had the most epic night of my life here this year. i'm not even gonna try to beat it.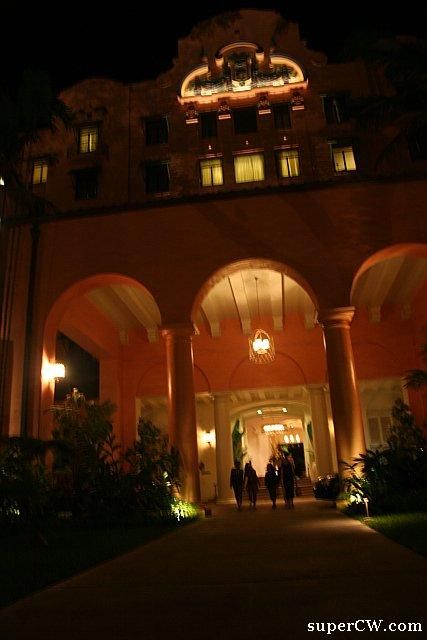 wait, these are out of order. here's cocktail two with the lunch pairing thing. starfruit! do you love it!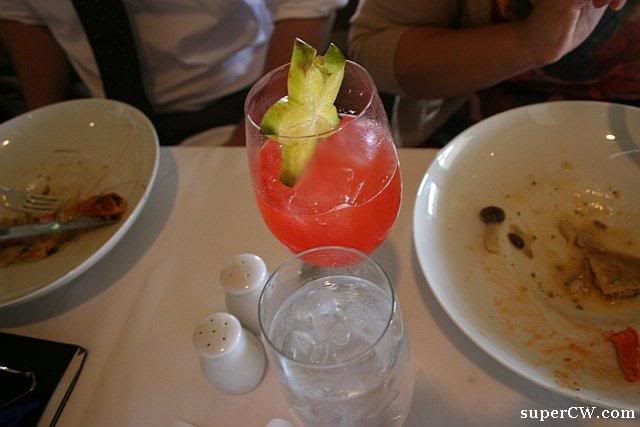 the garnish on this one was a red pear soaked in lime juice coated with lime rind scrapings. the cocktail, of course a mouth explosion, but the garnish was even better. i watched him make these and was just sitting there at the bar like the biggest groupie.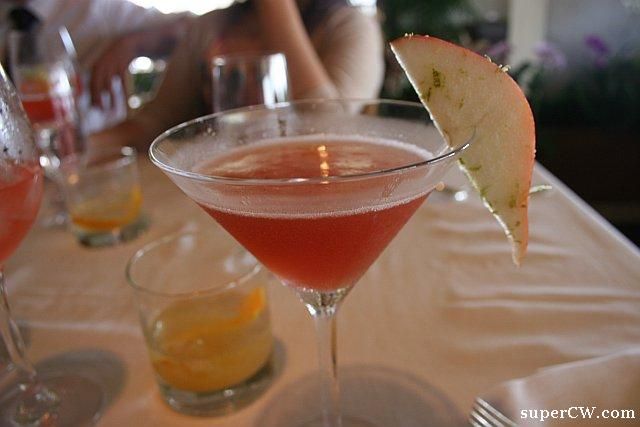 ps: dessert at orchid's. workfun.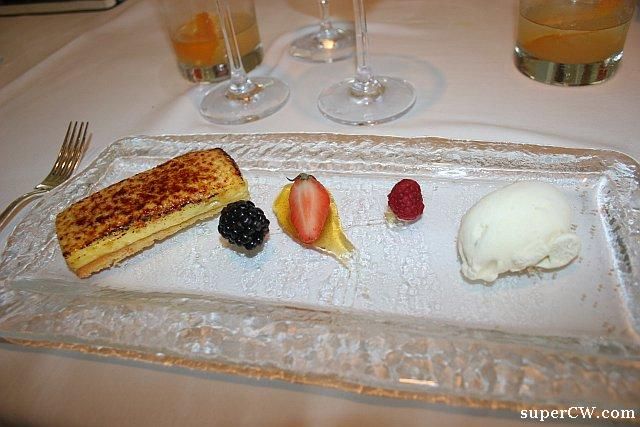 so yeah, this wasn't all wine and dine. there was like serious lectures and stuff. i got to learn (again) where tequila comes from. it comes from these plants. manny once told me that at the place where they make Caz and Corzo they play Vivaldi to the agave plants because they believe they are alive.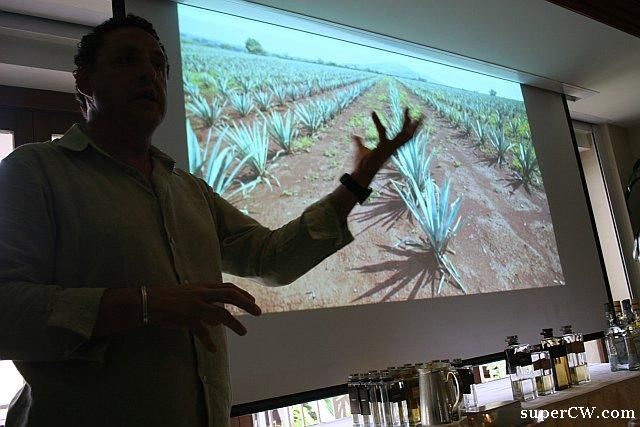 then i got to taste the difference between $9787/bottle Corzo and $667/bottle Cazadores. the ones that have color are aged longer. the blancos are smoother because they don't have the longer sitting-in-the-barrel process thing. also when you smell it you gotta do it with your mouth open.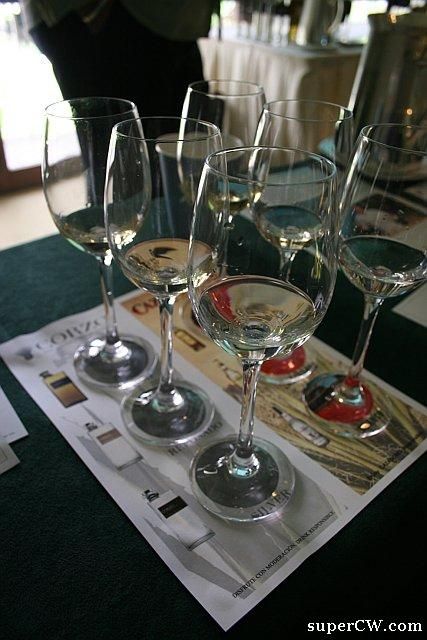 still with me? ok good. i just gotta give you a small bit of what i spend my days doing. so when you see me in the street screaming half coherently "seaaaadoubleuuuuu WHERE area the halloweeannnn picsss AAAAAA" i can say "hey bro, i was working."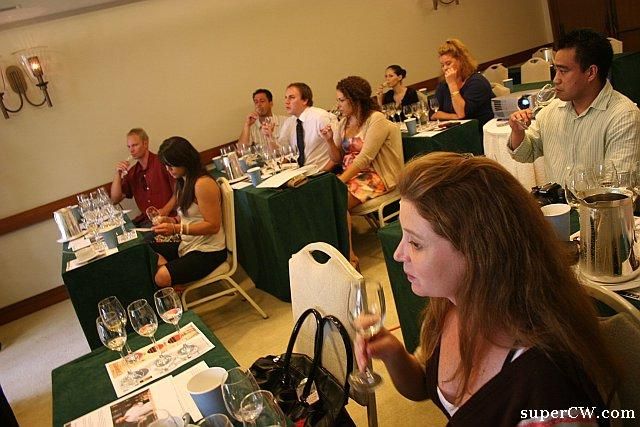 oooo, here's last friday. ok, two fridays ago. i was at the new infinity pool at the sheraton waikiki. they call it "the Edge" and it was the day before halloween. you know what that means. or do you? i didn't. it's the Gift Foundation's annual gala fundraising event!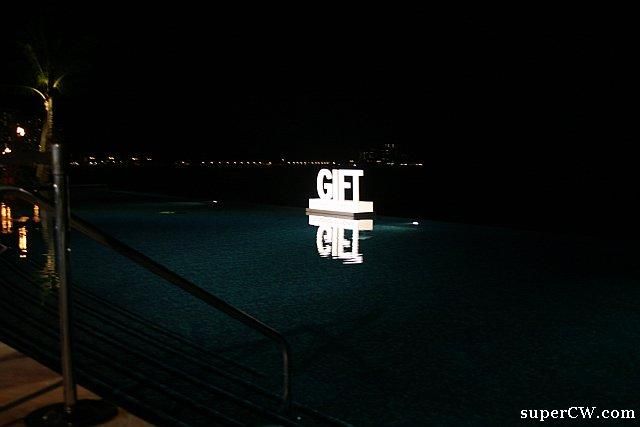 i heard about this before from kenwei but got to work with them this year cause of noel from wahoo's. isn't she just a doll, btw! so yeah, it was cool and amazing and i felt like i was a fly on the wall at the high school party the cool/rich kids were having at someone's parent's summer house on the ocean. with costumes.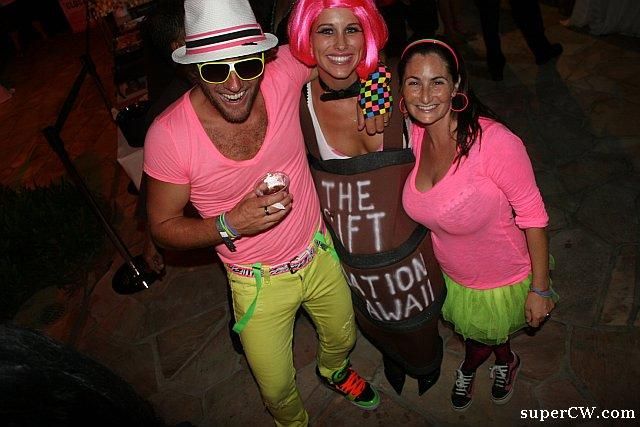 i brought brett. our first real date in public and i make him dress like a fcking girl. we broke up shortly after this.
meanwhile i was lurking the cool kids, loving the costumes. LOVED the paparazzi.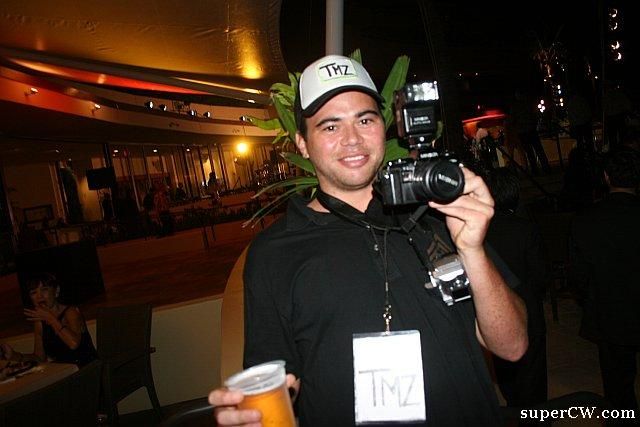 and you can never go wrong with the solid creative legends from the past right…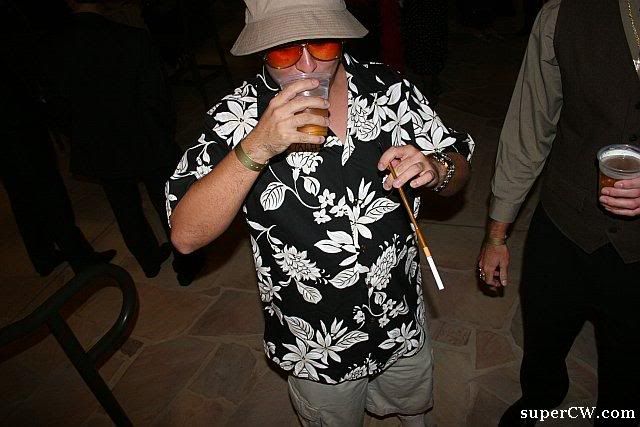 RIGHT?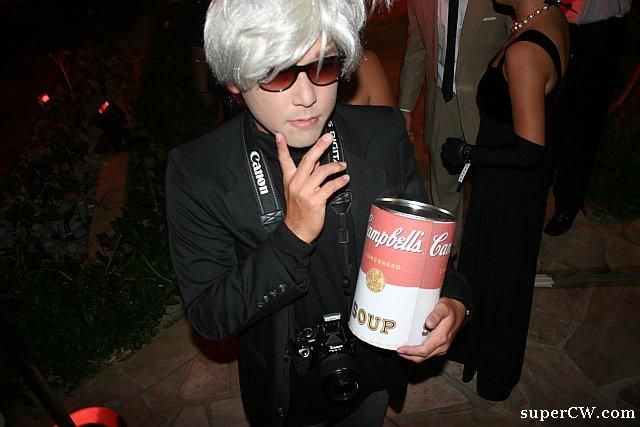 loved juno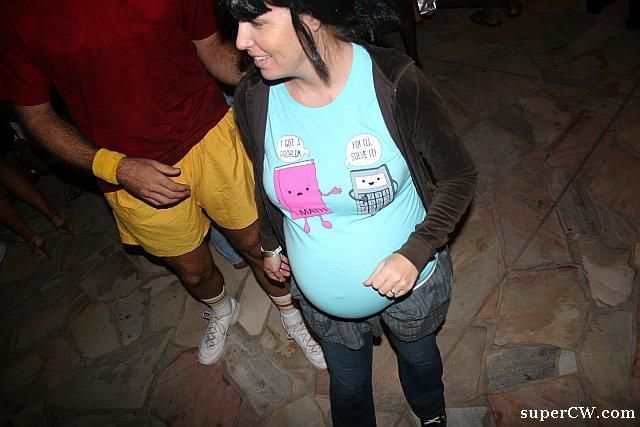 loved the watanabes. and mike is seriously one of my favorite people on twitter. his wit is right up there with john mayer. (yes, john mayer. did you know he was a witty guy? me neither. til twitter)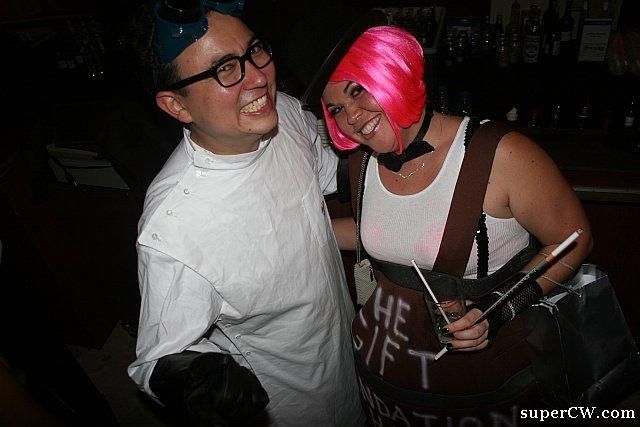 hey, were you there? did you see the camera crew? THEY WERE WITH ME! i hope you were nice. that's lewis communications, they're making a show about nightlife in honolulu. so duh, they followed me around a bit. i kinda wish now we picked something else. only because i was in costume and kind of really out of my element tonight. oh well.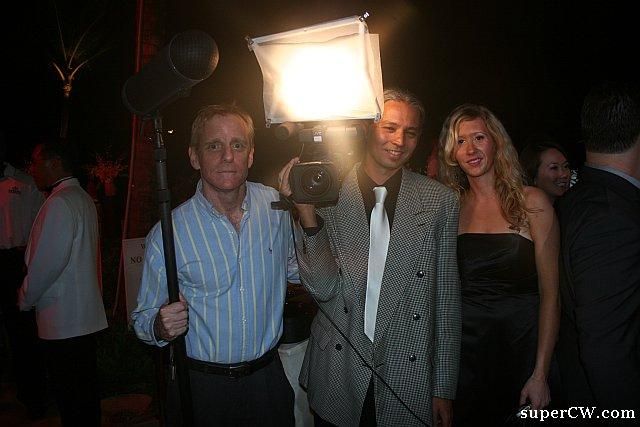 ps: i see this every year but these dudes nailed it. they were really scary and mean and looked like they were about to beat the crap out of everyone. except when i took this pic. thank god.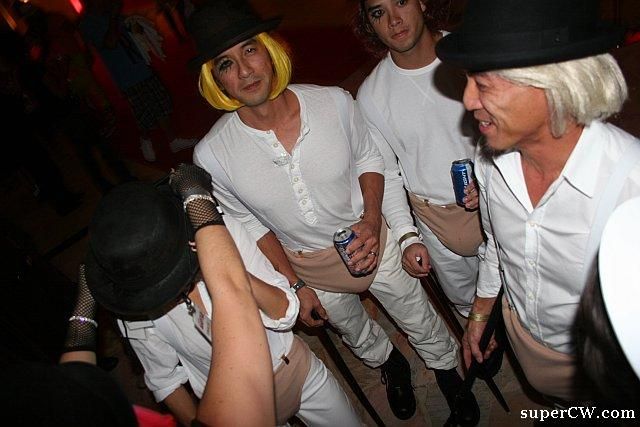 ps: love these shoes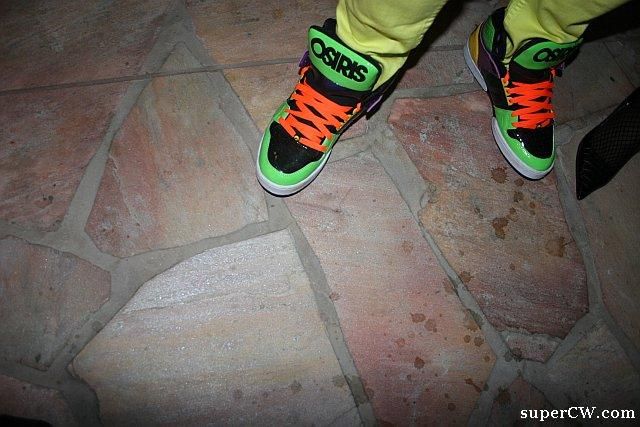 these guys won hands down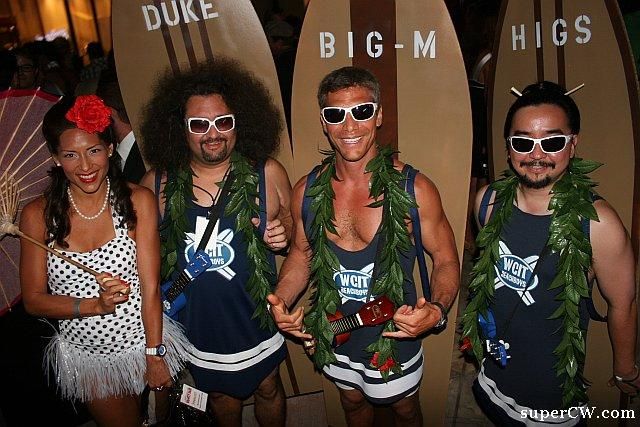 the sexy cocktail lounge for the gold sponsors. see the ocean vodka in the far left corner? see it? er…..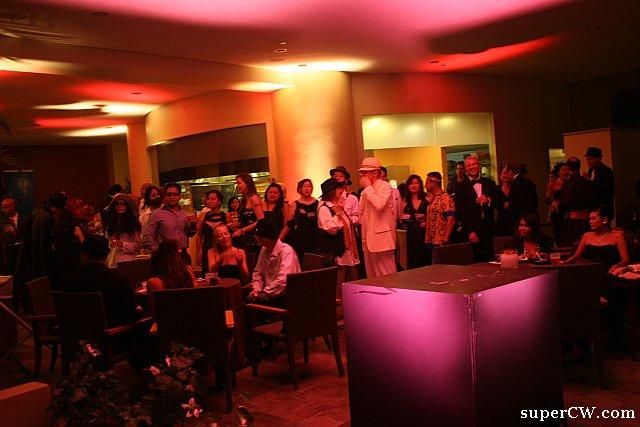 well anyway. this event, as they say, went OFF. scroll fast now, as i'm tired of writing. let's just take peeks at what it's like to be at something like this: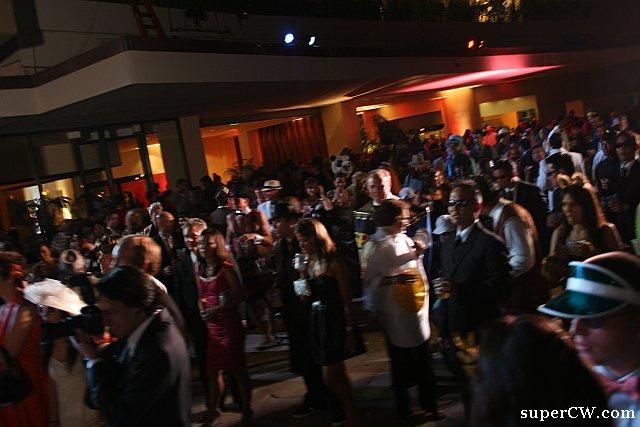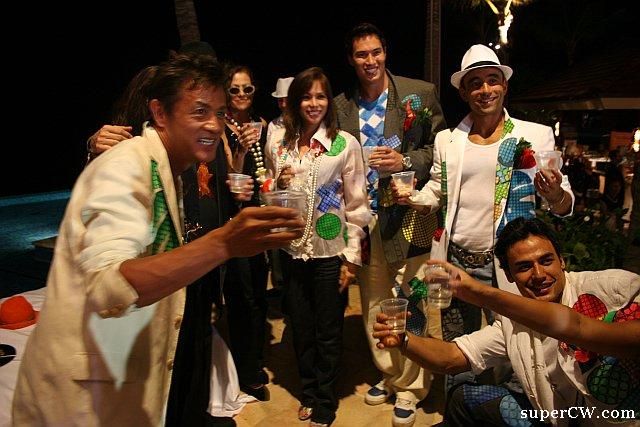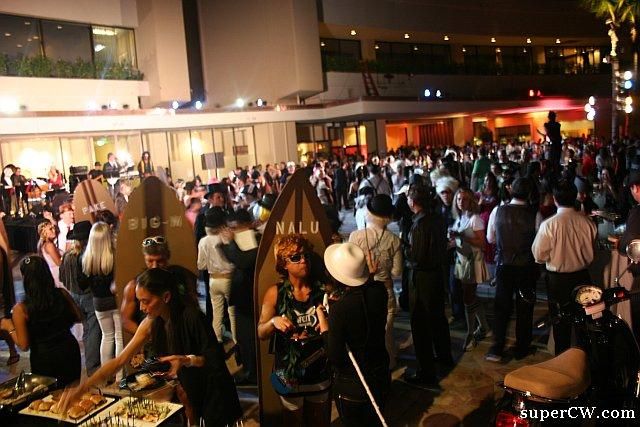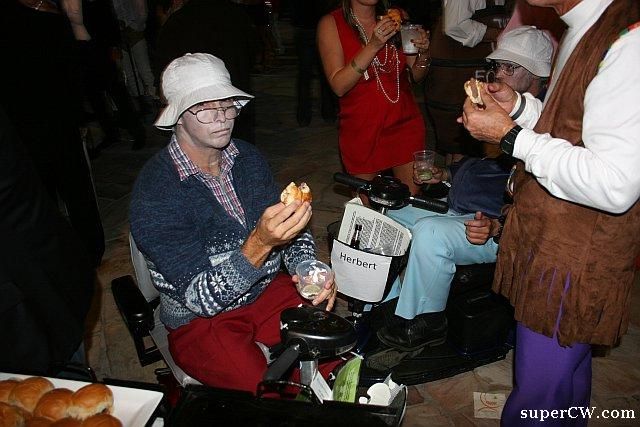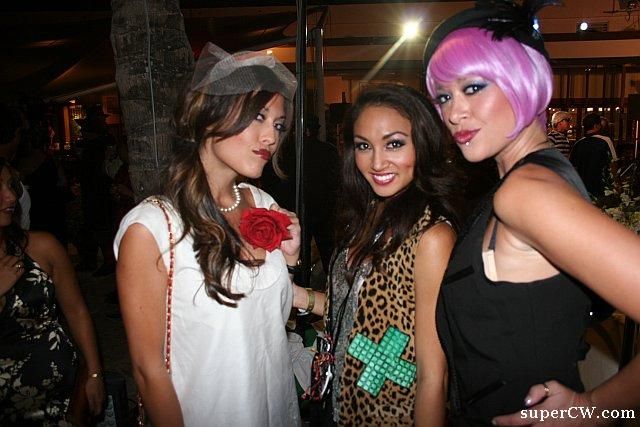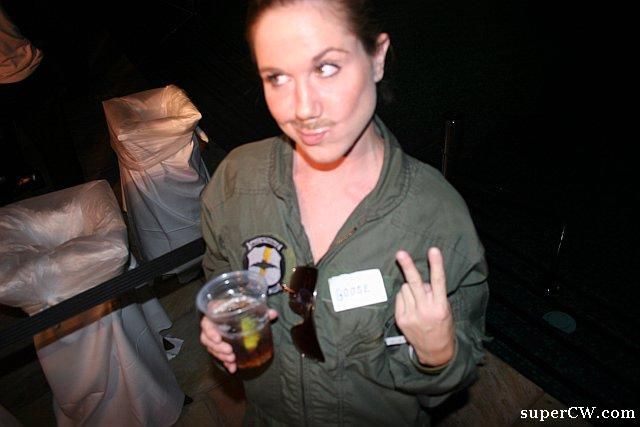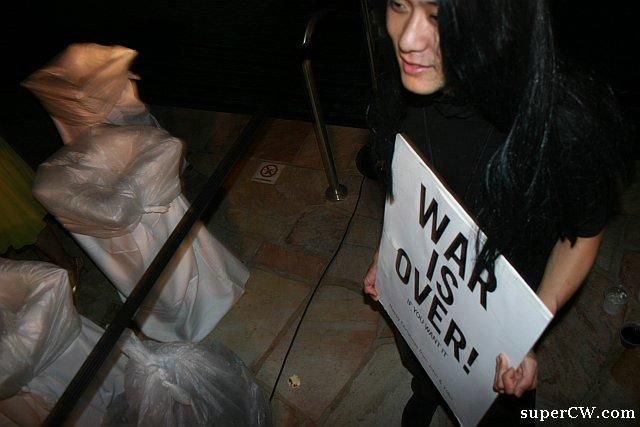 oh PS: me and brett were finalists for the costume contest but totally blew it. i didn't realize the deal with this thing and eagerly accepted the 9pm stage call time not realizing our clever play on genderbendingliberal interracial coupling with a prop-y nod to politics needed a bunch of people to cheer for us to win. oops.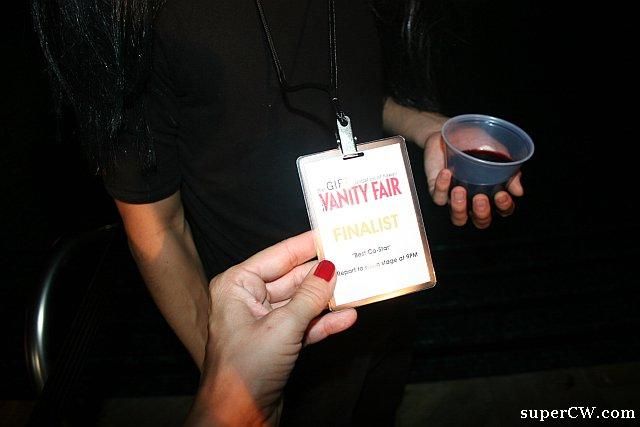 well. who can compete with THIS anyway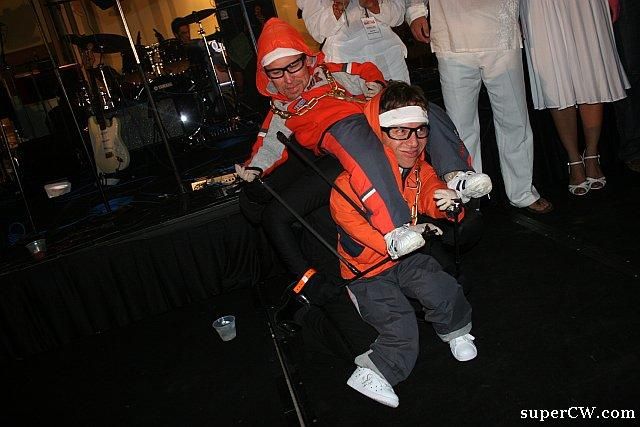 or the geico dudes. omg, i really thought is actually WAS the geico dudes. win. win win win.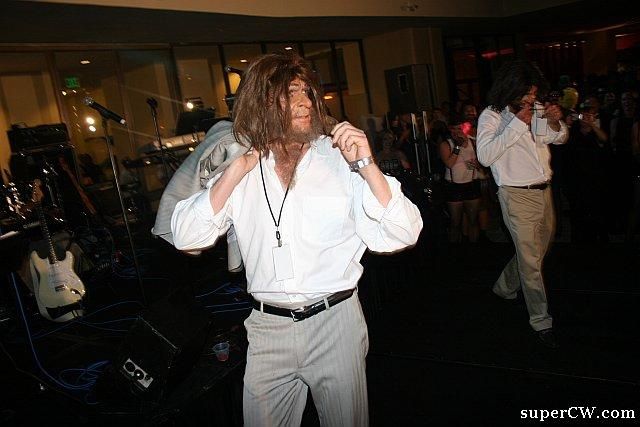 i remember thinking "what a rad pam anderson and posh spice!"
nope. they were paris and nicole.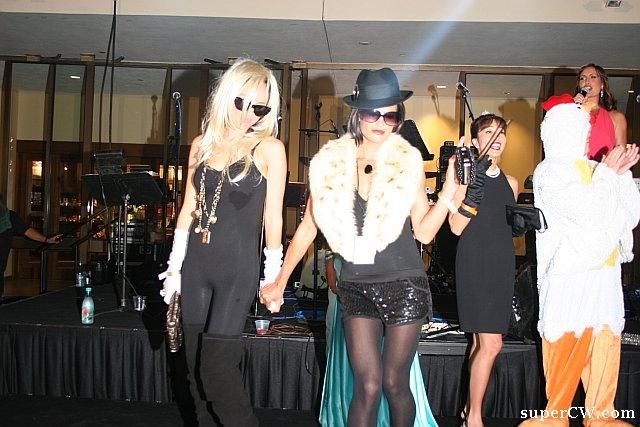 so yeah. woahhhhhh party. nice job, there had to be like two thousand people there. i knew like 5 of them. it was still rad, lots to look at, and they must have raised a BUTT load of money to give to other people. that's good stuff.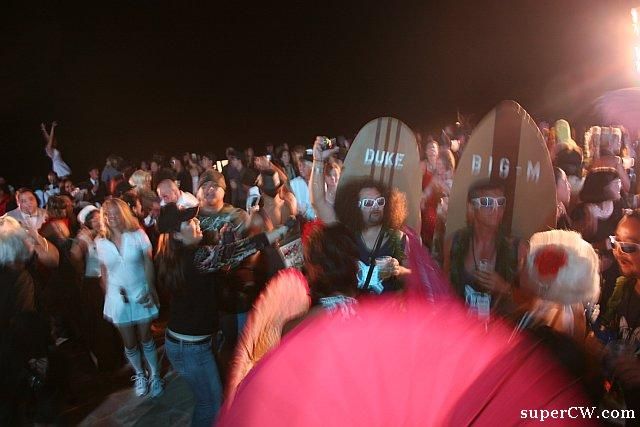 what i REALLY wanted to see was APARTM3NT all decked out as Nightmare Before Halloween, their friday night theme party. i've known flash for a very long time, and i remember his theme parties at the wave. don't you? they went friggin ALL OUT for them. transforming the interior, hiring makeup people for all the staff- even the guys, and just immersing themselves to make the best night ever. so what do we see right when we walk in? THIS!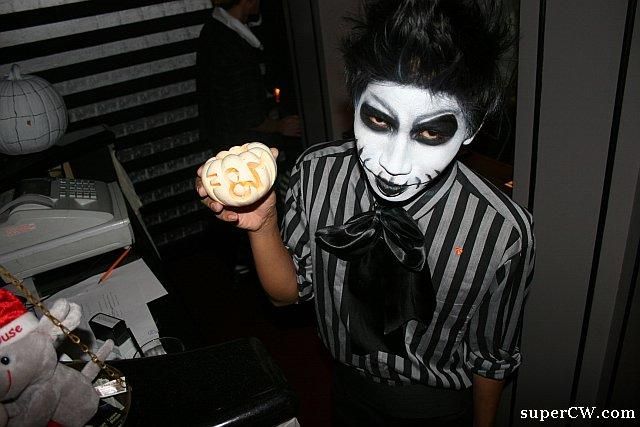 what? oh! i get it. Nightmare Before Christmas. i never saw it. it's a christmas movie or a halloween movie? whatever, maria looked smoking.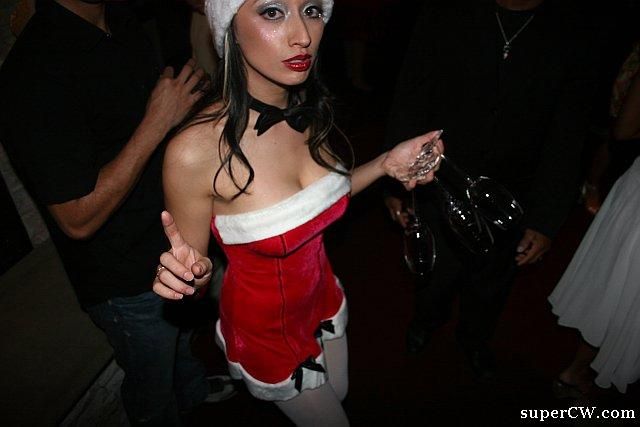 KYLE! over here!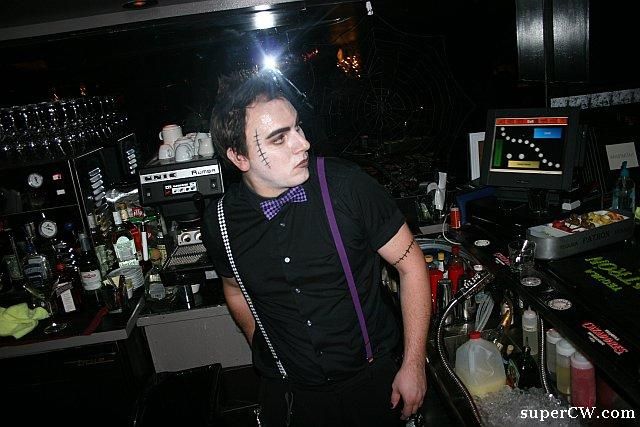 i can't tell you how much i love people who go so far out there that you don't even know who they are.  guess who this was! GUESS!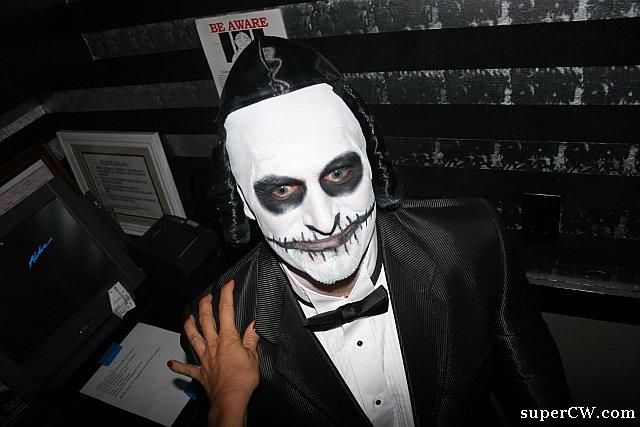 it's CHIP! and omg YES richard cheese, i would like a malasada. and please stop kristen! i'm gonna die from the cute. CUTE OVERLOAD. aaaaaaaaaaaaaa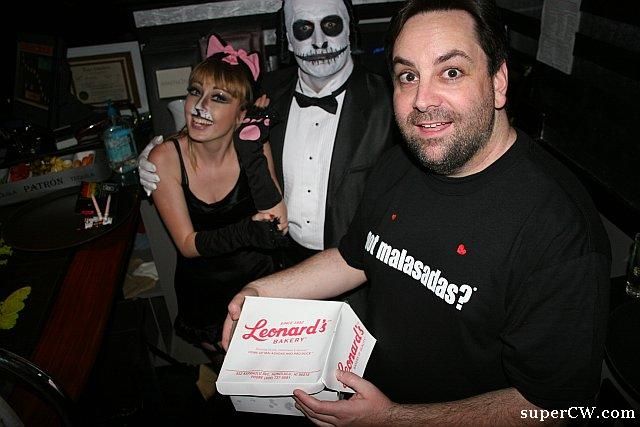 aaaaaaaaaaaaaaaaa *death by cute*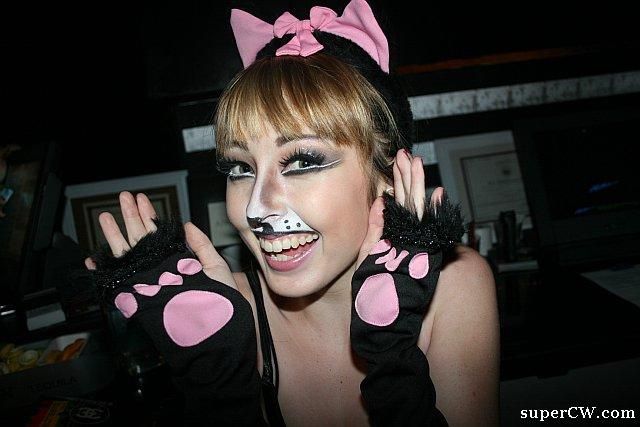 ka-LA are you an oompa loompa?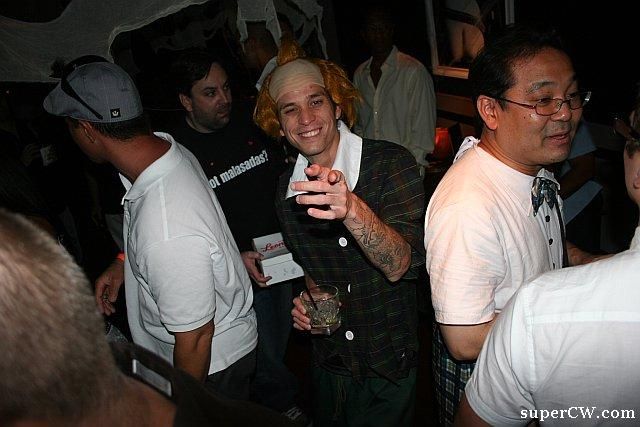 i loved all the decorations. brett loved kyle's old fashioneds. the rest of the night was haze.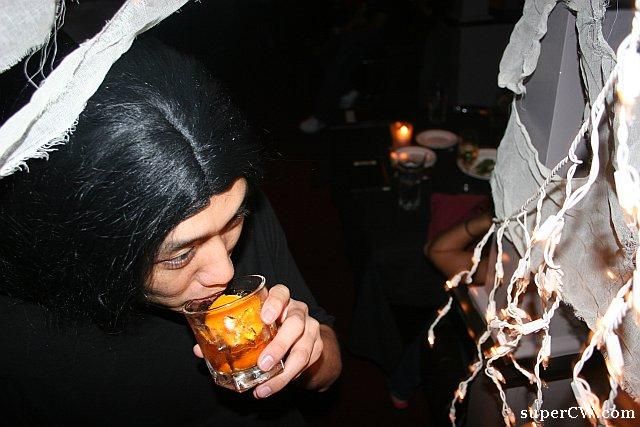 except SEE!! look at all the rad stuff in there!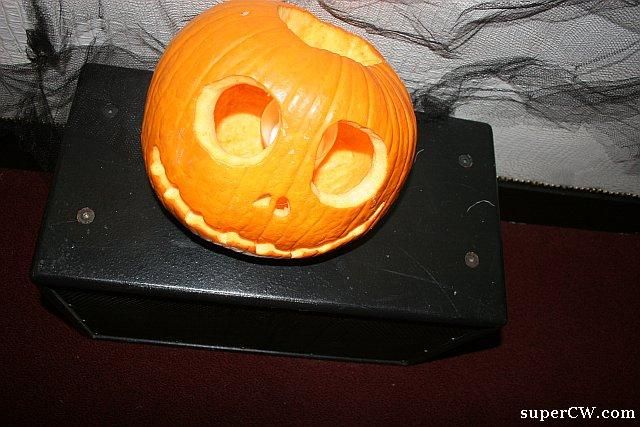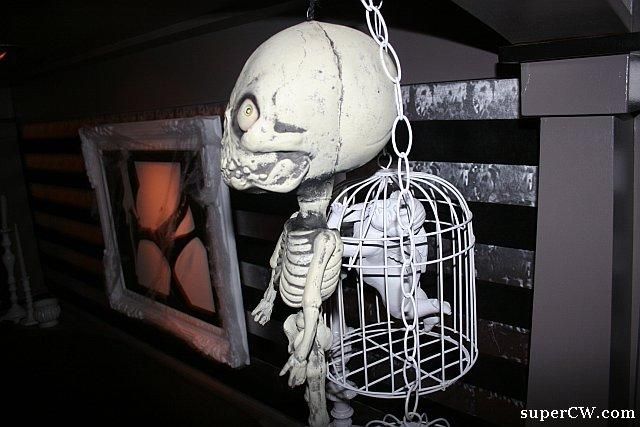 dude bros not in costume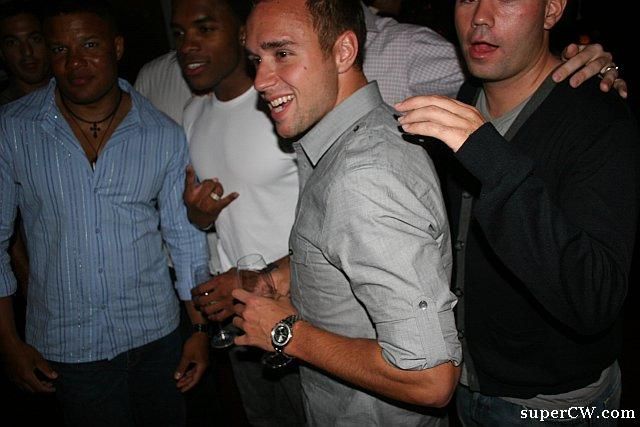 tahiti rey all in stitches!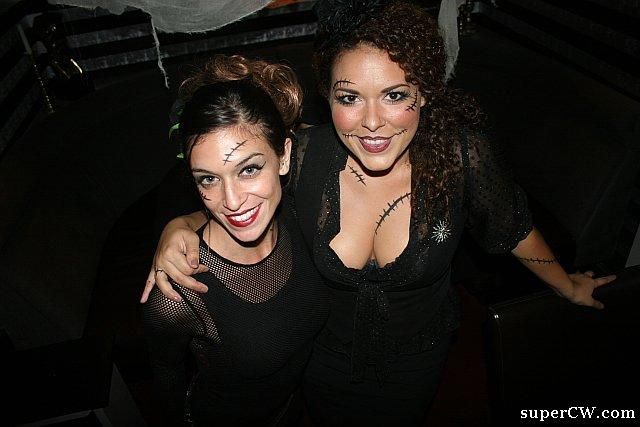 *death by cute*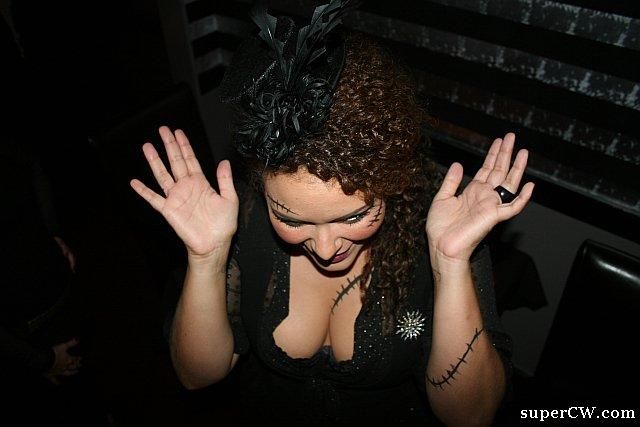 andrew matheson is in town. wait, do you live here again andy? what up. call me.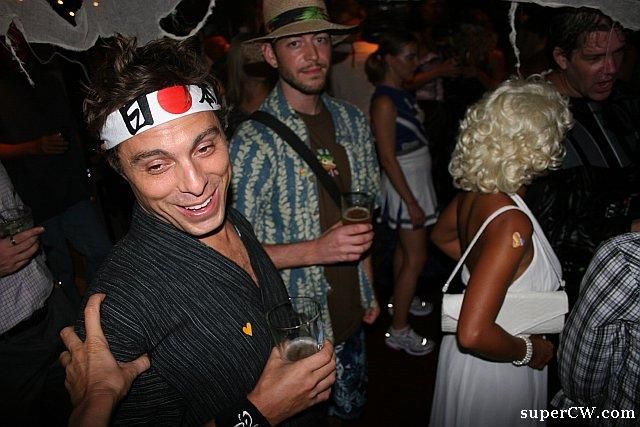 loved all the guys dressed like nerds. if only this was you in real life…. *swoon*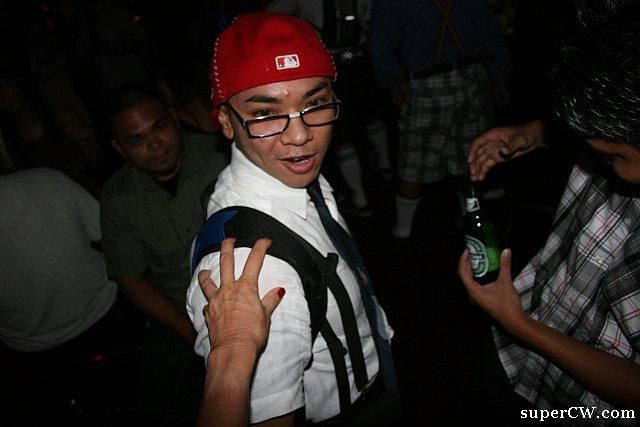 HEY DID ANYONE SEE THE BORD OF PARADISE!!!! winner….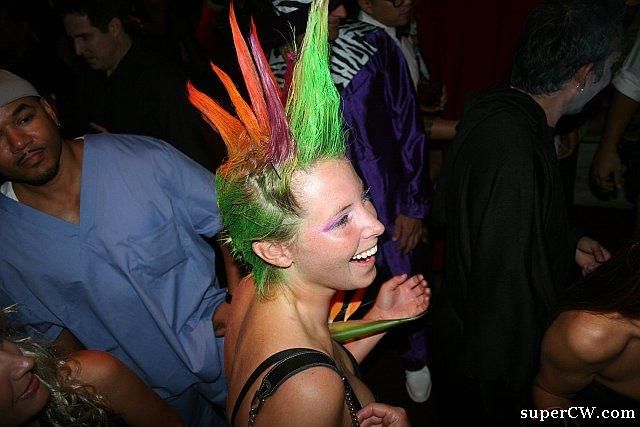 dragonberry tonight. OKAY.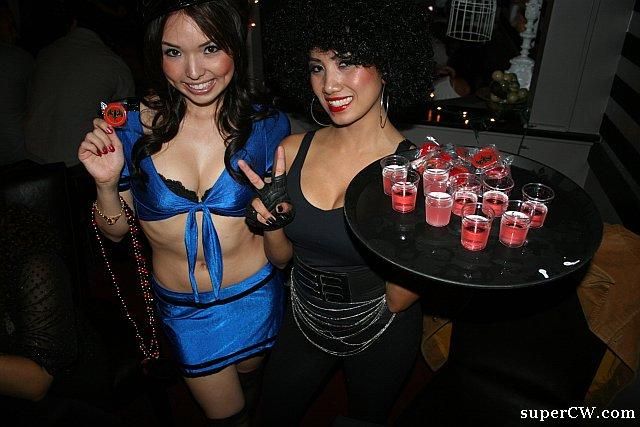 guess who! you never will! i'll keep this one a mystery. (guess!!!)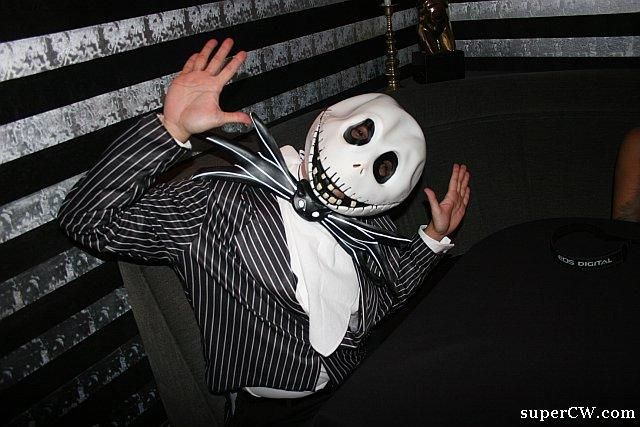 flash i <3 you thank you for keeping the "all out theme" thing alive. it's what makes you guys special. the entire place enthusiastically getting behind it and really making that shit come to life. it really, REALLY made tonight magic.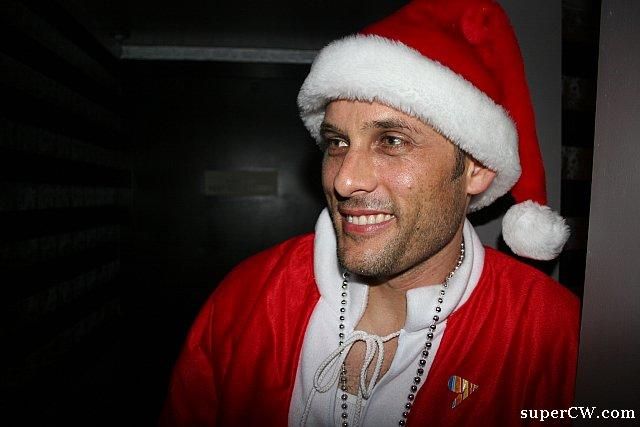 one more. for the photo album.
now jonah. because LOOK AT HIS FACE!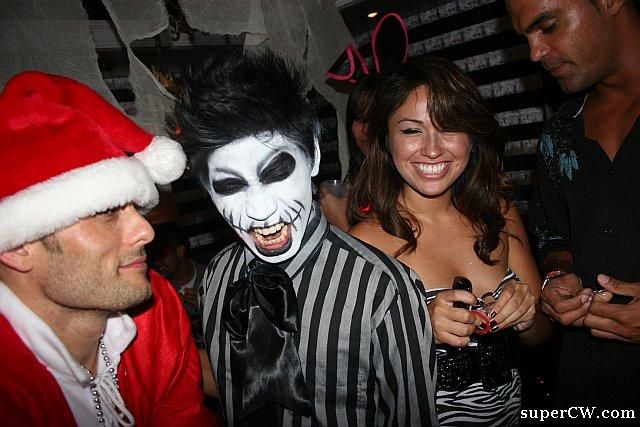 seriously amazing. and WHERE did you find that SHRT!! did summer jensen make it specifically for you to wear tonight??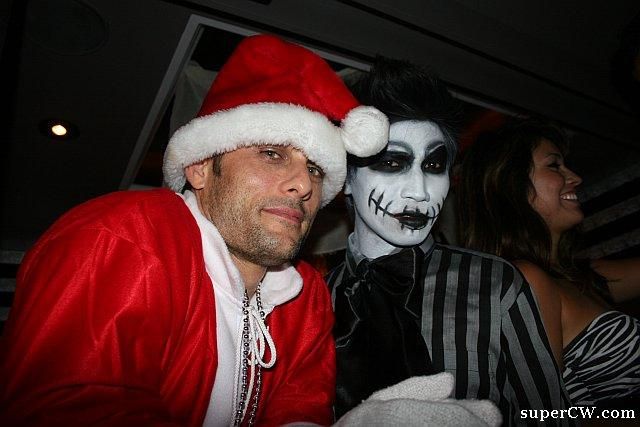 anyway. this place was bangin. classycrazycostumey friday before halloween. thanks all.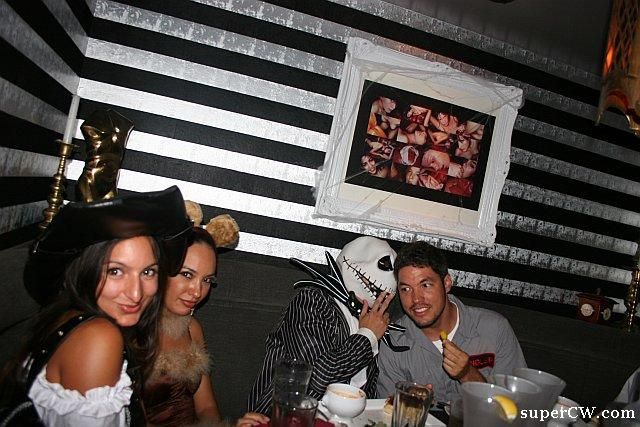 oh wait! ps: the guy with the shoe on his head. THAT was his costume. thoughts? mine? i think it's……. brilliant.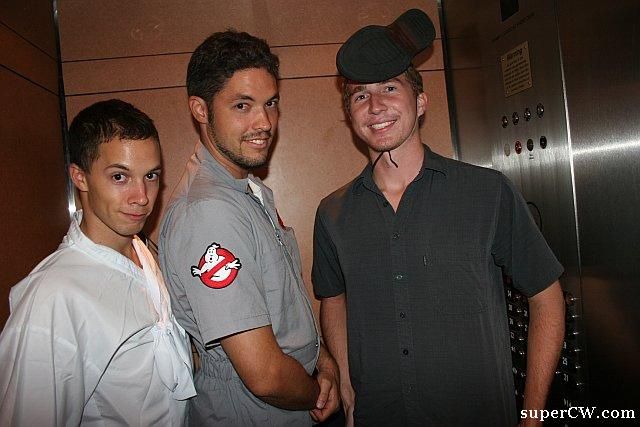 THEN. halloween! and my boyfriend the deadbeats sound checking. hey look, the deadbeats went as…. deadbeats!
ha ha they saw me with my camera and let me get a better one. LOVE you guys.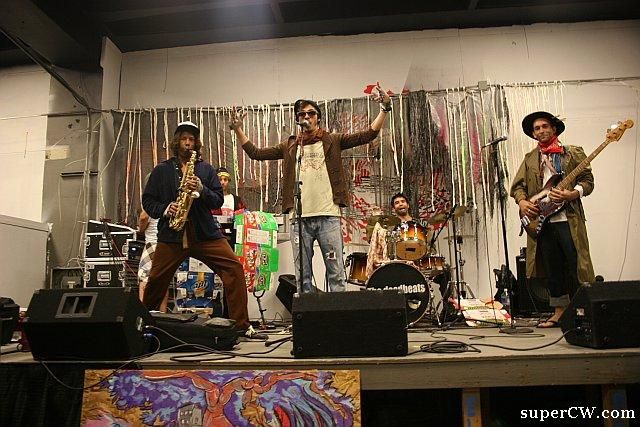 ps by now most of you saw what i was. i was robert campbell. the question i got for most of the night is "who is robert campbell?" and most times my answer would be "some guy that looks JUST like this"
if you don't know him, i think he's back this week. you'll see.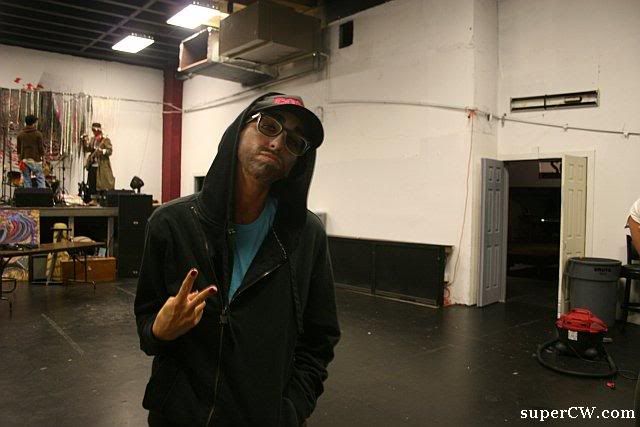 after saying hellos and lurking sound checks i caught BLITZEN TRAPPER in the street right outside. god i love halloween in chinatown.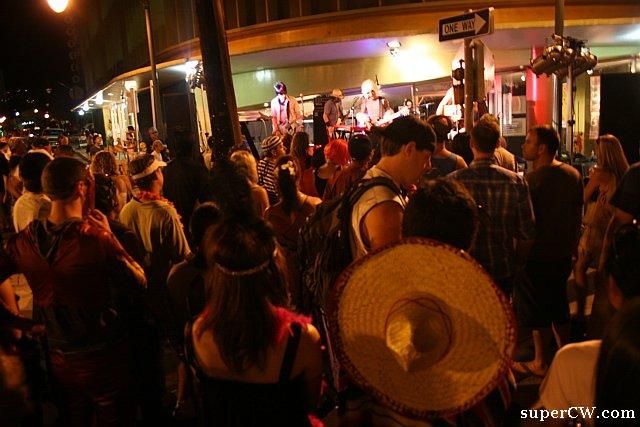 philip confirmed right here in the street the date for something that's gonna blow all your effing minds. i don't think i can say yet, but it's gonna be one of those bands you have to just trust me and see. prepare yourselves….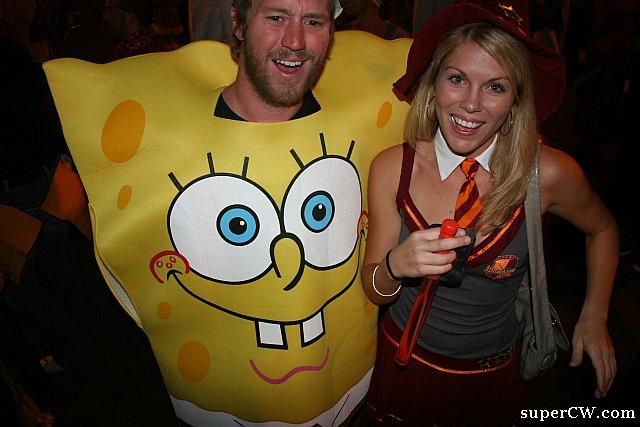 hallabaloo in the street. it's always nice to just roam around watching everyone.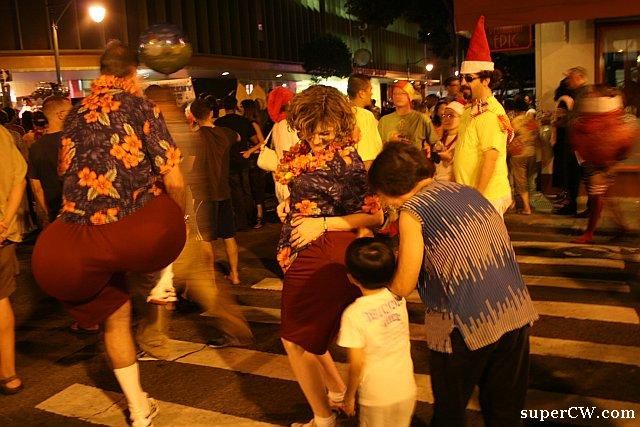 saw the jump offs watching music. hey!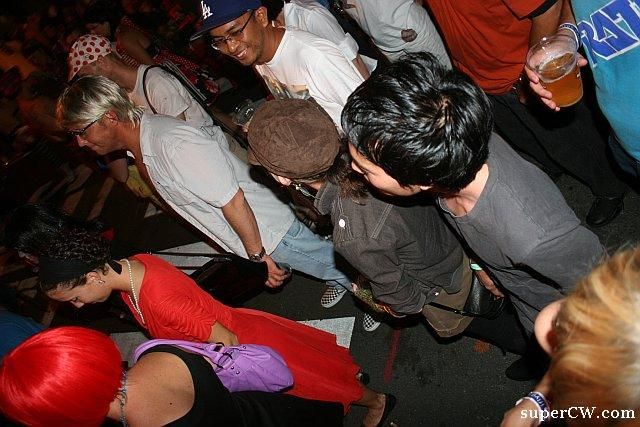 saw roberta oaks in her usual stance (dancing) but didn't know it was her, nor did she know it was me. so no hellos…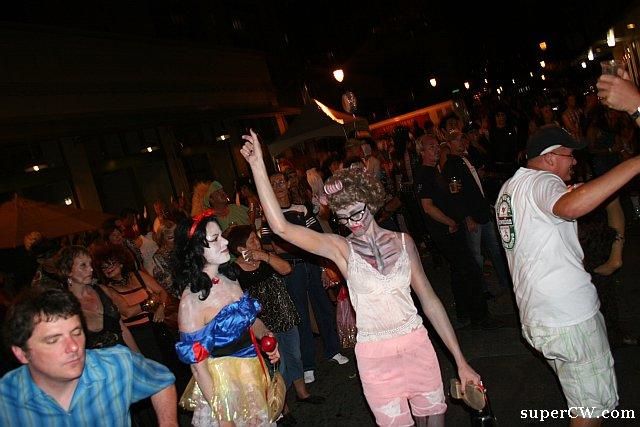 who saw this! i loved it for so many reasons….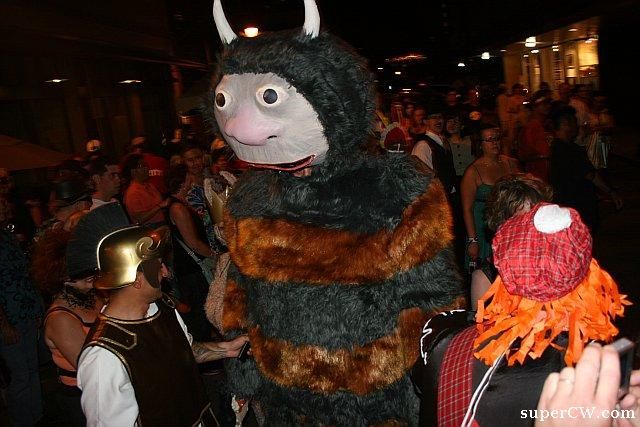 …the main one being whereever i was on the street tonight i had a Carol watching. see him over there on the right? SO cute.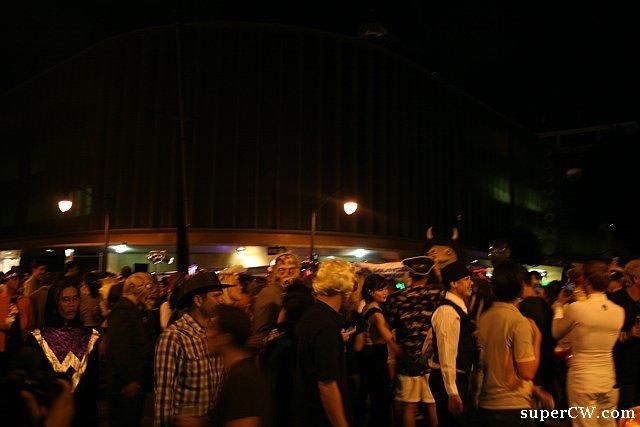 grady i read your interview for threeframes.net in the scene zine, nice!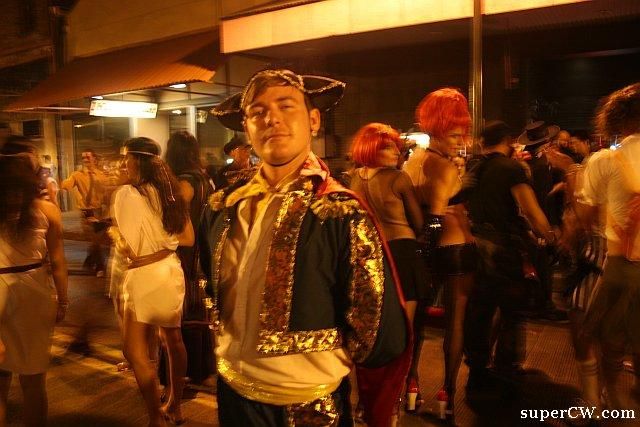 cool shoes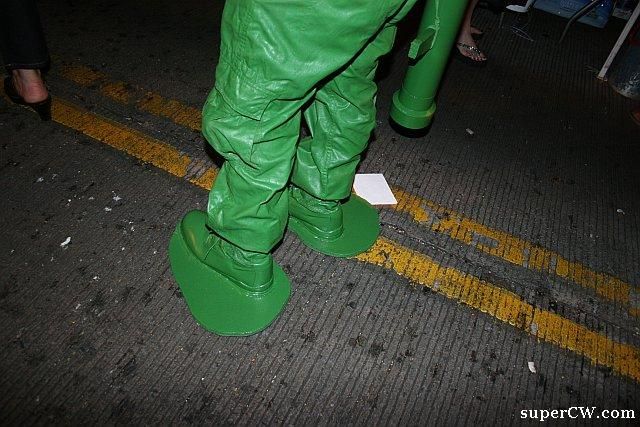 cool mister t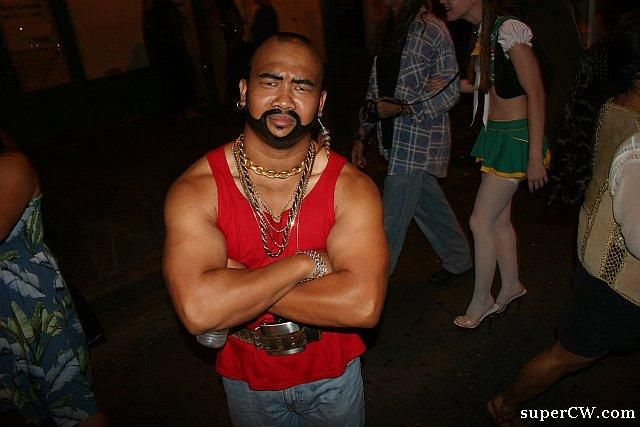 and just the most lovely thing in the street to see ever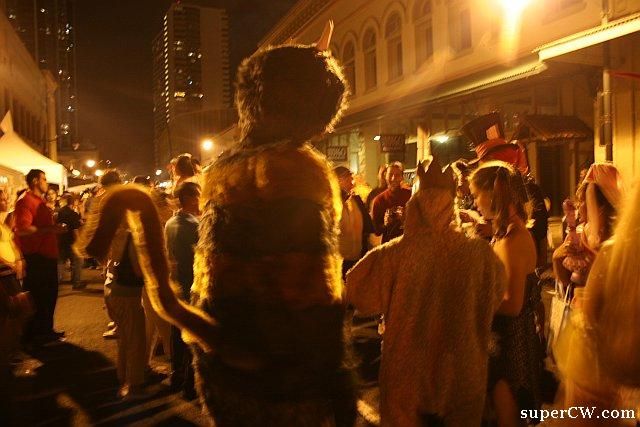 flashback to a few weeks ago! sal and yasmin are still awesome.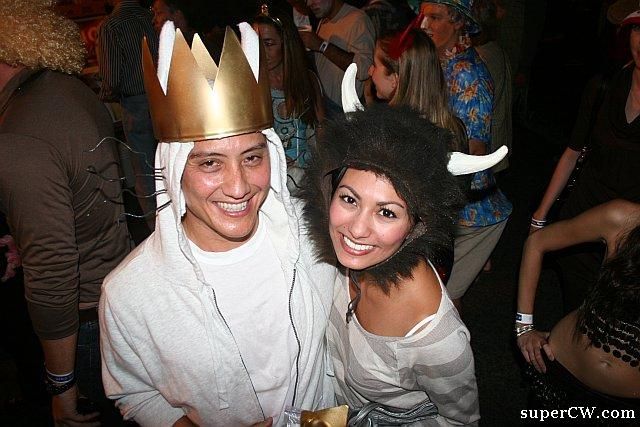 cool seat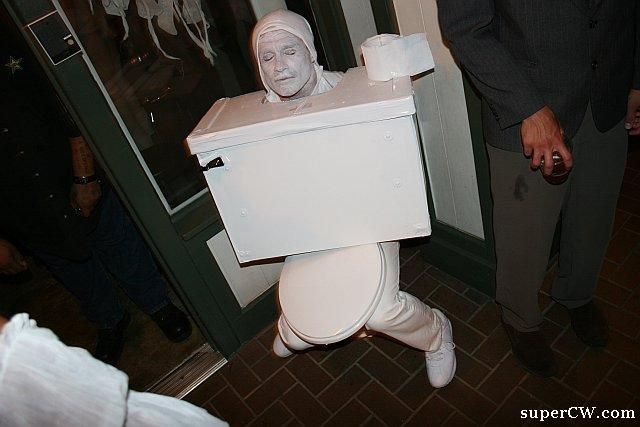 cool burning men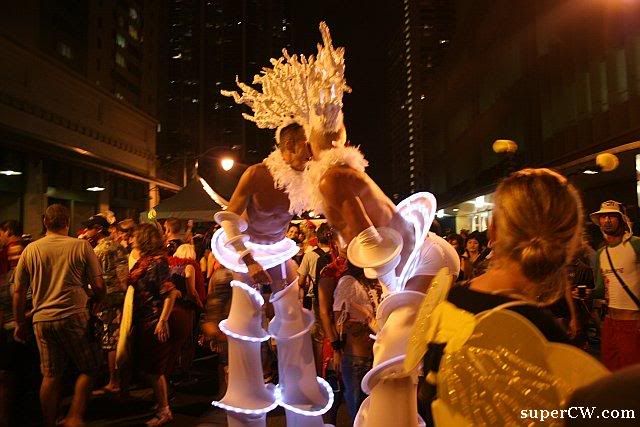 there was a chick dressed like an old man holding this stick. i didn't get it at first then was like oh. UP!!!!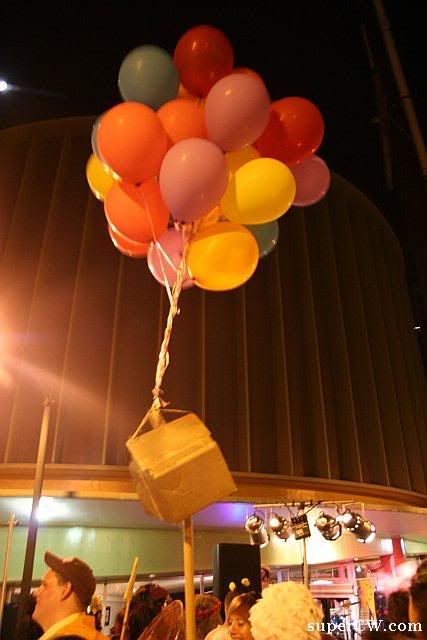 more blitzen trapper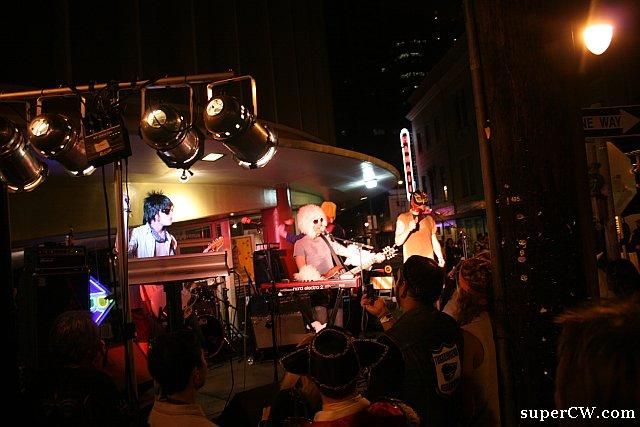 shelby was cool-chick-wearing-gloves i think? shelbs? tracy was working overtime as usual.
ugh, my pics are lame. but THESE PEOPLE! they totally just brought a couch to chinatown and sat on it in the street. what were they? couch potatoes! god i loved it…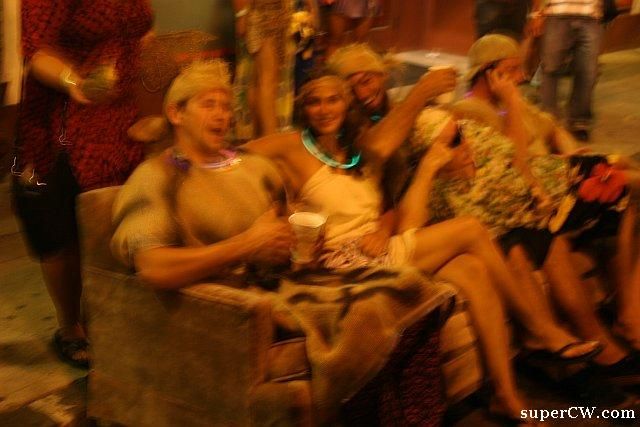 eskae was seriously destroying hotel street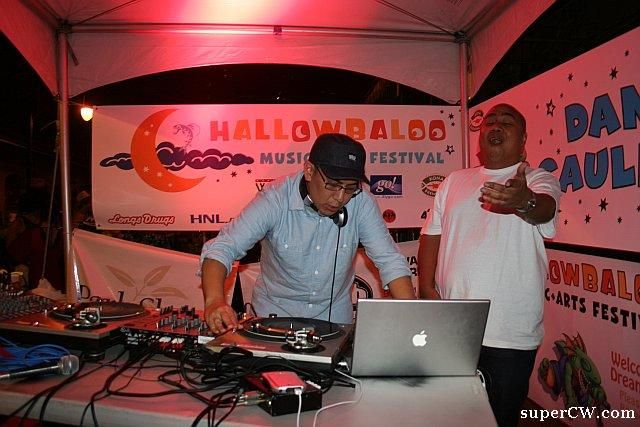 i love it when everyone just dances in the street and stuff.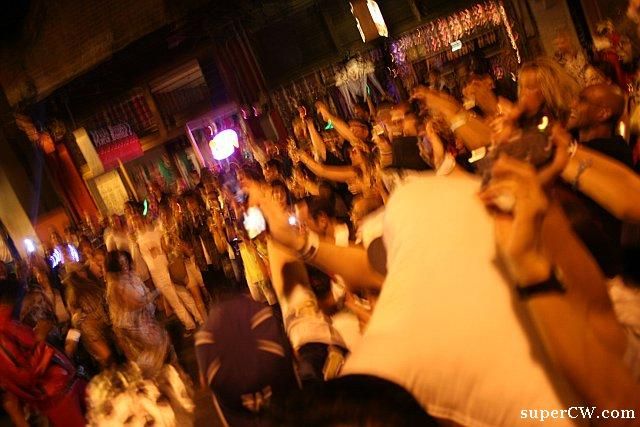 went up to thirtyninehotel to say hellos.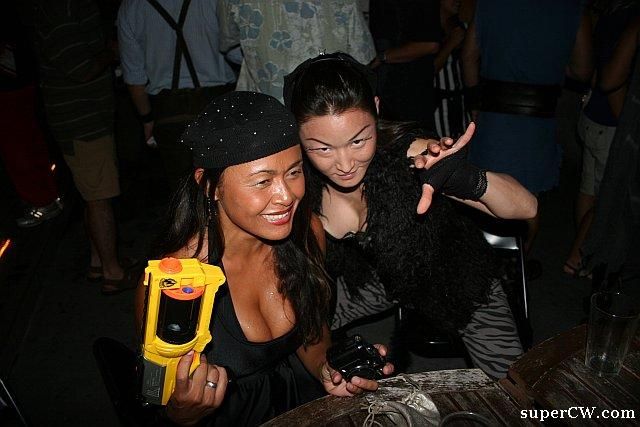 artist richard rayla pushing the boundaries going as a suicide bomber.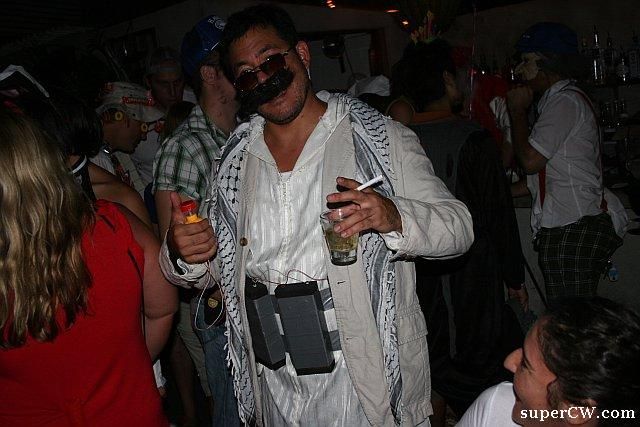 and dj harvey as…… harvey?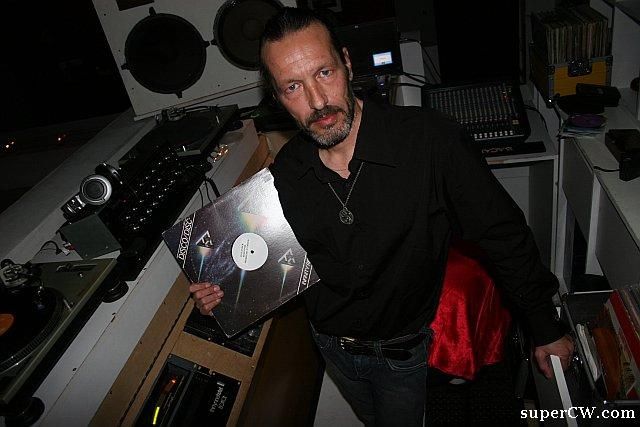 manifest too. it's right across the street breu.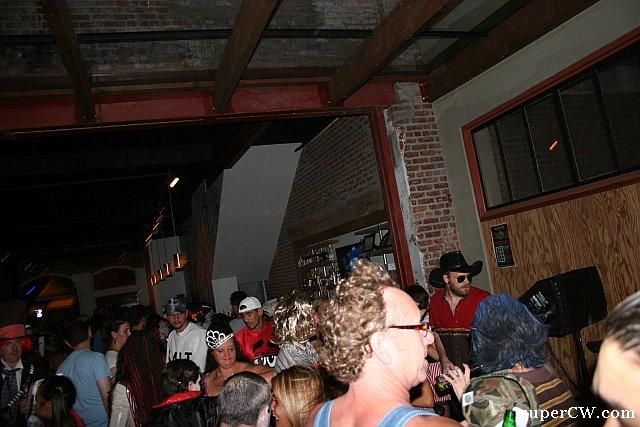 i was actually more hype on the street tho. eskae was going on some 18 hour steam stuff at this point. red bull.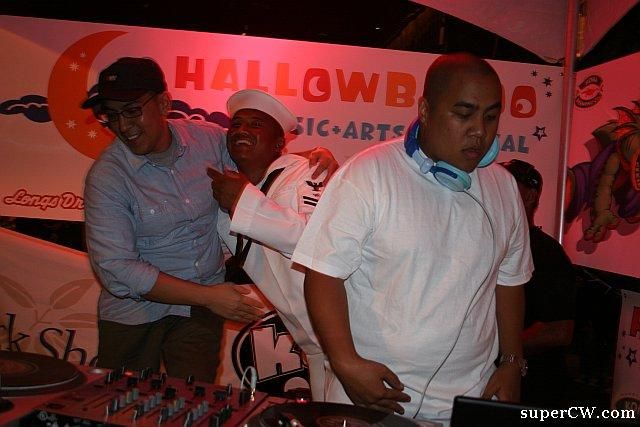 I SAW THIS TOO! did you? i didn't get ANY pics really but yeah, 34 people learned the thriller dance and rented a bus and brought a boombox and went all over honolulu doing it. you knew it was them because of the giant crowd of people and swarm of cameras.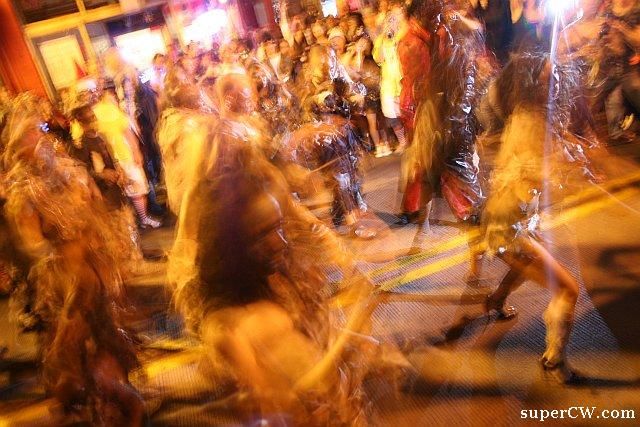 um yeah. it was much better to just watch. photos weren't really happenin.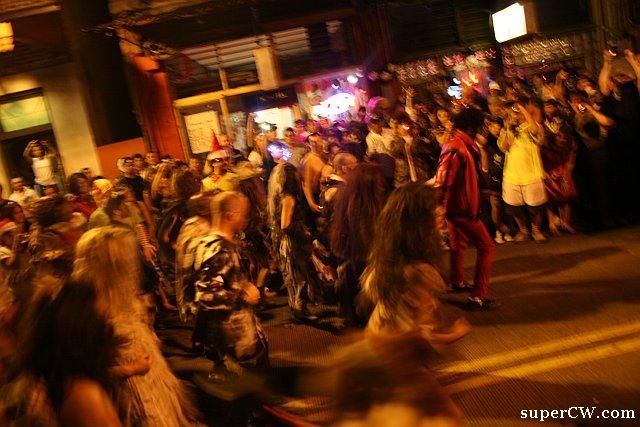 loved the parachute people too. WHY did we do that in elementary school anyway?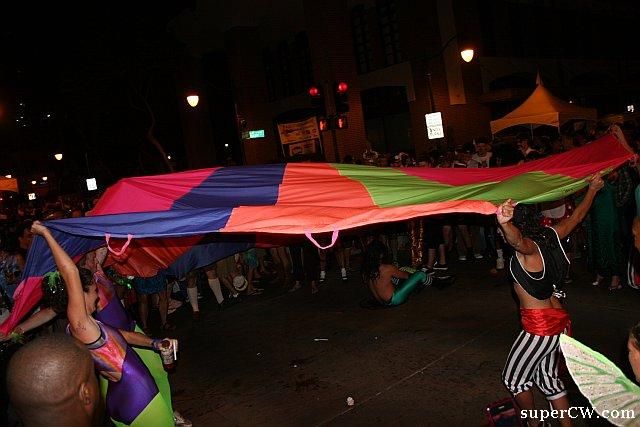 boss man was a giant glow stick.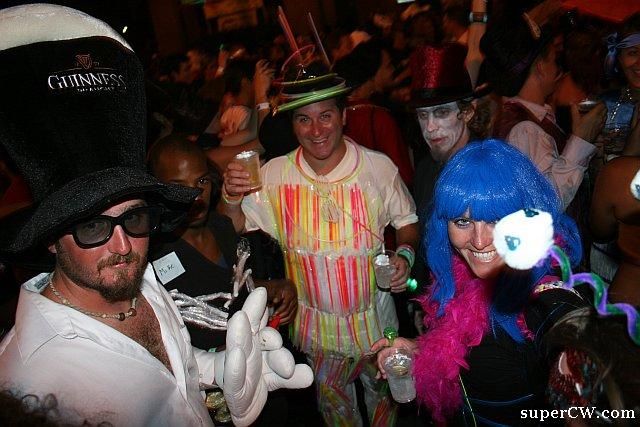 and caught black square on champlain lane just as they were doing my favorite part of their set – when they send the brass and saxaphone out in to the crowd.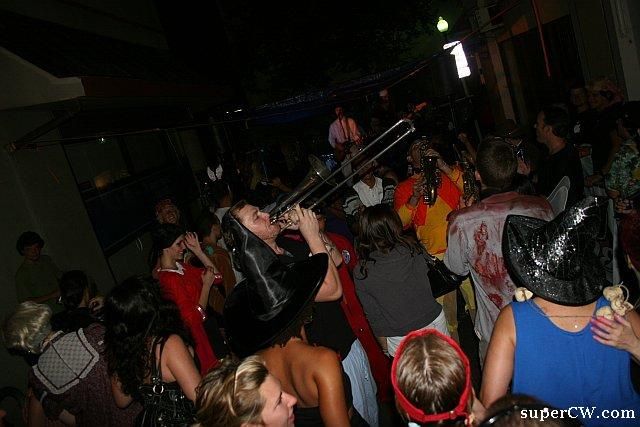 sofa king fun
that's where i found the deadbeats too having the best night ever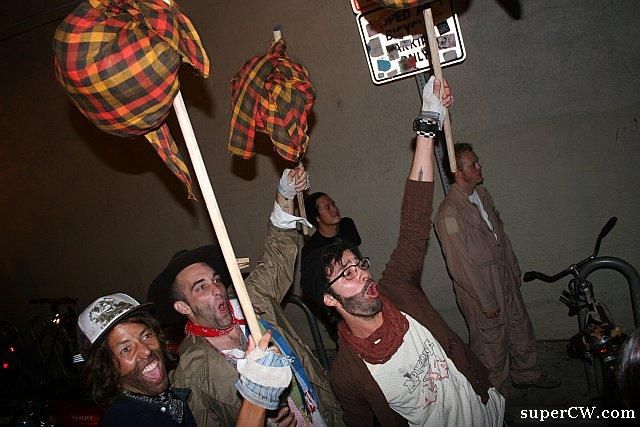 my robert campbell beard had sweat all off more than once so i borrowed their makeup. then i wound up looking just like them. deadbeat makeup cw.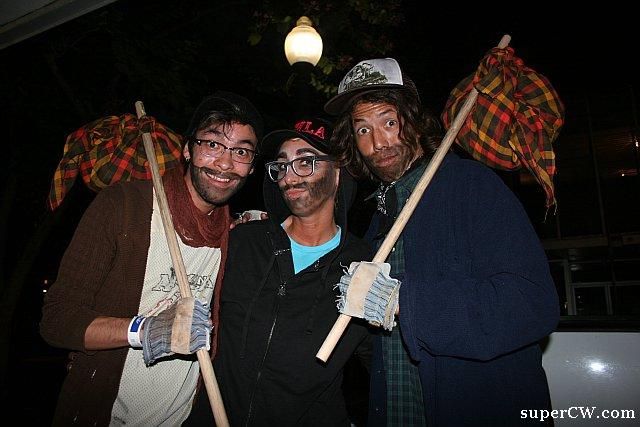 hister fashionista alysa and her crew were the cutest group of mario brothers i had ever seen. and i've seen a lot of them. they had whistles and little cars and balloons and little gold coins they were giving out to everyone. i wanted to eat them.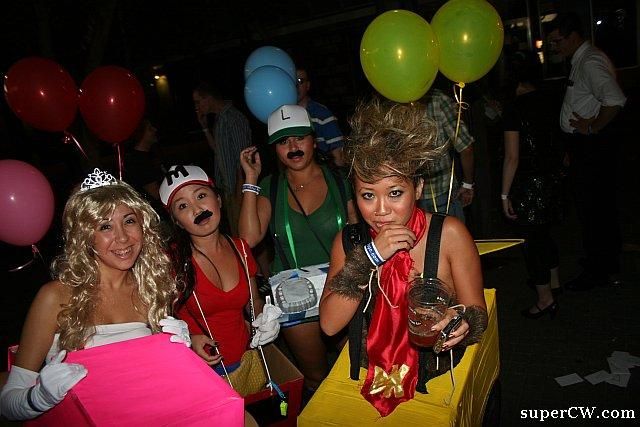 instead i watched the deadbeats.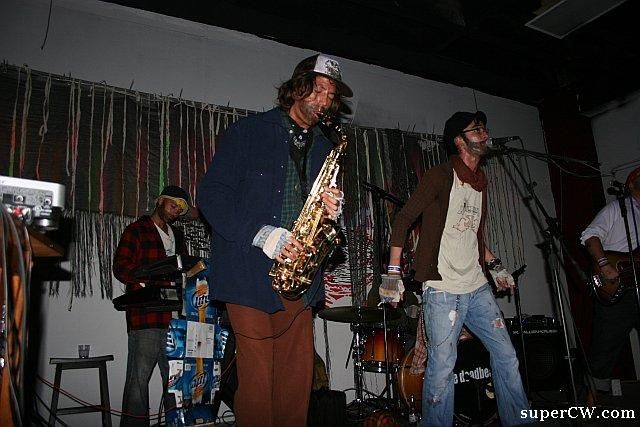 hipsters as seinfield. SO good. ben was 100% in character all night as jerry too. i remember him saying "so what's the deal with that?" after everything.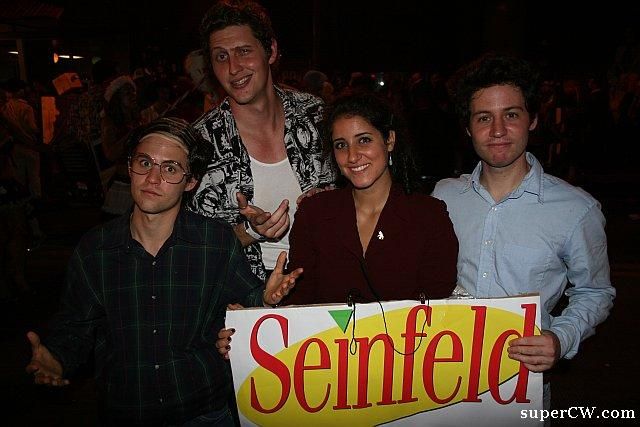 the a team. alex and andi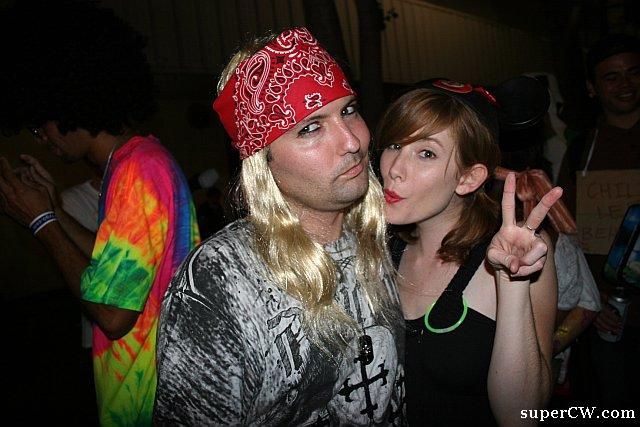 haw haw political costume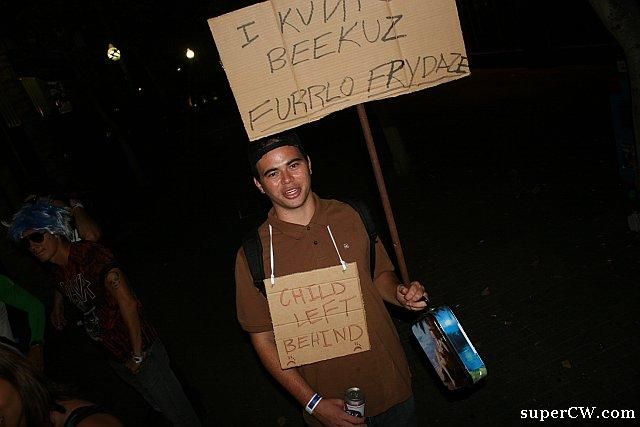 see one of these every year but why i love el nina's the best is because she has like seven POUNDS of long thick curly hair that she managed to stuff in that uma therman wig. i didn't know it was her at all. and she totally had that dance down. like exactly the same. it was good you had to be there.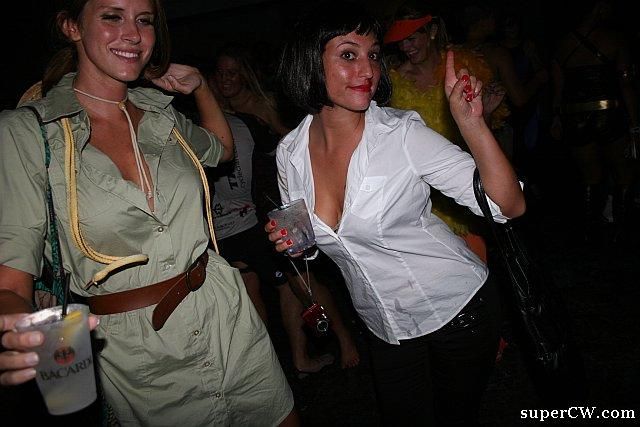 this was at soho where the deadbeats and girlfriends played. i thought that was a real person standing there for the longest time. i kept waiting for it to go "HAA!!" to someone who got too close or tried to touch it. then when i realized it was a dummy i tried to set it on fire.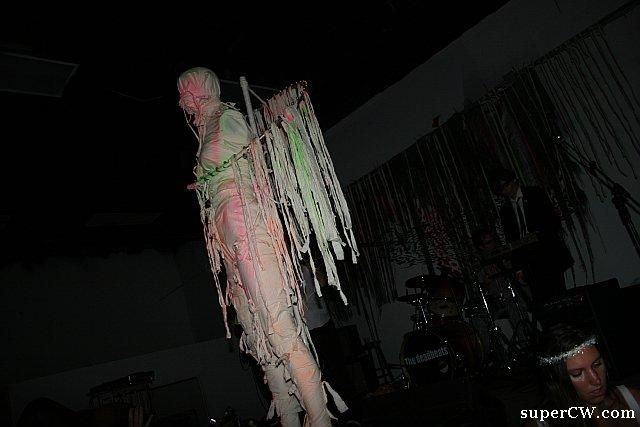 hi, who are you!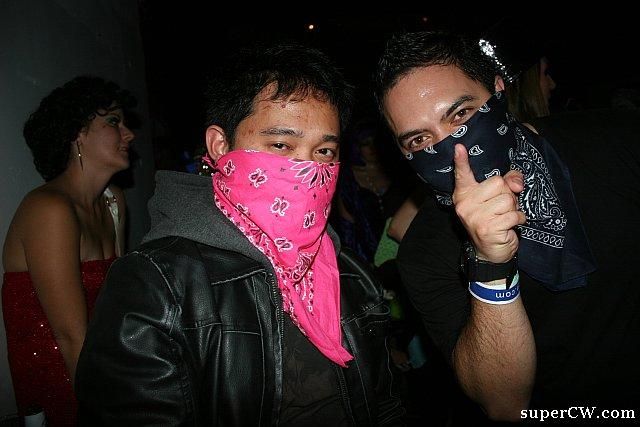 next year i'm totally buying a cute furry kids costume to wear on my head.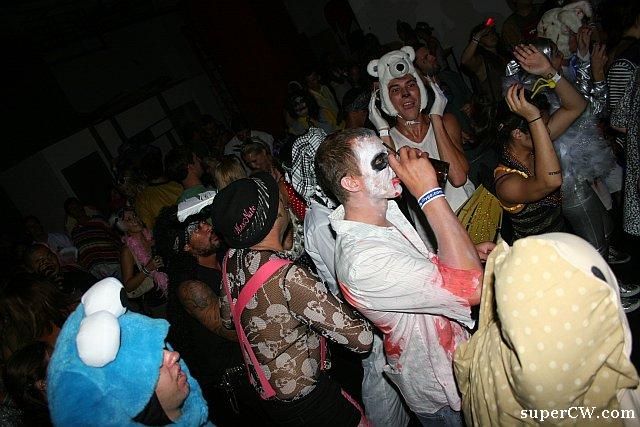 then the girlfriends made some new fans with their epic-as-usual performance. i wish they were still around for the after hours, cause i bet they'd be impressed that i kept trying to set that mummy-dummy on fire. rock and roll right?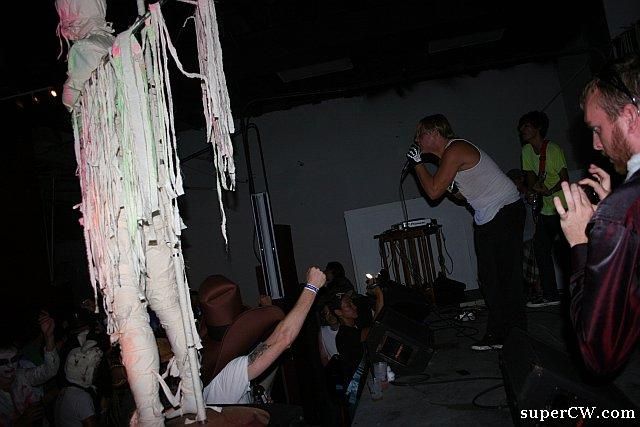 this is all i got from that. jonahface who made it over after AMARTM3NT's halloween party (moulin rouge). it was him, me, 3 cherry blossoms, ross jackson, daniel, johnny and a few others. maybe like 8 of us total, just dancedancedance being silly. oh, and me trying to light the mummy on fire.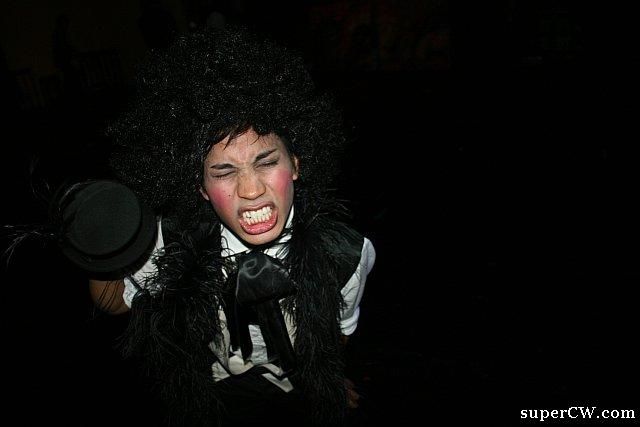 i just had these rad visions of it going up in flames and us all kicking it around the giant empty room, laughing hysterically while the glowing embers swirl around us.
oh well. happy halloween. wait, i mean happy VETERANS DAY!
i just confirmed that  yes, in fact, i WILL do a birthday event again this year. it wil be the only party i do this year, so it will be amazing. groundUP, deadbeats, jump offs and girlfriends have all confirmed, as has fresh cafe (the WAREHOUSE!). i'll be showing my "best of 2009" photo slideshow, that ALL OF YOU will be in and you can bet there will be booze. also about to confirm a super hot mainland DJ too but more on that in a sec. just save friday december 18th for me ok? and if you work that night no worrie – we're keeping it open past 2am for you…
that's all. back to work. <3 u.