GOD what is it about the deadbeats. why do i love them so much. ok, ya, i mean, woah hotties, but there's a lot of good music in town, why am i so stuck on them? it's like my passion pit obsession- it's like i can only be obsessed with one band at a time or something. omg. i'm a monogamous groupie.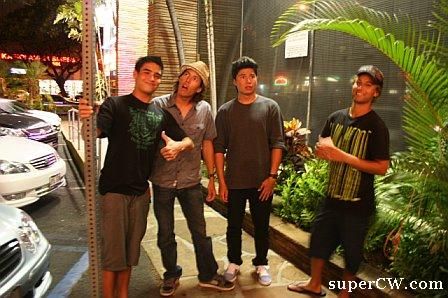 juaaaskiddin. i'm all about the jump offs too. and woah clones of the queen. and WOAHWOAh the girlfriends. but anyway, back to my main squeeze(s). I really don't get over to their wednesday regular spot as often as I want. Part of me was wondering if it still goes off.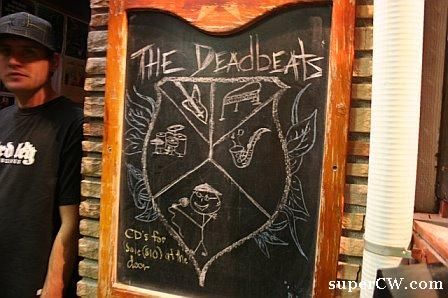 yup. it does.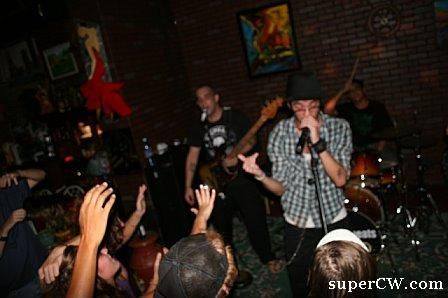 ps: matty wong is an official deadbeat now. he's kinda been one for ever but he's officially official. if there was a deadbeats gang i guess you can say he got jumped in. way to up the good-looking factor guys. ps: are there even any ugly musicians on the island? i'm guessing… no.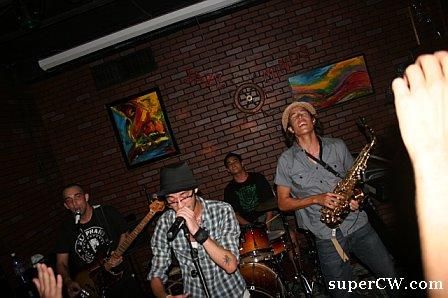 meanwhile, hipitty hop hop hop skatty skat jiga WOO!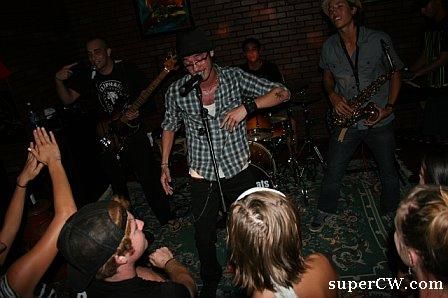 wednesdays for life.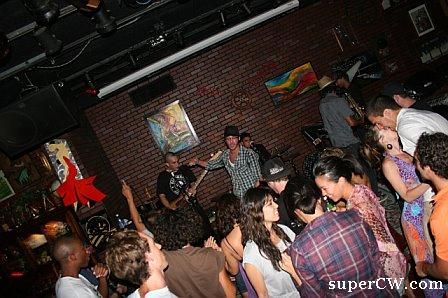 THEN i got to watch brett meet bella fleck. musician, meet musician. musician, musician. it was kind of a big deal.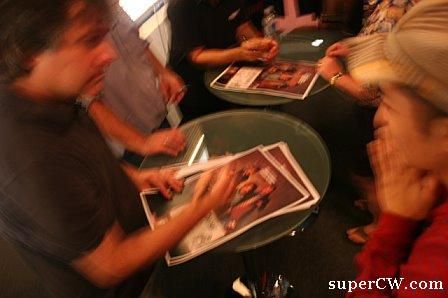 then i got to watch him meet edgar meyer. who put together a little triple concerto that they were in town performing with the honolulu symphony. we were nerding the eff out on them at the hall. so hey, have you ever heard someone play the tablas? HAVE YOU??? we did. man, i thought the timpani was tough with the notes and the pedals and sometimes only having the friggin head tuners. these things are one of the coolest instruments i've seen in a long time.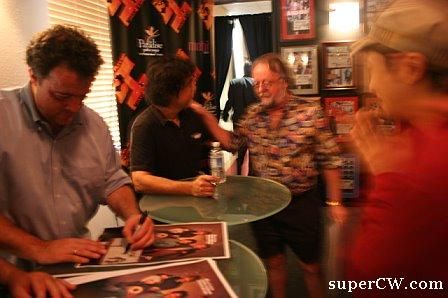 anyway. doesn't brandon spencer's roommate kacy have the cutest smile ever? she just moved here. say hi if you see her.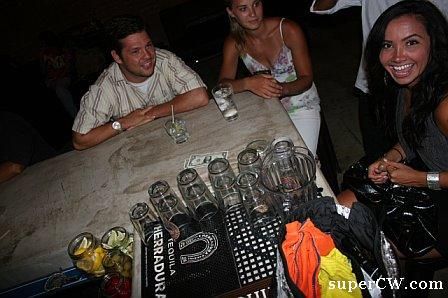 ps: darieus legg! can i just say, too, how HAPPY i am that manifest is around? there is actually a place where i can get a latte and pumpkin crunch before showdown in chinatown. and talk story with film geniuses. lovelovelovelove.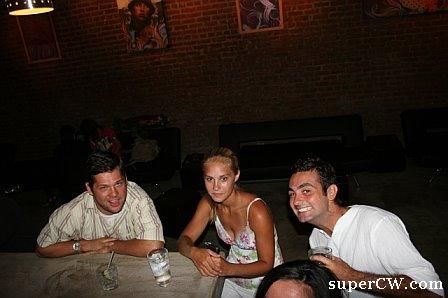 ps: why you will never see darieus at bar 35. apparently, this doesn't fly there.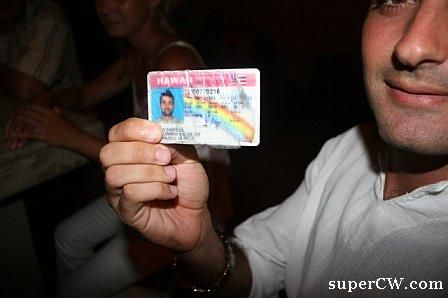 meanwhile SHOWDOWN IN CHINATOWN! i'm so pissed at all the seasoned film makers right now. wada life? how DARE you make a feature film and be too busy to enter. rob campbell? wtf, going to LA to make some huge budget movie or whatever. blah! darieus? you too! screw you and your damn eclia eclia eclia. torry and ck? is the last season of lost really THAT important that you can't pull it together? and zac? WHO TOLD YOU you could go cross country on a soul seeking mission with your friend or brother or whoever that was i was lurking in your facebook album?! you guys all suck for not entering this one. so yeah…… i got to step up to the plate tonight…. THEY SHOWED MY PICS in between the films! it was amazing. and you ALL missed it =(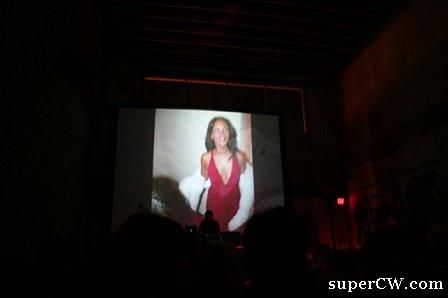 i just grabbed all the ones i had from all the past Hawaii International Film Festival events and stuff i snuck in went to. chuck was impressed. i was stoked. and this is by far the biggest screen i've ever seen my stuff on. wasamazing.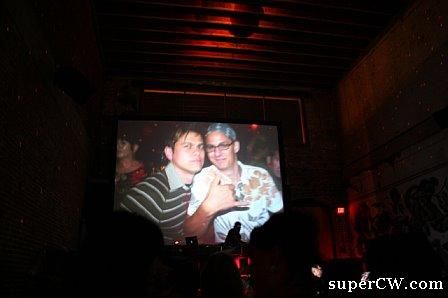 hi girls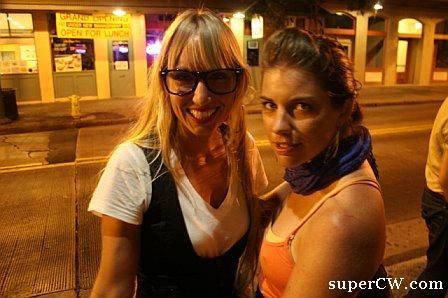 hi guys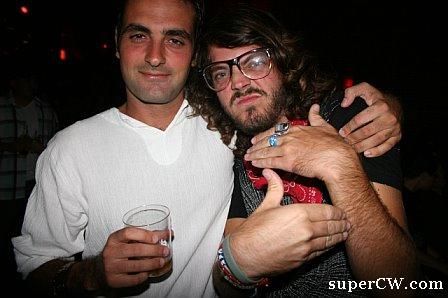 renegade was the only real seasoned entry – and he got second place. the winner was actually pretty good – but yeah, 6 films as opposed to the usual 12 had me sobbing in the bathroom that night. ok not really. but almost.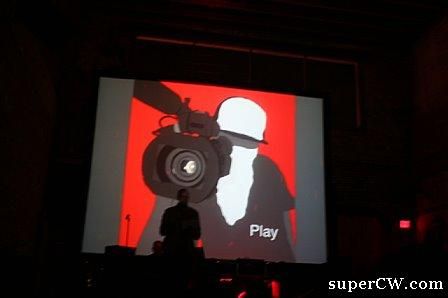 at least i got to see liz mau.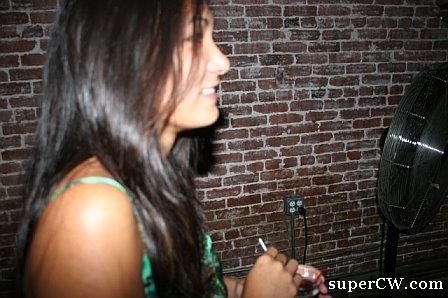 and the HIFF trailer.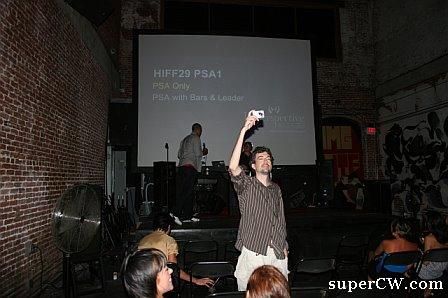 and SUMMER!!!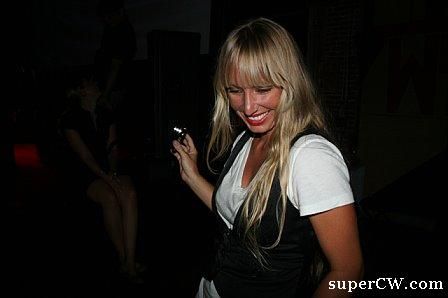 then i decided to support my friend kenny. because the last thing anyone wants in their adult life is to be told they have lukemia. especially when going to the doctor sucks period and you wouldn't have even been in there if you didn't smash your skull skateboarding. they expect him to be ok, but meanwhile, nmgdonated some of the neon proceeds to his horrible pile of bills that are paying for him to be alive. so sad. love you man. and it was good to see a raging party that could help you. i paid double cover after seeing the seven hundred page guestlist at the door. hopefully a few others did too.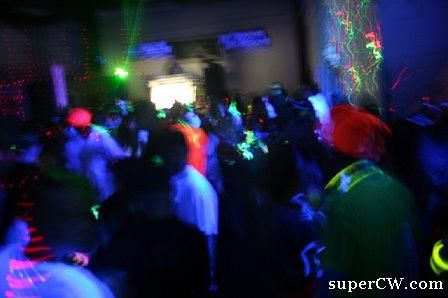 first face i saw. i know right. i'm sofa king lucky sometimes.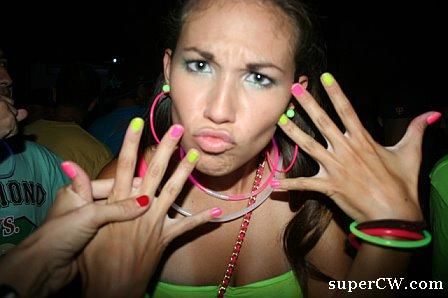 you might have seen the neon peeking out of my bag in that pic of kacy up there. yup. i totally was prepared. went from arty faggy cinema event to crazy colorful neon event in one swoop. hi!
and ps: woah nikki. perfectface.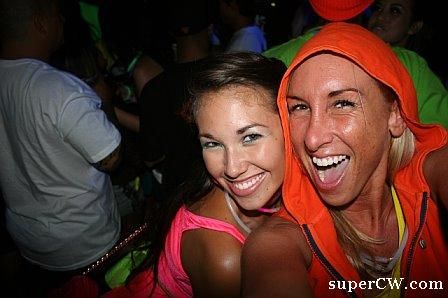 travis and russell. god i love them.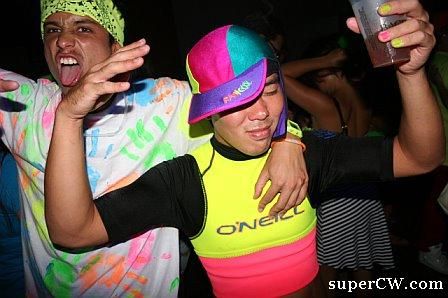 and will you look at that! WHO wears doublewatch in this town? i lovelovlovelove….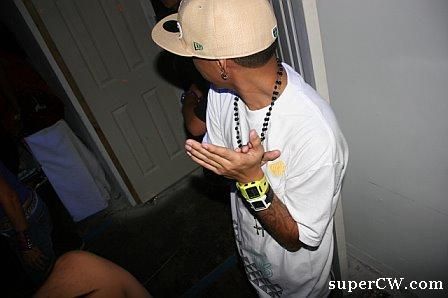 aaaaa Bobby Filipino that's who. if you guys don't know about this kid you can know now. he's stylie mega.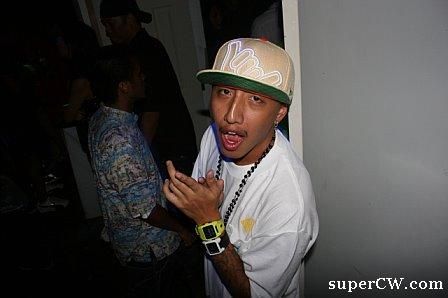 and wait, did i show you russell already? ok. just checking.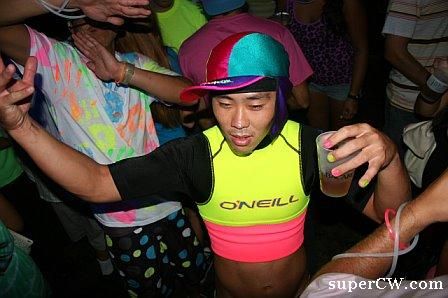 baby (super mario) brother maks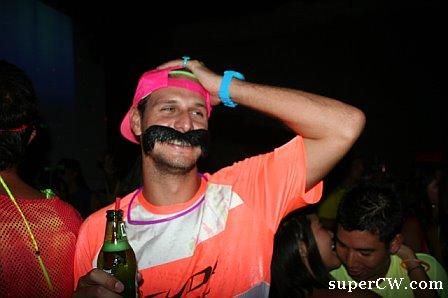 lovelovelveolveovlove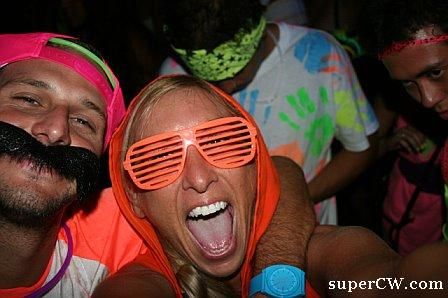 i pretty much came in and wandered through the dance floor snapping away. sorry, s'cuse me, sorry sorry *flash*, sorry.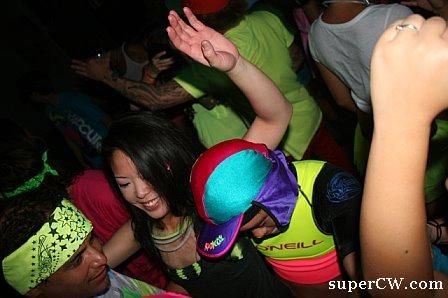 \
nick v-dubs was a dianosaur or something. hey man, now you got a costume for st patricks day too….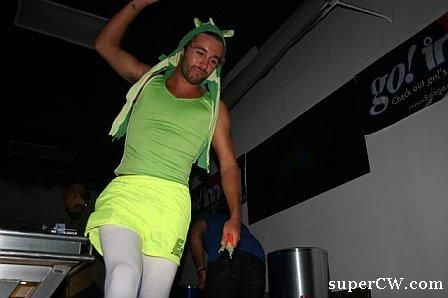 people were dancing their faces off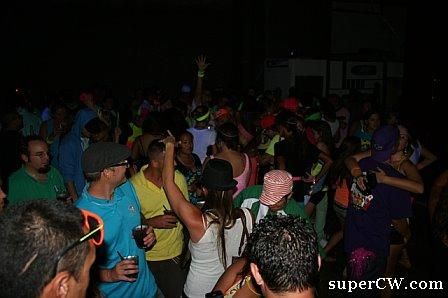 and i'm officially outing zak and nikki on my blog.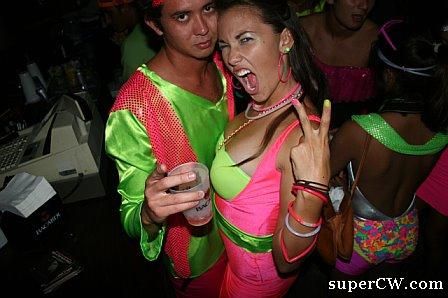 and THIS was kind of what i was looking for all night…..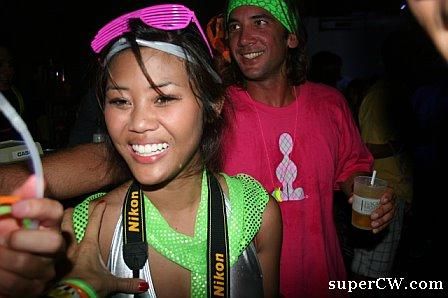 katreeeeeeeeeeeeena, aaaaaah. SOOO cute. i'mdying. and oo, i caught a howzit.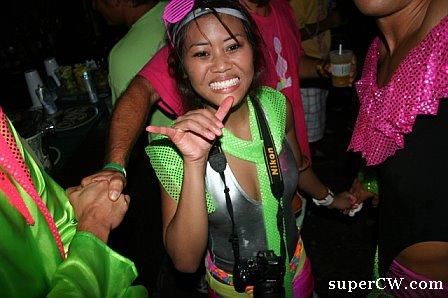 the only time i would ever wear these. in fact i gave them to Kea Ho tonight. over them. you can't see shit. and even for theme parties they are just bleaaaa. ps: LINA!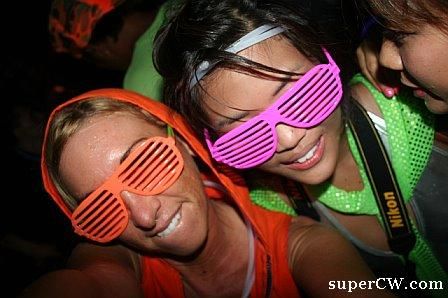 nicky was hardcore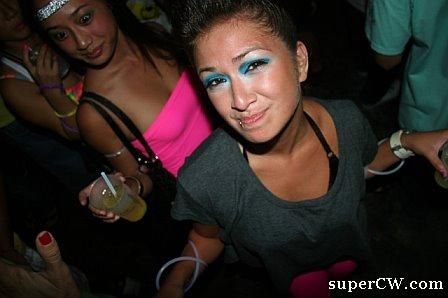 see? her HAIR! woah.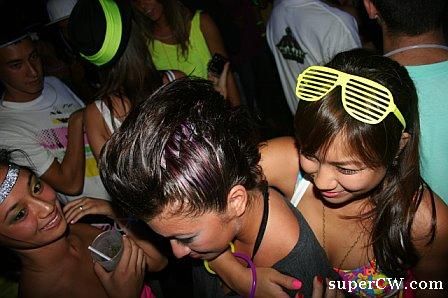 and aaaaa katrina. SO cute aaaaa.
she looked like an underwater neon tourist.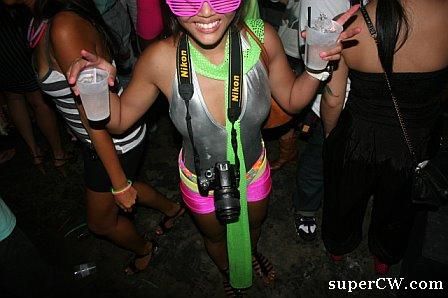 juice looking cutie too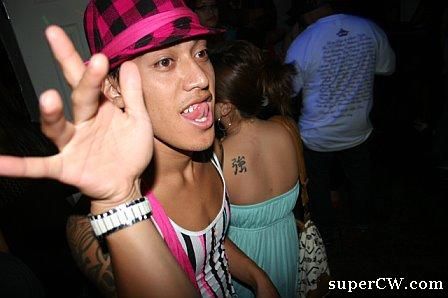 everyone was tossing glowstick jewlery all over everywhere. the entire room was glowing. it was pretty cool.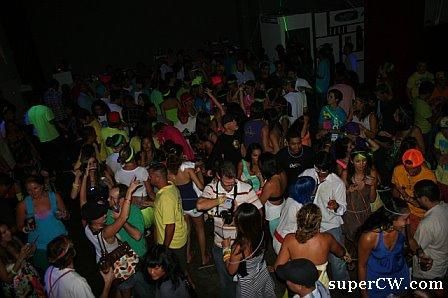 eskae didn't have ONE BIT of neon on except the the glowstick headband but he totally played chromeo as soon as i walked in the place. instant dance.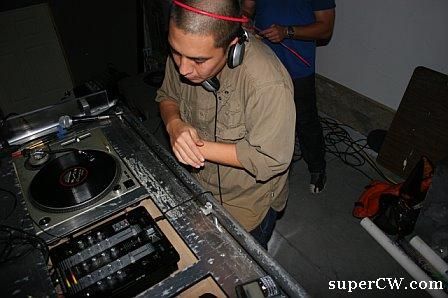 lina was playing giant glowstick ring toss with people's heads on the dance floor. some liked it. others might have… not.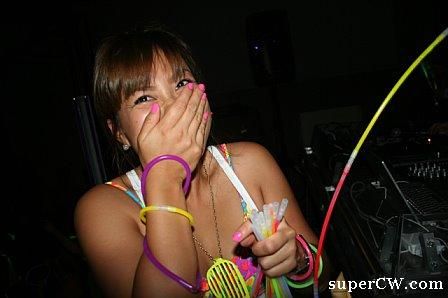 i'm hoping jordan will post his shots from the party soon. it's always rad to get everyone else's perspectives.
cause this was pretty much mine.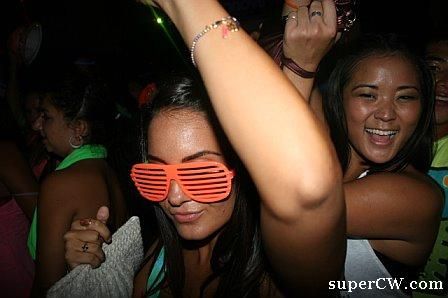 oh, and this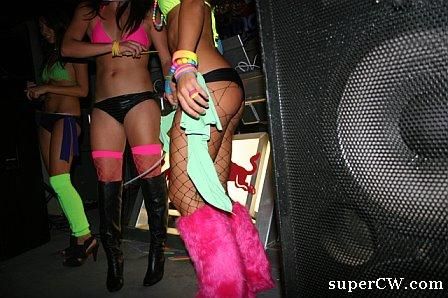 anyway. sunday is very hard to do day stuff. that's my couch-blob day. unless you're apartm3nt and you invite me to chip's waialae iki dream house escape heaven of woah for a get together slash bbq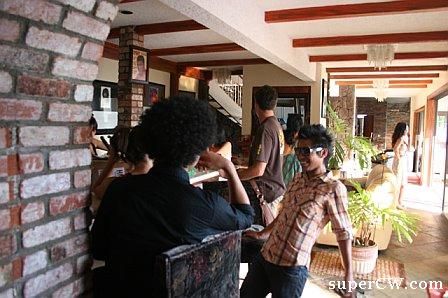 what maria does on her off days? no way. i was like "hey! enough with your fresh raspberry mojito mumbo-jumbo. let ME make the drinks for YOU today!" mine were kinda boring but still yum. vodka lemonades. SO the sunday drink.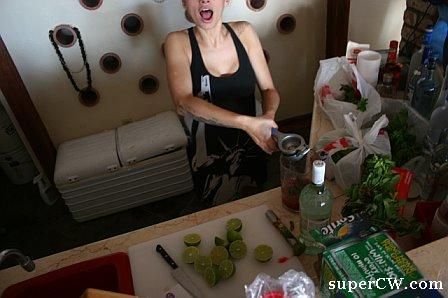 rikita is doing cherry blossom cabaret shows in addition to being apartm3nt fam. love her lovelove her.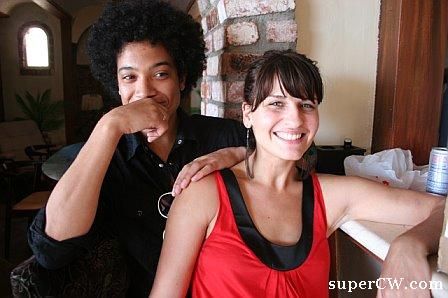 the afternoon was BAMPy too.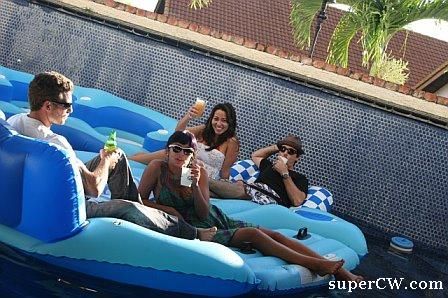 i was like, move over fresh raspberry mojitos. cw's got VODKA LEMONADES.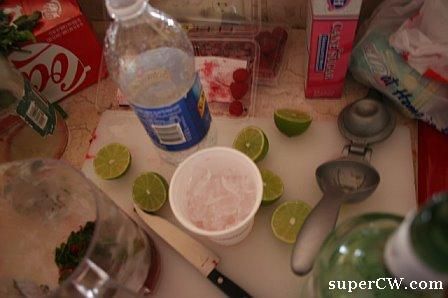 it's my special drink. so easy too. vodka, lemonade, and sprite. you gotta use the marigold "lemon flavored drink" tho or else you'll be able to taste the alcohol and think it's too strong and not get super hammered. all the sugar in the "lemon flavored drink" masks the vodka, and you can pour like triples. trust.
flash was like "hey guys…."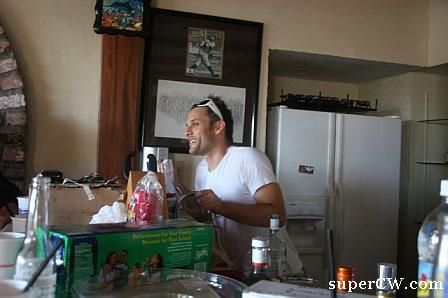 "…..thirsty"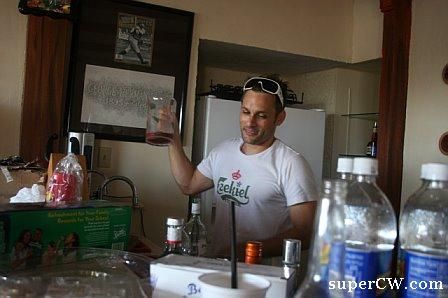 i was like watch out. i'll make you a CW vodka lemonade. you take my camera.
FLASHCAM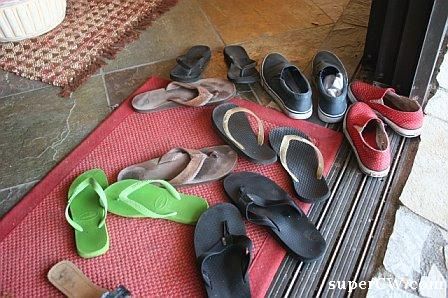 FLASHCAM (congrats matty boy and kayce!)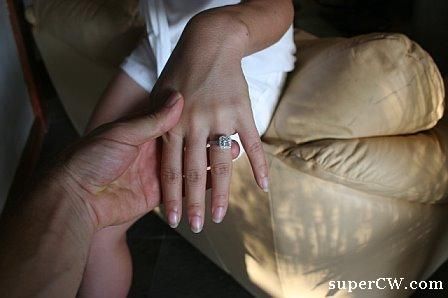 FLASHCAM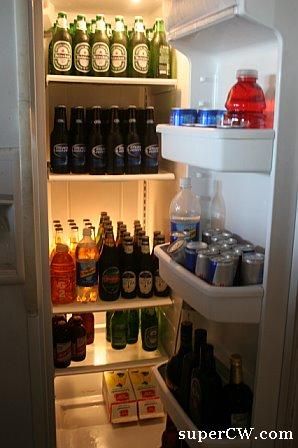 FLASHCAM.
ok, your cw vodka lemonade is almost ready. how sober are you? here, let me add some raspberry and mint to it. oooo now you got a raspberry mint triple (maybe even quadruple) vodka lemonade. BAM! sobernomore.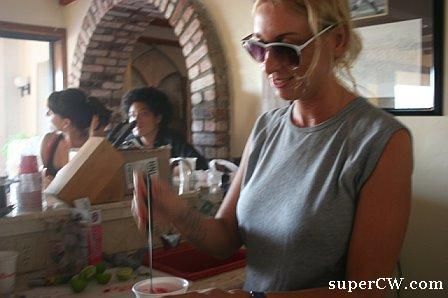 FLASHCAM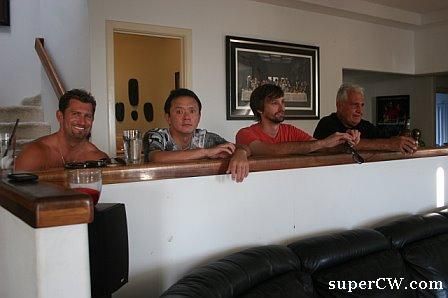 FLASHCAM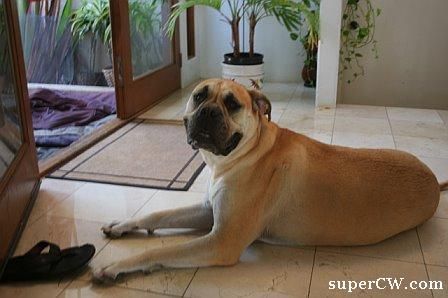 FLASHCAM
and say hello to the most amazing bowl of ceviche i've ever had in my entire life.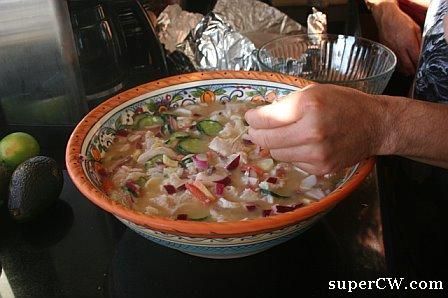 at first we were all being polite and just using the scoop chips and stuff to eat it. after a minute we turned into gobbling monsters using the plastic cups to scoop it directly in to our mouths. meanwhile, the bowl NEVER got empty. most amazing bowl of ceviche ever. EVER.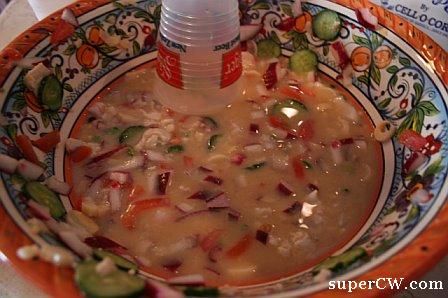 then poof, i was on the red carpet with anton glamb.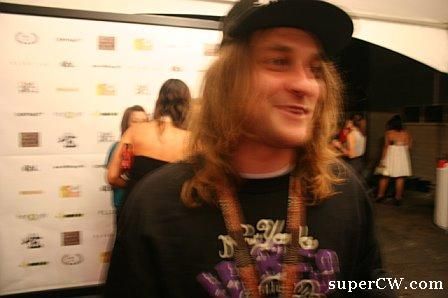 no serious! i was! ask aaron.
malie thought i was good enough to be included in their street style. MAN i wish i did my hair better tonight…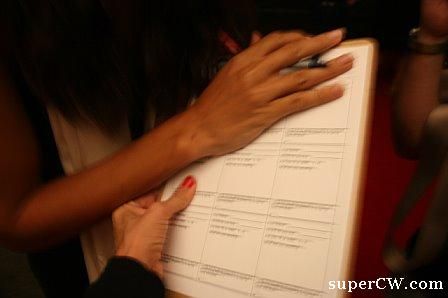 and oh hey, if you want to see, like non blurry stuff you might wanna see tracy's shots from the event. the event? OH! duh. hahaha, it's Fresh Cafe! so fresh. i love this place, you already know that. tiffany is totally making the entire warehouse a party spot. watch out for more event scoming soon. contrast and i already agreed to team up for one before the end of the year. maybe for my birthday, since that's at the end of the year. oh god oh god, CONTRAST for my birthday???! aaaaa it would be like a dream come true.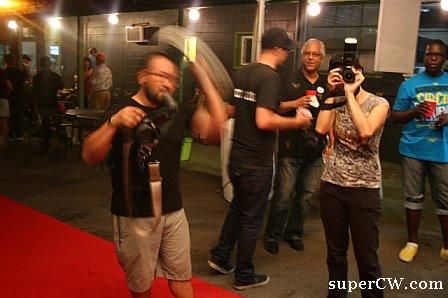 anyway, i'm glad i made it down. it was VERY hard to leave chip's mansion dreamland of unlimited booze and gourmet food twilight zone, trust me. i made it though. thank god.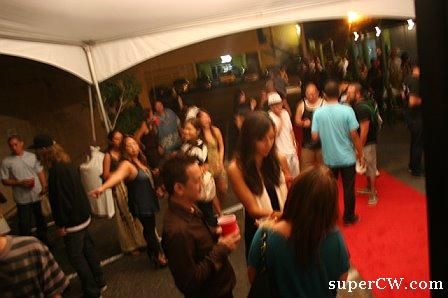 congratulations, as usual. everything you do is SO FRESH.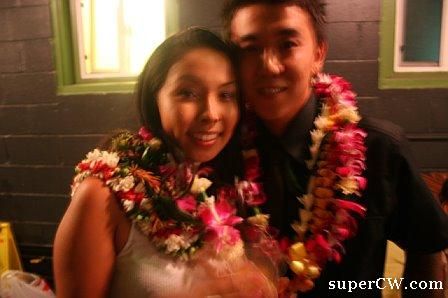 meanwhile. i had the biggest doofus face of the night. CRAP. i really need to work on my photo face. i used to totally have it down. i think when i'm really super happy or giddy it's hard to paint that on and i just wind up looking like this. gaaaaa.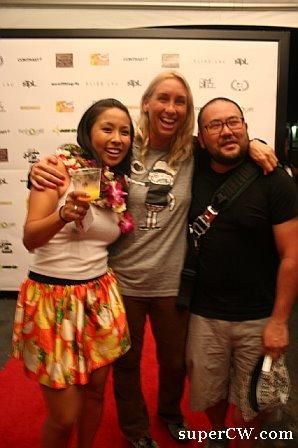 i need to contact lacy for private lessons. oh, hey mike. haw haw i helped him get his $7264786342 camera back the night before, with three clicks of my bbery. it's good to know me, people. ask him!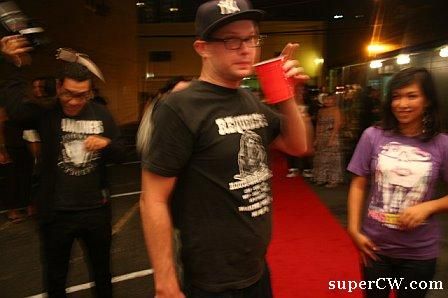 lyle lurking the red carpet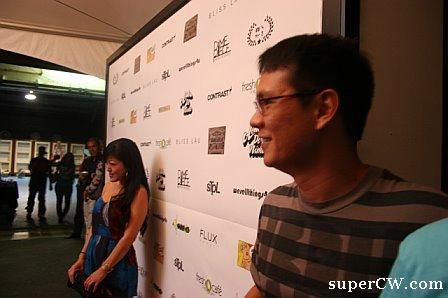 contrast acting all shame not wanting to let me get a pic. hey guys, your NAME is on there? hellooooo. pic damn it. PIC.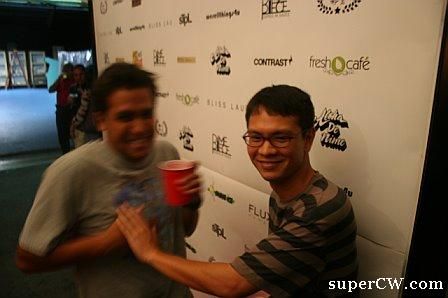 see? not so hard is it. ps: nocturnal sound krew still mega A list status.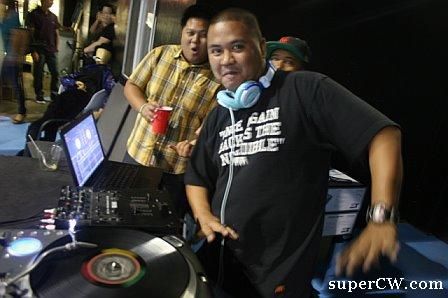 ps: yes tiffany PAINTED the FLOOR blue. do you LOVE IT?!?! i totally saw like seven different types of party on this floor as soon as i walked in there.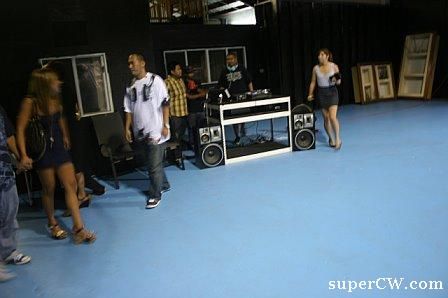 hi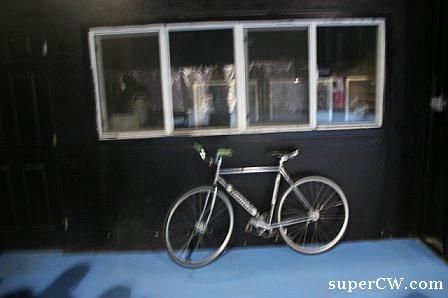 hi hi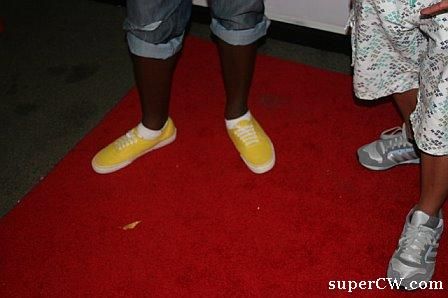 my favorite stylies of the night. they're from san francisco tho, so they don't count. (nah nah juaaaaskiddn)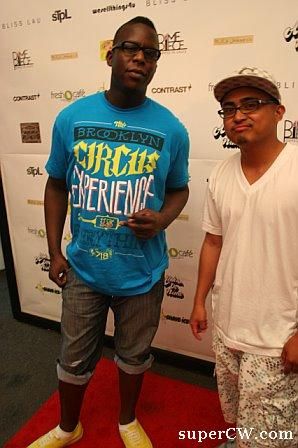 the hnl stylies of the night. with some other metros thrown in.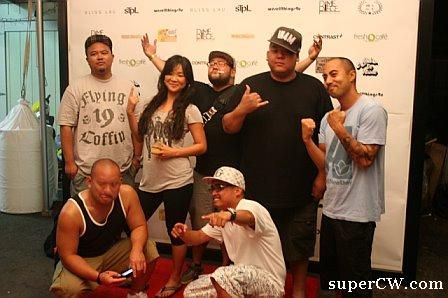 YEAH GUYS. my friends are sofa king RAD.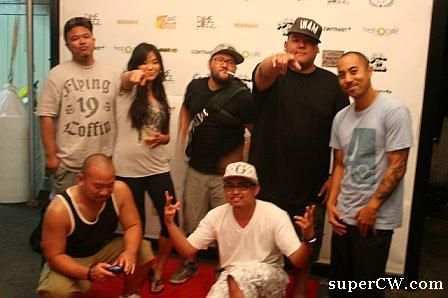 the jump offs were there.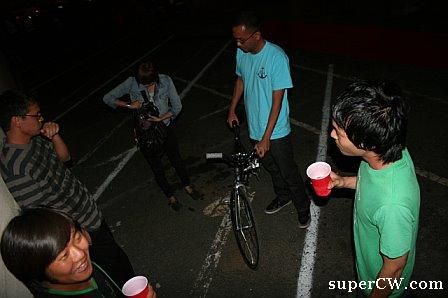 and i wanted to steal anton's hat SO bad. ny lurkers???? are you serious?!?!? contrast – let's make a hnl lurkers one. pppppplease? aaaa!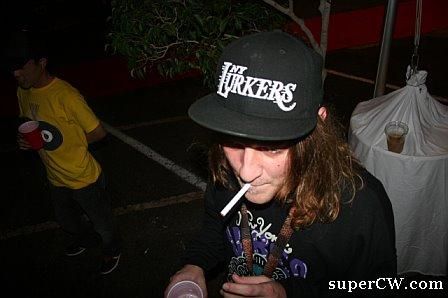 ps: yellow shoes look amazing on red. for future reference.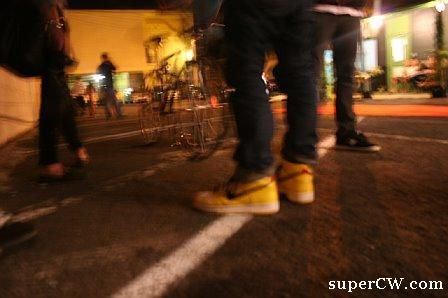 sorry, the writing could be better. the pics could be more in focus. and i could be more funny. can you tell i'm rushing and want to get out of here so i can go about my wednesday night? no? oh. well, that's what i'm doing.
more soon, love ya. cw