you know, these events were a lot more fun when i was sneaking in to them….
…now i gotta be all professional and stuff. and get people like Cecilio Rodriguez all toasty warm on our wines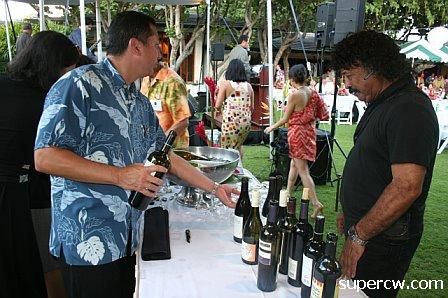 don't worry about me! it's no biggie. i'm such a chef groupie anyway, and they are all usually there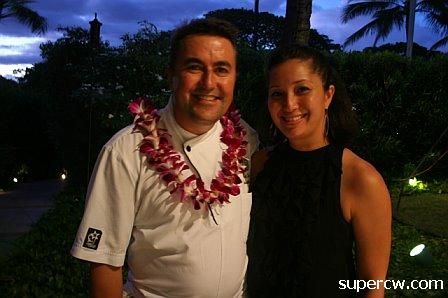 and you all KNOW i'm a media groupie. so finally meeting my old pal ron nagasawa in person after much hellos and emails was pretty killer. *fanning out*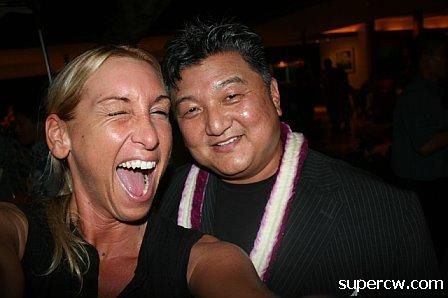 it was his/their 25th anniversary. Star Bulletin/MidWeek. that's a long time. who here is 25 or younger? that shit is older than YOU! and i know for me i didn't have no Cecilio n Kapono playing any of MY birthday parties….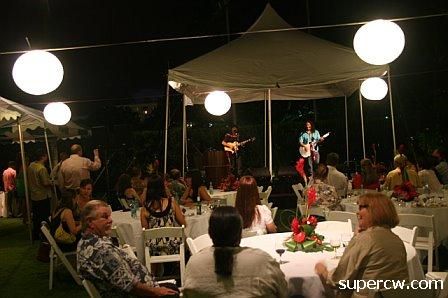 congratulations you guys, for real. i remember 25 like it was two weeks ago. side note:  if you have anything even closely similar to my 25 you are in for a raddddd year.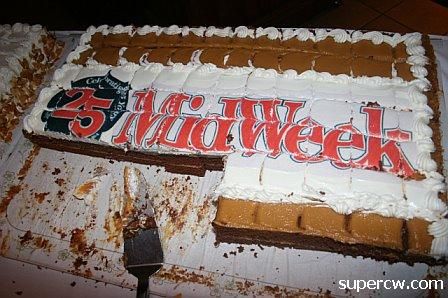 later that week i was back at tsunami's. god have you eaten there yet? you really need to.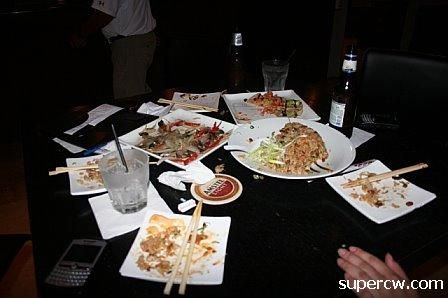 it was so good that we made our graphics girl take a cab from moose's anniversary party to come eat and drink with us. sorry we made you leave the party shanabanana. here, have some teri fries.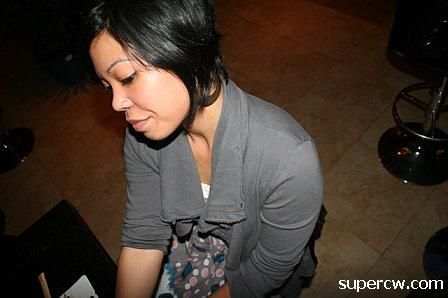 THEN we went to moose's anniversary party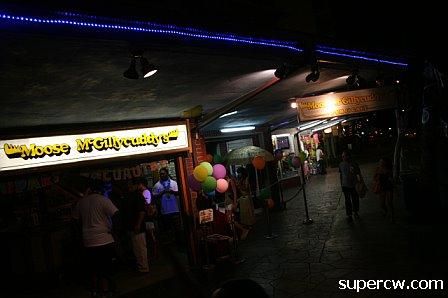 so they are 4 years older than the MidWeek. the bar, not these girls.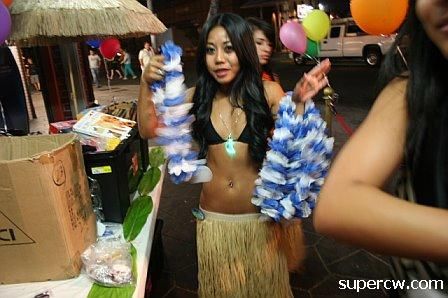 when i got inside maleko was having a "make your man fake the best orgasm" contest. i immediately missed the wave.
i mean how many places do you really see stuff like that anymore?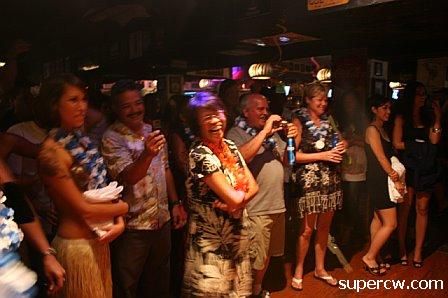 work friends. nonwork.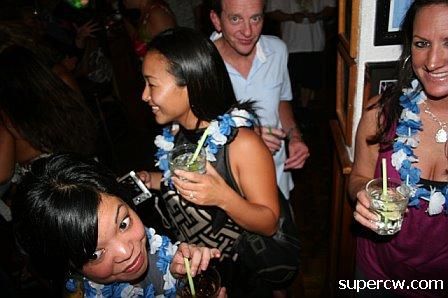 got busted doing a party ninja by kat and the bud girls. oopsies. hiiii…..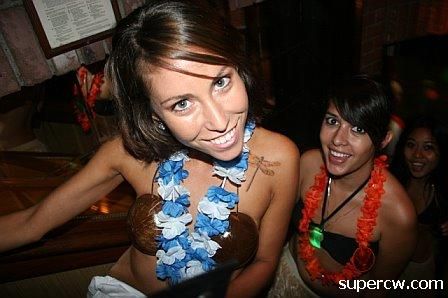 had to make it to prohibition. and since there were no canon 20ds in that era, i politely left it in my car.
then friday was like the mother ship for our sake sommalier. JOY OF SAKE! such an amazing event. so many sake's so much culture so many sake's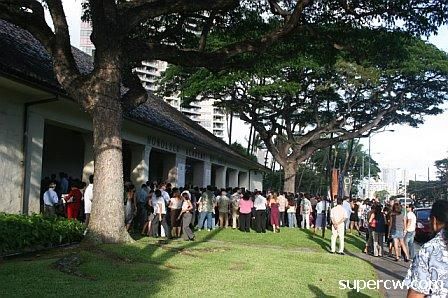 don't think it wasn't packed either. think ArtAfterDark… only with like a bunch more culture.
and sake.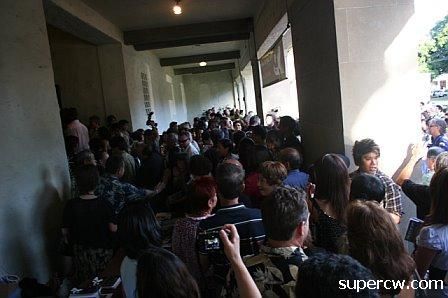 there is a huge blessing before everyone goes in, which is standard. i missed the lion dance though. or did they have one? it was so packed when i rolled up i really had no idea. you guys know, this is like the biggest sake tasting event outside of japan right? did you know that? i better see you next year then.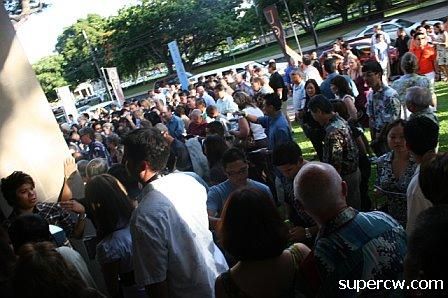 then the doors opened. and it was like a parade of my future husbands. aaaa.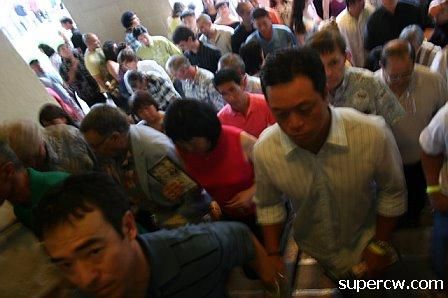 TY KU was there exploding the whole brewed-in-oregon sake to the joy of sake goers. they ran out of the white like that. the black was so yum too. i tried both. a few times.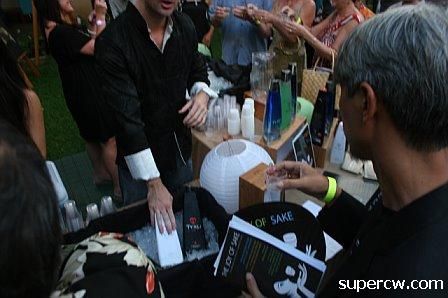 then i camped out at the ginjo table. and then i camped out at the daiginjo table. then the junmai…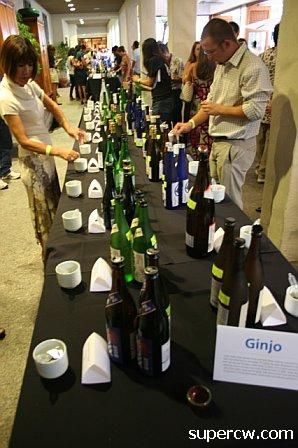 ..then the silkroad table.  ahem, mizubasho. so tasty that stuff.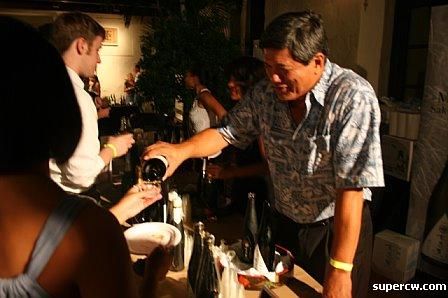 see? TY KU in the weeeeeeeds.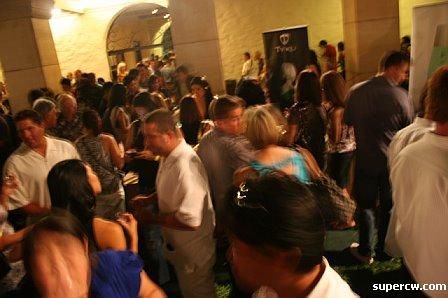 that's the silkroad plum. it's tasty too. sweet and plum-y. good mixed with shoju.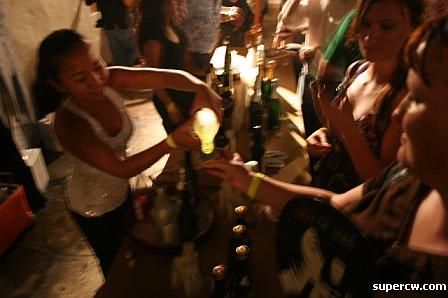 i waited in line for a while to see Town. they were doing a braised ox tail thing that was to die for.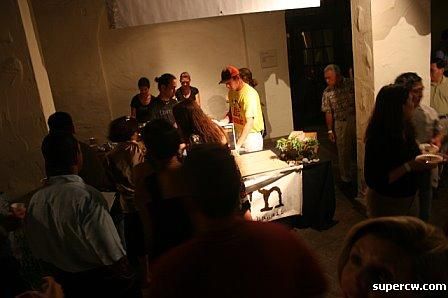 GOD i love town. hi keoni! hi ed! aaaaaa. (chef groupie)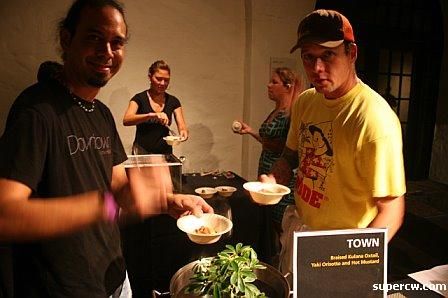 then i went to thirtyninehotel and it immediately became 2005. ha! nah, i was in the parking lot drinking with darieus like an underage skater kid then exploded in to thirtyninehotel with him and saw like everyone i knew from the supercrew! minus a few! love u guys.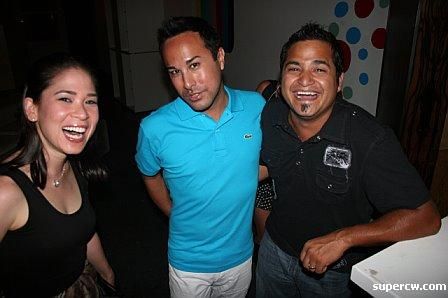 buba was there too awawawawawaw.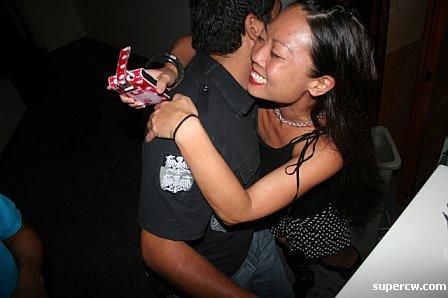 i was like "darieus! RAGEFACE!"
and he was like "………………."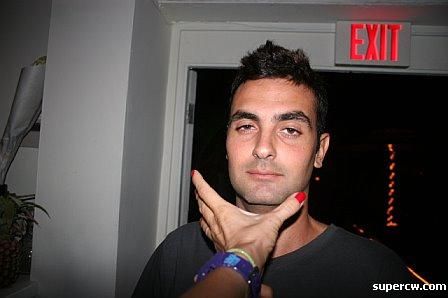 then i was like "let's drink a bunch more! then go to soho.
now, darieus! RAGEFACE!"
and he was like "rowrowriworiwroiwerweorwe"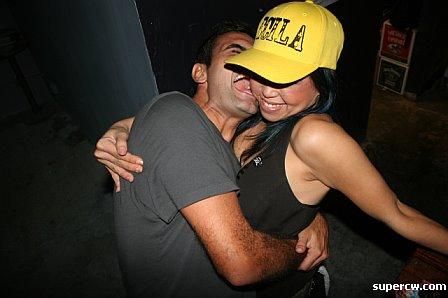 daniel bought one of the shirts him and cyrus had at the UH art show thing. he LOVES it too i swear he wears it every single day. i don't know ANYONE that loves a shirt so much that they totally wear it every single day. (um, me.)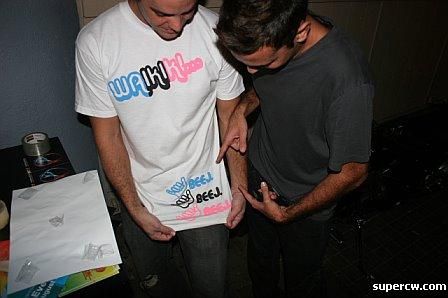 this is my rageface. and yep that ecila hat got around tonight. and yes i'm still in my work clothes.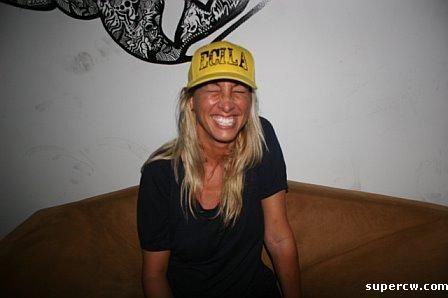 saw becker on date night. becker's fooling you – that's not his rageface. that's his dateface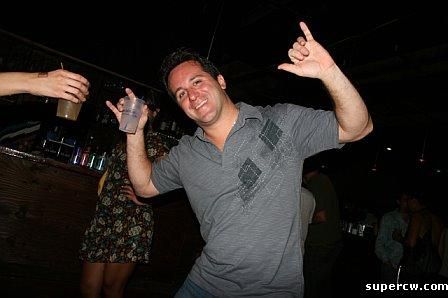 it was soon after this that darieus and i parted ways. me to the couch him to i don't know. but tonight was epic, thanks buddy for scooping a very sake'd cw from the academy and hurling her back into the nightlife. i fared well =)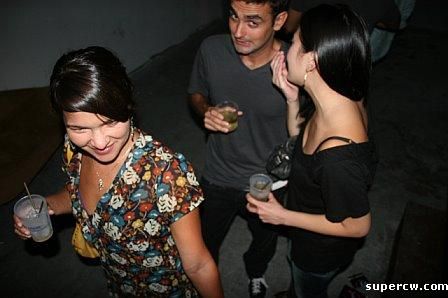 then i had to get up all early and shit to go to kona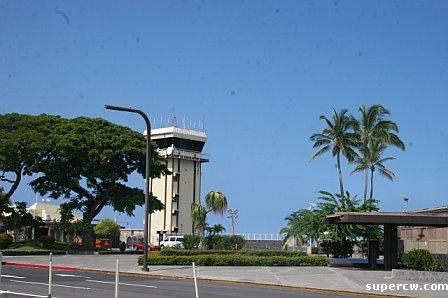 but what's cool about twitter? me tweting a hello to Kona and eddie calling me 2 minutes later, and coming to get me 20 minutes later. ORGANIK!! they're based in kona!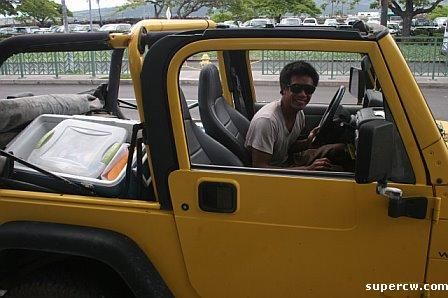 organik, as you may know, is my  clothing sponsor. i actually went pro last year. pro cameraface. i'm not kidding.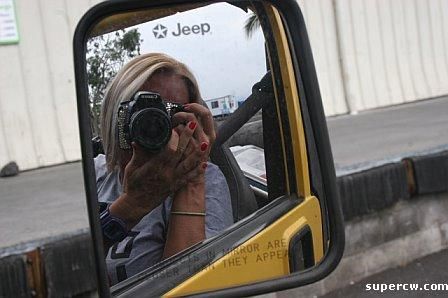 eddie is also addicted to surfing. so stoked to grab his new board from the air-cargo that he was  like taking pics of it and stuff with his phone.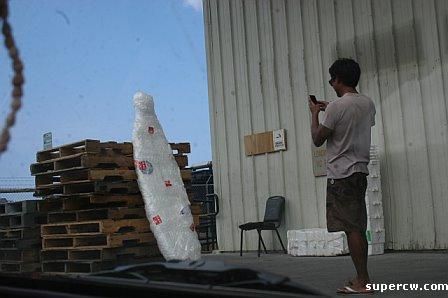 then he was like taking pics and stuff of ME. aaaaaaa. facebook mobile > twitpic? maybe… i mean, you can un-tag fb pics.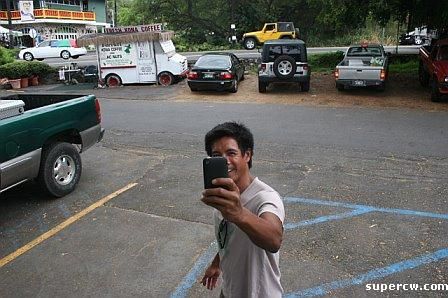 so anyway, i was here lurking the mai tai festival they did at the Royal Kona Resort. sommer helped them out big time, we did too. actually, more than i realized. there's only one other time i ever had a thank-you note waiting for me in my suite. hotels? you should all do these. it's such a nice touch.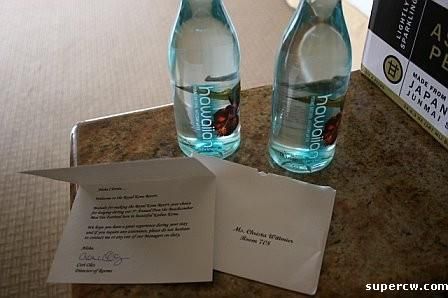 oh, also having your spot right on the ocean works too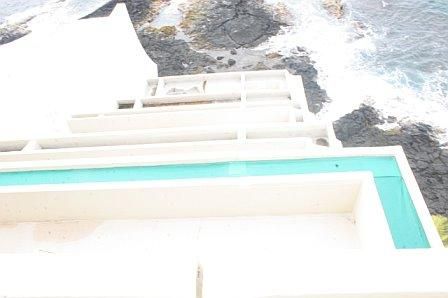 the lanai…..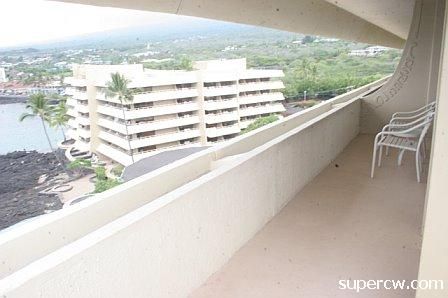 …..was a nice dual side. with private sun chairs to tan in the youknowwhat.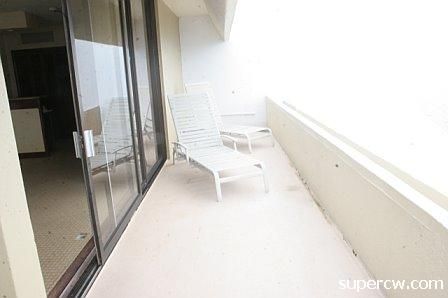 hi, royal kona. love ya.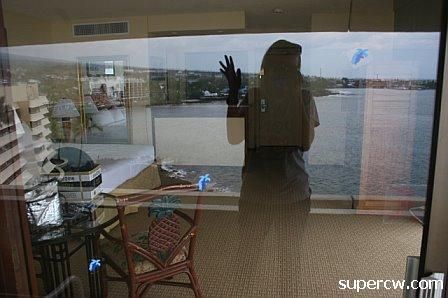 sommer had this waiting for me when i got downstairs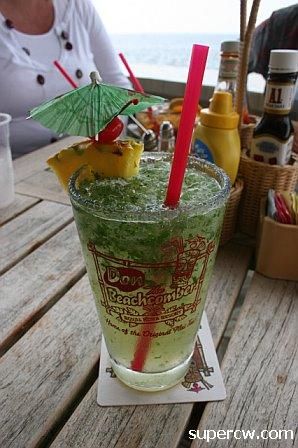 these too. i mean, it was a mai tai event. we figured we should warm up.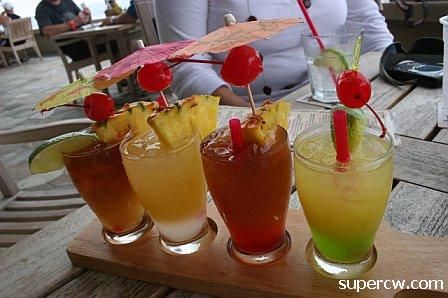 i was like "oooo, did someone order a salad?" and someone was like "no, that's kyle's secret ingredients for his mai tai" and i was like "….think he'd be mad it i took a sip?"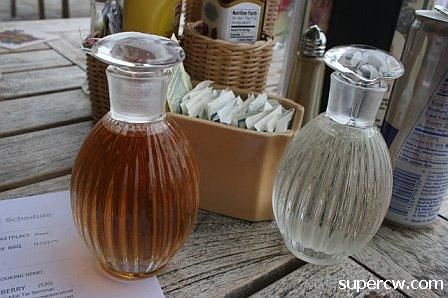 sam choy! shakaaaa! (chef groupie)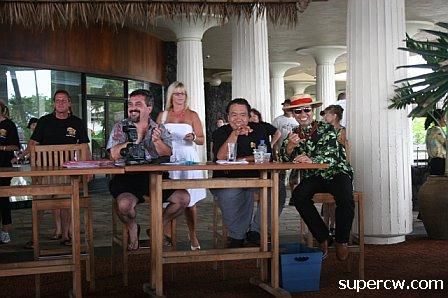 ok ok ok so the big event was getting started. most of us were there. the weather had cooled off perfectly. and we were kinda drunk. i was so hyped.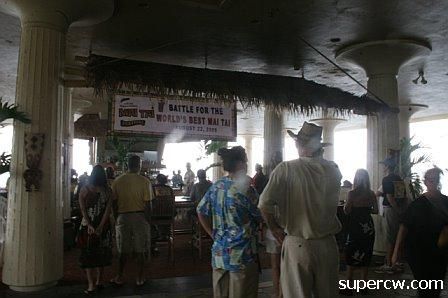 someone next to me was saying how they hadn't seen an event kona this raging in a long time. i was looking at the crowd then looked at him, then looked at the crowd, then looked at him again. then wondered if by "an event" he meant me. cause i was rageface.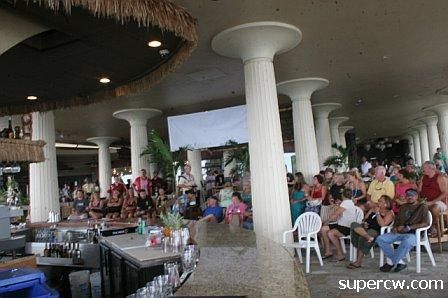 the bartender with the best mai tai was going to win $10,000 cash, which is a lot of money to anyone i don't care who you are. even if you're wealthy i'm sure if someone was like "here, here's ten thousand dollars" you'd be stoked.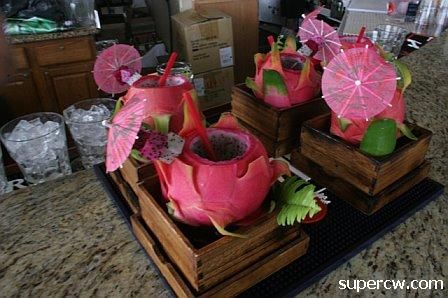 teves! remember now… spit!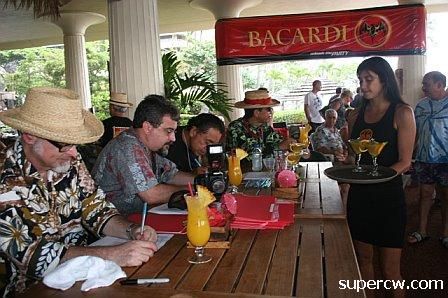 the kona crew. we were rageface.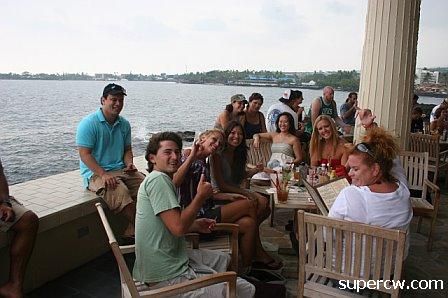 rageface and backlit. sorry guys.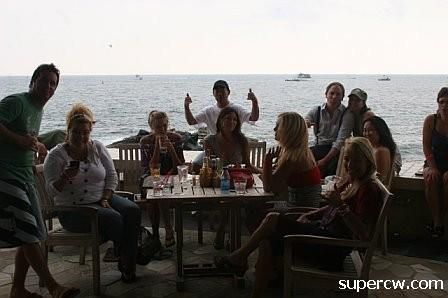 kyle's turn! he just won the bacardi mai tai competition i did back in june at rum fire. you might have seen his face on a bottle or two of bacardi at your local booze store.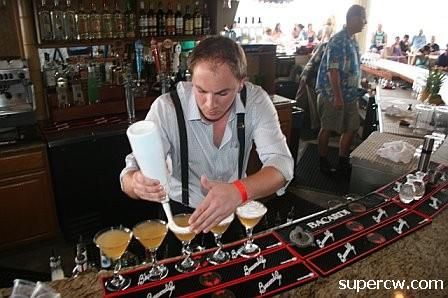 when i would go up to the bar to take pictures i would only be able to stand there for a minute or two. someone actually said "down in front" this thing was SERIOUS.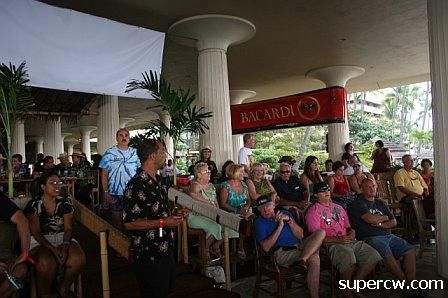 good thing we were sitting in the back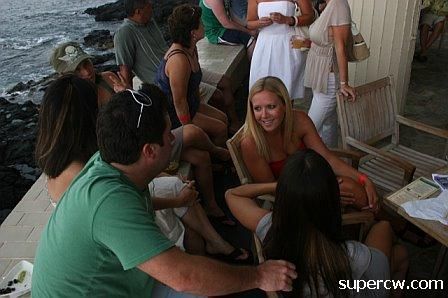 good luck man. you're a drink genius in our eyes already.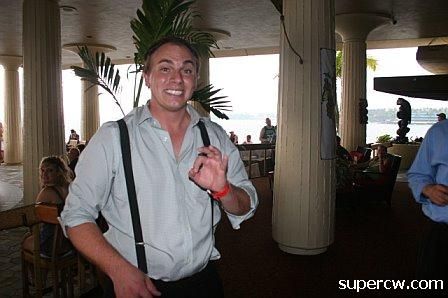 that's beach bum barry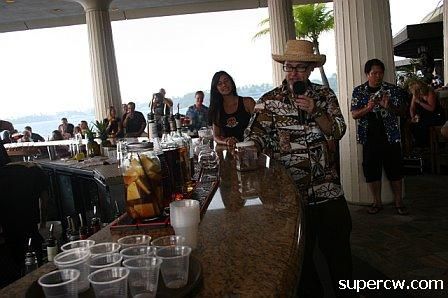 and those are my lovely bacardi kona girls. elaine hooked it up like damnn.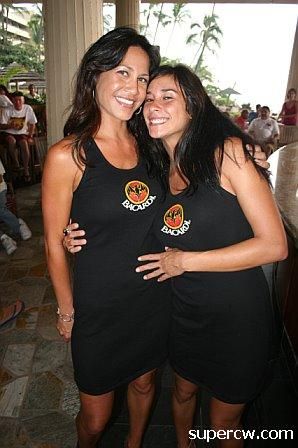 spit guys! one of those has 151 in it…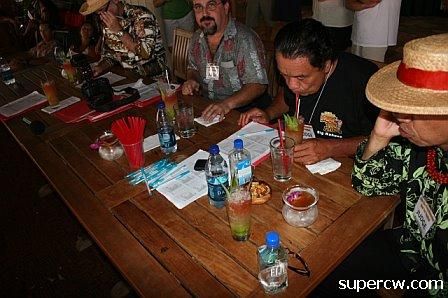 hi, beach bum barry. i'm christa. how's that drink? can i have a sip?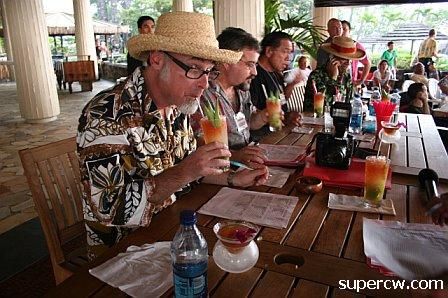 sam choy!!!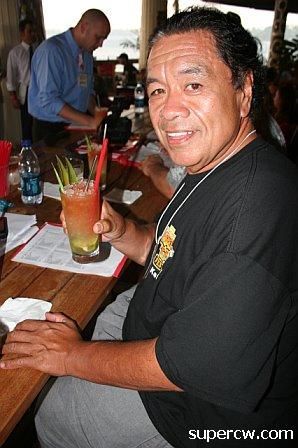 joey gottesman!!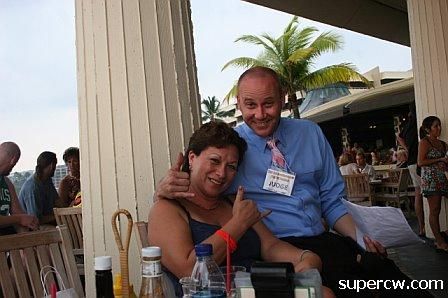 joey was the event MC. and like the guy who pulled it all together for the royal kona. sommer was writing him notes all day telling him funny things to say on the mic.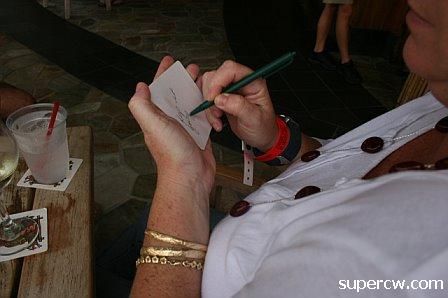 meanwhile. we raged.
jason from the living room. honolulu represented hardcore, their drinks was so good.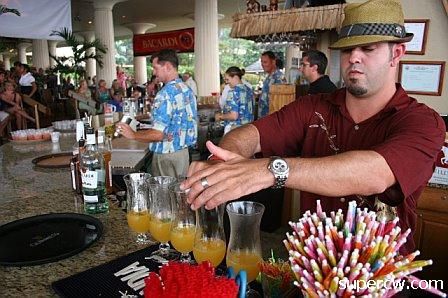 with ten thousand smack-er-oos up for grabs people were getting mad creative with their stuff. like, hmm, i don't know… making an infusion jar out of a hand carved watermelon.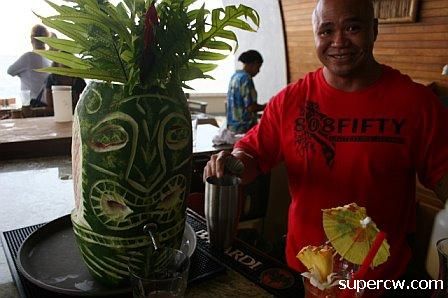 oh her? that's bryn! remember her from UH? she is back in kona now, and our new kona-girl sales rep. we've been picking up some killer ladies lately.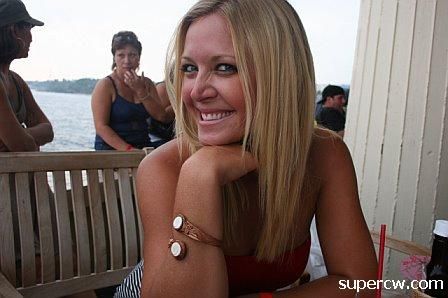 more honolulu representing… duke's waikiki there on the left.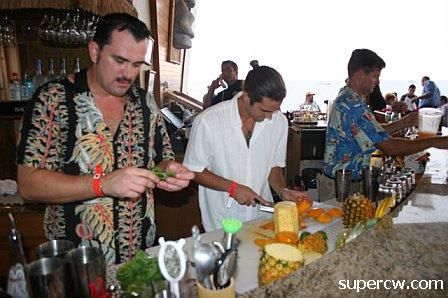 the best part was getting to try them.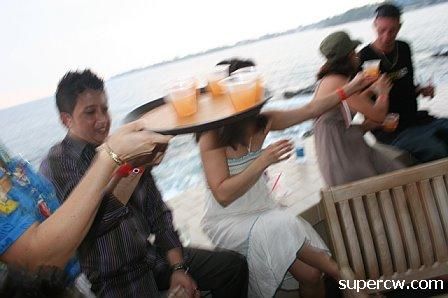 all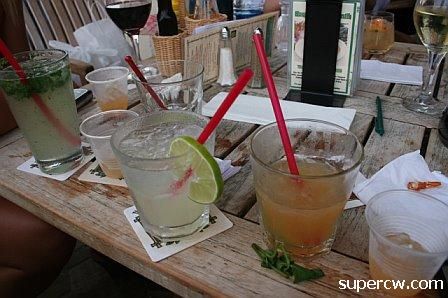 eddie T from pearl and bar 35 was getting hoots and cat-calls when he was up.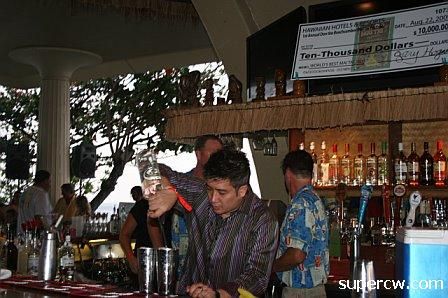 dragonberry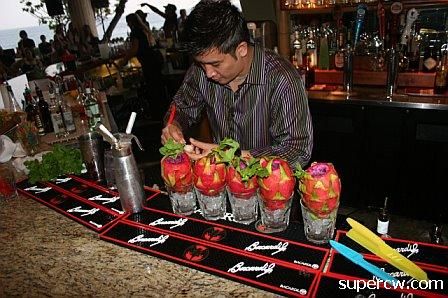 after eddie went i went to my suite to melt in to their amazing cloud bed. skip ahead 4 hours, and i'm at kenichi, which is a small upscale japanese restaurant that does an ultralounge on saturday nights. it was literally ONLY women in there when we got there. and they weren't messing around. hair did. new shoes and outfits. i was drooling all over the place.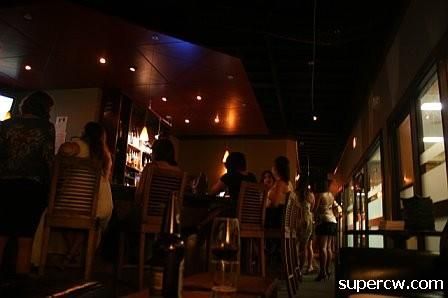 skip ahead an hour. the men came.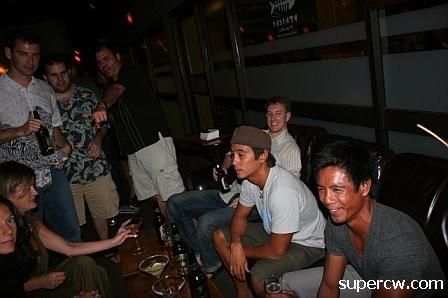 but there were still a lot of women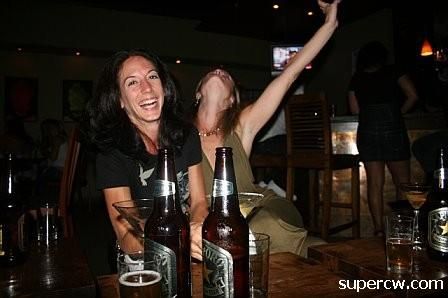 making our way to rageface. this event is called gold star sound bar. how COOL is that!!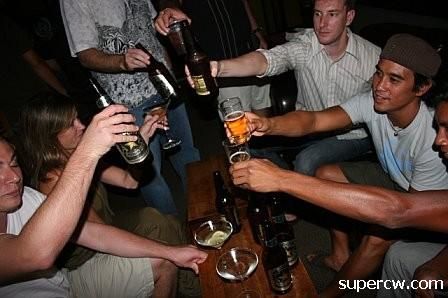 and the music? epic. while i was sitting there she played pretty young thing, paper planes and family reunion (my request) (she had to download it).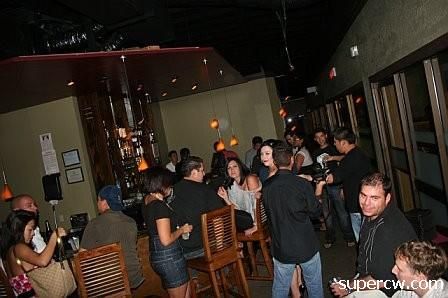 and look. LOOK! kona has a party pic website.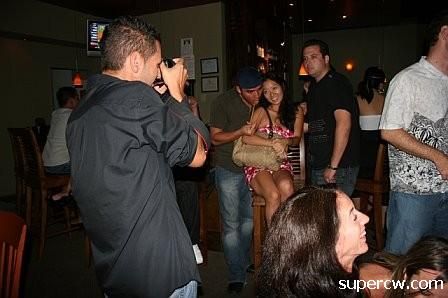 and he's the most adorable thing ever, i wanted to eat him. this is vog media!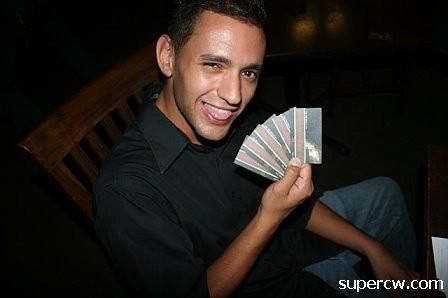 then kyle came and he was slightly bumming for not winning the competition. then i was like, HELLO KYLE. you came in 3rd place out of all those people from all over the state and you came in first place in honolulu, shit you got a trip to KONA even.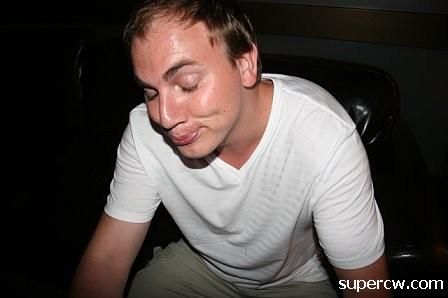 and he was like. OK. rageface.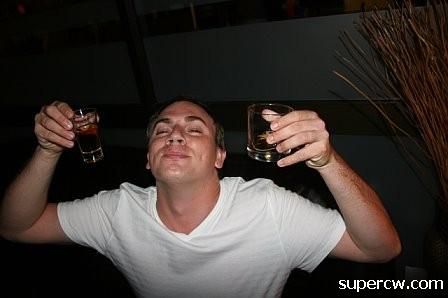 all my future husbands? were actually husbands.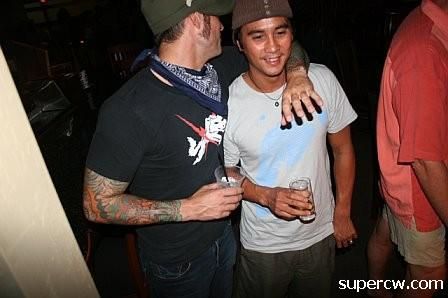 LOVE this kid though. please come to oahu for a visit soon. the metropolis!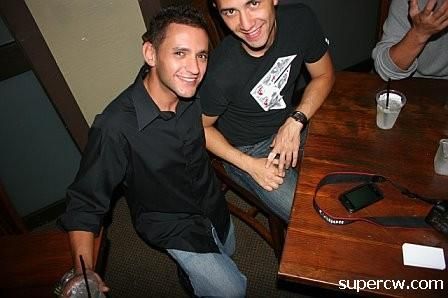 <3 <3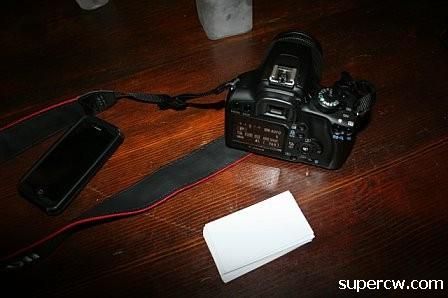 oh! when i said they were husbands up there? i mean, like real husbands. like they all have wives, they're not married to each other. just making that clear. ps: thank for all getting married, Kona. you made my saturday that much more boring.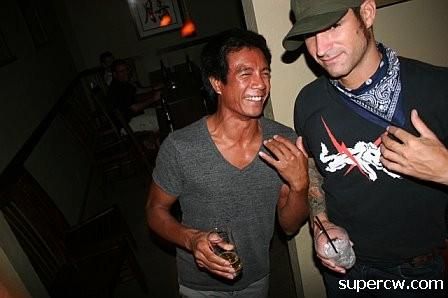 then matt gave us the vip room. we were kinda going off. kyle wouldn't stop with the shots and eddie actually got on a chair. in this nice little japanese restaurant. it was sofa king epic… until the reggae and dub stuff came on. love it when i'm driving, not so much fun for rageface….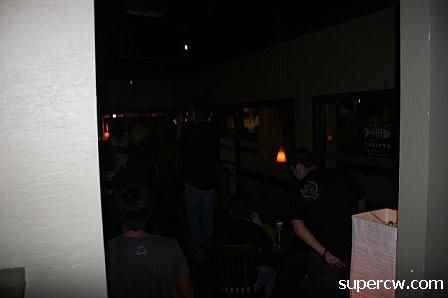 ….and that's when we booked it to coconut grove. that's where ocean's and lulus is. yes they have that in Kona too. theirs is WAY more nuts though. people were serious about dancing. MAJOR serious. drunk and serious. guys belting the lyrics to t-pain and drake, even dancing alone or with other guys, just to get it out. man, kona knows how to blow off steam. i was so in to it.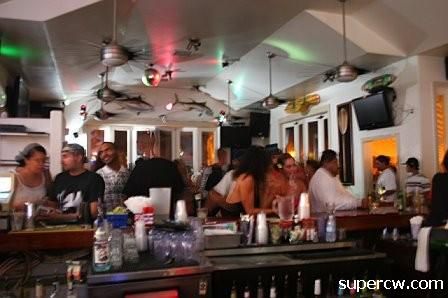 met up with chef john from the royal hawaiian and joey gottesman, beverage celebrity. john here was the winner. he's donating the money. but the first round was on him.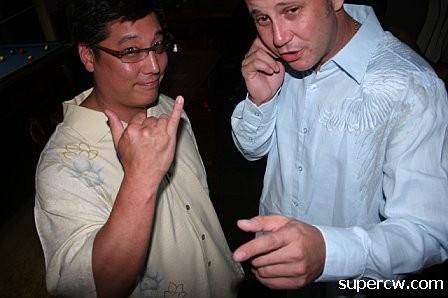 then i ventured to lulus, which was even MORE nuts. the place is huge too, omg. i just stood there with my mouth hanging open for a while.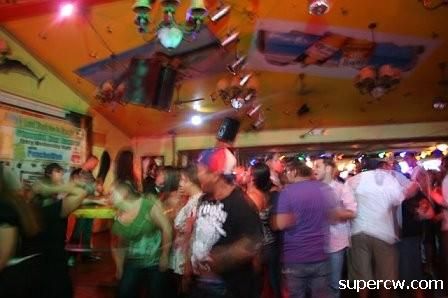 they were going OFF.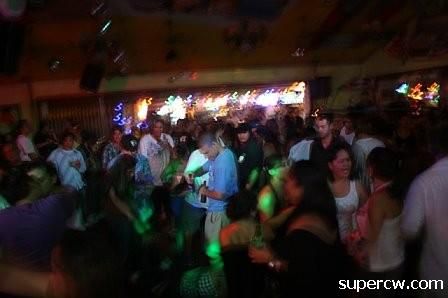 kona girls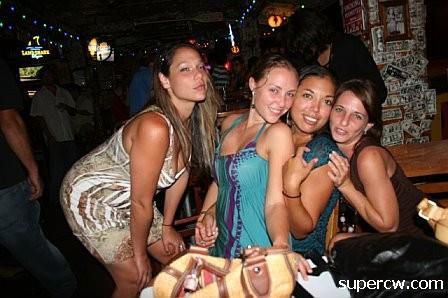 stayed easily until last call. was hoping that might be at 3am but alas…… 1:30.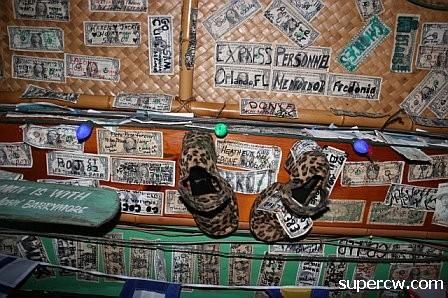 we stayed though. had a drink with bernado salazar. executive chef for the royal lahaina resort. out drinking with us super late at crazycrazy lulu's. (chef groupie)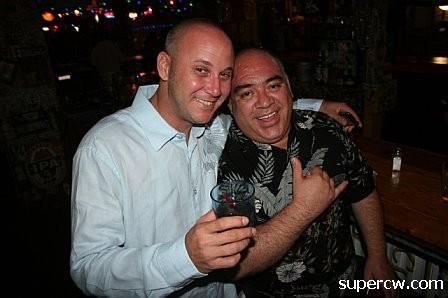 kona? you're so spot on. i remember when i did the skate trip here we were all calling it "little waikiki" whenever we were driving through it. i might retire here.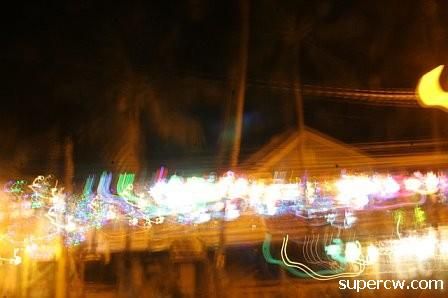 i guess it was better that last call was so early. bacardi pool party started the next day at 11 sharp.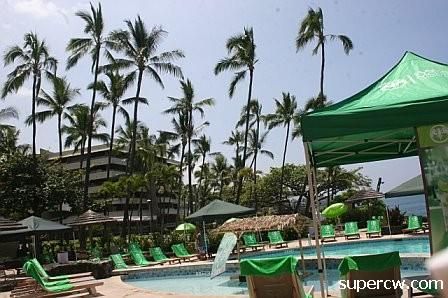 brandon was making dragonfruit mush for the mojitos. it was soooo yum.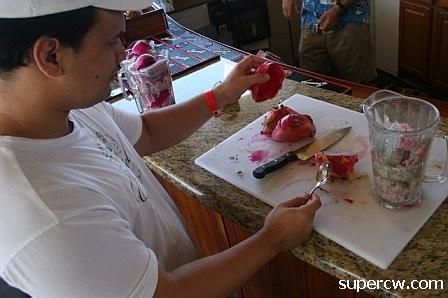 sommer gave me a stack of drink tickets. i love getting to be the nice guy.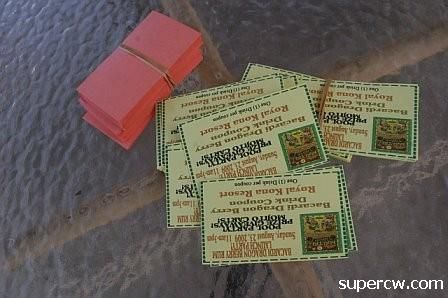 the shirts were rad too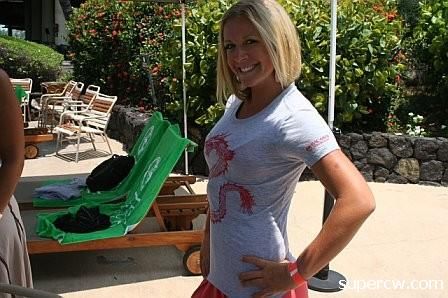 and this BAND! those girls were so fun. lava 808 i think?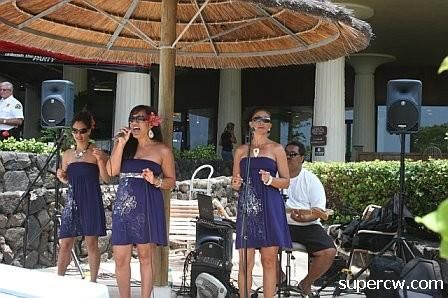 aaaaaaaaaaaaaaaaa kona
becker didn't show up until like 1 o'clock. and he was NOT out with us the night before. whammy.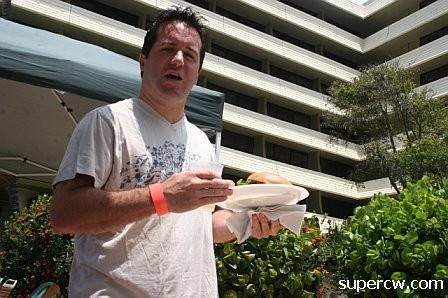 the mojitos were aaaaaaaa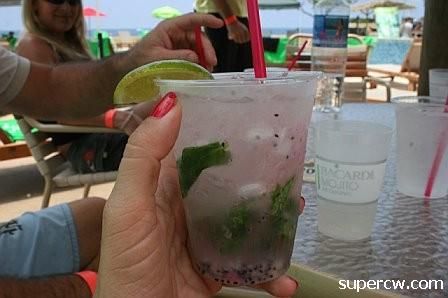 skip ahead a few hours later and i was OH MY GOD!!!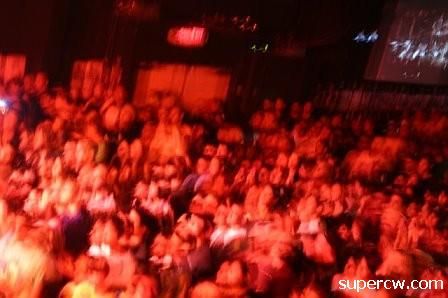 matt costa is back! well, actually, he stayed! remember when he opened for no doubt? tonight he's opening for band of horses.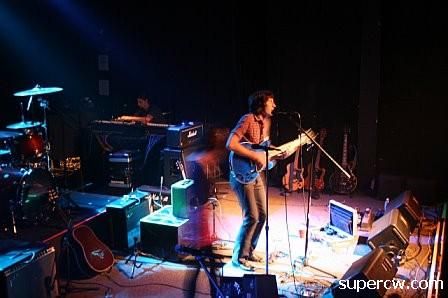 kristen was like the first one in the door to get the good couch in the VIP. i was loving her man's shirt.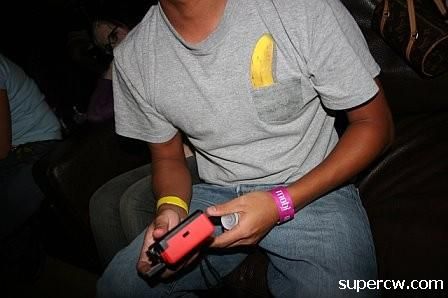 we had the perfect lurk-spot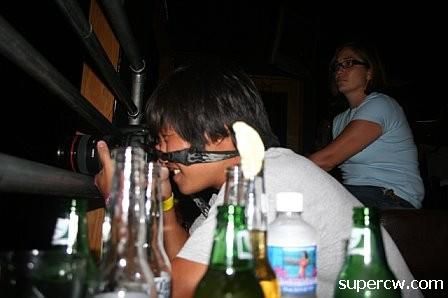 lurk, lurk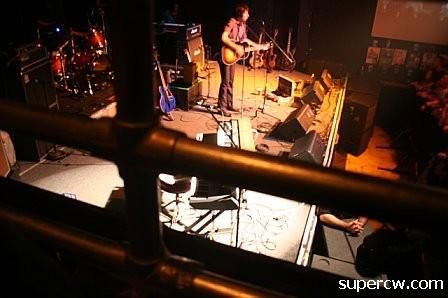 then lance i guess wanted to get a bit closer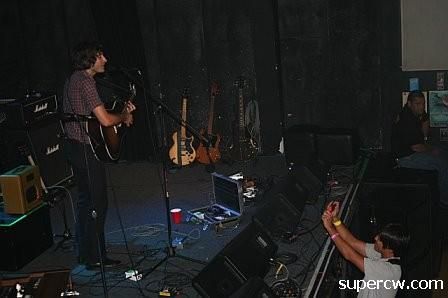 then POW! explosions of amazingness.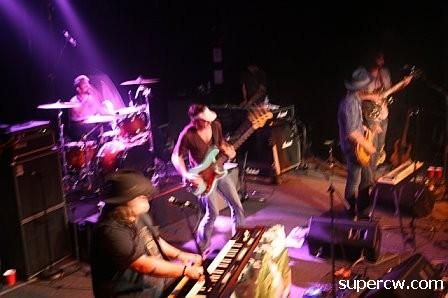 i couldn't sit up there anymore. i had to be in the crowd. band of horses RIPPED through that place. it was so heavy. i was dying.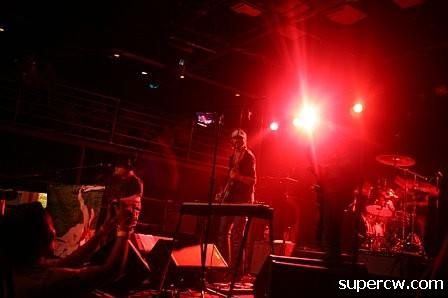 i was in the photo pit for a second but kind of freaking out. band of horses was playing in HAWAII. like, right in front of me. and they sounded amazing.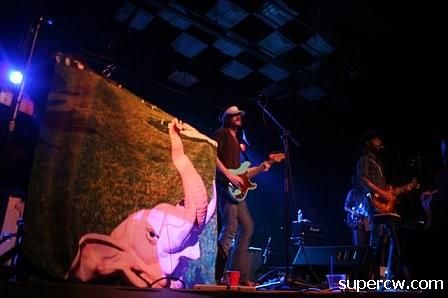 i wish you could have been there to see it. because i really don't even know how to explain….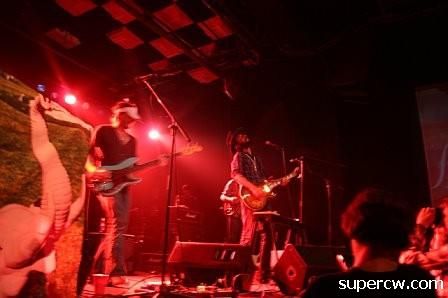 i'm thinking about taking a writing class just so i can revisit this particular blog entry.
then i went to the side and was all up in ryan's koolade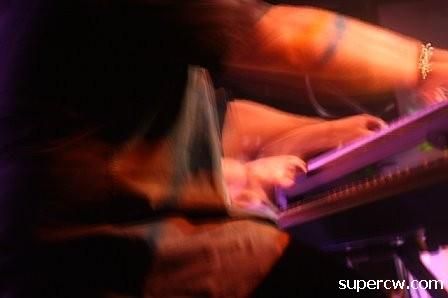 he could hear me so all i could keep saying was "it sounds amazing" to him.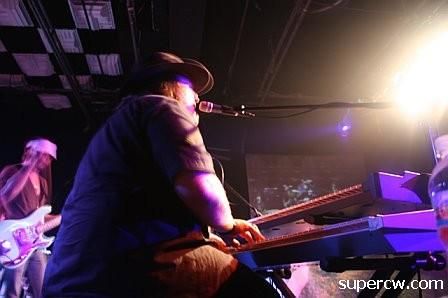 i felt like i was in the band. i was in band of horses.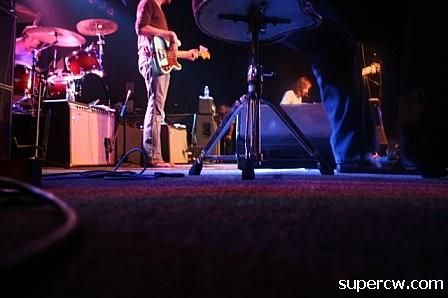 it was hard to pop off shots. it was that good. they were SO in to it too! remember how much i loved noasj thing? same reason. they are amazing musicians and LOVED playing. gaaaad this was the best night ever.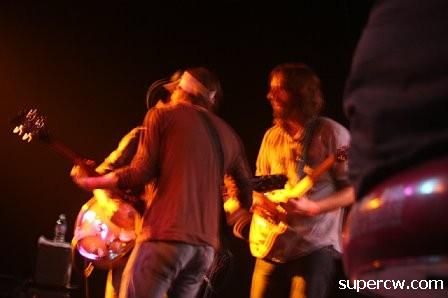 i was so in the band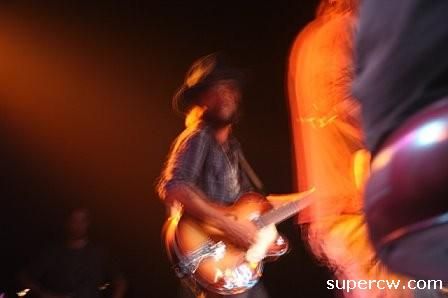 they actually liked having me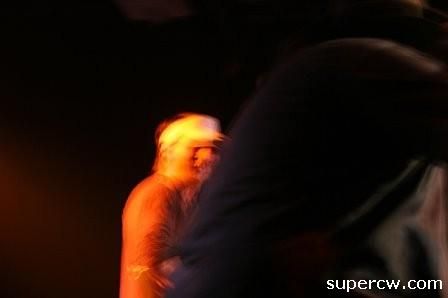 kristen was still holding it down up in her spot too, lol. first one in the door!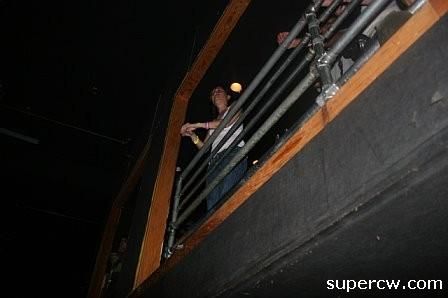 what are we gonna play next guys?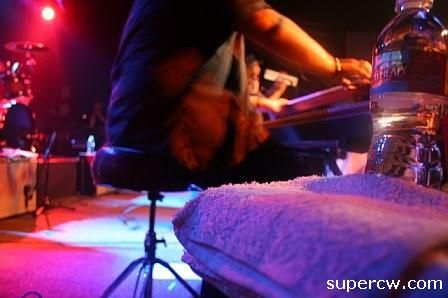 the set was actually too short. i was bumming. there was an encore n stuff but i wanted more. like waaaay more.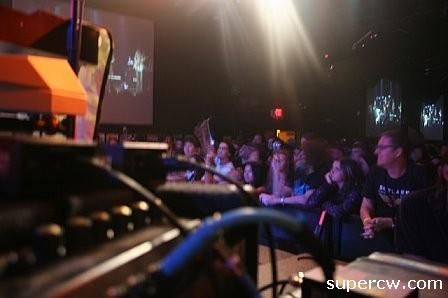 nah, it's fine though. i'm just so happy you (we) played at all. FCK i love you guys.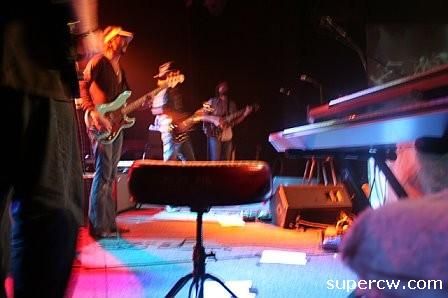 i haven't seen daniel dae kim since the counter opening. he's been busy – he just starred in the king and i in london!! now they're filming their very very last season of lost. god, i can't believe it's over. and look, here's me fresh off the plane from kona in my brand new organik v-neck and he's wearing one too. i swear we didn't plan this!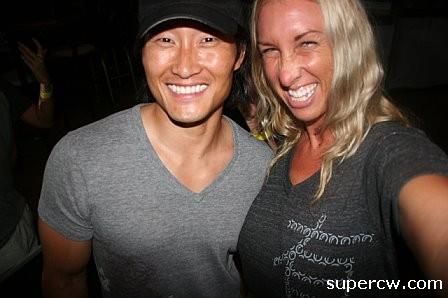 then after this picture he was like "i'm going to go say hi to the band, do you want to come?" and i was like "…………….ALJFKDJFKD:HDJDKJFDFDK!!!!!"
then we met and thanked everyone, and he was like "hey guys, this is christa, she's like honolulu's nightlife archivist." and they were all like "hi" and i couldn't even really open my mouth, just sweat a lot and make weird chirping noises and stuff. had a nice hello to matt and chit chat with tee then i ran out of there like i was running away from the best dream i've ever had in my life
sorry i didn't get pics of that.
next time.