oh ya, did you hear? we had a hurricane like crazy huge headed STRAIGHT FOR US! it was the only thing you'd hear about on the news or twitter or at the water fountain or in the girls bathroom. Felicia! Felicia! sales of bottled water, canned soup and whatever the hell you would buy at Home Depot to prepare your house probably sky-rocketed that week.  Sorry hurricane lovers. this was about the extent of it. Storm Lovers 0, Hawaii 1.

meanwhile i dropped off the face of oahu for a minute to work my ass off. and lurk storm chasers at the hanohano room.
nah, it was the trump people! trump! trump! that big giant fenced in building where the cops hide to ticket people leaving nobu? ya. it's pretty much done. there was  a party about it.
i was working. and hoping people drank sake2me.
events like this are fun cause i get to see welltodo sorts that don't come in to chinatown much but are still rad to chomp it up with. kevin aoki for instance was taking a break from doraku to say hellos.
there was art. and a lovely stormy view of diamond head.
and jeez – correy and sara got married! has it been that long? nice work. we used to rage our faces off in this very room a few years back. now you're all fancy and grown up and stuff.
daniel newbill sold a unit in the building. they're going for like 3 million or something which doesn't even really sound like that much anymore. he was here with his crew.
stacie and pam were there too. i was starting to get all hyped that i actually knew people at this function.
lurking the midweek lurking the fancy people
and messing around with kelly sanders. we were standing there looking at donald trump jr. and i was like "do you want a photo with him?" and he was like "sure, i guess" and i was like "do you want a photo with MEEEE?" and he was like "OKAY!"
there's trump. junior trump
i took this for that guy on the end. i need to send it to him but i lost his business card. i'll post it here in hopes he has a friend or relative that sees it and contacts me. i got the hi rez, friend. let me know…
the good thing about amazing events with really wealthy and fancy real estate people? they have people like makana entertain them.
then at the very end donald trump jr. got up and was actually quite funny and kind. he made a joke about having a conversation with just about everyone in the room (except me) (but only because i was too chicken to go up to him) (which i really shouldn't have been, he seemed really cool) and then said that he had a special thank-you for everyone that worked so hard on the hotel project….
….for a second i was thinking it was going to rain dollar bills
but it was just a giant "mahalo" on the trump building across the way. still pretty ok i guess. my idea for it to rain dollar bills is probably why i'm not a wealthy fancy real estate tycoon and he is.
THIS is what i do. i take empty giant rooms at the convention center and get them turned into giant aisles displaying fun and exciting products that are used in efforts such as to socialize, unwind, and procreate.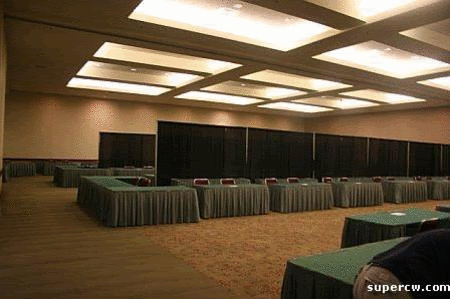 ha ha prez keeping everyone in good spirits. this show is like the mother ship of events that a distributor does. and you know who's job it is to do it? yup. that's right. MINE.
it was actually my 1 year anniversary too – my first day here was the monday after the 08 show.i remember walking around and everyone being like "oh, so YOU'RE the new event person. haw. haw. HAW. this is all YOURS next year" etc kind of talking like i was in big trouble. i was scared a little.
turns out it's totally doable. i get a team and everyone helps. and what's cool is that we have a lot of new people that are pretty killer – these guys do One Hope Wine, something that i'm so hyped on right now. you'll hear more about it soon.
three olives has the coolest stuff. have you tried doing a shot with the pop rocks yet? see me.
agwa for life! that stuff can't get you drunk either (haw haw). they were killing it at the show, i couldn't even get close to their booth because there was so much people.
briefing the models
ocean vodka's hula girl. almost looks like the banner came to live. LOVE it.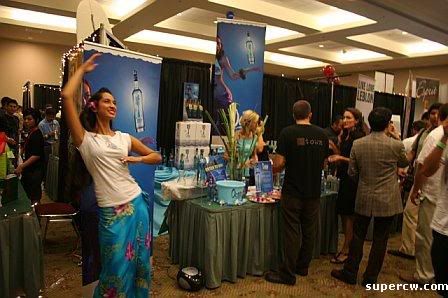 no travis didn't sneak in he actually works for better brands, haha. not too sure how zak got in tho. hey.
ka-sha-shaaa
eddie t came in and made his winning bombay sapphire/GQ magazine cocktail for the buyers. it was so rad. good luck in vegas man, i hope you take it. hawaii what aaaaa!
kyle came in and did his winning mai tai too. we were what you might call star studded today.
and mega packed. this was about when i had to set canon down for a bit and actually work.
one hope wine donates money from every bottle to different national and local charities. and the people that run it are really good looking.
i paparazzi'd the people from the new paparazzi. they are opening soon – the old brew moon. can't wait to see what you guys have done with the place.
saw KIETH MALINI!!!
and the manifest guys. see? new rule in honolulu: to open a bar you MUST be drop dead gorgeous.
couldn't even get close to maria. the canton table was like 8 deep the entire time.
craig from canton bartends at sansei on the big island. and he's like all about mixology and cocktails and stuff. i don't even know what this is but damn it tastes good in a canton cocktail.
saw nick. wait, how did you get in here. nah, it's cool. loveyourface.
the tamura's guys actually buy like pallets of wine at our show. be nice to them. buy your wine from them. LOVE them.
star studded, see?
haha i gave rob scoldings cause i saw him walking down one of the isles with this face. NOT cw's tradeshow face! i have a strict no-meanies allowed policy. he was just kidding and ya right like i'd throw red bull rob out of anywhere.  ps: WHO is your friend….
the o face was a hit
and the vertical junkies didn't show up until there was like, twenty minutes left. becker gave em the zip tour.
hury! hury! taste this! drink that? try this! now SPIT!
months of meetings, piles of paperwork, tons of emails, phone calls, logistics, back and forths, and 5 hours of actual showtime took 45 minutes to break down. it was a new record. we opened some of the cold beer about it.
and it was at this point that i was the happiest girl in the world.
then i went rageface. i don't even know how i managed to pop this off, because by the time i got to prohibition i was barely standing. i only had one sage julep (mmmmmm, julep) with the canton and big island people before completely losing my shit and ending up i don't even know where. (but hi! the jones twins!)
oh wait, i DO know where cause i got photos. aaaaaa. rissa was having the best night ever too. and look! i finally remembered to bring my ID with me to MONKEY BAR.
dance dance. rissa, did we dance? i hope so.
ed cruised in with a bunch of dudes that were dressed, like way way cool. i was like "ed! WHO are you with??" and he was like "THE BLACK EYED PEAS" "oh…."
nah, here's the shot. they were so rad. took photos with the bachelorette party that was cruising in the vip area that i think they wanted, then all took the time to say hellos to delve and xl and anit in the dj booth. hi guys!
blaise sato i don't even remember taking this. was this me?
HAW! i DO remember taking this. i was at soho enjoying their new hip hop thursday and the dudes getting CRAZY doing some rad dance on the dancefloor when eskae came and scooped me and took me to monkey bar and v lounge. ragewrist.
saturday i got fancy. i had to do it.
ooo loving the screen action
i was having this thing where i felt like i should make more of an effort to get out of chinatown. you know. expand a little. i mean, i DO have like a real nightlife column in a real paper now. i should see what else there is besides thirtyninehotelsohothirtyninehotelsohonextdoorsoho. i got as far as….. restaurant row.
but they have a new monthly so i mean, might as well. i always liked bonsai, burt is the cutest cutie in the world, and they are pretty good about mixing it up enough to always make it interesting.
tonight was sapphire. i liked all the little details.
it was a kim koga/rtfoto function. there was a lot of fancy fancy.
everyone got a photo too, which was a nice touch. you're famous, you're famous, you're famous.
drew, SHIT! i'm calling you back now. sorry =(
i am so in love with kim koga. she is like nightlife royalty to the max. i remember taking this picture to take it to my nail lady to ask for one like it. i'm not gonna tho.  i know i wouldn't be able to rock it as badass as she does.
HI!!
it's hard to see in this photo but miss chanel's microphone is coated with crystals (notice i didn't say be-dazzled. it's NOT be-dazzled!)
more little fancy fancy sapphire touches. i wonder how many people (besides me) did sapphire ice shots. that stuff is 94 proof you guys.
it made the slideshow very very appealing.
they had that mixed with videos of my husband. i was feeling it.
nightlife royalty with michele from TY KU who is in town. you might have already met her, she doesn't fck around. honolulu market straight up got INFILTRATED. watch out for some killer stuff happening the next few months with that stuff.
i was trying to do one of my "CHEERS!" photos with our TY KU shots but nobody was paying attention =(
cheers……..
cuties
i was sipping a lot enjoying the fancy. it's been a while. fancy isn't that bad. i met some cuties and listened to a lot of that popular music from the radio stations and stuff. got to catch up with russell who is just as giddy as ever. a lot of work friends were out so it was fun to drink with them. they really know how to… do that. i did eventually ninja but it was for a VERY good reason.
nosaj thing. he was in town. if you read my column this week you saw, like two sentences about this show. they kinda had to crop out the entire paragraph i wrote for space but that's ok. i have a blog to gush…. because OH MY GOD OH MY GOD OH MY GOOODDDDDD!!
wait, let me back up. so no, i didn't recognize the name but was loving the artwork on the flyer. daniel was like "you HAVE to see this guy. you'll love him, he's asian. he's from LA and does stuff with music that nobody has ever really heard in hawaii yet and it's GOOD he travels all over the world and he's produced stuff for like radiohead and kid cudi and won the project blowed beat battle and…." i was like ok ok ok, you had me at "he's asian".
so i walk in to soho and it's all dark and trippy and the MUSIC was like …… crazy
it was a perfect night for absinthe
so i'm like omg. these visuals. omg. this drink. omg. this MUSIC. WHAT is he doing aaaaaa my brain!!
haha i said it was like he was playing the soundtrack to a documentary about all of our lives – and i was like how does he even KNOW what that sounds like?? he just knew.
and he wasn't just like doing that sound modulation stuff, he was like making LOVE to it. right there. in front of all of us. i almost felt like a voyer for staring.
i felt like an asshole for even using my flash. sorry jason honey i was just tripping hardcore over the sounds you were making. it was the dreamiest ambient kinda hip hoppie mood music i've ever heard in my life.
jed had a saturday night off so i made him come too. so glad i did! i was like JEEDDD! this MUSIC OMG!!! i hope he had fun.
like, i just don't know. i mean. daniel was right when he said this is stuff nobody is doing out here. i was BEYOND stoked that peanut butter & ghosts brought him out here. i wish he could stay here for a month and just do a bunch of shows for us. for ME.
i want to gush more. i really do. it's been a long long time since i've been to a show that did this to me.
and his PERFORMANCE. just aaaaaaaaaaa. i love nosaj thing i love nosaj thing i love nosaj thing.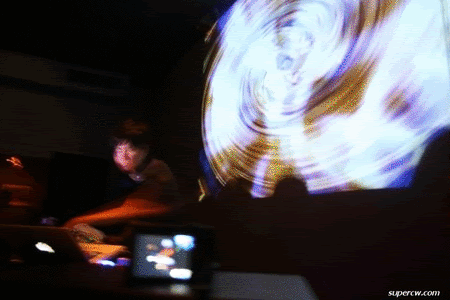 there were a lot of KTUH djs in the house. some were dancing but most were just kind of standing there staring like i was. it was so dreamy and wonderful. i saw him testing out a new synced visual show thing on his site. just oh my god. come back, jason. please. come. baaaack.
after the show i had to go to space truckin. i just had to. grady had not one but two film cameras. GOD have you seen three frames yet? he is a genius.
THREE years you guys! i'm so stoked. you're making me feel old tho. i can't wait for your party. sooooooooo there.
haha the sheraton people! all out on a saturday. it was truly a blessing i was so stoked. me and jed and sarah all started our jobs around the same time and just celebrated 1 year of working our asses off. it was a lovely thing.
so lovely that i didn't even realize it was way way way after last call.
you can always tell when it's that time at space truckin
random note: who's seen the ghostbusters car???i was behind it the other day on kalakaua. almost wrecked trying to follow it to see where they were going. come back cool interesting car person aaaaaaaaaa
after all that there's NOTHING! at least nothing i got photos of. it's all stuck *up here* which is a good place. cause that night got craaaaaazy fun. side note: tory rocks, thank god he didn't move to LA. One Kind Day WRAPPED! LOST season 6 on deck! i've got my lurking shoes on…..