no i don't have photoshop, mister professional tons of time and money on your hands website guy. yes i watermark all my photos by hand before i blog them. yes that's why it takes me longer to get these out for you. no i don't have time or money to use/learn photoshop to do it in a batch file. YES i have time to find cute free online services that do it ten at a time tho… and yes yes yes i was lurking kristen twittering at fresh cafe a few weeks ago.
we were watching a movie across the street. i mean, from across the street. fresh cafe is so fresh.
i got to kick it with fresh people at fresh cafe. so fresh. man that word is really cool to say. i think that might be my new word for amazing. fresh fresh carol is fresh.
aaron yoshino i, along with about seven million other people, saw you in the blue scholars video that's all the rage right now. that video was so fresh. superfresh. god i loved sabzi  grinding in the background the whole time too, hawhaw. no i didn't watch it like seven times in one day. ok yes i did.
tiffany made me eat one of these mini lemon cake things. MADE me.
then she made me do jello shots. as many as i wanted.
echo is so fresh. sorry sonny, i know it's bright.
ara and kahunahana talking about super fresh shows coming up. like um. the blue scholars at loft. and um um um diplo at next door later that night.
and me lurking kristen again. i love this girl. she totally picks me up and takes me everywhere i say we should go and hangs out with me and loves it. then later when i'm going about my day i get like seven hundred people asking me about her. cutie.
i was watching him watching the movie. superlurk.
awwwwawaawawawww there's that faaace.
if you go here early they do like some crazy omelette bagel thing. if you go here late they have yummy soup and fresh music and stuff. if you go here anytime you'll see lots of really good looking people. fresh.
oh, and ryan lau is having his birthday party (twenty EIGHT? are you serious ryan?) slash aloha fixed anniversary party here in a few weeks. expect to see this times a thousand.
meanwhile i was tsk tsk'ing daniel for getting inked at my very first ever acid wash, soho version
i mean, it's just so permanent you know? and right there all big on your arm. that's a big statement. forever. maybe you should add like some nice flowers around it or something. ps: i see you built a nice back bar. looking good looking good.
can't remember if this was my first ever or my second ever actually. i think it was the first. oh yup- my first. i remember telling nick and he kind of didn't believe me.
i really love that people get all in to it. that's such a good look. when you're dressed out in theme it means you will dance. no brainer.
and when you wear matching flourescent pink rufflie skirts just expect christa to go swoon-crazy. so fresh.
nina is on a plane as i type this going really far away so i am bummed. because nina rocks like friggin you don't even know. such a rad chick. freshfreshfresh.
vertical junkie headmaster russ was there! this WAS my first one! i remember so good now. haha his shirt…..
tommy and i bonding while the killer shoe guy makes faces
me and killer shoe guy dancing while apparently someone else still has my canon
oop! that is all. i remember raging my face off that night, but for some reason it stopped there. that's cool, i got a lot more to tell you. like TSUNAMI's for instance. jeeeez! hey, if you ever go here, go with sake people. they so totally know how to eat and drink. and eat and drink.
the infamous poke ball.
and the even more infamous sake bomb. god, tsunami's please have asahi on special forever infinity ok? i like having to crawl out of a place.
yosh brought us this amazing fish (i said amazing instead of fresh because fresh might sound like it wasn't cooked or anything)
and man letmetellyou: it was cooked! like cooked ain't never seen cooked. soooo ono.
i had to drive all the way back young st again to find the place at first. it's before keeamoku, not after you guys.
bottle two. yum i want some of this now. mizubasho. winnerrr
oh! and i spent saturday at the canon club.
with all the pirates
mike keany got us all on lock – i want that lens
noa invited me and i thought he sent it to me on accident at first. "noa? i'm not a pirate tho" i said "YES you are!" he replied. i wanted to die. love this group so much. i wonder if i'm the first blogger to ever get crew'd.
models
more keany
noa
canon club
young artists
john hook
yes this is really his hair. he did it special to renew his license. this is just one reason why we love john hook.
best dude ever
more keany
had some food after at apartm3nt. grilled cheese and tomato soup. they put something oily and green in the soup. makes it yum.
moreeeee keany
sunday was work. nonwork.
sommer launched m&r asti's new rose at the moana lani spa. just oh my god.
miss hawaii was there
and i ate this
and hung out here
and talked story with maria. after our massages. nonwork.
THEN i got invited to a special preview of shokudo's new night time tuesday pau hana thing. there was a lot of famous twitter people there… twittering.
@titusofalltime and @monchalee. twittercelebs.
the metromix gals. too far away from me.
met ryan from island fire. we actually met before. @islandfire.
everything on the menu is $3. and it's not, like, cheap stuff.
it's super epic stuff.
a modified version of their honey toast that we all love so very much. this is the $3 version. i know right.
hide and metromix are the shit for inviting me to stuff like this. i still don't feel like i'm really, like, real media but fck it. cheers.
oh wait. what you heard was totally true – titus stepped in for me and arm wrestled ac. we were gonna battle for hide. she beat him. damn.
oh! and hahah, later she was like "oh, hey. this is my boyfriend kanoa" and i was like "um, we all know who he is."  biggestdeallocalsportscaster.
then last week flash made all of us come to apartm3nt at 7:15 sharp. THEN he made all of us crawl under the bar to hide from matty boy.
that was the best part actually
was cool to see the old crew all together again. even if it was all scrunched and giggling behind the bar.
we were like "shhhh! shhhh! stop giggling! he's gonna HEAR US!"
SURPRISE! happy birthday matty boy
i didn't realize it was his 30th til i saw jonah's cake. woah. nice work kiddo. you made it to the manly decade.
eskae got the hot dogs. i didn't realize you actually get three of them. MAN i love this place.
lindsey came kinda late. after the surprise even. he was talking about amazing food here probably. just guessing tho.
i was more stoked on his non-apartm3nt footwear.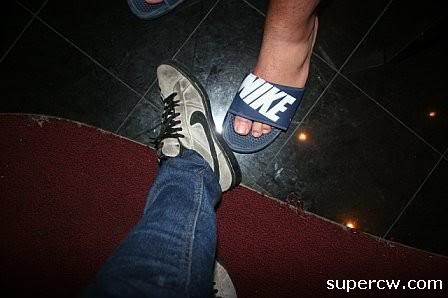 THEN omg omg. i got to peek at james marshall's art he was finishing up before his big show. lurking mark lurking. dalek…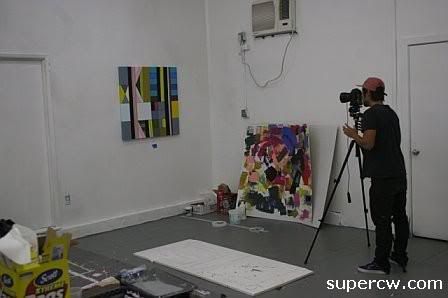 i love this picture. big lance.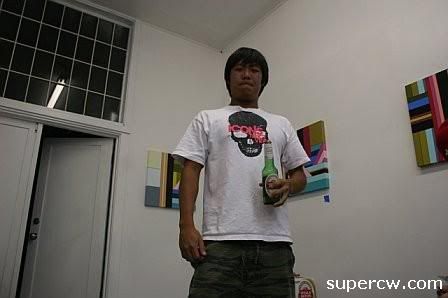 jun and dalek for some reason always matched every time i saw them. haha everyone was saying it was like the movie twins.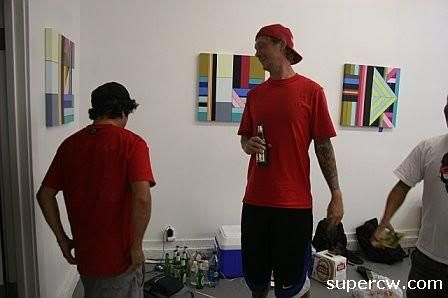 race called them junny divito
oh wait., nevermind. they are totally the same height.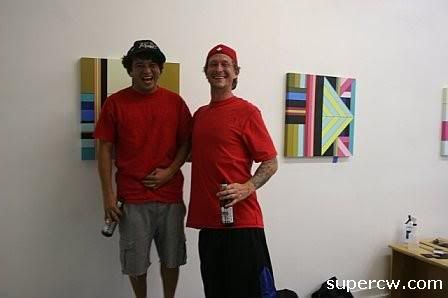 ah! my second ever acid wash. two weeks in a row. this is a very good wednesday spot.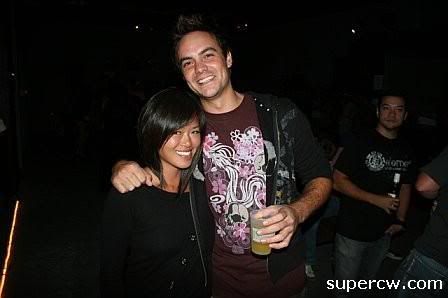 i mean come on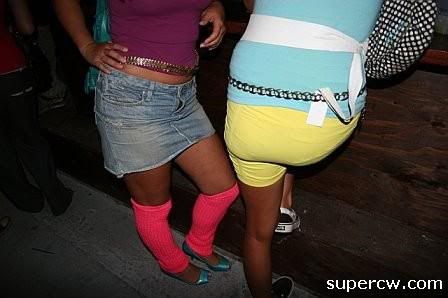 eric is back from working at an orphanage in africa for like 6 months. i missed him. he's fresh.
rick rock. you go here?? rad…
so much good brain. such a waste how wasted i was =(
i DO remember dancing my face off
i DON'T remember jun and lancifer coming over too
then we all had drinks at rum fire. the next day i mean.
then i went to the supersecret invite only but you can go if you want to cocktail culture like you've never seen it in a long time at least in honolulu thing.
i didn't know what 2/3 of this menu said. too many woah ingredients. so fresh.
um. kyle is putting elderflower caviar in my champagne.
haha ryan watching him work. it was magic really.
more people dressed in theme than not. last night too. dressing up is seriously the shit right now. i'm about to get back on that train too.
i mean just damn. look at them. owowowow.
someone has a g9 and i can't remember who. i wanted to take it and run.
no he isn't lighting that on fire. ok yes he is.
i asked christain if i could write about the event and he said he had to think about it. then said ok but only photos of the cocktails. shoot. i didn't really get too many like that. i hope he's not pissed.
then BOOM! contrast magaine keeps affirming the fact that i want to marry it…..
….they had another event
i know i know i know. you're not trying to be a party magazine. you don't want your mantra to be all partyparty. you want to be unique and non party. um. can i just say? your "parties" have NEVER been anything but unique. and now you're gonna go and team up with the in4mants and the contemporary museum??? just jeez.
oh wait – i saw ryan lau! he's totally turning 28 on the 28th.
lancie diraceo
more keany
good way to make daniel hustle up and build out the bigger room at soho. another reason why i want to marry contrast.
don't think it wasn't anything but epic the entire night. a lot of people came and left because it was so much people, but guys… it's a CONTRAST party. did you think it wasn't gonna hit capacity? hawaiian time + contrast events aren't a good match.
i, on the other hand, am always on time. or early. see? perfect wife for contrast. i got to hug kaimana he>i and brooke too. love these people.
HI TITUS!
keany loved this pic of me. ok i did too.
lurked brandon spencer. probably talking about something amazing with haj.
lurked zen's profile.
and ryan ota. and smilin silent john.
kaimannnnaaaa
work friends.
the art the shirts the party the night. i couldn't get much in focus so aaaa.
but awawawaw. twins.
ito took me back inside to get a poster signed by dalek. even turned around so he could have something to write on. do you know any magazine editors that would do that? i want to marry contrast.
i just realized i didn't take pictures of the art
well there kind of. jonah and kristen. OH! she got lots of good shots of the art. lurk her fb it's all there.
meanwhile the lights went down and the place went friggin apeshit
michael paul schultz was DETERMINED to go in the bathroom and get a photo. we were laughing at the "bathroom doors" being black curtains and the toilets not really being completely club-ready. it was more like a photobooth.
the in4mants had their hip hoppie friends play music in the next room. it was just as apeshit.
i don't mean that in a bad way though. it was so fresh.
derek
kieth
silent john
ryan and iantwitterface
jimmy
husbands
husband
jun rageface
actually, everyone was rageface. race you left way too early bro.
cause we RAGED.
oh, and apparently plaid is so hot right now. guys. plaid.
2am came way too fast. tonight was killer. had some drinks with hank and his lady. then the lights came on.
i didn't get one good pic of maria. sad face. except this one. smile.
when the lights come on at like level4 or somewhere it might get kinda scary. when the lights come on when ira, jr. waikiki and ramyt are playing house music people go apeshit and dance even more.
i want to marry contrast.
aaaaaand that's it. aaaaand it's friday. the weekend after the huge trade show for work. if you see me out buy me a drink. or i'll buy you one. christarageface.