ahhh. not so much this sapphire martini, but more so the mirror up there. i was in the bus driver club for quite some time and sitting here having a cocktail looking at that kind of made my evening last thursday. i'm almost positive that came from the hubcap of a bus.
not like i need to warn any regular readers, but this one is back to my usual length so if any new readers accidentally clicked over and aren't big scroll-fans you might want to click over to a more attention-deficit-friendly internet selection. meanwhile…. my perfectly crafted sapphire martini made by christain self. genius really.
i was chilling out trying to decompress before an event at bar 35. and oh my god speaking of bar 35 did you know they just added euro fries to their menu? look, this matters! they give you like ELEVEN different sauce choices!! the kimchee mayo definitely gave me a boner. damn i need to get out more.
anyway, this was work and it wasn't. yes, we were drinking wine. yes, we were raising money for surfaid international. but also: they were showing some of dave homcy's cinematography which had me catatonic on the couch for a while watching. he is so amazing.
and he is also NOT out of town like i thought!! DAVEEEE!!!! this guy is never in town.
ordering my 3rd or 4th glass of wine i noticed eddie t stationed his sapphire gq award behind the bar. right on man. hope you take the whole thing.
saw these guys at the bar. was fascinated by their suits. ..
…and their attache cases. i asked them what on earth they did that required them to wear suits and carry attache cases and they were weird about answering.  i can't remember but it was something like "marketing……company"
oh well. more us. more WINE!
crystal thornberg isn't out of town either. HI CRYSTAL!! this is a big deal i never see her.
more wine more raffles
pretty sure everyone i know has a bag like this now. we must have given away 2 boxes full in the past 4 events. hey guys… wanna go on a wine hike?
god the music was amazing tonight. we all just found out about poor MJ today. don't think jason the 45 revolver wasn't killing it with tributes. mixed in with stuff like groove theory and mary j. god i love this guy.
skipped back to thirtyninehotel to talk to the adriennesohardtospellhername and the other weekly writergeniuses on the lanai before the vans party. it became an unprompted new weekly people gathering soon with the arrival of aaron yoshino…
…and ann'e au. oh and totally unrelated: kahunahana is about to re-open next door. it's happening. we get next door back. be excited you guys – that place is essential in chinatown.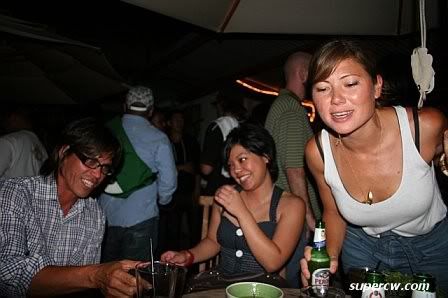 also some news from tahiti rey… she twitters
tim jackson. still killing it in the honolulu skateboard world i hear. hey, tim. over heeeere.
by the time i wandered inside from my extended lanai chats with geniuses it was already looking good inside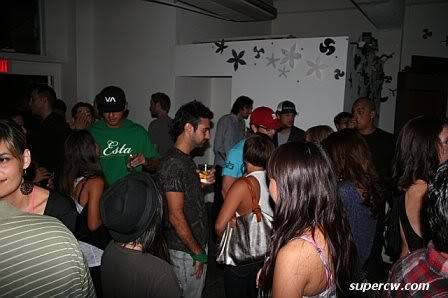 i was trying to get, you know, photos of people and stuff. but i don't know if you've ever seen me when you're out… my flash is bright. like, crazy bright. like, really bothers people bright. sorry philip. see you at MGMT…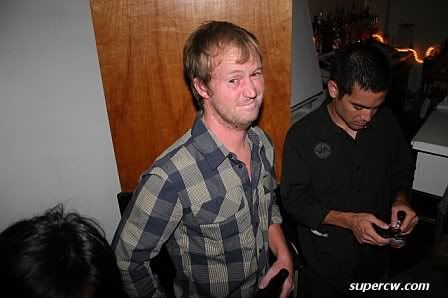 sorry alf and ian. GOD. this stupid flash.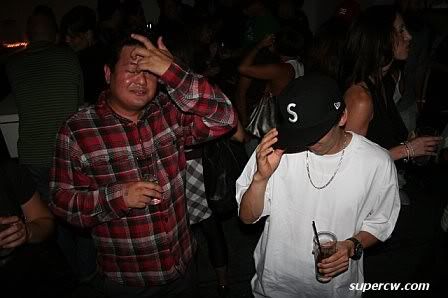 caught ola's howzit…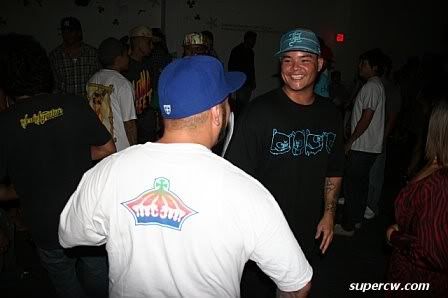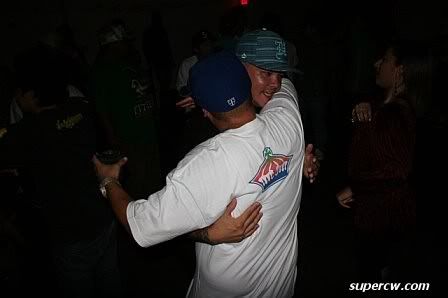 just remembered where i got this 10% off at american apparel coupon from. RIGHT ON KRISTI! totally forgot to use it when i went there. and i want to return this $32 shirt. i didn't even wear it. i'm keeping the shades tho.
i'm realizing now that plaid seems to be hot right now. i mean, this is the crowd that knows style. and i'm seeing a lot of it.
woah. crowded. and i'm starting to get drunk.
yup. faded.
the good thing was that i'm pretty sure i wasn't the only one. see, guests were treated to sailor jerry. the stuff that's 92 proof. 2 drinks and you're done.
back to what i was saying about plaid. hi! stylies….
and back to what i was saying about being drunk. that's sailor jerry #3 for me. and based on leroy's red face i'm guessing it's #3 for him too.
blaine wasn't drinking sailor jerry. hence the chill ass chill wall stance. i was drinking sailor jerry. hence, blaine not in frame even a little bit.
drunk christa with a bright flash. i think it might have gotten a bit, how do you say, annoying. people started hiding from me….
…which sort of hurt my feelings a little.
…so i went on offensive. cameratttAAACKKK!!!
sorry alex sory kieth. i know. it's bright.
chanel is so fierce. i really wish i remembered doing this.
cheynna was just chilling outside looking all american apparel. tiare was just chilling looking all diesel. and tori was chilling looking all fashion designer. no really. they always look like this.
meanwhile inside derek mori was looking more stoked than usual
rob and dar not even phased by drunkchristabrightflash, which is why they are my new besties.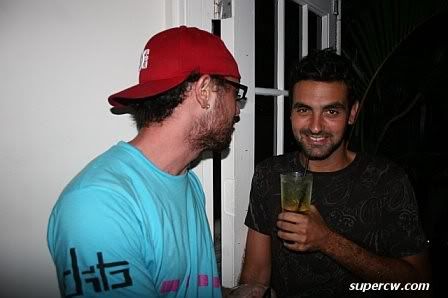 kera only feigning annoyance at drunkchristabrightflash. i can tell you don't mean it honey. and wait, maybe i'm not that drunk anyway. i mean, this shot looks pretty good. maybe i'm actually sober…
…ok maybe not
got scooped major by zenny
meanwhile i was trying to scoop his stylies. he's one of those guys that puts outfits together without really trying and walks in to the room with the most swagger ever. reminds me of a male zana.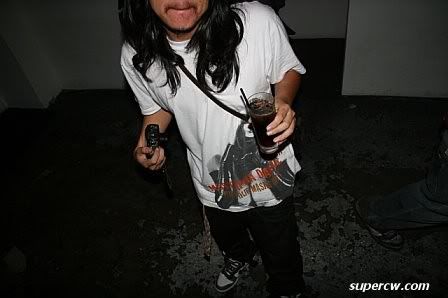 ah god. drunkchristabrightflashattack. gomennasai buddy it wasn't me. it was the sailor jerry.
so if i could make a graph for tonight, it would be the level of sailor jerry versus the level of annoyance at my bright flash, like the one demetri martin made about how hot a girl is versus how long he could listen to her talk about her cat or something.
take ian okui for example….
annoyed at my flash…
….but tolerant of it. hence, sailor jerry level = high.
derek is smiling at me and only wincing slightly.
hence sailor jerry level = medium
ok. i might have started to get a little out of control.
damn ryan you know her? woah. beauty.
damn jules you know them? woah. cuties.
then we all went to monkey bar. oh wait.
and just yes god DAMN j-rocc was killing it. best music tonight everrrr. OH! and kera told daniel that they were giving awy shoes tonight. i'm not so sure about that. at least, i hope they weren't. cause i didn't get any.
maybe someone on the sailor jerry got a little too out of control and started throwing these in to the crowd?
woah hi, i love you.
enough of that. it was fun. you should have been there. the end.
if you want the real real then you got that too, but i'm moving on.
saturday we were on our way with jonah to the white party. and maria was seriously riding there like this so she wouldn't wrinkle her betsy johnson dress. i died.
ya right like that dress waits in a line
i mean come on. i've only been going to this party every year since birth. i think we're ok to skip the line.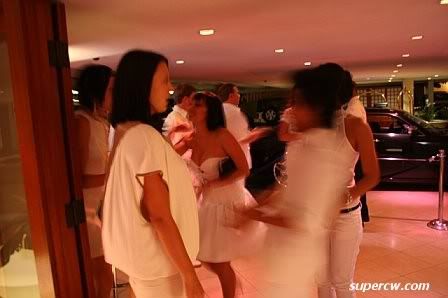 this is andi. the newest vip host. i might be crushing on her.
oh, hey. i know it's weird, but i only take the elevator to this party. it dates back a while. since the matty/komo days actually. i think cheryl taught me, actually. so much more grandiose arrival than just thumping up the one flight of stairs.
see? grandiose arrival. woah, hi white party
this photo reminds me. i had to dig but it was worth it. one of my favorite white party booth schenanigans shots.
we were all calling maria rocker barbie.
starting now, expect to see a lot of this dress
except, please don't cover those up again ever. *sobs*
so graham funke is back in his second home again.
and me and jonah were butt-twins
this reminds me, i was still hung over from the vans party tonight. when they picked me up i saw maria's face fall a little at how i was looking and carrying myself. zero energy christa.  i. was. hurting. what's cool is all i needed was like 2 vodka/red bulls and things got goooood.
well wait, derek helped too….
…and for that i love you forever.
alex healy came in telling flash to shut up because he spent like three hundred dollars on his outfit….
…to which i said HOORAY! take that, economy.
it matters. now where the hell are we all going to wear these white pants. maybe we should do a white pant wine hike? anyone?
every year i see a dress kinda like this one on the left…
…and every year i want to pull it open. ps: rocker barbie
jackie messenger doesn't take shit from anyone. and i still want to pull open her dress.
i didn't get why they called rocker barbie juno. i'm not reading that sign anyway, maria silly. i'm staring at your chest.
kristen was out. i saw her.
and OHGODHOLYCHRIST does it get any cuter than this? do you just want to die?
no? ok well HOW ABOUT NOW!!! death by cute! aaaaaaaaaaaaaahhhhh!!!!
becker actually walked in with this get-up. ask him. i was so mad. HELLO! could you TRY even a little man??
clarisse hung out with us for a while. i drooled a little.
bwaaaaa. rocker barbie, that's all.
if you were there and we didn't get to say hello, sorry. i kinda chilled in the back a lot and just lurked.
kristenkitten kept me company a lot tho. just having her sitting next to me was raising the cuteness level like eight octaves. gaaaahh. death by cute! die, die!
cute. lurk. cute. lurk.
ps: guys watching the dance floor. if anyone happens to be in high school reading this guess what. it never changes.
i started to forgive becker once the red bull vodkas kicked in and the hangover finally started to go away.
shoooooots becks.
thought it would be a proper time to turn around my table sign
oh ya – cause we were sharing our table. and depending on when it suited us we would turn it to say either my name or his. this was a fun game that didn't get boring for either of us the entire night and i'm not even kidding.
this is how rocker barbie says hello to people
and this is a hottie-tour with flash.
flashcam: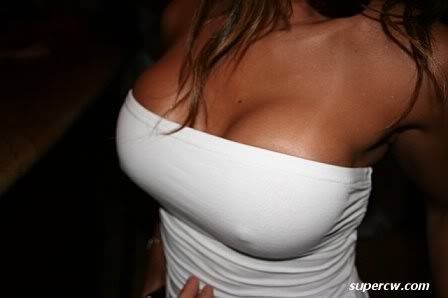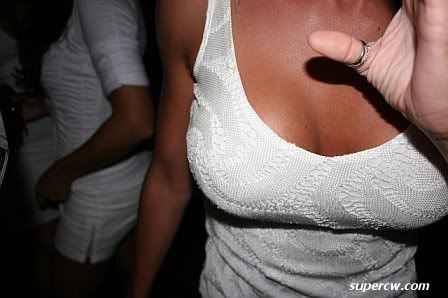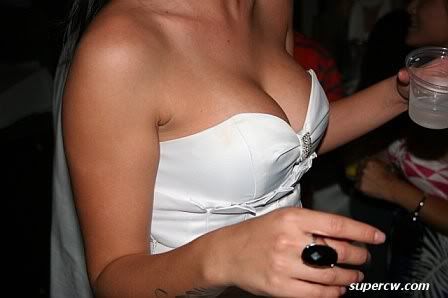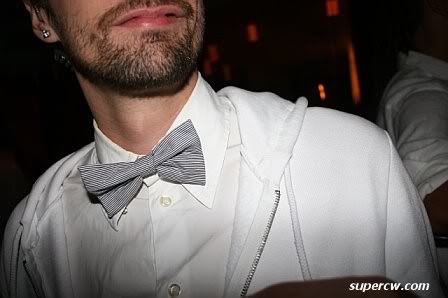 flashcam back to the beckersupercw table. we're doing better now, thanks.
cute. lurk. cute. lurk. i saw these shoes and wanted to cry from the cute.
haha tracy chan from metromix and literally got MOBBED
ha ha it's why i love these guys though
haven't seen vince since like white party number 3.
GAAAAHHHHH. *dying from the cute*
see? luke walsh was there. you already know christine hitt was.
brandon spencer totally stole my idea. wait i didn't even do it so it's fine. but i was gonna do that too.
it was also soul clap's 3 year anniversary tonight. and you KNOW they were playing some kick ass music. i love graham funke but man i was trying to leave so bad to get to chinatown too. finally hopped a cab with dosomethingtonight.com
made it JUST in time
oh god it was sooooo good. you have no idea. MJ never sounded better than right at this moment.
these guys got it soooo on lock too. i hope you visit their site regularly. i'm addicted to corey's blog.
aw jami
aw jimmy
see? if you read my column today you know. people were literally cheering all the way out the door
and turning the lights on to get us out at last call did nothing. it might have even got us more excited because now we could see each other's dance moves better. soul clap + MJ for life.
love you guys.
congrats on 3 years of soul clappin, eskae. we love you so much dude.
oh yeah! i almost forgot that i hopped in with ana to see living room. i wasn't gonna WALK home! she was bumming because someone broke in to her car and stole her madonna cd… but they totally left her son's game boy on the back seat.
this is living room. i don't know what time it is. it's late.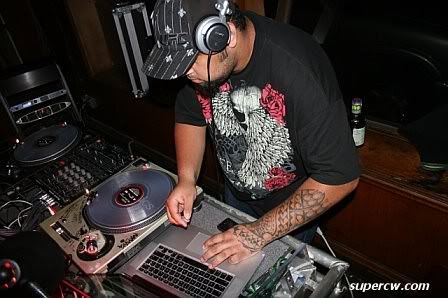 oh yeah. we danced.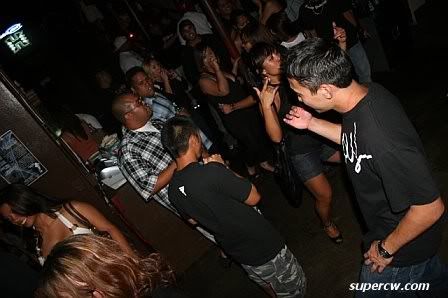 something happened. oh yeah. a fight. i got my leg stepped on. was bumming at the footprint on my white pant leg. we decided to hit the lounge instead.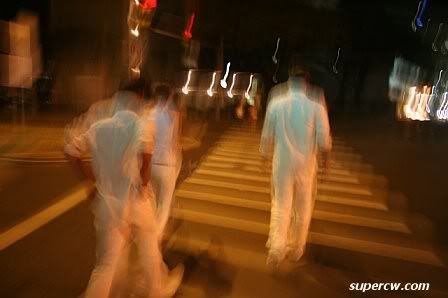 walked by the old buti groove. aloha mj.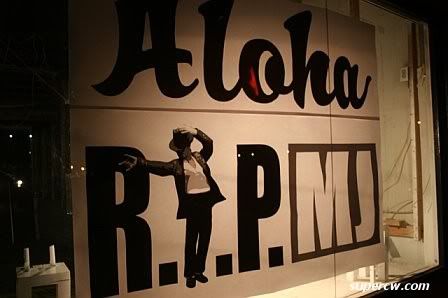 ahhhhh, the lounge. that's better.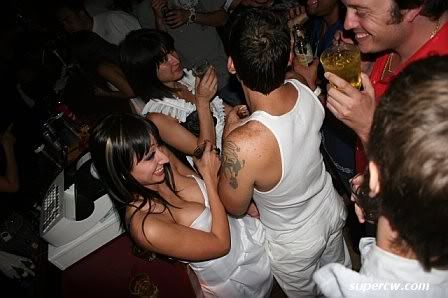 i think this might be the first time i've seen matty boy at the v lounge. between him graham funke and me it might have been the whitest night they've had since they opened.
yep. definitely the whitest night they've seen.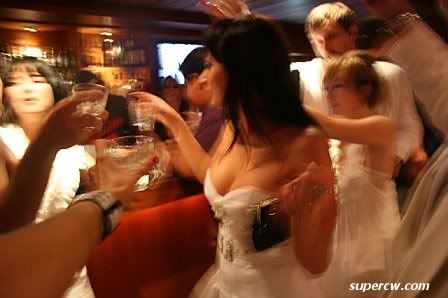 money shot one for jonahface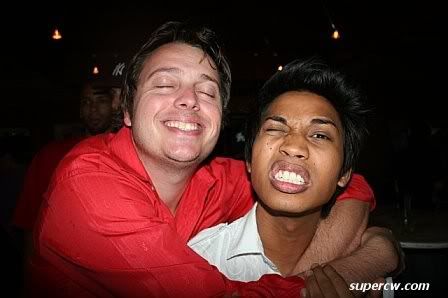 money shot two for jonahface
they played Q Lazzarus and you can bet our friend graham funke (yes that's his real name) did the most epic mangina replay you've ever seen in your life.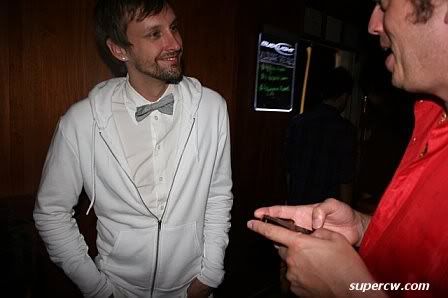 gahhhh i love these people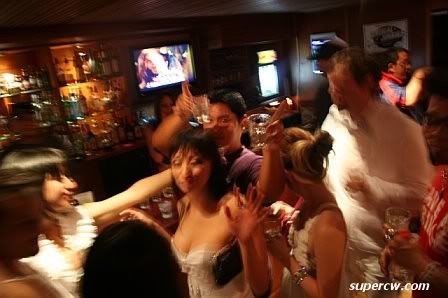 NEVER seen kayce drunk. tonight was golden.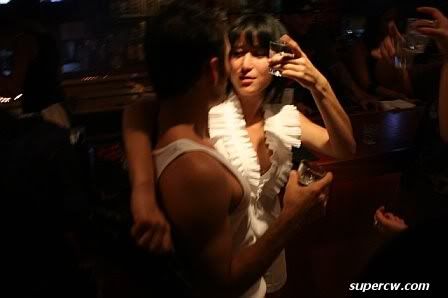 tonight was golden. GOLDEN. the end. ps: aw moani.