so my big bossman was all stoked when he had the first pic in an entry i made a while ago. it was so rad, you guys. he was like "i made the cover!" and the other day he was like "can i have the cover again?"
so here is my dilemma. do i give my boss the cover even though he's not around til much later in this update or do i show you maka in a hot tub? sorry becks, we love you but maka in a hot tub has to lead this week.

so hi. a few weekends ago i found myself at bayly's going away thing at his house. he is going away to school in california.

this was right when zak was getting back from his world tour. the tour on which he obviously didn't wear a speedo.

but ya. maka in a hot tub. he picked me up and took me out even though he had like swine flu or something. "why are you even out of your bed?" i was asking him as he was blobbing on my couch while i got ready. "well. it's been a while since i got to hang out with christa" he replys. why i love him.

zakcam. i feel so honored. dude's a pro.
zakcam. nice burger. note the buns were really that much smaller than the burgers. it was a dilemma.
speaking of zak (and sorry i didn't use all your shots hon, this update is kinda long already) we were all lurking the opening night for the Surf Film Festival. I kinda used this shot for my column, i hope that's legal. i super love these guys lurking the academy tho….
these guys too. oceanfaces.
oh wait, i get one of my own! smile, ocean faces. ha ha. (love you)
lance, if you're reading, none of us were there to see your film…..
….it was to watch you give a speech bro
awwww juaaaskiddin come on. ps: oh haii!
i was all stoked on life after the film. i even managed to talk kalima and cid into hanging out with me longer. he gave us a private tour of 2059 with 'zooloo. i was beyond hyped to finally see this piece. there's a lot of layers to it – i probably only understand about 3 of them….ok two.
all i know is this photo, with the whole hawaii in 2059 thing, totally blew me away
they were all pretty amazing actually
and seriously, who even uses QR codes yet? i know i saw it in japan but just thought it was another cool game or something. no way. totally like messages only your cell phone camera can read. soooooo WOAH
"deee-doo-doo-deee-didaly-dee-dee" MESSAGE!
nice thought patterns, guys.
meanwhile, the after party for lancifer's flick was kinda stale. i already saw the movie, guys. aaaaaaa.
nah, that's cool. perfect even. it gave everyone else a chance to see it since, um, THE SCREENING SOLD OUT!! yay lance. we love you dude. i needed to get moving to check out the deadbeats anyway. it's only their cd release party.
love you guys. my favorite band in hawaii even. you get two.
ok three. (trying to focus, shit.)
ok, four. don't move! i'll get it….
ok, five. fck it. i give up. (love you)
hey matty! why do all your friends look so young and beautiful? oh, duh. ocean people.
i hope nobody there was his girlfriend. because i smelled his hair. had to, sorry =(
and yes they killed it, duh.
i saw aaron there and got all excited. mainly because i couldn't get my camera to, like, take good pictures tonight. could have been all the pabst, but was probably the canon. it's not in to me right now.
tracy was there too. this girl has a knack for finding the best looking people in the place.
they were so fun
i saw chris! if i wasn't in a hurry i'd google for the of montreal show when he took his shirt off. it was rad.
back to icons2 after party for more faces. oh my god margot. we love you love you love you. and wait, is that zen? THERE's zen!
bobface
her face. (i love you)
oooo she got a kalima shot. i bet that was a good one.
saw boogz
kera being completely caught off guard and candid.
this guy face. WOAH!
the jump offs jumped off.
it was rad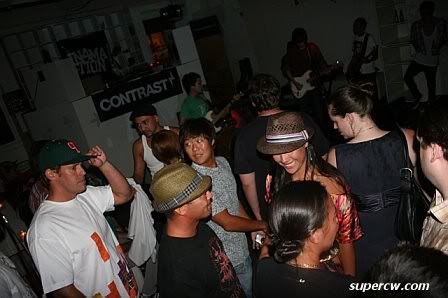 saw her (i love you)
kieth is "enough with all this blog nonsense". i couldn't agree more. wait! photo!
ryanface. his happiness comes from the inside.
jackiefaceandbody
oh rad.
troy gomes taught us the group swirl handshake.
then bailed. swirl psych! aaaaaaaa.
the jump offs after jumping off
double wink
off the wall is my favorite mj song. to-niiiiight, gotta leave that nine to five up on the shelf… and just enjooooy yourself.
ok, now i am drunk. how can i tell? well, i don't remember seeing buba at all.
haha daniel.
oh wait! i'm already at v lounge. the after after party. too late for vicki too, guys – she's hitting the mainland. no more 3am dollface.
dollface + dollbody
family reunion is my favorite v lounge song
have you seen paul fisher's site since he started doing it for real? i'm in to it. he's got a wicked expensive camera and is in the water like every day. right on man. i wish he put names to the faces so i could stalk them. ocean faces.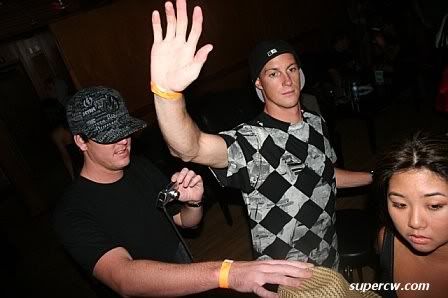 someone else took this. i can't even remember. paul? paulcam?
yeah, i think it's paulcam

paulcam?
snicker
haha travis. classic face.
ocean faces
cid is a power horse. i know because i have a pic of him sleeping standing up at thirtynine. i can't show you, it's just bad. but ha ha here is is at 3am. back up and at em.
speaking of., why am i still lurking you guys this late. sorry bros. (ocean faces) (love you)
i'll just exploit 3am dollface some more
oh dear god vicki is going to kill me for using this pic but could it BE any more classic? WHAT did you do/say troy???????
maria made it way way late. we might have been sloshed.
tonight got weird. and now is also weird, because just as i scrolled to this pic michael jackson is singing "then let me take a bite", like literally JUST as i saw this.
thanks lance. nice film. nice party. nice after party. nice after after party. nite.
the best dim sum is mei sum in my opinion – they have that garlic fried eggplant that is like crack. we also like legends but it's always packed. the place right next door? just fine.
oh woah – these are from way long time ago. i forgot. i went to a really nice persian dinner party at darieus's place.
we could see the giant south shore summer swell from up there.
it was making daniel drool a little
i've actually been here before – it's the top of the windsor. one of my superrad co-workers from the jic lived here. man i love this roof.
it goes like all the way around
to the other side. hey! thirtyninehotel!
now one closer. thirtyninehotel for life.
darieus. probably telling mike romano something brilliant and interesting.
the sunsets from up here, are you kidding me?
so lovely
woah
sunday i was part of the coolest thing ever.
jimmy dicarlo from beware and dork sunglasses was doing his next ad photoshoot with aaron. i got to be in it!!
the day was like a feast of visual treats
working with aaron is so rad too. i saw the shoot on his site and seriously can't believe how much work they put in to it.
speaking of visual treats….
…i had a drink at pearl the other day.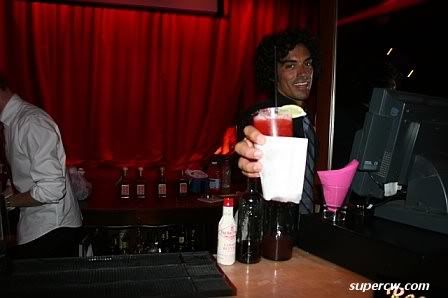 nah nah nah, i was judging a cocktail competition!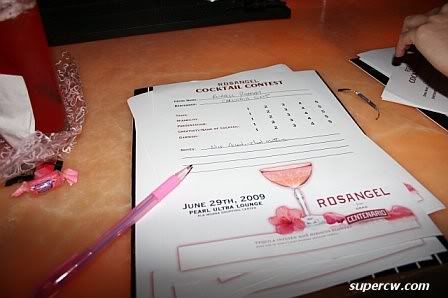 tracy chan was my judge-neighbor.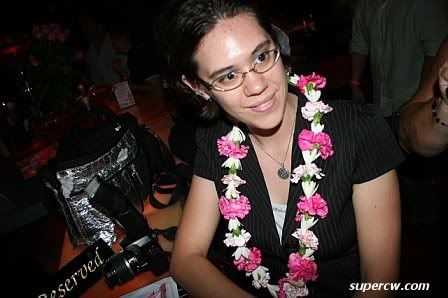 james isp was my other one. wow, this was a while ago now. i need to stop messing around.
christain. he made a SPHERE of ICE and poured his cocktail over it all slowly so it SPUN. jeez guys.
marty made his spicy
i didn't have a dump bucket to spit. i was drunk after the 3rd one.
it was a rad night tho for sure. a HIBISCUS infused tequila??? OH YUP!
there i am.
this one was smoking. like, LITERALLY smoking. jeez guys.
in my next life i think i might want to be a bartender.
the smoking one got quite the crowd response
jeez guys.
LINDSEY!! what are YOU doing here? i'm supposed to be working….
oh duh, it's a $100000000/table event at the bishop museum. of COURSE nobu is there. well. this is how that looked:
this is the view from the real bombay sapphire lounge. that other one up there was just a little teaser before the main event. i could have died in there.
they made it look so sexy with the pink lighting. i could have died. i did die. i'm dead.
the museum is so beautiful too. this was a really amazing event.
non work. hi guys….
i got to eat amazing food and drink amazing 94 proof sapphire and drink amazing wine from our amazing wine expert tyler and relax in our amazing lounge. we won't talk about before/after cause that ain't so pretty. but just as a whole? i love this job…..
ha ha your name's not daryl.
"daryl's" food tonight. all fresh/organic/amazing. i love town.
nobu just happened to do my favorite dish – the rock shrimp. just oh my god.
lindsey also took me and maria to see the special screening chef mavro did of julie julia on monday. it was THE BEST flick! swear. so good. it was about foodies. and blogging. and addressed everything there is to laugh about regarding both of those things. best monday ever, i love you lindsey.
my favorite wine expert was there too. pouring our grand crew stuff. that's like our most expensive wines…. hence, the far-away location. if you want it, you gotta work for it.
bernard uy! omg, wall2wall. i was fanning out. you guys – have you ever seen a better company about page than wall to wall? DOUBT IT AAAA! the pics? they MOVE if you mouse over them. funforhours.
nonwork
oh, snuck in to the science center too
very cool
my favorite wine expert taking story with ed kenney. i mean daryl. oooo, tyler sometimes does the wine dinners at town on wednesdays. dude, it's like $25 and you get like THREE wines. maybe four. i can't remember. it's all paired with amazing town food too. check their twitterto see when tyler is there. the bestbestbest.
you can't see but that's amy hanaiali'i
speaking of nobu. i sampled their new happy hour.
jamie is a food blogger. and quite possibly the most gorgeous creature on earth.
i was having a hard time looking right at her, she's that beautiful. i got to sit with her the whole time though, omg. dying. ps: this is gonna go in a piece i wrote for metromix. guess what it's about…. (drinking)
every time i see dave newman i cheer "NOBUUUUUU!!!!!!'" i've been doing this since their food station ran out after 12 minutes at the joy of sake last year. omg it's almost been a full year. and i still do it. and he still smiles. rad.
their chambord caviar in the modluxetini. oh yeah baby.
modern luxury
OH MY GOD! that's right. so all these were on a point and shoot that i never use because i lost my canon briefly. but ya, jordon called me that day and was like "eddie vedder?" …. um YAAAAAAAAAAJFJFKJDFGKHDSGKDJSF!!
the pre party part was actually my favorite tho
crystal is not high on drugs. this was the day she got lasik! aw, now she can see when she surfs. she's so megastoked. ocean face!
eddie vedder. shoots.
sorry, no way i was going to take more pics. they had these crazy power-trip security dudes being major jerks about any phones or cameras at all in the theater. i got scoldings for even getting this. i heard others were better at being stealth. i'm gonna google it.
sorry, not much oompf in me right now. in the middle of a very hectic work week. i'll get you maria's amazing bday and other amazing stuff soon. there's good stuff.