aaaaa i don't drive to manoa enough. oh, and take that! new no cell phone law. this is just a measley canon. with no phone capabilities whatsoever….

so yeah, manoa! i love their little theater there. in fact, i hate to say it, but it's one of the few reasons why i ever go there. tonight they had the place totally transformed into a high school gymnasium for The 25th Annual Putnam County Spelling Bee
complete with a lunch "lady"
and JUST OH MY GOD. they think i'm cool enough to be IN the thing. i got to be a "guest speller" on opening night which entitled me to go backstage during intermission. i was dying.
i mean. seriously. even john berger didn't come up there. i was feeling like major media tonight. me. with my little blogface. aaaaaa.
(closer) aaaaaaaaaaaa
back downstairs i was lurking the opening night faces. val from valerie joseph always looking like a million bucks…
back to work! ah! it's summer time so it's totally mojito season. if you happen upon a store you might even get to try before you buy….
and DUH it's ALWAYS agwa season. remember the stuff that doesn't get you drunk*?
*until way way later then watch out!
aw daniel. he's keeping score of all his media with gnarly messed up broken frames that he finds at savers or abandonded in the fort street mall area. i'm thinking we should pitch in and get him some real ones. or nevermind, these are actually pretty killer. raw.
so yeah. let's congratulate the non-boyfriend. HE OFFICIALLY GOT HIS LICENSE for soho. and it's first friday. jesus. just damn, kid.
it's been a while since i've seen mike keany. not even sure if this counts since… i can't really see him. groundUP pirate noa, you all should know….
…as well as honozooloo. just damn. he's acting like he's all busy lately and all i want is more updates. do it!
landon tom from the jump offsthebandopeningforMGMTthursday. he's not that hard core, he didn't really give bianca that black eye, and as of today, tuesday at 6pm he still doesn't know what time he has to be at pipeline on thursday. i love this kid.
caught eskae's howzit
and *almost* got my newest honolulu obsession. ack. kind of blew it.
was chatting it up with byron about his new tv gig. love that him and flash are all media types now. him on tv, flash on the radio. hey! me in the paper! dude. we're like all grown UP!
meanwhile, the fashion show
and brooke!
ansje is probably twittering that this is the best night she's ever had ever ever everrrr
THERE! see her? the girl in the middle with the killer curly hair and bangs. WHO IS THAT?! i love her…. ps: take a good look at all of these ladies because i'm sure they're all on the next plane to new york or paris or something…
K-love. would love it if this was just how she clubbed all the time.
HAW! i was lurking my newest obsession when i saw her friend. seriously. WHO!! look at her back! it reminded me of the vice do a while back that said something like "you girls went on a rampage stamping your backs with tribal cum bulls eye tattoos but when we said your backs are sexy this is all we wanted" or something like that.
i asked her for a photo before she jetted. i actually think i met you with techGarb rick before, like in the parking lot behind next door. jacelyn? jodi? AAAAA! (i love you)
ps: bianca's shoes
titus is still doing the altoid insta-nerd bar trick. love this kid.
like, LOVE love this kid.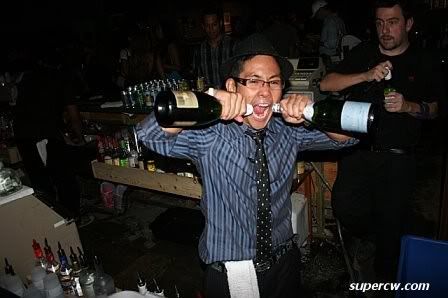 the deadbeats made an appearance. FANNING OUT! they were dropping off propaganda for their big cd-release party…. which i could have totally promoted to you about. if it wasn't last friday. er. a little behind on here, sorry. (it went very well, i'll have those pics up next)
the vip room. makes me want a martini.
good for lurking tho. ps: oh HAI white pants!
and this
the creativegeniuses showed up too. duh, it's SOHO.
cuteys
i introduced the deadbeats to the jump offs. favorite band? meet my favorite band. favorite band, favorite band. now discuss.
filmgeniuses.
mediagenusies.
bargenius.
she gets two. for her two.
alisa whatchoo drinking? it's red. don't tell me they STILL have that jungle juice there? you know that's from like a month ago right? and i know it tastes like fruit punch but you know there's everclear in there. just be careful…..
special guest dj oren tonight. he has a lot of hair. he's tall too.
oh, here's the reason why i was acting so silly if you saw me. i was killing it with ninaboobs.
and titus.
baaaaaaa
saw sean remos
and aloha stadium. baaaaaa.
ps: stop calling your new crib the pentagon. it so doesn't fit. you are aloha stadium. for life.
tracy the hardest working camera girl in town. i'm not even in the running. you ever seen me work?
wait, what! aaron mcmullen has a BROTHER??
i got a lot of inquiries regarding my camera turning up missing for about 20 minutes tonight. it was kevin cole who found it. it was also kevin cole who worked like 4 days straight with daniel to get his bar open in time for first friday. god i love twitter.
tim jackson and chad hiyakumoto. i'm mad at chad for freaking me out about my camera….
…he took some pics with it then just left it on the bar while i was drunk dancing slash freaking his girlfriend.
i didn't mean to do it on purpose breuu.
she's just so hot
it's not like i'm gonna do anything. i'm straight, remember? ps: my face is raw i can't handle these close ups….
….i'm not HER
but thanks for the dance (i love you)
i love you too
oh god ashley is probably going to hate me for using this one but i love her face here. she's totally kidding you guys – never had bitchface in a club. which is why i love them both.
saw lina. linaaa…..
saw katrina. er, saw katrina's teeth. katrinaaaaa….
saw these guys. aaaaaaa.
ya. kinda stoked on SOHO right now.
saw shana peete. shanaaaaa…….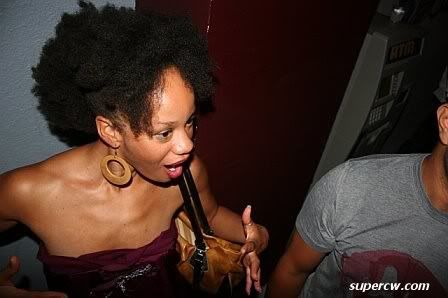 she gets one with me because i never see her anymore. and JUST DAMN she's sofa king real.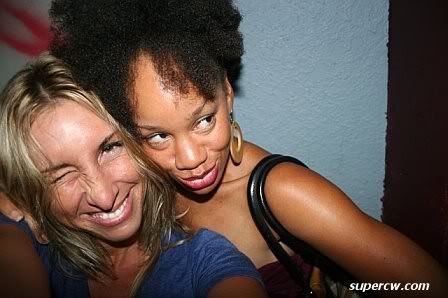 aw mark. loveyourface.
it's too dark on my computer but HAW! can you see corey's long ass arm over there scooping me? i want to know how the hell we were in the same room, yet his pics look like he's actually fcking in new york city? COREY!! aaaaaaa! love him.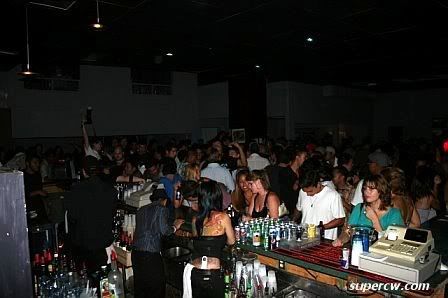 ha ha kiani. moonlighting from her modeling gigs to be door girl slash lurker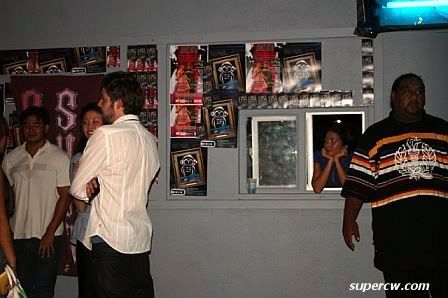 damn tiare. i think you're the only one that can wear that dress and pull it off in hnl. so, thanks!
met some of landon's yummy co-workers tonight. oh haii…..
and see? there! ansje with the jump offs. having the best night ever.
i think their friend is gonna be mad about this pic cause she wasn't ready (oh darn, you're still gorgeous)  but OH MY GOD! there was actually four of them. i got three. there was four. FOUR! and they owned the fck out of it. heartheartheart.
zak is back from his world tour and showed some of his photos tonight. they were epic you guys. zak. missed ya. ps: you're famous.
who was this? aaaaaa i can't remember.
see? OWNING it
ps: i love the outside lurking area of soho. much better than the mall cafe lurkage.  actually, safer than the hotel st lurkage too. no busses zooming by….
wound up at v lounge with these guys.
alan plays my song every time i come in now. makes me aaaaaaaaa shot time.
jonahface twitterin
zak is still out
dunno about the rest. that was a long night. fun tho. saturday i got the hell outta town.
with rob and lani.
sunset to waimea….
….for da hui's 3456354734836th annual 4th of july paddleboard race. we had a presence…
and this guy won
damn guys. seriously it only takes like 30 minutes to get to waimea from sunset? cha. it takes me 30 minutes to DRIVE there
the race was rad. seeing everyone come in and stuff. i kinda loved today.
met tristain. friend of red bull from down under. oh haiii……..
everyone there, actually. i might need to do more ocean stuff.
sommer was making a lot of friends. sommer rules.
and i was drooling
lisa and kyla raced. they're my co-workers. i'm gonna ask them to take me out paddleboarding one day.
north shore means chris kalima duh. rad. not sad.
damn girls. just yeah.
booked it to town after to say hellos to the Hilltop Bar & Grill. hippy food was in full effect. duh, it's the house that honuguide built.
loved their pool scene….
…but had to dig for this one
more work. but is it really?
not when you have these kiddies around
the pool is new but the vibe was there
joel aka rayne was making it so
waikiki aaaaaahhh
i should have brought a suit
oh haiiiii pool party!
the floatilla looked really boring from here. crush, crush you, boring floatilla.
ok i would never say the floatilla is boring. but kanoe just swam in from being out there and pretty much confirmed it.
kanoe. you SWAM out there? jesus. you get two. for the ladies…..
pool party aaaaaaaaa
saw ashley again. oh haiii!!!!
flash is my favorite mc. i'm kind of mad at him for not getting drunk though. cause fun bobby is the best mc in friggin town.
back to Hilltop. we had to.
kaboe had family in town
his brother from another lbc mother
canon on timer: kaboe and jonathan, add me
canon on timer: kaboe and jonathan and me, add rob
canon on timer: kaboe and jonathan and me and rob, add maria. WHAT!
love my life
the sunsets from up here are epic
see?
oh, the fireworks too. we saw ewa beach first.
it was eh
then we saw ala moana. it was aaaaaaa!
kaboecam
the next day? he was totally learning how to play somewhere over the rainbow via youtube. love this guy.
cruised down to outrigger later to lurk aloha stadium kill each other at volleyball
i actually joined in. cause. they aren't that good. it was funnnnn.
that's about it….
love…
my….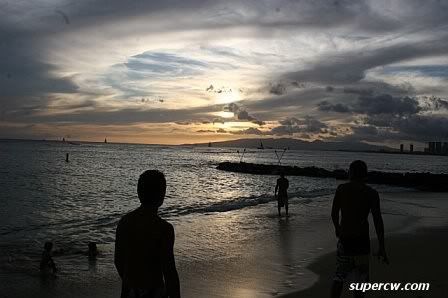 life…
ok ok ok. time to get gone. it's maria's birthday, as you know if you read me. i'm so excited. i gotta gym then head down to bar 35 (oh haiiii eurofries!).
see you tonight or WHAT!