aaaaaaa, let me sit down and get some of these photos out. in case any of you ever tear yourselves away from facebook long enough to read blogs anymore =)
i gotta tell you. becker is so fun! he brought like seven hundred glow stick thingies WITH the fasteners so we could all be fun colorful glowing party monsters for his birthday party.
i only have 912 photos since i last saw you here. that's not one of my made up numbers either, i just uploaded everything to my ofoto and the count is actually 912 blog-worthy shots. i really shouldn't be wasting our time with stuff like this, just reiterating the fun-ness of the glow stick jewelry stuff becker brought to his birthday. yet here i am. doing it. SO fun!
look i'm still doing it. sssooooo funnnn!
becker knows a lot of pretty ladies. or a lot of pretty ladies know becker. one or the other.
and i really know how to pick out a shirt
little tid bits. that's what i meant to do. like 4 or 5 of my favorite pics from everywhere i went the past month just to sorta give you an idea and for me to not feel so blogconstipated. i put the rest of the becker/ky/dan punch photos on the fb event page so if you really want to see those, you can. meanwhile i gotta show this one tho. flash picked me up like twice in one week that week. it's been aaaaaages since i was a regular in the flash-pickup.
matty wong is in like every band in honolulu that requires a saxophone, and aaron yoshino is a photo genius. his new honozooloo is just visual deliciousness. so glad these two are around.
i'm at the mos def concert now, by the way. and i didn't get one of these deadbeats shirts even though i'm the entire band's girlfriend. they only had them tonight and tonight i only had like $4 to my name. aaaaaaaa.
backstage at pipeline. not really, this is just the stage entrance.
and this is creed chamelon.
and this is maria, not bartending. this happens like never.
and this is a very rare shot of lancifer AND his lady. writer, art student, and rock za royalty. not kidding.
this is the deadbeats going over their set list. i was so excited to see them on stage at pipeline.
this is harumi. the hymn.
and that's k-love with harumi. lyrical geniuses.
and this is what i've been waiting for…
they really blew me away too. as usual. corey said honolulu has it's own The Roots and i couldn't agree more.
you get two. love the deadbeats so muchhhhh aaaaaaa.
harumi, by the way, totally wins best dressed man in honolulu. he only wears like 4 or 5 outfits ever but changes out his kicks like woah. way to be aware of everyone being eye level with your feet tonight hon.
speaking of eye level. how's the photo pit lineup! 808 scene zine, honozooloo, dosomethingtonight and contrast mag. i was so not worthy.
and BOOOOOO to these chicks for real. they had bitchface pasted on the ENTIRE time the deadbeats played. all stuck on their spot for mos def and vibing hardcore negativity to the other opening acts. i wanted to scream. i eventually left for good because they bummed me out so bad.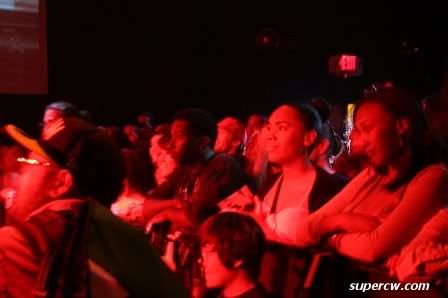 was nice bumping in to sweetfaces on my way out tho.
haha nice try. i told them why i was leaving so they were imitating the bitchface. girls, please never make meanfaces in public. please? it's so unnecessary.
seeing aaron martin's sweetieface made everything all better with a quickness. now i even feel bad for mentioning that. i usually leave stuff like that out, actually. but i just wanted you to know why i didn't get any shots of mos def. zooloo got that handled in a major way tho.
meanwhile i got a kera/daniel pickup
and took inventory of kera's backseat on our way to the grand opening of monkey bar
monkey bar! hooray….love that there's a raging thursday night with no dress code again. we really need this option.
ola do you still read me? well here's a nice shot of you!
titus do you read me? well, here's a nice shot of you too honey.
haha alan on the end there. i must have mentioned to him why i left mos def too.
flash was so excited to meet kera. he kept saying "you're @kerayong! you're @kerayong!" to her. i was still trying to believe these two have never met.
it's probably about now that he's learning that she had a boyfriend.
that's when he did what he does best. FLASHCAM!
and shot time
flash cam!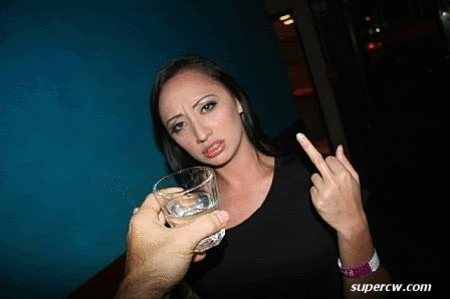 oh WHAT! they debuted this new stalker camera set up that i was hating so much and loving so much at the same time. they were scanning around the club and zooming in on folks all unaware they were being filmed and subsequently being displayed on all the tvs. they probably do this in like vegas or something. i dunno. i kind of loved it.
flash, who left mos def early to hit monkey bar then bed to be up in time for the morning show. buying everyone stoli bleu shots.
i hope flash still doesn't read me. cause i totally hid my shot and didn't do it. cw don't function with hangovers.
eskae has been waking up early too. i noticed he didn't have a shot either.
ps: sofa king rad these ones. LOVEOLOVELOVELOVELOVELOVE.
stalking the stalkers on my way out. how you like it!!!! just kidding, i kind of like it.
oh, and then we have the big secret invite only uber private event that i was invited to but couldn't bring my camera in to..
…but i had to get sarah honda's stunna shades
also! crystal had a lovely north shore birthday. with amazing healthy north shore food and amazingly healthy north shore friends. it's such a different life up there.
dave homcy bday cake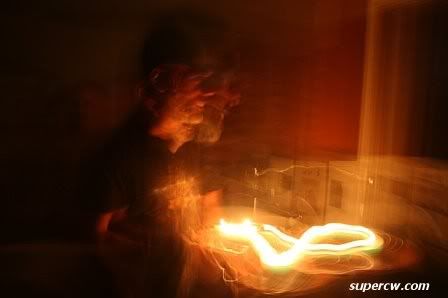 oh, and here we have the screen they were printing at undivided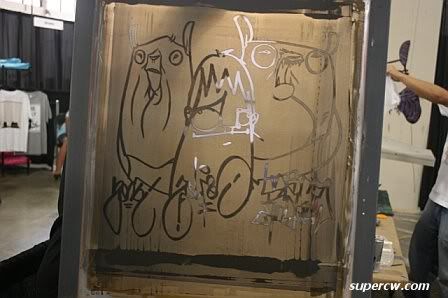 that was the hip hop convention that i fear a lot of you missed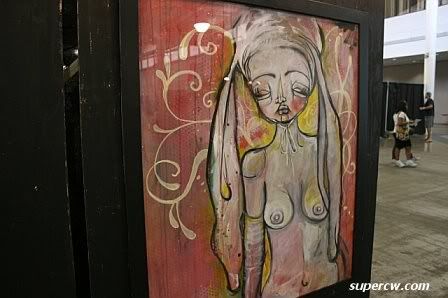 and i say that because it seemed quite barren. which was a shame, because the organizers worked their asses off to bring it. the execution was amazing, and the visiting talent even amazinger. i'm hoping next year there's more hype for this. i spent the entire day there. cruised with groundup noa.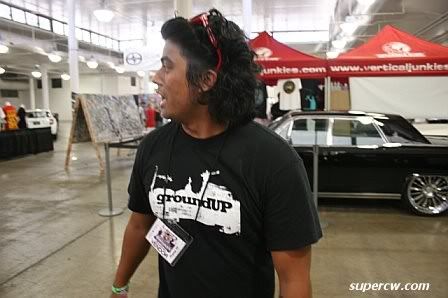 katch 1 was in this chair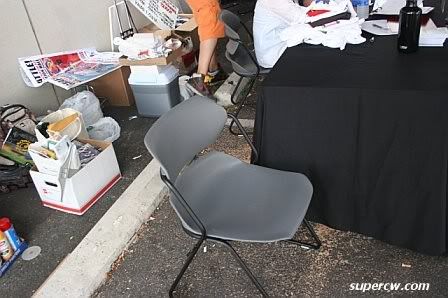 a girl painted that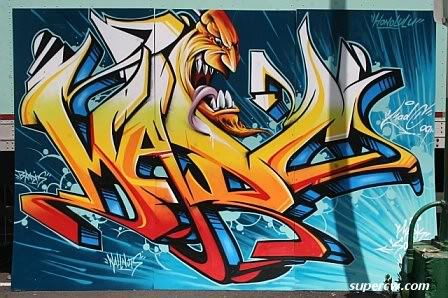 these stayed outside all day, and a lot of people wanted to take them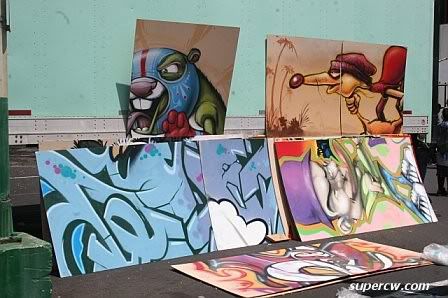 the graffiti battle began during the hottest part of the day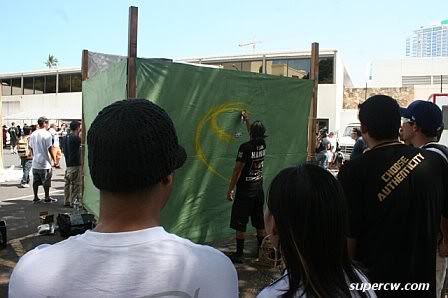 and we all stayed with them for most of the 5 hours they were given to make their piece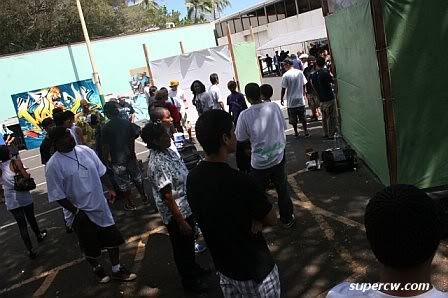 i missed this shirt. SO want one!!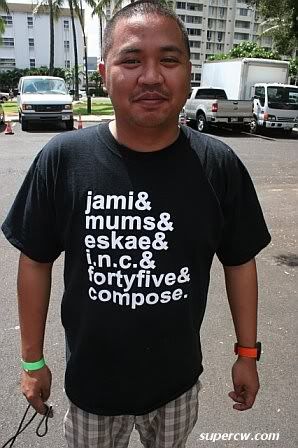 mommy-to-be christina from ikandy and exclusive showed me her katch 1
AND her killer manicure
this was maybe hour 2 of 5
i lurked the supercr3w warming up inside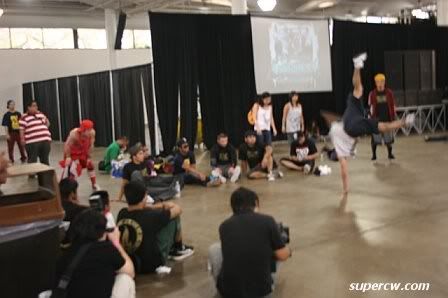 and their dressing room.
and this guy. that i was like "hey, eric!" to at the supersecret red bull event earlier in the week. he was like "it's ok, i get that a lot" but i know he was thinking "damn, white girl thinks us filipinos all look alike"
i'll let you be the judge. this is eric:

hour 3.5 of 5 i think. starting to look amazing out there
i spent a lot of time on the floor sitting with all the dancers. i would sorta inch closer and closer to their circles like i was part of their crew. then they would all get up and leave and i'd be sitting there in the middle of the floor.
i lurked a freestyle session with some of the visiting artists and some of our best local guys.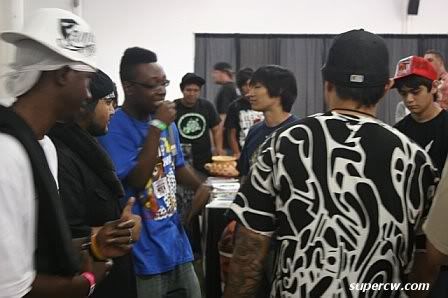 man i wish you could have been there for this. we definitely had a moment. well, they did i mean.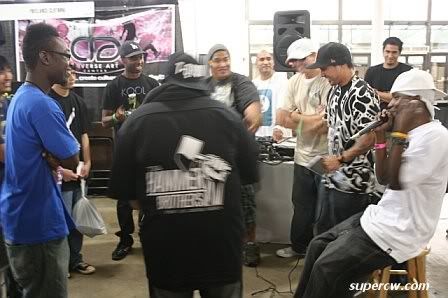 eskae made it. improved his record collection.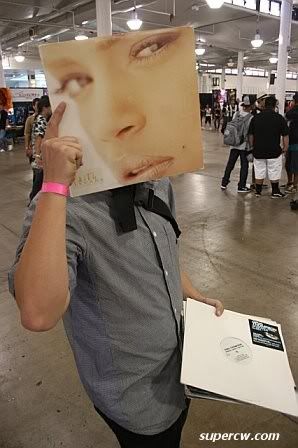 this was jel from the anticons.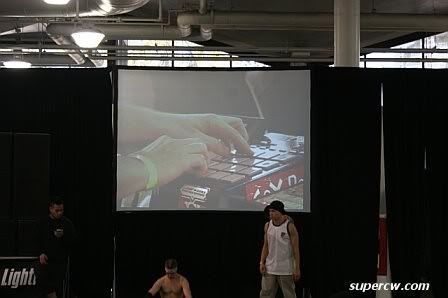 he did things with that little piece of equipment that made everyone in the exhibition hall, where ever they were, sorta stand still and arch their ears up like dogs do when they hear a whistle. "HUH???" … but in a good way. the people who know about these things weren't really going "HUH??" so much as going "i know right!"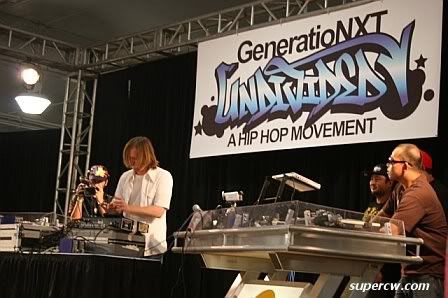 aw, sean reilly! natural koncepts got our man. i think they might even really be paying him too cause he didn't even bum a smoke.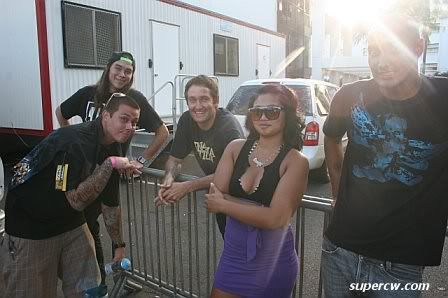 hour 4 of 5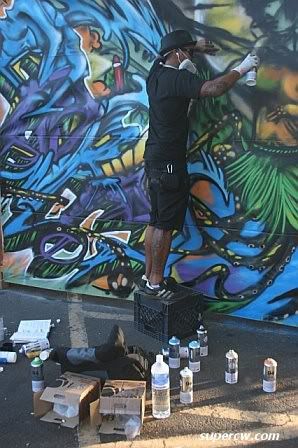 who saw mama mia? remember this guy? it's ok if you didn't, i mean, he was in it– but dude! this is JOHN HEMPHILL!! he just happened to be performing right behind where i was lurking all day. we just happened to both be in student council and band together. i was a nerd he was the cool guy cause he also played a bunch of sports. so rad! JOHN! AAAAAAA!!!!
sorry for me freaking out a little but i never never never bump in to classmates.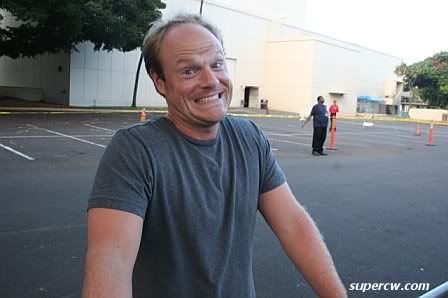 ok here's the rest of undivided. try come next time.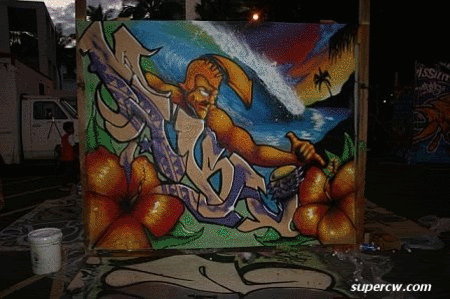 and ps i asked them if they call themselves supercr3w because of me and i just sorta got a blank look. i still want a shirt….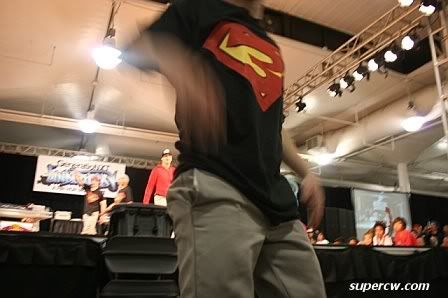 random jonah bitchface. HEY! DON'T DO THAT!!!! haw haw.
one sunday i went to sandys
with rob
and beats
trav was there. but i think he's there a lot.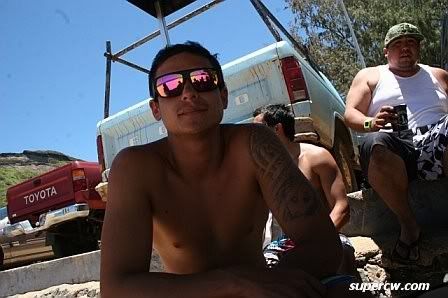 koa too
the boys know the cutest girls
ps: cute brown-butt cleavage is so the new cleavage.
and look close. HAW! the boys love this sunblock stuff that's foundation-colored. so they all have matte skin that's sort of geisha-like when they surf. haw haw.
king karobaroba
cw don't surf
pretty ladies at the wine event i did for murphy goode a while back
we were helping people apply for the really goode job. where someone gets paid $10k/month to…… blog about living at their winery. i know right. don't think i'm not applying for this one
i still helped everyone make a video tho. it's my job.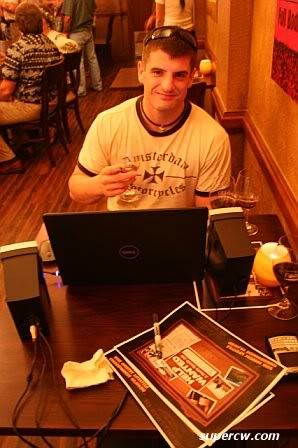 if you like wine and wine events you would have had fun tonight. next time!
ps: some people took the video very seriously
more crystal! crystal in TOWN!
COUNTRY in town! aaaaaaa.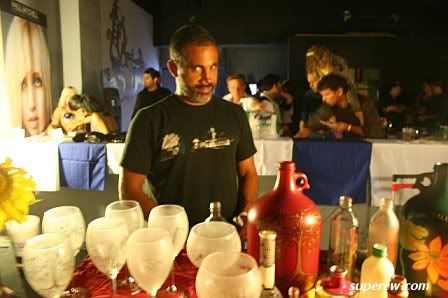 sexy ass bartenders. OH! i'm at soho's grand opening first friday event. rock shop was the first part….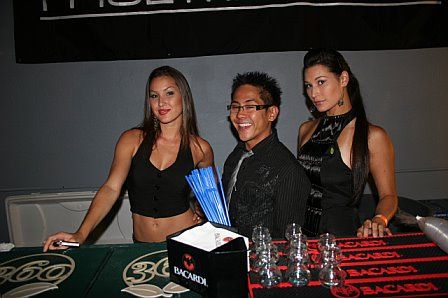 and this is a quick tour of rock shop.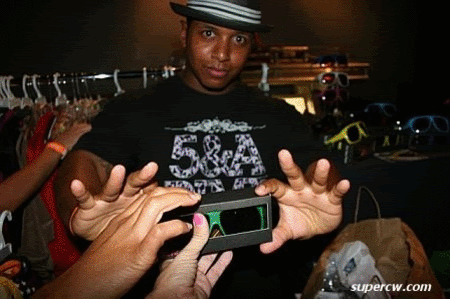 i'm still mad at rock shop for taking all the cash i had. ok no i'm not. this will last longer than a bunch of drinks….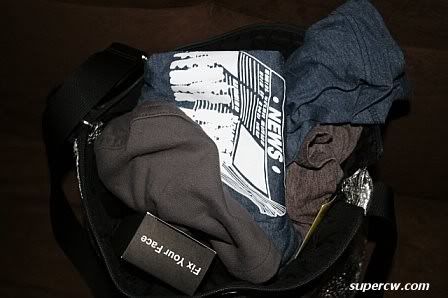 but ya, soho! there was art.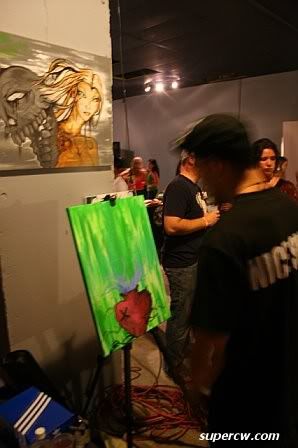 and a party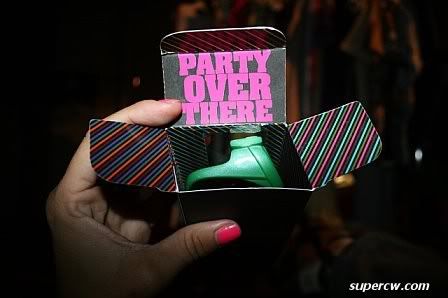 and killer threads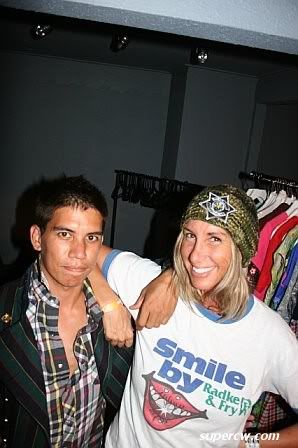 and more art. you wouldn't initially think a large intricate mural like this…..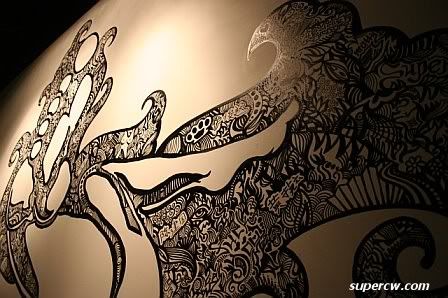 …would be done by some incredibly hot 22 year old chick…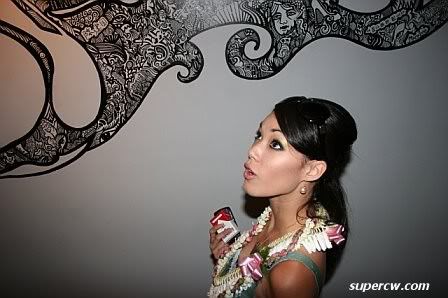 …but yup. that's nicole. and OMG CAN YOU SEE MY SHOUT OUT? it's there, see? holy shit i was dying at this point. amazzzzinggggg.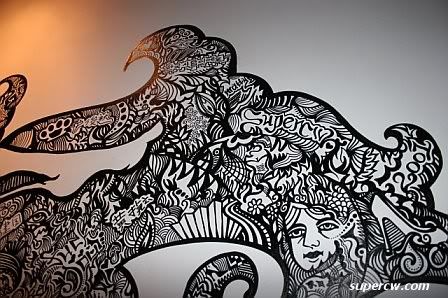 the rest of soho. and yes it was every bit the craze that everyone expected it to be.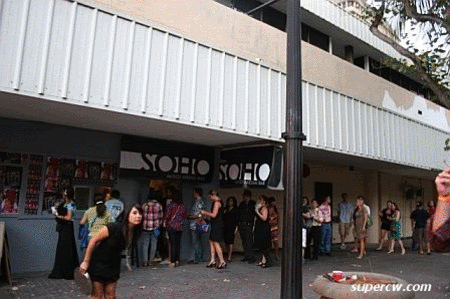 sorry, i gotta eat. more soon tho. i'll get to em!
it's monday i have to lurk maka's barely legal party at the pagoda. I GOTTA!!!
see you there? or here? whichever?