supercw.com burned out? HA! pardon me if i tend to focus my time more towards the things that actually give me the money to live. come on though, you know this is where my heart is, and i'll never leave it. it's just like, short hiatuses so i can do things like pay my rent.
so ya, oh, hi david dondero. ooo in this light it almost looks like we're under water. which is fitting, i guess… since this is some kind of surf event thing!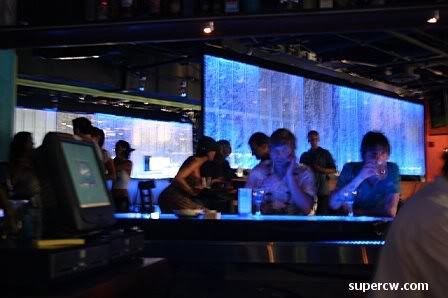 yup. i'm working. workfun. it's a new zealand wine that partnered with billabong and surfaid international though – humanitarian happy hours! cool huh? and we're at oceans808, where i have a crush on, like the entire staff that works there.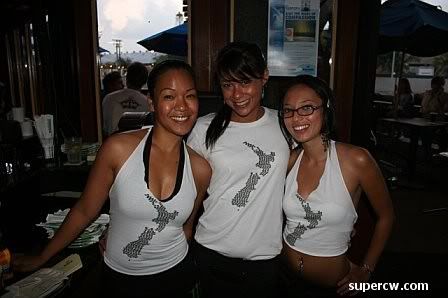 it's been a pretty busy past few weeks, actually. which i'm sure you guessed if you're around here much. the thing is though…. when i do post there's been minimal feedback on here. in person ya'll have no problem bugging me to blog, but on here it's like… crickets. which makes it hard to motivate. we gotta work together see? i blog, you give feedback, i feel good, i blog more. like that. ps: HI MOKA! HI ANDY!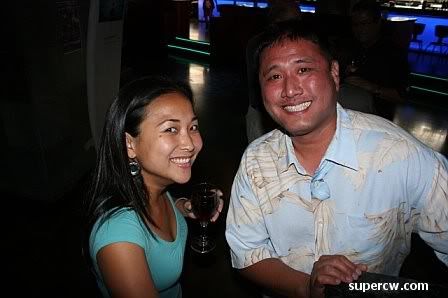 guess who's having a little birthday party on tuesday? GUESS! i'll give you a hint, this is 2 of the 3. and believe it or not the theme/name was conceptualized right here at the time of this photo. over this water bar. at danny's old stomping ground. party genius.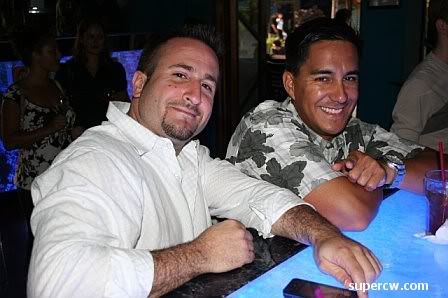 hi paul klink!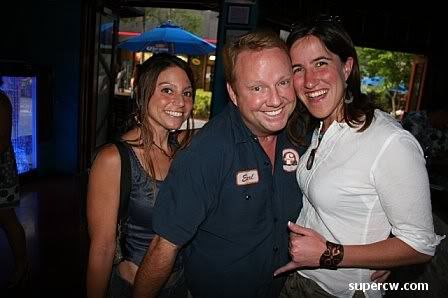 cheers brandoms!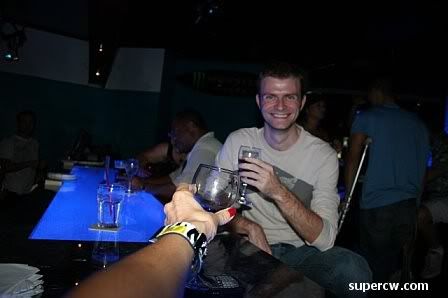 *drool* hi isidra and pamella….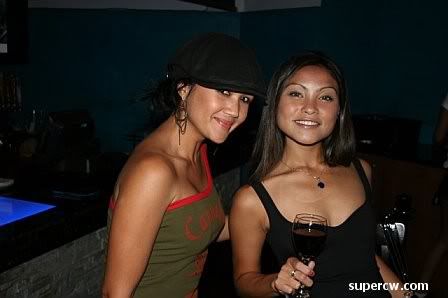 *kissy face* dalton! wait – you work here? you guys, dalton moonlights as a BARTENDER at OCEANS. i'm so about to claim that stool right there as my permanent thursday 6pm spot.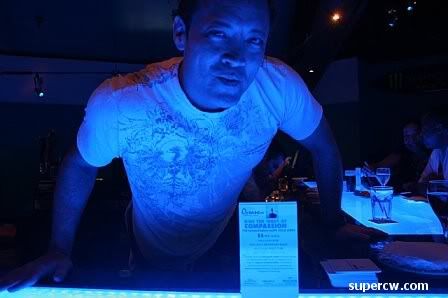 aloha stadium came through. duh, it's a surf event. maybe we made it a surf event just so they would come. i'm kidding but don't think i wouldn't go there to see these faces.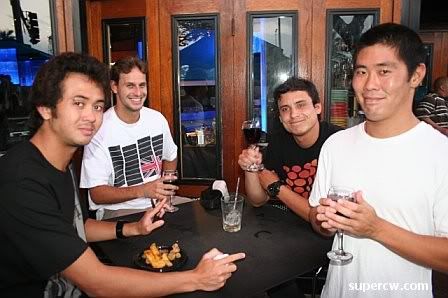 jordan has a dot com too.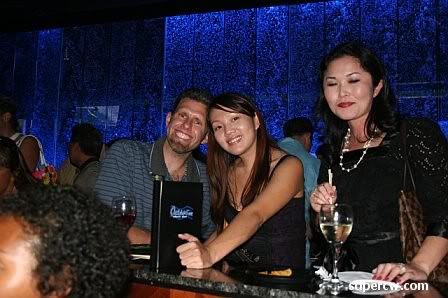 awwww, isidra with her pops.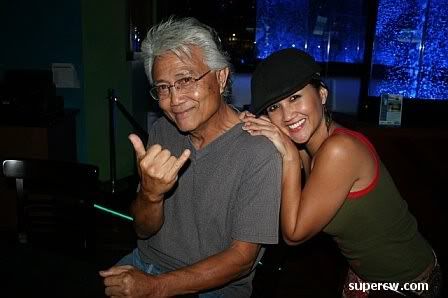 crap, this is probably too dark to see. but i was all flabbergasted by this guy's hair. it. was. perfect.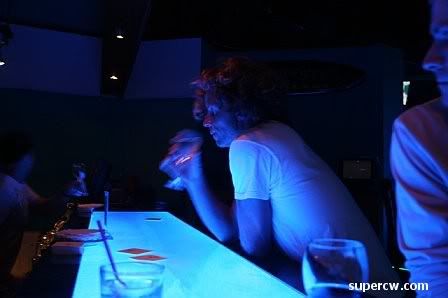 aw MAN! this looked way better in my viewfinder. i could probably lighten it with like photoshop if i had it. oh well. bluefacecrew.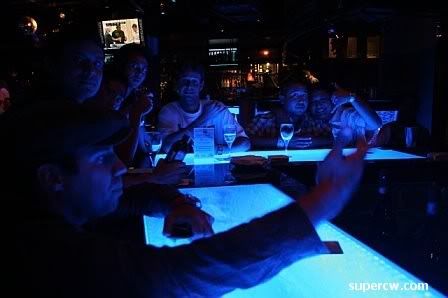 lan came and must have had like 987298758 glasses of wine…..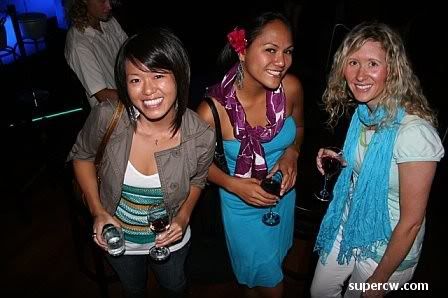 ……because they had a TON of raffle tickets. you get 1 for every glass of wine you buy, see.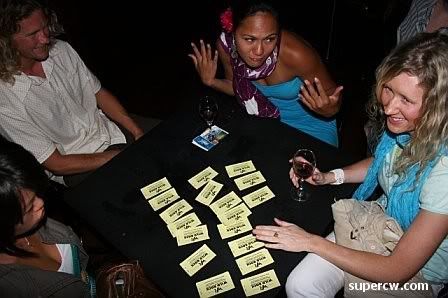 but if i remember correctly, out of all of them, only like 1 was a winner.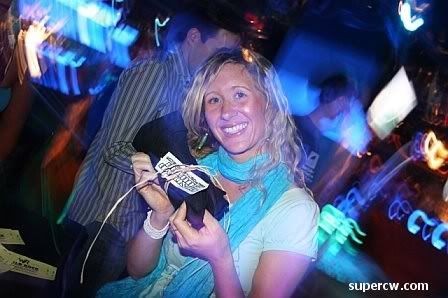 but OH! i DO remember meeting Ryo. who knows him? the surfaid international co-chair for oahu? from japan? cutest thing ever.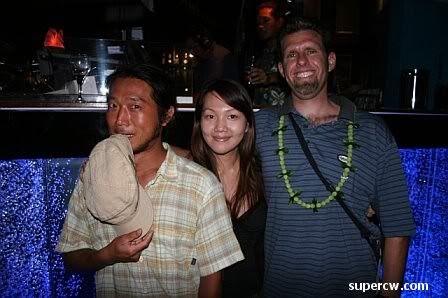 cutinella was NMG'ing and drew was 102.7 da bomb'ing. nice to see you guys.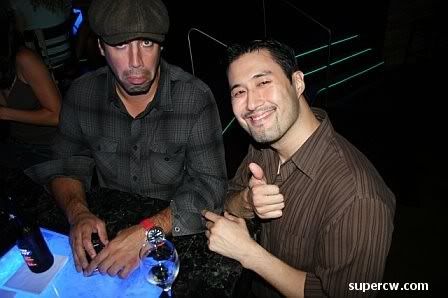 brandon won the hoodie that i was dying over from billabong. perfect for hawaii all thin and stuff. we agreed to let me have weekend custody of it since he mainly only goes out during the week. industryface.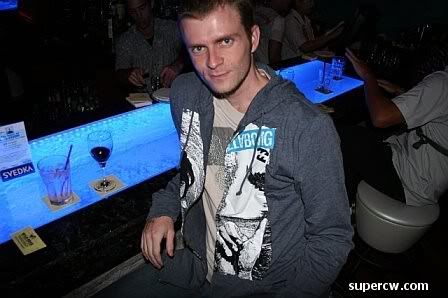 i always know when lance arinaga grabs my camera because he puts it in these weirdcool psychedelic like advanced-photog settings. then i go to take a picture after and am like woah! colors!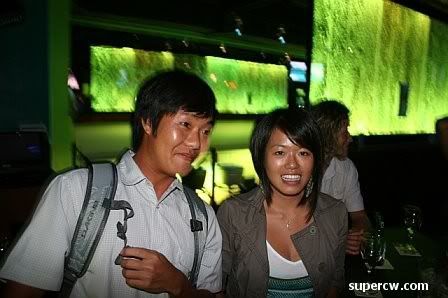 we decompressed from the wine happy hour after with….. more wine at bonsai.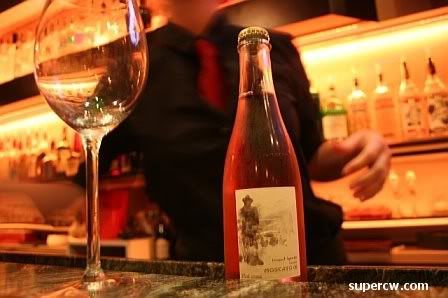 @angelakeen has been a regular at bonsai lately. how do i know? duh…. twitter.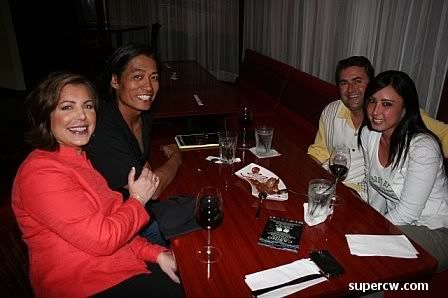 russell is "claiming" he doesn't know how to use twitter yet, but this is a guy who knows all about like f-stops and enhanced cubic grains and other photography greek-to-me things. i'm sure he can get texting updates to a little website…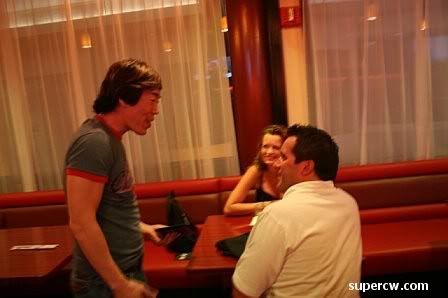 we had a nice time in here tonight. family night. me n lancifer at the bar, becks and angela and kim at the tables and russell upstairs. we were all over the restaurant but somehow still hanging out. it was fun.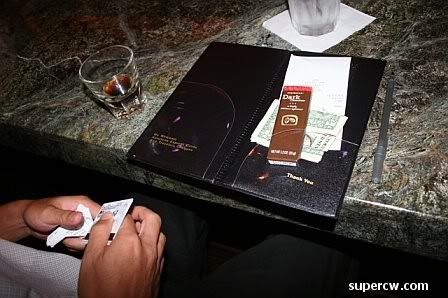 friday night i got kalima!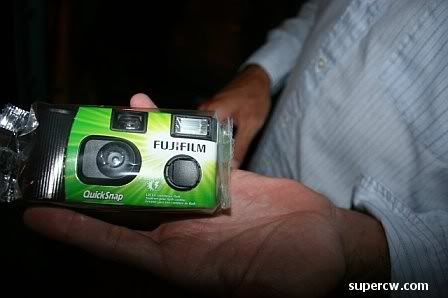 we said happy birthday to sid at sidestreet. where they were grinding like champs on all of my favorite dishes.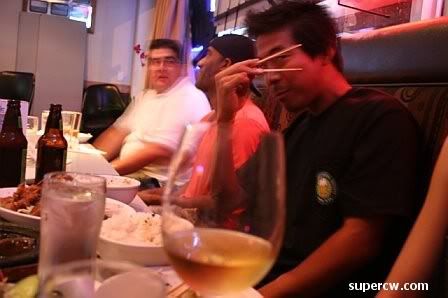 and his lady laid the smackdown with her watch. i didn't even try to battle. winner.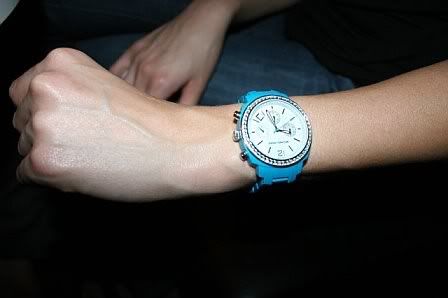 i made everyone try a shot of jack with the red bull cola back. it's almost too easy. i'm actually almost scared of it.
either way, i made it to groundUP. did you go? i totally forgot that you can only enter through the garage too. yup. we were one of the barneys that tried to go in the front door. ahhh nevermind.  coming upstairs to see noa looking like a frigging MOVIE star was worth all the creeping for sure. NOAAA!!!!! i'm so proud of you hon.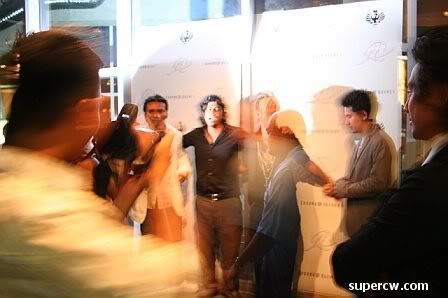 inside were more grown ups that usual at a GroundUP show. they all growns up! look, i mean chelsey and sonny are over 21. sonny? over here! sonny!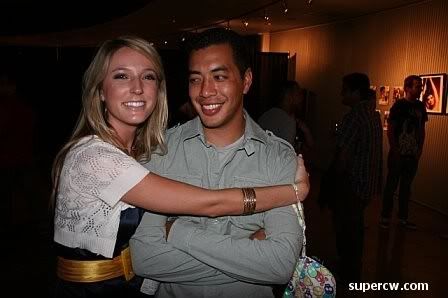 and don't think the place wasn't totally packed. it was one of those "who are all these people!" nights. but i was stoked. way to make it happen you guys.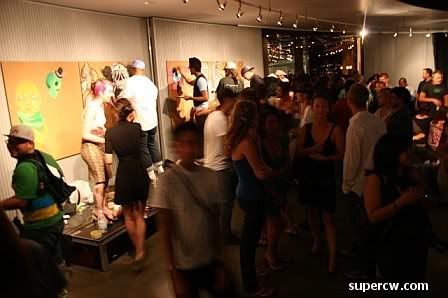 i messed up both my watermark and this mirror shot of me and daniel at the bar. too dark. i don't even remember cutie with bangs that's right there next to me. oh wait! it's ANNE'! that's right, i remember now. she totally did the fashion show.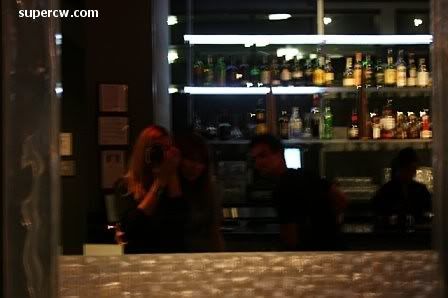 the online watermarker thing i use does photos 5 at a time, so the next 5 images will be watermarked in that corner, ok? does it matter really though? i mean…. krista alvarez……(*drool*)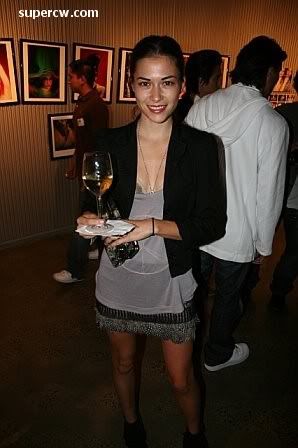 i lurked fashion tribe lurking. she was on stop 3 of 3 tonight. fabfashionblogger.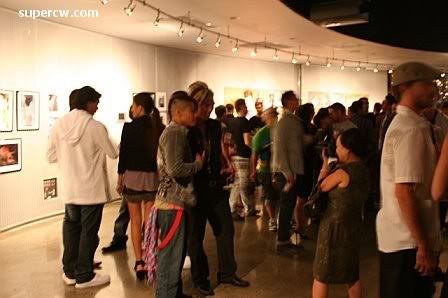 NOA! i'm gonna say i knew you when.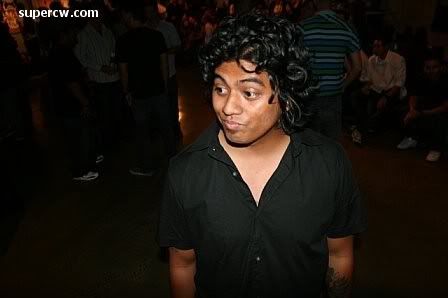 JESSiE! i'm gonna say i knew you when too. his coverage from tonight was killer as usual.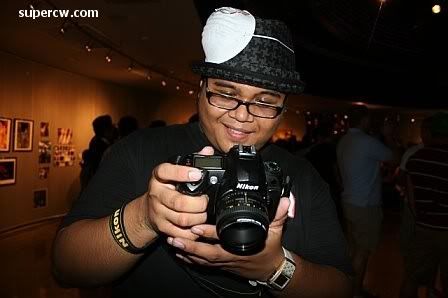 and JUST MAN!! juando was taking us back with those beats. more dj liger appearances please, guys.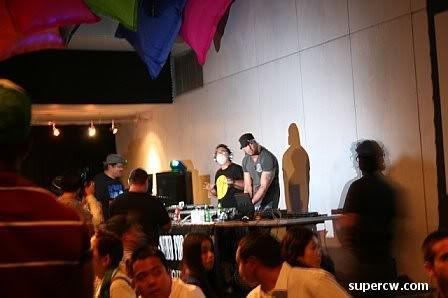 groundup has definitely come a long way. so pro.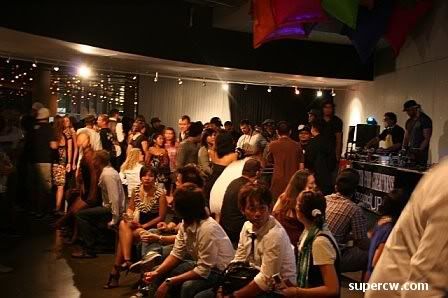 tonight was specifically to launch their new agency. as in models. they've always had models but now it's legit.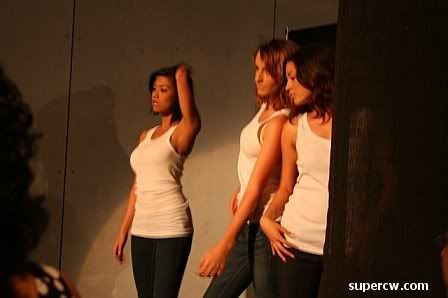 and this part was my favorite.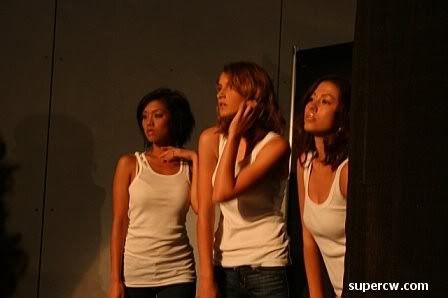 the girls came out and made model faces for a while before anyone hit the runway. i was dying.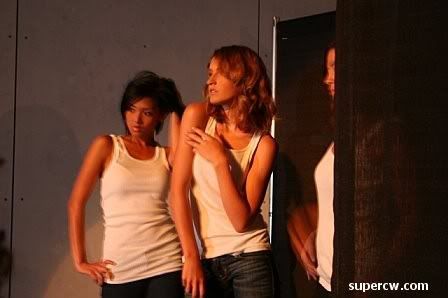 ryan chun. groundup pirate.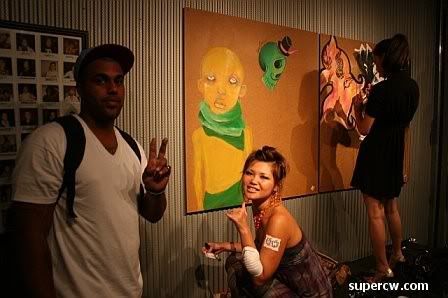 chelsey saved me the other night when i was out. i had drank a bunch of organic kombucha stuff and my stomach was literally imploding and she just happened to have a snack bar in her purse. i can't thank you enough for that girlfriend.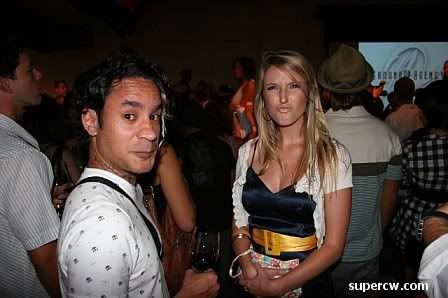 ps: the fashion show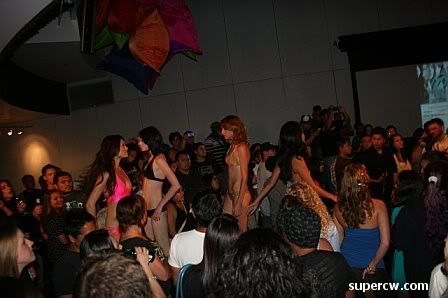 daniel's fashionshowface. i mean, they were in bikinis.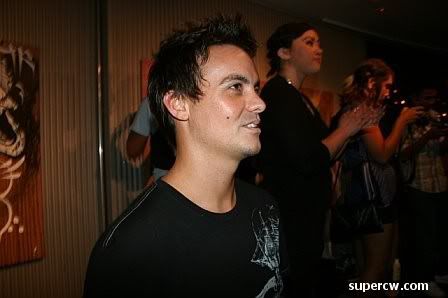 the pirates. *fanning out*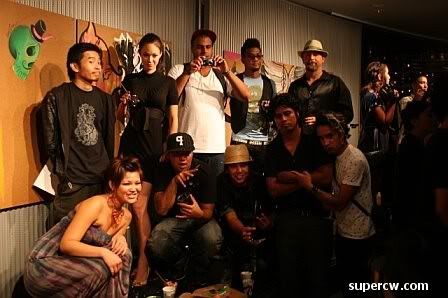 kalima and i bumped in to ana monique who is SO new york. i was dying that she even knew who i was. gorgeousface.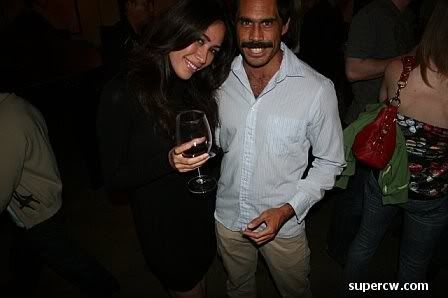 made it over to longhis. it was their 6 year anniversary. lucky year!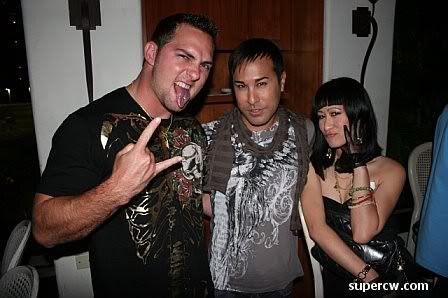 i had to molest derin a little, this was going to be the last time i'd see him for a while. he's totally moving to los angeles. he SAYS he'll be back, which i believe, but if you know derin you know that he belongs to a place like that.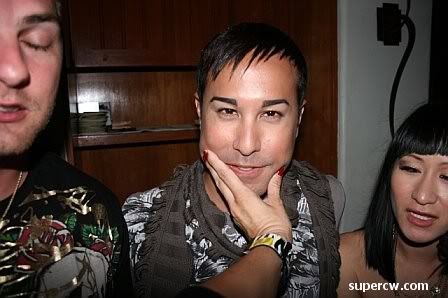 speaking of molesting. flash was already in fun bobby mode. and it was only like 10pm. WICKED!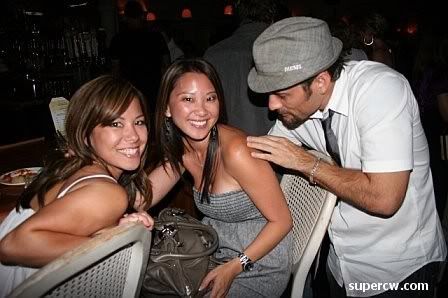 flashcam!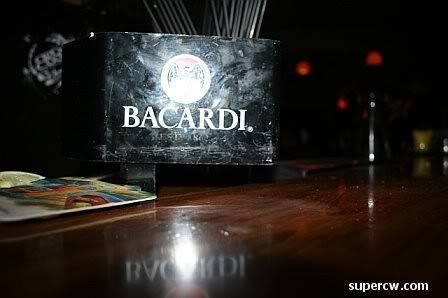 flashcam!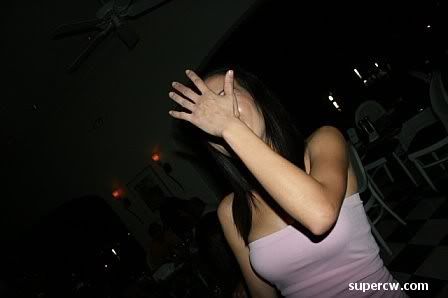 flashcam!
flashcam! fun bobby cam!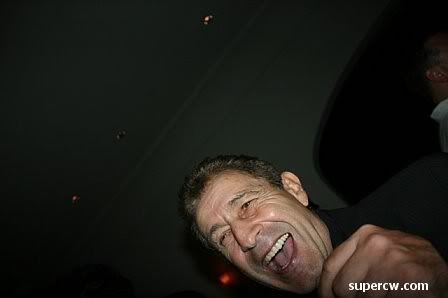 fun bobby cam! wait, hey! gerrardamy!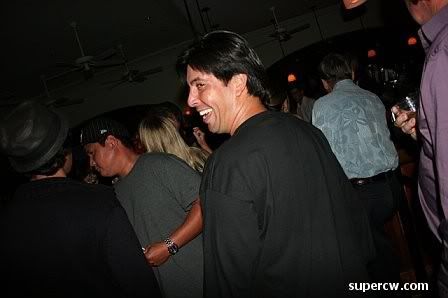 fun bobby cam!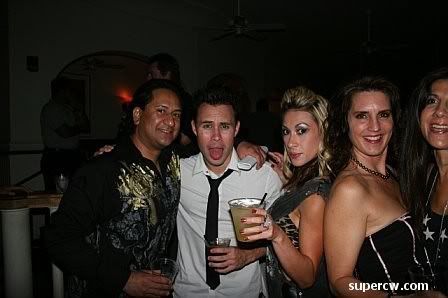 fun bobby cam! ooo hello….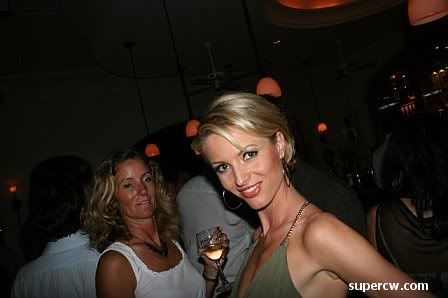 fun bobby cam! hey! that's andrew matheson's brother! talk to him if you see him. he has a killer accent.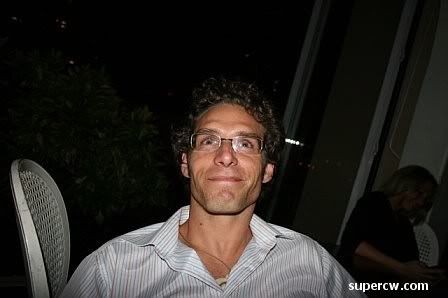 so ya. nightlife!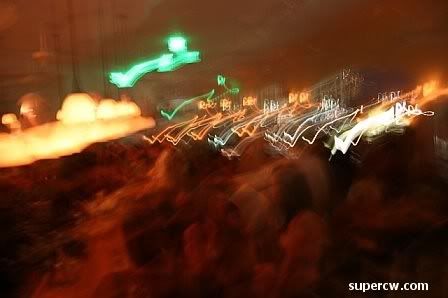 my favorite part about longhis is the checkered floor. it matters to me.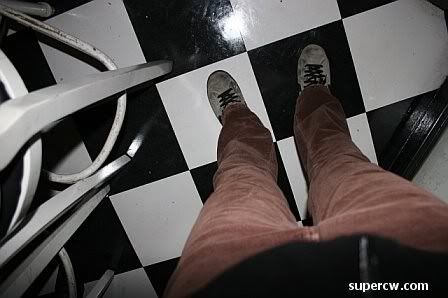 that and the view, of course. on a night like tonight when the moon was full it was just divine.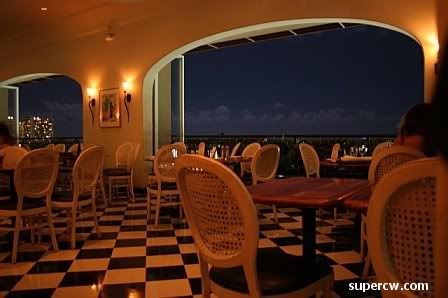 and lookie here they even got tommy working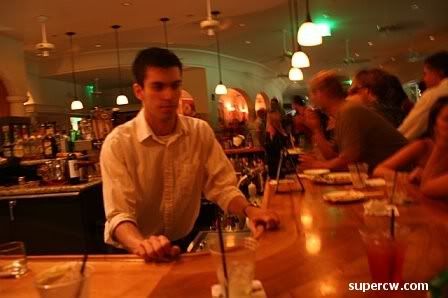 we like tommy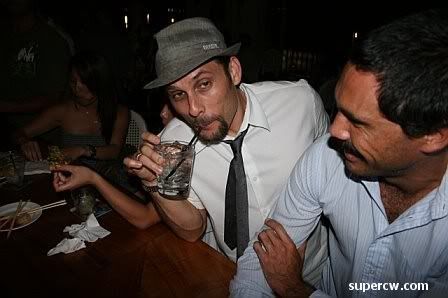 kalei disappeared and came back with the loveliest pizza my new-healthy-lifestyle has ever seen.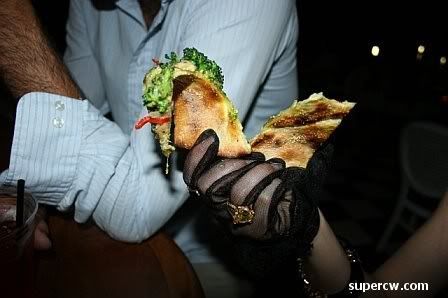 ps: fun bobby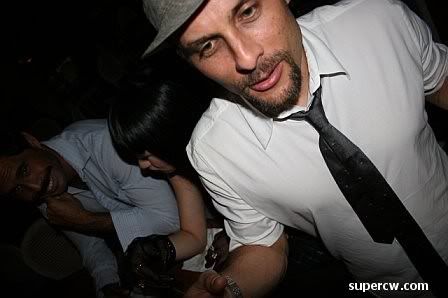 fun bobby cam!
haha i was trying to get this guy's attention from across the bar because i thought it was flash. not quite. but almost, right?!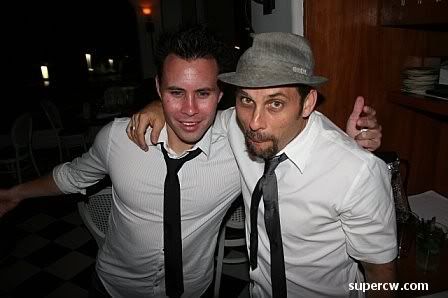 ps: his lady was killing it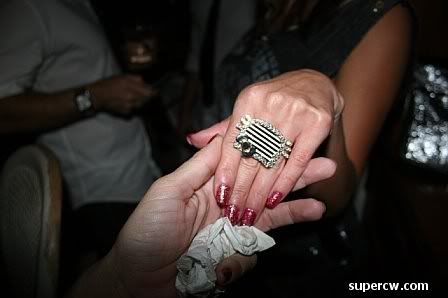 man it was good to kick it with this crew tonight. it's been a while. i'm gonna miss derin.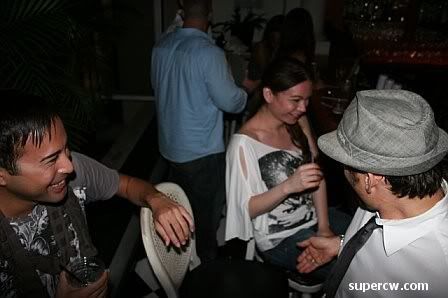 aw. i miss flash too. i better go buy a pair of heels.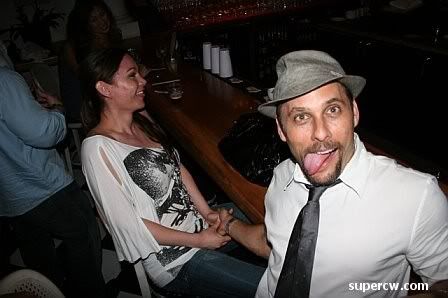 we stayed here for a while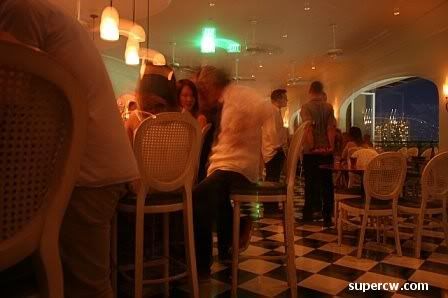 it was just too fun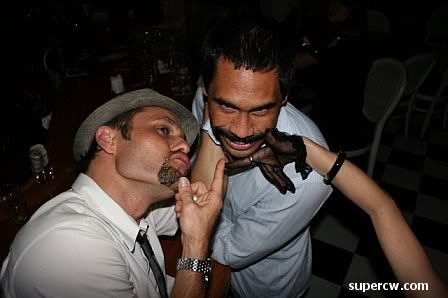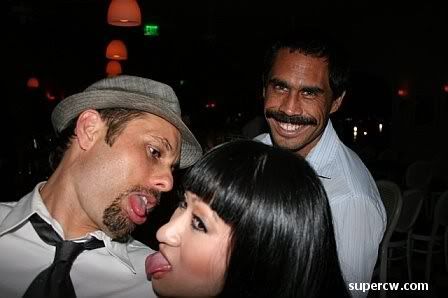 eventually made it over to bonsai. ps. it's still friday. HI ALI KALEI!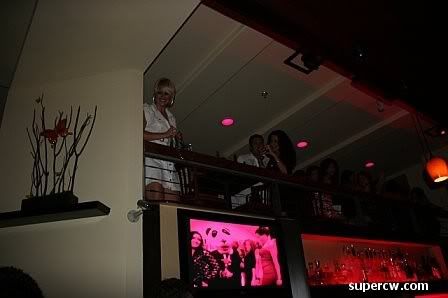 happy birthday terren.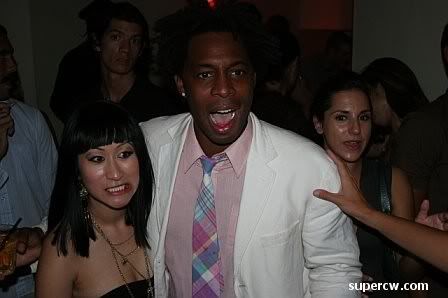 no terren doesn't live here anymore – he's off to los angeles as well. but you gotta come back for some photos once in a while….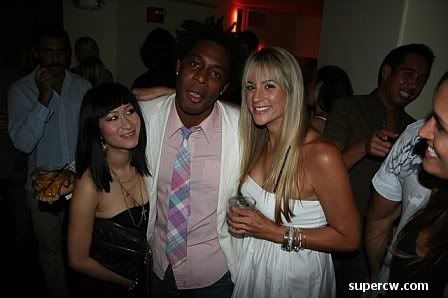 justin doesn't know about my new healthy lifestyle. actually, my new healthy lifestyle can handle stoli bleu. it's got… fruit in it right? thanks justin!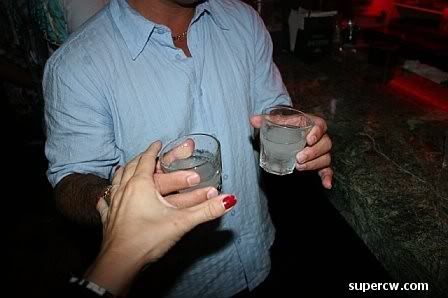 his girls are enough to keep me healthy anyway. thinspiration.
flashcam!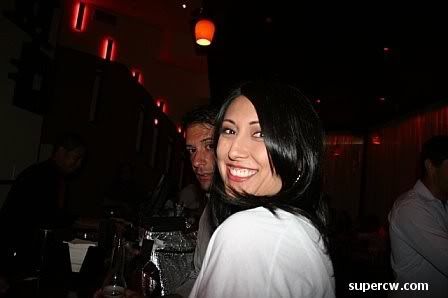 hahah flash.
flashcam!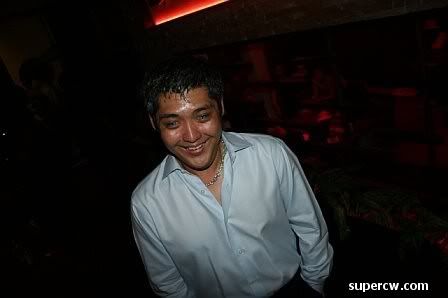 flashcam!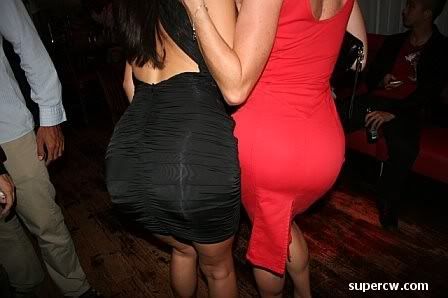 hahaah aw. hard workers.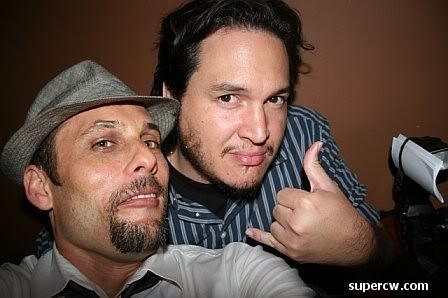 chilled tuaca is a bit of a stretch for me and new-healthy-lifestyle. but by all means, you guys. have at it. that was one of my shooters of choice for sure. buttery….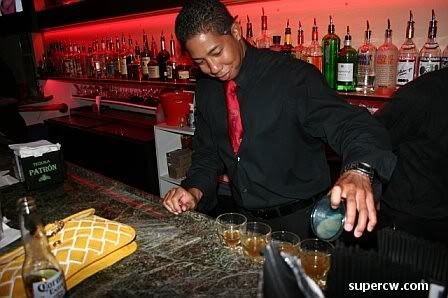 ps: beautiful people.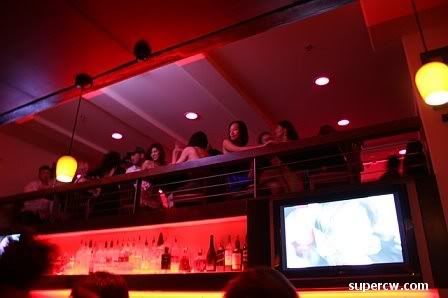 jackie is surfing costa rica right now i think. i think? i thought i saw that on facebook. i really wish she blogged. i'm addicted to her facebook updates.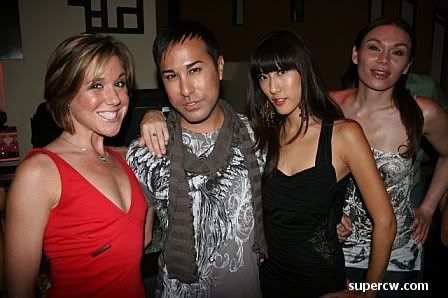 ps: definitely going to get a pair of heels soon. i promise. dressing up to go out for some reason is something i am super not in to right now. maybe after new healthy lifestyle starts panning out i'll be more hyped on it. for now. eh.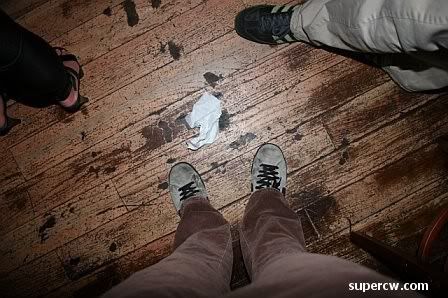 saturday was culinary delights in little bite sized pieces at leeward cc's gala.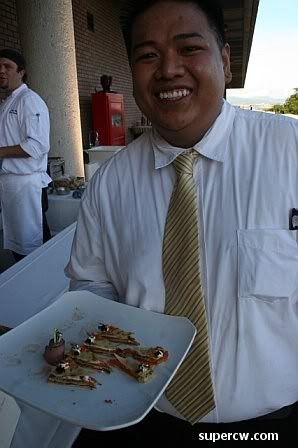 i didn't eat even one, which i realize now wouldn't have been a problem. that's salmon in there. very good stuff.
i was lurking with wine and sake. and i wish i had a picture of our wine expert tyler pouring the way he usually does by holding the very bottom of the bottle. it's so pro.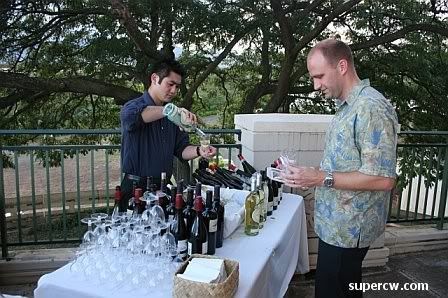 instead i watched how much butter they used to make these crepes. it was a lot. i was dying. it smelled soooo good.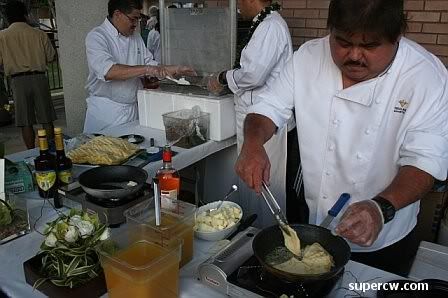 howard and mufi. aw.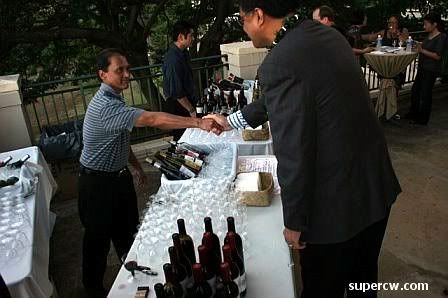 alan wong was making these miniature loco mocos with little tiny quail eggs. i heard it was beyond delicious. man. i should have just taken a break for a second and pigged out. aaaaa.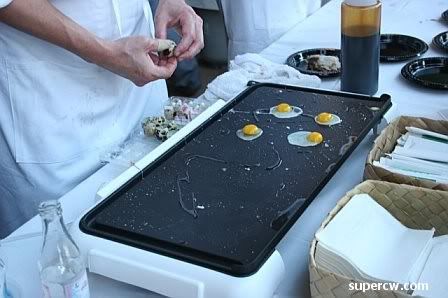 town was there too. TOWN!! *fanning out*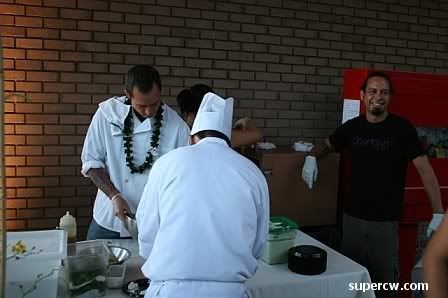 ikuko is our sake sommalier and i'll just tell you… she is like a celebrity in japan. we're  going to go sake brewery hopping next year. after my new healthy lifestyle though – cause i hear they feed you like a queen.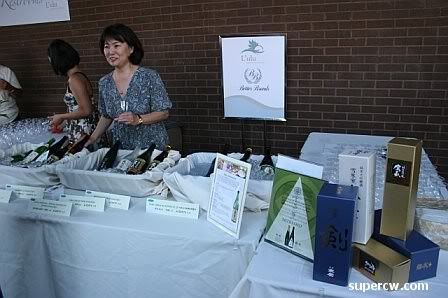 saturday night finally. time to get down. it was pretty mellow at the david dondero show, but i went. folky. did you guys know he played rice's birthday party a long time ago in kentucky? i did.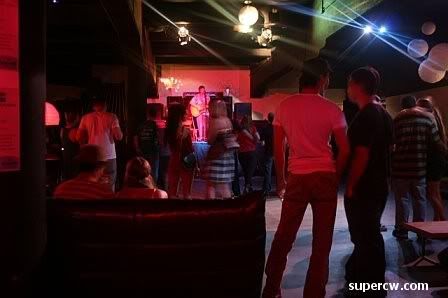 raced over to see thedropshadows too. i couldn't not. i'm obsessed with joe's program that he uses for the visuals.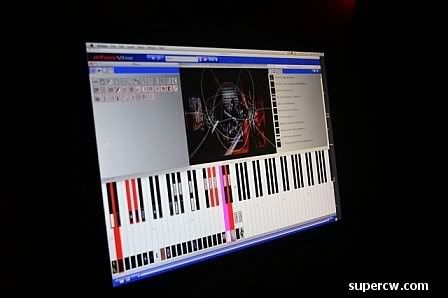 and if you happened to pick up a Weekly this week and saw the debut of my new nightlife column in there (!!!!!!!!!!!!!), then you know. it's a nightlife brain delicacy.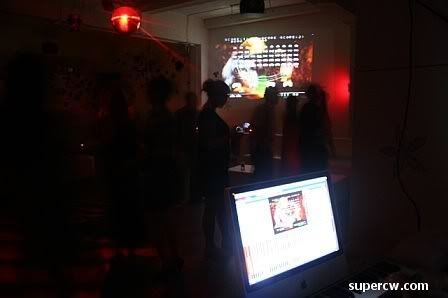 hi makana!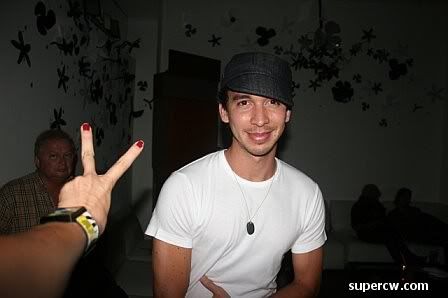 and friends!
this is DJ Garth. he is on wikipedia. in this day and age, that makes you legit, right? no? ok, well how about pioneering the whole thing they call "house music" in San Francisco then. or, i know, how about he played for 14 hours straight tonight.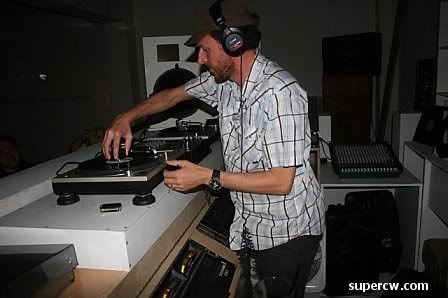 this was around hour 5 i think. ps: if you haven't seen any of farley's facebook videos you are sooo missing out. the roller coaster one is my favorite, but it doesn't even touch the flash one he made with the rasta ninja dude.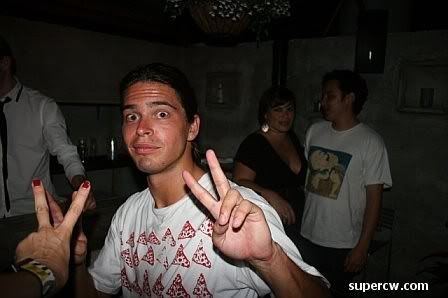 christain and timo. chinatownfaces.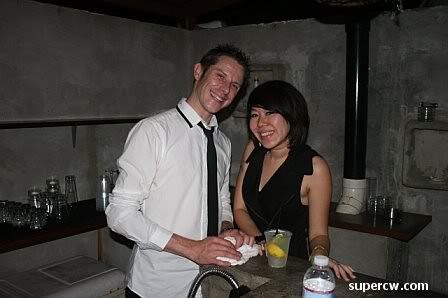 i sat for a while and let my brain dissolve.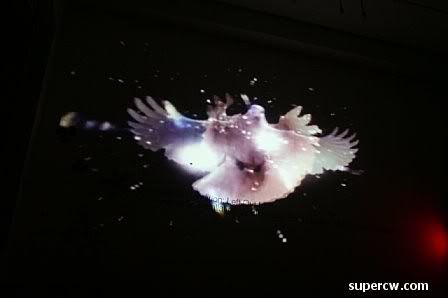 ps: this was around hour 8 i think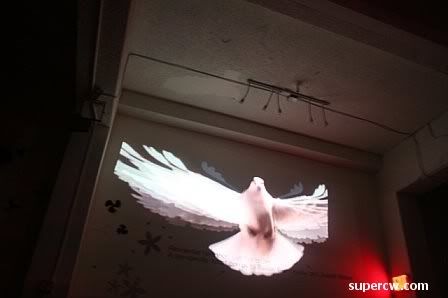 it's their night now. and they're doing it right. and they're doing it monthly.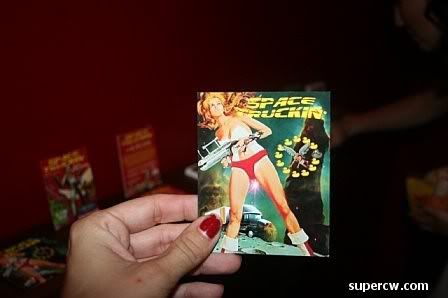 next month is chittom's birthday. those are always fun. we get to celebrate both flag day eve AND grady's birthday as well. pretty excited for this.
meanwhile….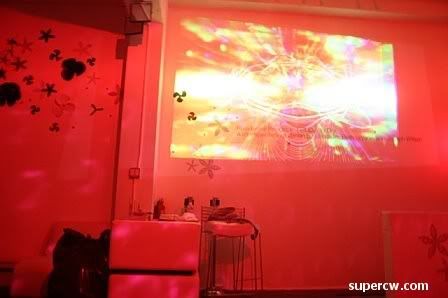 ps: that's daylight creeping through those curtains. i'm not scared. this was the first weekend i'd really been out out in a while. and i love this place.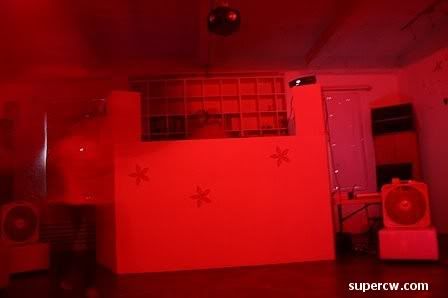 gotta run. i'm gonna go help paint soho. can't wait for that place. you'll see more of me, promise. if you really care, you'd tell me here though, and not to my face. wait.
xoxoxoo