woah hey. the accidental closeups are actually all the time with this short lens thing.



and clarisse is bringing height back. sexyheight back.
ps: i'm at industry night. aiea bowl! you know i've been way in to these since a pretty long time. and duh you get to see people like valerie joseph.
i was lurking people lurking the kilo kai.
zak is kidding i think. zak? ps: congratulate zak noyle when you see him – he's the newest member of the transworld surf family.
and these guys are the newest members of the kilo kai pos family
aw koa. i love you guys.
later last week pacific edge magazine celebrated turning 3.
if you ever see the back of pacific edge you may know that there's a column with the same name of this here website you're reading. yup. we been together since their day one. love them too. they pretty much let me do whatever i want (except, oops, just realized i am late uploading for this issue. sorry jamie, after this blog, promise.)
you can be sure the party was phenomenal. naomi and jamie know a lot of interesting people in hawaii.
of course, i didn't get photos of a whole lot. i was too busy having nicetimes. and remember i still have way-too-close-up lens. but i managed to get this! aw, jen bowers. pang! waterPRwoman! been missing you.
vicki liao OMG. so she asked our friend here to stop, then realized it wasn't the person she thought and said "never mind" and turned away. at a networking event. omg vicki. we made her go introduce herself and apologize.
ps: her crew. and what a crew! ps: it took me 5 times to get this. ask them.
hey. hey! can i borrow your lens…..
i was feeling mega tough in my hoodie with machine guns all over it later at v lounge. i was battling people left and right.
yes, i was the only one there. sometimes that happens when it's 8pm on a wednesday. but woah wait.
silver medallion just got in to town. and all 3 of them are djs….
…and not like, dj djs. like spent the whole new electro movement years living on the mainland djs. it was quite the battle we got to witness tonight.
did you see their show? i dunno man. listen to their music on myspace and picture yourself in a bar hearing their album picks played/remixed. that was me tonight.
we had company
who remembers oren from punahou? anton? maks? lina? barry obama?
well he's a rockstar now
and these guys nailed it for everyone who happened to be at bar seven at 10pm last wednesday.
woah! hey. woah…OH! i'm at kom koga's birthday event. jailbirds! themes rock, man. and we all had to get mug shots on our way IN the door. genius.
that's when/why i tweeted that
because. us.
don't think kim koga messes around you guys. there was a real craps table.
and blackjack too
and even though it ws black & white attire, stripes were highly encouraged.
it was the PERFECT night to wear my hoodie with machine guns all over it! haw! er. no photos, sorry.
ps: have you seen julie's iphone? have you seen julie? juuuuuulie.
well done, miss kim. don't think i'm not still totally rocking from being your new year's eve twin. kim knows how to do it. *fanning out*
we stayed for a while. the fam back together. aw. us.
friday was the big silver medallion show at loft. and the launch party for kilo kai. spiced rum. did you go? i did. i pre partied at the happy place too.
friday nights you get special sets from singapore al and the multiple sized can drumsetgenius. <3 chinatown.
daniel loves chinatown too. with all his heart. guy has been working his tail off down there. i miss him.
wait! it's already saturday morning? but but… the kilo kai launch party! i definitely was there. there were definitely supercw photos. why is this skipping to like a few hours later in the hot sun all morning?
i'll tell you why. because from that show to this morning felt like just that. a scroll of one photo.
but that's us. go getters. and we got. money. for the foodbank. the hard way. and ps: if i'm ever in a car and see the charity net things on the sidewalk, i am always going to roll down my window. even if i don't have any cash/change i'll just say hello or something.
powered through to meet the fitted family at ala moana. where, i mistakenly thought i wouldn't be able to find them right away. haw.
love buba, love buba's cooking
love buba's cooking love buba
not here to eat. just yet.
the fitted family has taken yet another step up. it was the grand opening and blessing celebration for their new webstore. and what a day it was.
now i'm not going to lie i haven't owned too many new era hats in my life. but the guys at fitted have taken custom design to the next level. and hawaii is being represented in a very big way through them.
they have a motto: aloha served daily.
and there was definitely aloha served today.
for the foodbank too
tim jackson. for the ladies
what can i say ola. truly love what you guys do. you're doing it very right.
and now people can buy your stuff from anywhere in the world. takeover coming in 3…2..
travis couldn't stop thinking about aubry's little mini dirt bicycle motor cycle thing after that one day – now he owns one.
and can i just say? PERFECT for bbqs and beach days.
everybody who's anyone wants a ride
speaking of representing hawaii in genius. race and daniel ito from contrast magazine were around. they are about to drop the north shore issue. *fanning out*
so yeah. don't think this was just any bbq. that's tassho pearce performing.
it was such a rad day….
ps: rob and rene and kaboe. they're just kidding. nicest guys ever. except rene. he picks on me sometimes. bully older brother.
ps: tim jackson is still killing it. i used to sponsor him. haw! no seriously. remember?
i-didn't-take-these portrait series: russell
travis
zakary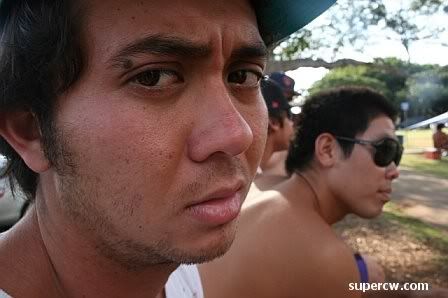 tim
i took this. ola was making sure i got @bobbyfilipino
aloha served daily. including today. gifts for everyone.
zak's was custom even though it was randomly selected.
where's zen. hey. THERE's zen.
we all got plaid shirts. we're bringing the long beach look to ala moana beach. just for this photo though.
that's what i got. and it's only 7:15 on a friday. think i'll give myself an art after dark/lost at sea at lulus/dj rehka at loft reward for finighing.
see you tonight?