ya, i don't know. live shows that have any sort of comedy element get my money forever. it's just too fun to laugh. lance's 4am drunk dials and richard cheese are probably the two things that make me laugh the most. this is me, by the way…. at pipeline a couple of weeks ago for richard cheese & lounge against the machine…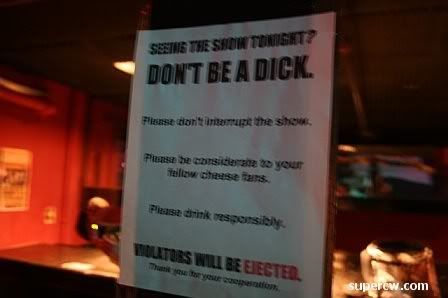 the idiot that was flashing their camera all over the place for a bit even though there were signs everywhere that said "no flash photography"? that person? oh ya, that was me. sorry you guys =(
but i had to pop some off. it's richard cheese. and these guys were SO in the spirit with their martinis. hi! i seriously love a guy that has absolutely no issue drinking one. so las vegas.
speaking of las vegas. have you heard richard cheese do nine inch nails? it's delish.
hi!
were you there? remember how many wardrobe changes there were? i lost track. but i loved the under the sea theme. i want a portable bubble machine now so bad. just to sort of keep on everywhere i go. to the bank. to sam's club. to parties. bubbles = instant fun.
saturday morning i was making rounds. hey! the president! tasting people on sake. aw, such a hard worker…
daniel just told me he got a better deal back above loft so he's moving out. i am so sad right now. because when he was on kauai with his girl this is what i was making myself for dinner.
said hellos to jesus puerto from sol de cuba later that day.
this was before the weather got freezing. it was a nice outdoor cigar night
rum and cigars. they had ron matusalem reserve, which is very tasty by the way
they say it's the rum that inspired the rhumba. it makes you want to dance. god bless cuba.
ruuuumba!
yoon makes cigars look healthy
woah, hey maka! whatcha doin?
oh. it's that shadow wars event thing at loft. this was the bboy tournament thing and MAN it was cool. super early too. a very christa friendly 8pm.
and woahheyjeez there's some damn talented kids in this town
sorry. you kinda had to be there. or see a video maybe? no, being there was the best. the energy in the room was all ripe and killer. but don't worry, there were, like, real photographers taking pictures.
i'll try. but just because it was so fun. my twitter friends probably remember me blowing up the stream with how neat it was to be there.
see lando? i told you
it was like a real battle with real judges that were real bboys. they would get up between some of the rounds and do stuff too. man it was so cool!
so anyway. you guys. way to be AMAZING.
saw her. loved her.
saw doug. love him love his shirt.
saw justin. he's super friendly i just always seem to catch him not smiling, swear.
saw mason. guess it does pay to do all ages events.
oh wait, that looks like 42 dollars. 21+ forever infinity.
juaaaskiddin! someone's got to do it, and the talent showcase pretty much floored me. way to keep it alive.
after 10pm the grown ups came in. er.
speaking of maka. wasn't it JUST his birthday? no serious. well anyway, this is how he celebrated this year.
by taking all his friends's money
probably nicer than some lame gift or a lei or something anyway.
aloha stadium. yup. this is what it's like always. buncha boys. "YEAAAHCHEEHUUUURAWRAWRAWRRARWRW"
"YEAAAHCHEEHUUUURAWRAWRAWRRARWRWWRESTLEWRESTLEWRESTLE""
and all the girls on the side like "Oh, ha ha. Those silly boys"
i couldn't stay long but happy birthday baby maks. you're all growns up kiddo. *sniff*
had to lurk the indies at kaleidoscope. thirtyninehotel on a tuesday has been my favorite thing lately. mainly because it's pretty come as you are.
cruising with the grown ups tonight
guinness has been going down like water these days. guinnesswater.
tim jackson was showing off his phone after i accidentally spilled a shot all over mine
SERIOUSLY? these phones can withstand a beer?? and a toilet drop (i know you all have done it!)??
and midnight snacks?? where do i get one of these.
michaelpaulface was celebrating his birthday. by barking every time i walked by. it was funny at first.
bari bari 13 the band that just up and moved to hawii from japan to play rock and roll shows was… playing a rock and roll show.
live music tuesdays with keska86 for life!
ps: aaron noble backdrop is pretty wicked for kaleidoscope. art. music. nightlife.
wednesday i went to france.
ok ok ok. it was du vin. and richard cheese is still in town. but this is actually mark. i believe he wants me to keep them separated.
and i believe i want to get him all excited about michael david petite petit.
i mean come on. cleanest lingering finish ever.
woah, sorry. my camera is being super finicky these days. will only let me take 1 out of every 20 shots, so when i get one, it's usually out of focus. i just learned from reid that it's my lens sensor something though. i'm half way on the road to fixing it. cool.
but anyway, it's thursday and it's the 3rd thursday of the month. eco lounge at indigo, duh!
thursday at indigo deadbeats duh! the band i never get sick of watching ever ever.
saw lola love in rachelle mode. she just got this amazing dress from a vintage place she found. and DAMN IT i forgot who she said. i remember you have to make an appointment though.
harumi the hymn was styling out too. jeez man!
i was trying to battle with my dunk lo tweeds but not getting anywhere…
that's ok though. i'll lose any shoe battle if there's free poke.
sjon was eco lounge networking. hi! sorry i didn't eco lounge network wtih you guys much… you know how i feel about the deadbeats.
but ya, honu guide looks fresh!
guinness with non-bf and the deadbeats is the most perfect thursday situation ever.
mishy la fleur in mish mode enjoying the night with us
and letting me lurk her and lola dancing their dancey goodness
speaking of the deadbeats, people love to dance to them
chessa pitting up with something funny daniel is doing. she does that a lot.
i think it was matty wong's birthday tonight? right?? i also hear he's an official deadbeat now. lost at sea AND deadbeats. oooo, your new nickname is two-band matty.
speaking of wayhot girls, rachel and marina came through to make me drool a little. nice one ladiesss.
two-band matty turned 21 and learned about my website in the same week. he's on a path for greatness if you ask me. haw haw.
ooooo done!
not really, haw haw i got two more. but i always got more, right? i mean, do you even notice when i get behind? besides the people that know me in person? that see me getting all irritable and short of breath?
yup. it matters THAT MUCH to me.
more soon, cw