so two weeks ago i got the hell out of town. i did! i went straight from town… to….. waikiki.



the weather wasn't perfect. but the hotel was. oh my GOD was it nice to get the hell to waikiki to the parc. it's all redesigned inside now and kinda ridiculously uber uber chic.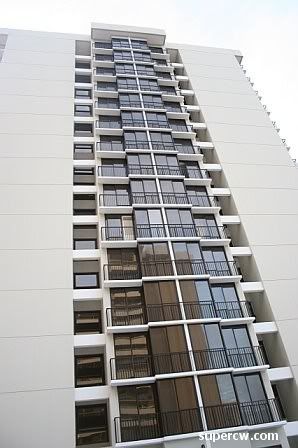 hi parc. hi immaculate room with nice tile floor and perfect linens and dreamy ocean view from my desk. it's me, your new wife for the next two nights. wanna get to know each other better?
they were so thoughtful too. i am usually not called a "ms." unless i'm in trouble.
i just so happened to check in on one of the two special days/week they do the poolside sunset wine tasting cityscape mixer thing at parc blue too. uber uber.
that cabanna thing there was my home from 10am-2pm for the next two days. poolside > beach for me. cleaner. nicer. ahhhhhh-er.
today was the only day there wasn't a lot of sun too. which was fine. it's not as fun to be in the sun when you're fully dressed and fancy and drinking wine at their cityscape mixer. that's when it's supposed to be overcast, man.
hi, cityscape mixer wine friends from planet perfect.
planet uber perfect
oceanview means sunset from another planet. planet perfect.
those fireworks that bug the crap out of me when i'm in town had a totally different noise from my room at the parc. they sounded perfect. perfect uber fireworks.
oh, hey sheraton. see me at the parc? all chic and uber? over here. hey!
GOD the parc. so trendy and chic and aaaaaaaaaaaad;jfjsafgkhdafljda
i was doing the my place waikiki chic retreat escape package, which meant dinner at nobu. DINNER at NOBU. areyoufreakingkiddingme. instead of bringing girlfriends i brought our wine expert tho. which is either a super great idea or a super bad one…. wine experts NEVER order by the glass.
but we share the same affection for bubbles. bubbly bffs.
never ordering by the glass meant we closed the place down. it was a set menu from another planet. planet perfect. TELL me there isn't one stressor in your life that nobu's yellowtail sashimi with jalapeño won't fix. if you still need help after that it's cool tho… i think we had like 7 courses. just so you know california rolls at nobu aren't just california rolls. they are california rolls from planet perfect.
i know you can't even see what this is. sorry, that would be my testy canon and it's new favorite reply to my picture-taking (err99). i'll just tell you this was the most amazing beef tenderloin with baby bok choy and mushrooms that i've ever had.
if you do the package you can pick the lotus experience as one of your options. i was thinking it would be cool to do the lotus thing then drive to every nightclub or bar with a valet and valet the car, go inside for one drink, then go back and get the car and repeat. i was too scared though. there's just too many variables involved with the possible destruction of this car. i decided to play it safe.
saturday day i did nothing. nothing nothing nothing. parc pool for life! this cabana was my home for the next few hours and i'll tell you right now, after that amazing night's sleep in my chicer than chic uber room i was seriously on another planet. planet perfect.
spa halekulani is one of the options in the girlfriend's chic retreat package, which meant massage for christa. it was only my second one ever and i was telling my twitter friends– it's always been a weird thing to me. the idea of some stranger rubbing me just didn't sound so hot. weirdo stranger rub. so i went over there kinda nervous and got kevin. a half hour later i don't know. i was totally transported to jello land. all those lumps between my neck and shoulders WEREN'T bones people! they were tense muscles. and they can be gotten rid of. by a non-weirdo. it was the most amazing thing ever, and i felt amazing for like 4 days after too. i had to top it with a lush-bath-bombed bath in my room.
sunset two of two. next time i'm staying for a week. and if you're reading this and wishing you could escape but just need to wait til your next mid-month paycheck (which, um, is ALL you need to do) i found the perfect thing to hold you over til then. just close your eyes for three minutes and listen.
the melt-away-every-stress-in-the-world experience at uber chic parc made going back to chinatown seem even crazier than usual.
it was the of montreal show at loft though, you guys. i couldn't not go. i just felt bad for everyone waiting to get inside cause i was all calm and peaceful and jello like and amazing feeling.
gotta love chinatown though. inae and chris lam.
dan weaver. mischievousface.
brandoms and two fifths of the jump offs
vince was coming from what looked like the most epic birthday party ever at the dollhouse. everyone got to decorate cool heart things and wear them. oh, and vince is gone now. thailand for like the next 6 months. when he comes back i wonder what's going to be different.
missed hottie adam. Crap! too tall this one. got his friend tho, hi!
happy birthday perfect dollhouse dollface!
mike kenny sent me his shots from the show and they were EPICCC! i want to post them too but it's taken me 2 week just to get my own up. and i still have more that i gotta blog. aaaaahhhhh.
ya. everyone was hyped for this show to say the least.
i personally am not hip enough to know who of montreal is though. i came for the jump offs. they KILL it.
seriously. i think me and daniel might be their biggest fans. actually, there's people gaining on us- i did a little non-official poll on myspace the other day and posted a bulletin to my 8,000 friends asking who their favorite local band was. guess what like 80% of everyone said. yup. these guys. 2009 is gonna be so good.
brought luke some hypnotiq glowsticks to get the groovy crowd groovier. it was his idea. i loved it. i wonder if it made people order hypnotiq tonight, cause that would be cool.
oh, speaking of work. i went downstairs to smoke and saw that it was one in/one out and it wasn't even 10pm. i felt bad for the people waiting and dug out for a while to let some of them go up and experience the epicness that is the jump offs. to town! to town! town, the restaurant i mean. they were serving up canton with ceviche for aaron padilla's art show!
i am so addicted to canton right now. there's like a thousand things you can do with a vsop cognac based baby ginger liqueur but i personally like with sprite and lemon and that's IT. soooo yum. i'm sick right now so i want it hot with lemon. yummm.
people were digging it.
got back to loft to see this of montreal thing.
the sound was like all pro and stuff tonight. woahhh!
yeah ryan!
yeah crowd!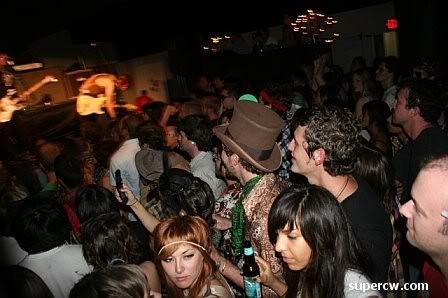 yeah no-shirt!

of montreal was very….. very.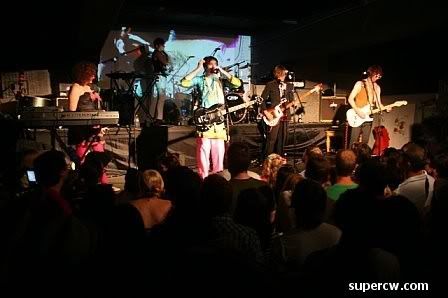 daniel demonstrating the result of 21+ shows.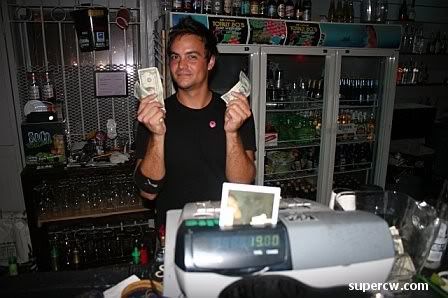 and rob taking care of us in the best way possible….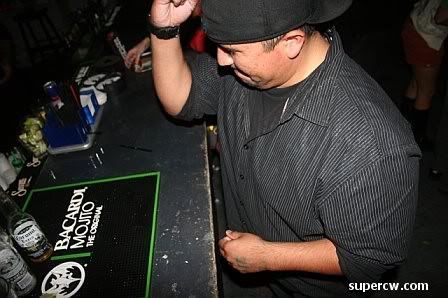 ….so our thing.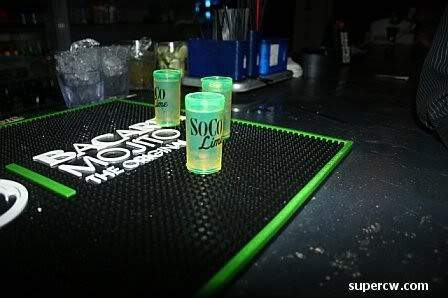 i heard later that daniel was making landon do mat shots. that's where you pour the bar mats into a shot glass. that sounds so disgusting to me but he said it's actually kind of good. i know he got some of our soco n limes in there. yummm.
yay, of montreal.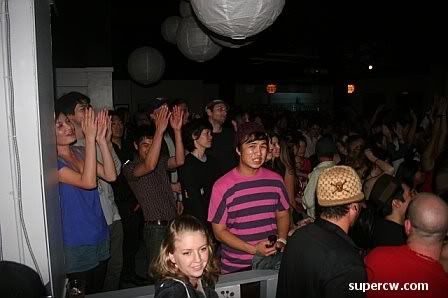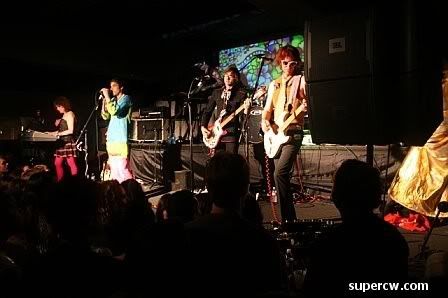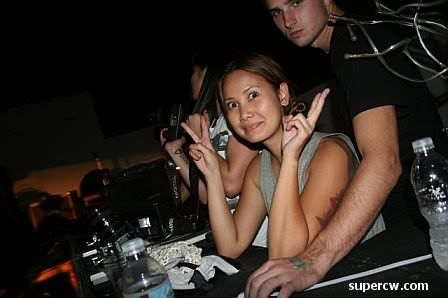 note: dude doing handstand. he came out a lot in weird outfits. sometimes animal outfits. sometimes naked with body paint. i think? i wasn't watching the whole time. it was fun tho. antics.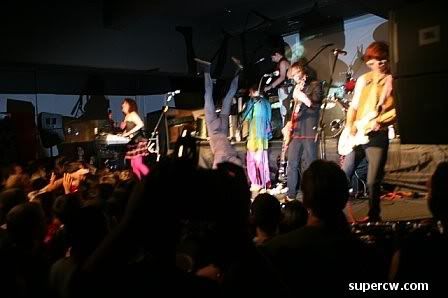 oh good. hopefully we'll see like real photos somewhere on the internet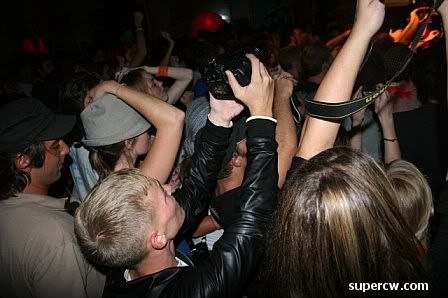 i couldn't see the whole time cause i was drinking a lot of the time.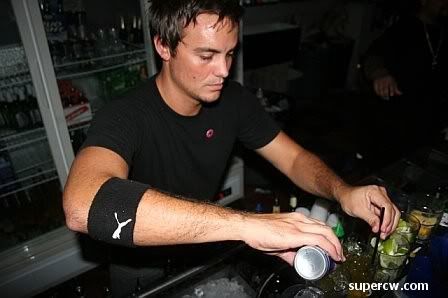 and cruising with in4mants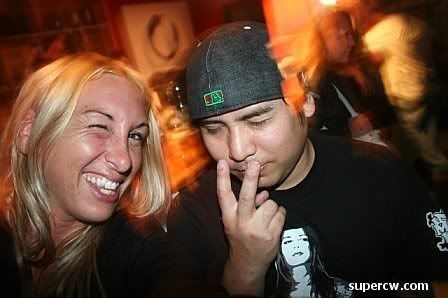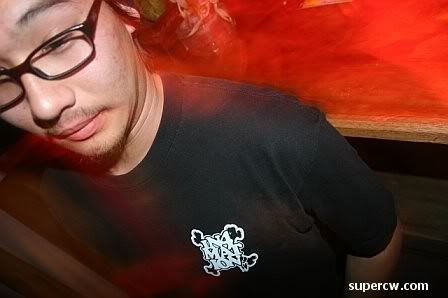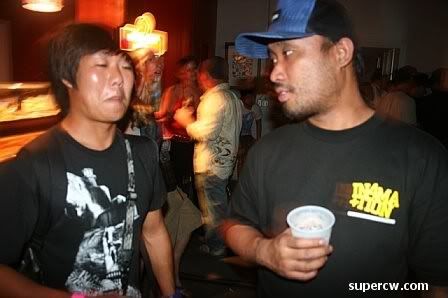 were you there! did you see that super tall hot blonde? i did.
in4mants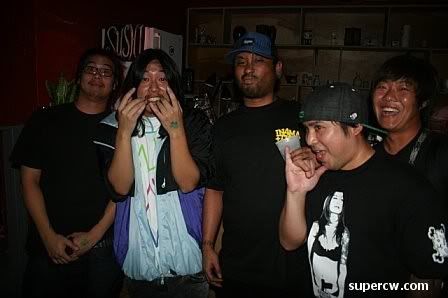 found this. didn't move too far away from this after i found it.
saw tyler and christina. and cristlyn, haw haw.
saw him
saw him. rawr.
saw lancifer
shoots.
metromix! that's a killer idea.
2/5 of the jump offs
shows over. wow that was a nice crowd. good work ara and enterprise. we love you for doing what you do. never stop throwing shows, everyone.
after show giddiness was all of us
ara had made buttons out of danceonpartyon photos of all of us. i was like "no WAY there's one of me in there" and andrew was like "yes way, there's one of EVERYONE in here"
!!!!!!!!
sunday i was getting fancy at the oscars
tips for the red carpet: i don't have any. i looked so beat down after the night before. where's my chic parc waikiki escape aaaaaahhhhh.
tips for the red carpet: look like collette.
lincoln was sweet tho. i came alone (as usual) so he took a picture with me. pity shot for christa. awawwawaaw.
no, but it was the most beautiful day ever. this was perfect actually. HELLOOOOO OSCARS! in hawaii. that's right, you can go too! see, this is the annual fundraiser for the Hawaii International Film Festival. and if you read me you know this is my most favorite fancy party of the year. the YEAR.
@sarah_honda works for hiff now too. she's introduced me to dan the automater, dave choe AND kal penn.
lurked john berger lurking the martini bar
lurked more arrivals too. tryina get some red carpet tips.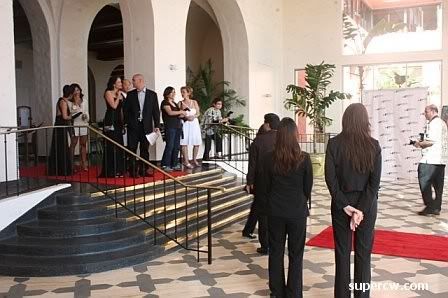 god it was such a beautiful day. actually, it was sunny and nice all weekend. is it always perfect in waikiki?
or is it just this party and the waikiki parc that are perfect?
either way. silent auction time.
hi! oh, so you're here to tackle me to the ground if i get too close to that signed david choe dryhump pillow?
i still managed to turn it over after i bid on it so you couldn't see the david choe signature. maybe nobody else would bid if they thought it was just some pillow with a drawing of people dryhumping on it.
i love how they "forgot" to mention that it was a drawing of a dryfck. i really wish i didn't get outbid this would have been the most brilliant gift for kalima. this artisan (dryfck) pillow.
the most beautiful day with the most beautiful outfits and let me just say how nice it is to see men in tuxedos in hawaii.
chuck boller the man of the hour and brett wagner the filmmaker of the CENTURY! omg! do you remember me telling you how Chief just totally utterly blew us away when it screened in october? no? yes? OMG! so brett has been working on a feature version. when that happens i'm pretty sure this will be all of us at the real oscars. *clap clap clap*
meanwhile. hiff oscars.
which is perfectly fine for me. only takes 10 minutes to get to these ones, no streets get blocked, you don't "really" have to look camera ready, and they don't put cameras on you for "reaction shots" when your ex is mentioned.
the hawaii audience wasn't as clappy as previous events… which was a bit of a disappointment to tell you the truth. that's kind of what makes this event so awesome usually. everyone in the room is clapping too and you really feel like you're at the *real* oscars.
usually everyone gets all excited when people win and applaud along with the real oscars. hawaii oscars, *clap clap clap* real oscars, *clap clap clap*
well hello!
reid shimubukuro sighting! where are your pics kid! you promised you would show me….
lincoln eventually stole me away from the press table to kick it with him and jason and KY. it was shenanigan overload after that. ps: LOVELOVELOVE lincoln!
by the time our main course came i was totally full too. full on shenanigans. oscar shenanigans!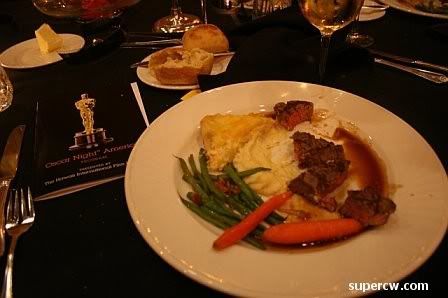 since it was the last sunday of the month there was phoenix poolside at rum fire. that place is so cool now!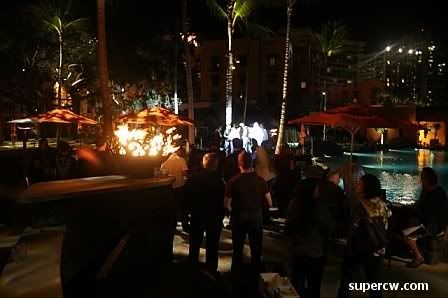 yeah bud!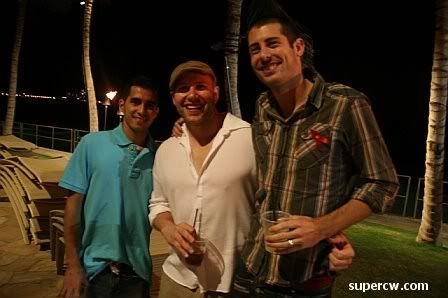 i missed the big show because of the oscars but still managed to catch a slight peep.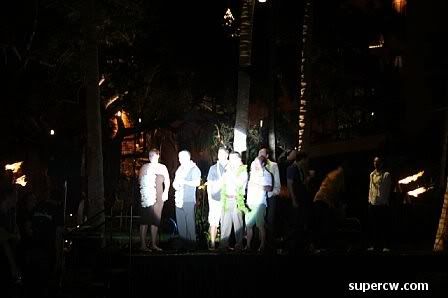 i am SO in love with this place right now. perfect night time party spot when it's not completely freezing outside. and for my non-honolulu friends, freezing here is anything below 70. which i think it was. brrrr.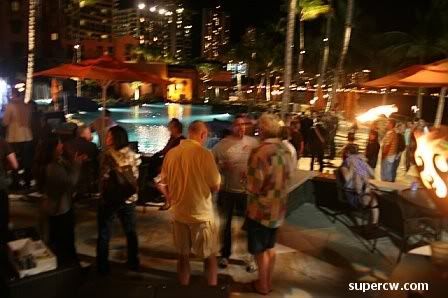 ooooo ok i'm done. i'm done i'm done.
more soon, i have a lot but we're getting there. GO to the parc! omg. it was the best melt-away thing i've ever done. ever ever. let me know if you want to split a girlfriend thing too, i'll go halvsies with ya.