so.  i just heard a friend mention they were going to work in new york for the summer. i was like… oh ya, there's a summer. i can't believe how being a grown up with no kids in hawaii cuts you off from the seasons completely. it's either christmas, or not christmas.
anyway- just thinking about that looking at this pic of me cozying up to a pint at jj dolans a few weeks ago. i remember i was trying to get drunk my flu. (starve a cold, get drunk the flu, right?)
not sure how red bull rob manages all the stuff that he does. oh wait, yesssido.
you remember when i was all going off about jj dolans before? same status. serious! i DARE you to walk in there any night of the week, at any time, and not see someone you know. they should nickname the place eh howzit!
jcut was getting all of us stoked on his premiere issue of chinatown, the newspaper. good ideas, bad economy. it sucks but i really hope it does well. make it grimy jason!
we had chats about it in the special place
it's not so oval, by the way. more like 4th of a circle. or, triangle with one round side.
it's still the dopest working area i've seen in a while. look moe! he grabbed one of your quadrant pieces.
robcam
robcam
christa cam. wait! why is this so small? aaaaaaaaa. ps: goose and bull!
we hoofed it to kaleidoscope after. my sickness needed more drunk.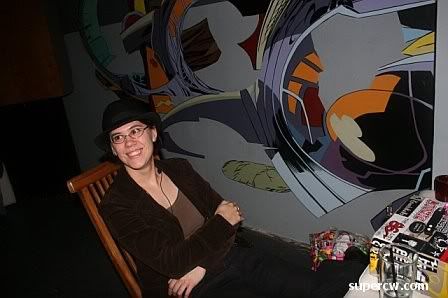 oh wait, i should mention it's like 9pm on a tuesday. the grownups were out in full force.
bob was the only under 25 on deck. but it was only cause he's in the band that was playing.
and i don't know how old mish is. i mean. she's one of those ones that looks 19 but acts 35.
shelly the cherry blossom dancer that always wears the cool flower ear things actually makes them herself. if you wanna do something right, do it yourself i always say. ps: thanks for the camera pin shelly! you are seriously the best.
it's a bit later now. the young ones are making their way to thirtynine. yay, kaleidoscope. oh, and ha ha rob gave me that hat. i was all excited to share it with everyone.
see?
of course daniel was like "no way you're messing up THIS  hair!"
the reason i'm out even though i'm coughing and sneezing and coughing some more? the jump offs weren't playing another show after this one til like MAY. i couldn't wait that long. they rock.
a lot of us think so
they were showing machine girl during the set. THE coolest thing ever, you guys! seriously. wait, i mean– have you seen it? GAWD it's soooooo gory. gory and beautiful.
it was the perfect accompaniment.
god, now i'm really sick. but work must go on. aaaaaa. wine up to my ears at UH on a thursday.
but at least i saw aukai! it's only been like seven hundred years. but duh of course i would see you near our sake table. i remember what you picked for this game!
speaking of the sake table. no wait! i mean nevermind the sake table! nothing to see here at the sake table!
that friday night was friday night of rare and cool occurrences.
it's pecha kutcha! these only happen maybe once a quarter, if not less, at the academy art center. SUCH a great evening learning and sharing. seriously. google it.
trust me though. if you can hear ok, you will definitely appreciate this program.
we all did
refreshments back at jj dolan after. guess what, we bumped in to friends too. something that never not happens here. infinity.
wound up at thirtyninehotel after. hey! i was with kalima, like you can say no to that. besides, how fun to happen upon a hat party. if you read me, you know i've done this more than a few times.
hat party hat party! and hows ehren with the beard now! disguise city. witness protection program even.
jeez, x factor killed it here tonight.
jesse looking more rocker than i think i've ever seen him. god, were you here? this was a crazy night.
kinda woah by now – but i couldn't miss nadirah shakoor at loft. she is just magic. such magic my camera was doing it's rebel yell ("err 99")
ah there! it's working! and nadirah, ma'am you're a queen. tonight's show was SO WOAH!
good music is one thing. good live music is probably the next level. i felt so lucky tonight to catch this.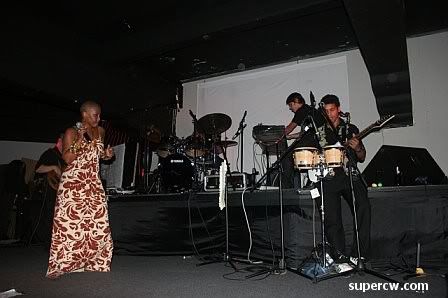 as a matter of fact, every single person there was beyond stoked. good night.
got scooped about it. aaaaaa midweek! <3 <3 <3
cyd is totally kidding, by the way. tonight was super fun.
and YES DUH there were ridiculously gorgeous women at the show tonight. grady back there included. haw.
wait, i meant gorgeous dresser, not gorgeous lady. ahhhh grady. gradynotgrady.
we decided to have drinks about it. chilled tuaca. it goes down easy.
so easy that i even made it to pearl. ps: it's STILL friday….
maria always makes this face when i flash. she's being cute and i love it. one of my favorite bartenders in the world right here.
tonight the nocturnal sound krew took over candy bar and it was LEGIT. best music i've ever heard in here ever. besides when eskae played this at my anniversary. that ruled too :)
i know probably alllll of you have seen one or all of these guys dj. but have you ever seen them PERFORM? i mean like seriously? cause they don't do it a whole lot anymore. i really want someone to bring this back though. like, now. this is on the next level nightlife stuff right here.
three of my four favorite things about candy bar. eskae is missing.
oh – he's up there KILLING it.
gonna overload on derin for the next few weeks. he's leaving us for los angeles, which i'm totally not even mad about. he's gonna own la.
i'll just pretend luke is derin. but you're gonna have to talk more ba.
daniel and i try to have non-dates at least twice a week. both nights i beg him to wear his cameraface shirt, which he usually does. it probably smells like nightlife, guys. sorry about that, it's my fault.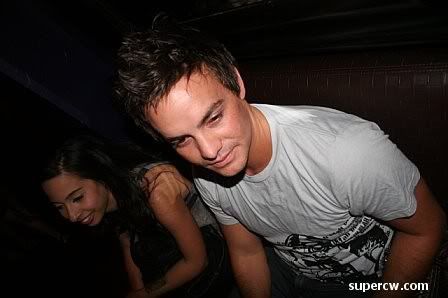 chris hughes from 93.1 the zone. dude, we gotta get you a cameraface shirt. and a cameraface. haw haw.
ac sharing her 3am secret with me. i don't think i've ever seen this lady drunk, btw. anne! come here! i'm gonna buy you a drink…
oh wait, flash is here…
being with pretty ladies = forever a win
candee is our supercrew baby sister, btw. if you used to read me like circa 05 you know this.
haw haw flash was singing "a$$ and titties, a$$ and titties" in his earpiece to all the F&M staff. they must love when he drinks.
well helloooooo ladies
helloooooooo shawn ho
nd omg tiana. *drooool* tiana…
you get the candy girlfriend
thanks for the nsk-ness tonight jami. you guys killed it.
thanks for the nsk-ness tonight, eskae. you guys killed it. do it mooooore.
WOAH last pic. cool. i actually lost my camera with the pics from after this night – like saturday and st patrick's day MAYHEM. found it today tho. that thing will never leave me, i think. i hope!
more soon. thanks for being so patient. i love you. i really do.