been chillin crib status all last week. spending ansje's last days laughing our faces off and drinking way too much before she goes back to california.
me and daniel took our non-relationship status to the next level, it's true. i actually see him less now that we live together tho. only on random weeknights when he comes through to cook me dinner and have gossips on the bermuda couch triangle.
last friday was special art event at the kalihi blue hawaii. i love that spot. it's so in the middle of nowhere castle in the kalihi warehouse sky.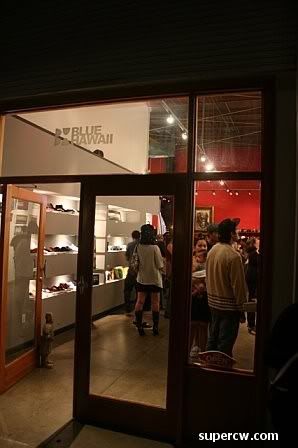 art show faces: eric rulona
art show faces: john juan p knowjuander
art show faces: cameraface
saw aaron martin's now infamous condom machine
and some KILLER treats from graphic genius moe diggs
they were interactive. each created on his computer then printed and placed in glass in groups of five to peel through.
it's good to have you back in hawaii for a minute moe!
red bull bar tonight. he was making killer drinks with the cola.
the music was nice too
ben horton is still lurking. i remember watching him paint that.
groms
brains
cardigan twin
don't think there wasn't a lot of people there
contrast magazine is dropping all over the world. not sure if you've picked one up yet but just damn guys. i'm so stoked right now!
red bull girls got us all jiggy
some of us were fanning out….
…over the lakai vid. it's still rad.
oh, my camera is so barely working right now. only on no flash and sometimes with flash. so i was sort of blowing it tonight.
krista and jcut
music by lightsleeperssss
picked up a mag and flipped straight to this. woah daniel! how've you been man.
there was the most delicious assortment of brain soup tonight. i was dying all over the place.
ran over to thirtyninehotel after to see what's up. germ is having an epic art show on friday in case you haven't heard yet. at black cat. watch your mouth.
it's him AND sonny too. should be killer you guys.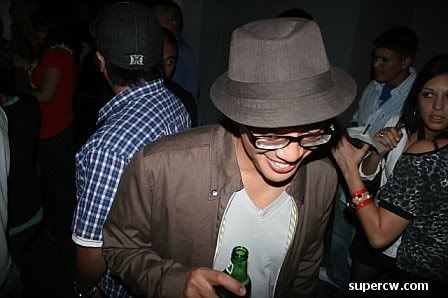 as killer as sssolutions choice of trax. nocturnal sound krew for life!
seriously friend. killerrrrrr.
hopped around a bit. soul clap is so easy to do that to. the music is choice and the crowd is all dressed smashingly hip.
it was woebots little faretheewell tonight too. it was nice having your brain around for a while, aaron. miss you already.
soul clap jami
soul clap jami
chinatown brain soup. international dj harvey beautiful selena brilliant chittom
chinatown indie soup. @danceonpartyon @pomai @sevtorseven
had chats with dan. it's been a while. and don't even think he's messing around, he nailed the soul clap photo update. i got word tonight that he's outta here too. it's ok man i understand. get out there and do it. just. come. back.
and HO! we met this kid from maui. SHIT! i left his website thing on my desk at work. i'll link to it in the comments. they totally flew out with his homeys just to see catchdubbs tho.
it made for fun camerabattles with danceonparty on
but for real. loved meeting them. they were so hype on the show. it was causing all this good energy/vibe at thirtynine, which is usually pretty good at keeping the uppity volume in check anyway. awesome friday .
morgan never likes the pictures i take of her but man come on. tonight was awesome friday . let's make an exception just tonight.
farley your friend! he's alive!!! the last time i saw him i was a bit worried.
blane was all healthy too. awesome friday . awesome friday soul clap. it was bringing out the best of all of us. @minikatsu included.
OH! DOH! i think just lost a camera battle with maui. awwwww, that's ok. i bet on awesome friday even i look hot in flash-photos.
go for it corey. i'm ready. i might even look good for this one.
christina stidman and her dancer friend that was looking hot but not down with my camera.
sorry booboo. i tried.
meanwhile, the dance floor.
WHAT is up with the music right now, i can't stop moving. oh hey. WORD! it's nick catchdubbs.
the one we been waiting for. fools gold soul clap jami.
fools gold soul clap jami
outside i lined up a pretty radical shot of dj harvey and got scooped.
what's funny, but maybe not so much funny, was that i actually accidentally bumped cory over and there was, like, violence. his camera hit the side of his temple and he didn't see where it came from. then turned around. to me. sorry, friend. i really just needed this shot of harvey. the man is pure gold. and his shirt says BOOGIE.
ok ok ok, that's enough of awesome friday for now. i need to get to supercraze saturday. i just, like just missed the rvca council of doom premere in chinatown. after reading about other cities and their versions of this i was actually SUPER bummed out. waaaaait guys. come back……
ya right like the night was ruined. there was NUDITY down the street at loft.
and the best kind of nudity. arty nudity. so you get to stare and not look like a creeper.
there's a very serious promlem with this image, btw… and it's that she's paying for her own drink.
i tried to get her round for being so awesome[ly nude in the bar] but daniel beat me to it. right on, friend slash smoothest man i know.
meanwhile. art!
*lurk lurk lurk*
ps woah – she's almost camouflaged to the groundup mural at loft. speaking of, noa? daniel said he really needs to keep it. it BELONGS here. please.
i hear tonight's event is gonna be a monthly. tonight was the second one ever. it's called glitch and glamour. it's like that crazy techno music. drum and bass? i need help here. but anyway, it's got a NUTSORAD following and killer fashion too. ed from organik actually flies to oahu for this party. that's how good it is.
no, this isn't the loft empty. this is the MOST EPIC FASHION SHOW I EVER SEEEEN….
i'm not EVEN going to be able to really get it here tho. no way. i need video so bad. zen. camera swap already. i mean it. because THIS fashion show was THE most visual treat i been treated to in a while.
but instead of knowing…. you get my lame attempts to capture it….
…but MAN just let me tell you: if you're the person responsible to making a fashion show… HIRE MODELS THAT LOVE TO DANCE
and not like any kind of dancing, that dub step/jungle/glitch hop kind. (i just found out what that music is called from daniel, the non-live-in-bf. MAN it's so convenient to have him around)
katrina bodnyk's collection finale. not just all the models walking out either. dancing out. and around. just trust me man it was brain candy for real.
i blew this entire collection. sorry, guys. only got the [mostawesomeest ever] finale
the next collection, um, had a KNIFE DANCER
and nudes
yup. three of them.
clinton did these, by the way. yet again another inside tip from daniel. i'm gonna start calling him chinatowngoogle.
oh please don't think this was anything but epic
i'm really glad i wasn't the only one taking photos….
THIS model had a step like none of us have ever seen. she was able to make her entire body jiggle with each step. like a simultaneous shoulder-swaying hip gyrating walk that had me very close to the threshold of heterosexual.
and THIS! that's the cameraface shirt! my pro model shirt! my shirt my shirt! in the most epic fashionshow i ever seeeeeen! …..FJAKSJD:KLSJFKDJDUELJLDKSFLJOUROPWAMC!!!!
of course my flash was not having any of it so i only got this. sigh. that's ok though, i was there for it. and it was ammmmmmaazzggggggg
oh, ok just show the next men's collection with break dancers then
ooooi-kayy
wait hey! cameraface shirt! hey!
oh woah. hang on.
oh woah oh woah. sorry, do you guys read this at work?
i wasn't the only one creeping
art!
oh wait. the amazingly epic fashion show isn't over yet!
and remember what i said about the models…
…you gotta find them wherever glitch-hop music is played. they'll be the ones in the middle of the dance floor. have THEM be your fashion show models and watch what happens. just watch!
man oh man it's shake-it girl. she was bam!
then everyone came out and danced.
i had to get out of there after the show. my brain was actually hurting from how much it swelled at loft. wandered over to indigo for ragnar's groundhog day party. it was kinda going off in there.
black square, duh.
ragnar hates my camera too. this is the best i get.
tonight was so awesome. who does this! goundhog day people!
i mean come on. how cute does this holiday get.
adrienne is probably cringing at all my made up grammar and words.
but hellooooo groundhog day party door prizes!
seriously you guys, is there a better holiday in february to celebrate really? i think not!
ragnar had all sorts of details nailed down to the opium den atmosphere.
i wanted to stay forever. smart people are the most killer sorts to talk story with. i had to hit the wave tho. HAD to hit the wave.
remember that chick that wouldn't let you in for free? that's right, 15 bucks man. it's after midnight. thank god i still have my vib card.
i sent a twit that the wave isn't the wave without derin in the ladies room.
@angelakeen tried to twitpic us, but it was too dark.
maria was out on a saturday night. this happens never.
what did i do to deserve tonight!
maleko and i met outside the wave. circa 04. i was in the middle of a nightlife strike cause the chick i went with wanted to bail and i wasn't ready to. i had set my purse down in the middle of the sidewalk and kept declaring to anyone that would listen that i was on strike. maleko scooped me up and we had more drinks about it. til the like 11am the next day.
joel what's up! how's the house?! tell ryan and jimmy i lovemiss.
flash hurry up and open a new wave with jack already. we need that place. the everything place. the everything place where everyone goes place. hurry up pls.
meanwhile we can relive the best moments. tuesday hasn't been the same since… and HEY FLASH! remember GRAVITY LOUNGE mondays?!?!
wait! whatwho!
CLAIRRREEEEEEEEE!!!
the first time i met fernando the love machine was at the wave too.
i didn't meet ryan goldenchild at the wave, wait. maybe i did.
i thought ali was double fisting but it was a chaser. that's coolness, i'm going to start doing that. booze neat and a chaser. sara cunningham used to do [still does?] that with jack.
wave wouldn't be wave without elaine and jackie
and a really damn good band
tonight it was the spacifics. that's perfectly ok with me. these guys rule the stage and you know it if you seen em. fantastic performance this eve.
oooo! done! time for laundry. yup, monday life is exciting. this week should be mellow. wait. lies! this week is gonna be the most epic ever. like the last one. and the last. andthelastandthelast….