yes, i was at nobu monday AND wednesday last week. see, i've been cocktail touring with bombay sapphire/chambord and modern luxury since before the holidays. it's been quite the journey. last night at rum fire was epic. last week at nobu was uber posh.

their 'modern luxury lemonade' with the killer garnish. yup. those are fish eggs.
it was definitely ooooo fancy tonight
brought daniel and his lady as my plus one.
star has been on every cocktail tour stop except one. that's pretty good cocktail touring, man. morgan the event designerfrom heaven and acker from heck estates were also lurking. HI!
laurant and sakara blackwell too. fancy people.
vicki from ilovephotos.com a.k.a. dollface
when i got there sommer had the biggest plate of sushi i've ever seen. that thing probably cost like $726495985. but it took us like the entire night to eat it all.
the elevaters!!! ben and sam and dave had touched down tonight so i figured they might as well see what a typical wednesday evening pau hana is like in my world. also note daniel wearing my jacket. haw.
jordon and mark howard came along too. upping the cool factor to like ten thousand.
speaking of upping the cool factor. ben hall.
musician meet musician. mark howard and sam golzari.
we got moka!! hahaha landon told me like three different servers came over to him when she was at chilli's saying "oh woah, check out that hot chick!" guess what guys, she knows booze too.
musician meet surfer. dave and jordon cooper.
anne was saving our life one pickup at a time last week, man. i'll tell you! daniel and i were both carless at this point i think. which isn't the best situation when you bring a band of 6 people to hawaii. they had no idea, lol. if you ask them it was the best trip ever. it's still wednesday, by the way. time for jazz minds.
jcut has been doing some major cookoffs up at his new wilamena rise crib. i'm pretty bummed i missed the last one. damn sony open.
aaron sans hat and camera for like the first time ever. i LOVE this look on you boo! well, except the no camera part :)
molesting anne, but woah how's my nice gold watch!
times like this are when i really should have taken video. the deadbeats at jazz minds. just ahhhh.
the freestyle portion. where miles got up and just about made my heart stop.
in a good way
it was to that "hip, hop, hipy to the hipy the hip hip hop you don't stop" beat. i think a person who has that brain flow ability could go on forever with that one. man it was so good.
sam couldn't resist either.
HOLY WOAH! jeez, now i'm super mad that i didn't have video. ugh. so how much are those flip cameras anyway….
…cause tonight was so spot on. these pictures are making it boring. DAMN IT!
we came back from a break and the entire band did a few songs. it was here that i was seriously dying. i did die. i'm dead.
they were. SO. good.
ethan wasn't going to be around for the friday show at loft. i'm glad he got to see them tonight tho.
they're singing "let's get real"right now. and at the end part when it get's all acoustic and harmonized i was actually crying. ok, not really but i wanted to. it was soooo amazing.
people were dancing their faces off
we had to celebrate after. v lounge for life. hi friends!
dosomethingtonight dot com for life!
was camera battling with cory and anna. like i could ever beat those high tech always functioning cameras. hey cory, what you looking at…
….oh! ps: i think this is the first time i ever saw a pair of apple bottom jeans in real life. nice.
anyway. there was too much energy in the room tonight. we danced our faces off.
thursday my camera was being all finicky. all those sony open shots two feet away from the golfers on the green in the grey goose skybox and this is the only shot that gets popped off. sorry.
jami and i were bickering the week before, so i said sorry by hosting him at the sony open cause he loves, like LOVES golf. and he said sorry with dinner. and a cute friend. cause i love, like LOVE … um, both of those things.
not just dinner. jimbos. i'm officially in love.
jami what was this again? number 28 right? 28 for life!!
thursday night was more deadbeats at indigo.
it's the 3rd thursday so it's also eco lounge. and MAN doesn't that new paint make the green room look HUGE? crazy. i'm painting my bathroom red.
harumi's drink of choice tonight. no wonder you're a boy genius…
…i mean, have you ever heard him go? it's like magic.
saw sjon! not sure who wins this one. his is probably more expensive. mine's a bit loud. only $20 for a vestal watch at rock shop tho. so i'm thinking. win.
daniel's been wearing my shirt like every other night. and becker came! aw man. tonight was killer.
holy GOD harumi! kill me with your brain why don't you.
chrisslyn is the new cocktail at loft and has only lived in honolulu for like 6 days. say hi if you see her, she's awesome.
THEY're awesome.
THAT's awesome
elevaters were lurking so deadbeats hooked them up to play some songs tonight. it was the most beautiful thingl
these people. hahaha, they had no idea what they were about to witness.
daniel showing sam my shirt. HAW omg i love it. "blah, blah, blog"
miles getting in to ethan. it's not hard. angelface.
eco lounge eco lounge
starting now we were dancing our faces off
the people were like "???" then they were like "!!!!!!!!!!!!!!!!!!!"
so i'll tell you right now. what makes it so good. is like, they don't just freestyle and rap and stuff…
they have like these angel voices when they start singing…
so it's like rap, sing, rap, sing, etc. i mean. it's just like so penetrating. GAH.
i think this is the first time i've ever danced WITH the deadbeats. like, all of them. tonight was the best night of my life. i was sooo hyped.
oh, ok maybe i was only just slightly hyped.
the sounds coming out of these guys. were just. !!!!!!!. itai shapira right there.
andre morton on the drums
sam golzari on the vocals and keys. look for him in some of your favorite films too.
i mean, the deadbeats have some damn good dancing music. and thursdays at indigo is a favorite for daniel and me to blow off steam and enjoy one of honolulu'smost talented groups. to be able to share that with the band we brought out AND have them participate was seriously blowing me away right about now. i could have cried.
they really made it the best situation ever. these guys were born to perform. and it showed.
OMG! it's friday now! night of the BIG SHOW! and my trooper was sorta working! i got to pick up the boys and take them over to the loft. pretty exciting moment for me.
when i got there aaron martin was already there. getting us woes
bradley was still wearing the hoodie i gave him. it was a killer idea – i got it at in4mation a few years back and it's like a $500 hoodie… but i've only worn it on like halloween. time to spread the wealth.
the painting tonight was super sick. i loved the color in this one.
the deadbeats brought along k-love from lost at sea and totally took the whole performance to a new level.
my camera was being SUPER bratty tonight. i got like nothing. it was an amazing room with amazing people and i barely got anything.
i DID get SOME tho. ed from organik! thank you for comingggg!!!
shaka zine! thank you for comingggg!!!
dave and itai. so LA! thank you for comingggg!!!
BOOOOOOGZ! omg the girl that made it even possible for us to afford so many flights at one time.
just oh my god!
they ROCKED it.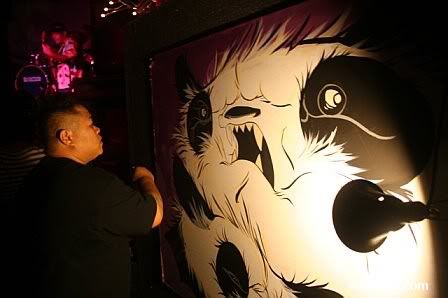 jeez. i'm so glad there were other cameras in the room.
maka rode in the trunk of a civic to get here. LOVELOVELVOELVEOVLVOVOELOVEE
rob flew back in to hnl to be here.
and aloha stadium skipped aesop rock to be here. LOVELOVEVLOVELOVEOLOVELOVE!!
you get two.
oh beats….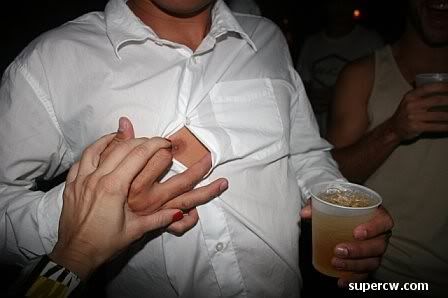 hottest girls alive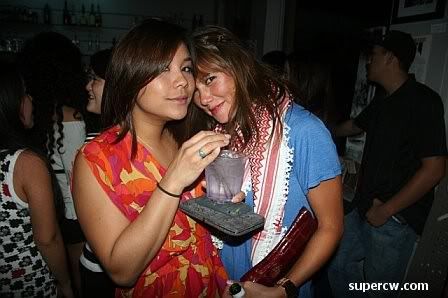 krista!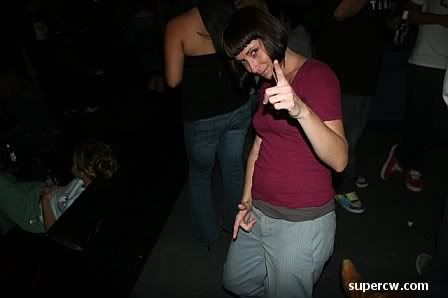 mary jane in spandex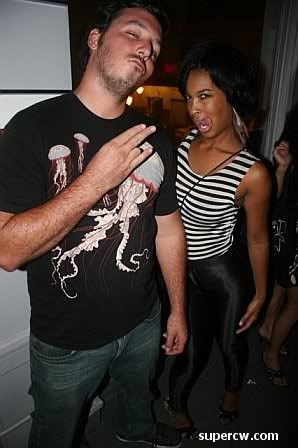 high rise spandex.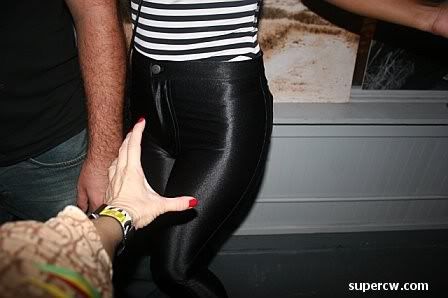 miles!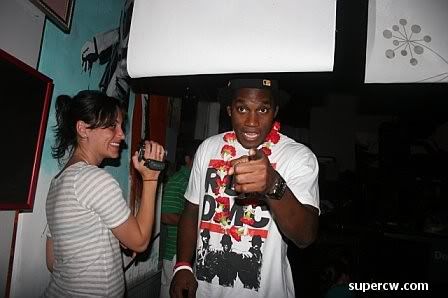 dari and vince!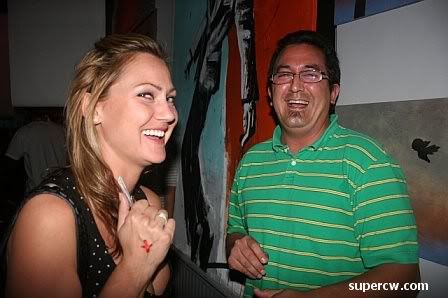 and you and you and you!!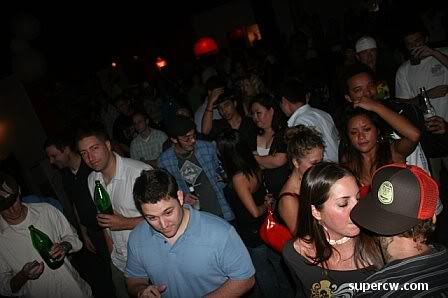 katie and BECKER!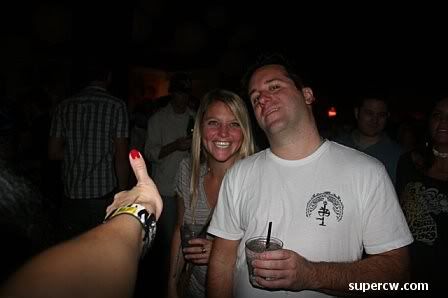 and woah, elevaters are on.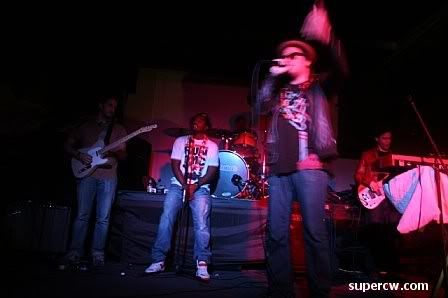 once again, wishing i had VIDEO.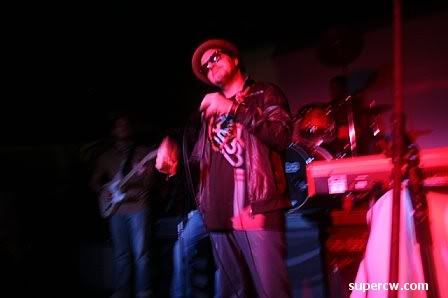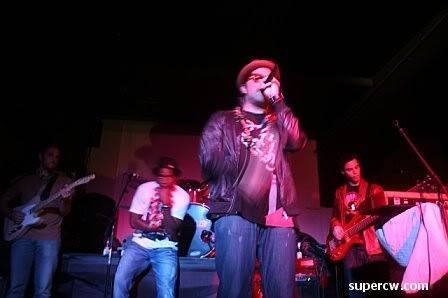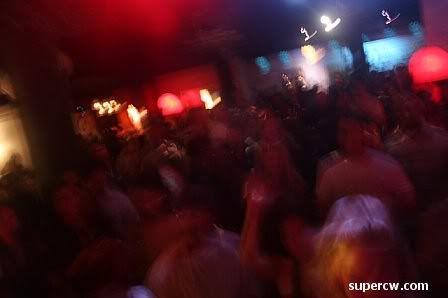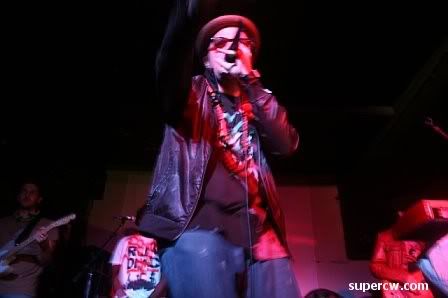 zen came, which means it was a COMPLETE success. i see this guy like never. his photos were up like the next day on their blog and now his magazine is on the streets.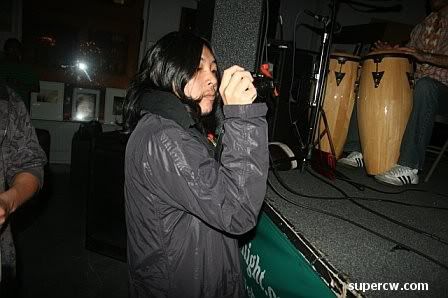 tonight ruled. period. we might do this again. might. the stress and headaches and money involved … might be worth it. stay tuned.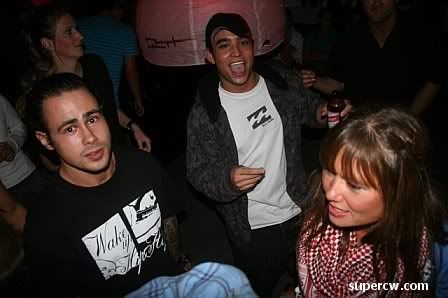 saturday rob texted me and was like "yo! what doing! i'm picking you up in twenty minutes. in a stretch limo" um…. OKAY.
i can't not give him goose for that. goose and bull goose and bull.
he was training/motivating his team tonight and invited supercw along. i was beyond excited about this. even before the red bull.
applenuts i think is like the skater guy for red bull here. or something. i dunno. but he was along for the ride as well. which was rad. dude gets wasted after even smelling booze.
loves ya red bull rob. stoked that your back on twitter too. @redbullrob!
so like falling down stairs and shit isn't hard core enough for our little lightweight chris awong. he's gotta go and get chest tattoos too. okay okay. HARDCORE.
we rolled over to pipeline for that comedy show. the stoner dude that was in grandma's boy and the ice skating movie. aubry actually came OUT to our ride to band us. THAT is some uber vip ish right there.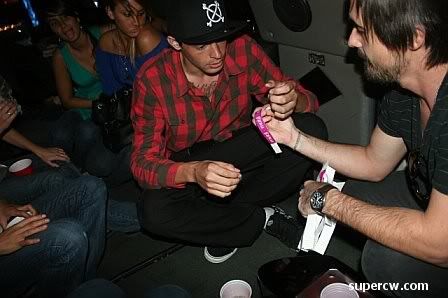 red bull = anything you want
goose + bull = best ever
oh ps: please drink jack and bacardi at bamp shows. forever infinity.
i was wearing my shirt tonight. i'm not scared. i LOVE the organik!
comedy show.
he was actually kinda hilarious. like super funny. i was dying when he was talking about drunk girls. it's so true man!!
back in the ride. red bull had these killer mini cans. shot cans. they were so on!
we were over mixing our drinks at this point. it was swig and a chaser from now until pau. super old school like kiddie style.
made them stop by in4mation. i had to get my g shock already! it's only been sitting there waiting for me since before christmas. brought the wing girls as my wing men.
haven't seen ryan ota since forever. RYAN! get on twitter! make us laugh make us laugh!
now TELL me this isn't the best thing ever. i gonna beat ALL ya'll in the watch battles!!
applenuts picked up an extra pair of the glasses that got us all hype. i should have got a back up pair too. they're only $10. i'm so scared i'm gonna break/lose mine.
get some before they're gone. SO on!
back to our cars
back to pipeline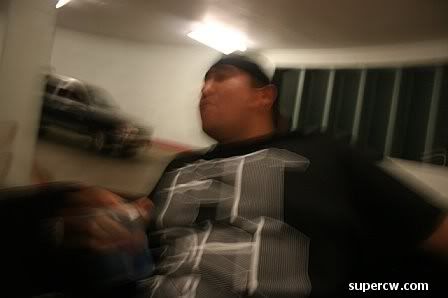 oh JEEZ! i don't think i've seen pipeline this oceanic since jimmy eat world circa '04. this was nutso. NOFX.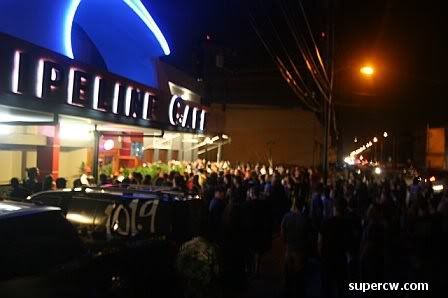 inside i was killing it with my new g-shock.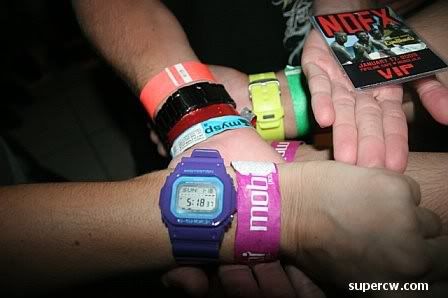 and saying hellos. hello, joe!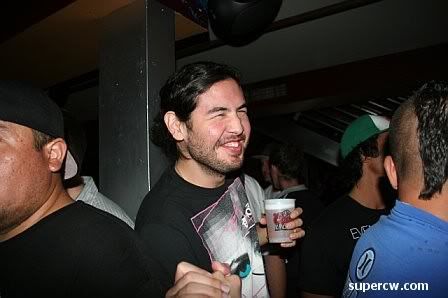 hello paul! and company!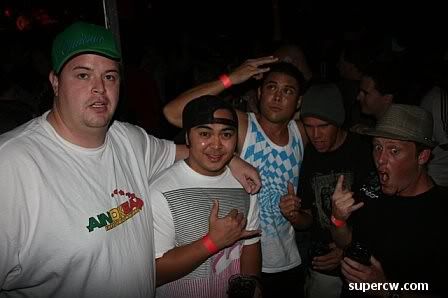 the bar situation had me kinda bummed. i knew pipeline would have/could have probably made double what they did if they had like 2 extra bartenders. they had to pour every bottle of beer into a plastic cup so it was holding up the line a bit. bummers.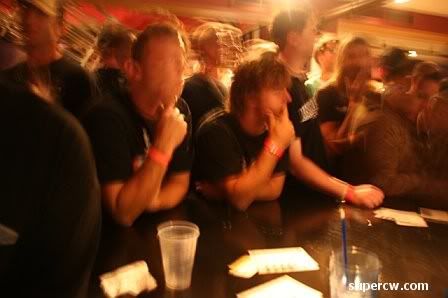 i actually was having the best time ever tonight. was expecting a lot of kids but it was actually a lot of ppl my age. the opening act was amazing. i found the best couch to chill ever. if i wasn't dead tired from the sony open i could have stayed all night. next time.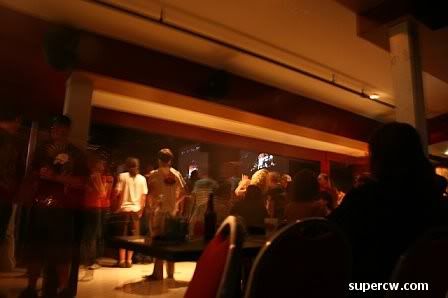 great week. can't believe i powered through. so much love to the elevaters, to boogz, to yohei and to everyone that came out to the show. that was crazy to pull off. you have no idea how much it means to me that you supported it. i gotta get back to work now, but stay tuned. bratty camera isn't gonna stop me from NOTHING!!
love you. cw