woah yikes – i'd been meaning to show you my halloween costume for work. since, like, halloween. i didn't get a photo tho so i'll just take a picture of the picture. how's this look! i killed it. there wasn't a real "costume contest" like, ahem, the one i won last year at visionary. it was more like a "costume concept" where we all thought there was a prize, then never heard anything again. but ya. here i am as our wine expert tyler. i just wish he was wearing his blue shirt that day! you wouldn't even be able to tell us apart!

monday i was at plain old regular bowling with grey goose over in aiea.

well, i mean, it's totally regular bowling, except everyone was wearing their pajamas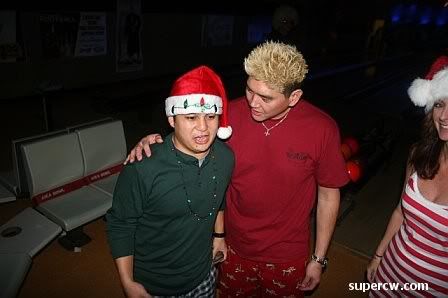 and got bottle service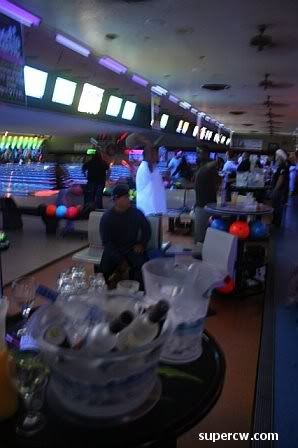 and watched go-go dancers
industry night people! rick rock only does this special one like once every three months. that's about how long it takes for the hangover to go away. oh what's up homey! it's good to see you here. now i can chill and bowl. ready? tag! you're it!
dareface never wears the hot 93.9 t-shirts but he's always at bowling with the hot team. this is so his uniform, by the way. one time i remember he was wearing a star 101.9 t-shirt and i almost walked right past him cause i didn't recognize.
big koa all festive. ok, well sorta festive. ok, just big koa. with a festive hat.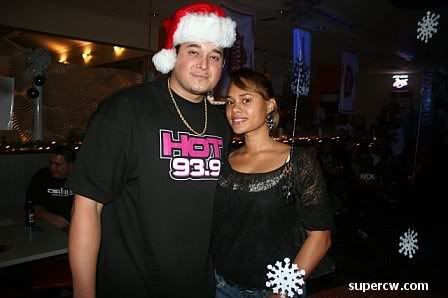 pajamas is the theme this time, by the way. an excuse to see all the nightlife types in sexy sleepwear, no doubt. it happened, but not with the chicks. GUESS WHO!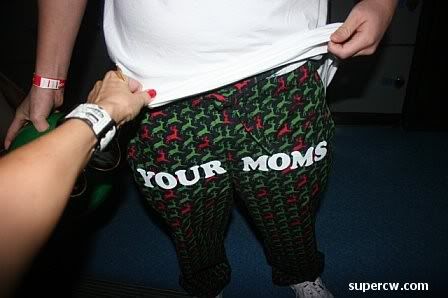 architects. hows your friday at level 4? peachy?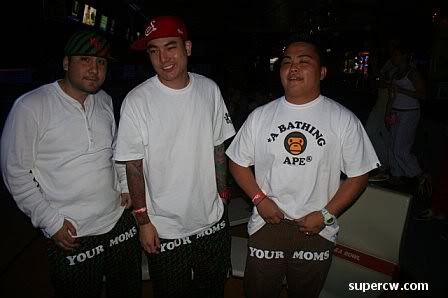 our bottle service was cutsey. we did the 375 grey goose option. you get three 375 bottles and an option to buy an extra one for way cheaper when you want more. as opposed to an entire new bottle. none of us felt like raging so it was a lot nicer to have the smaller, more monday-appropriate variety. even tho i think it equals out to way more alcohol. DOH!
a go-go platform dressed like a chimney, if you think about it, isn't the most applicable decoration. i mean, what if she falls. down.
tuesday daniel and i drooled over checked out the jump offs. i figured out that the reason they sort of came out of nowhere was because they kinda did come out of nowhere. this was like their 6th show ever in honolulu. daniel and i sat here saying back and forth to each other over and over "man, these guys ROCK!"
thank god aaron was there, so um, you can see them actually playing.

this is all i got. a cameraattack of poor lando. sorry bro, i was trying to get your good side man. nice show!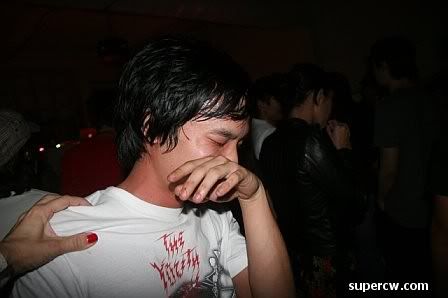 why didn't i get more shots of the first kaleidoscope event at thirtyninehotel? why? well! it just so happened that i allowed myself to be dragged over to bonsai by my partner in crime…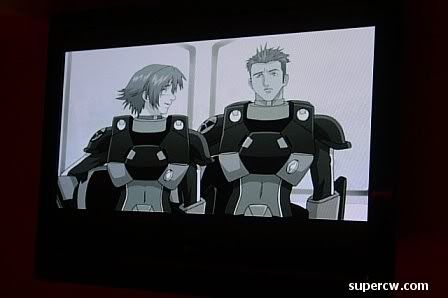 …slash non-bf. who i get to run out of a perfectly awesome party where MY crush is downtown to sit at restaurant row watching him crush on some girl.
ok, he gets 2 points for trying to help me out.
meanwhile kamu and amber and everyone were totally having a blast. tuesdays at bonsai are kinda rockin.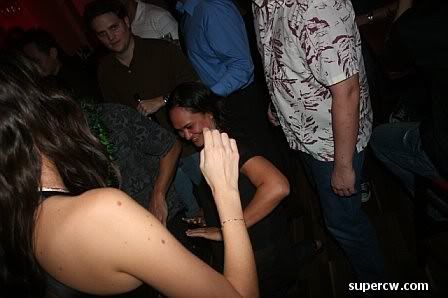 meanwhile we were both phone crushing trying to get our situations handled. jeez, we're pathetic.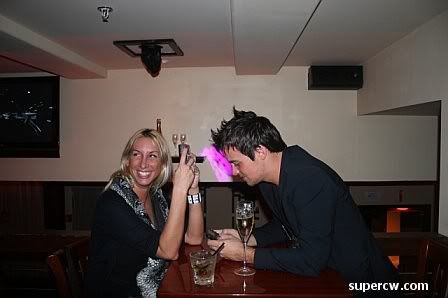 wednesday i was checking in on indigo and bumped into miss valerie of the valerie joseph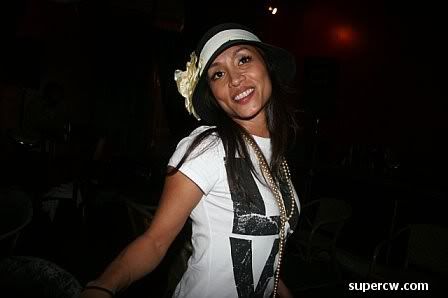 such a style darling you are. you get two.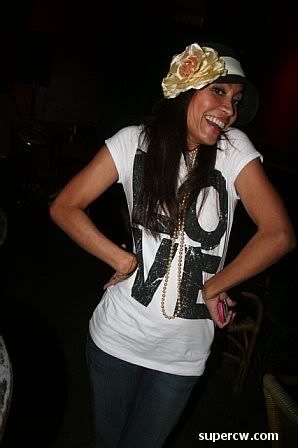 hahahah landon was geeking out on twitter. i didn't realize that the iphone would bring the rest of you guys on the train we all been on since last year. it's cool tho. now i actually have people in the same event or club as me that are twittering. like, from across the room. it's so funnycool.
speaking of club. i'm at loft for 80s night….
…and got special service. birthday week!
saw chris kalima. i know right! he never goes out anymore. i'm so glad i knew him when he did tho. cheers. friends foreverrrrrr.
i was being boring so landon grabbed my camera. he was super hyped on the eclecticness of the crowd and thought it was necessary to capture it. i'm in total agreement, but felt more like catching up with kalima. thank god for today's youth. ladies and gentelmen, landoncam.
landoncam

landoncam

landoncam. woah, is that still blood on the floor from the LAST 80s night? har har…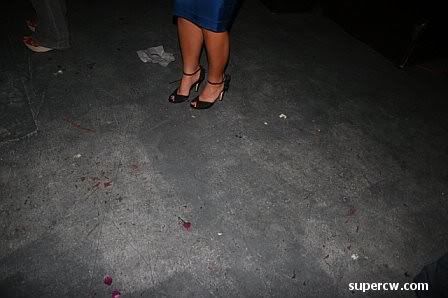 landoncam

landoncam. note the kalima-catch-up. it's been a while. i miss that guy man. we used to be the only two creepy grown ups at the old kaleidoscope watching the bands and lurking the indies. those were the days.
landoncam. oops, whatcha doin honey.

oh. ok. rad.

landoncam
landoncam
landoncam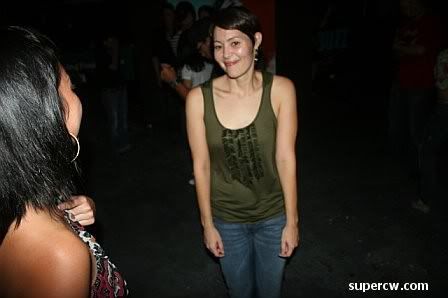 landon. just in case any of those above girls are wondering. cuteyface huh!

thursday was another stop on the modern luxury holiday cocktail tour. diamond head grill. i always liked this bar. not so thrilled with the random mandatory breathalizer you get by kapiolani park after party though. makes it hard to cocktail. tour. i just had one…
i was thrilled to see that they had my new boyfriend on the cover though. sweet.
cocktail touring with leandro and the blackwells. oh, you can vote for your favorite cocktail here. i suggest you come. it's fun.
then you can see beauties like colette and sakara. we be tourin. we be tourin.
woah. this is NOT the holiday cocktail tour. dammit lance! i been trying to reduce the number of inappropriate photos on here. i'll give you this one since it's for blair alley, who made you sit in his car for 4 hours while he got busy with some chick in irvine. just this once tho.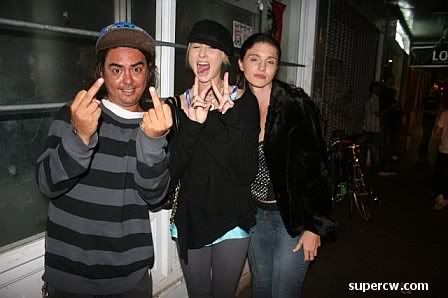 i'm at loft! it's friday! enterprise! i almost slept through it but heard a tweet from @aaronvb that it was popping. do you love how this works?!
radical rp is back in town for the holidays. a lot of people were actually. tonight was fun.
obligatory daniel grey at loft shot. sorry if you're getting sick of these. lord knows he's not.
rp anton and myself were having a sandbar reunion. we were ruckus then. not so much ruckus now.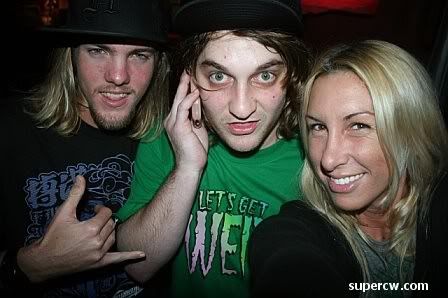 ps: they sell 40s at loft now. yup. they're not cheap but when you equal out the ounces and compare it to the price of a beer it actually is a pretty good deal. bring your own paper bag tho.
hahah tim is asking for it. the last time he did mandudebro pose i sent it to rob at the skatepark of tampa to use as his skater profile photo.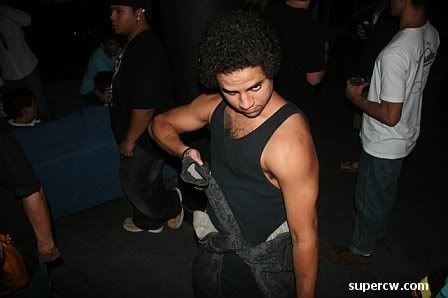 sean payne. googlehim. his skatepark of tampa profile looks like it needs to be updated.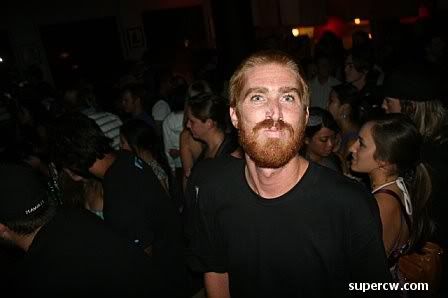 @pocketmonki doesn't twit as much as i would like. he's getting there. iphones. good to meet you.
you get two. i better see more twits.
meanwhile the loft was banging tonight.
and vincent was trumping the beer wtih grey goose. it's what i like to see.
and kera is back with her hotter than hot friend that knows joshua radin. i know him too, dammit. and i was hella pissed that he looked right at me and kept walking after all the bonding we did at the miss sixty party. i mean, ya it was two years ago or something but hello! you even sang to me. jerk.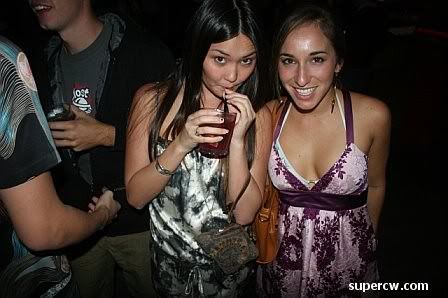 reunited with lauren glamb too. she's only in town for a minute so you better get her while you can. even if it means more lance. nah nah nah! i love you man. thanks for not middle fingering.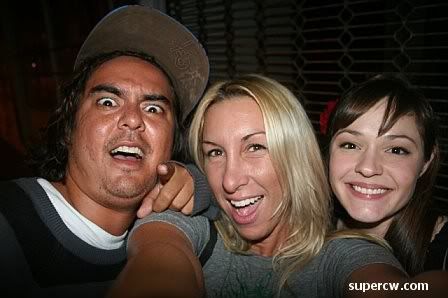 meanwhile something crazy was happening on stage….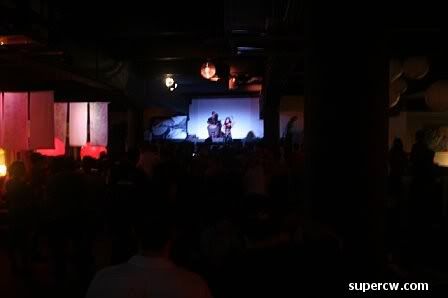 there was the hottest thing i've ever seen up there. in shiny american apparel leggings.
and it was don ho's daughter. not the one that sings that legally blonde song. the sexier, darker, more hip-hop stylie one. i'll go ahead and say it…. the hotter one. the track she has with anton on her myspace is crazy! you gotta hear it. take back.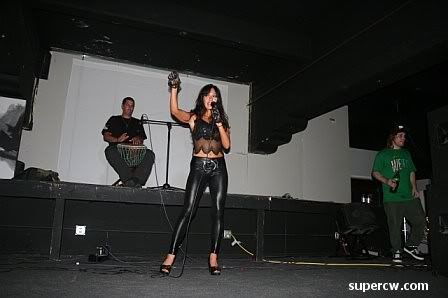 hurricaine sara 2.0. now that cunningham is outtie we gotta keep raging. i miss her tho.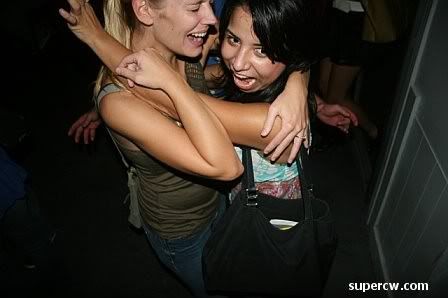 waiting for the storm to settle after ZAP! have you tried the ZAP! guinness, btw? it's a special kind that has to get surged in this surge thing. you probably saw it behind the bar and were like "what's that?". yup. it's the zapper.
@seenpain was showing me the differece between all the twitter iphone apps. twitteriffic won.
anton performed. the first one of the season. all new music. he did subway tho. i was bummed he didn't play my favorite track but hopefully at my birthday party this friday he'll be down. i know all the words!
cruised with kays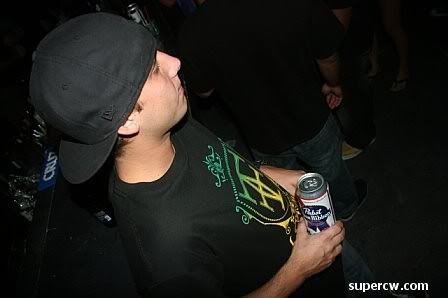 and sky. who i think is being turned on to anton for the first time. i know, girlfriend. it's not like typical "music" per se…. you gotta um, read between the lines.
saw this. made me miss brett and sara.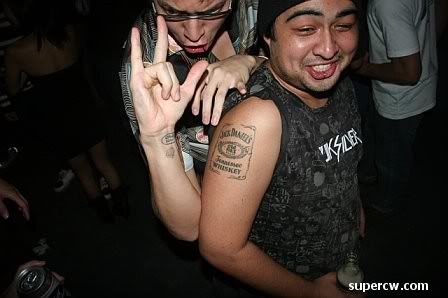 now that's a commitment to always having a wicked hangover right there.
i mean. if it's branded right there on your arm for life, you can't just go in to a bar with your friends and order a beer and be like "k guys, right on, see ya". you gotta go JACK big like every time. right? like wake up in an unlocked car or vacant room with one shoe and a broken finger big. right?!?
cool rockers there. forever. except… who's that last one? andy dick? aw, juaaaaaskiddnn.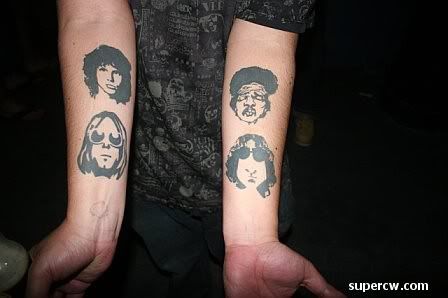 dst corey was rocking the olde ivory.
oh wait! it was just the sticker. FAIL!!
saw @nicoleiglesias twitting from the bathroom. i LOVE this you guys!
also saw corey fix his foux olde ivory. looks better. WIN!!!
SSSSSSSSSolution was taking a stab at the enterprise crowd and totally mopping up the entire floor. this guy doesn't mess around people! nocturnal sound krew for life! *fanning out*
anton was being anton
and i was dancing my face off.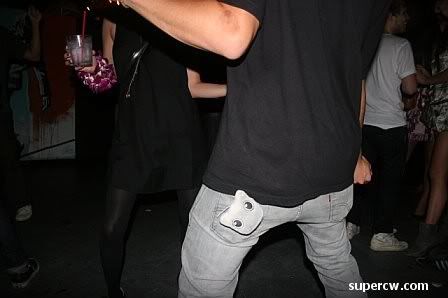 so was aly. oooo tights! i love winter.
jonah was doing more appreciating. less dancing. hey, i never said i won any dance competitions.
checked in on fruitfly at thirtyninehotel before bed. it was so festive with the projected images. loves it.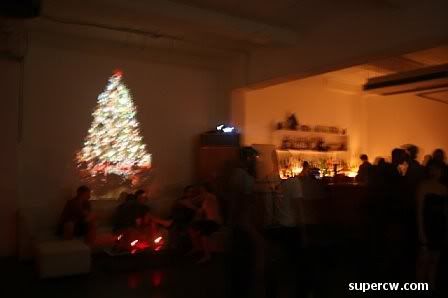 germ is doing the flame shadow again. flameshadow 2.0.
saturday was so chill. i got to watch jon swift play the banjo and sing songs with hurleyboy rob machado at the academy of arts. it was heaven.
then i got to watch my genius friends present their film that was just hands down brilliant. sliding liberia. see, they call surfing sliding over there in liberia. which totally makes more sense to me. i mean, surfing just sounds odd and inappropriate after watching this film. which i'm pretty sure wasn't the main message that i was supposed to be leaving with. liberia is still in a bit of disarray after the civil war, but man they know how to slide. i think it still plays til tomorrow. don't miss this one people.
ha ha spotted some major carpooling on our way to aloha tower. guess there was only one destination for everyone tonight. le disco.
maka wtf! seersucker isn't 70s. that's so hot right NOW man. i was just in j crew the other day and saw this.
and rob?!?! a HEAD scarf? what's going on you guys. am i at the wrong party??
ah there. now she's got those super high jeans everyone used to rock but she just got them at forever 21. they're back in style. good luck with that style, ladies. i'll be in my usual grey-black-black-grey. cw don't trendset.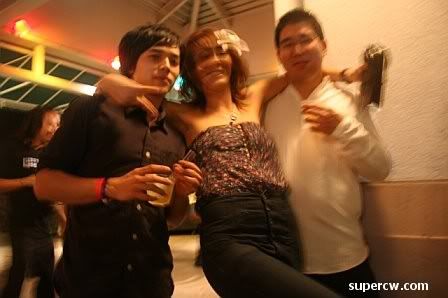 sammy got it. can't wait for the video. please do your usual and whittle down my 3 minute blabbing to a nice respectable 5 seconds again please. loves ya.
bernardo bernard taking a break from shit like winning SKATE to party down. nice to see you man.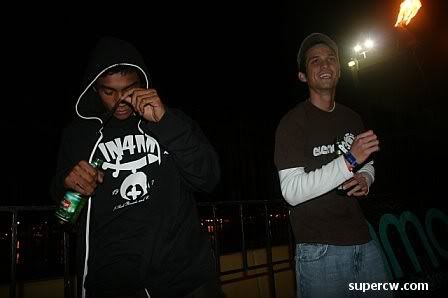 yes this party raged. you knew it would.
i was blinded by the all the girl shine. 70s = shinyhot for the ladies.
and there's absolutely nothing wrong with that.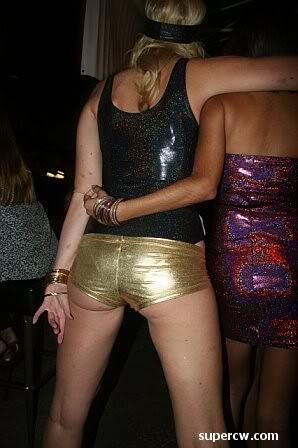 lost at sea! remember them! no, they didn't add nocturnal sound krew guest appearances to their deal, eskae's just messing around back there.
russell saito is the best. theme parties are like a part of his life. and with this photo, i think i've seen him dressed all ridiculous more than i have normal. and yes, i'm counting that time he wore a smelly wet shirt from the trunk of my car "normal".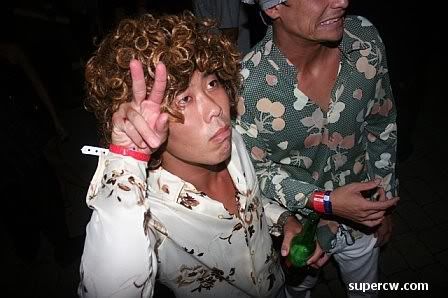 my right hand man eskae. awwwww, loves u. there he goes being on the left again. i guess i mean stage right hand man.
YES it was banging. for the second time. yes there were like thousands of people there and yes it was damn fun. it was a heavywater party people. you know these things rage.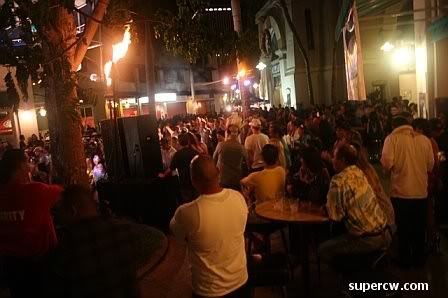 paul fisher was in rare usual form. how he can get SO completely obliterated and still function, like stand and walk and talk, is beyond me. this was early in the night and he was already there. party genius.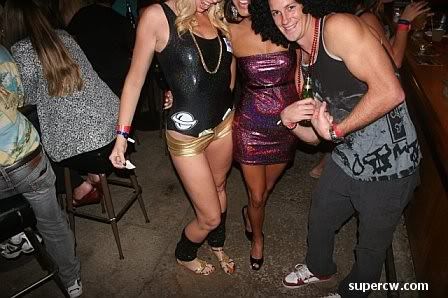 oh woah. it's the band that i broke up with lost at sea for. the deadbeats people! on a SATURDAY night. this only happens like never. *fanning out*
meanwhile, lost at sea had moved from perfectly covered 70s favorites…
… to their current favorite surf rock.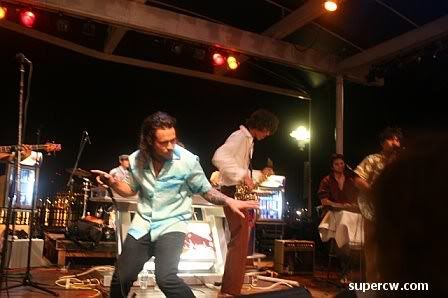 OMGWTFLOLROTFLBBQ!!!! then harumi got up and had to make me freak the eff out. deatbeats + lost at sea = <3 <3 <3 <3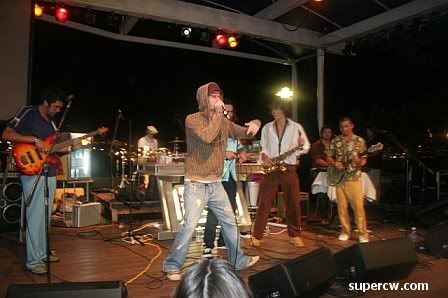 sorry. i had to excuse myself while they raged. it was so fun. super good show. and look here, another party genius. omg. i love it.
yikes. so did paul. party genius + party genius = time to go to loft.
landon promised me that he was going to wind up stealing someone's glasses tonight. he got glasses AND hat. WIN!
made it to loft just in time to miss becker's neon ring toss competition. only got the aftermath. CRAP!
headed out instead. this is the weirdest time of night to be out for me now. for someone who used to stroll in the wave at 2:36am every weekend to get my night started i'm definitely feeling my new age. (oh ya, it's my birthday right now). but ya, any time after 3 feels like i'm just asking for sketch.
for example: sam here in the middle of the street with a case of red bull cola.
the vertical junkies are about to take over. starting with a bar that's open into the wee sketch hours of the night. it's like 3 something right now. i can't think of a better crew to be cruising with.
not sure you really need to see what happens in here after 3 tho…
nah! just kidding. it's not so bad man. there was disco leftovers.
and US! and we rule. omg! paul fisher is STILL going people. look at the bar holding him up over there.
i'm stoked that the vjs are doing the bar thing. the entire place is vj to the max too. the tables are even the vertical junkie logo. so sick!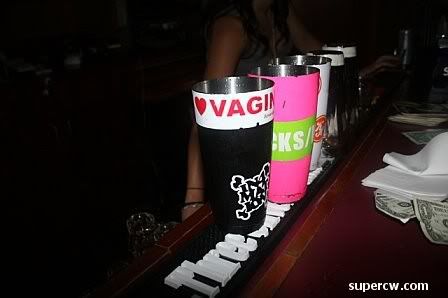 meanwhile paul fisher. seriously dude. take a nap.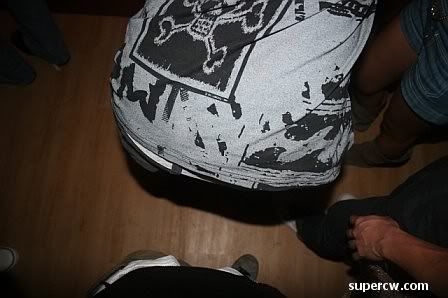 spent my actual birthday day sleeping in the car on the way to the north shore…
…and sleeping the rest of the day at log cabins. was nice. sorry i didn't get anything better done today. nice quiet dinner with non-bf was all i needed to feel special. this friday is when we get nuts, tho. ok? enjoy your christmas.
love you. and you and you.