so what's the best weeknight ever? um, teaching daniel at loft how to use facebook while trying one of every rum martini he invents.

it was a good starter before walking over to eco lounge. yup. it's third thursday. i gallery-walked myself over to indigo.
eco lounge is like a mating call out to hot guys that aren't available at all. oh, hi, kaveeka and travis.
hi, married ed. jason! who's that yumminess? everyone was totally drooling all over her tonight. i got the scoops for you guys tho… her name is sonia. she just moved here from LA and lives on the north shore and works at INTO. you're welcome.
suzy ford was there getting me all excited about my (pretend) reality dating show. i wanna marry a watanabe ™. it just might happen people. stand by! and, um…. any other watanabes out there besides molly and travis? get at me.
this just in (according to facebook): sjon is now in a relationship.
WHAT! WhAT WHAT WHAT!!!!!!!!!! holy WHAT THE OMG OMG ROTFLBBQATMOMGOMG!!!! it's the organik cameraface shirt! THE SHIRT!!!! i'm dying right now. NO it's not available for you to buy yet. we're making em all special like. limited occasions (like my birthday, in a few weeks). so ya, guess who better come out on dec 26th….
i was busy lurking the hot blonde surfer chicks before the actual fashion show. it was choice.
the actual fashion show. this is the point where i officially fell out of love with my point and shoot, by the way. the shutter delay is utterly chaos. i couldn't even get a good shot of the girl that was wearing my FACE on her BODY.
um. got this tho.
v-dubs was kind enough to stand still for ten full minutes so i could get a clear shot. if you were there i guess it kinda looked like i was looking in an A-HA sort of mirror of me as a cartoon or something while i was trying to take this picture. cameraface vs. cameraface.
here's this one. for the ladies.
but ya, back to me. HOLYWHATTHE!!!! seriously. i love organik. i mean, ya, sponsor me because i do stuff with the internet and things, but MAKE A SHIRT for me too?!?!?!? i'm officially a team rider for them. i went pro. i fucking went pro you guys. and i didn't have to skin my knee falling down a cement triple set to do it. so money, man. thank you ed. seriously.
had to get the hot blonde surfer chicks up close. the lurk shot just wasn't doing it for me. lurklurklurk.
ed had brought everyone treats from his bakery. you have no idea how amazing those oversized red velvet cupcakes were. they tasted like cream cheesy red velvet air. if that's possible.
it was katrina's birthday tonight. so, um, the cupcakes were for her. happy birthday katie!!! that's her awesome fiancee aaron there with her. we killed it on kauai a few months back.
oops, kinda got this one backwards.
wait. crap! still not getting it right. but hey! i have that shirt in grey. it's totally my uniform.
oh. you guys. starting now i am no longer blabbing to the world how much i love you. i'm super paranoid now that some mainland management team is going to swipe you up and put you on tour all over the us and i won't be able to see you for free on thursdays anymore.
hahaha sjon was like "no i'm not drunk!" then the next day he was like "ok, ya. i was pretty drunk"
danielphonestance vs drunk sjon. sorry, non-bf, it looks like sjon takes this one.
now what. OH! i'm at atmosphere now! this past saturday. were you there?
the deadbeats were! oh wait, who is that arm behind harumi the hymn…
…i'm not saying any names (ryan kunimura)
aaron martin angry woebot was upstairs drinking with the grown ups. so nice to see you in town. i LOVE the whole bundling up thing too. it makes me giddy. i would be sweating my face off in a down vest but aaron makes it look SO damn cool.
jacquie brown totally had me fooled with her hairdo tonight. it's still super long, just styled so you can't tell. ps: dollfacehottietothemax
flashphonestance was upstairs with the grown ups too.
maria was kidding, her photofaces are always kinda like this.
eskae, remember? i think that was hennie number seven.
if you can't beat em, join em. (with a jack and coke, thankyouverymuch)
but ya. atmosphere. not as hype as i was expecting but still pretty fun.
i didn't dare go down there tho.
nope. this is totally my bamp shows at pipeline stance. upstairs. couch. drinks. eskae.
don't worry tho! if you want hella good shots from the show you know our boy aaron has it. he doesn't play either. 100% pro right here.
kahunahana and joe have been building a spaceship all month and i'm not even kidding. make sure you stop by next door on first friday.
yup. bamp stance.
kanoe from vertical junkies made it. jeez, kid what are you, like running a hundred miles a day? you just totally got runway model thin overnight!! tell us your secret or die!
ps: drunk eskae. i LOVE drunk eskae!!
well anyway. atmosphere. it was pretty fun.
i superloved aaron's shot from his site of this. i wasn't actually the person who tagged the mirror though. proof. thanks tho!
scooted over to bonsai after. to the sea of beautiful men!
did i say sea? ok, more like ocean.
i don't know how people can even move around in there on a saturday. the bouncer actually was about to deny the hell out of my entrance. i was a bit…. dressed down. thank god for sato.
chris hughes has been making nightlife rounds tho. CHRIS!! i miss you kiddo.
tyler asked me if i wanted a drink, i said yes, please, a prosecco. he disappeared and returned wtih an entire bottle. classy.
trying to do watch battles with not even my own watch. i totally beat them both but kinda lost because it's not my watch. bummers man.
wait, jason was at bonsai? wait! oh no! i'm at o'tooles now. it's monday.
it's brett's going away thing. not gonna lie i'm not too happy about this.
it's not funny, kara. i'm pissed. how the hell do we lose a guy like brett to somewhere like texas. i mean really. so what, gas is like $1.90 per gallon. it's no HAWAII.
alright. so long. you're gonna regret it tho. just wait til winter. wait, do they have a winter in texas?
seriously. what are all of you smiling about? brett is LEAVING. i'm so pissed.
ps: aw, love. that's nice, you guys.
got the hell out of there before too many jack shots came around. that's everyone's drink of choice, by the way. nevermind it was the brown forman supplier that was having the party, and that o'tooles probably ran out of both jack daniel's and gentlemen jack tonight. i got a good night's sleep. thank you, world.
that was monday. this was tuesday. trying to order enough pupus at bonsai to make a complete circle with the plates with danielphonestance and marina. note the now standard bottle of prosecco that i will have every time i set foot in this place.
that was tuesday. this was wednesday. i got the hell out of town for thanksgiving.
from town to country. *like that*
stopped by to see my favorite north shore artist crystal thornburg.
no big deal that she's a huge deal. she's my friend and probably the north shore love of my life. the two hours i spent chilling with her and anne in her garden this evening was the best two hours i've had in months.
since i was in country, i had to do a little yoo-hoo at the red bull house.
and check out the boobie art that was being displayed at haliewa joe's
keep abreast! it was the fundraiser foo! all the hottest surfer chicks in the world donated their bodies to casts then let artists we all know and love paint them. cool huh.
i didn't even feel a little bit weird about staring at these boobies. ckaweeks!
sober eskae was there. doin a lil orderin.
it's always so melllow up here, by the way. except when it's winter and there's nightlife events….
…then you always bump into everyone you see in town and feel like you're all on vacation together.
there was definitely an all star lineup tonight. i caught some of my favorites from the groundup crew.
caught pancho lurking ckaweeks. (*fanning out*)
that's his boobies, by the way. um, the ones he painted i mean.
saw heather brown's boobies! um, the ones she painted i mean.
really super loved the detail along the side of this one.
ckaweeks! (*fanning out*)
angry woebots! (*fanning out*)
yup. there was some freshness up there tonigth for sure.
i even saw torry. town in country! torry and rita. he was just pau filming for lost and was up there with all your favorites from the show that i never get to take pictures of and post cause i don't wanna seem like a total loser photo stalker nerd.
anne made it over too. town in country! town in country!
like a popsicle.
all the surfer girls who, er, modeled the art began rolling through to check it out. this was where i started to feel weird for staring and decided to bow out. for some reason in my rational brain, i felt it was time to dig. sorry, joe! i know i should have stuck around. thank god there is more photo evidence from tonight over here.
caught race on my way out. oh ya!! wasn't the new uberhot contrast mag part of this too? i just mentioned how ticked pink i am that race skelton is off to amazing things with that project.
thanksgiving was nice
nice people nice girls with nice smiles
can't beat being a holiday orphan, right!
can't beat that smile either. i mean come on.
sorry, non-bf. there's only two tv trays.
so ya. this is how us orphans do it. what do you think?
i think……. that the new record bookshelves at thirtyninehotel are the ILLEST!
it is supposed to hold like over 80,000 records or something crazy. its for harvey's collection i think. until they all get in to the U.S. they are using it to hold all kinds of stuff that i want. i actually had these shoes in blue once. pretty upset that i can't find them.
oh! hey, eskae. haven't seen you in a while. nah nah nah!. SOUL CLAP!
saw eric rulona's new arm. cool huh.
saw the jones sisters. cool huh. soul clap is SO cool, by the way. probably my favorite monthly in this town.
i got there pretty early and left pretty early though. man, by the end of last week i was so run down. sorry, guys. needing to chill this time. nite.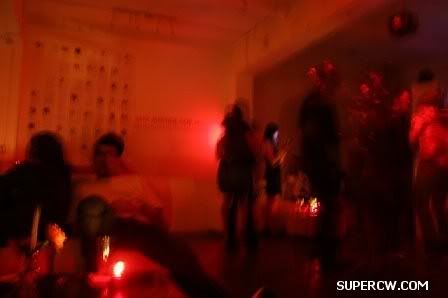 saturday was menomena! and i totally want to tell you all about it, but i'm late to catch a plane, and daniel did a way better job over here, he even stole most of my pictures. that's so totally fine, cause like i said, i'm late.
but just so you know, honey here was visiting from seattle, and that's her friend there that just moved here. and yes we were all staring/drooling over them the entire night…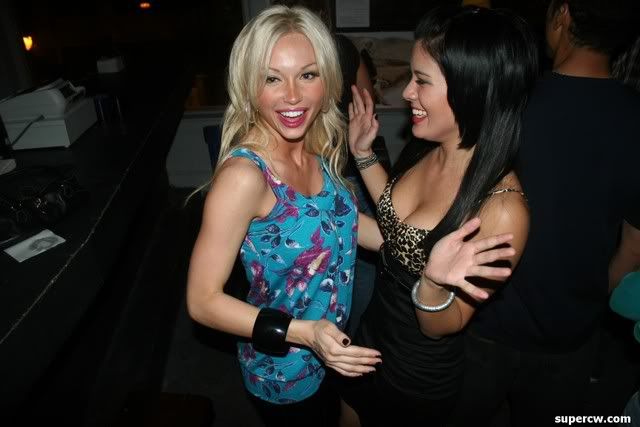 and mike keany made it out with his maui family. he is 2 for 2 on the myopenbar.com events. yes, i'm keeping score.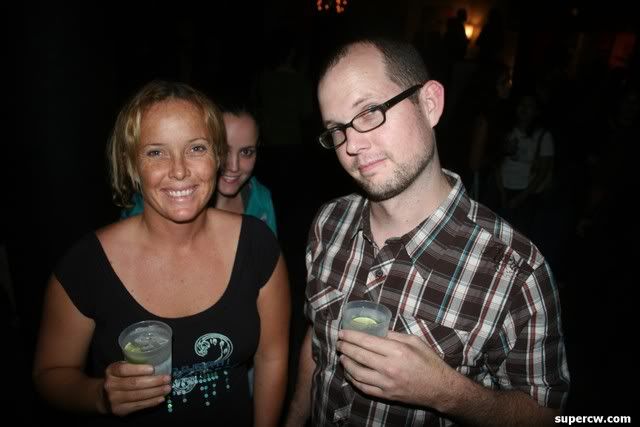 i got some feedback that the mojito bar was a bit too sweet. duh, look at nicole. if that's not sweet i don't know what is.
JONAHFACE!!! love it when you're in the room.
oh wait, i was going to not talk about these and just post this. oops. but ya, i would so be wearing that shirt right now if it didn't only come in xs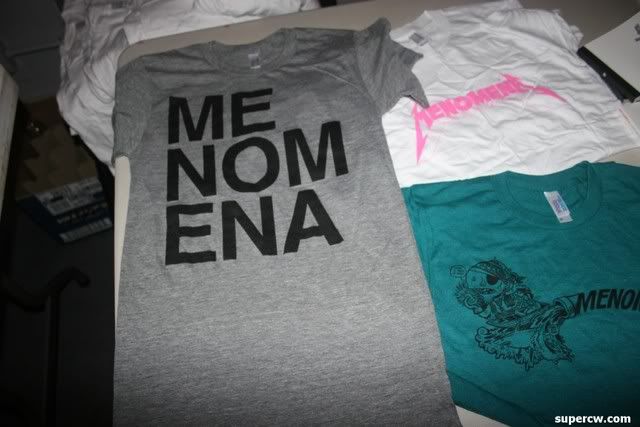 lurking the mojito bar
lurk lurk lurk
more from saturday: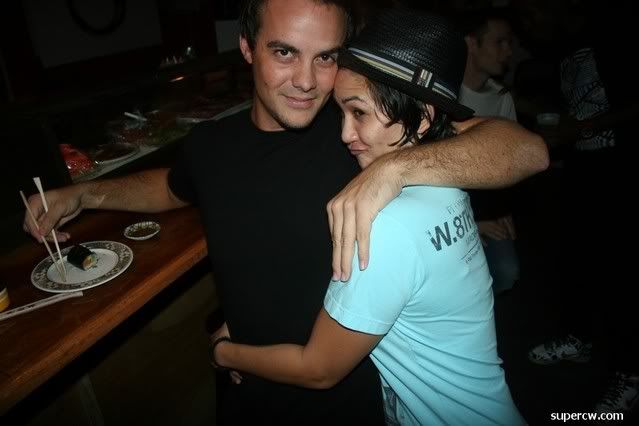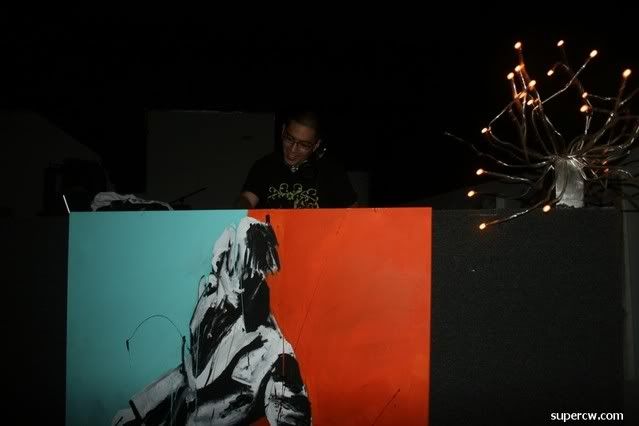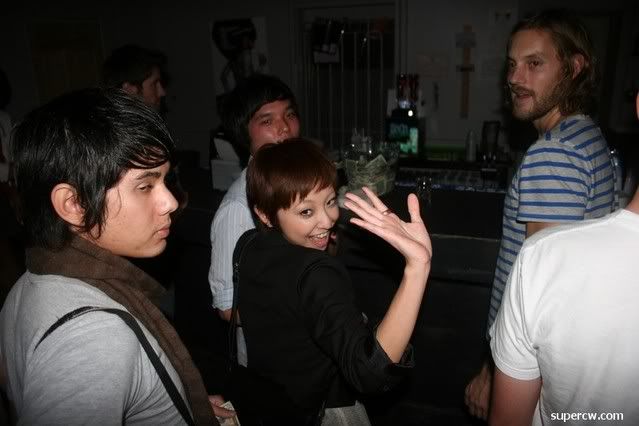 aaron has been kind of busy doing art that he actually gets paid for like fashion and stuff but we're all waiting for him to have more time for junkparty.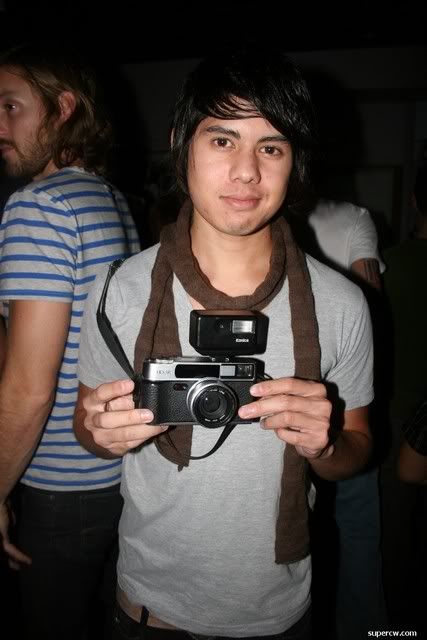 the jump offs? what? when! i'm sorry for being a total closet dweller for the past year or however long you've been playing. i'm officially your new groupie.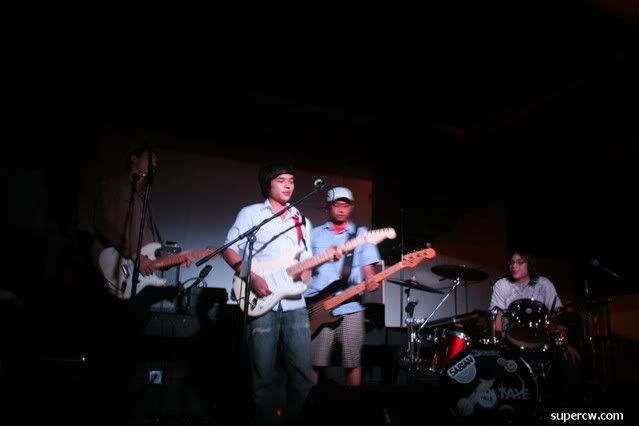 i think you made a lot of new friends tonight. thanks for opening!
oh ya! you know there's more than just me tonight. thank god! dan weaver got it too.
little homey with the red guitar remembered that i was the one that gave him a jack and coke right as he walked in the door. it's the little things, really.
and yes, of course i'll take your picture. what? with your camera? oh… ok.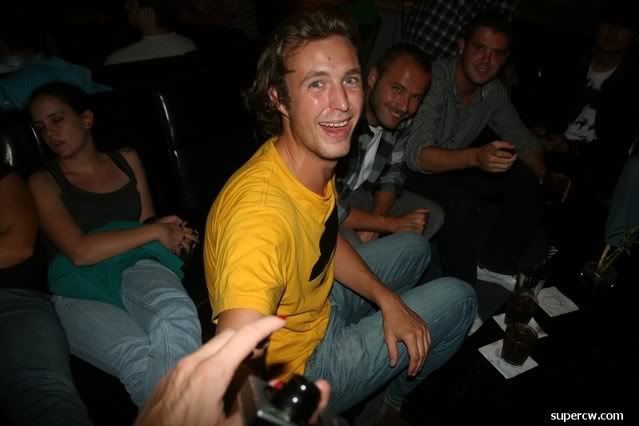 ara you are my hero. i remember after the deadbeats i was like i'm so not doing any more parties. no way. too stressful, and i would get personally offended if people couldn't make it. i'm quitting while i'm ahead. i'm 1 for 1. but look at you, you have done like 9028059738395839834 shows now and you're still all cool and collected. big ups sister.
@joephilipson!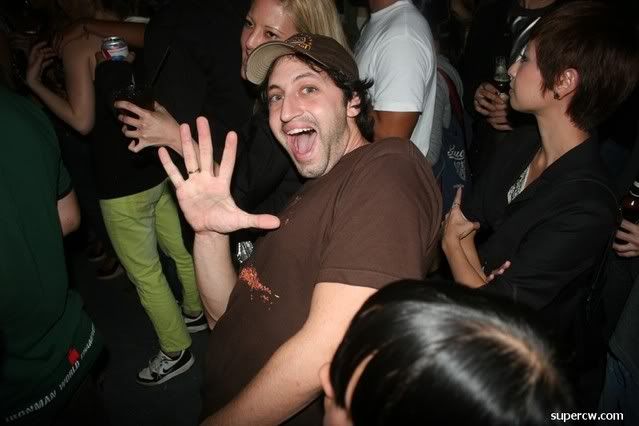 sure shot! sure shot!
it seriously took menomena guys like a hundred yeras to get their stuff all plugged in and stuff. they had soooooo mand machines and things. i couldn't move away from the stage though. the more cables they plugged in to box things the more i was like "oh, man this is gonna be so good"
i think we all were thinking that, actually.
yes, the best looking people were cruising back by the bar.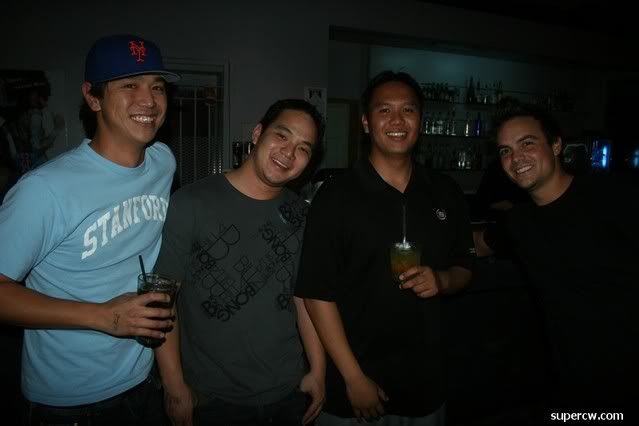 when menomena finally came on. just oh my god.
ok, i seriously have to go now. i thought my arrival time was my departure time. *late*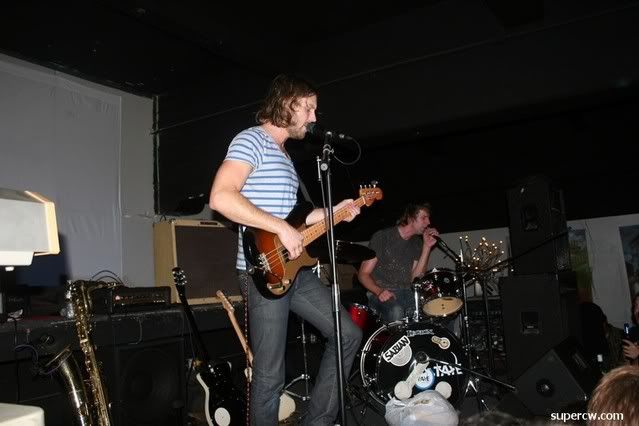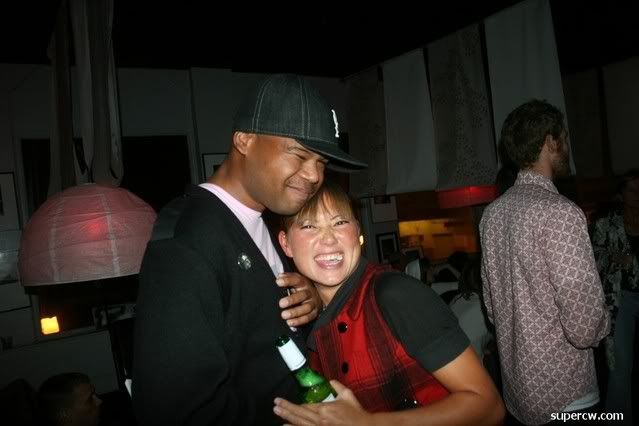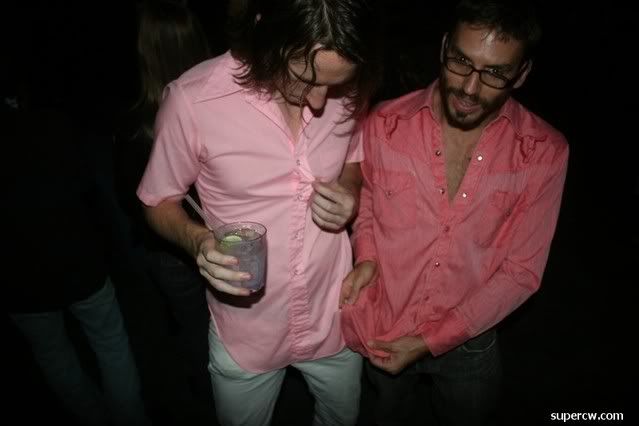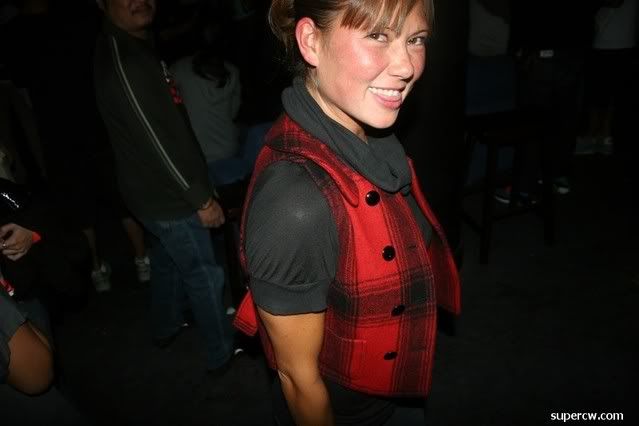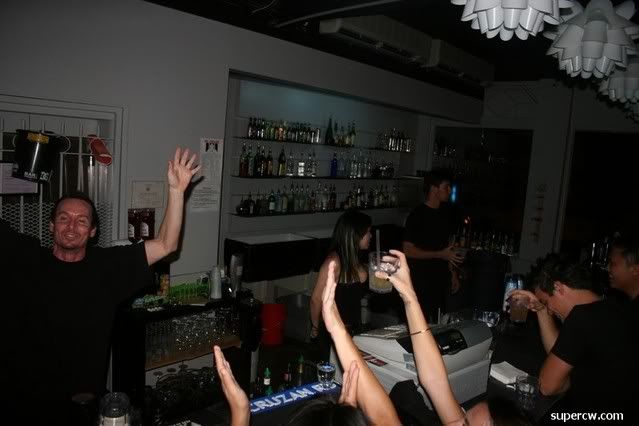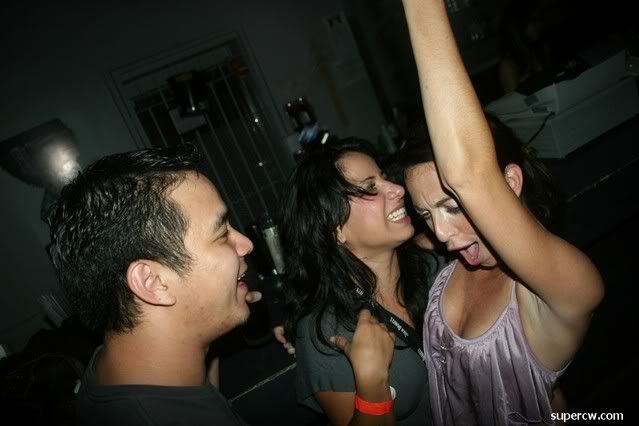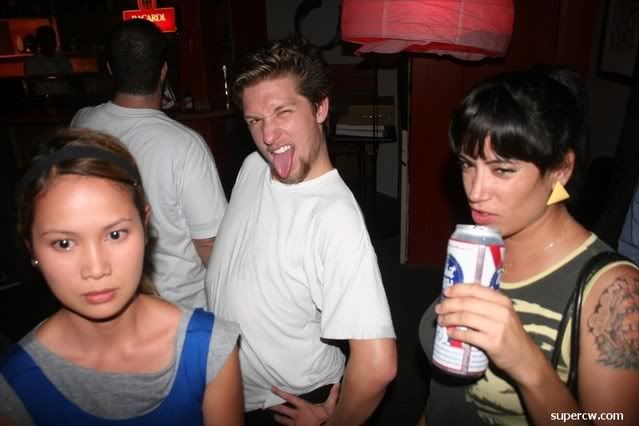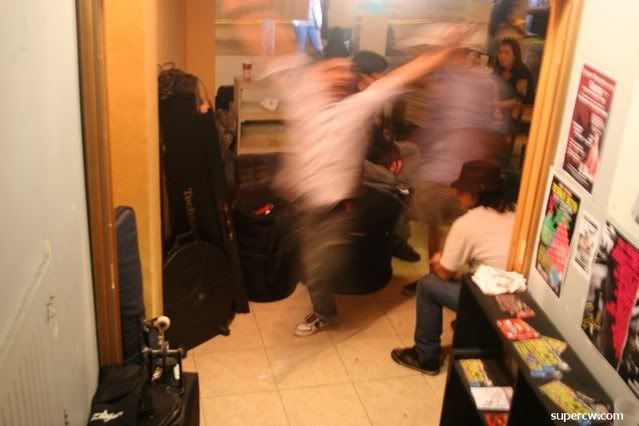 sorry, this has to get up. i won't be back til friday. you need to see this before then.
COME DOWNTOWN THURSDAY!!! please? you'll be my favorite person in the whole world if you partake in this.