what's worse. camera issues or car issues. hmmm? cause, man. i got both right now. life's kinda trying to stress me out but for some reason i just don't care. could it be these delicious wines that are always in my face these days? probably! could i be drunk right now? MAYBE!
nah, just kidding. but i have been more giddy than usual. with friends like rob that pick me up saturday morning for breakfast spreads like this can you blame me?

so yup. halloween debrief was WAY killer this morning at longhi's. rob and the surf kids were causing major ruckus in waikiki while i was downtown. poor luke, the sweetest and most innocent guy ever, got so much trouble at the shack. slapped by some chick AND got rolled up on by some dude in the same bar. we decided it was because someone evil twin was running around in the same costume. there's no way our sweetie pie luke would ever warrant all that.

after breakfast i was totally down to be kidnapped back to the north shore…
…or as it's called in these parts: the country
country = best place ever. best north shore stance ever is me making mojitos for rob while he catches up on my blog
sjon rolled up too. he still wears his bracelet. KEEP THE COUNTRY COUNTRY. i need to find mine. i want to support. is wearing it weird if i'm a townie? we should totally keep the country country, i mean, i'm supporting that by…. living in town.
cribs: rob mora. he has a lot of hats.
i love love LOVE this one. i only just learned that fitted has been making totally their own custom new era hats. jeez, how did i not know that, lol. they totally go and pick out fabric, artists, designs, etc and just make em. totally killer man.
i can see how easy it would be to start collecting them all
aaron's hat, aaron's deck. damn aaron! nice work kiddo.
ps: can i borrow this watch? i think it's about time i give jami's timex back…
cribs: rob mora. his girl lani.
robcam, haha i didn't even know he took these
sjon was showing me cool videos of stuff like sharks and stuff in his gym teacher costume.
speaking of costumes, look, i'm sorry– i know you're probably over looking at halloween pictures by now. but come ON. it's the north shore, man. on a much higher level of cool. totally deserving of even more halloween photos. if i get invited to another costume party up there you better believe i'm in. that's dave homcy by the way. all of those cameras worked.
everyone on the north shore is SO frigging hot. seriously. it's like all they do is swim in the ocean and eat healthy food and wear not a whole lot of clothes.
i'm seriously in to it
not gonna lie i was feeling super jealous. i have that many cameras too but none of them work.
crystal was grabbing snazzy holga shots. i can't wait to see them. man. FILM! it's so hot.
speaking of so hot. how's her lady bug socks. hothothothothothothot
speaking of hot. kalima was hot jesus. and totally roots for film.
rob went as a miller lite beer guy. that gets mad chicks
loved this
speaking of hot. kalima went as hot jesus. wait. i already said that huh.
aw. us.
i can't wait to see the holga shots…
…you never know what you're gonna get.
crystal dave and kalima are in a three way tie for my favorite north shore people
jesus vs jesus. i dunno man. obviously, kalima wins hands down. i mean, he even had props. that's bread. he was asking people to break it. the other guy was just a guy that looks like jesus anyway who threw on a robe. easy peasey. if he was like robot jesus, or zombie jesus i might have given extra points.
see. he's back to film for a while. i'm bummed, i missed his contributions to the digital world. ps: that camera got dropped in the hot tub. a lot less of a crime when it's a little disposable b&w than a digi.
she went as pam anderson. ipod dj pam anderson. damn. WHAT do you guys eat on the north shore!? i am so making the move in 8 years. promise.
mike latronic looking like the magic bus driver. i wonder if he even knew people were coming as the magic bus?
not sure why or how i managed to miss the most epic parts of that party in the country. it involved warm bubbly water, no clothing, and a grand entrance by elvis on a motorcycle. guess what happens in the country stays in the country. meanwhile i gotta get back to town. daniel and i are kinds of making a tradition out of the sunday bloody mary tour. ps: did you know how good the bloody marys at red lion universiry are? they are only $3 too. i mean damn. made the pitchers go down easy. i love sundays again.
we rented all of season 1 of heroes. daniel watched the entire season in like two days. i slept through the first few episodes. already seen it. kickass show though.
dragged him to green drinks at E&O later that week.
i die over the $1 corn fritters though. they are SO damn good. guess this ain't the country, they're totally fried.
ps: if you think hanging with daniel is fun think again. this is totally his stance about 75% of the time.
kidding. he rules. duh. but lately he's been boring me to death text-flirting with some chick in LA then showing me entire trails of messages back and forth with tons of winks and crap. yawn. i'm more entertained by people in the flesh. like brigitte and heidi. HAIIII!!!!!
tonight's green drinks was just eh. everyone was way more enthralled with the tv. i guess it's pretty cool though. i really liked obama's speech. we'll see.
love how joey keeps me alive with perfectly bruised vodka and essence of stuff like asian pear.
GOD could the bartenders at E&O be any more adorable. or candid. no really.
come on guys! environmentally sustainable companies and products! let's talk about em! over drinks! come on! the drinks aren't *technically* green! come on! you can watch the obama speech on youtube later. hey! over here!
no i'm seriously just kidding. it felt amazing to see that happen. i haven't seen people crowded around a tv in public since 9/11. and this was just such the opposite sort of thing. very happy feeling. you guys! obama is going to be president! i mean, i know you know but just…. wow! is this really even happening?!
we were stoked. but moreso on the corn fritters and martinis. that's more of an instant gratification. poor barry's got years of stuff to clean up and make happen.
ah! now THERE's some green drinks happening i bet. tyler from honu guide with laurenz the hnl green drinks guy and ed from organik clothing. whatcha talkin bout! is it green!
oh i know! the party you guys are doing at loft next week. HELL ya. see you then.
meanwhile. it was tuesday. my new tuesday spot is back where i used to be like circa '04. in front of newjass quartet. YUP! they play 1st and 3rd tuesdays at the W now son!!! talk about a killer evening of aaaaahhhhhh.
not gonna lie, i haven't been through the W since the days of matty boy and komo. it's still pretty swanky. perfect for jazz though. i was loving it.
i mean, come on. you've heard these guys right? the original blow-christa's-mind quartet from forever ago. back together. or never apart ? who cares, i'm yours on these tuesdays, guys.
i know i didn't take this picture, i'm atually sitting here in daniel's office typing this out while he sets up maka's 24k monday night. he said he took a bunch. thank god there's no you-know-what shots. it's my policy to post those.
ya, i really like the poshness of the w
posh. posh posh.
haha i had a meeting here a few weeks back with a poor sick flash. when i came in he was laying on this bed on his phone. at like 3 in the afternoon. it was so cute. he was on his [super posh. posh posh] deathbed.
kelly joined us. she's so hot. sorry i didn't have my flash. camera is seriously on last legs. *sobs*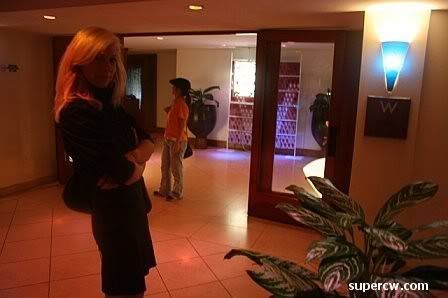 daniel had disappeared then popped back all hyped eating an apple. he was like "you get free apples here! want one!!"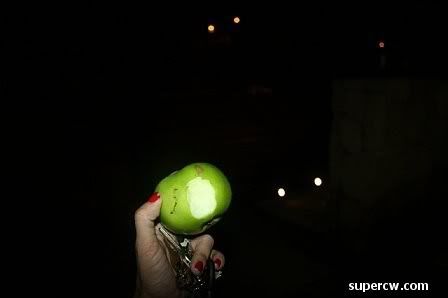 my poor camera. this is just about it. but the wine dinners they do on wednesday at town are friggin UNREAL. it's only like $25 for a full wine pairing dinner. and $24 if you just want the wine. so, you're getting all this amazing TOWN food for $1 more. jeeeeez! love it.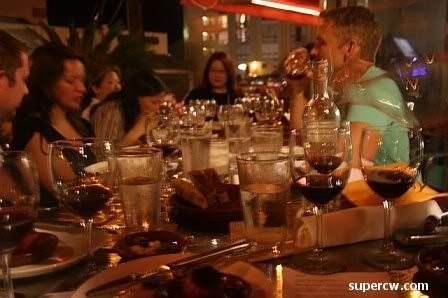 i wish i got a better shot, but say hello to hugh's pick at formaggio's. it's the petite petite from michael david. that's the people that do the 7 deadly zins. i LOVE this label.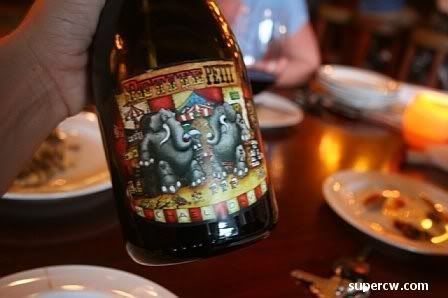 the wine is pretty damn good too.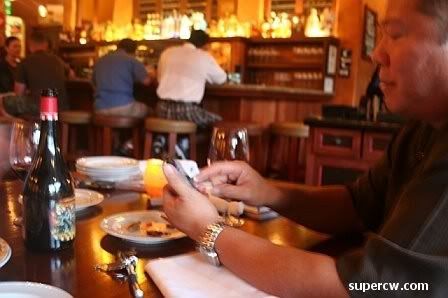 in fact, we had two. bottles. wes and patrick were so cool sticking around talking story after our meeting. i told them i had to get a nice group shot for my column. they were so nice i'm putting it here too.
speaking of wine. there was some kenwood kickassness at first friday.
it was andrew rose! the guy i mentioned monday. i couldn't not see what he was up to. totally talked forevs, he's my new bff. THE coolest guy. we both live like we're about to get hit by a bus. kinda trippy. but you know what? screw it. it really does make life a lot more enjoyable. try it some time. then make cool paintings and stuff for me to drool over like my new bff andrew.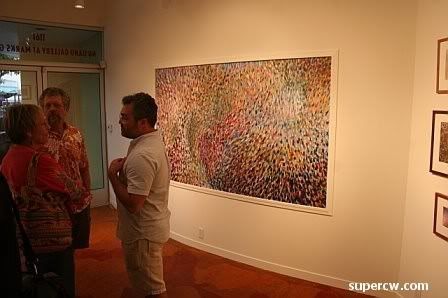 it was seriously a coincidence that acker decided to support this event. i had no idea til way after i mentioned andrew on monday, which made it doublly cool. acker and i have the same taste! ps: i'm SO in to the kenwood yulupa brut. the artist series kenwood labels are obviously wicked but brut is my drink, man.
after this i had the best weekend ever but it's all in my brain. stop me when you see me and i'll draw you stick figures. it basically entailed mega-debauchery with co-workers at the ocean nightclub preview, bonsai sushi again, the BEAUTIFUL opera ball (which i hope i find photos from soon), indigo's 4 year anniversary with all of the homeys and i don't even really remember at loft for some raggae something.
there's so much more. next time.
i gotta get to ritz.