aw. my poor friend. apparently someone's too busy running a nightclub to hang out with his new bff cw. so i have to lurk photos of boring things like our supermellow sunday lunch sesh to keep his face on my stuff.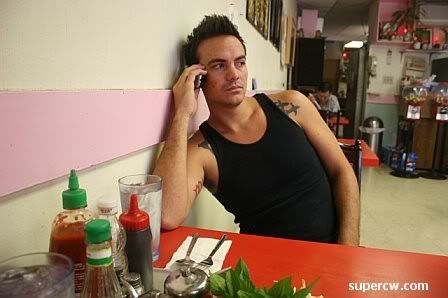 last sunday i laughed my ass off at pipeline. because, man. how many people make that transition from having a refrigerator to having a cooler for their trash? i thought it was just me!! demetri martin, i love you.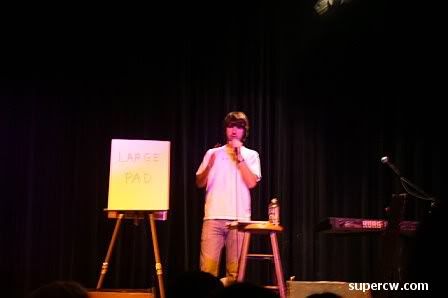 ps: supercrew AND fun bobby were in full effect for this. these times are few and far between lately.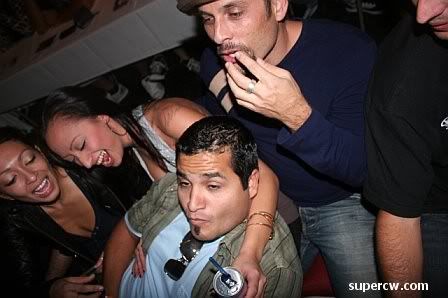 monday rick rock and i were the first ones at aiea bowl.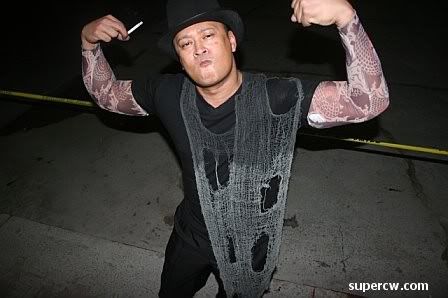 i was working. in a way. more like lurking my people working. i'm still floored that albert picked wine that perfectly complimented the theme of EROTIC NIGHTS for the industry night bowling…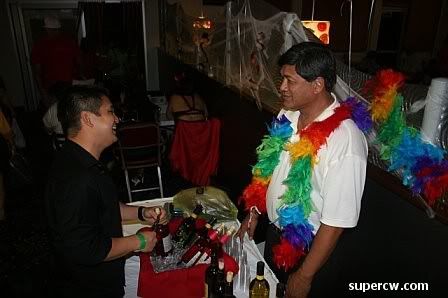 he had 7 deadly zins, virgin, and menage a trois. hot huh!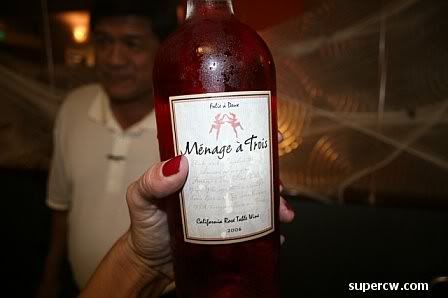 not work.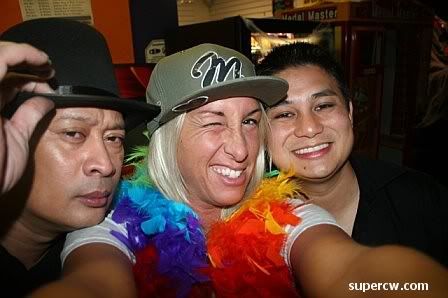 kathy with a k was hot on the menage a trois. not, like the action. the wine.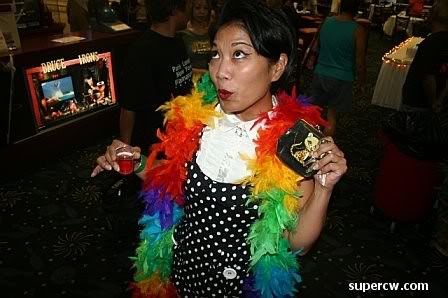 james berger junior was hot on the menage a trois. probably both the action and wine.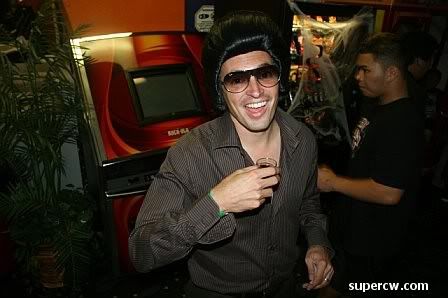 artist groove network was hot on the menage a trois. action? wine?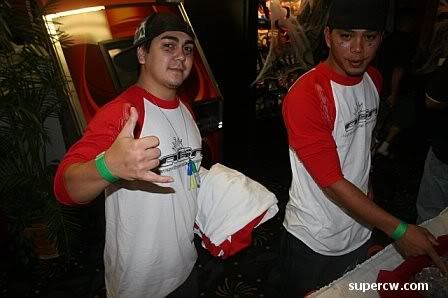 markie mark hows the nose on that 7 deadly zins!! do you kea? or ainokea? haw!
speaking of deadly, level 4 ladies were putting all kinds of fires out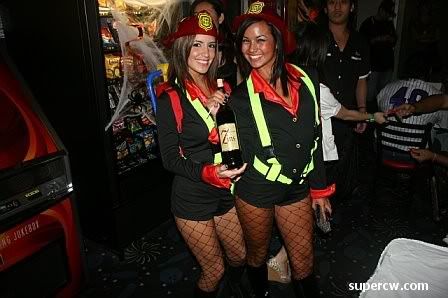 metromix. before boas.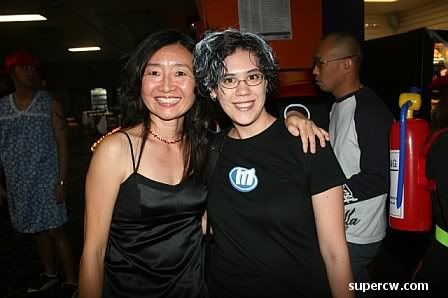 metromix. after boas.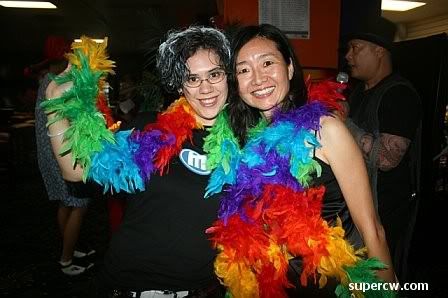 level 4 had two teams. it's industry night people.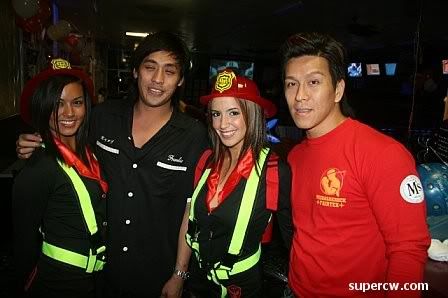 the guys from sprint– rick said that kenny looks exactly like john cusak in real life.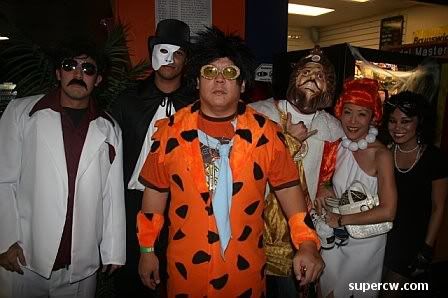 virgin chard for wilma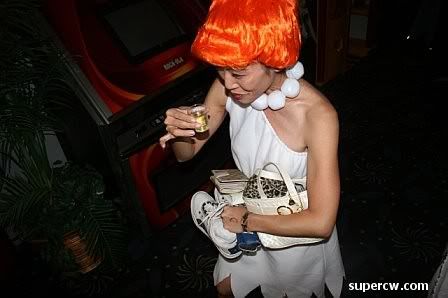 richard cheese is in town, sneaking around acting like he's not totally famous and hanging out with US!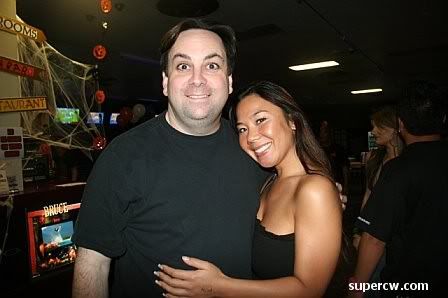 terren dressed as a basketball player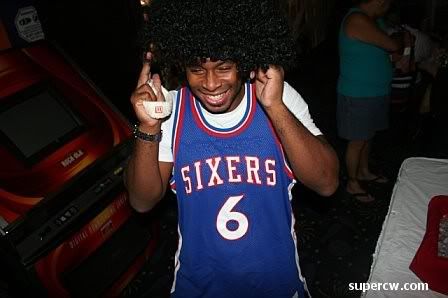 phillip pendelton dressed as a yacht captain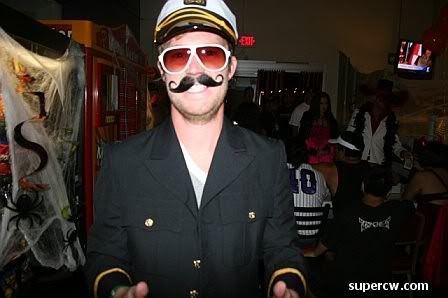 philip's mini-bamper dressed as my boyfriend.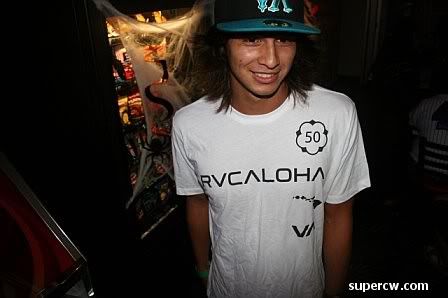 deadly zins for you, captain. speaking of bamp shows, i am SOFA KING excited for atmosphere…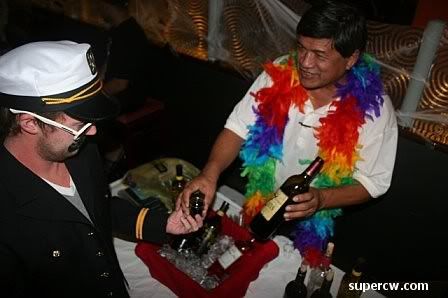 aw damn. my only shot of flash, mid-howzit.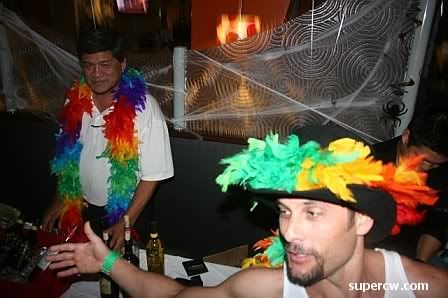 don't worry, i wasn't the only one taking photos. i noticed that there's a lot of yous guys lately. KICKASS! get on it, people. get on it, stay on it.
speaking of that. ok. i know there's only like 4 of you holding down the honolulu metromix. HOW are you getting, like, everywhere!? do you have a hybrid? a driver? do you not drink? have you figured out how to teleport? whatever it is, man. i'm impressed.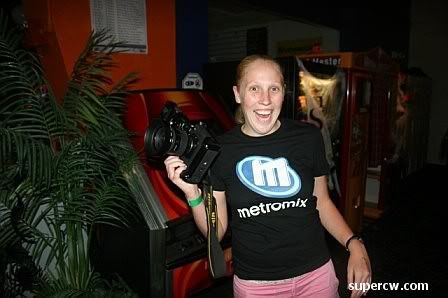 checking in on the skyline bitches, llc. team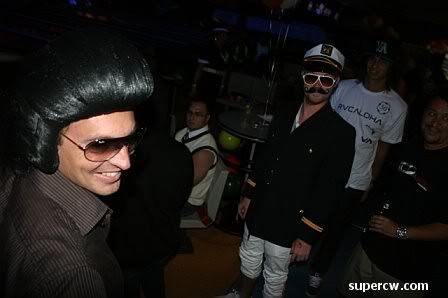 k smooth wasn't playing music because he was bowling, and i left before he came on. sad face. but not really, this guy was pretty epic. how can you not dance to return of the mack, people.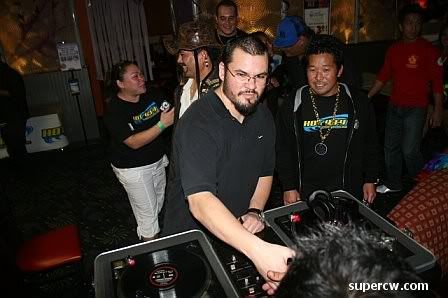 i mean, right?!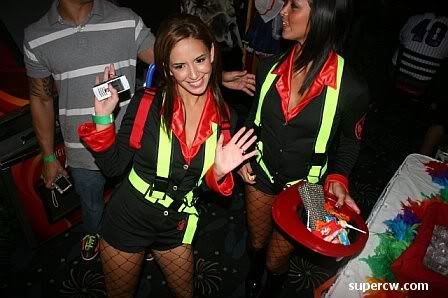 ps: hothothothothothothothot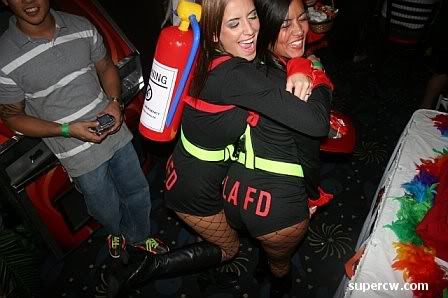 HI!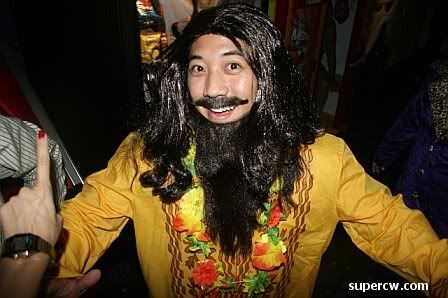 HI HI!!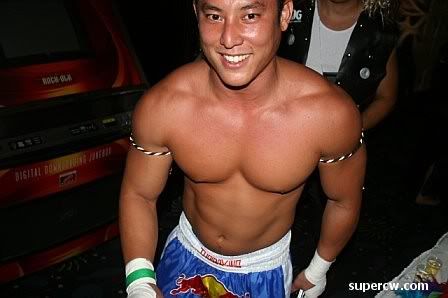 woof.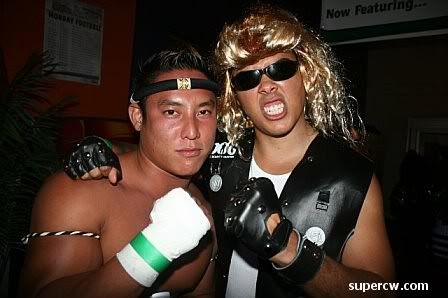 architects had a team too. blaise sato is hopefully ok with this giddy look that i'm posting. he usually looks way more street.
oooo, old school.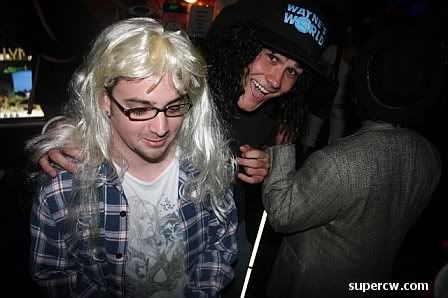 oooo, modern.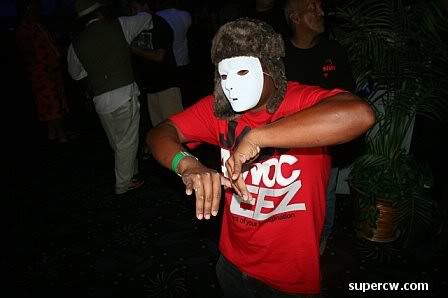 aaaaaaaaaaaarchitectsss!!!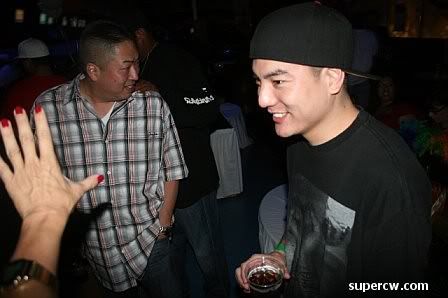 my favorite hunny bunny in the place, from pearl.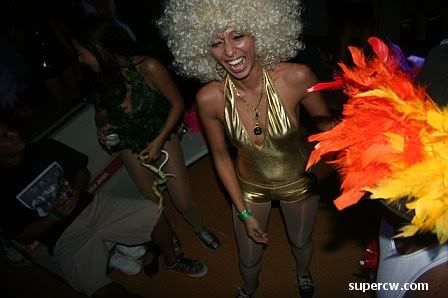 i tried on that swimsuit. it was super hot but too small on the side to, er, hold em all in. she makes it work like woah.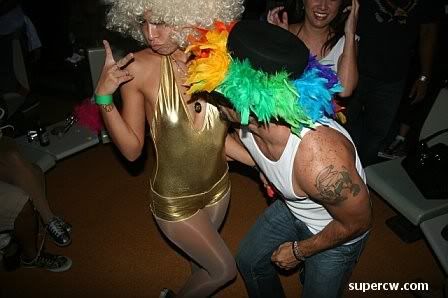 you get three.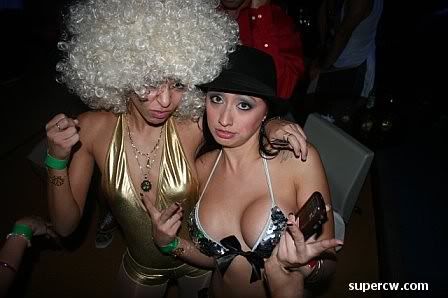 no! you get FOUR! cause i needed maria smiling =)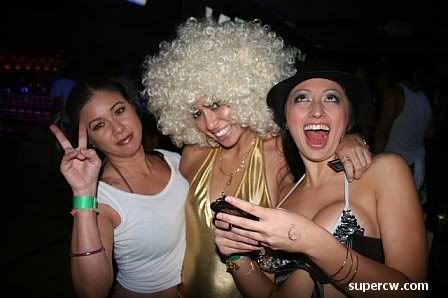 kamakoa and more level 4 hotness rolled through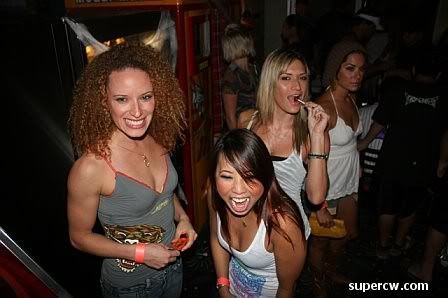 menage a trois quarte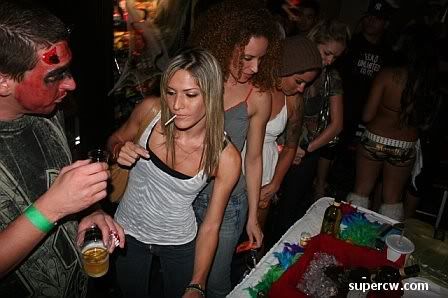 camera attacked eskae. non drunk eskae. my second favorite type of eskae.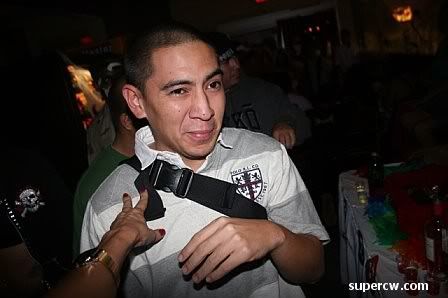 totally got busted by the VJs while doing my cw-houdini. CRAP! i didn't even get a good shot of their AWESOME soco lime shirts. crap crap crap. OH WAIT! see what i mean about the party pic cross references? definitely pay off…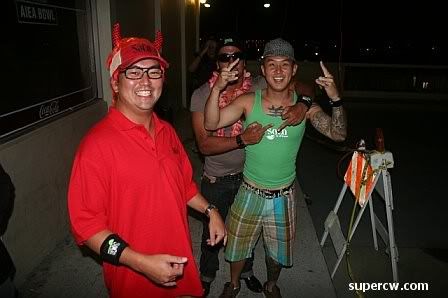 back to work. bombay sapphire had a special uber uber bartender lunch with their new uber uber mixologist at E&O.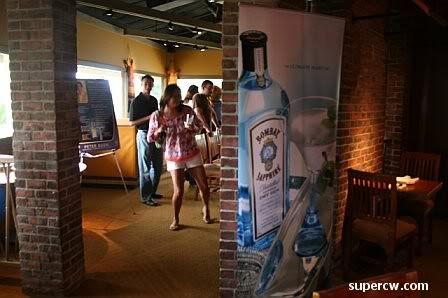 peter gugni on his first trip ever to hawaii. i know right! how east coast does HE look! i have to be  honest right now, kiddo…. you kinda look exactly like my dad.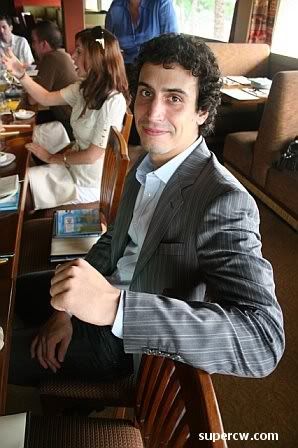 people were flipping over gin. gin is IN! i learned today that people who don't like the taste of gin (ahem, or all of bombay sapphire's 10 botanicals) just don't have a sophisticated enough palette. take THAT, vodka. (kidding! don't take that vodka! love you, vodka)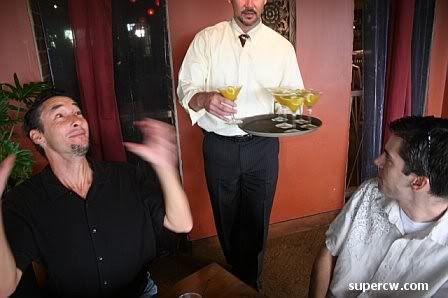 spent some time with christina simpkins on a high after seeing chief recently, a film that she produced. guess what you guys, she's doing some amazing projects right now. that's steven jarchow with her, um, chairman of regent films. i can't WAIT to tell you what's up. soon.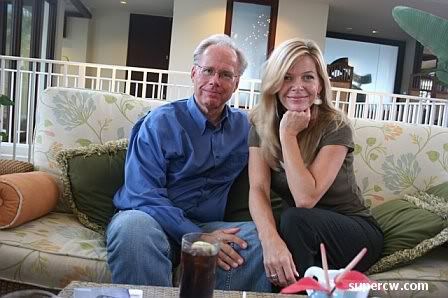 meanwhile, i gotta go drink prosecco and eat mac & cheese with organik ed. who gave me a sample of my official team rider organik t-shirt. it's SO awesome! they are being made now, ask me if you want to see it, i have one right here. it's sssssssoooooooooooowwwwooooooooohaaaaaaaaaaaaahhh!!!!!!!!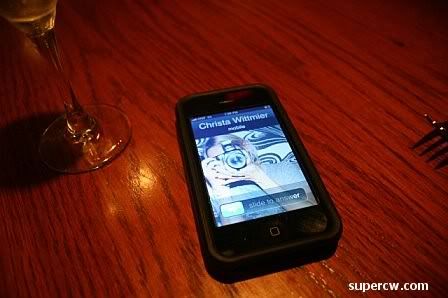 later last week i got to witness our bombay sapphire mixologist order us probably the best drink i've had in ever….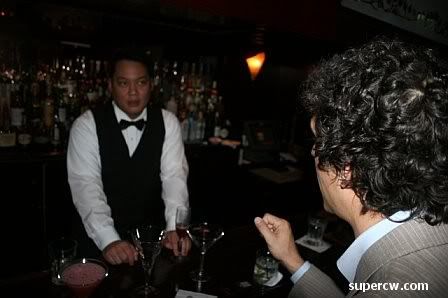 …it's a french 45 with a splash of chambord. sapphire, lemon juice, simple syrup, champagne and chambord. thirsty?
oh ps: peter also does magic tricks with corks.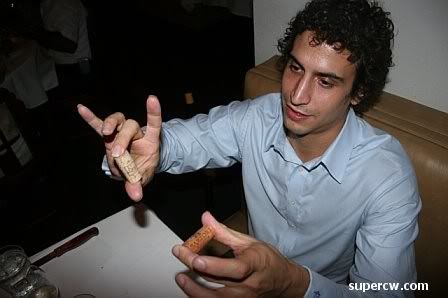 as many times as i've lurked morton's frank sinatra-ish bar for martini happy hour (when they used to bring out those mini fillet mignon sandwiches), i've never made it to the dining room. tonight was my first. oh. my. GOD.
there's still leftovers. i have a whole head of broccoli in my fridge. best dinner in evs, uuuuuuuuuuhhhhhh.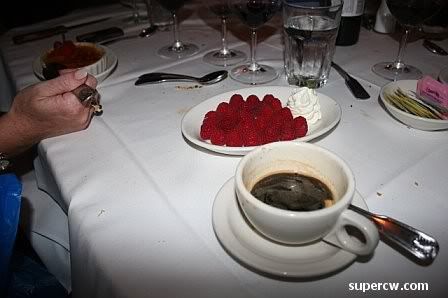 would have loved to sit and post-gluten myself to death, but i had a promo to check in on….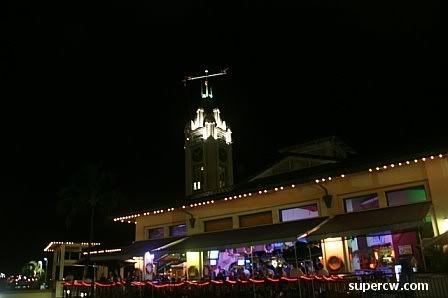 …yup. sailor jerry. looking pretty much perfect. way to get everyone all stoked on my favorite 92 proof before the bikini contest, ladies.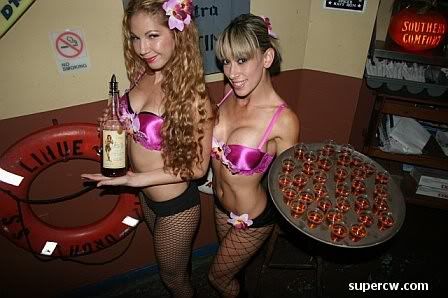 since i'm out. i guess i can see what's up at loft. the whole totally 80's thing. only halloweenified. thriller night.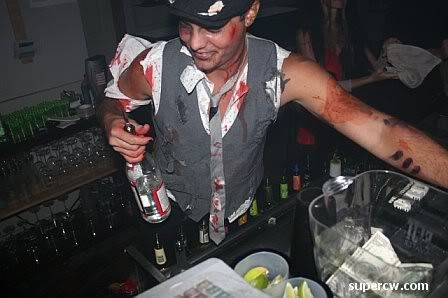 aw. poor daniel. i've seen him like twice this week. he gets two. muah.

kinda barely remember seeing island derek. wait a minute. WHERE is your zombie costume man.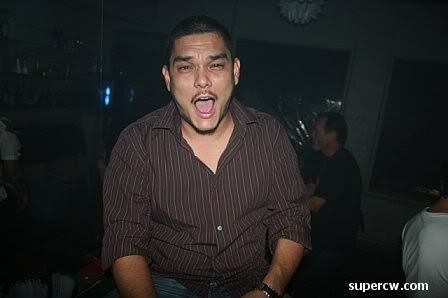 oh i get it! you came dressed as titan!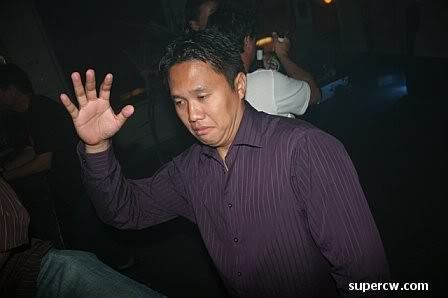 ah, see. now THAT's how you do it. hotzombiehotzombiehotzombie.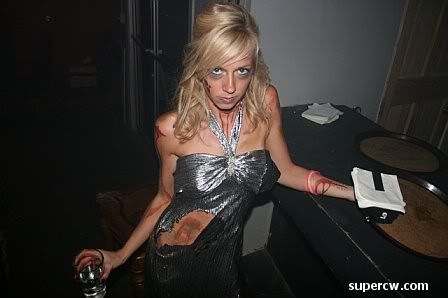 la-zombie-cutie camera battle. she won.
hotzombieshotzombieshotzombies. raena cassidy and lucy lu.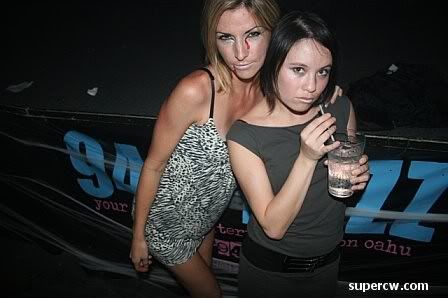 der and luke saving up for halloween. that's ok i guess. i mean, pretty much everyone was. this entire week that i went out i think i saw maybe 50 people total. ugh. let's get back on track, nightlifers.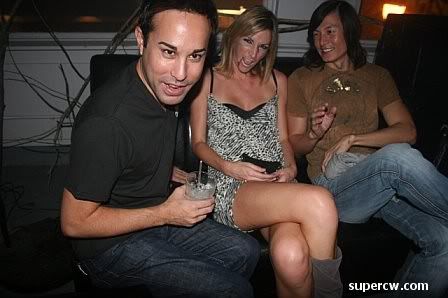 i made it out and i was working my ass off last week. putting together the most uber uber uber bombay sapphire event honolulu's ever seen. AND! i got to watch peter make juice out of an ENTIRE watermelon.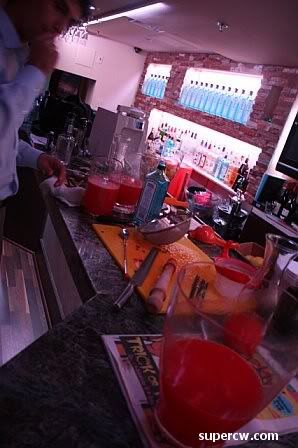 i did the event at the new bonsai sushi at restaurant row. PERFECT place since they have parking. and sexy blue lights. sexy sapphire!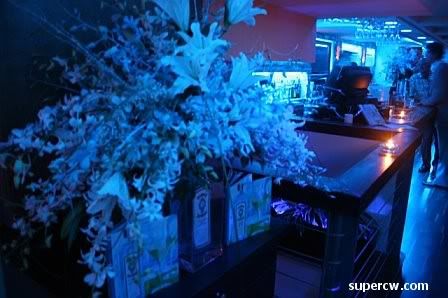 sexy sapphire cocktail reception. do you love it!!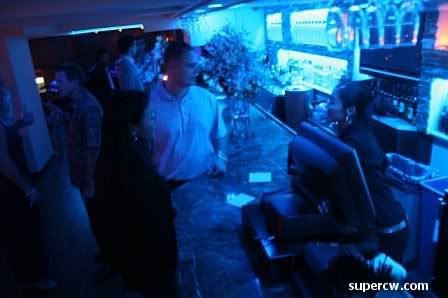 i did. especially the back bar.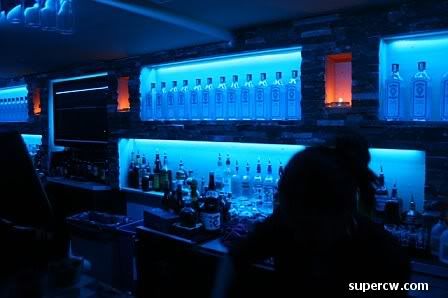 burt and derek found the most beautiful flowers too. i was in bombay sapphire heaven.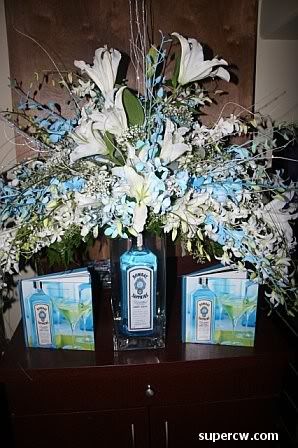 and get this!!! joey, our better brands mixologist to the stars, LIKE peter, used to be a gemologist before making the switch to bartending.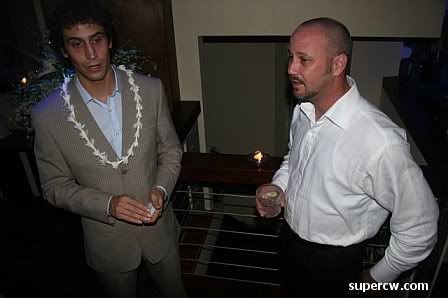 i left the whole using a flash thing to the pros. i liked mine in the sexy blue lights.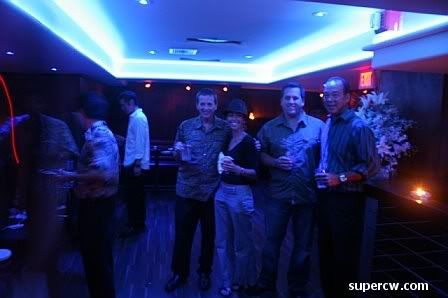 set my camera down, i swear i didn't take this! but whoever did, speak up! i could use a lesson or two…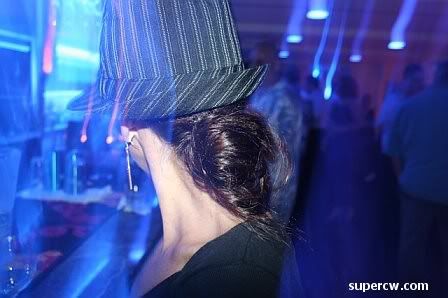 someone using the flash. see? kinda boring no? it goes from sexy people at sexy sapphire event to just sexy people. haw. that's me and becker with glenn tamura.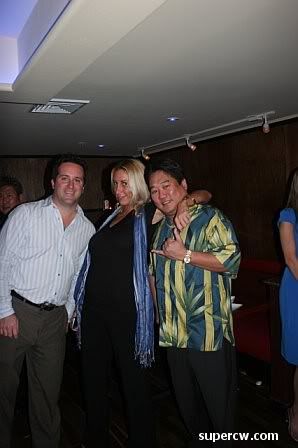 i guess the cat's out of the bag. we're losing brett bornemann to texas. wtf, right! just when i was finally starting to stop pissing him off with my weekly blogs he up and uproots. ughhhh.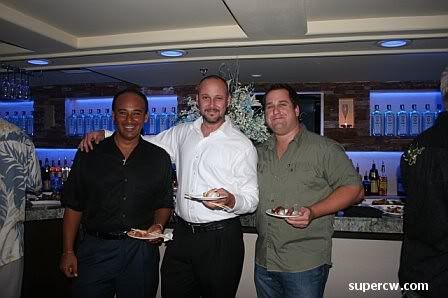 so great cocktails great people great venue great party. then i went and left my camera at bonsai when we all went to see the opening night of friggin cirque du soleil. you can't really take photos of that anyway, so you get the stolen-camera-shot of brett, while i link to genegabus's and melissa's coverage of the circus.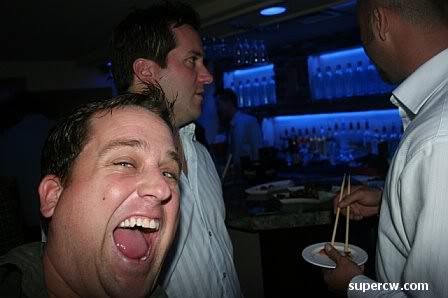 didn't get the canon back til the next day. a pre-art after dark joey. in half of his elvis costume.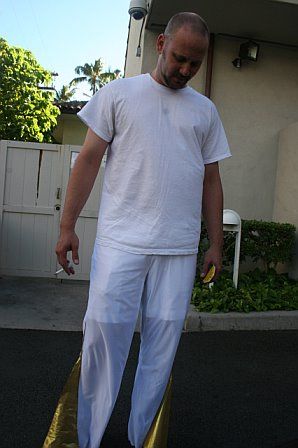 in the meantime, i had a lot of drops to do.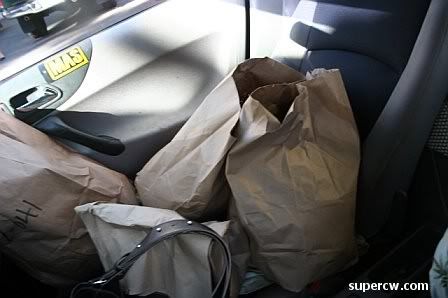 met up with sommer at gordon biersch to feed the bacardi angel/devil/athletic/bat girls before creeping the block party downtown.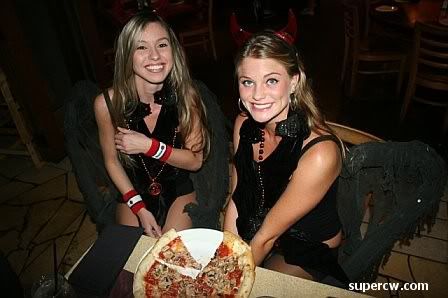 giselle came! omg. THE hottest devil/angel/athletic/bat girl EVER!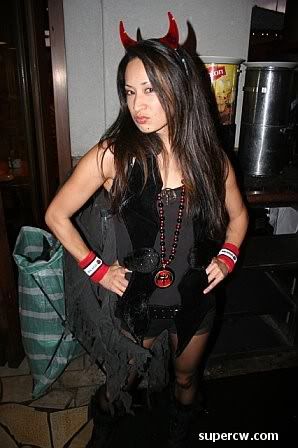 actually, they all were frigging smoking hot. devil/angel/athletic/bat girls with mardi gras beads. yes, we kind of overdid it on the bacardi look tonight. i think for halloween you can never overdo it though, right?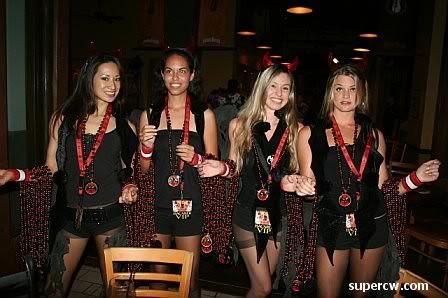 ps: peter is still in town so we made him come along. good thing he was wearing all black. we'll just say he's their private bouncer bartender mixologist tonight.
off to the block party we go.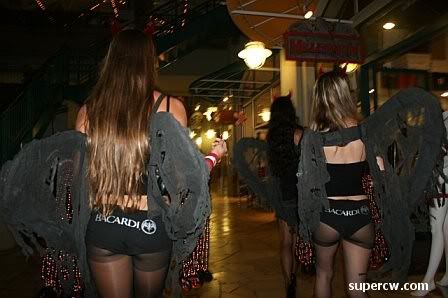 were you there? GAWD! i can't think of anything more fun than the streets closed off for people to parade around in their costumes. this was instant fun as soon as we stepped on to nuuanu.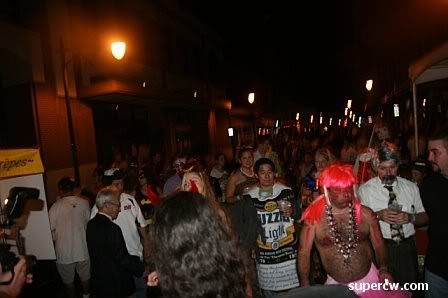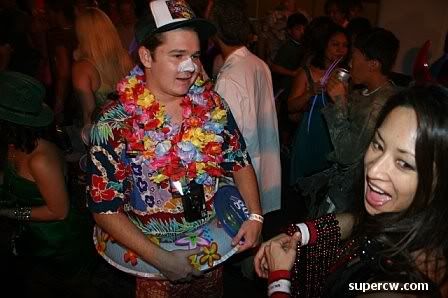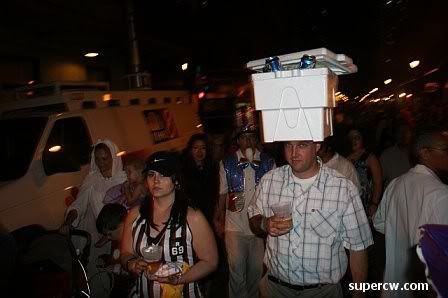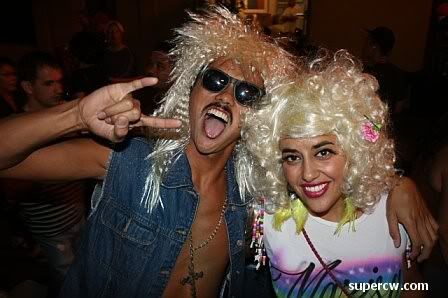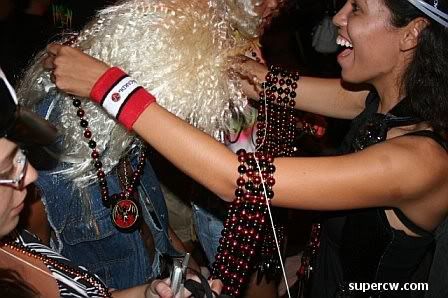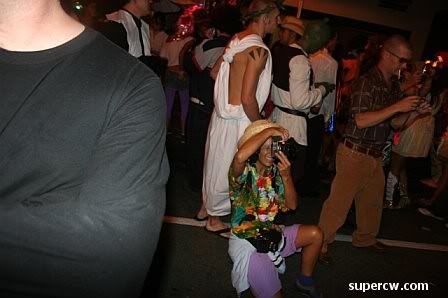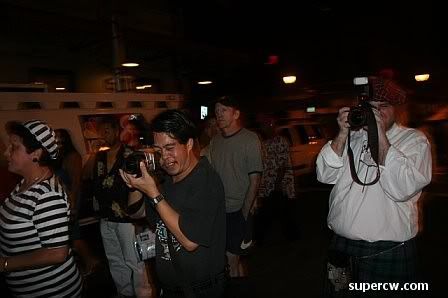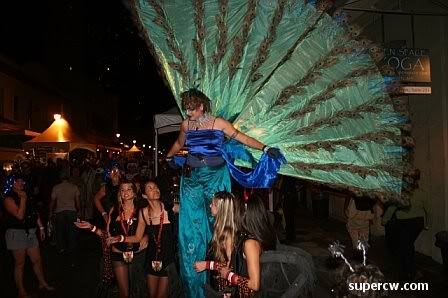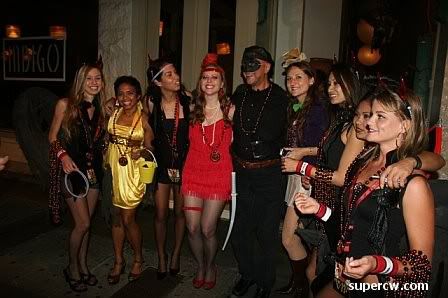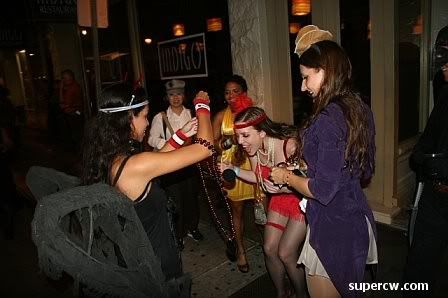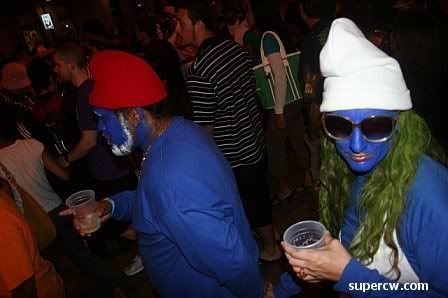 WOAH indigo was showing off its hunky bartenders tonight.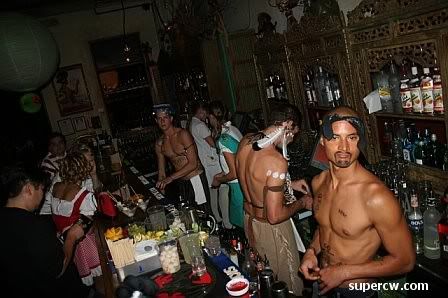 LOVED jason as tupac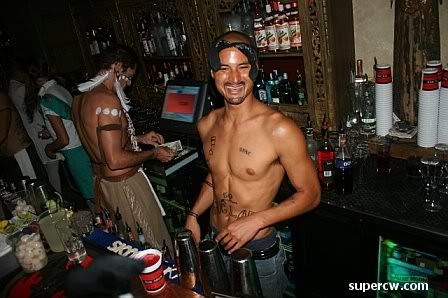 loved these guys too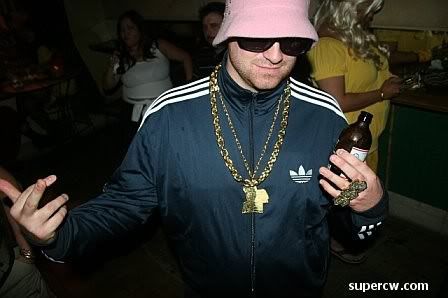 i mean, i know it's not the most original costume or anything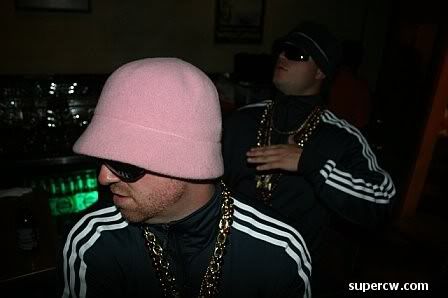 but damn. they had some moves. and i liked that they were drinking red stripe.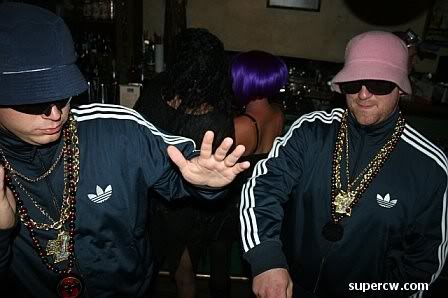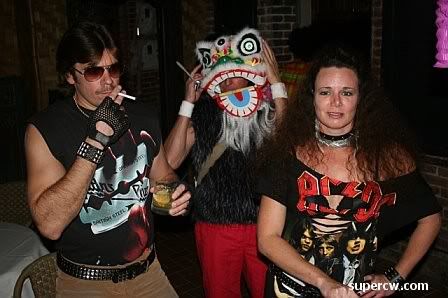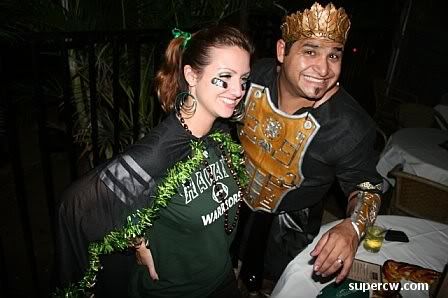 the sushi guy! who saw him! probably our most favorite costume tonight.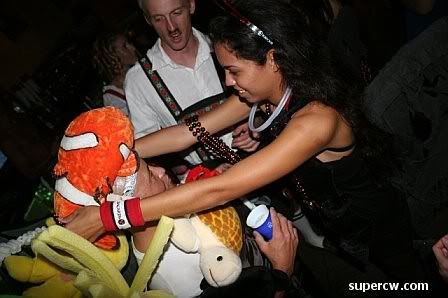 brett dennen played outside. BRETT DENNEN! the first time i ever heard him was when nicole played me this song after we got frozen yogurt one day and almost had me in tears sitting there with my sundae. i do believe!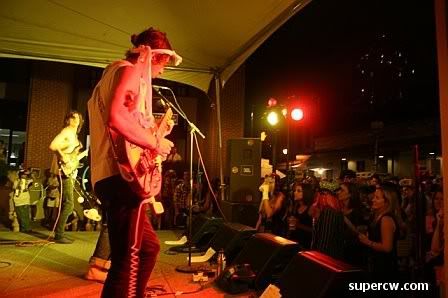 hahah crystal was saying how she loved his music then saw him play and what he looks like and stuff and kinda stopped liking him a little.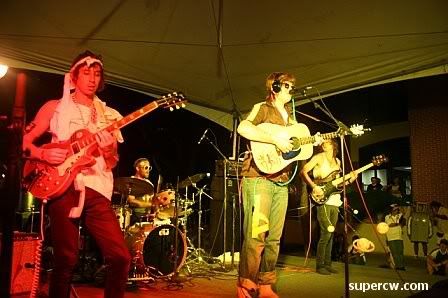 i was fine. i had honey on the guitar to keep my spirits alive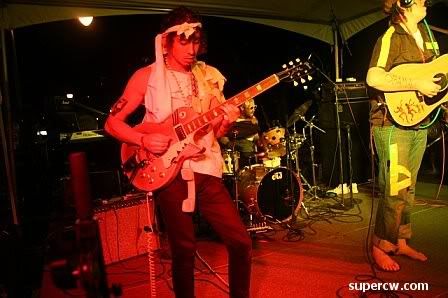 speaking of the girl that turned me on to brett dennen. she arrived just in time for us to jump around like post-dave-matthews-loving hippies to this song, which is also one of my faves.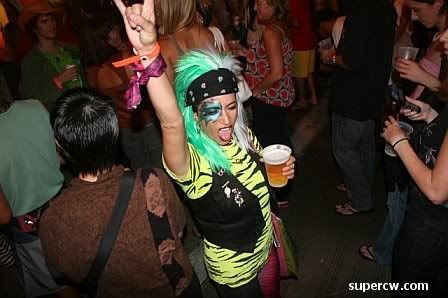 there were like 5 of us jumping around the rest of the crowd that was kinda standing still. it was fun. i got recognized by my old friend jamie, who i didn't recognize at the time of this photo.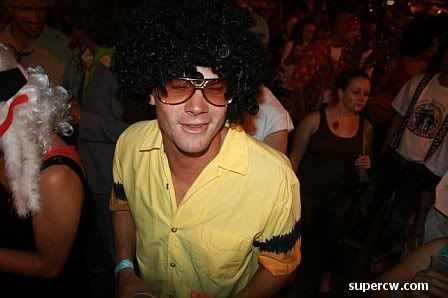 jumped around sky. who was dressed up as hot-chick-eating-dinner.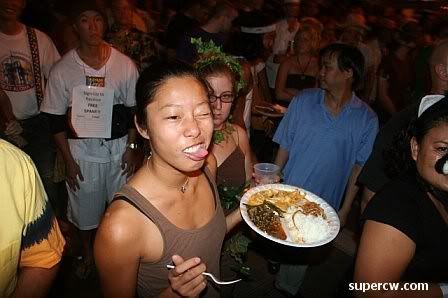 jumped around a michael phelps. you seriously can't have enough michael phelps costumes. more more!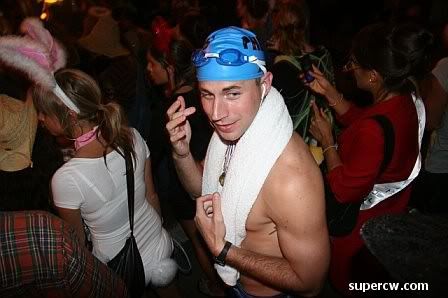 dj mister nick. thanks for the cd! we listened to it all the way back from the north shore on sunday =)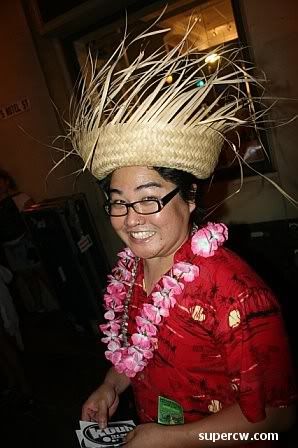 oh, you. you you you. ba ba, da deh deh deh!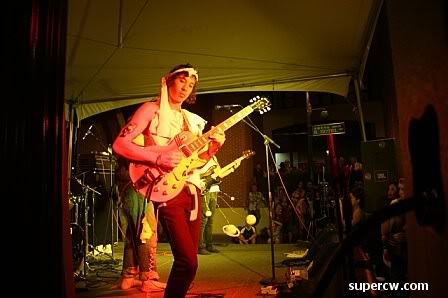 nicole pretty much, how you say, saved my ass. i would have been standing there wanting to dance but not dancing because nobody else was if she didn't find me at the most perfect time ever. i love brett dennen!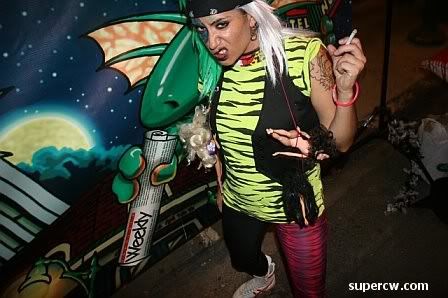 work babies at the block party. i LOVE the love guru K!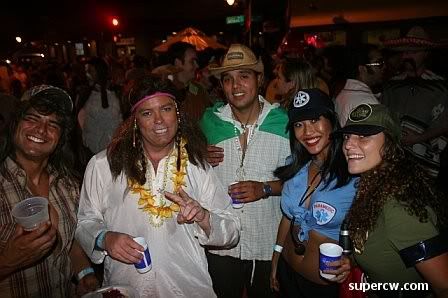 haha and becker's run-in with the law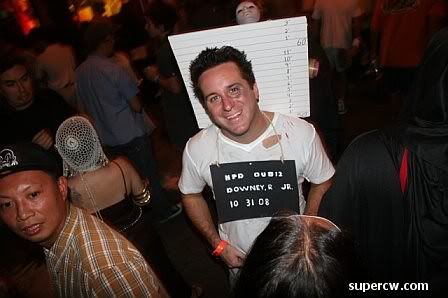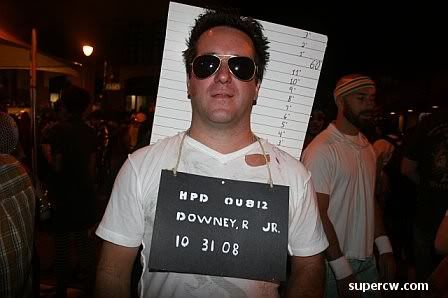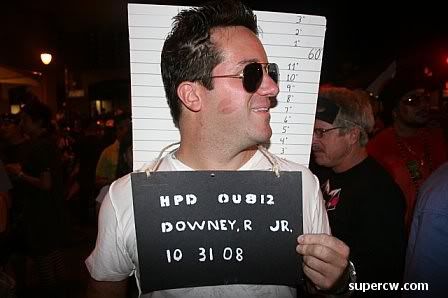 sato and his lady. neither one of us were wearing our costumes from work that day. speaking of, PAT! send me the picture of me as tyler. i have to show everybody.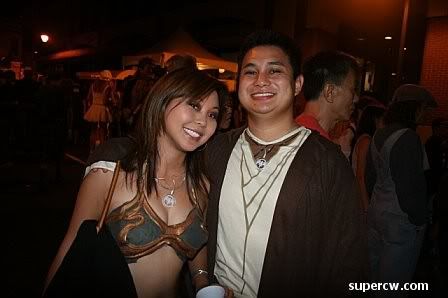 bumped in to my brett dennen boyfriend post-show slathering on some glitter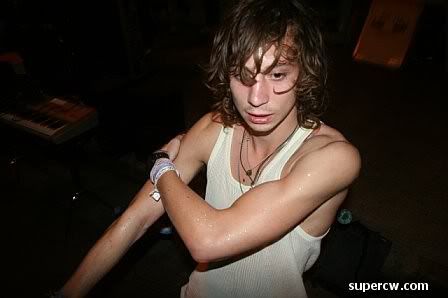 need some help with that! ok ok ok. i'm creepy. moving on.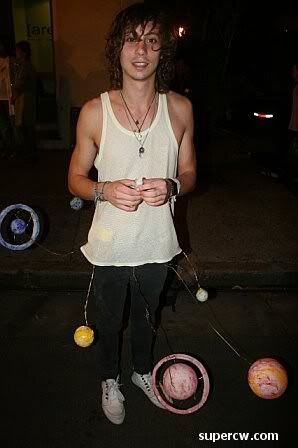 only saw two obamas tonight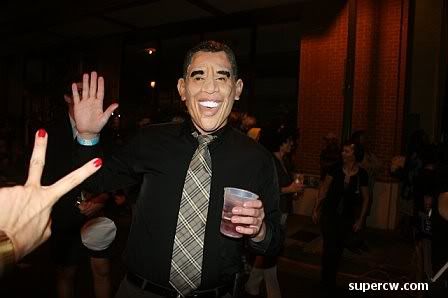 LOVED the mud guy though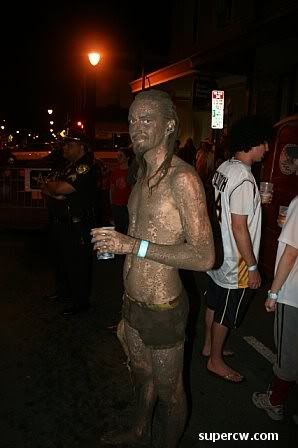 miss kitty chow was dressed as hot-chick-sitting-on-truck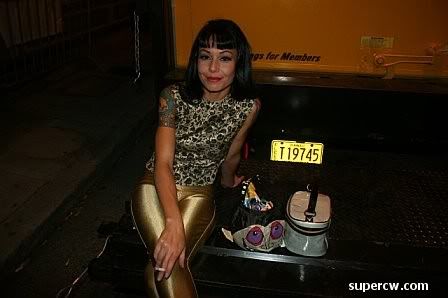 hey! another guy dressed as my boyfriend. HI!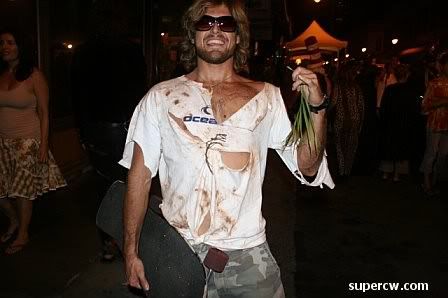 wait, didn't i see you bowling on monday!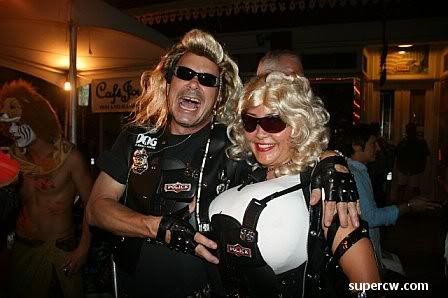 ok stop everything. THESE guys. does anyone know them? they totally infiltrated my brain. those just NOT are just some whatever whatever people. they were brilliant. i wouldn't have known this if we just walked past them.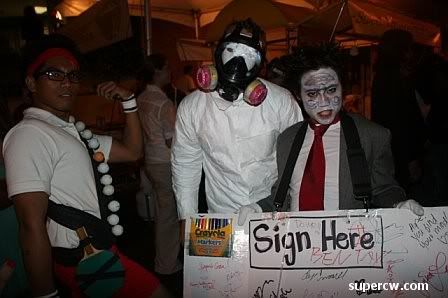 just trust me. and if you know him i envy you. i can't remember what they were saying to us but i remember it pretty much blew us away.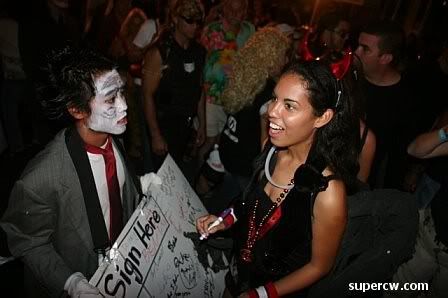 saw this guy who i thought was the same guy i saw at bowling on monday until i realized he was with chelsea, and i was all HEY! WHAT are you doing with MY FRIEND's lady! hands off!!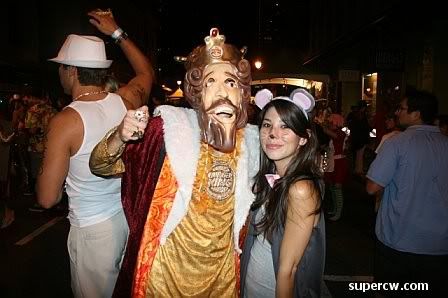 what! oh…. it's jake! yup. jake the snake sneak-attacked honolulu. god, i miss you man.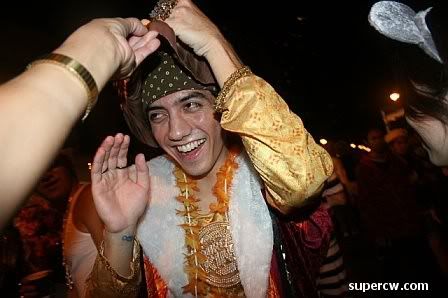 the bacardi devil/angel/athletic/bat girls were good. too good. so good that they got in some trouble….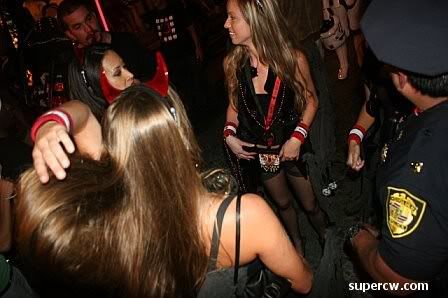 …just kidding! he just liked em.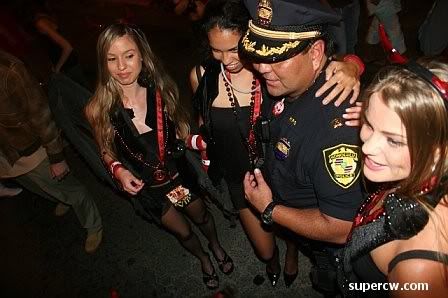 so did obama. his security was SO funny– pushing everyone away from him and radioing to each other. in charachter all night so much that a guy that barely even looked like obama was totally obama.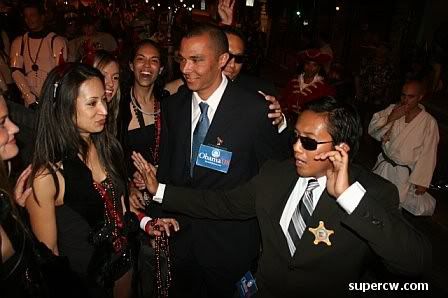 joe bock! handsome like woah there cowboy.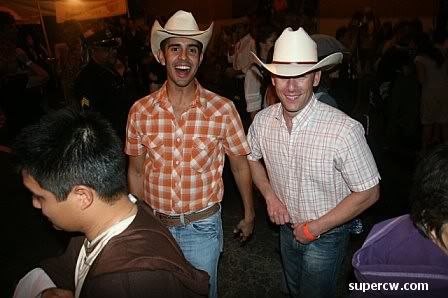 screw you, captain morgan.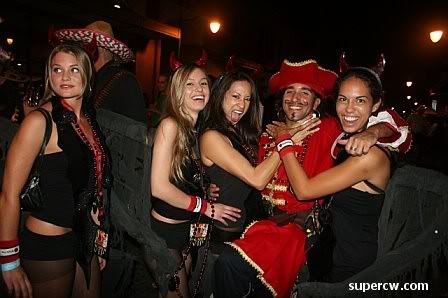 oh wait? did i say that sushi guy wins the supercw costume contest? no? ok good! CAUSE RAENA TOTALLY WON.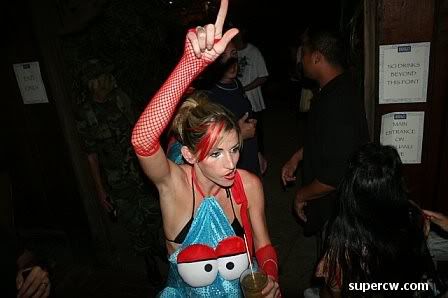 look at this, just look. god damn. could there be a hotter fish anywhere out there?!?! WINNER!!!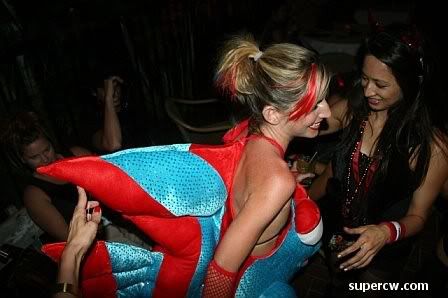 we loved her. WINNER WINNER WINNER!!!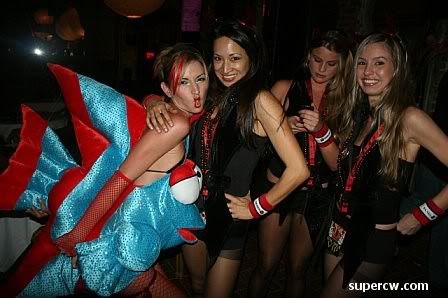 but haw haw hugette and santiago. i have to spill it– hugette actually used that wig for a shoot for her magazine, but it is so totally garth right now.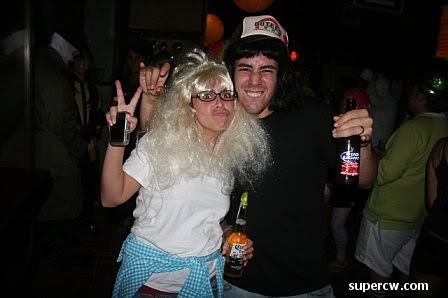 god, i loved this costume!!!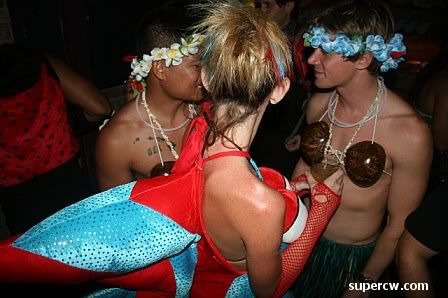 g-spot? didn't you go as this last year?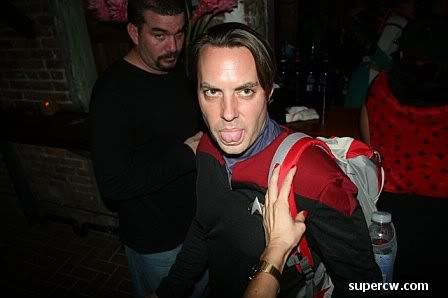 can NEVER have too many michael phelps costumes. never.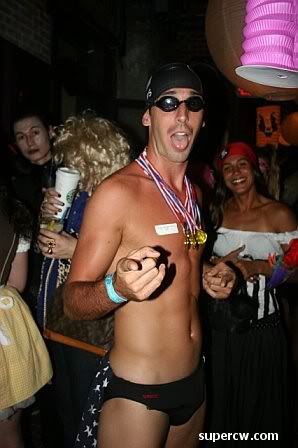 derin was the best joker. he was the joker as the nurse. LOVES it.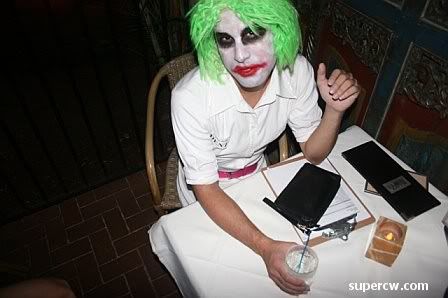 luke was looking gorgeous as always. i, on the other hand was looking a but ruckus. that's a P around my neck, by the way. i was a black eyed P.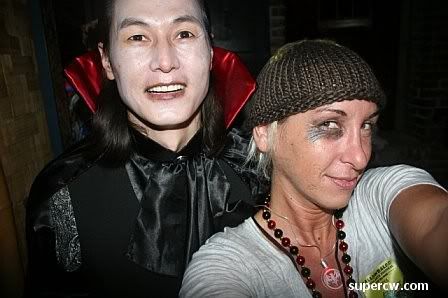 back out into the craziness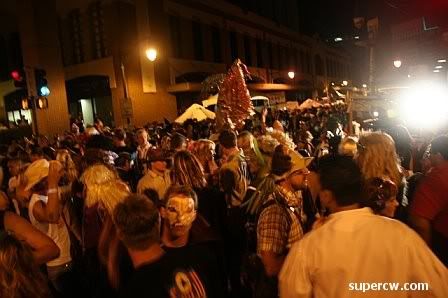 aahhhhhhhhhhhhhhhhhahhghghghg. were you there? man that was fun.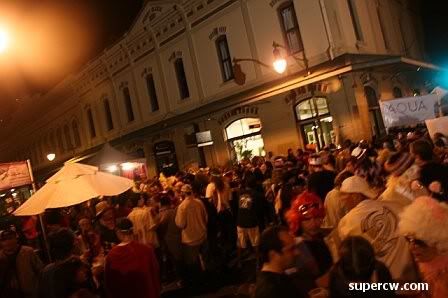 checked in on the southern comfort girlies. there was the typical first friday line to get in to bar 35, which NONE of us can ever understand. but that's cool. just drink soco, ok?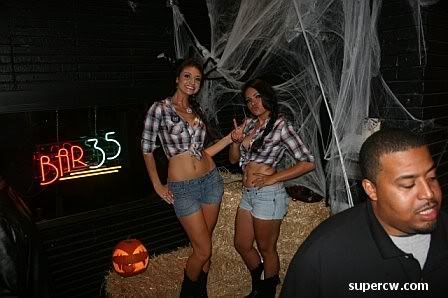 daniel plainview ted. my future husband.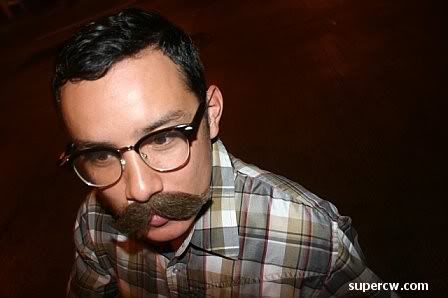 ryan in his usual stance (with hot chicks)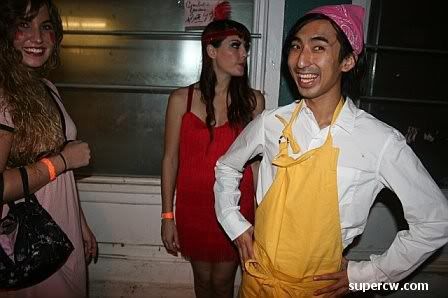 schenanigans outside loft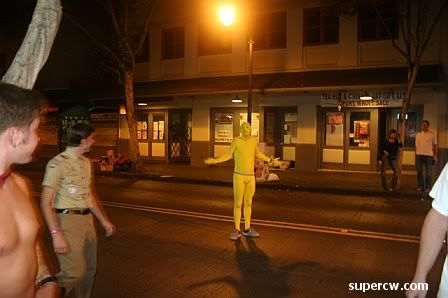 i guess one of the colors was on strike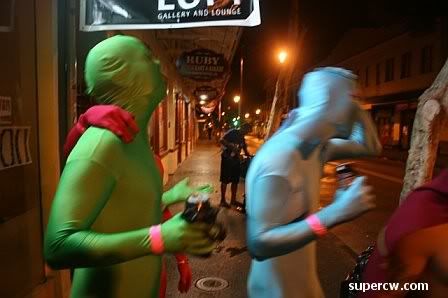 but only for a sec. HI!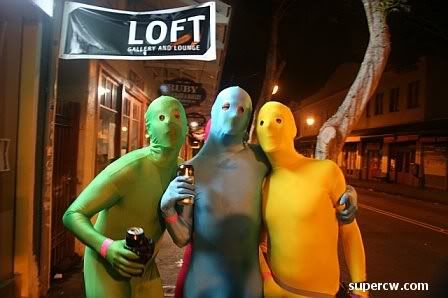 did you see them? SO funny…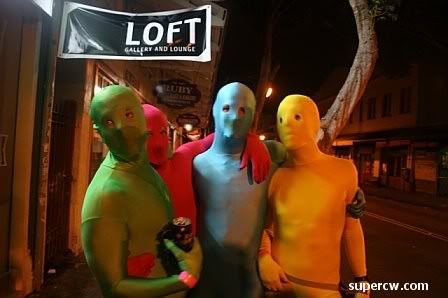 …but moreso because of the way they were acting. they were all in charachter too. er, color charachter.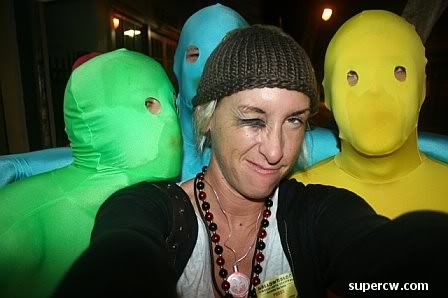 it's hard to explain…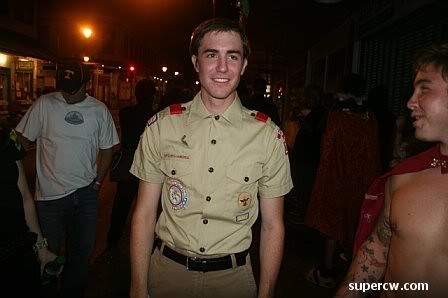 …unless you were there.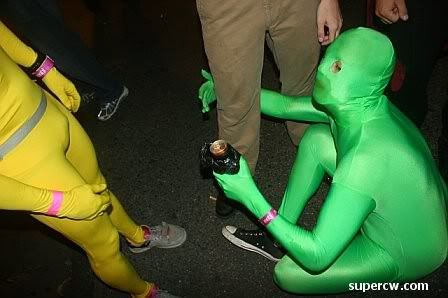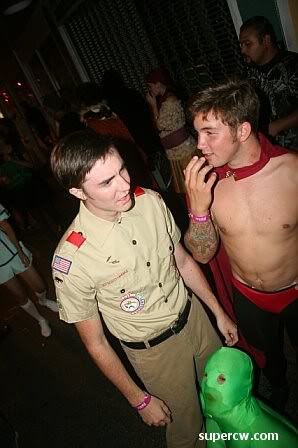 hotasshothothothot ara making me wish i was a man.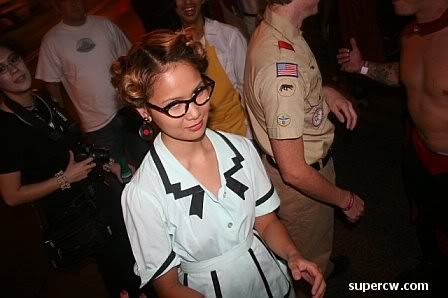 typical MAN! no, just kidding. but seriously, i loved this.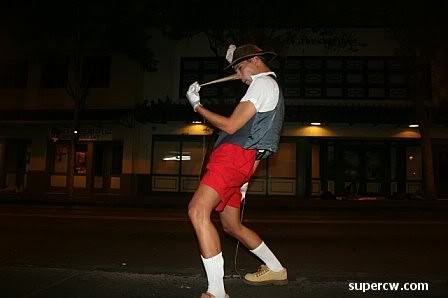 saw kawika and jodi at loft!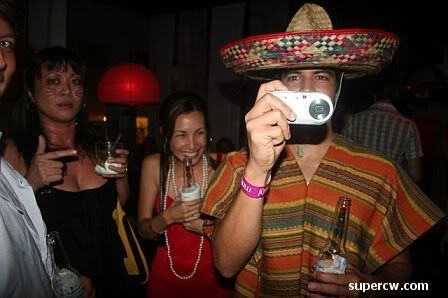 it was actually pretty slammed by the time i made it over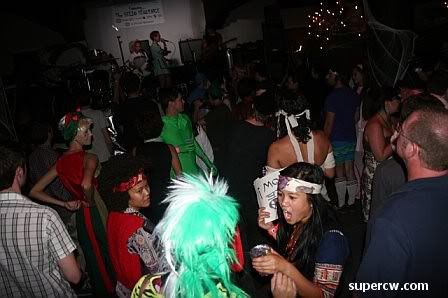 JUST in time to get lurked by weaver. busted!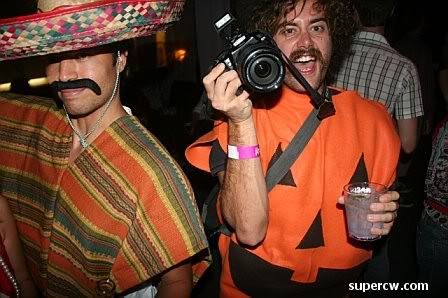 like i said…. you can nevernevernever have too many….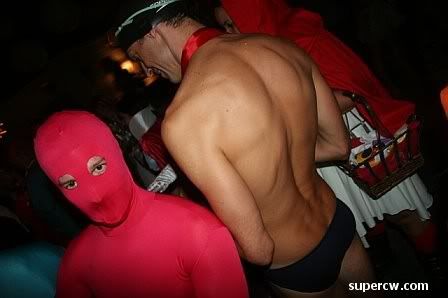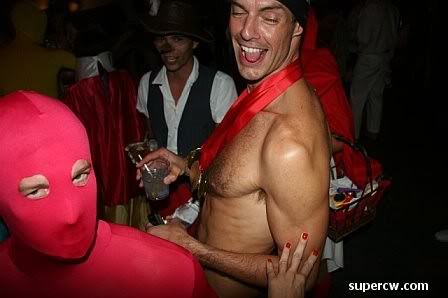 jordan. woah!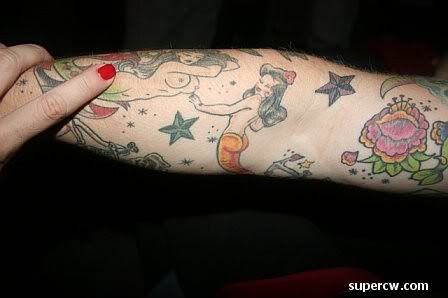 aly!!!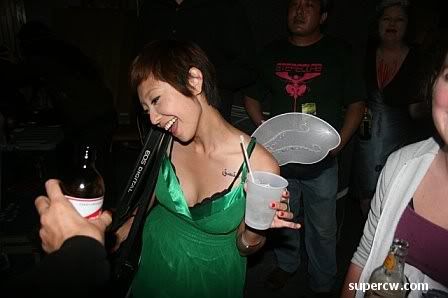 so cute i could just eat her up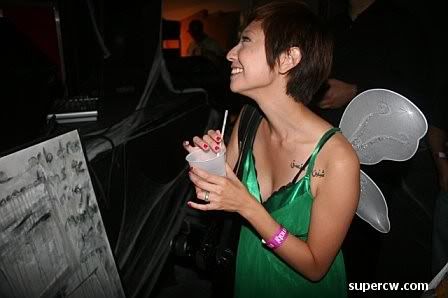 just kidding aaron! gosh…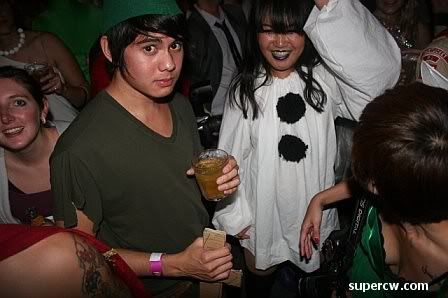 so helio sequence. by now you've probably heard me gushing about how good they were. but GODDAMNNNN!!!!! the very first song they played i was like OH! YOU GUYS! I KNOW YOU!!!!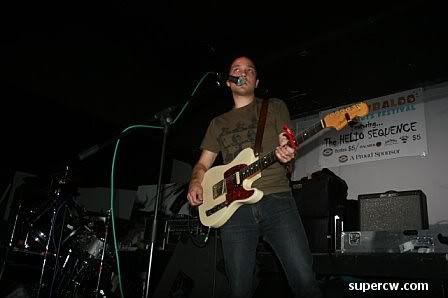 it was beyond exceptional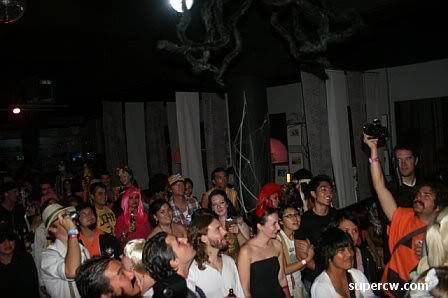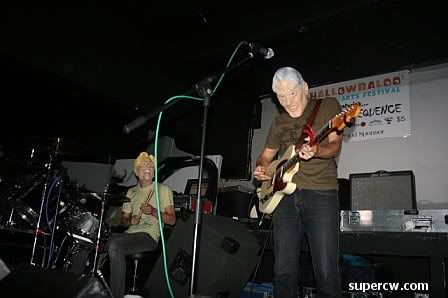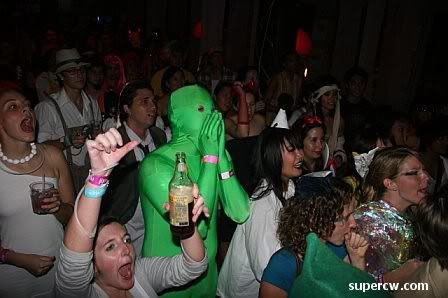 and get this– there's only TWO guys in the band. the sound was amazing. they were like playing stuff then looping it then playing over it. it was so amazingly amazing.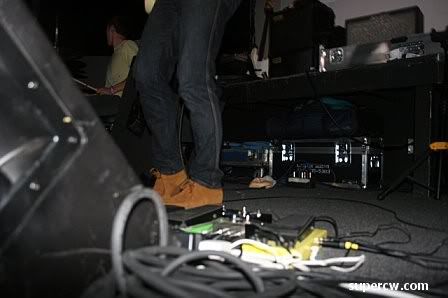 *drooooool*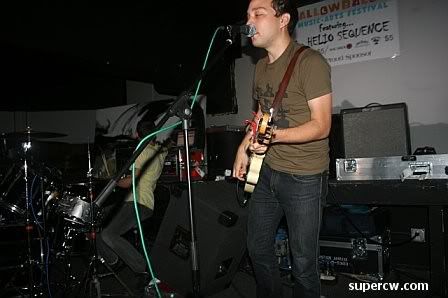 seriously. BEST live show i've seen in a minute.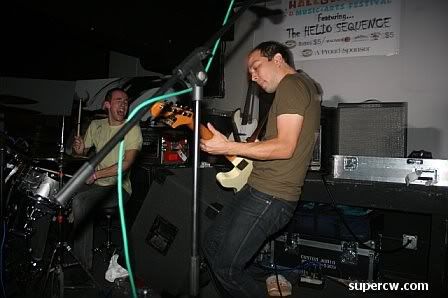 cw-houdinii busted by germ and nicole.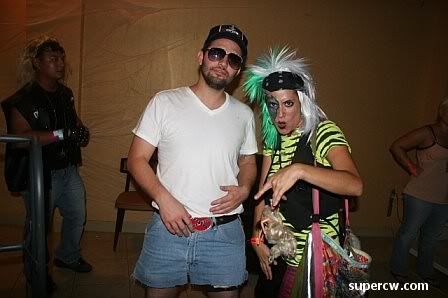 so ya. the block party downtown on halloween was awesome. there's pictures everywhere. i liked the ones on metromix, they had two galleries!, and dan's are just plain ruckus. i would be mad about this shot but it's just so adorably scandalous that i can't be mad.
I'M NOT DONE!!! i still have my north shore vacation saturday night and stuff. gotta put that in next week's update tho. this one is too long. and i gotta jet. green drinks, jazz at w then my boyfriend the deadbeats are playing a special show at anna bananas.
life? rules!