ugh. this one has been sitting in my drafts all week. every time i come to write it up i'm so blah about it. i got a new point and shoot and it's just been totally disappointing me. HOW long is the stupid shutter delay on these things anyway?! man i was really spoiled with the 20d. i completely forgot how much of a difference that makes. i'm just gonna get a new lens for the $827563 canon, because i'm almost totally sure that's what's kicking it's ass right now.
so anyway. last week. shoot, over a week ago now. i was totally at that model party thing at the w:

there was a fashion show, but i barely saw it. so many people.
i decided to lurk the people instead. chelsey and krista.
vikki and morgan
sato and his cuteyface brother. HI!
skyline b*tches, llc!
seriously though. HOW many people can fit in the W anyway? it was so packed i was thinking about those old school phonebooth things they did in the 60s. like, if you walked up the stairs and saw people laughing and piled up to the ceiling. that's totally how it was tonight.
ps: was kinda hyped to see men in the fashion show. nice to know a "model party" isn't just an excuse for men to come and perv over models after all. the women got to as well. thanks eh.
nice to see some malibu making rounds. i'm not too sure what's on that other tray.
nice to see little ryan out.
nice to see randall paulson and probably some equally talented surferface out. hello, winter!
later that week i was checking in on elliot takane and the holiday cocktail tour…
…it's not happening til the second week of december. don't worry, i'll let you know all about it. meanwhile i'll let jed get his one for rum fire just so.
up to twist for the most perfect waikiki view ever
yes, TWIST. cute huh! it's the new hanohano room!
i was all (prematurely) hyped on my brand new point and shoot. testing out all the options. this makes the new lounge area look so mod. it's seriously really cool up there.
the cocktail was pretty yum too. nice work bhuv!
later at the beach house, i was being garnish-wow'd
there's alize in this one. bombay sapphire, chambord, AND alize! triple whammy!
chef uyehara is the MAN! he let us preview the tasty treats he was making for their spa opening after-party thing on the lanai at the beach house (a.k.a. the hamptons of waikiki)
it was like some caviar on top of some lobster or crab something on top of little toast triangles (always must have toast triangles) and some beef that's like the best beef in the world over shoestring potatoes a.k.a. the last thing i should be eating right now but couldn't get enough of.
don't think i didn't peep the spa opening thing either. duh!
saw buddy moore. modern luxury!
greeted by men in robes. welcomed by champagne from people in robes. even the harpist was in a robe. nice touch! it would have been some next level spa opening stuff if they made all the guests change in to robes. and we all had to mingle in robes. THAT would have been some illness.
yes. i'm totally in to wine and sparklings now. spirits and beer are so easy. you don't know nothing until you've tried the kenwood yulupa brut.
they kinda spared no expense on the spread. sorry i didn't get the best proof of that.
lurked shilpa getting parafin wax
and acker getting the rub down. man, i needed one of those so bad. still do. i bet it works.
the new moana lani spa. complete with spa director lena. complete with hottie-flanking by shanapeete and giselle.
shana peete disappeared and came back with doubles.
i didn't have to move for my diet
nah nah nah. love the ladies. especially when they let me take 1984902518051748192 photos of them looking amazing. stuff like this tho? makes me miss the good canon. this point and shoot ain't cutting it by any means.
did i stop by the spa after party at the beach house? DUH! spotted yasmin dar and all her girlfriends, totally matching and not even on purpose. or was it? yasmin!!
red bull was there. SO up there!
snuck out early because it was a thursday. my home on thursday is deadbeats at indigo. also happened to spot the honolulu weekly…
…for editor's birthday! aw man ragnar. there goes our friendship. sorry, it's the point and shoot, i swear it's not me. my good canon works like a zillion times better. but but but…. happy birthday!
not so sure how i feel about blabbering to everyone about how much i love this band. MY boyfriend, ladies. MINE. ugh, now it looks like they have a lot of new girlfriends.
that's fine. because i'm still working. time for shots.
stoking out our friends on the deadbeats. and staying up late.
ps: bhuv rules
oh man. so does ethan. but you know this. if you don't? NEVER MIND! forget it! i didn't say ANYTHING!
had to make moves. it was thursday night bar crawl. there was a random rock band playing at loft tonight. daniel? what's up? who are these guys?? we were all confused.
it was still good tho
ps: danielface. in case anyone misses it. i know i don't. aw, juaaaaaaaskiddnnnn.
speaking of live music. later that week i was rocking out to newjass quartet….
…along with 238530859582409 other people at J salon. their new location!
lurking some of their best looking clients. HI!
party at the salon! party at the salon! is this what the beauty bar is like in la? are we SO hip now?
so hello friday. hello, new j salon. where accents used to be. across from the ward pf changs. hi!
still friday. lurked E&O. i think it might be the first friday i've ever been here.
which is weird. since i'm here like 3 times a week. can't stay away from the corn fritters. sorry.
got to watch detroit spank the lakers. sorry juando. i mean… i got to enjoy the lakers.
and duh, the bubbly blondeness that is ryan the bartender. say hi ryan! for the ladies…
dragged amber and kamu with me. we couldn't not stop in to bonsai. did i say i'm at E&O three times a week? well then. i'm at bonsai restaurant the other 4 days of the week.
i know it looks gross, but just trust me this is the best thing ever at restaurant row right now (uh, besides bonsai, cause bonsai rules).
it's called something, but i forget what it is. we call it the bloody mary shots. they are only at ocean's 808 (the newold ocean nightclub). you get that ugly scary glass of sriacha with the salted tomatoes hanging from it, then three shots of delicious tomato flavored vodka (ahem, three olives!)….
…and it seriously makes the greatest thing ever. TRUST me! soooooooo ono. you'll feel so sunday morning fresh after slamming this one. i prefer the prosecco back.
ahm, i would only recommend it if you like bloody marys tho. sorry kamu!
woah. still friday. look where i am! woah. nah, it's just to see the ladies. miss ya.
and the gentlemen. shawn ho!
and the OH WHAT! mister kanemoto himself! ESKAE where you been all my life. i been missing my right hand man.
not sure if you can see this (stupid point and shoot) but eskae's blackberry is fully functioning on cracked screen mode. he is the only person i know who officially has a crackberry.
WHAT! candy bar be spitting all kinds of cool tonight. eskae AND mike keany?!?! holy luckiest night for christa ever.
cause, i mean. keany gets the gems in terms of photos.
meanwhile, i was hyping him up on how flavorful moscato is.
and bumping in to people when we were trying to make our houdini to waikiki. trendy ed muncal.
trendy trendy graham funke and his new trendy trendy girlfriend. fresh from los angeles, the land of trendy. flanked by honolulu-trendy flash and maleko.
meanwhile, my pearl-getaway was getting more and more exciting
that's right. it's how keany rolls. the rain was only adding to the excitement. i was beyond giddy at this point. pretty sure it was the tomato vodka and moscato. yummmm.
ps: google mapping hush while on vespa, not the best idea. especially when you're looking for hush. it's a super secret, that location. not even on google maps just yet. sorry, mike, for all the driving around we had to do. i could have SWORN it was over there. no there. no there. wait! that street! there!
ah. there.
was taking the giddy to an entirely new level when we got there. sato reserved not one but two rooms for us.
not like i wasn't down to mingle. but the rain and wind and moscato kinda took all the pretty outta me.
obviously, isidra had a much more accentuating means of transportation over. hothothothothothot.
watched a lil britney spears on our lil private tv in our lil private room
lurked a lil room full of people sitting around looking at each other from our lil private room
ate a few chocolate covered strawberries
did a lil camera battling with keany. guess who won.
bumped in to miss tanaka of queens. which was the last element needed to call this night a success.
well, tiffany and all her delicious friends, that is
so ya. we stuck around for a while. i guess we were all kind of waiting for something spectacular to happen. roxy on the mic was pretty awesome. so was the booty contest she initiated. sorry, i didn't get that. ask keany tho… he did!
spent saturday with some major hotness and some fight something at giovanni pastrami's
i brought daniel cause he's fun to entertain my work friends.
it was an mma fight, but come on. like those pink boxing gloves aren't just the cutest thing ever.
i spent most of the afternoon trying to avoid watching the actual fights, which was kind of hard because there's tvs everywhere at giovannis. those mma fights are seriously gnarly, it's seriously NOT my cup of tea. they are so ruthless! all that hammer-punching on people's faces and stuff. ew.
i had better things to scope out
they are pretty cool for the fights tho. they play them on the outdoor speakers so people who are wandering by get to hear the carnage.
i got to say hi to my friends from CW's. CW'S!!!!! i love it. it's actually coconut willy's but hey, call it cw's alllllllll you want, friends.
marina was blowing my mind getting people to do cazadores shots. who can say no to that smile right!
i think i even did a few myself
it made the margaritas so ono. i'm all about blanco right now.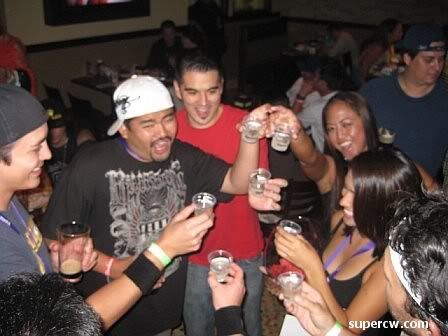 this was our table stance for most of the day. my shots kept going in my margaritas. it's like they couldn't get any better then YUM. more caz.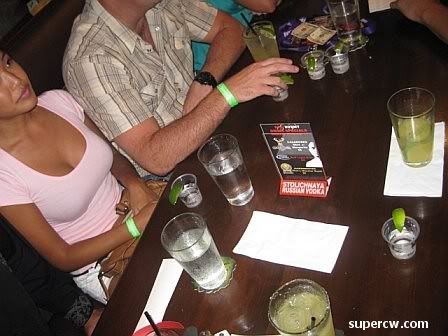 russ made it too. aw, look at my friends and co workers and their cute pink boxing gloves. so manly, guys!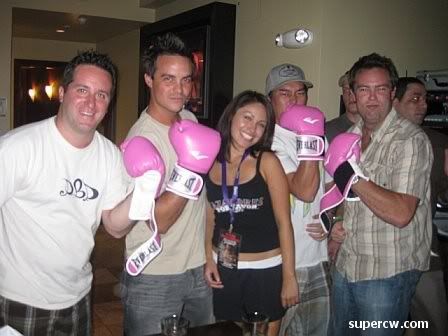 saturday night i was enjoying the elevator ride up to skyline immensley. not like i'm judging, but not seeing so many ed hardy tees during my nightlife experience is actually a good thing.
skyline, by the way, is SO sick with the new loungie area and the whole revamping of the hanohano room. nice work kimi!
love the new spelling. it's cick.
alana was giddier than usual. blueberry stoli helped!
the lounge was bought out by a wedding party, which made all of us feel like we were at a wedding party
not the greatest, but not the worst. esp with the view i had.
james berger was joking that his wife is out of town. i'm not sure what really happened to him. i like his joke story better anyway.
cousin dave silva came through, dressed the way i love to see people nightlifing dress. dave's friends, take note for next time! polo is ok but come on. it's skyline.
tiana dibell is still doing her thing. me likey.
had the best time ever lurking the nocturnal sound krew booth. and eskae & jami's plaid wars.
can't wait to see the other sk's take
ps: manicure battled with the other sk
we were both trumped by [DJ] jami. shit, kid. superstar turntable scratch dj prodigy much! you can't hide that talent. boy doesn't even need red nails.
ladies and gentlemen. the winner of nsk plaid wars. with non painted nails and that pretty face.
saw dan. DAN! the tallest nightlifer i ever met. you KNOW when he's in the room. you seen him? ask him about his jewlery.
and get a photo like this with him. i do every time.
little goldenchild
woah. that's just me. trying to figure out why the hell my new little point and shoot doesn't get such greatness. messing with settings.
now i'm back at work. watching joey our mixologist to the stars prep a crap load of stuff.
saying hi to friends from honolulu magazine. it's the hale aina awards!
aw. us.
best sunday evening ever. i'll give you one guess why.
okay, two guesses.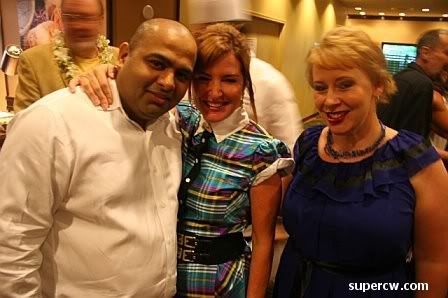 WAIT! three! blue cheese stuffed olives! you either love them or hate them. i personally love them.
ps: gin is in
HEY! i just saw you friday! sorry – that photo was really not so good. stupid point and shoot. forgive me?
so ya, the hale aina awards. kind of a big deal. kind of a LOT of amazing food.
i was definitely wow'd. saw jacy, she goest to these a lot. this was my first year. i never managed to sneak in get invited the previous years. well now. look who's made her way to the creme!
but work is work. i don't mind! i think i might have actually found my calling.
(sorry that i haven't had as much time to share here. i'm working on ym time management skills. as well as a new camera lens. ugh.)
more soon. i'm a whole week behind. and this last week was a doozy. more soon. soon soon.
love ya.