so woah what are you just totally chilling til halloween or what? no, that's cool. i mean. i hear you. i been chilling too. chilling with the completely inappropriate yet undeniably clever bar-entertainment they provide at chiko's tavern on their monthly girls night….

nah nah nah! it's work, people! i love it.
my girls were stoking out the kiddies there and wiggling around on the go-go platforms.
hey. it works.
my favorite is when my new coworkers motivate and come with.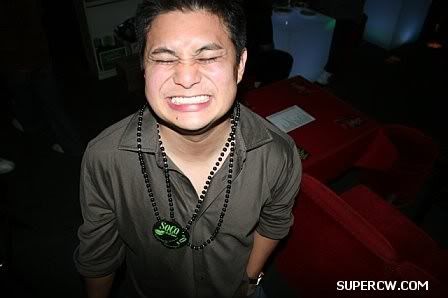 it's the least we can do right!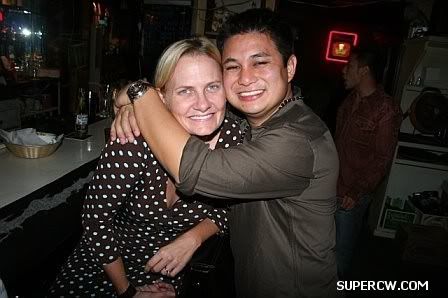 it's work. but i barely notice.
speaking of non-work. i was lurking the finale press conference for that hawaii international film festival bright and early saturday morning at the halekulani.
how could i not? hello! JUNG WOO-SEUNG!!
it's ok. you don't have to know who he is. (hello, korean actor superstar but whatever).
there's plenty of people that do
the maverick award was presented to young director ji-woon kim. i've heard him described as the korean tarentino, but i'm not sure that's the right way to put it. i mean, maybe for the whole cult-like following but his films are all over the place. the particular film shown at hiff was a western. the good the bad and the weird. ha ha, he said he's NEVER going to do a film with horses again.
jung-woo seung was presented with an achievement in acting award, for which he was kinda floored. he hasn't been acting for super long and was saying it kinda made him feel old.
mayor was there. makin everyone look all short and stuff.
it was exciting to see for sure. ji-woon didn't compare the award to his male organ like kevin smith did a few years back but it was still some legendary stuff happening right in front of me. i was fanning out. then got to go back to dole and be stunned silent for chief, which was the most amazing short i've seen pretty much ever. like, ever.
i wish i could put it in to words. how i felt after watching it for the first time. i was so giddy. me and daniel both were. it's like, i mean, you invest your precious time to something that will either be super bleh or really really good… and when it's really really good you just get on this high. i was on a major high right here.
which was perfect cause later that night was the opening party for bonsai sushi.
with plenty to keep the buzz rate going. how's the custom made red bull can slots for the goose!
the place is sexy for sure.
there's three levels too. with the middle floor being a sort of in-between. i liked our upstairs area.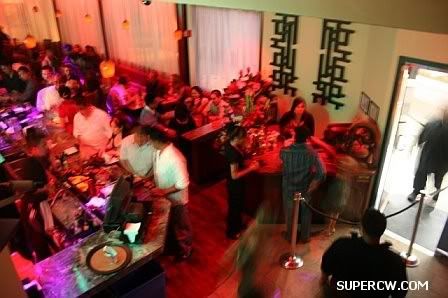 lurked some press. jason is always working, man. are you his facebook friend? he writes like seventeen articles a day. i wonder if he ever gets him-time. well, thanks to him you get a WAY better perspective on both this place AND hush lounge…
goose is great but we were talking about getting serious after the first bottle.
don't worry, it wasn't just me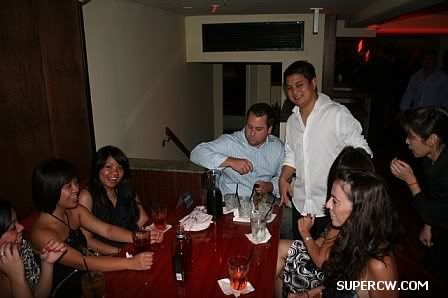 BUT! it was the first time our new graphics girl made it to town to hang with us since i been working there. i hope we entertained her good enough. i know last night we were trying to get her to come thirty feet from her house to aiea bowl and she wasn't hearing it. i hope it's not cause of the debauchery tonight….
…cause there was some debauchering.
SOMEONE thought it would be SO funny to steal my camera…
…and mimick my steeze.
ok, it was kind of funny. for everyone else.
i went on a mission to make friends.
nice work burt!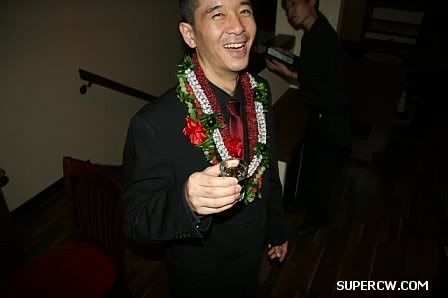 andrew. andrew? woah, andrew. you almost look like a non-human here. mannequinesque.
our table neighbors included jason pascua and yummy jade. HI!
we got metromixed.
what's the fastest way to drown your bottle and make moves….
…it definitely involves innocent bystanders
and a hard charger that loves jack
it DOESN'T involve more cw-mimicking, damn it becker.
ok ok ok. haw HAW. you so funny.
no but really. making moves to gravy. not, like gravy cause it's so easy but gravy like the event at the hyatt that involves k-smooth and architects and g-spot and just about everyone else that knows how to fill a room.
i'm totally down with a monthly, guys. third saturday works too. cause on nights like this i need a few weeks to recover.
spent most of gravy not so gravy. it's not funny how quickly my pals learned what a lightweight i am.
architects too. but they probably didn't really know my current condition. i was keeping it cool. not getting up from the chaise pool chair thing the entire time.
lurking blaise's artwork and life was just fine for me thankyouverymuch.
somehow wound up navigating the hyatt and a taxi over to level 4 with KY. apologies are going out at this time to everyone we called and texted on the way. rob especially.
i'm all about people wearing costumes a few weeks out before the main day of halloween, by the way. right on, my man.
what the! DAVE! cousin dave, everyone. i know you know. revolution motor sports! my insight is almost street-ready again and i'm totally taking it to him to get like super cool spinners.
last night i got called out for being eh about level 4 when they opened. look, being over-the-top scene is honestly just not my scene. but god damn, having a late-night clubby-club spot to dance and sober up with thousands of willing and able bodies? oh yeah. the place is warming me up for sure. and like i told them, a girl's allowed to change her mind. right? RIGHT ALVIN RIGHT?!
what the! TYLER?!? holy whattheomg! you go here?? cool. ps: when are you going to start another BAND already. we're all waiting, maestro.
haha alan. thanks eh!
back to work.
can you honestly tell me that there is something better i should be doing? because um. this stuff is the nectar.
and PLEASE TELL ME how you ladies can still look so amazingly gorgeous after working on the golf course all day. i'm totally going to sell your secret and become a millionaire.
had drinks and nibbles with honozooloo photo genius about it later.
i really, like REALLY love the waterfront at aloha tower. it's the perfect spot for events if the weather is agreeing. and if people like you are around.
spent most of the night market looking for my aloha tower babies. ah! found em!
hump day of the longest busiest week to date, but still had time to say happy birthday to juan p underground mc superstar at jazz minds. wish i could have stayed longer but that stint at olive tree really did me in. actually it was the sonoma cutrer and taittinger brut, but that's just between us.
yes. another one. TWO in one week. a lot of work but it's making me want to learn golf.
it seems so relaxing.
and i mean. there's refreshments!
poor shanna was so not feeling good but damn she was looking good.
acker had cocktails with his korbel brandy. omg, the lei maker. it had like ginger and pineapple juice and sprite and i wanted to just die. the perfect sunny day non-lethal cocktail for sure.
hijacked kelly from the golf course to come out with me after. i didn't even let her change out of her shorts. poor thing….
…i made her wear a pair of slippers i had in my car that were three sizes too big.
visited the HiFi event at aloha tower.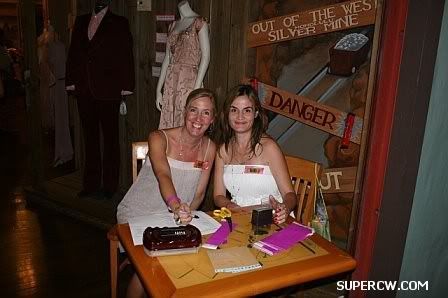 they were showing off the amazingness that is the uh costume collection. clothes art!
it was so awesome– aloha tower let them use a vacant retail space that worked out perfectly
i'm still in awe at how these women are able to concieve an idea and then just make it happen. remember their eco mini fashion week on kauai! *poof*! done!
tonight's event was nothing short of spectacular too.
there was music
and hotties
and the GARMENTS! just woah. i was camped out by this one but everything was hand selected from the 10,000 pieces they have to be displayed for us to drool over.
lynne o'neil's day job as a major huge big time fashion show director in nyc kind of reminds me of my new job as far as the responsibilities and craziness. obviously, margaret cho won't be playing the part of me any time soon but i seriously feel connected. what's up sister!
the brightly room with all the drinks food kept reminding me of the kitchen at a house party. it's where everyone was camping out when we got there.
aloha tower = aloha tower babies. hi!
the hotness of HIFI
made moves to check in on the three olives cherry bombs. it's work, people.
i swear, bumping in to my old co-workers from visionary actually kind of makes me sad. it's like bumping in to an ex-boyfriend that you prematurely broke up with the further your own career but still have feelings for. sext traffic man dave hisaka from kpoi and the zone jockeys chris hughes and shawn ho. HO! miss you guys. love you guys…
kind of blew this shot of alyssa fung but posting it anyway. if there was ever a chick with a more put-together look in honolulu it's this one.
finished work then went to play. there's another new place in waikiki. shhhhh….
…i mean HUSH.
that shot up there wasn't me. it was flashcam. FLASHCAM!!
yup. hush. i was there but not too many good shots to prove it. i think at this point i was on hour 19.
but ya, the whole place had a very boudoir feel to it.
they even had a hot girl demonstrating what a hot girl might do in her boudoir. i felt very sheepish about shooting it so i blew it. sorry.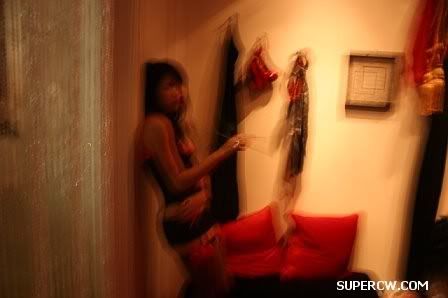 back to work! there's sailor jerry girls at arnolds.
UH OH. apparently when we burned all the temporary tattoos we missed a few.
eh. at a place like arnold's they love that stuff. more interactive. esp when the girls are putting them on us.
hot guys with girlfriends, part IV: tyler in his work clothes + my glasses = irresistable sheepish trendy boy charm
friday i really wanted to keep it mellow. it marked the end of the longest busiest craziest week yet and i knew it was just the start of my new life. a fashion show at the blue hawaii warehouse in kalihi was just what i needed.
lurked superstar harold julian lurking…
… miss jackie who was the hotness tonight. she duped all of us, we thought she was modeling in the show but that's just the way she dresses to go out. DAYUM!
speaking of blue hawaii. look who's here!!
look who else was here!
the hotties of blue hawaii, part one.
the hotties of blue hawaii, part two.
ps: krista alvarez is yum. totally an example of not JUST a pretty face. she put this entire event together.
we were stoked. me and sarah, that is. and drunk eskae. i LOVE drunk eskae!!
i didn't get much from the show itself…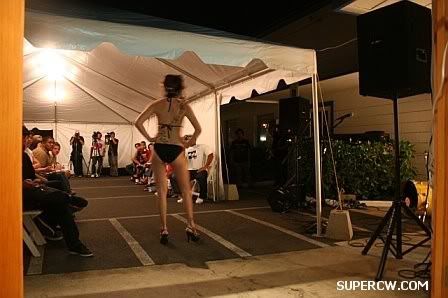 … but i was sitting next to ms smart magazine who got a lot of stuff. i'm sure we'll see it soon.
fierce tho
i wish you were there.
hotties with girlfriends, part XVIIMCXM: the best dressed couple i know.
oh YAY! finally to the part that's my TOTAL fave in this whole entry. TORY TUKUAFU'S BIRTHDAY SATURDAY OMG.
he had the most epic, most serious, most dirty, most fun game of kickball i've ever seen. and i've seen me some kickball.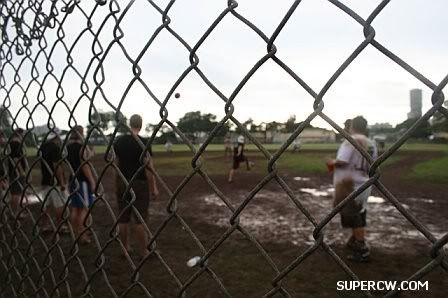 when i got there he was doing shots with the DJ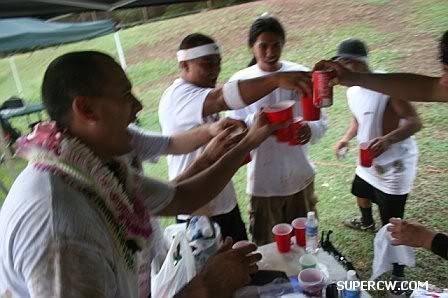 or wait, he was doing shots NEAR the DJ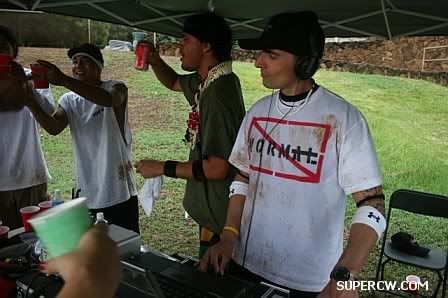 and let me tell you. it was muddy.
quite possibly the only time muddy = serious fun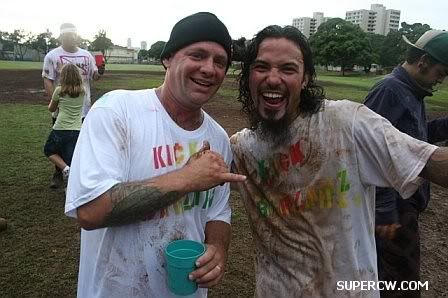 they had 6 teams and a regulation kickball. yes you heard me. regulation kickball. they weren't messing around.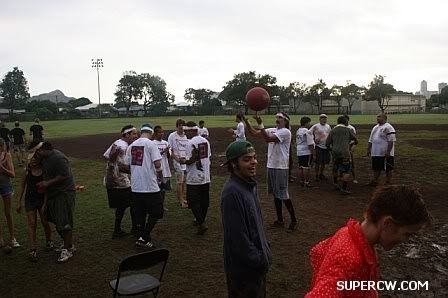 the teams even had their own shirts.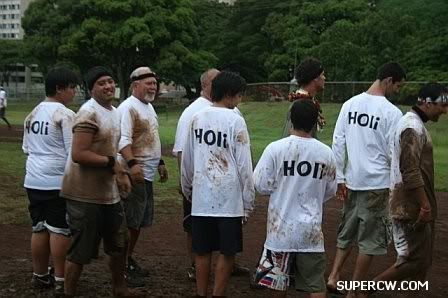 the black team was my favorite. they were having dance offs the whole time.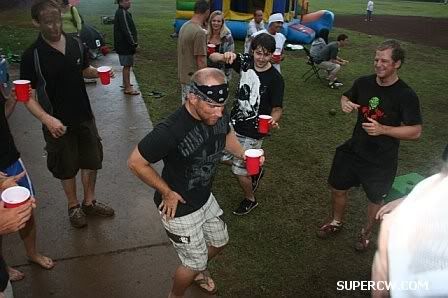 like, the whole time.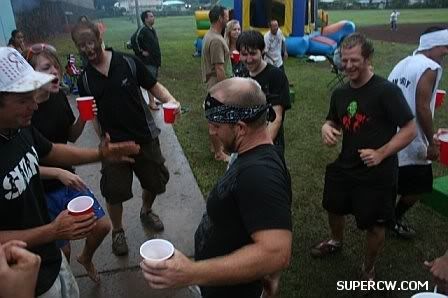 and when it was their turn to play, they dance trained on to the field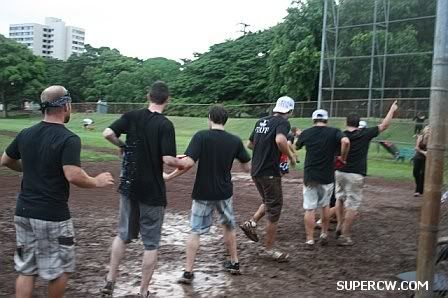 of course there were little mud fights breaking out here and there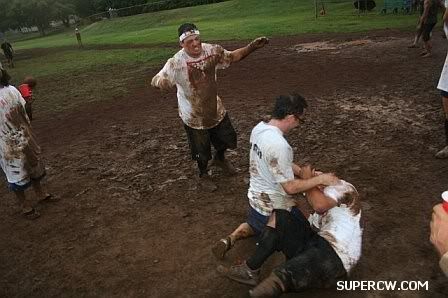 how could there not be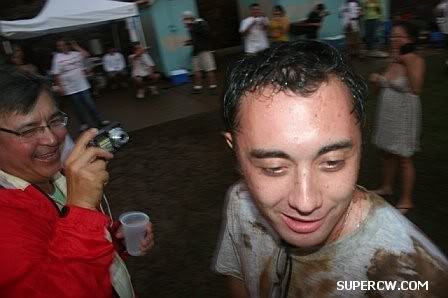 god damn tory…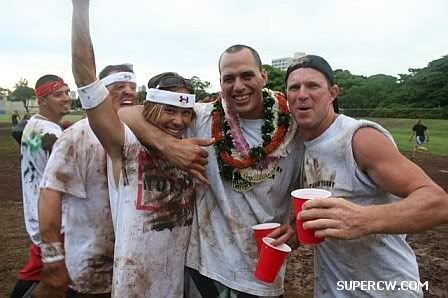 …talk about some people that work and play hard. *fanning out*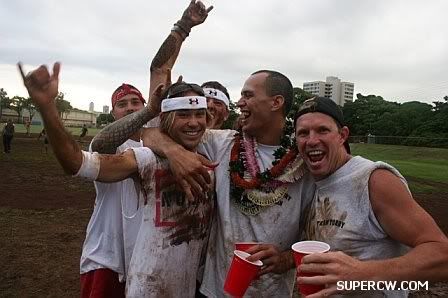 his girl rita was the booze ref. if anyone looked sober she blew her whistle and fixed it with goose.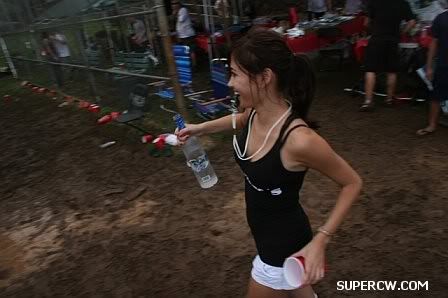 no, i didn't play. but i got pretty dirty too.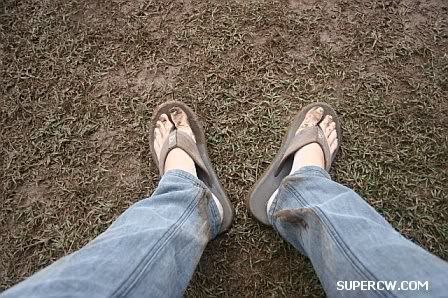 aw, HI!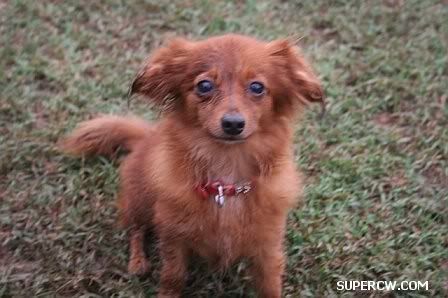 the mud made people look good.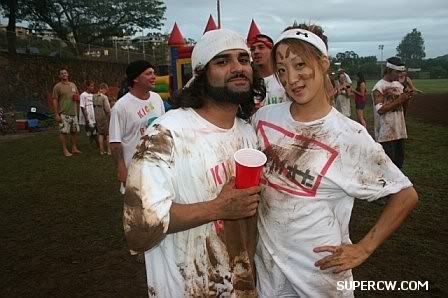 norman orchestrating the group shot.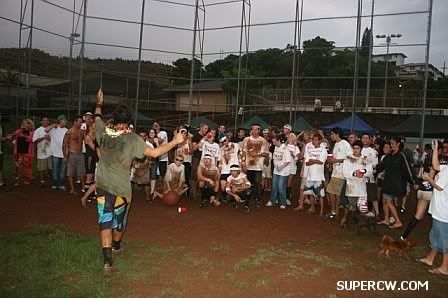 damn, kid. happy birthday!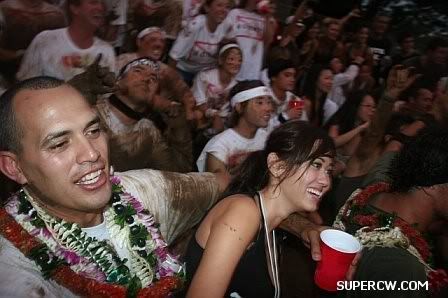 us. nice lens huh! ugh. shanna/justin i'm totally going to use that ritz camera card you gave me, like, tomorrow.
best day ever best guys ever best birthday party ever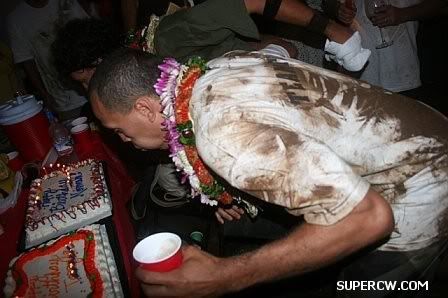 what's a little cake on face after rolling around in the mud right?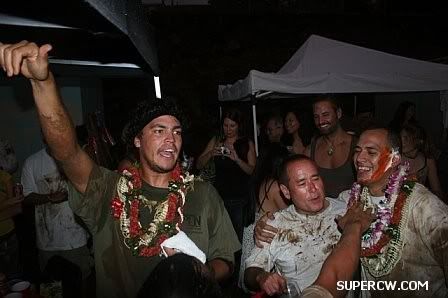 RIGHT?!
shoots, guys. way to make my weekend. happy birthday tory! happy birthday norman! woah thanks for the best saturday ever, guys.
in fact, it was hard to do much else after this….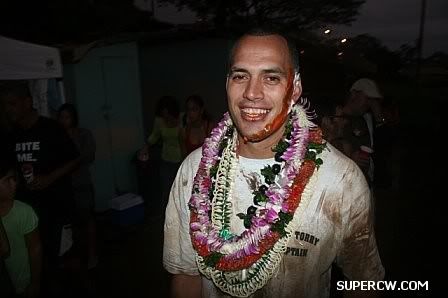 …but i mean, i tried. i had to. watched vertical junkie russ do shots at the nobu halloween party.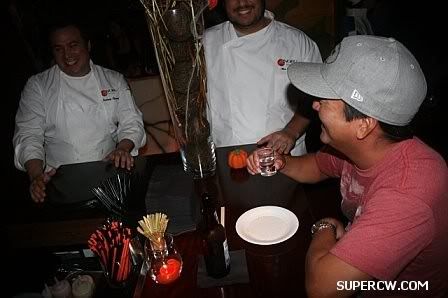 saw dane again. dane the sexy cable guy! rowr!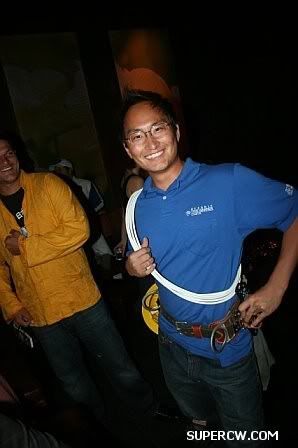 when in doubt, be hip hop. or disco. a failsafe super easy mostly effortless way to participate in pre-halloween costume parties, thankyouverymuch.
or just give a nod to the colorway of halloween like jessica and giselle did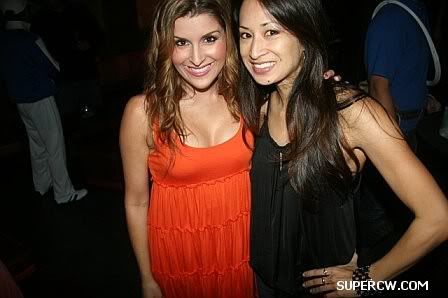 or just dress comfy and don a mask and call it a night
OR. go all out like girlfriend here… she was a one night stand. haw!
goose boo shots. they were lovely.
well hello there… what you got there hon?
i love it. whatever excuse you need to wear your shit open is fine with me.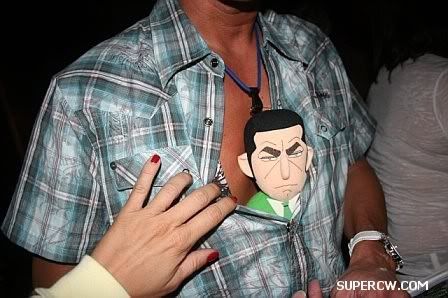 val and her man made the couple effort. they win as far as i'm concerned.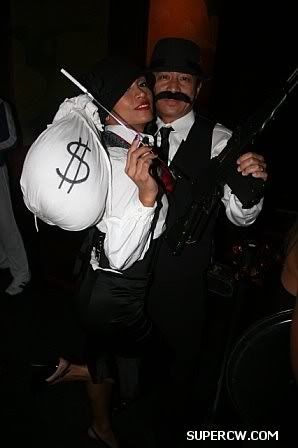 wait though. there's something to be said about the whole head-to-toe thing.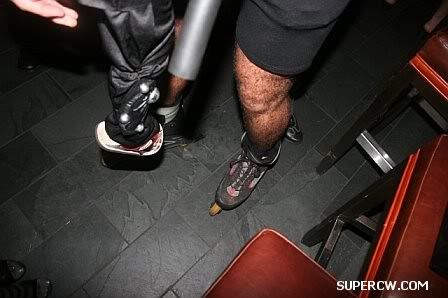 so acker takes it. WINNER!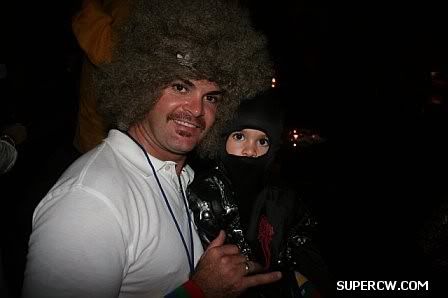 YES more work. but is it?? checking in on the jack daniel's ladies at o'tooles…
they get bonus points for getting the guys to change in to the shirts right then and there.
nice work, ladies. JACK!
back to play. thirtyninehotel a.k.a. my home away from home had their superfab 4-year anniversary a.k.a. the party that makes me feel old ("ANOTHER year already? omg..").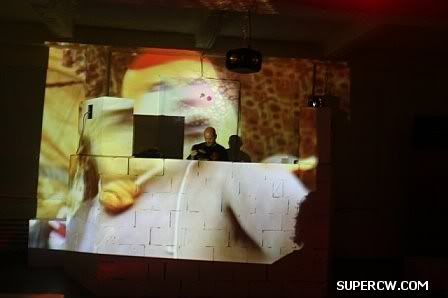 even though i was a bit drained by this time, it was nothing short of spectacular. i mean, come on. ED KENNEY was personally catering the thing.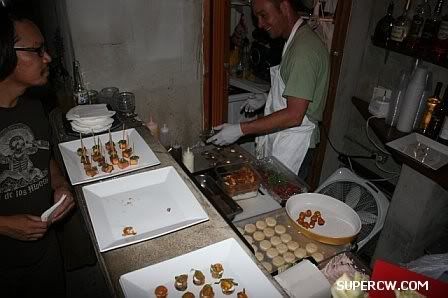 the trays made it about 3 feet from this station before they were completely empty. can you blame us?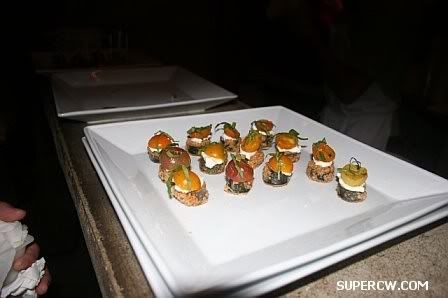 i got more but they turned out so blah and i know i've droaned on for like ten thousand years in this one. thanks for reading tho! i know it takes a while. trust me, my process for posting these takes like three DAYS though, so know i appreciate you coming through. mucho mucho mahalos.
til next time.
(time? TIME!?!? ahhhhh i want more timeeeeeee)