did anyone else see the maltese falcon last week?!?! that thing was ridiculousness. one of the largest privately-owned sailing yachts in the world. THE WORLD! how obnoxious. it's like driving a hummer or something. pretty much THE loudest way to be like "YO! i'm rich! RICH!"



um ya, i didn't get too close though. i heard SO many stories about when it came in to honolulu. you could see it from everywhere. looked likesome awesome modern pirate ship or something. the guy that owns it, tom perkins, is a venture capitalist. he invests in still like software companies (ahem, google) to get rich. just in case anyone's interested in getting one of these….
anyway, i was celebrating the life of sergio at aloha tower.
it was amazing. saw a lot of his photography i hadn't seen before. you guys, this man was a genius. i feel so lucky to have been even a small part of his life.
the brazilian way is to celebrate. which everyone did until very late. if you were there and i didn't say hi i'm sorry– spent most of the evening hiding at the bar remembering my friend. it took me til the very end to sneak over with a camera. i hope someone else got photos of the breathtaking performance andrea did or of paula fuga. it was such a great night.
monday i lurked the Hawaii Restaurant Association's Hall of Fame dinner
lurked midweek lurking our mixologist to the stars joey gottesman

oh WHAT! my FAVORITE chef right here people.
that scallop totally melted in my mouth. i LOVE top of waikiki.
was stoked to see hank's haute dogs present too
these things really are the best. well, besides costco of course. kidding!
later i was getting laughed at during my totally professional business meeting
guess i can't text so well on my new blackberry. at least that's the excuse i'm giving. ps: thank you daniel for saving all my drunk texts to shove in my face the next day.
later last week i was stoked to be invited to the Weekly's friends and neighbors gathering in chinatown. i'm neighbors with chinatown. and friends with the Weekly.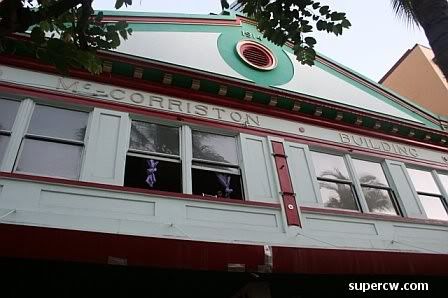 our friend vince made that painting. and i think he actually hung it that day. i was digging on it, that's totally my colorway.
by the way, the Weekly people are so cool. it's like some kind of pre-requisite to work there or something. alternative press.
case in point. they got nicole. i wonder if they even know? i mean. this one. she makes mountains move.
i love that they had the 'best of honolulu' edition still around. complete with the heather brown cover art. i was BEYOND thrilled to be mentioned as a reader's pick for best local blog in that issue, by the way. i'm not sure i ever said thank you here. but DAMN! THANK YOU!!!!!
ps: dean over there quietly reading is so 100% alternative press. he even wears doc martins.
chai's gave some food. including those ginormous crab cake things. it was SO yum.
travis is a neighbor of the weekly AND your teacher at punahou.  they are also celebrating their 1 year anniversary soon. at the store, not the school. but ya! i hear everyone that comes gets an Eames chair. o wait, maybe it's just ME that gets one. ok, maybe i just made that up.
kendallis also a neighbor of the weekly. and mega turbo smokin hot. and my boyfriend. ok ok ok, totally making things up now.
pia and vince are friends of the weekly. art monsters. wish i could have gotten a better shot. ugh!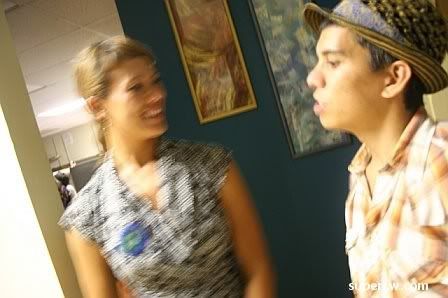 ragnar is a friend of the weekly too. if friend means editor.
aw! what up seattle! sorry we broke up. no hard feelings? at least i was respectful and made a clean get-away and didn't overlap you with someone else. er.
so yup. don't think the Weekly doesn't have a lot of friends. and neighbors.
what are you looking at i'm ok. i only had one drink. ok ok ok it was 92 proof.
i stuck around for the lions
and hope doing this gave my friends at the Weekly better luck that it gave me that night. cause my night pretty much turned into the worst night ever about three hours later.
but first it turned in to the best night ever
my friend the most stylish kid in chinatown
and my other friend the hottest girl on the planet
at the awamori festival at the pineapple room
daniel had mentioned it to me in passing at like 6am at thirtyninehotel a month ago. i seriously thought he forgot he invited me until he asked me what i was wearing to the event the day of. aw! um.  work clothes?
okinawa! okinawa!
ooo. hello there… (okinawa!)
it was so fun. i'm all about okinawa.
and needless to say we had a blast
ya. i do these. regularly. i'm gonna make a huge collage from all of them. and call it…. cheers?
shanna and i made an executive decision to go to the o lounge after since we were already out and it was still early. i made the WORST decision to change my clothes first. the night was over immediately after. totally. blew. it.
tried to cheer myself up at moanalua gardens the next evening.
i was one of the first people to arrive at the most beautiful garden set-up i've seen since the tea party.
caught up with dyanna from ocean vodka at the martini bar.
the OCEAN organic martini bar!!
crunched on yummy mini crunchie things from rum fire. they used those same things they make the shells with for the mini poke tacos.
thanks guys!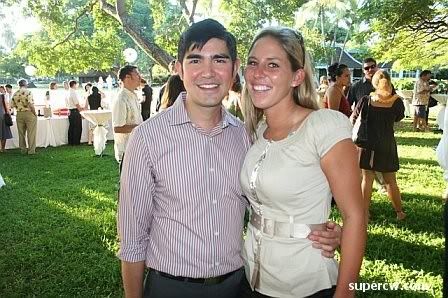 the girlas performed. second time i got to hear them in a week. it was so divine.
i need to work on my plus one situation.
but woah, talk about the COOLEST silent auction ever.
the year before they said it was like a huge torrential downpour. they were totally prepared this time.
hanging with the ocean vodka people is extremely fun, by the way. if you have the means, i highly recommend it.
the food was SOFA KING amazing. you can imagine right?
don't tell, but we had an imaginary friend in the seat next to us so we could enjoy more of the food. it's not over consumption if three people are enjoying it right? because yum. and don't you love the plates.
say hello to the best dinner i've had in a long time. this is from town.
oh! sorry. i'm at Who's Keeping Hawaii Green. it's the second one ever. the pacific basin people do it to support kokua foundation. award all these people who preserve or enhance the environment.
and it's one hot ticket i tell you
ed kenney got an award. duh. i can't think of a better restaurant.
there was a lot of commotion. it was a very popular choice.
deb also brought the energy level of the crowd up a bit
she's contagious.
jack johnson caused a stir too but not because he crafts modern dressed from vintage hawaiian wear. um, it's cause he's famous.
nah nah nah. the kokua foundation! come on! and don't even get me started on his latest album…
"…the album's songs were recorded in a solar-powered studio outfitted with a green roof and recycled shingles, insulated with 100 percent post-consumer cotton from blue jean scraps."
was a nice evening
was so lucky to still be awake after. cause the deadbeats are still my boyfriend.
saw tyler!
and ANOTHER one of these tattoo sleeve things! is this what's hot now? cause, it's a lot easier than actually getting a sleeve. i'm down.
meanwhile at work. around the corner from my office is about 21 million dollars worth of PERFECTION
today was a special day though
BBQ TIME!
chef hugh vs…
…chef gary
later that day i was making sure everyone tried the Three Olives cherry bombs at the radio station. get used to stuff like this it's my job now.
and lurking KSM's pimp cup
later that night. block party time! taste of the arts!
we had the premium wine bar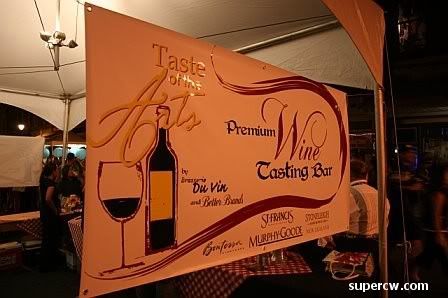 it was quite the popular choice
they actually let me pour too. which worked out well. have you SEEN the bartenders that work at du vin?!?
the guest sommalier was none other than eric chandller. he was funny entertaining our table patrons.
made some laps. saw love. jehua!! my long lost hanai brother. how's hoku award winning album making!
the mojito bar was kicking too
mojitos will never not be fun
saw jarvis. saw andrew. lucky we live hawaii.
saw jasmine jones. saw willie travers. how's art tasting!
saw her and her. could promoting BE any cuter? what's your rate homegirl, i need a quote!
saw andrea again. man i caught this RIGHT at the very end. bummer. i bet it was killer.
transition time. WOAH. so remembernina?!?!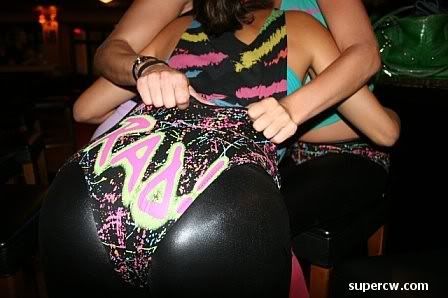 it was kind of her birthday last saturday.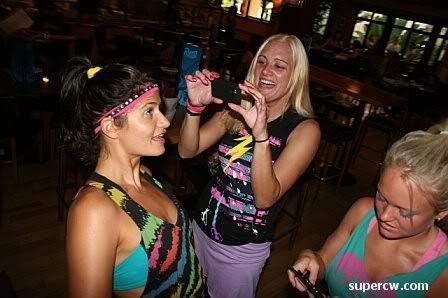 and it was a complete and total coincidence that her and all her friends were already totally dressed in theme for the neon party happening that night…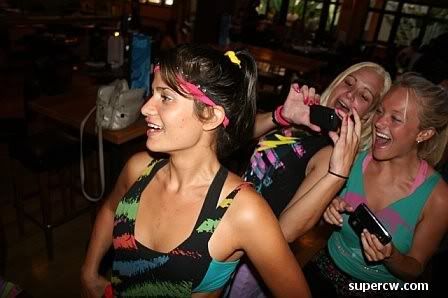 …she was actually with all her fellow surf/skate bettys at ryan's post pole dancing class at ward. where they just happened to feel like dressing in 80s gear. SO hot right now.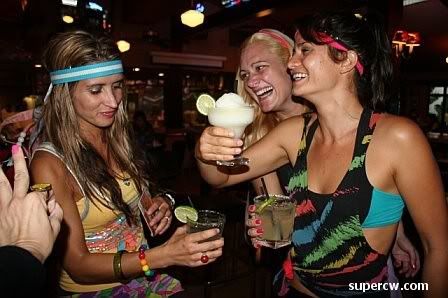 the most random coincidence that i was lurking the male versions of them about two hours later at aloha stadium.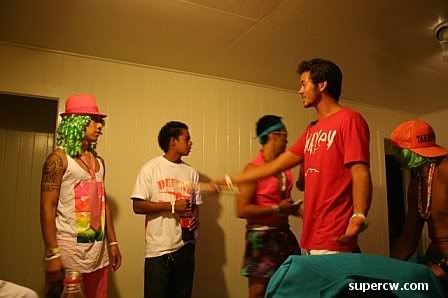 you can imagine how fun it is to be around when they're getting ready…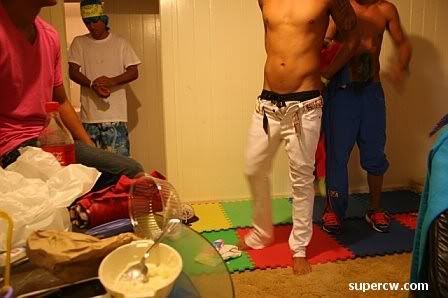 i brought them some sustenance for the pre-party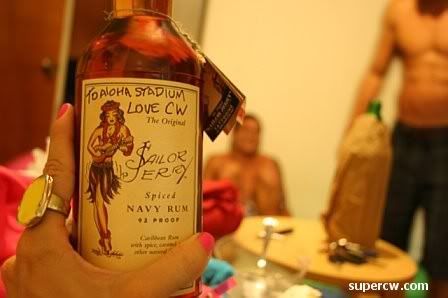 hopefully it's easy to get stoked on 92 proof. zak?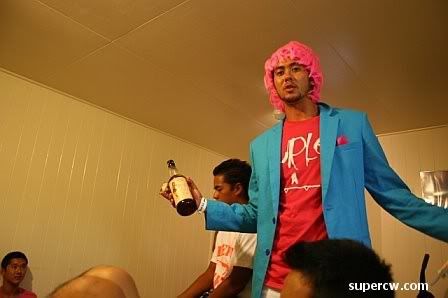 travis?
love it? LOVE IT??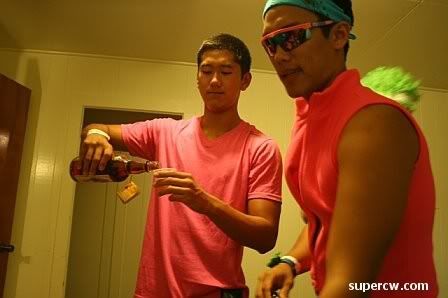 they already had a bunch of the neon glasses that they were gonna give away at the event. well look at that. *poof* i'm intelligent.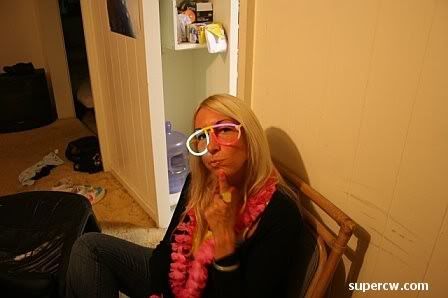 testing outfits in the black light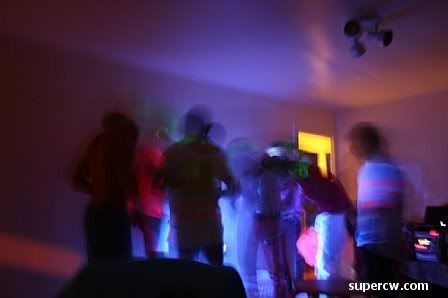 side note: hey payne. how you been man. it's been a minute. read any good magazines lately?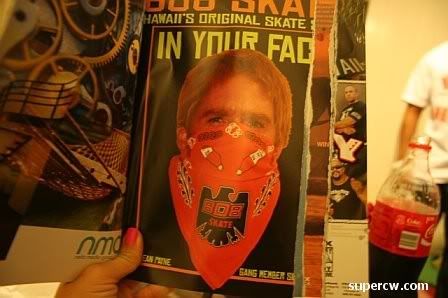 koa said the sailor jerry made him puke neon. i'm not sure it's the rum that did that kiddo.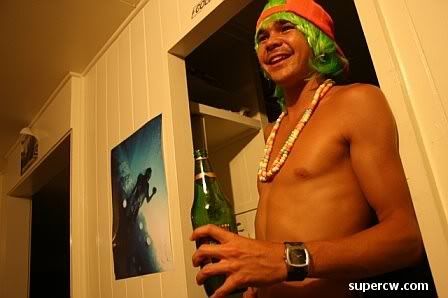 aloha stadium. the best looking guys-with-girlfriends in the HNL.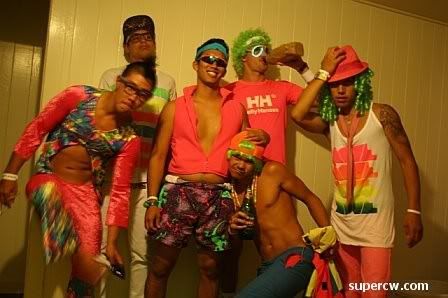 look at this. i mean, like fifteen guys in a photo and not one is giving the finger. i love aloha stadium.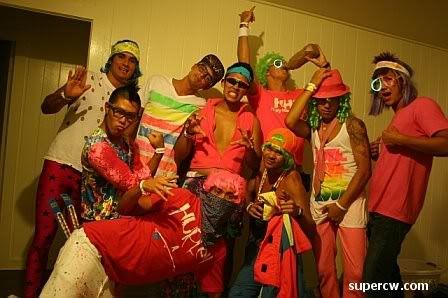 i got to make arrivals with the boys. immediately had camera failure right when we got there. all i got is this one.
and this one.
so sorry. neon was not meant to be captured by me.
WAIT! YES IT WAS! sarah honda totally sent me all the photos i took with her point and shoot. that's a totally separate blog in itself. stay tuned. watch this space. it was BANANAS!
WAIT! what are you doing saturday? come back to chinatown! do you have any idea how rad it's gonna be to see the deadbeats play the LOFT for the first time ever? do you have any idea how cheap (free) it is to get in and also to enjoy some rum? oh baby. rsvp now if you know what's good. this is good.