see? told you i was going to get hybrid fixed. finally. poor thing was sitting at my house for over a year like "what's UP! you want me or not!"



quick random photo: whole foods kahala. !!

first friday took me back in time. i remember both of these shows! circa '05.

thanks for the memories joe!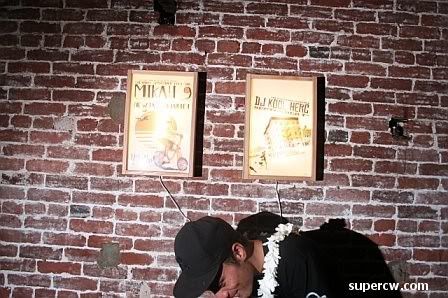 ps, joe. you may or may not know the face. if you ever picked up a flier for a next door event you might have been like "woah. cool flier." well. that's joe. one of my favorite friends in hawaii.

he did the cinema paradise thing too. it's how i met kalima. KALIMA!! ps: hows the t-shirts coming joe…

chris's 1st $10 bill of the night. yep. next door was on special license tonight. did you come through?

tino did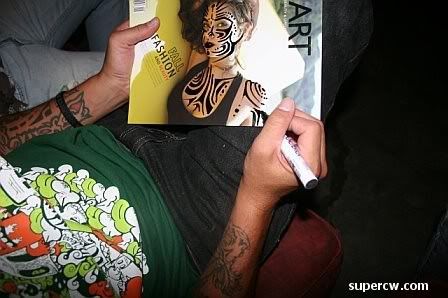 rolling around bumped into daniel gray rolling deep. with thousands of neck ties to give out for first friday. it was his birthday, see.

we were down with supporting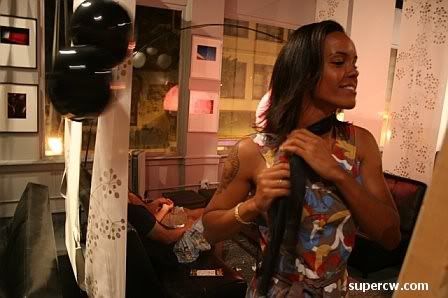 daniel gray was here!

ps: ooooo vince. i want to say this is the first time i've seen his stuff on a first friday.

meanwhile over at mercury. andrew was having a guiness with some australian sailors.

we were supporting daniel gray. neck tie fever! ps: vince! nice art…

haw haw ragnar. he was like "before you do that i better warn you…" then i did it and he finished his sentence "….i'm the most unphotogenic person ever". but i HAD to lurk ragnar. he was the one who wrote about the sailor jerry tattoo moment in the weekly.

double skinny jean fever! who on earth…

ah! lucy and veronica. skinny jean skinny jean! i'll never be sick of that style.

stylinout back at loft with something coming up that i am BESIDE myself about. i can NOT wait to have a legitimate reason to wear these kanye shutter shades. and i WILL be wearing them!!

saw cutie and was like awesome! put camera in bag and enjoyed rest of night. the cross reference thing is seriously making my my new busy life better…

jasmine's dad!!! oh ya– i was back at mercury. bouncing back and forth between mercury and loft is my first friday thing. but don't do it! stick to bar 35. i like my thing not as crowded like.

ps: oh MY god. the loft was so fun tonight.

i parked it here and drank like seven martinis watching eskae make it impossible to not dance.

daniel was like "your glass is too full" and i was like "…………… no it's not. but since it's your birthday, ah, ok."

later that night, the lights came on at the loft. i was very glad i walked downtown. cause me and maka scored a ride to the living room with eskae. that's right, we accompanied him on his much talked-about whirlwind evening of seven gigs in one night or something.

glad i went. saw fobby valentine esquire the third my future husband!!

with the wadda life film & movies to the max fam. it was his birthday too, see.

would you believe after all the phones, purses, cameras and wallets that i've lost.. i still have my living room vip card.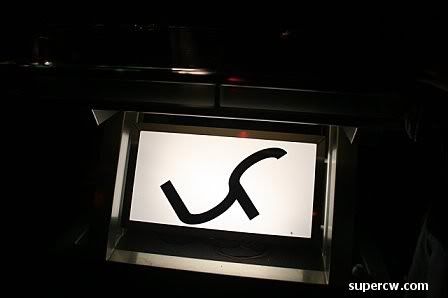 it comes in handy. NOCTURNAL SOUND KREW!!

ok ok ok. now it's saturday. as in THIS PAST saturday! i'm caught up! oh man it feels good. almost as good as judging a hot ass male contest…

that's right! say hello to the celebrity judge (me) saying hello to my smoking loon and that guy up there.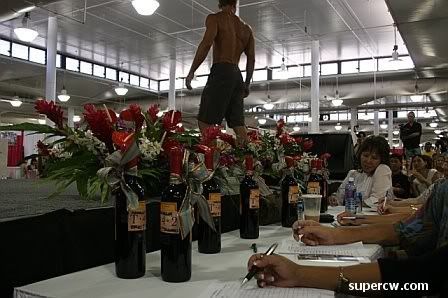 here's the front. for the ladies.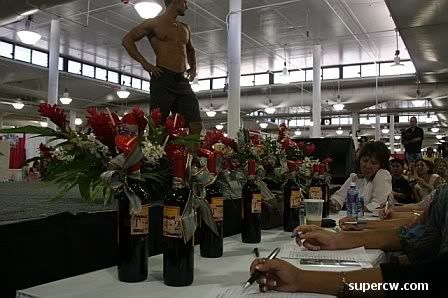 i got to sit with other media darlings like yu shing and even paula young. nadine was there too. such a glorious afternoon…

i took a picture of the name list so i could lurk everyone on facebook later. i totally forgot i did that until i just saw this.

ps: TUAN! you should have totally won the men's swim suit portion. you killed it.

and anthony! you were my vote for #1…. until we found out you were married. then i had to dock a few points. i hope you understand.

hey guys…..

hey guys!

the top 5. that kid there on the far right was the main winner. the one that doesn't even look like a real person. very nice tho. thanks for letting me come out eric & takeo!

later that night i got to the design center right at 8pm sharp. was totally expecting to be the first one there. WRONG!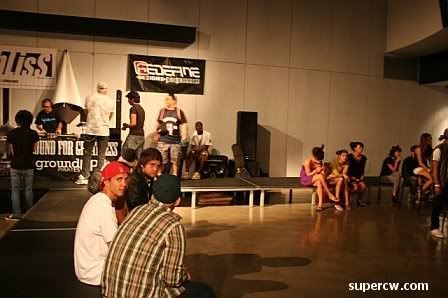 tia and jesse. hi!

ps: i think i saw brigitte's mouth in one of the drawings.

grounUP!

ps: the place got packed way early. can i just tell you now, again, that i LOVE things that start betwen the hours of 8pm and 11pm?  that's so my favorite time to be out!

thanks noah! ps: love the new 'do. are you trying to avoid all the attention that cover story got you or what!

honozooloo aaron rolled up smelling so lovely with that lei

then he informed me that it was his job to pass it on to everyone participating tonight. since supercw.com was participating I GOT TO SMELL GOOD TOO! so rad.

introduced jesse to joe

er, i mean @jdomingo to @JPhilipson

saw hugette HUGETTE! and if you ever see her in person, it's pernounced "he yoo gette" like, hugo only hugette. ok?

woah!!!

saw juando. didn't get to say hi much.

did stealth shoe battle and lost. do NOT show battle at a groundUP event. you will lose lose lose.

hey juando….. INTRODUCE!

nah, it's ok. you're busy.

saw ryan lau again. yo! whatcha been up to? been in any good magazines? how about art shows? ryan?

skye AGAIN! that's right. i'm so in the right groove now.

saw mike keany too but didn't really get good proof.

later that night. aw, maka. who are you tormenting now!

oh! never mind! it's moms! HI MAKA'S MOM!

the aikau family had a really nice event at pipeline

with the best food ever

kau kau at aikau

i really hope they do the competition this year. ps: nicole was laughing that she was already sporting battle gear and it was still before 11pm.

later that night. we had to say hello to andrew and support cops & robbers at mercury.

margot done got it right.

oh, it's the hamburgler in case you were wondering. but now that i think about it, she would make a KILLER lydia from beetlejuice.

burglers work too

ps: theme parties are NEVER not fun! tonight was cops & robbers. a party to raise money for the bar cause drew got robbed. do you love it!

oh man. i stopped by the loft too. jeez! this not driving when i go out is really getting fun. i mean, not driving means i'm drinking. fun!

bumped in to paul and his crew at loft. 948-buzz!

daniel was pouring drinks extremely slow tonight. what's wrong kid! birthday hangover!?

jumped in with 948-buzz to head to the shack in waikiki. wasn't too excited to ride with someone who parks like this.

but he was actually very safe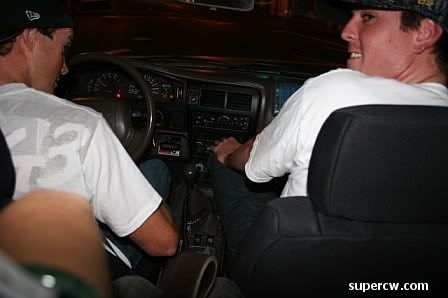 ha ha everyone was all in line right next to zanzibar. two lines together. all dressed up and all slippahs shorts. you had to be there to see what i mean.

i wasted no time finding my babies.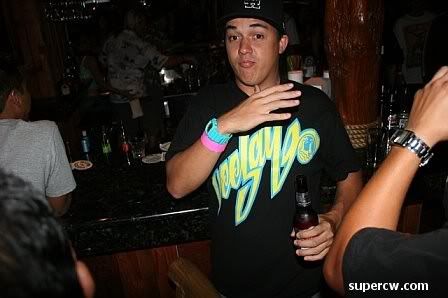 babies!!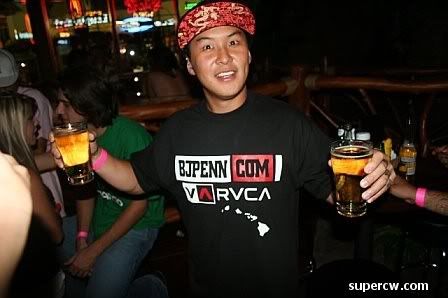 babies babies!!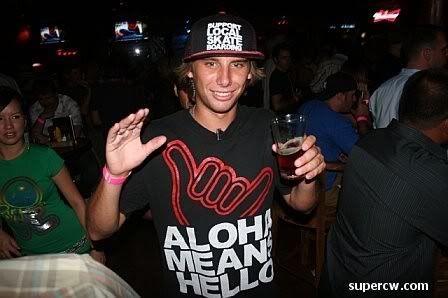 wooooooooooo!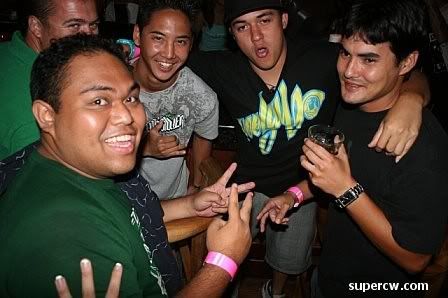 corey was there too. aw. HI!

babies babies babies!!

aw. thanks! i love the vertical junkies. love them love them.

lindsey was there too! how's nobu!

KING of my babies! howzit russ! nice non-dress code party! if i had a bikini i would totally be wearing it now.

ok, that last part was kind of a lie. but wooooo….

the shack in waikiki is killer. my favorite part is the local vs. tourist ratio.

at one point reid was on the mic asking "how many people here are on vacation!" and seriously 5 people raised their hands. then he was like "how many people we got that live hawaii" and EVERYONE was like "woooooo!" raising their hands. then they played one on one by natural vibes. i wanted to die.

it feels good to be local

right nicole! have we shaken the new york out of you yet or what!!

lovelovelvoe.vlovelovelvolvove

the girls were out too, bu the way. kai was in rare kai-form. i was loving it/her.

they got me to try so-co lime. talk about YUM! it tastes like spring break sex on the balcony of your hotel room because you're sharing with 4 other girls.

wooooooooooo

corey was ordering mai tai's and they were putting this mega-tropical gear in the drinks. they were fun.

we scored a ride back downtown in the biggest small car i've ever seen. have any of you ever been inside an element? those things are like castles on wheels! look! lindsey practically lives in his.

and with that… i'm all caught up! OMG! can we PLEASE celebrate?
I KNOW! friday at the loft. i'll be there before 10 because it's free and the dude they brought out is going to KILL it. vitamins for you. it's ok if you haven't heard of him yet. you will. oh, you will.