ok. who said they wanted to go with me to seattle. let's go.
it's been a long time since i've been here. i'm totally revealing my age now but ya, the last time i was here was for my 10 year reunion, circa '04. gah! this is the first time of the 21958390843 times i flew in to sea-tac and could actually see mt rainier. yo! i learned how to snowboard on that piece! i also tore my knee up skiing on there when i was seventeen. yuk.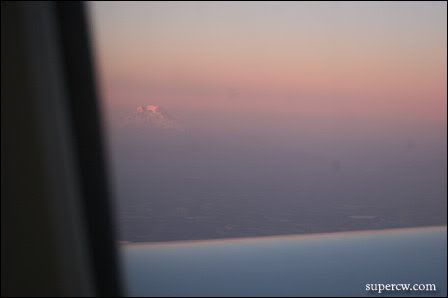 my sister sent her kids in to fetch me from baggage claim. i was beyond shocked. they are like little adults now. last time they were fully toddlers. damn. where does the time go.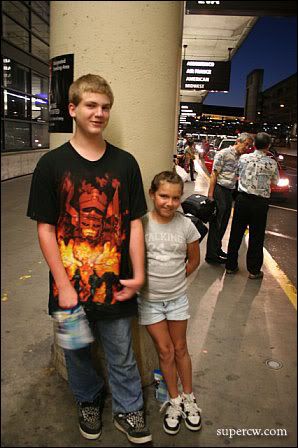 as soon as i got to her place something was attacking my p rods.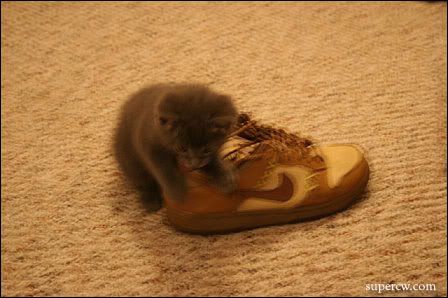 holy you! what the. aw! should i mention now how much i lovehate kittens?! aw. come here….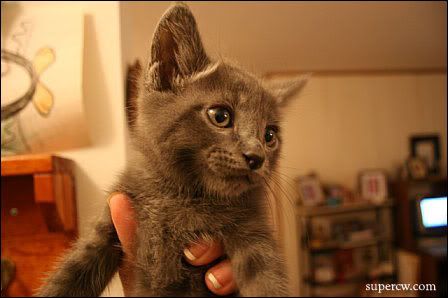 my sister got a tattoo inspired by mine. aw! now we have not one but two matching tattoos.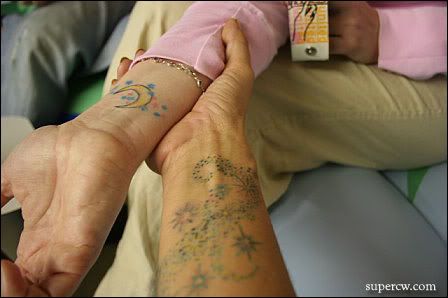 she took me to her friend josiah's house and i watched my old friends from childhood do beer bongs in his garage. it was very tacoma.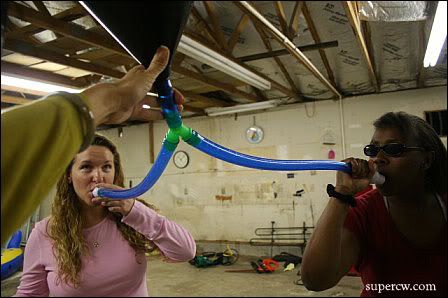 we were cruising on this really fun river float thing in his garage cause his roommate was trying to sleep. i can't remember what time it was, cause, jet lagged. but man all i wanted to do was put that float thing on a river. like NOW.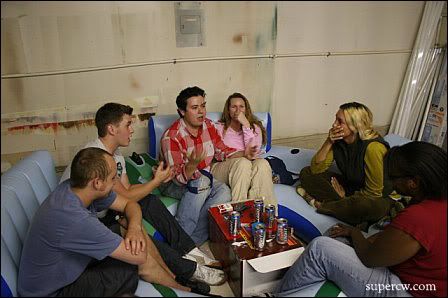 the next day my sister took me in to seattle proper. i was astonished to see not one but two new stadium like places for sports and stuff. and no sign whatsoever of the kingdome. weird.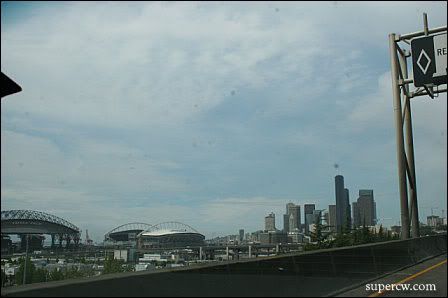 i dragged my sister shopping with me. she was like "they don't have stores in hawaii?"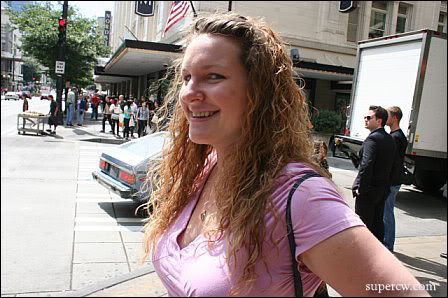 not, like THESE stores, lisa!
ps: oh. my. god. the first and only time i was ever in this store it was in paris and thomas was all "oh my god! we HAVE to go in here!!!" and i was all "um. t shirts. in a lot of colors. yawn."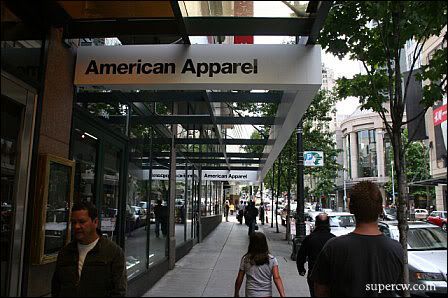 i totally get it now. and actually. being in the dressing room totally took over my brain. all of a sudden i wanted to take millions of mirror pictures of me making different faces to post on my myspace.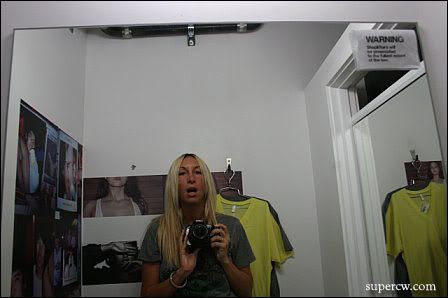 more seattle for you: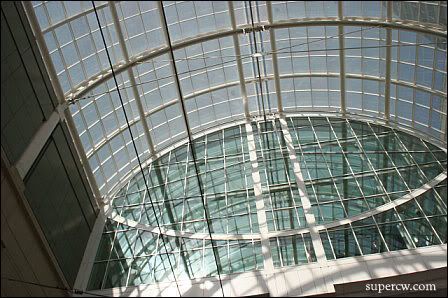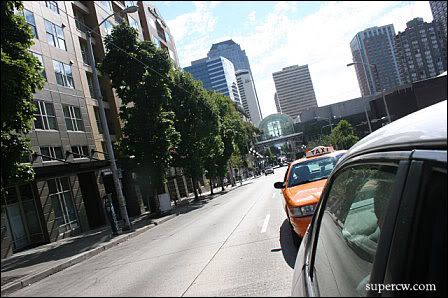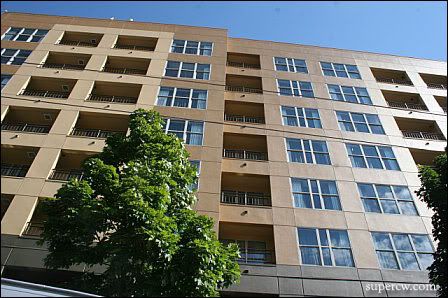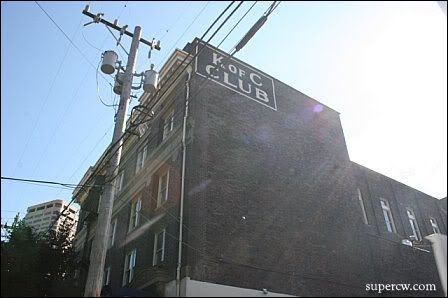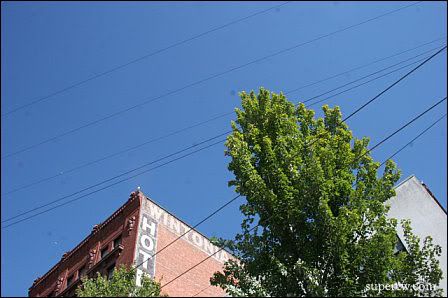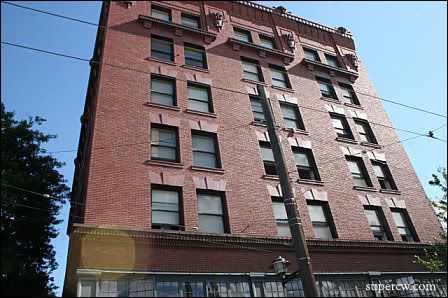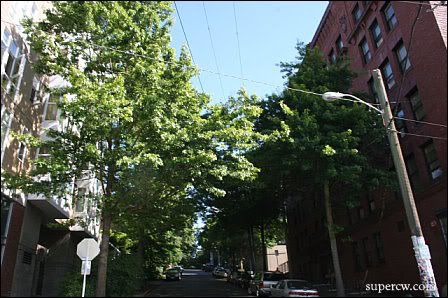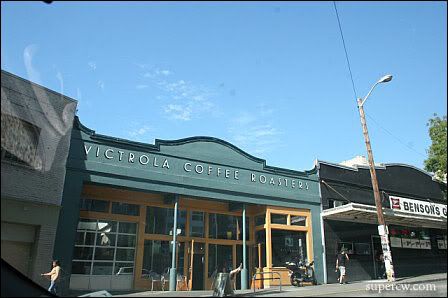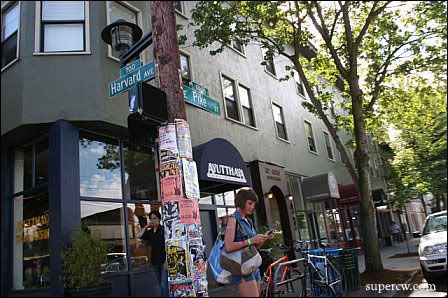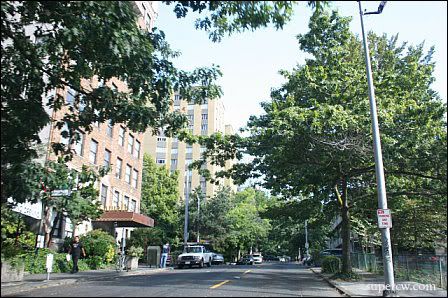 that's me crushing amazon dot com. that used to be like a shriner's hospital. and amazon dot com used to be like a little office above a coffee shop or something.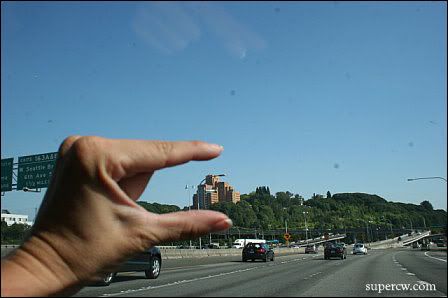 heading out to west seattle.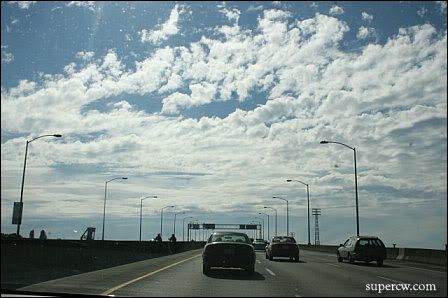 lincoln park!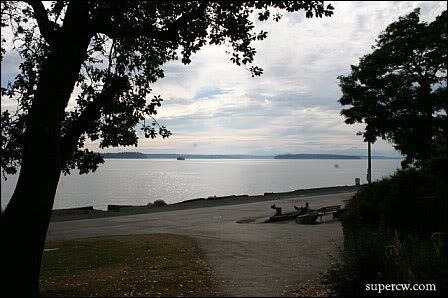 libbe was having a rehearsal dinner bbq. which was weird cause they weren't really having a wedding ceremony for any of us. so no need to rehearse it. eh.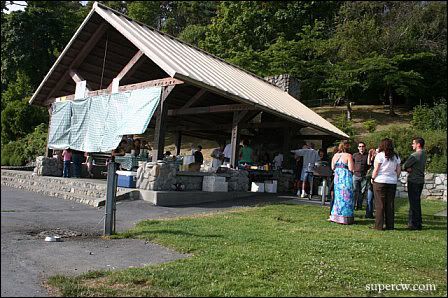 loved that she is still rocking the prada shades i nabbed off bluefly.com over a decade ago.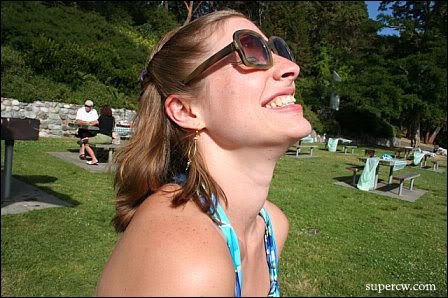 and there's ben. that's the guy she is marrying in the morning. they actually went to the same high school but didn't really talk much. now they're in love and stuff. aw.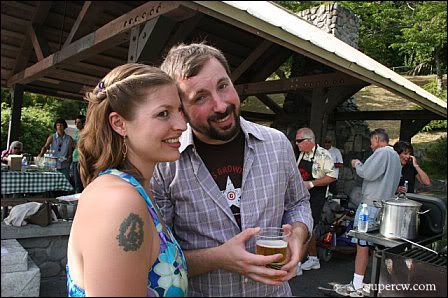 i'm in love with libbe's dad's cooking abilities. he is truly the best around.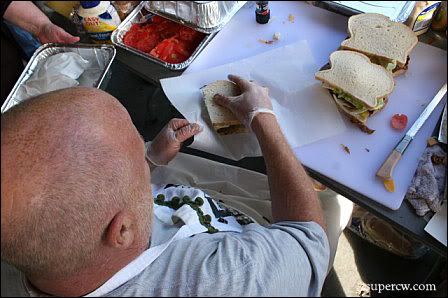 he must have made like 100 of these ridiculously epic sandwiches. in tons of different flavors and stuff. they used to do this a lot and feed homeless in tacoma back in the day. oh my god. i wish i brought a big purse. cause a lot of them would have come back to hawaii with me.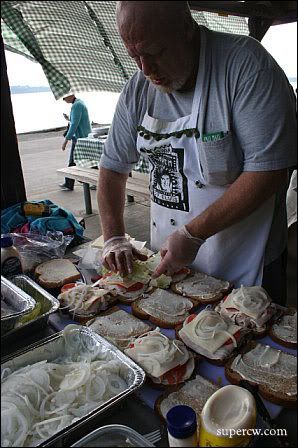 the whole weekend was like a green thing.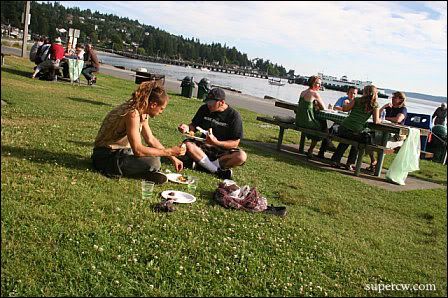 green wedding. green bbq. green reception. lots of environmentally friendly stuffs.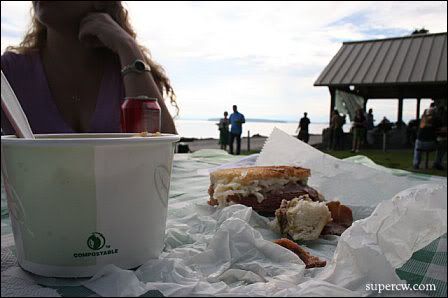 except rodger's cookies that were individually wrapped in saran wrap. but that's totally fine with me. these cookies are THE BEST things in the world. there's like crazy ingredients. a pound of butter. hand-toasted hazelnuts. something that tastes like banana. chocolate chunks that always taste melted even after you freeze them then thaw them out again. ask jake.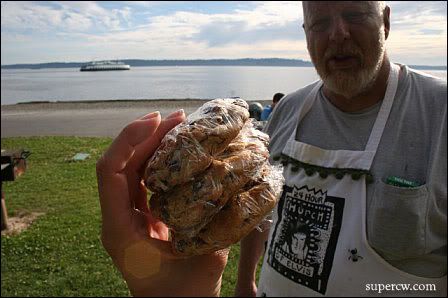 speaking of jake….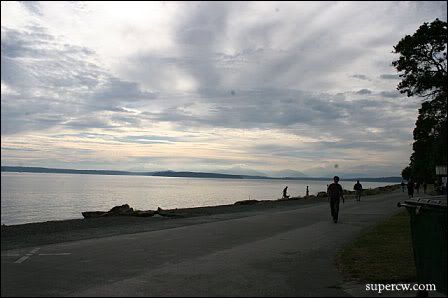 JAKE!!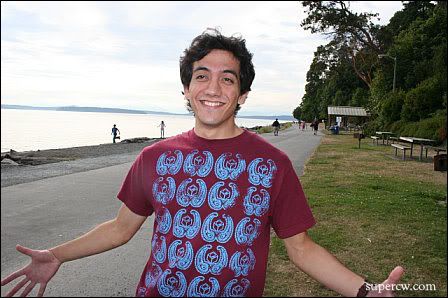 jake the snake. yup! totally settling in up there in lynwood at his Boeing job. i doubt anyone he works with out there knows just who they got over there. jerks.
but ya oh my god. he made a flickr and posted a bunch of photos from today and our time at the capitol hill block party on there. you HAVE to check that out. he's way better at taking photos than, you know, me.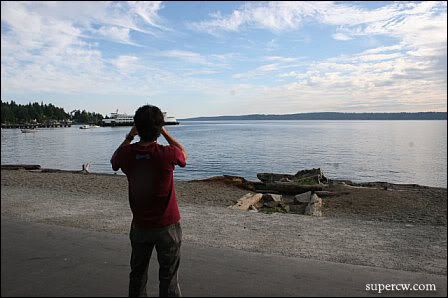 aw. my little niece isis waited until we dug out to ask my sister if i had a boyfriend. no honey. i'm going to be the eternally single cool aunt.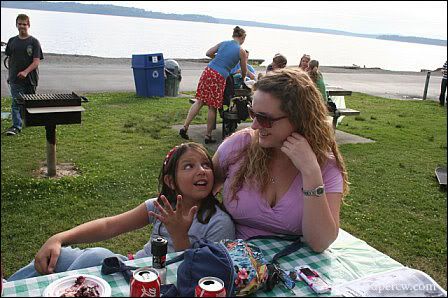 the walk back was like a mini-hike. jake parked on the other side. it was a big park. but ya, can you see where i grew up? no? ok, see the island just to the left and below the red dot? then at the bottom of that island? then the land mass just below that? um ya. that's it.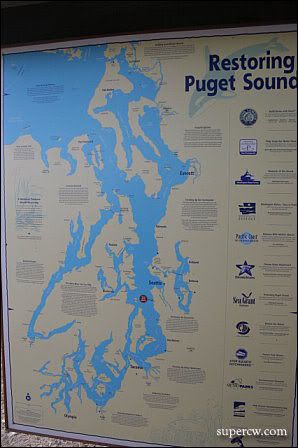 but seriously. i think it took us an additional half hour of moseying along the bay to finally get to this trail to get back to his car. mini hike!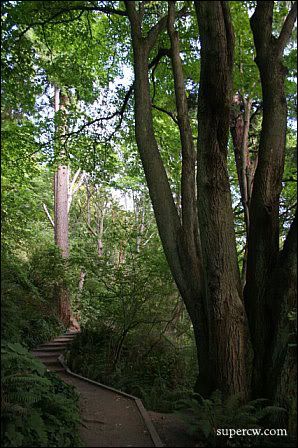 thank GOD for these things. do you have one? i would so need one if i was anywhere but honolulu. you just plug in where you're going and it tells you where to do. seriously the best thing if you're jake and all new to a huge city. we got from west seattle to capitol hill in like less than 10 minutes. seriously.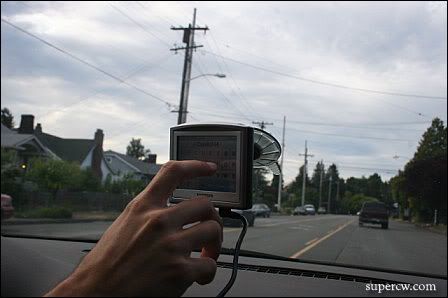 the line was pretty massive. but this is the capitol hill block party. we're not going anywhere. girl talk goes on in like 20 minutes!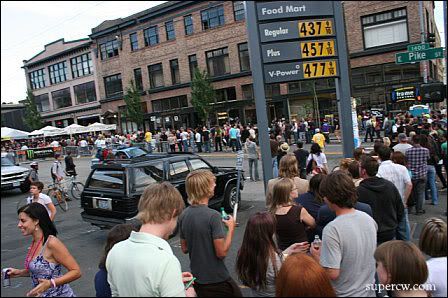 not gonna lie. it was kinda weird waiting in line and paying full price for tickets and stuff. i know jake wasn't used to it either. we're both the friendliest people ever so you would never hear us say it out loud…. but….. seattle….. don't you know who we are!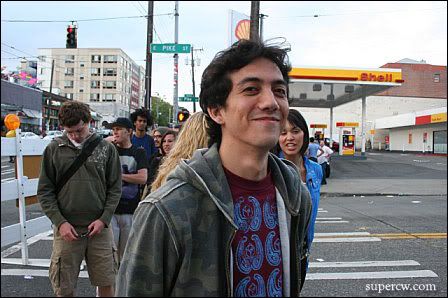 ya. it felt weird to not know, like anyone at all. it was also kind of cool.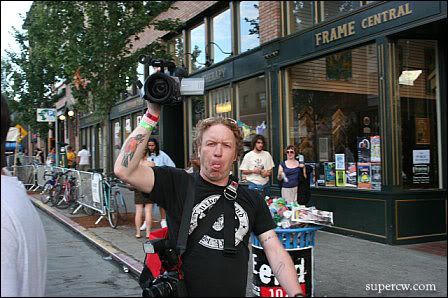 man jake! keeping me on my toes.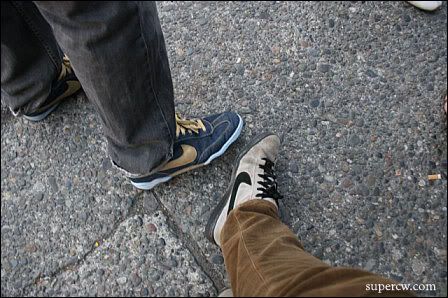 ok so we're in. the line actually moved super fast. we got right in and right to the main stage. on our way in i was drooling at all the nostalgia i was having to be in the streets of capitol hill….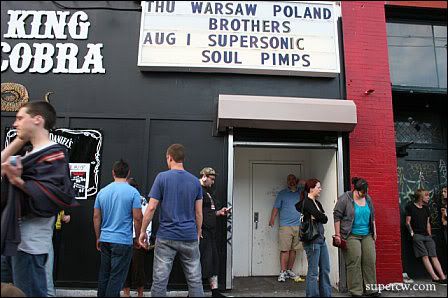 oh and hey, don't think there wasn't a lot of people there.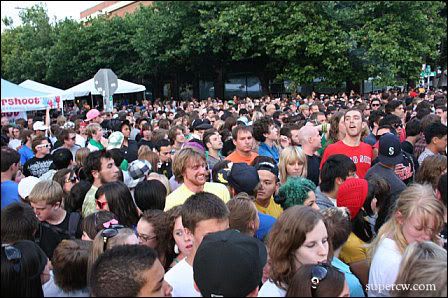 we got there right as gregg from girl talk was hitting the stage.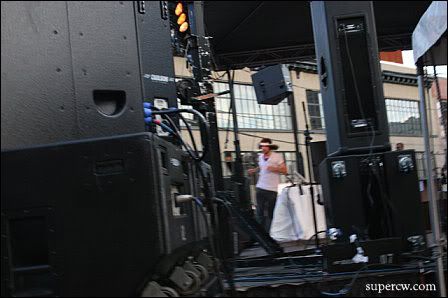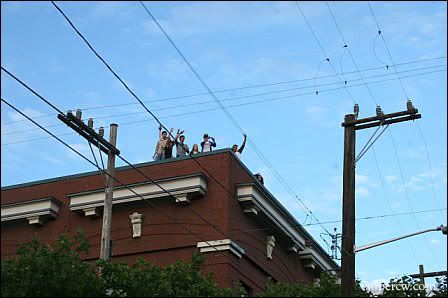 and omg. he brought like 500 kids on stage with him to dance around. it was like an american apparel commercial in real life.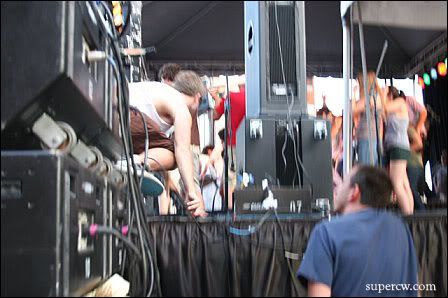 i wasn't about to get right in front cause the kids were a bit ruckus. the sound guy was super nice tho…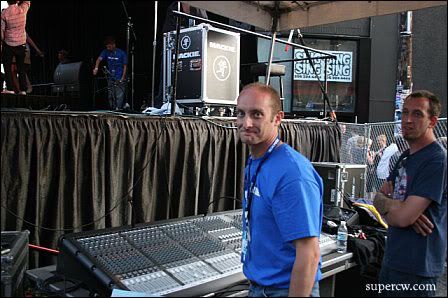 …and took this picture for me from backstage: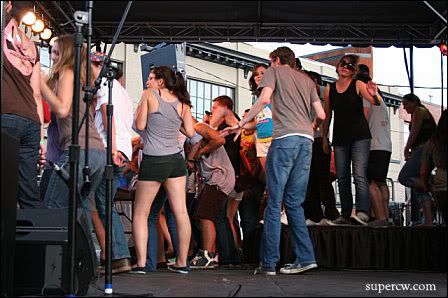 i actually liked our spot. it was like the grown ups area.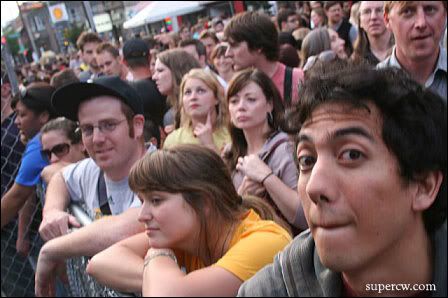 cause ya. the kids area was total chaos. colorful chaos.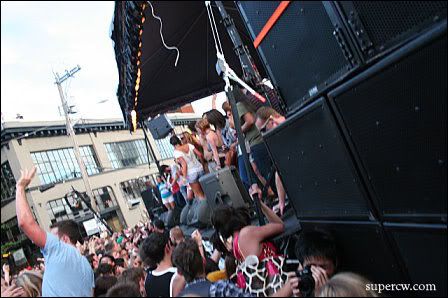 wandered around after girl talk. but wait– can i just say that girl talk was fucking MIND blowing?!?! that guy. ok, you hear mash ups all the time these days, so whatever whatever. but that guy… he is like brilliant and actually like hand codes something to meld the songs and beats together or something. you can totally tell the difference. i couldn't stop moving. even in the grown up area. but anyway…. watched people play dildo-ring-toss after… not so grown up. or is it?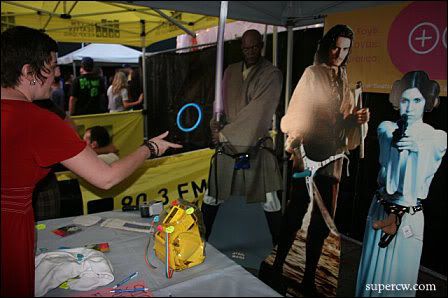 but ya… this was everyone that was playing tonight. we kind of only recognized two of the 30+ bands playing….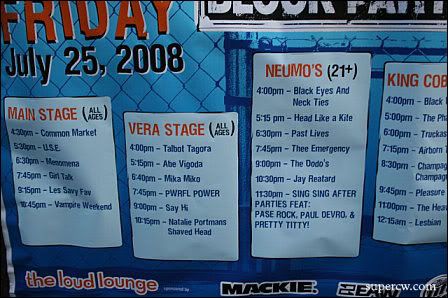 i'm pretty sure we were the only people there that didn't know who the other bands were tho.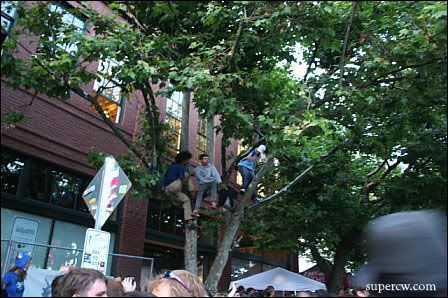 wandering around. there was like 4 stages stashed all over the place.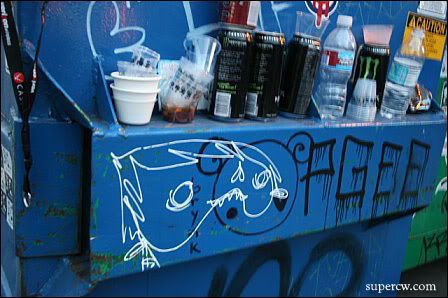 i was majorly tripping out on how late the daylight lasts. it was almost 9pm and it looked like 6pm outside.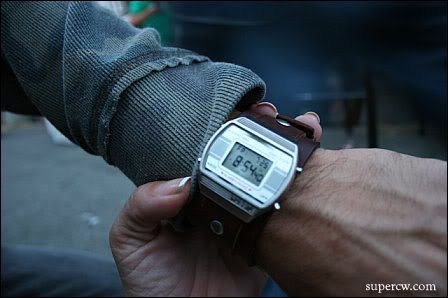 oh! we say Say hi. very nice and mellow compared to last show. i really love them.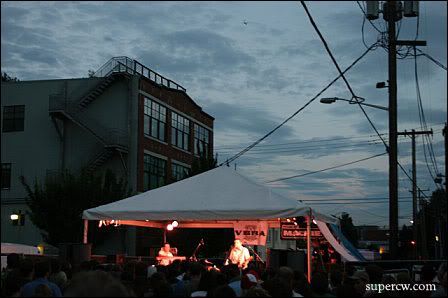 made our way back to main stage after…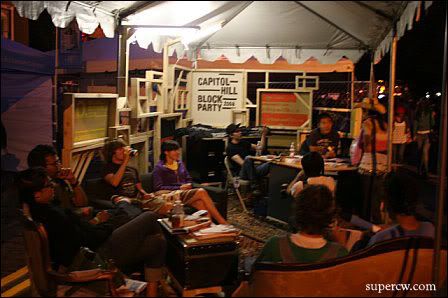 hey!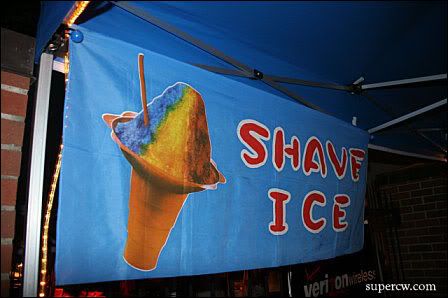 …vampire weekend was about to go on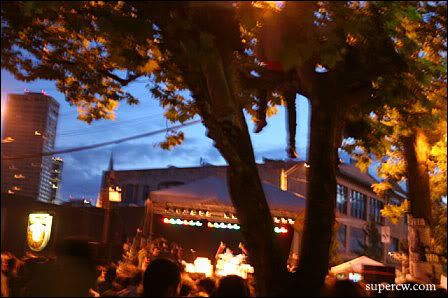 and omg jake. he was so smart! totally nabbed a folding chair from one of the vendors as they were shutting down to stand on during the show.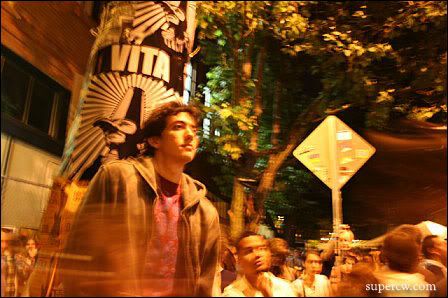 he pretty much had the perfect view. aw! just kidding.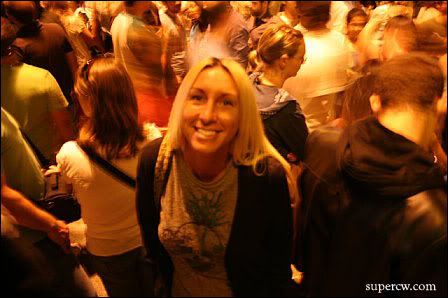 no, but he really did. i mean, all of us down here were totally squished.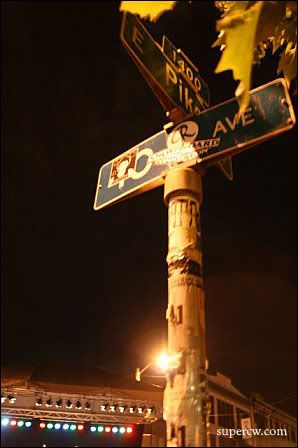 i was getting squished in my area. but it was cool. i mean. i had a little bubble of my area.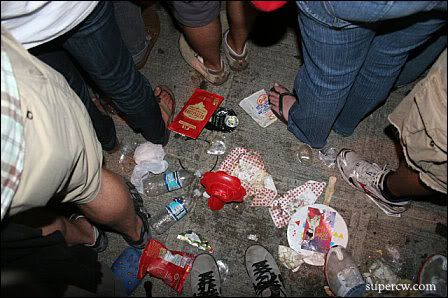 vampire weekend. KILLED it.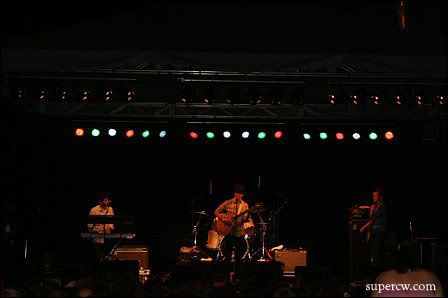 jake took video.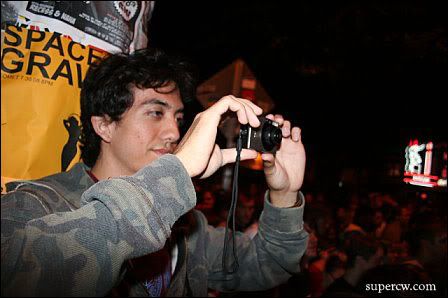 i stole this for rice. i hope she likes it.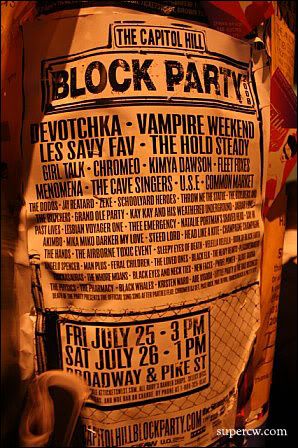 we totally after partied in tacoma. um. with coffee.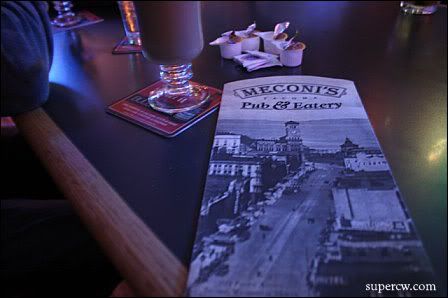 …and nobody.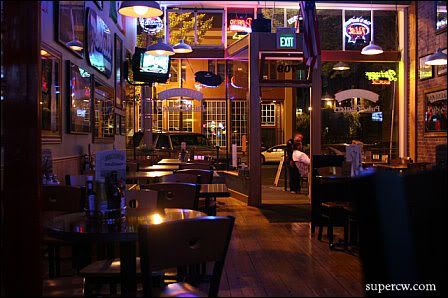 well. not entirely true. i after partied with james. that's this thing's name.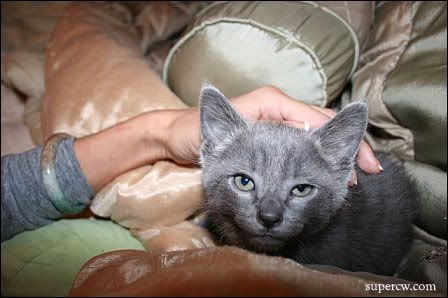 next morning it's time to go to the wedding reception.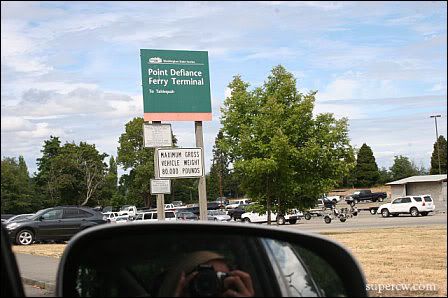 i remember riding bikes to pt defiance then taking the ferry to vashon island when i was a kid…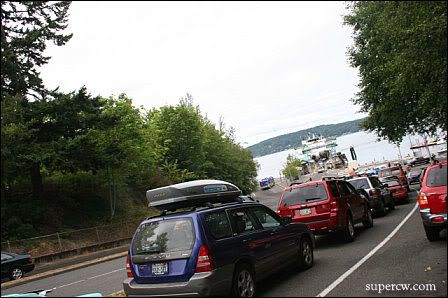 … i THOUGHT it was with my sister….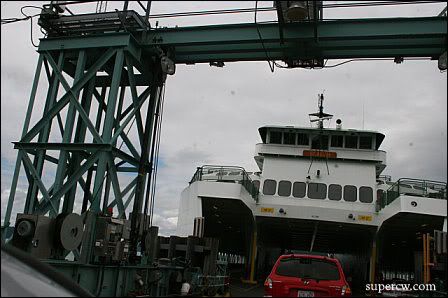 …but she was like "yo, this is my first time ever going to vashon island, like ever."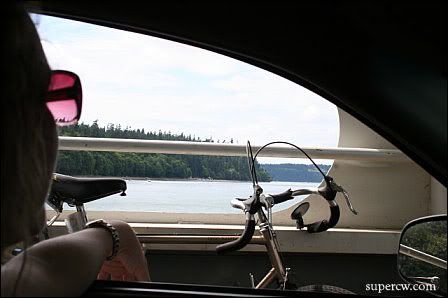 god. i wonder who it was with. chante? libbe? tony bertochinni??? someone????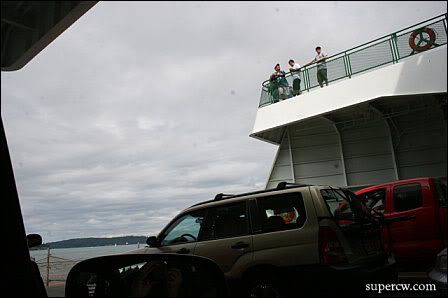 anyway. it's no big deal. just the most lovely little island of green goodness tucked away all hamptons like.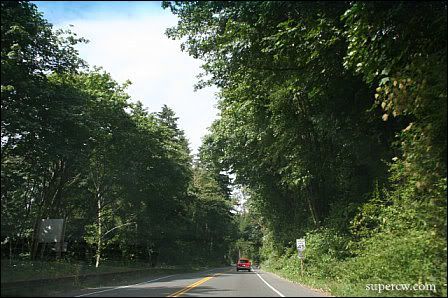 only accessable by boat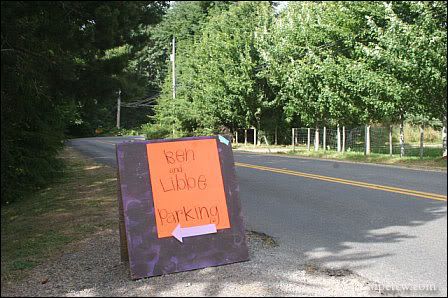 the reception was also tucked away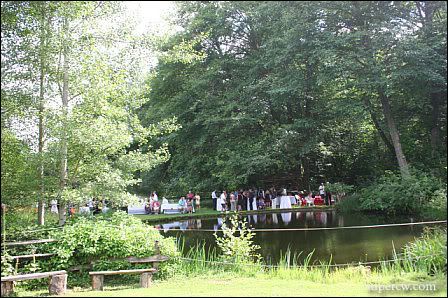 and all green like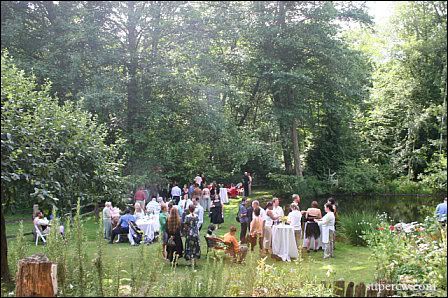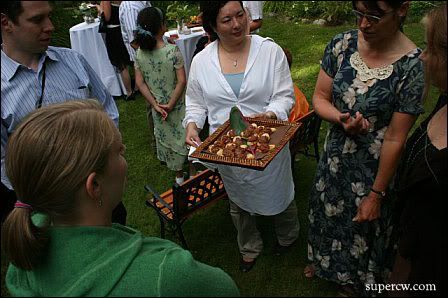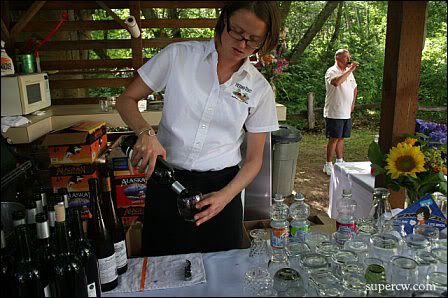 that's libbe's brother. oh, and libbe. so i've known her since elementary school. pretty much my family judging from the amount of time spent with her entire family growing up. so ya, damien is like my older brother too. so his girlfriend there is like my sister in law. hi!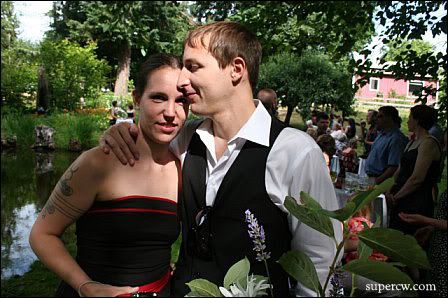 and THAT's corey. COREY! he went to foss with libbe (i went to wilson) and was SO not gay back in high school. well, i mean, he was, but not like "out" about it. something about the 90s, there wasn't a lot of open sexuality. which makes me sad a little.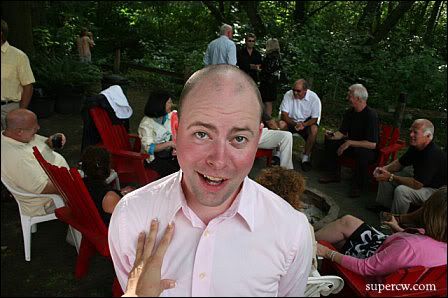 oh look! omg! libbe is "officially" married now!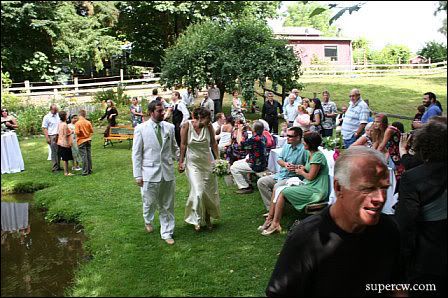 aw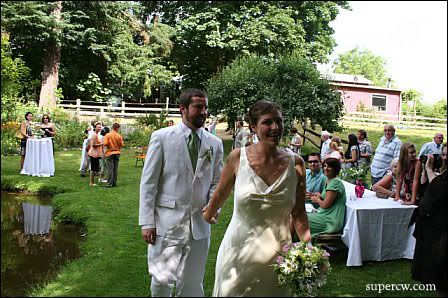 my baby girl's all growns up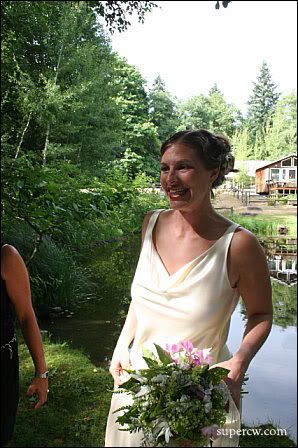 er, and tucking her dress in to her underwear…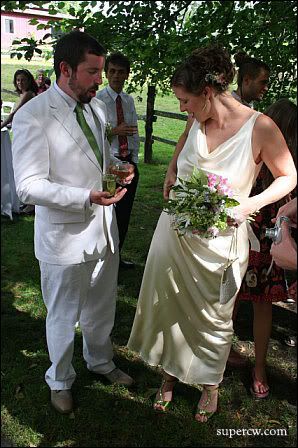 ….so we can all see her totally fab GREEN strappy shoes!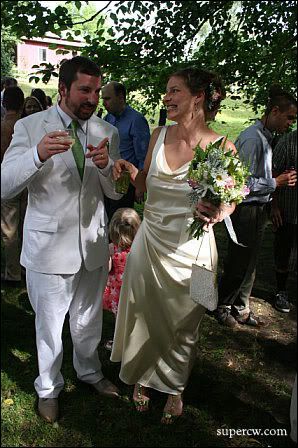 that's me and lisa. we're practically the same age. she is dec 28th and i'm dec 21st. so for like a week we're the same age. it's pretty cool now. when we were kids she wasn't as in to it.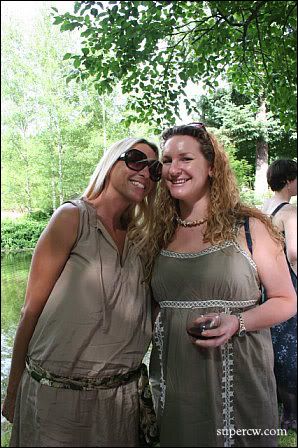 they are so thoughtful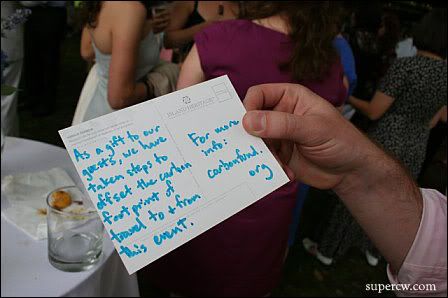 hi!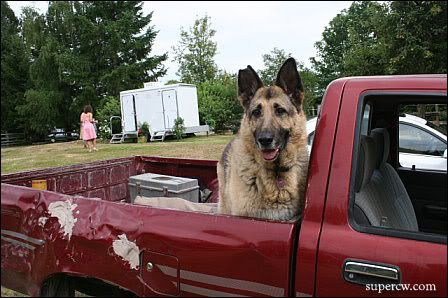 missed the bouquet-tossing ritual. not sure if libbe even did that. but i couldn't bear to be one of the 4 single women trying to fight for some flowers. took the ferry back to west seattle instead.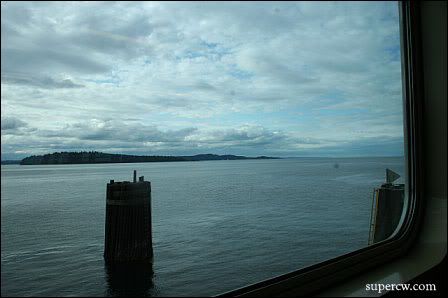 jake met me for another go at the concert thing.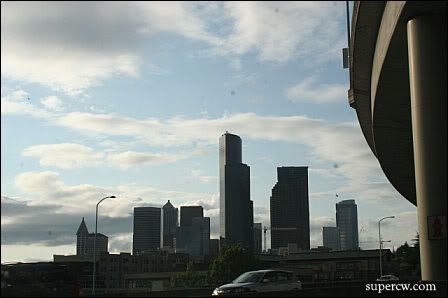 this time we were super psyched. CHROMEO!!!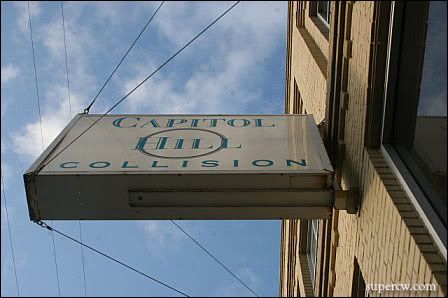 well. i mean. that's chromeo. see em?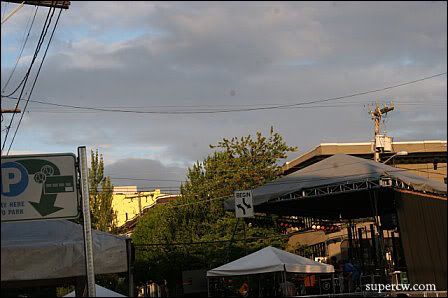 ya. we kinda blew it. thought the line would move as fast as it did the night before. kinda didn't. we were standing right here for their entire set. i was pretty much fighting back tears.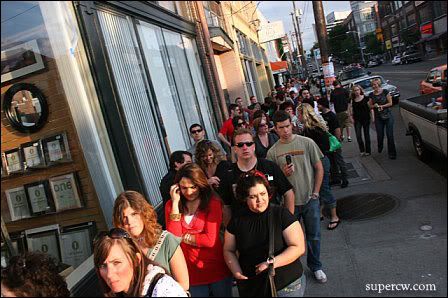 we eventually got it.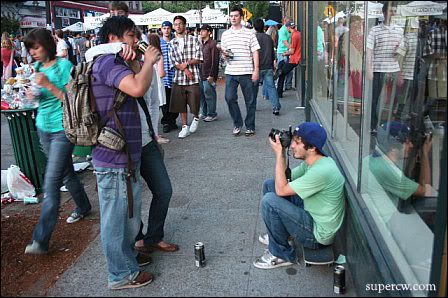 but already over it. decided to wait in here to eat for a few hours instead.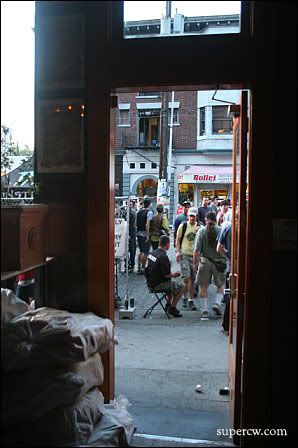 ooooo but when we got our food….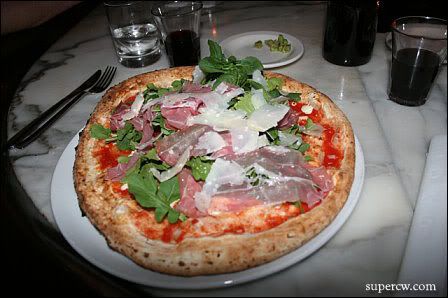 …it was literally toast. in like 3 minutes.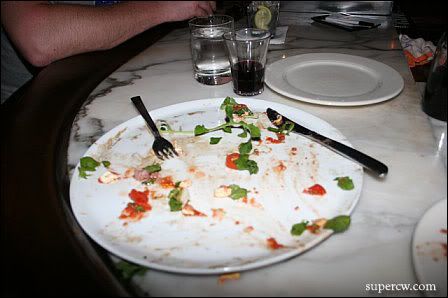 oh, olives? you're dead too.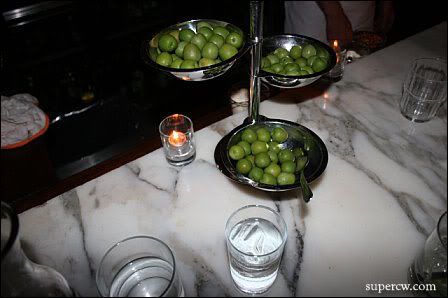 talked story with our new friends adam and eric. haw haw they were totally telling jake that lynwood sucked. duh! he's not here to live it up guys! he's here to be a boeing engineer and make like 935932515975 a year for a while then move back to hawaii and do more events. (right jake?) (i hope?)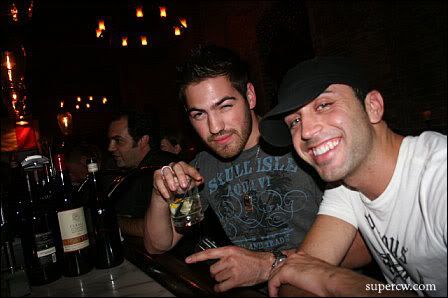 meanwhile. we knew the after party was with chromeo so we weren't terribly upset. it was just a matter of wasting some time before they stoked us out at sing sing.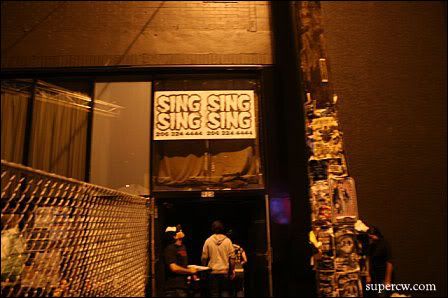 ran into a bit of trouble before getting in. it involved rummaging around on the ground at the block party for these just to get in the damn door. who the hell RUNS OUT of 21+ bands, btw? i just about lost it.
but alas. it all worked out. and here we are. in the heart of sing sing. enjoying the epicness that is the Saturday Knights.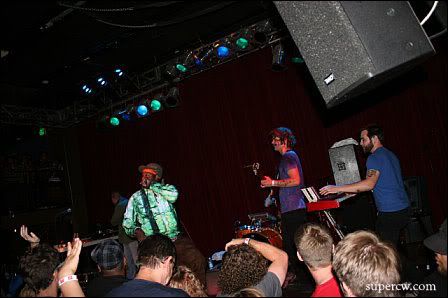 the bouncer was all bitchy telling us to stay behind this line. ok dude.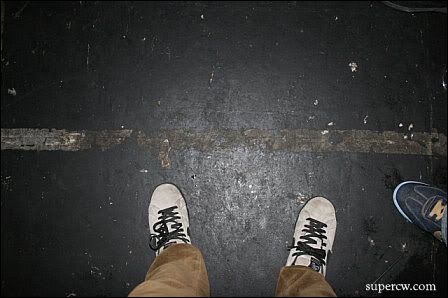 but whatever. we been through enough to get here…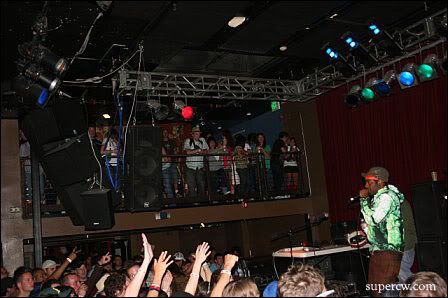 …and starting now the night got the kind of fun where you're constantly looking around saying "am i really here?!?!"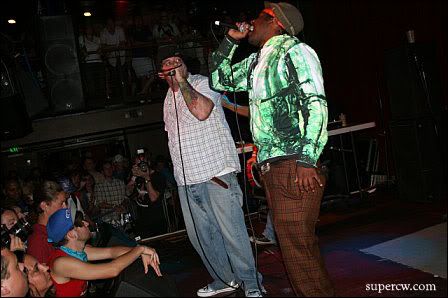 we were spotting doppelgangers all night, btw. i mean, hey! Saturday Knights guitar guy! who does he remind you of!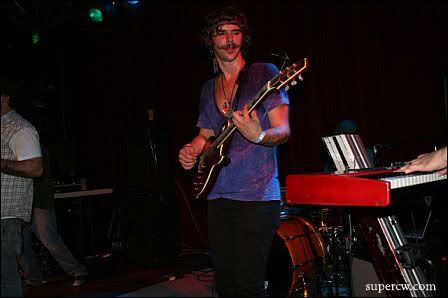 haw haw and this one. totally a haole chris kahunahana. no? yes? am i right?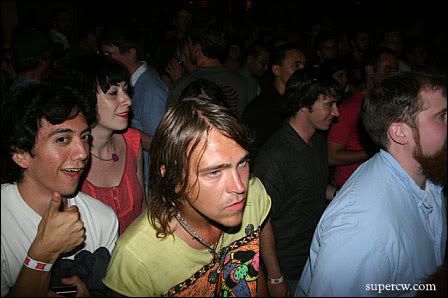 the bartender saw my hawaii id and asked me if i was from kailua. aw! wait. isn't that supposed to be a compliment? or…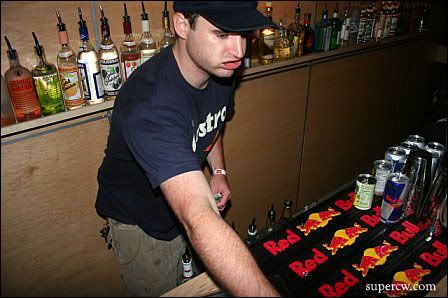 ok. chromeo is next. we totally squished out way to the most prime spot in the joint….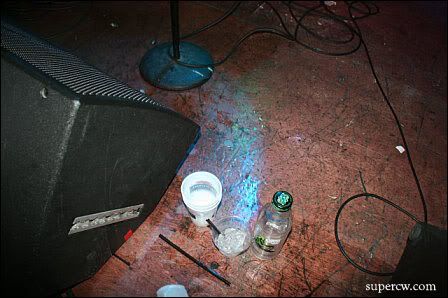 …then spent the next hour or so wasting time. making friends. like this guy. hello! iphone cartoon caricature self portrait thing!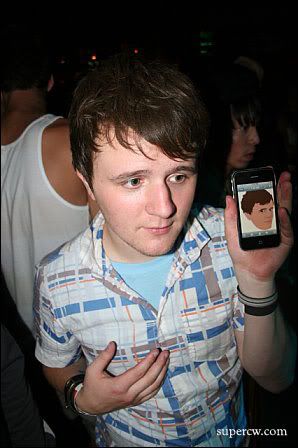 we were still tripping out that we knew absolutely nobody.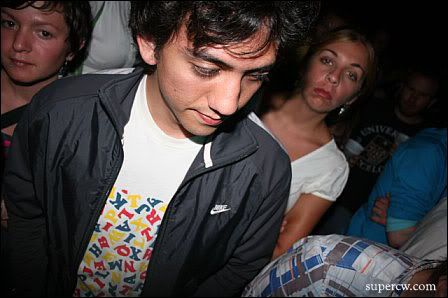 the dj that came out to waste time before chromeo was sooooo bleh.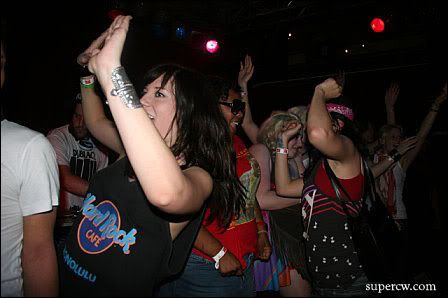 we were having a really hard time understanding what was so great about it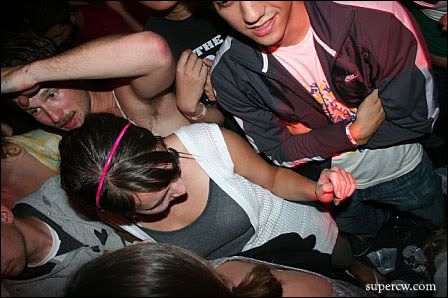 but all these people were all "oh yeaaaa! hell yaaaa!" and like jumping on stage and stuff.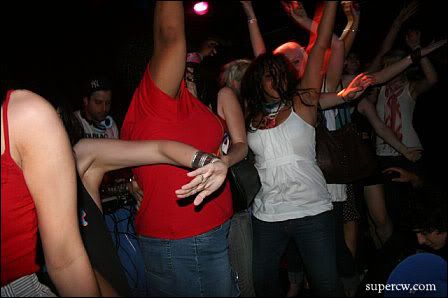 seriously. i'm pretty sure it was because it was the end of the night and all the alcohol or something.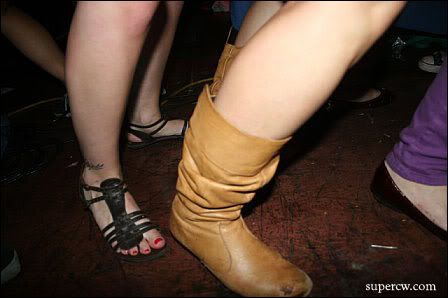 so dude is trainwrecking all this dumb ass popular hip hop junk and david from chromeo wanders out…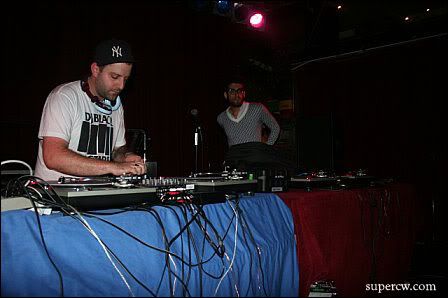 then patrick comes out too and they're like "brah… we can take over now"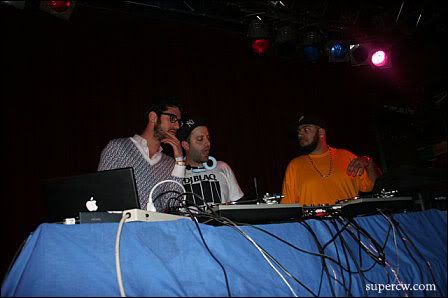 then they totally took over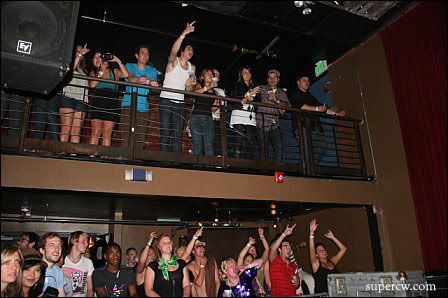 and it still sounded like a bunch of noise to me. but it was way better noise. and dude's little skinny self bobbing back and forth to his laptop 4 feet away from me was making my entire being convulse with pleasure.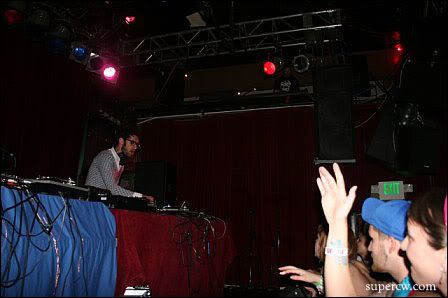 nothing in the world will beat this night. for a while.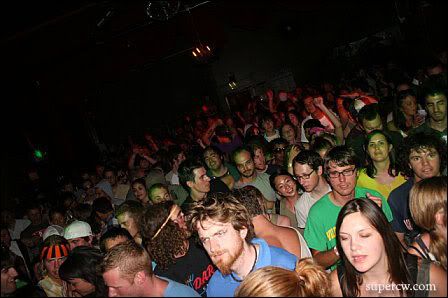 of course, my camera battery had had enough. so that was all i got. if you already looked, you know that jake got some photos from the show as well. his camera was outlasting mine all over the place.
meanwhile. this is chante jackson. my friend since pretty much birth. and speaking of birth. her daughter sativa is like a teenager now. DAMN kids make you feel time more than anything…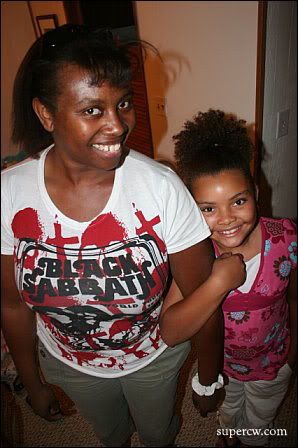 but ya, it's my last night. a monday. in tacoma. what the hell is there. chante knows! there's a new place (well, new as in not there when i lived there) on 6th ave by UPS called jazz bones. and it totally rocks.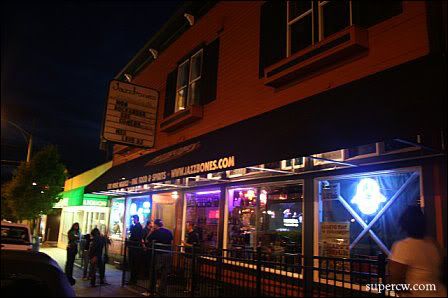 it was actually the coolest place ever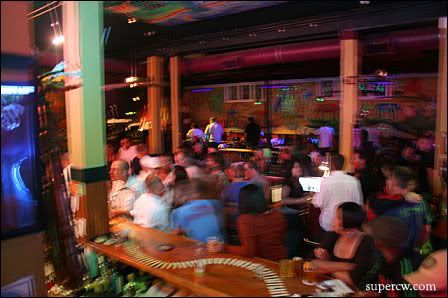 and monday nights are "live band karaoke" nights. that's where you sing karaoke to a LIVE fucking rock band. YES! how fun does that sound!!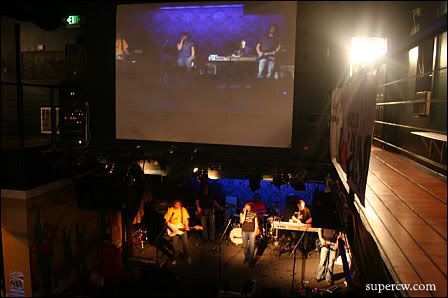 and helloooooo there. this is sam (sam? eric?). he was our waiter. his sister lives here in honolulu somewhere. sam's (eric's?) sister? are you there? girl! your brother's HOT!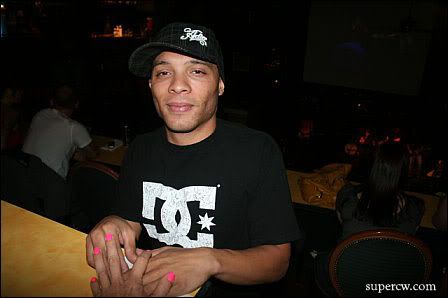 and THIS is miss felicia cardwell. the girl that was sitting on my couch with me in 7th grade and asked if we could be BFF. kinda like how you would ask a person of the opposite sex to be your boyfriend/girlfriend. i remember being just as giddy about it too. we got necklaces like the very next day.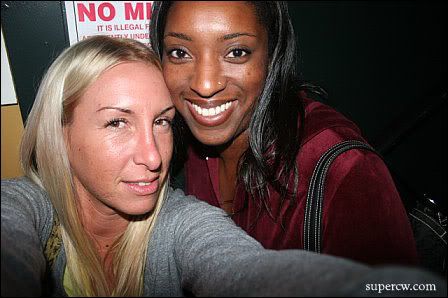 and now we're drinking two dollar tall boys together. aw.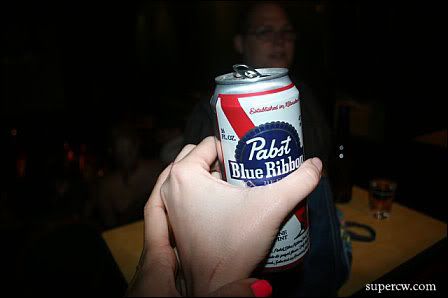 jazz bones rocks!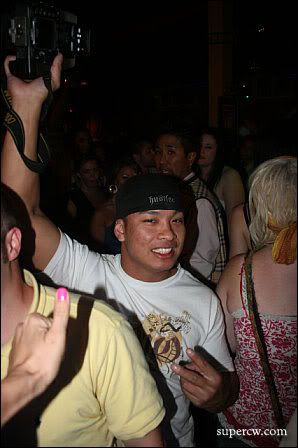 the place got ridiculously crowded for a monday night. i was astonished at the "scene" on 6th ave in friggin tacoma. very nice! almost made me want to stay an extra night or two. almost.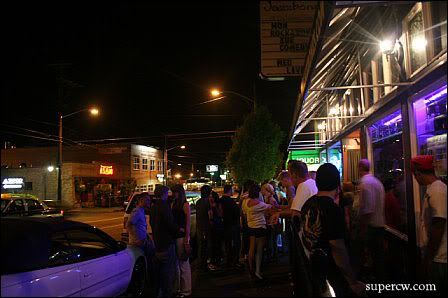 especially after we broke the dancefloor seal.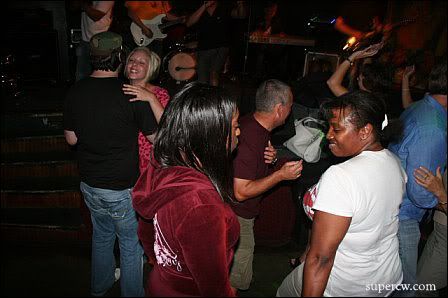 once you get out there you can't stop. live rock band karaoke = the best songs to dance to.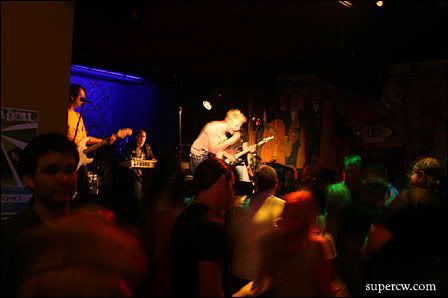 oh. so that's it.
thanks for reading. i know it was long. i definitely don't feel any sort of desire to return any time soon. i miss my sister and her kids. and my childhood friends. but guys. come on. come HERE next time.
i'm kinda of over leaving honolulu.