i been wanting to show you these photos since before i left, sorry! i had a pretty epic monday a couple mondays ago so i'll go ahead and show just that. oh wait, since i'm doing one-day blogs i'll add in just tuesday. that was the vampire weekend show at pipeline. a nice healthy dose of a weekly one including my trip to seattle will come in a little bit. like next week.
but ya. so many people ask me how i do what i do. i usually say i don't know. cause… well, i don't. i can tell you that visits from rob with sustenance definitely help!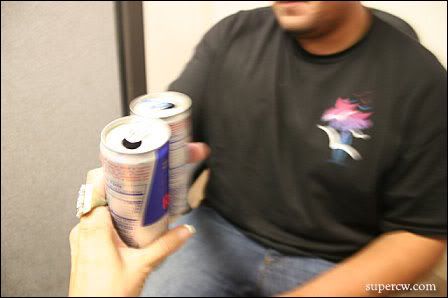 so ya, this was the monday i was at work late blogging so he brought me red bull then took me over to aloha stadium to pre party with maka v and his friends. this is how THEY do it.
i remember going over to corey corerra's house back in the day and we'd walk in and see them all standing in the living room behind the couch in a row with drinks. always standing. never laying around. i loved their deal, man.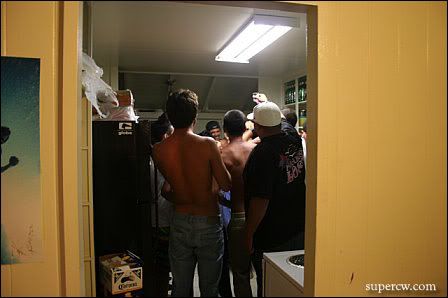 maka's house is called "aloha stadium" by the way. we weren't actually at aloha stadium. we were in a kitchen full of bare chested males drinking shots. kinda thinking that's a better situation.
hey maks! um. thanks for letting me come over. like woah.
ps: he is freakishly good at solving these completely unsolvable riddles on the mickey grenade caps. i mean, seriously. WHAT is this?
i saw zak. i saw luke. i saw koa. er. hey, guys.
i saw rob.
so ya. this is how the kids pre party these days.
it's a bit ruckus.
and homoerotic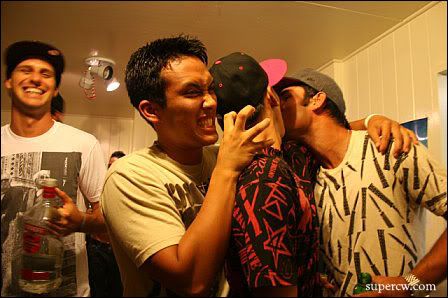 and ruckus
i'm just glad i got to witness it
one more– can you see james's EYES?! and that's not even an asian man stoned. it's an asian man drinking. i know, cause when i freaked out for a sec they were all like "nah, he's always like that when he drinks."
any more and his eyes were gonna be pure blood.
but ya. maka's been my homie for longer than most. we actually go way way way back. like to before he was even old enough to go out. it was very necessary that we give his drunk ass a ride to his party.
i need to get out with this crew more. it's like O.D.'ing on fun.
speaking of fun. who made it to mix plate mondays? maka was totally holding it down over at king st cafe. like for real.
door girl! hi! so you know maka too? why is it our boy only knows the most gorgeous people?
aw. all growns up.
saw vance!
meanwhile outside. it took like 4 patrol cars and 6 cops to bust maka's roommate for crossing the street with a cone. kinda dramatic.
i'm guessing now is NOT the time to tell maka that i've always had this weird (or not so weird) desire to date a cop
i wonder if i should tell travis about my new reality show i'm pitching to oc16 called "i wanna marry a watanabe". it's going to be for haole chicks that want to be a watanabe. travis? interested?
meanwhile rob was making sure we were all at amp'd level 10.
oh what! ok, you know what? for you, i'll do this…
…if YOU do THIS!
renee came through. it was nice to see some people my age.
interrupted more homoeroticism to say hi to kays.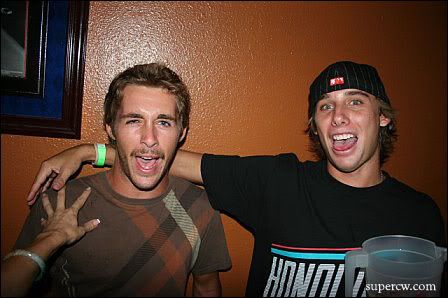 i'm sure there's some ladies out there that wish sam would whisper in their ear this way
shoe battle. i can't even remember who i did this with. but i totally lost.
hey wait! there's a BACK ROOM in this place?
i was having a lot of fun spotting the people my age in there. it was so dirty. it's like if you bump into a friend at backseat betty's or something. "oh… hey…"
oh WHAT maka?!? even your dj's are friggin gorgeous.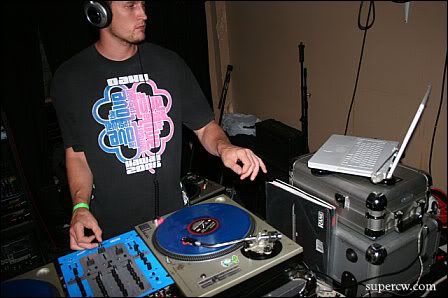 people were enjoying it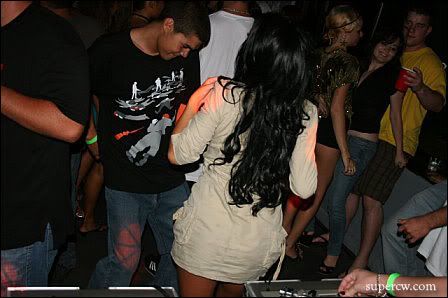 and the boys were being boys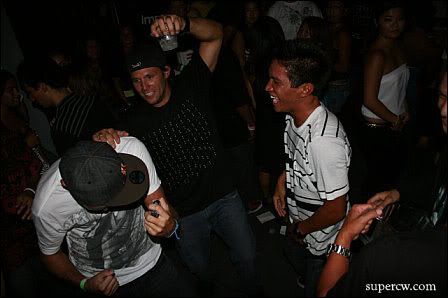 it was a lot of fun watching them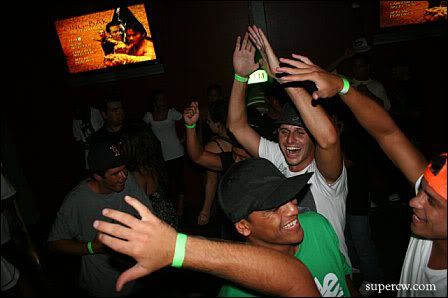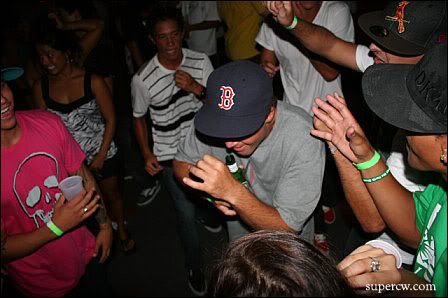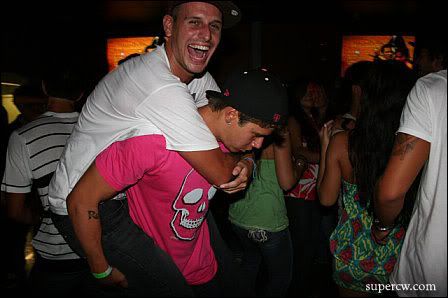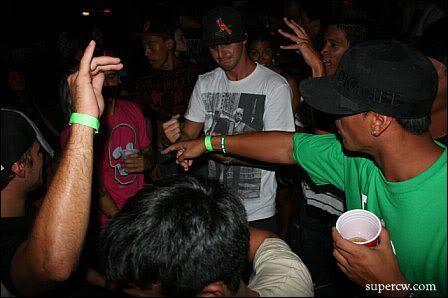 yup. our baby promoter is all growns up.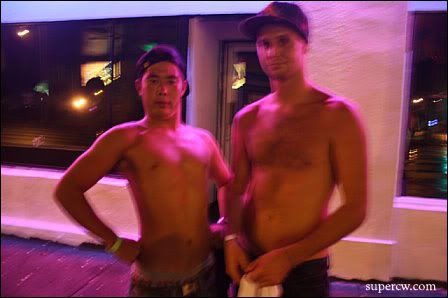 me? i managed to stay out past midnight. i was proud of myself.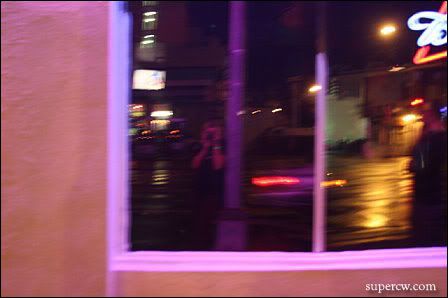 so anyway, skip to this past tuesday. i was kissing major ass to security at pipeline before vampire weekend went on. never mind that i already know eddie, elaine and cris pretty well. in those shirts, it's a different story. i'm pretty happy i got them smiling.
they had hawaii's #1 entertainer according to starbulletin/midweek mc the event.
most of the kids were like "hey! my parents love you!" aw, juaaaaaaskiddinggggg
linus opened! LINUS! where ya been guys!
well wherever it was, it's nice to see you tonight.
their drummer is leaving. i didn't catch to where. this might be the last ever photo of all the original members of the band linus you guys.
meanwhile. i snuck in to the photo pit!!
and meanwhile, vampire weekend is on!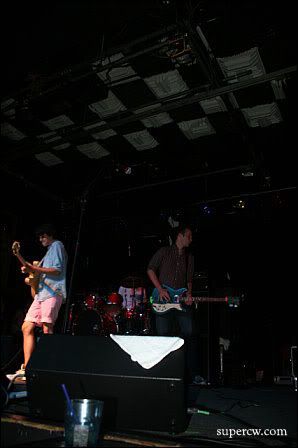 oh. my. GOD.
i'll just post as many pictures as i can of this band…
…cause they were SO adorable. i mean. LOOK at those shorts!
kawehi called them retro preppy. i was thinking more like underage preppy.
the audience was pleasantly calm in the first few songs. just politely singing along and dancing ever so slightly….
i, on the other hand, was hiding in the corner of the photo pit with my mouth hanging open drooling all over the floor.
i'm pretty sure the boys wore shorts cause it's their first time to hawaii. i loved it. i was also thinking it's one of those things when you're so damn hip you start looking similar to everyone else hip. kaffiyeh scarf, check. skinny jeans, check. bangs, check. then ezra totally trumps all with pink above the knee shorts. take THAT indie rock stars! reminds me of when i used to wear hadbands and sweater vests growing up in the northwest vice cardigans and plaid. you know. to be "truly" different.
i don't care how old chris is. he was smoking hot. in a cute way. smoking hot cute.
ok quick! here's the rest of my photo pit shots, before i get kicked out.
ps: this is the song they are playing right now. in case you want to have some sort of feel for the deal.
o shit. i think they see me. gotta run!
that's ok. i been neglecting the iranian superstar anyway. hi!
i'm serious. shorts like this are s.h.r.n.
oh! so i just saw vampire weekend with jake the snake at the capitol hill block party the friday before. don't believe me? jake took video! it was so fun. they were like "we just played every song we know, sorry that's all guys" and everyone was like "YAAAAAAAAAAAAAAAAADIFJIDJFKLDAFJASOFJSFJ!!!!!!!!!!!!!!!!!!!!" it was fun.
but ya, musical geniuses kinda.
does anyone remember this article from stereogum? i do!
oh, holy shit CHRIS! does anyone remember reading about him getting hit by a car in london??
kevin cotton said this was a keeper.
ok i'm just going to pile all the shots on top of you now. partly cause it was such a sweet, fun, clean, snappy awesome show and partly cause i'm in a hurry, man.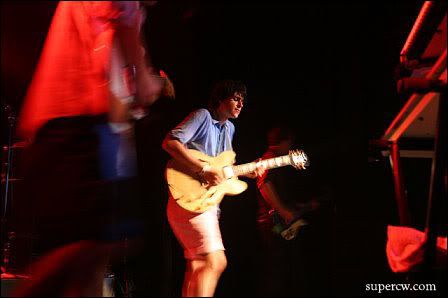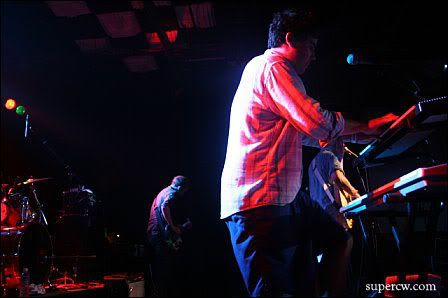 the crowd eventually got ruckus.
augie and jose snuck me up on stage and up the back stairs. they are probably in trouble for that now. depending on who's reading this. sorry?
but upstairs i was finding all kinds of fun. like grady's RIDICULOUSLY hot friend.
and duh derin and flash.
matty was like "nah, no picture" and dare was like "no way, PICTURE!!!" so ya, sorry matty. picture.
speaking of picture!!!!!! can't wait to see melissa's pictures.
john berger was there reppin yo. like you know he do. werd!
eskae even rolled through. dude! where were all you people during the show? i was solo solo solo.
luke was resting afterwards. waiting for the $.50 drinks to happen.
then my camera got flashattacked. FLASHCAM!!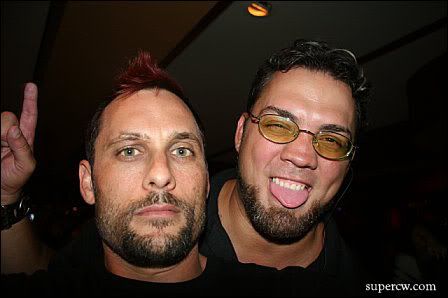 i love flashcam. FLASHCAM!!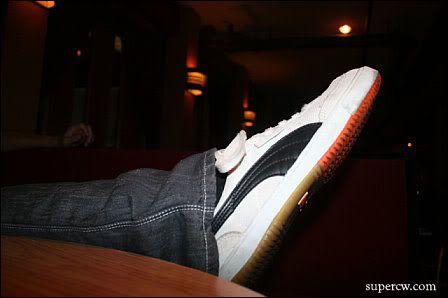 FLASHCAM!!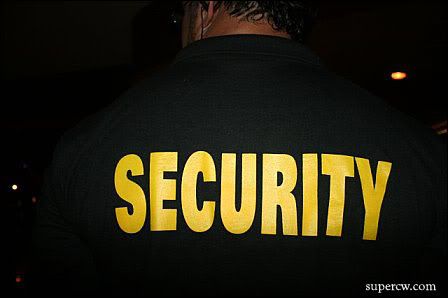 FLASHCAM!! ooo this one reminds me of the JAKECAM from last weekend in west seattle.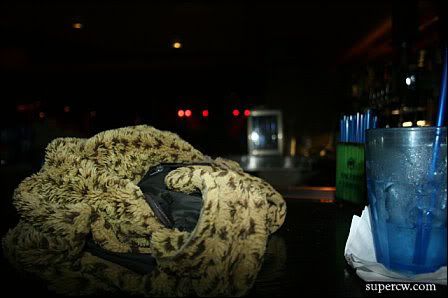 flashcam!! oooo looks like i'm not the only one that eddie be sweet talkin.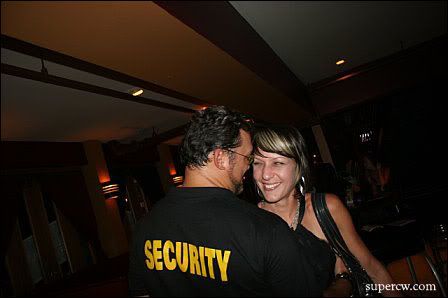 flashcam! i swear. he should start a blog. it's not like he's busy, man.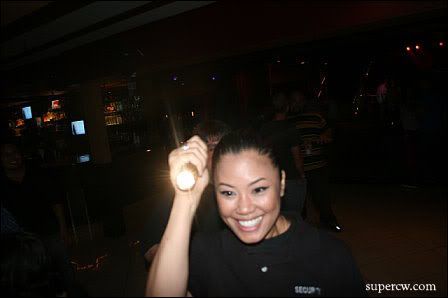 flashcam!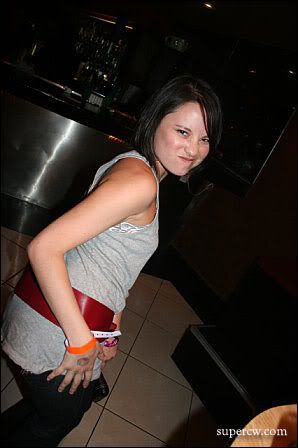 flashcam! oh wait, no. there's flash. christacam!!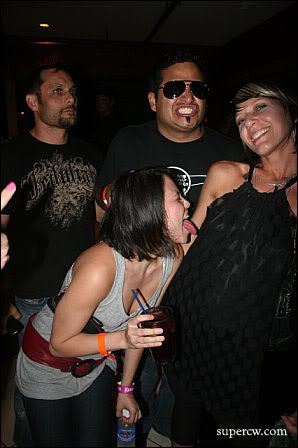 ps: i love us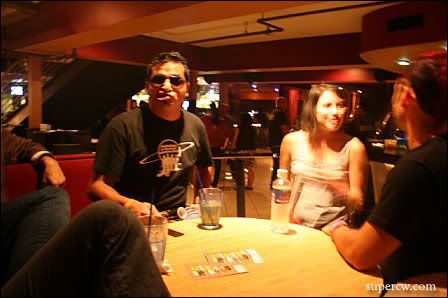 i totally forgot about this band. wonder what those guys are up to!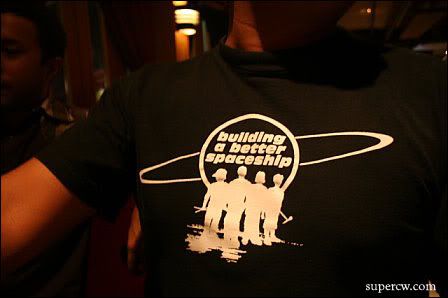 lucyface!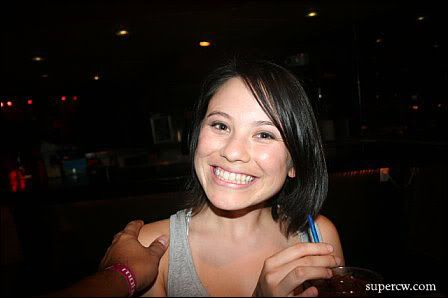 ooo so i can totally see why so many party photographers like to get ppl in front of a painted wall all up close. the way the flash bounces off the wall and frames people is so uber!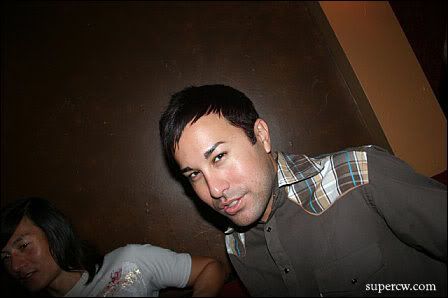 i got it in an earlier shot of kays at mondays too
kinda blew this one of philip tho. wait, it's flashcam!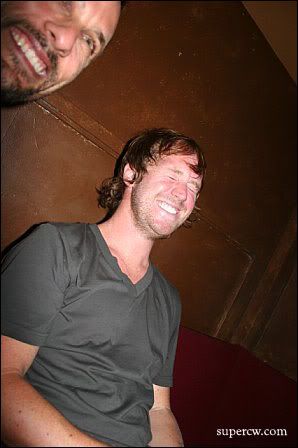 flashcam! ps: omg DARE!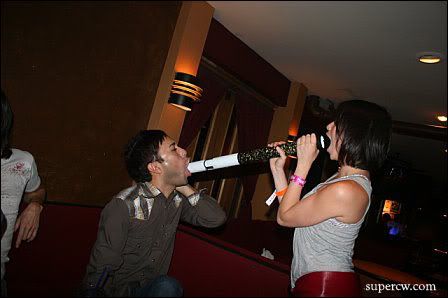 oh, come on you guys. he was totally faking. see? it's not really in his mouth at all. good one dare!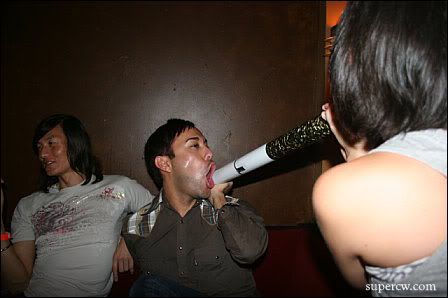 flashcam stilL!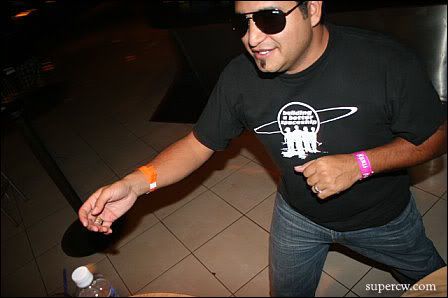 it was nice to have the crew together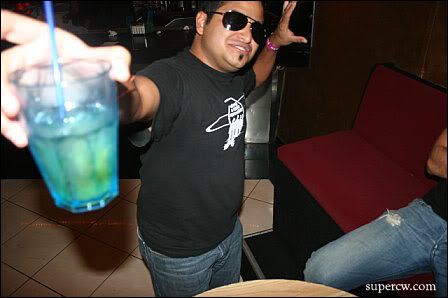 there was ruckus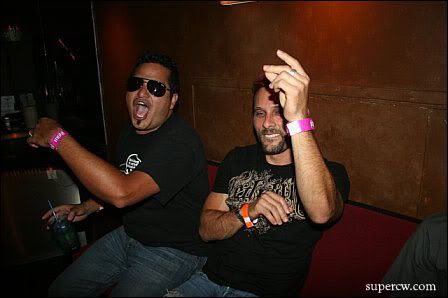 well, ruckus for everyone except philip.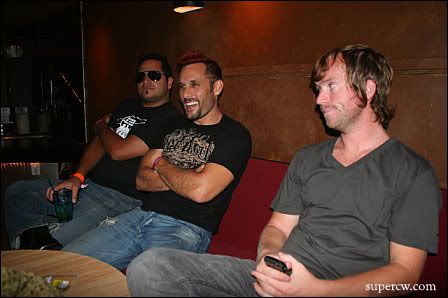 so YES it's true i left town for a few days. my best friend from childhood got married so. you know. gotta visit the good ol pac northwest. one thing i noticed when i was there. it's NOT my home anymore. hawaii is. i felt that one the second i stepped off the plane. i felt completely disconnected and proceeded to tell anyone who would listen all about honolulu. anyone and everyone.
but i did have some fun. that's gonna be told here soon. enjoy your weekend friend.