i will never get behind again. it was fun tho! the last two weeks i mean. every time i think my life might be getting boring i just sit down and upload photos to my computer. my mind immediately changes. life is friggin awesome, and if i ever think otherwise it's obviously a chemical deficiency.
so here. i'll catch you up on some happenings. starting with what happens when saying hello while taking a picture goes very very wrong. hawaiian ryan:


but ya, it's first friday and i'm at harbor court
there's a restaurant that's about to open! and i'm the first one there! as usual!
it's where palomino's used to be
oh ps: i wasn't the only one there.
oh, and this is where i saw hawaiian ryan. he's back!
back with a beaut. that's jenn! she like went to harvard or something. amazing writer. i'm thinking someone here needs to hire her before they leave again.
so have you been to an event that lincoln did yet? oh man. they are so pro. they even got shirts!
saw jen vo but only to lurk her reunion with hawaiian ryan. i kind of met her through him you know. they used to be roommates.
but ya! there's a new restaurant at harbor court now. it's officially blessed.
i said hi to the cheese
and joey! my future co-worker. mixologist to the stars. actually, i'm not sure if he's a mixologist to the stars, but he was making us some damn good rose petal martini things with that alize.
hi! isn't it gary? or greg? anyway. it's cutey pie in my head.
stayed for a sec
this is lion 1 of 45 that i've seen since august 1st
saw lora nakai. she's back! looking hotter than ever.
saw hoala! hows spam! not like, spam spam. SPAM!
tanna dang was there. getting me all excited for divas doing good. omg. that's TOMORROW! i'm so excited.
lorenz is doing his "oh christa! i'm so fab! put me in your blog!" impression. he's just kidding tho– he was totally wearing slippers. i mean. guy just works upstairs. it was more of a mosey-down for him.
lesson to fab-party lurkers like me: be early, stake out a good corner table, and BE NICE to the staff! they'll come straight over to you first for pickings.
see! like these shrimp in edible cup things. nom nom nom.
congrats liz! i hear you do a saturday night here with nocturnal sound krew AND k-smooth?!? that's where it's at, man.
sorry guys, i gotta dig.
caught ced and jason genegabus on my sneak-out. learned later it was blaze's birthday. wish i knew it then.
but ya, it's first friday
time for first FASHION friday!
got there just in time. everyone was running amok getting things ready to begin. that's shane from icandy.
zane was probably on the phone to me. i was a little late.
chris hughes will never have a workout at that hawaii athletic club before he hosts a gig again, like ever. his hands were all shakey and he couldn't lift his arm higher than his shoulders.
but i was digging his bowed give away technique.
crystal and alyson were the guest speakers. and are totally famous. they're both on tv, like, ALL the time.
jennifer lieu is the new promo specialist at aloha tower and THE most organized person i have ever met in my life ever. it was so radical to see her in action.
cindy and hifi gettin snapped
the goodies were aromatherapy kits this time. LOVE it.
ryan the goldenchild was there too! he's like a hair guy now. you can have him do stuff to your head now!
melissa has been working out. she can totally take chris.
aw
i learned how to make big hair
and lurked some hotness
and totally told shana peete where the hawaii athletic club is so she would win a prize
that was supposed to be for me. but it looks way better on her so…
saw a fashion show
and ran back over to harbor court cause i forgot to get a validation. zane tried to use my camera while i was gone. it ain't so easy is it zanecam!!
loved that he watched over my bag tho. aw!
did some first friday walkin. said happy birthday to colonel. went to bed. cause saturday was an early one.
charlie was there too. snappin.
i got to try the summer creole menu from top of waikiki. just about died. it was so ono. collard greens, catfish, black eyed peas, shrimp and grits, hush puppies. oh. and peach cobbler. trust me. this was gourmet beyond delish. oh man.
saw cecilio and kapono. seriously the best sat morning ever.
lurked the biggest family birthday breakfast i ever seen. can you spot the kaimuki high grad in here?
saturday night i was drooling all over ara's feet.
and all over shelly and steph's backs.
there was a fashion show at the loft
and i'll take any excuse necessary to chill at the loft. esp now that they have DRINKS!
thank u ara. thank u thank u thank u. for being hot AND for making the loft rule.
swampa zz was there. wearing the coolest shirt ever.
steph! over here! hi!
lol.
mikey is going to be working his ass off for the second season of hawaii in style tv, so leave him alone for a while, K? i'll let you know when it's ready to see….
but ya, tonight was the hottnesss.
shiela mish was there. being all hot and stuff. making me wish my name was aiden.
and i got to lurk anthony practicing his deal. the hotness.
got the bat call from maka and friends over at aloha tower. they were down for some fun. i was like "well, i'm going to skyline. you can totally come." and he was all "dude. we're in t-shirts." so i was all "dude. not a problem. i have like 5 collared shirts in my trunk."
and they were all "um. but these kinda smell like old wet lawn."
and i was like "who cares. let's have some fun."
and they were all "okay!"
chanel was like "i need a new myspace picture!" so i was like "okay!"
this is probably the worst photo of flash i've ever taken in my life. but for some reason it's the only one i have from tonight. and you HAVE to see how cute his hair looked. sorry, honey. i know you're probably not reading this anyway, mister busyman.
ara, on the other hand, is impossible to get a bad photo of.
derinface! aw. hi hi.
so ara has a little show coming up.
i told her i'd help with the viral campaign.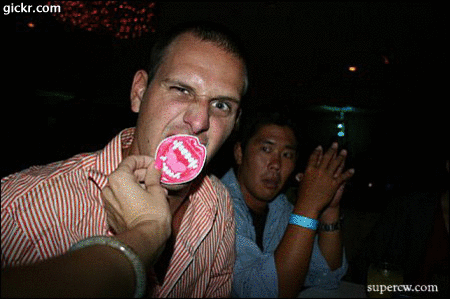 i hope you love it honeyface.
these girls were like "wait! hang on!"
"okay! now!"
luke was there
eddie and eric have ANOTHER brother?!
viral russell
aly is just kidding here but i'm not. i totally had a red bull overdose crash on sunday. couldn't even move. it was so sad. do NOT drink more than like 4 of these in one night people! trust!
dan came over and had this little baggie of stuff…
…and we were like "oh my god. what IS that?!"
…and ara totally just popped one in her mouth without even flinching
…but i was like "wait a second. is that? a? BUG?!?!"
the boys were like "oh HELL ya! pass it over!"
and dan was like "nom nom nom"
ad travis was like "gimme gimme gimme!" and aly was like "ewww, lolololol"
and travis was like "nom nom nom"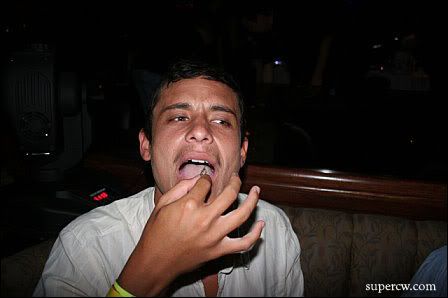 and i was like "no way man."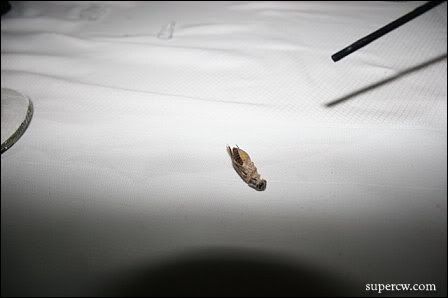 and the girls next to us were like "tra la l ala la "
and maka was like "what? getting carded INSIDE skyline?!?"
and miss chanel and zane were like "dude! you just WON A TRIP TO VEGAS!"
then i was like, running back to my table, and totally got stuck to eric. for like 5 minutes. it was literally impossible to break free. i was in this position for the longest time ever. most of skyline actually.
miss chanel was like "one more myspace picture. just in case the other one didn't turn out"
and eskae was like "ara! what doing!"
and the boys were all "tonight was funnnnnnnf;ajdjfdfadlfjakldjgfagjaf"
and i was like "anytime! cutie pies with girlfriends!"
then it was time to high tail it over to planet hollywood.
before hawaiiwood was over
selena and brian saw me on my way up. woooo! hi!
got there just in time…
yo russ!
just in time to wake up kanoe and say happy birthday
such a trooper this one! i'm guessing he's already had like 368759084 shots by now
i mean, it's 1:30am. aw look! trooper trooper trooper.
hi mike!
hi kera!
hi blaine!
ooooooo hi selena! THANKS SELENA!
ps: i love russ
haw haw they are totally emulating blowing whistles, btw. those are lifeguard shirts! get your mind outta the weed-smoking-innuendo gutter!
speaking of kickass shirt wear…
…i think this might be the first time ever that RP hasn't been photographed with a zillion hot chicks.
damn, i'm just setting records all over the place. you might as well call me christa phelps! watch this space! almost catching up to now. got some really good stuff from the past weekend still. more soon. goodnight.