so back, maybe three saturdays ago? two? i'm lost. but i lurked a theme-party at amber's portlock escape. hi!

lurked is definitely the word. it was nice though.
every picture i have with the girls looks BLEH so sorry, you only get the boys. but girls, for future reference, don't make me get in the photo!! i don't have photoshop so i can't crop myself out anymore.
i know you can't tell here, but the jello shots had whipped cream and sprinkles. nice touch.
last few days at visionary… no more visits to my area by flash & matty! oh ps! how's matty boy's new wardrobe! the new american apparel deep-v in every color. loves it.
did you hear the spot for this sunday's heaven & hell party at the sheraton? guess who voiced that angel part. guess!!! ah foon can do amazing things with voice modulators or whatever.
tuesday i was right on time for divas doing good. i even got to get hair and makeup from flaunt
lurked the fashion show practice sesh.
drooled over yasmin dar. guuguguguggguugugugug.
said hello to the boat. still super bummed out that they have had to scale back trips. WHY can't we get onboard with a boat for public transport? we're surrounded by water. i'm sad.
cat toth was there! blog diva blog diva blog diva. she's doing more freelance writing around town, btw. grab her while you can!
yo.
so divas doing good was at aloha tower– at the old kaponos. the new name for this place is "the waterfront" it's a nice large outdoor venue that's perfect for shows…
…and in tonight's case: fundraisers
were you here? cause, i mean, damn! the head count was staggering. so so so many awesome local icons and women that i truly respect and admire. i hope i got to talk to all of them. if i missed you, then maybe next time?
hawaiian ryan IS back! hahah he got so much press from this appearance today. i think i read about it in at least 3 or 4 blogs or columns around town.
shana peete was a stunning vision in black & white
black, white, & giselle that is
val and @melissa808 twittering that she saw @supercw ! do you love how connected we are!
ps: smile!
ps: um, can you sign my parking, PR diva!!
the mod lux ladies with shana. man, this was a really fun evening.
and WOAH! check out the media bags!!! i totally use mine as a purse. thank god i have it too, because i almost dropped $300 for a soozou bag friday night and managed to stop myself because i have this one.
hawaiian ryan with devon nekoba. aw, i miss seeing you around the office.
ps: they go way back
ps: we are masters of the little plate buffet
and WOAH! check out that crab oyster thing on a bed of sky blue sea salt! talk about woah…
can you see my arrival time? i was 5 min early… but i loved that my arrival time was on the night's agenda. not gonna lie, i actually kept this. made me feel special :)
divas doing good after party was at o'tooles with my supercw.com sponsors. media temple jason and organik ed
they were iphone battling. ed's call-in photo wins though. ps: that photocredit: cobrasnake
kicked it at the loft after. i love tuesdays when i'm already out. it's so easy to stay out.
and tuesday is totally cool. joe agogo's kicks.
cool beyond cool beyond cool. my straightgaygirlcrush even stopped by.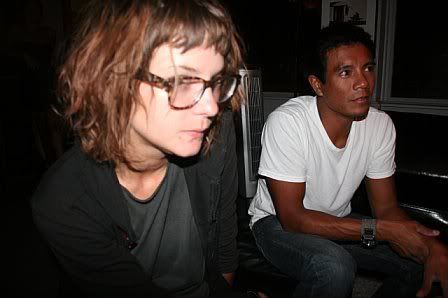 aw, mike. ha ha i love it when real photographers try to help me out.
oh! and have you had the sush at the loft yet? pretty damn good deal for $6 i must say.
MAKA was there!! i've been seeing his crew trickle down here and there. sup guys! you finally realizing it ain't no thing to actually have to walk a block or two instead of having parking right out front? that indie girls are way hot too? that chinatown KILLS it over waikiki and university as a metropolis? huh? hope to see more of you…. crew mesh!
dare came through to talk about his new fruity event at thirtyninehotel. i was SO bummed to miss it but caught the update. i will totally be at the next one. loves it!
bathroom-encountered some of the ginger13 models came by too. hi mel! hi hi!
cindy didn't want to be in the shot but i had to get her. she is amazinggggg!!! mel too. HI HI!
made it to the hideaway after. cause we're hard core. what!
uh oh, keany! watch out for the graffiti monsters…
i love the hideaway
randomly saw germ killing it on the pool tables. service industry people must have the best lives ever. getting to stay out all late, working all late, sleeping all late. nice life guys… i gotta go to bed.
aw, more visionary sad face. i'm gonna miss seeing the vertical junkies dropping by. hey guys! you can always cruise out to waipio!
lurked jesse at the new prolifik store over on mccully. 939 mccully! how's that address!
charlie boy took my photo for the metromix column i did. he was always so sweet. i miss you already boo.
ooooo i also stopped by the magazine's issue launch party over at the new safeway complex place on kapahulu
the magazine people are getting younger and younger these days! hi patrick!
the food was probably the best i've had in months. that's lobster casserole! the place we had this was called good to grill i think. it was woah!
dinner meeting at rum fire and spotted torry wrapping up that japanese reality tv show thing just in time for LOST. ps: rita you stunna!
ooooo. i TOLD you i was going to get in to this thing!!
um. except it's totally legit. they're kind of strict at the door. that's ok then, i'll just accept an offer to work there. easy! so anyway, say hello to honolulu's newest and busiest person in the world.
and some of the cutest wine people in the world! HI!
cass aw! such a stunna this one.
jason how did you get in here?! nah nah nah, you can go ahead and stoke my boss out on your party… i'm totally going. i can't wait to actually have a reason to wear these
margot from the weekly and miss kitty chow. helloooooooooooooo there, ow ow ow!
phyllis from kobrand! hi!
loved the theme partes some of our suppliers were doing.
grabbed a really cool recipe book from the sailor jerry people for rice. i hope it makes up for the film screening being too crowded for her to stay.
woah, will you just look at how many botanials are in the bombay gin stuff? man, i got a lot to learn…
…so anything YOU can tell me about booze, well. just go on then! hi hi hi!
hi hi hi hi!
i got busted eating too many of these i think. sorry new work! who can resist roast beef rolls when there's that really yummy grain mustard stuff…
it was super fun to lurk all the promotion specialists. can i call you models? which do you like better? hi there!
you have no idea how happy i am that we have guiness at better brands, btw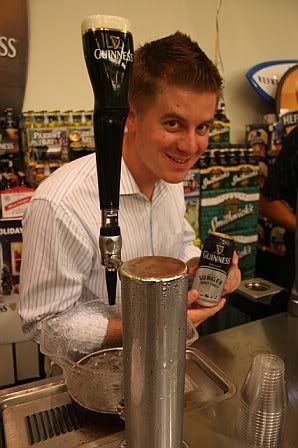 i am falling back in love with this stuff all over the place.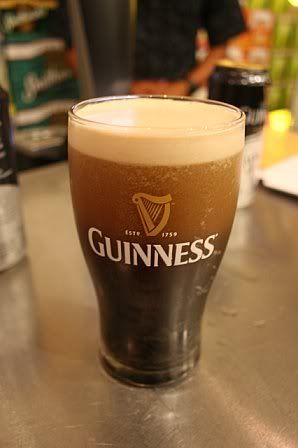 saw the angie twins. angilee and angilou.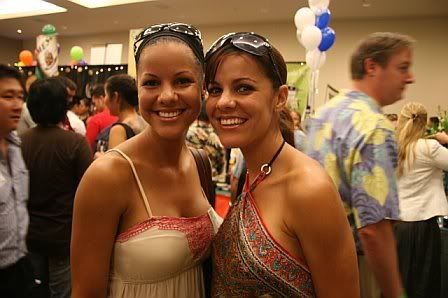 saw the blackwells. of the blackwell empire.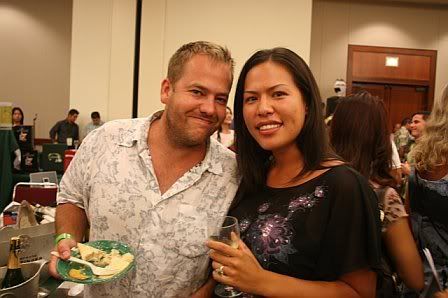 so, totally unrelated, but MAN! dj harvey knows what the hell he's doing. i never stay out late anymore, and i had to TEAR myself away from thirtyninehotel last night, er this morning, at almost noon. and he was STILL going. complete and total pro this one. i'm so glad he likes hawaii. if you see his name on the bill again you really should see what i mean.
joe bock! aw, hi!
someone was showing the sailor jerry women his tattoo. aw!
saw shelly outside. cherry blossom cabaret!
saw daniel outside with his hot friend. i think daniel only knows hot people, btw. i've never seen him with anyone even average looking.
saw pam davis
hi!
loved the three olives pop shots. those were pop rocks, which i think you are supposed to eat before you do a shot of chilled grape vodka. i didn't try it but damn, i kinda want to now!
ps: anyone who has espresso vodka is officially my new best friend
saw hotel people killing it. suzy from starwood and robin from the wyland.
saw party people killing it. g-spot from double-o spot and charlie longhi from longhis.
SO glad i made it to indigo on thursday night….
cause my boyfriend is playing there now. the deadbeats!
love turning people on to this band. every time i bring someone new to see them they are like WOAH! this time it was otto from 86 list. oooo, and jasmine! jasmineeeee!!
being totally and completely ridiculously good looking helps, but these guys are actually mega super talented.
you gotta see them to understand
but ya, let me exploit them for a sec…
oh MAN! seriously. could you just die?? *swoon*
on the deadbeats break i had a chance to see another mega talent and scope out his gear at bar 35.
swampa zz AND the incredible hulk. it was cool.
who made these?!! anthony? tell me! loves it.
he was terrorizing all the swampa zz virgins in the crowd. hotness.
friday i had a chance to watch nicole's friend damien from new york try the spicy martini. they are pretty good you know.
friday night datenight with my love.
finally had breakfast at victoria inn. man, i love kaimuki.
and breakfast!
sakara blackwell had a birthday too
she only knows how to celebrate one way. class to the max.
as in beautiful catamaran yacht and champagne. cheers hilton! nice wife!
cheers guys! nice lunch!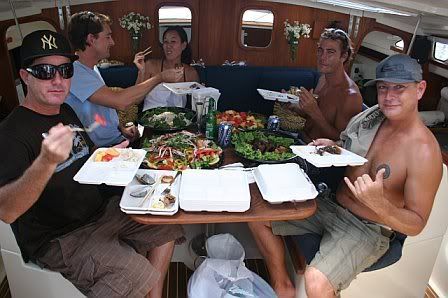 jason't waterproof camera. i need one of these.
saw that family fair thing at magic island! wishing i made it over. loves the zipper.
can't think of a better place to be on a saturday afternoon, man
cheers, diamond head!
cheers surfers!
hi guys!
aw. us.
aw!
the spinnaker going up for the way home was so epic…
bright pink and HUGE
you had to be there i think… but it was seriously majestic
ah, boat. i really love being on the water. anyone with boat-day-saturdays call me! i'm so down.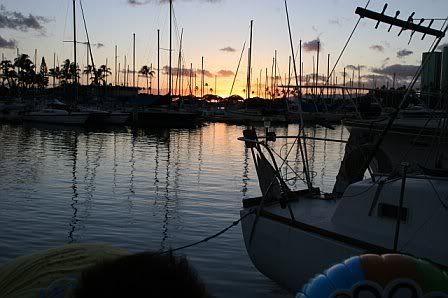 crashed the LOST kick-off party after at the yacht club. sakara's dad was catering!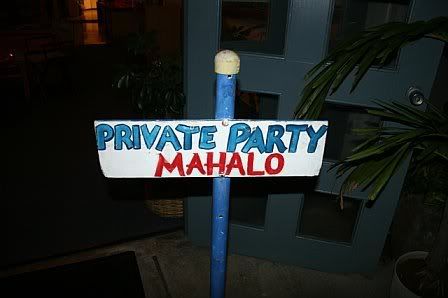 i mean. when you get an in, you get in.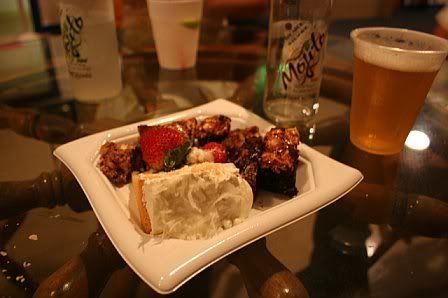 of course, since i was totally lurking i didn't want to be snapping shots at all the people there. terry o'quinn noticed me and i was really scared he remembered busting me last time. so hilton and i just took innocent pictures of each other.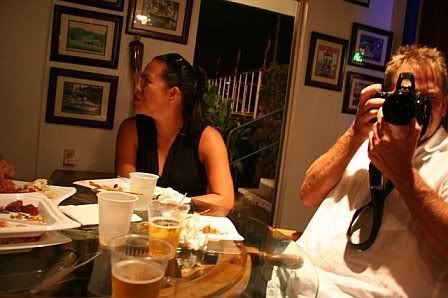 but aw! sakara's brother!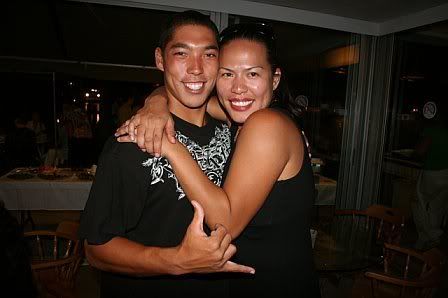 sorry, that's all. i know i shouldn't have even really mentioned it since i took no photos of no stars. but being there was very special. and significant! so woo. got to chinatown at 9pm sharp.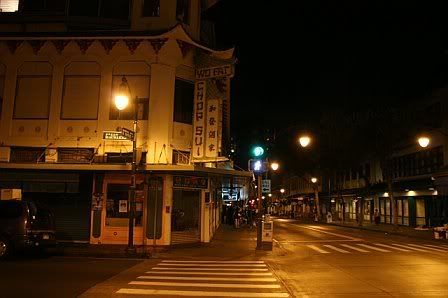 thought i'd be the first one there. was very wrong. it IS a free little brother show at the loft, so…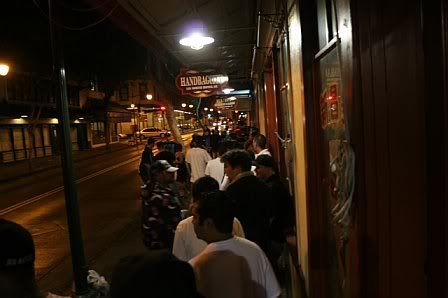 but YEAH CREED! said hi to creed chameleon in line. *fanning out* yo, his album release party is coming up. make plans to congratulate!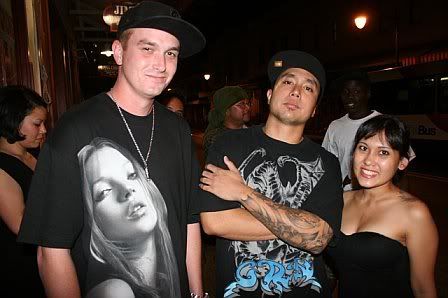 saw sean reilly too. back in one piece from the natural koncepts east coast tour. i'm waiting to see that footage.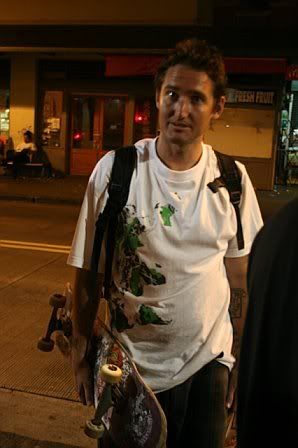 inside was packed beyond packed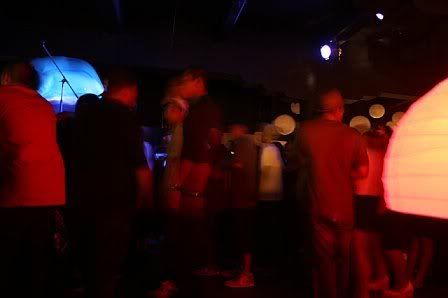 i caught the opening act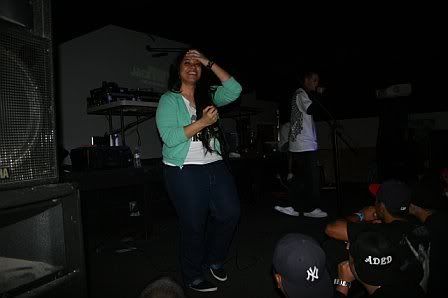 saw aaron there and bolted. was stoked he was gonna lurk it because i was beat down. sailing all day with 3588250275328042 glasses of veuve is no joke, man. so ya, anyone that photo blogs in honolulu? i'm HYPED! never stop. cause then we can all take a rest some times.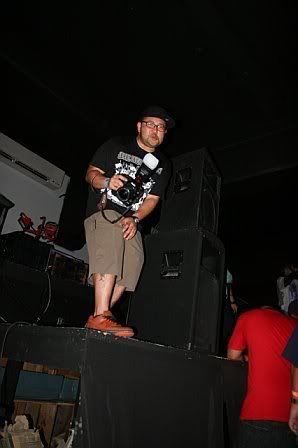 i managed to catch a little bit of the cherry blossom burlesque's anniversary party thing.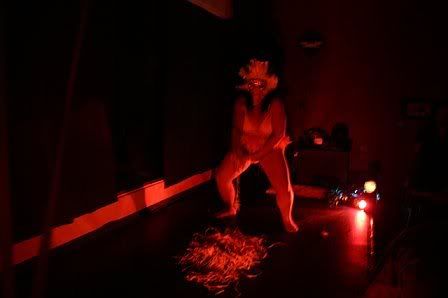 spotted katie there and realized i didn't have to stay too long here either. god, i love this town.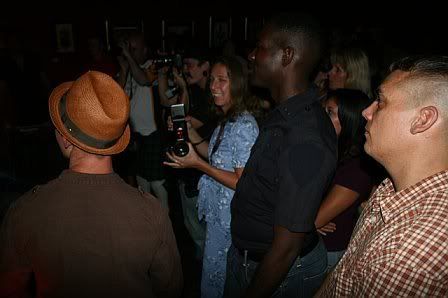 shelly totally gave me a shout out! WOAH! i was fanning out. thank you! *blushes*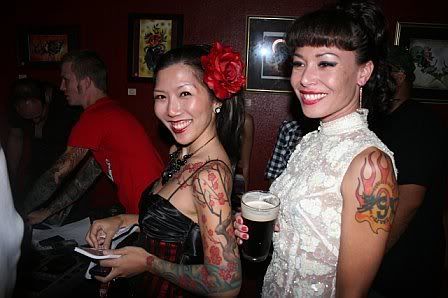 cabaret shows at mercury are so pro, by the way. it's like the place was built for it.
sunday was baby luau day. jen bowers is now jen pang! mommy pang!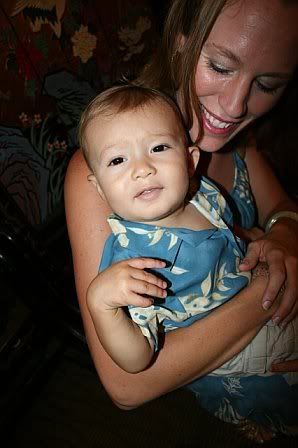 i was stoked on the baloon animals. such attention to detail…how's the banana!!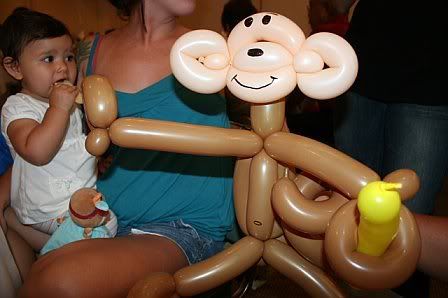 the guy was pretty cute too.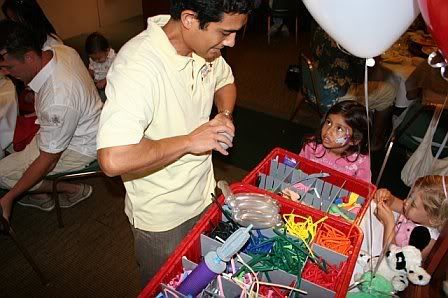 i think i really pissed him off though. i asked for a camera. he was like "um. i can't really do square things." and i was like "please!!!" so he made this. PRO!!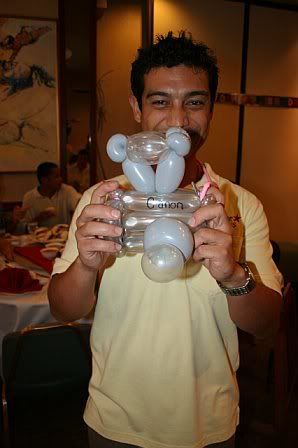 oh what that's it? ok, cool. i still have a lot to catch up on but i'll be there soon. really need to get adjusted at this new job. i'm definitely doing the work of about 4 people but thank god it's with all of you. let's talk! but wait….. let's talk soon. right now i gotta get situated.
more soon! bacardi boat cruise is on deck, and that ridiculous night at level 4 industry night thing. oh! and soozou, dj harvey, loft, and tons more. gah!